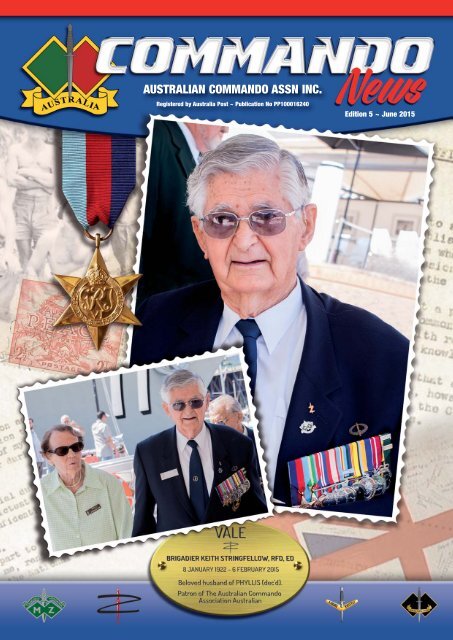 AUSTRALIAN COMMANDO ASSN INC.
Create successful ePaper yourself
Turn your PDF publications into a flip-book with our unique Google optimized e-Paper software.
AUSTRALIAN COMMANDO ASSN INC.

Registered by Australia Post ~ Publication No PP100016240

Edition 5 ~ June 2015
---
CARL-GUSTAF M4

THE POWER TO ADAPT

Today's dismounted infantry face a broader range of battlefield

challenges than ever before. Having a single weapon for all situations

increases their tactical flexibility and reduces the amount of

equipment that they carry.

The new Carl-GustafM4 multi-role system is the solution. It enables

soldiers to deal with any tactical situation - from neutralising

armoured tanks or enemy troops in defilade, to clearing obstacles and

engaging enemies in buildings.

Saab's thinking edge sees us build on almost 70 years of heritage and

technological development to offer a weapon system with innovation

at its core. With the Carl-Gustaf M4, smart just got smarter.

FLEXIBLE

INTELLIGENT

LIGHTWEIGHT

www.saab.com/australia
---
CONTENTS

REGISTERED BY AUSTRALIA POST PUBLICATION No PP100016240

AUSTRALIAN COMMANDO ASSOCIATION INC.

LIFE PATRON:

PATRON:

PRESIDENT:

VICE PRESIDENT:

SECRETARY:

TREASURER:

ACA VICTORIA

PRESIDENT:

ACA VICTORIA

SECRETARY:

ACA NSW

PRESIDENT:

ACA NSW

SECRETARY:

ACA QLD

PRESIDENT:

ACA QLD

SECRETARY:

PUBLIC OFFICER:

NATIONAL OFFICE BEARERS

Gen Sir Phillip Bennett AC KBE DSO

MajGen Tim McOwan AO DSC CSM

MajGen Mike Clifford AM CSC

Col Brett Chaloner

Maj Steve Pilmore OAM RFD (Ret'd)

Maj Bruce O'Connor OAM (Ret'd)

Capt Marc Preston

Glenn MacDonald

Barry Grant

Kevin Mahony

Maj Keith Long RFD (Ret'd)

Tony Mills

Brian Liddy

NSW President & Editor's Report .....................2

NSW Events Calendar 2015 .............................3

Anzac Day 2015 .................................................4

Loyal Toast by Keith Stringfellow ......................5

Eulogy for Keith Stringfellow ............................6

PTSD: A Practical Perspective ...........................7

2nd Commando History.....................................8

Vietnam Cross of Gallantry Citation..................9

Meritorious Citation / Vale..............................10

From the Prolific Pen of Harry Bell .................11

Book Review: Snakes in the Jungle ................15

Phoenix Australia.............................................16

"Q" Store Order Form ....................................17

Aust Cdo Assn QLD ........................................19

Aust Cdo Assn VIC ..........................................23

Development, Doctrine & Deployment

of Australian Special Forces ......................28

Excursions for Sydney Members.....................32

Gurka soldier awarded medal.........................33

Membership Application/Renewal..................35

Deadline for next edition:

WEDNESDAY, 30TH SEPTEMBER 2015

All news on members and interesting articles accepted.

(Subject to editors' approval.)

Barry G

EDITORS:

Barry Grant

Barbara Pittaway

The Australian Commando Association's membership consists of

Servicemen who have served with Independent Companies, Commando

Squadrons, "M" and "Z" Special units and Special Forces during and since

the Second World War.

DISCLAIMER: Opinions expressed within this publication are those of the

authors, and are not necessarily those of the Editor, Publisher, Committee

Members or Members of our Association. We welcome any input as long

as it is not offensive or abusive but if any member has a problem with a

printed article we would like to be informed in order that the author may be

contacted. We do encourage your opinion.

Official Publishers:

Statewide Publishing P/L

ABN 65 116 985 187

PO BOX 682, SURFERS PARADISE QLD 4217

PHONE: 0432 042 060

EMAIL: statepub@bigpond.net.au

AUSTRALIAN COMMANDO ASSN INC.

Registered by Australia Post ~ Publication No PP100016240

Edition 5 ~ June 2015

Printed by Galloping Press

Unit 29, 398 The Boulevarde, Kirrawee NSW 2232

PHONE: 9521 3371

Front Cover: Brig. Keith Stringfellow RFD ED

Patron, Australian Commando Association Inc (NSW)

and wife Phyllis

COMMANDO NEWS ~ Edition 5 I June 2015 1
---
Australian Commando Association

NSW Inc.

www.austcdoassocnsw.comww.austcdoassocnsw.co

om

PO Box 1313,

Sutherland,

NSW

1499

Commando for life

1941 - 1946 1955

-

Barry Grant, President

Kevin

Mahony, Secretary ry

Ivan Kelly, ly,

Treasurer

starlightcdo@gmail.com kevin.mahony1@bigpond.com ikelly@bigpond.net.au

igpond.net.au

0414 914 615

0425 279 111

0417 042 886

NSW President & Editor's Report

This year we had two services at the Commando

Memorial Seat at Martin Place in Sydney.

The first was to welcome the former Prime Minister

of Timor Leste, Kay Rala Xanana Gusmao, and his

delegation to Anzac Day. His Excellency is now the

Minister for Strategic Planning and Strategic Invest -

ment as well as Veteran in Chief Timor Leste.

Due to the timings of the main march and as the

delegation was marching at the head of the march with

NSW RSL, we had to complete this service and have

them on parade before 0900 hours.

His Excellency was invited to attend our cere mony

when we found out he was going to be in Sydney for

Anzac Day.

The delega tion attended a number of services

across Australia prior to Anzac Day including a service

with the 2nd/2nd Inde pendent Com pany Association

in Perth.

Included in his group was the head of Timor Leste's

Armed Forces, MAJGEN Lere Anan Timur, the

Ambassador to Australia His Excellency Abel Guterres,

Mrs. Armandina Gusmao-Santos, Consul General to

New South Wales.

HE Xanana Gusmao laid a wreath on behalf of his

country and in appreciation of the role the 2nd/2nd

and 2nd/4th Independent Companies during the

occupation of East Timor by the Japanese in WW2.

Our usual Com -

mando Anzac Day

Service and wreath

laying ceremony took

place following the

departure of our Timor

Leste guests.

Good weather pre -

vailed in Sydney for both services, and despite a

"hiccup" with the PA system.

★★★★★

VALE BRIG. KEITH STRINGFELLOW RFD ED

Early this year we lost one of our Patrons, Keith

Stringfellow, former 2nd/5th Independent Company,

2nd/7th Independent as well as Z Special Unit.

Keith led a very distinguished military career both in

World War II and beyond.

A large contingent of Association members along

with a Bearer Party made up from both the Com -

mando Regiments, attended the funeral at Greenway

Gardens on the Central Coast.

The bearer party was under the instruction of the

RSM 1st Commando Regiment.

Sadly we also lost his wife Phyllis last December,

Keith's passing was due to a medical emergency.

The eulogy from the service is in this journal.

Barry Grant

MANUFACTURED TO

SPECIFICATIONS

• SPECIFICATION MILITARY SWORDS

& ACCOUTREMENTS

• PERIOD SWORDS

• COLLECTABLES AND LICENCED PRODUCTS

• BELTS, FROGS AND ACCESSORIES

• CUSTOM KNIVES AND FOLDERS

• BRAND KNIVES

• PERSONAL ENGRAVING

DISCOUNT PRICING

FOR LARGER ORDERS

ADF, ASSOCIATION

& EX­SERVICE

MEMBERS

LET US KNOW IF YOU HAVE

A SPECIAL REQUIREMENT

Australian Commando

Association (NSW) Inc

2 COMMANDO NEWS ~ Edition 5 I June 2015
---
AUSTRALIAN COMMANDO ASSOCIATION (NSW) INC.

EVENTS CALENDAR FOR 2015

JULY 5th (Sun)

JULY 15th (Wed)

SEPTEMBER 26th (Sat)

OCTOBER 17th (Sat)

NOVEMBER 11th (Wed)

NOVEMBER 14th (Sat)

RESERVE FORCES DAY

Form up in Hyde Park from 0930 hours for coffee and fellowship

and form up in anticipation of the Light Horse contingent.

Parade kicks off 1030 hours with the Light Horse parade when

all associations will be on parade and pay respects.

Main parade steps off at 1130 hours.

60 TH ANNIVERSARY DINNER

South Steyne Waterfront Restaurant, Darling Harbour

1830 hours for 1900 hours.

Cost: $80.00 (includes some wine on tables)

(Full information on page 5)

JAYWICK DINNER

South Steyne Ferry Darling Harbour

1830 hours for 1900 hours

(More information to follow)

ANNUAL GENERAL MEETING OF ASSOCIATION

To be held at "Simpson VC Club" Randwick.

1030 hours - Subject to security levels

REMEMBRANCE DAY AT DARLING HARBOUR

Service held at the "Krait"

Service starts 1030 hours

ASSOCIATION XMAS DINNER

Carnarvon Golf Club

Families always welcome

1830 hours for 1900 hours

Please direct your enquiries to our Secretary Kevin Mahony

Home (02) 9644 8794 or mobile 0425 279 111 or E-mail kevin.mahony1@bigpond.com

Military personnel welcome at all events 1100 events a year around Australia Formats: bike, foot, street, sprint, etc

Event Calendar: eventor.orienteering.asn.au/Events

State Associations: www.orienteering.asn.au/state-organisations

COMMANDO NEWS ~ Edition 5 I June 2015 3
---
APRIL

Siggy Jablonski and HE Xanana

Gusmao at the Commando Seat

Anzac Day.

The Minister for Strategic Planning and Strategic Investment and former Prime

Minister of Timor Leste, HE Kay Rala Xanana Gusmao, lays a wreath on the

Commando Memorial Seat in Martin Place.

Honorary Colonel of 1st & 2nd Commando Regiments,

BRIG Philip McNamara, HE Xanana Gusmao, ACA NSW

President Barry Grant and the Timor Leste Ambassador

to Australia, HE Abel Guterres.

ANZAC DAY IN SYDNEY

MAJGEN Lere Anan Timur, Head of the Timor Leste

Defence Force, Barry Grant, HE Xanana Gusmao and

Hon. COL of the Commando Regiments

BRIG Philip McNamara (Ret'd).

Kevin Mahony, Hugh Ralston and Mike Downey

David Lynch and Mike Downey

4 COMMANDO NEWS ~ Edition 5 I June 2015
---
2/5 Independent Company

50th Anniversary Dinner

13th March 1992

LOYAL TOAST

Ladies and Gentlemen,

When I enlisted in the Army in 1940 I took the Oath of Allegiance, swearing to

well and truly serve my God, my King, his heirs and successors, and my country.

When I received my commission it was signed by Baron Gowrie, Governor General

of Australia, the King's representative. As far as I am concerned that Oath of

Allegiance still stands. I am not about to deny my English ancestry, nor am I about to

deny my forbears who came out to this country and carved a niche for themselves,

at the same time helping to develop this country. This does not make me a lesser

loyal Australian.

I am not about to change my flag either at the whim of some jumped up

politician. I am not about to change the flag that my father and his five brothers

served under in WWI, and he was a POW in Germany for three years. I am not about to change the flag that

I and you and thousands of other Australians served under in WW2 in Korea, in the Malayan Emergency, in

Vietnam, in the Gulf War and now in Cambodia.

As far as I am concerned, as long as I live, the flag that flies from my flagpole will be the present Australian

flag with the Union Jack in the corner. I guess I am a Royalist at heart.

Having said all that, I would ask you to charge your glasses and drink with me the Loyal Toast.

Ladies and Gentlemen… The Queen.

Keith Stringfellow

WHO:

WHEN:

WHERE:

WHY:

DRESS:

COST:

WARNING ORDER ~ MESS DINNER

60TH ANNIVERSARY DINNER

1 Commando Company, Australian Commando Association and invited guests

Association members, sorry no partners for this one.

Wednesday, 15th July 2015 (1830h canapés for 1900h sit down)

This was the date of the first parade in July 1955.

South Steyne Waterfront Restaurant

1 Harbourside Jetty, Darling Harbour NSW 2000

Celebrate the formation of 1 Cdo Coy

Suit & Tie, Miniatures

$80.00 / head (includes some wine on tables)

Welcome drink on arrival, 3-course meal (excluding alcohol ~ full bar available).

Please electronically deposit payment into the following ADCU account at least one week prior.

Account Name: 60th Anniversary Dinner

BSB: 642 170 Account: 750432

Please insert your surname in the payment description with Assn after your name, for ease of identifying

who has made payment. eg Grant Assn

If you don't have access to the internet banking please contact Barry or send a cheque payable to:

The Treasurer

Australian Commando Association NSW

PO Box 432, Toongabbie NSW 2146

Stating your name and 60th Anniversary Dinner

RSVP by 8th July 2015

ENQUIRIES:

Contact: Barry Grant starlightcdo@gmail.com (0414 914 615)

COMMANDO NEWS ~ Edition 5 I June 2015 5
---
EULOGY FOR KEITH STRINGFELLOW

NX27091 - 2149141 AND HIS SRD NUMBER AKV 3

In June 1940, with his parents' permission, he put

his age up 2 years in order to enlist. To this day the

records are still incorrect.

Initially posted to the 30th Battalion, then a

Machine Gun Battalion, he must have been getting

a little bored because he enquired about

Commandos.

And so in 1942 he was selected for service with

the 2nd/5th Australian Independent Commando

Company. A year later, this was renamed 2nd/5th

Cavalry (Commando) Regiment.

Later he transferred to the 2nd/7th Australia

Cavalry Commando Regiment.

In 1943 he contracted malaria in New Guinea

and was sent back to Australia to recuperate.

A number of important issues happened during

this time.

He proposed to Phyllis and they married a week

later.

However, also during this time, he completed an

Army Intelligence Course, which he told me he

topped the class.

He was then transferred to Atherton as the

Intelligence Officer.

Not long after that Lt Stringfellow was sum -

moned to attend a meeting in Brisbane with the

Director or Military Intelligence.

He was told he was being transferred to a Special

Unit, and when he enquired what that Unit might be,

he was told:- "We can't tell you until you sign up".

He asked if he had a choice, when told no, so he

then volunteered.

Keith then became a member of the very

secretive SRD, Services Reconnaissance Depart -

ment. Sometimes erroneously called Z Special Unit

or Z Force.

Incidentally there never was a Z Force.

The activities of this Unit was so secret that only

the highest ranked members to the Military were

aware of its very existence.

In fact SRD did not appear on the "Order of

Battle". On paper it officially did not exist.

Actually part of Special Operations Australia, and

to keep the nosey members of the Army at arms

length they changed the name several times. Once

called Allied Intelligence Bureau, Inter Allied

Services Bureau, then Inter Allied Service, Inter

Services Research Bureau then SRD. And to make

the matter more confusing to the enquisitive,

members of the Army soldiers seconded to SRD

were paid by another secretive department named

"Z Special Unit".

The secretive posting you may ask, well it was a

posting to an even more secret location called

Fraser Island.

This place was off limits to everyone.

Keith now promoted to Captain, was Officer in

Charge of this selection and training facility.

So secret was this Island that when operatives

were sent there for further selection and training,

apart from picking up stores from the Base Camp on

arrival, they then moved to another section of the

Island and from that point the unsuitable were sent

back to the Unit and the remainder went directly to

their task.

At no stage did they return to the main camp.

This of course was to maintain secret in the case of

capture.

Training was conducted with live ammunition at

all times. Despite this they only lost one member to

an accidental discharge.

Keith once told me that he was advised that more

troops would be coming to the Island for training.

This necessitated a trip to an army base on the

mainland.

On arrival he was asked who he was and where

he was from. His reply:- "Fraser Island", to which

they replied:- "Oh, the Island".

All Defence Bases were told to comply with any

request from SRD without question.

In fact if the Unit wanted anyone or anything they

got it.

All Keith asked for was "something to clear an

area for more firing ranges and said a bulldozer

would be nice, some explosives, ammunition and

stores".

Sometime later a landing craft turned up with a

small bulldozer and more than enough supplies.

Keith said at no time did anyone ask him to sign

for anything.

During his time with SRD he also participated in

several overseas operations, namely:- Crane 1,

Raven, Finch 2, 3 and 4.

Post WW2 he also visited Vietnam in an Advisory

Capacity. He also held some staff postings.

His final posting was at Headquarters Eastern

Command.

Keith was a Past President of the NSW Com -

mando Association, Patron o the Intelligence Corps

Association and our Patron of the Australian

Commando Association (NSW).

Members of the Intelligence Association and the

Australian Commando Association mourn his

passing.

6 COMMANDO NEWS ~ Edition 5 I June 2015
---
A PRACTICAL PERSPECTIVE

By Mark Tregellas

In 2013 after 28 years in the police force I realised I

had a problem. I couldn't sleep at night. My dreams

were nightmares that woke me up with heart racing

and driving into work caused anxiety to the point

where I felt sick.

I was diagnosed with PTSD and offered a place at

Post Trauma Victoria http://www.trauma.org.au/ on

their 10-week PTSD course. This course is similar to the

one offered to military personnel. As a result of that

course I now sleep well and am back at work. I have

read several articles on PTSD but none looked at it

from a practical perspective of what works to help

reduce it. I hope that my story will encourage others to

seek help rather than ignore it and "crack on".

What led to my PTSD was a combination of over 28

years of attending critical incidents. I have forgotten

the number of dead bodies, and road trauma victims I

have seen. Other incidents included; being shot,

having a 150 kg male pour petrol on himself and try to

pull me into a campfire, rescuing a couple beached in

a yacht in heavy seas that refused to be rescued, and

having an 80-metre gumtree drop on top of the police

car in a storm only to be saved by the semi trailer we

were parked next to.

These last two incidents were three weeks apart.

Psychologists often talk of cumulated stress as being

like a glass of water. The more stress you have the

quicker the glass fills. Eventually the glass overflows

resulting in PTSD.

A few weeks after the last two incidents I started

waking up in the middle of the night and couldn't get

back to sleep. My dreams were nightmares. My kids

started asking my wife why I was always angry, and my

left hand shook occasionally. For a while I tried to cope

but it didn't get better and after jumping through the

workcover hoops I was accepted onto the course.

To say the course is good is an understatement. I

learned more about stress and how to handle it in

those 10 weeks than in the previous 28 years in the

police. You are assigned a personal psychologist

during the course and I was lucky enough to get the

doctor who specialised in treating Special Forces

personnel. The doctors on the course are experts in

PTSD. Some are world authorities on it.

These are some of the things I learned on the

course.

Your schema is your thought structure of preconceived

ideas that allows you to perceive and

organise new ideas. People organise new perceptions

into schemata quickly as most situations do not require

complex thought.

Police and soldiers tend to have a similar schema

that has three main characteristics:

1. They tend to see things in black and white

2. They have unrelenting standards

3. They are self sacrificing.

This type of schema works well for soldiers and

emergency services personnel but I was surprised to

learn that most people don't see things in black and

white. Secondly I learned that it is OK to be average,

and thirdly that it's also OK to say no to working a

second shift, or not agreeing to a roster change, and

just taking some me time.

PTSD occurs when the brain becomes confused

between real, critical, incidents and normal situations.

A sniper's bullet shattering a bottle next to you in

combat results in a major adrenalin dump into your

system. But with PTSD the same sound coming from a

dropped bottle at the supermarket while out shopping

with the wife and kids results in the same physiological

reaction. Your brain hears the sound thinks it's combat

and dumps all that adrenalin into your system again

because it's done it so often or the first time was so

traumatising that it gets confused. A sound, smell,

dream, or visual image can trigger the response.

I also learned that PTSD results in other symptoms

such as short-term memory loss. I used to think that I

was getting early Alzheimer's as my short-term

memory was appalling.

It wasn't until I did the course that I learned that

adrenalin is not the only chemical dumped into the

body by your brain in critical incidents. Cortisol is also

released. Cortisol is a hormone, which is released, to

add blood sugar into your system to help you fight.

Unfortunately, it also destroys the short-term memory

cells in your hippocampus resulting in memory loss.

The good news is that if you stop the stress you get

your short-term memory back. (Cont'd next page)

COMMANDO NEWS ~ Edition 5 I June 2015 7
---
2nd COMMANDO REGIMENT HISTORY

On 19 June 2009, the 2nd Commando Regiment

was officially raised, following on from the long and

prestigious history of the Independent Commando

Companies, the 1st Commando Regiment and the 4th

Battalion (Commando), Royal Australian Regiment.

Since this time the 2nd Commando Regiment has been

constantly deployed on global operations in support of

Australia's national interests as well as being on

standby for domestic counter terrorism. 2015 also

marks the 50th anniversary of the formation of the 126

Commando Signal Squadron.

With the end of Australia's participation in offensive

operations in Afghanistan in 2013, the 2nd Commando

Regiment shifted from a combat role to an advisory

role within the Special Operations Advisor Group.

In addition the Regiment has continued to provide

protective support detachments.

Since the Regiment's inception in 2009, approxi -

mately 800 members have deployed on operations

including – Operations HAWICK, HIGH ROAD,

NORWICH, OKRA, PARAPET AND SLIPPER.

In addition, over 200 members having deployed on

Operation OKRA in the last nine months. Regiment

members have also deployed on numerous minor

operations in support of humanitarian assistance,

disaster recovery and United Nations missions.

Tragically, this operational excellence has come at a

human cost, with the loss of twelve members in the

Afghanistan theatre, one while training to deploy and

over 100 members have been seriously wounded,

injured or ill as a result of their operational service.

The 2nd Commando Regiment has also been

actively engaged in training with Asia-Pacific

neighbours, fostering worthwhile and strategic

relationships for the benefit of regional security.

PTSD: A Practical Perspective… (Cont'd)

It only took two weeks on the course to solve my

nightmares. When I first heard of dream rescripting I

laughed because I couldn't believe anything so simple

would work. It did, I no longer have nightmares.

But the one thing that helped my PTSD over

everything else was lowering my anger. Anger and

PTSD are intimately linked. Lower your anger and you

immediately lower your PTSD. So how do you do that?

We were taught 3 ways to do it. Firstly, ask yourself

what is the evidence? Why are you getting angry?

Secondly, try and look at it from the other person's

perspective. And thirdly, ask yourself, does it really

matter? It was the third one that did it for me.

Another revelation was that the fitter you are the

better you will cope with PTSD. When you can't sleep

and you feel so tired that you can't go for a run or hit

the gym it becomes a cycle. So even if you are injured

set your mind, put in the effort and keep fit.

Lastly, I learned to meditate. I'm not talking about

the sitting cross-legged, candle burning, listening to

weird music type of meditation. I'm talking about

getting your mind to stop whizzing around like a

washing machine, especially at night trying to get to

sleep. To watch a really good explanation of this go to

Ted.com and search for 10 mindful minutes. 10 minutes

a day is all it takes and I even do it at work.

The reason I did so well on the course was that I

sought help early. The other members weren't doing

the course to get back to work. They were doing it to

get a life back. My point is, don't wait for help and

don't think it won't happen to you. Every operational

police officer in Australia with 20 years experience or

more has PTSD to a greater or lesser extent. Every

active service soldier that has seen or experienced

significant trauma or critical incidents has also been

affected.

I found that my sleep and my memory were the

greatest indicators for stress. If I start to wake up early

in the night and can't get back to sleep or start to

forget things, then its time for a break.

The course gave me enough knowledge to cope

with PTSD and live an active happy lifestyle. Don't wait

until it's too late.

Mark Tregellas was a member of 2 Commando

Company from 1983 to 1987. He is the current

president of the Mallacoota RSL Sub-Branch. In his 28-

year police career he has been awarded a Commenda -

tion for Brave Conduct and is the 2010 recipient of the

Royal Humane Society of Australasia's Clarke Silver

Medal.

8 COMMANDO NEWS ~ Edition 5 I June 2015
---
REPUBLIC OF VIETNAM CROSS OF GALLANTRY WITH PALM UNIT CITATION

AWARDED TO THE 1ST BATTALION, THE ROYAL AUSTRALIAN REGIMENT

Australian Defence Force (ADF) members who served

with the 1st Battalion, The Royal Australian Regiment

(1RAR) in Vietnam 50 years ago have been recognised

with the Republic of Vietnam Cross of Gallantry with Palm

Unit Citation (CGWP).

The Governor-General, His Excellency General the

Honourable Sir Peter Cosgrove AK, MC (Ret'd) has

formally approved the awarding of the Citation in

recognition of the military assistance provided to the

former Republic of Vietnam while under the opera tional

command of the United States 173rd Airborne Brigade.

Parliamentary Secretary to the Minister for Defence,

Darren Chester welcomed the decision.

"I am delighted to confirm that the Republic of

Vietnam Cross of Gallantry with Palm Unit Citation will be

awarded to members of 1 RAR," Mr Chester said.

"This decision follows a three-year review by the

Defence Honours and Awards Appeal Tribunal who

determined that the awarding of the Cross of Gallantry

with Palm Unit Citation was intended not only for the

173rd Airborne Brigade, but also the Australian forces

who operated under their command."

"This award finally acknowledges those Australian

soldiers and recognises the important contribution they

made 50 years ago."

In May 1965, the Australian Government agreed to

provide military assistance to the Republic of Vietnam.

Initially, 1 RAR was restricted to operating in the Bien Hoa

tactical area of responsibility (TAOR). When the 173rd

Airborne Brigade deployed to operate away from Bien

Hoa, 1 RAR was left to conduct operations within the Bien

Hoa TAOR and to provide defence for the air base.

However, on 30 September 1965 the Australian Prime

Minister agreed to lift the restrictions on the deployment

of 1 RAR. For the remainder of their tour of duty in

Vietnam, the members of 1 RAR served alongside the

other units of 173rd Airborne Brigade on every operation

and became the third battalion of the Brigade.

1 RAR participated in seven operations with 173rd

Airborne Brigade between 5 May 1965 and 31 May 1966

that were referred to in the citation that awarded the

Republic of Vietnam CGWP to 173rd Airborne Brigade.

About the Republic of Vietnam Cross of Gallantry

with Palm Unit Citation

The Citation was awarded by the former Govern ment

of the Republic of Vietnam (South Vietnam) to specific

military units that distinguished themselves in battle.

To be eligible for the CGWP members must have

served in Vietnam under the command of 173rd Airborne

Brigade from 5 May 1965 to 31 May 1966 in one of the

following units;

• 1st Battalion, The Royal Australian Regiment

• 1st Armoured Personnel Carrier Troop RAAC

• 105th Field Battery, RAA

• 3rd Field Troop, RAE

• 161st Reconnaissance Flight, AAAVN

• 1st Australian Logistic Support Company

• Battery Section, 4th Field Regiment Light Aid

Detachment RAEME

(and redesignated in country to 105th Field Battery

Section, 12th Field Regiment Light Aid Detachment

RAEME.

Further details about the award and eligibility

requirements are available at:

www.army.gov.au/Army-life/Honours-and-Awards

I am told it is not a

medal but an emblem as

shown.

COMMANDO NEWS ~ Edition 5 I June 2015 9
---
MERITORIOUS UNIT CITATION

TASK FORCE 66 (SPECIAL OPERATIONS TASK GROUPS IV – XX)

For sustained and outstanding warlike operational service in Afghanistan from 30 April 2007 to 31 December

2013, through the conduct of counter insurgency operations in support of the International Security Assistance

Force.

Over a six year period, Task Force 66 rendered outstanding

Meritorious Unit Citation

service on operations in Afghanistan where it conducted

highly successful counter insurgency operations within

Uruzgan and surrounding provinces in support of the

Left: insignia worn if a member of the unit when earned

International Security Assistance Force. The Task Force's

Right: insignia worn if joined after

outstanding performance against an unrelenting, cunning

and ruthless enemy, in an unforgiving environment, was achieved through the collective efforts of every

member of the contingent over the duration of the commitment. The superior combat operations results of

Task Group 66 further emphasised the Group's exceptional courage and commitment.

Members of the 1st & 2nd Commando Regiments and Special Air Service Regiment deployed at this time are

eligible for this award.

VALE

Brig Keith Stringfellow RFD ED

2nd/5th and SRD

Ron Hamilton

2nd/6th Independent Company

Rodney "Yoey" Yeoman

126 Sig and 2 Coy 1st Commando Regiment

George "Happy" Greenalgh

2nd/2nd Independent Company

Douglas Herps OAM

SRD (Z Special Unit Association)

Warren Smith

1 Company 1st Commando Regt

Ian Seale

2nd/7th Independent Companies

MAJ Ted Ruston MC

No. 1 Commando (UK WW2)

CAPT Pat Dunshea MC and Bar

2nd/7th Independent Company

W. (Bill) Glasson 2nd/3rd Commando Squadron

Alexander "Alex" Mackay

2nd/6th Commando Squadron

Tony Scudder

1 Commando Company

David Sandeman

1 Commando Company

Thomas Henry John Hollis

2nd/11th Commando Squadron

Pat Dunshea

Keith Stringfellow

Warren Smith

Happy Greenalgh

Alexander "Alex" Murdoch Mackay ~ NX93552

31-10-1921 to 25-2-2015

Alex Mackay was born 31 October, 1921 in Lismore, NSW and spent his

early years on area dairy farms.

He enlisted 25 March, 1942 at Paddington, NSW. After his training in

Cowra he volunteered for a unit that turned out to be 2nd/6th Commando

Squadron. Alex became a Bren gunner in the company. He and his mates

served in Papua New Guinea. As a result of the unit's fighting skills, especially

after defeating Japanese soldiers at Kaiapit, they were called Purple Devils.

Alex was very proud to be a Purple Devil.

After leaving New Guinea, Cpl Mackay became an instructor at the Jungle

Warfare School at Canungra, Qld.

Following his discharge this man of many talents, with many interests, was

employed as a farmer, milkman and coal miner. He enjoyed many of the 2/6

reunions. He donated his stiletto to the Commando History and Research

Centre.

Alex died, aged 93 years, in Crookwell, NSW and is survived by 5 children,

11 grandchildren and 12 great-grandchildren.

10 COMMANDO NEWS ~ Edition 5 I June 2015
---
From the Prolific Pen of Harry Bell

Here is my pre-Xmas contribution, which I am

beginning in October.

We arrived back in Oz on 30/9/12 to find a litany of

disasters. First came a series of messages from

Maureen Williams, in Karuah, telling first of the sudden

deterioration of Bill's health after a bad fall in August,

followed eventually by news of his death.

VALE NX164474, William Morris ("Snowy")

Williams, 4.08.25. – 22.09.12. Snow had led an

unusually full life, from under-age enlistment, and a

gruelling couple of years in A Troop, 2/9 Commando

Squadron to a career as dairy-farmer, pig-breeder,

earth-mover, grazier, yachtsman, part-time fisherman

and a nearly full-time, multiple-trophy-winning claypigeon

shooter! He was still shooting successfully until

a few weeks before his death. And at eighty, he had

taken up gliding. The mind boggles.

Snow's funeral took place at Beresfield on 3 rd

October. The priest was a returned soldier; the RSL

component of the service was conducted by the

President of Karuah Sub-Branch; there must have been

over a hundred Shooters present and the regiment was

represented by Reg Davis and Harry Bell (both 2/9).

Eulogies were spoken to the packed chapel by sons,

nephews and friends, including your correspondent,

and the rafters rang with laughter as a selection of his

escapades was recounted. These included his hairraising

– and life threatening – endeavours with

explosives and his reply to an officer who said to him:

"You're the smallest man in the section; why do you

constantly volunteer to carry the Bren?" Snow is said to

have replied: "Because it makes me feel ten feet tall,

Sir!" (He was never more than about 5'6" but Paget 's

Disease had shortened him much further in old age.)

I recounted his shaving story. His father, a

distinguished Royal Flying Corps officer from the first

dust-up, had counselled him against shaving with an

upward stroke. Snow, who didn't really need to shave –

he was fair-skinned and blonde, with a baby's-bottom

complexion – was keen to emulate his more hirsute

mates and when quizzed about his habit of shaving in

one direction only, he replied: "My father told me to

always shave down ". He didn't know why they all burst

out laughing until he realised that "down" was all he

had to shave!

VALE NX202755, E.D.L (Darrel) Killen (2/7),

28.11.1925 – 31.12.2014; and NX203204, Ian Michael

Seale (23/7) 20.1.1926 – 31.1.2014. Darrel died in the

Fred Ward Nursing Home at Canberra, after a

protracted and painful illness – or series of illnesses.

Until the last few months he had been living at home,

due to the self-sacrifice of his wife, Dinny, but

eventually he came to need specialised full-time care.

When I was with him at the nursing home in October,

he rang Ian for a final few words.

Ian died in hospital in Melbourne

after a long and painful illness. He too

had, due to the loving care of his wife,

Melanie, been able to live at home,

with 24-hour care, until a few days before

his death. They had arrived at 2/7 Squadron in New

Guinea in 1945 on the same draft and died within 24

hours of one another. Both of them had enlisted

straight from school, Darrel from Sydney Grammar

School and Ian from The Armidale School. Both had

volunteered for overseas service on enlistment and

both volunteered for and were accepted for

Commando training. I had the pleasure of training with

Ian at Bathurst in the 16 th I.T.B. at a time when all

Commando volunteers were receiving their infantry

training there at the hands of experienced officers and

NCOs from the 16 th Brigade, A.I.F. To their intense

disappointment, both men were held back from the

last of the 1944 drafts for Canungra and allotment to

units, for both would otherwise have breached the rule

then in force that provided that no-one should be sent

into action before his 19 th birthday. This rule had only

recently begun to be enforced and the only men (or

should I say "boys") who got away with its breach were

those who, like Bill ("Snowy") Williams (W.I.A.; 2/9)

Johnny Morris (2/9, 2/7) and Tony Hanley (K.I.A.; 2/9)

had forged their birthdates and enlisted under-age. As

a result, Darrel & Ian had to mark time in a Young

Soldiers' Battalion until reinforcements were called for

in 1945. They arrived on The Island in time to see

active service – indeed, John Jeffers, (2/10) another

NX202755 ~ E.D.L. (Darrel) Killen (2/7)

NX203204 ~ Ian Michael Seale (23/7)

COMMANDO NEWS ~ Edition 5 I June 2015 11
---
Young Soldier who had trained at Bathurst and joined

his unit at the same time, was killed in action shortly

after his arrival.

After the war, both Darrel and Ian continued to

serve their communities with distinction. Ian, who had

been a brilliant schoolboy scholar and athlete, began

his tertiary education with an Exhibition that he had

won in the Leaving Certificate examination, but

realising quickly that his lecturers could teach him little

that he had not already learnt, left Sydney University

for Commerce, where he had a long and distinguished

career, particularly in the field of importing: first steel

and later dried fruit. Had he persisted with his

academic training, he would, in my opinion, have stood

a good chance of winning a Rhodes Scholarship for as

well as having an exceptional intellect, he was an

outstanding athlete, excelling in boxing, cricket,

football, tennis, swimming and squash (he was the

Queensland Squash Champion). Even after years of

battling with the dreadful wasting disease, myositis, his

wit and scholarship made him a wonderful companion.

The Commando Association (Vic) was represented at

his funeral by outgoing President, Dick Pelling, Editor,

Lindsay Lorraine, several other post-1945 Commandos

whose names I do not know but who formed a greenbereted

bodyguard and by Con Bell (2/7), Keith

Johnston (2/10) and your correspondent (2/9).

Ian is survived by Melanie, children Susie, Peter and

Stephen and 5 grandchildren. Grandson Pierre, a

regular marcher with Ian on Anzac Day was overseas

when his grandfather died.

Darrel too had been successful in both sport and

study at school (he was one of Don Newport's con -

temporaries at Sydney Grammar). After his dis charge,

he too enrolled, courtesy of the C.R.T.S, at Sydney

University where he was a prominent resident of

Wesley College. He graduated as a Bachelor of Arts

and, having completed the 3-year course in 2 years,

moved on to Oxford where he took a further degree

before winning a Doctorate of Philosophy at Chicago

University. Back home, he was an innovator in the

fledgling Motel industry as well as being an exhibitor of

"good" films, both in Canberra and Sydney and in

other regional centres. He was also, for a time, involved

in the development of the NSW snowfields and to a

less extent, in the grazing industry. A series of

misfortunes attacked him in later years, both in

business and in health but he had been a really

significant contributor to both the Motel and Film

industries. His illnesses were many – like the Captain of

the Geebungs, "his wounds were mostly mortal" – and

included cardiac disease, cancer and Parkinson's.

Darrel is survived by Dinny, by children Virginia,

Edward and Grainger and by four grandchildren.

Members of the Commando Association present at his

funeral in Canberra were his brother Bryce (2/8) and

your correspondent. Jim Creer, an original member of

1 Commando Company in the 1950s, and an old friend

of Darrel's also made the trip from Sydney.

VALE Ted Ruston M.C., aged 99. Ted had been in

the Royal Horse Artillery back in the 30s and later in a

Mountain Battery, handling mules and "screw guns" –

it recalls Kipling's poem: "Smokin' me pipe in the

mountings, Sniffin' the mornin' cool; I walks in me ol'

brown gaiters along o' me ol' brown mule . . . For we

all love the screw guns . . . They sends us along where

the roads are But mostly we goes where they ain't.

We'd climb up the side of a sign board An' trust to the

stick o' the paint!"

During the battle on the European front, after his

unit had been mechanised, he was attached as a

gunner to No 1 Commando and was "adopted as the

Commando's gunner" taking part in a number of major

battles. At Osnabruck, it was said that their key strategy

was to "take the brewery to demoralise the enemy",

which they did, "with the help of Ted's masterful air -

burst artillery." Dick Pelling attended Ted's funeral on

the day before Ian Seale's

Readers of Commando News or Cav. News may

recall my account of his repaying Allan Bynoe's £5 loan,

due since they were both in Lae A.G.H. in May 1945,

recovering from serious wounds. Snowy visited

Adelaide in about 1980 and greeted an incredulous

Allan with: "Here's the five quid I owe you, Allan" as he

handed over a dinky-di, long-out-of-circulation five

pound note!

After his return to the Squadron (he had "deserted"

from Sydney and hitched rides to New Guinea in RAAF

planes). Snowy and his brother-in-law to be, Johnny

("Bluey") Green (2/9), used to court death - and courtmartial

– by intercepting parties of armed Nips as they

came in to surrender at Boiken and rob them of swords,

flags, watches, binoculars etc. Somehow they avoided

both fates.

On his coffin were his black beret and medals and

his beloved 12 gauge. We offer our sympathy to

Maureen and to Bill's three sons and daughter.

Ted MacMillan (2//9) returned home to Burra in

October after a bowel resection in the Calvary

Hospital, Adelaide. Claims to be well again, despite a

bit of low blood-pressure. Barbara is a highly qualified

nursing sister, so (though a bit out of practice) she will

no doubt keep her patient in order. (Remember the

days when Sisters were ancient dragons – some of

them over 40! – and not to be trifled with?)

Ted Punch (2/7) has also had a tussle with the

quacks – first a kidney had to be removed in a hurry

and then a pacemaker inserted. He too is under home

supervision. Annie did her training at R.P.A. while

Barbara (see above) was at "Kids" (Royal Alexandra

Hospital for Children).

On a happier note; as I was crossing the Domain

recently, I was passed by a group of young office

workers, jogging off to some athletic function, when

one of them detached himself and approached me,

saying: "I remember you from Anzac Day. I'm Adam

Gelbart, Ken MacKay's grandson."

12 COMMANDO NEWS ~ Edition 5 I June 2015
---
I was tickled pink; not so much at being

remembered – if he had seen the Hunchback of Notre

Dame on Anzac Day, he would no doubt have

remembered him, too – but because he had the

courtesy to stop and make himself known. A fine

looking youngster, too – he was going to a boxing class

– and a credit to his grandfather (the late Ken MacKay,

(2/10).

On 13 th September 2012, I was in Italy, on my way

to a place called San Sepolcro, in Tuscany. It seems that

in 1943, the advance of the 8 th Army was being held up

by some obstinate Huns and a Brigadier ordered the

destruction of the little village church there, fearing

that its steeple may be used as an enemy O.P. The

Battery Commander who was given the job, one

Captain Clarke, was about to complete the job when

he remembered that the writer and critic, Aldous

Huxley, had written that a painting, The "Resurrection"

by a medieval Italian called Piero della Francesca,1412-

92 was hanging in that church and was, according to

Huxley, "the best picture in the world". The good

Captain disobeyed orders and the Germans retreated

anyway. Captain Clark is a village hero in San Sepolcro.

I had to see the painting and a great work it is, though

in my three weeks in Florence I had seen about a

thousand "Resurrections". Incidentally, a German

general is said to have acted similarly, to preserve the

medieval city of Florence.

Why am I writing about this? Well, my trip to San

Sepolcro was 67 years to the day after the Japanese

18 th Army surrendered, at the Wom strip, near Wewak.

As I said in my letter home dated 14.9.1945 (see "Wee

Waa to Wewak", Vol 2) ". . . they placed us in position

along three sides of a hollow square with the navy on

our right flank and the arty on our left. Our squadron of

150 was completed by a contingent from 2/4

Armoured Regiment, dressed the same as us except

that they had colour patches on their berets, whereas

we wore no colour patches. We couldn't see much of

the other units but across the parade ground from us

was a small detachment of the Royal Papuan Consta -

bulary, looking tremendously smart and efficient in

their navy shorts and singlets with red trimmings and

broad, polished leather belts. We didn't look so bad

ourselves if it came to that – all with green shirts and

slacks, Australian type gaiters, belts scrubbed white,

rifle slings ditto, scabbards and boots polished. And

set off by the old black beret and the big badge, which

is worn only by us and the armour (i.e. 7 7 9 div cav

don't have it.)"

There followed a bit more about the ceremony; a

description of General Adach: "A disgusting little

scrub, in a dirty old brown uniform . . . and, to cap it,

he's wearing RIDING BOOTS AND SPURS!" Then:

"The barge trip home was the worst part of the whole

day. The sun blazed straight down into it, heating it like

an oven as there wasn't any wind . . . the ride in the

truck was a bit better; it rained and the road was worse

than Stumpy Lane [a bush track at home] but at least it

was cool. So we were O.K. when we hit home,

especially as old Karl Hayden was keeping me a bottle

of beer!"

"Double Diamond", the Victorian Commando

Association Journal's WW2 section has arrived. The

whole publication is very professional, but if you think

that Johnny Morris (2/9; 2/7) has changed, it is at least

partly because the photo over his name is actually a

very good likeness of the late Ted Baker (2/10).

February News

VALE NX 202915, Oscar Henry (Ossie) Pomroy

(2/10) on 31.1.2015, aged 91. Os was one of the real

characters of the regiment in the Aitape/Wewak

campaign. A Canungra cannibal and a relatively latecomer

to 2/10 (he joined the rear Party on the

tableland in November 1944) he finished the war with

a crown on his sleeve and a reputation as a fine soldier.

"To the Green Fields Beyond" describes at pp318 and

320 his contribution, as a Bren Gunner (with two

stripes) at Mandi ; " . . . Corporal Pomroy with his Bren

courageously covered the evacuation of the casual -

ties". He rated another mention during the Machouin

patrol (p340). Someone from 10 Sqn (probably Keith

Johnston as usual) will talk of his time with 10 Sqn; my

recollections are mainly from the Training Battalion (16

I.T.B.) at Bathurst, where again he was prominent as a

member of the Terrible Trio: Troopers Pomroy, "Spud"

Murphy and "Hank" Charlton, often backed up by Tpr

Jack ("Wimpy") Rosewarne, all 2/10. Hank played a

guitar or some such instrument and the trio was noted

for its renditions of "Salome" (not the operatic version!)

and "Who Threw the Overalls in Mrs Murphy's

Chowder". They won fame, too, when the CSM, "Pop"

Morgan M.M. (2/2 Bn) roused our company one frosty

August morning. "Righto B Company; Outa them

bloody huts!" rang Poppa's reveille. "Tell 'im Muck 'im"

(or something that sounded similar) was the response.

Pop was not amused. He demanded production of

the speaker and when nobody volunteered, cancelled

weekend leave for the entire Platoon. Eventually,

honour was preserved, after a fashion, when the

terrible trio accepted responsibility jointly – though we

all knew that they were innocent. We never learnt the

true identity of the bold orator.

While at Bathurst, Os met his future wife, Myra, an

AWAS. On discharge, he joined the Police Force, from

which he eventually retired as an Inspector. He served

at various country centres and was decorated for

bravery during floods at Lismore: he had been a state

champion diver as a youth and was a fine swimmer

(though not quite as good as John Ellice-Flint, 2/10,

who pipped him in the Karawop Swimming Carnival in

1945). He later served as Sergeant in charge at my old

home town, Wee Waa, at the height of the cotton

boom, when the district was inundated with itinerant

stick-pickers, mostly aboriginal. Enforcing 10 o'clock

closing was a military exercise: kick the swinging doors

open at 2159 hours and come in swinging both fists!

COMMANDO NEWS ~ Edition 5 I June 2015 13
---
He survived unscathed; he was a mighty bare-knuckle

fighter as he proved at Yerongpilly Staging Camp in

1944.

After his retirement he lived at Urunga but spent his

closing years in the Domaine Nursing Home at Coffs

Harbour, hating his immobility and near blindness.

Myra predeceased Os, who is survived by their son,

Philip, a well-known artist.

VALE VX111889, Eric ("Robbie E") Robinson, 2/9

8.1.2015, aged 91. [See above in my Xmas news.]

Robbie E (so called to distinguish him from Robbie R.K,

a sig attached to 6 Section) was the rifle-bomber in 5

Section, B Troop. A promising footballer (Aussie Rules,

that is), Eric was a popular chap, with his youthful face,

pink complexion and powerful physique. More than a

match, one would have thought, for any straying

marsupial yet, as readers may remember, he was

severely wounded in unarmed combat with an Old

Man kangaroo at his property near Musk (Vic.)

One of my lasting memories of Robbie was at

Numba Sickis, inland from Dagua, on 15.8.1945 when

he and I fired a 21-grenade salute into the scrub to

celebrate VJ Day. He is survived by Gwen and by their

daughter Fay and grandchildren.

VALE Keith Stringfellow RFD, ED (2/5; Z Special.)

Keith, a retired Brigadier, had a most distinguished

career both during and after the war. For some years,

until forestalled by his own and his wife's ailments, he

was President of the NSW Commando Association.

Phyllis died in late December, 2014 and Keith survived

her until 31.1.15. He celebrated his 95th birthday on

8.1.15.

VALE QX50698, Ted Head (2/9). I don't have

details but Bill Justo (2/9) tells me that Ted is survived

by his wife, Vera, who still lives in Shillliday Street,

Warwick (Q). Ted was a regular attender at Cav

reunions in Queensland and Northern NSW. Inci -

dentally, Justo is still terrorising the inhabitants of

Burpengary by driving round the town at 92 (years, not

M.p.h.). This is his way of retaliating against those

paramedics whom he insists on calling "physio -

terrorists".

In the December issue of Commando News, I

mentioned that the death of NX 43883, Lt R. Irish, Z

Special had been noted in Reveille but that I had been

unable to learn anything about him. I have had a phone

call from Noelene Irish, daughter of Noel Irish (2/5)

who tells me that the deceased was her father's cousin.

She did not know him well, but thinks he was an

accountant and recalls that he was indeed in Z Special

though not named in "Silent Feet". It seems that only

"operatives" are listed therein, though a number of

other troops took part in their missions. This is an

unfortunate gap in the records. Noelene has happy

memories of the late Charlie Olliffe (2/5) who was a

leading solicitor in Griffith (NSW). I had the pleasure of

dining with Charlie when working in Griffith but

Noelene's experiences were quite different: she

recalled that she was heavily pregnant when staying

with Charles and that he, a confirmed bachelor, had

filled his fridge with quarts and quarts of milk, thinking

that she would need it – as it happened she detested

milk!

Paula Hunting (widow of Harry, 6 Div Cav and 2/10;

sister of Doug,"Sandy," Williams, K.I.A; 6 Div Cav &

2/9) wasn't mentioned above but I received a Xmas

Card from her in February! This was accompanied by a

covering letter and the original envelope proving that

it had been posted in December, correctly addressed

but for the P.O. Box number, which had been omitted.

The local P.O. staff couldn't be bothered to look up

their register and didn't even get around to returning

to sender until 6 weeks had elapsed. So much for the

efficiency of privatisation. She had got in early with the

card, too: a hand painted one, as of yore. Paula is well,

after a lens replacement (cataract) and a hip

replacement and a badly gashed shin. She has recently

been to Melbourne, courtesy of her neighbours, to see

the exhibition of W.W.1 memorabilia at the Museum,

which she praised highly.

If you read my recent references to the East Timor

Hearts Fund, you may recall that I reported that one

generous ex-commando had responded to the tune of

ten grand. I am happy to be able to reveal his identity:

Bob McDowell of 2 Commando. Bob served in the

early sixties, before leaving in 1966 to work overseas.

He is now a more or less retired Civil Engineer and

Contractor. His interest in Timor does not flow from any

family link with 2/2 or 2/4 Squadron but he had learnt

about the campaign from Bernard Callinan. He shares

the view – surely a near universal view – that Australia

owes the Timorese a lot and has been painfully slow to

repay its debt. Bob reports having bumped into Con

Bell (2/7) and Keith Johnston (6 Div Cav & 2/10) at the

annual ceremony by The Rip.

Incidentally, the East Timor Hearts Fund is currently

expanding its efforts. In 2014 it sent six cured patients

home from Melbourne and in 2015 is sending a

volunteer medical team up there for screening clinics,

preparatory to flying more patients to Australia for

surgery. By way of a reminder, the Fund is to be

contacted at P.O. Box761, Warrnambool, Vic, 3280

Ted MacMillan (2/9) and Barbara are very

cockahoop about daughter's selection by the Orroroo-

Carrieton District Council as Citizen of the Year (Me

Too! She is my god-daughter!) The Goyder's Line

Gazette lists an astonishing account of her achieve -

ments, including a lengthy term as Secretary/Coach of

the Carrieton Tennis Club, President, Captain and

Handicap Manager of the Carrieton Golf Club, Vice-

President and President of the Carrieton Progress

Association, teaching in both local Primary School and

Area School, Driving the School Bus from Carrieton to

Orroroo and a dozen other activities, quite apart from

producing six children, with nine grand-children (so far)

and, in the words of the local newspaper, being

"famous around the region for her chocolate cakes"!

Cheers all,

Harry Bell

14 COMMANDO NEWS ~ Edition 5 I June 2015
---
BOOK REVIEW

SNAKES IN THE JUNGLE

Special Operations in War & Business

Jim Truscott, Zeus Publications, Gold Coast, 2015

Review by Patrick Cullinan

Take this challenge if you're game. If you think that

you've had a very full, professional and active life, try

benchmarking it against Jim Truscott's life as covered

in his new book; Snakes in the Jungle, Special

Operations in War and Business. If you've achieved a

quarter of what Jim has accomplished, then I'd say yes,

you've had a very full and active life, one you can be

proud of. For the young adult reader, Snakes in the

Jungle will show you that there's a whole world of

opportunity and challenge out there just for the taking.

This world of opportunity is for those like Jim

courageous enough to decide one's own path in life,

give it a real go, while accepting the ups and downs of

the journey, and pushing the boundaries in so doing.

Start now, with this book. You won't regret it, but be

warned, Jim moves at a frenetic pace. Even as a cadet

at Duntroon, he mixed military training with mountain

climbing in New Zealand, with civil engineering degree

studies, while at the same time planning the next big

thing as he puts it, and since then, he has never

stopped.

Snakes in the Jungle is a full-on book for the

thinking-brave readers, those prepared to be taken

outside their own comfort zones as they follow,

understand and appreciate a life's journey lived to the

full, taken by a highly intelligent and energetic

individual. Jim's philosophical approach to work both

in the military and later in business is depicted in some

of his earlier comments; 'to get people to go 50

metres, you have to put the goal posts at 100 metres…

if you want to bring about change, you need a change

leader and a change navigator that just invents stuff

that is so provocative that it unsettles those that revel

in the status quo… (and) people have to be dragged

into the future by provocation', and so he lives up to

these messages as a true leader in Snakes in the

Jungle.

This book covers the full gambit of emotions, the

joy of finding his soul-mate in life, his wife Colette who

embraces his adventurous journeys right from the start,

success on the Special Air Service Regiment's selection

course, the numbness of tragedy after a climbing mate

(in the same tent) is taken by an avalanche, the

exhilaration of success on achieving varied goals,

perilous climbing ascents and descents, getting up

whenever he falls down and having another go,

moving tributes and acknowledgement to courageous

World War Two Commando Z Special Force operatives

after he retraces their steps in kayaks near Singapore,

and on foot in Borneo and surrounds, private tears of

joy on hearing of the birth of one of his children when

climbing, confronting realities while serving in

Rhodesia, Kuwait and East Timor and the realities and

hidden traps for new players in the business jungle

where as Jim puts it; 'snakes are seldom seen, always

unexpected and even surprising'.

Jim further comments 'I could go on forever about

receding glaciers, rubbish in national parks, displaced

natives and so on, but fundamentally, we were here to

climb the mountain…' This goal orientation focus –

doing it rather than just talking about it captures the

essence of the book. Jim thrived in the discomfort,

danger and pain of going for that goal whether it be

in the hot Australian deserts, the freezing cold

Himalayas, the mosquito infested jungles, but one area

seemed to be almost too painful for his soul – the

Canberra bureaucracy. I'll leave that for the reader.

'To excel requires passion' according to Jim and two

of his most passionate areas are special operations and

mountain climbing, both of which he excelled at, but

even they brought frustrations. Jim's bringing his

Commando troops and later his Pilbara Regiment

troops to an operational footing earned him both a

censure and a commendation! Seeing the Commandos

deploy to war in Afghanistan a decade or so later was

a frustratingly 'I told you so' moment. Over the years, I

was very fortunate to have Jim's thoughtful, blunt but

very valuable input to SO Intelligence planning,

expedition planning, doctrine and adventurous training

evaluations to name just a few areas, and I could never

understand why this remarkable officer who lived all

the values we talk about was not a number of ranks

higher than his worn rank. He certainly was intel lectual -

ly, and his frustrations with a stalled career under -

standably comes out in the book. Jim's always been

one of my heroes and I feel honoured to have been

asked to write a review on his book. Just reading

Snakes in the Jungle, and appreciating all that Jim has

done and experienced, I have to think, wow, how can

you measure that, and it's at least fortunate that his

story has been told.

Finally, this book is not for the lazy or for those

intimidated by going outside their own comfort zones

or those that thrive in the status quo, rather Snakes in

the Jungle is strongly recommended reading for:-

(Continued next page)

COMMANDO NEWS ~ Edition 5 I June 2015 15
---
From the office of…

Senator The Hon. Michael Ronaldson

Minister for Veterans' Affairs

Minister Assisting the Prime Minister for the Centenary of Anzac

Special Minister of State

MINISTER LAUNCHES PHOENIX AUSTRALIA:

CENTRE FOR POSTTRAUMATIC MENTAL HEALTH

Launching the Phoenix Australia: Centre for

Posttraumatic Mental Health at The University of

Melbourne, the Minister for Veterans' Affairs, Senator

the Hon. Michael Ronaldson, highlighted the Govern -

ment's ongoing commitment to posttraumatic mental

health.

Phoenix Australia is the new name of the former

Australian Centre for Posttraumatic Mental Health,

now in its 20th year of operation.

Under its new name, Phoenix Australia will continue

working to improve mental health services for veterans

and currently serving members of the Australian

Defence Force, as well as the broader community. In

particular, ongoing work will focus on advancing

knowledge about posttraumatic mental health.

"The work of the Centre advances the knowledge of

posttraumatic mental health, establishes best practice

standards for management of trauma in a range of

sectors, and guides clinicians in effective, evidencebased

treatments for PTSD and related problems,"

Senator Ronaldson said.

"The Centre will continue to provide advice to, and

assist, DVA in its work to ensure veterans of all conflicts

receive the mental health support and services they

need.

"The new name, which signifies evolution, renewal,

regeneration and hope, captures the essence of

recovery after trauma.

"I look forward to a further strengthening of the

relationship between DVA and the now Phoenix

Australia in their important work together for the

benefit of veterans during this Anzac Centenary period

and beyond," Senator Ronaldson said.

BOOK REVIEW: Snakes in the Jungle

(Continued from previous page)

• all Australian Defence Force Academy cadets

to show a living example of what it means to

be true to oneself and lead in a myriad of

situations;

• Special Forces to appreciate a very exper -

ienced operative's views on where Special

Operations should be now and into the future;

• military officers, particularly to analyse the

culture that promotes or holds back officers of

Jim's energy and talents, and at the same time,

for a supposedly learning organisation misses

out on so many potential lessons that could be

learnt;

• adventurers – there's too much to do in a

lifetime (Jim would have to live to 150 years to

complete all his goals), but this book can help

you plan your own goals (and as Jim would say

– plan goals with deadlines); and

• those who are committed to succeed in the

business world (noting that most businesses in

Australia fail, but Jim has been highly

successful and has provided 16 insights which

he calls Revelations to focus those with a

passion to succeed).

Above all, Snakes in the Jungle is testament to an

extraordinary officer of great integrity, drive and

intelligence who could easily have compromised his

principles to climb the career ladder, but didn't. Well

done Jim on yet another fine achievement. Just great.

PERSONNEL RECORDS

FOR THOSE WHO SERVED

AFTER 1970

Those who have served since the Vietnam

War, and who require copies of their service

records or a Discharge Certificate should write

to Personnel Records – Canberra at the

address below.

Please provide all relevant service details

together with a copy of photographic

identification such as a driver's licence or

passport.

Relations of those who have served since

the Vietnam War should also write, submitting

proof of their Next-of-Kin relationship, to the

address below.

Postal address:

Defence Archive Centre

Fort Queenscliff (DAC-FQ)

GPO Box 1932

Melbourne VIC 3001

Email address:

adf.persrecordenquiries@defence.gov.au

16 COMMANDO NEWS ~ Edition 5 I June 2015
---
COMMANDO FOR LIFE

Australian Commando Association New South Wales Inc.

"Q" Store order form

Name: Date: / /

Address:

Contact Details: P M E

ITEM FOR SALE POST QTY PRICE $$$

Association Green Jacket NIL $330.00

Association Green Jacket Pocket (For new jackets) $3.00 $80.00

Association Green Jacket Pocket (Replacement Pocket) $3.00 $15.00

Association Green Jacket complete with pocket NIL $410.00

Badge – Cloth – Commando Parachute $3.00 $6.00

Badge – Beret (New Design) $3.00 $15.00

Badge – Car Window Decal $1.00 $2.00

Badge – Lapel – 1st Commando Regiment $3.00 $10.00

Badge – Lapel – Australian Commando Association $3.00 $10.00

Badge – Lapel – Para Wings $3.00 $10.00

Badge – Name (Optional – Years of Service/Nickname) NIL $20.00

*Beret – Green Qualified Members Only $10.00 $32.00

Book 'Strike Swiftly' "The Australian Commando Story" $18.00 $70.00

Caps – Black – Australian Commando Association $10.00 $20.00

Coasters – Set of – Gold Anodised Aluminium $10.00 $25.00

Plaque – 1st Commando Regiment $15.00 $50.00

Shirt – Grey with Australian Commando Association logo $10.00 $50.00

Shirt – Grey Polo/Golf with Aust. CDO Assoc. logo $10.00 $40.00

Tie – 1st Commando Regiment $10.00 $20.00

Tie Clip – Australian Commando Association $3.00 $10.00

TOTAL $

Send cheque/money orders payable to Australian Commando Association (NSW) Inc.

Addressed to:

The Treasurer

Australian Commando Association (NSW) Inc.

PO Box 432, TOONGABBIE NSW 2146, AUSTRALIA

Internet banking details (Australia)

Australian Commando Association (NSW) Inc.

Police Bank: BSB: 815 000 Account No. 41117 Quote your name and Subs/Qstore etc.

✂

Internet banking details (Overseas)

Account with institution/swift code – ANZBAU3M

BSB: 012010 Account No. 777000675

Beneficiary customer – Police Bank

Details of payment – Account No. 41117, Australian Commando Association (NSW) Inc.

Quote name and Subs/Qstore etc.

Your order will be processed by Norm WOOD, Quartermaster, (02)9545-0484 or 0419-484-541 or

newood@ozemail.com.au

*Nominate Size (beret measurement around head cm)

COMMANDO NEWS ~ Edition 5 I June 2015 17
---
XACT th65

In-line Clip-on Thermal Weapon Sight

TH 65

The XACT

th65 is a 60mm in line, clip on thermal weapon

sight designed for the infantry marksman. When

coupled with a X4 magnification day sight it enables a

marksman to identify and engage targets out to

the

maximum range of

the current and next generation

infantry rifles by day and by night.

The XACT

th65 design advantages include:

Optimised Size Weight and Power (SWaP) for the

Infantry Marksman – It provides the best performance at

the lowest weight to allow effective 600m target

recognition and engagements without the marksman

and the weapon being encumbered with unnecessary essary

weight.

Provides excellent

image quality out to 600m and

beyond. The th65 image quality is based on Elbit's in

house thermal image processing technology.

TWS supports the concept of the weapon as a system stem –

with x4 Enhanced Day Sight (EDS) and flip-able TWS, the

combatant can utilize both to enhance observation and

engagement capabilities by night or day.

TWS can be used as a standalone reconnaissance sance scope

for the marksman, man, commander or other combatant.

Elbit owns the technology and has the freedom to

upgrade and modify its systems to meet customer needs

as technology advances. As both technology

and

operational requirements change, Elbit's processes in

Australia and the way in which the th65 is designed will

allow the CoA to quickly and easily upgrade

the TWS to

meet evolving

and changing Australian requirements.

Main Advantages & Features

es

Performance

Human Recognition ion at 600m

Size

140mm length

Weight

---
On Thursday, 7th May

and in bright sunshine,

we said goodbye to our

most highly decorated

WWII Commando, CAPT

Pat Dunshea MC (Bar), in

a civil service at Mt

Gravatt Crematorium.

Army Ceremonial

section added bugler

MUSN Alexander Long

with our ACAQLD Piper,

Ian Millard, to ensure a

respectful and dignified

departure worthy of this

man. The service in -

cluded a eulogy from the

Celebrant and tributes

from family, ACAQLD,

RSL and Freemasons. He

certainly led a busy life

after the war!

The military tribute

was presented by Presi -

dent Keith Long who

summarised Pat's career

from enlistment into AIF

Special Forces in July

1940 through to dis -

charge in October 1945.

This included major post -

ings, promotions, Honours and Awards and the health

issues, mainly malarial, which plagued and frequently

hospitalised him during his entire overseas service.

Pat's main operational service postings were with

2/7 Independent Company in New Guinea over the

period October 1942-December 1943 and on

Bougain ville with 2/8 Commando Squadron from

September 1944-June 1945.

Australian Commando Association

Queensland Inc.

Incorporated orated

in

Queensland IA40186

www.austcdoassocqld.com

ww.austcdoassocqld.com

PO Box

185

Sherwood,

Queensland nd

4075

Commando for life

1941 - 1946 1955

-

Keith

Long RFD President

Tony

Mills

Secretary

Dr.

Chris Tucker Treasurer

president@austcdoassocqld.com secretary@austcdoassocqld.com com

treasurer@austcdoassocqld.com

0403 582 920

0419

136 772

0413 393 874

TOK TOK

CLAUDE JOSEPH PATRICK DUNSHEA MC (Bar)

Military Tribute

In December 1941 he

was a Lance Sgt and by

July 1944 he concluded

his service with the rank

of Captain.

The two citations for

his Military Cross and

Bar were read out as per

the record, the signi -

ficance of which was

impressed upon the

congregation. His other

Awards included:

Returned From Active

Service Badge, 1939-

1945 Star, Pacific Star,

War Medal 1939-1945,

Service Medal 1939-

1945.

CAPT. Pat Dunshea

MC (Bar) was an officer

who displayed out stand -

ing leadership; coura -

geous, highly skilled,

mission oriented, he

displayed initiative and

devotion to duty of the

highest order. Despite

serious debili ta ting

illness which plagued

him throughout his

entire overseas deployment, he kept coming back to

his duties. In our nation's hour of need he stood tall

among men and exemplified the warrior spirit of

ANZAC and the commando ethos. He will never be

forgotten.

Claude Joseph Patrick Dunshea MC (Bar)… Rest in

Peace.

(Continued next page)

COMMANDO NEWS ~ Edition 5 I June 2015 19
---
70th SF COMMANDO COMMEMORATION DAY

CANUNGRA

Over 80 members and guests answered the call of

the National Service Pipes & Drums and assembled in

the memorial area abreast LHQ at Land Warfare

Centre, CANUNGRA on a bright sunny morning of

Sunday, 29th March.

The Executive Committee determined from its

appreciation for the 70th Commemoration, that the

focus would embrace the wider Special Forces

brotherhood who have always supported this Day over

the years. This led to the largest turnout for many years

and according to WW2 veteran, Keith Buck (2/6), the

best ever he had attended.

Over 80 made the journey for this 70th Com memo -

ration. Our unique gathering of brothers included State

QX 16381

LIEUT. CLAUDE JOSEPH PATRICK DUNSHEA

2/7 AUST IND. COY.

AWARD OF MILITARY CROSS

CITATION

On 29 January 1943, New Guinea area, this

officer was 2IC of a force attacking up the Black

Cat track. As the only officer of this force with

thorough knowledge of the country, Lieut Dunshea

moved throughout the advance as a forward scout.

First contact made with the enemy occurred

when Lieut Dunshea shot four enemy in a forward

post. The force then deployed and attacked, met

very heavy opposition and was pinned down. Lieut

Dunshea sighted an enemy party moving to out -

flank his force. Realising the danger and unable to

make contact with his Commander, or gain any

help or support, this officer moved down alone to

cut off this enemy party which consisted of 12 men

and one Alsatian dog. Lieut Dunshea is known to

have shot five of this party, and was himself

wounded. He then charged the remaining enemy,

firing this Thompson sub machine gun killing one

more. The rest fled.

His courageous action prevented an encircling

move which would have placed his force in a very

precarious position and thus allowed the force to

advance to a grenade assault which inflicted heavy

casualties and forced the enemy to withdraw.

Lieut Dunshea is strongly recommended for an

immediate award of the Military Cross.

Ever notice that the people

who are late are often

much jollier than the people

who have to wait for them?

QX 16381

LIEUT. CLAUDE JOSEPH PATRICK DUNSHEA

2/7 AUST CAV. COMMANDO. SQN.

AWARD OF BAR TO MILITARY CROSS

CITATION

Lieut Dunshea is an officer of outstanding

ability. He received the MC for gallantry during the

war operation, and since that date his work over

that period to November 1943 has shown the

highest degree of military skill, courage and

strength of purpose.

This officer carried out the initial and successful

recce of the Bojadjin-Poroa Road at a time when

Japanese troops dominated the whole of the

Ramu Valley. This recce was of extraordinary value

and the penetration of ground, covered by hostile

natives and intense enemy patrolling required

peculiar courage.

Lieut Dunshea was normally accompanied by

one soldier and one native constable, and a relay

of these was kept on hand, as the endurance and

speed of this officer was so great as to exhaust

normal soldiers and natives after one task.

This officer made detailed reconnaissance of

the country between the headwaters of the Ramu

River and Sakyrak where 7 Aust Div advanced

troops had reached. His information given to 7

Aust Div of enemy dispositions and movements

was of great value. On several occasions where

stealth meant sacrifice of time, Lieut Dunshea took

extraordinary personal risk and shot his way out of

trouble. Unable to make contact with his unit

without losing time, Lieut Dunshea immediately

proceeded in advance of 7 Aust Div forward troops

and set off for a further recce into the Finisterre

foothills towards the Bogabjin Road.

Lieut Dushea has constantly set an example to

all ranks of the greatest courage, initiative and

devotion to duty.

20 COMMANDO NEWS ~ Edition 5 I June 2015
---
Presidents from Keith Long (ACAQLD), Peter Schwarze

(SASAQ); John Gibson (AATTVQ), Cleve Whitworth

(RMAQ), Bruce Parker (representing ACAVIC), Rudi

Poldoja (RBIA);Audie Moldre (CEO SASA Wandering

Warriors); Don Astill OAM representing WW2

Commando formations and John Butler (ACANSW).

Among the gathering were 1 & 2 Company former

members; Commando Regiments, ASASAQ & AATTV

representatives plus a significant presence from the

Royal Marine Commandos Association.

At 1100hrs, MC, ACAQLD Secretary Tony Mills

welcomed everyone and ARMY Senior LWC Chaplain,

James Pearce officiated over the Service with the

Opening Prayer, Closing Prayer and Blessing. President

Keith gave the annual address and Don Astill OAM

cited the Ode. Bugler Ron Southall of the Salvation

Army played the Last Post and Rouse. The National

Service Pipes & Drums performed the national anthem

which would have been a first time experience for

many visitors!!

President Keith Long delivered the main address

which this year recounted the signal focus of this Day -

the WWII Japanese landing at Kavieng, New Ireland.

This was the first time contact with N0.1 Independent

Company where our thinly dispersed and deployed

sections covering vital assets were over run and forced

to withdraw into the island interior where some

became M special unit coast watchers whilst the bulk,

following a series of misadventures, were captured and

embarked on the MONTIVIDEO MARU for labour

camps in Japan only to be sunk by a USS submarine

with no survivors.

The second part acknowledged those veterans of

all conflicts who had passed through CANUNGRA on

their way to active deployment, especially those who

paid the ultimate sacrifice and those who are currently

deployed overseas on active duty. But in particular the

president expressed special recognition of the widows,

wives, families and communities torn by grievous loss

and who endured and continue to endure.

Following conclusion of the Service, all Service

members, past and present, marched off to the Area

Sgts Mess behind the Pipes & Drums to join partners

for a sumptuous lunch. During this John Gibson,

president AATTVQ gave a memorable address re his

experiences at CANUNGRA on his way to his second

tour, this with the Australian Army Training Team

Vietnam 1970-1971. His first tour was with 5RAR in

19667-1967. The EXCOM resolved that a guest

speaker will be a feature of future Canungra Days.

Special thanks for making this a very successful

occasion go to RSM LWC WO1 Wayne Hay, WO2

Jason Moriaty, Snt Chaplain James Pearce, bugler Ron

Southall, Base Planning officer Alanna Phillips, Mess

Manager Margaret Olsen, and of course our "own"

Pipes & Drums who travelled all the way down from the

Sunshine Coast to support us. All of this was not

possible without the active support from the

Commandant LWC COL David Hafner.

They liveth for evermore.

Former members of 2 Commando Company who attended the Commando Commemoration Day

at Canungra in Queensland.

From left to right: Ned Jenkins, Nick Howlett, Tony Mills, Frank Read, Tom Nicholas, Chris Townley, Ross Goddard,

Keith Long, Adrian Cookson, Bruce Parker.

COMMANDO NEWS ~ Edition 5 I June 2015 21
---
CONGRATULATIONS!! ~ JOHN CARR MACKAY

Recipient ~ Medal of the Order of Australia (OAM)

2015 Australia Day Honours List

For

Outstanding Long Service to Australia, War Veterans and Community

War Service.

1941 John enlisted at 17 years in the Royal

Australian Navy. Volunteered for and served in triservice

special operations units behind enemy lines

throughout War in the Pacific:

• Z Special Unit, Services Reconnaissance

Department.

• M Special Unit (Coast Watchers), New Guinea

area.

• John McKay's contribution to our nation in

war; his selfless commitment to serving veterans

and community has been dedicated, continuous

and outstanding. This association believes he is

a most worthy recipient of the Medal Of The

Order Of Australia and we congratulate him on

behalf of all members, veterans, families and

the brotherhood.

Former long serving President for the Queensland Commando Association, Jack Mackay (Z & M Special Units),

celebrates with a glass of champagne with his immediate family, son Graeme and daughters Janelle and Pamela,

sharing the moment with His Excellency Paul de Jersey AC, the Governor of Queensland and Keith Long RFD,

current President of the Australian Commando Association Queensland. Jack received his Medal of The Order

Of Australia an hour before for military service and services to veterans and the community. On receiving his

medal, Jack paid a special tribute to his wife Audrey who was unable to attend on the day.

22 COMMANDO NEWS ~ Edition 5 I June 2015
---
AUSTRALIAN COMMANDO ASSOCIATION VICTORIA Inc.

C/o… 1/48 Karnak Road, Ashburton VIC 3147

Telephone: (03) 9886 9825 • Mobile: 0414 311 093

Marc Preston Glenn MacDonald Chris James

President Secretary Treasurer

thepresident@austcdoassocvic.com gmac1950@gmail.com thetreasurer@austcdoassocvic.com

President's Report to AGM - 2015

Welcome

I would like to welcome you all to the 2015 AGM of

the Australian Commando Association Victoria Branch

and to provide a report on the year's achievements and

activities as well as highlighting some of the forth -

coming events for the benefit of members.

2014 was another solid year for the Association

administratively, financially and operationally due to the

efforts of a very hard working Committee. The

Committee comprises:

Marc Preston (President), Peter Campion (Vice

President), Glenn MacDonald (Secretary), Lindsay

Lorrain (Treasurer & Editor), Philip Brabin (Activities),

Peter Tierney (Property Officer), Richard Pelling (acting

as Almoner), Peter Lynch , Bruce Parker, Peter Beasley &

Ted Walsh. Marc Preston has also filled the 2 Coy Unit

Representative.

Special mention should be made of the following

people who are the engine room of the Committee and

to thank them for their service. These are:

Secretary – Glenn MacDonald

Treasurer – Lindsay Lorrain (Magazine

Editor/Membership/Web Master)

Property Officer – Peter Tierney

Membership

There was a slight gain in total members over the

year with numbers (as at 31/12/2014) as follows:

Full 213

Affiliate 27

WWII 40

Honorary 1

Life Member 1

News Only 22

Other 8

Total 312

Although our numbers are encouraging we need to

actively focus on recruiting current serving and recently

departed unit members to introduce more "youth" into

the Association.

Finances

The Association's strong financial position has

continued to remain robust with over $100,000.00 in

cash and assets and will be the subject of a separate

report by the Treasurer.

Activities

All of the Association flagship events were success -

fully conducted during the 2014 year with large turnouts

experienced at the RIP Memorial Service and ANZAC

Day commemorations. The President's Shield pistol

shoot with our ASASA colleagues was also well

attended but unfortunately our submission to Vicpol to

waive current gun laws for our members to participate in

the shoot was rejected. Accordingly, members who have

attended 10 of these events and who have not joined a

licensed club are not able to participate in any future

events.

Future Activities

A dinner to recognise the 60th Anniversary of the

reformation of Special Forces in Australia after WW2 will

be held at Bayview on Eden at Queens Road,

Melbourne on Saturday 15th August 2015. The CO of

1st Commando Regt has indicated that the Companies

are very busy at the moment and he is happy for the

Association to take the lead on the many birthday

celebrations.

In 2015 we plan to conduct all of our flagship events

together with a visit to the Werribee Liberator and the

RAAF Point Cook Museums on XX. In addition we are

exploring the following social activities for our

members:

COMMANDO NEWS ~ Edition 5 I June 2015 23
---
a. A picnic at Hanging Rock

b. Go Carts South Morang

c. Family day at Funfields Amusement Park

Whittlesea (Toboggans / Water Slides / Bumper

Boats).

Further information on these forthcoming events will

be promulgated to members in due course.

Magazine/Newsletter

Particular thanks must go to Lindsay Lorrain for his

work in undertaking the Editorial role of our Magazine

and Newsletter as well as sending out the digital issues,

and organising and posting the printed copies with his

"packing team".

Discussions have also been taking place with our

inter state Associations and National Executive regard -

ing a National Magazine and also the best approach/

deliverable and the future publication approach for our

Branch magazine.

The "National ACA" magazine will be published via

Barry Grant who has an arrangement with a local

Publisher. Barry will advise all potential contributors of

the cut-off dates for content delivery and will also be

following up the required process for advising the

Publisher of address and/or email details of recipients.

There will be no change to our current Magazine/

Newsletter process at this stage and no cost attributed

to the "National ACA magazine".

Special thanks must also be made to WW2 veterans

Keith Johnston and Harry Bell, and their WW2

colleagues, for their continued Double Diamond

reports, recollections, and, sadly, many Obits, and to all

Association members who have written reports, and

provided news items (and some gossip) and photo -

graphs. Special thanks also to Con Bell for his valuable

assistance in keeping the lines communication open

with many of our WW2 members and the Committee.

As this year is our 60th anniversary, please send to

our Secretary your memories and scurrilous stories – as

long as they are true – as we are looking at producing

an anniversary publication that tells the story of the

people and events of 2 Coy from 1955 to 2015 – it is

your story.

Tidal River Cairn

Members should also be aware that the

Association's application to the Australian Government

for the Tidal River Memorial to be declared a National

Military Memorial of National significance was rejected

by the Department of Veterans' Affairs. The Committee

are currently examining the next steps which may

involve an alternate application for the Cairn to be

recognised and further reporting will be made to

members in due course.

National Association

The last National Committee meeting for 2014 was

held in Sydney on Sat 6/12/14 with Dick Pelling and the

Secretary in attendance. The focus of the meeting was

on obtaining agreement and support from both

Commando Regiments to facilitate automatic

membership in our Association for all serving members

for the purpose of forwarding information and the

receipt of free Newsletters. The Regiments (RSM &

XOs) will advise their process/directives in the New

Year.

The National Committee meeting schedule for 2015

is:

March – telephone hook up

June/July – meeting in Brisbane

Sept – telephone hook up

Dec – meeting in Melbourne

Welfare

The Association continues to promote and support

the Commando Welfare Trust (which supports current

serving Members and their immediate families) as well

as the Welfare Patriotic Trust Fund (W528) which the

Association administers and which supports past

Members of Special Forces Units/Groups. The latter

Fund can be used for broader welfare matters and this

year we wish to put more energy into utilising the Fund

to support welfare issues of any members from WW2 to

current who need support.

Conclusion

The principal activity of the Association for the year

was to run a non-profit, self-sustaining organisation to

maintain camaraderie amongst its members and to

raise funds to support those current and past serving

members of the various Regiments who may be in

need.

The activities and events of the Association would

not have been possible without the efforts of the

people I have mentioned in this Report and particularly

the Committee who I would again like to thank for

devoting their time and effort in conducting the

important matters involved in running a busy Associa -

tion. The 100 plus years of collective experience of the

Committee members is reflected in the high regard in

which the Association is held.

As well as the people I have specifically mentioned

in this Report there are always those who work in the

background without due recognition, and nor do they

ask for it, there are many members and friends of the

association who fall into this category and I would like

to take this opportunity to thank them all for their help.

In particular I would like to thank Bruce Parker for the

continued hospitality shown to us over the year for our

monthly meetings and for the wisdom and experience

Bruce brings to our meetings.

I am very proud to have represented you all as the

President of our Association and I would encourage you

all to continue to Strike Swiftly ....

Marc Preston

President

February 2015

24 COMMANDO NEWS ~ Edition 5 I June 2015
---
Anzac Day 2015 in Melbourne

The Anzac Day Dawn service was held outdoors at

2 Company HQ at Fort Gellibrand in light rain showers.

The CO of 1st Commando Regiment, Lt Col M, gave

an inspiring speech during the traditional service.

Family and friends placed wreaths and poppies on the

Rock of Remembrance in memory of those who fell in

action, and also those who died in training, from WW1

to the present day.

The gunfire breakfast in the drill hall, and Two-up in

the O'Connor Club, lightened the mood, as old friends

chatted over a (brandy-laced) coffee.

Later in the morning, in the city, only two WW2

veterans marched with the current serving and former

post-WW2 Commando units and sub-units, and family

– Ron 'Dixie' Lee (M-Special) and Charles Black (2/4).

Keith Johnston (2/10) took part from a vehicle.

After the march concluded at the Shrine a very long

Anzac Day continued when a large contingent of WW2

members and extended family, together with post-

WW2 Association and current serving members, met at

the Bayview Eden to enjoyed the traditional Anzac Day

reunion and lunch, continuing the long tradition of our

respected WW2 colleagues. During the formal service

Lt Col M again spoke, and Association vice-president

Sgt J gave a compelling piece of military history. Sgt J

presented David Rice, Jack Ripa and Terry Beckwith

with certificates in appreciation of their outstanding

service to the Victorian Association.

For those who attended all three Anzac events it

was a long, very moving, but satisfying day.

AUSTRALIAN COMMANDO ASSOCIATION VICTORIA Inc.

NEW COMMITTEE FOR 2015

We conducted our AGM on Saturday, 28th

February and the new Committee for 2015 is:

President

Marc Preston

Vice President John Lewis

Treasurer

Chris James

Secretary

Glenn MacDonald

Magazine Editor Barry Higgins

Property Officer Peter Tierney

Unit Representative Barry Sermon

Committee Members Richard Pelling

Peter Campion

Robert Magee

Phil Brabin

Retiring members from the 2014 Committee –

Lindsay Lorrain, Bruce Parker, Peter Lynch, Peter

Beasley & Ted Walsh – were thanked for their

invaluable contribution to the Association over

many years

While the first meeting for our new Committee

is not until 19/3/15, the new members have

already started to get their minds around their

portfolio – however during this handover period

could I request that any queries from your

respective States be directed to myself in the first

instance (copy to Marc Preston) – particularly items

relating to Treasury, Magazine & website.

Photo by Sandy Pelling

The Remembrance Rock at Fort Gellibrand, with a photo of

Sgt Brett Wood MG, 2 Cdo Regt, KIA on 23 May 2011.

Photo by Sandy Pelling

Remembrance poppies in Federation Square, Melbourne,

near the start of the Anzac Day march.

Photo by Sandy Pelling

Victorian contingent marching, with WW2 veteran

Charles Black (2/4 Commando Squadron) on the right.

COMMANDO NEWS ~ Edition 5 I June 2015 25
---
Your early-warning

advantage on any

dangerous ground.

When a perimeter breach could have costly consequences, you choose your

sentries wisely. The Patrol Persistent Surveillance System from Rockwell Collins

guards any boundary with unattended, all-weather ground sensors. Ultrasensitive

to movement and sound, the sensors are part of an integrated system that also

provides real-time video surveillance. Know what's happening at the moment

a trigger event occurs.

Senses movement, ground

vibrations, aircraft, speech

and more

Perimeter detection ranges

10 km (6.2 miles) or more

Scalable to any size perimeter

or facility

www.rockwellcollins.com

© 2014 Rockwell Collins. All rights reserved.
---
COMMANDO NEWS ~ Edition 5 I June 2015 27

COMMANDO WELFARE TRUST

COMMAN

WELFARE

DO

TRUST
---
DEVELOPMENT, DOCTRINE AND DEPLOYMENT OF AUSTRALIAN SPECIAL FORCES 1955-65

This article is based on the presentation given on 12 April 2014 at the one day conference 'Phantoms

Australia's Secret War in Vietnam' conducted at the National Vietnam Veterans' Museum at Phillip Island.

The presenter was Dr Jim Wood, Colonel Rtd., who enlisted in 1 CDO in February 1956, commissioned

in 1961 and served as a lieutenant and captain until 1966 when he moved interstate.

INTRODUCTION

From time immemorial, political leaders and military

commanders have sent individuals and groups to reach

well beyond the normal boundaries of territory and

expectation in order to silently gather knowledge and/or,

when opportunities invite, to 'Cause Havoc'.

We are reminded, in light of the present run-down of

operations in Afghanistan that, for much of the 19 th

Century, Afghanistan was the setting for 'The Great

Game'. This expression, usually attributed to Rudyard

Kipling, was an expression coined by a British East India

Company officer, Captain Stoddard, who later, as a

participant in 'The Great Game' was executed publicly in

1842 by order of the Emir of Bokara.

Today as Australians we celebrate and are guided by

our renowned military heritage encapsulated in the

acronym 'Anzac' and, within that heritage, another

encapsulated, in the title 'Special Forces'. In both cases

we are constantly reminded both of the evolutionary

nature of existing knowledge and of the constant

imperative to explore and innovate with regard to new

ways of warfare.

Of particular emphasis is the significance of the

concept of Special Operations as realised in the origins,

doctrine and development of the various components of

what are today known as Australian Special Forces. These

forces were established during the 1950s and known as

Commando, Special Signals and the Special Air Service. In

each case these units were modelled on British and

Australian exemplars established during WWII.

COMMANDO is usually associated with the War in

South Africa of 1899-1902, where highly mobile riflemen,

loosely formed as independent small units, caused severe

havoc to the conventionally organised British troops who

were seeking to impose British control over their South

African homeland.

The word and the fact of such action can be traced

back to 1715 where, among the 'free burghers of Cape

Colony it was regarded as an axiom that all white men in

the colony able to carry arms could be called upon to

defend it.' One explanation is that the word 'Kommando'

is Portuguese for 'command' or 'commander'.

The first British Commando raid undertaken in World

WarII against the German Army was described by

Churchill, Prime Minister, who had specifically directed its

execution, as a 'silly fiasco'.

SPECIAL AIR SERVICE is usually linked to the actual

establishment of 'L' detachment, under command

Captain David Stirling, of the British Special Air Service

Brigade, a brigade which did not exist in 1941. The reason

for the latter explanation was, according to one source,

the use of 'Air' was included in the title in an attempt to

persuade the Germans that the British had a parachute

brigade in the Middle East.

The first SAS raid against the Germans on 16

November 1941 was a disaster, when weather completely

disrupted the air drop, in North Africa, of 60 men of whom

only twenty two survived.

'L' detachment was officially named 1 SAS in October

1942.

'NEW WAYS OF WARFARE' - ORIGINS AND

INFLUENCES

Churchill, following Dunkirk, sought 'new ways of

warfare against the unbeaten German Army'. The means

to execute these 'new ways' was foreshadowed in

Churchill's direction to General Ismay, that, 'We should

immediately set to work to organise self-contained,

thoroughly equipped raiding units.' This prime ministerial

direction was to be realised in offensive action with an

emphasis on raiding and the immediate raising of ten

Commando units each of 500 men. He also insisted on

immediate action, with possible execution within a

fortnight. Particular attention was to be paid to the

recruitment of a special type of individual: quiet, modest,

those having had a variety of experiences including

previous military service.

For further reading, see Dunford-Slater's account, as

the first Commanding Officer, of the raising, in mid-June

1940, of the first British Commando, designated No. 3

Commando, [CDO], [thirty five officers/500 men].

Early Commando operations. The first such task, was

that undertaken by No.11 Independent Company on

23/24 June 1940 along the French coast between Le

Touquet and Boulogne and described as a 'skirmish'. This

was followed by a specific task for No.3 Commando, as

ordered by Churchill - 'a small scale raid on Guernsey, now

occupied by Germans'. This comprised 3CDO and 11

Indep Coy, two destroyers, plus six air-sea rescue vessels

a month after 3 CDO was raised. The raid was later

described by Churchill as 'a ridiculous, almost a comic

failure'.

There followed an intense effort to improve sea man -

ship, boat handling, landings, weaponry, fitness, forced

marching and 'weeding out' by the use of RTU (Returned

to Unit). Dunford Slater 'liked' the Australian officers

recruited into the Commando and whom he described as

'free thinking, free talking.' The Royal Navy provided

ongoing helpful support in the form of armoured assault

craft that enabled the Commando to undertake cliff

assault and rock and cliff climbing, whereas the new

initiative was regarded with suspicion by 'military

command'.

A more successful raid in February 1941 was carried

out in the Lofoten Islands, Norway, by range of naval and

air support by No 3 and No 4 CDO. This raid ended a

period of six months in which there were no operations.

Later, in mid-June 1941, a further raid on Vaagso, also in

28 COMMANDO NEWS ~ Edition 5 I June 2015
---
Norway, resulted in the first serious casualties and

required some 80 replacements.

Also in mid June 1941, the Green Beret was

introduced with an associated heraldic link to hunting and

as a consequence of Churchill's description of the men of

the Commando as 'men of the Hunter class'. The next

major operational commitment was to the Dieppe raid in

August 1942.

SPECIAL OPERATIONS - ORIGINS of the concept that

became known as 'Special Operations'

(Source: M.R.D. Foot. SOE The Special Operations

Executive 1940-46, London, Mandarin Paperbacks, 1990.)

'THE GREAT GAME'

• March 1938, British Secret Intelligence Service

(MI6), establishment of Section D, responsible for

sabotage, Maj L.D. Grand – 'to look into the theory

of secret offensives: how could enemies be

attacked, otherwise than by the usual military

means?'

• Autumn 1938, British War Office (W.O.) GS (R), Maj

J.F.C. Holland, to conduct extensive research on

'Irregular Warfare'.

• Spring 1939, W.O. GS (R) renamed MI (R) (Military

Intelligence Research) under W.O. Director of Intel -

ligence, MI (R) to cover tasks that would be under -

taken by troops in uniform; whereas SIS's Section D

would look into 'undercover, unavowable work.'

• Churchill replaced Chamberlain who had resigned

as PM on 10 May 1940 but remained as Lord

President of the Council and a member of the War

Cabinet. At that time, with 'France likely to

collapse', there was perceived a need for an

organisation to foster 'creation of widespread

revolt in Germany's conquered territories'. A draft

to this end was prepared initially by Lord Hankey

but further developed and, on 19 July 1940, signed

by Chamberlain.

• 22 July 1940, the British War Cabinet approved the

new organisation, quite separate from SIS, to be

known as the 'Special Operations Executive', 'to

coordinate all action by way of subversion and

sabotage, against the enemy overseas.'

• 'all subversive plans, whether SOE's or others were

to be approved by the Chairman, Dalton, and then

to secure the agreement of the Foreign Secretary.'

SPECIAL OPERATIONS – DOCTRINE

The long standing and extensive British experience in

the 'Great Game' constituted a rich reservoir from which

to draw the lessons learned from involvement in such

operations. One invaluable and prescient consequence

was the decision at SIS and, coincidentally at the War

Office, to undertake assessment and definition of this

experience as Doctrine to guide any future such

operations.

• 1938 SIS, Section D, Maj. L.D. Grand was tasked to

consider SIS doctrine to guide future 'Secret

offensives' operations.

• 1938 War Office, GS (R), Maj. J.F.C. Holland was

tasked to consider W.O. doctrine to guide future

'Irregular Warfare' operations.

• 23 March 1939 – War Office/Foreign Office, with

Prime Minister Neville Chamberlain's approval,

authorised Grand, Section D, SIS, to 'move on from

thought to action' and 'to embark on sabotage and

leaflet work in the Czech borderlands and Austria

and to prepare sabotage in any areas now

obviously threatened by Germany in eastern and

south eastern Europe.'

• Late Spring 1939, the Chief of the Imperial General

Staff (CIGS) commissioned Maj. C. McV. Gubbins of

GS (R) to 'produce a Guerrilla Field Service

Regulations (FSR)' with the result, and before

SOE existed, – 'The Art of Guerrilla Warfare',

'Partisan Leaders Handbook', and 'How to use

High Explosives' had been prepared. Thousands

of copies of these were distributed all over

Europe and South-East Asia in appropriate

translations.

• By summer 1944, some 10000 men and 3200

women, of whom some 5000, nearly all men,

trained or training as agents, were either on

operations or waiting to deploy.

• The diversity of the security and training require -

ments associated with SOE operations required an

extraordinary number and type of command,

control and training facilities across Great Britain.

• One ongoing and substantial hindrance to the air

support to SOE operations was the negative

attitude of senior RAF officers, Portal and Harris, in

providing air support to such SOE operations.

DEVELOPMENT OF SPECIAL OPERATIONS

AUSTRALIA (SOA)

Consider briefly the British SOE operations in the

Singapore area, (Force 136) plagued by poor intelligence

on the Japanese and belated insertion of 'Stay Behind'

parties to disrupt Japanese Lines of Communication.

Much more influential however was the 'knock on' for

Australia of the extraordinary range of Australian

"unconventional warfare" activities conducted under the

umbrella of what was later identified as Special

Operations Australia (SOA).

Consider therefore the significance for Australia of:

• The British Mawhood Mission to Australia and the

contributions of British officers such as Calvert and

Spenser Chapman and Warrant Officers Missle -

brook and Stafford in 1942 as a result of the Fall of

Singapore.

• The ALLIED INTELLIGENCE BUREAU, Special

Operations Australia, responsible to GHQ South

West Pacific Area (SWPA), established as the Inter-

Allied Services Department, known as ISD, and

which became the SERVICES RECONAISSANCE

DEPARTMENT (SRD).

• 1941: 1, 2 and 3 Australian Independent Com -

panies and two New Zealand Companies were

established.

• In April 1943, seven Independent Companies (lost

1 Independent Company) and 2/7 Cav (Cdo)

Regiment acted as Administrative HQ.

• October 1943 Independent Companies become

Cav (Cdo) Squadrons.

COMMANDO NEWS ~ Edition 5 I June 2015 29
---
• During the 1939-45 War twelve Cdo Coys/Sqns

were deployed.

• SOA Training establishments were scattered

throughout Australia and included HMAS Assault

at Port Stephens and No 7 Infantry Training Centre

established at Wilsons' Promontory, but later

relocated to Canungra.

POST WAR BRITISH INFLUENCE ON AUSTRALIAN

SPECIAL OPERATIONS

During the immediate Post-World II period, the SIS

considered its response to the earlier British SOE

experience and its significance by way of continuing

commitments to Special Intelligence and or Special

Operations. The decision was taken to:

• Maintain a Cadre (SO) Organisation

• Establish a 1949 SO Handbook; a capacity for

clandestine air operations; maintain suitable

stores ('Q') and equipment

• Recognise that SOE's greatest legacy lay in

training

• Ensure that all post-war SIS officers received

training in both 'Special Intelligence' and 'Special

Operations'

Fundamentally for Australia, the British impact in terms

of extensive influence upon Australian personnel,

doctrine, training and liaison during the Post-World War

11 period were those realised in the British contribution to

the development of the following:

• 1947 GCHQ's role in the establishment of

Defence Signals Branch (DSB), later (DSD), later

(ASD).

• 1949 MI5's role in the establishment of

Australian Security Intelligence Organisation

(ASIO)

• 1952 SIS's role in the establishment of Australian

Secret Intelligence Service (ASIS)

• All three organisations were established in

Melbourne also at the time the location of the

Headquarters of the RAN, The Australian Army

and the RAAF.

A DECADE ON – 1 COMMANDO COMPANY AND

2 COMMANDO COMPANY – THE CRUCIAL LINKS IN

THE CHAIN OF SPECIAL OPERATIONS CONTINUITY

The first post-war use of Australia's accumulated

Special Operations experience and assets was the raising

on 24 February 1955, some 10 years after WWII, of

• 1 Commando Company, located in Sydney, was

commanded by Maj. W.H. "Mac" Grant;

• 2 Commando Company, located in Melbourne,

was commanded by Maj. John Anderson and; the

associated

• 301 Signals Squadron, commanded by Maj. John

Dixon, was established in January 1960 in order

to provide long range communications for the

Commando and later renamed 126 Signals

Squadron in 1965, commanded by Maj. Bob

Redgwell, initially located in Sydney, but later

relocated to Melbourne. From 1964, female

soldiers were serving in the supporting Signal

Squadron.

Decorated career soldier

Brigadier William "Mac' Grant

Members of these units wore the Sherwood Green

Beret, as introduced in 1941 by the OC of the first raised

British No.3 Commando, and the distinctive Australian

beret badge, shoulder flashes, black webbing and

gaiters.

ROLE: The role of the Australian Commando of the

operations similar to those mounted by the

Independent and Commando Companies during the

war.'

In each case the unit comprised a small but extremely

talented ARA cadre and a company strength drawn from

part-time reservists. All of these personnel were

volunteers for overseas service and satisfied the initial and

continuing mental, physical and training standards

required of those who qualified to wear the coveted

Green Beret. They were also required to complete the

intense military and diverse specialist qualifications that

were a feature of the role of the unit and to undertake

training for raiding and other tasks using a variety of

means such as parachuting or watercraft.

THE CATALYSTS FOR CONTINUITY IN AUSTRALIAN

SPECIAL OPERATIONS - FROM HOT WAR TO COLD

WAR – ASIA AND EUROPE

It is appropriate to recall the international strategic

environment known as the 'Cold War' that existed during

the 1950s-1970s, coincident with raising and develop -

ment of the Commando/Special Signals Squadron. Many

in the audience will recall the tension of that period, once

summed up in General Hackett's masterpiece the Third

World War. The period was one of fervent attention to

matters of espionage, clandestine activity and prepara -

tions for war that seemed inevitable.

30 COMMANDO NEWS ~ Edition 5 I June 2015
---
The link between this strategic environment and the

raising of the Commando was personified in then Maj.

'Mac' Grant. Grant had WW II service with 2/5 and 2/12

Commando and later with the British Commonwealth

Occupation Force in Japan (BCOF) and with 3RAR in

Korea. He was appointed founding OC 1 Commando

Company in 1955.

Following a series of personal interviews with

prospective recruits, including a valuable sprinkling of

those with WW II or Korean service, and two stalwarts who

had served with the German Army on the Eastern Front,

the first enlistments were 'sworn in' on 25 June and the

first parade was held on 14 July 1955. On the latter

occasion Grant, following an outline of responsibilities

and expectations to the new members of the unit,

concluded:

This is a unique occasion in the history of the

Australian Army. For the first time in peace, a

commando unit has been formed. Actually this is a

unique unit in the British Commonwealth Forces for,

with the exception of our sister unit in Melbourne,

there are no other units in the British Commonwealth

designed to function in quite the same fashion as

ourselves. We are designed to carry out, within one

unit, the tasks performed during the war by the British

and Australian commando units, the British SAS

Regiment and Special Operations Australia, which

operated in the Pacific Theatre. Our nearest

counterparts in the British services today are the Royal

Marine Commandos and the SAS Regiment operating

in Malaya.

In October, 1955 Grant, with the incoming OC 2 CDO,

Maj. John Anderson, was sent to the UK to undertake six

months extensive specialist training with the Royal

Marines. Anderson drowned during the final exercise of

this training.

Upon his return to Australia, Grant found the unit

strength of 470 with a small ARA cadre. There was great

reliance placed upon the ARA Cadre as exemplars

and trainers and the diverse skills and commitment of

the Citizen Military Force officers and NCOs in the

unit. A feature of the unit, in addition to basic

military skills and weapons training, was the mixture of

specialist commando training. This training included

unarmed combat, roping and climbing, demolitions and

sabotage, para chuting, promotion courses, small scales

raids using canoes, diving, intelligence and signals

courses.

The unit also conducted a cliff assault demonstration

at the Army Tattoo, Green Beret parades reviewed by the

Governor General and the Granting of the Freedom of the

City of Sydney. These activities did much to publicly

promote official support for the concept of Special Forces.

Exceptionally, selected officers of the CDO attended the

then highly sensitive Code of Conduct Courses con -

ducted by the School of Military Intelligence at Middle

Head, Sydney Harbour.

MAJOR W.H. 'Mac' GRANT - THE CATALYST FOR

CLANDESTINE OPERATIONS

The sensitive information concerning Maj. Grant's role

and activities on behalf of ASIS is drawn from

• the Eulogy by Major General Greg Melick AM,

Official Mourner, at Brigadier Grant's funeral on 15

June 2013;

• from 'Memories of War', a record of conversation

with Brigadier W H (Mac) Grant OAM, RFD, made

by Jan Roberts Billett for the Naval and Military

Club; and

• the Obituary in The Sydney Morning Herald, 23

August 2013.

'In May 1959, Grant was replaced as OC 1CDO by

Maj. Jack Skipper. He departed, with his family, for the

UK to undertake a series of attachments and training

courses at British Secret Service establishments. Grant

had been seconded to the Australian Secret

Intelligence Service on completion of his tour with 1

CDO. At that time ASIS had dual responsibility as the

collector of secret intelligence and for the conduct, in

conjunction with the Army, of Special Operations. ASIS

had invited Grant to accept the appointment as ASIS

Head of Training to conduct training courses in these

and associated responsibilities.

In November 1959 Grant left the UK for the USA

where he visited a number of US Intelligence

establishments. On his way back to Australia Grant

visited the British Embassy in Saigon. Even then

Vietnam was tipped to be the next trouble spot in

Asia.'

With his extensive Commando background, Grant

now became something of a specialist in guerrilla

warfare and special operations. He conducted the

training courses known as 'Special Operations

Courses', the details of which were classified 'secret'.

Although the fact and dates of these annual courses

were advertised in Army Routine Orders, selection of

those attending was decided by the respective Service

Director of Intelligence who nominated one or more

officers to attend these courses, including, in case of

the RAN, a Clearance Diver.

Grant continued his earlier military career as a

regular by transferring to the CMF and, following a

succession of army appointments, was subsequently

promoted to brigadier.

In August 1962, in his ASIS capacity, but using his

military rank, he spent time with US Special Forces at

three locations in Vietnam. In November 1963, in com -

pany with Brigadier Ted Serong, he again visited US

Special Forces in six outposts.

During this period he also conducted training

courses for selected ADF personnel posted to South

Vietnam.'

Grant's tenure in this ASIS Head of Training

appointment concluded in 1967.

SPECIAL AIR SERVICE [AUSTRALIA]

In June 1957, official approval was granted to raise 1

SAS Company, as a unit of the Regular Army at Swan -

bourne, Western Australia, with an establishment of

eleven officers and 168 Other Ranks. Major W.W. Gook

was appointed to Administer Command, with the unit

raised officially on 25 July 1957, and Major Len Eyles,

appointed as Officer Commanding, w.e.f. 1 February

1958.

COMMANDO NEWS ~ Edition 5 I June 2015 31
---
At Gan Gan Camp, south of Nelsons Bay, in Port

Stephens, NSW, in 1958, members of 1 CDO conducted

specialist commando training for the early members of 1 st

SAS Company [1957-1962].

ROLE: The primary role of the Australian 1st SAS

Company was reconnaissance, both medium and long

range.

Subsequently, against the background of developing

hostilities between Indonesia and the British/Malayan

forces in Borneo, this SAS Company was committed in

1963 to its first overseas deployment to Papua New

Guinea, on Exercise LONG HOP, against the Papuan

Infantry Regiment.

Gradually 1 SAS became embroiled in the political and

military deliberations of the time. On 20 August 1964, 1st

SAS Company RAR was disbanded and the new

(Australian) Special Air Service Regiment, comprising a

headquarters and two squadrons each of three troops,

was formally raised on 4 September 1964.

ROLE: The new regiment was tasked to undertake

'specialised tasks in the existing cold war conditions as

well as maintaining a medium reconnaissance capacity

for limited war.'

THE COMMITMENT OF 1 SAS TO SPECIAL

OPERATIONS IN BORNEO DURING THE

CONFRONTATION CAMPAIGN

Meanwhile Australian attention was focused on what

became known as Confrontation with Indonesia in

Borneo.

The British wartime SAS, disbanded in 1945, was

reformed in 1947 as a Territorial and Volunteer regiment

known as 21 SAS (The Artists). In 1952 a squadron of 21

SAS, a squadron from the Rhodesian SAS, and a squadron

from the Malayan Scouts were combined to establish 22

SAS, as a regular army unit committed to operations in

Malaya until 1956.

On 4 February 1965, Operation Trudge was initiated

and 1st SAS plus elements on Base squadron were to

move to Malaysia for an operational tour of six months.

Earlier, an Australian SAS officer had been detached from

42nd Commando to join A Squadron, 22nd SAS for six

weeks during its operational tour in Borneo.

THE COMMITMENT OF THE AUSTRALIAN ARMY

TRAINING TEAM VIETNAM (AATTV) TO SPECIAL

OPERATIONS IN VIETNAM 1962-1971

In July 1962, an Australian Army Training Team

(AATTV) of 30 Army Instructors was posted to South

Vietnam to assist in the training of Vietnamese personnel

in jungle warfare, village defence and related activities.

By August two members of the AATTV had been

attached to the CIA program with the Montagnard.

In May 1964, further assistance was provided in the

form of additional instructors and an initial detachment of

three Caribou aircraft and crews, with a further three

Caribou to follow.

By June 1965, the strength of AATTV had risen to 92

Officers and NCOs and further increased and diversified

in its commitments. In October 1971, the AATTV as the

first Australian unit to be committed to the war in Vietnam

was the last Australian unit to be withdrawn, in October

1971, from Vietnam.

CONCLUSION

The post-war revival of Australia's military capacity

to conduct clandestine Special Operations was realised in

1955 with the raising, as units of the Citizen Military

Forces, of 1 Commando Company and 2 Commando

Company, and in 1960, the supporting 301/126

Signals Squadron. There followed, in 1957, the raising of

1 SAS Squadron as a squadron of the Australian Regular

Army.

The British Army was to re-establish its wartime Special

Air Service with the raising in 1947 of 21 SAS (Artist Rifles)

as a unit of the Territorial Forces and from which a

squadron was drawn in 1952 to enable the raising of the

British Regular 22 SAS in 1952 and committed to

operations in Malaya until 1956.

Jim Wood

EXCURSIONS FOR MEMBERS IN SYDNEY

Members,

Ted Hartley has organised some low key events that

members may wish to undertake with their families,

please contact Ted if you are interested.

~ Editor

A requirement is that people get in touch with me

at least one week (seven calendar days prior to the

event).

The event will proceed if I have myself, and at least

two other people who wish to attend, and it will be on,

whatever the weather.

It will all be via public transport, members can bring

their own lunch, or use facilities that are available

locally.

They must contact me on telephone (02) 9622 2416

(home) or 0408647237 (mobile). No last minute

bookings

Full details will only be given to those who commit

to attend, they can also contact me via email as

follows: ted.hartley1948@hotmail.com

If I only get a small number of interested people we

can be flexible with dates, times, weather and venues.

Please see planned activities as follows:

Saturday, 18/07/2015: Museum of Crime and

Justice at Circular Quay. There are other historical sites

that may be visited close by.

Thursday, 06/08/2015: A tour of Victoria Barracks.

Wednesday, 16/09/2015: A public tour of train to

Woy Woy, bus to Patonga Beach, ferry to Palm Beach,

bus to city (we will check the interior architecture of

local watering holes, and menu quality).

Ted Hartley

32 COMMANDO NEWS ~ Edition 5 I June 2015
---
Gurka soldier awarded medal fighting Taliban

A Gurkha soldier who single-handedly defeated

more than 30 Taliban fighters has been awarded the

Conspicuous Gallantry Cross by the Queen.

Corporal Dipprasad Pun, 31, described how he was

spurred on by the belief that he was going to die and

so had nothing to lose in taking on the attackers who

overran his checkpoint in Afghanistan.

His gallantry award is second only to the Victoria

Cross - the highest honour for bravery in the face of the

enemy.

Cpl Pun, from the 1st Battalion the Royal Gurkha

Rifles, was presented with the CGC during an

investiture ceremony at Buckingham Palace, during

which a number of other soldiers were recognised for

their bravery.

'That incident happened in the middle of my tour

and after that I thought nobody can kill us now - when

we met the enemy I wasn't scared.

'I thought the Taliban did not have the capacity to

fight with us.'

He realised that he was completely surrounded and

that the Taliban were about to launch a well-planned

attempt to overrun the compound.

The enemy opened fire from all sides, destroying

the sentry position where the soldier had been on duty

minutes before.

Defending the base from the roof, the Gurkha

remained under continuous attack from rocketpropelled

grenades and AK47s for more than a quarter

of an hour.

Most of the militants were about 50ft away from

him, but at one point he turned around to see a 'huge'

Taliban fighter looming over him.

The soldier picked up his machine gun and fired a

long burst at the man until he fell off the roof.

Cpl Pun, an acting sergeant during his Afghan

deployment, was on sentry duty at the time of the

attack when he heard a clinking noise outside the small

base.

At first he thought it might be a donkey or a cow,

but when he went to investigate he found two

insurgents digging a trench to lay an improvised explo -

sive device (IED) at the checkpoint's front gate.

When another insurgent tried to climb up to his

position, the Gurkha attempted to shoot him with his

SA80 rifle. But it did not work, either because it had

jammed or because the magazine was empty.

He first grabbed a sandbag but it had not been tied

up and the contents fell to the floor.

Then he seized the metal tripod of his machine gun

and threw it at the approaching Taliban militant,

shouting in Nepali 'Marchu talai' ('I will kill you') and

knocking him down.

Two insurgents were still attacking by the time the

heroic Gurkha had used up all his ammunition, but he

set off a Claymore mine to repel them.

At this point his company commander, Major Shaun

Chandler, arrived at the checkpoint, slapped him on

the back and asked if he was OK.

In total he fired off 250 general purpose machine

gun rounds, 180 SA80 rounds, six phosphorous

grenades, six normal grenades, five underslung

grenade launcher rounds and one Claymore mine.

The only weapon he did not use was the traditional

Kukri knife carried by Gurkhas because he did not have

his with him at the time.

The married soldier, whose father and grandfather

were also Gurkhas, is originally from the village of Bima

in western Nepal but now lives in Ashford, Kent.

His medal citation said he saved the lives of three

comrades at the checkpoint at that time and prevented

the position being overrun.

It read: 'Pun could never know how many enemies

were attempting to overcome his position, but he

sought them out from all angles despite the danger,

consistently moving towards them to reach the best

position of attack.'

Major General Nicholas Carter, who was com -

mander of combined forces, including British troops, in

southern Afghanistan during Cpl Pun's deployment,

praised the soldier and those from the Mercian

Regiment receiving gallantry awards today.

'The Conspicuous Gallantry Cross does not get

handed out lightly, it was a most remarkable

achievement by that particular young Gurkha.'

COMMANDO NEWS ~ Edition 5 I June 2015 33
---
I got home and found the missus had left a note on the

fridge saying…

"It's no good, it's not working. I'm staying at Mum's for a

whilte."

I opened it, the light came on, the beer was cold.

I can't see what the problem was???

★★★★★

I took my wife to a restaurant. The waiter, for some

reason, took my order first.

"I'll have the rump steak, rare please."

He said: "Aren't you worried about the mad cow?"

"Nah, she can order for herself."

And that's when the fight started.

JOKES

What is Celibacy?

Celibacy can be a

choice in life, or a

condition imposed by

circumstances.

While attending a

Marriage Weekend, my

wife and I listened to the instructor declare: "It is essential

that husbands and wives know the things that are important

to each other." He then addressed the men, "Can you name

and describe your wife's favourite flower?"

I leaned over, touched my wife's hand gently, and

whispered, "Self-raising, isn't it?"

And thus began my life of celibacy.

www.youngdiggers.com.au

• Assistance dog program for PTSD

and other wounds.

• PTSD health care courses for the

family members.

• Bush camps, classic auto restos,

IT courses, DVA claims.

• Welfare, family assistance,

and much more.

IT'S ALL FREE!

Contact:

john@youngdiggers.com.au

JUST FOR THE GIRLS

Booty Camp, Australia's #1 choice for

outdoor fitness, is now training girls to

become fitter, stronger, healthier and achieving

amazing results.

Booty Camp is running a 6-week course near

you for Girls Only.

Enrol now to start working towards your goal.

ENROL NOW | 1300 BOOTYCAMP | BOOTYCAMP.COM.AU

(1300 266 892)

•

•

•

•

•

•

•

•

•

•

www.tranquillitydive.com

Email: drewco@vanuatu.com.au

34 COMMANDO NEWS ~ Edition 5 I June 2015
---
✂

COMMANDO NEWS ~ Edition 5 I June 2015 35
---
36 COMMANDO NEWS ~ Edition 5 I June 2015

✂
---
www.onlinetrophyshop.com.au

Email: sales@onlinetrophyshop.com

Phone: 1300 787 861

FREE ENGRAVING

AUSTRALIA WIDE DELIVERY

"In the footsteps of Heroes"

WALK THE HISTORY AND BEAUTY

OF THE 96KM KOKODA TRACK

In support of the

ADF personnel and

support services

receive our

25% discount

*Subject to terms and conditions

Contact…

Info@ourspirit.com.au

07 5641 4561