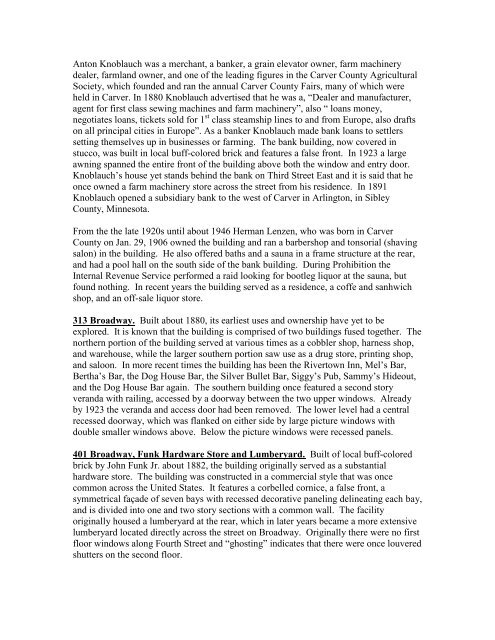 Historic Homes and Businesses in Carver - Carver County Historical ...
Historic Homes and Businesses in Carver - Carver County Historical ...
Historic Homes and Businesses in Carver - Carver County Historical ...
SHOW MORE
SHOW LESS
You also want an ePaper? Increase the reach of your titles
YUMPU automatically turns print PDFs into web optimized ePapers that Google loves.
Anton Knoblauch was a merchant, a banker, a grain elevator owner, farm machinery

dealer, farmland owner, and one of the leading figures in the Carver County Agricultural

Society, which founded and ran the annual Carver County Fairs, many of which were

held in Carver. In 1880 Knoblauch advertised that he was a, "Dealer and manufacturer,

agent for first class sewing machines and farm machinery", also " loans money,

negotiates loans, tickets sold for 1 st class steamship lines to and from Europe, also drafts

on all principal cities in Europe". As a banker Knoblauch made bank loans to settlers

setting themselves up in businesses or farming. The bank building, now covered in

stucco, was built in local buff-colored brick and features a false front. In 1923 a large

awning spanned the entire front of the building above both the window and entry door.

Knoblauch"s house yet stands behind the bank on Third Street East and it is said that he

once owned a farm machinery store across the street from his residence. In 1891

Knoblauch opened a subsidiary bank to the west of Carver in Arlington, in Sibley

County, Minnesota.

From the the late 1920s until about 1946 Herman Lenzen, who was born in Carver

County on Jan. 29, 1906 owned the building and ran a barbershop and tonsorial (shaving

salon) in the building. He also offered baths and a sauna in a frame structure at the rear,

and had a pool hall on the south side of the bank building. During Prohibition the

Internal Revenue Service performed a raid looking for bootleg liquor at the sauna, but

found nothing. In recent years the building served as a residence, a coffe and sanhwich

shop, and an off-sale liquor store.

313 Broadway. Built about 1880, its earliest uses and ownership have yet to be

explored. It is known that the building is comprised of two buildings fused together. The

northern portion of the building served at various times as a cobbler shop, harness shop,

and warehouse, while the larger southern portion saw use as a drug store, printing shop,

and saloon. In more recent times the building has been the Rivertown Inn, Mel"s Bar,

Bertha"s Bar, the Dog House Bar, the Silver Bullet Bar, Siggy"s Pub, Sammy"s Hideout,

and the Dog House Bar again. The southern building once featured a second story

veranda with railing, accessed by a doorway between the two upper windows. Already

by 1923 the veranda and access door had been removed. The lower level had a central

recessed doorway, which was flanked on either side by large picture windows with

double smaller windows above. Below the picture windows were recessed panels.

401 Broadway, Funk Hardware Store and Lumberyard. Built of local buff-colored

brick by John Funk Jr. about 1882, the building originally served as a substantial

hardware store. The building was constructed in a commercial style that was once

common across the United States. It features a corbelled cornice, a false front, a

symmetrical façade of seven bays with recessed decorative paneling delineating each bay,

and is divided into one and two story sections with a common wall. The facility

originally housed a lumberyard at the rear, which in later years became a more extensive

lumberyard located directly across the street on Broadway. Originally there were no first

floor windows along Fourth Street and "ghosting" indicates that there were once louvered

shutters on the second floor.