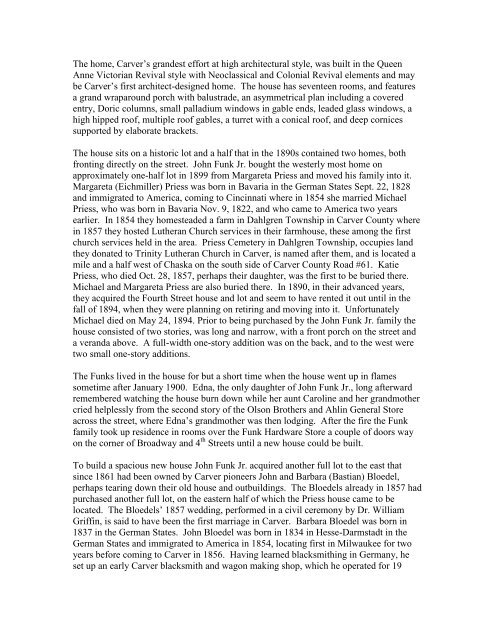 Historic Homes and Businesses in Carver - Carver County Historical ...
Historic Homes and Businesses in Carver - Carver County Historical ...
Historic Homes and Businesses in Carver - Carver County Historical ...
SHOW MORE
SHOW LESS
You also want an ePaper? Increase the reach of your titles
YUMPU automatically turns print PDFs into web optimized ePapers that Google loves.
The home, Carver"s grandest effort at high architectural style, was built in the Queen

Anne Victorian Revival style with Neoclassical and Colonial Revival elements and may

be Carver"s first architect-designed home. The house has seventeen rooms, and features

a grand wraparound porch with balustrade, an asymmetrical plan including a covered

entry, Doric columns, small palladium windows in gable ends, leaded glass windows, a

high hipped roof, multiple roof gables, a turret with a conical roof, and deep cornices

supported by elaborate brackets.

The house sits on a historic lot and a half that in the 1890s contained two homes, both

fronting directly on the street. John Funk Jr. bought the westerly most home on

approximately one-half lot in 1899 from Margareta Priess and moved his family into it.

Margareta (Eichmiller) Priess was born in Bavaria in the German States Sept. 22, 1828

and immigrated to America, coming to Cincinnati where in 1854 she married Michael

Priess, who was born in Bavaria Nov. 9, 1822, and who came to America two years

earlier. In 1854 they homesteaded a farm in Dahlgren Township in Carver County where

in 1857 they hosted Lutheran Church services in their farmhouse, these among the first

church services held in the area. Priess Cemetery in Dahlgren Township, occupies land

they donated to Trinity Lutheran Church in Carver, is named after them, and is located a

mile and a half west of Chaska on the south side of Carver County Road #61. Katie

Priess, who died Oct. 28, 1857, perhaps their daughter, was the first to be buried there.

Michael and Margareta Priess are also buried there. In 1890, in their advanced years,

they acquired the Fourth Street house and lot and seem to have rented it out until in the

fall of 1894, when they were planning on retiring and moving into it. Unfortunately

Michael died on May 24, 1894. Prior to being purchased by the John Funk Jr. family the

house consisted of two stories, was long and narrow, with a front porch on the street and

a veranda above. A full-width one-story addition was on the back, and to the west were

two small one-story additions.

The Funks lived in the house for but a short time when the house went up in flames

sometime after January 1900. Edna, the only daughter of John Funk Jr., long afterward

remembered watching the house burn down while her aunt Caroline and her grandmother

cried helplessly from the second story of the Olson Brothers and Ahlin General Store

across the street, where Edna"s grandmother was then lodging. After the fire the Funk

family took up residence in rooms over the Funk Hardware Store a couple of doors way

on the corner of Broadway and 4 th Streets until a new house could be built.

To build a spacious new house John Funk Jr. acquired another full lot to the east that

since 1861 had been owned by Carver pioneers John and Barbara (Bastian) Bloedel,

perhaps tearing down their old house and outbuildings. The Bloedels already in 1857 had

purchased another full lot, on the eastern half of which the Priess house came to be

located. The Bloedels" 1857 wedding, performed in a civil ceremony by Dr. William

Griffin, is said to have been the first marriage in Carver. Barbara Bloedel was born in

1837 in the German States. John Bloedel was born in 1834 in Hesse-Darmstadt in the

German States and immigrated to America in 1854, locating first in Milwaukee for two

years before coming to Carver in 1856. Having learned blacksmithing in Germany, he

set up an early Carver blacksmith and wagon making shop, which he operated for 19