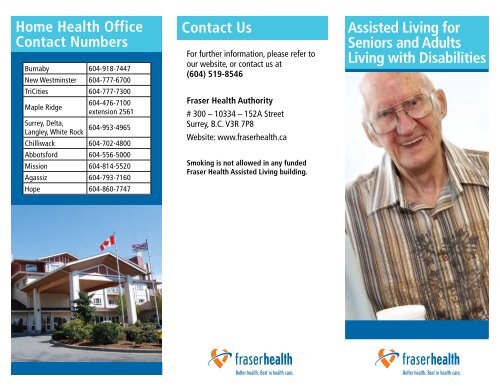 Assisted Living for Seniors and Adults Living with - Fraser Health ... Assisted Living for Seniors and Adults Living with - Fraser Health ...
Home Health OfficeContact NumbersBurnaby 604-918-7447New Westminster 604-777-6700TriCities 604-777-7300Maple Ridge604-476-7100extension 2561Surrey, Delta,Langley, White Rock 604-953-4965Chilliwack 604-702-4800Abbotsford 604-556-5000Mission 604-814-5520Agassiz 604-793-7160Hope 604-860-7747Contact UsFor further information, please refer toour website, or contact us at(604) 519-8546Fraser Health Authority# 300 – 10334 – 152A StreetSurrey, B.C. V3R 7P8Website: www.fraserhealth.caSmoking is not allowed in any fundedFraser Health Assisted Living building.Assisted Living forSeniors and AdultsLiving with Disabilities
---
Assisted Living for Seniors and Adults with DisabilitiesWhat is Assisted Living?Assisted living is personal care and hospitalityservices provided to tenants living in privateapartment units furnished with their ownfurniture and belongings. Tenants maintain agreat deal of independence and privacy, whilebeing supported with services such as personalcare, meals, laundry service for linens andtowels, housekeeping, and social & recreationalactivities. Assisted living is a housing andhealth service that fits in between Home Careservices and facility-based complex care.What personal care services are providedin Assisted Living?• A service plan to manage health and wellbeing,which may include personal assistancewith such activities as bathing, grooming anddressing, depending on your needs.• Medication management (if necessary).• 24-hour emergency response service.What hospitality services are provided inAssisted Living?• Option for three meals per day (basic rentincludes cost of two meals per day).• Organized programs of activities and socialopportunities.• Laundry service for linens and towels.• Weekly housekeeping.How Much Does it Cost?Tenants pay 70% of their after tax income(up to a pre-determined maximum rate)which covers rent, hospitality services andpersonal care.Couples pay 70% of their combined after taxincome.Tenants receiving provincial disability benefitspay a pre-determined, set rate.All tenants pay a monthly hydro surcharge.How Do I Apply?Access to the subsidized Assisted Livingprogram is arranged through Fraser Health, youcannot access the program by contacting theAssisted Living providers directly.You need to be assessed by a case managerfrom the Home Health Office nearest you and,if appropriate, the case manager will refer youto Assisted Living.If you are a current client of Home Health,speak to your Case Manager about AssistedLiving. If you are not a Home Health client,contact your local Home Health office and askfor an assessment. (See contacts box)Who iseligible?You maybe eligiblefor assistedliving if you:• Are currentlya home health client,but are finding that these services areno longer meeting your care needs.• Are living at risk in your current home• Are able to communicate and be understoodby others.• Are able to make your own decisions.• Do not behave in ways that put the safety ofothers at risk.• Are able to take direction in an emergency.• Are able to use an emergency responsesystemCouples are welcome even if only one spouserequires service.Assisted living is not an option for thosewho:• Are unable to make their own decisionsabout day-to-day activities (unless they areliving with a spouse who can make decisionson their behalf); or• Have care needs that exceed what can beprovided in an assisted living setting.
More magazines by this user