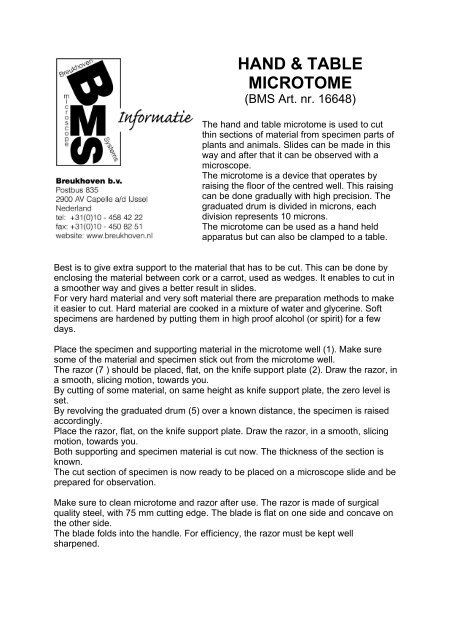 HAND & TABLE MICROTOME - BMS and Labomed - high quality ... HAND & TABLE MICROTOME - BMS and Labomed - high quality ...
HAND & TABLEMICROTOME(BMS Art. nr. 16648)The hand and table microtome is used to cutthin sections of material from specimen parts ofplants and animals. Slides can be made in thisway and after that it can be observed with amicroscope.The microtome is a device that operates byraising the floor of the centred well. This raisingcan be done gradually with high precision. Thegraduated drum is divided in microns, eachdivision represents 10 microns.The microtome can be used as a hand heldapparatus but can also be clamped to a table.Best is to give extra support to the material that has to be cut. This can be done byenclosing the material between cork or a carrot, used as wedges. It enables to cut ina smoother way and gives a better result in slides.For very hard material and very soft material there are preparation methods to makeit easier to cut. Hard material are cooked in a mixture of water and glycerine. Softspecimens are hardened by putting them in high proof alcohol (or spirit) for a fewdays.Place the specimen and supporting material in the microtome well (1). Make suresome of the material and specimen stick out from the microtome well.The razor (7 ) should be placed, flat, on the knife support plate (2). Draw the razor, ina smooth, slicing motion, towards you.By cutting of some material, on same height as knife support plate, the zero level isset.By revolving the graduated drum (5) over a known distance, the specimen is raisedaccordingly.Place the razor, flat, on the knife support plate. Draw the razor, in a smooth, slicingmotion, towards you.Both supporting and specimen material is cut now. The thickness of the section isknown.The cut section of specimen is now ready to be placed on a microscope slide and beprepared for observation.Make sure to clean microtome and razor after use. The razor is made of surgicalquality steel, with 75 mm cutting edge. The blade is flat on one side and concave onthe other side.The blade folds into the handle. For efficiency, the razor must be kept wellsharpened.
---
12635471) Microtome well2) Knife support plate3) Table clamp4) Camping screw5) Graduated drum6) Microtome holding screw7) Razor
More magazines by this user