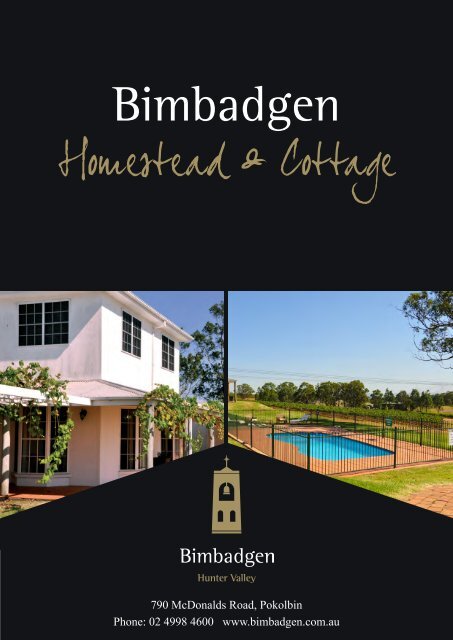 to download a photo album of the Bimbadgen Accommodation to download a photo album of the Bimbadgen Accommodation
BimbadgenHomestead & Cottage
---
TheHomestead...Featuring three double bedrooms anda bathroom downstairs, fully equipedkitchen and an open-plan living areacomplete with fire place and pool table.The spacious master bedroom is upstairsand has a luxurious spa, shower, loungeand TV/CD/DVD entertainment unit. TheHomestead sleeps approximately 8 people.
---
TheCottage...The Bimbadgen Cottage contains twodouble bedrooms, kitchen, dining andlounge area offering panoramic views. Thelounge area is equipped with CD stereoand TV/DVD. The Cottage sleeps 4 people(2 double bedrooms).
---
Bimbadgen...Located high on a hill in the heart ofHunter Valley wine country, Bimbadgenis a striking winery and vineyardencompassingan expansive Cellar Door,award-winning Esca Bimbadgen restaurant,cafe, outdoor ampitheatre and moderntasting rooms all in one stunning location.
---
We look forward to seeing you soonTo make a booking and to see full booking terms and conditionsplease phone Bimbadgen on 02 4998 4600or email: office@bimbadgen.com.au
More magazines by this user