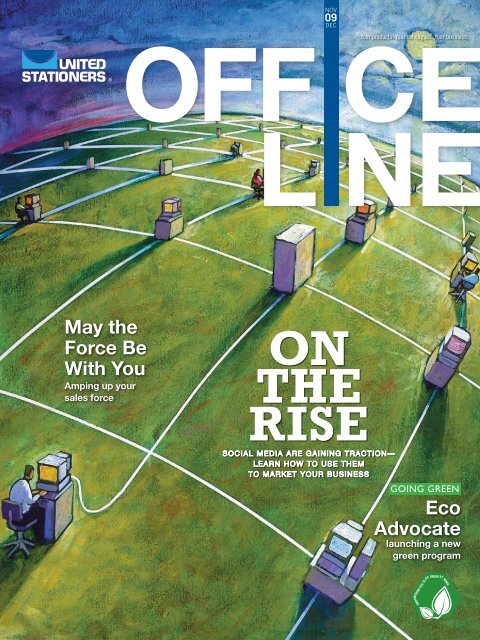 on the rise - Ussco.com
on the rise - Ussco.com
on the rise - Ussco.com
SHOW MORE
SHOW LESS
You also want an ePaper? Increase the reach of your titles
YUMPU automatically turns print PDFs into web optimized ePapers that Google loves.
NOV09DECYour products. Your colleagues. Your business.May theForce BeWith YouAmping up yoursales forceontheriseGOING GREENEcoAdvocatelaunching a newgreen program
---
useLESSresources.morePLANET.Reduce your business' environmental impact with help fromthe HP Eco Solutions program. You can easily lower yourpower usage and paper consumption with innovativeenergy-saving technologies and exclusive HP software—even recycle used HP print cartridges and hardware throughour convenient Planet Partners program. Because we believeconservation and innovation should go hand in hand.B November/December 2009© Copyright 2009 Hewlett-Packard Development Company, L.P.The information contained herein is subject to change without notice.
---
In the Box16Thison the rise3the line on ...34Promote yourBusiness36Mind yourBusiness28eco advocateFEATURES21when the going gets tough31untangle your strategiesDEPARTMENTS40GreatResources46cool stuff/hot deals48the final wordOut of the BoxSocial What?month's cover story examinessocial networking and howthis online phenomenon impactsthe business of independentresellers. While we are aware ofsome readers who use this technologyregularly, many of you are probablyout there thinking, "Is this reallyfor me?"As this month's article points out,social networking has moved beyondpersonal applications and beenfirmly adopted by a wide variety ofbusinesses.Social networkinghas ... been firmlyadopted by awide variety ofbusinesses.Not long ago the Financial Timesreported that exchange traders theworld over are signing up for Twitterto connect with traders elsewhere.Day traders use StockTwits to trackrelevant discussions including stocktrends. Traders tweet their opinionsabout a stock, which are then pickedup and displayed on StockTwits' Website. As of September, about 90,000people had signed up.Besides getting stock tips, tradersuse Twitter to find out what othertraders are doing. Another applicationcalled StreamBase allows tradersto send tweets to their trading system,aggregate them, and sort them byrelevance.There probably aren't any specificpackages for office products—yet.Still, there are a host of applicationsfor Twitter and other social sitesthat make them especially businessfriendly. It's all about connectingonline with customers and establishinga rapport, which will be beneficialto your business. You shouldn'thesitate to partake.Michael ChazinUnited Stationers Marketing | mchazin@ussco.comOFF CEL NE1
---
growtha platform forfor independent dealersBusiness success requires a commitment to grow,a solid strategy, and quality resources.Choosing the right business partner makes all the differencein this quest…a partner that offers the strongest possibleplatform for your success:• the widest array of products and verticalmarket opportunities, plus a commitmentto expand themIn the past year, we've grown ourcustomer base by 50 percent. Thiswill put us in a very good positiononce the economy rebounds. UnitedStationers has been invaluable toour marketing efforts.—Andrew Atkinson, PrincipalPreferred Office Products, Dallas• an unwavering commitment to logisticalexcellence and continuous improvementthat your customers will notice• an aggressive orientation toward marketinginnovation, including solidifying the powerof your own brand2 November/December 2009Choose the right platform for your success.
---
The Line On...| ... News | ... Office Products | ... Tech | ... JanSan | ... E-Services | ... Furniture | ... Paper | ... Breakroom |© 2009 Robert HouserG... NewsIn a comparison of estimated carbon emissions,Waldeck's Office Supplies for a Small Planet, SanFrancisco, comes out as a greener alternative toStaples. Clifford Waldeck, owner, analyzed the environmentalbenefit of his business based on the number of green productsoffered, energy usage, carbon neutral distribution methods, andother measures, and Waldeck's came out on top.For example, Waldeck's makes neighborhood deliveries onfoot by hand truck, creating no associated carbon emissions. Incontrast, the Staples across the street generally ships orders froma regional hub, usually Sacramento, which creates additionaltransportation-related carbon emissions. Just one delivery of thiskind per week emits an estimated 52,564 pounds of CO2 per year.Waldeck's offers 6,000 green office products online and in itsstore. That's double the number of green office products availableBY THE NUMBERSLocal dealer helps consumersreduce their environmental impactfrom larger office supply companies such as Staples, which onlyoffers 3,000 green product choices.Waldeck's worked with an independent consultant, CarbonadoGroup, to develop the analysis and used the data to produce a twopagesales slick, "Waldeck's Carbon Advantage—Five Reasons toBuy from Waldeck's," which was selectively handed out and e-mailedto targeted area businesses.As the piece points out, the easiest way for a business to makea difference is to reduce its carbon footprint, and the purchase ofoffice supplies is one of the easiest activities for a business to control.As the sales flyer advises, "Your choices have a direct impact on theenvironment—choose wisely!"Waldeck's customers can take advantage of free in-storerecycling of cell phones, batteries, and print cartridges, and theyreceive a compact fluorescent bulb with in-store purchases.OFF CEL NE3
---
The Line On ...… NewsDELUXe DESIGNSMid Market Visual Planner launches new enhancementsUnited's Mid Market Visual Planner, the Web-based furniture layout, sales productivity,and presentation tool, recently launched some great new features to enhance the userexperience in areas critical to the sales process.Nearly 500 typicals have been added to the product library, making it easier and fasterto present multiple, alternative designs to a customer. For example, a salesperson can nowsimply drag entire U-shaped configurations from different manufacturer collections in asingle step, without the need to build them from scratch.The typicals feature also helps you by only providing manufacturer collection choicesfrom which a specific type of typical exists. For example, when selecting "peninsula typical,"you're only presented with a list of manufacturer brands that accommodate a peninsulaconfiguration.One click enables you to copy and paste single items or groups of items. Anyspecification or configuration choices made to your product(s) are also duplicatedautomatically.The new Text Tool with formatting choices allows you to add item numbers or collectionnames to your drawing, or personalize a work area with multiple workstations for thepresentation to your customer. Any text you choose can be positioned anywhere within theplan-view of Visual Planner.Upgrades in the Visual Planner quote page provide salespeople with additionalflexibility in working with the product information, including item numbers, descriptions,selected finishes, and more. For example, existing furniture in a space can now be visuallyrepresented in the 2-D and 3-D drawings, while reflecting necessary adjustments on thequote page."When someone is considering the purchase of office furniture, it helps to have a 3-Dand top-down drawing in their hands almost immediately," said Henry Seals, The OrangeStationer Inc. "It makes it easier for them to visualize their project and commit to thefurniture."These enhanced features make Visual Planner a must-have tool for any furnituresalesperson.FURNITURE FOCUS For more information, contact your United account manager.… TechCOLOR CHOICESBrother expands color printer andall-in-one line-upBrother has introduced additionalunits to its color line-up, including a fullrange of digital color printers and multifunctionmachines geared toward small and homeoffices (SOHO), as well as commercialcustomers. These new machines are idealfor SOHO because of their quality LED printtechnology, compact size, expandability, andcompetitive price points.All have a low cost-of-ownership due to theToner Save mode. Additional features includeWeb-based management and customizablee-mail notifications for issues such as low tonerand paper outages. The multi-function unitsfeature advanced scanning and fax capabilities,including scan to USB, e-mail, OCR, image, orfile; network scanning; and Internet faxing tosave costs and telephone line charges.Colorful feature set Contact your Unitedaccount manager for more information.4 November/December 2009
---
OFF CEL NE5
---
The Line On ...… TechSTRESS RELIEFComputer accessories reduce repetitive stress injuriesWHEN COMPUTER USAGEINCREASES TO FOUR HOURSOR MORE PER DAY, the risk ofdeveloping carpal tunnel syndromeor similar repetitive stress injuries(RSIs) rises to 92 percent. To helpprevent injuries of this sort, UnitedStationers has partnered with IMAKProducts Corp., a manufacturer ofergonomic computer accessories.IMAK products are designed byIan MacMorran, MD, an orthopedicsurgeon with 35 years experiencetreating RSIs. In 1997, Dr. MacMorran partnered with Aurelia Koby, achronic pain sufferer, and founded IMAK to produce pain relief products.IMAK uses massaging ergoBeads technology—tiny plastic beadsthat provide a massaging effect, stimulating blood circulation andhealthy muscle tissue. IMAK mouse and keyboard cushions support andmassage wrists, and they are squeezable for hand exercise and stressrelief, washable, and latex-free.The IMAK SmartGlove ® features a dorsal splint and an ergoBeadspad in the palm for wrist support and massage. Most wrist braces use arigid metal splint on the underside, which isn't recommended. A flexiblesplint that allows full range of motion, but encourages neutral positioning,is preferred for long-term use. The IMAK SmartGlove ® is ideal for thispurpose. It's reversible for left or right, washable, and latex-free.... FurnitureSEARCH SUPREMACYBetter online catalog yields better search resultsWith online searches for office furniture hitting newhighs, it's a perfect time to have a professional-looking officefurniture catalog on your Web site.StructuredWeb is now integrated with Google's advertisingplatform (AdWords), which means resellers can easily leverage theadvertising power of Google to find new local customers with paidand organic search.Resellers currently licensed with either StructuredWeb UnitedMid Market Furniture or the Direct Access online catalog can takeadvantage of the StructuredWeb-Google integration. In addition,several new enhancements tothe catalogs make it easier forcustomers to find the productsthey're looking for.Actively-licensed resellers on theStructuredWeb platform will receiveinvoices for renewals and neworders directly from StructuredWeb.Existing customers should remitpayment before December 31, 2009, to maintain their service.Resellers that renew current Mid Market and Direct Accessfurniture catalogs service before Dec. 31, 2009, will receive freemonthly e-mail marketing to their lists, free Google AdWords andGoogle Analytics setup—a $2,500 saving, and free use of all otherStructuredWeb United Stationers online catalogs.THE CURE Visit biggestbook.com to see the full line of IMAK products.RENEW NOW For information, to order a new catalog, or to renew an existinglicense, call 866-861-8051 or e-mail ussco_orders@structuredweb.com.... Paper6 November/December 2009PSPUnited's Preferred Supplier Program recognizes suppliers in key product categories that shareour commitment to providing outstanding products, value, and dealer support.PAPER SALESBusiness is tough—selling paper shouldn't bepreferred Paper is one of the highest office supplyexpenses. In this tough economy, your customerswant to maximize their budgets without sacrificingquality. But how do you help them select the rightsupplierpaper? Price is a factor, but Boise's research indicatesthat a sheet that runs well is the most important factor when deciding on thepurchase. Not all paper is created equally.Some private label brands traditionallyare low-priced and manufactured toan average industry standard. Originalequipment manufacturer brands are oftenengineered to perform best on specificequipment.Another factor for customersto consider is whether to purchasepaper with recycled content. The rightrecycled papers can perform to thesame standards as a non-recycled sheet, even in high-speed or colorequipment. Costs for recycled papers escalate depending on thecontent percentage and the equipment they're designed for.Commodity copy/multipurpose papers offer you the greatest involume sales, but generally at lower margins. To help your customerschoose the right paper, keep these questions in mind:• What is the intended application?• Is their preference based on technology and/or end use?• Are they printing for internal or external purposes, with color or without?• Are they trying to "go green" or do they have environmentalsensitivities?Boise continues to set the standard forpaper by promoting third-party producttesting and acquiring performancecertifications. In addition, Boise providesa complete line of premium recycledcontent papers as well as Chain of Custodyand Fiber Sourcing certified papers.WRITE IT UP Check out the full line of Boiseproducts on biggestbook.com.
---
Kimberly-Clark AdIntroducingKLEENEX ® Naturals Facial TissueQuality and performance . . . Naturally.Our new KLEENEX ® Naturals Facial Tissue is made withSOFTBLENd* fiber, the perfect blend of soft, virgin fiberand 20% post-consumer recycled fiber. The result is a qualitytissue that meets the high standards of KLEENEX ® Brand –and exceeds EPA minimum standards for post-consumerwaste content in facial tissue.®/* Trademarks of Kimberly-Clark Worldwide, Inc. Marques déposées de Kimberly-Clark Worldwide, Inc. © 2008 KCWW.K01393 K2849-09-01 04/09OFF CEL NE7
---
The Line On ...... TechPSPUnited's Preferred Supplier Program recognizes suppliers in key product categories that shareour commitment to providing outstanding products, value, and dealer support.IMPROVED INTERFACEWeb-connected all-in-one printerspreferred lexmark has released eight new all-in-one(AIO) inkjets for small to medium-sized businesses.The new line includes three Web-connected touchscreen AIOs with Lexmark's myTouch touch screensuppliertechnology, which is an easy-to-use approach touser interfaces.With myTouch with SmartSolutions technology, Lexmark nowprovides solutions at more affordable price points. "This new line ofAIOs enables SMBs to be more efficient and save money in today'seconomic environment," said Paul Rooke, Lexmark executive vicepresident and president of the company's Imaging Solutions Division.SmartSolutions technology enables one-touch "customizations"—unique workflows that eliminate repetitive tasks and pain points forusers. Examples of current widget-like, customized solutions include:• Shortcuts and workflows—such as group faxing and scan-to-e-mailtemplates,• ID card copy—scan the ID card and print both sides on a singlesheet of paper,• RSS feeds—available directly on the touch screen, they can even bee-mailed directly from the AIO.New features within the line enhance efficiency, including:• Vizix print technology—Lexmark's new Vizix technology includesseparate ink tanks, and provides top speed and quality.• Wireless—Available across the entire line of new inkjet AIO products,including Wireless-N for customers in need of faster file transfer rates.• Eco Mode—Automates two-sided printing, faxing, and copying.• Business card scan—Automatically uploads contact information tothe most commonly used address book applications.ONE TOUCH Check out the full line of Lexmark printers on biggestbook.com.… TechCOMPATIBLE CARTRIDGESAftermarket supplies fill a sustainable nicheWith a sagging economy and rising costS, many aftermarketimaging supplies companies are struggling to succeed in today'sformidable marketplace. "While we have tremendous respect for OEMsand their technology, consumers are begging for a high-quality, low-costalternative, and that is where we come in," explains Jim Cerkleski, chiefexecutive officer of Clover Technology Group."Clover has become a fully vertical-integrated environmentalsolutions company," says Cerkleski. "This means we own this closedloopprocess. We collect the empty cartridges, employ our ownengineers and R&D team, custom design our own automated machinery,manufacture in-house, and then recycle any unusable components.""We're transforming from a remanufacturer of imaging supplies intoan environmental company that offers acomplete solution for imaging supplyneeds," adds Cerkleski.From the initial sale to therecycling of the cartridge afterit's been used, Clover is able toservice customers in a way that'snever before been possible. Thisapproach provides consumerswith the high-quality, low-costalternative they demand.... FurnitureSTIMULUS PACKAGETurn furniture opportunities into long-term growthWith smart operations andproactive marketing, you can turnfurniture opportunities into long-termbusiness growth. As one of your keybusiness partners, United Stationersoffers you a full suite of supportprograms and multifaceted marketingtools to help you.Recent data shows that onaverage, resellers who distributea Mid Market Furniture Cataloggenerate furniture revenues more thanfour times greater than those who don't include thissales and marketing tool in their marketing plan. As you review your2010 marketing plan, be sure to include the Mid Market FurnitureCatalog in either the printed version or the United EasyFlip format.Plan your calendar of furniture campaigns to include flyers,postcards, and customizable PDFs. Support your efforts with Webbasedsales productivity tools that bring efficiency and expediencyto your furniture sales process. Visual Planner provides 2-D and 3-Drenderings of office layouts along with a complete bill of materials,and DeskTop Presenter lets you save time and money by bringingyou and your customers together virtually in an instant.OFFICE FURNITURE 2010UNIVERSEO F F I C E P R O D U C T SEverything for the office.2010888.000.0000www.website.comLEARN MORE Check out the complete selection of Clover's Dataproducts line onbiggestbook.com.TOOL KIT To find out more about United's 2010 Furniture Marketing Programoptions, contact your United account manager.8 November/December 2009
---
aren'tBusiness Cards thataround the edges.Avery ® Two-Side PrintableClean Edge Business CardsCustomize and printyour own businesscards in minutes rightfrom your desktop.Print only thequantity you needand change them asoften as you want.Cards easily snapapart for smooth,non-perforated edges.Heavyweight card stockand vivid print qualitygive a professional lookand feel.For FREE software and templatesvisit avery.com/print©2010 Avery Dennison Corporation. All rights reserved. Avery and all other Avery brands, product names and codesare trademarks of Avery Dennison Corporation. Personal and company names and other information on samplesdepicted are fictitious. Any resemblance to actual names and addresses is purely coincidental.OFF CEL NE9
---
The Line On ...… JanSanTOP TISSUESKimberly-Clark announces FSC Certification for tissueand towel productsKimberly-Clark Professionalhas received ForestStewardship Council (FSC)chain-of-custody certificationfor a broad range of tissue andtowel products, making it the firstaway-from-home tissue productsprovider in North America toreceive this distinction."FSC standards are globallyrecognized as the highest socialand environmental standards inforestry," says Richard Thorne,vice president of Kimberly-ClarkProfessional North America. "This certification enables us to supportforest stewardship as well as continue to provide a wide range ofsustainable product choices for our customers."The certification applies to a variety of Kimberly-Clark Professionaltissue products marketed under the Kleenex and Scott brand namesfor the away-from-home market. Products started to feature the FSClabel on their packaging in September 2009. The label certifies that thewood fiber used to make the products comes from well-managed FSCcertifiedforests or from post-consumer recycled fiber. In addition to itsFSC-certified products, Kimberly-Clark Professional uses FSC-certifiedpaper for its catalogs, brochures, and other printed materials.SUSTAINABLE SALES Talk to your United account manager about the full line ofKimberly-Clark products.… TechGET ON BOARDHere's the easiest way to sell managed print servicesSelling tonerTMhas been agreat businessfor independentresellers, but themarket is evolvingand toner salesare quickly movingaway from transactional business to the sale of bundled services.To help you maintain this business, United Stationers has introduceda new service offering known as HQueue.HQueue, "The Uniquely Simple Managed Print Service Solution,"offers independent resellers a turnkey, fully integrated managedprint service solution that bundles monitoring software, supplies,parts, and service into a simple-to-understand package that's easyto sell to your customers.HQueue makes it easy to grow your business; you can rely on itspartner's service network and its own U.S.-based help desk.HQueue offers the fastest delivery of toner and service, the mostcomprehensive technology, the largest sales support team in theindustry, and the best resource for reseller training and marketingcollateral. With HQueue's help, you'll become the ultimate managedprint provider and consultant. Along the way, you'll find thatHQueue will open up new and increased revenue streams throughcontractual-based business. And most importantly, if you don't offer asolution to your customers, someone else will!QUEUE UP To find out more or sign up for HQueue, visit hqueueprint.com.... BreakroomPSPUnited's Preferred Supplier Program recognizes suppliers in key product categories that shareour commitment to providing outstanding products, value, and dealer support.FOODSERVICE GETS GREENInnovative materials produce green single-use materialspreferred Green solutions to traditional productsand materials are popping up everywhere,and the foodservice disposables market—includingcups, plates, forks, and knives—is no different. Thesupplier latest single-use products are made from renewableresources like corn and sugarcane, and can bediverted from landfills through commercial composting programs.Eco-Products is committed to using the most innovative materialsavailable in the marketplace with the goal of making products that:• Perform optimally in their intended foodservice use• Break down to their natural state in 90–120 days in a commercialcompost facilityThe accompanying diagram illustrates the "Circle of Benefits"associated with using green single-use foodservice items from Eco-Products. You'll notice that businesses and consumers who chose to usethese products still make a positive impact on the environment evenwhen commercial composting isn't available.10 November/December 2009SELF SERVE Talk to your United account manager for more information on Eco-Productssingle-use foodservice products.
---
WORLD'S FASTEST0 to ready in 60 secondsHeatSeal ® QuickStart LaminatorReady when you areWarms up in only 60 secondsLaminates up to 5 times fasterJam freeWorld's fastest desktop thermal pouch laminator in its class, as of September 2009, based on total timetaken from "power on" to having 10 (For H320) to 14 (for H420) letter sized documents laminated.© 2009 ACCO Brands. All rights reserved. ACCO® is a registered trademark and QuickStartis a trademark of ACCO Brands. GBC® and HeatSeal® are registered trademarks of General BindingCorporation. Jam-free when used in accordance with manufacturer's instruction manual.
---
The Line On ...... Office ProductsPSPUnited's Preferred Supplier Program recognizes suppliers in key product categories that shareour commitment to providing outstanding products, value, and dealer support.better BY DESIGNNew hanging folders have featuresthat consumers wantpreferred When it comes to hanging folders,consumers want a high level of usability anddurability. They look for a folder that has strong rodsand hooks, slides more easily, and stays secure onsupplierthe rails.But one company has gone even further. As leaders in the hangingfolders category, Pendaflex ® knew there was only one thing to doto make their products better: Ask the people who use them howPendaflex could help them work smarter.During the research phase of product development, Pendaflexposed a question to a range of consumers—"Would you buy PendaflexSureHook hanging folders?" Across the board, respondents said "Yes!"What's more, an overwhelming majority said that they would pay asmuch as 20 percent more. That's good news for resellers—SureHook isa premium product that consumers are willing to trade up for.Through dialogue, observation, in-depth quantitative research, andin-market tests, Pendaflex researchers discovered what's importantto end users in terms of ease and efficiency, form and function, andperformance and price. Pendaflex defined performance measuresthat validated industry benchmarks, then challenged their designersto exceed them. By identifying the top three user needs, the productdevelopment team then created metrics for measurable performancecharacteristics, comparing product and design features of SureHook tocompeting products. Results proved that SureHook met the three keyconsumer needs: SureHook has stronger rods and hooks, slides easily,and stays secure on the rails.Consumers will appreciate that SureHook hanging folders can helpthem save money by reducing the need to replace worn or damagedhanging folders and by protecting important documents. By challengingthe already high standards for quality and usability, Pendaflex achieveda new level of engineering intelligence and a product that meetsconsumer needs and exceeds reseller expectations.SMARTER FILING The new Pendaflex SureHook hanging folders are featured in the2010 Everything for the Workplace catalog.... E-ServicesSMART GETS SMARTERSmartDeals exceeds 6 million impressionsSmartDeals is fast becoming the most popular and farreachingpromotional marketing effort that United Stationers has everproduced. Between monthly mailings of SmartDeals For Technologyand SmartDeals For The Office, and two corresponding e-mail efforts,the SmartDeals program has reached close to 7 million end-consumerimpressions through the first three quarters of 2009.SmartDeals For Technology and SmartDeals For The Office beganas monthly six-page flyers designed to compete with big box Sundayinserts with great pricing and exclusive deals. These flyers have evolvedinto complete campaigns that combine them with two promotionale-mail messages and a landing page.Both SmartDeals offerings are producing outstanding results forresellers that deploy them. Resellers using SmartDeals For The Officeare consistently experiencing an average 30 percent sales lift for themonth. Sales of the same SKUs for non-participating resellers aregenerally flat. For example, an instant rebate on Boise ® Fireworkscolored paper produced a 170 percent lift for participating resellerscompared to non-participating dealers who saw an average sales liftof 48 percent the same month—a difference of 122 percent between thetwo groups.Resellers deploying SmartDeals For Technology saw lift percentagesin the 100 to 200 percent range;non-participating dealers sawgrowth of 50 to 100 percent inthe same month.For a recent instant rebateon Verbatim ® flash drives,participating resellers sawa lift of 278 percent; nonparticipatingdealers sawan average lift of 55 percent.That 223 percent differencedemonstrates how effectiveSmartDeals can be."SmartDeals definitely givesus a competitive advantageversus our national competitors,"said Marc Rubinstein ofRubinstein's Office Supplies &Furniture, West Chester, Penn."The free incentives are excitingSave 50%on Verbatim ® Store 'n' Go ®USB Flash DrivesVerbatim ® Store 'n' Go ® USB Flash Drive• USB 1.1/2.0 connectivity• Compatible with Linux ® 2.6 and Later; Mac ® OS 9 andLater; Windows ® 2000, XP, Vista 8 GB$49.99 Special Price- 25.00 Instant Savings$24 99ea.VER-955074 GB$29.99 Special Price- 15.00 Instant Savings$14 99ea.VER-95236for end users and the price points are so much lower than typical—it'sa great sale for them as well." Rubinstein's uses both SmartDeals flyers.GET SMART To get started with SmartDeals, talk to your United account manager.12 November/December 2009
---
GOVERNMENT MARKET SHREDDERSTrusted Brand. Superior Quality. AbilityOne.10+Users24-26Sheets4000CC - NSN 56743376-10Users14-16Sheets3200CC - NSN 48389916-10Users26-28Sheets3200SC - NSN 48389851-5Users12-14Sheets2200CC - NSN 48389841-5Users18-20Sheets2200SC - NSN 48389901-3Users17Sheets970CC - NSN 5674339The Javits-Wagner-O'Day (JWOD) Program is now AbilityOne,providing employment opportunities for blind workers.Whether you require a shredder for small office applications or thehigh-volume output of a large office, Fellowes ® offers an AbilityOneshredder that's right for your government shredding needs!OFF CEL NE13
---
The Line On ...… NewsMAKE A DIFFERENCEA portion of sales of selected productswill be donated to City of HopeMeadWestvaco (MWV) Consumer & Office Products issupporting City of Hope in the fight against breast cancer.Through a two-year partnership, various donations from sales ofspecially marked products will be donated to City of Hope for breastcancer research, treatment, and education. MWV will donate aminimum of $50,000.Products that are part of this offering include MWV's AT-A-GLANCE ® brand QuickNotes ® Special Edition Appointment Books,Desk Pad, and Monthly Desk/Wall Calendar, along with Cambridge ®brand QuickNotes Business Notebooks. All products have sectionswith pink shading for notes or to-dos and are embellished with thefamiliar breast cancer awareness pink ribbon symbol. They areavailable in both pink and black covers.The decision to participate in the project wasn't only to increaseawareness about cancer, but also to support City of Hope's dedicationto move discoveries quickly into treatments for cancerand other life-threateningdiseases. A growingnumber of lifesavingcancer therapies arebased on researchpioneered by City ofHope scientists, includingthe drug Herceptin, usedin the treatment of breastcancer.... Office ProductsCERTIFIABLY SUSTAINABLEPM Company is first to offer certified paper rollsPM Company is proud tobe the first point-of-salepaper roll manufacturerin the U.S. to earn threeenvironmental certifications—Chain of Custody from ForestStewardship Council (FSC);Certified Fiber Sourcesfrom Sustainable ForestryInitiative (SFI); and Chain ofCustody from Programme forthe Endorsement of ForestCertification (PEFC).Third-party forestrycertifications provide professional standards for companies tooperate under. Certifications are also designed to provide consumersconfidence that the products they purchase support environmentallysound practices.For PM Company, being certified means that the paper fiber it usescan be verifiably traced from a well-managed forest to a certified paperfiber producer, and from the fiber producer to PM Company's plantwhere it's converted into a certified paper roll.New product lines include FSC Mixed Sources Carbonless andThermal Rolls, and SFI-Certified Fiber Sourcing Bond and Recycled Rolls.Now, PM Company's third-party certifications provide even greaterassurance that the products customers purchase have come from wellmanaged,sustainable forests.SUPPORT THE CAUSE View more AT-A-GLANCE products on biggestbook.com.STUDY UP To learn more about sustainable paper practices, the certification process,and PM Company's certified paper products, visit pmcompany.com.... Office ProductsPSPUnited's Preferred Supplier Program recognizes suppliers in key product categories that shareour commitment to providing outstanding products, value, and dealer support.GEt ORGANIZEDTry these organizational tools designed for real peoplepreferred Whether you're a piler, a filer, or a stasher,your organization style is as personal asyour fingerprint. There are as many organizingstyles as there are people, so how do you identifysupplierthe organizational tools that will work best for aparticular approach?The organizational experts at Smead, along with a team of certifiedprofessional organizers, have developed Smead Organomics—smead.com/organomics—a new, free interactive "how to" Web site that providesexpertise and ideas to help people get more done with less stress.While there's no right way to get organized, visitors to SmeadOrganomics will be more productive and less stressed when they usethe online tips and tools to get organized. Smead Organomics offersa customized solution for each visitor through "My Organomics"—aninteractive tool that delivers solutions based on a person's individualwork style and organizing challenges. Users provide answersto a short series of questions andimmediately receive solutions thatfit their personal profile. In addition,the "Organomics Calculator" offersa way for people and businesses todetermine the actual time and moneythat's lost to them or their employerdue to disorganization.Smead Organomics also offers freepractical ideas and advice in the "HotTopics" section, as well as quick ideasto solve the most common organizingchallenges in "One Minute Answers."Visitors also can join "Club Organomics"to receive the latest news and informationon organizing ideas and products.REDUCE STRESS Learn to get more donewith less on Smead Organomics.14 November/December 2009
---
We offer more than just software, we provide solutions.• Software options that run your entire business• Hundreds of enhancements per year that meetevolving industry demands• A variety of training options to meet your needs• Live support when you need it• The most experienced development andsupport team in the industryMember of866-374-3221 • info@ecisolutions.com • www.ECiSolutions.comOFF CEL NE15
---
ontherise16 November/December 2009
---
Social media, such as Facebook,give your customers the opportunity totalk about your brand in a public way.You need to join the conversation.Facebook touts more than 250 million active usersworld-wide. Twitter is growing at a monthly rategreater than 1,300 percent, according to Nielsenonline.com.And on a monthly basis, roughly onethirdof Americans are reading and interacting withany of the 150 million to 250 million blogs, reportsForrester Research. So how will this social networkingphenomenon impact the future of the independentbusiness products resellers? It all depends onhow freely they accept social media's astonishingpowers and possibilities."We've figured out that social networking isn'tgoing away," says Mike Ockrim, president andfounder, Chicago School Supply LLC, Willowbrook,Ill. "We use Facebook, Twitter, and Flickr, we blog,and we have various feeds on the Internet. We'reall over the place." Chicago School Supply servesthe education market and uses Facebook to disseminateinformation it finds in the marketplace. "Ifwe see articles on new ways in which funding dollarsare being applied or new trends in education,we share them as a way to start conversations,"says Ockrim. "Soon we find people starting to offertheir opinions on the topic." The company usesTwitter in the same way, but in a more abbreviatedfashion—yet all the while creating links back to itsWeb site and its product line."I never really thought about applying Facebookto my business until my United account representative,Andrew Raab, recommended exploring socialmedia as a new avenue for marketing," says PaulMcManus, CEO, Office Supply Company, El Centro,Calif. "I created a Facebook fan page in July. Insix weeks we had 115 fans." McManus initiated a"Buy Local" campaign as a way of getting his companynoticed throughout his geographic region,as opposed to the medium's less recommendedhard-sell approach of distributing product information.A second method used to encourage fansign-ups was to conduct a raffle. "My message saidthat when I reached 200 fans, I'd raffle off $100."McManus believes that within a year, every successfulcompany will have a Facebook page. "Theopportunity is there now for dealers to get in onthe early part of the curve," he says. "A year fromnow, the field will be much more crowded."Media DifferencesEssentially, social media enable people to tapinto each other, to link to each other, and to getinformation from each other based on many newtechnologies and tools that are available throughthe Internet, according to Sean Corcoran, analyst,Forrester Research Inc., Cambridge, Mass. Whiletraditional media was always thought of as a "talkat" approach, customers now have the ability to talkback to brands, and also to talk to each other in amore transparent way about the brands. "Word-ofmouthhas been a very powerful medium—perhaps the most powerful—yet now people areable to have those conversations in a very publicway that everyone can see," says Corcoran."Social media brings people together withbusiness in mind, and it really integrates the rolesof brand community and using a company ora brand to connect," says Angeline Close, PhD,professor of Integrated Brand Promotions andMarket Management at the College of Business'Department of Marketing at the University ofNevada, Las Vegas. Traditionally, media has beena conversation of one with many receivers. Nowsocial media have changed that by becomingmore of a real conversation connecting not onlyconsumers to businesses, but also consumers toconsumers without the businesses. "It's a lot moreempowering to the consumer in that if you don'ttreat your supply chain managers, partners, orcustomers in a satisfactory manner, social networkingenables those experiences to be easily sharedonline, which can be a real deal breaker," saysClose.Another way of comparing the differencesbetween the two media, according to AmyDeLouise, principal, Amy DeLouise Consulting,OFF CEL NE17
---
Kensington, Md., is that traditional media is a pushformat in which the organization or companypushes its brand, its message, its information tothe customer. Now it becomes a conversation or atwo-way push/pull. As a result, the company isn'treally controlling the message any more. "One ofthe first things I say, which usually makes the vicepresident of communications squirm, is that 'Thereis no more controlling your brand. Those days areover. You can manage it, but you can't control it,'"says DeLouise.The whole social media phenomenon is provingto be a much more efficient way of doing business,according to Katie Paine, CEO, Katie PaineHome Profile Find People Settings Help Sign OutIf you can carry on a conversation at a cocktailparty, you can participate in Facebook and Twitter.new media. However, while B2B companies arebehind, they are not necessarily light years behind,says Corcoran.The argument is also that the B2B sector hasalways lagged behind consumer packaged goodsbecause consumer goods move fast. It's mucheasier to do research on consumer goods becauseof the large investment in research, says Paine.Some corporations can spend billions of dollars onmarketing research, while few B2B companies arespending as much.With business-to-business, you're also talkingabout more of an institution-to-institution relationship,says DeLouise, with many forgetting that thereare people behind those institutions."We're quickly moving pastthat," she says. "In a lot of ways,what's happening here mimicswhat occurred with e-mail.When e-mail first came out, manythought it was just a waste of time.Now you can't imagine runningyour business without it. So whilemany may be late to adopt socialmedia, sooner or later they willget into the swing."about 1 hour ago from webkatp010—Katie Paine, Katie Paine & Partners LLC& Partners LLC, Berlin, N.H. "It's not really media,but a whole new different way of doing businessthat's catching on among consumers. I start out myspeeches by asking how many people in the audienceare on Twitter. Recently, for the first time 100percent of the people acknowledged they wereon Twitter. Just over six months ago, an averageof three or four out of two dozen would raise theirhands."B2B Lags BehindExamining the main differences between B2B andB2C can explain many of the reasons why thebusiness-to-business sector is somewhat behindbusiness-to-consumer when it comes to embracingsocial media, says Close. B2C is a lot morepersonal. There's more of an emotionally-chargedfeeling behind purchases as opposed to buying foran organization where reason supersedes emotion.On the other hand, consumer advertising tendsto have more money and more resources, saysCorcoran, making it easier for advertisers to testExplore the BenefitsOne of the most important benefitsof social media is that it'sa relatively inexpensive form ofmarketing compared to traditionaltechniques, according toOckrim. It's a great way to bein touch with customers withouthaving to spend a lot of money.Through Facebook, you'repopping up on their screensdaily, whereas you won't get thatmany client touches mailing outa quarterly flyer, he says.Unlike the need to allocate a good portionof your budget for Web site development as inyears past, social media are free and simple, saysMcManus. "It takes a little time but it enables youto create some great opportunities." By learningwhat's on your customers' minds and what's importantto them, says Paine, you basically become abetter, smarter company. You can lower your costof doing business because developments happenfaster when you hear directly from your customers.A great example is found in Best Buy's story ofdramatically lowering its cost of employee recruitmentand training by lowering its turnover rateusing social media, according to Paine. "The companyhad many frustrated customers who weren'tgetting answers to their questions, and many frustratedemployees who didn't have the answers. Bysetting up an internal social networking community,the company was easily able to share answers tocustomer questions among its employees. As aresult, the customers were happy, the employees18 November/December 2009
---
Social media are arelatively inexpensiveform of marketingcompared to traditionaltechniques.—Mike Ockrim,Chicago School Supply LLCwere no longer frustrated, and their turnover ratewas reduced.""The new media bring customer service andcustomer relationship management front andcenter—even before advertising," says Corcoran."It ultimately comes down to understanding thatyou never had control of your brand, nor do youhave it now. But the only way to have a real impacton it is to get involved in what's being said about itthrough social networking."Where to StartAvoid the problem of going into social media withouta sound strategy, advises DeLouise. "I believeorganizations that are most successful in newmedia set out some very specific goals." Are theylooking to attract new customers? Do they want away to respond to customer concerns? Is crisismanagement something they'd like to controlbetter?"We have a methodology that we've developedcalled POST," says Corcoran. "It prohibits businessesfrom jumping into tactics and technologies withouta strategy. The four steps of the acronym beginwith PEOPLE. First understand what your customersare doing. What types of social media arethey consuming? What would work for them? Thesecond step addresses OBJECTIVES. What do youreally want to do with social media? Do you wantto talk to people or just listen? Next is STRATEGY.In what way do you want to go about listening ortalking and for what reasons? Last comes TOOLS.If you're interested in talking, you'll want to set upa Facebook profile, a Twitter account, or a blog,followed by a discussion of determining the toolsyou'd use to accomplish your goals.What Lies Ahead?Many experts are united in believing that this isjust the infancy of the social media and social networkingphenomena, which have the potential ofbecoming the dominant marketing method of thefuture. "If I were a traditional advertiser, I would beafraid," says Close. "I definitely believe that socialOFF CEL NE19
---
There is no morecontrolling yourbrand. Those daysare over. You canmanage it, but youcan't control it.—Amy DeLouise, Amy DeLouiseConsultingnetworking will replace radio and television advertising if they continue to remain thesame. Because social media are more reachable, they will only continue to grow. Theyprovide more knowledge to consumers—both B2B and B2C—they can set aside globallanguage barriers, they are acceptable, and they're easy."The big trend Paine predicts is the move toward mobile. "Right now, people areredoing their Web sites to make them more interactive, but what they really need to dois make them accessible on mobile. Increasingly, people are accessing information fromtheir iPhones or their Palms. So if your Web site doesn't work with mobile, they will goon to someone else's that does." In the far-off future, Corcoran envisions people havingtheir own profile as their personal ID on the Internet. They will be able to jump from siteto site with their personal ID and connect to people as they search the Web within theconcept of colonization.Other forms of media, such as TV, will also start to become more socialized, hepredicts. The most immediate and noticeable shift is that social media are being takenmore seriously by senior management, which is now figuring out how to incorporate itinto their daily work plans, according to DeLouise. Until now, new media were viewed asseparate entities to be relegated to an intern. That's no longer the case. Resistance iswaning and acceptance is on the rise.Don't let fear paralyze you into doing nothing. "You need to jump in, read somebooks, partake in a seminar, and get to understand the new media," says Paine. It isn'tall that difficult. "If you can carry on a conversation at a cocktail party, you can participatein Facebook and Twitter," she says. While definitions of social media may vary interminology, experts agree on the basic concept that they create transparent communitiesof conversation with an endless stream of possibilities for all who accept andimplement their powers. O|L20 November/December 2009
---
Trade SecretsFaced with aseverely batteredmarket, Warden'shas upped itsmarketing gameto drive newaccountacquisitionThink business is tough in your backyard? Try sellingoffice products in California's Central Valley.The Valley is currently an economic disaster area,and is still reeling from the foreclosure earthquake,according to the Eberhardt School of Business atthe University of the Pacific, Stockton, Calif.Chris Peterson describes the Valley as groundzerofor the mortgage crisis. Peterson, president ofthe supply division for Warden's Office Products,Modesto, Calif., notes that starting at the beginningof 2008, Warden's saw purchases decline as muchas 80 percent from some customers, and those arethe ones that didn't close their doors."We were hit early and hit hard," explainsPeterson. The five county area that Warden's servesincluded the top two counties in the nation forforeclosures. Then gas prices increased. "Peoplewere running out on their mortgages and many ofour customers started to suffer immensely," saysPeterson. As business began to plummet atmortgage companies, real estate companies,car dealerships, and other local businesses, theirpurchases from Warden's took a pretty large dipas well.OFF CEL NE21
---
Trade SecretsFaced with customers hit hard by the economic decline, it seemedobvious that Warden's would be unable to increase business with itscurrent customers. "Since mid-2008, we have primarily focused onaccount acquisition to maintain our sales base and prepare us for theturnaround," says Peterson.A Call Blitz to Boost Furniture SalesWarden's sells office supplies, technology, and JanSan products; itsfurniture division sells contract furniture and case goods for small,medium, and large businesses. A used furniture outlet is located inan old feed and grain building in Modesto and encompasses 50,000square feet. Peterson calls it the greatest garage sale of used furnitureyou'll ever see. Roughly 40 percent of Warden's business is in the newand used furniture division.Furniture sales have held up reasonably well during the currentdownturn. "While sales are down from a peak year in 2008, our furnituresales staff is tenured, talented, and knows how to take care of ourcustomers," says Peterson. To help maintain sales, the furniture staffinstituted managed call blitzes last year, which targeted businesseswithin the five county area. All of the furniture sales reps are broughtin to get on the phone and generate leads and introductions. Theseblitzes have maintained a decent level of prospects in the furnituresales pipeline.On the supply side, Warden's looked at all of its programs andprocesses and eliminated those that weren't working. A myriad ofapproaches resulted: cutting expenses, resetting delivery routes tomatch sales, and not replacing staff who left the company were just afew of the procedures that were tried. "We went to all of our customerslast year and showed them ways we could help them save costsby purchasing the right items, especially with our private label products,"says Peterson. "We also held a huge party, our annual CustomerAppreciation Day event, and had 500 customers for lunch. Wefocused on having fun and inspiring our staff to stay positive andenthusiastic." Increased prospecting efforts took on a greater rolein the sales process.Raising the BarWarden's has been conducting call blitzes for supply sales for sometime. The difference this time is that the bar was raised in terms ofwhat was expected of the sales reps, no matter how much tenure theyhad. They couldn't add just one new account—they were expectedto pick up three.At the same time, Warden's stepped up its direct mail efforts inStanislaus and San Joaquin counties, the two largest served by thedealership. An assortment of post cards, pamphlets, and five differentbuying group flyers—Warden's is a member of IS Group—were sentout over a 10-month period. These touches were coordinated witha follow-up program where salespeople called to assess prospects'interest and to set up appointments to work on conversions. The netresult was that more than 200 accounts were cleared for credit, andmore than 100 have started to place orders. "When the customerspend goes up, we should enjoy healthy growth," says Peterson.NEWINFO SIGNDUO STANDS• Rotate effortlesslyfrom portrait tolandscape view• Two sizes:DBL-4814-23 LetterDBL-4815-23 11"x 17"• Front panelremoves foreasy updates!DBL-4814-23DBL-4815-23Elk Grove Village, IL • Oshawa, ON22 November/December 2009
---
On the supply side, we have longbeen engaged in outside prospectingactivities. Since the beginningof 2008, we've created some extraincentives for the reps, we increasedour direct mail with some additionalmarketing pieces, and we carriedout a lot of follow-up calling.—Chris Peterson,Warden's office Productsin the driver's seat Chris Peterson,president of the supply division ofWarden's Office Products, makes surethat all nine Warden's delivery truckssport taglines and messages to promotecross-selling of products from Warden'svarious divisions.Two marketing teams—one for supplies andone for furniture—meet every four to six weeks.The teams have been instrumental in helping toestablish and maintain the Warden's brand andin creating focused program strategies to enablethe company to grow market share. According toPeterson, within the industry and its buying group,Warden's is generally recognized as a dealerthat stands out for its marketing programs andknow-how.Re-establishing the BrandThe readily recognizable Warden's logo wasrefined eight years ago with help from an outsideagency. "We have a multi-divisional company andwe wanted to make sure we were consistent in itsuse," says Peterson. At that time, the appearanceand colors used in the logo were firmly established."We have a standardized color, what we call'Warden's blue,' and we have a standardized font."Any division can push out marketing materialsas long as the use of the logo is consistent withthe standards that have been developed. "It giveseverybody a voice, but at the same time it givescontrol to the corporation in how our brand isgoing to look," Peterson adds.Nine Warden's trucks are out on the streetsdaily making deliveries and all of them sport thesame colors and the same logo. A variety of differenttaglines are used with messages such as: "WeSupply Offices," "We Deliver," and "We FurnishOffices." Taglines don't change without corporateapproval. The variety of messages helps to crosssellthe various divisions. For example, a truckdelivering supplies will have a furniture messageon the side. "We deliver supplies every day to alot of the same offices," says Peterson. "We want tomake sure they understand who we are."That strict attention to its corporate identityand the nurturing of its brand, in part, resultedin Warden's becoming a customer of UnitedStationers. Until recently it had relied on anothernational wholesaler for the bulk of its purchases."This was a big decision for us and wasn't reachedeasily by any means," explains Peterson. "But thedirection that Warden's is planning to go, and themeans for us to get there, were best served bymaking this change."Peterson was impressed by United's operationalprowess. He talks about the technologyused to pick orders, the verification process thatis employed and the fact that the error rate is lessthan one percent. He was also impressed that themarketing programs that United offers feature adealer-centric focus. It was during Peterson's visitto United's last Vision event that he learned moreabout the company's dealer marketing activities.With that additional input, he determined thatWarden's future growth strategies matched withUnited's, and thus making a switch could bebeneficial.OFF CEL NE23
---
Trade Secretsshifting gears Chris Peterson wantsthe majority of the firm's transactionsto move online. Warden's currently gets45 percent of its business throughonline sales; its goal is to double thatpercentage in five years."It was really United's focus on marketing," headds. "When I received this year's marketing package[2010 Marketing Power], I was blown away. I metwith my marketing team and told them when theyfinished going through it they would qualify for amarketing 101 degree." So far, United's Sacramentooperations center and the customer service teamthere have made Warden's transition to doing businesswith United Stationers practically seamless.Looking AheadAs he looks ahead, Peterson recognizes that a significantportion of the firm's transactions will moveonline. Warden's currently gets 45 percent of itsbusiness through online sales; its goal is to doublethat percentage in five years. "If we are going tobe a viable entity in the Central Valley in 2013, wehad better have 80 percent of our business comingfrom online," says Peterson. What still isn't complete,he adds, is the front-end mechanism that willsimplify online sales for independent resellers.Purchasing must be made simple; it should beseamless. "Our customers need to be able to buywhat they need and move on through their day,"he says. "That was one of the reasons we went toJumpTech three years ago. We have 15 customersusing it. They just scan the product bar code or acatalog page—they don't enter anything—and theorder comes to us."Customer wants and needs are in a state oftransition. Where once the knowledgeable salesrep was relied upon for information, increasinglybuyers no longer expect or even desire that sortof relationship. Today's more savvy buyer literallyexpects to get the majority of her needs fulfilledonline. "The younger the buyer, the less they careabout the relationship," says Peterson. "They don'tcare that we know everything about office supplies,they just want to click and buy."The vision for the future is still positive, but it'sgoing to remain highly challenged," says Peterson."We'll have to scratch and fight for the market sharethat we want, and we have to rely on our partners tohelp us get some of the bigger things we can't geton our own, such as a front-end ordering mechanismthat will be robust enough to compete." O|L24 November/December 2009
---
Revised MarketingTools for 2010UNIVERSEEverything for the office.O F F I C E P R O D U C T SSolutions for theWorkplace 2010UNIVERSE888.000.0000www.website.comO F F I C E P R O D U C T SEssentials for theWorkplace 2010Speedy delivery right to your door, call 1-800-000-0000Everything for the office.888.000.0000www.website.comDirect AccessCatalog 2010Speedy delivery right to your door, call 1-800-000-0000UNIVERSEO F F I C E P R O D U C T SEverything for the office.OfficeProducts 2010Speedy delivery right to your door, call 1-800-000-0000888.000.0000www.website.comUNIVERSEO F F I C E P R O D U C T SSpeedy delivery right to your door, call 1-800-000-0000Everything for the office.As part of United Stationers' re-engineered Marketing Programfor 2010, a number of tools that you may have grown accustomedto have been revised or eliminated in order to make way fornew enhancements. Here is a quick rundown on what is newand different for the coming year.Avery Orchestrate For SuccessNew Name: Avery FlyerDealer Catalog Description888.000.0000www.website.comBasic Office Catalog—Not offered in 2010Optimized Strategy Now Found in Essentials CatalogBig Boy Catalog—Not offered in 2010Optimized Strategy Now Found in Solutions CatalogCompatibles CatalogNot Printed in 2010; Electronic Version Will Be AvailableFurniture Values FlyerNot Offered In 2010General Line CatalogNew Name: Everything for the Workplace CatalogGeneral Line ConsumerNew Name: Everything for the Workplace CatalogGovernment General LineNew Name: Government Everything for the WorkplaceJanitorial & Facility Supplies CatalogNew Name: Janitorial, Breakroom & Safety Source CatalogLegal & Ledger FlyerNot Printed in 2010; Electronic Version Will Be AvailableNew Products Flyer—Not offered in 2010New Products Program Will Launch in 2010Office Remedies FlyerNot Printed in 2010; Electronic Version Will Be AvailableQuarterly Promo Catalog—Not offered in 2010Optimized Strategy Now Found in Essentials CatalogAll eyes will be on your business withthe exceptional image quality ofXerox papers... Performance you candepend on, and unparalleled reliabilityto increase your productivity.From the most versatile printing and copying suppliesto specialty papers optimized for stunning text andimages, Xerox offers an array of paper products thatsupport all your business needs. Whatever the size ofyour business, Xerox is your paper source for copier/printer inkjet or laser printing!Xerox Paper. It makes business sense.Quarterly Promo Flyer—Not offered in 2010Optimized Strategy Now Found in Essentials CatalogSmartDeals Complete CampaignNot Offered In 2010SmartDeals for TechnologyNew Name: SmartDeals Print Solutions FlyerSmartDeals Office CampaignNew Name: SmartDeals For The Office EmailSmartDeals Tech CampaignNew Name: SmartDeals Print Solutions EmailTechnology Quarterly Catalog—Not Offered in 2010Optimized Strategy Now Found in Essentials CatalogWelcome Back To SchoolNew Name: Welcome Back Catalog©2009 Xerox Corporation. All rights reserved. Xerox® and the sphere ofconnectivity design are trademarks of Xerox Corporation in the UnitedStates and/or other countries. 02/09OFF CEL NE25
---
Trade SecretsYearsBROWN & SAENGER, SIOUX FALLS, S.D., INVITED CUSTOMERs AND SUPPLIERS TO ITSWhen Brown &Saenger started inbusiness back in1889, the companyhad six employees.After 120 years,there are now 115employees in fivelocations in Northand South Dakota.Bob Marth (right), sales representative for Tombow and PerfectData, works the crowd.Joyce and Lyle Dabbert during a quiet moment at the Brown &Saenger 2009 Product Show.Traffic was heavy and constant at Brown & Saenger's 2009Product Show.Angie DeNure (right), furniture purchasing assistant at Brown &Saenger, passes out samples to customers.Brown & Saenger scenes from early in the 20th Century, and the bicycle Lyle once used for deliveries.26 November/December 2009
---
and many more2009 PRODUCT SHOW, WHERE THE FIRM CELEBRATED 120 YEARS IN BUSINESSBrown & Saenger employees Don Thompson,business products purchasing, and RichPetersen, printing, enjoy the Product Show.Joe Templet (left), United Sr. VP tradedevelopment, and Mike Paulsen, Unitedaccount manager, at the United boothwith Dorothy Morris, Brown & Saengerpurchasing.United personnel, Joe Templet, senior vice president trade development (left), Randy Nelson,district sales manager (second from right), and Mike Paulsen, account manager (far right),make a presentation to Lyle Dabbert, president of Brown & Saenger.Sioux Falls Mayor Dave Munson leadsa celebratory toast in honor of Brown &Saenger's 120th anniversary.Lynn Dee Bowers, Brown & Saenger Bismarck manager (left),enjoys the show with Dan Wallace, HON Industries, and ShelleyStramer, Brown & Saenger Bismarck account manager.OFF CEL NE27
---
Going, Going GreenADVOCAThere is a dual benefit forus. Some charity benefitslocally, but we also get alot of goodwill. I know thatwe opened accounts frompeople who are enthusiasticabout participating in therecycling and like the factthat we support localinitiatives.—Kevin GarveyGarvey's Office ProductsCasting about for a marketing theme for 2008,Kevin Garvey hit upon the idea that it would be agood year to promote the greening of the officeenvironment. All of the factors seemed perfectlyaligned as green consumers were focused on environmentalconcerns and looking for solutions.The timing couldn't have been better. By late2007, it had become obvious to many that thegreen movement had gained commercial tractionand looked to be around for good.To start, Garvey's Office Products, Niles, Ill.,mentioned its green program in the marketingmaterials that were produced. The decision wasalso made to convert its annual customer showfrom a straight product show to a green show.Exhibitors were instructed to only bring greenproducts.The show featured a presentation by Peter Froston green products, which garnered considerableattention. And Garvey's offered its home-grownpresentation where it reviewed its green productofferings and detailed the changes it had made inits own business to be more environmentally sensitive.Those changes included making its HVACsystem more energy efficient and installing motionsensitive lighting in its warehouse.Attendance at the show was actually downfrom previous years but that didn't matter muchto Garvey. "Visitors were definitely excited about28 November/December 2009
---
Picking 2008as the year tolaunch a greenprogram was atimely decisionTEcoming," he says. "They were energized about seeing green productsand then followed up with requests for changes to their ordering mixto incorporate the products we presented at the show."The Green Product Show was held in May 2008; that marked thebeginning of Garvey's green program. "We had the stock presentationthat we did at the show and we told customers that we wouldlove to do a presentation for their green committee," says Garvey."The Green Product Show gave us the opportunity to present greenproduct to a lot of people who might have been thinking about goinggreen," he says. Those presentations stimulated interest in greenproducts and convinced many customers to change the mix ofproducts that they purchased.More Green EffortsUsing its Green Show as a platform, Garvey's kicked off threeadditional green initiatives. The company would offer recyclingservices for batteries, flattened cardboard, and used toner cartridges.Garvey's trucks were already stopping by on a regular basis; allcustomers had to do was set materials aside to be picked up.Only the batteries and cardboard were new, as Garvey's had beenrecycling used toner cartridges from customers for some time. Manyresellers offer a similar service, but Garvey's added its own uniquefeature. Every quarter, it donated funds generated by the program toa local charity. Customers who participate in the toner recycling programare encouraged to suggest charities to receive the contribution.The company is already six quarters into the charity program andhas seen its contributions range from $2,500 to a high of $5,500. Onerecent recipient of the donation was Jobs for Youth/Chicago, whichhelps young men and women from low-income families become apart of the economic mainstream.The impact of its green program can't be tracked precisely, butGarvey is certain that it has been positive. While he can't say thatmore product was sold because of the program, he knows for surethat some customers changed the mix of products that they purchased."I don't know if that added up to additional dollars, but itmight have cost us business if we didn't do it.""What I absolutely can say without hesitation," says Garvey, "isthat we picked up customers based on the goodwill we generatedfrom the charity program and the recycling initiatives. There is nodoubt about that, and some of them have been very significant newaccounts."A good portion of the net gain that Garvey's achieved came in theform of improved public relations. By showing its commitment to allthings green, it was able to gain positive mindshare even with customerswho weren't that interested in going green. "No one is goingto punish you for your green efforts," says Garvey. "But people whoare enthusiastic about it will absolutely migrate to you for demonstratingthat you're committed to it."Garvey's green program continued through 2009. All of therecycling efforts are still active, although the economic downturn hashad an impact on sales of green products as many customers arelooking at costs much harder and will sacrifice some green gainsin favor of less expensive options.Still, the green marketplace offers growth opportunities, andGarvey's has responded by offering the United EasyFlip version ofits Green catalog on the home page of its Web site. Online visitorscoming to the site see instantly the commitment that Garvey's hasmade to greening the environment. O|LOFF CEL NE29
---
30 November/December 2009
---
Niche MarketUntangle your strategiesHow to grow furniture sales in a down marketSometimes it takes the worst of circumstances to bring out the best in people. Aseconomic struggles swept across the country, independent office product dealershave gone back to basics to help their businesses ride out the down market and haveembraced solid strategies to regain momentum and increase their furniture sales.For Rob House, sales manager for Mineral Area Office Supply in Park Hills, Mo., hisinspiration to turn things around was an empty shipping area. "We have an area in ourstore where we keep furniture that's waiting to be delivered. By October of last year,business was slowing down. By the middle of November, that shipping area was completelyempty," says House.His sales group didn't just sit around lamenting their situation; they focused on howthey could turn business around. They determined that in the good economy, they hadtaken much of their business for granted. With the goal of just breaking even for theyear, they set out on a mission to aggressively pursue sales.Expand Your Reach"We started to cultivate new relationships," says House. "We expanded into neighboringcounties and have developed some new client relationships as a result. Although it'sbeen a challenging time, when the economy turns around, we will be a better, moresuccessful company because of the hard work we've put in now."Office Furniture Now in Austin, Texas, focused on shoring up its furniture sales byidentifying industries it thought might experience growth, even in the down market. "Inparticular, we looked at mortgage servicing and biotech companies," explains Bill Coon,OFF CEL NE31
---
Niche MarketWe focused onhearing whatcustomers needand providingwhat they askfor.—Dave Jones, president andowner of Williams OfficeProductsClover-United Ad 9 x 6 v5.pdf 1 9/24/09 9:12 AMpresident. "We also looked at companies withan entrepreneurial spirit or who were looking toexpand rather than just stay afloat. We got in frontof those companies early and often so when theyneeded furniture or office products they wouldthink of us."Keeping existing customers happy by deliveringimpeccable service is the mantra of KentThompson, vice president of Schageman OfficeSupply in West Plains, Mo. "We excel at providingcustomer service," says Thompson. "Our furniturepricing includes delivery and set up and we don'tleave the client's office until they're satisfied. Thatpersonal touch and service helps us compete withthe national chain stores."Use What You've GotDave Jones, president and owner of Williams OfficeProducts in Alton, Ill., agrees, "The economicdownturn made us realize that we had to placemore emphasis on our customer service. Wefocused on hearing what customers need andproviding what they ask for."Thompson's staff at Schageman takes advantageof United Stationers' quarterly Furniture Supersaverpromotions. They use those special deals as anopportunity to get in front of customers. "We seea big jump in sales of products on the flyer. Wealso frequently see a bump in related productsales. For example, if there's a great deal on chairs,we may also see an increase in sales of chairmats," says Thompson.Jones uses another United Stationers tool, theVisual Planner, to help bolster sales. "The VisualPlanner enables us to offer more value-addedservice to our clients," he says.Sales AssetMineral Area Office Supply also started using theVisual Planner this past year. "The presentationpart of it is great," says House. "Before we usedscaled drawings, but having the 3-D view is a greatasset in our sales presentations."Just as important as the relationship these dealershave with their customers is the relationshipthey have with their United Stationers representative.Jones, whose business has had the sameUnited Stationers representative for more than25 years, values that relationship with Bill Wright."He hears what we're finding in the marketplaceand helps us provide the products our customersare asking for at a price point that makes uscompetitive," Jones comments. It's these relationshipswith both customers and vendors that helpindependent office product dealers survive thesetough economic times.And as several of these dealers commented, thesolid sales strategies they've put in place now willposition them to succeed in the years to come—good economy or bad. O|LFeeling the Squeeze?Your customers are in needof an immediate solution!Reduce Your Customers' Costs withRemanufactured Cartridges or Your Competition WillThere has never been a more opportune time to provide your customers a product that meets OEM performance whileproviding the cost savings and environmental solutions they seek. Dataproducts brand products have been providing OEMperformance for over 30 years and with a 100% satisfaction guarantee. This is a solution that you can feel confidentproviding your customers.United Stationers carries over 300 Dataproducts branded toner, ink, and ribbonsupplies for top selling brands including HP®, Brother®, Canon® and Dell®.For more information, please contact your sales representative.ENVIRONMENTAL CERTIFICATIONS32 November/December 2009
---
Regain Momentum—Knock Furniture Sales Back to Action1 2 3 4 5Back toBasics.It's time forSales 101.Make thosecold calls.Cultivate newrelationships.Stay in touchwith existingclients.Service.Service.Service.Spoil your customerswith goodcustomer serviceso they will remainloyal to yourbusiness—in goodtimes and in bad.ExpandYourMarket.Seek out newcustomersin previouslyuntapped geographicareasor industries.BeAggressive.The time foraggressive pricingis now. Considerlowering pricesto help increasevolume.Open YourEars.Listen to whatcustomers andprospects are tellingyou. A good listenerwho hears what acustomer wantsand then delivers isinvaluable.GO EAST3M Offi ce Supplies Division LITERATURE NO PROJECT NO PAGE(S) SIZE INK(S)Post-it Labels Ad for United Stationers n/a 64774 1 8.875" x 5.875" 4-color process CYAN MAGENTA YELLOW BLACKREMOVABLE LABEL PADSnewLABELBOXOUTSIDETHENew Post-it ® Label Pads help you organizeeverything from file cabinets to folders,binders to bins, and much more.binsfoldersWrite, peeland stick!Sticks securely,removes cleanly!file foldersFull-Adhesive Back!binders3M and Post-it are trademarksof 3M. © 3M 2009See special offersand learn more atpost-it.com/labelsOFF CEL NE33
---
. Promote Your BusinessSharperImageDuring times of tight budgetsand renegotiable relationships,projecting confidenceis paramountBrand equity can be hard to come by in a commoditybasedbusiness like office supplies when multiplesources can provide product to a client. The challenge—standing out and delivering a unique, reliable service—can only bemet by resellers that convince customers they have the experience andprofessional abilities to do so.Building and projecting a brand image can be difficult when many businesses arecutting back on media and marketing budgets. But it's an essential strategy to make yourcompany more than just another purveyor of pens and paper. Many resellers, takinga cue from current market realities, are focusing more on tightly controlled marketingmessages and finding out that, more than ever, actions and practice should be thebedrock of any customer outreach plan.The ProfessionalsIQ Office Products, a 10-person company started by friends Bryan Freund and RyanPuccinelli in January 2008, operates in the Houston and Phoenix markets. The 28-yearoldsdidn't have any genius ideas or flash of inspiration that led to the name of theirnascent company—four months into the business plan, they decided their name hadgood connotations and went with it. The title has served them well, as it projects the typeof professionalism, service, and smarts they want every customer to recognize."One thing that separates us, especially from the big box stores, is that we do morethan sell someone a pen," says Puccinelli. "We show them the proper product. We havean image of being knowledgeable and consultative. Why do people buy from certain34 November/December 2009
---
companies? It's not about the price. Perception isreality, and they perceive us as a smart company."IQ makes a point to target businesses that aregood for them, according to Puccinelli, stickingto targeted marketing and old-fashioned coldcalling. United marketing materials, especiallythe SmartDeals program, play a big role in keepingthe company's name in front of its customers.Extending into the custom printing business hasalso helped the company attract new businessand position itself as a one-source solution forcustomers. IQ sales staff makes it a point to lookclean and crisp, both in the way they dress andcarry themselves and how they communicatewith customers. Expensive letterhead and crispbusiness cards are additional investments in projectingprofessionalism."We're very image conscious," says Puccinelli."We pay close attention to detail, and that earns usa lot of business.'Puccinelli and Freund originally came from theovernight shipping business and didn't know whata ream of paper was two years ago, accordingto Puccinelli. They have been able to utilize theirsales and presentation skills to build a solid brandand become experts in the field."What we know how to do well is prospectand earn new business," says Puccinelli. "We'veworked hard to gain a physical presence in themarketplace."TOP OF MINDHow can you keep your brand in front of consumers?Keep in mind the basics:ACMEOFFICE SUPPLIESUse a strong logoor logotype thatcommunicatesyour brandpromise.ACMEOFFICE SUPPLIES4949 Lake CourtAlliance, MD 20895301.458.2356www.acmeos.comWe're theTOPACMEOFFICE SUPPLIES4949 Lake CourtA liance, MD 20895301.458.2356www.acmeos.comRei ly H. BabcockRegional Sales ManagerWe're theTOPACMEConsistently apply brandingto all communicationsmaterials.ACMEOFFICE SUPPLIESOFFICE SUPPLIES Home Products Account Contact FAQWe're theTOPOFFICE SUPPLIESMake sure advertisingmaterials maintain asense of flow acrossdifferent media.RebrandingEVOS of Chandler, Ariz., has deep roots comparedto IQ. Hugh and Margo Doss started the family-runcompany where their daughter, Sheryl Bailey, nowserves as vice president (her brother is also a VP).But EVOS faces many of the same issues, namelypushing its tagline (savings, service, simple) andattracting new customers in a chilled businessclimate. That's made them very cautious when itcomes to branding, according to Bailey."We look for things that make us look biggerthan we are," she says, "to give confidence to thebuyer that we're not just some mom-and-pop shop."The company just created a new logo set toroll out in the latter part of 2009, a more grown-upimage that doesn't break with tradition. EVOS alsoutilizes a variety of United's catalogs to expandtheir business. The key is keeping control of howproducts with the company name look, makingsure advertising and marketing materials have aflow, the number of impressions is appropriate, andtargeted pieces are executed well."Make sure your materials are going past thereceptionist and get in at the executive level," saysBailey. "They need to be in front of the decisionmakers."Bailey communicates with clients at least oncea week and keeps them updated via e-mail andSecte ea facilit aliquisi. Na commy nim zzrit nos del ipsustio odigna feumsan volor alit ut eri la feugait,commolesto odipis nonse modit amet iure mincidunt ver ad diat nu la consequ iscipsu sciliquam vel do eafeugiam alisissi. Alisim irit veliqui tatinci luptatem irilisit veliquat lutpate te vulpute feugiam, si.Na feugait la alit accummodit dit iriuscing eugiat. Consequ iscipis dolesse quissisim veliquis nullaorevolore magnis nibh eu feuguer incilismod exerat. Molorer autat essit inibh et am, quis eu feugiam zzriustioeugue conseni smodoluptat, vulput et, ACMEACMEOFFICE SUPPLIESonline CRM tools. A variety of messaging, includingreferral bonuses and weekly deals, along withthe SmartDeals program, maintains awareness andbroadcasts company engagement."When you're that small, all you're trying todo is keep up," she says. "When you're bigger,you can plan out. In this day and age, if you looksmall and unorganized, it's not appealing. I've seenit time and time again, small businesses that sitback and don't change or adjust. If you don't likechange, you don't want to work here. That's all wedo. Communication methods are always changing,and we're fine-tuning where that information needsto go and how it needs to get there."Despite the constantly shifting strategies forreaching out and branding your company, Baileysays internal communication is still one of the mosteffective ways to reinforce the company voice youwant customers to hear."You need to be a cheerleader and sell yourbrand to your employees before you sell it tocustomers," she says. "It's just constantcommunications." O|LWe're veryimage conscious.We payclose attention todetail, and thatearns us a lot ofbusiness.—Ryan Puccinelli,IQ Office ProductsOFF CEL NE35
---
. Mind Your BusinessMay the ForceBe With YouAmping up your sales forcecan pay lasting dividendsSalespeople staff the front lines of business communications,serving as both the advance scouts who find newclient revenue and the public face of companies whencustomers need assistance. They're experts at anticipating andfilling needs. But when you're considering expansion and want to add newmembers to your sales force, how do you know if you want to buy what they're selling?The key, according to experts at United Stationers, is using a rigorous screening processto find and hire talent with a long-term view of your firm's financial future in mind."Many resellers don't look at it from the beginning and consider where they want togo, and that's a key factor for this entire process," says Phil Barnette, manager of UnitedDealer Training. "We often get emotional about adding sales people. We hear our competitionis expanding so we think we've got to run out and do it, too. But it makes moresense to look at the financials."A Hire PowerAdding salespeople can expand your geographic range, help target and acquire newmarkets and opportunities, and provide a lasting revenue boost to your company (seetable on page 39). But it needs to be approached with cautious deliberation."When you're an owner, you're in hiring mode the second you open your door," saysBarnette. "The decision not to hire can be as devastating as hiring too fast. At the sametime, it goes back to your business plan. Lots of business owners don't have one-year or36 November/December 2009
---
five-year plans, and that scares me."Barnette recommends that resellers look at avariety of factors when sizing up their sales team.Keep in mind how many customers your sales forcecan reasonably manage. Maintain a 6 percent salesto-expenseratio and adjust as necessary, waitinguntil the upward drift of that ratio signals that it's timeto bring on new employees. When the decision ismade to hire, plan ahead and ensure that logistically,your company can support new business andclients, especially if the new hire is experienced andcan leverage a long list of contacts."If we listen to our customers really well, theyoften tell us exactly what we need to do for our business,"says Barnette. "If we're hearing complaintsthat they don't see our reps enough or we don't takecare of them as a company, we need to change."When hiring, keepin mind how manycustomers yoursales force canreasonably manage.Another important factor to consider whenexpanding your sales force is management, specificallyhiring a sales manager, a critical position.With a well-considered incentive system in place,installing a sales manager can help streamlinesales, assess (and increase) performance, and provideneeded guidance to rookie salespeople."So many owners say they can't afford to hire asales manager," says Barnette. "I keep saying youcan't afford not to have one."Talent ScoutSourcing talent should be proactive and takeadvantage of the well-networked sales talentpool. Asking current employees and new hireswhom they would recommend for future openingscan help build a list of potential candidates.gettingon trackPicking the right candidatefrom a deep pool of prospectivehires can be difficult,especially when big box competitorsmay appear to have theupper hand with hiring practices.But United's TalentTrackinitiative, which compiles bestpractices for finding talentand provides valuable industryresources, helps resellersrefine their message to potentialsales associates.TalentTrack doesn't endwith recruitment. In additionto helping resellers positionand portray themselves atjob fairs, the program alsoconnects with companieslike Premiere Job Fairs,which organizes over 300events annually in more than30 states. The TalentTrackbinder charts the entire processof building an effectiveteam, from soliciting referralsand discussing compensation,to ongoing training andother ways to retain personnel.Resellers are part of amulti-billion dollar distributionchannel that boasts partnershipswith some of themost recognizable namesin corporate America; it's acompelling job proposition, ifframed correctly.TRACK IT Ask your United accountmanager for more information aboutthe United TalentTrack program.OFF CEL NE37
---
Save more money, paper and timewith Original HP toner.Recent tests prove HP toner simply outperforms the competition.The findings: 1 in 3 remanufactured or refilled cartridges were broken,dead on arrival, or couldn't deliver consistent, professional-quality printsdue to leaking and fading. All while HP toner cranked out reliable,vibrant results on more than 98% of pages.*Technology that's designed to perform also lowers operating costs,cuts paper use and saves time. It's all the more reason to count on HP.*Based on a 2008 QualityLogic Inc. study commissioned by HP. See www.hp.com/go/valuestorysupplies for details.© Copyright 2009 Hewlett-Packard Development Company, L.P. The information contained herein is subject to change without notice. The only warranties for HP products and services are setforth in the express warranty statements accompanying such products and services. Nothing herein should be construed as constituting an additional warranty. HP shall not be liable for technical38 or editorial November/December errors or omissions contained 2009herein.
---
. MIND Your BuisnessCast a wide net and make sure not to cannibalizea particular source or firm, or rely on one placefor new hires."You should ask who some of the key playersare and find out who you can get on your team ifyou have an opening," says Bill Donahue, directorof human resources at United Stationers. "Waitinguntil an opening occurs before finding out who thetalent is can be a big mistake."When you do place an ad on an online jobboard, a thoughtful and complete descriptionis vital, especially with today's crowded market.Clearly indicate responsibilities, and educationaland experience requirements; it's never beeneasier to fire off a résumé and fill out a job application,which can be a boon and burden for employers.Include a well-considered application as partof the submission process, since it allows you toglean more about candidates than you would froma résumé, and digs deeper into achievementsand disposition. Note the availability of relocationassistance, since that will affect the talent pool, andcommunicate the company's brand, so potentialsalespeople understand the benefits of working foran independent company."Spend quality time writing the job description,"says Donahue. "Many people don't and itmuddies the water. Put exactly what you want inthe job specifications."The Long ConversationNarrowing down your list of candidates is the simplestep. The interview process requires a lot moreExpansion TeamWhat You Can Gain From Added Sales Power (average return)focus because the potential hire isn't the only onewho needs to make a good impression. Properlystructuring an interview, which includes drillingdeep into a list of prepared questions and elicitingdetailed responses, enables you to see differentsides of a candidate, especially if you don't passjudgment midway through the conversation."It's a two-way street," says Donahue. "You're sellingthe idea that this is a great place to work for theright reasons and showing a vested interest in theindividual. I've seen the best candidates go downthe drain because of a poor interview process."If resellers properly position themselves anddo their homework, they'll be able to present theirown sales pitch to new hires."We're a fast growing, competitive industry,"says Barnette. "If you're a reseller, you should havethat attitude: The reason someone should buy frommy company is the same reason they should workfor me." O|LOne Rep Two Reps Three RepsSales Year 1 $230,000 $460,000 $690,000Sales Year 2 $480,000 $960,000 $1,440,000Sales Year 3 $600,000 $1,200,000 $1,800,000Sales Year 4 $680,000 $1,360,000 $2,040,000Sales Year 5 $750,000 $1,500,000 $2,250,000If you're areseller, youshould have thatattitude: Thereason someoneshould buy frommy company isthe same reasonthey shouldwork for me.—Phil Barnette,manager of UnitedDealer TrainingOFF CE39L NE
---
. great Resourcesprice deviceUnited's ICAPS enablesresellers to easily captureand update itemand price informationIn the current economic environment, supplier and manufacturerprices in the business products industry are constantlyfluctuating. To stay competitive, resellers must adjust their pricingto reflect supplier price changes.If a supplier drops its price, then the reseller must rapidly adjust so that theproduct isn't overpriced compared to what the competition is charging. If a supplierincreases the price of a product, the reseller must adjust its price upward or face diminishingmargins. For resellers, the recent trend toward frequent supplier price changesunderscores the importance of gaining immediate access to current price and iteminformation and being able to anticipate future price adjustments.The Price is RightFortunately, United Stationers now offers a versatile, user-friendly tool that enables resellersto better manage their margins by automatically updating their item and pricinginformation more frequently. Using United's Item Content and Pricing System (ICAPS),resellers can easily access current pricing on any item, and even receive informationin advance about upcoming item and pricing changes.Using ICAPS, resellers have access to all of United's operational item information,including item description, packaging, UPC codes, pricing fields, dealer cost, sell price,and the catalog page number. According to Bonnie Kudia, United's ICAPS manager,resellers can use ICAPS to create reports for items they choose to access, includ-40 November/December 2009
---
ing reports on current pricing information. "Thisenables resellers to know what item and pricingchanges have occurred, and to keep their computersystems up to date with current item andpricing information," says Kudia.Previously, a reseller who requested updateditem and price information would inevitablyencounter delays. A reseller would send an e-mailrequesting a report, the request was routed tothe appropriate individual, the information wasretrieved, and someone would respond. "Now,"says Kudia, "ICAPS provides almost immediateaccess to the information, and resellers can easilycustomize their request using a template thatallows them to specify the information they wantto update. This self-serve system can run a reportfor the user in three to four minutes, eliminating thetraditional wait time."The primary mechanisms customers can use totap into United's item and price information includea standardized file format called Unitape, whichfeeds information directly into the reseller's computersystem. Resellers also have the option of creatingan Excel file or text file to retrieve updateditem and pricing information."In addition to standard templates that Unitedmakes available, a reseller can easily customizea template to incorporate only the fields theywant to include," explains Kudia. "United's templateincludes all available fields, and the resellercan select which fields to use. Resellers can evendetermine the sequence of how their customizedinformation appears in the file."Resellers can also schedule when they want toreceive updated information from United's system—immediatelyor on a future date—as well asthe frequency for retrieving updates from United'ssystem—daily, weekly, monthly, or quarterly."For example, a reseller can set up the systemto retrieve pricing information every Friday withprices that will take effect the following Monday,"says Kudia. And resellers can receive updatedinformation using any of the three available deliverymethods: automatic e-mail, manual download,or posting to the reseller's FTP site.System EnhancementsSince rolling out the system in April 2008, Unitedhas regularly introduced additional features basedon requests from users. "Two exciting enhancementsto the system start December 1," says Kudia."Previously, a change file informed the resellerwhat the price would be for a specified item. Butusers also want to know the previous price, soa reseller can now see both previous and futureinformation."Another enhancement enablesusers to specify that they only wantto receive a change file if a specificparameter, such as price, haschanged. So if a customized templateincludes five columns of information,including price, the resellercan specify that they only receivea change file if the price changes.Other enhancements are nowincluded in ICAPS. Resellers usingResellers can better manage their margins by frequentlyupdating item and price information. Users can select daily,weekly, monthly, or quarterly automatic updates.OFF CEL NE41
---
W01443 ©2009 Newell Rubbermaid Office Products, Oak Brook, IL 60523 A Newell Rubbermaid Company. great ResourcesUnited's promotional marketingprograms by purchasing catalogsor flyers for their customersmust load United's promotionalproduct information into theircomputer system so they cancorrectly invoice their consumerbased on the promotional price.ICAPS can now accomplish thisautomatically, even limiting theinformation to the specific catalogsand flyers that a reselleruses."ICAPS can also help resellerswhen they bid on a job," saysKudia. "For example, if a resellerwants to submit a furniture bidfor a school district, they couldpull an ICAPS report of furnitureitems with their cost, whetherthe items can be shipped byUPS, and any other informationthey need, then build in a profitfactor and assemble the bid. SoICAPS helps resellers manageboth their current and futurebusiness."Several thousand dealersalready benefit from the easyaccess to item and pricinginformation that ICAPS provides.United makes it easy fora reseller to get up and runningwith ICAPS. If a dealer usesa computer system provider,United creates a Unitape fileand sends it to the provider,who loads it into the dealer'ssystem. Or a reseller can set uptheir computer system to useICAPS without going through anindependent computer systemprovider.Kudia describes the two mainsteps to retrieve informationfrom ICAPS. "First, you create atemplate—a set of instructionstelling the system what informationfields you want in the file,"says Kudia. "The second step isto submit it now, which retrievesupdated item and pricing informationwithin a few minutes, orrun the template on a recurringbasis according to a specifiedschedule, such as daily, weekly,monthly, or quarterly."Quick StartIn addition to 50–60 pages ofdocumentation describing allaspects of the system and providingstep-by-step instructionsfor using ICAPS, there's also athree-page quick-start guidethat walks resellers through theset-up and use of the three mostcommonly used files for ICAPS.If a reseller needs assistance,a United associate can set up atemplate and send it to them.Additional training andtechnical assistance are alsoavailable. Users can go to theResellers Classified Zone (RCZ)at United's Web site, and use theICAPS link. According to Kudia,resellers can also access anICAPS training Webinar at theRCZ. Customer technical supportis also available at the RCZ,including an e-mail address andtelephone number for directcontact with the tech supportgroup. And Kudia adds, "Ifsomeone feels they need morehands-on training, they cancontact customer tech support,and they would walk the userthrough the appropriate steps.And if they need more help,they can set up an appointment,and we'll train them, whichmight take 30–45 minutes."Over and above the impressivefeature set that ICAPSSharpie PenThe originalItem # Description Qty.SAN1742663 BlackDZSAN1742664 RedDZSAN1742665 BlueDZSAN1751690 Assorted - 6 Colors 6/PKAsst 6/PK includes: Black, Blue, Red,Green, Orange, PurpleNEW!Sharpie Pen GripSoft grip for comfortItem # Description Qty.SAN1758055 BlackEASAN1758057 RedEASAN1758056 BlueEASAN1758054 Assorted - 3 colors 3/PKAsst 3/PK includes: Black, Blue, RedNEW!Sharpie Pen RetractableJust clickItem # Description Qty.SAN1753178 BlackEASAN1753179 BlueEASAN1753180 RedEASAN1753177 Assorted - 3 colors 3/PKAsst 3/PK includes: Black, Blue, Red42 November/December 2009Comfortable, Smooth Writing Precision Performance Smear-Resistant Ink
---
provides to resellers, perhapsthe most impressive aspect ofICAPS is that it is free. Resellerssimply require access toUnited's RCZ.In the current economicenvironment, suppliers arechanging prices more frequentlythan before. As with manysuccessful business strategies,it's critical to have access tocurrent information. WithICAPS, United is focused onhelping resellers manage theirmargins as effectively aspossible by enabling them tokeep their item and pricinginformation up to date, so theycan adjust their own pricingaccordingly. That's such a bigadvantage that you can't puta price on it. O|LKey advantages of ICAPS• Improved margin management using instantly updated price information.• Automatically loads United's promotional pricing into the reseller's computersystem so customers are accurately invoiced (depending on the reseller'ssystem).• Provides current item and price information so resellers can submit competitivebids.• A high level of customization enables resellers to retrieve only the informationthey want.GET STARTEDNOW Contactyour Unitedaccount managerfor access tothe ResellersClassified Zone atussco.com. Printthe Quick StartGuide under theICAPS link. If youhave questions,call CustomerTechnical Supportat 800-733-5555.Heavy work loadsrequire a better grip.new Smead eaSy Grip pocketS: twice the Grip, half the effort.If the strain of weighty files is jeopardizing your performance, Easy Gripfile pockets can help. Our patented SmeadGrip non-slip surface makesit easier to lift and carry bulky paperwork. With Easy Grip pockets as partof your act, even your biggest files will move with the greatest of ease.www.smead.com/easygrip© 2009 The Smead Manufacturing Company, Hastings, MN ® Smead, three bars and checkerboard pattern are registered trademarks of The Smead Manufacturing Company. TM SmeadGrip is a trademark of The Smead Manufacturing Company. Patent No. 6,273,470; 6,938,549; 7,232,537 and others.OFF CEL NE43
---
. industry Update2010Our Preferred Supplier Programrecognizes the best of the bestUnited Stationers' 2010 Preferred Supplier Program recognizescompanies that share strategic thinking, devote appropriate resourcesto drive common goals, and recognize the strength of true collaboration.We refer to these star performers as Preferred Suppliers andhave established an ongoing program of recognition to emphasizethe willingness and ability of these companies to devote their energiesand resources to drive common goals."Our Preferred Supplier Award Program recognizes thosecompanies that work tirelessly to establish a long-term collaborativepartnership with United Stationers and the resellers we serve," saysJim Fahey, United senior vice president, merchandising. "Thesesuppliers share our commitment to provide outstanding products,value, and world-class service."The G oals of the Preferred SupplierProgram are to:• Drive and reward collaborative, strategic relationships across thesupply chain.• Set expectations and benefits; ensure common understandingand alignment between United Stationers and our suppliers.• Evaluate and communicate through established metrics that ratesuppliers' go-to-market strategies, responsiveness, and partneringefforts.• Provide measurements with input from all appropriate functionalareas at United—category product management, operations, sales,inventory, finance, and customer service.United's Preferred Supplier Program celebrates suppliers thatbest represent the ideals of innovation, collaboration, and customerservice. The firms are recognized in key product categories andsub-categories.Preferred Suppliers are selected based on a combination ofobjective and subjective criteria. Suppliers must perform at a highlevel across multiple criteria to be recognized. Critical input fromCategory Product Management ranks supplier performance onmarketing, product innovation, partnership initiatives, executiveaccessibility, program innovation and support, and long-terminitiatives including sustainability. Input from Sales and CustomerService is equally as critical."Our 2010 Preferred Suppliers offer the business productsmarketplace an outstanding combination of service, commitment,and innovation," Fahey concludes.Acco Binding Systems, Staplers, Input DevicesAt-A-Glance Dated Goods/Appt. BooksAvery Binders, Indexes, LabelsBalt Niche FurnitureBrother Fax & Multi-function PrintersCanon CalculatorsDixie Food Service DisposablesEnergizer Batteries/FlashlightsES Robbins ChairmatsFalcon Computer Cleaning SuppliesFellowes Laminators, Computer AccessoriesGeorgia Pacific Towel & TissueGojo Skin Care & ToiletriesHewlett Packard Ink Jet and Toner Supplies, Single Function PrintersIceberg TablesImation Optical & Magnetic MediaJabra TelephonesKimberly Clark Towel & TissueMayline Office SuitesOffice Snax Food/BeverageSafco Facility & Maintenance Supply, Specialty FurnitureSanford Pens, Label Makers & Supplies3M Office Tape, Pads/NotesTripplite Power Protection44 November/December 2009
---
Cool Stuff / Hot DealsOB JefCfTcharitable contributionofferssuppliesjansan–breakroomenvironmentally friendlyfurnituretechnologyKensington Washable USB/PS2 KeyboardClean MachineCOOLEST FEATURE | You wash your hands to protectyourself from germs, but what about your keyboard? TheKensington Washable USB/PS2 Keyboard with antimicrobialprotection addresses the critical need for keyboardsterilization.AND MORE | Communal work environments can benefitfrom giving employees the ability to sanitize their keyboardswith the same ease and frequency of routine hand-washing.This keyboard can be run under your tap and washedto remove germs and contamination; plus, the built-inantimicrobial finish provides continuous microbe-fightingaction.rinse underthe tapSpotlightantimicrobialfinishSKU | (KMW64406)List Price | $45.95COB JeffTFellowes Quasar Wire Binding MachineBound to succeedCOOLEST FEATURE | Designed for moderate use, the Quasar wirebinding machine delivers performance, features, and style ideal forthe midsized office environment.AND MORE | Punches and binds in a continuous manner formaximum productivity. Features vertical document loading to ensureaccurate punch alignment. Adjustable rotary edge guide centersdocuments with ease. Built-in comb storage tray with integrateddocument measurement device. Includes see-through waste window.Carrying handle folds flat for easy storage. Includes binding starterpack. Metallic gray, 130-sheet capacity, 18 1/8" x 15 3/8" x 5 1/8".SKU | FEL5217401List Price | $399.95/EACOB JeffT$10GiftCarde n d s12/31/2010Cardinal RulesCardinal's products are great for presentationsand getting organized. Some productsfeature EasyOpen ® binder rings thatreceived an "Ease-of-Use" commendationfrom the Arthritis Foundation. Others offeracid-free poly material that doesn't stick tomaterials. Purchase $50 or more of qualifyingproducts and get a free $10 gift card.Energize the searchfor a cureGet a FREE Keep Going ® Journal while supplies last withthe purchase of three select Energizer ® battery products—and support the search for abreast cancer cure. The journalincludes 80 lined pages,inspirational quotes, and aconvenient calendar.Energizer will donate $1 toSusan G. Komen for theCure ® for each journal sent.JournalFreee n d s3/31/201046 November/December 2009
---
Write on theMoneyPost-it ® Removable Labels are fullycoated with Post-it ® Super Stickyadhesive so the labels stick securely yetremove cleanly. They come in a varietyof sizes and colors, and also in compactpads for quick labeling—just write, peel,and stick! Receive a $10 rebate whenyou purchase $20 or more of anyPost-it Removable Label products.$10rebatee n d s12/31/2009HP Laserjet Enterprise P3010 Printer Seriesquick as a flashCOOLEST FEATURE | These high-performance, networkedlaser printers are ideal for printing large volumes on a varietyof media.AND MORE | Using a 540 MHz processor, this printer seriesprints at speeds up to 42 pages per minute, with a first pageout in as little as 7.5 seconds. The printers feature advancedsecurity features, including a built-in hardware integrationpocket to house security card swipe and authentication devices.802.1X provides device authentication prior to admission.Add up to 640 MB expandable memory and gigabit networking.Input capacity of 1,600 sheets plus an optional 500-sheetpaper tray.SKU | HEW-CE528AList Price | $899.00Durable Info Sign Duo Floor Sign StandSign of theTimesCOOLEST FEATURE | Display messages inportrait or landscape format with this dualfunction commercial sign stand with rotatingmessage panel.AND MORE | The panel holder rotates fromportrait to landscape view with the touch of afinger and the crystal clear front panel removesin seconds for quick insertion of sheets. Thehigh-quality aluminum floor stand has a ruggedcast iron base with rubber pads for stability.Sleek architectural design blends with moderndecors. For letter-size inserts, 44 ½-inches high.COB JeffTSKU | DBL481423List Price | $229.95/EACOB JeffTSmead Colored Pressboard Fastener FoldersTHINK INKWith Original HP print cartridges, allyou have to do is hit print and enjoyexceptional output page after page.HP cartridges combine unmatchedvalue with reliability. Get a $30 freegas gift card when you purchase twoof the same qualifying Original HPLaserJet print cartridges.$30GiftCarde n d s12/31/2009Tough EnoughThese folders are built for larger, bulkier files that get lots of use. Tough 23 pt.pressboard material withstands wear and tear. Matching color Tyvek ® tape allowsfor durable expansion. 2-inch capacity file fasteners keep papers secure whilesubdividing and organizing projects, and 1 / 3 cut tabs are in assorted positions.Also offered in blue, green, and yellow by the box. Letter-size, 1 / 3 cut tabs, brightred, 25/box.SKU | SMD14936List Price | $82.45/BXCOB JeffTOFF CEL NE47
---
thewordby Andrew Morgan❘ President, Red CheetahMake E-Commerce More ProductiveDealers have embraced the understanding and importance of a world-class e-commerce approach to business,but the continuing challenge is to understand the speed and evolution that continue to occur online.That evolution has been taking place not only in e-commerce, where search capabilities haveimproved and enriched e-content has been added with help from United Stationers, but also on theback end where we continue to improve hard and soft ordering costs and build customer loyalty.As e-commerce has evolved with improved search opportunities, enhanced content, and richmedia, many resellers still struggle with the misconception of decreased loyalty associated withe-commerce sales. Our goal and our challenge are to continue to evolve the e-commerce platforminto a loyalty creator. That means independent dealers have to maintain their identity online and notbecome faceless sellers.There is definitely reduced engagement online compared to face-to-face sales efforts, but enhancedonline functionality that simplifies the ordering process can more than make up for the different experience.Quite simply, it's possible for dealers to enrich the online experience of their customers throughease of use. Online ordering saves your customers time and money. That fact alone heightenstheir online shopping experience and can translate into increased loyalty.Dealers who put their friendly face forward online and embrace the continuing evolutionof cultural engineering tend to be dealers whose e-commerce business is growingthe fastest. They've leveraged ease of use and the time-saving aspects of e-commerceto transition existing accounts toonline sales and attract new onlinecustomers.These resellers have developed awarm and friendly Web presence byempowering their staffs to be openand honest online. The online experiencebecomes rich and warm whendealers tie in personal aspects oftheir operations. A simple effort suchas listing employees with bios andcontact information enhances onlineshopping and builds a friendlier appearanceinto the e-commerce experience.Social media also enriches the Webexperience and offers another onlinemethod to engage your customers.Your Internet sales efforts will growand prosper once you begin to engagecustomers through your enriched onlinepresence. O|LGIVE US YOURFINAL WORD!Share your valuable experienceswith readers of "The Final Word."If you could give a new dealer justone piece of advice, what wouldit be? Can you describe yourmost challenging sales call andhow you responded? Send yoursubmission to:OfficeLinec/o United StationersOne Parkway North Blvd.Suite 100Deerfield, IL 60015-2259or via e-mail to:officeline@ussco.comsubject line "The Final Word"DIRECTORY OF ADVERTISERSacco. page 11Avery. page 9Brother.back coverdataproducts . page 32Durable. page 22ECI. page 15Esselte . page 30fellowes . page 13HON. page 5hp .inside front coverHP . page 38innovera.inside backcoverkantek . page 22kimberly-clark. page 7pm company. page 41sanford. page 42smead. page 433M. page 33United stationers. page 2United stationers. page 45xerox. page 25OfficeLine is published bi-monthly by United Stationers Supply Co. for the benefit of its independent resellers and suppliers in the office products industry. To obtain a complimentary subscription, please visit ussco.com/resellers/gi_officeline.shtmlor contact your local account manager. The publisher reserves the right to deny subscriptions based solely on its discretion. Advertisers may contact the publisher at officeline@ussco.com for rates and schedules.48 November/December 2009
---
New Photo Paper & Inksfrom InnoveraOur high-end products were built with your bottom line in mindWith impressive performance at a remarkably competitive price, Innovera ® Photo Paper & Inks aredesigned to deliver – greater profits for you – and higher satisfaction for your customers. Bottom line. Ourtechnology essentials will give your customers a high-caliber product that performs with the best – at afar more reasonable price!NEWInnoveraPaper & InksInnovera High-Quality Photo Paper• The microporous coating allows bothdye-based and pigmented inks to dry instantly• Specially developed to produce superior resultson all inkjet printers• Enjoy exceptional quality printing of photosand presentationsInnovera Premium Ink Cartridges• New Innovera ink cartridges are made in the U.S.A.• Premium ink cartridges are available forHP: #02, #10, #11, #74, #74XL, #75 & #88XL;and Dell Series: 1, 2, 5, 6 & 9• Images retain rich, deep colors and vivid details• Our premium inks resist UV fading to standthe test of timeQuestions?For Innovera product support, please call 1-866-756-4676or email us at InnoveraSupport@ussco.comHP is a registered trademark of Hewlett-Packard Company. Other brand names and trademarksare the property of their respective owners.OFF CEL NE49
---
Perfect printers for those who know the predictable choiceisn't necessarily the best choice.Welcome to Plan b.Up to 21ppmHL-4040CDNNetwork Ready Color Laser PrinterHL-4070CDWWireless Color Laser PrinterMFC-9440CNColor Laser All-in-OnePlan A is following the crowd. Plan A is doing the expected. When it comes to printing, Plan A is not your best choice. It pays to looka little closer and then choose Plan B from Brother. ® We make printers and all-in-ones that give you more. More features. Moreaffordability. And up to 21ppm 1 color and monochrome output speeds. It's thevalue we build into all our products. And your reward for being smarter. Andchoosing Plan B. Visit us online at www.brother.com1pages per minute.© 2009 Brother International Corporation, Bridgewater, NJBrother Industries, Ltd. Nagoya, JapanUSS-018