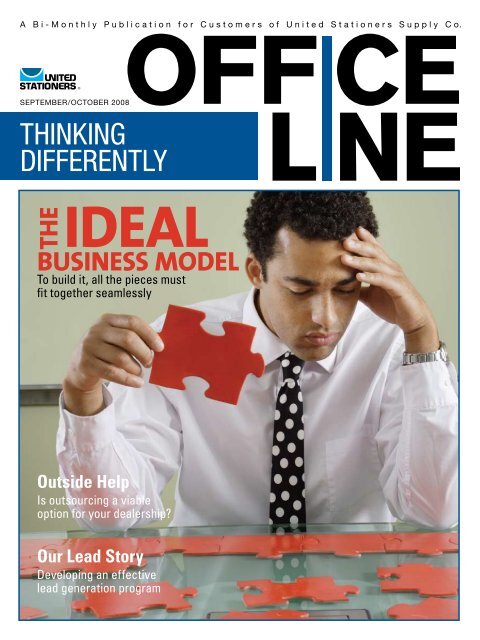 THINKING DIFFERENTLY - Ussco.com
THINKING DIFFERENTLY - Ussco.com
THINKING DIFFERENTLY - Ussco.com
SHOW MORE
SHOW LESS
Create successful ePaper yourself
Turn your PDF publications into a flip-book with our unique Google optimized e-Paper software.
SUCCESSSUITS YOU.Printing success starts with Original HP LaserJetprint cartridges.Only Original HP print cartridges deliver the tonerformulation specifically designed for each HP printer.This is critical because no one generic toner willproduce the quality and reliability you need andexpect from your HP printer.And, in a recent study by QualityLogic, it wasfound that one-third of pages inspected fromthe remanufactured cartridges were of limitedor no use, while more than 96% of thepages inspected from the OriginalHP cartridges tested were acceptablefor all uses.*Successful printing—OriginalHP LaserJet print cartridges deliver.*A 2007 independent study, performed by QualityLogic Inc. andcommissioned by HP, compared Original HP LaserJet print cartridgeswith nine brands of remanufactured toner cartridges sold in North Americafor the HP LaserJet 2300 (Q2473A) and HP LaserJet 4350 (Q5407A)printers. 24 cartridges were tested for each brand in the study.See the QualityLogic report for details(http://www.qualitylogic.com/assets/pdfs/consumables/Reliability_Comparison_Study-Mono_Toner-%20HP_vs_NA_Reman_Brands_11-07.pdf).Business partner© Copyright 2008 Hewlett-Packard Development Company L.P.The information contained herein is subject to change without notice.
---
A Word From The EditorThe Importance of Business ModelsBusiness models might not sound like an exciting editorial topic. Once you peek beneath the surface, however, thereis definitely a great deal for you to think about.There was a time when dealers basically all approached the market similarly. A warehouse and retail store were oftenintegral to their approach, but for many dealers today, neither remains a viable alternative. Those that continue witha retail model have refined their approaches to out-maneuver their big box competitors.When it comes to maintaining inventory, independent dealers adopt various plans starting with the need to maintainMichael Chazinas full a supply as possible to meet customer needs including same day delivery. Other dealers like the flexibility ofrunning stockless; they're free to concentrate on sales and marketing, rely on United Stationers for next-day delivery and reapply inventory carryingcosts to underwrite sales and marketing expenses.In between, there are any number of "right stocking" approaches, where dealers hold inventories of the biggest sellers or maintain inventory for specificcustomers. What's right for one operation won't necessarily work for anyone else; the approach must be modified to meet the needs of the localmarket and customers. What succeeds in a secondary market might prove tough going in a major metro area. It's important to review inventoryand turn ratios frequently and leverage your wholesaler to help free capital to invest in income generating programs.The structure of your business model is important but don't lose sight of the underlying principles that drive model selection. Typically, so-calledstockless dealers will maintain some inventory; how much is a question every independent with this model needs to determine on its own. Thereisn't one right answer.Much of the selection process is driven by what your big box competitors are doing. Yet, at the end of the day it's about growing sales while keepinga rein on expenses. That's part of the success that independent dealers have had with telesales and Internet-based businesses. These are the latestincarnations in an array of business model approaches that continues to evolve.What form will business models take in the years to come? Approaches will definitely evolve and you can be sure that any new models that developwill be led by the consumer and how she wants to do business. For more on this topic, see "Evolving Business Models Keep Dealers Competitive"starting on page 6.You'll be surprised by what you might learn.Michael ChazinUnited Stationers Marketingmchazin@ussco.comCONTENTSThe news, information and perspectivesyou'll find in this issue of OfficeLineCover story 6Sure you need all the right piecesto build a great business model, butyou'll find that the glue that holdsit all together is up-front planning.What's Going on 2The latest news and developments of interestto the partners of United Stationers.start with an impressive lead 12It takes a systematic approach to generating leadsfor any business to get ahead — and stay ahead.HOT PROGRAMS 18With United's Cover Studio, you can create catalog coversthat are as exciting and unique as your own brand.RECOGNIZING SUCCESS 36A look at the milestones, rewards and successes ofindependent office products dealers around the country.OUTSOURCING 14It can cut costs, provide expertise and allow youto focus on your core business — but is outsourcingright for your business?©2008, United Stationers Supply Co.THE FINAL WORD 40Pat Collins, senior vice president of sales for United,looks forward to another great Vision Conference.
---
CATEGORY NEWSOFFice products updateBuild Sales with a Private-Label StrategyNow's the time to showcase the complete private label offering you canbring to the marketplace.The 124-page United Brands catalog is filled with products representingall of your unique brands. In one concise and powerful presentation,your customers and prospects will find the business products they needon a daily basis, as well as complete business solutions positioned tomeet their biggest challenges.Featuring almost 2,500 products from Universal, Alera, Innovera,WindSoft and Jaguar, the 2009 United Brands catalog allows you todevelop an effective private label branding strategy that lets you competeagainst even your largest rivals.Universal offers one of the broadest brands of office supplies featuringmore than 1,000 products in over 100 categories.Innovera offers compatible imaging supplies and computer accessoriesthat deliver the highest quality at a great price. Plus Innovera productsall have a one-year warranty.Alera encompasses a wide range of office furniture products, from singlepieces to complete office suites, which provide quality, performanceand value that make it a powerful alternative to national brands.WindSoft and Jaguar in the JanSan area offer paper goods and canliners with name brand quality, distinctive packaging and price pointsset to move product — all at margins that make it well worth yourwhile. These are just two of the seven private label brands featured inthe JanSan product category.Individually, each of these brands offers your customers and prospectssuperior value and economy. Together, they offer you a powerful marketingplatform and a dynamic selling tool.Contact your account manager today to place an order.Universal Sticky Notes Go GreenWe never realized how much plastic wrap goes on asingle pack of Universal Sticky Notes until we lookedat ways to make our products more eco-friendly.Over the next few weeks multi-packs of UniversalSticky Notes (UNV35669, UNV35612, UNV35610,UNV35668, UNV35673 and UNV35672) will nolonger include individually wrapped packs.By making this very small packaging change, 5,300fewer pounds of plastic wrap will end up in landfillsevery year — pretty cool.2OFFICELINE | www.ussco.com
---
Dealers Support Direct Accessand E-Commerce CapabilitiesUnited Stationers' Furniture Category had what can only be termedan extremely successful NeoCon exhibit this past June at Chicago'sMerchandise Mart, June 9-11. "More than 100 dealers visitedour exhibit each day including the final day of the show whichis traditionally slow," said Melinda Myers, director, category programs— furniture.This was really a breakout year for exhibiting at NeoCon forUnited Stationers, continued Myers. "Our prime booth locationofficially validated Alera and Direct Access as serious players inthe office furniture business," she said.The Furniture Category's NeoCon exhibition showcased a rangeof furniture products and programs. Top-quality Alera productwas displayed including Verona and Seville casegoods and thenew, contemporary EQ chair.The Direct Access Program featured A-grade McDowell-Craigworkstations representing the 20 brands that DA offers. Dozensof dealers indicated interest in the program and have been sentadditional information and one, Best Office Solutions, Waynesboro,Ga., actually signed up to join the program during NeoCon."Our Direct Access experience at NeoCon was phenomenal," saidSandi Shields of Best Office Solutions. "Now that we have signedup with Direct Access there are no gaps in our product mix. Wedon't like to tell our customers 'no,' and now we don't have to."Live demonstrations at United's booth showcased the enhancede-commerce capabilities of the Online Furniture Catalog and theVisual Planner layout and sales productivity tool. Dealers whoparticipated in demos of both the Online Furniture Catalog andVisual Planner were eligible to win a variety of prizes. Casey Bellof Government & Educational Furnishings, Albuquerque, N.M.,won the Wii Bundle. Bill Bell of Lititz Office Products, Lititz, Pa.,and Annette Bennett of Bennett's Office Supply, Mineral Wells,Texas, both won iPod Shuffles.Government & Educational Furnishings also purchased both theMid-Market Online Furniture Catalog and the Mid-Market VisualPlanner while at NeoCon. According to Casey Bell, United's furnitureecommerce capabilities have saved the company thousandsof dollars in staffing and programming.Additionally, Neal Heckman of Palace Office Interiors (Palace Art& Office Supply), Monterey, Calif., and Sandi Shields of BestOffice Solutions, Waynesboro, Ga., were winners of JawboneBluetooth headsets. Be sure to visit the United Stationers exhibitat the next NeoCon show, June 15 – 17, 2009.Furniture FOCUSEQ Chair Exceeds ExpectationsIf our new EQ chair could talk . . . it would brag about its sleek contemporarystyle, ergonomic design and quality mesh typically found in A-grade seating.It would wax poetic about the rigorous quality process, but mostly it would divulgehow easily it slips into your customer's office like an old friend with a newlook. And it might talk for a long time. All the advantages the EQ chair offersare tied up in a quality package that exceeds dealer and customer expectations.Just ask Bryan Lord at Iowa Book & Supply Commercial Sales, Iowa City, Iowa.Lord receives and assembles all of the dealership's furniture. "I don't knowwhich part of the EQ chair I was more impressed with," said Lord, "the packagingor the chair!" He thought the packaging was excellent, and he was veryimpressed with the chair, ease of assembly and the chair's overall quality.The EQ chair and other new Alera products have made a big impression onIBS Commercial Sales and have converted the dealership to a strong Alera supporter.With the Alera Showroom Program, IBS Commercial Sales has beenpromoting its "Test Drive" chair program, and Michelle Lord used the sampleprogram recently to secure a 14 chair EQ order.And appreciation of Alera at IBS Commercial Sales runs deeper. The dealershipis also impressed with the Seville casegoods line and plans to feature the EQmid-back chair on its Web site.Contact your account manager to discover how the EQ chair, and the entireAlera furniture line, can help make your furniture business more profitable.3www.ussco.com | OFFICELINE
---
FEATURE STORYSEPT/OCT 2008EVOLVING BUSINESS MODELSKEEP DEALERSCOMPETITIVEFor growth to stay on track you needto check your business model regularly
---
Sound methods of getting office products to market are becoming as diverse as the productlines themselves. What began as strictly a stocking brick and mortar business model has evolved intostockless, right stocking, Internet only and telesales, along with hybrids of each. By regularly assessingthe plus and minus factors unique to their chosen business models, independents are able to keeptheir strategies fine-tuned and on track toward future growth and success.National competition drives the change we see in the waybusiness is done today, says Curt Heick, USSCO businessdevelopment manager out of Indianapolis. "They forceindependent dealers to revisit their business models based on theiroperating expenses and the challenge of growing sales. But thiscompetition also forces them to become better operators, bettercompanies and better business people which ultimately are goodthings," he says.Change is a constant regardless of which model you're using. Theimportant thing is that you react to changes in market conditionsby adjusting your model to make it more efficient. Independentsare finding they have to become more effective in all departments.If they're struggling to make a profit with the model they're using,they need to consider changing models if redesigning them isn'tworking, advises Heick.CHOOSING THE RIGHT MODELStart with the end in mind. "When you know where you want togo, choosing the right model becomes easier," says Bob Broadwell,USSCO's Midwest business development manager. For example,an established dealer might want to grow sales by 10 percent. Thesales force can achieve a four to five percentincrease. So, how does the dealer achieve therest? "Expanding the sales force is one way,"says Broadwell. But, how does the dealer raisethe capital to fund more salespeople? "Onemethod is to reduce inventory by e-stockingor right stocking," he continues. So the modelyou choose depends on where you are goingand how you plan to get there.Look to the consumer's needs and the service model the competitionis using to meet those needs, suggests Heick. Replicate successfulformats, yet make them your own by having yours reflect yourpersonal beliefs and solid value proposition. "A stockless dealerwill typically have some inventory," he says. "How much variesby dealer. There's no consistency as you'd have with a franchiseoperation."SUCCESS IN STOCKINGWith five locations in two states, Lyle Dabbert, president andowner, Brown & Saenger, Sioux Falls, S.D., is a stocking dealer whosecompany provides a diverse slate of products and services. "We tryto be more appealing to our clients by offering them more," he says.As a result, he provides business products, furniture, printing, andpromotional products including a full embroidery division. "Weprobably stock more than a lot of people," says Dabbert, "withUnited as our valued partner to furnish the items we don't stock."The advantages of Brown & Saenger's stocking business modelcome from its diversification. In a soft market his furniture businessmay slow down as promotional products pick up. Their Midwestlocation is a plus, as well. "Someone in a major metropolitan citywould never be able to cost-effectively operate the size warehousethat we do. In turn, we're able to take advantage of the economiesof stocking up on items that may see price increases. This platformis not for everyone," says Dabbert, "because we have a lot tied up"Customers served by the power channels don't knowthey're getting bad service, so unless they're havingmajor problems customers usually don't change."– Steve Klaverin inventory and in our own fleet of trucks. But we've been able tosuccessfully carve out our niches."One niche not seen as often today is the stocking dealer with aretail store. This model is still proving successful for Sidney Genius,7www.ussco.com | OFFICELINE
---
SEPT/OCT 2008FEATURE STORYowner, Louisiana Office Supply, Baton Rouge,La. "We've actually made very few changes," saysGenius. In fact, he's in the process of expandinghis retail supply store and office furniturewarehouse into a new 90,000 sq. ft. facility.When the big boxes moved into his area, hiswalk-in business dropped in half. Since then, hehas recaptured some of this business and hopeshis new facility will bring back even more. Theadvantages of his business model coincide withhis market located within a 50-mile radius of hisoperation. "If the customer needs a product rightaway, we've got it," he says.Deliberately avoiding an electronic system tohandle in-coming calls, Genius takes pride inthe fact that a real person answers every phonecall order. "Some of our inside sales peoplehave 30 years experience and our customersappreciate the service they provide," says Genius.The one downside of this model appears to be inpricing. "Customers are used to seeing discountson the ticket price especially with the big boxeschanging their prices daily," he says. "It becomesdifficult to price the 'Book' as a result." However, Genius looksforward to drawing new customers into his classic brick andmortar stocking operation when it soon opens.STOCKLESS INCLUDES RIGHT STOCKINGFor small dealers with little cash flow, the stockless model wouldbe the best fit, says Steve Klaver, co-owner, DBI, Lansing, Mich.Going directly to the wholesaler makes them much more efficient."The upside of our stockless model is that our time is nolonger spent controlling inventories. This lets us focus onimproving our customer service by making the orderingprocess as easy and user-friendly as possible."– Ron WattsDBI does do some "right stocking" by inventorying customerspecificproducts that can be delivered to key customers the sameday. While the independents are best at providing great customerservice, the gatekeeper to getting into a client is still price asKlaver sees it. "Customers served by the power channels don'tknow they're getting bad service, so unless they're having majorproblems customers usually don't change." Yet, pressure from thebig boxes has made him become very sophisticated and aware ofwhat he needs to do and the business model he needs to follow."The 'mom and pop' days are gone."Another stockless dealer who agrees with the positive outcome ofthe push imposed by the national competitors is Ron Watts, owner,Elliott Russell/Sewco, Inc., Amarillo, Texas. "The big three powerchannels in our area were the best things that ever happened to usbecause they made us focus on contract business and to go afterit. We always tried to reduce and control our inventories, but in8OFFICELINE | www.ussco.comthe mid-90s we changed and got out of inventory and now spendthat time doing what we do best — selling." Watts understandsthat making a major transition from one model to another canprofoundly impact a client's comfort zone. "Any time I make amajor decision, I talk to our largest customers and reassure themthat what we're doing will not hurt their service level in any way,"he says."In fact, it usually increases their level of service," he adds. "Theupside of our stockless model is that our time is no longer spentcontrolling inventories. This lets us focus on improving ourcustomer service by making theordering process as easy and userfriendlyas possible. The downside ofgoing stockless is just that we can'toffer same day delivery."Not only does Paul Rodman,president, The Paper Clip Club,Nashua, N.H., see changing businessmodels as inevitable, but also exciting."With the way the world is doing business today because of theInternet, dealers have to embrace change," he says. As a stocklessdealer with 92 percent of his ordering coming through his Website, Rodman devotes his energy toward making online purchasingeasy for his customers. As a result, he carries an in-house IT staffthat creates solutions that are a little ahead of the curve. "Likefood, office products are consumables that will always need to bereplaced," he says, "and when your customer is the world, there's agreat future for the industry."OPERATING ONLINE ONLYDifferent customer bases want to be serviced differently, accordingto Tim Horton, owner, Discount Office Items, Columbus, Wis.,an Internet-only office products business. "We operate out of an800 number call center. Consequently, we don't have any outside
---
PROMOTING YOUR BUSINESSSEPT/OCT 2008TO WIN NEW BUSINESS, IT'S ANADVANTAGETO START WITH AN IMPRESSIVE LEADInsights into building an effective lead generation programChances are, the future of your company lies in the list ofsales leads and prospects that is currently in your files.Among these names are your future customers, businessesthat will not only replace lost accounts but also spur incrementalgrowth of sales and profits. The challenge is to determine which ofthose names is most likely to become your customer — and whatyour organization must do to make that happen. That's the purposeof developing a lead generation program that will assist youin allocating your sales and marketing resources where they willhave the most impact.Qualifying Names: The first step in any lead generation programis knowing which companies to target. Jackie Walts, a direct marketingand lead generation consultant, says that defining yourperfect customer is a prerequisite to any lead generation program."If you haven't done this, you have no business conducting leadgeneration at all."Find any detailed information about a perfect customer, but focuson information that is easily quantifiable in marketing," saysWalts. The idea behind customer cloning is that by using informationyou gather in your customer database, you can create a profileof your perfect customer — and then go out and find others thatare just like them in the marketplace.Companies such as infoUSA maintain huge databases of businessesthat can use criteria — such as revenue, number of employees,12OFFICELINE | www.ussco.comSIC code and age of business — to generate a list of organizationsthat match the profile of your perfect customer, or fall within anyparameters you set. If, like most office products dealers, you primarilyoperate within a defined geographic area, you can obtain acomplete list of potential customers fairly inexpensively.Of course, you will also get leads from other sources such as yourWeb site, trade shows, phone inquiries, responses to direct mail,advertising campaigns and customer referrals. You should alwaysfind ways to capture information on these prospects and record thedetails for your prospect files.Just because potential customers meet your criteria or visit yourWeb site, it doesn't necessarily mean they're viable prospects, soyou may want to further qualify these businesses. A phone call isa quick, easy and inexpensive way to obtain a lot of valuable informationbefore you commit salespeople and resources to the salesprocess. Ask who their current supplier is, if they have any specialproduct or service needs, how satisfied they are with their currentsource and if they're open to switching vendors.Classifying leads: Once you have input on prospects, it's essentialto classify them to prioritize your sales efforts. Avoid the traditionalhot, warm, cold system of classifying leads, advises BrianCarroll of InTouch, Inc. No salesperson will ever want to touch awarm or cold lead.Instead, Carroll suggests a system in which every element of data
---
is scored on a 100-point scale and compared against the company'sperfect customer profile. That lets the salesperson determinewhich are hot leads, and perhaps uncover a specific prospect traitthat's indicative of a truly "hot prospect."In this system, a new lead doesn't automatically qualify it as hot.The age of lead — as well as the source of it — are just additionalfactors that the salesperson must evaluate. So by itself, a businesscard surrendered at a trade show for the chance to win a gift certificatewon't qualify that prospect as hot, nor should it.There must also be a system in place to address lower-scoring prospects,such as e-mail or direct mail campaigns, that builds awarenessof your business and nurtures them until they do become moreviable prospects. This is especially important in businesses likeoffice products in which the sales process tends to be lengthy."Lead nurturing is about building trusted relationships with theright people," says Carroll. "It is helping them understand thatyou understand their journey and decision-making process." Andwhen communicating with prospects, Carroll says marketers mustview lead generation as a conversation, not a series of disjointedcampaigns.To help you strike the right tone, Walts suggests reviewing all ofyour communication by putting yourself in the shoes of your perfectcustomer. "Ask yourself, 'is this what you'd want to see?'" saysWalts. "Is the offer meaningful to you? Would you open or read it?Would you respond?"Recycling Leads: How often are names discarded as viable prospectsafter an initial sales call has failed to produce new business?Jim Lenskold, president of marketing consultancy Lenskold Group,believes that within this group of lost, discarded or ignored leads acompany's most potentially lucrative prospects might reside."If just 5% of all leads are closing, sales thinks the other 95% arejunk," says Lenskold. "But marketing can take that 95%, pull outsets that shouldn't be in there and pull out another set that needsnurturing. You're getting more out of the money you've alreadyspent by going deeper within the opportunities you already have.Well-nurtured leads represent an unbelievable opportunity."Tracking results: If you don't have an ongoing system to analyze,refine and retune your efforts, your company doesn't have a leadgeneration program — you're just going through a lead generationexercise.It's essential to examine each company attribute, how the lead wasgenerated, the frequency of prospect communications, the title ofthe contact, and any of the dozens of other identifiable variablesthat correlate with your sales results. When evaluating your program,don't just look at the factors that result in a successful outcome,because you can also learn from your failures.Based on your findings, it may be necessary to reevaluate and refocusyour strategies, tactics and even your idea of who your perfectcustomer is. "I've never conducted an audit of a lead generationprogram that didn't provide a clear picture of areas to refine," saysWalts. "Sometimes fixes are easy. Sometimes the entire programneeds an overhaul."When can you expect to have a lead generation program that'slocked in — one in which you don't need to continuously reevaluateyour results and rethink your approach? When you no longer needadditional customers.
---
DEALER ISSUESSEPT/OCT 2008The Ins And Outs ofOUTSOURCINGWhile outsourcing can provide alot of benefits, it can also presentsome complex challengesOutsourcing has become a hot topic over the last few years,especially with the export of customer service functionsfrom the U.S. to offshore locations. In a strict sense, however,outsourcing has been practiced throughout history. Frommercenaries hired by ancient kings to defend their territories topresent-day lawyers protecting the assets of a corporation, therehave always been guns for hire to those willing and able to paytheir price.Outsourcing is simply turning over a business function or activityto be executed by an outside resource. Advertising agencies, lawoffices, accounting firms and business consultancies are all outsourcingoperations that have been widely accepted for years. It isthe expansion of outsourcing to less traditional business functions,however, that has businesspeople considering which of their organizations'activities should be outsourced, if any, and what benefitscan they expect.WHY OUTSOURCE?From HR and IT to market research, accounts receivables, andlogistics — just about any business function can be outsourced.A lot of venerable consumer brands have even become nameplateoperations as a result of outsourcing design, manufacturing andjust about every other business activity to external partners.14OFFICELINE | www.ussco.comSo what are the benefits of outsourcing? A survey conducted bythe Outsourcing Institute revealed the number one reason was toreduce and control operating costs.This was followed by:• Improve company focus• Obtain world-class capabilities• Free up internal resources• Access resources not available internallyWhile the primary reasons for outsourcing may be diverse, a wellexecutedinitiative can help an organization achieve all of thoseobjectives.Consider the business that outsources its IT activities with the primarygoal of reducing and controlling operating costs. The businesswill not have an ongoing expense in hardware and software— and can actually raise capital by selling the computer resourcesit possesses. Nor does it have the hiring and payroll expense of ITpersonnel or the investment in continuing education in order tokeep current.Of course, there is a cost to outsourcing — often seemingly a verysteep one — which is always an important factor when evaluatingoutsourcing. Yet often, outside vendors can provide specializedservices far more economically than an organization can byutilizing internal resources. This is especially true when internal
---
esources are routinely underutilized — and all theexpensive hardware and high-priced talent sits idlebecause there's not enough work to keep them operating.With IT functions outsourced to a partner, the peopleand resources of a company are freed from noncorebusiness activities, and can devote their time,attention and skills to serving the customer.Meanwhile, the outsourced functions are being implementedby an organization in which IT is its corebusiness . . . that has the focus, knowledge, experience,hardware, infrastructure and people to do thejob more efficiently . . . and that must make theinvestments in hardware, infrastructure and trainingto stay on the cutting edge of technology, servethe needs of all of its clients and remain competitivein the marketplace.There are myriad other benefits that can be gainedfrom outsourcing, depending on the function. Businessesthat outsource HR, for instance, may be ableto offer a wider range of 401k options and insuranceplans while reducing plan costs, thanks to the largerpool of employees the provider represents. Additionally, non-corebusiness activities that tend to be moved to the back burner whenevertime and attention are required elsewhere actually get done ina timely manner when outsourced.WHAT TO OUTSOURCEWhile virtually any function can be outsourced, that doesn't meanit should be. According to Jeanne Ross of the Center for InformationResearch at MIT, the best candidates for outsourcing arebusiness activities that are "extractable — easy-to-define, removableor considered non-core activities."If you're an office products dealer who defines your business as asales and service organization, you'll probably want to resist outsourcingany activity that involves personal customer contact,such as your outside sales efforts and inbound customer call center.Such functions as accounts receivables and delivery could beconsidered based on the impact outsourcing would have on theservice proposition and brand values of the individual dealership.Also, consider the amount of resources you have tied up in anyactivity, whether the capital and human resources you have allocatedto a function are fully utilized — and the ongoing futureexpenditures that must be made to keep the activity in house.HOW TO OUTSOURCEThe success of nearly every outsourcing venture is determined earlyon in the process — in the decision of which functions to outsource,in the selection of the right vendor and in the terms of the contract.Experts agree that outsourcing is not an opportunity to export aproblem business function. You must have all of your ducks in arow to be able to hand off responsibility to a vendor.There are a number of criteria that are important when choosinga vendor — among the top ones identified by the OutsourcingInstitute's survey are: commitment to quality; price; references/reputation; scope of resources; and cultural fit.One often overlooked element of a successful client-vendor relationshipis outsourcing governance. "At its most basic level, outsourcinggovernance is managing the relationship with the outsourcingservice provider and the outsourcing initiative," saysStan Lepeak, managing director of research at EquaTerra, anoutsourcing advisory and consulting firm. That means managingservice levels and the terms of the contract, says Lepeak. "However,it's more important to look at the effort from the standpointof making sure the business goals of the outsourcing effort areachieved." It is a long-term holistic approach that provides flexibilityto adapt to a changing environment, not just the termsof a contract.If you're considering a major outsourcing initiative, keep in mindthat there are a lot of complexities involved that are unique toyour individual needs and circumstances. And, that it would beprudent to bring in the expertise of a couple of more traditionaloutsourcers — a business consultant and your legal counsel.15www.ussco.com | OFFICELINE
---
hot programsSEPT/OCT 2008UNITED'sCoverStudioIt Doesn't Take A Lot Of Time AndExpense To Get The Look And FeelOf A Professionally-DesignedCustom GL CoverFor many independent office products dealers, the GL catalogis the most visible representation of their business in themarketplace — it's the face of the business that their customerssee every time they need office supplies. That also makes itthe most valuable promotional real estate that dealers have to establishtheir brand, differentiate their business and communicatetheir unique offerings to their customer base.To help dealers leverage their GL catalogs, United offers a widevariety of cover options, says Jim McCann, director, marketing,United Stationers. "The reason we offer so many choices is so dealerscan find one or more covers that support the branding they'vedeveloped for their dealership — both graphically and throughthe messaging that defines their business." United's Cover Studiotakes those choices a step further, according to McCann, providingdealers with greater customization opportunities for their GLcovers."Cover Studio was developed for the independent dealership thatdoesn't have the time or the resources to invest in a fully customcover," says McCann. "It provides some of the flexibility and customizationcapabilities that allow them to present graphics andmessaging consistent with their own branding initiatives — at a18OFFICELINE | www.ussco.comfraction of the cost of doing their own custom cover."Cover Studio primarily gives dealers three avenues to customizetheir cover choices, says McCann. These are:123Graphics: A dealership can make imagery choices — whetherit's illustration or photography — as well as alter the colorschemes to better support its brand identity.Messaging: There is a variety of messaging available to dealersthat emphasizes the service, selection, value and/or local aspectsof their businesses. Dealers also have the option of creatingtheir own messaging, which McCann believes is especiallyimportant if they have a local slant or other unique messagingthat supports their service proposition or branding.Products: Dealers can choose from a diverse library of productsto feature or display on their covers."We understand that dealers might want to emphasize productcategories that are not necessarily the same ones that we emphasizehere at United," says McCann. "The product library gives them theoption of selecting more furniture or JanSan SKUs, for example,so they can present themselves in a way that makes sense for theirbusiness in their market."
---
You can incorporate your organization's nameinto the cover designYou can choose differentmastheads from ourmodular cover listYou can select imagesfrom our library,including productsand atmosphere artYou can create your own messaging or choosedifferent sales and marketing messages fromour list of available messages — such as "BestPrices" or "Guaranteed Satisfaction"ABC OFFICE SUPPLYFAST, EASY, FOOLPROOF EXECUTIONCreating a GL cover that incorporates the unique imageryand messaging of your dealership is not onlyeasy, it can be done in a matter of minutes.It's a template-driven process, says McCann, whichstarts with the choice of a catalog cover design. In astep-by-step process, dealers are then presented withsimple choices in color scheme, product selection andmessaging — all of which will be incorporated intothe final design.This template approach also ensures that the overallintegrity of the original design is preserved, includingthe composition, balance, proportion, perspective andunity of the layout. The result is a professionally preparedcover that effectively represents the individualbrand values of the dealership to its customers.Cover Studio was first made available for the 2006 GL— and was immediately adopted by a core group ofdealers who understood how this tool could promotetheir brands easily, effectively and economically. Thissame group has continued to rely on Cover Studio eversince for those same reasons. McCann suggests thatany dealer who isn't currently planning a custom covershould visit the Cover Studio in the Classified Zone atwww.ussco.com. It will only take a few minutes to discoverjust how easy it is to create a cover — and to seejust how good it will look to your customers.
---
PRINTER SEEKINGCOMPATIBILITYHardworkingprinterseeks matefor compatibility andmission fulfillment.Enjoys dynamicspreadsheets, endlessPowerPoint decksand long reports. Notbig on jams and spills.Must be comfortablein vibrant colors.TONER SEEKING A HOMEThrifty, dependabletoner seeks place tocall home. Smooth,even temperamentwith flexibility to fitright into new surroundings.Comeswith a 100% guaranteeand understandsthe value of a dollar.GET THE COMPATIBILITY YOURCOLOR PRINTER NEEDS AT APRICE YOU WILL LOVE.Got a hardworking color printer that is desperately seekingcompatible toner? Find the perfect Innovera match.Innovera offers a wide selection of compatible laser toners availablefrom a variety of equipment manufacturers including: Brother,Canon, HP, Konica, Dell, Xerox and more. Innovera delivers crispcolor performance and page yields that are comparable to brandedproducts, but at a better value.And you'll love the way we stand behind our products. Order withcomplete confidence because all Innovera products come with aone-year warranty.For Innovera product support, please call 1-866-756-4676.Compatible Confidence.Quality Commitment.
---
23www.ussco.com | OFFICELINE
---
DEALER SUCCESSSEPT/OCT 2008GrowthIs Where You Find ItFor Office Pro, Janesville, Wis.,a non-traditional approach to salesand marketing has resulted inexceptional growthThe business of office products has never been more competitive.The power channel continues to go after a bigger sliceof the market through growing outside sales; while theirretail presence is an ongoing thorn in the side of independents.New forms of competition in terms of other national sellers andonline businesses chip away at sales. Every time an independentdealer turns around, other sellers — grocery stores, drug stores,even booksellers — are adding office products to their everydaylineup of goods for sale. Faced with these growing challenges, howshould an independent dealer respond?It is more than appropriate for dealers to become competitive interms of marketing, product offerings and new customer acquisition.Independent dealers employ various methods to enhancecompetitiveness. Ask Jamin Arn, president of Office Pro, Janesville,Wis., what it takes to succeed and you're certain to get a complexanswer that brings together everyday office supplies, furnitureand a selection of exclusive lines that Office Pro brings to marketwith competitive margins.Five salespeople concentrate on southern Wisconsin, but OfficePro has customers in every state. When sales calls on a business22OFFICELINE | www.ussco.comand are told that the purchasing decisions are made at an out-ofstateheadquarters, Arn gets on the phone to tell them why theyshould be a customer. Internet business, which accounts for about50% of sales, also contributes to the national coffers.OUTSIDE THE BOX"Our model is low overhead, just-in-time and diversified," saysArn. He explains that his approach tends to be "very much outsidethe box," and it is difficult to disagree. "The traditional office supplydealer model may not be the answer; there is so much more outthere."Doing more is probably in Arn's DNA. He started Office Pro fiveyears ago; before that he had been at Indoff for 3- 1 ⁄2 years. At age22 he was the youngest partner ever hired there.Office Pro is essentially non-stocking, although a selection of fastmovingitems is kept in inventory. The company is set up withdifferent divisions that sell office supplies, furniture and used furniture,JanSan, and document shredding. Five salespeople cover agood part of the state and are diversified in their sales approach.
---
"We can cover everything for one client and will do that with onecontact person," says Arn. "If you have a salesman who is alreadyselling supplies, then talking to the office manager or purchasingagent about document shredding isn't a big deal because it's probablythe same person who makes that decision."Office Pro's furniture business serves as an example of how thecompany's approach differs from that of many independents. Salesof new furniture are supplemented by used furniture, which Arnbuys from various sources. He buys semi-loads of scratched anddented furniture from United and supplements that with trade-inson purchases from new furniture customers and what he can buyat auctions when businesses shut down.GOOD MARGINS WITH USED FURNITURE"Some of it we throw out and some of it we scrap. But we sell alot of it for pretty good margins," he adds. There are a couple ofprovisos, however. "You have to have a building, and you have tohave trucks and the manpower." Office Pro has two used furniturelocations: 35,000 sq. ft. in Janesville and another 10,000 sq. ft. inMadison. Arn purchased the Madison location — Used But NiceOffice Furniture — last October."Most independents don't offer both new and used furniture,and they limit themselves to furniture that comes right out of theUnited Catalog," says Arn. To make his dealership stand out, hehas found other manufacturers that he can buy direct from andwill help protect his business. "If you're just selling Hon or Global,you are competing with anyone that can buy either," he says.Sometimes that could be a guy selling out of his garage. "If youbring in other lines, you can be protected. We are an AIS dealerfor cubicles."And while Office Pro will offer design services when required, thecompany doesn't employ any designers and Arn rarely pays foroutside services. "I found manufacturer's reps that were hungry forbusiness and told them if they worked with me, I would lead withtheir products. Rarely do I hire an outside service because the repswant the business so much that they'll do the design for you."ADDED JANSAN POTENTIALThat same independent approach drives janitorial sales at OfficePro. Arn had avoided going full force with a JanSan program becausehe wanted to offer a dispenser program. When you walkinto a business and they already have a proprietary dispenser, youhave to walk away, he explains. Offering customers a dispenserprovided the sales potential that Arn wanted to bring to market."Where we are located, between Madison and Rockford, IL, therewas nobody servicing the market with paper towels, toilet paperand heavy-duty cleaning products," says Arn. "It was all comingfrom Rockford, Milwaukee or Madison." Recognizing that therewas no local competition in the market, the margins tended to bea little higher.Arn worked out a deal with a proprietary towel vendor, and henow represents that company in the Janesville market. "They gaveus a proprietary dispenser that only we can sell in this market; noone else has it," Arn says. "When we hang up that dispenser forfree the customer is happy, and we are as well. We are giving thema good product at a competitive rate."continued on page 24Provide forYourSensitive DatasecureSecureView® Privacy Filters 23www.ussco.com | OFFICELINE
---
DEALER SUCCESSSEPT/OCT 2008continued from page 23Office Pro has taken a similar approach with chemicals. "We actuallyfound a manufacturer that makes chemicals to my specificationsand puts the Office Pro logo on it," says Arn. "I buy it directand get everything from window cleaners to restroom productsto floor cleaners." Arn says he couldn't be competitive when hepurchased wax or floor stripper out of a catalog. Now he says hismargins are much better.verge." When Office Pro first started to offer shredding service,Arn told his sales force to talk about shredding with every customer."Because we are already there, and we already have thatrelationship, we are able to capture that business."Many of his shredding customers don't have the volume thatlarger shredding services demand, but Arn makes it easy for thesecompanies to meet his requirement. He leaves a 95 gallon toter or30 gallon console and tells clients to call when it is filled. "Ourcompetitors don't like to do that," says Arn."They like to schedule a monthly pickupand charge $30 to $60 depending on thesize." Office Pro picks up on the customer'sschedule; when the container is full, theycall. Shredding sales have been growingmonthly."I sell them the copy paper and charge themfor the service to come by and pick up thepaper and shred it," says Arn. "Then I baleit in the warehouse and sell it for $120/ton."He sees this as a winning combination.Arn buys all his copy paper from United, hetakes a semi-load every couple of weeks, andpushes the Universal brand to his customers."The price is as aggressive as anyone's,"says Arn. The price is a definite asset as Arncontends that one of the biggest battles independentswage today is the private-labelloss leaders that the power channel offers.After a little more than a year in Jan/San sales, Arn says the businesshas grown to 10 percent of the total volume. "In 12 monthstime we have put up more than 100 dispensers, which means that's100 dispensers that can only be filled by me."SHREDDING FILLS A NEEDArn took that same independent way of thinking to start up OfficePro's nascent document shredding operation. It's a service thatmore businesses today find of interest and gives Office Pro onemore offering to attract clients. Arn points out how back in theday dealers were regularly in the service business and cleaned andrepaired typewriters and printers. Most of those dealers are gonetoday and the service business has largely been abandoned."More businesses are getting on the bandwagon about identitytheft and securing their documents. They see it as a huge liability,"says Arn. Almost daily there are news reports about one companyor another having information stolen. Most of that happens viacomputer, but it is just as easy for someone to climb into a dumpsterand grab information on certain parts of a business."More people want it shredded," says Arn. "We are not goingout and finding it; it is finding us. They already know they needto shred, so they are either shredding already or they are on the24OFFICELINE | www.ussco.comJamin Arn, president of Office Pro, Janesville, Wis., thinks outside thebox to find money-making products and programs."We have to counter that with our own privatelabel; we convince them to buy the Universalpaper as they're already familiar withthe brand," he says. "It's a domestic paper, itis a consistent paper and it helps us grow ourvolume rebates. It is good all the way around for us."ONE STOP SHOPPINGArn sees the offering of various product ranges and services as OfficePro's attempt to take on a one-source position. "If you sellthem all their paper, toner and pens, furniture, toilet paper andcleaning products, and sell them a shredding service, then you areone sourcing," he says. It's the positioning, he says that United isalways promoting to dealers.The outside-the-box approach to how it goes to market literally definesOffice Pro's success. As far as United Stationers is concerned,posits Arn, if the independents do well then it will do well. "Tome, United is the best partnership that an independent can havebecause of everything it has to offer," says Arn. It's more than 98percent fill rates, a committed salesperson and advertising rebates."It is also having a system that coexists with our software alongwith other key product and program offerings. I look at them asmy most valuable partnership."The approach has paid off. Office Pro has grown 450 percent over thepast four years. In the most recent years, sales increased 30 percent."Based on our first four years' growth, we're going to be on Inc.'s list ofthe top fastest growing companies this year," adds Arn.
---
25www.officeline.com | OFFICELINE
---
DEALER ISSUESSEPT/OCT 2008VISION 2009The Dealer Event of the YearVision 2009Rosen Shingle Creek ResortOrlando, FLNov. 5 – 8, 2008Vision 2009 will continue the long line of spectacular Visionevents and is destined to provide an elegant blend of businessinformation, networking and fun. United StationersVision 2009 National Dealer Forum, Nov. 5-8, 2008 at RosenShingle Creek, Orlando, Fla., will offer the perfect opportunity toexpand professional horizons and be exposed to the latest industrythinking.It all starts with a special venue, Rosen Shingle Creek, one of thepremier resorts in the United States. Rosen Shingle Creek is nestledon a 230-acre site along Shingle Creek and is just a short distanceto a variety of Orlando's best attractions, restaurants, shopping andentertainment venues. Rosen Shingle Creek is surrounded by enchantingflora and wildlife, much of which has been preserved tocreate a natural backdrop for this magnificent property.Each room offers a stunning view of the golf course and the area'sincomparable setting — from the perfectly manicured fairways andgreens to the picturesque creek, magnificent cypress trees, and lushnatural vegetation. There is no better way to start the day than withthe view from these rooms.Access to informationNestled in this lush setting, Vision 2009 will offer access to criticalbusiness information, including the current outlook for the independentreseller market, and drill-down to include multiple timelyseminar topics. Topping off the educational offering is a samplingof our acclaimed year-round training program — United DealerTraining.Anchoring the business seminars, the featured speaker on Fridaymorning will be Bill Strickland, whom audiences everywhere call oneof the most inspirational speakers they've ever witnessed. Throughthe power of his vision, the consistency of his purpose, and anundying belief in the goodness of human beings, Bill Strickland,president and CEO of Manchester Bidwell Corp., restores our faithin ethical, accountable, and visionary leadership. His organizationshave created a model for arts, education and training and have reshapedthe business of social change in America.In the course of his remarkable journey, Strickland has won a Mac-Arthur Genius grant, lectured at the Harvard Graduate School ofEducation, served on the Board of the National Endowment forthe Arts, and received the "Coming Up Taller" Award, presented tohim at the White House by former first lady Hillary Clinton.Top-rated entertainmentVision 2009 is proud to announce entertainer Dennis Miller, fivetimeEmmy award winner for his half-hour talk show "DennisMiller Live," as the entertainment for the Friday night Gala. Millerfirst gained recognition as host of "Weekend Update" on "SaturdayNight Live." Since then he also wrote and starred in the Emmynominatedcable comedy special "Raw Feed," was the host and executiveproducer of CNBC's "Dennis Miller," and has appeared onmany politically oriented television talk shows.The Vision trade show is one of the industry's finest. And the entertainmentis without peer. But perhaps the most valued part of theVision experience is the opportunity to network with key associatesfrom throughout the industry, including United Stationers' seniormanagement, key suppliers, and the leading independent dealersfrom across the country. A Vision conference is a three-day experiencelike no other in our industry.If you've already registered to attend Vision 2009, we look forwardto seeing you there. If you haven't registered yet — there's still plentyof time. Call your United account manager today.27www.ussco.com | OFFICELINE
---
DEALER ISSUESSEPT/OCT 2008United Stationers is workingclosely with Rosen Shingle Creekto make our meeting as "green"as possible. We have worked toget biodegradable disposablecups where possible, to use locallysuppliedfood, to use linennapkins where possible insteadof paper, to employ biodegradable wooden coffee stirrersinstead of plastic, to utilize paperless check-in (guests signon an electronic key pad), and to have newspapers stackedin elevator landings rather than delivered individually tohotel rooms to minimize waste. Recycling containers will beplaced on the tradeshow floor as well as throughout themeeting space. Our signage will be biodegradable, and wewill print all handouts double-sided.In addition, Rosen Shingle Creek works on a continuousbasis to implement its own environmentally conscious processesand has received Florida Green Lodge Certification."We take environmental responsibilities to heart. We madeit a point in the design phase to conserve water and energyGreening our Meetingand reduce waste as much as possible, and as a result, wesave valuable resources," said Harris Rosen, president/COO,Rosen Hotels & Resorts. "Guests may never notice the smallchanges we've made to help save our planet, but we dothem because it's simply the right thing to do."Examples of green efforts by Rosen Shingle Creek include:• Towel and linen reuse programs in guestrooms• Low flow toilets in guestrooms• Energy Star rated equipment in kitchen and laundry• Sensor outdoor lighting (100%)• High energy efficient lighting (fluorescent)• All newspapers on property are recycled• Bins for recycling plastic bottles are providedin all guest vending areas• Paper towels, bathroom tissue and facial tissueall contain post-consumer recycled content• Cleaning products used have earned the Green Seal.Vision2009AGENDAWEDNESDAY 11/5 THURSDAY 11/6 FRIDAY 11/7 SATURDAY 11/8ArrivalsAll dayWelcome Reception6:30pm–8:30pmBuffet Breakfast6:30am–7:45amGeneral Session8:00am–10:30amSeminars10:45am–11:45amLunch11:45am–1:00pmDirect AccessFurniture Showroom1:00pm–5:00pmSeminars (continued)1:00pm–5:30pmDirect Access Seminar2:00pm–2:30pmDirect Access Seminar4:00pm–4:30pm"Thursday Night inBlack & White"Reception sponsored by HP7:00pm—10:00pmBuffet Breakfast7:00am-8:15amGeneral Sessionwith Guest SpeakerBill Strickland8:30am-10:00amDirect AccessFurniture Showroom10:00am–2:00pmSeminars10:15am–11:15amDirect Access Seminar10:30am–11:00pmTrade Show11:30pm–4:30pmLunch(on Trade Show Floor)11:30am–1:00pmDirect Access Seminar1:00pm-1:30pmGala Dinnerfeaturing Dennis Miller7:00pm-10:00pmBreakfast6:30am–8:30amDeparturesAll day28OFFICELINE | www.ussco.com
---
Vision2009EXHIBITORSAccentra, Inc/Paper ProAcco BrandsAcme United Corp.Acroprint Time Recorder Co.Advantus Corp.AmpadAmplivox Sound SystemsArtistic LLC/SoftalkCommunications LLCAurora Corp. of AmericaAurora ProductsAvery DennisonBalt/Best-RiteBasyxBelkinBIC USA, Inc.Blueline-RediformThe Board DudesBoiseBrother InternationalBuddy ProductsBurnes Home Accents (Dax)Bush Business FurnitureC-Line Products, Inc.Canon USACarl ManufacturingClover Technologies GroupCrayolaDMI FurnitureDeflectoDixon TiconderogaDomtarDri-MarkDurableDymoElmers Products, Inc.Energizer Battery Co.EpsonEsselteFalcon Safety Products, Inc.Fellowes, Inc.Fiskars Brand, Inc.Five Star Distributors, Inc.Fire King InternationalGeorgia Pacific Corp.Global IndustriesGojo IndustriesHenkelHewlett-PackardThe Hon Co.House of DoolittleIceberg EnterprisesIdea Stream ConsumerProducts, LLCIdentity GroupImationInfoprint SolutionsInternational PaperJohnson DiverseyConsumer BrandsKimberly-ClarkLathem TimeLee Products Co.Lexmark International.LogitechMMF IndustriesMartin Yale Industries, Inc.Master Caster Mfg Co.Max USA Corp.Maxon Furniture Inc.Mayline GroupMaxell Corp. of AmericaMeadWestvacoMedia SciencesMillenium MatMohawk PaperMonarch MarkingNCR Corp.Nekossa Coated ProductsNestleNestle WatersNice Pak CommercialNudellOkidataPM Co.Pacon Corp.Panasonic BusinessEquipmentPentel of AmericaPilot Pen Corp. of AmericaPlantronics, Inc.Quality ParkRolodexRoyal Consumer ProductsRoyal Sovereign InternationalRubbermaidSJ PaperSLI LightingSafco Products Co.SamsillSamsoniteSamsung Electronicsof AmericaSanfordSaundersSealed AirSeiko Instruments USA, Inc.SethShachihata, Inc.Sharp Electronics Corp.SmeadSoloSoporcelSouthworthSonyStaedtlerStanley BostitchTarifold, Inc.Tennsco Corp.3M Co.TombowTops Business FormsUnited ReceptacleVelcro USAVerbatim Americas LLCVircoWaterburyWausau PaperWebster IndustriesZebra Pen Corp.Xerox SuppliesNorth AmericaThis list of Vision 09 exhibitors was accurate at the time this issue of OfficeLine went to press.Check the Vision 09 Showbook for any changes or updates.29www.ussco.com | OFFICELINE
---
the key to successUnlock the key to success with the exceptional quality, performanceand value of Xerox replacement cartridges for HP Laser Printers. . .Earn more profit on every cartridge you sell.Our replacement portfolio covers a wide range of monochromeand color laser printers. We test them to fit office extremes.We run them at high and low temperatures and high andlow humidity. We keep current with all technology updatesand use our own Xerox patented and proprietary technologywherever possible. And, we can save your customers moneywhile you earn more profit on every cartridge you sell.And, for even more profit, receive a $50 American Expresscheck for every $1250 purchase of Xerox replacementcartridges from United Stationers/Azerty through September30, 2008 – see the Reseller Classified Zone @ www.ussco.comfor qualifying products and redemption form.www.xerox.com/supplies*Every Xerox replacement cartridge is backed by our 100% performance guarantee.© 2008 Xerox Corporation. All rights reserved. Xerox ® and the sphere of connectivity design are trademarks of Xerox Corporation in the United States and/or other countries.
---
SEPT/OCT 2008Wist Office ProductsBrings A New Focus OnTechnologyAnd SuccessTalk to Heather Rodriguez about the new technology promotionbeing launched by Wist Office Products and you'llunderstand that this is a company that overlooks no detailsin implementing its marketing and sales programs. While somebusinesses may put together an e-mail or flyer and call it a salespromotion, Wist employs a fine-tuned approach that engages theentire distribution channel.Wist has always been an aggressive marketer, says Rodriguez,business development director for the Tempe, Ariz.-based dealer."In previous years, manufacturers would come to us and want usto promote their products," she says. "And it could be challengingto accommodate all of those diverse products. This year, as acompany, we decided to make our promotions more focused — toconcentrate on the key segments of the business that we wantedto grow." One of those areas was technology, and the companydevoted an entire quarter to it.Rather than tackle the broad category of technology, Wist identifiedbusiness security as a theme that would have more relevanceand resonance in the marketplace. "We developed a program thatwe called 'Who's Securing Your Business?'" says Rodriguez. "Wethought we could build a bridge to customers and prospects bylooking at their security, and the technology products that are essentialin creating it."The first step was to enlist the support of manufacturers. "Felloweshad already expressed an interest in doing a promotion with usand they became our primary partner," says Rodriguez. "Then,we reached out to different manufacturers that we thought couldbring some products to the table. So we picked 10 items as lead-insfor the program and priced them pretty aggressively." Consistingprimarily of technology items such as surge protectors, shredders,32OFFICELINE | www.ussco.comcomputer privacy screens and laptop locks, promotional itemsalso included security envelopes from Quality Park as well as theuni-ball 207 check-writing pen.Wist put a flyer promoting the lead-in items together with theUnited Technology Flyer, the company's Hot Items sheets andsample products into a nicely packaged portfolio titled "Who'sSecuring Your Business?" These portfolios were then hand-deliveredby Wist's salespeople to their top 25 accounts; the balance of theircustomers received promotional materials through an e-mail blast.building relations"At the same time, Fellowes has a telemarketing group calling onall of our accounts and asking that same question: Who's securingyour business?" says Rodriguez. "They send their telemarketingresults to us, and we forward that information on to our sales repsso they can follow up on any of the key points that were broughtup in those conversations."The program has been designed not only to generate immediateincremental sales, but also to provide Wist's sales staff with opportunitiesto build relationships with both customers and prospects.The reps are able to add value to their current customers by comingin with a solutions-based promotion that builds awareness ofthe need for security products. It takes technology beyond the consumablesthat they're ordering all the time, says Rodriguez, andreminds them that Wist also carries privacy screens, shredders,laptop locks and all of their other security needs."We're also finding that there are different buyers for differentcategories," says Rodriguez. "The buyer of office supplies is notnecessarily the buyer of JanSan who is not the person who makes
---
the technology purchases. So we encourage our reps to find thedifferent contacts within the organization so they're able to meetdifferent people."On the prospect side, the push on technology gives salespeople areason to contact those potential accounts that Wist hasn't beenable to sell. "This program allows our sales reps to go to the prospectand say: 'Hey, I'm not here to talk about paper, pens and Post-Its — I'm here to share something new and exciting with you.'Or they can ask if there's someone else in the organization theyshould be talking to about technology — so they can build contactswithin the organization and hopefully find a champion whowill help pull them into the business."One of our reps went into a prospect, was able to meet with the ITmanager and made a pretty substantial sale on computer privacyscreens and laptop locks. He still doesn't have the supply business,but now he's got another relationship there and a reason to visitthe business. Hopefully, in time, we'll get their supplies businessas well," says Rodriguez.start the conversationOne of the major objectives of the program is getting the salespeopleto ask the right questions and get a conversation going,according to Rodriguez. "It's difficult, because they don't alwaysknow how to go about it. By preparing the sales force and educatingthem, they're more comfortable in having that conversationwith the customer or prospect," she says."We have a kick-off meeting for the sales staff right before thepromotion comes up," continues Rodriguez. "We do a full Power-Point presentation on how the program should be brought up tocustomers . . . how it should be presented to prospects . . . and wereview all of the materials and show how they work together. Weexplain everything that's going to be happening — such as theFellowes telemarketing campaign — and we put clear expectationsabout the results we're looking to see."Tracking is key," says Rodriguez. "If you don't track and monitorresults, you really can't tell whether the program has been successfulor not. Every week, we provide tracking results to let eachsales rep know how well they're doing with the program." Uponcompletion of the promotion, Wist will have an end-of-quartermeeting and go over everything. "It shows which sales reps haveshined, who has taken the program and made it a success — andwe celebrate that success. And as a group, we can see that our collectiveefforts have made a difference, which really motivates us tocontinue that success with the next program we launch."For The Printer Guy,Selling Tech SuppliesComes Down To Service . . .And MoreServiceHow does a small business compete with the big guys? For The PrinterGuy — a.k.a. Jerry Ryan — the answer is service, in two senses of theword. First, it means developing lasting relationships with customersthrough scrupulous attention to their needs. Second, it means the actualservice performed on printers to get them up and running quickly.Both are critical to the success of his business.Ryan started The Printer Guy strictly as a repair service in 2002 and,despite strong, consistent growth, the Helena, Mont.- based businessremains a highly profitable one-man operation. Ryan estimates thatsince he added consumables in 2003, they have grown to the pointwhere they account for approximately 60 percent of his revenues.The ability to service printers gave The Printer Guy an immediate entréeinto the marketplace. "My market is Helena, the state capital, somost of my customers are state or federal departments," Ryan explains."They had a lot of problems getting service — I was able tobe there the same day or the next, and get their machines running forthem." Ryan's technical expertise is also what keeps any potential rivalsat bay "Any new competitors would have trouble finding qualifiedtechs to service the machines," he says.When you're able to provide a service that few others can, word getsaround and business has a way of finding you. That was certainly thecase with The Printer Guy. Ryan estimates that 90 percent of the time,he's called in by members of the IT staff, who have obtained his namefrom a satisfied customer.When it comes to customer service, Ryan follows the Golden Rule. "Itry to treat my customers the same way I'd like to be treated. If I needsomething and I need it fast — I want it to be there for me when promised.And if it's not, I want to know why." As a result, The Printer Guytries to stock at least one of everything — so he can provide same-dayservice and guarantee 100 percent satisfaction to his customers.33www.ussco.com | OFFICELINE
---
Preferred SuppliersPartners In Your Success United's Preferred Supplier Programrecognizes suppliers in key product categories that share our commitmentto providing outstanding products, value and dealer support.Esselte: Innovation Changes theConversation with CustomersChange the conversation with customers from "How much doesit cost?" to "How soon can I get it?" by selling innovative newproducts developed and manufactured by Esselte® and stocked byUnited Stationers. Rather than compete on cost alone in a commoditymarket, innovation changes the conversation with consumersfrom one based on cost to one based on value."The innovation process at Esselte begins by developing a deep understandingof the end user. Esselte has developed a global processfor innovation that utilizes lean management tools and allows us todevelop products that meet users' unspoken needs," according toCandie Harris, vice president, marketing in North America."Instead of just reacting to what product managers say that endusers want, Esselte participates in user-centric market research thatincludes multiple touchbacks to the consumer during the manyphases of product development," says Harris. This leads to newproducts that address real needs for consumers and provide a trueprice/value proposition for dealers to present to their customers.Innovation can help create entire new product platforms. DougMudd, Esselte product manager points to one, "By looking at theend user's latent needs, we gained a deeper understanding of theirbehaviors and the entire filing category. As an example, our marketresearch showed a latent need toorganize piles of papers withoutfiling, which led to the developmentof the PileSmart LabelClip. Based on the identifiedconsumer need, it became evidentthat there were existing products inthe line that could satisfy that sameuser need. By repositioning existingproducts to fill that need with anumber of innovative new products, anentire new category for Pilers was created."An innovative new product can lift categoryperformance as well. Mudd continues, "Pendaflex®Ready-Tab® hanging folders were built onthe consumer need to have hanging folder tabsavailable at their fingertips when they needed them.The entire category was lifted, as new users were sold up to thepremium product level of the category."Dealers who can communicate the insights behind these new productsto end users have the opportunity to differentiate themselves.Consumers care about value. If users can relate the latent need totheir own experience and visualize how the product will satisfy it,their mindset changes — from "How much money does this productcost?" to "How much value does this product deliver?"Iceberg Enterprises: Expands Lineof Folding TablesIceberg Enterprises has expanded its resin folding table product lineto include wood laminate folding tables. This new wood laminateline will be introduced to consumers in the 2009 USSCO GeneralLine catalog.Iceberg is well-positioned to serve and grow wood laminate foldingtables in the same way it successfully navigated the explosivegrowth of the resin folding table category. It did this by leveragingboth its knowledge of the folding table category and its manufacturingcompetency at its Sturgis, Mich., manufacturing facility.The new wood laminate line will include both Premium and Commercialofferings of products and price points. Both lines will offerexclusive features that will result in outstanding consumer value.The Premium line of wood laminate folding tables will be a broadoffering and set the industry standard for the category. The heavydutytop will be constructed of ¾-inch thick melamine laminate.It will be offered in mahogany, oak and gray finishes. This top willbe highly scuff and scratch resistant. The metal understructure willfeature heavy-duty legs and folding linkage mechanism as well asa four-piece metal skirt with four plastic protective corners for safestacking.The Commercial line of wood laminate folding tables will embodymany of the features of the Premium Line at a competitive price.34OFFICELINE | www.ussco.comTops will be 5 ⁄8-inch thick, walnut finish melamine laminate, whichresists scuffs and scratches. The understructure will have a twopiecemetal skirt with four plastic protective corners.Iceberg is uniquely positioned to manage and grow the folding tablecategory. Iceberg monitors trends in the category, possesses thebroadest line of shapes, colors and functions of tables, and producesall products in the USA. Iceberg can help the dealer communitymaximize sales and profits. Look for Iceberg at the 2009 VisionConference in Florida to see first hand all the new products andlearn how to continue to grow the folding table category.
---
ACCO Brands: Quartet ® Workstation PrivacyScreen Offers New Opportunity for DealersThe new Quartet® Workstation Privacy Screen from ACCO Brandsdelivers new privacy to the age-old lack of solitude for office cubicleworkers. And thanks to a new free sample program from ACCOBrands, dealers now have an opportunity to promote the privacy screensto customers through unique in-house trials.Under the new program, dealers can provide a free privacy screen toqualified clients for use and demonstration inside their respectivecompanies. The dealer can then send a personalized e-mail to the client'semployees encouraging them to view the product and purchase oneof their own by visiting the dealer's Web site.The primary complaint from cubicle workers is a lack of personal privacy.The Quartet Workstation Privacy Screen is designed to ward offunwanted distractions, allowing employees to be more proficient andproductive in their work.The privacy screen features an easy gliding door-like screen with auniversal mounting system that clamps onto the outside of a cubiclewall to create a distraction-free zone. Additionally, a durable dry-erasemessage board (with built in marker tray) is attached to the privacyscreen, allowing visitors to leave notes for coworkers or post importantinformation. A nameplate to identify the cubicle user or department isalso included.The new marketing approach creates a win-win opportunity for bothACCO Brands and dealers to drive sales. ACCO Brands will providedealers with all the tools needed to effectively sell the privacy screens,including brochures and flyers, access to an online demonstration of theproduct and customizable e-mails.39www.ussco.com | OFFICELINE
---
REcognizing SuccessSmall Company Gives BigSimon Lee started EIS Office Solutions, Inc., in August 2004with the commitment to donate 50% of its profits to make adifference in the lives of people. At $6 million a year and growing,EIS is positioned not only to give significantly, but also tolead other companies to join it in fighting against the cycle ofpoverty. The recently established Simon and Faye Lee Foundationfocuses on leadership development, elimination of the povertycycle, and educational opportunities. Currently EIS helpspeople in Sudan through partner organization Aid Sudan —as well as assisting students in Houston, Texas, through arelationship with the Houston Independent School District.Faison wins top honorsFaison Office Products, Aurora, Colo., was given a Spirit ofExcellence Award by the Rocky Mountain Minority SupplierDevelopment Council. Faison was presented Supplier of theYear: Class 2 - $1 million to $10 million at the 2008 BusinessOpportunity Awards Gala held on March 21, 2008. The Supplierof the Year Award recognizes the top certified minority supplierswho distinguish themselves and their businesses by demonstratinggrowth in sales and employment while overcoming significantobstacles; consistently providing high-quality products and servicesat competitive prices; and significantly contributing to the growthand development of society in their community. Jared Casey,Faison president, accepted the award at the Gala.Still Going Strong at 1002008 marks the 100th anniversary of Wirick Office Productsof Grand Haven, Mich. In 1970, Salesman Sherman Wirickbought Reichardt Office Supply and renamed it Wirick OfficeProducts. Sherm's two daughters and their husbands (Steveand Sherri Kosanicand Tim and PamBullerdick) joinedon in the late 70sand run the businesstoday. The workforceof eight goesbeyond the big boxstores and helpscustomers withhard to find itemsand still sells eacheson many products.A new on-line ordering system with GOPD has enhancede-commerce businesses and contributes to the dealership's ongoingsuccess. To celebrate 100 years, in part, Wirick's hosteda vendor table top show and an event with the Grand HavenChamber of Commerce in August. (Pictured from left are:Steve and Sherri Kosanic, Sherm Wirick (previous owner andfather to Sherri and Pam), and Pam and Tim Bullerdick.Serving Imperial Valley Since 1907The McManus family is excited about the 100 years of successthe Office Supply Company has had. Today Office SupplyCompany, El Centro, Calif., represents Xerox, works closelywith United Stationers, and has partnered with McDowell CraigOffice Furniture. "We save customers money across the board,we provide innovative solutions which drive down procurementcosts and increase efficiency, and offer service and conveniencethat far exceed expectations," said Paul McManus, CEO andthe third generation of the McManus family to run the business.Working as a family and as business partners, the McManus'continue to make Office Supply Company a community orientedorganization set to build on its success in the Imperial Valley foryears to come.36OFFICELINE | www.ussco.com
---
Supplier FOCUSONE MORE WAY GLOBE WEISS CAN HELPLOCK IN A GREAT DEALCustomers can secure a FREE $10 Blockbuster or Body ShopGift Card when they purchase $50 or more in Globe Weisssecure file folders before December 31, 2008. Featuring aunique flap and front cover that tucks in to virtually lockcontents in place, your customers will find these invaluablebusiness assets — and they'll find details on this valuablemail-in offer at biggestbook.com.HERE'S AN OFFER FROM FELLOWESTHAT'S SURE TO FUEL YOUR SALESIf you're looking for a way to drive sales, steer your customers tothis special offer from Fellowes. With the purchase of either aModel C-120C or C-220C paper shredder before December 31,2008, they'll receive a FREE $25 BP Gas Card. You'll get a lotof mileage from this offer — and these 12 – 14-sheet shredderswill go a along way to improving your customers' documentsecurity. See biggestbook.com for details on this mail-in offer.WRITE YOUR OWN REWARDS WITHTHIS SPECIAL OFFER FROM ZEBRAWith the Vote for Zebra and Save promotion,your customers have lots of great choices. Theycan purchase three dozen Z-1 Stick Ballpoints,Sarasa Gel Retractables or Z-365 RetractableBallpoints and get a $5 Gas Card FREE!Or they can elect to purchase six dozen toget a FREE $15 Gas Card. They can mixand match styles — but purchases mustbe made by October 31, 2008 to qualify.See biggestbook.com for details.NATURALLY, YOUR CUSTOMERS WILLWANT TO TAKE ADVANTAGE OF ANOFFER THIS TEMPTINGPurchasing Second Nature® 100% recycled items fromTOPS® is good for the environment and good foryour customers' taste buds, too. That's because whenthey purchase $50 or more of qualifying products byDecember 31, 2008 — they'll receive a FREE $10 GiftCard from their choice of Cold Stone Creamery orDairy Queen. See biggestbook.com for the wide rangeof qualifying products, offer details and mail-in form.ONE MORE WAY GBC GIVES YOUMORE FOR YOUR MONEYYour customers will receive a FREE $50 Macy's Gift Card with thepurchase of a GBC P110, P210E or P3000 Binding System. Whicheverone they choose, they'll get fast, easy operation and professional lookingresults every time. This special mail-in offer ends December 30, 2008 —see biggestbook.com for details.38OFFICELINE | www.ussco.com
---
ROLODEX ® WOOD PHOTO FRAMEBUSINESS CARD FILEThe ideal way to bring a personal touch to the officeOn the outside, a photo of your customers' families, friends or pets isframed in rich mahogany tones. On the inside, there's contact informationfor the people who mean so much to their business. You can bringthe important people in your customers' lives together with this elegantphoto frame and business card holder, complete with 300 2 ¼-in. preprintedruled cards and alphabetic index tabs. 5 ½-in wide x 9 ½-in.high x 4-in. deep.ROL1734243List: $62.47 EACHWHAT'SNEWat the office?BUDDY PRODUCTS SLOPEDTHREE-SHELF BOOK CARTIt's a great way to manageheavy reading materialHere's a simple solution tostoring and transporting aheavy load of books. Sturdysteel construction, 3 shelveswith 2 dividers each, and4-in. casters for easymaneuverability make thisa great solution for anybusiness that has books.BDY54143List: $309.95 EACH3M NOTEBOOK SCREENCLEANING WET WIPESPresenting another screen classicIf you have customers who don't want to putup with dust, smudges and fingerprints on alaptop screen, they'll want these convenientpre-moistened wipes from 3M. Non-abrasiveand non-streaking, these individuallypackagedwipes come 24 to a box.MMMCL630List: $7.99 packMARCAL ® ROLL-OUT BATHROOM TISSUECONVENIENCE PACKGet your customers on a rollIt's always nice to have the bathroom tissue readywhen you need it — which makes this 48-rollout casea convenience for your customers. The premium 2-plysheets are soft, absorbent, lint-free and made from100% recycled material — with a minimum 60%post-consumer waste content. 504 sheets per roll.MRC6495List: $60.51 CASEGBC ® HEATSEAL H312 JAM-FREE LAMINATORDon't let your customers get into another jamSeal and protect valuable documents up to 12-½ in. wide. TheH312 takes both 3 mil standard weight and 5 mil heavy-dutypouches, and the new, patented jam-free design helps eliminatemisfeeds. It also warms up and is ready to go in just four minutes— and automatically shuts down after 60 minutes. And ifthat's not incentive enough to purchase this innovative tool, yourcustomers will receive a $25 Target® Gift Card if they buy beforethe end of the year. (See biggestbook.com for more information.)GBC1702770List: $269.00 EACH39www.ussco.com | OFFICELINE
---
FINAL WORDSEPT/OCT 2008Vision 2009 – It's WhereYou Want to BeBelieving that United'sVision event is justanother industry tradeshow misses what Visionis truly about.Vision is much morethan a trade show — at its heart it combines the ideal blend ofcommerce, education, networking and enjoyment with just a touchof elegance. This perfect recipe of essential ingredients has madeUnited's Vision Conference the premier event in the business productsindustry.United Stationers Vision 2009 National Dealer Forum, Nov. 5-8,2008 at Rosen Shingle Creek, Orlando, Fla., offers a terrific opportunityto expand professional horizons and be exposed to the latestindustry thinking. And in today's challenging business environment,it's a sound idea to take advantage of every business opportunitythat comes your way.Vision 2009 carries on the tradition established by previous Visionevents of offering great content in only the finest surroundings. It'sthis approach that has led several thousand dealers to attend Visioneach time it is held.Vision offers a dazzling trade show with more than a hundred highprofileexhibitors and unites that with the industry's most excitinglineup of thought leaders from across the industry to produce atruly exceptional event. Highlighting the educational offering is asampling of our acclaimed year-round training program — UnitedDealer Training (UDT), which will introduce the next phase oflearning including webinars, e-learning, podcasts and a new coachingprogram.Dealers who regularly attend Vision always comment on the qualityof the materials and the speakers and point to the business knowledgeand product proficiency they bring back and can put to use.They always refer to how much they appreciate meeting first-ratespeakers and being able to compare notes with industry suppliersand United senior management. They also mention the top-ratedsurroundings that always go along with Vision.Rosen Shingle Creek in Orlando, Fla. continues the Vision traditionof convening at only the finest of locations. Awarded the AAAFour Diamond designation for 2008, Shingle Creek offers all theamenities necessary to make Vision 2009 a truly world-class event— from a full-service spa and state-of-the art fitness center to achampionship golf course ranked one of the "Top 40 Best NewCourses in the U.S." by Golfweek Magazine. Add in four outdoorpools, 12 dining options, fishing, nature trails and more — andyou're guaranteed a good time.To make sure that Vision is thoroughly enjoyable, United always40OFFICELINE | www.ussco.combrings in brand-name entertainment and this year is no different.Five-time Emmy award winner Dennis Miller will be the featuredentertainer at Vision 2009. Miller first gained recognition ashost of "Weekend Update" on "Saturday Night Live." Since thenhe also wrote and starred in the Emmy-nominated cable comedyspecial "Raw Feed," was the host and executive producer of CNBC's"Dennis Miller," and has appeared on many politically orientedtelevision talk shows.What are you waiting for? Set aside those days now and then talk toyour account manager about how to register for Vision 2009.We'll see you in Orlando this November.Pat CollinsSenior Vice President, SalesUnited Stationers Supply Co.If you have an opinion or perspective you'd like to share in thisspace, send your 300 – 500 word submission to:OfficeLineC/O LKH&S, Inc.54 W. Hubbard Street, Suite 100Chicago, IL 60610Or, via e-mail to officeline@ussco.com, subject line "The Final Word".Directory of AdvertisersBankers Box............................................................................................... page 31Basyx......................................................................................................... page 17Boise.......................................................................................................... page 11Brother....................................................................................................... back coverC-Line........................................................................................................ page 23Deflecto...................................................................................................... page 33Durable....................................................................................................... page 13ECi.............................................................................................................. page 25Esselte........................................................................................................ page 5Global......................................................................................................... page 9HON........................................................................................................... page 4HP.............................................................................................................. inside front coverInnovera..................................................................................................... page 20Kantek........................................................................................................ page 23Kimberly Clark............................................................................................ page 37Post-It........................................................................................................ page 30Quartet....................................................................................................... page 21Schwab...................................................................................................... page 30Structured Web.......................................................................................... page 19Tennsco...................................................................................................... page 13United Stationers....................................................................................... page 16United Stationers....................................................................................... inside back coverXerox.......................................................................................................... page 35OfficeLine is published bi-monthly by United Stationers Supply Co. for the benefit of its independentdealers and suppliers in the office products industry. To obtain a complimentary subscription, pleasevisit www.ussco.com/resellers/gi_officeline.shtml, or contact your local account manager. The publisherreserves the right to deny subscriptions based solely on its discretion. Advertisers may contact thepublisher at officeline@ussco.com for rates and schedules.
---
Perfect printers for those who know the predictablechoice isn't necessarily the best choice.Welcome to Plan b.Up to 21ppmHL-4040CNNetwork Ready Color Laser PrinterHL-4070CDWWireless Color Laser PrinterMFC-9440CNColor Laser All-in-OnePlan A is following the crowd. Plan A is doing the expected. When it comes to printing, Plan A is not your best choice. It pays tolook a little closer and then choose Plan B from Brother. We make printers and all-in-ones that give you more. More features.More affordability. And up to 21ppm 1 color and monochrome output speeds.It's the value we build into all our products. And your reward for beingsmarter. And choosing Plan B. Visit us online at www.brother.com1Pages per minute. © 2007 Brother International Corporation, Bridgewater, NJBrother Industries, Ltd. Nagoya, Japan