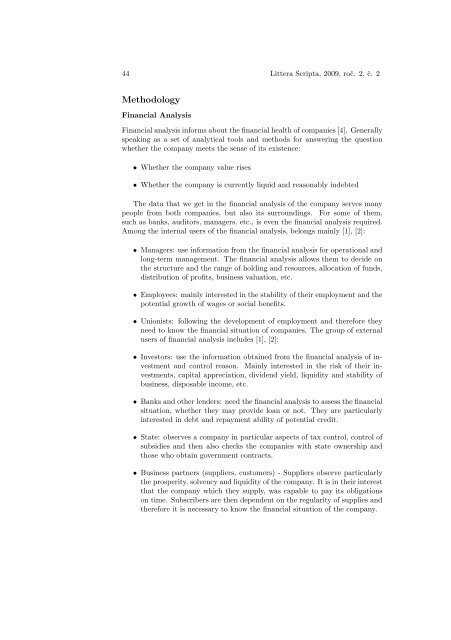 Untitled - Vysoká škola technická a ekonomická v Českých ... Untitled - Vysoká škola technická a ekonomická v Českých ...
44 Littera Scripta, 2009, roč. 2, č. 2MethodologyFinancial AnalysisFinancial analysis informs about the financial health of companies [4]. Generallyspeaking as a set of analytical tools and methods for answering the questionwhether the company meets the sense of its existence:• Whether the company value rises• Whether the company is currently liquid and reasonably indebtedThe data that we get in the financial analysis of the company serves manypeople from both companies, but also its surroundings. For some of them,such as banks, auditors, managers, etc., is even the financial analysis required.Among the internal users of the financial analysis, belongs mainly [1], [2]:• Managers: use information from the financial analysis for operational andlong-term management. The financial analysis allows them to decide onthe structure and the range of holding and resources, allocation of funds,distribution of profits, business valuation, etc.• Employees: mainly interested in the stability of their employment and thepotential growth of wages or social benefits.• Unionists: following the development of employment and therefore theyneed to know the financial situation of companies. The group of externalusers of financial analysis includes [1], [2]:• Investors: use the information obtained from the financial analysis of investmentand control reason. Mainly interested in the risk of their investments,capital appreciation, dividend yield, liquidity and stability ofbusiness, disposable income, etc.• Banks and other lenders: need the financial analysis to assess the financialsituation, whether they may provide loan or not. They are particularlyinterested in debt and repayment ability of potential credit.• State: observes a company in particular aspects of tax control, control ofsubsidies and then also checks the companies with state ownership andthose who obtain government contracts.• Business partners (suppliers, customers) - Suppliers observe particularlythe prosperity, solvency and liquidity of the company. It is in their interestthat the company which they supply, was capable to pay its obligationson time. Subscribers are then dependent on the regularity of supplies andtherefore it is necessary to know the financial situation of the company.
More magazines by this user