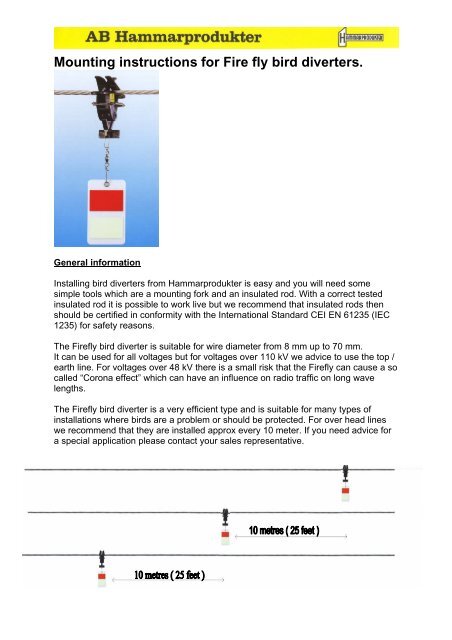 Mounting instructions for Fire fly bird diverters. - drive-electric.hu Mounting instructions for Fire fly bird diverters. - drive-electric.hu
Mounting instructions for Fire fly bird diverters.General informationInstalling bird diverters from Hammarprodukter is easy and you will need somesimple tools which are a mounting fork and an insulated rod. With a correct testedinsulated rod it is possible to work live but we recommend that insulated rods thenshould be certified in conformity with the International Standard CEI EN 61235 (IEC1235) for safety reasons.The Firefly bird diverter is suitable for wire diameter from 8 mm up to 70 mm.It can be used for all voltages but for voltages over 110 kV we advice to use the top /earth line. For voltages over 48 kV there is a small risk that the Firefly can cause a socalled "Corona effect" which can have an influence on radio traffic on long wavelengths.The Firefly bird diverter is a very efficient type and is suitable for many types ofinstallations where birds are a problem or should be protected. For over head lineswe recommend that they are installed approx every 10 meter. If you need advice fora special application please contact your sales representative.
---
Mounting instructions1. Fasten the mounting fork on the suitable insulating rod.2. Open the bird diverter with your hands using the big holes on the bird diverter toavoid getting hurt. Mount it in open position on the fork in the suitable holes.By pushing the opened bird diverter against the line with the rod it will snap-on andlock it self. Be careful with the opened bird diverter since the snap-on force issignificant.3. To demount the bird diverter uses the hook on the fork. Insert the hook in tothe hole as the picture shows and pull down. The bird diverter will open andstay on the rod so it easy to bring it down.
---
The toolsTo install the bird diverter you will need a special tool that is specially developed forthe purpose.The mounting fork with hookThe connecting head on the insulating rod for installing the bird diverters can bedifferent as you can see on the first pictures and we recommend another type that ismade in reinforced plastic.Connecting head type UThe insulating rod consists of insulating tube with handle part on the lower part oftube and attack connecting to the upper part of rod. According to rated voltage youcan use several version of rods but we recommend that they are certified inconformity with the International Standard CEI EN 61235 (IEC 1235).
More magazines by this user