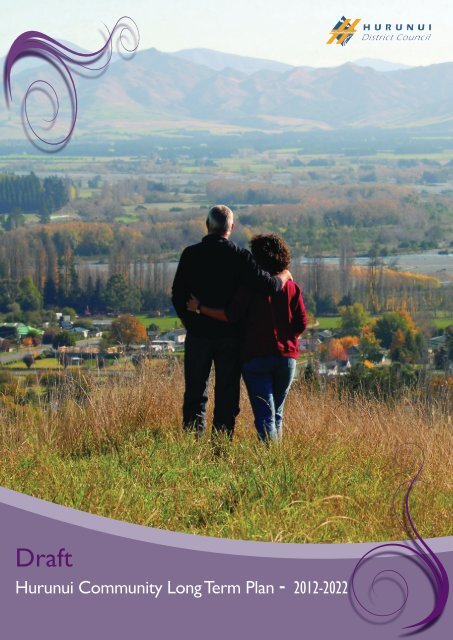 DRAFT LTP book.indb - Hurunui District Council
DRAFT LTP book.indb - Hurunui District Council
DRAFT LTP book.indb - Hurunui District Council
SHOW MORE
SHOW LESS
Create successful ePaper yourself
Turn your PDF publications into a flip-book with our unique Google optimized e-Paper software.
t Long Term Plan 2012-2022DraftHurunui Community Long Term Plan - 2012-2022
---
www.hurunui.govt.nz66 Carters RoadPO Box 13Amberley 7441Phone: 03 314 8816Fax: 03 314 9181email: info@hurunui.govt.nzweb: hurunui.govt.nzFront Cover - Overlooking the Waiau Township from the Leader Road.2
---
Draft Hurunui Community Long Term Plan 2012 - 2022Contents4 Introduction5 Welcome from the Mayor and CEO8 About the Plan10 How Your Rates are Spent11 How to Make a Submission12 Key Issues21 Financial Strategy33 Statement Concerning Balancingof the Budget35 Community Outcomes37 Aligning Our Long Term Plan with theGovernment's Drivers for EconomicGrowth41 Water Management44 Sustainability46 Township Profi les47 Hurunui District Profile53 Amberley Ward Profile56 Amuri-Hurunui Ward Profile61 Cheviot Ward Profile63 Glenmark Ward Profile66 Hanmer Springs Ward Profile69 Council Activities70 Introduction72 Water Supply80 Sewerage85 Stormwater and Drainage89 Roads and Footpaths95 Community Services and Facilities97 Community Services103 Property108 Reserves113 Environment and Safety116 Emergency Services120 Resource Management124 Compliance and RegulatoryFunctions128 Waste Minimisation132 District Promotion137 Hanmer Springs Thermal Pools and Spa143 Governance148 Financial Information149 Financial Introduction150 Forecasting Assumptions156 Statement of Accounting Policies175 Funding Impact Statement (and RatesSystem)199 Reserve Funds204 Council Policies205 Policy Introduction206 Development Contributions Policy222 External Liability Management Policy224 Investment Policy226 Rates Remission for BiodiversityPolicy227 Rates Remissions on Land Affected byNatural Calamity Policy228 Reserves Funding Policy230 Revenue and Funding Policy257 Significance Policy264 Treasury Risk Management Policy268 Internal Financing Policy270 Appendices271 Representatives of our District272 Draft Waste Management andMinimisation Plan Summary274 Hurunui Waiau Zone ImplimentationProgramme276 Water and Sanitary ServicesAssessment Summary278 Levels of Service Water and Sewer281 Rates: Sample Properties287 Independent Auditor's Report291 Submission Form3
---
www.hurunui.govt.nzIntroduction5 Welcome from the Mayor and CEO8 About the Plan10 How Your Rates are Spent11 How to Make a Submission12 Key Issues21 Financial Strategy33 Statement Concerning Balancingof the Budget35 Community Outcomes37 Aligning Our Long Term Plan With theGovernment's Drivers for EconomicGrowth41 Water Management44 Sustainability4
---
Draft Hurunui Community Long Term Plan 2012 - 2022Winton DalleyMayorAndrew DalzielChief Executive Offi cerWelcome from the Mayor and CEOHello everyone, and welcome to Council's Draft Long Term Plan,2012 - 2022. In our introduction, we summarise some importantthemes and points that should assist you in gaining an overallunderstanding of the draft Plan and what it may mean for you,and for our district.We review our 10 year plan every three years, and this is areview of the 2009 Plan. In the in-between years, we preparedAnnual Plans based on the 10 year plan. As we go forward,it is useful to look back at what we had planned three yearsago. It has been a turbulent three years in some respects, withtragedies we could never have anticipated. Such is the case withplanning – we will do our utmost to plan appropriately for thenext 10 years, but things will and do happen that are beyondour control.Looking back over the past three years instantly brings tomind the devastating earthquakes that hit the CanterburyRegion. Although the Hurunui District suffered comparably lessdirect damage than Christchurch City, Waimakariri and SelwynDistricts, the impact on us has still been huge and will continueto be a major infl uence throughout this plan. Three yearsago, we were optimistic about the economy picking up morequickly than it has done, and the world is still recovering fromthe global recession as is New Zealand. We were optimisticthat our District would grow at a much faster pace than hasactually been the case. Our recent updated population estimateof 11,330 residents shows low growth. With the census beingpostponed because of the earthquakes, we will not be able toconfi rm our population and district statistics until the results ofthe 2013 census are released (in 2014).5
---
www.hurunui.govt.nzOne of the most challenging aspects of preparing this plan isfi nding the right balance between delivering expected levels ofservice at an affordable cost. You, our residents and ratepayers,will be the best judge of how successful we have been at thisand we look forward to hearing your views and suggestions onour proposals. We constantly challenge ourselves over what isreasonable, what is sustainable into the future, who should pay,and how to meet the expectations of our communities. Wehave a new Local Government Minister, Nick Smith, who hassaid that rating increases over 6.8% are unacceptable. Normallywe would agree, but unfortunately, dramatic increases in ourinsurance costs, the new legislative requirement to meet NewZealand drinking water standards, and funding sewer andstormwater improvements, mean that for the 2012/13 year, thislevel of rating increase (as an average across the District) is areality.Our Draft Long Term Plan proposes a 7.15% district wide generalrate increase for 2012/2013 (which is below the previouslysignalled Long Term Plan increase of 7.50%). This increase is thehighest for any year in the 10 year plan. The average total rateincrease (including all amenity and targeted rates) for 2012/13is 6.94% (the previous Long Term Plan signalled an increase of4.89%). Our ten year projections all include infl ation.The primary causes for the increases in our rate projectionscan be attributed to the following items, which are all furtherexplained in the 'key issues' section of this plan.• Insurance has signifi cantly risen as a direct result of theCanterbury earthquakes and other natural disasters,such as the Queensland fl oods. We have traditionallyhad comprehensive insurance cover, and we havebudgeted to continue to do so.• We face huge capital outlay to become compliant withthe legislated New Zealand Drinking Water Standards.The good news is that we will no longer have any ofour water schemes on permanent boil water notices;but it comes at a price. We will be treating the water ofour at-risk drinking water intakes in the 2012/13 year.This will enable us to be compliant in the short termand will be applicable to those dwellings in the watersupply areas that require the treatment. Unfortunately,this is only an interim step and in the long term we willneed to upgrade our schemes by 2027. To make thisaffordable, we will commence rating for the estimated$14 million (in today's dollars), in the 2015/2016 year.• In recent years, we have incurred signifi cant costs inupgrading some of our water supplies, sewer schemesand stormwater systems. The work undertaken hasresulted in increased debt for those activities and weare at a stage where the interest and debt repaymentsneed to be made and these have to be funded throughrates.There are a number of other aspects that have infl uenced thedevelopment of this draft Plan. We have been guided by ourproposed new vision of Community partnership in growth andwellbeing, as well as our core principles:• Focus on core services• Financial responsibility and affordability• Continuous improvement in service to everyone in ourdistrict• Facilitate appropriate growth in the districtOur vision going forward has been further developed from thevision in 2009 which was based on a 'wellness' concept – HurunuiWellness: "In Hurunui, we live the lives the rest of the world wouldlove to live". Although this vision did receive good support fromour communities (82% supported it), we felt we could furtherdefine it. We wanted to convey that everything we do, we do inpartnership with our communities. When we have your supportfor our proposals, (and the services, infrastructure and facilitieswe provide and you pay for), we can have confi dence that weare meeting the aspirations or expectations of our communities,which then contributes to wellness and wellbeing. If you have aview on our vision, we would like to hear from you on it.We have decided to review our method of rating for tourismand general district promotion. This is one example of whereyour view and suggestions will help us to shape up a new modelfor funding this type of activity. We have not yet developedHurunui 10-Year Timeline2012/13Representation ReviewNine New Miox Water Treatment InstallationsTargeted Tourism Rate andDistrict Promotion ReviewEarthquake Prone Building AssessmentsCheviot Library RelocationLocal Government ElectionsEarthquake Prone Building Assessments2014/152013/14Central Government ElectionsEarthquake Prone Building AssessmentsHanmer Springs Community Hall ExtensionLong Term Plan ReviewDrinking Water upgradeHanmer Springs Sewerage TreatmentPlant UpgradeHanmer Springs Sports Stadium2015/162016/17Local Government ElectionsCheviot Medical Centre Upgrade orRebuild6
---
Draft Hurunui Community Long Term Plan 2012 - 2022an alternative but will do so in 2012/13 after considering thefeedback we receive.In light of the lessons learned from the Canterbury earthquakes,one of the things we are proposing to do to contribute to publicsafety is getting onto the tasks of assessing commercial andpublic buildings in the district sooner rather than later. Thisis a prime example of safety adding signifi cant cost. We haveproposed to undertake engineer assessments of identifi edearthquake prone buildings over the fi rst three years of thePlan. Although we are not 'required' to do it this quickly, weconsider this to be essential and hope that you agree.We have a number of committees and boards with variousdelegations to oversee and govern areas of responsibility.Most of the members of these commit to their functions on avoluntary basis, and whether paid or unpaid, we highly commendthe efforts of all of these dedicated people. The Hanmer SpringsCommunity Board is our only Board (or committee) electedthrough the local government triennial election process. Thefi ve elected members of the board are paid, and half of thisis funded through a district wide rate. We think this paymentshould be 100% funded by the Hanmer Springs Ward ratepayersinstead and are interested in what you think on this.considerably across the district, according to the projectsproposed in each ward. For example, there are differing levelsof expenditure for upgrades and debt repayment for each waterscheme; there is a new medical centre proposed for Cheviot; anumber of projects planned for Hanmer Springs; and so on. Allthese projects are proposals within the Plan, and your feedbackis invited. The sample property analysis on page 281 gives apicture of the impact of rates for the 2012/2013 year for thevarious rating areas. You can fi nd out what the proposed ratesare for your property for the entire 10 year period by contactingus directly or going onto our website.Despite the proposed increase to our rates, we have takena conservative approach to this plan. We assure you, asratepayers and residents, that we have applied our best effortsto develop this long term plan diligently, to create what webelieve is a robust and comprehensive strategic framework forHurunui for the next ten years, notwithstanding the challengesand uncertainties we all presently face. We look forward toreceiving your feedback to the Hurunui Community Long TermPlan and meeting with you to discuss this further at any publicopportunities in the weeks ahead.Rates tend to be contentious and can be diffi cult to understand.We use a variety of different rating methods, for example,we rate some services across the District and other itemsacross wards only. And we also fund some activities throughtargeting particular users (as with tourism). To get a betterunderstanding of how activities and services are funded and why,refer to the Financial Strategy and our Revenue and FinancingPolicy. The Financial Strategy is a new requirement under theLocal Government Act. We are interested in hearing from youabout any of our policies and welcome your feedback via thesubmission process.Full details of the projected rate movements, year by year,are shown in the Funding Impact Statement on page 175. Wemust emphasise that amenity and targeted rate increases varyCentralGovernment ElectionsRotherham public ToiletsLocal Government Elections2018/192017/18 2019/20Representation ReviewLong Term Plan Review2020/21Central Government Elections2021/22Long Term Plan Review7
---
www.hurunui.govt.nzAbout the PlanIntroductionThe Local Government Act 2002 requires all councils to have aLong Term Plan (LTP). The Hurunui Community Long Term Planis our LTP.This plan is the combined effort of Council and the district'scommunity. Many of our sub committees have been activelyinvolved in preparing plans for their townships and wardsand their efforts are refl ected in this plan. So are the viewsof the many individuals who told us what they consider to beimportant for the future of our district. Many people have putconsiderable numbers of hours into the development of thisplan. The plan covers a 10 year period from 1 July 2012 to 30June 2022.Updating the PlanThis plan will be updated and revised every 3 years. The plan isone of the main ways you can infl uence what the Council doesevery 3 years.In the years between each Hurunui Community Long Term Planreview, we will prepare an Annual Plan which will focus on thebudgets of the particular year of publication. This informationwill be taken from the Hurunui Community Long Term Plan.Guide to the PlanThe following is a brief guide about the information contained ineach section of the plan.Introduction - This section sets out key issues that we wantto bring to your attention and want to hear from you on.This section also contains a new and important piece of thisplan – the Financial Strategy. This will tell you about our mainfi nancial challenges and what our fi nancial position is – how wecan afford the services that we provide and how we intend tocontinue to fund these. You will fi nd out how your rates arespent, and the community outcomes we consider important toour communities.Township Profi les – Here you will fi nd key information aboutthe district each ward and community rating area, including,demographic data, key priorities and amenity rates.well as fi nancial statements required by law.Policies – Provides the key Council policies (including fi nancialpolicies and principles) to assist with decision making andplanning.Appendices – This section contains various summaries ofstrategies and plans that are important to include to providemore context and information relating to our services.Monitoring the PlanAt the end of each fi nancial year, we complete an Annual Report.In this report, we will state how we have performed againstwhat we said we were going to do in this plan and at what cost.Changing the PlanIf any signifi cant changes need to be made to the HurunuiCommunity Long Term Plan before it is formally revised at each3 year interval, the proposed changes will be publicly notifi edto give anyone affected an opportunity to have their say beforeCouncil decides whether or not to make the proposed changes.Our 'Significance Policy' guides us in determining the importanceof an issue and the possible impact on the community. When anissue is deemed signifi cant, we will consider how best to consultyou. The signifi cance policy is included in the Policy section.The Plan Does Not Include GSTWhen reading this document, please be aware that all ofthe fi gures quoted in the LTP are GST exclusive except the'Statement of Rating Policy' and the 'Development ContributionsPolicy'.Infl ationThe plan has been developed on an infl ation adjusted basisto comply with accounting standards. Details of the infl ationassumptions used are outlined on page 158.Council Activities – Gives useful information for each Councilactivity such as water, roading, community services etc, andfi nancial information for each activity, as well as any majorpriorities or projects planned.Financial Overview – This section is where fi nancialinformation is summarised. It gives the 10 year capitalexpenditure programme and forecast fi nancial statements as8
---
Draft Hurunui Community Long Term Plan 2012 - 2022Relationship Between the Hurunui Community Long Term Plan and Other DocumentsAnnualReportKnowing what the Councilhas achievedCommunityOutcomesKnowing what is important for thefuture wellbeing of our communityKnowing how it s goingto be paid forAnnualPlanKnowing what the Council is doing tomeet community outcomesHurunui CommunityLong Term PlanThe LTP integrates strategies, policies and activities in thecontext of identifi ed community outcomes, and in a way thatpromotes public accountability and integrated decision making.All planning that we do lines up with the LTP, as well as other plans,such as our asset management plans and waste managementplans, and linking to other non-mandatory strategies such asthe Hurunui Community Road Safety Strategy.The activities set out in this LTP contribute to the achievementof the community outcomes, and promote the District's social,cultural, economic or environmental wellbeing.9
---
www.hurunui.govt.nzHow Your Rates are SpentThe Council's Projected Income and Expenditure for 2012 / 2013Operating Income of $30.7 million for the 2012/2013 yearOther Income10%General Rates18%Hanmer SpringsThermal Pools andSpa32%Targeted Rates forWater Supplies13%NZTA Subsidiesand OtherGrants12%DevelopmentContributions1%Targeted Rates forOther Services14%Operating Expenditure of $30.4 million for the 2012/2013 yearGovernance2%Corporate Services16%Water Supplies11%Sewerage2%Stormwater andDrainage0%Roads and Footpaths19%Hanmer SpringsThermal Pools andSpa25%District Promotion1%Environment andSafety13%Community Servicesand Facilities11%Capital Expenditure of $9.8 million for the 2012/2013 yearEnvironment and Safety2%Hanmer SpringsThermal Poolsand Spa17%Corporate Services5%Water Supplies22%Community Servicesand Facilities4%Sewerage9%Stormwater andDrainage3%Roads and Footpaths38%10
---
How to Make a SubmissionHave Your SayYou are invited to make your views known to us on any aspectof the Hurunui Community Long Term Plan. This is a draftversion of the plan, and will not be fi nalised until 28 June 2012.The draft plan has been made public so that anyone who hasan interest in the Hurunui district and its communities, or isaffected by the plan has the opportunity to comment on itbefore it is fi nalised. Submissions must be received by 5.00pmon Friday, 13 April 2012.There are a number of ways you can make a submission:Draft Hurunui Community Long Term Plan 2012 - 2022Cabbage Tree in Flower , Biodiversity Photo Competition - Rita Turner• Submit online through our web site:www.hurunui.govt.nz• Use the submission form at the back of this document• Access a submission form from our web site:.• Email your submission: plan@hurunui.govt.nz• Write a letter• Talk to your CouncillorWhen you make a submission, please ensure you clearly statethe subject or topic you are referring to. If possible, it is helpfulto give the page number of the subject as it appears in the plan.Please let us know whether you wish to present your submissionto us personally and if so, what time of day would suit you best.Consultation PeriodApril 13May 14 onwardsJune 28July 1Last day submissions will be acceptedSpecial Council meeting to considerthe submissionsCouncil will adopt the fi nal LongTerm PlanFinal plan in placeBellbird on Flax, Biodiversity Photo Competition - Ruth SmithMore InformationPlease refer to the Key Issues section of this introduction for anoverview of major consultation issues and for issues specifi c toparticular areas of the district.The Mayor, Councillors and Council Offi cers are happy toattend your club, organisation or community meeting to discussany aspect of this draft Plan.To arrange this, please contact Jo Retallick on 03 314-0011.Aciphylla, Biodiversity Photo Competition - James Rutherford11
---
www.hurunui.govt.nzKey IssuesIntroductionIn this section of the draft long term plan, we have highlighteda number of issues that we would like your view on before wecome to a fi nal decision. These are issues that we considerare of particular interest and importance to you with respectto cost and how essential you think these things are. We willconsider your submissions on these issues when we meet tohear them beginning on 14 May 2012. We will decide on thefi nal long term plan, including all of these issues during thatmeeting, which may take 2 or 3 days. Table 2 at the end of thissection shows how each item will be funded.Drinking Water StandardsIn recent years, the Government has placed strong emphasison the quality and availability of drinking water for all NewZealanders, irrespective of where they live. The standard ofdrinking water throughout the country has been variable andin many places, particularly rural New Zealand, below standard.New Zealand drinking water standards have been developedand recently revised, and they require all councils to makesignifi cant advancements to meet these standards.Most of the drinking water in the Hurunui District fails to meetthe new drinking water standards and currently, eight of ourcommunities are advised to boil water before they drink it.The drinking water standards are concerned mainly with threespecifi c areas: water quality; how we will know our drinkingwater is meeting the standards; and what we will do about it if itdoesn't. There are substantial fi nes for not complying with thenew legislation – up to $200,000 for an offence and $10,000 foreach day of continued non-compliance for each of our 25 watersupply sources.In addition, the Health (Drinking Water) Amendment Act 2007requires all drinking water suppliers to have Public Health RiskManagement Plans (PHRMP) in place outlining how to safelymanage drinking water. This is signifi cant because we have a dutyto ensure the drinking water we supply is safe to drink. (Thesame applies for all other councils and private suppliers.) Wehave 25 water supply sources and each needs its own PHRMPto be completed at various times between July 2014 and July2016, depending on how each water supply is defi ned (based onthe number of customers each supply serves).These requirements have posed us with a fi nancial challenge.We have no option but to plan toward compliance, but thecost to do so is immense. To upgrade our water systems to befully compliant, we have estimated that it will cost $14 millionin today's dollars, and a further $484,000 per year solely tooperate the upgraded schemes. This causes us a great deal ofconcern and we have raised the affordability issue for a small,rural council such as ours to meet these considerable costswith the Ministry of Health. We have come to a proposedcompromise, acceptable to the Ministry to achieve drinkingwater compliance no later than ten years after the fi nal approvaldate for each respective PHRMP, which will be between 2024and 2027. The compromise involves two main phases to managethe affordability issue.First PhaseThe expectation, that we support, is that we will as a minimum,provide drinking water to our consumers, that is bacteriologicallyfree and is safe to consume. To do this we will need to lift allpermanent boil water notices on our current schemes. Thiswill be achieved using improved interim technologies to our atrisk water intakes that will subsequently meet these desiredoutcomes.Therefore, the fi rst phase proposes nine new MIOX installationscosting $758,000, for the 2012/2013 fi nancial year. The at riskdrinking water intakes are: (1) Ashley Rural; (2) Waiau Rural;(3) Cheviot – Parnassus; (4) Cheviot – Blythe; (5) Cheviot –Kaiwara; (6) Hurunui Rural – No.1; (7) Hurunui Rural – Peaks; (8)Hurunui Rural – Lower Waitohi; and the (9) Waipara Township.The existing MIOX plant serving the targeted Cheviot and GoreBay Township community will be moved to the intake, to serveand improve the full water reticulation pipeline.We have debated how to fund this work and are proposing thatthe capital costs and on-going operational costs should be metby a special targeted rate for each dwelling that benefi ts fromthe water treatment. It is estimated to cost affected ratepayersapproximately $100 per year to fund the operational cost andthe capital component of the work. This funding proposal willaffect an estimated 1,463 dwellings in total. We have proposedto stage the implementation of this funding over three years,therefore those ratepayers will be charged $33 in 2012/13,$66 in 2013/14, and the full $100 in 2014/15. The exceptionto this special targeted rating proposal is for the consumerson the Ashley Rural water scheme. The cost of their Mioxinstallation will be met solely by those properties connected tothat scheme as part of their standard, unit rate. This is becausethe majority of the consumers of the Ashley Rural Water Supplyreside outside the Hurunui District and already have a specialrating arrangement in place.All other district-wide intakes are either safe deep sourcewater or have not had any e-coli non-compliance over the lastthree years, thus perceived as safe at present. These will becontinuously monitored for further improvement if the 'safestatus'changes. This approach will unfortunately not eliminatethe issue of temporary boil water notices from time to time,when tested and triggered e-coli contamination is related topost-intake drinking-water pipeline breaches, e.g. pipe breaks,etc.12
---
Draft Hurunui Community Long Term Plan 2012 - 2022Second PhaseThe second phase involves the upgrading of the water schemes tofull compliance, and will mean the end to the MIOX treatments.The capital cost in today's money is $14 million, and we areproposing for this to occur between 2024 and 2027. To managethe cost, we are proposing that this is funded through a districtwide general rate. This is different to how we currently fundwater supplies, which is through targeted rates for individualschemes. We do not believe the targeted method of fundingis possible or a fair way of funding for any of our ratepayers toupgrade our drinking water to legislated standards. There aresimply too few people on the smaller community schemes inparticular, to be able to pay for these upgrades. By funding via adistrict wide rate, the cost is spread across all ratepayers, hencemaking it more affordable and achievable over all.Although the capital works required won't start being builtuntil 2024, we are going to start rating from 2015/16 to buildup some funds which will offset the full capital cost when it isnecessary. The cost of this will be $41 per property and this ratefund, along with accumulating interest, should provide a fund ofapproximately $3 million to assist with meeting the capital cost.The method by which the balance of the capital work and theon-going operational costs will be met, will be refi ned over time.We have no option but to upgrade our water schemes so thatthey are compliant with the drinking water standards. As mostschemes do not meet the criteria to qualify for governmentfunding, the full cost has to be met by ratepayers.Do you agree with the proposed rating models as the best way toproceed to ensure full compliance? Do you consider this fair to thosewho are not connected to an at risk water scheme? If not, how wouldyou see this required work being funded?Sewer ImprovementsDisposal of treated wastewater direct to waterways has beena common practice nationally in the past, but this approach isno longer considered sustainable or environmentally acceptable.In our District, we have seven wastewater treatment plantsusing oxidation ponds as an effl uent treatment process. Thesetreatment plants are located at Amberley, Hanmer Springs,Cheviot, Greta Valley, Motunau Beach, Hawarden and Waikari.We need to do more work to our Hanmer Springs wastewatertreatment plant so that the treated wastewater is disposed ontoland instead of into the waterway (which is a resource consentcondition). We are investigating the best options available tous in Hanmer Springs for both land acquisition and improvedeffl uent treatment. The cost for this sewer land disposal workis $1,200,000 factored into year 2015/16 and paid for bythe Hanmer Springs Ward ratepayers. Other planned workincludes improving dissolved oxygen levels in the treatmentponds to eliminate issues such as odour and reduced treatmenteffi ciencies. For this work we plan to spend $220,000 in2012/13.Cheviot's wastewater treatment plant (WWTP) disposalsystem is spray irrigation to land or onto the overland fl ow areawhen the land disposal area is saturated. We are investigatingpossible long-term treatment options (long term capacities; soilpermeability and content analysis; seasonal effects, fl ow/waterquality/ecology of Crystal Brook and neighbouring groundwaterquality assessments) associated with treatment and disposal ofwastewater from the Cheviot WWTP. We will work with theCanterbury Regional Council to agree on the best solutiongoing forward in 2012/13. This plant's resource consent expires11 September 2014, when the Regional Council will decide ifimprovements are required to renew this resource consent.No disposal to waterways is allowed or tolerated to date. Weexpect the cost for this will be met through usual operatingcosts at no increase to ratepayers.Amberley and Waikari have existing treated effl uent disposalto land, with Greta Valley and Motunau Beach using a primaryoption of disposal to land and secondary option to waterwaywhen the land is saturated, for example, seasonal wet weatherconditions. Hawarden's system is disposal to waterway untilchanges are effected through the resource consent renewal,which will be in 2027 or subject to any new requirements underthe Natural Resources Regional Plan (NRRP) review currentlyunderway at Canterbury Regional Council. We will considermore natural methods of disposal, such as wetland fi ltrationif proven feasible and cost effective. All systems are closelymonitored and audited by the Canterbury Regional Council forcompliance with stringent consent conditions to protect andenhance the environment surrounding these treatment plants.Are you satisfi ed with the approach we are taking to dispose ofeffl uent?Stormwater ImprovementsWe have been working on a programme of stormwaterimprovements to the Amberley township and Amberleyand Leithfi eld Beach communities since 2008 when we hadsignifi cant property fl ooding following high rainfall events.The improvements have taken a disappointingly long timeto implement due to the resource consent process andEnvironment Court hearings process. So far, only two majorphysical works have been completed – the fl ood diversionfrom Dock Creek along Lawcocks Road, and a piped outfall ofthe Leithfi eld Outfall Drain to the sea. By the time this Planis fi nalised, the fl ood diversion works in the Amberley swamparea (to include an outlet culvert under Stanton Rd) and thearea from Dry Gully to the Mimimoto Lagoon will have beencompleted, as well as the new pipelines in Amberley.A fl ood fl ow diversion from Eastern Drain across to theAmberley North lagoon is proposed for the 2012/13 year, tocomplete the fl ood mitigation works. Detailed design and landownership issues still have to be fi nalised. $294,000 has beenbudgeted for this work (to do detention ponds and upgrades),with a further $84,000 in the 2016/17 budget for Chamberlain13
---
www.hurunui.govt.nzPark fi lters. We plan to fund this via a special rate acrossAmberley Ward.Applications for global consents to discharge stormwater fromthe Amberley urban area and new residential developments inHanmer Springs will be made in the 2012/13 year. Both of thesewill be funded via a separate rate for the Amberley Wards andHanmer Springs and development contributions.We are proposing a new stormwater engineer to be appointedin 2013/2014 to manage this area of our work. This engineerwill be responsible for developing district-wide stormwatercatchment and management plans, and undertake the range oftasks required to ensure we have effective stormwater systemsin place, inclusive of appropriate maintenance regimes.Do you have a view on our plans for stormwater improvements? Arethere other areas you are concerned with and are prepared to fund?Targeted Tourism Rate and DistrictPromotionOur tourism promotion and limited district promotion iscurrently carried out through one of our council committeescalled the 'Hurunui Tourism Board'. The way we fund this isthrough a 'targeted tourism rate' which has had its share ofcontroversy. Those who pay are ratepayers and businesseswho are deemed to be involved directly in the visitor / tourismsector. From this sector, we collect $286,000 annually with anadditional contribution of $45,000 from the Hanmer SpringsThermal Pools and Spa. We are concerned that we don't yethave the funding model right and want to review our currenttargeted tourism rate and explore ways of funding a broaderconcept of 'district promotion' in a different way.We think we can better promote the district in all aspects byadopting a broader approach, rather than just focusing only ontourism. The issue of who benefi ts from district promotion andwho should fund it is a challenging issue and we want to developa better way to do this. We plan to continue with the targetedtourism rate up to the end of the 2012/13 (and have includedit in the 10 year budget for the meantime), to allow time for aviable alternative to be developed, but are inviting public viewsas to what district promotion and a future funding model couldlook like.After taking into account public views, we will look at how wemight phase out the current targeted tourism rate in 2013/14when a new model would take effect. We are seeking your ideason what a possible alternative model would look like, and withyour feedback, plan to develop this thinking during the 2012/13year. This will include looking at how to improve our promotionof the district. We are not sure whether this new model willretain the Hurunui Tourism Board, or see the development of anew committee or board. We plan to continue with what wehave until an alternative is found.We are interested in hearing your thoughts about Council'srole in tourism, as well as promoting the district to encouragedevelopers, more residents and businesses, and economicdevelopment.How do you think this should be funded? Do you think this shouldbe a general fl at rate for all ratepayers or a targeted rate, and ifa targeted rate, who should that target group be? Would you beopposed to contributing to the overall cost of promoting the Hurunuias a better place to live, work and visit via your rates?Cost of InsuranceIt will be no surprise to anyone that the cost of insurance hassignifi cantly risen as a result of the Canterbury earthquakes. Thedamage to Christchurch in particular and the resulting insuranceliability has been unprecedented anywhere in the world before.It is now well known that globally, the insurance industry hadto have a major rethink of how it could continue to provideinsurance cover and still be affordable. Given that the HurunuiDistrict is tectonically active and we are periodically subjectedto fl oods, rural fi res, snow and winds, we have traditionally beenwell insured and cover our infrastructure and liabilities.Up until July 2011, the cost of our insurance was $212,858 perannum. This is the tota l bill for all Council infrastructure andliabilities, including the Hanmer Springs Thermal Pools and Spa.Although the September 2010 Canterbury earthquakes hadan impact, it was the Christchurch earthquake on 22 February2011 that caused fi nancial chaos to the insurance world. Wehave had to sign up a new insurance arrangement at $564,414per year to cover the same infrastructure as we did in the past.This signifi cantly contributes to our 6.97% increase in rates asthe approximate increase in insurance across the organisationof $350,000 alone represents 2.73% of the total rates that werestruck in the 2011/2012 year.The process for renewing the insurance policies is likely to bemore stringent in the future and there could be the possibilitythat some of our assets may not be covered by insurance, as hasbeen the case for Christchurch City and Waimakariri DistrictCouncils for the 2011/2012 year. It is our objective to remainfully insured at all times.While we cannot do anything about the cost of insurance, weare interested in your view about the extent of cover we have.For example, we could reduce our insurance cost by taking onmore risk and insuring less of our infrastructure or having ahigher excess.Are we doing the right thing by continuing to comprehensively coverour assets? If not, what would you suggest?Earthquake StrengtheningOur building department is carrying out a desk top review of14
---
Draft Hurunui Community Long Term Plan 2012 - 2022potential earthquake prone buildings in the Hurunui Districtand aiming for this to be completed by December 2012. Thiswill confi rm how many commercial and public buildings in theDistrict are suspected to be earthquake prone. At this earlystage we have provisional numbers of 368 commercial buildings,both privately and council owned. 150 are estimated to bebuilt before 1976, and up to 90 of them are suspected to beearthquake prone, and therefore could pose a potential dangerto the public. We own 68 of the commercial and public buildingsbuilt before 1976 and of these, we estimate that around 20 maybeearthquake prone and need an initial evaluation procedure (IEP)carried out by an engineer.The desk top review will only provide information aboutbuildings without looking at them in a detailed structuralmanner. There are certain types of building that are consideredto be more earthquake prone than others and it is these thatwe will be focusing on. They are usually unreinforced concreteand masonry buildings, but there may be others that are also atrisk. The assessment process will be carried out in accordancewith the Earthquake Engineering Society of New Zealandguidelines. We will need qualifi ed engineers to actually assesseach of these buildings to confi rm to us whether or not thebuilding is potentially earthquake prone and that owners shouldbe advised. To do this IEP assessment (without any actual repairsor remedial work), we have estimated that it will cost $69,000to do 90 earthquake prone buildings spread evenly over the fi rst3 years of the Long Term Plan. We are taking an active approachto identify and upgrade buildings at risk following the lessonslearned from the Christchurch earthquakes. Obviously, we donot want a repeat of that disaster in our District.Once we have the IEP assessments from the independentengineers, we will then be able to inform property owners thatwe suspect that their building is earthquake prone. They willthen be required to carry out a detailed engineering assessmentto show how to remedy any risks to the building. Because someof the buildings are council owned, the same will apply to us. Atthis stage, we have not made a budget provision for any actualstrengthening, repair or demolition work. We plan to decideon this once we have the information on a case by case basis.Other owners of buildings will need to do the same once theyhave information provided to them. There is of course, nothingstopping anyone getting their own independent assessment attheir own cost in the meantime, or seeking a second opinion.We do not have the in-house expertise to perform this work.We do know that structural engineers are highly sought afterin the Canterbury region and we are making this plan on theproviso that we will be able to contract the skills we need toundertake this work.We consider this work to be vital because of the threat to life.Therefore, rather than asking you whether or not you considerthis issue to be important, we are interested in your view aboutpaying for it. We plan to fund this through the general rate forthree years from 2012/13 because of the potential impact onthe general public. The general rate is funded through a portionbeing assessed as a fi xed charge per property and the balanceassessed on the capital value of the property. Alternatively,this could be added to each Ward's amenity rate based on thenumber of buildings to be assessed in each Ward.Would you prefer this method of funding instead of a general rate?Cost to Defend RMA/Court ActionEach year we need to get legal advice or representa tion, orspecialist advice about a variety of matters relating to resourceconsents, district plan changes and policy de velopment.Traditionally, we have tended to under-budget for these costsas many of them are unknown when we prepare our annualbudgets. However, last year we were aware of a number ofsituations that were going to incur legal or consultancy costsand we did make a budget provision based on that knowledge.Although we will continue to face unexpected legal costs intothe future, we have decided to continue to budget what we didlast year for each year of the long term plan, that is, $105,000(adjusted for infl ation) annually. This will be funded through aDistrict Rate.The alternative is to not allow a budget and to deal with eachcase as it occurs. Generally this becomes a 'fi rst call' on therates for the following year, or cancelling other work instead.There will be situations where legal costs are far in excess ofour budget. The most recent example of this was the cost todefend MainPower's Mt Cass Wind Farm resource consent,which amounted to approximately $400,000. We have lodgeda claim with the Environment Court to recover $277,000 fromMainPower but we do not know whether or not we will besuccessful. Legal and specialist advice does not come cheap. Wedo not always have in-house expertise for every scenario thatcomes to us.Are you satisfi ed with the approach to try to fund these costs eachyear rather than 'fi nd the money' after they occur? If not, what wouldyou prefer we do?Road FundingOur roads are maintained and built using subsidy funds fromNew Zealand Transport Agency (NZTA) and moneys collectedthrough local rates. This excludes state highways which arefunded and maintained solely through NZTA. Three yearsago, central government deliberately cut maintenance fundingto all district councils, as it decided to focus on capital worksto national state highways (Roads of National Signifi cance) andthe Auckland roading network needs as priorities. Centralgovernment believes that "increased funding for State Highwayconstruction will bring benefi ts for national economic growthand productivity, particularly given that State Highways carrymost inter-regional freight and link major ports, airports andurban areas (Government Policy Statement 2012)".All Road Controlling Agencies (we are one), were told by the15
---
www.hurunui.govt.nzMinister of Transport to "do more with less"; we now needed tofi nd better and smarter ways of looking after our roads withoutrelying on the previous levels of NZTA subsidy funding. Ourfunding was cut by $600,000 per annum on average, for the fullfunding cycle 2009/2012. At this stage, we do not know whatfunding we will receive when NZTA confi rm their budget forthe next three year cycle (2012/2015), however, we expect it tobe on a par with the current allocation. This has left us with amajor challenge. Our Asset Management Plans (AMPs) tell uswhen, how and why we need to do work on each of our roads toensure maximum whole-of-life for this asset (maximum returnon investment approach); but we do not have the requiredsubsidised income to maintain our roading network to the levelour AMPs stipulate.We have done our best to get greater effi ciencies within ourcurrent road maintenance contracts, without affecting thecurrent Levels of Service (LoS). Improved collaboration, witha 'best-for-asset/best-for contract' approach, provided lowercontract rates that allow us to maintain our current LoS until2014/15 (assuming no untoward event happens that damagesour infrastructure). Rationalisation of the contract documentsto reduce administration costs provided another level of costsavings to make the dollar stretch even further. At the end ofthis period, our maintenance contracts will be renewed withcost escalations included. This is where we have a problem.NZTA have declared that they will not pick up contract priceescalations through their road maintenance subsidy scheme. Towhat degree this is intended, we are unsure at this stage. Inthe meantime, we have allowed for infl ation adjustments to theroading costs (using the infl ation assumptions) and also assumedthat NZTA will continue to meet their share of those costs thatare currently subsidised, again based on the assumption that thesubsidy rate will not change over the ten year period.If NZTA do not include infl ation in future subsidies, we willhave to pass the difference in costs to our ratepayers annuallyto maintain our current LoS. If we don't, this will leave uswith a future fi nancial shortfall that is further susceptible tomaintenance cost increases through peak oil and bitumen costincreases in particular. We can either put up our annual rates toprovide more local unsubsidised funds to keep our roads in theircurrent condition, or we can accept that there will be a markeddeterioration in our road conditions (structurally, appearanceand driving quality) from 2015 onwards. The impact of thisis that our roading assets life will reduce and will eventuallydevalue over time, thus not meet their initial designed criteriaoutcomes.The key problem that we face is that the level of cost thathas been allowed for in the Long Term Plan falls signifi cantlyshort of what was provided for in the Asset Management Plan(AMP). The AMP was developed prior to the change in centralgovernment policy and before we were able to achieve greatereffi ciencies through our current road maintenance contracts.The difference over the ten years between what was scheduledin the AMP and what has been provided in the LTP amounts toa total of $15 million. Based on the assumption that NZTA willprovide the amount of subsides allowed for in the LTP, shouldwe incur the level of cost in the AMP, then that additional $15million would need to be covered by rates. The rating impactfor the 2012/2013 year alone would be an additional $1.11million, and this would result in a 15.64% increase in overallrates rather than the 6.94% currently allowed for in the plan. Weare confi dent with achieving greater effi ciencies in the currentcontracts that the roading network can be maintained at thecurrent level of service until 2014/15, however, to continue tomeet the current level of service into the future may require agreater input directly from ratepayers.Would you support paying more rates to maintain our roads and toprevent deterioration in our road conditions?Amberley Swimming PoolIn our last review of the long term plan in 2009, we talked aboutthe life of the Amberley swimming pool and our awareness ofthere being a community desire for an improved pool, whetherthat was a major upgrade or a new pool. In 2008, we did an indepth review of the life-expectancy and replacement costs ofthe Amberley Swimming Pool and concluded that the presentpool was good for at least 10 more years. In 2009, we allowed$3 million in the 2014/15 fi nancial year to build a new heated,covered pool. The rating model to pay for the pool, allocatedthe greater costs to the Amberley Ward, and a lesser amountto outlying areas on the basis of an assumption of usage beyondAmberley. Consultation on this matter then, gained good publicsupport for the proposal. The budget provision was made onthe basis that $1 million of the $3 million would be derived fromfund raising and that the Amberley community would take theresponsibility for this.Three years have now passed and no fund raising activitieshave taken place. We have not collected any rates at thisstage to build up a fund for a future pool. The AmberleyWard Committee did establish a working group to investigatethe Amberley swimming pool further and to come up with arecommendation as to what was going to suit the needs of thecommunity best. That investigation has not yet been completedbut a recommendation is close. The working group are keento further explore the possibility of upgrading the existingpool and hence, keep costs as low as possible, but a furtherengineer report is required. An upgrade may not be possibleor economical, and a recommendation for a new pool is stillpossible.We have decided to not make a budget provision in this longterm plan at this stage pending further information. The costof building a new indoor pool or even upgrading the existingpool is likely to be signifi cant. The community desire is to havea heated indoor pool that can operate either all year round,or most of the year. This will add signifi cant operating coststo keep the pool running. Very few public swimming pools inNew Zealand actually make a profi t or break even, and they arereliant on signifi cant subsidies from rates to operate.16
---
Draft Hurunui Community Long Term Plan 2012 - 2022Our intention is to wait for a recommendation from theAmberley Ward Committee before we agree to add the costto the budget. We expect the recommendation to be this year,and then we will be able to properly consult with you overthis matter. We simply do not have enough reliable informationto work on at this stage. The pool should still be operationalin its current state until at least 2018. For us to have theconfi dence that the Amberley community, and the rest of theDistrict are prepared to pay for an improved pool, we need tobe able to give you the full story on how much it will cost tonot only build, but to operate annually, and what that meansto you. In the meantime, we have continued to budget for thecontinuation of the current swimming pool through the draftPlan on the assumption that it may still be operational up to2022, depending on what is decided in the meantime.What is your view about our decision? If you consider that we shouldbudget for this now, who do you consider should pay and how muchare you prepared to pay? Alternatively, are you prepared to wait forfurther information so that you can base your submission on accuratecosts and plans?Cheviot Library/Service CentreWe are planning to move the Cheviot community library fromthe Cheviot Area School and to the Cheviot Service Centreon the main street of Cheviot. This will enable the library andcouncil services to be delivered from the one site by the oneperson. The school library would remain in its current location.We sought views on this proposal late last year (2011) and therewas mainly positive support for this move, including supportfrom the school. On that basis, a working group has beenidentifi ed to work on the detail of the proposal. The workinggroup comprises a mix of local Cheviot people to represent thecross section of interests and perspectives. We are aiming tocreate a new look for the service centre / library to capture theunique essence of Cheviot and provide a service to meet theneeds of the locals.The service centre has not had an upgrade for years and wewant to make some alterations and refurbish it to create amore vibrant community space. Once the working group hasidentifi ed the detail, such as opening hours and days of the week,alterations to take place, features that need to be included, andoverall on-going use of the building, we will consult with youagain so that you can make any comments or suggestions beforeanything is fi nalised.We consider that the proposal to move the library to the servicecentre to be advantageous for a number of reasons including:• Easy accessibility and convenience of main streetlocation for all of the community• Encourage visitors to Cheviot (to use the library andinternet services)• Easy, close parking• Makes better use of the current building which is notwell used by the community• Free internet and wi-fi• Opportunity to promote and display local artists work• Independence from the school may encourage different/ more library users• Hours will be developed to suit the community• There will still be books and resources available foryoung people and children• The school and the community libraries will still be ableto share resources if that is what is wanted• Added vibrancy to the Cheviot main street – we areplanning on making the frontage more inviting• Able to deliver a modern library service with materialwhich is regularly refreshed (we move our libraryresources around the district to save on cost and getthe best out of all of our resources)• Different facility for school children who are able tohave an alternative library optionWe have set aside $100,000 to fund the refurbishment of thecurrent building in the 2012/13 year. We plan to operate thelibrary / service centre within existing operating costs (forthe current library and service centre), so are not planning onincreased expenditure.We are interested in hearing your views on this proposal,particularly if you live in Cheviot or are likely to use the service.Is there anything not mentioned here that you would like to includein the new service?Cheviot Medical CentreWe own four medical buildings in the District – in HanmerSprings, Rotherham, Waikari and Cheviot. We originally gotinvolved in this area years ago to help attract qualifi ed medicsinto the District to take up private practices without thedeterent of capital cost, and provide health services that areof a good quality, affordable and meet the needs of our ruralcommunities. This is an on-going challenge as attracting doctorsand nurses who are prepared to work and live in rural NewZealand is an issue that Hurunui does not face alone. Timeshave changed and the ideal of fi nding General Practitionerswanting to set up practice in a rural community and stay forlife (and work alone) has become unsustainable. HoweverImportant considerations for future planning still include havinghigh quality medical facilities and a strong network of medicalpractitioners and providers to support each other.17
---
www.hurunui.govt.nzWhereas we do not recruit medical staff for the District, webelieve we do have a role to provide medical facilities andassist in facilitating good outcomes. We regularly meet withkey providers of medical services for the District, including theCanterbury Rural Primary Health Organisation, CanterburyDistrict Health Board and local practitioners, etc. Thesediscussions help us keep up with the issues our GPs and medicalcentres are facing and helps us work together to fi nd solutions.One of the areas we are able to assist is building medical centresthat cater for current and future demand.Three of our current medical centres are modern, while Cheviotrequires an upgrade or replacement in the near future. Thisupgrade has been signalled by its inadequacy to deliver modernhealth care into the future. We have allocated $1 million (tobe infl ation adjusted) in year 2016/17 to build a new one. Theproject will be funded by an internal loan and servicing of theloan over 20 years is proposed that this be funded through theCheviot Medical Centre Rate which is charged to each propertyin the Cheviot Ward. This will result in the Cheviot MedicalCentre Rate moving from approximately $30 per ratepayer to$120 per ratepayer from 2016/17. There is still work to bedone before any rebuild or upgrade is undertaken to make surethis is good use of your money. We will want to be confi dentthat a new building is needed as opposed to upgrading thecurrent facility, and we also need to be sure that this is what thecommunity needs. Further consultation will be done closer tothe time before any work is done.If you live in Cheviot, we are interest in how you feel about thisproposal? Are the proposed amenity rates affordable? Are thereother ways of providing these facilities and/or services that should beconsidered?Rotherham Public ToiletWe have purchased a section on the main road throughRotherham adjacent to the new Amuri Medical Centre, for avillage green. The section is ideally suited to a public toilet formotorists passing through Rotherham en-route to the InlandRoad. For motorists travelling to Kaikoura from the WestCoast, this would be the fi rst public toilet since Springs Junction(i.e. without detouring into remote sites such as Boyle Riveror to Hanmer Springs). A toilet on this section will also beuseful for local residents using the village green for picnics orrecreation (playground) or on their way to or from the HealthCentre. This is a long term proposal as we intend building thetoilet in the 2017/18 year. Because it is a long way off and we arenot certain of the demand in this location, we will seek publicviews on this proposal again when we review this long termplan in 2015. In the meantime, $90,000 has been included in thebudget to be funded through the District Rate.We are interested in your view as to whether you consider thisto be a viable proposal.Would you prefer to see this built sooner? (Or not at all?) Are thereother locations in the District you would see as more appropriate orurgent?Hanmer Springs FacilitiesSports GroundThe Hanmer Springs Community Board has planned to upgradethe Hanmer Springs sports ground as it is out of date and willnot meet the needs for future growth and demand. Before doingany work however, the Board want to commission an engineer'sreport on the proposed project to determine the extent ofworks that can be carried out. They plan to commission this inthe fi rst year of the Plan (2012/13), to prepare for the physicalworks to be done in 2015/16. The report will more accuratelyscope the project including whether the project is staged overmore than one year. The estimated cost involved is $30,000 forthe engineers report, and $970,000 for the actual developmentwork.At this stage, pre engineers report, the following facilities are tobe considered in the upgrade:• A full basketball size court that can cater for otherindoor sports such as badminton, volleyball, bowls,netball etc• A ground fl oor kitchen facility able to cater forconferences, weddings, sports club functions, etc for upto 500 people• A bar that also provides for the above• A storage area that will hold equipment, chairs, tables,and other items used for group functions• Toilet facilities to serve people using the sports stadiuminside and out• Area/s suitable for meetings, lounge and relaxationarea, and an administration offi ce• Changing facilities for sports teams including showerblocks• Two Squash courts• A gymnasium areaAt this stage, the Board is not prepared to spend more than $1million which may mean they need to prioritise what is includedin the upgrade. Affordability will be a key consideration.The funding for this proposed plan would be met throughamenity rates from those in the Hanmer Springs Ward and 50%funded via development contributions. What do you think aboutthe plan to upgrade the Sports Ground? Are you prepared topay the resulting rates over 20 years? Would you use this facilityyourself?(We are interested in knowing this whether or not you live inHanmer Springs.)Have we missed anything? Are there other sports facilities in theDistrict that you would want to see upgraded?18
---
Draft Hurunui Community Long Term Plan 2012 - 2022Community Hall ExtensionThe Hanmer Springs Community Board wish to proceedwith the previously planned extension to the Hanmer Springscommunity hall and has allocated $194,400 to do this in 2014/15.They plan to spend $10,000 in 2012/13 to fi nish the work onthe existing stage fl oor and frontage that users of the hall havebeen asking for.The extension to the community hall is planned to include:• Upgrading the existing toilets on either side of the stage• Replacing the existing changing rooms with a large,open, multipurpose space that can be partitioned off tocreate several changing rooms as required. The openarea can also be used for art displays, meetings, etc, aswell as changing rooms for performances.• A storage area for lighting, sound, stage props, etc• Entry access for wheelchairs and large items (for stageproductions, etc)As with the Hanmer Springs sports ground upgrade, the Boardwill do its best to maximise the budget so that the extension tothe hall caters for future demand as well as the current demand,but do not expect to go beyond the allocated budget.Do you support the plan to extend the Hanmer Springs CommunityHall? Would you use it yourself? This would be paid through localamenity rates from those who live in Hanmer Springs. Are youprepared to pay for this? Do you consider that this upgrade willprovide value to local residents and visitors?Funding the Hanmer SpringsCommunity BoardThe Hanmer Springs Community Board members are electedevery three years in line with the local authority triennialelection process. There are 6 Board members, with five beingelected on the Board, and the 6 th member being the appointedlocal Councillor.The selected members are paid an amount determined by Councilin consultation with the Community Board. The Councillor isnot remunerated for being on the Community Board as he ispaid as a Councillor through the Council remuneration pool.The selected members are paid 50% from amenity rates (fromHanmer Springs Ward ratepayers) and 50% funded as part ofthe cost of Governance through the Governance Rate, whichis a District Wide Rate. The members' current remuneration isshown in table 1 below.The Community Board works for the Hanmer Springs Wardresidents and ratepayers. Consequently, we think it appropriatethat all of their remuneration is paid through local amenity ratesfrom Hanmer Springs ratepayers, rather than a portion comingfrom the District Wide Rate. We have four Ward or CommunityCommittees set up in other Wards that operate in a similar wayto a Community Board, with similar delegations, but membersare not paid. We consider it reasonable that the Hanmer Springscommunity pays the cost of running a Community Board. Basedon the current level of remuneration paid to the CommunityBoard Members, the total cost to the Hanmer Springs AmenitiesRates would be $23,178 per annum commencing from 2012/13.Currently the Amenities Rate is $11,589.Do you think our proposal is fair and equitable?Security of Access to Hanmer ForestTracksThe Hanmer Forest is a signifi cant tourism asset to the District.It is estimated that 70% of visitors to the Hanmer SpringsThermal Pools & Spa (approximately 511,000 people) visit theforest each year. Public access to the forest has been providedfor since the early 1900s resulting in the development of anextensive recreational track network. Legal public access to theforest was lost when ownership of the land was transferred toNgai Tahu. The continuance of the current informal public accessdepends on the goodwill of the Iwi and the forest leaseholder.The Hanmer Forest covers 9212 hectares in area and iscomprised of native forest, exotic production and researchforests, and public parks and reserves. The forest adjoins theHanmer Springs urban boundary and extends north to theHanmer Range ridgeline, Mt Isobel, Jollies Pass and Jacks Pass;east to Boundary Stream; south to the Hanmer River; and westto the Rogerson River catchment and Mt Tabletop.Ngai Tahu Forest Estates Ltd are the largest landowner at nearly55%, the Department of Conservation (DOC) manages 45%,and HDC less than 1%. Although the minor landowner, the HDCland provides critical linkages from the Hanmer Springs villagevia Conical Hill and the 22ha Dog Stream/Brooke Dawson/Tarndale reserves adjacent to the forest.There has been some community concern that access to theNgai Tahu land can be closed at anytime by the landowner.However, Ngai Tahu have expressed their commitment toHanmer Springs and agree how important the tracks are. Theyhave indicated that they want to be part of future developmentof the township and future planning for the Hurunui district, andare prepared to work with the Council over the forest's longterm use.We would like to consider all options on how to best secure long-termaccess to the Hanmer Forest heritage recreational covenanted area.Making an offer to purchase the land is one possibility. Do you haveany ideas for other possible options?19
---
www.hurunui.govt.nzTable 1: Community Board Members RemunerationChair of the Community BoardOther Members (each)PositionRemuneration$7,902 pa$3,819 paTable 2: Funding the Key IssuesDrinking Water StandardsIssue Cost Method of Funding Commences 15+$14,000,000 Capex$484,000 OpexDistrict Wide 2015/16Miox & new water treatment $758,000 Targeted to Dwellings affected 2012/13Hanmer Springs Sewer Improvements$220,0002012/13Hanmer Springs Sewer Rate$1,288,5602015/16Targeted Tourism Rate $286,000 Targeted Tourism Rate on-goingInsurance $550,000 Spread across organisation 2012/13Earthquake Strengthening $71,162 District Wide Rates 2012 - 2015RMA/Court Action $105,000 District Wide Rates 2012/13Cheviot Library/Service Centre $100,000 District Wide funding 2012/13Cheviot Medical Centre $1,150,700 Cheviot Medical Centre Rates 2016/17Hanmer Springs Sport Stadium $1,077,379 Amenity Rates and Development2015/16ContributionsHanmer Springs Community Hall $194,400 Hanmer Springs Amenity Rate 2014/15ExtensionRotherham Public Toilet $90,000 District Wide funding for Public2017/18ToiletsHanmer Springs Community Board $23,178 Hanmer Springs Amenity Rate 2012/13Amberley Swimming Pool $0 No budget allocated yetMaking a SubmissionYou can submit to this draft plan in a number of ways. To see how to make a submission, see page 11.20
---
Draft Hurunui Community Long Term Plan 2012 - 2022Financial StrategyExecutive SummaryCore PrinciplesIn reviewing the Long Term Plan (LTP), we revised our coreprinciples and these have been used as the basis in developingour Financial Strategy. These principles are:• Focus on core services• Financial responsibility and affordability• Continuous improvement in service to everyone in ourdistrict• Facilitate appropriate growth in the district• Maximise Thermal Pools and Spa profi tKey Factors in our Financial StrategyWithin the context of our core principals, the following havebeen identifi ed as the key factors that shape the FinancialStrategy over the life of the Long Term Plan:• We want to ensure that our services remain affordable• We want to maintain or improve our current levels ofservice• Our key funding mechanisms are:aRates, both District Wide and Targeted ratesb Surpluses derived from the Hanmer SpringsThermal Pools and Spac The use of the Internal Financing structure whichprovides internal loans for communities requiringfunding and also an avenue for communities to buildup funds to meet funding requirements in the futureIn taking care to ensure that our services remain affordable,we have had modest rate increases over the past three years.However, due to various factors facing us, particularly theincreased cost of insurance and compliance with drinking waterstandards, rates will increase at levels well above what wasanticipated when the 2009-2019 LTP was prepared. (Refer tothe Key Issues section on pages 12 to 20).We are carefully monitoring our levels of service for roads dueto reduced government subsidies (refer to Key Issues section onpage 12). With the exception of roading, we intend to maintainour levels of service in most areas. With regards to improvingdrinking water levels, treatment of sewage and developing somecommunity facilities, we will be in a position to improve thelevels of service that we are currently providing. We also aimfor continuous improvement to our customer service.We continually review funding options available. The use ofthe internal fi nancing structure allows communities to carryout required capital expenditure and manage the cost of thoseworks over a longer period. As a result, this smoothes out therating impact and allows communities to start setting aside fundsto meet the capital projects for the future. The Hanmer SpringsThermal Pools and Spa is a successful Council owned businessand we proactively use the profi ts to offset costs relating tothe reserves in the District which results in lessening the ratingburden.Our Financial Position at the Start of the LTPPeriod• Our fi nancial position at the start of the Long Term Planperiod is set out in the 2011/2012 Annual Plan whichshows:• The total rates were set at $12.8 million; of which $5.3million are in District Wide rates and $7.5 million arein targeted rates.• Total income from non-rate sources was $16.9 million,which includes $9.6 million in gross revenue derivedfrom the Hanmer Springs Thermal Pools and Spa.• Total Operating Expenditure is forecast at $23.5 millionand Capital expenditure for the 2011/2012 year isexpected to be $9.2 million (which includes a level ofCapital that has been carried over from the 2010/2011year).• External Debt was expected to be $13.5 million atthe end of June 2012; however, the forecast has beenreduced to $12.5 million due to deferring some projectsas part of the LTP budget preparation.• Internal Financed Debt is expected to total $16.6million as at 30 June 2012.• Total Assets as at 30 June 2011 was $335 million, ofwhich $253 million related to our infrastructure.Our Financial Position at the End of the LTPPeriodAs at the end of June 2022, the key components of our fi nancialposition are forecast as follows:• Total rates revenue will increase by 53% over the tenyears to reach $19.7 million in the 2021/2022 year.• Total income from non-rate sources will be $23.0million (including $14 million in gross revenue derivedfrom the Hanmer Springs Thermal Pools and Spa).• Total Operating Expenditure will be set at $39.3 million.• Capital expenditure over the ten year will amount to21
---
www.hurunui.govt.nz$76.8 million with the amount expected to be requiredin the 2021/2022 year at $7.8 million.• External Debt will peak at $19.5 million in the 2015/2016and 2016/2017 years, but will reduce to $7 million byJune 2022.• Total Assets as at 30 June 2022 is expected to reach$477 million.Rates, Increases and LimitsThe overall rates increases for the next three years are asfollows:• In 2012/2013, the increase is 6.94% (this is one of thelargest increases required for some years and is primarilydue to factors outlined earlier such as insurance anddrinking water, and funding some signifi cant capitalexpenditure projects over the last few years).• In 2013/2014, the increase is 4.80%• In 2014/2015, the increase is 4.62%The Local Government Act now requires Councils to set limitson rate increases. Because a simple infl ation target as the basisfor setting a rate increase limit does not refl ect the forecastcosts that will be imposed on us, we have opted to set therates increase limits at 2% above the forecast increases. As aresult, the limit for the 2013/2014 year will be 6.80% and for the2014/2015 year, the limit will be 6.42%Because of our rating structure, the overall increase in rateswill not be consistent for each property throughout the district.It will depend on the targeted rates that are charged to thatparticular property and also the capital value of the property.External Debt and Limits1. The Local Government Act also requires us to set a limit onour external debt levels. These debt levels are set out in ourExternal Liability Management policy on page 222 and thelimits are based on ratios centred on the level of income.These ratios are considered standard for the sector and themaximum debt is set at 100% of our Total Income and 10%of our Total Equity. This means that for the 2012/2013 year,where total income is forecast at $30.7 million and TotalEquity forecast at $342.3 million, that the maximum level ofdebt is $30.7 million. For 2012/2013, the anticipated levelof debt is $17.0 million. We plan to be well within prudentlimits for the period of the plan.Implications of the Council's Financial StrategyThe Local Government Act requires us to assess whether wehave the ability to provide and maintain existing levels of servicesand meet additional demands for services within the rates anddebt limits as set out within the fi nancial strategy.We face potential issues in the future regarding the level offunding for roading expected from the New Zealand TransportAgency (NZTA). We estimate that there is a $15 milliondifference over the ten year period of the LTP between whatour Asset Management Plans tell us is needed to maintain ourroading network and what we have built into this draft LTPtaking into account the NZTA funding. (See the Roads andFootpaths Activity section on page 89).We are not contemplating taking on debt greater than $19.5million and the maximum amount of interest expected to becharged on the external debt is budgeted at less than $1.3million. Therefore, with the exception of the Roading Networkdue to circumstances outlined earlier, we believe we have theability to maintain existing target levels of service and to meetadditional demands for service within those debt limits.Core PrinciplesOur revised core principles have provided the base in developingour Financial Strategy for this LTP. These are further explainedin this section.1. Focus on Core ServicesThe focus on core services is consistent with the intent of theLocal Government Act. As a rural district, our focus has alwaysbeen on key infrastructure – roading, water and sewerage. Since2008 after sever fl ood events, we have undertaken signifi cantwork to improve our stormwater and drainage assets. Whilecommunity services and facilities (eg: halls, libraries, publictoilets, reserves etc), may not be seen as essential services, theydo form an important part of the community infrastructure.We have undertaken signifi cant community projects in the lastthree years including the town centre upgrades in both HanmerSprings and Amberley, as well as constructing a new MedicalCentre in Rotherham.2. Financial Responsibility and AffordabilityAffordability of rates was a key aspect in the preparation of the2009-2019 LTP and in that respect; we managed to maintainmodest increases in the rates over the subsequent three yearperiod. In preparing the 2012/22 LTP, affordability is still animportant factor as well as spending responsibly to minimiserate increases. Costs do increase and we are ever mindful of theneed to ensure that these costs are appropriately funded, whileensuring our debt levels remain manageable.3. Continuous Improvement in Service to Everyone inOur DistrictIn the context of affordability, we aim to improve our customerservice to everyone who needs our services. This includesour residents and ratepayers, as well as visitors to our district.Our annual resident satisfaction survey provides us with goodinformation to gage how we are doing and where to improve.Whereas actual levels of service in most cases are intended on22
---
Draft Hurunui Community Long Term Plan 2012 - 2022being maintained, our aim for continuous improvement relatesto getting the best out of our contracts for service, havinghelpful friendly staff, being responsive to complaints and servicerequests by getting back to customers quickly, etc. Regardingactual levels of service, these are discussed under the 'KeyFactors for Our Financial Strategy' part of this section.4. Facilitate Appropriate Growth in the DistrictWe want our district to continue to grow and that not only willmore people want to live in the Hurunui, but that those who arehere already, will want to stay. Growth in our population helpsspread rates across a wider number of ratepayers and helps toretain key services, such as medical services, schools and shops,etc.We are mindful that growth needs to be sympathetic towardthe environment and the district's rural values which is whywe talk about "appropriate growth". Accordingly, we need toensure that our planning rules (as we review our District Plan)do meet the objectives of the District as a whole.5. Maximise Thermal Pools Profi tWe are in the envious position of owning one of New Zealand'skey tourist facilities - the Hanmer Springs Thermal Pools andSpa (HSTP&S). The success of the HSTP&S has had a fl ow oneffect to other businesses that service the tourist industry. TheHSTP&S is sited on a reserve vested to the Hurunui DistrictCouncil in accordance with the Reserves Act. Because of this,we are able to use the profi ts from the HSTP&S to fund otherreserves that we administer. This includes the Hurunui MemorialLibrary (also known as the "District Library"), the public toiletsand cemeteries throughout the district, as well as a wide rangeof recreational reserves. This is a particular point of differencefrom other Local Authorities in New Zealand who will generallyhave to fund these types of function through rates.Key Factors for our Financial StrategyWithin the context of our core principals, we have identifi ed thefollowing key factors that shape our Financial Strategy over thelife of this LTP:• We want to ensure that our services remain affordable• We want to maintain or improve our current levels ofserviceOur key funding mechanisms are:a. Rates, both District Wide and Targeted ratesb. Surpluses derived from the Hanmer Springs ThermalPools and Spac. The use of the Internal Financing structure whichprovides internal loans for communities requiring fundingand also an avenue for communities to build up funds tomeet funding requirements in the futureWe Want to Ensure that Our Services RemainAffordableThe concept of affordability is one of our core principles. Ourmodest overall rate increases in the past three years have been:• 2009/2010 - 4.20%• 2010/2011 - 3.04%• 2011/2012 - 3.60%We considered all of these increases to be affordable anddeemed that, the community agreed going by their submissionswhen we consulted the public on these. However, there arevarious factors facing us that will require us to use to increaserates at levels well above what we anticipated when we preparedthe last LTP (the 2009-2019).As outlined in the Mayor and CEO's introduction (page 5) weare experiencing the on-going fi nancial impact of the CanterburyEarthquakes. In particular, there has been a signifi cant increase inthe cost of insurance for everyone. While the increase is largeand affects the overall rates increases, we consider it necessaryand responsible to insure our keys assets.Meeting drinking water compliance is a costly issue (see the KeyIssues section on page 12). We consider the cost of complyingwith the standards to be unaffordable to communities on theindividual water supplies affected. Because of that, we havedeveloped a two stage approach where we will aim for Ecolicompliance immediately and start to build a fund to meet someof the cost of the full compliance in later years. The rationaleof this approach is to ensure we are in a position to meet ourobligations in an affordable manner.Maintaining the current levels of service for roading into thefuture is an area that may compromise either our ability to doso, or our aim to remain affordable. As outlined in the Key Issuesand the Roads and Footpaths sections, the long term effect ofless NZTA funding compared with the work needing to be done(according to our Asset Management Plans), may eventually havea detrimental effect on our ability to maintain the current levelsof service without increasing rates.We Want to Maintain or Improve Our CurrentLevels of ServiceWith the exception of roading as outlined above, we arecommitted to maintaining our levels of service. In some areas,we intend to increase the levels of service, through:• Complying with the increased Drinking Water Standards• Improving the treatment of sewage in Hanmer Springs• Employing an engineer dedicated to stormwatermanagement throughout the District23
---
www.hurunui.govt.nz• Building new or upgraded facilities, such as:• upgrading the Hanmer Springs Domain• upgrading or building a new Medical Centre inCheviot• Improving our customer service (within existingbudgets)Each of these will be funded through rates or other mechanismssuch as the use of the internal loans or developmentcontributions, to ensure that the rates increases imposed arekept to an affordable level.The Use of Our Key Funding ArmsWe have three key arms to our funding structure to meet theoperating and capital expenditure planned for the period of theLTP.1. RatesUnder the Local Government (Rating) Act 2002, we have theability to set rates to fund the activities we undertake. The waywe set our rates is set out in the Funding Impact Statement andRates System section on pages 175 to 203.This Financial Strategy also sets out requirements for us toplace limits on rate increases and this is discussed further below.2. Surpluses Derived From the Hanmer Springs Thermal Poolsand SpaAs outlined in the Core Principles above, we operate theHSTP&S complex on a reserve that has been vested to theCouncil under the Reserve Act.Over the past decade, the operation of the HSTP&S complexhas been extremely successful and we constantly consider howto maximise the profi ts generated. December 2010 saw thecompletion of a $7.5 million expansion of the complex, whichprovided a wider range of facilities and has proved to be anoutstanding success. We are aware that as a tourist destination,the HSTP&S need to be in top condition and refreshed if weare to maintain our place in the tourism market. Because ofthis, and the ability for the profi ts from the complex to fund it,further capital projects are planned for the ten year period ofthis LTP.The use of the HSTP&S surpluses is a key funding option availableto meet the costs of our reserves throughout the district. Theplan estimates that a total of $24 million will be used from thesurpluses derived from the HSTP&S to offset these costs.3. Internal Financing StructureWe developed an internal fi nancing structure to provide aconsistent approach to funding capital expenditure across theorganisation. Because we do not build up depreciation reserves,this system is important to enable communities to accessfunding to undertake capital expenditure projects rather thanbeing required to fund such project through other sources, suchas rates. Our Internal Financing Policy is fully discussed on page268.The structure is based on individual activities essentially holdingits own bank account. Income (rates, development contributions,etc.) are deposited into the account and expenditure, bothoperating and capital, is withdrawn from the account. Like otherbank accounts, the account can be in funds or overdrawn. Whenthe balance is in funds, we pay an amount of interest and if thebalance is overdrawn, then that activity pay interest to us.The result is that communities are able to undertake capitalexpenditure projects by allowing the capital balance to go intooverdraft. This allows those communities to spread the cost ofrequired capital work over a period of time, rather than havingto fund it entirely in the year that it is incurred, by setting ratesto cover an amount of debt repayment every year.The internal fi nancing structure also allows communities tostart building up funds by budgeting to continue to set rates ata higher level than required to meet all operating costs, even ifthere is no debt. This will mean that the excess operating incomewill be held for that community to meet capital expenditurerequirements in the future. The benefi t to those communities inthis position is that we pay interest to those communities, whichfurther increases their account balances.The key benefi t from the use of the internal fi nancing structureand building up fund is that it avoids large increases in rates as itallowed the Council and the individual communities to smooththe rating effect of large capital projects.The anticipated level of internally fi nanced debt at as 1 July2012 is $16.6 million. The balances over the ten year period arefurther disclosed in the Reserve Funds section of the LTP onpage 228.Financial PositionFinancial Position as at 2012:Our fi nancial position at the start of the LTP period is set out inthe 2011/2012 Annual Plan shown below:• The total rates were set at $12.8 million; of which $5.3million are in District Wide rates and $7.5 million arein targeted rates.• Total income from non-rate sources was $16.9 million,which includes $9.6 million in gross revenue derivedfrom the Hanmer Springs Thermal Pools and Spa.• Total Operating Expenditure is forecast at $23.5 millionand Capital expenditure for the 2011/2012 year is24
---
Draft Hurunui Community Long Term Plan 2012 - 2022expected to be $9.2 million (which includes a level ofCapital that has been carried over from the 2010/2011year).• External Debt was expected to be $13.5 million atthe end of June 2012; however, the forecast has beenreduced to $12.5 million due to deferring some projectsas part of the LTP budget preparation.• Internal Debt is expected to total $16.6 million as at30 June 2012.• Total Assets as at 30 June 2011 was $335 million, ofwhich $253 million related to our infrastructure.The Relevance of the Current Financial Situationto the Financial Strategy:• The current fi nancial situation is relevant to thefi nancial strategy as it provides the starting point forthe development of the budgets for the LTP.• There have been relatively low levels of rate increasesfor the past three years.• We took on debt for the fi rst time in September 2010,principally to provide funding for the $7.5 millionexpansion of the Hanmer Springs Thermal Pools andSpa, but there was already a need to obtain externaldebt to fund the following keys projects over thepreceding years:• Town Centre Development in Hanmer Springs($1.9 million) and Amberley ($560,000)• Water Upgrades in Amberley ($714,000), Cheviot($658,000) and Hanmer Springs ($788,000).• Sewer Upgrades for Amberley ($2 million) andHanmer Springs ($1.8 million)• Capital Expenditure to address the Drainageissues in the Amberley Ward ($890,000).• New Medical Centre in Hanmer Springs($450,000) and Rotherham ($1 million)• As a result, there have been a number of large projectsthat have been funded through the internal fi nancingpolicy and the requirement for those communities tostart to repay the debt through rates to replenish ourcash reserves. Until then, we will continue to hold debtfor the period of the LTP.• The fi nancial performance of the Hanmer SpringsThermal Pools and Spa remains critical to our ability tokeep rates at an affordable level. The surpluses derivedfrom the HSTP&S is actively used to fund various costsrelating to reserves throughout the district. If we didnot have the surpluses to offset these costs, then theywould need to be rated for. In addition, and underthe terms of the Internal Financing Policy, we receiveinterest from the HSTP&S for funds lent to it for therecent expansion works. This interest received is usedto offset the costs of our external debt and to offsetthe District Wide Rates.Forecast Financial Position as at 2022:At the end of the LTP period, our position is forecast as follows:• Total rates revenue of $19.7 million; of which $7.9million are in District Wide rates and $11.8 million arein targeted rates.• Total income from non-rate sources is expected tobe $23.0 million, which includes $14 million in grossrevenue derived from the HSTP&S.• Total Operating Expenditure is forecast at $39.3 millionand Capital expenditure for the 2021/2022 year isexpected to be $7.8 million.• External Debt was expected to reduce to $7 million atthe end of June 2022.• Internal Debt will reduce to $9 million by the end ofJune 2022.• Total Assets as at 30 June 2022 is forecast to be $477million, of which an estimated $394 million relates toinfrastructure.Key Movements Over the Ten Year Period:Rates – Over the ten year period, we are forecasting to receivea total of $167 million in Rates. This is broken down to $69 inDistrict Wide Rates and $98 million in Targeted Rates. To achievethe total increase of 53% since the 2011/2012, we intend totake incremental steps over the ten year period, however witha relatively large increase of 6.94% required for the 2012/2013year.Non-Rate Income – excluding gains in asset valuation and vestedassets, we are forecasting that a total of $199 million will bereceived from other forms of income. Roading Subsidies makeup $41 million over the period, Development Contributions areforecast at $4.3 million and the gross revenues from the HSTP&Sare forecast at $119 million. In addition, we are expected toreceive $3.4 million from Forestry Sales, which is used directlyto reduce debt.Operating Expenditure – Total Operating Expenditure isexpected to be $350 million over the ten years. The totalincrease from the 2011/2012 year is expected to be 37% overthe ten years and average of less than 4% per annum.Capital Expenditure – Over the ten year period, we areforecasting to spend a total of $77 million on CapitalExpenditure. $6.3 million is scheduled to fund projects requireddue to growth, further $13.7 million relates to projects that willassist in improving the levels of services we provide and theremaining $56.7 million will be used to replace existing assetswhen they reach the end of their useful lives.External Debt – This is scheduled to increase from the $13.5as schedule in the 2011/2012 Annual Plan to reach a maximumof $19.5 million in the between July 2015 and June 2017. With25
---
www.hurunui.govt.nzcommunities required to repay certain levels of debt each yearand some communities starting to build up funds to carry outcapital expenditure in the future, we are forecasting that theexternal debt will reduce to $7 million by the end of June 2022.Internal Debt – With communities repaying debt and buildingup funds, the movements in the internal debt levels move from$16.6 million in 2012 down to $9 million in 2022.It is acknowledged that the population of the Hurunui is olderthan the national average. This presents issues around ensuringthere are appropriate facilities and services for older people.We committed to providing buildings for medical centres toensure that health services are adequately provided to thecommunity. The following graph (using the 2006 Census data)shows the age distribution for the Hurunui in comparison withCanterbury and New Zealand:Assets – It is expected that the value of our assets will be $477million as at 30 June 2022. This increase of $151 million has beenbrought about by the level of Capital expenditure to be incurredover the ten years, but also due to the fact that the assets arerequired to be revalued on a regular basis. It is forecast that theincrease in the asset values will account for $131 million of theincrease over the ten years.Population ChangesThe LTP has been prepared on the basis that the populationwill continue to grow. Due to the effect of the CanterburyEarthquakes, the 2011 Census was cancelled. Therefore, wehave used the population projections from the 2006 Censusto forecast population changes for the period of the LTP.The following graph shows the population projection for theHurunui District over the next 20 year period.This information is particularly relevant in determininggrowth projections for the period and was also used for theDevelopment Contributions methodology. We have opted forthe medium growth projections for the ten year period. On thisbasis, we have assumed that there will be approximately 17%growth over the ten year period. The increase predicted forHanmer Springs is approximately 21%. With Hanmer Springsbeing a tourist town, the growth in new sections and buildings isnot always consistent with an increase in population due to thehigher percentage of non-resident ratepayers who may own aCapital and Operating Costs of Providing forChanges in PopulationIn response to the demands of increasing population, we haveidentifi ed key projects proposed to respond to the anticipatedgrowth. These are further discussed in the DevelopmentContributions Policy but include the following:holiday home rather than a permanent residence.The following graph shows the movements in the populationof each township in the District over the period from 1991 to2006:1. Water supplies upgrades undertaken on Amberley,Ashley Rural, Cheviot, Hanmer Springs and HurunuiRural water supplies which built in capacity to ensureboth existing ratepayers and future ratepayers areserviced.2. Sewerage systems have had capacity built into upgradework on ponds in both Amberley and Hanmer Springsto allow for future growth. In addition, provision hasbeen made to allow for new areas to be reticulated inAmberley.3. Upgrades to both the Amberley Domain Pavilion andthe Hanmer Springs Hall have been undertaken toprovide additional facilities for both existing and futureratepayers.26
---
Draft Hurunui Community Long Term Plan 2012 - 20224. Provision has been made to develop new and upgradeexisting reserves to cater for increased population.5. Stormwater provision to be factored in the developmentof new areas in Amberley and Hanmer Springs.Graph 1:Changes in Land UseThe Hurunui District has historically been an agriculture baseddistrict, primarily beef and sheep. Over the past ten years, therehave been marked changes to the use of land throughout theDistrict.The growth in tourism, especially Hanmer Springs and centredaround the development of the HSTP&S, has resulted inincreased number of accommodation providers and otherbusinesses associated with tourism, as well as more holidayhomes.For a period, there was signifi cant growth in viticulture, inparticular in the Waipara area, which provides ideal conditionsfrom growing premium quality grapes. The Amuri Basin hasseen a signifi cant increase in the number of dairy farms and thattrend is likely to increase if access to further irrigation watercan be secured.The Glenmark area has had two major wind farm applications –one from Mainpower and the other from Meridian Energy.The following pie chart shows the current land use of propertiesin the Hurunui District as at September 2010 (the date of thelast District revaluation): See Graph 1:Capital and Operating Costs of Providing forChanges in Land UseBecause of the uncertainty of the changes in land use, no specifi callowance has been made for changes to capital or operationalcosts to allow for this.Key Levels of ServiceCapital Expenditure Programme:Capital expenditure requirements for our infrastructural assetsand roads are dictated by the levels outlined in the AssetManagement Plans (AMPs) for each activity. The AMPs areupdated on a regular basis to ensure that various changes to theplan in the interim period are accounted for.As discussed in the Key Issues section (page 12), we facepotential issues in the future regarding the level of funding thatis expected to be provided for roading from the NZTA. OurAMP for Roading sets out what level of expenditure we haveforecast to meet the current levels of service. Since the AMPwas adopted, there was a change to the level of expenditurethat the NZTA is prepared to fund and this means that theexpenditure allowed for in the LTP budgets are signifi cantlyshort of what was provided for in the AMP. The AMP wasdeveloped prior to the change in central government policy andbefore we were able to achieve greater effi ciencies through ourcurrent road maintenance contracts. The difference over theten years between what was scheduled in the AMP and whathas been provided in the LTP amounts to a total of $15 million.Although we have achieved greater effi ciencies in the currentcontracts for the roading network in the short term, our abilityto continue to meet the current level of service into the futuremay not be achieved without a greater input directly fromratepayers.In general, Capital Expenditure is broken down to three keycategories:1. Capital expenditure relating to meeting the existinglevels of service. This will be principally replacement ofthe existing assets2. Capital expenditure aimed at improving the currentlevels of service3. Capital expenditure on assets required due to growth.Some items of Capital Expenditure may actually fall into morethan one category. For example, the replacement of a length ofwater pipe is required to provide water to existing consumers,but the diameter of that length of pipe may be increased fromits existing diameter to allow for greater capacity in the future.An assessment is carried out as to apportion the cost of eachproject to the category to which it relates and if that cannotbe readily assessed, the category will be determine by the keyreason for the work to be undertaken.Over the period of the LTP, we have budgeted $77 million tospend on Capital expenditure. Of this balance, $56.7 millionrelated to maintaining the existing levels of service by providingfor replacement of current assets. A further $13.7 millionis aimed at making improvements to the level of service andthe balance of $6.3 million relates to projects scheduled due27
---
www.hurunui.govt.nzto growth. The following graph shows the percentages of theCapital Programme that relate to each category.and the Capital Levy anticipated to be charged by theCanterbury Museum.Drinking Water StandardsThe key area of capital expenditure is relating to the infrastructuralassets. Of the total Capital Expenditure programme for theten years of $77 million; $44.2 million relates to Roads andFootpaths; $10.1 million relates to Water Supplies and $3.8million relates to Sewerage Schemes. The following graph showsthe split of the Capital Expenditure programme to each of theten Groups of Activities for the ten year period.The funding of the drinking water improvements will be donein two stages. Firstly, those supplies that are to be treated, thedirect operating costs of the treatment and the servicing of thedebt arising out of the capital expenditure needed to treat therelevant water supplies, will be collectively charged by ratingeach dwelling that benefi ts from the work. Secondly, from2015/2016, a provision is to be made from the general rate tobuild a fund to offset some of the signifi cant capital cost to beincurred in achieving full compliance with the drinking waterstandards.District Wide StormwaterAfter the fl ooding events in 2008, much more emphasis has beenplaced on development of stormwater plans for the District asa whole. A stormwater engineer is to be appointed in 2013 tolook after this area. As the issue is district wide, the funding isto come from the District Wide General Rate, with a portionto be funded by way of a fi xed charge and a portion by way ofcapital value.Canterbury MuseumRatesWe base rates on the Capital Value of each property. We set ourrates by way of District Wide Rates and Targeted Rates.• District Wide rates are charged on all properties inthe district, regardless of location. They are are brokendown further to: Governance; Roading; Planning; WasteManagement; Canterbury Museum; and other GeneralRates.• Targeted rates are charged for specifi c activities basedon services provided or land use. They are broken downfurther to: Water; Sewer; Stromwater/Drainage/LandProtection; Ward Amenities; Refuse Collection WardMedical Centre; Rural fi re; Tourism and Other SundryTargeted rates.• The rates and how they are set are further defi nedin the Funding Impact Statement but the key changesproposed for the LTP relate to the funding of DrinkingWater Standards, District Wide Stormwater workAs one of four contributing authorities to the CanterburyMuseum, the Hurunui District has been contributing a levy tofund the operations of the Museum on an annual basis. Hurunuihas set a fi xed charge on every property in the District tocover this rate. The Museum is proposing to carry out a $63million building project, which will need to be funded by wayof a Capital Levy. The budget set aside for the Capital levy is$50,000 in 2013/2014, $100,000 in 2014/2015 and $50,000 in2015/2016. It is intended that the Capital levy will be chargedon the same basis as the operating levy by sharing it as a fi xedcharge per property.Rate IncreasesIn general terms, we try to keep the overall rate increase eachyear to the level of infl ation. However, the actual increasesin rates from an organisational point of view do change fromyear to year depending on the funding options chosen and alsothe fact that there are operational costs that are not carriedout every year, but need to be funded in the year they areincurred. As a result, as the rates increase is an amalgam of manyindividual rate increases, we intend to set the rates at the levelthat is required, rather than to ensure the overall rate increaseis matches infl ation.The Hurunui District has a small population (one of the smallestin New Zealand), and because of this, various factors can havea marked effect on the rates increases in any one year as there28
---
Draft Hurunui Community Long Term Plan 2012 - 2022are fewer people to spread the cost across. As a result, there isan allowance for any rate increases being higher than the levelof infl ation due to extraordinary items. These items include, butnot limited to, the following:• Capital expenditure requirements, which increases thelevel of debt for individual communities.• Increase expenditure due to compliance with newlegislation.• Increased expenditure resulting from extraordinaryevents, such as the Canterbury Earthquakes.When determining the overall rate increases, an allowance ismade for a 1% increase in the capital value of the district eachyear. This may be reviewed if there are signifi cant areas of growthexperienced in excess to this. The increase is only applied tothe district wide rates as it is diffi cult to accurately assess thegrowth in individual areas that targeted rates are charged to.Because of the structure of our rating system, the overall increasein rates will not be consistent for each property throughout thedistrict. It will depend on the targeted rates that are chargedto that particular property and also the capital value of theproperty. We provide the relative rate increase comparisons for22 various sample properties from throughout the district. Wehave used the same 22 properties for years as this gives us agood indication of the impact of increases across the differentcommunities and house values. The sample properties analysisis provided on pages 281to 286 of the Appendices.Overall Rate IncreasesBased on the budgets provided for the LTP, the overall ratesincreases for each year of the LTP are as follows:YearOverall Rates Increase2012/2013 (Year 1) 6.94%2013/2014 (Year 2) 4.80%2014/2015 (Year 3) 4.62%2015/2016 (Year 4) 3.12%2016/2017 (Year 5) 3.51%2017/2018 (Year 6) 3.74%2018/2019 (Year 7) 2.29%2019/2020 (Year 8) 3.61%2020/2021 (Year 9) 3.87%2021/2022 (Year 10) 3.21%The rates increases are broken down to the following:YearDistrict WideRatesTargeted Rate2012/2013 (Year 1) 7.15% 6.80%2013/2014 (Year 2) 5.40% 4.37%2014/2015 (Year 3) 5.19% 4.21%2015/2016 (Year 4) 2.54% 3.54%2016/2017 (Year 5) 2.97% 3.90%2017/2018 (Year 6) 2.48% 4.70%2018/2019 (Year 7) -0.48% 4.30%2019/2020 (Year 8) 2.40% 4.46%2020/2021 (Year 9) 2.81% 4.60%2021/2022 (Year 10) 0.83% 4.85%Limits on Rate IncrerasesAll Councils are required to set a limit on rates increases overthe ten year period of the LTP. There are no set rules aroundhow we are to determine what limit it imposes.OptionsThere were a number of options available to us, for instance:• Setting rate increases to an infl ation rate.• Setting a percentage increase.• Setting an increase based on known factors andassumptions.We felt that setting rate increase limits based on an arbitraryrate of infl ation was not consistent to the assessment of theproposed costs outlined in the LTP. This is because it did nottake into account items such as new capital expenditure, whichcould result in a necessary increase in rates to fund the work,which could exceed the overall increase in rates.Setting a percentage increase per annum again did not refl ectthe assessment of the proposed costs in the long term.Furthermore, as the rates for individual communities canincreases at varying amounts due to various factors, it wasdiffi cult to set a percentage increase that refl ected these factorsadequately.As a result, we decided that the limit to be placed on rateincreases is to be set as a percentage of the overall ratesincreases predicted in the LTP.29
---
www.hurunui.govt.nzLimitsThe percentage on top of the predicted rates increases will be2%. In determining this percentage, we that felt 2% providessuffi cient fl exibility, particularly if there is signifi cant costincreases (on top of what has been allowed for using the BERLcost price increase projections) imposed on us as a result of theon-going effects of the Canterbury Earthquakes.As a result, the limits will be as follows:YearOverallIncreaseOverallIncrease Limit2012/2013 (Year 1) 6.94% 8.94%2013/2014 (Year 2) 4.80% 6.80%2014/2015 (Year 3) 4.62% 6.62%2015/2016 (Year 4) 3.12% 5.12%2016/2017 (Year 5) 3.51% 5.51%2017/2018 (Year 6) 3.74% 5.74%2018/2019 (Year 7) 2.29% 4.29%2019/2020 (Year 8) 3.61% 5.61%2020/2021 (Year 9) 3.87% 5.87%2021/2022 (Year 10) 3.21% 5.21%Again, because of the nature of the targeted rate structure,the increase (or decrease) in rates for any year for individualproperties can vary markedly.Non-Rates IncomeWe rely heavily on other forms of income to fi nance ouroperations. For the period of the LTP, the budget has scheduledthat 54% of our total income is generated from sources otherthan rates.New Zealand Transport Authority SubsidiesThe fi rst key component of non-rate income is NZTA subsidies,which are used to fund both operating and capital expenditurerelating to the roading network. We have assumed that thecurrent rate of funding provided by NZTA will be maintainedfor the period of the LTP. Further discussion of this is providedin the Forecasting Assumptions on page xx and in the Key Issuessection.Hanmer Springs Thermal Pools and Spa RevenueThe other key component is the Revenue derived from theHSTP&S, which accounts for approximately one third of the totalincome received. The HSTP&S is run as a separate business unitof the Council and after allowing for Operating Expenses andInterest, the surpluses are actively used to fund reserve coststhroughout the District. The reserve costs include: the costof the library, cemeteries, public toilets and a range of districtreserve costs. Over the last fi ve years, the surpluses from thepools have contributed a total of $7.65 million to these reservecosts, which would otherwise need to be rated for. Over the lifethe long term plan it is forecast that a total of $24 million willbe used from the surpluses derived from the HSTP&S to offsetthese reserve costs.Development ContributionsDevelopment Contributions also form a key component forfunding capital expenditure which has been required due toincreased growth. It is anticipated that over the life of the LTP, wewill receive a total of $4.3 million in Development Contributions,however the amount actually received will be dependent on thelevel of growth experienced. The Development ContributionPolicy is on page 206.Fees and ChargesFees and Charges account for the remaining non-rate income.We review our fees and charges each year and try to ensurethat they help offset actual costs and that the activities are notoverly reliant on rate funding instead. We also aim to make thefees and charges affordable and fair on those who use them.Targets for InvestmentsFor 2012/2013, the income from non-rate sources is expectedto total $16.6 million and this is scheduled to increase to $23million by 2021/2022.Cash InvestmentsAs a result of a large Capital programme over the 2009/2010 and2010/2011 years, principally due to the expansion works at theHSTP&S, we had to take on term debt for the fi rst time. Overthe period of the LTP, we expect to remain as a net borrower. Asa result, we no longer hold any long term cash assets in the form30
---
Draft Hurunui Community Long Term Plan 2012 - 2022of bonds or stock. Any spare cash funds are generally held oncall or in a short term investment of less than three months toearn a small amount of interest as the interest rates are betterthan holding the funds in a current account.Equity InvestmentsCurrently, we hold two equity investments – one in CivicAssurance and the other in Transwaste Canterbury. Neitherassets are readily tradable on the open market, but we haveobjectives for retaining ownerships of these investments.Our holding in Civic Assurance was to maintain Civic as anoption in the insurance market. Civic was set up to provideLocal Authorities with an option for insurance that generallymet the unique insurance requirements faced by Councils.Civic Assurance was heavily affected by the claims made as aresult of the Canterbury Earthquakes and there was a needto recapitalise to ensure that it remains part of the insurancemarket for local authorities in the future. It is not expected toreturn a dividend for over the period of the LTP.We own 1.2% of Transwaste Canterbury, which owns andoperates the Kate Valley Landfi ll. The value of our investment asat 30 June 2011 was $269,000.The Company is 50% owned bythe Councils in Canterbury and our objective for holding ourinvestment is to continue to receive dividends from the Company.The net return to us is approximately 27% on Hurunui's share ofthe net asset backing of the Company and we have budgeted toreceive $72,000 per annum from this investment.Forestry InvestmentsWe hold approximately 240 hectares of trees. Some of the keyplantations are due for milling during the life of the LTP. Forestryassets are held as long term investments on the basis of netpositive discounted cash fl ows, factoring in projected marketprices and annual maintenance and cutting costs. All incomefrom forestry is included in the statement of comprehensiveincome, and this is used to fund replanting of the land. Wherethere is an excess of funds, we may distribute this in a mannerwe see fi t.External DebtWe have two key areas of borrowing - Internal and External.The Internal debt is pursuant to our Internal Financing Policy, asdiscussed above.As our cash resources have been drawn down to fund keycapital projects in the past few years, we needed to take onexternal debt to manage cash fl ow. We are now expecting to bea net borrower for the period of the LTP.Anticipated Levels of External DebtAs at 31 December 2011, the total amount of external debt weheld was $12 million. At the end of the ten year period, the debtis expected to be $7.0 million, with the debt level is expectedto peak at $19.5 million over the period between July 2014 andJune 2017. The anticipated debt levels over the period are:YearLimits on Debt LevelsOur External Liability Risk Management Policy (page 222) setsout the limits on the level of debt that we can take on. The ratioshave been developed in accordance to the industry standardand have been set against the levels that are appropriate forus to take debt from the Local Government Funding Agency(LGFA).The net debt limits provided for in the policy are that total debtshall be no more than 100% of total income and no more than10% of total equity. Based on the levels of income allowed forin the LTP, the limit of the debt that could be taken on is $42.7million.YearTotalAnticipatedDebt100% of TotalIncomeTotal AnticipatedInterest Expense2012/2013 (Year 1) $17.0 million $922,0002013/2014 (Year 2) $18.0 million $1,094,0002014/2015 (Year 3) $19.0 million $1,156,0002015/2016 (Year 4) $19.5 million $1,203,0002016/2017 (Year 5) $19.5 million $1,219,0002017/2018 (Year 6) $18.5 million $1,188,0002018/2019 (Year 7) $16.0 million $1,078,0002019/2020 (Year 8) $13.5 million $922,0002020/2021 (Year 9) $10.0 million $734,0002021/2022 (Year 10) $7.0 million $531,00010% of TotalEquity2012/2013 (Year 1) $30.7 million $34.2 million2013/2014 (Year 2) $31.9 million $34.2 million2014/2015 (Year 3) $33.1 million $34.8 million2015/2016 (Year 4) $34.5 million $37.4 million2016/2017 (Year 5) $35.6 million $37.4 million2017/2018 (Year 6) $36.9 million $38.2 million2018/2019 (Year 7) $38.3 million $41.3 million2019/2020 (Year 8) $39.6 million $41.6 million2020/2021 (Year 9) $41.0 million $42.6 million2021/2022 (Year 10) $42.7 million $46.5 millionThe policy also provides for the total amount of interestexpenses shall be no more than 5% of total revenue and nomore than 10% of annual rates income. Based on the maximumof $42.7 million in income, the total interest cost can be nomore than $2.14 million.31
---
www.hurunui.govt.nzYear5% of totalincome10% of totalannual ratesincome2012/2013 (Year 1) $1.54 million $1.37 million2013/2014 (Year 2) $1.60 million $1.44 million2014/2015 (Year 3) $1.66 million $1.52 million2015/2016 (Year 4) $1.73 million $1.57 millionon debt greater than $19.0 million and the maximum amountof interest expected to be charged on the external debt isbudgeted at less than $1.2 million. Therefore, with the exceptionof the Roading Network due to circumstances outlined earlier,our assessment is that we do have the ability to maintain theexisting levels of service and to meet additional demands forservice within those debt limits.2016/2017 (Year 5) $1.78 million $1.63 million2017/2018 (Year 6) $1.85 million $1.70 million2018/2019 (Year 7) $1.92 million $1.75 million2019/2020 (Year 8) $1.98 million $1.82 million2020/2021 (Year 9) $2.05 million $1.90 million2021/2022 (Year 10) $2.14 million $1.96 millionSecurity for BorrowingPrior to taking on debt for the fi rst time in September 2010, weprepared a Debenture Trust Deed and selected Perpetual Trustas our Trustee. The Debenture Trust Deed is a standard securitydocument for Councils. The key security available is that a chargecan be made against the rates of the Council to repay debt sothe market perspective on this is that a Debenture Trust Deedprovides a low level of risk for an investor or funding provider,which in turn should allow for lower interest rates.Holding a Debenture Trust Deed provides us with security for arange of different funding options:• Registered Bank Debt• Use of the Local Government Funding Agency• Issuing Council Debt directly to the marketFurther information is available in the External LiabilityManagement Policy on page 222.Implications of Hurunui's Financial StrategyAssessment of our ability to provide and maintainexisting levels of service and to meet additionaldemands for service within those rate increase limits:We face potential issues in the future in regards to the levelof funding that is expected to be provided for roading fromNZTA as discussed previously in this Financial Strategy. It hasbeen estimated that the difference over the ten years betweenwhat was scheduled in the AMP and what has been provided inthe LTP amounts to a total of $15 million.Assessment of our ability to provide and maintainexisting levels of service and to meet additionaldemands for service within those debt limits:As listed in the table above, we are not contemplating taking32
---
Statement Concerning Balancing of the BudgetDraft Hurunui Community Long Term Plan 2012 - 2022IntroductionReceipt of Capital IncomeIn terms of the Local Government Act 2002, the Council isbalancing the budget over the period of the Long Term Plan as inmost years; the budgeted operating income exceeds budgetedoperating expenditure. There are some areas of expenditurethat the Council has resolved not to fund, which are discussedfurther. The Council also has developed an internal fi nancingpolicy to cope with funding for future capital expenditurerequirements.Local Government Act 2002Under Section 100 of the Local Government Act 2002, theCouncil is required to balance the budget. The provisions of thesections specifi cally state that "A local authority must ensurethat each year's projected operating revenues are set at a levelsuffi cient to meet that year's projected operating expenses".The Act goes further to state that a local authority may setprojected operating revenues at a different level from thatrequired if the Council resolves that it is fi nancially prudent todo so, having regard to –a) The estimated expenses of achieving and maintainingthe predicted levels of service provision set out in thelong-term council community plan, including the estimatedexpenses associated with maintaining the service capacityand integrity of assets throughout their useful life; andb) The projected revenue available to fund the estimatedexpenses associated with maintaining the service capacityand integrity of assets throughout their useful life; andc) The equitable allocation of responsibility for fundingthe provision and maintenance of assets and facilitiesthroughout their useful life; andd) The funding and fi nancial polices set out in this longterm planUse of ReservesThe Council is forecasting to record overall surpluses in each yearof the Long Term Plan, however, in some activities, the Councilhas resolved not to set revenue to fund all of the costs relatingto that activity. In some cases, the Council has resolved to usereserves to fund some specifi c expenditure. This is particularlythe case where the Council actively uses the Reserve built upby surpluses recorded from the Hanmer Springs Thermal Poolsand Spa to fund the operating expenditure of other reservesthroughout the entire district.For some of the Council activities, the Council has budgeted toreceive various amounts of income that are of a capital nature.This capital income is in the form of development and reservecontributions and vested assets which are not used to reducethe amount of rates to be charged of a particular activity. Theseamounts are instead applied to the capital requirements of theactivity that it relates to.Funding of DepreciationThe introduction of the Local Government Amendment (No 3)Act 1996 imposed the requirement for local authorities to funddepreciation.In 1999, the Council widely consulted with its community overthis requirement and it concluded that the Council will not cashfund depreciation on Water and Sewer assets, Roading or WardAmenity assets. In addition, it has been resolved not to funddepreciation on the library building.Rates for these activities are set at a level higher than requiredto meet the operating costs in terms of the Internal FinancingSystem. The additional rates will be used to either repay debt (ifthe activity holds some internal debt) or used to build an amountto fund future capital expenditure. The Internal Financing systemis fully discussed in the Internal Financing Policy on page 268.Implications to Not Fully FundDepreciationAs there are no specifi c depreciation reserves created for Water,Sewer, Roading and Ward Amenities, there are no funds availableimmediately to apply to Capital Expenditure requirements ofeach of these activities. As a result, the community of benefi t isrequired to meet the cost of the Capital Expenditure throughthe use of internal loans or fund the capital cost through ratesand other income.If internal loans are used, there is the requirement on thatcommunity of benefi t to fund not only the appropriate interestcharge but also a portion of the principal of the outstanding loanon an annual basis. Both interest and principal repayments hasthe effect of increasing the operational cost that the communitymust bear and as a result, increases in the rate requirement areinevitable. The Internal Financing system goes further to ensurethat communities continue to fund additional payments, even ifthe debt has been repaid, to build up a reserve fund to assist infunding capital expenditure requirements in the future.33
---
www.hurunui.govt.nzCouncil is comfortable with increasing rates to meet the cost ofinterest and principal because existing ratepayers have previouslybeen relieved of any rate increases that may have been requiredif the Council resolved to fully fund the depreciation on thoseassets.34
---
Community OutcomesIntroductionDraft Hurunui Community Long Term Plan 2012 - 2022'Community outcomes' are the community's overall aspirationsfor the future of the Hurunui district. They relate to all aspectsof our rural life – our environment, economy, social, and culturalwellbeing. These four wellbeings are commonly referred toby government agencies as summarising the various aspectsneeded for healthy community life in New Zealand.The community outcomes in this long term plan relate directlyto the activities that we do as a council as they are the onlyones we have direct control over. There can be many morecommunity outcomes which can only be achieved with helpfrom other organisations such as business, government, thepolice and many others.Hawarden /Waikari Volunteer Rural Fire Force (VRFF)The term 'community outcomes' is used to describe whatpeople want to happen now and in the future for the benefi tof not only today's people, but future generations. Communityoutcomes are about improving the wellness of our communitiesover time in a sustainable manner.Identifying the Community OutcomesIn past years, we have sought public views to identify what ourcommunities consider important for the future of the HurunuiDistrict. In addition to this, we have often sought communityviews on a variety of issues and we feel confi dent we have agood understanding of what people in the Hurunui consider tobe important. We have since scaled down previously identifi edcommunity outcomes to fi ve broad outcomes that we as aCouncil are able to work toward achieving. These communityoutcomes are described in the table below and each is aligned toone of the four key wellbeings as well as the service or activitythat we provide to contribute toward achievement of them.Hawarden/Waikari & Scargill VRFFScargill VRFF35
---
www.hurunui.govt.nzTable 1:Community Outcomes and the Link to What Council Does (Activities)Wellbeing Outcome Defi nition Council Activities (How we contribute)SocialCulturalEconomyA desirable andsafe place to liveA place whereour traditionalrural values andheritage makeHurunui uniqueA place with athriving localeconomyA place withessentialinfrastructureA place thatdemonstratesenvironmentalresponsibility• We have attractive well designedtownships• Communities have access toadequate health and emergencyservices and systems andresources are available to meetcivil defence emergencies• Risks to public health areidentifi ed and appropriatelymanaged• People have a range ofopportunities to participate inleisure and culture activities• Our historic and culturalheritage is protected for futuregenerations• We are seen as a good place todo business, to live and to visit• We have a strong emphasison service delivery acrossall infrastructure includingroading, water (for drinkingand development), waste water,stormwater and solid waste• We protect our environmentwhile preserving people'sproperty rights• We minimise solid waste to thefullest extent, and manage the restin a sustainable wayMeasuring and Reporting our ProgressEach of the above outcomes is aligned to our services whichwill contribute toward the achievement of them. We areresponsible for monitoring our performance each year, and theresults are provided in our Annual Report. How we are doingwith each of our services will give a good indication of how weare going overall to achieve the community outcomes. See theCouncil Activity pages for performance information.Groups• Community Services andFacilities• Environment and Safety• Governance• Community Services andFacilities• Hanmer Springs ThermalPools & Spa• District Promotion• Hanmer Springs ThermalPools & Spa• Water Supply• Sewerage• Stormwater & Drainage• Roads & Footpaths• Environment & SafetyIndividual servicesProperty - Pensioner Housing,Residential Housing, Public Toilets,Council Offi ces & Depots, Car Parks,Medical Centres, Halls, SwimmingPools, Township MaintenanceEmergency Services - Civil Defence,Rural FireCompliance and RegulatoryFunctions - Building, Public Health,Liquor Licensing, Animal ControlGovernanceCommunity Services - Library, Youth,Community Development, Grantsand Service AwardsReserves - Parks and Reserves,Queen Mary Historic HospitalReserve, CemeteriesThermal Pools – Spa, i-site, pools,caféPromotionTourismEconomic DevelopmentWater SchemesSewerage SchemesStormwater & DrainageRoading - Roads, Bridges, Footpaths,Street Lighting, Road SafetyResource Management & Planning- RMA Consents, Administration& Policy Development, SubdivisionInspectionWaste Minimisation - Refuse,Recycling, Transfer Stations, Litter BinCollection36
---
Draft Hurunui Community Long Term Plan 2012 - 2022Aligning Our Long Term Plan With the Government'sDrivers for Economic GrowthThe Government's Economic GrowthAgendaThe government's principal economic goal is to deliver greaterprosperity, security and opportunities to all New Zealanders.It wants to improve New Zealand's fundamental growthmomentum. An important part of this is through the economyrebalancing itself toward exporting and investment. Thegovernment has a six-point Economic Growth Agenda aimed atcreating an environment that allows businesses to grow, exportand create high-value jobs. The six drivers for economic growthare:• Enable better science, innovation and trade.• Remove red tape and unnecessary regulation.• Deliver better, smarter, public services.• nvest in productive infrastructure.• Lift education and skills.• Create a growth-enhancing tax system.Hurunui's Annual Economic GrowthBusiness and Economic Research Limited (BERL) RegionalPerformance Indicators Report for 2010, published in 2011, whichmeasures each district's economic performance, ranked Hurunui10th out of 72 territorial local authorities in New Zealand. Ninekey performance indicators were compared for the year endingMarch 2010. We slipped slightly from our previous rankings of6th and 5th.Infometrics Limited Annual Economic Profi le for 2010, published in2011, said Gross Domestic Product (GDP) in Hurunui measured$303m in 2010, down 0.3% from a year earlier. New Zealand'sGDP declined by 0.5% over the same period. Hurunui's GDPgrowth of -0.3% ranked it number 32 among the 72 territorialauthorities for GDP growth.Agriculture, fi shing and forestry was the largest industry inHurunui in 2010 accounting for 45.3% of total GDP, followed bybusiness and property services (12.4%).Council's Contribution Towards EconomicGrowthFrom a local perspective, Hurunui District Council plays asignifi cant role in growing the local economy. Its involvement inareas such as leadership, planning and infrastructure, regulation,services, business support, and social and community, activelycreate environments that attract, retain, and grow economicactivity. Our contribution occurs within its total annual spending(planned to be $30m in the 2012/13 year). This spending canbe viewed as an investment into the Hurunui environment thatenables individuals, households and organisations to produceand contribute to economic growth.Leadership: We contribute through our role in local strategicplanning. We have developed a new vision ('Community partnershipin growth and wellbeing') and have developed a LongTerm Plan that provides for economic growth and allows businessinterests to fl ourish. Key drivers for the Plan include coreprinciples of:• Focusing on core services.• Financial responsibility and affordability.• Continuous improvement in service to everyone in ourdistrict.• Facilitating appropriate growth in the district.and• Maximising our Hanmer Springs Thermal Pools and Spaprofi ts.• Hurunui District Council being a High PerformanceOrganisation.Infrastructure: We contribute through our role as an infrastructureprovider. Our investment in infrastructure plays a directrole in creating an attractive environment for business toinvest.Regulation: We contribute through our regulatory role. Wecan make it easier for new investment, for businesses to growand create jobs.Services: We contribute through our role in providing localamenities, such as libraries and reserves. We provide servicesthat make our communities attractive to skilled migrants.Business Support: We contribute through our support tobusiness and industry development. Our economic developmentarm, Enterprise North Canterbury (ENC) carries out a range ofactivities that help retain businesses and support growth andprosperity in North Canterbury. ENC's budget is over $1.1mp.a. It receives 44% of its funding from the Hurunui and WaimakaririDistrict Councils (HDC funding is $50,000 p.a.); 30%from central government contracts; 18% from the private sectorand other grants; and 8% from sponsorship.We also continue by promoting tourism in order to attractvisitors into the district to enable local business growth (referto the District Promotion activity for proposed tourism changesoutlined for consultation).Community: We contribute through our contribution to socialand community affairs, strengthening local social capital.Overall, we have a fundamental role in 'shaping' places in the37
---
www.hurunui.govt.nzHurunui, like our towns, ensuring infrastructure and amenitiesare provided to make our district attractive to investment andskilled immigrants.Some of the important things we plan to do in this Long TermPlan that directly relate to the government's six-point EconomicGrowth Agenda are highlighted below:Enable Better Science, Innovation andTradeScience and innovation are enormously important drivers ofNew Zealand's economic growth.ENC will be proactive in searching for and supporting newinitiatives that create substantial wealth in North Canterbury.Particular emphasis will be given to the primary sector and itsrelated servicing industries. ENC's Rural Technology TransferProject is particularly relevant. This project is about turning newideas developed at Lincoln Research campuses into practicalapplications resulting in commercial returns on the farm.Improved techniques for both dryland farming and irrigated landuse options are being pursued.ENC will continue to facilitate the establishment of localindustry groupings where these are sought by the sector, toachieve effi ciencies in marketing, product development andsecuring of resources. Management and marketing of the NorthCanterbury Food and Wine Trail is one such example.ENC assesses economic development opportunities in localtowns. A Cheviot project is currently underway.In 2011 we approved a Hurunui Tourism Strategy and currentlycontinue to fund tourism promotion in order to attract visitorsinto the district to support local business growth. Likewise, ongoinginvestment in and the marketing of our Hanmer SpringsThermal Pools and Spa complex is provided for in this Plan;the Thermal Pools and Spa complex are an internationallyrecognised tourism icon that return a growing income streamto fund works and services on Council reserves and off-set thesize of the district wide rate requirement.Overseas trade links can be a productivity springboard. For thispurpose, councils often form overseas sister city relationships.To date, we have not taken on such a role. Forming a relationshipwith Hung Hu City in China at a cost of $7,500 p.a. has beenrequested of Council. More information is being sought. Noprovision for such a relationship is included in this Plan at thisstage.Remove Red Tape and UnnecessaryRegulationWe have implemented the government's recent simplifi edResource Management Act changes to reduce costs and makeprocesses clearer; and it will implement any further RMA andbuilding regulation reforms when enacted, to make it easier forbusinesses to grow, invest and create jobs.In terms of our own regulations, over the past few years wehave carried out a signifi cant number of District Plan changes toensure the District Plan is up to date and that our rules refl ectcurrent thinking. Among these approved changes, relativelylarge amounts of land have been opened up for developmentin Amberley, Hanmer Springs and Gore Bay, new areas of landhave been zoned for business and industrial purposes, andappropriate rules for vine yards wanting to install frost fans havebeen agreed.We are required to give effect to recent new National PolicyStatements (NPS) such as the NPS for Renewable ElectricityGeneration 2011. The government has a renewable electricitytarget of 90% of electricity from renewable sources by 2025. Thisrequires a signifi cant increase in the proportion of electricity tobe generated from renewable resources. The government wasconcerned renewable electricity generation was being undulyimpeded by variable provisions in local authority policies andplans and changing attitudes to the environmental effects ofdevelopment associated with renewable electricity generationactivities. Accordingly there are now new guidelines to ensurethe national signifi cance of renewable electricity generation andassociated activities are more explicitly recognised in policydevelopment and resource management consenting processes.This Long Term Plan contains funding for a comprehensivereview of our District Plan. We expect the District Plan to beready for notifi cation by the end of 2013.The Environment Court released its decision at the end of2011 on the Mainpower proposal to establish and operate a$200m wind farm at Mt Cass Waipara. The initial application wasdeclined by Hurunui District Council appointed commissioners.During extensive mediation the proposal was modifi ed and thismodified proposal was directly referred to the Court and itis this proposal that has been granted consent, subject to anextensive suite of conditions. Mainpower have eight years togive effect to the consent. The Council will have an importantregulatory role to fulfi l in respect to consent requirements.In 2011 we agreed to directly refer Meridian Energy's proposed$200m to $300m Greta Valley wind farm development consentapplication to the Environment Court. Meridian Energy hasagreed to pay our direct referral costs. We expect the Courtwill be hearing the application by mid-2012.In September 2011, developers announced their plans for a$120m shopping centre and residential development on the38
---
Draft Hurunui Community Long Term Plan 2012 - 2022eastern side of Amberley. The $30m shopping centre on StateHighway One was granted a non-notified resource consentby us in February 2010, but developers are still fi nalising plansand have yet to provide a fi rm start date for what is likely to bea staged development.The $90m residential development is expected to open up 500to 600 lots in total. We granted a subdivision application for thefi rst stage of the development late last year.In October 2011, another 60 lot subdivision application wasgranted on the Western side of Amberley.ENC will continue to play a role assisting new businessesestablish in the district. Part of this role is acting as an interfacefor businesses with us to ensure regulatory processes are workeffectively.In preparation of this Long Term Plan we commissionedPricewaterhouseCoopers to review our DevelopmentContributions policy. As a result, a number of minor amendmentswere agreed to ensure we will collect the correct amount ofmoney from developers to cover the costs of growth (refer tothe Development Contributions section of this Plan).Deliver Better, Smarter, Public ServicesWe have a High Performance Organisation culture. A range ofwork aimed at improving customer services and achieving costsavings and value for money is undertaken each year.We competitively tender a signifi cant amount of its work.Last year we saved $200,000 with our three year public toiletcleaning contracts. Grass moving and street cleaning tenderingalso resulted in savings. In our largest contract area, roadmaintenance, last year Downers won this work, tendering athree year price of $11,595,216. This was $3,707,704 underour engineer's estimate based on historic rates, and $2,113,444lower than the next lowest tendered price. Savings are reinvestedinto the roading network.We are involved in and will continue to look for opportunitiesin Shared Services arrangements in order to deliver ourservices and to help get value for money (refer Shared Servicesreferences throughout this Plan). See Table 1 of Shared Services.ENC will continue to carry out regular research with localbusinesses to identify gaps, opportunities and track businessissues and trends.Invest in Productive InfrastructureFirst-class infrastructure is an important enabler of higherproductivity and economic growth. In this Long Term Planwe are investing in owning and maintaining a high standardof infrastructure that meets both our community's economic,social, cultural and environmental needs, and the government'slegislative requirements.Table 1 of Shared ServicesHurunui District Council Shared ServicesArrangements as at February 2012Collaboration Joint Procurement Shared ServicesCanterbury Water Electoral Services Transwaste Kate ValleyManagement Strategylandfi llCivil DefenceRural FireFlood ProtectionOffi ce accommodation(for CRC)TransportationprioritiesSOLGM – best practiceworkIngenium – assetmanagement workBuilding AccreditationEnvironmental HealthDistrict Plan workRate collection (forCRC)IT/ GIS/ LibraryIT (hardware andsoftware)SOLGM – industrygood workSOLGM – staffrecruitment andretentionRegional PurchasingGroup (electricity, fuel)ENCCED Co LtdCanterbury MuseumInsurance – Riskpool/LAPP/ CivicBuilding control workRegional planning Road Maintenanceresponses(some sharing withWaimakariri DC)HDC NaturalBiodiversity (govt grant)Environment Fund (jointgrant with Mainpower)CommunityDevelopment (govtgrant)Libraries (located withlocal schools)Water (Ashleyscheme extending intoWaimakariri DC area)Importantly, this Plan makes the signifi cant funding provisionnecessary for Hurunui to be able to meet government's DrinkingWater Standards. The Plan provides for more public toilets;more cemetery land; new stormwater infrastructure; moreparks and reserves infrastructure; for library, hall and servicecentre improvements; and for new emergency management andrural fi re equipment, to name just a few. It also contains initialproposals for new sporting and medical centres.Water will be a key part of North Canterbury's transformationaleconomic development. We continue to support the CanterburyWater Management Strategy in this Long Term Plan. We providefor our share of the operation of the Hurunui Waiau ZoneCommittee, which is a joint committee with the CanterburyRegional Council. The Regional Council's Regional WaterCommittee will be considering the matter of how to fund theprovision of infrastructure associated with any large waterstorage options that are seen as feasible. Properly managed, bulkwater storage could result in large productivity gains in NorthCanterbury. No Council funding for such a purpose has beendiscussed or provided for in this Plan to date.39
---
www.hurunui.govt.nzWith the removal of the Hurunui and Waiau River moratoriumson 1 October 2011, Meridian Energy and Ngai Tahu Propertyhave jointly lodged initial consent applications for a proposedhydro and irrigation scheme to be located between the Waiauand Hurunui Rivers. The development of the project will bedependent on the Hurunui Waiau Regional Plan progressin 2012 and the RMA consent process. The parties still havesignifi cant investigations and design work to complete andbelieve construction is likely to be at least 10 years away. We arelikely to have an important consenting role.Create a Growth-Enhancing Tax SystemTax legislation and practice are constantly changing and it canbe a challenge within a small council to maintain the level ofknowledge required to ensure compliance with the varioustax acts. In November 2009 we commissioned Toovey EatonMcDonald Ltd to review our tax compliance. They wereimpressed with the overall level of compliance. A number oftechnical and relatively minor observations were made as partof the review for staff to action.The Hurunui Water Project has also lodged consent for Waitohistorage in line with the Zone Implementation Programme'spreferred option.The Long Term Plan contains further capital funding provisionfor on-going renewal and refreshment of OUR Hanmer SpringsThermal Pools and Spa complex.ENC is also focusing on government's rural broadband deliveryproject (directed at schools and hospitals) to put together localbusiness consortia to investigate higher capacity broadbandservices for rural businesses to create new wealth, as anadjunct to the government's programme. We will be involved inconsenting requirements for at least two new cell phone towersthat are planned as part of the roll-out.Lift Education and SkillsENC will continue to provide training and coaching programmesaimed at improving local business skills and business capability.ENC is carrying out work to support the Amuri Dairy EmployersGroup and Dairy NZ to improve employment practices, and therecruitment and retention of employees in the Amuri area.We continue to run our Secondary Education School AchieversAwards, giving out $10,000 annually to assist young people toundertake further study.We continue to run our Youth Development Programme, aimedat helping young people develop skills – both leadership andtechnical.Our Library is supporting the INZONE Career InformationKiosk initiative. This is aimed at helping young people identifysuitable career options.40
---
Water ManagementCanterbury Initiatives and BackgroundWater in Canterbury is a very topical and potentiallycontroversial issue, subject to many studies and public scrutiny.The most wide ranging review in Canterbury to date has beenthe Canterbury Strategic Water Study (CSWS). Stage 1 of theCSWS, undertaken by Lincoln Environmental in response tothe severe drought of 1998 and published in 2002, concludedthat on an annual basis there is suffi cient water in Canterburyto meet likely future demand and development, but that therewere seasonal and geographic mismatches between supply anddemand. The initial study concluded that water storage anddistribution should be considered as part of meeting futuredemands for water, to supplement supply in times of low naturalfl ows.Under the auspices of the Canterbury Mayoral Forum, andfacilitated by Crown and local funding, the CSWS progressedfrom 2004 through to 2008, respectively identifying a wide rangeof potential water storage sites (Stage 2), and then undertakinginitial high level desk top evaluations of a more limitednumber of major storage options (Stage 3). These evaluationsincorporated environmental, social, cultural, recreational andeconomic viewpoints and included multi stakeholder groupmeetings. Stage 3 concluded that a range of issues, opportunities,trade-offs and concerns would need to be considered andmanaged for any of the storage options to be taken further. Ofall the options considered, the Hurunui catchment option (upto 68,000 hectares of irrigated land) was seen to be perhaps themost viable hydrologically, albeit not without other issues andconcerns for some stakeholders.The CSWS fi ndings were subsequently put on hold (from mid-2008), while wider social, environmental and economic aspectswere canvassed in a structured feedback process (in late 2008).The Canterbury Strategic Water Study itself was renamed'Canterbury Water Management Strategy' (CWMS) as it movedthrough Stage 4 reviews, which culminated in public consultationin May 2009. This eventually resulted in the publication of thefi nalised strategy in October and adopted by the Council inNovember 2009.The Wider Scene & Context:A Hurunui PerspectiveNew Zealand's GDP and national prosperity continues tobe based on primary production and exports from the land.Recent developments at all levels seem to suggest that thecountry's reliance on its land based economy will become evengreater in the years ahead. Hurunui has a traditional focus ongrass fed food and fi bre production, and the present and futureprosperity of our communities, and their wellbeing on all fronts,Draft Hurunui Community Long Term Plan 2012 - 2022relies on Hurunui continuing to play to this traditional primarysector strength.The downside effects of the severe droughts of the late 1990s(which in fact triggered the initial Canterbury Strategic WaterStudy) are testimony to the risk of "doing nothing" withregard to future proofi ng our land based production, and ourcommunity prosperity. These same droughts, and downturnsin the agricultural economy, led to major visible decline inHurunui's rural townships, and the implementation of a HurunuiTourism strategy was one of the responses. Given the pressuresof the global economy, and international tourism outlook, it ishighly unlikely that tourism in Hurunui could be the platform forwidespread prosperity across all communities and sectors, goingforward. Although tourism will be important, it will not replacetraditional primary production. Further, it must be rememberedthat our tourism model is land based, given the attractions ofour striking landscapes, the traditional North Canterbury ruralcharacter and values, the unique Hanmer Springs alpine spavillage, viticulture in the Waipara Valley, and more.We believe that this issue of prosperity and the criticalimportance of our land based industries and exports, is evenmore important than many New Zealanders presently realise.World food production is coming under increasing pressurefrom the competing interests of bio-fuel production, climatechange, world population increase, socio economic growth anddevelopment in countries such as India and China…."our planetand global communities need high quality food in ever increasingvolumes, and New Zealand's key role, historically, presently andinto the future, is as an effi cient and sustainable food producerand exporter. Such exports will be crucial to provide for NewZealand's import hungry lifestyle and prosperity for all".The subject of water is therefore of major importance to us.Given the drought prone nature of the Hurunui, we believethe future prosperity of the district can only be assured withreliable sources of water to irrigate and support an increasingproportion of its "food and fi bre" producing farmland. Further,there is also an on-going challenge for us to provide plentifuldomestic and stock water supplies and to meet New Zealand'sdrinking water standards.We fi rmly believe that this Long Term Plan represents the bestopportunity to demonstrate a sense of leadership, by continuingto support the CWMS through the Hurunui-Waiau Zonecommittee.Hurunui – Waiau Zone CommitteeIn July 2010, the Hurunui Waiau Zone Committee was formedas a joint committee of the Hurunui District Council andEnvironment Canterbury. This committee was the fi rst of theCanterbury formed 'Zone Committees' to be established as partof the broader Canterbury Water Management Strategy. TheHurunui Waiau Zone Committee has worked collaboratively41
---
www.hurunui.govt.nzto develop recommendations on water management in asdescribed in the Zone Implementation Programme (ZIP). Seea summary of the ZIP appended to this Plan. A full copy isavailable on our Council website.The Zone Committee and this ZIP are part of implementingthe Canterbury Water Management Strategy (CWMS) inthe Hurunui Waiau Zone. The CWMS sets as its fi rst orderpriorities: environment, customary use, community suppliesand stock water; with second order priorities as irrigation,renewable electricity generation, recreation and amenity. TheZone Committee recognizes that clean drinking water, land use,water quality and quantity, environmental fl ows and allocationfor the rivers, biodiversity protection and enhancement,irrigation, hydro power development and water storage options,and the principles of kaitiakitanga are all (intimately) interrelatedand must be considered as a whole rather than in isolation. TheZIP recommends actions and approaches for collaborativeand integrated water management solutions to achieve theCWMS vision, "to enable present and future generations togain the greatest economic, environmental, recreational andcultural benefi ts from our water resources". In accordancewith the CWMS, the Zone Committee has arrived at itsrecommendations through consensus.Drinking Water QualityUnder this Strategy, we fully acknowledge that our focus onproductive development must be matched with a similarenergy and commitment to drinking water standards. Seethe 'Key Issues' and 'Water Supply' sections of this plan for acomprehensive explanation of our intentions to address thisissue across the Hurunui district.Land and Water Quality Use ResearchCouncil will continue to support initiatives, with EnterpriseNorth Canterbury and Environment Canterbury, and otherappropriate agencies, to position Hurunui at the forefront ofland use and water quality research programmes, projects andpilots in the interests of Hurunui and all rural New Zealand. Webelieve Hurunui is well placed to pursue this lead role, especiallygiven our dry east coast climate and our strong relationshipswith entrepreneurial landowners and agencies. We believe thatthis is a critically important component of our overall strategicand comprehensive approach, particularly to demonstrate thatthe Hurunui Water Management Strategy in relation to storageand irrigation will require landowners to commit to bestindustry practise and the uptake of available science.Environmental, Social andRecreational InterestsThe environmental, social and recreational values of ourrivers and lakes are critical to the Hurunui. This point cannotbe overemphasised. We fully recognise this and support theconcept of having healthy rivers, lakes and streams in thedistrict. We have established a close working relationship withthe Department of Conservation, Environment Canterburyand Ngai Tahu, and are extending this to other agencies andinterest groups on both a general and case specifi c basis. (e.g.Our present work on the Waipara River is an example of ourcommitment to play a proactive role in facilitating solutionsbalancing environmental, recreational and other interests.)AdvocacyIt should be clear from this strategy that we see the HurunuiWater Management Strategy as a critical component that hasthe potential to infl uence, positively or negatively, every aspectof wellbeing and prosperity in this district. Accordingly, we arecommitted to pursue every advocacy role we can, in support ofthe Hurunui Water Management Strategy. In particular, we will:• Continue to play a positive, proactive part in theCanterbury Water Management Strategy• Lobby Government to position any water developmentproject that meet the aims of the ZIP as importantinfrastructure developments, in the interests of Hurunui,Canterbury and NZ• Maintain and/or build relationships with all keystakeholders and interest groupsConclusion:The Key Principle of "Balance"This section on Water Management as outlined has beendeliberately included to recognise the importance of thestrategic issue of water. We cannot over emphasise the keyprinciple of balance that we fi rmly believe must be achieved iftrue prosperity for all is to result. This is not a strategy aboutirrigation and land use development at any cost. It is equallynot a strategy about locking up our resources and assets forthe benefi t of a few, whoever they may be. The guiding themesof the Hurunui Water Management Strategy are responsibleand sustainable growth and development for Hurunui and theprosperity of its communities. At the same time, it is to alsoprotect natural and traditional environmental and recreationalvalues, and a commitment to pursuing and applying bestpractice land use and water quality research, scientifi c advances42
---
Draft Hurunui Community Long Term Plan 2012 - 2022in water use effi ciency and water conservation. Hurunui is atthe forefront of this balanced, comprehensive and criticallyimportant strategy. That is the role we are engaged in with ourcommunity's support and encouragement.Hurunui River - Acrylic on Canvas - by Stella Sales43
---
www.hurunui.govt.nzSustainabilityIntroductionSustainability is a key ideal of the Local Government Act2002 which sets out the requirements for taking a sustainabledevelopment approach, and advises that we should take intoaccount the social, economic, and cultural wellbeing of peopleand communities; the need to maintain and enhance the qualityof the environment; and the reasonably foreseeable needs offuture generations.These factors are relevant to most of our policies and activities,and where appropriate, we will explicitly address the ideal ofsustainability in relation to these.They also tie in with some climate change issues that meritsome discussion here. We are mindful of trends in these areas,and will aim for compliance with any central governmentinitiatives, but the Hurunui District has long been subject toadverse weather events, and we do not see climate change as amatter of top priority.This PlanSustainability issues are discussed throughout the CouncilActivities chapter of this plan where they are explicitly addressedas the "signifi cant negative effects" and "sustainability". In thePolicies section of this plan, the topic of sustainability is raised inthe Signifi cance Policy, in which the current and future wellnessof the community is taken into consideration in determiningwhether or not any issue is signifi cant. It is also raised in theRevenue & Financing policy, in which the sustainability of themeans of funding each Council service is considered."Environmental Responsibility" is a key desire expressedthrough one of our community outcomes in this plan. Thisoutcome is described as:A Place that Demonstrates Environmental Responsibility:• We protect our environment while preserving people'sproperty rights• We minimise solid waste to the fullest extent, andmanage the rest in a sustainable wayOther Initiatives• We have a number of bylaws, strategies and otherpolicies which consider sustainable environmentalissues. These include our:Biodiversity Strategy – this aims to ensure that the uniquenatural values of the district are maintained and enhanced bythe council, landowners and other parties working together inpartnership, voluntarily and cooperatively, in a non-regulatoryframework• Walking and Cycling Strategy – the intention is todevelop a series of linking walking and cycling tracks inthe District• Hurunui Waiau Zone Implementation Programme– the summary of this programme is included in theappendices of this Long Term Plan• Smoke Free Outdoors Strategy (which is underdevelopment) – this is to encourage smoke freeoutdoor areas in a non-regulatory manner• Pegasus Bay Bylaw – aims to control activities and theuse of land, including camping, the use of horses and theuse of vehicles, on the foreshore, beaches and adjacentareas of Northern Pegasus Bay to protect the importantnatural values of the coastline.• Freedom Camping Bylaw – encourages people tofreedom camp in a responsible manner and in designatedareas to protect the environment from harm• Earthquake Strengthening Policy – sets out criteria tomake buildings more likely to withstand earthquakes.The Canterbury earthquakes in 2010/11 have focusedour attention on the potential for earthquake pronebuildings in the District and we are in the process ofreviewing these now.Climate ChangeA "once in 50 year fl ood" on 30/31 July 2008 and a "once in 25year fl ood" on 26 August 2008 caused widespread damage toroads, fences, fl oodgates and tracks. This was compounded bythe fact that the fl oods came not long after a major drought,due to which many farmers were already struggling fi nancially.The Ministry for the Environment warns us to expect anincrease in the frequency of such extreme weather events, andcompounding factors such as rising sea levels, due to "climatechange" brought about by "human activity increasing the naturallevel of greenhouse gases in the atmosphere".This is a controversial topic, but whether or not the fl oods anddrought were caused by climate change, and whether or notsuch climate change is primarily due to human infl uences (thereis much debate about this, even amongst the "experts"), it isclear that we need to be prepared to respond to such events inorder for farming and other key activities in the District to beeconomically and environmentally sustainable.Potential sea level rise is also an issue we have to grapple with inthe District Plan review. Some of our small coastal settlementsare likely to be inundated, but the time frame for when such sealevel rises may impact is dependent on updated research andmodelling.44
---
Draft Hurunui Community Long Term Plan 2012 - 2022Emissions Trading / Carbon TaxThe Emissions Trading Scheme was a central government driveninitiative aimed at moving New Zealand towards compliancewith international protocols for offsetting the human infl uenceddrivers of climate change. With the recent change of governmentthere has been some discussion as to whether a "carbon tax"might be a more effective way of achieving this end.Either way, it is likely that in the near future some fi nancialcompensation will be required from industries that produceemissions. In the Hurunui District, forestry and farming standto be most affected, but until the details of the Emissions TradingScheme (or carbon tax) are fi nalised, it is diffi cult to say preciselywhat the impact upon these industries will be. Federated Farmershave staff dedicated to monitoring and producing responses tothese issues, and should be able to provide reliable advice tofarmers on these matters in the coming years.45
---
www.hurunui.govt.nzTownship Profi les47 Hurunui District Profile53 Amberley Ward Profile56 Amuri-Hurunui Ward Profile61 Cheviot Ward Profile63 Glenmark Ward Profile66 Hanmer Springs Ward Profile46
---
Hurunui District Profi leDraft Hurunui Community Long Term Plan 2012 - 2022KaikouraDistrict47
---
www.hurunui.govt.nzLocationLand UseAreaClimatePopulationThe Hurunui District is in NorthCanterbury, on the East Coast ofthe South Island, New Zealand.Predominantly rural864,640 hectares (8,646,400,000 m²)Ranging from unique coastal microclimatesto alpine climatesThe estimated total population forthe Hurunui District is 11,330*,distributed between the variouswards.Labour ForceLabour Force Hurunui District New ZealandUnemployment Rate 2.2% 5.1%EmploymentParticipationMain Occupations /IndustriesEducationEducation15 years and over69% 63%Agriculture &ForestryHurunui DistrictService & SalesNew ZealandSchool Qualifi cation 35.6% 40%*Note: The 2011 Census was called off following the 22February Christchurch earthquake. The estimated populationis from Statistic New Zealand's population projections whichuses data from the 2006 NZ Census. The Government hasannounced that the next census will be held in March 2013.Tertiary Qualifi cation 36.1% 39.9%No Formal Qual. 28.3% 25%Unless otherwise specifi ed, statistics quoted in this section areprojections based from the NZ Census 2006. Figures havebeen randomly rounded by Statistics New Zealand in order toprotect privacy, and thus may not add up to the totals given.Population by Ward / Community Rating Area48
---
49Draft Hurunui Community Long Term Plan 2012 - 2022
---
www.hurunui.govt.nzPopulationThe population of the Hurunui District is predicted to growsteadily over the next 20 years, although the population of sometowns in the district is dropping. The greatest proportion ofgrowth is occurring in the Amberley and Hanmer Springs wards.Census data reveals that the Hurunui District has an agingpopulation, and shows a steeper rise than that predicted forthe country as a whole in the proportion of people aged 65and over. Ethnic diversity is lower than that of New Zealandas a whole, but there has been a marked increase in overseasmigrants, especially in the 30-50 year old age group (indicatingthat they have come to work in the District).Recreation, Visitor Attractions, Parksand ReservesThe Hurunui is one of the few places in New Zealand's SouthIsland that in less than two hours traveling time, you can drivefrom the Lewis Pass (the northern most point of the SouthernAlps) with its fresh mountain air, spectacular scenery and lushbeech forests, to be sitting by the coast watching the wavesfrom the Pacifi c Ocean crash onto the Beach. Activitiesinclude mountain walks, skiing, thermal bathing, river sportsand recreation, surfi ng, fi shing and spectacular walks amidstsalt stone cliffs on our secluded beaches. The Waipara Valley isrenowned for some of New Zealand's award winning wines, andthis area offers the opportunity to discover many fi ne vineyards.The Hurunui has over 270 hectares of passive and recreationreserves including the world famous Hanmer Springs ThermalPools and Spa. A signifi cant recent addition is the former QueenMary Hospital grounds in Hanmer Springs. The main beachesare at Leithfi eld, Amberley, Motunau and Gore Bay. The mainrecreational lakes are Lake Sumner, Lake Taylor and LakeTennyson.Main IndustriesThe Hurunui is continuing to experience growth anddiversifi cation in terms of industry. Historically the districthas been primarily agriculture based, and this still continuesto be the single largest contributor to the Hurunui economy.However, recent times have seen an expansion in both viticultureand tourism. The growth of Hanmer Springs, the district icon,as a tourist destination and the establishment of associatedinfrastructure, is unprecedented in the tourism sector NewZealand wide. The majority of the district's working populationare employed in the "agriculture, forestry or fi shing" industries(as defi ned by Statistics NZ). The second largest employmentindustry category is "accommodation, cafes and restaurants",followed by "health and community services".Agri/ViticultureAccording to the 2007 Statistics New Zealand AgriculturalProduction Census, the Hurunui District is home to 1,065 farms,462 of which are sheep farms (total of 1,612,116 sheep), and130 of which are beef cattle farms (with 119,141 cattle). 53,099dairy cattle and 34,042 deer were counted in the HurunuiDistrict. The major horticultural activities in the District aregrape-growing (970 hectares), followed by olives (87 hectares)and hazelnuts (25 hectares). There is a small vegetable harvestin the Hurunui District (e.g. asparagus), and we produced 9,679tonnes of barley, 3,852 tonnes of wheat, and 556 tonnes of fi eld/seed peas during the year ended 30 June 2007.Development and GrowthThe Hurunui District has a highly diversifi ed economy basedaround agriculture, viticulture and tourism. Both domesticand international tourism have increased signifi cantly over thepast decade in recognition of the wide array of recreationalopportunities within Hurunui from the coast to the mountains.The Hanmer Springs Thermal Pools & Spa, Mt Lyford Ski Fieldand Waipara wine producing area are recognised as anchordestinations that have been a catalyst for business investment inthe District. Statistics New Zealand has estimated the Hurunuipopulation at 2026 to be 12,350 on a medium growth projection.However because of a large absentee population owninglifestyle and holiday homes, the Council is planning for growthdemands based upon trends in subdivision developments, and,upon this basis, indications are that district wide growth willbe slower than what is indicated by the Statistics New Zealandprojections, but the Amberley and Hanmer Springs Wards aremore likely to be at the medium or even high growth rates.HealthIndicators of health in the District include the Ministry ofHealth's "Deprivation Index", which has been shown to correlatewith various health statistics (e.g. rates of cervical cancer,mental health problems). This index assigns deprivation scores(1 least deprived, to 10 most deprived) to each meshblock inNew Zealand. Meshblocks are geographical units defi ned byStatistics New Zealand (containing a median of approximately87 people in 2006). Scores are based on variables like income,home ownership, unemployment, qualifi cations, householdcrowding, transportation, and access to telecomunications.These scores are assigned as measures of relative (rather thanabsolute) deprivation. Thus, 10% of meshblocks in New Zealandas a whole will always score 10. Scores for the Hurunui Districtindicate much lower than average deprivation, with more than75 % of meshblocks scoring in the top half (see graph on page 14).Lower than average levels of income and education in Amberley,and lower than average home ownership in Hanmer Springs(due to holiday and workers' accommodation) contributed tohigher than expected scores for these areas (both 7).50
---
Draft Hurunui Community Long Term Plan 2012 - 2022Rateable ValueRates are levied on rateable properties based on their rateablevalue. The defi nition of land is very broad and may include theright to pass utilities over land, e.g., power lines and waterpipes. Almost all lands are rateable. Exceptions apply to certainCrown land and land mainly used for educational and charitablepurposes. At the date of printing, total rateableProperty Values by WardWardDistrictCapital ValueNo of RateablePropertiesAmberley 945,624,200 2,180Amuri 1,142,832,950 1,206Cheviot 622,508,900 956Glenmark 576,633,550 767Hanmer Springs 689,567,550 1,673Hurunui 524,777,000 801Utilities 132,005,000 0Value as at 1 July 2011 4,633,949,150 7,583Growth Factor (1%) 46,339,492 76Total Rating Value Assumed 4,680,288,642 7,659*Note: The Council rates an additional 1,500 properties in the Waimakariri District, who areon our Ashley Water Scheme.51
---
www.hurunui.govt.nzServices and AmenitiesMajor services and amenities in the district are available in thefollowing locations.KaikouraDistrict52
---
Draft Hurunui Community Long Term Plan 2012 - 2022Amberley Ward Profi le• Amberley is about a 35 minute drive from Christchurch,Background and HistoryNamed after Amberley in Derbyshire, Amberley was originallyestablished as a result of the arrival of the railway in 1876. Thetownship continued to grow and became an important farmingservice centre. Amberley has grown signifi cantly since the1950s and was the fi rst township in the Hurunui District witha water supply scheme undertaken by a county council (1957).Amberley's southern neighbour, Leithfi eld, is one of the oldesttownships in Canterbury; Leithfi eld was founded in 1857 byJohn Leith as an important coach stop and to provide servicesto the surrounding farming and milling area. In 1863 Leithfi eldboasted one of the fi rst fl our mills in North Canterbury andthe only one to be powered by wind. The village fl ourished inthe 1870s when it was then only business centre at the time,between Kaiapoi and Kaikoura.The beach settlements of Amberley Beach and Leithfi eld Beachdeveloped as residential suburbs between 1950 and 1990, andtheir current populations have grown dramatically.Recreation / Visitor AttractionsAmberley is the largest township in the ward, located on StateHighway 1, it is a busy rural service centre with an impressiverange of cafes and shops as well as the vibrant district library.The ward is ideally placed as a country retreat, it is renownedfor its impressive country gardens and offers a variety ofaccommodation options for visitors. There are very handy rivers,lakes and mountains to explore, and lots of walks including beachtracks, the Mt Grey scenic walkways and the Kowai Walkway - awell maintained track from the historic Old Leithfi eld Hotel tothe coastal settlement of Leithfi eld Beach.Several parks and reserves can be found in the townships, andthe local Amberley Domain and Pavilion is always popular forsport and recreation events, agricultural shows, and leisureactivities.Present Profi le• The population of the Amberley Ward is estimatedat 4,050.• The Amberley Ward is the largest community in theHurunui District. The ward makes up over one thirdof the total district population, with a steady growth inresidents.• 2006 NZ Census data shows Amberley's populationprofi le as somewhat older that the Hurunui average.29% of Amberley's residents are aged 65 years and over,compared to 25% for the Hurunui District, 24% forthe Canterbury Region, and 21% for New Zealand asa whole.53and Leithfi eld is even closer. The townships' closeproximity presents an advantage for residential growth,offering commuters a country lifestyle while still beingable to work in the city.• State Highway 1 runs through the centre of theAmberley Township. While this visibility and accessibilityis a great strength for development and growth, itsimultaneously creates challenges for road safety, noiseand heavy transport effects.• Both the Amberley Township and Leithfi eld Village haveexperienced notable urban expansion and developmentin recent years, including increased lifestyle blockdevelopment. This growth did slow during theeconomic crisis, but it has now taken off again post theChristchurch earthquakes, with many viewing the areaas 'less shaky' and offering a desirable lifestyle.• The Amberley Ward also experienced substantialgrowth and development in the Glasnevin area, includinglarge scale viticulture plantings, and subdivision activity.This rate of growth also eased during the economicdownturn but is also taking off again.• A concept plan was developed by and for the Amberleycommunity, and includes far reaching planning on manyfronts, including urban and commercial zoning, socialand recreation activities, streetscaping and branding.The Amberley Township Plan was fi nalised in 2008 andmany of the high priority projects contained have nowbeen completed.• The Amberley Ward offers a wide range of services andfacilities.In addition to the numerous shops and commercial premises,the ward is fortunate to have three primary schools, twopreschools, two Playcentres, a medical centre, a public swimmingpool, a community hall and two libraries (The Hurunui MemorialLibrary in Amberley and a community library in Leithfi eld). Theward has many amenities including a cemetery and severalblocks of public toilets. The Amberley Township is home to theward's volunteer fi re and ambulance services and two full-timepolice offi cers. The Council's main offi ce, including the CouncilChambers, is located in Amberley.Ward GovernanceDistrict Councillors are responsible for representing theinterests of their ward, setting Council policies and monitoringthe Council's performance. They are elected every three yearsby the voters of their ward.The Amberley Ward is currently represented by threecouncillors: as at 2012, they are Gary Cooper, Ross Little andJudith McKendry.
---
www.hurunui.govt.nzIn addition, the Amberley Ward also has an elected WardCommittee which includes amongst its varied responsibilitiesthe overseeing of the ward's water and sewerage schemes, andthe Amberley Recreation Reserve Subcommittee. The AmberleyWard also has the Amberley District Residents' Association,the Leithfi eld and Leithfi eld Beach Residents' Groups and theAmberley Beach Residents' Association.Key Long Term Opportunities andChallenges• The worldwide economic downturn had a temporarynegative effect on growth and development in theAmberley Ward. However, this is expected to reversedas people need or want to leave earthquake affectedareas in Christchurch and Kaiapoi may consider buyinghouses and sections in the ward. Amberley Township isalso popular to an increasing number of retirees.• State Highway 1 remains a major economic strengthand improvements have lessened the pedestriansafety challenges for the community. The outcome ofthe proposed District Plan change will likely have aninfl uence on development in upcoming years.• The number one Amberley Concept Plan (ACP)priority project that was identifi ed was in regards toresidential and commercial zoning. After a lengthyconsultation process, the District Plan Changes becameoperative in 2009.• New District Plan provisions for independent seniorliving units (ISLUs) and minor dwelling units (MDUs)were made operative late last year. This enables anothertype of residential development that will cater for theneeds of the "earthquake refugees" as well as the needsof the aging population.• The ACP identifi ed the current centre of town locationfor the Amberley Transfer Station to be inappropriate,and new potential sites have since been investigated. Asite in Greys Road has been identifi ed as the preferredlocation and this will now be consulted on.• The need to upgrade the Amberley Swimming Pool wasalso highlighted during the concept planning process,and subsequent investigations have found that the poolhas a limited life expectancy and that we should not relyon it after 2018. The Amberley Ward Committee, via aworking group, has been further investigating optionsfor the future including whether the current pool canbe upgraded or whether a new pool should be built.Extensive consultation will be carried out prior to anyfi nal decisions being made.• A huge land bank now exists in Amberley resultingfrom recent plan changes which rezoned rural land toresidential use.• The resource consent for the long awaited supermarketand shopping complex for Amberley was signed off in2010. Although a commitment has not yet been madeby one of the major supermarket chains, this is stillbeing pursued by the developer who remains optimisticthat a deal will be completed in the near future.• The Council has adopted a draft Walking andCycling Strategy, which aims to facilitate the desiresmade by some members of the Community to improvethe Walking and Cycling linkages within the HurunuiDistrict. Of particular importance for the AmberleyWard are the proposed commuter routes fromAmberley to Amberley Beach, Amberley to Waipara,and Amberley to Leithfi eld.• The Amberley Ward beaches from Ashworths to "theRocks" are included in the Northern Pegasus BayCoastal Management Plan. This Plan contains a numberof recommendations, including a requirement that allvehicles on Northern Pegasus Bay must obtain a permitand obey all conditions of the permit including, a speedlimit for vehicles of 10km/h around people and 30km/hon the open beach, in addition any vehicle on the beachmust be operated below the high tide mark.• The Amberley Ward's population growth since 2008 hasbeen slow. However, previous growth, and anticipatedmoderate future growth, particularly in the townships,will ultimately create a need for expanded communityfacilities. Further expansion and development of theAmberley Domain may become necessary. Newsubdivisions need to include the provision of parks,reserves and walkways. Another long term challengeto meeting population growth and developers' andresidents' expectations for the Amberley Ward will bethe possible demands to seal existing gravel roads.• The presence of State Highway 1 will continue tostimulate associated growth and development, whilst atthe same time placing responsibility on the council, thecommunity and the New Zealand Transport Agency tomanage the associated effects of such traffi c.• Amberley Ward's locality acts as a valuable "gateway"to the Hurunui District, offering opportunities forfurther growth and profi table gains to the local tourismindustry.• Impacts from the Pegasus Town development havenot yet become apparent. As the town grows, aforeseeable possible adverse impact on the AmberleyWard is the additional traffi c volumes creating longercommuting times between Woodend and Christchurch.Possible positive impacts include more employmentopportunities and Amberley Ward could be a satellitebase for staff for the new township. The proposed newHigh School would be the closest one to the AmberleyWard.• The Amberley Ward has nearly one third of itspopulation aged 65 years and over (Stats NZ Census2006). The requirements of this demographic has54
---
Draft Hurunui Community Long Term Plan 2012 - 2022different demands than the rest of the district, such asa higher need for pensioner housing and rest homes,increased medical centre usage, a preference for passiverecreation facilities etc.Key ProjectsYear Planned2012/13 2013/14 2014/15 2015-2022Water pipe renewal $448,773Water reticulation $260,933 $239,763Water connections $10,392 $10,738 $11,107SH1 bore commissioning $25,000Water rising main upgrade $236,500Sewerage pipe upgrade $474,000 $243,678Waste water plant renewals $12,240 $10,780 $78,256 $41,293Stormwater/drainage detention ponds $100,000Stormwater/drainage upgrading $194,000Amberley Township roadside construction $23,000 $23,902 $24,697 $201,646Leithfi eld Township roadside construction $10,000 $11,945Leithfi eld Beach Township roadside construction $5,196 $6,215Leithfi eld Beach Community Centre heat pump $4,000Amberley Township – Railway Tce landscaping/fencing $15,000Walking and cycling routes $250,391Amberley domain – playground improvements $4,000Amberley domain – relocate cricket nets $6,000Amberley neighbourhood reserves $264,752Amberley reserves – passive links $10,000 $10,392 $10,738 $87,672Amberley Beach reserve – tennis courts $24,858Leithfi eld Beach reserve – tennis courts $72,744Amberley Ward - Sample PropertiesWater# of Actual Proposed Increase / DecreaseCapitalPropertyFixed Rates RatedValue Supply Units $ %Charges 2011/2012 2012/13Amberley Township 225,000 Amberley 209 1 $1,464.46 $1,558.66 $94.19 6.43%Amberley Township 520,000 Amberley 238 1 $1,805.80 $1,920.46 $114.66 6.35%Amberley BeachTownship175,000 Ashley Rural 0.5 1 $1,575.36 $1,656.13 $80.77 5.13%Amberley Rural 2,400,000 Ashley Rural 1 0 $3,146.30 $3,323.40 $177.10 5.63%Leithfi eld Township 205,000 Ashley Rural 0.5 1 $1,338.13 $1,421.45 $83.33 6.23%Leithfi eld BeachTownship180,000Leithfi eldBeach1 1 $1,219.49 $1,306.22 $86.72 7.11%55
---
www.hurunui.govt.nzAmuri-Hurunui Ward Profi leBackground and HistoryAmuriThe township of Waiau was the fi rst of the three mainsettlements established in the area previously known as theAmuri Ward. It originated in the 1860s, and due to the ferry, thebridging of Waiau River, the opening of the road to Kaikoura andthe completion of the railway line, soon became an importantfarm servicing and transport centre.The development of Rotherham as a township followed in 1877,as it was laid out in order to attract labourers to the district.Culverden was the last to be established and only so due to thearrival of the railway in 1886, consequently becoming the railand coach, as well as the farming centre for Amuri.Over the years, the Amuri has been an area of traditional largescale farming, characterised in many cases by continuous familyownership across several generations. A secondary schooldepartment was established in Culverden in 1960, making it thethird high school in the district, changing its status to an areaschool in 1977. The fi rst 'Amuri Community Health Centre'opened in Rotherham in 1982.The impact of the arrival of the dairy industry in the 1980'shas been substantial and provided enormous opportunities. Thefuture of the industry will be heavily infl uenced by the potentialto store water.HurunuiHistorically, the Waikari Township was a very busy littlecommunity with the fl our mill, lime-works siding adjacent to thenorth bound railway line providing a lot of employment locally.It also accomodated the Hurunui County offices, an extensivecouncil works yard. Waikari school established 1882.The nearby township of Hawarden began with a Roads' Boardcottage and a store on a route taken by thousands of goldseekers who made their way over the old Weka Pass Road inthe 1860s. Later Hawarden became the service centre for alarge farming area and included several businesses, a post offi ce,a community hall and a church. Hawarden Consolidated Schoolwas a feeder from Hurunui, Medbury, Mason's Flat and ThePeaks – becoming Hawarden District High school in 1927, itwas the fi rst high school of the Hurunui District, and is nowknown as Hurunui College.Water supplies and sewerage works for the two townshipswere completed in 1966. A medical centre was fi rst opened inWaikari in 1971. Both communities had Post Offi ces.New BeginningsFollowing a legislatively mandated Representation Review in2007, the Local Government Commission determined thatthe pre-existing individual Amuri and Hurunui Wards becomeamalgamated to form a new combined ward area: the Amuri-Hurunui Ward. In their determination, the Commissioners wrotethat they felt there were "suffi cient commonalities of interest toenable effective representation within this new combined wardarea" and cited that both the Hurunui and Amuri Wards arelocated within the same valley and are both primarily agricultureareas with collections of small, discreet settlement areas thatsupported the surrounding rural hinterland. However theCommissioners also noted that the Hurunui and Amuri wardand community committees had "strong community governancearrangements" and recommended retaining these as part of thenew structure.Recreation / Visitor AttractionsThe townships of Amuri-Hurunui epitomise small New Zealandrural towns. They are great places to relax and enjoy the localscenery and attractions.The natural outdoors paradise at the southern area of the wardfeatures some of New Zealand's most spectacular mountainranges, hillside, lakes and the headwaters of the Hurunui River,as well as offering many accommodation options for visitors.Waikari is the fi nal stop for the popular Weka Pass vintagesteam railway, and the area is a photographers' dream –resplendent with remarkable limestone rock outcrops and somebreathtakingly beautiful sunsets over the ranges and hinterland.The stunning vistas can readily be taken in from the WekaPass Walkway, and you can also climb up a local hill to viewancient Mäori rock drawings in the Weka Pass Reserve. Since1868 the historic Hurunui Hotel has provided weary droversmoving sheep from Nelson to Christchurch for stock sales witha place to rest and pick up their mail and catch up on news. Asthe gateway to Canterbury all the sheep entering the districtwere once dipped here before moving on to avoid the spreadof any diseases from one region to another. The Hotel remainsa classic landmark in North Canterbury and is still a great placeto stop for refreshments.Just a few kilometres to the west, Hawarden is home to thewell-known Flaxmere Gardens - which are Gardens of NationalSignifi cance, and is the gateway to the secluded wilderness andpristine Lake Sumner Forest Park area offering excellent fi shingand hunting grounds.Events of interest in the Hurunui area include the HawardenA&P Show, Waikari annual ANZAC day fun run, ART in theGarden, and the biennial Hurunui Race and Gala Day.56
---
Draft Hurunui Community Long Term Plan 2012 - 2022Towards the northern reaches of the ward, the delightfulCulverden township offers a choice of farmstays, bed andbreakfasts and gardens to enjoy, making it a great place forvisitors to stay who are seeking a rural New Zealand experience.The Culverden Golf Course is an enjoyable 9-hole course withan attractive mountain backdrop. October each year is time forthe famous Christmas Country Fete showcasing arts, crafts,food and wine in a garden party atmosphere.Just a short drive inland, Waiau offers some of the best access tothe Waiau River, brimming with trout for the skillful angler andwhere the salmon run during February and March. Amuri GolfClub also has a 9-hole golf course. 26km north of Waiau, thesmall, privately-owned alpine resort of Mt Lyford was developedin 1986, and includes a commercial ski fi eld and offers variousfacilities and services, including ski and snowboard hire,accommodation and a café, horse trekking and a riding school.Current Profi leThe population of The Amuri-Hurunui Ward is estimated at3,730.• The Amuri-Hurunui Ward makes up approximately 30%of Hurunui District's population as a whole.The wardexperienced modest growth in the fi ve years from2001-2006 and Statistics New Zealand had predictedno further increase for 2011, however growth in thedairy industry is likely to have seen modest increasesin population numbers – particularly in the numbers ofmigrant workers and their families.• The Amuri-Hurunui Ward is centrally located in theDistrict and acts as an essential access way to theHanmer Springs Alpine Village when travelling to andfrom Amberley / Waipara, or to and from Kaikoura.• The Amuri-Hurunui Ward is dominated by traditionalfarming, and developments in recent years include anextensive number of conversions, from traditionalsheep farming to intensive irrigated dairy farming.• The Amuri-Hurunui Ward is home to Amuri AreaSchool in Culverden and Hurunui College inHawarden. The Hurunui Academy based in Culverdenoffers NZQA approved courses in outdoor education,rural skills, tourism and hospitality, and carpentry foryouth and adult students. There are three primaryschools, located in Waikari, Waiau and Rotherham. Preschooloptions include a pre-school in Culverden andPlaycentres at Hawarden Culverden and Waiau. TheAmuri Area School is also houses the Council's ServiceCentre/Library. Hurunui College also houses theCouncil's public library. A community library is basedin Waiau.• The Amuri-Hurunui Ward is fortunate to have twomedical centres and a hospital:• Waikari is home to the Waikari clinic (a subsidiary ofAmberley Medical centre), which meets most medicalneeds of residents' in the southern end of the ward.This was a purposed-designed building built in 2001 andis funded from a targeted amenity rate from what wasthe previous Hurunui Ward boundary area.• The new, purposed-designed, Amuri Community HealthCentre in Rotherham provides for the majority of theresidents' medical needs in the northern end of theward. The Amuri Health Centre building is funded by atargeted amenity rate on what was the previous AmuriWard boundary area. The General Practice is ownedby the Amuri Community Trust and operated by AmuriHealth Care Ltd.• Waikari Hospital is set in beautiful grounds overlookingthe Alps, it provides services to the local community aswell as rest of the district. Services include Maternity,Continuing Care of the Elderly, General Medical, SurgicalRehabilitation, Carer Support, Respite Care, Meals onWheels, Day Care and equipment Hire• The Amuri-Hurunui ward is fortunate to have a St JohnAmbulance Station based in Culverden, as well as theHawarden–Waikari and Amuri–Waiau Volunteer RuralFire Forces, and New Zealand Fire Service VolunteerFire Brigades in Waikari, Culverden, Waiau andHawarden. There is one full-time police offi cer workingfrom Waikari, and two based in Culverden.Ward GovernanceDistrict Councillors are responsible for representing theinterests of their ward, setting Council policies and monitoringthe Council's performance. They are elected every 3 years bythe voters of their ward.The Amuri-Hurunui Ward is currently represented by threecouncillors: as at 2012, they are Marie Black, Richard Davisonand Jim Harre. Mayor Winton Dalley is also from this ward butwas elected 'at large' to represent the interests of the entiredistrict.Council committees in the Amuri area are the Amuri CommunityCommittee, the Amuri Plains Rural Water Committee, theBalmoral Water Committee, the Waiau Rural Water Committee,the Waiau Township Water Committee, Culverden TownshipWater Committee and the Waiau Reserve Committee.Council committees in the Hurunui area are the HurunuiCommunity Committee, the Hurunui Recreation (Racecourse)57
---
www.hurunui.govt.nzKey Long Term Opportunities andChallengesReserve Committee, the Waikari Reserve and Hall Committee,and the Hawarden Recreation Reserve and Hall Committee.WaterWater issues, in terms of both opportunities and challenges, areso important to the entire ward that a separate section hasbeen included here to showcase this.• A key issue in the ward over the past 50 years andprobably the next 50 is the use of water from the twomain rivers, the Waiau and Hurunui for irrigation. Theconsequential changes to the physical environment,economic activity and most importantly to the socialstructure of the district is a work in progress.• The impact of the arrival of the dairy industry in the1980's has been substantial and provided enormousopportunities. The future will be heavily infl uenced bythe potential to store water and to utilise currentlyunderperforming land.• It is generally accepted that the real opportunities forthe ward remain with land based industries - bothagriculture and recreation based. To continue to growand develop these, the focus is on the rivers, lakes andhills.The Hurunui-Waiau Zone CommitteeThe Hurunui-Waiau Zone Committee was the fi rst of the 10zone committees established throughout Canterbury. In August2011, its Zone Implementation Programme (ZIP) was receivedby Environment Canterbury and the Hurunui District Council.This is designed to provide an integrated approach to watermanagement in the zone while achieving the desired social,environment, cultural and economic outcomes. The committeehas also agreed on its Immediate Steps Biodiversity Fund projectsand work has already started on some. Projects include wetlandprotection, weed control in Conway River and protection andenhancement or riparain areas.Hurunui Water ProjectThe Hurunui Water Project Ltd (HWP) proposes to developa community irrigation scheme which includes water storagedams and hydro power generation. The resource consentssought have been delayed by the Hurunui Waiau catchmentmoratorium. While the moratorium was lifted on 2nd October2011 applications cannot be processed until 2 April 2012.HWP's applications will subsequently be held until 2 April 2012,at which stage processing will begin.Hurunui Water Project – Waitohi ProposalThis proposes to develop a series of four water storage damson the Waitohi River to irrigate 58,500 ha of land in the Hurunui,Waipara and Kowai catchments. The dams are proposed to belocated at Hurricane Gully; Seven Hills; Inches Road and in theLower Gorge.Run-of-river water would be taken directly from the HurunuiRiver as the predominant supply of water when it is available.When this water is not available, they intend water stored in theWaitohi River catchment to be released from the dams to meetthe irrigation demand and provide hydro-electricity generationcapability. Water stored within the dams will be sourced fromboth the Hurunui and the Waitohi Rivers.Hurunui Water ProjectSouth Branch Hurunui River and Lake Sumner ProposalThis proposal involves the abstraction of water from the HurunuiRiver, via either an intake near the confl uence of the MandamusRiver or an intake 1-2 kilometres upstream from the DampierStream confl uence to irrigate approximately 42,000 hectaresof land in the Hurunui and Upper Waipara catchments. Twostorage structures are proposed; a dam on the South Branch ofthe Hurunui River and a weir structure on the main stem of theHurunui River, just downstream of the outlet from Lake Sumner.The proposed hydro power generation will be either on thescheme distribution canal, or located at the proposed dam onthe South Branch of the Hurunui River, or both.Other Key Long Term Opportunitiesand Challenges• A long term challenge for the Amuri Ward will continueto be overcoming the shortage of farm labour.• A recent upsurge in migrant workers has given theskill shortage a boost but has provided a new set ofchallenges.• It continues to be a challenge for new small businessesto fi nd premises. Correctly zoned areas are required tomeet the needs of today and the future.• Another challenge, shared by many small rural townsin New Zealand, is the viability and thus the retentionof local services and businesses. Economies of scale,potential effi ciencies of centralisation and greater useof technology all impact on the sustainability of smallbusinesses and government agencies alike.• Increased fuel prices in recent years and the recenteconomic down turn may have a challenging impact onthe ward's economic wellbeing.• Key long term opportunities include ongoing prospectsfor tourist related activities and general promotion of58
---
Draft Hurunui Community Long Term Plan 2012 - 2022businesses in the Ward.• There are potential opportunities for the widerCulverden area to become an attractive option as aresidential location for employees working in HanmerSprings.• There are potential opportunities for the wider Waikariarea to be attractive option as a residential location foremployees working in the vineyards in Waipara.• Continuing development of Mt Lyford as a boutiqueresort and ski area may benefi t the ward's long termopportunities economic development and growth.• Council has adopted a Walking and Cycling Strategy,which aims to facilitate the desires made by somemembers of the community to improve the walkingand cycling linkages within the Hurunui District. Ofparticular importance for the Amuri-Hurunui ward isthe completion of the commuter link between Waikariand Hawarden.Key Planning AssumptionsThe recent worldwide economic downturn had a negative effecton development, however, the signifi cant growth in the dairyindustry may have shielded the area and it is anticipated that theAmuri-Hurunui Ward has the potential for modest to substantialgrowth. It is also expected that the ward is able to capitalise onthe benefi ts of tourist traffi c and there is considerable potentialin the relatively 'undiscovered' lakes area.Key ProjectsYear PlannedAmuri 2012/13 2013/14 2014/15 2015-2022Culverden Township Roadside Construction $12,000 $12,470 $12,886 $105,206Rotherham Township Roadside Construction $4,000 $4,157 $4,295 $35,070Waiau Township Roadside Construction $6,000 $6,235 $6,443 $52,602Rotherham Hall (capital expenditure) $5,000 $2,078 $2,148 $17,534Waiau Hall – heat pump upgrade $10,738Waiau Hall – Kitchen upgrade $6,000Rotherham Pool (capital expenditure) $2,000 $2,078 $2,148 $17,525Culverden Township projects $17,000 $5,196 $5,369 $36,144Rotherham Township projects $1,500 $1,559 41,611 $13,151Waiau Township projects $2,000 $2,078 $2,148 $17,525Culverden Reserves – walking track projects $5,000 $5,196 $5,369 $43,839Rotherham Reserve (capital expenditure) $2,500 $2,598 $2,685 $21,919Mt Lyford Reserve – BBQs $1,000 $1,039 $1.074 $8,768Hurunui 2012/13 2013/14 2014/15 2015/2022Hawarden-Waikari water reticulation $45,637 $50,710Hawarden sewerage - desludging $103,563Hawarden sewerage - pump $4,939Hawarden sewerage – plant renewals $37,973Waikari sewerage - desludging $70,000Hawarden Township footpath construction $16,627 $80,295Waikari Township footpath construction $16,000 $17,181 $59,97959
---
www.hurunui.govt.nzAmuri-Hurunui Ward - Sample PropertiesPropertyCapitalValueSupplyWaterUnitsNo ofFixedChargesActualRates2011/2012ProposedRates2012/2013Increase/(Decrease)$ %Waiau Township 200,000 Waiau Town 147 1 $1,275.40 $1,321.38 $45.98 3.61%Rotherham Township 270,000 No water n/a 1 $1,125.37 $1,165.25 $39.89 3.54%Culverden Township 215,000 Culverden 322 1 $1,415.94 $1,468.44 $52.50 3.71%Amuri Rural 2,215,000 Waiau Rural 8 1 $8,083.30 $8,457.01 $373.71 4.62%Amuri Rural 7,725,000 Amuri Plains 7 4 $11,222.30 $11,868.35 $646.05 5.76%Hawarden Township 138,000 Hawarden-Waikari 292 1 $1,362.90 $1,414.27 $51.37 3.77%Waikari Township 175,000 Hawarden-Waikari 694 1 $1,718.89 $1,788.85 $69.96 4.07%Hurunui Rural 3,435,000 Hurunui Rural 2 1 $5,339.19 $5,706.67 $367.48 6.88%Chip Sealing, Princes Street, Waikari60
---
Cheviot Ward Profi leBackground and HistoryCheviot is well-known for its rural history, and from the1950s, the township of Cheviot was a relatively settled, stablecommunity that was largely self-contained with various tradesand businesses.Cheviot ward's other settlements include Parnassus whichoriginally had a railway station, a sole-charge school and somebusinesses. The famous Waiau River road/rail bridge was here,before being abandoned and replaced with a new road bridge.Prior to the opening of the old bridge in the 1930s a ferryacross the river carried goods north and south. In the 1950's thesettlement of Spotswood had a hall (which is still used regularlytoday) and a public library. Gore Bay was a largely picnicking andholiday venue with some permanent residents, and Conway Flathad its own school. Domett, originally a railway town, is nowonly populated by farms, and the old Domett Railway Stationhas now been relocated to the main road as a cafe.The Cheviot Rural Water Supply was put in place in 1971,with further extensions in 1980. Cheviot District High Schooltransformed to an area school in 1976, and in 1978, thetownship's old hospital was converted to a medical centre.Recreation / Visitor AttractionsThe Cheviot area offers a variety of quality accommodation,from hotels and motels to farm stays and home stays thatprovide a traditional slice of kiwi life. In the township there areseveral cafes, a museum and a golf course.The Cheviot Hills Domain and Mansion Foundation was theoriginal site of the historical home of the founder of Cheviot,William "Ready Money" Robinson. The front steps of themansion are still in place, and lead into the cricket pavilion. Thedomain has a charming walkway and superb picnic spots. StAnne's Lagoon, about 2 km north of Cheviot, is a popular naturereserve that used to provide Mäori settlements around the areawith eel. The Sunday Craft Market is a great place to stop, witha great range of handmade crafts of very high quality available.The market is often there on Fridays too, weather permitting.Gore Bay is nature's treasure trove, offering great surfi ng,amazing walks and popular camping grounds and the nearbyCathedral Gully, a spectacular weathered clay canyon. TheHurunui and Waiau Rivers are easily accessible for salmon, troutand white bait fi shing, while Conway Flat is yet another stunningsite for surf casting. The area's spectacular coastline providesopportunities for watching both whales and sea birds.Current Profi leDraft Hurunui Community Long Term Plan 2012 - 2022The population of the Cheviot Ward is estimated at 1,340.The Cheviot Ward had a population count of 1311 in the 2006Census. It had experienced a slight decline (around 30 people)over the last two census periods. Cheviot Ward's residentsmake up approximately 12% of Hurunui District's populationas a whole.State Highway 1 runs through the centre of the CheviotTownship. This is a great strength for development and growth,as it makes the township highly accessible, as well as visible,while simultaneously increasing visitor numbers through traffi cand heavy transport.The importance of traditional farming is an on-going strength inthe Cheviot economy.With the closure of Parnassus School, the Cheviot Ward ishome to only one school now – the Cheviot Area School in theCheviot Township.The Cheviot Medical Centre operates from an old convertedbuilding that is less than ideal for the provision of services andis unlikely to be adequate for future demand. A new purposeddesignedbuilding or an upgrade to the existing medical centreis proposed for consideration for 2016/17.Based in the Cheviot Township are volunteer fi re and ambulanceservices and two full-time police offi cers. A council servicecentre is also located there, and the community library is basedat the Cheviot Area School. A volunteer rural fi re force operatesat Conway Flat.Ward GovernanceDistrict Councillors are responsible for representing theinterests of their ward, setting Council policies and monitoringthe Council's performance. They are elected every three yearsby the voters of their ward.The Cheviot Ward is currently represented by one councillor:Vince Daly.The Cheviot Council committees include the Cheviot WardCommittee, and Reserve Committees at Spotswood, Cheviot,Domett and Port Robinson.Key Long Term Opportunities and Challenges61Changes to staffi ng at the Council Service Centre broughtabout an opportunity to review current services and look atopportunities for the future. After considering public feedback,the Cheviot Ward Committee's preferred option is for a
---
www.hurunui.govt.nzcombined Service Centre/Library to be developed on theexisting service centre site. Through this plan therefore, is aproposal to move the community library from the CheviotArea School, where this is now based, into the service centrein 2012/13. The school library would remain in the school. Aworking party is scoping and developing a plan to take to thecommunity for further consideration before the fi nal plan isconfi rmed.A growth strategy for the Cheviot township and the coastalareas, predominantly Gore Bay and Port Robinson area, wasdeveloped in 2007/08 with extensive community input.A new medical centre or an upgrade to the existing building isproposed for the Cheviot township in 2016/17. Full scoping ofthe options and extensive consultation will be carried out priorto any fi nal decisions being made.Changes in Cheviot Ward's land use, such as rising numbersof vineyards, lifestyle blocks (particularly at Gore Bay andPort Robinson), irrigation, and tourism, may result in newopportunities and challenges.Key Planning AssumptionsPopulation growth is projected to be restrained and Cheviothas historically lacked popularity as a retirement area (aselderly residents tend towards areas with more supportservices). Recent interest by some in the comparatively lowcost of housing in Cheviot, indicate that some people wishingto leave Christchurch post the earthquakes, are fi nding the areaattractive even without these supports.The impact of tourism and tourist traffic on local services andamenities present key long term challenges and opportunities.Key ProjectsYear Planned2012/13 2013/14 2014/15 2015-2022Water pipe renewal $62,352New asset pipe $60,000 $62,352 $64,428 $526,032Sewerage - plant renewals $10,994 $36,498Sewerage - desludging $77,749Sewerage - wave band correction $30,822Cheviot Ward footpath construction $25,000 $25,980 $26,845 $219,183Cheviot Ward drainage improvements $5,000 $5,000 $5,196 $5,369Cheviot Medical Centre new building $1,150,700Cheviot Library / Service Centre $100,000Cheviot Ward - Sample PropertiesPropertyCapitalValueWaterNo offi xedChargesActualRatesProposedRatesIncrease (Decrease)Supply Units 2011/2012 2012/2013 $ %Units 170,000 Cheviot 0.5 1 $1,512.82 $1,671.84 $159.02 10.51%Cheviot Rural 2,025.000 Cheviot 2.5 2 $4,225.26 $4,715.96 $490.70 11.61%62
---
Glenmark Ward Profi leBackground and HistoryThe area of Glenmark dates back to the original owner ofGlenmark station, George "Scabby" Moore. Like otherCanterbury runholders he built up his property on the backof profi table pastoral farming, the generosity of his bank, andhis use of cheap leasehold land. He began as the farm manager,and acquired Glenmark at auction in 1873. He paid £90,000 for38,935 acres (15,756 hectares) of freehold land, but this waslinked to another 78,740 acres (31,865 hectares) of leaseholdland. Eventually the run carried over 90,000 sheep and was themost valuable in the colony. Holdings on this scale were notfound in the North Island.Moore was notorious as a hard employer and a bad neighbour.His station was for years Canterbury's scabbiest run, in factat one stage his fi nes for owning diseased sheep amountedto £2,400. It is believed that Moore sought to discourageprospective purchasers of his leasehold land by keeping the runinfected.Waipara led the way in rural irrigation schemes by opening itsNo. 1 Rural Reticulated Water Supply Scheme in 1986 - thefi rst water harvesting scheme in New Zealand. By the turn ofthis century the area had become a signifi cant wine productionregion, accommodating fourteen wineries.The township of Waipara has its origins as a railway town, atthe junction of the main trunk line and services heading west. Itwas famous for having the longest siding in the South Island. Formany years Waipara was also home to State forestry workersand nassella tussock grubbers, but more recently it has becomehome to wine workers.The smaller settlement of Greta Valley was created in the late1970s, complete with amenities, a primary school, a church anda library service. Scargill owes its existence to the Christchurch/Picton railway line, while Omihi already housed some servicesincluding a primary school, a community hall and a railwaystation in the 1950s. The beach settlement of Motunau Beachhas expanded over the past 50 years, with a third subdivisionrecently being developed, complementing the many earlier"traditional Kiwi baches" that characterise this settlement.The Glenmark rugby club in Omihi has produced more AllBlacks than any other club in NZ -14 in all at last count!Recreation / Visitor AttractionsThe Waipara region is one of New Zealand's most rapidlyexpanding wine areas, producing in the order of 1,000,000cases of award winning wines in an average year, includingPinot Noir, Chardonnay, Riesling, Sauvignon Blanc, Pinot Gris,Gewurztraminer, Merlot and Shiraz. Daily wine tours andDraft Hurunui Community Long Term Plan 2012 - 2022personal excursions are available at many of the wineries.The Glenmark Ward also features the Glenmark railway, whereone can recall the era of rural train travel with a ride in vintageformer NZR passenger carriages through scenic Weka Pass onthe 13-kilometre-long railway from Waipara to Waikari, usingvintage former NZR steam and diesel locomotives.There are many and various accommodation options availablein the area.The Motunau Beach settlement is a great place to retreat andenjoy the quiet seaside ambience. Sea fi shing, marine wildlifewatching and diving are just some of the great adventures onoffer. In nearby Greta Valley and Scargill a peaceful, rural farmingatmosphere still exists.The Canterbury regional landfi ll at Kate Valley is located withinthe Glenmark Ward. The landfi ll has areas of regenerating nativebush and wetlands which form the nucleus of the TranswasteTiromoana Bush Restoration plan. Transwaste are planning forTiromoana Bush to be a major national feature, with recreational,educational and scientifi c opportunities for present and futuregenerations of New Zealanders and tourists.Current Profi leThe population of the Glenmark Ward is estimated at 1,170.The Glenmark Ward population was 1,143 people at the timeof the 2006 Census an increase of around 300 people over theprevious fi ve years. Statistics New Zealand predicts furtherincreases for the area, but at a more modest rate than theprevious fi ve year period. Glenmark Ward's residents make upapproximately 11% of Hurunui District's population as a whole.The Waipara Wine Valley offers ideal conditions for growingpremium quality grapes, the combination of hot summertemperatures, well-drained soil and protection from the cooleasterly wind makes for award winning wines. It is the fastestgrowing wine region in New Zealand with around 80 vineyardsin the Waipara Wine Valley covers more than 1,200 hectares ofplantings, including the extended Glasnevin area of the AmberleyWard). The north facing moderately sloping terrain provides anideal sun trap for fruiting vines.The Canterbury regional landfi ll at Kate Valley islocated within the Glenmark Ward. Council has an ongoingcommitment to ensuring that this landfi ll operates in line withits consent conditions, and that the interests and values of theHurunui community are effectively represented and protectedthroughout the planned 35 year life. A Community Trust,established and funded by the landfi ll company, provides fi nancialbenefi ts to the neighbouring community, primarily focused onWaipara. Because Council has no involvement in this Trust or itsdisbursements, this Long Term Plan does not take into account63
---
www.hurunui.govt.nzany community projects or developments funded by the Trust.There are three primary schools in the Glenmark Ward – GretaValley, Omihi, and Waipara, as well as the Glenmark Playcentre.A community library, run entirely by volunteers is run from theGreta Valley School.Waipara Township is home to the ward's New Zealand FireService volunteer fi re brigade. Volunteer rural fi re forcesoperate from Motunau Beach and Scargill.Ward GovernanceDistrict Councillors are responsible for representing theinterests of their ward, setting Council policies and monitoringthe Council's performance. They are elected every three yearsby the voters of their ward.The Glenmark Ward is currently represented by one councillor:• Russell Black.There is no ward committee representing the Glenmark Ward.The Glenmark Ward has, however, the Glenmark ReserveCommittee, the Waipara Residents Association, the WaiparaWine Growers and the Waipara Valley Promotions. In addition,Omihi, Scargill and Motunau Beach have their own residentsgroups.Key Long Term Opportunities andChallengesaims to facilitate the desires made by some members of thecommunity to improve the walking and cycling linkages withinthe Hurunui District. Of particular importance for GlenmarkWard is the proposed commuter route from Amberley toWaipara.The Greening Waipara project provides environmentalopportunities by focusing on promoting non-regulatoryindigenous and exotic biodiversity initiatives to achieve its goalsrelating to sustainable agricultural practices. The project issponsored by Four Leaf Japan Co Ltd and the Bio-ProtectionResearch Centre at Lincoln University.Drinking water continues to be a challenge for Waipara – bothavailability and hardness.Development proposals for the Waipara area are causingconcerns regarding 'sprawl'.Key Planning AssumptionsThe worldwide economic downturn will likely have a negativeeffect on growth and development in farming and associatedrural activities in the Glenmark Ward. It is not expected to effectchange to any large degree in the next ten years in regards togrowth and development in the wine and tourism areas, resultingin the continued demands and pressures on infrastructure in theWaipara area.The Waipara growth strategy and concept plan, whencompleted, will identify long term opportunities for theGlenmark Ward.Last year, a number of Waipara Valley wineries and otherbusinesses created a collaborative group to market and promotethe region. This group, called WaiparaValleyNZ, includes over 15wineries and other businesses and is supported and resourcedby Waipara Valley Winegrowers and the Hurunui Tourism Board.Local opportunities will be afforded by the funds available fromthe Kate Valley Community Trust.Key long term challenges include the limited of availability oflabour and housing to support Glenmark Ward's wine industryand tourism development.Future challenges are also likely to involve pressure on localinfrastructure due to an increase in Glenmark Ward's industryand population.The Council has adopted a Walking and Cycling Strategy, which64
---
Draft Hurunui Community Long Term Plan 2012 - 2022Key ProjectsYear Planned2012/13 2013/14 2014/15 2015-2022Waipara Township water pipe renewal $20,000Greta Valley Sewerage – plant renewals $17,000 $18,255Greta Valley Sewerage – electrical/comms $2,000 $2,078 $2,148 $17,525Motunau Beach Sewerage $35,000 $144,326Glenmark Ward - Sample PropertiesPropertyCapitalValueSupplyWaterUnitsNo offi xedChargesActual Rates2011/2012ProposedRates2012/2013Increase (Decrease)$ %Motunau Beach Property 390,000 HurunuiRural0.5 1 $1,467.34 $1,577.48 $110.14 7.51%Waipara Township 220.000 Waipara 66 1 $908.48 $983.71 $75.24 8.28%Glenmark Rural1,900,00 HurunuiRural7 2 $6,959.65 $7,419.65 $460.00 6.61%65
---
www.hurunui.govt.nzHanmer Springs Ward Profi leBackground and HistoryIn its very early days, the presence of the hot springs madethe Hanmer Springs township a popular visitor destination, andentrepreneurs were quick to offer accommodation for travellersand tourists. This popularity as a holiday destination continuestoday and many tourism and hospitality focused businesses havefl ourished as a result.Timber logging and milling of the surrounding forests commencedin 1900 as part of a Government scheme employing prisonlabour. There have been subsequent changes of ownership andoperation of this forest over the years, culminating in the recentclosure of local milling, and Ngai Tahu taking over ownership aspart of New Zealand's treaty settlements legislation.The well known Queen Mary Hospital site dates back to theestablishment of a Soldiers Hospital in 1916, for the recuperationand rehabilitation of injured and war weary soldiers returningfrom the WW1 front lines. The surrounding park-like groundsand magnifi cent trees add to the special value of this nationallyrecognized heritage site.In late 2008 the council and the New Zealand Governmentreached an agreement that has secured the future of asubstantial six hectares of the old Queen Mary Hospital sitein public ownership for present and future generations of NewZealanders. The Crown vested the land and protected Heritagebuildings in the Council in 2010. Most recently the HanmerSprings Township has undergone a facelift through the HanmerSprings Growth Strategy. The upgrade of the town centre wascompleted in 2010. Ongoing upgrades have been applied to thereserves and walkways in the areaHanmer Springs Community Board:Community Plan Vision 2012-2022Hanmer Springs – "A place for all to live, work and play".VisionIt is a place for all ages and stages of life, with a focus on communitygrowth, provide a sustainable environment for people to visit and live,and expand the tourism opportunities of the area.Recreation / Visitor AttractionsSituated in a high country basin, the small, natural alpine spavillage of Hanmer Springs has been a favourite retreat forgenerations of New Zealanders. The award winning HanmerSprings Thermal Pools and Spa complex is a major draw card,and the pristine alpine environment with its forests, riversand mountains enhance its appeal as the ultimate year rounddestination.There's a substantial variety of accommodation available,complimented by delightful restaurants, cafés, boutique shopping,galleries and craft shops.Hanmer Springs offers activities for all tastes and fitness levels,with numerous walkways, golf, horse riding and mountain bikingoptions available. There are opportunities for pure relaxationwith massage & wellness treatments or blood pumping, thrillseeking adventures such as jet boating, white water rafting,bungee jumping, and four- wheel driving.The newly vested St James Station Conservation Area and QueenMary Hospital site will also provide both locals and visitors withexciting new opportunities for recreational activities.Current Profi le• The population of the Hanmer Springs Ward isestimated at 1,040.• With more than 600 holiday homes in the HanmerSprings and its popularity as a tourist destination, thenumber of people in the area during peak holiday timescan be as high as 6,000• The hospitality industry is the single largest employerin the Hanmer Springs Ward, employing around 30% ofthe ward's full time workers .• Hanmer Springs has always promoted a general 'healthand wellness' theme.• There are local town planning controls in place in theHanmer Springs Township to ensure that the look andfeel of this special alpine spa village are preserved forfuture generations.• The Hanmer Springs Thermal Pools and Spa is an awardwinning tourist attraction. Owned by the HurunuiDistrict Council, the complex hosted 527,801 visitorsduring the twelve months ending June 30th 2011. From2009-11 the Thermal Pools and Spa had an increase invisitor numbers of 4%. The surpluses achieved at theHanmer Springs Thermal pools & Spa were $2,064,966in 2009/2010 and $2,131,000 in 2010/2011. From thesesurpluses, a total of $3,492,460 was transferred fromthe Thermal Pools surplus for the funding of districtwide reserves. For the 2011/2012 year, the amountto be transferred from the Thermal reserve to offsetthe costs of reserves throughout the District has beenbudgeted at $2,021,372.66
---
Draft Hurunui Community Long Term Plan 2012 - 2022• The Hanmer Springs Township is home to one primaryschool, a child care centre and a Playcentre. Councilalso runs a service centre/ library in the township.• In response to growth and demand, a purpose designedmedical centre was built in Hanmer Springs in 2008.• Hanmer Springs has a combined emergency responsefacility which houses Fire, Police, and Ambulanceservices.Ward GovernanceDistrict Councillors are responsible for representing theinterests of their ward, setting Council policies and monitoringthe Council's performance. They are elected every three yearsby the voters of their ward.The Hanmer Springs Ward is currently represented by onecouncillor: Michael Malthus (who is also Deputy Mayor).In addition, the Hanmer Springs Ward has the publiclyelected Hanmer Springs Community Board. The currentrepresentatives on the Board are; Jason Fletcher (Chair),Bill Clarkson, Rosemary Ensor, Kate Poiner and Chris Preston.Hanmer Springs also has its own Business Association.Key Long Term Opportunities andChallengesCommunity:• Target local population by 2023 of 1500 people.• Provide housing for all ages and stages of life.• Be a recognised sustainable community.• Provide access to affordable housing for the retired andthose on low incomes.• Provide village wide high speed broadband connectivity• Extend the pedestrian friendly approach to the town• Insure the Queen Mary hospital opportunities arerealised for both the business community and theresidents.Commercial and Tourism:• A long term challenge for the Hanmer Springs Ward isto maintain annual visitor growth• The vesting of the 6 hectare reserve area on the QueenMary site represents a substantial opportunity for theHanmer Springs Ward and the district• The Track Network provides a great opportunity toadd to Hanmer's visitor attractions• Long term security of access to the forests thatsurrounds Hanmer.• The high country areas are some of the best in newZealand and offer visitors unique and easy access.• Maximisation of the commercial Zoned area in thevillage.• Hanmer Springs needs to tap into the conferencemarket• Hanmer Springs needs better community facilities inorder to attract and keep peopleInfrastructure:• Improved access to the high-country will open up greatopportunities for further tourism development• Entry at State highway 7 and 7a needs to be safer andmore user friendly• Environment Canterbury has made it a requirementthat we improve the quality of sewage outfall.• Peak loading for water needs to be safe guardedKey Planning AssumptionsThe Hanmer Springs area is predicted to continue to grow atabove district average rates. Whilst there are some importantchallenges facing tourism, it is assumed that on balance whilstthere has been an impact from the economic downturn oninternational travel, the Christchurch/Canterbury market hascontinue to grow, further strengthening the already strongdemand for holiday homes.Hanmer Springs is a popular location for retirees and those ableto work from home. It is predicted that as telecommunicationsand technology advance over the coming years, this market willfurther increase.The key projects table on the next page sets out the work weare planning over the next ten years. In addition, we are alsokeen to:• Seek accreditation as a sustainable community.• Provide Village wide high speed broadband connectivity.• Seek continued funding and upgrading of the TrackNetwork.• Look at the purchase the Heritage Forrest and link to StJames walking/cycling /horses and extend to WoodbankRoad and Clarence Valley.• Improve the roads and access to the high-country.67
---
www.hurunui.govt.nz• Improve the entry at State highway 7 and 7a.• Improve the sewage out fall water quality to meetECAN requirements.• Start looking at water supply for 2023.Key ProjectYear Planned2012/13 2013/14 2014/15 2015-2022Land purchased for water treatment $140,000Water – renewal reticulation (from Asset Management Plan) $623,656New sewerage monitoring bores - disposal $555,350New sewerage monitoring bores - desludging $93,528Stormwater – Capital Expenditure $62,352 $154,086Roading - renewals $15,000 $15,588 $16,107 $131,511Roading – new construction $45,000 $46,764 $48,321 $394,527Street lighting $15,000 $15,588 $16,107 $131,511Hanmer Springs Hall – stage upgrade $10,000Hanmer Springs Hall – extension $193,284Sports ground upgrade $30,000 $1,077379Exercise equipment $35,000Additional seating $3,000 $2,078 $1,074BBQ equipment – Brooke Dawson $5,000BBQ equipment – Tarndale $5,196Reserve capital projects $10,000 $10,392 $10,738 $87,681Conical Hill Walkway Project $119,450New welcome sign on SH7 $70.000Hanmer Springs Ward - Sample PropertiesPropertyHanmer SpringsTownship (Tourism)Hanmer SpringsTownshipHanmer SpringsRuralCapitalValueSupplyWaterUnitsNo offi xedChargesActual Rates2011/2012ProposedRates2012/2013Increase (Decrease)$ %405,000 Hanmer Springs 215 1 $2,061.62 $2,153.10 $91.48 4.44%430,000 Hanmer Springs 27 1 $1,626.17 $1,700.41 $74.23 4.56%3,325,000 No Water n/a 1 $4,267.03 $4,495.98 $228.96 5.37%68
---
Council ActivitiesDraft Hurunui Community Long Term Plan 2012 - 202270 Introduction72 Water Supply80 Sewerage85 Stormwater and Drainage89 Roads and Footpaths95 Community Services and Facilities97 Community Services103 Property108 Reserves113 Environment and Safety116 Emergency Services120 Resource Management124 Compliance and RegulatoryFunctions128 Waste Minimisation132 District Promotion137 Hanmer Springs Thermal Pools and Spa143 Governance69
---
www.hurunui.govt.nzCouncil ActivitiesIntroductionIn this section, you will fi nd detailed information about our plansfor the next ten years, with particular focus on the next threeyears. Our work is grouped into nine categories:1. Water Supply2. Sewerage3. Stormwater and Drainage4. Roads and Footpaths5. Community Services and Facilities6. Environment and SafetyCommunity Outcomes and ActivityGroupingsOur community outcomes express what we want to achievethrough the delivery of a particular group of activities. Thechart on the next page shows how the groups of activities arelinked to specifi c community outcomes.Plan Review/Public ConsultationThis long term plan will be comprehensively reviewed each threeyears. Before it is fi nalised each time by the Council, the publicwill have the opportunity to give their opinion on any aspectof the draft plan beforehand through a special consultativeprocedure. Parts of the plan may be reviewed at other times ifcircumstances alter what we had intended in the plan. The nextlong term plan review is due in 2015.7. District Promotion8. Hanmer Springs Thermal Pools and Spa9. GovernanceThe following pages go into detail about each category and itsassociated activities. The format for each is similar and althoughsome information is relevant for some activities and not forothers. In each of the groups of activities, you will be able tofi nd out:• Council's overall aim in relation to the activity• Background to the activity• How the activity will contribute towards theachievement of our community outcomes• What the current situation is in relation to the activity• What council's future plans are in relation to the activity• How the activity is funded• How the activity is maintained and operated• What signifi cant negative effects are caused through theactivity• Assumptions and risks that are associated with theactivity• How we measure or monitor our progress• Financial forecasts70
---
Draft Hurunui Community Long Term Plan 2012 - 2022Contribution to Community OutcomesCommunity OutcomesGroups ofCouncil ActivitiesA desirableand safe placeto liveA place where ourtraditional ruralvalues andheritage makeHurunui uniqueA place with athriving localeconomyA place thatdemonstratesenvironmentalresponsibilityA place withessentialinfrastructureWater Supply Sewerage Stormwater andDrainage Roads and FootpathsCommunity Servicesand Facilities Environment and Safety District PromotionHanmer Springs Poolsand Spa Governance71
---
www.hurunui.govt.nzWater SupplyOverviewWater Supply covers the following activity described below:Activity 1: Water Supply (township supply and rural waterschemes)Our AimTo provide a sustainable supply of water that meets the needsof present and future domestic and agricultural/horticulturalconsumers, and complies with the New Zealand Drinking WaterStandards.Why is the Council Involved?The subject of water is of major importance to our Council. It isan on-going challenge for us to provide a plentiful water supply,particularly given the drought prone nature of the Hurunui,and to have water that is of a good drinking standard while atthe same time operating an effi cient and cost effective service.Water is of primary importance to any community and has adirect infl uence and impact on the economic, social, cultural andenvironmental wellbeings of our population.Community OutcomesThe Water Supply activity described in this section, primarilycontributes to two of our community outcomes:1. A desirable and safe place to live:• We have attractive well designed townships• Communities have access to adequate health andemergency services and systems and resourcesare available to meet civil defence emergencies• Risks to public health are identifi ed andappropriately managed2. A place with essential infrastructure:• We have a strong emphasis on service deliveryacross all infrastructure including roading, water(for drinking and development), waste water,stormwater and solid wasteMajor Projects PlannedProjectRenewal reticulation -AmberleyCommission SH1 bore -AmberleyRising Main upgrade -AmberleyRenew and upgrade pipesand fi ttings – Ashley RuralMixed Oxidant treatmentplant – Ashley RuralWater security (tank farm)– Culverden TownshipDrinking Water StandardsStage I – Waiau TownshipMixed Oxidant treatmentplant – Waiau RuralYear Planned2012/13 2013/14 2014/15$25,000$236,500$170,000 $124,704$90,000$205,000$98,000$51,960Renew pipework- Cheviot $62,352Mixed Oxidant treatmentplant (Main, Parnassus,Blythe, Kaiwara) - CheviotPipe renewal – WaiparaTownshipMixed Oxidant treatmentplant – Waipara TownshipLand purchase watertreatment – HanmerSpringsRenewal mechanical –Hurunui RuralRenewal pipe – HurunuiRuralMixed Oxidant treatmentplant (#01, Peaks, L.Waitohi) – Hurunui Rural$293,000$20,000$98,000$140,000$260,933$128,856$25,000 $25,980 $26,845$120,000 $124,704 $128,856$269,000Signifi cant Negative EffectsThere is potential for signifi cant negative effects on theenvironmental and cultural wellbeing of the community if thereis excessive abstraction of water. Abstraction is managed tominimise the chance of outages or disruption to supply. Thereare also potential negative public health effects in providingwater in some areas that does not meet current drinking waterguidelines for biological contaminants. We issue public "boilwater" notices when positive samples are detected. We areworking toward improving the standard of our water supply to72
---
Draft Hurunui Community Long Term Plan 2012 - 2022meet the New Zealand drinking water standards over the next10 years or so. Ultimately, we aim to negate the need for boilwater notices in the future.Development contributions are being collected to offset thenegative economic effects on ratepayers of upgrades of suppliesin the District that are necessary to cater for growth. Suchupgrades will help to ensure that the present level of provisionof water supply services is sustainable.Emergency ManagementIn an emergency, particularly a civil defence emergency, we willcontinue to deliver services as long as it is safe and practical tocontinue to do so. Water is a priority commodity at any time,and no less so in the event of a civil emergency. Every effortwill be made to maintain our water services in an emergencysituation, or when major damage has occurred for whateverreason.Financial SummaryA fi nancial summary for this group of activities is shown at theend of the Water Supply activity.73
---
www.hurunui.govt.nzActivity 1: Water SupplyOverviewThe Water Supply activity includes the various functions of ruraland township water supplies.Current SituationThe quality and quantity of drinking water in the HurunuiDistrict remains a concern and priority for us.There are currently 13 Council owned water schemes in theDistrict, extracting water from 25different sources. Eight ofthese intake sources are on permanent boil water notices(method used for killing any bacteria, viruses, ova and cyststhat may be present in potentially contaminated water). Theschemes are overseen by Water Committees with delegatedresponsibilities for the planning and development of theirschemes, alongside council offi cers. A schedule of the waterschemes is included within this section. On-demand water issupplied to 8 of the urban communities in the district; thesebeing from 7 high pressure schemes consisting of 9 waterintakes and 60 km of pipe.Other small urban communities (Leithfi eld, Cheviot, Gore Bay,Rotherham, Greta Valley, Amberley Beach and Motunau Beach)are supplied via tanks from restricted rural supplies. All ruralcommunities in the district are serviced by Council operatedrestricted-fl ow water supplies providing water to consumersas "units" of water supplied into individual tanks. One unit is1800 litres supplied over 24 hours, except for Balmoral andAmuri Plains, where a unit is 1000 litres per day. The Hurunuiand Cheviot Rural Water Schemes cover four separate supplieswithin each of their areas. The Ashley Scheme also has fourdistinct intake sources and includes part of the WaimakaririDistrict within its boundaries.All townships with on-demand supplies, except Leithfi eld Beachhave metered connections and charges are made on actualwater consumption used.Plans for the FutureThe availability of safe drinking-water for all New Zealanders,irrespective of where they live, is a fundamental requirementfor public health. The revised Drinking-Water Standards area signifi cant achievement in New Zealand's endeavours tomaintain and improve the quality of drinking-water.Since the publication of Drinking-Water Standards for NewZealand 2000, the approach to managing drinking-water haschanged. The focus has moved from quality control to a broaderapproach of quality assurance. This has been necessary dueto changes in technology, an improvement in our scientifi cknowledge and the requirement to address a broader range ofissues than previously covered. This change has been managedthough the Drinking-Water Standards for New Zealand 2005(revised 2008) (DWSNZ).The Health (Drinking Water) Amendment Act 2007 amendedthe Health Act 1956 to require all drinking-water suppliersproviding water to consumers to develop and start to implementa Public Health Risk Management Plan (PHRMP) to guide the safemanagement of each minor drinking-water supply (501 to 5000consumers) before 01 July 2014 onwards. A Public Health RiskManagement Plan is a tool to help suppliers identify, manage andminimise events that would cause water quality to deteriorate.This amendment marks a milestone in New Zealand in that, forthe fi rst time, all drinking-water suppliers have a duty to ensuretheir drinking-water supply is safe to drink.The three main themes covered by the DWSNZ are maximumacceptable values (water quality standards for microbial,chemical and radiological determinants); the compliance criteriaand reporting requirements; and lastly, the remedial actions to betaken when non-compliance is detected. The quality of the waterthat is provided will continue to be governed by the DWSNZ,which prescribes the maximum allowable concentrations ofpotentially harmful contaminants that may be present in thedrinking-water supplied.The penalties for failing to comply with DWSNZ are very severe($200,000 plus for a continuing offence, and $10,000 for eachday of continued non-compliance). Accordingly, we have workedhard with our local water and ward committees to ensure thatthe requirements under DWSNZ are met within the PHRMPcompliance times specifi ed, with latitude for affordability.Seven of our 25 water supply sources are defi ned as "minor"supplies, which require PHRMP compliance with the Act by 1July 2014. Of these seven intakes; three have approved PHRMP's,one has a current drafted PHRMP (to be submitted to Ministryof Health (MoH) for endorsement); two are currently being agetested (deep water secure sources); and the remaining one iscurrently being drafted. The other 18 drinking water sourcesare categorised as either "small", "neighbourhood" or "ruralagricultural" with PHRMP compliance timeframes of 01 July2015, 2016 or later than 2016 respectively. Table 1 in this sectiondetails the situation for all of our drinking water supplies.The cost to fully comply with DWSNZ is currently estimated atan additional $14 million (capital works) and a further $484,000per annum (operational costs) in today's dollar value. Initialdiscussions with the Ministry of Health (Canterbury DistrictHealth Board) indicated that we must meet physical complianceno later than three years after the fi nal compliance approvaldate for the PHRMP, for each shallow at-risk intake source.This comes at a huge capital expenditure from 2017 to 2020.We have raised with MoH, the affordability issue for a smallrural council such as ours to meet these exorbitant costs. Wearrived at a proposed compromise to achieve full DWSNZcompliance no later than ten years after the fi nal approval datefor the respective PHRMP. The expectation from the MoHis that we will, as a minimum, provide drinking-water to ourconsumers that is bacteriologically free (meets compliance for74
---
Draft Hurunui Community Long Term Plan 2012 - 2022maximum acceptable e-coli contamination levels, but is still safeto consume). Furthermore, we will show that we are makingprovision for the impending capital cost impact through years2024 to 2027 through a district-wide general rated scheme, thusmitigate a repeated affordability argument in years to come. Allcurrently approved PHRMP's will require a review to includethis MoH endorsed strategic approach.We are planning to meet the drinking water standards in twophases. The fi rst will involve installing Miox treatments in eachof the nine at risk water intakes in the 2012/13 year. This will putan end to our 'boil water' notices. The second phase involvesthe actual upgrading to full compliance and the Miox treatmentswill end. This last phase will occur between 2024 and 2027.We have been undertaking a pipe replacement programmeover the past few years, and due to the extensive nature of theHurunui District, this will continue for many years to come.Table 1: Water Supply Source Defi nitions (re MoH criteria)Source Type Population CategoryEffectiveDateAmberley Town• AmberleyDomainGallery 1300 Minor 2014• SH1, Leithfi eld WellAmberley Beach• Kowai Well 630 Minor 2014Amuri Plains Well 400 Small 2014Ashley Rural• Main intake• Mays• RacecourseRoadWellWellWell2750500450MinorSmallSmall201420152015Balmoral Rural Gallery 200 small 2015Cheviot Rural• Waiau River• Blythe• Kaiwara• ParnassusWellWellGalleryWell134065162100MinorNeighbourhoodRural AgricultureNeighbourhood2014201620162016Culverden Well 475 Small 2015Hanmer Town Gallery 1,500 Minor 2014Hawarden / Well 750 Minor 2014WaikariHurunui Rural• No. 1• Peaks• UpperWaitohi• LowerWaitohiGalleryWellGalleryGallery600100400300Rural AgricultureNeighbourhoodRural AgricultureRural Agriculture2016201620162016Leithfield Beach Well 150 Small 2015Waiau Rural Well 240 Rural Agricultural 2016Waiau Town Well 420 Small 2015Waipara Town Well 300 Small 2015FundingOperational Costs:Restricted Supply• As a local Uniform Annual Charge on water unitentitlement.Unrestricted Supply• Fixed costs – As a local Uniform Annual Charge.Variable costs• As a set price based per cubic meter of water asrecorded by the individual water meters.Depreciation• Council does not cash fund depreciation on its assets.Instead, it builds up a fund for future maintenancethrough rating at a higher level than required to meetthe operating costs. See the Statement ConcerningBalancing of the Budget on page 33.Capital Costs:• Signifi cant Council capital expenditure will be fundedby loan for the life of the investment pursuant to theInternal Financing Policy.• If loans are not raised then it will be treated as a fi xedcost and funded from annual rates.• If loans are not raised then it will be treated as a fi xedcost and funded from annual rates.• If any of the Capital Expenditure caters for future growthof the scheme, then that portion of the expenditurethat relates to growth may be funded from future usersvia Development Contributions.• Landowners with new connections will pay the cost ofconnecting to the nearest main plus, if a new subdivide,putting in the sub-main and any levies as specifi ed in theDevelopment Contributions policy.• Property owners wanting new connections will paythose costs necessary for the connection.Loan Repayments• Signifi cant Council capital expenditure should be fundedby loan for the life of the investment. Repayment of theloan will be treated as a fi xed cost and will be fundedfrom a local Uniform Annual Charge.Council Owned Assets13 water schemes:On Demand Water Schemes (Urban)1. Amberley2. Leithfi eld Beach3. Culverden4. Waiau75
---
www.hurunui.govt.nz5. Waipara6. Hanmer Springs7. Hawarden-WaikariRestricted Water Supplies (Rural)8. Ashley9. Amuri Plains10. Balmoral11. Waiau Rural12. Cheviot13. HurunuiTable 2 shows the water network valuations as at 30 June 2011..Maintenance and Operating ImplicationsWe intend to retain the ownership of all public water supplyassets on behalf of the communities that these facilities serve.Asset management, basic design work, contract documentation,tendering, record keeping, operation and routine repair andmaintenance are to be carried out by our staff. Larger budgetcapital works are likely to be let as contracts. Larger repairs,work across state highways or arterial roads and someemergency works may also be contracted to preferred oravailable contractors. External consultants will be engaged onlyfor specialised tasks, where we do not have those skills in-house.Information relating to the overall condition and performance ofthe assets that make up the water supply networks in the districtare in our Asset Management Plans. Age and condition have aninfl uence on the maintenance of assets, but do not necessarilyimpact on output and/or outcome performance. Breakages canoccur due to nearby earthworks, natural emergency events,pressure waves (from pumps) or illegal connections that caninfl uence demand for water. Low performance can also arisefrom an increase in demand from high growth, changes intechnology and materials, and changing expectations from thecommunity. The Water Asset Management Plan will be reviewedand updated through 2013.The Demand Management Strategy will look at signifi cantways to improve forecasting, planning and upgrading of waterinfrastructure into the future, thus addressing the national issueof increasing competition for access to water. The challengesof future growth, development and land-use changes (bothdomestic and industrial) within the district and the subsequentneed to replace or renew supply infrastructure to meet theseneeds, will drive us to reassess how we currently do our businessand to start thinking smarter and wiser. Water supply effi ciencyis a core directive to ensuring that we use what we currentlyhave more effectively, before expensive upgrade works areconsidered. We have a responsibility to help educate the publicto reduce water consumption and encourage other methodsto conserve water (such as grey water systems in new homes).Most of the network reticulation is in good repair and operatingunder a policy of renewal when necessary, thus reticulation shouldremain serviceable indefi nitely. Pumps, controls, telemetry (datasent back to the offi ce by radio) and water treatment devicesare repaired as the need arises and are replaced as the benefi tsof repair are outweighed by replacement – usually every 12 – 20years. Reservoirs, weirs, bores, and ponds are maintained on anon-going basis. The asset ages of on-demand water networks isquite recent, with the earliest network installations dating backto 1955 (in Amberley).Table 2: Water Network ValuationsNetwork Replacement CostDepreciatedValuesAmberley $2,815,297.48 $1,111,538.26Amuri Plains $1,290,870.87 $800,292.87Ashley $11,993,509.66 $8,349,455.36Balmoral $1,312,486.28 $775,449.94Blythe $401,350.63 $223,933.83Cheviot $3,255,002.95 $1,513,348.23Culverden $1,011,591.28 $380,681.82Hanmer Springs $5,817,078.18 $3,645,959.74Hawarden-Waikari $2,485,771.81 $878,670.62Hurunui 1 $5,124,151.09 $2,321,822.64Kaiwara $1,662,809.98 $954,166.69Leithfi eld Beach $490,747.49 $275,692.71Lower Waitohi $1,677,400.52 $814,691.71Parnassus $1,106,936.83 $603,963.87Peaks $273,119.55 $160,382.43Upper Waitohi $2,279,526.49 $862,083.11Waiau RWS $2,292,416.66 $1,100,388.11Waiau Township $712,104.90 $200,642.77Waipara $708,485.77 $254,815.72Assumptions and RisksUpgrading of water systems, new treatment plants and fi ltrationsystems to meet Drinking-Water Standards New Zealand, haveall assumed fi nancial subsidies from Central Government inthe past in order for the work to affordably proceed. However,reduced national subsidy funding (less money available for all)and the ever-increasing limiting eligibility criteria (specifi callythe deprivation index to address more fi nancially needycommunities) have put council in a position that requiresreconsideration of this hopeful approach. We will have tofund the full cost from their perceived deep pockets, placingmore fi nancial burden upon our communities to meet theselegislatively imposed standards.We will continue to make application for this subsidy yearlyfrom the Ministry of Health, wherever we see opportunitywithin the constraints of the set and strict criteria applicable toqualify for an adjudicated consideration.Effort is continually on-going to establish the useful lifespan ofunderground and fi xed water supply assets. Most of the urbanreticulation is AC pipe (older community areas prior to early1970's) and PVC for new sub-divisions and replacement sectionsof the current infrastructure.Pipe material has performed satisfactorily since installation,but renewal is anticipated for much of this over the next 2076
---
Draft Hurunui Community Long Term Plan 2012 - 2022years or so. We have been undertaking a renewal programmefor some years, which will continue so that the cost is spreadout rather than peaking at once. Expected life for AC is 60years and 80 years for PVC and polyethylene (PE). Some ACpipe has experienced wall softening, thus demanding repairor replacement. This effect is localised in all networks, butthe frequency of pipe failure is closely monitored to ensurereplacement is carried out at the optimum time.External and internal stresses determine the useful life of allassets. The inability to pin-point these means approximatevalues are applied to useful service lives. This implies thatrenewal priorities are spontaneous (reactive based on incidentsof breakages), rather than being confi dently known (proactivebased on scientifi c data). Better scientifi c information aroundthe pipeline infrastructure (sectional investigations for conditionratings) could swing this approach to the NAMS best practiceasset management outcomes, but comes at a high initial cost.Sectional Investigation Programmes (SIP) will be initiated toselected schemes over the next three years to make inroadstowards this desirable outcome and improved proactiveforecasted replacement/renewal maintenance programmes.We recognise risks associated with failure to supply safe drinkingwater on public health and potential failure to supply wherenatural disasters have the capacity to damage reticulation. Therural character of the district means immediate assistance maybe limited at such times. We hold limited pipe and fi ttings stockat each depot (dormant cash fl ows) and have built-in generatorsor external plugs at some of the main pump stations. Reservoirback-up when intakes are out of commission is very limited(except for Hanmer Springs – tank farm). Operators and plant,located at each depot, are a fi rst point of call through these riskassociated periods identifi ed.All water networks operate under approved resource consentsto take water. Conditions are set with council utilities staff andare administered by Canterbury Regional Council (EnvironmentCanterbury - ECan). All intakes are within consented limits atpresent. It is assumed that future demand will be able to bemet with the capital projects planned and that the consents forsuch will continue to be renewed as necessary and be able tobe complied with.Development contributions are being collected to offset thenegative economic effects on ratepayers for future upgrades ofinfrastructure in the District that are necessary to cater forgrowth. Such upgrades will help to ensure that the present levelof provision of water supply services is kept sustainable.Shared ServicesWe have an agreement with Waimakariri District Council tosupply water to the Ashley and Sefton parts of their district. Assuch, approximately 1,650 Waimakariri residents pay the waterproportion of rates directly to us.Council Utilities Team undertake emergency repairs tothe main line on the Waipara Water Scheme.77
---
www.hurunui.govt.nzCommunity Outcomes1. A desirable and safe place to live2. A place with essential infrastructureGoals and Performance MeasuresGoalsSupply waterto meetconsumerneedsHow we willachieve our GoalsProvide acontinuous 'ondemand'supply ofpotable water tourban areas and a'restricted' supplyof water to ruralareasUndertakea residentssatisfaction surveyMaintain andimprove waterschemes to complywith DWSNZWater tested forqualityPerformance Measures Current Situation 11/12 12/13 13/14 14/15 15+Major faults to watersupply pipelinesgreater than 250mmdiameter that affectcustomers arerepaired within 24hoursResident satisfactionwill continue toimprove over thecoming yearsInstall 9 mixed oxidanttreatment plants andeliminate the need forpermanent boil waternoticesThe safety standardof potable waterimproves each year**No such faults were reportedduring the year, but we have a bettersystem in place now to capture thisinformation and track the completionof work via our service requestprogrammeResident satisfaction levels haveimproved since 2007 and in 2011it reached 82.5%* satisfaction withwater quality. Satisfaction withquantity of rural water was 81%.We have 8 permanent boil waternotices in place.Water standards are measured weeklyor monthly depending on the numberof consumers for each scheme.***Our potable water met safetystandards in 85% of the district.√ √ √ √√ √ √ √√√ √ √ √*Average score over three questions relating to pressure and fl ow of water (86%), appearance and taste (79%).**We have been working to improve the safety standard of potable water in the district each year and last year we reached 85%.***Each scheme, dependent on its risks at intake (shallow through river gallery would be high risk), has a monitoring regime associated withits need for sampling and testing for e-coli and total coliforms. The higher the risk, the more tests required for the scheme. High risk - once perweek, low risk (deep intake) - once per month. A failure is an e-coli reading >1, which requires retesting until it achieves three clear results.Financial SummaryA fi nancial summary for this activity is shown on the next page.78
---
Draft Hurunui Community Long Term Plan 2012 - 2022WATER SUPPLIESGROUP ACTIVITY FINANCIAL SUMMARYAnnual Plan Year 1 Year 2 Year 3 Year 4 Year 5 Year 6 Year 7 Year 8 Year 9 Year 102011/2012 2012/2013 2013/2014 2014/2015 2015/2016 2016/2017 2017/2018 2018/2019 2019/2020 2020/2021 2021/2022Operating StatementOperating RevenueGeneral Rates 0 0 0 0 271,471 271,471 271,471 271,471 271,471 271,471 271,471Targeted Rates 3,865,925 4,289,569 4,493,380 4,708,071 4,850,494 5,000,728 5,195,456 5,397,543 5,608,551 5,828,920 6,059,113Other Income 109,485 221,616 111,380 114,772 118,411 122,310 125,788 129,341 133,434 137,927 142,441Internal Interest Received 9,777 8,998 6,281 7,172 7,174 18,473 44,852 73,920 103,932 133,437 170,795Development Contributions 351,193 129,978 135,200 139,651 144,432 158,431 164,570 171,222 178,498 186,590 177,157Total Operating Revenue 4,336,380 4,650,162 4,746,242 4,969,666 5,391,982 5,571,413 5,802,137 6,043,497 6,295,887 6,558,345 6,820,977Operating ExpenditureEmployee Benefits 592,896 619,190 638,571 658,013 678,880 701,233 721,171 741,542 765,009 790,768 816,650Direct Operating Expenditure 1,585,555 1,777,070 1,832,692 1,888,492 1,931,934 1,995,544 2,052,283 2,110,255 2,177,037 2,250,340 2,323,994Internal Interest Paid 385,126 309,960 380,413 363,998 349,624 325,092 353,433 350,754 337,916 320,345 302,499Council Overheads Expenditure 873,937 910,844 938,215 967,189 995,825 1,026,094 1,055,497 1,081,800 1,113,293 1,147,304 1,181,450Depreciation 850,000 929,141 964,380 956,502 1,060,833 1,052,154 1,055,443 1,157,922 1,144,787 1,134,861 1,312,729Total Operating Expenditure 4,287,514 4,546,205 4,754,271 4,834,195 5,017,095 5,100,116 5,237,826 5,442,273 5,538,043 5,643,617 5,937,322Operating Surplus (Deficit) 48,866 103,956 (8,029) 135,471 374,887 471,297 564,311 601,224 757,844 914,728 883,656Capital StatementCapital ExpenditureDistrict Wide Water 96,602 32,713 33,996 35,127 36,335 50,835 52,770 54,908 57,250 59,865 49,835District Wide Water - Miox Treatment 0 758,000 0 0 0 0 0 0 0 0 0Amberley Water 14,678 261,500 10,392 279,220 142,170 448,773 108,700 0 0 0 0Leithfield Beach Water 7,920 0 0 0 0 0 0 0 0 0 0Ashley Rural Water 137,914 310,000 176,664 182,546 188,819 195,619 203,065 211,293 220,303 230,367 374,194Culverden Town Water 60,125 5,000 72,432 7,517 48,982 5,754 5,973 8,700 6,480 6,776 9,922Waiau Town Water 8,659 205,500 520 537 555 575 597 621 648 678 709Amuri Plains Water 0 4,500 4,676 4,832 4,998 5,178 5,375 5,593 5,832 6,098 6,378Balmoral Water 15,756 16,000 2,078 3,221 4,443 3,452 2,389 4,972 2,592 2,710 5,670Waiau Rural Water 25,500 23,500 24,421 17,718 18,327 18,987 19,709 20,508 139,309 22,359 23,387Cheviot Water 707,957 81,000 143,410 81,609 84,413 87,453 90,782 94,460 98,488 102,988 107,722Waipara Town Water 2,112 20,000 0 0 0 0 0 0 0 0 0Hanmer Springs Water 245,657 162,000 25,980 23,624 22,214 31,069 23,890 27,344 25,918 36,588 652,004Hawarden-Waikari Water 16,520 3,000 0 46,173 4,443 575 3,703 51,332 5,184 678 0Hurunui Rural Water 196,688 209,000 209,918 211,539 218,808 312,415 235,317 244,851 255,292 266,955 279,228Total Capital Expenditure 1,536,088 2,091,713 704,488 893,662 774,506 1,160,685 752,269 724,583 817,295 736,060 1,509,048Funds RequiredOperating Deficit 0 0 8,029 0 0 0 0 0 0 0 0Capital Expenditure 1,536,088 2,091,713 704,488 893,662 774,506 1,160,685 752,269 724,583 817,295 736,060 1,509,048Increase to Reserve Funds 0 47,231 61,559 86,562 371,630 1,009,504 1,119,186 1,209,190 1,271,598 1,439,628 1,388,381Repayment of Internal Loans from Operating Income 898,866 985,867 894,792 1,005,411 1,064,090 513,947 500,568 549,956 631,033 609,961 808,0042,434,954 3,124,810 1,668,868 1,985,635 2,210,226 2,684,136 2,372,023 2,483,728 2,719,926 2,785,649 3,705,433Funded byOperating Surplus 48,866 103,956 0 135,471 374,887 471,297 564,311 601,224 757,844 914,728 883,656Non Cash Expenditure - Depreciation 850,000 929,141 964,380 956,502 1,060,833 1,052,154 1,055,443 1,157,922 1,144,787 1,134,861 1,312,729Capital Expenditure funded from existing Reserve Funds 0 124,855 36,074 85,059 45,776 251,057 282,233 343,634 418,520 353,244 686,505Capital Expenditure funded through Internal Loans 1,536,088 1,966,858 668,413 808,604 728,730 909,628 470,036 380,949 398,775 382,816 822,5442,434,954 3,124,810 1,668,868 1,985,635 2,210,226 2,684,136 2,372,023 2,483,728 2,719,926 2,785,649 3,705,43379
---
www.hurunui.govt.nzSewerageOverviewSewerage covers the following activity described below:Activity 1: Sewerage (township and rural sewer schemes)Our AimTo provide profi cient, cost effective sewage disposal schemesrelevant to the needs of the community.Why is the Council Involved?Council provides a sewerage service to support the developmentof the District and to protect the physical environment andhealth of the community through good sanitary practice. Wetry to ensure that adverse environmental impacts are avoided,minimised or eased.Community OutcomesThe Water Supply activity described in this section, primarilycontributes to three of our community outcomes:1. A desirable and safe place to live:• We have attractive well designed townships• Communities have access to adequate health andemergency services and systems and resourcesare available to meet civil defence emergencies• Risks to public health are identifi ed andappropriately managed2. A place that demonstrates environmental responsibility:• We protect our environment while preservingpeople's property rights• We minimise solid waste to the fullest extent,and manage the rest in a sustainable way3. A place with essential infrastructure:• We have a strong emphasis on service deliveryacross all infrastructure including roading, water(for drinking and development), waste water,stormwater and solid wasteMajor Projects PlannedProjectAmberley pipe upgrade $474,000Year Planned2012/13 2013/14 2014/15Amberley pond desludging $96,642Amberley wastewater plantrenewals$12,240 $10,780 $78,256Cheviot wave board correction $30,882Greta Valley wastewater plantrenewalsMotunau Beach wastewaterplant renewalsHanmer Springs ponddesludgingHanmer Springs disposal toland optionHanmer Springs treatmentpond aeration improvements$17,000 $18,255$35,000$220,000Signifi cant Negative Effects$93,528$1,288,560There are signifi cant negative effects for environmental,economic, cultural and social wellbeing from this activity. Thedisposal of treated effl uent to land and waterways carriesphysical and health risks, although these are minimised byensuring that the reticulation and disposal systems complywith the appropriate resource consents. All facilities are basedaround pond treatment, which means any overfl ow or failureat these locations will involve release of treated or partiallytreated material. The lack of reticulated sewerage systems isaffecting the environmental and social wellbeing of some localcommunities. However, the cost of installing such systems atthis stage, have an even bigger negative effect on the economicwellbeing of these communities.Emergency ManagementIn an emergency, particularly a civil defence emergency, we willcontinue to deliver services as long as it is safe and practicalto continue to do so. Sewerage issues will receive priority inthe event of a civil emergency and every effort will be made toeffectively and safely dispose of sewerage to minimise healthrisks.Financial SummaryA fi nancial summary for this group of activities is shown at theend of the Sewerage activity.80
---
Activity 1: SewerageOverviewThe Sewerage activity includes the various functions of theseven sewerage schemes in the District.Current SituationThe district operates 7 separate sewerage schemes, serving allbut 4 urban localities. All use oxidation ponds for treatment ofsewage and 14 pump stations are operated within the pipework.Table 1 below sets out the number of connections eachsewerage scheme services.1. The current situation for each of the sewerage schemesis outlined below:2. Amberley: Reticulation was installed between 1974and 1977 with a staged multi-pond treatment and landdisposal onto pasture (free draining sandy soil) adjacentto the coast.3. Cheviot: Reticulation and aeration tank was installed in1964, upgraded to single oxidation pond plus borderdykedisposal in 1982 and further improved in 1999/00to a multi-pond facility with spray irrigation to pastureand overland fl ow polishing prior to discharge toadjacent waterway when the irrigation area is saturated.4. Greta Valley: Reticulation and treatment/disposalfacility was installed in 1979 for a Council fundedsubdivision with one pond treatment and disposal toland (travelling irrigator) or to nearby waterway whenthe soil conditions are too wet for irrigating.5. Motunau Beach: Reticulation, treatment and disposalarea was installed in 1987 in response to meetcommunity and public health expectations, using a dualpond for treatment (with aeration) and land baseddischarge onto pasture (private title) with border dykeapplication.6. Hanmer Springs: Reticulation was installed 1971 withdual pond treatment and discharge to the ChattertonRiver, replacing the older reticulation and settling tank(installed in 1949 in the hospital property) which wasnot meeting local expectations. A further upgradeincluding additional ponds and aerators was completedin 2007/08.7. Hawarden: Reticulation and treatment/disposal facilitywas installed in 1966 with twin ponds and overfl ow toan open drain.8. Waikari: Reticulation and treatment/disposal facilitywas installed in 1967 with twin ponds and overfl ow tothe Waikari River with discharge altered to land disposalvia spray in 1996 on an adjacent farmland. It has beenfurther upgraded in 2005 with an additional pond andan increased effl uent disposal area.Recently, we investigated the feasibility of two new sewerageschemes for Culverden and Waipara. Public feedback on theDraft Hurunui Community Long Term Plan 2012 - 2022results, and particularly the cost of the building the schemes wasnot favourable. There clearly is the sentiment "don't fi x what'snot broken",therefore, reticulated schemesfor Culverden andWaipara are not planned at this stage. Should there be anychanges in legislation or adverse effects to groundwater arenoted (in terms of effl uent contamination), then this democraticapproach will be revisited for alternative consideration.SchemeActiveConnectionsUndevelopedSites (halfconnections)Pan ConnectionEquivalents(includes multiplepans)Amberley1,042 106 1,350Leithfield 172 25 203Cheviot 208 8 328Greta Valley 28 12 59Motunau Beach 119 18 137Hanmer Springs1114 293 1,923Hawarden 120 11 169Plans for the futureNew pipelines in Amberley are to be built. Plant renewals willbe undertaken as identifi ed in our Activity Management Planfor wastewater.We have an 'Assessment of Water and Sanitary Services". Thisassessment will be reviewed from time to time during the lifeof this plan and is due for its next review in the 2013/14 year.Works associated with current resource consent requirementsfor Hanmer Springs and Cheviot wastewater treatment plantsrequires us to look towards disposal to land as alternativeadopted approaches to disposal to waterways (by 2014/15).Hanmer Springs wastewater treatment plant ponds exhibitedseasonally low dissolved oxygen (DO) levels, which could resultin odour problems to nearby residential properties (dependentupon the prevailing wind at the time). Aerator upgrades will berequired to eliminate this potential problem and ensure thatcouncil remains within the tolerated minimum acceptable valuesfor DO.FundingOperational Costs:• Operation and loan repayments are funded by way of awastewater Uniform Annual Charge:• on each connection• for connected commercial properties a charge of1 for the fi rst pan• ½ charges on the second pan• ¼ charges on the third and subsequent pans81
---
www.hurunui.govt.nz• Serviceable properties within the urban seweragescheme will be charged ½ the Uniform Annual Charge.• Council may allow capital contributions to be made atits discretion in place of a loan Uniform Annual Charge.Capital Costs:• Signifi cant Council capital expenditure are funded by aloan as per the Council's Internal Financing Policy• If loans are not raised, then it will be from targetedrates.• Council may loan fund sewerage main extensions withthe loan repayments met by those properties directlybenefi ting where the majority of the property ownersagree to the extension.• If any of the Capital Expenditure caters for futuregrowth of the scheme, then that portion of theexpenditure that relates to growth may be fundedfrom future users via Development Contributions andFinancial Contributions.• Landowners with new connections will pay the cost ofconnecting to the nearest main plus, if a new subdivide,putting in the sub-main.• Property owners wanting new connections will paythose costs necessary for the connection and any leviesas specifi ed in the Development Contributions policy.• Council should pay any costs of scheme requirementsthat are over and above those necessary for theconnection and the direct costs.Council Owned Assets• Sewerage schemes in:• Amberley• Cheviot• Greta Valley• Motunau Beach• Hanmer Springs• Hawarden• Waikariout by our staff.Larger budget capital works may be let as contracts. Decisionsaffecting wastewater networks will be made in consultationwith ward committees and Residents Associations.Larger repairs and emergency works may also be contracted topreferred or available contractors. Preference will be given tolocally based contractors for these activities where their pricesare competitive. External consultants will be engaged only forspecialised tasks, where we do not have the skills, or anotheropinion is required.Table 2: Sewerage Network ValuationsNetwork Replacement Cost Depreciation ValuesAmberley $7,505,640.48 $4,689,448.33Cheviot $1,593,516.79 $644,791.07Greta Valley $465,836.98 $226,644.78Hanmer Springs $7,979,250.47 $5,633,596.60Hawarden $868,863.41 $295,961.48Motunau Beach $869,115.26 $517,905.72Waikari $1,755,490.76 $737,717.77Assumptions and RisksEffort is on-going to establish the useful lifespan of undergroundand fi xed wastewater assets. Most of the reticulation is AC pipeand is affected by both sewage and soil conditions. Much ofthe newer reticulation is PVC. Expected life for manholes andPVC is 80 years and AC, 50 years. External stresses determineuseful life of assets, being soil conditions, quality of installation,additional loadings, and maintenance. The inability to pin-pointthese means approximate values are applied. The inherentvariations in-situ makes it diffi cult to accurately formulaterenewals priority programme, but will be refi ned as additionalinformation is obtained.All wastewater networks operate under current resourceconsents for all emissions and discharges. These conditions aregenerally agreed between us and Canterbury Regional Council.Most of the consent terms will not expire until 2018 – 2030.Table 2 shows the sewerage network valuations as at 30 June 2011 whichincludes all pipe, point and plant assets.Maintenance and Operating ImplicationsWe intend to retain ownership of all wastewater assets onbehalf of the communities they serve. Asset management, basicdesign work, contract documentation, tendering, record keeping,operation and routine repairs and maintenance is to be carried82
---
Draft Hurunui Community Long Term Plan 2012 - 2022Goals and Performance MeasuresCommunity Outcomes1. A desirable and safe place to live2. A place that demonstrates environmental responsibility3. A place with essential infrastructureGoalsProtect public health throughensuring good sanitarystandardsHow we will achieve ourGoalsMaintain sewerage disposaland treatment facilities inmost urban areasPerformance Measures Current Situation 11/12 12/13 13/14 14/15 15+All major and signifi cantnon-compliances for oursewerage disposal resourceconsents reduce until wehave 0% non-complianceAll sewer breaks arerepaired within 12 hours ofnotifi cationWe have 14 resourceconsents relating towastewater, which have 186conditions to comply with.We had 2.2% major andsignifi cant non-compliance todate this year*No major breaks occurredand minor breaks wererepaired within 12 hours ofreceiving the notifi cation2% 1% 0% 0%√ √ √ √* The non-compliance issues have related to matters such as late reports and failure to complete log books. These were initially minornoncompliance matters but accelerated to major and signifi cant non-compliance as they were not remedied within the allotted timeframesset by the Regional Council.Financial SummaryA fi nancial summary for this activity is shown on the next page.83
---
www.hurunui.govt.nzSEWERAGEGROUP ACTIVITY FINANCIAL SUMMARYAnnual Plan Year 1 Year 2 Year 3 Year 4 Year 5 Year 6 Year 7 Year 8 Year 9 Year 102011/2012 2012/2013 2013/2014 2014/2015 2015/2016 2016/2017 2017/2018 2018/2019 2019/2020 2020/2021 2021/2022Operating StatementOperating RevenueTargeted Rates 588,808 618,127 683,846 758,360 842,193 937,618 1,046,410 1,170,631 1,312,674 1,475,324 1,661,819Other Income 317 320 330 340 351 362 373 383 395 409 422Internal Interest Received 5,504 2,158 320 633 788 1,317 0 0 0 0 0Development Contributions 175,529 70,086 72,788 75,187 77,757 104,721 108,678 113,076 117,927 123,282 109,270Total Operating Revenue 770,158 690,691 757,284 834,520 921,089 1,044,019 1,155,461 1,284,090 1,430,996 1,599,015 1,771,511Operating ExpenditureEmployee Benefits 50,270 52,454 54,096 55,743 57,511 59,404 61,093 62,819 64,807 66,989 69,182Direct Operating Expenditure 168,439 236,920 249,492 251,775 254,277 256,987 270,117 271,759 286,537 289,800 305,879Internal Interest Paid 259,221 295,001 360,171 375,004 487,101 502,198 511,288 533,646 524,356 501,299 465,886Council Overheads Expenditure 126,363 134,914 138,419 142,694 146,961 151,478 156,473 159,770 164,475 169,566 174,678Depreciation 320,000 365,970 373,236 368,382 408,151 415,036 411,150 456,587 449,416 441,199 491,156Total Operating Expenditure 924,293 1,085,258 1,175,413 1,193,598 1,354,000 1,385,103 1,410,121 1,484,582 1,489,591 1,468,853 1,506,781Operating Surplus (Deficit) (154,135) (394,567) (418,129) (359,078) (432,912) (341,084) (254,661) (200,492) (58,595) 130,161 264,729Capital StatementCapital ExpenditureDistrict Wide Sewer 96,602 32,713 33,996 35,127 36,335 50,835 52,770 54,908 57,250 59,865 49,835Amberley Sewer 0 486,240 10,780 174,898 20,948 12,384 243,678 7,961 0 0 0Cheviot Sewer 10,000 40,046 0 10,994 77,749 0 0 36,498 0 0 0Greta Valley Sewer 2,684 19,000 2,078 20,402 2,221 2,301 2,389 2,486 2,592 2,710 2,835Motunau Beach Sewer 0 35,000 0 0 12,218 12,658 119,450 0 0 0 0Hanmer Springs Sewer 31,840 235,000 103,920 1,304,667 11,107 17,261 11,945 18,644 12,959 20,327 14,174Hawarden Sewer 8,000 0 0 4,939 0 141,536 0 0 0 0 0Waikari Sewer 0 71,000 0 0 7,775 0 34,641 7,457 0 0 0Total Capital Expenditure 149,126 918,999 150,774 1,551,028 168,353 236,975 464,873 127,953 72,801 82,902 66,844Funds RequiredOperating Deficit 154,135 394,567 418,129 359,078 432,912 341,084 254,661 200,492 58,595 0 0Capital Expenditure 149,126 918,999 150,774 1,551,028 168,353 236,975 464,873 127,953 72,801 82,902 66,844Repayment of Internal Loans from Operating Income 165,865 (0) 0 9,304 0 73,952 156,489 256,095 390,821 571,360 755,885469,126 1,313,566 568,903 1,919,410 601,265 652,011 876,023 584,540 522,217 654,262 822,729Funded byOperating Surplus 0 0 0 0 0 0 0 0 0 130,161 264,729Non Cash Expenditure - Depreciation 320,000 365,970 373,236 368,382 408,151 415,036 411,150 456,587 449,416 441,199 491,156Transfer from Special Funds 0 28,597 44,893 0 24,761 0 0 0 0 0 0Capital Expenditure funded through Internal Loans 149,126 918,999 150,774 1,551,028 168,353 236,975 464,873 127,953 72,801 82,902 66,844469,126 1,313,566 568,903 1,919,410 601,265 652,011 876,023 584,540 522,217 654,262 822,72984
---
Stormwater and DrainageOverviewStormwater and Drainage covers the following activity describedbelow:Activity 1:Our AimStormwater and DrainageTo prevent or minimise adverse effects of surface fl ooding andstormwater discharge.Why is the Council Involved?Both our Council and the Canterbury Regional Council(Environment Canterbury) havejoint responsibilities regardingthe management of stormwater drainage, fl ood control andstormwater quality in our district. We provide drainage serviceswhere a community has requested our involvement or whereit is effi cient to be involved. This includes managing drainagein localised areas to protect them from the effects of surfacefl ooding. Stormwater is rain that has run off hard surfaces suchas roofs, roads and car parks. Our aim is to protect humanand ecological values by preventing or reducing the effectsof stormwater on the human and aquatic environment. Wemonitor stormwater systems to ultimately minimise fl oodingand damage to property or the environment.Community OutcomesThe Water Supply activity described in this section, primarilycontributes to two of our community outcomes:1. A desirable and safe place to live:• We have attractive well designed townships• Communities have access to adequate health andemergency services and systems and resourcesare available to meet civil defence emergenciesMajor Projects PlannedProjectConstruct new drains forEastern Drain and DryGully, Amberley, direct tothe lagoonsDraft Hurunui Community Long Term Plan 2012 - 2022Year Planned2012/13 2013/14 2014/15$294,000 $69,042Capital works on existinginfrastructure $62,352Signifi cant Negative EffectsThere is potential for signifi cant negative impacts onenvironmental and cultural wellbeing due to this activity, butthis is offset by ensuring that the disposal of stormwater is donein a manner that minimises contaminants and eases peak fl ows.Drainage systems may not always cope with changes in volumesof rainfall, with subsequent negative effects of fl ooding on roadsand properties. This may cause additional social problems inliving quality, public health and access to and safety of transportsystems. However, such problems are mitigated to some extentby the provision of stormwater systems to cope with fl ooding.Drain clearances can have adverse effects on biodiversity,ecosystems and water quality, but such clearances are obviouslynecessary, and the negative effects that they have are short lived,with no implications for sustainability.Emergency ManagementIn an emergency, particularly a civil defence emergency, we willcontinue to deliver services as long as it is safe and practicalto continue to do so. Stormwater and drainage will receivepriority in the event of emergencies involving fl ooding.Financial SummaryA fi nancial summary for this group of activities is shown at theend of the Stormwater and Drainage activity.• Risks to public health are identifi ed andappropriately managed2. A place with essential infrastructure:• We have a strong emphasis on service deliveryacross all infrastructure including roading, water(for drinking and development), waste water,stormwater and solid waste85
---
www.hurunui.govt.nzActivity 1: Stormwater and DrainageOverviewThe Stormwater and Drainage activity includes the variousfunctions of land drainage schemes and fl ood protection.Current SituationWe maintain four small land drainage schemes set up by theformer North Canterbury Catchment Board. They are theAshworths drains, Leithfi eld Outfall drain, Newcombes Roaddrains and the Jed River areas.We have only a very small quantity of stormwater pipes inour townships, as most stormwater is disposed of to kerb andchannelling and open drains. There are approximately 100 metresof stormwater pipe in Hanmer Springs and approximately 560metres of pipe in Amberley. Much of the District's stormwaterdisposal systems comprise infrastructure that is maintained byprivate individual property owners, such as on-site soakagedisposal, open drains/creeks, piped networks outfalls, silt traps,and detention structures.After two signifi cant rainfall events in and around Amberley in2008, we engaged a specialist consultant to review the adequacyof ourstormwater systems. The recommendations were to carryout some major capital works to reduce the impact of surfacefl ooding on both Amberley Township and Amberley Beach. Theworks were to include diversion drains to "behead" the surfacefl ows from north of Amberley to discharge them to naturalwaterways outside the urban area, and realignment of drainsdischarging to the lagoons north and south of Amberley Beach.Because of the time taken to obtain resource consents,exacerbated by the Canterbury earthquakes and appeals lodgedagainst the consents granted after a lengthy hearing, only twomajor physical works have been completed. These were thefl ood diversion from Dock Creek along Lawcocks Road, and apiped outfall of the Leithfi led Outfall Drain to the sea.However with consents now fi nalised for three more signifi cantcapital projects, work is expected to be completed for fl ooddiversion works in the Amberley swamp area (to include anoutlet culvert under Stanton Rd) and from Dry Gully across toMimimoto lagoon before the end of the 2011/12 year.Plans for the futureA fl ood fl ow diversion from Eastern Drain across to theAmberely North lagoon is proposed for the 2012/13 year tocomplete the fl ood mitigation works covered by the 15 consentsmentioned above.Detailed design and land ownership issues still have to be fi nalised,but a preliminary estimate of $298,000 has been allowed forin the 2012/13 budget for this work and a further $84,000 inthe 2016/17 budget for unspecifi ed improvements. All funding isfrom a special rate struck over the entire Amberley Ward.A global consent for discharge of stormwater from the AmberleyUrban area was heard in 2011, along with the other 15 consentsfor fl ood mitigation works described above. This was put onhold pending as there was not enough information and a newapplication will be made in the 2012/13 year.AECOM Consultants will fi nalise an application in the 2012/13year for a global consent for management of stormwaterfrom future residential developments in Hanmer Springs. Inanticipation of the stormwater management plan identifying someminor capital works being required on existing infrastructure, anallowance of $62,000 has been made in the 2013/14 year anda further $69,000 in the 2016/17 year. As in Amberley this willbe funded by a separate rate over all properties in the HanmerSprings Ward.We are proposing a new stormwater engineer to be appointedin 2013/2014 to manage this area of our work. This engineerwill be responsible for developing district-wide stormwatercatchment and management plans, and undertake the range oftasks required to ensure we have effective stormwater systemsin place, inclusive of appropriate maintenance regimes.We will progressively move towards managing all of its urbanstormwater responsibilities in a more holistic, integrated andlife cycle way.FundingOperational Costs:• 100% Targeted Rate based on the area benefi ting.• Engineer for stormwater catchment and managementplans funded through the General Rate.Capital Costs:• Signifi cant Council capital expenditure is funded by aloan as per the Council's Internal Financing Policy.• If loans are not raised, then it will be from targetedrates.• If any of the Capital Expenditure caters for futuregrowth of the scheme, then that portion of theexpenditure that relates to growth may be fundedfrom future users via Development Contributions andFinancial Contributions.86
---
Draft Hurunui Community Long Term Plan 2012 - 2022Council Owned AssetsLand drainage schemes:• Ashworths drains• Leithfi eld Outfall drain• Newcombes Road drains• Jed River drainsMaintenance and Operating ImplicationsWe plan to continue to maintain the 4 drainage systems as wellas other drainage channels created as part of the improvementworks described above. Annual maintenance has been limited tooccasional drain clearing. Contractors will be engaged to carryout regular work to maintain the system as and when needed.Assumptions and RisksIt is assumed that both global consent applications (Amberleyand Hanmer Springs) will be approved and that land-ownerapprovals will be given to allow the fl ood mitigation constructionworks to proceed.Community Outcomes1. A desirable and safe place to live2. A place with essential infrastructureGoals and Performance MeasuresGoalsMinimise the risk offl oodingHow we will achieve ourGoalsMaintain all drainagesystems in accordance withresource consent conditionsEmploy an engineer tomanage the stormwater anddrainage portfolioPerformance Measures Current Situation 11/12 12/13 13/14 14/15 15+All major and signifi cantnon-compliances for ourstormwater resourceconsents reduce until wehave 0% non-complianceDistrict wide stormwatercatchment and managementplans have been putin placeWe have 30 resourceconsents relating tostormwater, which have 363conditions to comply with.We have had 0% major andsignifi cant non-compliance sofar this year.We have a stormwater planfor the Amberley area butnot for the other areas in thedistrict2% 1% 0% 0%√Financial SummaryA fi nancial summary for this activity is shown on the next page.87
---
www.hurunui.govt.nzSTORMWATER, DRAINAGE AND LAND PROTECTIONGROUP ACTIVITY FINANCIAL SUMMARYAnnual Plan Year 1 Year 2 Year 3 Year 4 Year 5 Year 6 Year 7 Year 8 Year 9 Year 102011/2012 2012/2013 2013/2014 2014/2015 2015/2016 2016/2017 2017/2018 2018/2019 2019/2020 2020/2021 2021/2022Operating StatementOperating RevenueGeneral Rates 0 0 103,130 106,270 109,640 113,250 116,470 119,760 123,550 127,710 131,890Targeted Rates 217,829 279,042 286,471 280,990 277,894 286,212 279,536 275,397 271,368 267,418 276,708Internal Interest Received 3,275 3,382 2,512 3,149 3,472 4,140 3,085 3,735 4,029 4,721 5,462Development Contributions 39,360 17,032 17,791 18,303 19,005 27,007 27,975 28,999 30,223 31,703 25,894Total Operating Revenue 260,464 299,457 409,903 408,712 410,011 430,609 427,066 427,892 429,170 431,552 439,953Operating ExpenditureEmployee Benefits 0 0 103,130 106,270 109,640 113,250 116,470 119,760 123,550 127,710 131,890Direct Operating Expenditure 19,535 58,500 34,549 20,723 13,705 73,046 9,900 46,108 10,502 12,132 89,026Internal Interest Paid 138,688 109,175 120,120 115,894 105,531 94,803 93,927 81,431 70,060 56,322 41,974Council Overheads Expenditure 10,744 13,615 13,255 13,661 14,082 14,530 15,824 15,345 15,813 16,324 16,837Depreciation 17,241 45,752 48,800 48,970 53,917 53,255 54,480 59,721 58,988 58,264 65,288Total Operating Expenditure 186,208 227,042 319,853 305,518 296,875 348,884 290,601 322,364 278,913 270,753 345,015Operating Surplus (Deficit) 74,256 72,415 90,050 103,194 113,136 81,725 136,465 105,528 150,258 160,799 94,938Capital StatementCapital ExpenditureAmberley Stormwater 0 294,000 0 0 0 84,001 0 0 0 0 0Hanmer Springs Stormwater 0 0 62,352 0 0 69,042 0 0 0 0 85,044Total Capital Expenditure 0 294,000 62,352 0 0 153,043 0 0 0 0 85,044Funds RequiredCapital Expenditure 0 294,000 62,352 0 0 153,043 0 0 0 0 85,044Repayment of Internal Loans from Operating Income 91,497 118,167 138,850 152,164 167,053 134,980 190,945 165,249 209,246 219,063 160,22691,497 412,167 201,202 152,164 167,053 288,023 190,945 165,249 209,246 219,063 245,270Funded byOperating Surplus 74,256 72,415 90,050 103,194 113,136 81,725 136,465 105,528 150,258 160,799 94,938Non Cash Expenditure - Depreciation 17,241 45,752 48,800 48,970 53,917 53,255 54,480 59,721 58,988 58,264 65,288Capital Expenditure funded through Internal Loans 0 294,000 62,352 0 0 153,043 0 0 0 0 85,04491,497 412,167 201,202 152,164 167,053 288,023 190,945 165,249 209,246 219,063 245,27088
---
Roads and FootpathsOverviewRoads and Footpaths covers the following activity describedbelow:Activity 1: Roads (roads, bridges, footpaths, street lighting, androad safety)Our AimTo provide a transport network that is safe and accessible for allpeople throughout the District.Why is the Council Involved?We undertake the professional and technical work involved inproviding the on-going management of the District's roadingnetwork. Partial funding for road construction projects andon-going maintenance requirements is received from the NewZealand Transport Agency (NZTA). Public ownership of theroads and footpaths ensures appropriate property access andunimpeded rite of passage for the freedom of travel throughoutthe area.Community OutcomesThe Water Supply activity described in this section, primarilycontributes to two of our community outcomes:1. A desirable and safe place to live:• We have attractive well designed townships• Communities have access to adequate health andemergency services and systems and resources areavailable to meet civil defence emergencies• Risks to public health are identifi ed and appropriatelymanagedMajor Projects PlannedProjectBridge maintenanceand repairsSealed RoadresurfacingMinor improvementprogrammePavementrehabilitationprogrammeTraffi c servicesrenewals - streetlightingDraft Hurunui Community Long Term Plan 2012 - 2022Year Planned2012/13 2013/14 2014/15 2015+$269,106 $279,900 $285,858 $299,435$1,000,371 $1,040,519 $1,062,647 $1,113,118$270,999 $281,874 $287,869 $301,541$580,215 $603,501 $616,336 $645,608$207,703 $216,039 $220,633 $231,112Signifi cant Negative EffectsHurunui's land transport network affords people a high degreeof mobility, but this, and other economic and social benefi ts, hassome signifi cant environmental costs. High volumes of traffi cproduce noise, air, and light pollution. Dust from unsealed roadscauses a nuisance on neighbouring properties and impacts onroad safety due to decreased visibility. At present our transportinfrastructure needs outweigh the negative effects on ourenvironmental wellbeing and are sustainable at least for theperiod of this plan. Alternatives for the future will need to besought if this balance shifts.Emergency ManagementIn an emergency, particularly a civil defence emergency, we willcontinue to deliver services as long as it is safe and practical tocontinue to do so. The roading network will receive priority inthe event of a civil emergency and every effort will be made tomake the roads clear and safe to drive on.Financial SummaryA fi nancial summary for this group of activities is shown at theend of the Roads and Footpaths activity.2. A place with essential infrastructure:• We have a strong emphasis on service delivery acrossall infrastructure including roading, water (for drinkingand development), waste water, stormwater and solidwastePrinces Street, Waikari - Road & Community Improvement Programme89
---
www.hurunui.govt.nzActivity 1: Roads and FootpathsOverviewThe Roads and Footpaths activity includes the various functionsof street lighting, bridges and road safety, as well as roads andfootpaths.Current SituationThe Roading Network activity deals with the day-to-dayoperations, maintenance and improvements of road pavement(renewals, improvements and upgrades), signs, street lighting,parking, cleaning, bridge maintenance, corridor management,overweight and oversize permits, licenses to occupy andvarious road safety activities. These initiatives are supportedthrough policy development and forward planning, includinglinking in with transport and land use planning and road safetycoordination.Our roads are maintained and built using subsidy funds fromNew Zealand Transport Agency (NZTA) and moneys collectedthrough local rates. This excludes state highways which arefunded and maintained solely through NZTA. Three years ago,central government deliberately cut maintenance funding toall district councils, as it decided to focus on capital works tonational state highways (Roads of National Signifi cance) and theAuckland roading network needs as priorities. Our funding wascut by $600,000 per annum on average, for the full funding cycle2009/2012.Our Asset Management Plan (AMP) for roading is an importantplan when it comes to planning and deciding on upgrades,maintenance and new work. An ongoing challenge is to matchthe level of service provided by the roading asset with theexpectations of our community.The district's roading network comprises of approximately1455 kilometres of local roads (excluding state highways), 278bridges, 94,204 square metres of footpaths, 60kilometres ofkerb and channeling, 886 streetlights, 4622 traffi c signs and 43kilometres of culvert pipes. Each road in the roading networkhas been categorized into a roading hierarchy (in the DistrictPlan) based on the road's purpose and level of use. Of the 1455km local roads, 1380 kilometres are rural and 75 kilometres areurban. 602 kilometres of the road network is sealed, with 853kilometres remaining unsealed to date.Current desirable levels of service have been defi ned againsturban and rural road hierarchy categories. These are 6carriageway service indicators (Quality, Safety, Environment,Effi ciency, Comfort/Convenience and capacity and 5 associatedroading asset service indicators (kerb and channel; bridges;street lighting; road marking; and signs). The road hierarchyestablished is designed to meet the expected levels of service(as per the AMP), although incomplete inventory data for someassets limits a full assessment. The levels of service defi ned inthe AMP inform the performance measures set out in this plan.We are an active member of the 'Hurunui District Road SafetyCoordinating Committee'. The committee has a Road SafetyStrategy which provides a framework for a road safety policyand initiatives in our district, together with practical, long termcommunity solutions.Plans for the futureThe roading network uses a signifi cant share of our annualexpenditure (almost 25%), and it is planned that this will continueon a long term basis. Whereas the AMP provides importantinformation for the work programme, we also routinely monitor,audit and assess, using traffi c counts on a rotational basis tocollect data about trends. Hurunui is a large district with a smallpopulation (rating base), therefore it is crucial that priority isgiven to roads and bridges that serve important functions, suchas road safety, and have high traffi c use.At this stage, we do not know what funding we will receivewhen NZTA confi rm their budget for the next three year cycle(2012/2015), however, we expect it to be on a par with thecurrent allocation. This has left us with a major challenge. OurAsset Management Plans (AMPs) tell us when, how and whywe need to do work on each of our roads to ensure maximumwhole-of-life for this asset (maximum return on investmentapproach); but we do not have the required subsidised incometo maintain our roading network to the level our AMPs stipulate.We have done our best to get greater effi ciencies within ourcurrent road maintenance contracts, without affecting thecurrent Levels of Service (LoS). At the end of this period, ourmaintenance contracts will be renewed with cost escalationsincluded. NZTA have declared that they will not pick upcontract price escalations through their road maintenancesubsidy scheme. To what degree this is intended, we areunsure at this stage. We are confi dent with achieving greatereffi ciencies in the current contracts that the roading networkcan be maintained at the current level of service until 2014/15,however, to continue to meet the current level of service intothe future may require a greater input directly from ratepayers.So far, we have done much better than that national averagein most areas against our roading performance measures withthe exception of one (pavement integrity for sealed roads). Weexpect to remain above the national average in these areasthroughout the ten year period covered by this plan. We willcontinue to monitor our key performance indicators for roadcondition to establish if there is any loss of predicted asset lifeand the extent of any decline in levels of service. Over a longperiod of time, if our funding continues to be signifi cantly lessthan our AMPs indicate, levels of service will gradually decrease.Increasing rates for roads in the future may be the only way tomaintain current levels of service, or we could accept that areduced level of service is necessary and decide what that willbe.90
---
Draft Hurunui Community Long Term Plan 2012 - 2022This is a problem we are not facing alone. Nationally, there areinvestigations into how we establish the point of critical failurefor our roads so that we are able to proactively intervene. Atthis stage, we do not have the answers, but expect that this willcontinue to be a key issue when we review our long term planagain in three years. By then, with continued monitoring andexploring the how we can continue to do more for less, as wellas on-going national discussion on this topic, we will have moreinformation and options for consideration going forward.We have been undertaking only minor seal extensions overthe past few years. The last major work was carried out onWoodbank Road, completed in 2010. We plan to take advantageof any external funds available or funding opportunities throughthe Road Seal Extensions Policy to reduce the length of unsealedroads in the district. Other processes for dust suppressionwill continue to be investigated. Bridge maintenance andreplacements are also a priority focus during the next severalyears.Many timber bridges built after World War II are now nearlyat the end of their economic lives, and will have to be replacedduring the life of this plan. We have been working through abridge replacement plan according to the priorities establishedafter we contracted OPUS to investigate the state of ourbridges in 2009. To date priority bridges which include LyndonNo.3 Bridge (Lyndon Road), MacFarlanes Bridge (Conway FlatRoad), Humpback Bridge (Gore Bay Road), Williams Bridge(Glenmark Drive), Coops Bridge (Parkview Road), Gola PeaksBridge (Virginia Road), Charwell No. 1 Bridge (Stag and SpeyRoad), Thompsons Bridge (Glenmark Drive) and JamiesonsBridge (Megowans Road) have been completed.Bridges targeted for the 2012/2015 period include BroxtonBridge (Broxton Road), Mandamus Bridge (Tekoa Road), LowerHurunui Swing Bridge (Blythe Road), Okuku Pass Bridge(Okuku Pass Road), Uphams Bridge (Conway Flat Road), MidWaipara Bridge (Greys Road), Blythe No.1 Culvert (BlytheRoad), Crossleys Bridge (Leader Road East), Brophys Bridge(Brophys Road), Armco Culvert (Ngaroma Road), Jacks Creek(Lake Sumner Road). Because of the signifi cant costs associatedwith bridge maintenance and improvements, it may be a bettersolution to replace bridges with fords instead, subject to locationand traffi c counts. This will only be considered where there islow traffi c volume and few people affected (sometimes thereis only one household). Consultation with relevant people andsectors of the community will be done before any decisionssuch as this are made. A budget provision has been made forthe bridge repairs.We have been working through a programme of installing SchoolActive Warning Signs where schools are positioned on busyroads. Warning signs have been installed for Amberley, Cheviot,Amuri, Leithfi eld, Rotherham, Broomfi eld, Waiau, Waikariand Greta Valley Schools. Further signs are programmed forHurunui College, Hanmer Springs, Waipara and Omihi during2012/2015, at an approximately cost of $7,500 per sign.Roading challenges coming up include:• Binding up of metal material to unsealed roads so thatthey are sustainable and durable.• Blending of metals to improve structural strength andenhanced mosaic aggregate interlocking.• Improved open drains for land drainage requirements.• Deciding on effective sealed road widths for improvedtraffic conveyance, and ways to reduce maintenanceFunding ModelRoadsOperational Costs:• Council's contribution is 100% District Rate foroperations, roads and bridges known as the 'RoadingRate'.Capital Costs:• Capital improvements above $100,000 may be fundedby reserves or loans pursuant to the Council's InternalFinancing Policy.• Other Capital Expenditure to be funded as operational.• If a community wants resealing work done that doesnot qualify for a government subsidy, the Road SealExtension policy allows for ratepayers to meet 50% ofthe costs, with the Council contributing the remaining50% from the General Rate.• If any of the Capital Expenditure caters for futuregrowth, then that portion of the expenditure thatrelates to growth may be funded from future users viaFinancial Contributions.FootpathsOperational Costs:• Township maintenance 100% local amenity rate onward or community rating area.Capital Costs:• Township maintenance 100% local amenity rate onward or community rating area.91
---
www.hurunui.govt.nzMaintenance and OperatingThe New Zealand Transport Agency (NZTA) subsidizes up to60% (confi rmed by NZTA as fi xed for Hurunui from July 2012to June 2015) of improvement projects such as seal extensionsand minor improvement works that meet its funding criteriaand requirements. A 50% fi nancial assistance rate (FAR) isconfi rmed for ongoing maintenance requirements to ensurewhole-of-life objectives of the asset are competently met.As a national core driver from central government, all roadcontrolling authorities are being tasked to manage their roadingassets with less and less subsidy funding. This means everyauthority must revisit the way they have done business in thepast and look hard at improving output effi ciencies, productivity,effectiveness of asset management decisions and resultant worksprogrammes, value-for-money and best for asset outcomes. Thereality is that councils are tasked to do "more (outputs) withless (money)" and ensure that the assets meet their fi t-forpurposeobjectives, whilst being affordable and pragmatic. Thisstrategic approach, across the country (applicable to both localand national highways), has resulted in essential works (needto have) being completed, with less latitude for lavish (nice tohave) outcomes. We are concerned about this reduced fundingapproach on a continued long-term basis, given that this has thelatitude to erode the asset life of the infrastructure, resultingin expensive renewal works that could have been mitigatedby prompt and timeously co-ordinated maintenance works,given the right level of subsidy funding. This situation is beingmeticulously monitored through asset condition ratings, visualinspections and customer service requests to ensure that theasset continues to meet the levels of service demanded by theratepayers of this district for transportation requirements.Consideration is required on the ongoing ownership andmanagement of very low traffi cked roads and bridges currentlyjustifi ed on a community and social basis. In consultation withthe Police and NZTA, we maintain and annually review a roadsafety strategy for the district, which is then implementedthrough an action plan.Assumptions and RisksIncreases in population, vehicle ownership, industrial growth anddevelopment in both the primary and value-added sectors, aswell as the popularity of our district as a tourist destination, allhave an impact on the use of our roads and footpaths.Increasing traffi c volumes are most signifi cantly expectedto impact on the district's arterial road network and agingbridge structures. Project costs are based on current bestpractice, industry standards and local knowledge of materials,construction costs and geotechnical profi ling.Strategic planning, scoping of works, initial investigations,preliminary designs, cost estimates and forward work plans forthe roading network have been based on the assumption thatCouncil will qualify for funding from NZTA for certain roadrelatedcapital, improvement and maintenance projects. We haveallowed for infl ation adjustments to the roading costs (usingthe infl ation assumptions) and also assumed that NZTA willcontinue to meet their share of those costs that are currentlysubsidised, again based on the assumption that the subsidy ratewill not change over the ten year period. If NZTA do not includeinfl ation in future subsidies, we will have to pass the difference incosts to our ratepayers annually to maintain our current LoS. Ifwe don't, this will leave us with a future fi nancial shortfall that isfurther susceptible to maintenance cost increases through peakoil and bitumen cost increases in particular. We can either putup our annual rates to provide more local unsubsidised fundsto keep our roads in their current condition, or we can acceptthat there will be a marked deterioration in our road conditions(structurally, appearance and driving quality) from 2015 onwards.The level of cost that has been allowed for in the Long TermPlan falls signifi cantly short of what was provided for in theAsset Management Plan (AMP) which was developed prior tothe change in NZTA funding. The difference over the ten yearsbetween what was scheduled in the AMP and what has beenprovided in the LTP amounts to a total of $15 million. Based onthe assumption that NZTA will provide the amount of subsidesallowed for in the LTP, should we incur the level of cost in theAMP, then that additional $15 million would need to be coveredby rates.Our asset register was been prepared based on the best availableasset management information. Some work still needs to be doneto ascertain the exact relevant details of all of the roading assets,and to be able to accurately ascertain their current condition,current serviceability and future useful life, and from there toaccurately predict the future needs and requirements to ensurecontinued sustainability and safe condition. Valuations shown foreach network asset type are as at 2012 and are prepared usingour historical cost estimates and current contract prices. Theseare approximate replacement values and may not refl ect marketvalues.We have a comprehensive Risk Management Strategy for theroading assets which identifi es risks such as land use change,seasonal impacts on roading requirements, fl uctuating oil pricesand quality supply and the effect to the bitumen and petroleumindustry, peak oil, climate change, demand for recreationalfacilities with associated access interlinks, the demand for cyclingas alternative transportation mode and geographic issues andinherent fault lines. The risk management strategy includes waysto mitigate these factors.Shared ServicesWe have a shared maintenance agreement with WaimakaririDistrict Council for Sicon (their maintenance contractor) toundertake the maintenance of Okuku Pass Road and Balcairn/Amberley Road, which is a shared road with both Districts.The costs are shared between both Councils.We also have a shared service contract with Mainpower for92
---
Draft Hurunui Community Long Term Plan 2012 - 2022street lighting for economy of scale effi ciencies, and anotherone for network assessments with BECA.Community Outcomes1. A desirable and safe place to live2. A place with essential infrastructureGoals and Performance MeasuresGoals How we will achieve ourGoalsMaintain the Contract out roaddistrict's roads to amaintenance andmonitor performancestandard appropriate accordinglyto their usePerformance Measures Current Situation 11/12 12/13 13/14 14/15 15+Hurunui roads will comparefavourably with the national ruralroad averages using the measuresshown below:The smoothness of our roadsThe percentage of rough roadsThe pavement roughness forsealed roadsOverall, our roads compared better than thenational average as shown below:Overall, our roads compared betterthan the national average as shownbelow:Smooth travel exposure - Hurunui'sroading network is 98% (better than thenational average of 85%The percentage of "rough" roads inHurunui is 5% and the national averageis 9% (a lower fi gure is better)The percentage of "rough" roads inHurunui is 5% and the national averageis 9% (a lower fi gure is better)√ √ √ √√ √ √ √√ √ √ √Undertake a residentssatisfaction surveyResidents consider the overallstandard of road maintenanceto be satisfactory (more than70%)Resident satisfaction levels haveimproved since 2007. In 2011 theywere 73% satisfi ed√ √ √ √Ensure that allbridges are safe andwell maintainedContract out bridgemaintenance andmonitor performanceaccordinglyReplace priority bridgestructures according tothe bridge replacementprogrammeBridge repairs have commencedafter a bridge structural componentreplacement programme was identifi ed√ √ √ √Financial SummaryA fi nancial summary for this activity is shown on the next page.Happy Valley Road, Emergency Preventitive Maintenance93
---
www.hurunui.govt.nzROADING AND FOOTPATHSGROUP ACTIVITY FINANCIAL SUMMARYAnnual Plan Year 1 Year 2 Year 3 Year 4 Year 5 Year 6 Year 7 Year 8 Year 9 Year 102011/2012 2012/2013 2013/2014 2014/2015 2015/2016 2016/2017 2017/2018 2018/2019 2019/2020 2020/2021 2021/2022Operating StatementOperating RevenueGeneral Rates 2,530,693 3,331,859 3,448,231 3,580,383 3,676,282 3,803,481 3,955,526 4,065,069 4,216,367 4,410,698 4,557,267Targeted Rates 0 176,000 177,703 178,251 184,376 191,016 210,232 212,536 215,119 224,947 235,288Other Income 3,676,060 3,642,369 3,771,329 3,870,138 4,021,232 4,160,191 4,273,828 4,446,226 4,611,426 4,767,926 4,983,359Internal Interest Received 730,877 0 0 0 0 0 0 0 0 0 0Development Contributions 452,926 152,662 158,646 163,928 169,561 237,230 246,260 256,238 267,165 279,370 232,563Total Operating Revenue 7,390,556 7,302,890 7,555,909 7,792,699 8,051,451 8,391,918 8,685,846 8,980,069 9,310,078 9,682,941 10,008,478Operating ExpenditureDirect Operating Expenditure 2,783,808 3,006,273 3,100,369 3,194,766 3,296,078 3,404,604 3,501,406 3,600,313 3,714,250 3,839,311 3,964,973Council Overheads Expenditure 621,618 598,750 617,912 637,902 659,260 682,123 703,432 723,397 747,390 773,703 800,141Depreciation 2,900,000 2,863,125 3,182,179 3,191,330 3,202,063 3,557,671 3,568,108 3,580,853 4,009,038 4,020,758 4,035,406Total Operating Expenditure 6,305,426 6,468,148 6,900,460 7,023,998 7,157,400 7,644,398 7,772,946 7,904,563 8,470,678 8,633,772 8,800,521Operating Surplus (Deficit) 1,085,130 834,742 655,449 768,701 894,051 747,520 912,900 1,075,506 839,400 1,049,169 1,207,957Capital StatementCapital ExpenditureSubsidised Roading 3,947,896 3,480,867 3,617,317 3,737,755 3,866,199 4,066,996 4,221,801 4,392,864 4,580,186 4,789,421 4,949,961Special Purpose Roading 10,708 16,000 16,627 17,181 17,771 18,411 19,112 19,886 20,734 21,682 22,678Unsubsidised Roading 26,526 25,000 25,980 26,845 27,768 28,768 29,863 31,073 32,398 33,878 35,435Amberley Ward Roadside Construction 42,440 33,000 29,098 24,697 25,546 26,466 39,419 34,801 29,806 31,167 32,600Amuri Ward Roadside Construction 50,243 22,000 22,862 23,624 24,435 25,315 26,279 27,344 28,510 29,812 31,183Cheviot Ward Roadside Construction 25,625 30,000 31,176 32,214 33,321 34,521 35,835 37,287 38,877 40,653 42,522Hanmer Springs Ward Roadside Construction 85,000 75,000 77,940 80,535 83,303 86,303 89,588 93,218 97,193 101,633 106,305Hurunui Ward Roadside Construction 16,000 16,000 16,627 17,181 17,771 18,411 19,112 19,886 20,734 21,682 22,678Total Capital Expenditure 4,204,438 3,697,867 3,837,627 3,960,031 4,096,113 4,305,191 4,481,008 4,656,359 4,848,437 5,069,927 5,243,363Funds RequiredCapital Expenditure 4,204,438 3,697,867 3,837,627 3,960,031 4,096,113 4,305,191 4,481,008 4,656,359 4,848,437 5,069,927 5,243,3634,204,438 3,697,867 3,837,627 3,960,031 4,096,113 4,305,191 4,481,008 4,656,359 4,848,437 5,069,927 5,243,363Funded byOperating Surplus 1,085,130 834,742 655,449 768,701 894,051 747,520 912,900 1,075,506 839,400 1,049,169 1,207,957Non Cash Expenditure - Depreciation 2,900,000 2,863,125 3,182,179 3,191,330 3,202,063 3,557,671 3,568,108 3,580,853 4,009,038 4,020,758 4,035,406Capital Expenditure funded through Internal Loans 219,308 0 0 0 0 0 0 0 0 0 04,204,438 3,697,867 3,837,627 3,960,031 4,096,113 4,305,191 4,481,008 4,656,359 4,848,437 5,069,927 5,243,36394
---
Community Services and FacilitiesOverviewCommunity Services and Facilities covers the following 3 activityareas described below:Activity 1: Community Services (library, youth programme,community development and grants and services awards)Activity 2: Property (housing, public toilets, council offi ces,medical centres, halls, swimming pools and townshipmaintenance)Activity 3:Our AimReserves (parks, reserves and cemeteries)To provide services that will support the community to leadhealthy and fulfi lled lives and meet and extend their recreational,cultural, educational development and information needs.Major Projects PlannedDraft Hurunui Community Long Term Plan 2012 - 2022ProjectYear Planned2012/13 2013/14 2014/15 2015+Cheviot Community Libraryto move into the Service $100,000CentreToilet extension for CouncilChambers, Amberley$45,000Hanmer Springs SportsStadium upgrade feasibility $30,000 $1,077,379studyHanmer Springs CommunityHall extension$193,284Purchase land to expandBalcairn cemetery $124,704Upgrade or rebuild of theCheviot Medical CentreNew public toilets built inRotherham$1,150,700$103,563Why is the Council Involved?Council is involved with the activities within the CommunityServices and Facilities group to provide for the social andcultural wellbeing of its people. All of the activities within thisgroup are to do with ensuring our communities have the typeof facilities and services reasonably expected to be providedby the Council and are unlikely to be privately supplied at anaffordable cost. These activities also contribute to the longterm achievement of our community outcomes.Community OutcomesThe Community Services and Facilities described in this section,primarily contribute to two of our community outcomes:1. A desirable and safe place to live:• We have attractive well designed townships• Communities have access to adequate health andemergency services and systems and resources areavailable to meet civil defence emergencies• Risks to public health are identifi ed and appropriatelymanaged2. A place where our traditional rural values and heritagemake Hurunui unique:• People have a range of opportunities toparticipate in leisure and culture activities• Our historic and cultural heritage is protectedfor future generationsSignifi cant Negative EffectsMost of the activities in the Community Services and Facilitiessection do not post any signifi cant negative effects. We aremindful that in the Property area, there are some identifi ed risks,such as car parks – particularly in Hanmer Springs where thevolume of vehicle and pedestrian traffi c is high during holidayperiods. Every effort has been made to minimise the risk ofaccidents occurring through the design of the footpaths and carparks, and signage. Similarly with public toilets, car parks havebeen designed to reduce congestion and hazards. Public toiletsare positioned in well-lit areas close to main roads to reduceincidents of vandalism and undesirable anti-social behaviours.Pensioner housing is only available in Amberley, Cheviot,Hanmer Springs and Waikari. This may inadvertently havesocial and cultural impacts upon the age demographics in localcommunities as the elderly population becomes concentratedin certain areas only. This may result in higher demands onsome local services and facilities. There has not been a strongdemand for pensioner housing in other areas in the District. Ifthis changes, we will look at whether we can meet the demandat the time.Emergency ManagementIn an emergency, particularly a civil defence emergency, we willcontinue to deliver services as long as it is safe and practical tocontinue to do so. Civil defence management plans providethe Council with guidance and contingencies. However, in anextreme emergency, most of the services in this group wouldnot be considered to be essential.95
---
www.hurunui.govt.nzFinancial SummaryCOMMUNITY SERVICES AND FACILITIESGROUP ACTIVITY FINANCIAL SUMMARYAnnual Plan Year 1 Year 2 Year 3 Year 4 Year 5 Year 6 Year 7 Year 8 Year 9 Year 102011/2012 2012/2013 2013/2014 2014/2015 2015/2016 2016/2017 2017/2018 2018/2019 2019/2020 2020/2021 2021/2022Operating StatementOperating RevenueGeneral Rates 116,287 80,019 133,442 189,142 150,981 106,286 112,779 116,286 121,728 127,479 133,485Targeted Rates 1,489,962 1,439,655 1,486,789 1,511,809 1,549,173 1,596,583 1,678,487 1,734,096 1,791,966 1,845,129 1,900,155Other Income 728,501 756,270 700,577 723,575 746,419 770,489 791,958 813,894 839,163 866,900 894,770Internal Interest Received 96,304 35,250 37,174 42,389 47,585 49,722 54,388 55,810 60,199 61,021 65,059Development Contributions 317,240 238,682 247,626 255,938 253,498 234,236 242,264 250,106 251,357 263,546 232,096Total Operating Revenue 2,748,294 2,549,877 2,605,608 2,722,852 2,747,657 2,757,316 2,879,876 2,970,192 3,064,413 3,164,076 3,225,565Operating ExpenditureEmployee Benefits 772,836 876,883 821,337 846,344 873,183 901,934 927,578 953,780 983,964 1,017,094 1,050,384Direct Operating Expenditure 1,829,955 1,953,905 1,979,346 2,098,404 2,127,735 2,122,862 2,191,838 2,254,766 2,325,770 2,406,989 2,489,166Internal Interest Paid 298,170 297,186 293,373 282,050 279,105 332,453 385,899 374,010 357,540 365,938 344,178Council Overheads Expenditure 954,541 1,006,129 1,021,455 1,043,447 1,067,345 1,092,995 1,126,409 1,139,114 1,166,077 1,195,739 1,225,547Depreciation 350,974 362,185 364,185 364,185 364,185 364,185 366,185 366,185 366,185 366,185 366,185Total Operating Expenditure 4,206,476 4,496,289 4,479,696 4,634,430 4,711,554 4,814,429 4,997,910 5,087,855 5,199,535 5,351,945 5,475,459Operating Surplus (Deficit) (1,458,182) (1,946,412) (1,874,089) (1,911,578) (1,963,897) (2,057,113) (2,118,034) (2,117,662) (2,135,122) (2,187,869) (2,249,894)Capital StatementCapital ExpenditureCommunity Services 92,654 65,000 67,548 69,797 72,196 74,796 77,643 80,789 84,234 88,082 92,131Property 46,637 115,500 61,832 229,256 24,991 1,280,154 38,821 26,751 261,124 30,490 31,892Reserves 115,831 215,146 306,716 112,906 2,304,865 126,745 256,992 155,544 401,011 142,483 156,121Total Capital Expenditure 255,122 395,646 436,096 411,959 2,402,051 1,481,694 373,456 263,083 746,368 261,055 280,143Funds RequiredOperating Deficit 1,458,182 1,946,412 1,874,089 1,911,578 1,963,897 2,057,113 2,118,034 2,117,662 2,135,122 2,187,869 2,249,894Capital Expenditure 255,122 395,646 436,096 411,959 2,402,051 1,481,694 373,456 263,083 746,368 261,055 280,143Transfer to Special Funds 341,814 194,265 232,758 238,569 250,251 228,264 237,663 249,964 256,712 242,551 217,914Transfer to General Council Reserves 145,013 130,072 123,370 132,693 125,558 120,491 137,228 138,167 130,134 140,243 141,338Repayment of Internal Loans from Operating Income 1,052,455 290,720 342,478 349,935 356,573 332,922 325,770 379,447 649,650 421,285 468,6123,252,586 2,957,115 3,008,791 3,044,734 5,098,330 4,220,484 3,192,151 3,148,324 3,917,987 3,253,003 3,357,901Funded byTransfer from Hanmer Springs Thermal Reserve 1,977,146 2,128,882 2,145,877 2,200,500 2,266,638 2,315,684 2,379,534 2,440,561 2,494,622 2,567,848 2,650,121Non Cash Expenditure - Depreciation 350,974 362,185 364,185 364,185 364,185 364,185 366,185 366,185 366,185 366,185 366,185Transfer from General Council Reserves 99,808 83,285 223,171 75,166 77,749 170,106 83,615 87,003 90,713 94,857 99,218Transfer from Special Funds 107,646 95,646 83,807 86,598 1,738,963 92,799 203,837 100,235 342,786 109,283 114,308Capital Expenditure funded through Internal Loans 717,012 287,116 191,750 318,285 650,795 1,277,709 158,980 154,339 623,680 114,829 128,0693,252,586 2,957,115 3,008,791 3,044,734 5,098,330 4,220,484 3,192,151 3,148,324 3,917,987 3,253,002 3,357,90196
---
Activity 1: Community ServicesOverviewThe Community Services activity includes the Council's:• Library service• Hurunui Youth Programme• Community Development Programme• Grants and Services Award schemesCurrent SituationDraft Hurunui Community Long Term Plan 2012 - 2022customers via the Aotearoa People's Network Kaharoa (APNK).This is a national government subsidised initiative aimed atincreasing New Zealanders access to digital information andtechnology. For the Hurunui libraries, this provides computertechnology and software, including wireless access at some sites.This internet access is high speed and reliable and deliveredthrough 17 computers throughout the District.Youth ProgrammeLibraryOur library system as we know it was established in 1993.Libraries are an important educational and recreational resourcefor the district, and a public library system ensures that there isequitable opportunity for people to access the information thatthey want and need.The library service is available throughout the district throughour website and network of libraries. The libraries are wellstocked with a wide range of resources in a variety of formats.Our library staff and volunteers provide assistance and supportso that everyone can effectively access and use any of the librarymaterials.• There are 8 libraries in the District. Four of these sharepremises with school libraries (Amuri, Cheviot, GretaValley and Hawarden).• The Hurunui Memorial Library, based in Amberley, isthe administrative centre for the district.• Branch libraries with paid staff are based at HanmerSprings, Amuri, Cheviot and Hawarden.• There are 3 community libraries at Greta Valley, Waiauand Leithfi eld which are run solely by volunteers.• The Hanmer Springs Library/Service Centre and theAmuri Library/ Service Centre are combined Councilservice centres/libraries.• The library provides books to the Omihi School andConway community.Volunteers are active at all libraries and support the libraryservice with many hours of their time. The "Friends of theHurunui District Libraries" was formed in 2002 to support thelibrary service and along with other groups of volunteers whocontribute to the delivery of library services across the District.Without the many library volunteers throughout the District,we would either have to employ more staff to run them, or notoperate as many libraries. The 3 community libraries which aresolely run by volunteers would incur greater ratepayer expenseif they were staffed.Since 2008 the library has provided free internet access forSince 2008 we have run a Youth Programme within the District.Funding to support the fi rst three years of the project wasreceived from the Ministry of Youth Development. A youthcoordinator was appointed to develop and run a programmewith youth aged between 12 and 18 years. The programme hasbeen developing and a number of initiatives and activities havebeen organised with the support and assistance of the youthconcerned and the local Area schools. The Youth Programmehas been a new area for Council and its success is a result ofsupport from local communities, parents and schools for theprogramme to develop and continue and future funding.Community DevelopmentProgrammeOur successful application for government funding to run aCommunity Development programme commenced at the endof 2010. A community development advisor was appointed towork with the community to achieve an overall project aim to'enable people living and working in Hurunui to live a "wholelife" in the district; to strengthen the wellbeing of families andpromote a strong sense of community belonging, encouragingpeople to be involved in local activities and support volunteerservices'. The programme has a set of outcomes and initiativesfor the community development advisor to deliver on. Theprogramme is intended to be fi nite and to conclude at the endof June 2013.Grants and Service AwardsWe have 4 Service Awards which are presented annually. Theyare:1. Community Service Awards for those who have givenextended periods of exceptional volunteer service.2. Secondary School Achievers Awards for promisingsecondary students who will benefi t from additionalfi nancial assistance to undertake further study.3. MainPower Hurunui Natural Environment Fund toencourage and assist with voluntary work that benefi tsthe natural environment.4. Hurunui Heritage Fund to encourage and assist withvoluntary work that protects, enhances, explains orrestores signifi cant heritage values of the district.97
---
www.hurunui.govt.nzWe also act as an agent and disburse grants on behalf of 2government funded initiatives:• Creative Communities Scheme to increase participationand diversity in the arts at the local level.• SPARC to encourage junior sporting teams toparticipate in sporting activities by assisting with travelcosts.We also pay a contribution toward the:• Canterbury Museum which is a legislative requirement.We are represented on the Canterbury MuseumBoard as we share a North Canterbury member withWaimakariri District Council. We consistently sendthe message that the museum must be run as costeffectively as possible to minimise the rate burden onour community but at the same time, get value formoney.• The North Canterbury Sport and Recreation Trustto recognise sporting excellence amongst our youngpeople.Plans for the futureLibraryWe are planning to move the Cheviot community library fromthe Cheviot Area School and position it in with the CheviotService Centre building on the main street. This will be moreaccessible to all and parking will be available directly outside thebuilding. Library and Council services will be delivered fromthe one site. The new hours and days it will be opened arebeing considered by a working group comprising of Cheviotlocal people.All library items will continue to be updated as appropriate tomeet the needs of the district. One of our challenges is tokeep up with technology and improvements while at the sametime, be mindful of the cost to the ratepayer and assessing thevalue of any new service or product. Technology is an area thatcontinues to develop at a fast pace and customers are generallyreceptive to these types of enhancements. Because of the fastpace of change, it is diffi cult to accurately predict what will beavailable in the near future, let alone the life of this plan.example, we have shared agreements with some other librarieswithin the Canterbury region to enable our customers to useother libraries with a Hurunui library card and vice versa.Youth ProgrammeWe plan to continue to deliver the programme along similarlines to the current format. Whereas we do not have plans tochange, incremental change will naturally occur in the ensuingyears as the youth infl uence the look of the programme.Community DevelopmentProgrammeWe plan to continue to deliver on the programme as anticipatedwhen we applied for funding. There are no plans to continuethe programme beyond 2013. The purpose of the programmeis to increase the communities' capabilities so that theprogramme is not actually required any longer. We committedto the programme on that basis and have not intended for it tocontinue beyond 2013.Grants and Service AwardsFunding was agreed to in 2009 to support the North CanterburySport and Recreation Trust to help fund a primary schoolsport coaching programme for the 28 schools in the NorthCanterbury area. This initiative commenced in 2009 and wasbacked by SPARC for the fi rst 3 years to get it up and running.Hurunui will contribute to the programme from year 2012 toenable the programme (and the expected long term benefi ts)to continue.Our levy to the Canterbury Museum for running costs is$53,842 for the 2011/2012 year. This is set to increase overthe 10 year period to an estimated $110,213 for 2021/2022year. The Museum intends to proceed with a redevelopmentproject that has been signalled in their previous Annual Plans.The redevelopment has been estimated at costing $63.7 millionand is scheduled to occur between 2013 and 2016. The levywhich will be imposed on our Council for the proposed capitaldevelopment, in addition to the operational levy Council pays,has been budgeted at; $50,000 for 2013/2014; $100,000 for2014/2015; and $50,000 for 2015/2016. We have no ability todecline paying this fund once the Museum's Plan and budget isapproved by the Canterbury Museum Board.A review of our library hours is undertaken from time to timeto check whether we are open to the public at the best timesfor most people. As an example the Hanmer Springs Libraryincreased it opening hours in 2009.We work with other libraries to enhance the services offeredto our district and to make effi ciencies where possible. For98
---
Draft Hurunui Community Long Term Plan 2012 - 2022FundingLibraryOperational Costs:• Library user charges (overdue fi nes, book reserves etc).• The libraries in Amberley and Hanmer Springs arelocated on reserves, therefore, the net operationalcosts are funded through the surplus from the HanmerSprings Thermal Reserve.• The libraries in Culverden, Hawarden and Cheviot arenot located on reserves and as such, the funding of theoperational costs for these is made from an allocationfrom the Council's treasury surplus. Therefore, there isno rating input to operate the libraries.Capital Costs:• Signifi cant Capital Expenditure on land and building maybe funded from the Hanmer Springs Thermal Reservesurplus, Council reserves or loans according to theCouncil's Internal Financing Policy.• If the Capital Expenditure caters for future growth, thenthe portion of the expenditure that relates to growthmay be funded via Development Contributions.• The construction of the Hurunui Memorial Library wasfunded from two loans as per the Council's InternalFinancing Policy. The fi rst loan represented the majorityof the cost. The repayments of principal and interest forthe majority of the loan are funded through developmentcontributions. The second loan of $260,000 has beenpaid by the Amberley Ward ratepayers since 2004 at$16.00 per rating unit. This has been used to fund theinterest and principal repayments.Youth ProgrammeOperational Costs:• The Youth Programme is run via the Library service andfunded through the Hanmer Springs Thermal ReservesurplusCommunity DevelopmentProgrammeOperational Costs:Grants and Service AwardsOperational Costs:• Uniform Annual General ChargeCouncil Owned AssetsLibrary• Hurunui Memorial Library, Amberley• Hanmer Springs Service Centre/Library• Waiau Hall (which houses the community library)• Cheviot Service Centre (soon to include the communitylibrary)• Computers, hardware and software• Books, CDs, Videos etcYouth Programme• Vehicle• Programme tools (computers, cameras, projector,games etc)Community DevelopmentProgramme• Not applicableGrants and Service Awards• Not applicableMaintenance and Operating ImplicationsLibraryApart from the initial alterations to the Cheviot Service Centreto accommodate the library, there is no real change plannedfor upcoming maintenance and operating costs, which includesroutine repairs and keeping buildings in good condition.Library resources (books, videos etc) are purchased through anannual budget provision. Donated or locally fundraised itemsare either vested in the Council or ownership is held by thedonor as agreed.Some of the library computers and software are owned andsupported through a government funded programme (called theAotearoa People's Network). Maintenance and operating costsare through them.• Funded through a grant from the Department ofInternal Affairs99
---
www.hurunui.govt.nzYouth ProgrammeThe Council plans to support the programme by providingfunds to pay a youth coordinator and running costs for a vehicle.There is no provision for a replacement vehicle or to replaceprogramme tools as the programme was not initially intendedto progress beyond 3 years. It is intended that any replacementitems needed would be paid for through fundraising.Community DevelopmentProgrammeThe programme's main resource is the community developmentadvisor. There are no maintenance and operating implications asthis is fully funded and supported by the Department of InternalAffairs.Grants and Service AwardsCouncil acts as an agent in administering and distributinggrants on behalf of 2 government funded initiatives (SPARC andCreative Communities). Both organisations provide assistanceto manage the schemes by setting the criteria for fundingdistribution. Council staff administer the other grants andawards internally.Assumptions and RisksLibraryIt is assumed that the Cheviot community library will move intothe Cheviot Service Centre. We are planning to run the newCheviot library/service centre at the same cost as it is to runthe service centre and library staffi ng now.We are not planning to move any other libraries and assumethey will continue to operate in their current buildings andlocations. However, we do need to be mindful that at any stagethe schools could opt to discontinue their association with theCouncil and choose to quit the community libraries from theirschools. We do not have contingency plans if this was to be thecase, but it is unlikely.The smaller volunteer run libraries are only likely to continueas long as there are people willing to take on this responsibilityon a volunteer basis. The cost of transferring these libraries tothe District library network and staffi ng them is likely to be costprohibitive.The libraries have computers and internet services suppliedthrough the national APNK programme at no cost to us. Wecannot guarantee that this will be available to NZ's librariesfor ever and at some point, we may need to carry this cost orreconsider ongoing free internet usage.Youth ProgrammeIt is assumed that the Youth Programme will continue throughoutthe life of the long term plan and be funded via profits from theHanmer Springs Thermal Reserve. If this method of funding wasno longer available, (for example, if the profi ts were less thananticipated and there was less to spend), the programme wouldbe funded through general rates instead. It is also assumed thatthere will be on going alternative funding opportunities to applyfor grants to support the programme and thereby reduce thereliance on the thermal reserve profi ts or general rates. In theevent there is no funding available, and the community is notprepared to fund it, the programme would cease to continue.Community DevelopmentProgrammeIt is assumed that the Community Development Programme willcease once the government funding fi nishes in June 2013. In theevent the community and the Council consider the programmeworth continuing beyond 2013, the cost would likely to be metvia general rates.Grants and Service AwardsIt is assumed that the grants and service awards currentlyprovided for will continue. Some external funding is receivedtoward these and should this cease to be available, Council willneed to reconsider its position regarding the on-going fi nancialsupport of its grants.Shared ServicesLibraryWe operate our community library service in conjunction withschool libraries in three district area schools (Amuri, Cheviotand Hurunui). Our new library management programme wasa shared purchase with several other libraries throughout NewZealand. This has a shared helpdesk and IT support.Grants and Service AwardsThe Mainpower Hurunui Natural Environment Fund is a jointcollaboration between Mainpower, which donates $4,000towards it, and we match it with another $4,000 each year.Under legislation, Hurunui, Waimakariri and Selwyn DistrictCouncil's along with Christchurch City Council contribute tothe cost of running the Canterbury Museum. The Museum isoverseen by a Board, of which we share a membership role withWaimakariri Council.100
---
Draft Hurunui Community Long Term Plan 2012 - 2022Goals and Performance MeasuresCommunity Outcomes1. A desirable and safe place to live2. A place where our traditional rural values and heritage make Hurunui uniqueGoalsProvide community servicesthat are valued by people inthe DistrictHow we will achieve ourGoalsRun a youth programme thatmeets the needs of our localyouth*Run the CommunityDevelopment Programmewith specifi c outcomesUndertake a residentssatisfaction surveyReward and recogniseoutstanding contributionfrom people in the DistrictPerformance Measures Current Situation 11/12 12/13 13/14 14/15 15+Youth events attendancesreach no less than theminimum desiredThe projects short termoutcomes will be achievedSatisfaction with librarycustomers is maintained orcontinues to improveAwards and funds aredispersed according to thecriteria annuallyAttendance numbers havebeen documented for eachevent, they have not beenanalysed over the yearThe programme is behindschedule due to staffi ng gapsbut we aim to catch up byDec 2012Satisfaction levels with thosewho use the current libraryservice is 96% by those whouse the service, and 84% if wecount those who do not usethe libraryAll awards were distributedand most funds dispersed.A small sum of funds wastransferred to the nextyear from the CreativeCommunities fund.√ √ √ √√√√√ √ √ √*We have found that a successful event held for youth has a good attendance. It can be diffi cult to measure what a 'good' attendance is. Foreach event, we estimate how many attendees there need to be to make it worthwhile. This is not necessarily based on cost and depends verymuch on the type of event. Some events (eg: dances) can have up to 100 attendees, whereas others (eg: photography) might only cater for 10.Financial SummaryA fi nancial summary for this activity is shown on the next page.101
---
www.hurunui.govt.nzCOMMUNITY SERVICESACTIVITY FINANCIAL SUMMARYAnnual Plan Year 1 Year 2 Year 3 Year 4 Year 5 Year 6 Year 7 Year 8 Year 9 Year 102011/2012 2012/2013 2013/2014 2014/2015 2015/2016 2016/2017 2017/2018 2018/2019 2019/2020 2020/2021 2021/2022Operating StatementOperating RevenueGeneral Rates 111,231 126,018 183,177 244,773 207,942 164,672 172,213 178,239 185,748 193,764 202,045Targeted Rates 1,322,703 654,430 690,448 690,512 712,141 750,247 759,789 804,281 830,932 859,808 899,290Other Income 152,809 171,950 94,828 97,715 100,814 104,133 107,094 110,119 113,604 117,429 121,273Internal Interest Received 1,577 282 749 1,418 1,923 2,381 3,165 4,211 5,631 7,208 8,189Development Contributions 40,698 37,854 38,777 40,624 30,798 0 0 0 0 0 0Total Operating Revenue 1,629,018 990,534 1,007,980 1,075,043 1,053,619 1,021,432 1,042,261 1,096,849 1,135,915 1,178,210 1,230,797Operating ExpenditureEmployee Benefits 481,512 559,940 494,474 509,529 525,687 542,996 558,434 574,209 592,381 612,326 632,368Direct Operating Expenditure 317,643 335,680 394,078 459,864 429,735 395,907 406,697 420,157 437,672 451,487 468,077Internal Interest Paid 181,808 139,671 140,663 137,904 144,342 175,492 171,667 169,977 166,247 165,119 156,703Council Overheads Expenditure 443,281 506,535 514,880 525,456 537,665 550,885 567,889 574,333 588,312 603,849 619,471Depreciation 118,136 119,175 119,175 119,175 119,175 119,175 119,175 119,175 119,175 119,175 119,175Total Operating Expenditure 1,542,380 1,661,001 1,663,270 1,751,927 1,756,603 1,784,454 1,823,862 1,857,851 1,903,787 1,951,957 1,995,794Operating Surplus (Deficit) 86,638 (670,467) (655,290) (676,884) (702,984) (763,022) (781,600) (761,002) (767,872) (773,747) (764,998)Capital StatementCapital ExpenditureLibrary 92,654 65,000 67,548 69,797 72,196 74,796 77,643 80,789 84,234 88,082 92,131Total Capital Expenditure 92,654 65,000 67,548 69,797 72,196 74,796 77,643 80,789 84,234 88,082 92,131Funds RequiredOperating Deficit 0 670,467 655,290 676,884 702,984 763,022 781,600 761,002 767,872 773,747 764,998Capital Expenditure 92,654 65,000 67,548 69,797 72,196 74,796 77,643 80,789 84,234 88,082 92,131Transfer to General Council Reserves 72,953 72,953 72,953 72,953 72,953 72,953 72,953 72,953 72,953 72,953 72,953Repayment of Internal Loans from Operating Income 956,180 159,664 184,701 179,619 172,412 132,806 133,050 171,137 185,853 203,937 236,7731,121,787 968,084 980,492 999,254 1,020,545 1,043,577 1,065,246 1,085,881 1,110,912 1,138,718 1,166,855Funded byOperating Surplus 86,638 0 0 0 0 0 0 0 0 0 0Transfer from Hanmer Springs Thermal Reserve 824,359 770,624 793,769 810,282 829,174 849,606 868,428 885,917 907,503 931,461 955,548Non Cash Expenditure - Depreciation 118,136 119,175 119,175 119,175 119,175 119,175 119,175 119,175 119,175 119,175 119,175Transfer from General Council Reserves 92,654 78,285 67,548 69,797 72,196 74,796 77,643 80,789 84,234 88,082 92,1311,121,787 968,084 980,492 999,254 1,020,545 1,043,577 1,065,246 1,085,881 1,110,912 1,138,718 1,166,855102
---
Activity 2: PropertyOverviewThe Property activity includes the Council's:• Buildings (housing, council offi ces and depots, medicalcentres, transfer stations, and halls)• Public toilets• Swimming pools• Township maintenance (street cleaning, grass mowing,and township maintenance)Current SituationBuildingsWe own and maintain a variety of buildings as shown below:• Some commercial premises that are leased to smallbusinesses• 34 housing units for the elderly – 12 in Amberley, 13 inCheviot, 4 in Hanmer Springs and 5 in Waikari• 3 residential houses – 1 in Leithfi eld Beach, 1 in Cheviotand 1 in Hanmer Springs.• 5 water and sewerage depots• 4 Council service centres / libraries• 5 closed landfi lls• 5 transfer stations• 4 medical centres - Cheviot, Hanmer Springs, Rotherhamand Waikari• 2 doctors houses - Cheviot and Rotherham• 14 halls throughout the DistrictPublic ToiletsThroughout the district, there are:• 14 toilet blocks located on reserves• 16 district public toilets sited either on reserves orCouncil freehold property• 2 privately owned toilets which we contribute to themaintenance ofAll of the district toilets have been built or renovated within thelast 10 years so are in a very good condition. The toilets arecleaned mainly via contracted services.Swimming PoolsOur most well-known pool complex is the Hanmer SpringsPlans for the futureDraft Hurunui Community Long Term Plan 2012 - 2022Thermal Pools and Spa. This complex is not included in thissection and has a chapter of its own under the same name.This section refers to our other public swimming pools locatedin Amberley and Rotherham. Both pools only operate duringthe summer months. The Amberley swimming pool is staffedand operates as a public swimming pool. It is covered, butnot heated and is reliant on the sun to heat the water. TheRotherham swimming pool is not covered or heated either andis managed by the local swimming club and school, and theydetermine who uses the pool. Only the Amberley swimmingpool has paid life guards and staff.Township MaintenanceRatepayers in each of the wards pay an amenity rate to fundthe general maintenance of their townships. Managing thetownship maintenance this way seems to be popular by localsas this enables people to have a say on where their rates arespent. Ward and community type committees are very active inthe District with regard to planning and maintaining their areas.We employ some gardeners and maintenance staff, but contractout most township work to contractors for the likes of grassmowing and general maintenance work.BuildingsA toilet expansion is planned for the Amberley Council Offi cein 2012/13. The toilet block inside the building, beside CouncilChambers is the original toilet block built over 30 years ago andis inadequate to meet the needs of public meetings nowadays.The cost estimated to extend and update these toilets is$45,000.For some years now, it has been planned to move the AmberleyTransfer Station from its current site due to the resourceconditions expiring. A new location is nearing confi rmation andthe move will occur in the 2012/13 year. The cost of buildinga new station has been carried over and into the long termbudget from earlier years.The Cheviot medical centre is outdated and $1 million has beenfactored into the 2016/17 budget to either upgrade the existingfacility or to build a new medical centre. A full project scopewill be done before any building takes place to ensure that whatis built does meet the needs of the community into the future.The $1 million has been based on the recent medical centrebuilt in Rotherham. Infl ation has been added to the million forthe 2016/17 year.A major upgrade of the Hanmer Springs sport stadium is plannedfor 2015/16 at a budgeted cost of $1 million. This is an estimate103
---
www.hurunui.govt.nzonly at this stage. $30,000 of that fund will be advanced to the2012/13 year to undertake a feasibility study before the upgradeis done.Also in Hanmer Springs, it is planned to extend the communityhall which has been found inadequate for the use it gets.$194,000 has been set in the 2014/15 budget with a further$10,000 to be spent in 2012/13 to repair the hall stage.With all of the above capital expenditure planned, althoughthese fi gures are mainly estimates until further scoping is done,we consider these amounts to be maximum amounts and ofprimary importance, is what local communities consider to beaffordable.Public ToiletsAn upgrade of the old toilet block in Hanmer Springs is plannedfor 2012/13 at a cost of $30,000.A budget provision of $90,000 has been identifi ed in 2017/18to build a new toilet block in Rotherham. There are no publictoilets currently there. However, before committing to thisexpenditure, the need for public toilets in Rotherham will bereviewed again when the next long term plan is developed in2015.Swimming PoolsThe Amberley swimming pool is reaching the end of its usefullife and it is estimated that it will last another 7 years or so.This pool has been the subject of much discussion in the past,with a community desire to have a recreational swimming poolfacility that is heated, covered and can operate all year round. Ithas been argued that this type of facility would attract a morepatrons to the pool from throughout the district and otherareas. The existing facility is being maintained in the meantime,but the Amberley Ward Committee has been investigatingoptions to either replace or remediate the current pool.$3 million had been budgeted in the previous long term plan,but this provision has been removed until the Ward Committeeis able to recommend their preferred course of action and thecost involved. The original $3 million was proposed to havebeen funded 3 equal ways; Amberley Amenities Rate, Councilgeneral rate and community fundraising. No fundraising hasyet taken place. Before a budget is identifi ed and put to thepublic to consider, more information is being sought. Therefore,while there is no current budget identifi ed at this stage, we areprepared to provide for this once we have more information toprovide the community with fi rst. We are planning to consultwith the public once we have more information and facts tocommunicate so that people can make a considered opinion.Township MaintenanceVarious township maintenance plans are to occur over thenext few years and this is shown in more detail in the TownshipProfi le section earlier in this document.Our main aim is to continue to maintain the existing localfacilities to a suitable standard depending on their use. Thedemand for local facilities and maintenance plans is assessedby taking into account residential, tourism and business growthpatterns, facility usage patterns, surveys and submissions.FundingBuildingsRented Properties Operational Costs:• Rents are intended to be affordable, but considerationto the local market is given. In most cases, the rentalcovers all operational costs.• Any shortfall to be met from a local amenity rate (inthe case of medical centres or local amenities), or fromthe District Rate on Capital Value (for pensioner andresidential housing).Rented Properties Capital Costs:• Any portion of expenditure relating to growth maybe funded from future lots or units of demand withinthe ward or community rating area via developmentcontributions.Medical Centres Operational Costs:• 100% user charges with any shortfall funded by a medicalcentre rate within the relevant ward or communityrating area.Medical Centres Capital Costs:• Loan funded by a medical centre rate within the relevantward or community rating area.• If the District should contribute (in the past, there hasbeen a $150,000 contribution made to each community)then the amount of the contribution is subtracted fromthe loan.• Any portion of expenditure relating to growth maybe funded from future lots or units of demand withinthe ward or community rating area via developmentcontributions.104
---
Draft Hurunui Community Long Term Plan 2012 - 2022Public ToiletsToilets Provided on Tourist Routes:• 100% District Rate or use of surpluses from the HanmerSprings Thermal Reserve.Ward or Community Rating Area Toilets:• Included in Township Maintenance is 100% local amenityrate on the local ward or community rating area.• If the Council decides to apply some of the surplusfrom the Hanmer Springs Thermal Reserve, the amountof the contribution is subtracted from the District Rate.• If any of the Capital Expenditure caters for futuregrowth, then that portion of the expenditure thatrelates to growth may be funded from future lots viaDevelopment Contributions and loans.Swimming PoolsOperational Costs:• 100% local amenity rate.Capital Costs:• This depends on who will use the pool. If mainly thelocal ward, then loan funded within the relevant wardor rating area. If use is also expected to be district wide,a portion may be decided to be funded via the DistrictRate. Community fundraising may also be expected.Township MaintenanceOperational and Capital Costs:• 100% local amenity rate.Council Owned AssetsBuildings• Commercial premises• 34 pensioner housing units• 3 residential houses• 5 water and sewerage depots• 4Council service centres / libraries• 5 closed landfi lls• 5 transfer stations• 4 medical centres• 2 doctors houses• 14 hallsPublic Toilets• 14 public toilet blocks• 16 district public toiletsSwimming Pools• 2 public swimming pools (excluding Hanmer SpringsThermal Pools and Spa)Township Maintenance• Not applicableMaintenance and Operating ImplicationsBuildingsA property review is undertaken every several years to assessthe state of the property portfolio and to enable a suitablemaintenance programme to be put in place. Generally, allproperties are maintained to a level that keeps them functional.Maintenance and upkeep is undertaken by contractors.Public ToiletsThe maintenance of these facilities, including cleaning andreplenishing of supplies is contracted out.Swimming PoolsBoth swimming pools are aged pools and maintained to a basiclevel to keep them operational and safe. Both pools, particularlythe Amberley swimming pool, have regular maintenance andrepair costs to keep them functional. Most work on theAmberley pool is done by staff, but contractors are used forspecialist jobs (such as plumbing).Township MaintenanceWe intend to retain ownership of the properties and facilities asoutlined in this section. The local Ward Committees and Boardshave the delegated responsibility authorise improvements intheir particular Ward through the use of amenity rating. Forphysical works, we employ some gardeners and cleaners (mostlypart time), however most work in this activity area is done bycontractors. Many of the District's halls are managed by thelocal Reserve Committee or Hall Committee.105
---
www.hurunui.govt.nzAssumptions and RisksBuildingsIt is assumed that we will continue to own the buildings wecurrently have, and we are not planning on increasing our stock.There is some risk in this, such as:• We only provide pensioner housing in Amberley,Cheviot, Hanmer Springs and Waikari. This mayinadvertently have social and cultural impacts upon theage demographics in local communities as the elderlypopulation becomes concentrated in certain areasonly. This may result in higher demands on some localservices and facilities. Demand for pensioner housing insome parts of the District at times is greater than oursupply. This could result in some older people leavingthe District when we are in fact keen for residents of allages to be able to live in the community of their choice.Township MaintenanceIt is assumed that the current facilities as described in thissection will continue to be needed by the local communities.It is also assumed that the communities expect us to maintainthe facilities and amenities at the lowest cost possible. As thepopulation in the District changes, there are possible issues forrate payers when having to fund facilities to match residents' andvisitors' expectations. Given the rural nature of the district, andconsequential small population, the costs can pose challenges.• The Hurunui District has an aging population that isexpected to increase for the next several years. Thisis expected to place additional demand for low costhousing options for aging and retired people, as wellas retirement homes and villages. We believe that thisdemand is best met by the private sector.We have assumed that the community will continue to supportthe need for us to build medical centres and keep themrelevant to the needs of modern medicine to attract medicalprofessionals to our District.Public ToiletsWe intend to continue to own, control and manage publictoilets throughout the district and replace them or build moreas required and can be properly justifi ed. Discussion does takeplace from time to time on the funding model for public toilets,and whether or not the public should directly pay to use them.Free use has been assumed for this long term plan.Swimming PoolsAside from routine maintenance and repairs, there is no budgetput aside to replace or signifi cantly upgrade the two existingswimming pools. There is a risk that the cost of doing so willbe greater than the community is prepared to pay. In the eventthat the pools do fail and are not replaced, the local communitycould be disadvantaged by not having this service at its disposal.It is assumed that there is signifi cant public support to eitherreplace or upgrade any pools before committing to the costinvolved.106
---
Draft Hurunui Community Long Term Plan 2012 - 2022Goals and Performance MeasuresCommunity Outcomes1. A desirable and safe place to live2. A place where our traditional rural values and heritage make Hurunui uniqueGoalsTo provide and maintainbuildings to support activitiesand recreational needs for localcommunitiesTo maintain townships so theyare neat and tidyHow we will achieve ourGoalsMaintain, upgrade or buildnew medical centressuitable for modernmedical proceduresConsult with thecommunity about thefuture of the Amberleyswimming poolInvestigate complaintsabout the standard of anyCouncil owned facilitiesUndertake a residentssatisfaction surveyPerformance Measures Current Situation 11/12 12/13 13/14 14/15 15+Build a new medicalcentre (or signifi cantlyupgrade the existing one)Decide on the course ofaction to be taken (buildor upgrade or abandon)depending on communityviewsAll complaints arefollowed up within 48hoursResident satisfactionover attractivenessand neatness of theirtownships is maintainedor improvedThe Cheviot medical centrerequires a rebuild or upgradebut identified as inadequatefor the futureThe current swimming poolin Amberley is expectedto last for another fi ve orso years before it will nolonger be usable. The WardCommittee is consideringwhere to from here. Thereis no fi nancial provision fora new or upgraded pool atthis stageComplaints have beenrecorded in variable waysup until now. We have acustomer service requestprogramme to log allcomplaints and show whenthey have been actioned90% of residents consideredtheir townships to be wellkept and 85% said they wereattractive√√√√ √ √ √√√Financial SummaryA fi nancial summary for this activity is shown on the next page.107
---
www.hurunui.govt.nzPROPERTYACTIVITY FINANCIAL SUMMARYAnnual Plan Year 1 Year 2 Year 3 Year 4 Year 5 Year 6 Year 7 Year 8 Year 9 Year 102011/2012 2012/2013 2013/2014 2014/2015 2015/2016 2016/2017 2017/2018 2018/2019 2019/2020 2020/2021 2021/2022Operating StatementOperating RevenueGeneral Rates * 5,056 (45,999) (49,735) (55,631) (56,961) (58,385) (59,434) (61,952) (64,020) (66,285) (68,561)Targeted Rates 167,259 535,296 544,235 559,364 576,635 577,339 641,446 645,308 667,497 681,234 687,458Other Income 398,690 400,800 413,345 425,930 439,437 453,906 466,812 479,998 495,188 511,862 528,615Development Contributions 92,691 60,911 63,460 65,489 67,573 74,640 76,814 79,761 83,219 87,003 70,694Total Operating Revenue 663,696 951,008 971,305 995,152 1,026,684 1,047,499 1,125,638 1,143,115 1,181,884 1,213,814 1,218,207Operating ExpenditureEmployee Benefits 141,524 143,127 147,607 152,101 156,924 162,091 166,700 171,409 176,833 182,787 188,770Direct Operating Expenditure 793,641 756,820 728,428 747,323 787,895 790,847 820,904 848,284 871,794 900,126 934,203Internal Interest Paid 115,490 156,772 150,187 141,812 132,642 122,612 180,222 169,595 157,942 145,145 131,091Council Overheads Expenditure 151,854 115,684 116,965 119,686 122,524 125,549 129,969 131,044 134,211 137,668 141,141Depreciation 170,037 178,630 180,630 180,630 180,630 180,630 182,630 182,630 182,630 182,630 182,630Total Operating Expenditure 1,372,546 1,351,033 1,323,817 1,341,552 1,380,615 1,381,730 1,480,425 1,502,962 1,523,410 1,548,356 1,577,835Operating Surplus (Deficit) (708,850) (400,025) (352,512) (346,399) (353,931) (334,231) (354,787) (359,847) (341,526) (334,542) (359,628)Capital StatementCapital ExpenditureRental Property 20,000 0 31,176 0 0 0 0 0 0 0 0Public Toilets 0 0 0 0 0 103,563 0 0 0 0 0Medical Centres 0 0 0 0 0 1,150,700 0 0 0 0 0Halls 15,000 25,000 2,078 206,170 2,221 2,301 2,389 2,486 2,592 2,710 2,835Pools 0 2,000 2,078 2,148 2,221 2,301 2,389 2,486 2,592 2,710 2,835Township Maintenance 11,637 88,500 26,500 20,939 20,548 21,288 34,043 21,779 255,940 25,069 26,222Total Capital Expenditure 46,637 115,500 61,832 229,256 24,991 1,280,154 38,821 26,751 261,124 30,490 31,892Funds RequiredOperating Deficit 708,850 400,025 352,512 346,399 353,931 334,231 354,787 359,847 341,526 334,542 359,628Capital Expenditure 46,637 115,500 61,832 229,256 24,991 1,280,154 38,821 26,751 261,124 30,490 31,892Transfer to Special Funds 70,040 46,842 48,609 50,378 51,941 54,008 55,527 57,492 59,967 62,769 51,242Transfer to General Council Reserves 72,060 56,919 50,217 59,540 52,405 47,337 64,075 65,013 56,981 67,090 68,184Repayment of Internal Loans from Operating Income 96,275 97,719 121,146 130,750 141,353 157,247 146,300 158,477 171,627 185,796 195,231993,862 717,005 634,316 816,324 624,620 1,872,977 659,510 667,580 891,224 680,685 706,177Funded byTransfer from Hanmer Springs Thermal Reserve 355,401 393,532 364,354 373,971 395,185 395,190 407,882 428,978 428,509 441,124 466,988Non Cash Expenditure - Depreciation 170,037 178,630 180,630 180,630 180,630 180,630 182,630 182,630 182,630 182,630 182,630Transfer from General Council Reserves 0 0 25,723 0 0 89,557 0 0 0 0 0Transfer from Special Funds 36,000 0 0 0 0 0 0 0 0 0 0Capital Expenditure funded through Internal Loans 432,424 144,843 63,609 261,723 48,805 1,207,600 68,998 55,972 280,084 56,931 56,560993,862 717,005 634,316 816,324 624,620 1,872,977 659,510 667,580 891,224 680,685 706,177* Surpluses from Other Property and Residential Housing is used to offset the General Rate108
---
Activity 3: ReservesOverviewThe Reserves activity includes the Council's:• Parks and Reserves• CemeteriesCurrent SituationParks & ReservesThere are currently 160 parks, reserves and recreation areasin our district. This includes the Hanmer Springs ThermalReserve, now known as the 'Hanmer Springs Thermal Pools andSpa'. This section does not discuss the pools and spa as thisis a signifi cant activity on its own right. Please refer to theHanmer Springs Thermal Pools and Spa section of this plan. Thereserves discussed in this section cover the 29 parks (picnicareas/playgrounds), 10 camping grounds and 146 developed andundeveloped reserves and plantation areas in the district. Thereserve portfolio now includes approximately 6.0 hectares ofthe Queen Mary Hospital Historic Reserve in Hanmer Springs(formerly owned by the Canterbury District Health Board).Our reserves are highly regarded by those who use andbenefi t from them. Council's committee structure includesseveral Reserve and Ward Committees which are delegatedresponsibilities to ensure reserves are maintained and usefulfor people to enjoy. The committees' memberships includevolunteers and Councillors. The work of all of these groups issincerely appreciated by Council.CemeteriesThere are 9 open cemetery reserves throughout our districtlocated at Balcairn, Cheviot (Homeview), Culverden, Glenmark,Hanmer Springs, Horsley Down, Rotherham, Waiau, and Waikari.We also own the Jed Cemetery Reserve in Gore Bay, Cheviot,which is open only to ashes interments of family memberspreviously buried there.Each of the cemeteries has more than enough vacant plots tolast for at least the next 10 years. Of the 9 cemeteries, BalcairnCemetery is used the most frequently with approximately 22plots sold on average each year. In contrast, our least frequentlyused cemetery is Rotherham, with an average of 2 plots soldeach year.Whereas we own the cemetery reserves, we do not employstaff to dig graves or maintain the cemetery grounds. Instead,we contract the services of sextons, gardeners and tradespeople. Cemetery plots are sold by Council staff. Anyone isable to purchase a plot or to be buried in the cemeteries – theyare not only for Hurunui district residents.Plans for the futureParks & ReservesDraft Hurunui Community Long Term Plan 2012 - 2022We have had a comprehensive District Reserve ManagementPlan since 2008. The Plan is being reviewed to update theGovernance and Management responsibilities and to identifyfuture development plans for each of the reserves. The currentplan identifi es capital projects for some of the reserves butthese are to be removed. Instead capital projects will beidentified through the Long Term Plan process. Each ward isbeing allocated money form the Hanmer Springs Thermal Poolsand Spa surplus, known as the 'contestable fund' to pay for thecapital projects.The Queen Mary Hospital Historic Reserve Management Plan isa new plan confi rmed in late 2011 and approved by the Ministerof Conservation. That plan sets out the overall management goalfor the reserve and is supported by policies in the plan. It can befound on our website: www.hurunui.govt.nz and use the searchto fi nd the Queen Mary Hospital Historic Reserve ManagementPlan. The plan includes a landscape plan for the reserve andconservation management plans for each of the three historicbuildings on the site. We will be seeking expressions of interestfor the use of the buildings in 2012. Before we confi rm oragree to any proposals for the use of these buildings, publicconsultation will be undertaken fi rst to make sure any proposalhas the support of the wider community.CemeteriesThere is a budget provision to purchase land beside the Balcairncemetery when it becomes available to future proof our mostpopular cemetery. $120,000 has been put aside for 2013/14 todo this although there is no immediate concern that we will runout of space for some years.Most of our cemeteries have many years remaining before theywill run out of space. It is predicted that the demand for plotswithin the district's cemeteries will increase gradually overthe next 50 years, due to the increasing age of the populationwithin the district. There is generally an increasing trend awayfrom cemetery burials as people are moving towards cremationservices, but this has not impacted on the sales of plots withinthe Hurunui.Apart from the purchase of land, there are no major plans forany of the cemeteries other than to keep them maintained to agood standard and make sure they look tidy and attractive.109
---
www.hurunui.govt.nzFundingParks & ReservesOperational Costs:• Amenity Reserves are 100% local amenity rates onthe ward or community rating in which the reserve islocated.• District Reserves are 100% District Rate and/orHanmer Springs Thermal Reserves surpluses.• Camping Grounds are 100% user charge with anyshortfall met by a local amenity rate in the ward orcommunity rating area. Four of the ten Campinggrounds are managed by a lessee, Council receives aportion of the annual turnover for these camps as arental.• If long term funding is required, it can be catered forunder the Council's Internal Financing Policy. Themonies needed to meet the loan costs under the InternalFinancing Policy should be treated as operationalexpenditure.Capital Costs:• District Reserves are funded100% by the District Rateand / or the Hanmer Springs Thermal Reserve surpluses.• Amenity Reserves are funded100% by the local amenityrate on the ward or community rating area withinwhich the reserve in question is located.• If any of the capital expenditure caters for futuregrowth, then that portion of the expenditure thatrelates to growth maybe funded from future lots orunits of demand via development contributions.• Contestable Funding is provided each year from thesurpluses from the Hanmer Springs Thermal Reserve toeach Ward or Rating area that may be used for meetingdevelopment costs on amenity reserves.CemeteriesOperational Costs:• Interment costs and purchase of plots are charged asuser charges. Any shortfall in operational costs willbe charged as a District Rate and/or Hanmer SpringsThermal Reserves surplusesCapital Costs:• If the Council decides to apply some of the surplusfrom the Hanmer Springs Thermal Reserve, the amountoft he contribution is subtracted fromt he District Rate,otherwise the total is met via the District Rate.Council Owned AssetsParks & Reserves• 160 parks and reservesCemeteries• 9 open cemetery reserves at Balcairn, Cheviot(Homeview), Culverden, Glenmark, Hanmer Springs,Horsley Down, Rotherham, Waiau, and Waikari.• Jed Cemetery Reserve in Gore Bay.Maintenances and Operating ImplicationsParks & ReservesWe act as an administering body for a large number of parksand reserves in the District. The parks and reserves are eitherowned by Council or vested in Council to administer andmaintain. Those that are vested are owned by the Crown. Wehave given our Reserve Committees delegations to run the dayto day maintenance and development of most of the reserves.Lawn mowing and heavy maintenance is largely undertaken bycontractors in the main, but we do employ some gardeners.CemeteriesGeneral maintenance and upkeep such as grass mowing,weed spraying, rubbish removal, fencing, grave topping, diggingand landscaping, is undertaken by contractors. Generally, allcemeteries within the district are well maintained.Resident satisfaction surveys have confi rmed consistent highlevels of satisfaction with our cemeteries.Assumptions and RisksParks & ReservesIt is assumed that the district's communities will continue tosupport the preservation of the district's reserves and parksthrough the Reserve Committees currently in place. It is alsoassumed that the historic buildings on the Queen Mary HospitalHistoric Reserve will be leased to external parties for commercialuse. If this does not occur, we will continue to keep the buildingsin good condition but we do not plan to do any upgrades ordevelopments funded by the ratepayer.The biggest risk to our reserves is natural weather andenvironmental conditions. In our recent past, the fl oods of 2008caused severe damage in some of the reserves and dramaticallyaltered the landscape of some of them. We have not includedadditional funding in this long term plan to restore reserves inthe event they are severely damaged in future.110
---
Draft Hurunui Community Long Term Plan 2012 - 2022CemeteriesPlans for our cemeteries are based on the assumption that ournine cemeteries will continue to meet the needs of our aging (andat times, growing) population for many years to come. There isalways a risk that a natural disaster could severely damage anyof the cemeteries, such as an earthquake or fl ooding. This hasnot been the case to date, but if it did, alternative sites (or site)may need to be identifi ed.Goals and Performance MeasuresCommunity Outcomes• A desirable and safe place to live• A place where our traditional rural values and heritage make Hurunui uniqueMaintenance and Operating ImplicationsGoalsTo provide parks and reservesfor people to enjoyOur cemeteries meet theneeds of our communitiesFinancial SummaryHow we will achieve ourGoalsInvolve local communitiesin the planning anddevelopment of theirreservesManage the Queen MaryHistoric Hospital Reserve ina manner consistent with itsManagement PlanUndertake a residentssatisfaction surveyPerformance Measures Current Situation 11/12 12/13 13/14 14/15 15+Reserve and / or WardCommittees spend theirannual budgets on projectsidentifi ed for that yearLease the historic buildingson the Reserve accordancewith the Plan or mothballif no suitable proposals arefoundNo less than 90% ofresidents who have visiteda cemetery are satisfi edThe allocated contestablefunding has not yet beenspent yet, but committeeshave the delegation tospend on identifi ed reserveprojectsThe buildings are currentlymothballed93% of those who hadvisited a District cemeterywere satisfi ed with thestandard√ √ √ √√√√A fi nancial summary for this activity is shown on the next page.Community volunteers working at the Rutherford Reserve Playground111
---
www.hurunui.govt.nzRESERVESACTIVITY FINANCIAL SUMMARYAnnual Plan Year 1 Year 2 Year 3 Year 4 Year 5 Year 6 Year 7 Year 8 Year 9 Year 102011/2012 2012/2013 2013/2014 2014/2015 2015/2016 2016/2017 2017/2018 2018/2019 2019/2020 2020/2021 2021/2022Operating StatementOperating RevenueTargeted Rates 0 249,929 252,106 261,932 260,397 268,997 277,251 284,507 293,537 304,087 313,407Other Income 177,002 183,520 192,403 199,929 206,168 212,449 218,052 223,776 230,371 237,609 244,882Internal Interest Received 94,727 34,968 36,425 40,971 45,661 47,341 51,223 51,599 54,568 53,813 56,871Development Contributions 183,851 139,917 145,389 149,825 155,127 159,596 165,450 170,345 168,138 176,543 161,402Total Operating Revenue 455,580 608,334 626,323 652,657 667,353 688,384 711,977 730,228 746,614 772,052 776,562Operating ExpenditureEmployee Benefits 149,800 173,816 179,256 184,714 190,572 196,847 202,443 208,162 214,750 221,980 229,246Direct Operating Expenditure 718,671 861,405 856,840 891,217 910,105 936,108 964,238 986,325 1,016,304 1,055,376 1,086,886Internal Interest Paid 872 743 2,523 2,335 2,121 34,349 34,010 34,437 33,351 55,675 56,383Council Overheads Expenditure 359,406 383,910 389,610 398,305 407,157 416,561 428,551 433,737 443,554 454,222 464,935Depreciation 62,801 64,380 64,380 64,380 64,380 64,380 64,380 64,380 64,380 64,380 64,380Total Operating Expenditure 1,291,550 1,484,255 1,492,610 1,540,951 1,574,336 1,648,244 1,693,623 1,727,042 1,772,339 1,851,633 1,901,830Operating Surplus (Deficit) (835,970) (875,920) (866,287) (888,294) (906,982) (959,860) (981,646) (996,813) (1,025,725) (1,079,581) (1,125,268)Capital StatementCapital ExpenditureDistrict Reserves 71,646 71,646 74,455 76,933 1,190,277 82,443 85,581 89,049 92,846 97,087 101,551Cemeteries 5,265 5,000 129,900 5,369 5,554 5,754 5,973 6,215 6,480 6,776 7,087Amberley Reserves 18,172 20,000 83,136 10,738 11,107 11,507 23,890 37,287 277,711 13,551 14,174Amuri Reserves 8,424 8,500 8,833 9,127 9,441 15,534 10,153 10,565 11,015 11,518 19,135Hanmer Springs Reserves 12,324 110,000 10,392 10,738 1,088,486 11,507 131,395 12,429 12,959 13,551 14,174Total Capital Expenditure 115,831 215,146 306,716 112,906 2,304,865 126,745 256,992 155,544 401,011 142,483 156,121Funds RequiredOperating Deficit 835,970 875,920 866,287 888,294 906,982 959,860 981,646 996,813 1,025,725 1,079,581 1,125,268Capital Expenditure 115,831 215,146 306,716 112,906 2,304,865 126,745 256,992 155,544 401,011 142,483 156,121Transfer to General Council Reserves 0 200 200 200 200 200 200 200 200 200 200Transfer to Special Funds 271,774 147,423 184,149 188,191 198,310 174,256 182,136 192,472 196,745 179,782 166,672Repayment of Internal Loans from Operating Income 0 33,336 36,631 39,566 42,808 42,869 46,421 49,834 292,170 31,553 36,6081,223,575 1,272,026 1,393,983 1,229,157 3,453,165 1,303,930 1,467,395 1,394,863 1,915,852 1,433,599 1,484,869Funded byTransfer from Hanmer Springs Thermal Reserve 797,386 964,726 987,754 1,016,248 1,042,278 1,070,888 1,103,224 1,125,666 1,158,610 1,195,262 1,227,585Non Cash Expenditure - Depreciation 62,801 64,380 64,380 64,380 64,380 64,380 64,380 64,380 64,380 64,380 64,380Transfer from General Council Reserves 7,154 5,000 129,900 5,369 5,554 5,754 5,973 6,215 6,480 6,776 7,087Transfer from Special Funds 71,646 95,646 83,807 86,598 1,738,963 92,799 203,837 100,235 342,786 109,283 114,308Capital Expenditure funded through Internal Loans 284,588 142,273 128,141 56,562 601,990 70,109 89,981 98,367 343,596 57,898 71,5091,223,575 1,272,026 1,393,983 1,229,157 3,453,165 1,303,930 1,467,395 1,394,863 1,915,852 1,433,599 1,484,869112
---
Environment and SafetyOverviewEnvironment and Safety covers the following 4 activity areasdescribed below:Activity 1:Emergency Services (civil defence and rural fi re)Activity 2: Resource Management (administering the DistrictPlan, resource consents, township planning, policy and bylawdevelopment)Activity 3: Compliance and Regulatory Functions (buildingcontrols, public health and liquor licencing, and animal control)Activity 4: Waste Minimisation (refuse, recycling, transferstations, and litter bin collection)Our AimTo protect people, animals, and the environment from naturaldisaster, disease and hazards.Why is the Council Involved?The Council is involved with the activities within the Environmentand Safety group to provide for the wellbeing of its people. Allof the activities within this group are to do with ensuring ourcommunities, including our environment, are protected fromcertain harm to preserve what we have and leave it in goodcondition for future generations. We want to help make ourDistrict a desirable place through managing adverse effects ofactivities and conditions through our policies, bylaws and plans.These activities also contribute to the long term achievement ofour community outcomes.Community OutcomesThe Community Services and Facilities described in this section,primarily contribute to two of our community outcomes:1. A desirable and safe place to live:• We have attractive well designed townships• Communities have access to adequate health andemergency services and systems and resourcesare available to meet civil defence emergencies• Risks to public health are identifi ed andappropriately managedDraft Hurunui Community Long Term Plan 2012 - 20222. A place that demonstrates environmental responsibility:• We protect our environment while preservingpeople's property rights• We minimise solid waste to the fullest extent,and manage the rest in a sustainable wayMajor Projects PlannedProjectNew generator for theAmberley Offi ce used asan emergency operationcentre in a civil defenceemergencyTsunami remote trigger toactivate warning systems inplace in beach settlementsTanker compliance survey $99,000Year Planned2012/13 2013/14 2014/15 2015+$50,000$25,980Purchase and install digital $30,000 $32,214 $33,321radios to replace defunctanalogue radio systemTanker replacements $15,000 $99,963Waiau fi re depot $93,528Waiau smoke chaser $40,000Engineer assessments onearthquake prone buildingsSignifi cant Negative Effects$23,000 $23,720 $24,442The main intention of this group of activities is to mitigatenegative effects on the District and its environment. In themain, our actual activities do not cause any signifi cant negativeeffects. The negative effects that this group of activities is aimedat negating or minimising includes:• Unclean and dangerous food handling can havesignifi cant detrimental effects on the public throughsickness, therefore it is important we follow upcomplaints involving food premises promptly to preventfurther spread of the disease. Similarly with water, asinfection and illness can spread quickly via drinkingwater in particular.• We have a key role to reduce negative effects causedthrough sickness and alcohol abuse through theregulation of alcohol outlets (such as restaurants andretailers) and limiting the number of hours alcohol isfor sale.• Unruly dogs and animals pose dangerous risks to peopleand stock. There have been several cases of extreme dogattacks in recent years within New Zealand which has113
---
www.hurunui.govt.nzraised people's awareness of the potentially dangerousnature of dogs in particular and as a result, there is lesstolerance to roaming animals or dog attacks. This hascaused a demand for a higher level of service from usto respond quickly to complaints and to take measuresto ensure compliance.• Standards in the District Plan and legislative acts, suchas the Resource Management Act attempt to minimisepotential negative impacts on the environment.• Unruly fi res have obvious negative impacts and can leadto loss of life and property. Fire controls and havingtrained fi re teams in the District are essential.• Waste and recycling activities have the potentialto cause signifi cant negative effects to people andthe environment and we are serious about ourduty to reduce and minimise those possible effects.Contractors carrying rubbish and recycling are requiredto have vehicles which meet stringent conditions toavoid contamination. Landfi lls (operational and nonoperational)are monitored to ensure any leachates arewithin acceptable levels. Health and safety standardsare essential and a requirement of contracts pertainingto the collection of recycling and rubbish, and themanagement of the transfer stations.Emergency ManagementIn an emergency, particularly a civil defence emergency, we willcontinue to deliver services as long as it is safe and practicalto continue to do so. Many of the activities within this groupwill be required in an emergency, depending on the problem.Public health concerns are often of paramount importance incertain disasters particularly when there issues with water andsewerage disposal. In a civil defence situation, we will activateour emergency operation centre and manage the responseand recovery with other agencies required (such as police, fi reand ambulance). Following an earthquake, building services arenecessary to check the safety of buildings. The fi re service is anessential service in most situations, as well as in the case of afi re emergency.Financial SummaryA fi nancial summary for this group of activities is shown on thenext page.114
---
Draft Hurunui Community Long Term Plan 2012 - 2022ENVIRONMENTAL AND SAFETYGROUP ACTIVITY FINANCIAL SUMMARYAnnual Plan Year 1 Year 2 Year 3 Year 4 Year 5 Year 6 Year 7 Year 8 Year 9 Year 102011/2012 2012/2013 2013/2014 2014/2015 2015/2016 2016/2017 2017/2018 2018/2019 2019/2020 2020/2021 2021/2022Operating StatementOperating RevenueGeneral Rates 1,920,698 2,155,754 2,254,656 2,324,355 2,357,792 2,449,522 2,527,129 2,592,972 2,676,797 2,768,992 2,861,640Targeted Rates 1,000,775 1,046,667 1,064,016 1,099,084 1,136,318 1,175,829 1,213,794 1,251,017 1,293,420 1,339,158 1,385,624Other Income 1,274,743 1,290,300 1,330,686 1,371,202 1,414,685 1,461,265 1,502,812 1,545,263 1,594,166 1,647,842 1,701,777Internal Interest Received 2,490 0 0 0 0 0 0 0 0 0 0Total Operating Revenue 4,198,706 4,492,721 4,649,359 4,794,641 4,908,795 5,086,616 5,243,736 5,389,251 5,564,383 5,755,993 5,949,040Operating ExpenditureEmployee Benefits 1,152,635 1,294,409 1,334,924 1,375,568 1,419,190 1,465,918 1,507,598 1,550,184 1,599,242 1,653,090 1,707,196Direct Operating Expenditure 2,277,879 2,378,330 2,465,147 2,558,270 2,573,064 2,682,700 2,733,353 2,836,911 2,899,508 3,025,233 3,095,234Internal Interest Paid 11,476 8,089 8,096 9,090 9,583 9,925 10,118 10,103 9,711 9,040 8,105Council Overheads Expenditure 694,939 723,994 743,304 768,702 796,734 826,890 862,050 880,918 912,667 947,690 982,891Depreciation 107,506 111,000 112,252 113,508 114,856 116,300 117,588 118,904 120,420 122,084 123,756Total Operating Expenditure 4,244,435 4,515,822 4,663,723 4,825,138 4,913,428 5,101,733 5,230,707 5,397,019 5,541,548 5,757,137 5,917,182Operating Surplus (Deficit) (45,729) (23,101) (14,365) (30,496) (4,633) (15,117) 13,029 (7,768) 22,835 (1,145) 31,858Capital StatementCapital ExpenditureEmergency Services 107,406 234,000 119,508 59,059 133,284 103,563 137,368 0 0 33,878 0Resource Management & Planning 25,695 0 25,980 26,845 0 28,768 29,863 0 32,398 33,878 0Compliance & Regulatory Functions 0 0 51,960 26,845 0 57,535 29,863 0 64,795 33,878 0Waste Management 0 0 0 0 0 0 0 0 0 0 0Total Capital Expenditure 133,101 234,000 197,448 112,749 133,284 189,866 197,093 0 97,193 101,633 0Funds RequiredOperating Deficit 45,729 23,101 14,365 30,496 4,633 15,117 0 7,768 0 1,145 0Capital Expenditure 133,101 234,000 197,448 112,749 133,284 189,866 197,093 0 97,193 101,633 0Transfer to General Council Reserves 107,506 111,000 112,252 113,508 114,856 116,300 117,588 118,904 120,420 122,084 123,756Transfer to Special Funds 0 22,000 22,689 23,379 24,121 24,915 25,623 26,347 27,181 28,096 29,016Repayment of Internal Loans from Operating Income 578 0 0 0 0 0 217 5,406 9,245 12,904 17,350286,914 390,101 346,753 280,133 276,894 346,198 340,521 158,425 254,038 265,861 170,122Funded byOperating Surplus 0 0 0 0 0 0 13,029 0 22,835 0 31,858Non Cash Expenditure - Depreciation 107,506 111,000 112,252 113,508 114,856 116,300 117,588 118,904 120,420 122,084 123,756General Council Reserves 143,973 218,628 197,448 112,749 133,284 189,866 197,093 0 97,193 101,633 0Transfer from Special Funds 35,435 45,000 23,344 47,069 24,036 37,373 12,812 39,521 13,591 42,144 14,508Capital Expenditure funded through Internal Loans 0 15,473 13,709 6,807 4,718 2,660 0 0 0 0 0286,914 390,101 346,753 280,133 276,894 346,198 340,521 158,425 254,038 265,861 170,122115
---
www.hurunui.govt.nzActivity 1: Emergency ServicesOverviewThe Emergency Services activity includes the Council's:• Civil Defence• Rural FireCurrent SituationCivil DefenceIn the Hurunui District, there are now nine Sector Posts(Cheviot, Culverden, Hawarden, Waiau, Mt Lyford, HanmerSprings, Motunau Beach, Glenmark and Amberley), and a DistrictHeadquarters at Amberley Offi ce. Over 70 local volunteers fromdiverse backgrounds are involved in these centres. Volunteersare generally local people who receive training so they knowwhat to do should a disaster or emergency situation arise.To strengthen our ability to manage in a disaster, key relationshipshave been established with our neighbouring District Councils(Waimakariri and Kaikoura), and those within the greaterCanterbury Region, as well as the Ministry of Civil DefenceEmergency Management (MCDEM), critical emergency servicepartners and support agencies from both Government andnon-Government organisations (such as Red Cross, St JohnsAmbulance, Ministry of Social Development).The Hurunui District has 106 kilometres of coastline. Withheightened public awareness about the risk of tsunamisworldwide, a locally activated warning system is in placeat Amberley Beach andLeithfi eld Beach. No other beachsettlements in the District have warning systems.Rural FireWe maintain a District Fire Plan which prescribes how we willmeet our fi re management responsibilities. Our EmergencyManagement Offi cer is appointed as the Principal Rural FireOffi cer who manages rural fi re on behalf of the Council. Wehave fi ve Volunteer Rural Fire Force parties in the Districtbased in Waikari, Waiau, Conway Flat, Motunau Beach and GretaValley. Collectively these fi re parties provide approximately80 volunteers including 10 Rural Fire Offi cers and a DeputyPrincipal Rural Fire Offi cer. Each rural fi re party has a minimumof one fi re tanker and a portable pump. We provide tankersto the New Zealand Fire Service brigades located in Amberley,Waipara, Hanmer Springs and Cheviot. We are responsible forproviding the public with information and warnings regarding fi rehazard conditions. This includes placing fi re bans during periodsof extreme fi re risk, and bylaws to carry out fi re prevention andcontrol measures.Plans for the futureCivil DefenceSevere fl ooding in 2008 caused widespread damage withinthe Hurunui District and tested our civil defence capabilities.This confi rmed that further Sector Posts and more volunteerswithin the District would be benefi cial. We intend to continueincreasingour capacity to deal more effectively with a civildefence emergency when the time arrives. Subject to voluntarycommunity participation, we will seek to establish additionalSector Posts in Leithfi eld, Waipara, Motunau Beach, Scargill-Omihi area, Gore Bay, Conway Flat, Rotherham, and Waikari.Funding has been available tofully automatethe warning systemsat Amberley Beach and Leithfi eld Beach so that they do notneed to be manually activated.We will continue to maintain an organisational structure ofsuitably trained and competent people, including volunteers,to manage civil defence emergencies. Recruitment drives forcivil defence volunteers are essential to maintain the numbersof personnel needed in a civil defence emergency. Training isdelivered locally by our Emergency Management Offi cer andregionally through the Canterbury CDEM Group for staff andcommunity volunteers.Rural FireGeneral upgrading of all rural fi re equipment and depots willcontinue to ensure that all Volunteer Rural Fire Force partieshave the physical resources needed to fi ght fi res. Investment inregional fi re retardant depots will enhance our fi re responsecapability. Investment in national research projects will educatepeople in the District on passive measures to help reduce theincidence of wild fires.Volunteers are crucial to this activity and recruitment drivesmust be on-going to sustain required numbers for eachVolunteer Rural Fire Force established in our district. Numbersof volunteers have been dwindling over the past years which isof real concern. Full training is provided to volunteers to ensurethey are able to carry out their duties safely.We will continue to promote, encourage and carry outappropriate fi re prevention and control measures in theinterests of public safety. This includes maintaining a writtenFire Plan, observing and assessing fi re weather conditions andother fi re hazard conditions, and removing or reducing hazardswhich may trigger unwanted vegetation wild fi res.Also being considered is a wider fi re fi ghting agency to coverthe Canterbury region. This is in its early considerations with116
---
Draft Hurunui Community Long Term Plan 2012 - 2022the intended outcome to enhance the region's ability to shareresources and work together rather than each district haveits own fi re teams. We will do our bit to ensure that carefulconsideration is given to how this will work in the fi eld andwhether we will be better off under this system. We will alsobe concerned that the proposed model can be operated at anaffordable price.FundingCivil DefenceOperational Costs:• 100%District Rate after taking into account the smallcentral government contribution via an annual grant.Capital Costs:• Funded over the life of the asset and met through theDistrict Rate.Rural FireOperational Costs:• Fighting fi res – the property owner pays. In someinstances there may be a portion of the fi re fi ghtingcosts that may not be able to be recovered. Such costwill need to be recovered in line with 'other costs'.• Other costs – after taking government grants intoaccount, 80% from ratepayers in the Rural FireAuthority area and 20% from ratepayers outside theRural Fire Authority area. Both will be collected by wayof a Targeted Rate known as the Rural Fire Rate.Capital Costs:• Funded over the life of the asset and met through thetargeted rate.Council AssetsCivil Defence• Not applicableRural Fire• Fire equipment and depots throughout the DistrictMaintenance and Operating ImplicationsCivil DefenceWe will continue to manage and operate our civil defenceemergency management functions from our EmergencyOperations Centre at Amberley Offi ce.Rural FireWe intend to continue to manage and operate our fi reresponse functions as currently in place while a possibleCanterbury wide fi re fi ghting agency is considered.Assumptions and RisksCivil DefencePlanning and preparing for an emergency situation that may nothappen requires making assumptions. Civil Defence EmergencyManagement planning is based on the assumption that a seriousdisaster will occur, such as an earthquake. The Hurunui Districtcontains several fault lines that are said to be overdue to move. Asignifi cant part of the Hurunui District is coastal, and thereforeat risk from tsunamis. Other major risks include fl ooding, wildfi res and the impacts of adverse weather conditions. Goodplanning and preparation is crucial, therefore we have taken ourrole in civil defence emergency management very seriously.Rural FireOur District is prone to extreme drought conditions duringthe summer months and it is then that callouts for fi re servicesare particularly high. It is assumed that this trend will continueand that our fi re services will continue to be frequently calledout. Of signifi cant risk to our rural community is the constantneed to recruit, train and retain volunteers to be available whenthere are fi res. A major risk is the issue of health and safety.Obviously, fi ghting fi res is a dangerous activity and it is essentialthat volunteers are fully trained to prevent injury or loss of lifeto themselves and others. Fire plans and appropriate resourcesare critical to mitigate these risks.Shared ServicesRural FireDistricts usually build up their fi re fi ghting resources to meetnormal demands, but from time to time, local resources areinadequate. There is a general commitment to assist otherswhen fi ghting larger fi res. We bring in fi re crews from outsidethe District to fi ght large fi res when necessary or use privatesector resources.117
---
www.hurunui.govt.nzCommunity OutcomesGoals and Performance Measures1. A desirable and safe place to live2. A place that demonstrates environmental responsibilityGoalsTo be prepared foremergency situations whichhave adverse implications forthe DistrictHow we will achieve ourGoalsEnsure there are suffi cientresourcesPerformance Measures Current Situation 11/12 12/13 13/14 14/15 15+Educate the public on howto prepare themselves foran emergencyStaff and volunteers aretrained to deal with anemergencyA new emergency planningguide was delivered to everyhouse in the DistrictStaff training was delayeddue to the earthquakesin Canterbury, but manyreceived on the job practice.Fire crews received trainingevery month.√ √ √ √√ √ √ √Financial SummaryA fi nancial summary for this activity is shown on the next page.118
---
Draft Hurunui Community Long Term Plan 2012 - 2022EMERGENCY SERVICESACTIVITY FINANCIAL SUMMARYAnnual Plan Year 1 Year 2 Year 3 Year 4 Year 5 Year 6 Year 7 Year 8 Year 9 Year 102011/2012 2012/2013 2013/2014 2014/2015 2015/2016 2016/2017 2017/2018 2018/2019 2019/2020 2020/2021 2021/2022Operating StatementOperating RevenueGeneral Rates 159,516 156,794 160,694 165,323 170,362 175,771 181,469 185,493 191,181 197,439 203,729Targeted Rates 263,546 274,088 285,051 296,453 308,312 320,644 333,470 346,809 360,681 375,108 390,112Other Income 2,422 0 0 0 0 0 0 0 0 0 0Total Operating Revenue 425,484 430,882 445,745 461,776 478,673 496,415 514,939 532,302 551,862 572,547 593,841Operating ExpenditureEmployee Benefits 104,006 105,720 109,029 112,349 115,911 119,728 123,132 126,610 130,617 135,015 139,434Direct Operating Expenditure 171,719 177,900 183,468 183,741 189,568 195,809 201,377 207,065 213,618 220,811 228,038Internal Interest Paid 837 6,974 8,096 9,090 9,583 9,925 10,118 10,103 9,711 9,040 8,105Council Overheads Expenditure 97,166 101,261 103,109 106,395 109,972 113,812 119,007 120,714 124,751 129,194 133,658Depreciation 51,178 54,500 55,752 57,008 58,356 59,800 61,088 62,404 63,920 65,584 67,256Total Operating Expenditure 424,906 446,355 459,454 468,583 483,391 499,075 514,722 526,896 542,617 559,644 576,491Operating Surplus (Deficit) 578 (15,473) (13,709) (6,807) (4,718) (2,660) 217 5,406 9,245 12,904 17,350Capital StatementCapital ExpenditureEmergency Services 107,406 234,000 119,508 59,059 133,284 103,563 137,368 0 0 33,878 0Total Capital Expenditure 107,406 234,000 119,508 59,059 133,284 103,563 137,368 0 0 33,878 0Funds RequiredOperating Deficit 0 15,473 13,709 6,807 4,718 2,660 0 0 0 0 0Capital Expenditure 107,406 234,000 119,508 59,059 133,284 103,563 137,368 0 0 33,878 0Transfer to General Council Reserves 51,178 54,500 55,752 57,008 58,356 59,800 61,088 62,404 63,920 65,584 67,256Repayment of Internal Loans from Operating Income 578 0 0 0 0 0 217 5,406 9,245 12,904 17,350159,162 303,973 188,969 122,874 196,358 166,023 198,673 67,810 73,165 112,365 84,606Funded byOperating Surplus 578 0 0 0 0 0 217 5,406 9,245 12,904 17,350Non Cash Expenditure - Depreciation 51,178 54,500 55,752 57,008 58,356 59,800 61,088 62,404 63,920 65,584 67,256General Council Reserves 107,406 234,000 119,508 59,059 133,284 103,563 137,368 0 0 33,878 0Capital Expenditure funded through Internal Loans 0 15,473 13,709 6,807 4,718 2,660 0 0 0 0 0159,162 303,973 188,969 122,874 196,358 166,023 198,673 67,810 73,165 112,365 84,606119
---
www.hurunui.govt.nzActivity 2: Resource ManagementOverviewPlans for the futureThe Resource Management activity includes the variousfunctions of Resource Management, such as administering theDistrict Plan, resource consents, township planning, policy andbylaw development.Current SituationResource ManagementOur District Plan has been in place since 2003. This planidentifi es key resource management issues for the District andour objectives, policies and methods for addressing each of thoseissues. The District Plan is a legal document which affects the dayto-daylives of everybody in the Hurunui District. The Plan is arequirement of the Resource Management Act 1991 (RMA). Thepurpose of the RMA is the sustainable management of naturaland physical resources while avoiding, remedying or mitigatingadverse environmental effects and providing for the wellbeing ofcommunities. The Plan's framework provides objectives, policiesand methods to manage the use and development of natural andphysical resources to meet the purpose of the RMA. The currentDistrict Plan has not been frozen in time since 2003. We haveprocessed 31changes to parts of the Plan then, responding toparticular issues such as frost control fans, quarrying and mining,urban and rural subdivision standards. We are also required toreview the Plan every 10 years.To achieve the objectives and policies set out in the District Plan,we set rules and standards which any developments must meet.We process a number of resource consent applications fromapplicants who want to dothings that donot comply with theland use provisions of the plan or who want to subdivide theirproperty. Two thirds of resource consents processed relate tosubdivision consents. We grant about 98% of resource consentapplications without public notifi cation within 20 working daysof the application been received. The remaining 2% of consentsrequire notifi cation for a variety of reasons, including situationswhere potentially affected parties have not given their writtenconsents or the proposal sits outside the standard requirementsof the District Plan.We develop bylaws and policies as well as review policy initiativesset by other government agencies, and changes to legislation.We also respond to plans prepared by other agencies to protectthe interests of the Hurunui community. We responded to aproposed Regional Policy Statement and the proposed Hurunuiand Waiau River Regional Plan. We also lodged a submission tothe proposed Biodiversity National Policy Statement and theNational Policy Statement for Electricity Transmission whichrequired us to modify our District Plan within 2 years.We are constantly monitoring the state of the districtenvironment. The District Plan will be fully reviewed over thenext 2 years and we aim to have it fully revised by the end of2013. It will then be available for public scrutiny before it isfi nalised. The purpose of this review will be to consider the ongoingrelevance of the resource management issues identifi ed inthe current District Plan and the measures and standards usedto manage these.We have already identifi ed that intensifi cation of land usethrough the availability of reliable irrigation water will need tobe considered. We need to consider a policy position in relationto new data on fault lines and earthquake risk, liquefaction riskzones and possible tsunami hazard areas. In addition a numberof new national policy statements require amendments to theDistrict Plan. For example, electricity transmission. The issueswill be fully canvassed and consulted on with the communityprior to any signifi cant amendments to the current District Plan.In 2008 we developed a non-regulatory Biodiversity Strategyand received a Department of Conservation grant to employa biodiversity fi eld advisor for 3 years which was extendedfor a further 3 years in 2012. We will continue over the nextthree years to partner with other agencies to achieve positivebiodiversity gains for the District. For example funding from theHurunui Waiau Zone committee is being spent on biodiversityprojects in the District. The focus is on collaboration andvoluntary protection.FundingOperational Costs:• Resource Consents are 100% usercharges. We maywaive consent fees if provided for in the councils feewaivers, refunds and remissions policy.• Private District Plan Change costs are all met by theapplicant.• Council initiated plan changes are funded by theGeneral Rate.• Extraordinary planning issues will be assessed on a caseby case basis to determine the appropriate method forfunding.• The balance of any costs will be met by a District Rate(known as the planning rate).120
---
Draft Hurunui Community Long Term Plan 2012 - 2022Council Owned Assets• Not applicable.Maintenance and Operating ImplicationsWe manage the Resource Management/Planning activity fromour Amberley based offi ce. We have our own policy and planningstaff, and from time to time, will engage consultants for specialtyareas or when demand exceeds staffi ng resources.Assumptions and RisksThe Resource Management Act and the District Plan are themain drivers of this activity. The second phase of the reformof the Resource Management Act may impact on the focus ofthe District Plan. The review of the Act includes the sectionthat covers matters of national signifi cance that councils haveto provide for in their planning documents. For example,protecting outstanding natural features and landscapes frominappropriate subdivision, use and development. The reformalso looks at the protection of the environment and matterssuch as the effects of climate change. These are areas that wehave to consider when exercising our powers and functionsunder the Resource Management Act. Any changes to the levelsof importance placed on these matters will have a fl ow on effectto the signifi cance and importance in the District Plan.We will continue to act in an advocacy role on other agencyplans and actions where these may impact on the futureprosperity of the District.Shared ServicesThe Department of Conservation and Lane Neave Solicitorshave funded our Biodiversity programme for the past 2 years.This funding expired in April 2011 and it has been confi rmedthat funding for a further 2 years has been approved by theDepartment of Conservation. Our new Biodiversity FieldAdvisor is now working with land owners in the Hurunui.121
---
www.hurunui.govt.nzGoals and Performance MeasuresCommunity Outcomes1. A desirable and safe place to live2. A place that demonstrates environmental responsibilityGoalsTo manage our naturalresources as safely aspossible and ensure they areprotected for the futureHow we will achieve ourGoalsHave good rules, standardsand processes in placeProtect the uniquebiodiversity values of theDistrictPerformance Measures Current Situation 11/12 12/13 13/14 14/15 15+The District Plan review iscomplete95% *of all resourceconsents will be processedwithin 20 working daysWork with land ownersand communities toencourage restoringindigenous plants andanimalsThe 2003 District Plan iscurrently being reviewed98% of resource consentswere processed within 20working days√√ √ √ √New measure √ √ √*We aim to process all resource consents within 20 working days but 100% is largely unachievable. Some resource consents containcomplexities that cannot be resolved in 20 days. The nature of the work means that consents do not arrive spread evenly throughout the yearand having a small number of staff skilled to process these means that we are limited in our capacity to deal with multiple consents at once.Therefore, a 95% target still presents challenges to reach.Financial SummaryA fi nancial summary for this activity is shown on the next page.122
---
Draft Hurunui Community Long Term Plan 2012 - 2022RESOURCE MANAGEMENTACTIVITY FINANCIAL SUMMARYAnnual Plan Year 1 Year 2 Year 3 Year 4 Year 5 Year 6 Year 7 Year 8 Year 9 Year 102011/2012 2012/2013 2013/2014 2014/2015 2015/2016 2016/2017 2017/2018 2018/2019 2019/2020 2020/2021 2021/2022Operating StatementOperating RevenueGeneral Rates 721,346 838,713 879,643 907,291 922,082 953,940 983,567 1,011,177 1,044,678 1,081,555 1,118,615Targeted Rates 0 29,627 30,554 31,485 32,483 33,553 34,507 35,481 36,604 37,837 39,075Other Income 379,045 408,000 420,770 433,582 447,331 462,060 475,198 488,621 504,084 521,057 538,111Total Operating Revenue 1,100,391 1,276,340 1,330,968 1,372,357 1,401,896 1,449,553 1,493,271 1,535,280 1,585,366 1,640,449 1,695,801Operating ExpenditureEmployee Benefits 493,430 679,798 701,076 722,421 745,331 769,871 791,761 814,126 839,890 868,170 896,586Direct Operating Expenditure 340,120 317,570 341,948 352,359 348,184 359,648 369,874 380,322 392,358 405,569 418,843Council Overheads Expenditure 255,941 267,472 276,444 286,077 296,882 308,533 320,137 329,332 341,618 355,210 368,873Depreciation 10,900 11,500 11,500 11,500 11,500 11,500 11,500 11,500 11,500 11,500 11,500Total Operating Expenditure 1,100,391 1,276,340 1,330,968 1,372,357 1,401,896 1,449,553 1,493,271 1,535,280 1,585,366 1,640,449 1,695,801Operating Surplus (Deficit) 0 0 0 0 0 0 0 0 0 0 0Capital StatementCapital ExpenditureResource Management 0 0 25,980 0 0 28,768 0 0 32,398 0 0Subdivision Inspection 25,695 0 0 26,845 0 0 29,863 0 0 33,878 0Total Capital Expenditure 25,695 0 25,980 26,845 0 28,768 29,863 0 32,398 33,878 0Funds RequiredCapital Expenditure 25,695 0 25,980 26,845 0 28,768 29,863 0 32,398 33,878 0Transfer to General Council Reserves 10,900 11,500 11,500 11,500 11,500 11,500 11,500 11,500 11,500 11,500 11,50036,595 11,500 37,480 38,345 11,500 40,268 41,363 11,500 43,898 45,378 11,500Funded byNon Cash Expenditure - Depreciation 10,900 11,500 11,500 11,500 11,500 11,500 11,500 11,500 11,500 11,500 11,500General Council Reserves 25,695 0 25,980 26,845 0 28,768 29,863 0 32,398 33,878 036,595 11,500 37,480 38,345 11,500 40,268 41,363 11,500 43,898 45,378 11,500123
---
www.hurunui.govt.nzActivity 3: Compliance and Regulatory FunctionsOverviewThe Compliance and Regulatory Functions activity includes theCouncil's:• Building Controls• Public Health and Liquor Licencing• Animal ControlCurrent Situationadopted in 2010. This new policy changed the way we addressearthquake prone buildings and we now have an active approachto identifying and upgrading EPB's. We have budgeted $23,000for each of the fi rst three years of this plan ($69,000 in total)to have independent engineers' assessments of approximately90 identified earthquake prone buildings. This does not coverthe cost of actual building strengthening work. We consider thisto be an important piece of work to prevent the tragedies thatoccurred after the 22 February 2011 earthquake following thecollapse of buildings.We process and issue building consents, and inspect buildingsat several stages of their development to ensure that buildingsconstructed are safe and comply with the New Zealand BuildingCode. We issue between 400 and 650 building consents annuallyfor private buildings, public buildings, and businesses. In recentyears, the number of building consent applications has remainedconsistent but at a low level with around 400 issued in 2010and 2011. We expect to see an increase in those numbers incoming years due to the effects of the Canterbury earthquakessince 2010.We also handle complaints made regarding building complianceissues and administer the on going safety features of commercialbuildings though the building warrant of fi tness regime.Since the earthquakes, we have carried out a number ofearthquake assessments (available free to any Hurunui residentconcerned about the safety of their building). A number ofbuildings have consequently been identifi ed as dangerous and/or needing repairs. We contributed to the "operation suburb"conducted by the Department Of Building and Housing shortlyafter the 22 February 2010 Christchurch Earthquake.Recruiting and retaining experienced building staff is an issuefor us (and the rest of New Zealand) due to the extra-ordinarydemand of building compliance staff in Christchurch andCanterbury in general, for the ongoing assessments and re-buildof Christchurch since the main earthquakes.Our private swimming pools are inspected to check thatthey comply with the 'Fencing of Swimming Pools Act'. NewZealand has a history of accidental drownings and the Fencingof Swimming Pools Act is a national initiative to drive down therate of drownings. Unfortunately, we have also had our share oftragedy, and we need to make sure that private swimming poolsare safe and that owners have taken steps to prevent accidentaldrownings in their pools. We audit one third of registeredprivate swimming pools annually.Plans for the futureBuilding ControlsIn 2011/12 we did a desk top study of earthquake pronebuildings (EPB's) as per our Earthquake Prone Building PolicyWe are required to become Building Consent Authorities (BCA)or to contract a BCA to carry out building inspection work onour behalf. Despite us becoming the third accredited BCA in thecountry in 2007, accreditation has ongoing costs. Our buildingofficers have to be qualifi ed and have quality assurance systemswhich are used and maintained. Our systems are externallyaudited every two years to ensure minimum standards are beingmet on an ongoing basis.We will continue to inspect private swimming pools once everythree years as we did encounter a high number of pool safetyissues requiring attention in previous pool audits.Public Health & Liquor LicencingAny growth in the district will continue to see an increase inliquor license applications and managers' certifi cates. Likewisewith health inspections as food premises and bars develop inthe area.There will be a new environment for liquor and food safetythroughout the District with the Sale of Liquor Act 1989, theFood Act 1981 and the Food Hygiene Regulations 1974 likely tobe superseded by new legislation in 2012. The implementationphases of these new pieces of legislation will require closeliaison with licensees, managers and food premise operators.The new liquor laws will require changes to the current DistrictLicensing Agency structure.The new food legislation will require food service sectorpremises, e.g. restaurant, hotels, cafes, takeaways and caterers, tooperate under Food Control Plans which are a risk managementbased approach to food safety. While these are currentlyvoluntary, they have been promoted among local premises withsome now registered and operating under these plans.Animal ControlWe operate our dog control activity as per our dog policy andbylaw. Both need to be reviewed in 2013. We are investigatingissuing infringement notices and charging fi nes to encourageresponsible behaviour by the few animal owners who do notcomply with the regulations.A small addition to the Pound at Balcairn is proposed in 2012.124
---
Draft Hurunui Community Long Term Plan 2012 - 2022A greater focus on educating owners about being responsibledog owners is proposed in spring 2012 including an educationprogramme on permitted dog exercise areas.There are no major plans for the future other than 'business asusual'.FundingBuilding ControlsBuilding ControlsOperational Costs:• Building consents including inspections 100% usercharges.• Building advice and complaint investigation funded viathe District rate.• Costs relating to the Building Controls Authorityaccreditation process will be funded by a separate levycharged on building consents.• Swimming pool inspections - 100% of the costs will berecovered from a targeted rate one rating unit whereit is located.• Swimming pool which remain non-compliant will incuran inspection fee for any inspections.Public HealthOperational Costs• User charges meet a portion of the cost with theshortfall to be met from the District Rate.Liquor LicencingOperational Costs• Maximum fees as set out in the Sale of Liquor Act withany short fall from the District Rate.Animal ControlOperational Costs• Dog administration costs are funded by the dogregistration fee.• Stock control costs are met 100% from stockownerswith any balance met from the District Rate.Council Owned AssetsBuilding Controls• Vehicles to undertake inspectionsPublic Health& Liquor Licencing• Vehicles to undertake inspectionsAnimal Control• An animal pound in BalcairnMaintenance and Operating ImplicationsBuilding ControlsWe intend to continue to undertake the building control activityfrom our offi ce mainly through our staff and with contractorswhen demand exceeds our in-house capabilities. We expect touse external contractors during the next year or two dependingon the work generated as a result of the earthquakes. We havea shared services agreement with Waimakairi Selwyn DistrictCouncils.Public Health & Liquor LicencingsWe use our own staff to undertake environmental health andliquor licensing functions.Animal ControlThis activity is dealt with through a mix of staff and contractedservices. The contractor investigates complaints, collects animalsand impounds dogs and stock when necessary at any time of theday or night depending on need. Our staff do the administrativetasks such as dog registration and collecting fees.Assumptions and RisksBuilding ControlsWe are unsure about the rate of growth we will have in theDistrict in the coming years, but may experience an increase dueto the impact of the Christchurch earthquakes. At the time ofwriting this plan, we had not experienced any real growth. If wedo have a surge of new residents wanting to build, this will havean impact on staffi ng in an already tight market for experiencedbuilding personnel. We are not alone regarding this issue, as thisis being felt New Zealand wide. We are working closely withour neighbouring Councils to fi nd the best solutions for futurecollaboration. There is the possibility that the building controlswork be centralised and removed from local government tooversee if local solutions cannot be found.125
---
www.hurunui.govt.nzPublic Health & Liquor LicencingLong term projections for the district indicate that there willbe growth. Therefore, it is assumed that there will at somestage be an increased demand for inspections and licensing. Abig challenge for us is to fi nd a medium step between enablingtourism to fl ourish (and therefore, enabling outlets to sell alcoholat all hours), and ensuring the communities and members of thepublic are not subjected to the effect of bad behaviour throughalcohol abuse.Animal ControlShared ServicesBuilding ControlsWe have been working closely with the Selwyn and WaimakaririDistrict Councils to share our building offi cers and resources tomanage this area more effi ciently. Skilled building offi cers havebeen in high demand and this is expected to continue for someyears due to the impact of the Canterbury Earthquakes sinceSeptember 2010.Council is assuming business as usual within this activity area.We have been working closely with the Selwyn and WaimakaririDistrictCouncils to share our building offi cers and resourcesto manage this area more effi ciently. Skilled building offi cershave been in high demand and this is expected to continue forsome years due to the impact of the Canterbury Earthquakessince September 2010.Community OutcomesGoals and Performance Measures1. A desirable and safe place to live2. A place that demonstrates environmental responsibilityGoalsHow we will achieve ourGoalsPerformance Measures Current Situation 11/12 12/13 13/14 14/15 15+Buildings are safe for thepublicFood and liquor premises arecompliant with standardsDogs and stock do not causea nuisanceInspect buildings that areidentifi ed as being possiblyearthquake proneInspect food and liquoroutlets to make sure theydo not pose any risk to thepublicInvestigate complaints aboutanimals causing danger ornuisanceBy 2014/15 all earthquakeprone buildings have beeninspected80%* of building consentsare processed within 20working days100% of licenced food andon licence liquor premisesare inspected annuallyAll serious** dogcomplaints are followed upwithin 24 hoursThis is a new measure94% of building consentswere processed within 20working days√√ √ √ √100% were inspected √ √ √ √This is a new measure √ √ √ √*Due to the demand for building offi cers, we expect this performance measure to be diffi cult to achieve. Ideally, we would aim for 100% butthis is unlikely in the foreseeable future.**Serious dog complaints involve dog attacks and/or biting incidents.Financial SummaryA fi nancial summary for this activity is shown on the next page.126
---
Draft Hurunui Community Long Term Plan 2012 - 2022COMPLIANCE AND REGULATORYACTIVITY FINANCIAL SUMMARYAnnual Plan Year 1 Year 2 Year 3 Year 4 Year 5 Year 6 Year 7 Year 8 Year 9 Year 102011/2012 2012/2013 2013/2014 2014/2015 2015/2016 2016/2017 2017/2018 2018/2019 2019/2020 2020/2021 2021/2022Operating StatementOperating RevenueGeneral Rates 168,765 269,019 296,048 305,621 289,404 311,931 324,818 330,798 341,915 354,195 366,538Targeted Rates 23,530 0 0 0 0 0 0 0 0 0 0Other Income 699,776 655,300 675,811 696,387 718,471 742,127 763,228 784,787 809,623 836,884 864,275Internal Interest Received 2,490 0 0 0 0 0 0 0 0 0 0Total Operating Revenue 894,561 924,319 971,859 1,002,008 1,007,875 1,054,058 1,088,046 1,115,585 1,151,538 1,191,079 1,230,814Operating ExpenditureEmployee Benefits 482,846 432,708 446,252 459,839 474,421 490,042 503,975 518,211 534,611 552,611 570,699Direct Operating Expenditure 223,550 261,050 267,158 298,672 257,161 290,543 273,180 307,244 289,787 327,640 309,348Council Overheads Expenditure 220,020 233,561 239,105 247,187 256,209 265,931 278,079 283,303 293,550 304,875 316,259Depreciation 20,428 20,000 20,000 20,000 20,000 20,000 20,000 20,000 20,000 20,000 20,000Total Operating Expenditure 946,844 947,319 972,515 1,025,698 1,007,791 1,066,515 1,075,234 1,128,759 1,137,947 1,205,127 1,216,306Operating Surplus (Deficit) (52,283) (23,000) (656) (23,690) 84 (12,458) 12,812 (13,174) 13,591 (14,048) 14,508Capital StatementCapital ExpenditureBuilding Control 0 0 25,980 26,845 0 28,768 29,863 0 32,398 33,878 0Public Health 0 0 25,980 0 0 28,768 0 0 32,398 0 0Total Capital Expenditure 0 0 51,960 26,845 0 57,535 29,863 0 64,795 33,878 0Funds RequiredOperating Deficit 52,283 23,000 656 23,690 0 12,458 0 13,174 0 14,048 0Capital Expenditure 0 0 51,960 26,845 0 57,535 29,863 0 64,795 33,878 0Transfer to General Council Reserves 20,428 20,000 20,000 20,000 20,000 20,000 20,000 20,000 20,000 20,000 20,000Transfer to Special Funds 0 22,000 22,689 23,379 24,121 24,915 25,623 26,347 27,181 28,096 29,01672,711 65,000 95,304 93,914 44,121 114,908 75,486 59,521 111,976 96,022 49,016Funded byOperating Surplus 0 0 0 0 84 0 12,812 0 13,591 0 14,508Non Cash Expenditure - Depreciation 20,428 20,000 20,000 20,000 20,000 20,000 20,000 20,000 20,000 20,000 20,000General Council Reserves 16,848 0 51,960 26,845 0 57,535 29,863 0 64,795 33,878 0Transfer from Special Funds 35,435 45,000 23,344 47,069 24,036 37,373 12,812 39,521 13,591 42,144 14,50872,711 65,000 95,304 93,914 44,121 114,908 75,486 59,521 111,976 96,022 49,016127
---
www.hurunui.govt.nzActivity 4: Waste MinimisationOverviewThe Waste Minimisation activity includes the various functionsof waste management, such as refuse, recycling, transfer stationsand litter bin collection.Current SituationOur current delivery model for waste and recycling serviceshas been in place since late 2008. The model came aboutafter a major review due to concerns about rising costs andunsustainability into the future. We now contract the followingproviders to deliver our refuse and recycling services:• Waste Control New Zealand collects household andcommercial waste and recycling (including domesticrecycling and glass in Hanmer Springs); transports wasteto Kate Valley Landfi ll; transports dry waste and glass toAmberley, green waste to Envirocomp,and e-waste toE-Scrap;; runs the Cheviot, Culverden, Waiau transferstations and Waikari drop off.• Hurunui Recycling collects (excluding Hanmer Springs)and sorts the domestic kerbside recycling and runs theAmberley transfer station.• Container Waste backloads glass and dry waste (fromour transfer stations) from Amberley to Christchurchfor sorting and processing by New Zealand Recovery.We provide a weekly kerbside refuse collection service toour urban communities in Amberley, Amberley Beach, Cheviot,Culverden, Gore Bay, Greta Valley, Hanmer Springs, Hawarden,Leithfi eld, Leithfi eld Beach, Motanau Beach,Mt Lyford, Omihi,Rotherham, Scargill, Waiau, Waikari and Waipara. Due to theland size of the rural areas, it is too costly to run a routine ruralkerbside collection service. However, the rural householdswhich are situated along the collection route may use thekerbside collection service by paying the refuse collection rateand using the rural collection stickers we provide Other ruralhouseholders can also do the same as long as they drop theirrefuse at an agreed location, pay the appropriate rate and usethe collection stickersGlass containers are available at all 5 transfer stations for peopleto drop off glass for recycling at no cost. Dry waste from thenorthern sites is brought to Amberley for collection and isthen transported to Christchurch for processing through NZRecovery.Our fi ve transfer stations are located at Cheviot, Hanmer Springs,Culverden, Amberley and Waiau. The Amberley Transfer Stationis managed by Hurunui Recycling. Waste Control New Zealandoperate the Cheviot, Culverden and Waiau transfer stations andWaikari drop off and the Hanmer Springs transfer station ismanaged by Council staff.There are six closed landfi lls which have resource consentsissued by Canterbury Regional Council. The closed landfi lls arelocated at Cheviot, Culverden, Hanmer Springs, Waiau, Waikariand Waipara. Groundwater levels are tested regularly at theselandfills to ensure they present no risk to the environment.We are a shareholder of Transwaste Canterbury Ltd (TCL) whichopened a regional landfi ll at Kate Valley in 2005 along with fourother neighbouring local authorities who are also shareholders.This landfill is located inside the Hurunui district, and we have anon-going responsibility and commitment to ensure that landfi lloperations comply at all times with the consent conditionsgranted by both our Council and Canterbury Regional Council.As a minor shareholder in TCL, Council receives annualdividends for the joint venture. We are expecting to receive$72,000 in dividends for the 2012/2013 year.We supported Envirocomp to develop a commercial nappycomposting plant in our district in early 2009 and agreedto a 15 year lease on the site. Envirocomp use green wastegenerated through our transfer stations as a bulking agent toaid the nappy composting process. This is the fi rst commercialnappy composting facility in New Zealand able to compost allbrands of disposable nappies and offers a credible and effi cientalternative solution to landfill.Plans for the futureAn on-going challenge to us (and the rest of the world) is howto deal with increasing amounts of packaging and waste material.We intend to administer our waste and recycling services asthey are currently, but will continue to look for effi ciencies toreduce the levels of refuse to landfi ll. The current contracts forour waste and recycling service providers are for 3 years andafter that time, there is the option to extend the contracts fora further two years (3+1+1). After completion of the contracts,we will need to determine whether to further extend thecontracts or re tender. The budget for future years is based onthe current contracts (with infl ation adjustments).The Kate Valley landfi ll has a useful life in excess of the 10 yearplanning period of this plan.Our 2005 Solid Waste Management Plan has been reviewedand a summary of the draft Plan is appended to this document.The revised draft Waste Plan provides a clearer direction andintended level of service for the future. The purpose of thisWaste Management and Minimisation Plan is to:• Describe our vision for waste management andminimisation and ascertain long-term goals for theHurunui district and determine how they will beachieved.• Initiate strategies, objectives, policies and activities toachieve these goals and determine how to measureprogress.128
---
Draft Hurunui Community Long Term Plan 2012 - 2022• Provide details regarding how we will fund the proposedactivities over the coming six years.• Meet our legal requirements regarding wastemanagement.A new transfer station will be built in Amberley in the 2012/13year. This has been planned for several years. A new locationhas taken some time to identify. There are no major plans forthe other stations at this time.. We expect our facilities to beable to cope with increased volumes of material.FundingOperational Costs:• Refuse collection costs are all met through targetedrates for each dwelling or business in each urban areabase on the cost of collection in that urban area.• Rural ratepayers on the route can have their rubbishpicked up for the above cost plus a marginal charge forthe provision of the rural collection stickers.• Transfer station costs are met through fees set at eachtransfer station. The fees are set to encourage use anddiscourage illegal dumping. Any shortfall in costs ismet from a District Rate.• Litter bin collection costs are all met through a DistrictRate.Capital Costs:• Any capital expenditure on the transfer stations isfunded over the life of the asset through a District Rate.• Income from the Council's reimbursement from thelandfi ll levy maybe used for capital purchases.Council Owned AssetsAssumptions and RisksEnvironmental consultants monitor groundwater bores at thedistrict's closed landfi lls.Although in recent years, the growth in the district has been slow,household waste is growing and we expect this to continue. Thecost of waste disposal is likely to continue to increase unless wetake proactive action. Therefore it is important that we educateconsumers about alternative methods of dealing with waste inan effort to reduce it and ensure that services are providedin the most cost effi cient and affordable manner. The price offuel has increased since the collection service contracts werelast negotiated which will impact on the cost of future contracttenders.The growth of disposable goods and packaging present us withan on-going challenge to ensure we are able to recycle andreuse as much waste as possible. Our modest transfer stationsare expected to cope with these increasing volumes.One of our major challenges is to fi nd affordable ways toencourage people to minimise or dispose of their waste in themost environmentally sustainable way. High waste disposalcosts lead some people to illegally dump goods, but settingcharges too low means that everyone pays irrespective of theirindividual efforts to reduce waste. Higher standards for landfi llsadd to the increasing costs.Shared ServicesThe Kate Valley Landfi ll is situated within the Hurunui districtbut is a joint venture between Canterbury Waste ServicesLimited (which is owned by Transpacifi c Industries Group (NZ)Limited) and fi ve Local authorities in Canterbury, includingHurunui District Council. The Council's collective share is 50%with 1.2% of that belonging to the Hurunui District Council.The company name is Transwaste Canterbury Ltd.5 transfer stations are located at:• Amberley• Cheviot• Culverden• Hanmer Springs• WaiauMaintenance and Operating ImplicationsMost of our recycling and refuse services are contracted outand we see this as being the most economical and effi cientmethod for the conceivable future.We own our transfer stations and contract out the running ofmost of them and the cartage of residual waste to the landfi ll.129
---
www.hurunui.govt.nzCommunity Outcomes1. A desirable and safe place to live2. A place that demonstrates environmental responsibilityGoals and Performance MeasuresGoalsHow we will achieve ourGoalsPerformance Measures Current Situation 11/12 12/13 13/14 14/15 15+To reduce the amount ofresidual waste to the Landfi llEncourage the communityto recycle and reduce theirresidual wasteResidual waste to landfillreduces each yearIn the 6 months toDecember 2011, 937 tonnesof waste went to the landfi ll– we will be looking atreducing this over time√ √ √ √Recycling levels increaseeach yearRecycling in the districtreached 38.5% of waste inthe 6 months to December2011 – we will be looking forincreased levels of recyclingover time√ √ √ √Financial SummaryA fi nancial summary for this activity is shown on the next page.130
---
Draft Hurunui Community Long Term Plan 2012 - 2022WASTE MANAGEMENTACTIVITY FINANCIAL SUMMARYAnnual Plan Year 1 Year 2 Year 3 Year 4 Year 5 Year 6 Year 7 Year 8 Year 9 Year 102011/2012 2012/2013 2013/2014 2014/2015 2015/2016 2016/2017 2017/2018 2018/2019 2019/2020 2020/2021 2021/2022Operating StatementOperating RevenueGeneral Rates 871,071 891,228 918,271 946,121 975,944 1,007,881 1,037,275 1,065,503 1,099,024 1,135,803 1,172,758Targeted Rates 713,699 742,952 748,410 771,146 795,523 821,632 845,818 868,727 896,135 926,213 956,436Other Income 193,500 227,000 234,105 241,233 248,883 257,078 264,387 271,855 280,459 289,902 299,390Total Operating Revenue 1,778,270 1,861,180 1,900,786 1,958,500 2,020,350 2,086,591 2,147,479 2,206,085 2,275,617 2,351,918 2,428,584Operating ExpenditureEmployee Benefits 72,353 76,183 78,568 80,960 83,527 86,277 88,730 91,237 94,124 97,293 100,478Direct Operating Expenditure 1,542,490 1,621,810 1,672,573 1,723,497 1,778,152 1,836,700 1,888,922 1,942,280 2,003,746 2,071,213 2,139,005Internal Interest Paid 10,639 1,114 0 0 0 0 0 0 0 0 0Council Overheads Expenditure 121,812 121,700 124,646 129,043 133,671 138,614 144,827 147,568 152,747 158,411 164,101Depreciation 25,000 25,000 25,000 25,000 25,000 25,000 25,000 25,000 25,000 25,000 25,000Total Operating Expenditure 1,772,294 1,845,808 1,900,786 1,958,500 2,020,350 2,086,591 2,147,479 2,206,085 2,275,617 2,351,918 2,428,584Operating Surplus (Deficit) 5,976 15,372 0 0 0 0 0 0 0 0 0Capital StatementCapital ExpenditureTransfer Stations 0 0 0 0 0 0 0 0 0 0 0Litter Bin Collection 0 0 0 0 0 0 0 0 0 0 0Refuse Collection 0 0 0 0 0 0 0 0 0 0 0Total Capital Expenditure 0 0 0 0 0 0 0 0 0 0 0Funds RequiredTransfer to General Council Reserves 25,000 25,000 25,000 25,000 25,000 25,000 25,000 25,000 25,000 25,000 25,00025,000 25,000 25,000 25,000 25,000 25,000 25,000 25,000 25,000 25,000 25,000Funded byOperating Surplus 5,976 15,372 0 0 0 0 0 0 0 0 0Non Cash Expenditure - Depreciation 25,000 25,000 25,000 25,000 25,000 25,000 25,000 25,000 25,000 25,000 25,000General Council Reserves (5,976) (15,372) 0 0 0 0 0 0 0 0 025,000 25,000 25,000 25,000 25,000 25,000 25,000 25,000 25,000 25,000 25,000131
---
www.hurunui.govt.nzDistrict PromotionOverviewDistrict Promotion covers the following activity describedbelow:Activity 1: District Promotion (economic development, tourismand events and district promotion)Our AimTo retain businesses and support their growth and prosperity,to attract investment, new businesses, tourists and visitors, andpromote the Hurunui District to improve the local economyand wellbeing of the local community.Why is the Council Involved?We are involved in economic development and in tourismpromotion because we recognisethat the growth of businessand visitor industry provides major economic benefi ts and areimportant for the future growth of the district. Growing existingbusiness and attracting investment and new businesses into thedistrict brings new job opportunities for residents, encouragesmore people to settle in the district and therefore, increases thebreadth and depth of the economy. Rural community servicesand facilities are frequently under threat through depopulation;however, focusing on sustainable growth should negate thiseffect. We consider our district to be unique and that there areopportunities for diversifi cation to encourage employment andbusiness growth.Signifi cant Negative EffectsAny increase in business and tourism in the District may have anegative impact on environmental wellbeing as this will result inan increase in waste, air and noise pollution, traffi c, and pressureon water and sewerage schemes. This is more likely to be evidentin areas like Hanmer Springs, which is our most popular touristtown. As far as this can be controlled, this will be offset to someextent from the value derived from economic developmentand the tourism industry. With proper planning,any growth inbusiness and tourism should be sustainable for the foreseeablefuture.Emergency ManagementIn an emergency, particularly a civil defence emergency, we willcontinue to deliver services as long as it is safe and practical tocontinue to do so. Civil defence management plans providethe Council with guidance and contingencies. However, in anextreme emergency, the services in this group would not beconsidered essential.Financial SummaryA fi nancial summary for this group of activities is shown at theend of the District Promotion activity.Community OutcomesThe District Promotion activity described in this section,primarily contributes to the following community outcome:1. A place with a thriving local economy:• We are seen as a good place to do business, to live andto visitMajor Projects PlannedProjectDevelop a new districtpromotion modelReview the current TargetedTourism RateYear Planned2012/13 2013/14 2014/15 2015+√√132
---
Draft Hurunui Community Long Term Plan 2012 - 2022Activity 1: District PromotionOverviewThe District Promotion activity includes the various functions ofeconomic development, tourism events and district promotion.Current SituationCurrently, we manage economic development and tourism asseparate functions, and from time to time we do a small amountof what we would call more general promotion of the district.We are looking at moving from what we do at present, tomaximise our returns and focus on a broader promotion of thewhole district rather than the main emphasis being on tourism,as it is now.Tourism is a signifi cant sector contributing major economic valueacross the district. Our tourism activity is delivered at presentunder the direction from one of our Council committees calledthe Hurunui Tourism Board. This Board is a Council committee.In addition, to four elected members, non-elected membersare chosen for their business skills and insights relative to thetourism industry in Hurunui, as well as their knowledge andrepresentation of the district.Tourism activity in the Hurunui district and New Zealand hasbeen stable. The earthquake activity mainly in Christchurchsince 2010 has had an impact on international visitor arrivalsinto Canterbury, but it is expected that overall visitor arrivals(domestic and international) into Hurunui will continue toremain stable. The domestic market greatly increased whichmade up for the reduction in overseas visitors. Domestic visitorsstaying overnight are forecast to make up a signifi cant number ofall Canterbury visits with most coming from Christchurch. TheAustralian market usually is the most signifi cant internationalvisitor market.Economic development is delivered through 'EnterpriseNorth Canterbury" (ENC) which is a joint Council controlledorganisation formed with Waimakariri District Council in2002. ENC's role is to enable and empower others in NorthCanterbury in terms of the economy to do better: to exportmore; to employ more people in well-paid jobs; and tocontribute to the growth in the wealth of our community. Thisis achieved via a number of programmes. Core funding from theWaimakariri and Hurunui District Councils is leveraged withcontracts from central government, and supported by projectspecific funding from local industries.Over the past several years, there has been a dramatic changein our district's business landscape with multiple businesseshaving been established in Waipara Valley and Hanmer Springs inparticular. There was some decline from late 2008 on accountof the economic downturn and recovery has been slow. ENCworks in conjunction with our district's employers by providingaccess to information and assistance to establish, develop, trainand strengthen local businesses.The Council is faced with a number of issues, challenges, andopportunities in its district promotion planning, such as:• A need to increase the level of spend on the domesticmarket.• Ensuring that all money spent on district promotion,including tourism and economic development ismaximised and gains maximum leverage and advantage.• With Hanmer Springs being clearly a well-knowndestination in New Zealand, ensuring that other partsof the Hurunui District are also well promoted andhave access to the same resources and opportunitiesthat Hanmer Springs does.• We are a small district and have proportionally less tospend on promotion compared with other districts.• Ensuring that any economic growth is true growthrather than a redistribution of resources and businesslocations.• Overcome, where possible, any ineffi ciencies andduplication that exists between the separate operations(and cost centres) of Hanmer Springs Thermal Poolsand Spa, Hurunui Tourism, and ENC.• Making sure that we are getting good value from ENCand that results can be quantifi ed.Plans for the futureWe think we can do better than we have been by promotingdistrict and business activity generally rather than focusing onthose involved in tourism. As such, we plan to redesign boththe way we fund district promotion, including tourism, andwhat our activity might actually look like. Tourism is mostlyfunded through a 'targeted tourism rate' against businesses whoare directly involved in the tourism sector. The issue of whobenefi ts from tourism and who should fund it, is a challengingissue and we want to develop a better way to do this.We want to take a stronger leadership role in the generalpromotion of the district to include all businesses and peopleliving here rather than only focusing on tourism. We plan tocontinue with the targeted tourism rate up to the end of the2012/13 (and 10 year budget for the meantime), but want toinvite public views as to what district promotion and a futurefunding model could look like. Through this draft long term plan,the fi rst stage of consultation on this subject will be initiated.After the plan is fi nalised, we will start to shape up good ideasand may consult with the public again before deciding on thebest way forward.133
---
www.hurunui.govt.nzAfter taking into account public views, we will look at how wemight phase out the current targeted tourism rate in 2013/14when a new model would take effect. We do not have any detailon a possible alternative model at this stage and plan to developthis thinking after consultation during the 2012/13 year.Along with a new funding model, we also want to explorehow to govern and lead district promotion. That may involvea new board such as a possible 'Investment and PromotionAdvisory Board', or it may be through an enhanced HurunuiTourism Board. We will continue with our current models whileconsidering this, until an alternative district promotion model isdeveloped.While considering our new model, we plan to look closely atthe role of ENC and what actual benefi t is delivered to andderived for our district. Although we have continued to budgetto retain our services with ENC through the life of this LongTerm Plan, it is an opportune time to ensure that we are gettingbest value from our annual spend. We do not have the answersyet, or any alternative models, but this will come as we developour future district promotion model.FundingOperational Costs:• Currently, tourism is funded via a targeted tourismrate from ratepayers and businesses who are involveddirectly in the tourism sector. This rate is planned tobe phased out after 2012/13 and replaced with a newfunding model yet to be designed.• An additional contribution of $45,000 is used towardtourism from the Hanmer Springs Thermal Reservesurplus.• General district promotion when undertaken is fundedvia a District Rate or Targeted Tourism Rate.• Council provides an annual grant of $50,000 to EnterpriseNorth Canterbury for economic development services.This is 100% funded through the General Rate.Capital Costs:• Currently through the targeted tourism rate asdescribed aboveMaintenance and Operating ImplicationsThe Hurunui Tourism Board contracts the delivery of most ofits services including specialist advice, and some work is donein house by a Council Offi cer dedicated to tourism marketing.Economic development is provided by Enterprise NorthCanterbury which is a Council controlled organisation.Assumptions and RisksThe continuation of the grant made to Enterprise NorthCanterbury is dependent on there being continued returns andgains made. Council's plans regarding economic developmentare based on the assumption that New Zealand's economywill continue to be buoyant (while acknowledging the globaleconomic crisis), and that the benefi ts to the District's businessesare in excess of the costs incurred by the Council.Little in the way of growth has occurred within the district overthe last few years and economic downturn has had a markedimpact on overseas tourism. It is assumed that growth willbegin to return, however, not necessarily at the same high rateas in earlier years. We have seen that external factors, such asnatural disasters (earthquake) do have an impact on tourism.What we had not necessarily anticipated was that visitornumbers continued to be high, but mainly from people withinthe Canterbury area.We are making assumptions that the targeted tourism rateis still not popular and that those affected will support us inseeking an improved funding model.Shared ServicesHurunui and Waimakariri District Councils jointly supportand fund Enterprise North Canterbury (ENC) to help boosteconomic development in North Canterbury. We havebudgeted $50,000 to contribute for the 2011/12 year. ENCwork with businesses in both districts, providing businesssupport, development and training, and special projects with aneconomic focus.Council Assets• District promotion boards in main townships.134
---
Draft Hurunui Community Long Term Plan 2012 - 2022Goals and Performance MeasuresCommunity Outcomes• A place with a thriving local economyGoalsHow we will achieveour GoalsPerformanceMeasuresCurrent Situation11/1212/13 13/14 14/15 15+To increase our visitorsand populationPromote the Districtthrough advertising andmarketing and encouragepeople to comeNumber of visitor numberswho stay overnight willnot be less than the NZaverageOur population increaseseach censusDevelop a new districtpromotion activity modelWe had a 9.4% growth invisitor numbers which wasbetter than the nationalaverage of a 1.6% decreaseAt the last census in 2006the district's population was10,476. The 2011 estimateis 11,330.The Hurunui Tourism Boardand ENC manage tourismand economic developmentand to a small degree, districtpromotion√ √ √ √√ √√Financial SummaryA fi nancial summary for this activity is shown on the next page.Hurunui River Mouth, Biodiversity Photo Compitition - Cindy Meyers135
---
www.hurunui.govt.nzDISTRICT PROMOTIONGROUP ACTIVITY FINANCIAL SUMMARYAnnual Plan Year 1 Year 2 Year 3 Year 4 Year 5 Year 6 Year 7 Year 8 Year 9 Year 102011/2012 2012/2013 2013/2014 2014/2015 2015/2016 2016/2017 2017/2018 2018/2019 2019/2020 2020/2021 2021/2022Operating StatementOperating RevenueGeneral Rates 89,185 90,472 93,141 95,898 98,846 102,003 104,915 107,701 111,015 114,649 118,301Targeted Rates 275,000 286,000 297,440 309,338 318,618 328,176 338,022 348,162 358,607 369,365 380,446Other Income 4,000 5,000 5,157 5,314 5,482 5,663 5,824 5,988 6,178 6,386 6,595Total Operating Revenue 368,185 381,472 395,737 410,549 422,946 435,842 448,760 461,852 475,799 490,400 505,342Operating ExpenditureEmployee Benefits 38,000 40,000 41,252 42,508 43,856 45,300 46,588 47,904 49,420 51,084 52,756Direct Operating Expenditure 355,726 375,500 394,258 409,551 421,925 434,739 447,695 461,027 474,953 489,422 504,273Council Overheads Expenditure 12,685 3,472 3,527 3,662 3,797 3,940 4,163 4,202 4,351 4,511 4,673Depreciation 6,000 7,500 3,500 3,500 3,500 3,500 3,500 3,500 3,500 3,500 3,500Total Operating Expenditure 412,411 426,472 442,537 459,221 473,078 487,478 501,946 516,632 532,224 548,517 565,202Operating Surplus (Deficit) (44,226) (45,000) (46,800) (48,672) (50,132) (51,636) (53,185) (54,781) (56,424) (58,117) (59,860)Capital StatementCapital ExpenditureTourism 0 0 0 0 0 0 0 0 0 0 0Total Capital Expenditure 0 0 0 0 0 0 0 0 0 0 0Funds RequiredOperating Deficit 44,226 45,000 46,800 48,672 50,132 51,636 53,185 54,781 56,424 58,117 59,860Transfer to General Council Reserves 6,000 7,500 3,500 3,500 3,500 3,500 3,500 3,500 3,500 3,500 3,50050,226 52,500 50,300 52,172 53,632 55,136 56,685 58,281 59,924 61,617 63,360Funded byTransfer from Hanmer Springs Thermal Reserve 44,226 45,000 46,800 48,672 50,132 51,636 53,185 54,781 56,424 58,117 59,860Non Cash Expenditure - Depreciation 6,000 7,500 3,500 3,500 3,500 3,500 3,500 3,500 3,500 3,500 3,50050,226 52,500 50,300 52,172 53,632 55,136 56,685 58,281 59,924 61,617 63,360136
---
Hanmer Springs Thermal Pools and SpaOverviewHanmer Springs Thermal Pools and Spa covers the followingactivity described below:Activity 1: Hanmer Springs Thermal Pools and Spa(pools, i-site, spa, and café)Our AimTo be a nationally and internationally recognised quality visitordestination.Why is the Council Involved?T he Hanmer Springs Thermal Pools and Spa (HSTP&S) wasvested by the Crown in the Council and was gazetted as arecreational reserve on 23 November 1990. Council operatesthe HSTP&S under the provisions of the Reserves Act 1977. Aswell as providing facilities for the social and recreational use ofresidents, the HSTP&S makes an important contribution to thelocal economy by attracting regional, national and internationalvisitors to the district. The HSTP&S provides a substantialrevenue stream to the Council and has made an importantfi nancial contribution toward the funding of other reserves inthe district. As a result, the pools and spa complex has reducedthe cost to the ratepayer. Over the past 5 years, that fi nancialcontribution has amounted to $7.65 million.Community OutcomesThe Hanmer Springs Thermal Pools and Spa described inthis section, primarily contribute to two of our communityoutcomes:1. A place with a thriving local economy:• We are seen as a good place to do business, to live andto visit2. A place where our traditional rural values and heritagemake Hurunui unique:• People have a range of opportunities to participate inleisure and culture activities• Our historic and cultural heritage is protected forfuture generationsMajor Projects PlannedDraft Hurunui Community Long Term Plan 2012 - 2022Year PlannedProject2012/13 2013/14 2014/15 2015+Sulpher poolupgrade $300,000Administrationblock/changing $1,000,000rooms upgradeSpa changingroom upgrade $40,000Discharge of thebore $150,000Methane project$20,000 $200,000Informationcentre refi t $100,000New pool slide$500,000Garden HouseCafé refi t $500,000Waterresistance pool $500,000Hexagonal poolrevitalisation $750,000Signifi cant Negative EffectsThis activity attracts signifi cant numbers of tourists into thetownship. An increase in tourism and hence, people to the area,results in an increase in waste, air and noise pollution, traffi c, andpressure on water and sewerage schemes as identifi ed previously.The popularity of Hanmer Springs has created an increase inthe cost of housing and competition to local businesses, andthus impacted on the current and future cultural, social andeconomic wellbeing of the local community through the threatto rural identity and the disadvantage to long term residentswho moved into the area before the growth. The challengefor sustainable management will be to channel some of theundeniable benefi ts to economic wellbeing from this activityinto initiatives that compensate for these negative effects andmaintain our ideal of district and community wellness.Emergency ManagementIn an emergency, particularly a civil defence emergency, we willcontinue to deliver services as long as it is safe and practical tocontinue to do so. Civil defence management plans providethe Council with guidance and contingencies. However, in anextreme emergency, the Thermal Pools and Spa is not consideredin this context to be an essential service, but has its own plans inplace to cope with emergency situations.137
---
www.hurunui.govt.nzFinancial SummaryA fi nancial summary for this group of activities is shown at theend of the Hanmer Springs Thermal Pools and Spa activity.138
---
Draft Hurunui Community Long Term Plan 2012 - 2022Activity 1: Hanmer Springs Thermal Pools and SpaOverviewThe Hanmer Springs Thermal Pools and Spa (HSTP&S) activityincludes the thermal pools, i-site, spa and café.Current SituationThe Hanmer Springs Thermal Pools and Spa (HSTP&S) is oneof New Zealand's premier tourist attractions. Each year over500,000 customers visit the thermal pools to bathe in thewaters, enjoy the water activities and partake in massage andbeauty treatments. The Visitor Information Centre (i-site)forms part of the complex as does the Garden House Café.The complex has undergone a number of renovations over thelast fi ve years the most recent being a $7.5m upgrade designedprimarily to give the pools a summer proposition which are thebusiest tourism months.the Café, reshaping the information centre and revitalising theaged hexagonal pools.The HSTP&S Management Committee plan to put forward aproposal to develop the Chisholm Ward on the Queen MaryHistoric Hospital Reserve adjacent to the thermal complex.This will include utilising the methane resource for the project.Before this can proceed, the proposal will possibly one ofseveral projects considered by Council and publicly consultedon before they proceed. There is no funding put aside for thispossible venture and at this stage, is only a concept.All of these projects are conceptual at this stage and will needfi nancial feasibility studies done, and then initial approval by theHSTPS Management Committee before fi nally being approvedby Council.FundingThe complex now consists of 17 thermal pools and associatedstreams, 6 private pools, 2 steam rooms, 2 sauna rooms, a 25meter freshwater pool with adjoining lazy river, a children'sactivity pool, a children's aqua play area, a day Spa (The Spa atHanmer Springs), a Café (The Garden House Café) and an i-site.The four business units being the Pools, Spa, Café and InformationCentre have separate fi nancial reporting structures which areconsolidated into a combined profi t for HSTPS.HSTP&S is operated as a profi table business and fundsgenerated are used to augment the maintenance, developmentand promotion of the complex, with surpluses produced beingused to assist funding of other reserves in the district.We have a dedicated Council committee to oversee the runningof the complex called the HSTP&S Management Committee. Itattends to the long term direction and planning of the poolscomplex and surrounds. The Committee membership comprisesof some elected members of Council and the Hanmer SpringsCommunity Board and external representatives to representnot only the best interests of the thermal pools, but also thelocal Hanmer Springs people.Plans for the futureIn 2011 the HSTP&S Management Committee approved along term plan for continued upgrading and investment in thecomplex over the next 5 years. To continue to get good returnsfrom the pool and make sure it is a desirable asset into thefuture, the complex needs to maintain or improve its goodcondition to maintain its lead in the industry. Therefore, ongoingplanning, including upgrades for the future are essential.Features of the HSTP&S plan include upgrading the sulphur pools,improving our changing rooms, developing a long term plan forOperational Costs:• 100% usercharge as per the pools fee schedule.Capital Costs:• Replacement of existing assets is funded from theHanmer Springs Thermal Reserve surpluses.• Expenditure on new assets are generally fundedthrough an internal loan according to Council's internalfi nancing policy.The Thermal Pools and Spa are funded 100% by user chargesand generate an annual surplus for Council. Major capital worksare funded through the Thermal Pools and Spa borrowing fromthe Council pursuant to the Council's Internal Financing Policy.The interest rate set at 2.5% above the Council's externalborrowing rateMinor capital works are funded through the Thermal Pools andSpa's retained earnings. The additional interest derived from theinternal fi nancing to the Thermal Pools and Spa ($25,000 per $1million of borrowings) provides a good return for the Councilthat contributes toward lower rates.Use of income derived from the Thermal Pools and Spa:The Thermal Pools and Spa are situated on a Recreation Reservewhich has been vested in the Council under the Reserves Act1977. Pursuant to the Reserves Act, the Council is only ableto apply any surpluses derived from the Thermal Reserve toother reserves administered by the Council. The Councilactively uses these surpluses to fund the costs relating to otherDistrict Reserves, Cemeteries, Public Toilets, and as the DistrictLibrary has been built on a Reserve, the costs associated with139
---
www.hurunui.govt.nzthe Library function is also subsidised by the surpluses from theThermal Reserve.The pools and spa were expanded and improved in a majorupgrade in 2010. This was funded by way of internal loanfi nance, as per Council's Internal Financing Policy. The interestcosts incurred by the Hanmer Springs Thermal Pools and Spacreates a distinct fl ow of income that is derived from the use ofthe funds that the Council is investing, rather than from the useof the Recreation Reserve.As a result, we now have two distinct streams of incomegenerated from the Pools and Spa operation:• one from internal interest, which the Council uses tooffset General Rates (in accordance with the Council'sfunding policies)• and the other being on-going surpluses which are usedto fund costs relating the reserves (as per the provisionsof the Reserve Act 1977).Assumptions and RisksIt has been conservatively assumed that the HSTP&S complexwill continue to attract national and international visitors, andcontinue to rate as a national icon. It is conservatively assumedthat the HSTP&S's revenue will increase due to predictedincreases in price and some increase in patronage. Profi t marginsare based on improvements to the complex being completedon time. Sales revenue has been forecast conservatively, takinginto account present tourism trends and challenges, and theprojected outlook for the domestic economy, especially in theimmediate years.The risk to Council of borrowing money to fund capital worksfor the Thermal Pools and Spa is that should it not be able toreturn the anticipated profi t we would be liable for the debtand would need to pass this on to ratepayers. The risk isconsidered low as the Thermal Pools and Spa has performedconsistently and based future predictions of surpluses on veryconservative assumptions, refl ecting the on-going impact of theglobal economic downturn.Council Owned AssetsHanmer Springs Thermal Reserve complex which includes:• 17 thermal pools• 6 private pools• 2 steam rooms• 2 sauna rooms• 25 meter freshwater pool with adjoining lazy river• children's activity pool• children's aqua play area• day Spa• Café (The Garden House Café)• i-siteMaintenances and Operating ImplicationsThe HSTP&S is 100% owned by Council and this is intended tocontinue. The day to day operation of the complex is done bystaff overseen by an appointed manager.The in house operations team runs the thermal pools complexincluding the machinery that operates the pools. The computersand general IT are maintained and programmed by our councilstaff. The pools and plant are maintained to a very highstandard to minimise the risk of failure or poor performance. Amaintenance programme is in place and is budgeted for annually.This is important in order for us to be competitive with otherleisure activities available to people.140
---
Draft Hurunui Community Long Term Plan 2012 - 2022Goals and Performance MeasuresCommunity Outcomes• A place with a thriving local economy• A place where our traditional rural values and heritage make Hurunui uniqueGoalsHow we will achieve our Performance Measures Current Situation 11/12Goals12/13 13/14 14/15 15+Manage and operate thethermal reserve complexto attract local, national andinternational visitorsManage the thermal reservecomplex profi tablyMaintain the complex sothat it is in good conditionfor future generationsFinancial SummaryAdvertise, market andpromote the complexOperate the complex to anapproved business planProtect the thermal waterto ensure on-going supplyCustomer numbers aremaintained or increasedaccording to the annualprojections of 3% growthin customer numbersThe thermal complexachieves an annual surplusin line with the annualbudgetBore water consumptionlevels are within theconsent limits at no morethan 47.5 litres per secondCustomer growth was over4% over the yearCash surplus was $2.76mwhich was an increase overthe previous year of $2.29mWe have 2 bores andconsumption averaged 18.72litres per second which iswithin the consent limits√ √ √ √√ √ √ √√ √ √ √A fi nancial summary for this activity is shown on the next page.141
---
www.hurunui.govt.nzHANMER SPRING THERMAL POOLS AND SPAGROUP ACTIVITY FINANCIAL SUMMARYAnnual Plan Year 1 Year 2 Year 3 Year 4 Year 5 Year 6 Year 7 Year 8 Year 9 Year 102011/2012 2012/2013 2013/2014 2014/2015 2015/2016 2016/2017 2017/2018 2018/2019 2019/2020 2020/2021 2021/2022Operating StatementOperating RevenueOther Income 9,632,000 9,874,333 10,314,798 10,625,152 11,265,976 11,610,291 11,955,094 12,672,928 13,057,011 13,457,678 14,282,527Total Operating Revenue 9,632,000 9,874,333 10,314,798 10,625,152 11,265,976 11,610,291 11,955,094 12,672,928 13,057,011 13,457,678 14,282,527Operating ExpenditureEmployee Benefits 3,511,336 3,622,455 3,790,271 3,905,501 4,028,668 4,160,114 4,279,060 4,400,697 4,539,225 4,690,366 4,842,584Direct Operating Expenditure 2,906,500 2,947,787 3,109,332 3,203,781 3,304,510 3,411,784 3,509,634 3,609,745 3,723,041 3,846,238 3,970,472Internal Interest Paid 761,075 848,575 939,505 986,484 1,059,374 1,059,374 1,059,374 1,059,374 1,059,374 1,059,374 1,059,374Council Overheads Expenditure 127,779 133,241 134,086 135,869 138,127 140,601 143,841 144,908 147,546 150,519 153,510Depreciation 785,600 842,008 917,344 961,627 917,755 902,666 861,951 872,767 884,999 865,079 907,407Total Operating Expenditure 8,092,290 8,394,065 8,890,538 9,193,262 9,448,433 9,674,539 9,853,860 10,087,491 10,354,184 10,611,576 10,933,346Operating Surplus (Deficit) 1,539,710 1,480,268 1,424,259 1,431,889 1,817,543 1,935,752 2,101,234 2,585,438 2,702,827 2,846,102 3,349,181Capital StatementCapital ExpenditureHanmer Springs Thermal Pools & Spa 200,000 1,650,000 1,454,880 644,280 944,095 115,070 119,450 124,290 129,590 135,510 141,740Total Capital Expenditure 200,000 1,650,000 1,454,880 644,280 944,095 115,070 119,450 124,290 129,590 135,510 141,740Funds RequiredCapital Expenditure 200,000 1,650,000 1,454,880 644,280 944,095 115,070 119,450 124,290 129,590 135,510 141,740Transfer to Hanmer Springs Thermal Reserve 2,125,310 1,672,276 1,925,923 2,286,136 2,624,228 2,723,348 2,843,735 3,333,915 3,458,236 3,575,671 4,114,8482,325,310 3,322,276 3,380,803 2,930,416 3,568,323 2,838,418 2,963,185 3,458,205 3,587,826 3,711,181 4,256,588Funded byOperating Surplus 1,539,710 1,480,268 1,424,259 1,431,889 1,817,543 1,935,752 2,101,234 2,585,438 2,702,827 2,846,102 3,349,181Non Cash Expenditure - Depreciation 785,600 842,008 917,344 961,627 917,755 902,666 861,951 872,767 884,999 865,079 907,407Capital Expenditure funded through Internal Loans 0 1,000,000 1,039,200 536,900 833,025 0 0 0 0 0 02,325,310 3,322,276 3,380,803 2,930,416 3,568,323 2,838,418 2,963,185 3,458,205 3,587,826 3,711,181 4,256,588142
---
GovernanceOverviewGovernance covers the following activity described below:Activity 1: Governance (democratic services)Our AimTo provide support and leadership to the Hurunui communityand to ensure that the interests of residents and communitiesare advanced by the Council taking a role as 'advocate' on theirbehalf.Why is the Council Involved?The Hurunui District Council is one of 78 local authoritiesthroughout New Zealand the roles of which are defi ned by law.One of Council's primary roles is to act as an advocate for thedistrict because it is the only local body that is representativeof all the residents of the Hurunui. Council is involved inadvocating the interests of residents where proposals fromwhichever source are regarded as having a potential effect onour community.Draft Hurunui Community Long Term Plan 2012 - 2022Signifi cant Negative EffectsThe Governance activity does not pose any signifi cant negativeeffects.Emergency ManagementIn an emergency, particularly a civil defence emergency, we willcontinue to deliver services as long as it is safe and practical tocontinue to do so. Civil defence management plans providethe Council with guidance and contingencies. However, in anextreme emergency, most of the services in this group wouldnot be considered to be essential.Financial SummaryA fi nancial summary for this group of activities is shown at theend of the District Promotion activity.Community OutcomesThe Community Services and Facilities described in this section,primarily contribute to one of our community outcomes:1. A desirable and safe place to live:• We have attractive well designed townships• Communities have access to adequate health andemergency services and systems and resources areavailable to meet civil defence emergencies• Risks to public health are identifi ed and appropriatelymanagedMajor Projects PlannedYear PlannedProject2012/13 2013/14 2014/15 2015+Representation review √ √Triennial election √ √143
---
www.hurunui.govt.nzActivity 1: GovernanceOverviewThe Governance activity includes the various functions ofrunning a local authority around democratic services.Current SituationThe governance function is the democratic decision makingprocess and includes the overall management of the Council,implementation of Council policy, support to elected members,representation and decision making at a political level andCouncil leadership. One of our primary roles is to act as anadvocate for the district because it is the only local body thatis representative of all the residents of the Hurunui. We areinvolved in advocating the interests of residents where proposalsfrom whichever source are regarded as having a potential effecton our community. We monitor central government initiativesthat may impact upon our residents or communities. We alsohave a key responsibility to raise the community's awareness ofmajor Council proposals, and where people may be signifi cantlyaffected.Our Council comprises of the Mayor (elected at large) andnine Councillors elected on a ward basis. The Mayor andthe Councillors have the role of setting the policy directionand monitoring the performance of the Council. We have anextensive Council committee structure involving Councillorsand independent members across the District. Amongthese committees, the Hanmer Springs Ward has an electedCommunity Board. The Amberley and Cheviot Wards areserved by Ward Committees, whereas the Amuri – HurunuiWard, has two community committees (one in Amuri and theother in Hurunui).It is Council's responsibility to employ a Chief ExecutiveOffi cer (CEO) who in turn, is responsible for staff and theimplementation and management of Council's policies andobjectives. The CEO, Andrew Dalziel was appointed in late 2007with a fi ve year contract. The CEO is the employer of all theCouncil staff.The CEO and his management team work with electedmembers in setting the District's direction and then shape andlead the organisation to deliver on the agreed direction. Theorganisational purpose is 'making the District even better!'Personal staff values are to act with commitment, competence,confi dence, and integrity and have respect for both other'sopinions and importantly the democratic process. Organisationalvalues are to deliver, take responsibility, work together, embracefresh thinking, aim high and be an employer of choice.The CEO and Council are committed to being a HighPerformance Organisation. Items of work that are required tobe undertaken to achieve improved performance are providedaround six characteristics of a High Performance Organisation:being clear about our vision; providing high quality advice;providing best value; having a service ethic; being adaptive,fl exible and agile and managing risks.We have undertaken an annual residents' satisfaction surveysince 2007 to measure customer satisfaction over a wide rangeof our services. In general terms, there has been a continualincrease in overall resident satisfaction with the Council'sperformance during that time. Residents' perception of ouroverall performance in 2011 has improved and now sits at 87%.Satisfaction with the Mayor and Councillor's performance is76%. Satisfaction with the service received at Council offi ceswas 79%.Plans for the futureWe will continue to review our performance for all areas ofCouncil – mayor, elected members, CEO, staff and the deliveryof our services which includes contractor performance. Theresidents' satisfaction survey provides us with good qualityfeedback on a range of services and issues and helps us improveand adjust to the District's changing needs. The results of thesurvey are available to members of the public and can be locatedon our website – www.hurunui.govt.nzWe will continue to advocate on behalf of our people as issuescome up. Often issues that arise cannot be planned for as theyare usually beyond our control and often arise from plans thatother organisations and government agencies implement. Attimes we receive invitations to submit to proposals such aslegislation changes or from neighbouring Councils.Local government elections are undertaken every 3 years. Thenext election is in October 2013 and preparation will commenceearly that year. We are responsible for conducting the electionprocess for the two liquor licensing trusts in the district (Cheviotand Hawarden), and for some of the election processes for theCanterbury District Health Board and the Canterbury RegionalCouncil. The elections are held at the same time. An electoralofficer must be appointed by Council to manage the elections.We have contracted an election specialist to conduct the pastthree elections. This has proven to be the most cost effi cientand effective method for us and has caused the least disruptionto our 'business as usual' services. We are likely to continue tocontract an external provider for the future triennial elections.We are required to review our 'representation' arrangements atleast once every 6 years. This means that we must review the:• number of Councillors it has in the district• number of wards in the district, or whether to simplyhave a district with no wards• ward boundaries and names of wards144
---
Draft Hurunui Community Long Term Plan 2012 - 2022• number and location of community boardsNew Zealand law requires all councils to regularly and properlyreview their electoral arrangements to ensure that the district'speople are fairly and properly represented by elected members.We are now in the process of doing this review so that it iscompleted in time for the 2013 elections. It is important toinvolve the community to get the best result for those who livein the District. Public consultation will occur separately to thisPlan on any proposals for representation that we arrive at.The Local Government Act places limitations on the length oftime Council can run a contract with its CEO before advertisingthe position again. In 2012, Council will be required to eitherreappoint the CEO for a further 2 years, or to advertise thevacancy. At the latest, if the position was extended for 2 yearsthe Council must advertise the CEO vacancy by 2014 (themaximum extension before advertising). The cost of recruitinga CEO has been factored into this plan every 5 years at $50,000.,each year that the contract expires.From time to time, the government does review the localgovernment structure and radical change can occur as theresult. The last major restructure of local government was in1989 and the Hurunui District Council was formed then. Theconsequences of future local government reform are as yetunknown; the risks are yet to be identifi ed.Canterbury Regional Council has been governed throughGovernment selected Commissioners. Their recommendationfor a future regional council model for Canterbury is not yetknown. The fi nal decision is likely to have some sort of impacton the Hurunui District.Shared ServicesWe collect rates on behalf of the Canterbury Regional Counciland in return, they pay us a fee and a portion of the ratingvaluation cost. The income received is used to offset the cost ofrunning our rates department.FundingOperational Costs:• Funding is a 50% District Rate on Capital Value and 50%District Uniform Annual Charge.• Canterbury Regional Council contributes half the costof the remuneration for the members of the HurunuiWaiau Zone Committee.Capital Costs:• Any capital expenditure relating to Governance isfunded over the life of the asset through a District Rate.Council Owned Assets• Not applicable.Maintenances and Operating ImplicationsWe perform a governance and advocacy role and there are noforeseeable plans to change this. Changes to legislation canoccur at any stage and often impacts on the running of theCouncil in some way – through policy or bylaw implementation.Council manages its governance functions in house in the main,but contracts election specialists to run our triennial elections.Assumptions and RisksIt is assumed that the Hurunui District Council will continueto exist for the life of this plan. It is also assumed that theCouncil will remain relatively stable and that no by-elections willbe necessary in between the triennial years.145
---
www.hurunui.govt.nzGoals and Performance MeasuresCommunity Outcomes• A desirable and safe place to liveGoalsRepresent theinterests of theHurunui DistrictcommunitiesHow we will achieveour GoalsEnsure our representationarrangements are fair andeffectiveEncourage people to standfor local governmentUndertake regular residentssatisfaction surveyPerformance MeasuresThe districts representtationarrangement will be reviewedwithin the statutory deadlinesNominations for each Wardat least equal the number ofvacancies for each triennialelectionResidents satisfaction withthe overall performance ofthe Council is maintained orimprovedCurrent Situation11/12A review is underway to befi nalised in time for the 2013 &2019 triennial electionsIn the 2010 election, there wereenough candidates for eachWardatisfaction has been increasingsince 2007 when surveyingcommenced and was 87% in201112/13 13/14 14/15 15+√√√√√ √ √ √Financial SummaryA fi nancial summary for this activity is shown on the next page.146
---
Draft Hurunui Community Long Term Plan 2012 - 2022GOVERNANCEGROUP ACTIVITY FINANCIAL SUMMARYAnnual Plan Year 1 Year 2 Year 3 Year 4 Year 5 Year 6 Year 7 Year 8 Year 9 Year 102011/2012 2012/2013 2013/2014 2014/2015 2015/2016 2016/2017 2017/2018 2018/2019 2019/2020 2020/2021 2021/2022Operating StatementOperating RevenueGeneral Rates 882,226 1,016,941 1,050,685 1,126,491 1,093,148 1,182,526 1,272,951 1,200,456 1,271,771 1,368,459 1,330,235Other Income 28,000 16,000 16,501 17,003 17,542 18,120 18,635 19,162 19,768 20,434 21,102Total Operating Revenue 910,226 1,032,941 1,067,185 1,143,494 1,110,690 1,200,646 1,291,586 1,219,618 1,291,539 1,388,893 1,351,337Operating ExpenditureEmployee Benefits 362,270 446,554 460,531 474,553 489,601 505,722 520,101 534,793 551,717 570,294 588,960Direct Operating Expenditure 281,936 229,600 262,569 313,071 251,733 310,985 343,121 274,969 314,558 376,234 302,819Council Overheads Expenditure 266,020 350,788 338,086 349,870 363,355 377,939 422,365 403,856 419,264 436,365 453,558Depreciation 0 6,000 6,000 6,000 6,000 6,000 6,000 6,000 6,000 6,000 6,000Total Operating Expenditure 910,226 1,032,941 1,067,185 1,143,494 1,110,690 1,200,646 1,291,586 1,219,618 1,291,539 1,388,893 1,351,337Operating Surplus (Deficit) 0 0 0 0 0 0 0 0 0 0 0Capital StatementCapital ExpenditureGovernance 0 0 25,980 0 0 28,768 0 0 32,398 0 0Total Capital Expenditure 0 0 25,980 0 0 28,768 0 0 32,398 0 0Funds RequiredCapital Expenditure 0 0 25,980 0 0 28,768 0 0 32,398 0 0Transfer to General Council Reserves 0 6,000 6,000 6,000 6,000 6,000 6,000 6,000 6,000 6,000 6,0000 6,000 31,980 6,000 6,000 34,768 6,000 6,000 38,398 6,000 6,000Funded byNon Cash Expenditure - Depreciation 0 6,000 6,000 6,000 6,000 6,000 6,000 6,000 6,000 6,000 6,000General Council Reserves 0 0 25,980 0 0 28,768 0 0 32,398 0 00 6,000 31,980 6,000 6,000 34,768 6,000 6,000 38,398 6,000 6,000147
---
www.hurunui.govt.nzFinancial Overview149 Financial Introduction150 Forecasting Assumptions156 Statement of Accounting Policies175 Funding Impact Statement (and Rates System)199 Reserve Funds148
---
Financial IntroductionPurpose of the Long Term PlanThe long term plan has been prepared in accordance withSection 93 of the Local Government Act 2002. The Act statesthat the purpose of the long term plan is to:• Describe the activities of the Council; and• Describe the community outcomes of the District; and• Provide integrated decision-making and co-ordinationof the resources of the Council; and• Provide a long term focus for the decisions and activitiesof the Council; and• Provide a basis for accountability of the Council to thecommunity; and• Provide an opportunity for participation by the publicin decision-making processes on activities to beundertaken by the Council.Further requirements under the Act are to:• Use the special consultative procedure in adopting thelong term plan.• The long term plan must cover a period of not less than10 consecutive fi nancial years• The long term plan must be adopted before thecommencement of the fi rst year and continue to be inforce until the close of the third consecutive year.Cautionary NoteDraft Hurunui Community Long Term Plan 2012 - 2022The long term plan is based on assumptions and budgets for theentire 10 year period and as such it is important to note thatactual results achieved for the period are likely to vary from theinformation provided in the Plan and that the likely variationsmay be material.The long term plan has been prepared for the purposesdescribed earlier and the information may not be appropriatefor purposes other than those described.Statement of ResponsibilityThe forecast fi nancial statements are prepared on the basisof best-estimate assumptions as to future events which theCouncil expects to take place as of February 2012.Authorisation for issueThis document was authorised for issue by Council on, as isdated, 23 February 2012.Comparative InformationThe 2011/2012 comparative information is based on the2011/2012 Annual Plan. The comparative numbers in the activitysections have been adjusted to refl ect the changed structure tothe activities from how they were structured in the Annual Plan,for instance, Footpath Construction was previously disclosedas part of Township Maintenance in the Community Servicesand Facilities. Due to a change in the legislation, FootpathConstruction now forms part of the Roads and FootpathsGroup of Activities.149
---
www.hurunui.govt.nzForecasting Assumptions1. Infl ationIn preparing the LTP, the Council is required to use bestestimates in determining the level of costs to be budgeted inthe future. As a result, the Council is required to account forthe effect of price changes or infl ation that is expected to occurover the ten year period.To develop a consistent approach for local government toaccount for infl ation, the Society of Local Government Managers(SOLGM) contracted Business and Economic Research Limited(BERL) to construct forecasts for infl ation.The Hurunui District Council has endorsed the LocalGovernment Cost Index (LGCI) rates produced by BERL andhave used these rates as the assumption for accounting forinfl ation in the preparation of the LTP. In applying the rates, theCouncil has adopted the split between Operating Expenditure(Opex) and Capital Expenditure (Capex) as allowed for inBERL's analysis.Rates used:YearEndingLGCIIndexvalueRateOPEXIndexValueRateCAPEXIndexvalueJune 2013 1269 1245 1301RateJune 2014 1313 3.47% 1284 3.13% 1352 3.92%June 2015 1355 3.20% 1323 3.04% 1397 3.33%Cumulative Infl ation Rates:YearEndingLGCIIndexvalueRateOPEXIndexValueRateCAPEXIndexvalueJune 2013 1269 1245 1301RateJune 2014 1313 3.47% 1284 3.13% 1352 3.92%June 2015 1355 6.78% 1323 6.27% 1397 7.38%June 2016 1399 10.24% 1365 9.64% 1445 11.07%June 2017 1447 14.03% 1410 13.25% 1497 15.07%June 2018 1494 17.73% 1450 16.47% 1554 19.45%June 2019 1545 21.75% 1491 19.76% 1617 24.29%June 2020 1602 26.24% 1538 23.53% 1686 29.59%June 2021 1664 31.13% 1590 27.71% 1763 35.51%June 2022 1729 36.25% 1642 31.89% 1844 41.74%For the Hanmer Springs Thermal Pools and Spa, it is predictedthat an infl ation adjustment to the entry price will be made in2015, 2018 and 2021. The increases in revenue in the interveningyears are the result of an increase in the customer numbers,which is discussed further in the assumption for ProjectedGrowth Change Factors.June 2016 1399 3.25% 1365 3.17% 1445 3.44%June 2017 1447 3.43% 1410 3.30% 1497 3.60%June 2018 1494 3.25% 1450 2.84% 1554 3.81%June 2019 1545 3.41% 1491 2.83% 1617 4.05%June 2020 1602 3.69% 1538 3.15% 1686 4.27%June 2021 1664 3.87% 1590 3.38% 1763 4.57%June 2022 1729 3.91% 1642 3.27% 1844 4.59%In applying the infl ation rates in the preparation of the budgets,the Council has set a budget based in 2012/2013 dollars foreach of the ten years of the LTP. For each of the succeedingyears of the LTP, the following cumulative infl ation rates havebeen applied to each applicable cost or income.Risks and UncertaintiesInfl ation in some areas may increase at a rate different to thatforecast. Some types of costs (e.g. Roading and Transport Costs)have been subject to wild fl uctuations in recent years, and as aresult, it is inherently diffi cult to predict trends with accuracy.In respect to the cost of insurance premiums, the budgets setfor the 2012/2013 were based on the actual costs incurred byCouncil for the 2011/2012 year. As the insurance market hasbeen undergoing change over the period since the Canterburyearthquakes, there is potential for the costs of insurance tomove at different levels than assumed by utilising the BERLLGCI rates.Rating of Uncertainty: Medium2. Interest ratesThe movement of interest rates has a wide ranging effect on the150
---
Draft Hurunui Community Long Term Plan 2012 - 2022Council. The Council's cash investments derive interest at themarket rates; the Council is vulnerable to the lending rates forits external borrowing requirements; and the Council's internalfi nancing policy bases the interest paid or charged to individualcommunities on those applicable rates.As part of the Council's Treasury Risk Management policy, theCouncil has entered into a range of interest rate swaps designedsetting a fi xed portion to the interest rates charged over aperiod of time. Based on this information and advice from theCouncil's Treasury advisers:• Council will receive an average of 3.5% on its limitedcash investments.• Council will be charged an average rate of interest onits external borrowings at 6.25%.• Communities that hold internal loans with Council willbe charged interest at 7.25% (100 basis points overthe level of interest Council is charged for externalborrowings).• Communities that have built up reserves for futurecapital expenditure will be credited interest at 3.5%(the same level the Council is expected to receive fromits cash investments)• Any internal loans to the Hanmer Springs ThermalReserve will be charged an interest rate of 8.75%(250 basis points above the level of interest Council ischarged for external borrowings)Risks and UncertaintiesThe Council is exposed to the market with respect to interestrates and as such, the rates will be subject to adjustment overthe period of the long term plan. Pursuant to its Treasury RiskManagement Policy on page 264, the Council has entered intoa series of interest rate swaps which is aimed at minimising theexposures to changes in the short term interest rates. Wherethe Council's overall external interest rates do change, thechange will be refl ected in the level of interest charged or paidto the relevant communities as well as being refl ected in thelevel of interest the Council receives on its cash investments orcharged on its external borrowings.For the 2012/2013 year, it is forecast that external interest paidwill be $921,875. Should there be a 1% increase the externalborrowing costs – a move from 6.25% to 7.25%, the resultingexternal interest expense will increase to $1,069,375.Rating of Uncertainty: Medium3. Assets Vested in CouncilWhen a developer carries out a subdivision, they are requiredto vest various assets to Council.These assets include any new roads, water mains, sewer mains,footpaths and landscaped areas. The Council is then responsiblefor the maintenance and future replacement of those assets.To determine the value of the assets to be vested, the Councilmade assumptions based on an analysis of the costs of recentsubdivisions in the District. The average costs were assumed asfollows:• Roading (incl. Footpaths) $7,000 per section• Sewer $1,500 per section• Water $1,500 per sectionThese amounts will be applicable to all urban areas and theamounts will be multiplied by the numbers of urban sectionscreated in each year to arrive at the total assets to be added tothe Council's asset register. The number of new urban sectionsprojected to be created is allowed for in the assumption forProjected Growth Change factors. This will also be infl ationadjustedeach year according to the BERL infl ation forecastsas described in the assumption for infl ation. Each additionto the asset register will be depreciated by any appropriatedepreciation charge. Please note that no vested assets will beapplied to rural sections.To balance the books, the introduction of the asset value needs tobe refl ected in income, therefore, there will be a correspondingincome line called "Vested Assets Income".Risks and UncertaintiesThe assumption has based the level of assets vested to Councilon an analysis of recent major subdivisions carried out in theDistrict. Some subdivisions may not result in any further assetsto be vested in the Council as there has already been adequatecapacity provided for the new sections and some subdivisionsmay have a greater amount of assets vested into Council asthere may be a greater per property costs associated with thesubdivision.Rating of Uncertainty: Low4. Depreciation Rates of PlannedAsset AcquisitionsThe same depreciation rates as for all signifi cant assets havebeen assumed for planned asset acquisitions. These depreciationrates are as given in the Statement of Accounting Policies.151
---
www.hurunui.govt.nzRisks and UncertaintiesThe useful lives are based on historical information. Some assetsmay last longer than the live stated above because of differingfactors and conversely, some assets may deteriorate at a fasterrate than the lives stated above.Rating of Uncertainty: Low5. Emissions Trading SchemeThe Emissions Trading Scheme (ETS) is in place; however, thereis still limited detail on how its implementation will affect costsmoving forward. The price change adjustors as provided byBERL have made some allowance for the effects of the ETSand the Council has applied those rates in accordance with itsassumption on inflation.The Council has registered its Forestry Assets under the ETSand it should qualify for carbon credits. These carbon creditswill have a value, however, as it is in its initial stage, there is nodetails to assess the effect of this value and as a result, it has notbeen accounted for in the preparation of the LTP.Rating of Uncertainty: High7. New Zealand Transport AgencySubsidy RatesTo fund roading operational and capital expenditure, the Councilreceives a percentage of the cost as a subsidy from the NewZealand Transport Agency (NZTA). The subsidy rate is basedon a calculation performed nationally which takes into accountthe land value of each District Council area. For the 2012/2013fi nancial year, the subsidy rates were as follows:• Operating Expenditure 50%• Capital Expenditure 50%• Minor Safety Improvements 60%• Level Crossing Warnings 100%• Special Purpose Roading 100%There has been no indication that any of these rates are expectedto change in the next three years, therefore the Council hasmade the assumption that subsidy rates are to remain constantover the life of the LTP.Risks and UncertaintiesThere is an inherent risk that the infl ation rates used in thepreparation of the LTP may not refl ect the actual costs. Shouldthe resulting costs from the implementation of the ETS begreater than the levels of infl ation that have been allowed for,then the Council will need to increase the funding from ratesand other income to allow for it.As the Council has not accounted for the value of the carboncredits in the preparation of the LTP, any potential value that isassigned to the credits, or any proceeds from the potential saleof any carbon credits will be credited to the Forestry Reserve,which can be utilised in a manner determined appropriate bythe Council.Rating of Uncertainty: Medium6. Changes to Council's BusinessDictated by as yet Unknown/Unconfirmed Legislation orCentral Government Policy ChangeDue to the recent change of Government, the level of uncertaintyin this area is too high for any changes to be suffi cientlyquantifi able to be taken into account for the present plan. TheCouncil remains aware of the key issues on a qualitative level,and will take them into account as best they are able.Risks and UncertaintiesThe NZTA subsidy rates are based on a calculation whichtakes into account the land value of the Hurunui District as acomparison with other local authorities throughout the country.Should the land value of the Hurunui increase or decrease at arate different to the average over the country, the calculationmay result in the subsidy rate for the Hurunui increasing ordecreasing.Should the subsidy rates decrease from the levels assumed, it willresult in the amount of subsidy for roading works to decreaseand placing a greater burden for funding the operational andcapital expenditure of the roading network on the ratepayers.As an example, if all each category of subsidy reduced by 10%(resulting in the subsidy rates Operating & Capital Expenditureto 40%; Minor Safety Improvements to 50% and Level CrossingWarnings and Special purpose Roading to 90%), for the2012/2013 year, based on the budgeted level of expenditure, theroading rate would need to increase by $669,813 to $3,293,675,which will be a 19.54% increase in the District Wide Rates, asopposed to the 7.13% increase currently forecast.Rating of Uncertainty: High152
---
Draft Hurunui Community Long Term Plan 2012 - 20228. Projected Growth Change FactorsSee the Development Contributions Policy for details ofprojected growth in the numbers of new properties in thedistrict. The effects of the growth will be factored in whendetermining:• The level of development contributions which will fl owthrough the organisation• The level of vested assets that the Council is expectedto take ownership of.For growth in the customer numbers at the Hanmer SpringsThermal Pools and Spa, the Council has assumed that theincrease in customer numbers will be 3% each year over the lifeof the Long Term Plan. The resulting revenue is supplemented bya predicted increase to the standard entry price which providesa further increase of 4.5% in 2015, 2018 and 2021.Risks and UncertaintiesThe projected growth in the number of new sections may occurat rates signifi cantly different to those predicted, which willresult in the amounts received in Development Contributionsand Vested Assets will differ from the fi gures budgeted for.The result may be that the period for collecting developmentcontributions for specifi c growth related projects may reduceor be extended.If the movement in customers numbers at the Hanmer SpringsThermal Pools and Spa differs from the level assumed, it willhave an effect on the revenue fl ows for the Pools. The Councilintends on funding a certain level of the other reserve costsfrom surpluses from the Pools. After doing so, there is still alevel of surpluses that are retained on an annual basis. If thegrowth in the customer numbers from the Pools is lower thanthe level projected, then the level of surpluses retained willreduce. Depending on the extent of any change to the growthin customer numbers, this may have an effect on the funds thatare used to directly offset the various reserve costs throughoutthe District.Rating of Uncertainty: Medium9. Resource ConsentsIt has been assumed that all current resource consents held byCouncil will be renewed at the appropriate time, with similarconditions and length of term as currently in place. Any costsassociated with Capital Expenditure forecast throughout theten year period have been included as an integral part of thecost of the asset and will be capitalised and depreciated in linewith the physical works carried out.Risks and UncertaintiesThere is a risk that various resource consents held by theCouncil may not be renewed, or the conditions and term ofthe resource consent may vary from those currently in place.In addition, there is a risk that renewing resource consent mayLand and Buildings 30 June 2011 (most recent revaluation)30 June 201430 June 201730 June 2020Infrastructural Assets 30 June 2009 (most recent revaluation)30 June 201230 June 201530 June 201830 June 2021(based on inflation indices for theprior 3 years)Roading Assets 30 June 2010 (most recent revaluation)30 June 201330 June 201630 June 201930 June 2022incur additional costs that have not currently been budgeted for.Rating of Uncertainty: Medium10. Revaluation of AssetsThe Council has adopted an approach of revaluing its landand buildings, roading and infrastructural assets on a threeyearly basis to comply with the New Zealand equivalent toInternational Financial Reporting Standards.The valuation process is staggered so only one key asset class isrevalued each year and as a result, the revaluation cycle over theperiod of the LTP will be as follows:As was the case for the preparation of the 2009 LTCCP, theCouncil has made the assumption that the value of Land will notchange over the ten year period, with the exemption of proposedpurchase of land required to extend the area of cemeteries. TheCouncil has also assumed that the value of Buildings will changeonly in accordance to the amount of depreciation charged.The Council has made the assumption that the book valuesof the roading and infrastructural assets as at the revaluationdates will be increased by the cumulative infl ation rates as perthe BERL infl ation forecasts as described in the assumption forinfl ation. The depreciation charge will be amended to refl ect theremaining useful life of each asset and the charge made on therevalued amount of the asset.153
---
www.hurunui.govt.nz• An example of how the cumulative infl ation will beapplied is as follows:• A length of water pipe may have a value of $1,000 as of30 June 2012 - the date of its last revaluation.• The next revaluation is set for 30 June 2015, and thecumulative infl ation rate for Capital Expenditure overthat period is 11.94%, therefore the new value shouldbe $1,119.• The next revaluation is set for 30 June 2018, and thecumulative infl ation rate for Capital Expenditure overthat period is 24.52%, therefore the new value shouldbe $1,245.• The next revaluation is set for 30 June 2021, and thecumulative infl ation rate for Capital Expenditure overthat period is 41.27%, therefore the new value shouldbe $1,413.Any movement in the valuation of the roading and infrastructuralassets is recognised in the asset revaluation reserve. Themovements, along with any increase on capital purchases madein the intervening years have been applied to the existing valuesto arrive at the revalued amount for each asset.Risks and UncertaintiesInfl ation in some areas may increase at a rate different to thatforecast. Some types of costs (e.g. Roading and Transport Costs)have been subject to wild fl uctuations in recent years, and as aresult, it is inherently diffi cult to predict trends with accuracy.Rating of Uncertainty: Medium11. Sources of Funds for FutureReplacement of Signifi cant AssetsCapital Expenditure is funded by two key mechanisms:• General Reserve funding for those assets whosedepreciation is funded via rates; and• Internal Financing for most other assets as set out inthe Internal Financing Policy, which forms part of theCouncil's Treasury Policy.General Reserve FundingA number of assets, principally those that are funded by theGeneral Rate or a part of the Overhead component, aredepreciated with the amount of depreciation being fundedby income or rates. The funds from the funded depreciationare collected in a General Reserve. When the asset requiresreplacing, the funds are withdrawn from the General Reserve.Internal FinancingFor those activities that are funded by way of a TargetedRate, Capital Expenditure can be funding through the InternalFinancing system of Council. The full description of the InternalFinancing system and how it is applied is in the Internal FinancingPolicy on page 268.Risks and UncertaintiesThere is a risk that some communities with signifi cantcapital requirements due to the condition of the asset orthe requirement to upgrade their assets, that the level ofdebt that they owe becomes unsustainable. Council willmonitor the level of debt on a regular basis to ensuresuch communities can sustain the costs associated withthe provision of the asset.Rating of Uncertainty: Low12. Useful Lives of Signifi cant AssetsDepreciation rates are as given in the Statement of AccountingPolicies.Risks and UncertaintiesThe useful lives are based on historical information. Someassets may last longer than the live stated above becauseof differing factors and conversely, some assets maydeteriorate at a faster rate than the lives stated above.Rating of Uncertainty: Low13. Approach to Potential ClimateChange Impacts & PotentialSocietal ChangesThe Sustainability section of the Plan (Page 44) states theCouncil's position on Climate Change, and the discussion in theFinancial Strategy (pages 21) indicates a major societal change inthe District's aging population. The Council has considered theeffects of these in its planning, but are of the opinion that there isnot sufficient certainty surrounding the detail of the projectionsin these areas for them to be incorporated as specifi c fi nancialforecasting assumptions in the LTP.The Council is mindful of the current economic crisis andoutlook and will look for increased effi ciencies in this regard.Other potential societal changes were considered by theCouncil, but were not seen to be signifi cant.154
---
Draft Hurunui Community Long Term Plan 2012 - 2022Risks and UncertaintiesThese factors may have a stronger impact than anticipated. TheCouncil will monitor the situation and seek to adapt accordingly.Rating of Uncertainty: Low155
---
www.hurunui.govt.nzStatement of Accounting PoliciesReporting EntityHurunui District Council is a territorial local authority asgoverned by the Local Government Act 2002 and is domiciledin New Zealand.The Hurunui District Council group consists of the ultimateparent Hurunui District Council (HDC) and its subsidiaryHurunui Holdings Limited (HHL) (100% owned), associateEnterprise North Canterbury (50% equity share), CanterburyEconomic Development Company Limited (10%) and TranswasteCanterbury Limited (1.2%). All HDC subsidiaries and associatesare incorporated and domiciled in New Zealand.The primary objective of HDC is to provide goods and servicesfor the community or social benefi t rather than making afi nancial return.Accordingly, HDC has designated itself and the group as publicbenefi t entities for the purposes of New Zealand equivalents toInternational Financial Reporting Standards ("NZ IFRS").The seat of the Council is at Amberley.Basis of Preparation of the Forecast InformationThe Council, who are authorised to do so and believe that theassumptions underlying these prospective fi nancial statementsare appropriate, has approved the Long Term Plan for distribution.The Council and management of the Hurunui District Councilaccept responsibility for the preparation of their prospectivefi nancial statements, including the appropriateness of theassumptions underlying the prospective fi nancial statements andall other required disclosures.No actual fi nancial results have been incorporated within theprospective fi nancial statements.The Council intends to update the prospective fi nancialstatements subsequent to the submission hearings in May2012. The fi nal prospective fi nancial statements are then to bepresented to the Council for adoption in June 2012.Statement of ComplianceThe fi nancial information contained within this report hasbeen prepared in accordance with the generally acceptedaccounting practice in New Zealand as required under section111 of the Local Government Act 2002, and the Long Term Planrequirements of section 93. It is audited under section 84 of theLocal Government Act 2002.The prospective fi nancial statements of the Hurunui DistrictCouncil have been prepared in accordance with the requirementsof the Local Government Act 2002.In September 2011, the External Reporting Board issueda position paper and consultation papers proposing a newexternal reporting framework for public benefi t entities (PBEs).The papers proposed that accounting standards for PBEs wouldbe based on International Public Sector Accounting Standards,modifi ed as necessary. The proposals in these papers do notprovide certainty about any specifi c requirements of futureaccounting standards. Therefore, the accounting policieson which the forecast information for 2012-22 has beenprepared are based on the current New Zealand equivalents toInternational Financial Reporting Standards.The opening balances for the 2012/2013 year are based onforecast closing balances for the 2011/2012 year.The prospective fi nancial statements have been preparedon a historical cost basis, modifi ed by the revaluation of landand buildings, certain infrastructural assets, investments,biological assets and fi nancial instruments (including derivativeinstruments).The Council authorised the prospective fi nancial statements on23 February 2012.The prospective fi nancial statements comply with applicableFinancial Reporting Standards, which include New Zealandequivalents to International Financial Reporting Standards (NZIFRS). The fi nancial statements incorporated in the Long TermPlan have been prepared in compliance with Financial ReportingStandard (FRS) number 42; Prospective Financial Statements.The Hurunui District Council is a Public Benefi t Entity and hasapplied the PBE exemptions allowable under New Zealandequivalents to International Financial Reporting Standards (NZIFRS).Cautionary NoteThe information in the prospective fi nancial statements is tooutline service and spending priorities in the statement ofproposal for the Long Term Plan and may not be appropriatefor any other use.ConsolidationThe Council has not consolidated the prospective fi nancialstatements to include the Council's subsidiary Hurunui HoldingsLimited. The Council believes consolidation for the purpose ofthe Long Term Plan will not be material as Hurunui HoldingsLimited operates essentially as a shelf company and has notransactions.156
---
Draft Hurunui Community Long Term Plan 2012 - 2022Measurement BaseThe prospective fi nancial statements have been prepared onthe historical cost basis, modifi ed by the revaluation of certainassets.Functional and Presentation CurrencyThe fi nancial statements are presented in New Zealand dollarsand all values are rounded to the nearest thousand dollars($'000). The functional currency of the HDC is New Zealanddollars.Changes in Accounting PoliciesThe accounting policies set out below have been appliedconsistently to all periods presented in these fi nancial statements.Signifi cant Accounting PoliciesBasis of ConsolidationThe purchase method is used to prepare the consolidatedfi nancial statements, which involves adding together like itemsof assets, liabilities, equity, income and expenses on a line-by-linebasis. All signifi cant intragroup balances, transactions, incomeand expenses are eliminated on consolidation.SubsidiariesHDC consolidates as subsidiaries in the group fi nancialstatements all entities where HDC has the capacity to controltheir fi nancing and operating policies so as to obtain benefi tsfrom the activities of the entity. This power exists where HDCcontrols the majority voting power on the governing body orwhere such policies have been irreversibly predetermined byHDC or where the determination of such policies is unable tomaterially impact the level of potential ownership benefi ts thatarise from the activities of the subsidiary.HDC measures the cost of a business combination as theaggregate of the fair values, at the date of exchange, of assetsgiven, liabilities incurred or assumed, in exchange for control ofthe subsidiary plus any costs directly attributable to the businesscombination.Any excess of the cost of the business combination overHDC's interest in the net fair value of the identifi able assets,liabilities and contingent liabilities is recognised as goodwill. IfHDC's interest in the net fair value of the identifi able assets,liabilities and contingent liabilities recognised exceeds the costof the business combination, the difference will be recognisedimmediately in the statement of comprehensive income.Investments in subsidiaries are valued as available for saleinvestments in HDC's own "parent entity" fi nancial statements.AssociatesHDC accounts for an investment in an associate in the groupfi nancial statements using the equity method. An associate is anentity over which the HDC has signifi cant infl uence and thatis neither a subsidiary nor an interest in a joint venture. Theinvestment in an associate is initially recognised at cost and thecarrying amount is increased or decreased to recognise HDC'sshare of the surplus or defi cit of the associate after the dateof acquisition. HDC's share of the surplus or defi cit of theassociate is recognised in HDC's statement of comprehensiveincome. Distributions received from an associate reduce thecarrying amount of the investment.If HDC's share of an associate's defi cit equals or exceeds itsinterest in the associate, HDC discontinues recognising its shareof further deficits. After HDC's interest is reduced to zero,additional defi cits are provided for, and a liability is recognised,only to the extent that HDC has incurred legal or constructiveobligations or made payments on behalf of the associate. If theassociate subsequently reports surpluses, HDC will resumerecognising its share of those surpluses only after its share ofsurpluses equals the share of defi cits not recognised.HDC's share in the associate's surplus or defi cits resulting fromunrealised gains on transactions between the HDC and itsassociates is eliminated.HDC's investments in associates are carried at cost in HDC'sown "parent entity" fi nancial statements.RevenueRevenue is measured at the fair value of consideration received.Rates RevenueRates are set annually by a resolution from Council andrelate to a fi nancial year. All ratepayers are invoiced within thefi nancial year to which the rates have been set. Rates revenue isrecognised when payable.Rates collected on behalf of the Canterbury Regional Council(ECan) are not recognised in the fi nancial statements as HDC isacting as an agent for ECan.Water RevenueWater Billing is recognised on volumes delivered on accrualbasis.New Zealand Transport Agency Roading SubsidiesNew Zealand Transport Agency roading subsidies are recognisedas revenue upon entitlement which is when conditions pertainingto eligible expenditure have been fulfi lled.157
---
www.hurunui.govt.nzContract RevenueRevenue from a contract to provide services is recognised byreference to the stage of completion of the contract at thebalance sheet date based on the actual service provided as apercentage of total services to be provided.User ChargesSales of goods are recognised when the signifi cant risks andrewards of ownership of the assets have been transferred tothe buyer which is usually when the goods are delivered andtitle has passed.Interest RevenueInterest income is accrued on a time basis, by reference to theprincipal outstanding and at the effective interest rate applicable.Dividend RevenueDividend income from investments is recognised as revenue, netof imputation credits, when the shareholders' rights to receivepayment have been established.Other RevenueOther revenue including assets vested in Council, with orwithout restrictions, is recognised as revenue when controlover the assets is obtained.Development ContributionsDevelopment contributions are recognized as revenue whenthe Council provides, or is able to provide, the service forwhich the contribution was charged. Otherwise developmentcontributions are recognized as liabilities until such time theCouncil provides, or is able to provide, the service.Development contributions are classifi ed as part of "OtherRevenue".Borrowing CostsAll borrowing costs are recognised as expenses in the statementof comprehensive income in the period in which they areincurred.Income TaxIncome tax in relation to the surplus or defi cit for the periodcomprises current tax and deferred tax.Current tax is the amount of income tax payable on the taxableprofi t for the current year, plus any adjustments to income taxpayable in respect of prior years. Current tax is calculated usingrates that have been enacted or substantively enacted at balancedate.Deferred tax is the amount of income tax payable or recoverablein future periods in respect of temporary differences and unusedtax losses. Temporary differences are differences betweenthe carrying amount of assets and liabilities in the fi nancialstatements and the corresponding tax bases in the computationof taxable profi t.Deferred tax liabilities are generally recognised for taxabletemporary differences and deferred tax assets are recognised tothe extent that it is probable that taxable profi ts will be availableagainst which deductible temporary differences can be utilised.Deferred tax is not recognised if the temporary differencearises from the initial recognition of goodwill or from the initialrecognition of an asset and liability in a transaction that is not abusiness combination, and at the time of the transaction, affectsneither the accounting profi t nor taxable profi t.Deferred tax is recognised on taxable temporary differencesarising on investments in subsidiaries and associates, and interestsin joint ventures, except where the company can control thereversal of the temporary difference and it is probable that thetemporary difference will not reverse in the foreseeable future.Deferred tax is calculated at the tax rates that are expected toapply in the period when the liability is settled or the asset isrealised, using tax rates that have been enacted or substantiallyenacted by balance date.Current tax and deferred tax is charged or credited to thestatement of comprehensive income, except when it relates toitems charged or credited directly to equity, in which case thetax is dealt with in equity.LeasesOperational leasesAn operating lease is a lease that does not transfer substantiallyall the risks and rewards incidental to ownership of an asset.Lease payments under an operating lease are recognised on astraight-line basis over the lease term.Cash and Cash EquivalentsCash and cash equivalents comprise cash in hand, demanddeposits and other short-term highly liquid investments that arereadily convertible to a known amount of cash and are subjectto an insignifi cant risk of changes in value, and with originalmaturities of three months or less.158
---
Draft Hurunui Community Long Term Plan 2012 - 2022Trade and Other ReceivablesTrade and other receivables are initially measured at fair valueand subsequently measured at amortised cost using the effectiveinterest rate method, less any provision for impairment.InventoriesInventories are stated at the lower of cost and net realisablevalue. Cost comprises direct materials and, where applicable,direct labour costs and those overheads that have beenincurred in bringing the inventories to their present locationand condition. Cost is calculated using the weighted averagemethod.Net realisable value represents the estimated selling price lessall estimated costs of completion and costs to be incurred inmarketing, selling and distribution.Financial AssetsThe Group classifi es its fi nancial assets into the following fourcategories: fi nancial assets at fair value through profi t or loss,held to maturity investments, loans and receivables and fi nancialassets at fair value through equity. The classifi cation dependson the purpose for which the investments were acquired.Management determines the classification of its investmentsat initial recognition and re-evaluates the designation everyreporting date.Financial assets and liabilities are initially measured at fair valueplus transaction costs unless they are carried at fair valuethrough profi t and loss in which case transaction costs arerecognised in the statement of comprehensive income.InvestmentsInvestments are recognised on a trade-date basis and areinitially measured at fair value, including transaction costs. Atsubsequent reporting dates, debt securities that the Group hasthe expressed intention and ability to hold to maturity (heldto-maturitydebt securities) are measured at amortised costusing the effective interest rate method, less any impairmentloss recognised to refl ect irrecoverable amounts.Investments other than held-to-maturity debt securities areclassifi ed as either held-for-trading or available-for sale, and aremeasured at subsequent reporting dates at fair value.Where securities are held for trading purposes, gains and lossesarising from changes in fair value are included in the statementof comprehensive income for the period.For available-for-sale investments, gains and losses arising fromchanges in fair value are recognised directly in equity, until thesecurity is disposed of or is determined to be impaired, at whichtime the cumulative gain or loss previously recognised in equityis included in the statement of comprehensive income for theperiod.Impairment of InvestmentsAn impairment loss is recognised in the statement ofcomprehensive income when there is objective evidencethat the asset is impaired, and is measured as the differencebetween the investment's carrying amount and the presentvalue of estimated future cash fl ows discounted at the effectiveinterest rate computed at initial recognition. Impairment lossesare reversed in subsequent periods when an increase in theinvestment's recoverable amount can be related objectively toan event occurring after the impairment was recognised, subjectto the restriction that the carrying amount of the investment atthe date the impairment is reversed shall not exceed what theamortised cost would have been had the impairment not beenrecognised.Derivative Fiancial InstrumentsThe Council uses derivative fi nancial instruments (primarilyinterest rate hedges) to hedge the risks associated with interestrate movements. The use of fi nancial derivatives is governedby the Council's policies approved by the HDC and the HHLboard of directors, which provide written principles on theuse of fi nancial derivatives consistent with the Council's riskmanagement strategy. The Group does not use derivativefi nancial instruments for speculative purposes.Such derivatives are initially recorded at fair value on contractdate and are adjusted to fair value at subsequent reporting dates.Changes in the fair value of derivative fi nancial instruments arerecognised in the statement of comprehensive income as theyarise.Non-Current Assets Held for SaleNon-current assets are classifi ed as held for sale if their carryingamount will be recovered principally through a sale transaction,not through continuing use. Non-current assets held for sale aremeasured at the lower of their carrying amount and fair valueless costs to sell.Any impairment losses for write downs or non-current assetsheld for sale are recognised in the statement of comprehensiveincome. Any increase in fair value (less costs to sell) arerecognised up to the level of any impairment losses that havebeen previously recognised.Non-current assets (including those that are part of a disposalgroup) are not depreciated or amortised while they are classifi edas held for sale. Interest and other expenses attributable to the159
---
www.hurunui.govt.nzliabilities of a disposal group classifi ed as held for sale continueto be recognised.Property, Plant & EquipmentProperty, plant and equipment consists of:Operational Assets — These include land, buildings, landfi ll postclosure, library books, plant and equipment, and motor vehicles.Restricted Assets — Restricted assets are parks and reservesowned by the Council which provide a benefi t or service to thecommunity and cannot be disposed of because of legal or otherrestrictions.Infrastructure assets — Infrastructure assets are the fi xed utilitysystems owned by the Council. Each asset class includes allitems that are required for the network.Property, Plant and Equipment are at stated values lessaccumulated depreciation and impairment losses.Fixtures and Fittings, Motor Vehicles, Plant and Equipment, andLibrary Books are stated at cost less accumulated depreciationand impairment losses.AdditionsThe cost of an item of property, plant and equipment isrecognised as an asset if, and only if, it is probable that futureeconomic benefi ts or service potential associated with the itemwill fl ow to the Group and the cost of the item can be measuredreliably.In most instances, an item of property, plant and equipment isrecognised at its cost. Where an asset is acquired at no cost, orfor a nominal cost, it is recognised at fair value as at the date ofacquisition.DisposalsGains and losses on disposals are determined by comparing theproceeds with the carrying amount of the asset. Gains and losseson disposals are included in the statement of comprehensiveincome. When revalued assets are sold, the amounts includedin asset revaluation reserves in respect of those assets aretransferred to retained earnings.Subsequent CostsCosts incurred subsequent to initial acquisition are capitalisedonly when it is probable that future economic benefi ts or servicepotential associated with the item will fl ow to the Group andthe cost can be measured reliably.RevaluationAn assets fair value at the date of revaluation is equal to therevalued amount. Revaluations are performed with suffi cientregularity such that the carrying amount does not differmaterially from that which would be determined using fairvalues at balance date and this is generally every three years.Revaluation increments and decrements are credited or debitedto the asset revaluation reserve for that class of asset. Wherethis results in a debit balance in the asset revaluation reserve,this balance is expensed in the statement of comprehensiveincome. Any subsequent increase on revaluation that offsetsa previous decrease in value is recognised in the statement ofcomprehensive income will be recognised up to the amountpreviously expensed, and then credited to the revaluationreserve for that class of asset.Operational Land and BuildingsLand and Buildings were valued by Darroch Limited (RegisteredValuers) as at 30 June 2011. The basis of valuation is fair valuewith reference to highest and best use, as at 30 June 2011.They are stated at valuation less accumulated depreciation andaccumulated impairment.Properties in the course of construction for production, rentalor administrative purposes, or for purposes not yet determined,are carried at cost, less any recognised impairment loss. Costincludes professional fees.Subsequent costs are included in the asset's carrying amountor recognised as a separate asset, as appropriate, only when itis probable that future economic benefi ts associated with theitem will fl ow to HDC and the cost of the item can be measuredreliably. All other repairs and maintenance are charged to thestatement of comprehensive income during the fi nancial periodin which they are incurred.Restricted AssetsCertain infrastructure assets and land have been vested inthe Council as part of the subdivisional consent process. Thevested reserve land has been initially recognised at the mostrecent appropriately certifi ed government valuation. Vestedinfrastructure assets have been valued based on the estimatedquantities of infrastructure components vested and the current"in the ground" cost of providing identical services.Infrastructural Asset Classes; Roads, Water Reticulation,Sewerage Reticulation and Stormwater SystemsInfrastructural assets are recorded at valuation establishedusing depreciated replacement cost, plus additions at cost less160
---
Draft Hurunui Community Long Term Plan 2012 - 2022accumulated depreciation and accumulated impairment losses.The revaluation of infrastructural assets is carried out on athree yearly cycle.The roading valuation includes land under the roading network.The valuation of this land is based on the average rateable valueof land in the associated ward as determined by QV Valuations(Registered Valuers) as at 30 June 2005. Under NZ IFRS HDChas elected to use the fair value of the land under roads as at30 June 2005 at deemed cost. Land under roads is no longerrevalued.Roading assets have been valued at depreciated replacementcost as at 30 June 2010. The valuation was performed internallyby HDC's Roading Engineer – Asset Management, J Whyte andpeer reviewed by George JasonSmith, BE (NSW), MIPENZ(Civil), CPEng, Principal Asset Management Consultants forAECOM New Zealand Limited. Additions and disposals afterthe date of valuation will be recorded at cost.Water and Sewage Assets have been valued at depreciatedreplacement cost as at 1 July 2009. The valuation was performedinternally by the Manager of Engineering Services, B M Yates,Registered Engineer and peer reviewed by M Clough, RegisteredValuer of Beca Valuations Limited. Additions and disposals sincethe date of valuation have been recorded at cost.Stormwater and Drainage Assets have been valued atdepreciated replacement cost as at 30 June 2011. The valuationwas performed internally by HDC's Technical Offi cer - Utilities,D Perry and peer reviewed by M Clough, Registered Valuer ofBeca Valuations Limited. Additions and disposals since the dateof valuation have been recorded at cost.Certain infrastructural assets have been vested in HDC as partof the subdivision consent process. Vested infrastructure assetshave been valued based on the estimated quantities of thecomponents vested in HDC.DepreciationDepreciation is provided on a straight line basis on all property,plant and equipment and intangible assets other than landand heritage assets, at rates which will write off the cost (orvaluation) of the assets to their estimated residual values overtheir useful lives. Depreciation of these assets commences whenthe assets are ready for their intended use.Depreciation on revalued assets is charged to the statement ofcomprehensive income. On the subsequent sale or retirementof a revalued asset, the attributable revaluation surplus remainingin the properties revaluation reserve is transferred directly toretained earnings.The gain or loss arising on the disposal or retirement of an assetis determined as the difference between the sales proceedsand the carrying amount of the asset and is recognised in thestatement of comprehensive income.The useful lives and associated depreciation rates of majorclasses of assets have been estimated in Table 1.Intangible AssetsSoftware Acquisition and DevelopmentAcquired computer software licenses are capitalised on thebasis of the costs incurred to acquire and bring to use thespecifi c software.Costs associated with maintaining computer software arerecognised as an expense when incurred. Costs that are directlyassociated with the development of software for internal useby the Group are recognised as an intangible asset. Directcosts include the software development employee costs and anappropriate portion of the relevant overheads.AmortisationThe carrying value of intangible assets with a fi nite life isamortised on a straight-line basis over its useful life. Amortisationbegins when the assets is available for use and ceases at the datethat the asset is derecognised. The amortisation charge for eachperiod is recognised in the statement of comprehensive income.The useful lives and associated amortisation rates of majorclasses of intangible assets have been estimated as follows:Computer software 3 – 4 years 25 – 33%Aerial Photos 10 years 10%Forestry AssetsForestry and other biological assets are stated at fair value lessestimated point-of-sale costs, with any resultant gain or lossrecognised in the statement of comprehensive income. Pointof-salecosts include all costs that would be necessary to sellthe assets, excluding costs necessary to transport the assets tomarket.The fair value of standing timber older than 10 years, being theage at which it becomes marketable, is based on the marketprice of the estimated recoverable wood volumes, net ofharvesting costs. The fair value of younger standing timber isbased on the present value of the net cash fl ows expected tobe generated by the plantation at maturity. The present valuesare calculated using a pre-tax discount rate that refl ects currentmarket assessments of the time value of money and the risksspecifi c to the asset.161
---
www.hurunui.govt.nzTable 1.Useful LifeDepreciationRateBuildings - wooden (excludingproperties intended for sale)50 years 2%Buildings - concrete (excludingproperties intended for sale)100 years 1%Furniture and fi ttings: administration 5 years 20%Furniture and fi ttings: pensionerfl ats10 years 10%Library books 3 – 8 years 12.5 – 33.33%Computer hardware 3 – 4 years 25 – 33.33%Motor vehicles 5 years 20%Thermal pools - plant 5 years 20%Thermal pools – developmentexpenditure20 – 100 years 1% - 5%Plant and machinery (excludingHDC's infrastructural assets)10 years 10%Small plant and machines 3 - 10 years 10 - 33.33%Car parks 20 – 25 years 4 – 5%Landscaping 10 – 50 years 2 – 10%Roads, Streets and Bridges- Land under roads Not depreciated 0%- Pavement formation Not depreciated 0%- Pavement layers (sealed) 100 years 1%- Pavement layers (unsealed) Not depreciated 0%- Pavement surface (sealed) Average 16 years 6.25%- Pavement surface (unsealed) 12 years 8.33%- Culverts 25 – 50 years 2 – 4%- Kerb and channel 50 – 80 years 1.25 – 2%- Footpaths 20 – 75 years 1.33 – 5%- Bridges – timber 70 years 1.43%- Bridges – concrete and other 100 years 1%- Retaining walls 50 years 2%- Traffi c signs 12 years 8.33%- Street lighting 15 – 25 years 4 – 6.67%Sewerage- Pipes 50 – 80 years 1.25 – 2%- Pipes other 40 years 2.5%- Pumps and controls 10 – 25 years 4 – 10%- Manholes 50 – 80 years 1.25 – 2%- Treatment plant 25 – 60 years 1.67 – 4%Water- Pipes 50 – 80 years 1.25 – 2%- Pipes other 50 – 80 years 1.25 – 2%- Reservoir and tanks 80 years 1.25%- Pumps and controls 10 – 25 years 4 – 10%- Pump stations/intakes 20 – 60 years 1.67 – 5%- Treatment plant 10 – 80 years 1.25 – 10%Drainage 3 - 10 years 10 - 33.33%- Points 80 years 1.25%- Lines 50 - 80 years 1.25 – 2%Forests are valued annually by Laurie Forestry Ltd. Any increaseor decrease in the valuation is refl ected in the statement ofcomprehensive income.Impairment of Non-Financial AssetsAt each reporting date, the Group reviews the carrying amountsof its tangible and intangible assets to determine whether thereis any indication that those assets have suffered an impairmentloss. If any such indication exists and for indefi nite life intangibles,the recoverable amount of the asset is estimated in order todetermine the extent of the impairment loss (if any). Where it isnot possible to estimate the recoverable amount of an individualasset, the Group estimates the recoverable amount of the cashgenerating unit to which the asset belongs. Recoverable amountis the greater of market value less costs to sell and value in use.The Group measures the value in use of assets whose futureeconomic benefi ts are not directly related to their ability togenerate net cash infl ows held, at depreciated replacement cost.In assessing value in use for other assets, the estimated futurecash fl ows are discounted to their present value using a pre-taxdiscount rate that refl ects current market assessments of thetime value of money and the risks specifi c to the asset.If the recoverable amount of an asset (or cash-generating unit)is estimated to be less than its carrying amount, the carryingamount of the asset (cash-generating unit) is reduced to itsrecoverable amount.For non-revalued assets, impairment losses are recognised as anexpense immediately.For revalued assets, other than investment property, theimpairment loss is treated as a revaluation decrease to theextent it reverses previous accumulated revaluation incrementsfor that asset class.Where an impairment loss subsequently reverses, the carryingamount of the asset (cash-generating unit) is increased tothe revised estimate of its recoverable amount, but so thatthe increased carrying amount does not exceed the carryingamount that would have been determined had no impairmentloss been recognised for the asset (cash-generating unit) inprior years. A reversal of an impairment loss is recognised asincome immediately, unless the relevant asset is carried at arevalued amount, in which revaluation increase to the extentthat any impairment losses had been previously charged tocomprehensive income.Creditors and Other PayablesCreditors and other payables are initially measured at fair valueand subsequently measured at amortised cost.162
---
Draft Hurunui Community Long Term Plan 2012 - 2022BorrowingsBorrowings are initially measured at fair value of net transactioncosts and subsequently measured at amortised cost using theeffective interest method.Borrowings are classifi ed as current liabilities unless HDC orgroup has an unconditional right to defer settlement of theliability for at least 12 months after balance date.Employee EntitlementsProvision is made in respect of the Council's liability for retiringgratuity allowances, annual and long service leave, and sick leave.Short-term benefi tsEmployee benefi ts that the Council expects to be settled within12 months of balance date are measured at nominal valuesbased on accrued entitlements at current rates of pay.These include salaries and wages accrued up to balance date,annual leave earned to, but not yet taken at balance date, retiringand long service leave entitlements expected to be settledwithin 12 months, and sick leave.The Council recognises a liability for sick leave to the extentthat absences in the coming year are expected to be greaterthan the sick leave entitlements earned in the coming year. Theamount is calculated based on the unused sick leave entitlementthat can be carried forward at balance date, to the extent thatthe Council anticipates it will be used by staff to cover thosefuture absences.The Council recognises a liability and an expense for bonuseswhere contractually obliged or where there is a past practicethat has created a constructive obligation.Long service leave and retiring gratuityThe retiring gratuity and long service leave liability is assessed onan actuarial basis using current rates of pay taking into accountyears of service, years to entitlement and the likelihood staff willreach the point of entitlement.ProvisionsProvisions are recognised when the Group has a presentobligation as a result of a past event (either legal or constructive),and it is probable that the Group will be required to settle thatobligation. Provisions are measured at management's bestestimate of the expenditure required to settle the obligationat balance date, and are discounted to present value wherethe effect is material. Provisions are not recognised for futureoperating losses.As operator of the Waikari Landfi ll, the Council has a legalobligation under the resource consent to provide ongoingmaintenance and monitoring services at the landfi ll site afterclosure. A provision for post-closure costs is recognised as aliability when the obligation for post-closure costs arises.The provision is measured based on the present value offuture cash fl ows expected to be incurred, taking into accountfuture events including new legal requirements, and knownimprovements in technology, where there is suffi cient evidencethat these events will occur. The provision includes all othercosts associated with landfi ll post-closure.Amounts provided for landfi ll post-closure are capitalised to thelandfill asset where they give rise to future economic benefi tsto be obtained. Components of the capitalised landfi ll asset aredepreciated over their useful lives. The discount rate used is arate that refl ects current market assessments of the time valueof money and the risks specifi c to the liability.Goods and Services TaxThese fi nancial statements have been prepared exclusive of GST,except for receivables and payables, which are GST inclusive.Where GST is not recoverable as an input tax, it is recognisedas part of the related asset or expenseBudget FiguresThe budget fi gures are those approved by the Council at thebeginning of the year after a period of consultation with thepublic as part of the Long Term Plan or Annual Plan process. Thebudget fi gures have been prepared in accordance NZ GAAPand are consistent with the accounting policies adopted by theCouncil for the preparation of the fi nancial statements.Cost AllocationHDC has derived the net cost of service for each signifi cantactivity of the Council using a system of cost allocation.Direct Costs are charged directly to signifi cant activities.Indirect costs are charged to signifi cant activities based on costdrivers and related activity/usage information. 'Direct' costs arethose costs directly attributable to a signifi cant activity.'Indirect costs' are those costs, which cannot be identifi ed in aneconomically feasible manner with a specifi c signifi cant activity.The costs of internal services not directly charged to activitiesare allocated as overheads using appropriate cost drivers suchas actual usage, staff numbers and the like.163
---
www.hurunui.govt.nzCritical Accounting Estimates and AssumptionsThe preparation of prospective fi nancial statements inconformity with NZ IFRS requires management to makejudgments, estimates and assumptions that affect the applicationof policies and reported amounts of assets and liabilities, incomeand expenses. The estimates and associated assumptions arebased on historical experience and various other factors that arebelieved to be reasonable under the circumstances, the resultsof which form the basis of making the judgments about carryingvalues of assets and liabilities that are not readily apparent fromother sources.Management has exercised the following critical judgments inapplying the accounting policies to the preparation of the 2012-2022 Long Term Plan. Judgments have been made over useful livesof property, plant and equipment and intangible assets, landfi llaftercare provision, probability of reaching vesting date for longservice liability, sick leave provisions, valuations of infrastructuralassets and the long term effects on HDC's assets as a result ofthe Canterbury earthquakes. Therefore, actual results may differfrom these estimates.The judgments and underlying assumptions are reviewed on anongoing basis. Revisions to accounting estimates are recognisedin the period to which the estimate is revised if the revisionaffects only that period or the period of the revision and futureperiods if the revision affects both current and future periods.164
---
Draft Hurunui Community Long Term Plan 2012 - 2022Forecast Statement of Comprehensive IncomeAnnual Plan Year 1 Year 2 Year 3 Year 4 Year 5 Year 6 Year 7 Year 8 Year 9 Year 102011/2012 2012/2013 2013/2014 2014/2015 2015/2016 2016/2017 2017/2018 2018/2019 2019/2020 2020/2021 2021/2022($000) ($000) ($000) ($000) ($000) ($000) ($000) ($000) ($000) ($000) ($000)RevenueGeneral Rates 5,280 5,638 6,001 6,375 6,601 6,864 7,100 7,134 7,377 7,659 7,798Targeted Rates for Water Supplies 3,577 3,845 3,996 4,138 4,037 4,244 4,495 4,720 4,972 5,250 5,569Targeted Rates for Other Services 3,866 4,290 4,493 4,708 5,122 5,272 5,467 5,669 5,880 6,100 6,331Development Contributions 697 390 405 419 422 423 438 454 464 485 445Dividends Received 33 72 74 77 79 82 84 86 89 92 95NZTA Subsidies and Other Grants 3,529 3,608 3,619 3,713 3,859 3,993 4,102 4,269 4,428 4,579 4,788Hanmer Springs Thermal Pools and Spa 9,632 9,874 10,315 10,625 11,266 11,610 11,955 12,673 13,057 13,458 14,283Other Income 2,408 2,529 2,781 2,879 4,362 3,334 2,769 3,033 3,004 3,035 3,134Vested Asset Income 646 218 227 234 242 339 352 366 382 399 332Gains/(Losses) on Forestry Revaluation 0 277 13 (63) (1,465) (500) 168 (85) (48) 30 1129,668 30,742 31,925 33,105 34,525 35,661 36,929 38,320 39,604 41,087 42,784Less ExpenditureEmployee Benefits 8,799 9,508 9,880 10,181 10,503 10,848 11,157 11,473 11,835 12,232 12,631Direct Operating Expenses 13,362 14,173 14,624 15,187 15,502 16,075 16,623 16,945 17,383 18,052 18,592External Interest Paid 831 922 1,094 1,156 1,203 1,219 1,188 1,078 922 734 531Depreciation 5,662 5,770 6,217 6,258 6,376 6,715 6,688 6,867 7,288 7,263 7,55528,654 30,373 31,815 32,782 33,584 34,857 35,655 36,363 37,428 38,281 39,310Net Surplus/(Deficit) before tax 1,014 369 110 323 941 804 1,274 1,957 2,177 2,806 3,474Tax expense 0 0 0 0 0 0 0 0 0 0 0Net Surplus/(Deficit) after tax 1,014 369 110 323 941 804 1,274 1,957 2,177 2,806 3,474Add Other Comprehensive IncomeGains/(Losses) on Asset Revaluation 0 22,017 0 5,885 24,576 0 6,194 29,592 0 8,055 34,9040 22,017 0 5,885 24,576 0 6,194 29,592 0 8,055 34,904Total Comprehensive Income 1,014 22,386 110 6,208 25,516 804 7,468 31,550 2,177 10,861 38,379Summary of Capital ExpenditureWater Supplies 1,536 2,092 704 894 775 1,161 752 725 817 736 1,509Sewerage 149 919 151 1,551 168 237 465 128 73 83 67Stormwater and Drainage 0 294 62 0 0 153 0 0 0 0 85Roads and Footpaths 4,204 3,698 3,838 3,960 4,096 4,305 4,481 4,656 4,848 5,070 5,243Community Services and Facilities 255 396 436 412 2,402 1,482 373 263 746 261 280Environment and Safety 133 234 197 113 133 190 197 0 97 102 0District Promotion 0 0 0 0 0 0 0 0 0 0 0Hanmer Springs Thermal Pools and Spa 200 1,650 1,455 644 944 115 119 124 130 136 142Governance 0 0 26 0 0 29 0 0 32 0 0Corporate Services 387 490 551 301 367 380 334 410 428 379 4686,864 9,772 7,420 7,874 8,885 8,051 6,723 6,306 7,172 6,767 7,794165
---
www.hurunui.govt.nzForecast Statement of Comprehensive Income and Group Activity SummariesAnnual Plan Year 1 Year 2 Year 3 Year 4 Year 5 Year 6 Year 7 Year 8 Year 9 Year 102011/2012 2012/2013 2013/2014 2014/2015 2015/2016 2016/2017 2017/2018 2018/2019 2019/2020 2020/2021 2021/2022($000) ($000) ($000) ($000) ($000) ($000) ($000) ($000) ($000) ($000) ($000)Reconciliation between Income and Activity SummariesWater Supplies 4,336 4,650 4,746 4,970 5,392 5,571 5,802 6,043 6,296 6,558 6,821Sewerage 770 691 757 835 921 1,044 1,155 1,284 1,431 1,599 1,772Stormwater and Drainage 260 299 410 409 410 431 427 428 429 432 440Roads and Footpaths 7,391 7,303 7,556 7,793 8,051 8,392 8,686 8,980 9,310 9,683 10,008Community Services and Facilities 2,748 2,550 2,606 2,723 2,748 2,757 2,880 2,970 3,064 3,164 3,226Environment and Safety 4,199 4,493 4,649 4,795 4,909 5,087 5,244 5,389 5,564 5,756 5,949District Promotion 368 381 396 411 423 436 449 462 476 490 505Hanmer Springs Thermal Pools and Spa 9,632 9,874 10,315 10,625 11,266 11,610 11,955 12,673 13,057 13,458 14,283Governance 910 1,033 1,067 1,143 1,111 1,201 1,292 1,220 1,292 1,389 1,351Corporate Services 5,724 6,037 6,598 6,846 8,458 7,541 7,107 7,310 7,242 7,205 7,23236,339 37,311 39,100 40,549 43,689 44,070 44,996 46,759 48,162 49,734 51,587Less Council Overheads (4,700) (4,929) (5,040) (5,195) (5,349) (5,512) (5,719) (5,812) (5,982) (6,166) (6,350)Less Internal Interest Paid (1,971) (1,918) (2,148) (2,186) (2,349) (2,397) (2,516) (2,543) (2,527) (2,511) (2,463)Add Gains/(Losses) on Forestry Revaluation 0 277 13 (63) (1,465) (500) 168 (85) (48) 30 1129,668 30,742 31,925 33,105 34,525 35,661 36,929 38,320 39,604 41,087 42,784Reconciliation between Expenditure and Activity SummariesWater Supplies 4,288 4,546 4,754 4,834 5,017 5,100 5,238 5,442 5,538 5,644 5,937Sewerage 924 1,085 1,175 1,194 1,354 1,385 1,410 1,485 1,490 1,469 1,507Stormwater and Drainage 186 227 320 306 297 349 291 322 279 271 345Roads and Footpaths 6,305 6,468 6,900 7,024 7,157 7,644 7,773 7,905 8,471 8,634 8,801Community Services and Facilities 4,206 4,496 4,480 4,634 4,712 4,814 4,998 5,088 5,200 5,352 5,475Environment and Safety 4,244 4,516 4,664 4,825 4,913 5,102 5,231 5,397 5,542 5,757 5,917District Promotion 412 426 443 459 473 487 502 517 532 549 565Hanmer Springs Thermal Pools and Spa 8,092 8,394 8,891 9,193 9,448 9,675 9,854 10,087 10,354 10,612 10,933Governance 910 1,033 1,067 1,143 1,111 1,201 1,292 1,220 1,292 1,389 1,351Corporate Services 5,756 6,027 6,309 6,551 6,800 7,009 7,304 7,255 7,240 7,283 7,29235,326 37,220 39,003 40,164 41,282 42,767 43,892 44,717 45,936 46,958 48,124Less Council Overheads (4,700) (4,929) (5,040) (5,195) (5,349) (5,512) (5,719) (5,812) (5,982) (6,166) (6,350)Less Internal Interest Paid (1,971) (1,918) (2,148) (2,186) (2,349) (2,397) (2,516) (2,543) (2,527) (2,511) (2,463)28,654 30,373 31,815 32,783 33,584 34,857 35,656 36,363 37,427 38,281 39,310166
---
Draft Hurunui Community Long Term Plan 2012 - 2022Forecast Statement of Changes in EquityAnnual Plan Year 1 Year 2 Year 3 Year 4 Year 5 Year 6 Year 7 Year 8 Year 9 Year 102011/2012 2012/2013 2013/2014 2014/2015 2015/2016 2016/2017 2017/2018 2018/2019 2019/2020 2020/2021 2021/2022($000) ($000) ($000) ($000) ($000) ($000) ($000) ($000) ($000) ($000) ($000)Equity at the start of the year 309,178 319,899 342,285 342,395 348,602 374,118 374,922 382,389 413,939 416,116 426,977Add Total Comprehensive Income for Year 1,014 22,386 110 6,208 25,516 804 7,468 31,550 2,177 10,861 38,379Equity at the end of the year 310,192 342,285 342,395 348,603 374,118 374,922 382,390 413,939 416,116 426,977 465,356167
---
www.hurunui.govt.nzForecast Statement of Financial PositionAnnual Plan Year 1 Year 2 Year 3 Year 4 Year 5 Year 6 Year 7 Year 8 Year 9 Year 102011/2012 2012/2013 2013/2014 2014/2015 2015/2016 2016/2017 2017/2018 2018/2019 2019/2020 2020/2021 2021/2022($000) ($000) ($000) ($000) ($000) ($000) ($000) ($000) ($000) ($000) ($000)Public EquityAccumulated General Reserves 148,940 176,734 177,474 179,044 180,046 180,414 180,543 179,922 179,661 179,147 179,389Reserve Funds 1,970 (20,216) (20,846) (22,095) (22,156) (21,721) (20,576) (17,998) (15,560) (12,240) (9,009)Asset Revaluation Reserves 159,282 185,768 185,768 191,653 216,229 216,229 222,423 252,015 252,015 260,070 294,974Total Public Equity 310,192 342,285 342,395 348,602 374,118 374,922 382,389 413,939 416,116 426,977 465,355Current AssetsCash & Cash Equivalents 181 397 291 60 457 425 496 598 440 213 437Accounts Receivable 1,455 1,762 1,762 1,762 1,762 1,762 1,762 1,762 1,762 1,762 1,762Inventories 171 162 162 162 162 162 162 162 162 162 162Other current assets 470 372 372 372 372 372 372 372 372 372 3722,277 2,693 2,587 2,356 2,753 2,721 2,792 2,894 2,736 2,509 2,733Non-Current AssetsOperational Assets 30,973 43,770 44,196 44,254 44,393 44,626 44,789 44,829 45,013 45,119 45,209Restricted Assets 36,904 35,629 36,239 35,969 38,033 38,363 37,628 36,776 36,401 35,566 34,715Infrastructural Assets 255,653 279,459 279,646 287,371 312,260 313,038 319,841 349,687 349,764 358,052 393,956Intangible Assets 41 54 36 25 16 12 8 5 4 3 2Forestry Assets 2,182 2,489 2,502 2,438 973 473 642 557 509 538 549Investments in Council Controlled Organisations 269 269 269 269 269 269 269 269 269 269 269Other Financial Assets 56 61 61 61 61 61 61 61 61 61 61Investments 0 0 0 0 0 0 0 0 0 0 0326,078 361,732 362,948 370,387 396,005 396,842 403,238 432,184 432,021 439,609 474,762Total Assets 328,355 364,425 365,535 372,743 398,758 399,563 406,030 435,079 434,757 442,117 477,495Current LiabilitiesAccounts Payable 4,504 3,000 3,000 3,000 3,000 3,000 3,000 3,000 3,000 3,000 3,000Non Current Portion of Term Debt 0 0 0 0 0 1,000 2,500 2,500 3,500 3,000 0Other Current Liabilities 8 1,797 1,797 1,797 1,797 1,797 1,797 1,797 1,797 1,797 1,7974,512 4,797 4,797 4,797 4,797 5,797 7,297 7,297 8,297 7,797 4,797Non Current LiabilitiesTerm Debt 13,500 17,000 18,000 19,000 19,500 18,500 16,000 13,500 10,000 7,000 7,000Other Non Current Liabilities 151 343 343 343 343 343 343 343 343 343 34313,651 17,343 18,343 19,343 19,843 18,843 16,343 13,843 10,343 7,343 7,343Total Liabilities 18,163 22,140 23,140 24,140 24,640 24,640 23,640 21,140 18,640 15,140 12,140Net Assets 310,192 342,285 342,395 348,603 374,118 374,923 382,390 413,939 416,117 426,977 465,355168
---
Draft Hurunui Community Long Term Plan 2012 - 2022Forecast Statement of Cash FlowsAnnual Plan Year 1 Year 2 Year 3 Year 4 Year 5 Year 6 Year 7 Year 8 Year 9 Year 102011/2012 2012/2013 2013/2014 2014/2015 2015/2016 2016/2017 2017/2018 2018/2019 2019/2020 2020/2021 2021/2022($000) ($000) ($000) ($000) ($000) ($000) ($000) ($000) ($000) ($000) ($000)Cash Flows from Operating ActivitiesCash provided from:Rates 12,723 13,773 14,491 15,221 15,760 16,380 17,062 17,524 18,229 19,009 19,697Hanmer Springs Thermal Reserve 9,632 9,874 10,315 10,625 11,266 11,610 11,955 12,673 13,057 13,458 14,283Other Income 6,634 6,528 6,806 7,011 8,643 7,750 7,309 7,756 7,896 8,099 8,367Dividends Received 33 72 74 77 79 82 84 86 89 92 95Money Received from Other Authorities 2,243 2,243 2,243 2,243 2,243 2,243 2,243 2,243 2,243 2,243 2,24331,265 32,490 33,928 35,177 37,991 38,064 38,652 40,282 41,514 42,901 44,684Cash paid to:Cost of Services 22,161 23,681 24,505 25,368 26,005 26,923 27,780 28,417 29,218 30,284 31,223Interest Paid 831 922 1,094 1,156 1,203 1,219 1,188 1,078 922 734 531Money paid to Other Authorities 2,243 2,243 2,243 2,243 2,243 2,243 2,243 2,243 2,243 2,243 2,24325,235 26,846 27,841 28,767 29,451 30,385 31,210 31,739 32,382 33,261 33,997Net Cash Flow from Operating Activities 6,030 5,644 6,087 6,409 8,540 7,680 7,442 8,543 9,132 9,640 10,687Cash Flows from Investing ActivitiesCash provided from:Sale of Fixed Assets 0 0 0 0 0 0 0 0 0 0 0Sale of Investments 0 0 0 0 0 0 0 0 0 0 00 0 0 0 0 0 0 0 0 0 0Cash paid to:Purchase of Fixed Assets 6,218 9,554 7,194 7,640 8,643 7,712 6,371 5,940 6,790 6,367 7,462Purchase of Investments 0 0 0 0 0 0 0 0 0 0 06,218 9,554 7,194 7,640 8,643 7,712 6,371 5,940 6,790 6,367 7,462Net Cash Flows from Investing Activities (6,218) (9,554) (7,194) (7,640) (8,643) (7,712) (6,371) (5,940) (6,790) (6,367) (7,462)Cash Flows from Financing ActivitiesCash provided from:Loans Raised 400 3,598 1,000 1,000 500 0 0 0 0 0 0400 3,598 1,000 1,000 500 0 0 0 0 0 0Cash paid to:Loan Repayments 0 0 0 0 0 0 1,000 2,500 2,500 3,500 3,0000 0 0 0 0 0 1,000 2,500 2,500 3,500 3,000Net Cash Flows from Financing Activities 400 3,598 1,000 1,000 500 0 (1,000) (2,500) (2,500) (3,500) (3,000)Net Increase/(Decrease) in Cash Held 212 (312) (107) (231) 397 (32) 71 103 (159) (227) 225Opening Cash Balance (31) 710 397 291 60 457 425 496 598 440 213Closing Cash Balance 181 397 291 60 457 425 496 598 440 213 437169
---
www.hurunui.govt.nzForecast Statement of Cash Flows ReconciliationAnnual Plan Year 1 Year 2 Year 3 Year 4 Year 5 Year 6 Year 7 Year 8 Year 9 Year 102011/2012 2012/2013 2013/2014 2014/2015 2015/2016 2016/2017 2017/2018 2018/2019 2019/2020 2020/2021 2021/2022($000) ($000) ($000) ($000) ($000) ($000) ($000) ($000) ($000) ($000) ($000)Net Surplus/(Deficit) after tax 1,014 369 110 323 941 804 1,274 1,957 2,177 2,806 3,474Non Cash Items:Vested Assets (646) (218) (227) (234) (242) (339) (352) (366) (382) (399) (332)Gain/Loss on Asset Valuation 0 0 0 0 0 0 0 0 0 0 0Gain/Loss on Forestry Valuation 0 (277) (13) 63 1,465 500 (168) 85 48 (30) (11)Depreciation 5,662 5,770 6,217 6,259 6,376 6,715 6,689 6,867 7,288 7,263 7,5565,016 5,275 5,977 6,088 7,599 6,876 6,169 6,586 6,955 6,834 7,2136,030 5,644 6,087 6,410 8,540 7,680 7,443 8,543 9,132 9,640 10,688Movements in Working Capital:(Increase)/Decrease in Accounts Receivable 0 0 0 0 0 0 0 0 0 0 0(Increase)/Decrease in Inventories 0 0 0 0 0 0 0 0 0 0 0(Increase)/Decrease in Other current assets 0 0 0 0 0 0 0 0 0 0 0Increase/(Decrease) in Accounts Payable 0 0 0 0 0 0 0 0 0 0 0Increase/(Decrease) in Other Current Liabilities 0 0 0 0 0 0 0 0 0 0 00 0 0 0 0 0 0 0 0 0 0Net Cash Flow from Operating 6,030 5,644 6,087 6,410 8,540 7,680 7,443 8,543 9,132 9,640 10,688170
---
Draft Hurunui Community Long Term Plan 2012 - 2022Forecast Summary of Capital ExpenditureAnnual Plan Year 1 Year 2 Year 3 Year 4 Year 5 Year 6 Year 7 Year 8 Year 9 Year 102011/2012 2012/2013 2013/2014 2014/2015 2015/2016 2016/2017 2017/2018 2018/2019 2019/2020 2020/2021 2021/2022($000) ($000) ($000) ($000) ($000) ($000) ($000) ($000) ($000) ($000) ($000)Water SuppliesDistrict Wide Water 97 33 34 35 36 51 53 55 57 60 50District Wide Water - Miox Treatment 0 758 0 0 0 0 0 0 0 0 0District Wide Water - Full Drinking Water Standards 0 0 0 0 0 0 0 0 0 0 0Amberley Water 15 262 10 279 142 449 109 0 0 0 0Leithfield Beach Water 8 0 0 0 0 0 0 0 0 0 0Ashley Rural Water 138 310 177 183 189 196 203 211 220 230 374Culverden Town Water 60 5 72 8 49 6 6 9 6 7 10Waiau Town Water 9 206 1 1 1 1 1 1 1 1 1Amuri Plains Water 0 5 5 5 5 5 5 6 6 6 6Balmoral Water 16 16 2 3 4 3 2 5 3 3 6Waiau Rural Water 26 24 24 18 18 19 20 21 139 22 23Cheviot Water 708 81 143 82 84 87 91 94 98 103 108Waipara Town Water 2 20 0 0 0 0 0 0 0 0 0Hanmer Springs Water 246 162 26 24 22 31 24 27 26 37 652Hawarden-Waikari Water 17 3 0 46 4 1 4 51 5 1 0Hurunui Rural Water 197 209 210 212 219 312 235 245 255 267 2791,536 2,092 704 894 775 1,161 752 725 817 736 1,509Broken down to:Growth Related Capital Expenditure 97 33 44 46 179 51 161 55 57 60 50Capital Expenditure to achieve Improved Levels of Service 302 1,534 82 24 24 25 26 27 29 30 31Renewals of Existing Assets 1,138 526 578 824 572 1,085 565 642 732 646 1,4281,536 2,092 704 894 775 1,161 752 725 817 736 1,509SewerageDistrict Wide Sewer 97 33 34 35 36 51 53 55 57 60 50Amberley Sewer 0 486 11 175 21 12 244 8 0 0 0Culverden Sewer 0 0 0 0 0 0 0 0 0 0 0Cheviot Sewer 10 40 0 11 78 0 0 36 0 0 0Greta Valley Sewer 3 19 2 20 2 2 2 2 3 3 3Motunau Beach Sewer 0 35 0 0 12 13 119 0 0 0 0Waipara Sewer 0 0 0 0 0 0 0 0 0 0 0Hanmer Springs Sewer 32 235 104 1,305 11 17 12 19 13 20 14Hawarden Sewer 8 0 0 5 0 142 0 0 0 0 0Waikari Sewer 0 71 0 0 8 0 35 7 0 0 0149 919 151 1,551 168 237 465 128 73 83 67Broken down to:Growth Related Capital Expenditure 112 507 34 35 36 51 296 55 57 60 50Capital Expenditure to achieve Improved Levels of Service 5 101 94 1,385 78 104 0 0 0 0 0Renewals of Existing Assets 32 311 23 131 54 83 168 73 16 23 17149 919 151 1,551 168 237 465 128 73 83 67Stormwater and DrainageDistrict Wide Stormwater 0 0 0 0 0 0 0 0 0 0 0Amberley Beach Foreshore Protection 0 0 0 0 0 0 0 0 0 0 0Amberley Stormwater 0 294 0 0 0 84 0 0 0 0 0Jed River Clearance 0 0 0 0 0 0 0 0 0 0 0Hanmer Springs Stormwater 0 0 62 0 0 69 0 0 0 0 850 294 62 0 0 153 0 0 0 0 85Broken down to:Growth Related Capital Expenditure 0 100 0 0 0 0 0 0 0 0 0Capital Expenditure to achieve Improved Levels of Service 0 194 62 0 0 153 0 0 0 0 85Renewals of Existing Assets 0 0 0 0 0 0 0 0 0 0 00 294 62 0 0 153 0 0 0 0 85Roads and FootpathsSubsidised Roading 3,948 3,481 3,617 3,738 3,866 4,067 4,222 4,393 4,580 4,789 4,950Special Purpose Roading 11 16 17 17 18 18 19 20 21 22 23Unsubsidised Roading 27 25 26 27 28 29 30 31 32 34 35Road Safety Programme 0 0 0 0 0 0 0 0 0 0 0Amberley Ward Roadside Construction 42 33 29 25 26 26 39 35 30 31 33Amuri Ward Roadside Construction 50 22 23 24 24 25 26 27 29 30 31Cheviot Ward Roadside Construction 26 30 31 32 33 35 36 37 39 41 43Glenmark Ward Roadside Construction 0 0 0 0 0 0 0 0 0 0 0Hanmer Springs Ward Roadside Construction 85 75 78 81 83 86 90 93 97 102 106Hurunui Ward Roadside Construction 16 16 17 17 18 18 19 20 21 22 234,204 3,698 3,838 3,960 4,096 4,305 4,481 4,656 4,848 5,070 5,243Broken down to:Growth Related Capital Expenditure 453 153 159 164 170 237 246 256 267 279 233Capital Expenditure to achieve Improved Levels of Service 27 70 73 75 78 81 84 87 91 95 99Renewals of Existing Assets 3,725 3,475 3,606 3,721 3,849 3,987 4,151 4,313 4,491 4,696 4,9124,204 3,698 3,838 3,960 4,096 4,305 4,481 4,656 4,848 5,070 5,243171
---
www.hurunui.govt.nzForecast Summary of Capital Expenditure (Cont'd)Annual Plan Year 1 Year 2 Year 3 Year 4 Year 5 Year 6 Year 7 Year 8 Year 9 Year 102011/2012 2012/2013 2013/2014 2014/2015 2015/2016 2016/2017 2017/2018 2018/2019 2019/2020 2020/2021 2021/2022($000) ($000) ($000) ($000) ($000) ($000) ($000) ($000) ($000) ($000) ($000)Community Services and FacilitiesCommunity Services- Library 93 65 68 70 72 75 78 81 84 88 92- Community Programmes 0 0 0 0 0 0 0 0 0 0 0- Grants 0 0 0 0 0 0 0 0 0 0 0- Amenities 0 0 0 0 0 0 0 0 0 0 0Property- Rental Property 20 0 31 0 0 0 0 0 0 0 0- Public Toilets 0 0 0 0 0 104 0 0 0 0 0- Medical Centres 0 0 0 0 0 1,151 0 0 0 0 0- Halls 15 25 2 206 2 2 2 2 3 3 3- Pools 0 2 2 2 2 2 2 2 3 3 3- Township Maintenance 12 89 26 21 21 21 34 22 256 25 26Reserves- District Reserves 72 72 74 77 1,190 82 86 89 93 97 102- Cemeteries 5 5 130 5 6 6 6 6 6 7 7- Amberley Reserves 18 20 83 11 11 12 24 37 278 14 14- Amuri Reserves 8 9 9 9 9 16 10 11 11 12 19- Cheviot Reserves 0 0 0 0 0 0 0 0 0 0 0- Glenmark Reserves 0 0 0 0 0 0 0 0 0 0 0- Hanmer Springs Reserves 12 110 10 11 1,088 12 131 12 13 14 14- Hurunui Reserves 0 0 0 0 0 0 0 0 0 0 0- Self Funded Reserves 0 0 0 0 0 0 0 0 0 0 0255 396 436 412 2,402 1,482 373 263 746 261 280Broken down to:Growth Related Capital Expenditure 16 55 151 27 1,105 29 161 31 536 34 35Capital Expenditure to achieve Improved Levels of Service 163 261 216 302 1,222 1,376 132 149 124 136 150Renewals of Existing Assets 78 80 70 83 74 77 80 83 87 91 95256 396 436 412 2,402 1,482 373 263 746 261 280Environment and SafetyEmergency Services- Civil Defence 44 50 26 27 0 0 30 0 0 34 0- Rural Fire Control 63 184 94 32 133 104 108 0 0 0 0Resource Management & Planning- Resource Management 0 0 26 0 0 29 0 0 32 0 0- Subdivision Inspection 26 0 0 27 0 0 30 0 0 34 0Compliance & Regulatory Functions- Building Control 0 0 26 27 0 29 30 0 32 34 0- Public Health 0 0 26 0 0 29 0 0 32 0 0- Liquor Licensing 0 0 0 0 0 0 0 0 0 0 0- Animal Control 0 0 0 0 0 0 0 0 0 0 0Waste Management- Transfer Stations 0 0 0 0 0 0 0 0 0 0 0- Litter Bin Collection 0 0 0 0 0 0 0 0 0 0 0- Refuse Collection 0 0 0 0 0 0 0 0 0 0 0133 234 197 113 133 190 197 0 97 102 0Broken down to:Growth Related Capital Expenditure 0 0 0 0 0 0 0 0 0 0 0Capital Expenditure to achieve Improved Levels of Service 5 50 26 0 0 0 0 0 0 0 0Renewals of Existing Assets 128 184 171 113 133 190 197 0 97 102 0133 234 197 113 133 190 197 0 97 102 0District PromotionTourism 0 0 0 0 0 0 0 0 0 0 00 0 0 0 0 0 0 0 0 0 0Broken down to:Growth Related Capital Expenditure 0 0 0 0 0 0 0 0 0 0 0Capital Expenditure to achieve Improved Levels of Service 0 0 0 0 0 0 0 0 0 0 0Renewals of Existing Assets 0 0 0 0 0 0 0 0 0 0 00 0 0 0 0 0 0 0 0 0 0Hanmer Springs Thermal Pools and SpaHanmer Springs Thermal Pools & Spa 200 1,650 1,455 644 944 115 119 124 130 136 142200 1,650 1,455 644 944 115 119 124 130 136 142Broken down to:Growth Related Capital Expenditure 0 0 0 0 0 0 0 0 0 0 0Capital Expenditure to achieve Improved Levels of Service 0 1,550 1,351 537 833 0 0 0 0 0 0Renewals of Existing Assets 200 100 104 107 111 115 119 124 130 136 142200 1,650 1,455 644 944 115 119 124 130 136 142172
---
Draft Hurunui Community Long Term Plan 2012 - 2022Forecast Summary of Capital Expenditure (Cont'd)Annual Plan Year 1 Year 2 Year 3 Year 4 Year 5 Year 6 Year 7 Year 8 Year 9 Year 102011/2012 2012/2013 2013/2014 2014/2015 2015/2016 2016/2017 2017/2018 2018/2019 2019/2020 2020/2021 2021/2022($000) ($000) ($000) ($000) ($000) ($000) ($000) ($000) ($000) ($000) ($000)GovernanceGovernance 0 0 26 0 0 29 0 0 32 0 0Hurunui - Waiau Water Zone Committee 0 0 0 0 0 0 0 0 0 0 00 0 26 0 0 29 0 0 32 0 0Broken down to:Growth Related Capital Expenditure 0 0 0 0 0 0 0 0 0 0 0Capital Expenditure to achieve Improved Levels of Service 0 0 0 0 0 0 0 0 0 0 0Renewals of Existing Assets 0 0 26 0 0 29 0 0 32 0 00 0 26 0 0 29 0 0 32 0 0Corporate ServicesTreasury 0 0 0 0 0 0 0 0 0 0 0Forestry 0 0 0 0 0 0 0 0 0 0 0Council Offices & Depots 32 160 208 0 0 0 0 0 0 0 0Information Services 136 120 125 129 133 138 143 149 156 163 170Support Services 0 0 0 0 0 0 0 0 0 0 0Human Resources & Policy 0 0 0 0 0 0 0 0 0 0 0Financial Services 0 0 0 0 0 0 0 0 0 0 0CEO Department 0 0 26 0 0 29 0 0 32 0 0Engineering Services 219 210 166 172 233 184 191 261 207 217 298Environmental Services 0 0 26 0 0 29 0 0 32 0 0387 490 551 301 367 380 334 410 428 379 468Broken down to:Growth Related Capital Expenditure 0 0 0 0 0 0 0 0 0 0 0Capital Expenditure to achieve Improved Levels of Service 105 150 213 5 6 6 6 6 6 7 7Renewals of Existing Assets 280 340 338 295 361 374 328 404 421 373 461386 490 551 301 367 380 334 410 428 379 468Total Capital ExpenditureWater Supplies 1,536 2,092 704 894 775 1,161 752 725 817 736 1,509Sewerage 149 919 151 1,551 168 237 465 128 73 83 67Stormwater and Drainage 0 294 62 0 0 153 0 0 0 0 85Roads and Footpaths 4,204 3,698 3,838 3,960 4,096 4,305 4,481 4,656 4,848 5,070 5,243Community Services and Facilities 255 396 436 412 2,402 1,482 373 263 746 261 280Environment and Safety 133 234 197 113 133 190 197 0 97 102 0District Promotion 0 0 0 0 0 0 0 0 0 0 0Hanmer Springs Thermal Pools and Spa 200 1,650 1,455 644 944 115 119 124 130 136 142Governance 0 0 26 0 0 29 0 0 32 0 0Corporate Services 387 490 551 301 367 380 334 410 428 379 4686,864 9,772 7,420 7,874 8,885 8,051 6,723 6,306 7,172 6,767 7,794Broken down to:Growth Related Capital Expenditure 678 847 388 272 1,490 368 865 397 917 433 368Capital Expenditure to achieve Improved Levels of Service 606 3,909 2,116 2,329 2,241 1,744 248 269 250 268 372Renewals of Existing Assets 5,580 5,016 4,916 5,274 5,154 5,939 5,609 5,640 6,005 6,066 7,0546,864 9,772 7,420 7,874 8,885 8,051 6,723 6,306 7,172 6,767 7,794173
---
www.hurunui.govt.nzForecast Summary of Depreciation and Amortisation ExpensesAnnual Plan Year 1 Year 2 Year 3 Year 4 Year 5 Year 6 Year 7 Year 8 Year 9 Year 102011/2012 2012/2013 2013/2014 2014/2015 2015/2016 2016/2017 2017/2018 2018/2019 2019/2020 2020/2021 2021/2022($000) ($000) ($000) ($000) ($000) ($000) ($000) ($000) ($000) ($000) ($000)Water Supplies 850 929 964 957 1,061 1,052 1,055 1,158 1,145 1,135 1,313Sewerage 320 366 373 368 408 415 411 457 449 441 491Stormwater and Drainage 17 46 49 49 54 53 54 60 59 58 65Roads and Footpaths 2,900 2,863 3,182 3,191 3,202 3,558 3,568 3,581 4,009 4,021 4,035Community Services and Facilities 351 362 364 364 364 364 366 366 366 366 366Environment and Safety 108 111 112 114 115 116 118 119 120 122 124District Promotion 6 8 4 4 4 4 4 4 4 4 4Hanmer Springs Thermal Pools and Spa 786 842 917 962 918 903 862 873 885 865 907Governance 0 6 6 6 6 6 6 6 6 6 6Corporate Services 325 238 245 245 245 245 245 245 245 245 2455,662 5,770 6,217 6,259 6,376 6,715 6,689 6,867 7,288 7,263 7,556174
---
Funding Impact Statement (and Rates System)Draft Hurunui Community Long Term Plan 2012 - 2022IntroductionThe funding impact statement for the Council as a whole and thegroups of activities, in accordance with section 5 of schedule 10of the Local Government Act 2002 and the Local Government(Financial Reporting) Regulations 201, are presented in thissection.These Funding Impact Statements do not comply with GenerallyAccepted Accounting Practice (GAAP) as they do not recognisedepreciation and movements in the valuation of assets and alsothey do not show capital income (Subsidies and DevelopmentContributions) as operating income. On each Funding ImpactStatement, a reconciliation between the surplus/(defi cit) asper the relevant fi nancial summary and the surplus/(defi cit) ofoperating funding has been presented.In addition to the legislation stated above, the funding impactstatement has been prepared in accordance with clause 15 ofschedule 10 of the Local Government Act 2002. It must set outthe following:• The revenue and fi nancing mechanisms used;• An indicative level or amount of funding for eachmechanism;• Explanatory information supporting the use of generaland targeted rates;• A summary of the total rates requirement;• Subsidies, grants and contributions; and• Revenue and funding mechanisms.The funding mechanisms described in the funding impactstatement apply for the entire period covered by the LTP. TheFunding Impact Statement should be read in conjunction withthe Revenue and Financing Policy (page 230) which describeshow costs for services are collected.175
---
www.hurunui.govt.nzWHOLE OF COUNCILFUNDING IMPACT STATEMENTAnnual Plan Year 1 Year 2 Year 3 Year 4 Year 5 Year 6 Year 7 Year 8 Year 9 Year 102011/2012 2012/2013 2013/2014 2014/2015 2015/2016 2016/2017 2017/2018 2018/2019 2019/2020 2020/2021 2021/2022($000) ($000) ($000) ($000) ($000) ($000) ($000) ($000) ($000) ($000) ($000)Sources of operating fundingGeneral rates, uniform annual general charges, rates penalties 5,337 5,708 6,073 6,449 6,678 6,943 7,181 7,218 7,464 7,748 7,890Targeted rates - other than for water supply 3,572 3,845 3,996 4,138 4,309 4,515 4,766 4,992 5,243 5,521 5,840Subsidies and grants for operating purposes 1,728 1,788 1,845 1,880 1,963 2,028 2,063 2,147 2,216 2,265 2,368Fees, charges and targeted rates for water supply 3,866 4,290 4,493 4,708 4,579 4,729 4,924 5,126 5,337 5,557 5,788Interest and dividends from investments 33 72 74 77 79 82 84 86 89 92 95Local authorities fuel tax, fines, infringement fees, and other receipts 11,984 12,333 13,024 13,430 15,551 14,865 14,643 15,622 15,975 16,404 17,325Total operating funding 26,520 28,035 29,506 30,682 33,158 33,163 33,661 35,192 36,324 37,588 39,305Applications of operating fundingPayments to staff and suppliers 22,982 23,681 24,505 25,368 26,005 26,923 27,780 28,417 29,218 30,284 31,223Finance costs 0 922 1,094 1,156 1,203 1,219 1,188 1,078 922 734 531Other operating funding applications 0 0 0 0 0 0 0 0 0 0 0Total applications of operating funding 22,982 24,603 25,598 26,524 27,208 28,142 28,967 29,496 30,139 31,018 31,754Surplus (deficit) of operating funding 3,538 3,433 3,907 4,158 5,950 5,021 4,693 5,696 6,184 6,570 7,550Sources of capital fundingSubsidies and grants for capital expenditure 1,801 1,821 1,774 1,833 1,896 1,965 2,039 2,122 2,212 2,313 2,420Development and financial contributions 1,336 608 632 653 664 762 790 820 845 884 777Increase (decrease) in debt 505 3,194 769 1,703 768 1,037 (646) (1,287) (1,376) (2,069) (1,538)Gross proceed from sale of assets 0 0 0 0 0 0 0 0 0 0 0Lump sum contributions 0 0 0 0 0 0 0 0 0 0 0Total sources of capital funding 3,642 5,623 3,176 4,189 3,329 3,763 2,183 1,655 1,681 1,129 1,659Applications of capital fundingCapital expenditure- to meet additional demand 677 847 388 272 1,490 368 865 397 917 433 368- to improve the level of service 640 3,909 2,116 2,329 2,241 1,744 248 269 250 268 372- to replace existing assets 5,548 5,016 4,916 5,274 5,154 5,939 5,609 5,640 6,005 6,066 7,054Increase (decrease) in reserves 317 (716) (337) 473 394 733 154 1,045 694 932 1,416Increase (decrease) of investments 0 0 0 0 0 0 0 0 0 0 0Total applications of capital funding 7,182 9,056 7,083 8,347 9,279 8,784 6,877 7,351 7,865 7,699 9,210Surplus (deficit) of capital funding (3,539) (3,433) (3,907) (4,158) (5,950) (5,021) (4,693) (5,696) (6,184) (6,570) (7,551)Funding balance (1) (0) (0) (0) (0) (0) (0) (0) (0) (0) (0)Reconciliation between Financial Summary and Funding Impact StatementTotal Comprehesive Income 1,014 22,386 110 6,208 25,516 804 7,468 31,550 2,177 10,861 38,379Add depreciation 5,662 5,770 6,217 6,259 6,376 6,715 6,689 6,867 7,288 7,263 7,556Less gains on asset revaluation 0 (22,017) 0 (5,885) (24,576) 0 (6,194) (29,592) 0 (8,055) (34,904)Less gains on forestry revaluation 0 (277) (13) 63 1,465 500 (168) 85 48 (30) (11)Less development and financial contributions (1,336) (608) (632) (653) (664) (762) (790) (820) (845) (884) (777)Less subsidies and grants for capital expenditure (1,801) (1,821) (1,774) (1,833) (1,896) (1,965) (2,039) (2,122) (2,212) (2,313) (2,420)Less increase in reserves 0 0 0 0 (271) (271) (271) (271) (271) (271) (271)Surplus (deficit) of operating funding 3,539 3,433 3,907 4,159 5,950 5,021 4,694 5,696 6,184 6,570 7,551176
---
Draft Hurunui Community Long Term Plan 2012 - 2022WATER SUPPLIESGROUP ACTIVITY FUNDING IMPACT STATEMENTAnnual Plan Year 1 Year 2 Year 3 Year 4 Year 5 Year 6 Year 7 Year 8 Year 9 Year 102011/2012 2012/2013 2013/2014 2014/2015 2015/2016 2016/2017 2017/2018 2018/2019 2019/2020 2020/2021 2021/2022($000) ($000) ($000) ($000) ($000) ($000) ($000) ($000) ($000) ($000) ($000)Sources of operating fundingGeneral rates, uniform annual general charges, rates penalties 0 0 0 0 271 271 271 271 271 271 271Targeted rates - other than for water supply 0 0 0 0 0 0 0 0 0 0 0Subsidies and grants for operating purposes 0 0 0 0 0 0 0 0 0 0 0Fees, charges and targeted rates for water supply 3,866 4,290 4,493 4,708 4,579 4,729 4,924 5,126 5,337 5,557 5,788Internal charges and overheads recovered 10 9 6 7 7 18 45 74 104 133 171Local authorities fuel tax, fines, infringement fees, and other receipts 109 108 111 115 118 122 126 129 133 138 142Total operating funding 3,985 4,407 4,611 4,830 4,976 5,142 5,366 5,601 5,846 6,100 6,372Applications of operating fundingPayments to staff and suppliers 2,178 2,396 2,471 2,547 2,611 2,697 2,773 2,852 2,942 3,041 3,141Finance costs 385 310 380 364 350 325 353 351 338 320 302Internal charges and overhead applied 874 911 938 967 996 1,026 1,055 1,082 1,113 1,147 1,181Other operating funding applications 0 0 0 0 0 0 0 0 0 0 0Total applications of operating funding 3,438 3,617 3,790 3,878 3,956 4,048 4,182 4,284 4,393 4,509 4,625Surplus (deficit) of operating funding 548 790 821 952 1,020 1,094 1,184 1,316 1,453 1,592 1,748Sources of capital fundingSubsidies and grants for capital expenditure 0 114 0 0 0 0 0 0 0 0 0Development and financial contributions 351 130 135 140 144 158 165 171 178 187 177Increase (decrease) in debt 637 1,059 (252) (198) (390) (91) (596) (763) (814) (1,042) (416)Gross proceed from sale of assets 0 0 0 0 0 0 0 0 0 0 0Lump sum contributions 0 0 0 0 0 0 0 0 0 0 0Total sources of capital funding 988 1,302 (117) (59) (245) 67 (431) (592) (635) (855) (239)Applications of capital fundingCapital expenditure- to meet additional demand 96 33 44 46 179 51 161 55 57 60 50- to improve the level of service 336 1,534 82 24 24 25 26 27 29 30 31- to replace existing assets 1,104 526 578 824 572 1,085 565 642 732 646 1,428Increase (decrease) in reserves 0 0 0 0 0 0 0 0 0 0 0Increase (decrease) of investments 0 0 0 0 0 0 0 0 0 0 0Total applications of capital funding 1,536 2,092 704 894 775 1,161 752 725 817 736 1,509Surplus (deficit) of capital funding (548) (790) (821) (952) (1,020) (1,094) (1,184) (1,316) (1,453) (1,592) (1,748)Funding balance 0 0 (0) 0 0 0 0 0 0 0 0Reconciliation between Financial Summary and Funding Impact StatementOperating Surplus/(Deficit) as per Financial Summary for Water 49 104 (8) 135 375 471 564 601 758 915 884Add depreciation 850 929 964 957 1,061 1,052 1,055 1,158 1,145 1,135 1,313Less development and financial contributions (351) (130) (135) (140) (144) (158) (165) (171) (178) (187) (177)Less subsidies and grants for capital expenditure 0 (114) 0 0 0 0 0 0 0 0 0Less increase in reserves 0 0 0 0 (271) (271) (271) (271) (271) (271) (271)Surplus (deficit) of operating funding 548 790 821 952 1,020 1,094 1,184 1,316 1,453 1,592 1,748177
---
www.hurunui.govt.nzSEWERAGEGROUP ACTIVITY FUNDING IMPACT STATEMENTAnnual Plan Year 1 Year 2 Year 3 Year 4 Year 5 Year 6 Year 7 Year 8 Year 9 Year 102011/2012 2012/2013 2013/2014 2014/2015 2015/2016 2016/2017 2017/2018 2018/2019 2019/2020 2020/2021 2021/2022($000) ($000) ($000) ($000) ($000) ($000) ($000) ($000) ($000) ($000) ($000)Sources of operating fundingGeneral rates, uniform annual general charges, rates penalties 0 0 0 0 0 0 0 0 0 0 0Targeted rates - other than for water supply 589 618 684 758 842 938 1,046 1,171 1,313 1,475 1,662Subsidies and grants for operating purposes 0 0 0 0 0 0 0 0 0 0 0Fees, charges and targeted rates for water supply 0 0 0 0 0 0 0 0 0 0 0Internal charges and overheads recovered 0 0 0 0 0 0 0 0 0 0 0Local authorities fuel tax, fines, infringement fees, and other receipts 0 0 0 0 0 0 0 0 0 0 0Total operating funding 589 618 684 759 843 938 1,047 1,171 1,313 1,476 1,662Applications of operating fundingPayments to staff and suppliers 219 289 304 308 312 316 331 335 351 357 375Finance costs 254 293 360 374 486 501 511 534 524 501 466Internal charges and overhead applied 126 135 138 143 147 151 156 160 164 170 175Other operating funding applications 0 0 0 0 0 0 0 0 0 0 0Total applications of operating funding 599 717 802 825 945 969 999 1,028 1,040 1,028 1,016Surplus (deficit) of operating funding (10) (99) (118) (66) (103) (31) 48 143 273 448 647Sources of capital fundingSubsidies and grants for capital expenditure 0 0 0 0 0 0 0 0 0 0 0Development and financial contributions 176 70 73 75 78 105 109 113 118 123 109Increase (decrease) in debt (17) 948 196 1,542 193 163 308 (128) (318) (488) (689)Gross proceed from sale of assets 0 0 0 0 0 0 0 0 0 0 0Lump sum contributions 0 0 0 0 0 0 0 0 0 0 0Total sources of capital funding 159 1,018 268 1,617 271 268 417 (15) (200) (365) (580)Applications of capital fundingCapital expenditure- to meet additional demand 112 507 34 35 36 51 296 55 57 60 50- to improve the level of service 5 101 94 1,385 78 104 0 0 0 0 0- to replace existing assets 32 311 23 131 54 83 168 73 16 23 17Increase (decrease) in reserves 0 0 0 0 0 0 0 0 0 0 0Increase (decrease) of investments 0 0 0 0 0 0 0 0 0 0 0Total applications of capital funding 149 919 151 1,551 168 237 465 128 73 83 67Surplus (deficit) of capital funding 9 99 118 66 103 31 (48) (143) (273) (448) (647)Funding balance (0) (0) 0 (0) 0 (0) 0 (0) 0 0 0Reconciliation between Financial Summary and Funding Impact StatementOperating Surplus/(Deficit) as per Financial Summary for Sewer (154) (395) (418) (359) (433) (341) (255) (200) (59) 130 265Add depreciation 320 366 373 368 408 415 411 457 449 441 491Less development and financial contributions (176) (70) (73) (75) (78) (105) (109) (113) (118) (123) (109)Surplus (deficit) of operating funding (10) (99) (118) (66) (103) (31) 48 143 273 448 647178
---
Draft Hurunui Community Long Term Plan 2012 - 2022STORMWATER, DRAINAGE AND LAND PROTECTIONGROUP ACTIVITY FUNDING IMPACT STATEMENTAnnual Plan Year 1 Year 2 Year 3 Year 4 Year 5 Year 6 Year 7 Year 8 Year 9 Year 102011/2012 2012/2013 2013/2014 2014/2015 2015/2016 2016/2017 2017/2018 2018/2019 2019/2020 2020/2021 2021/2022($000) ($000) ($000) ($000) ($000) ($000) ($000) ($000) ($000) ($000) ($000)Sources of operating fundingGeneral rates, uniform annual general charges, rates penalties 0 0 103 106 110 113 116 120 124 128 132Targeted rates - other than for water supply 218 279 286 281 278 286 280 275 271 267 277Subsidies and grants for operating purposes 0 0 0 0 0 0 0 0 0 0 0Fees, charges and targeted rates for water supply 0 0 0 0 0 0 0 0 0 0 0Internal charges and overheads recovered 0 0 0 0 0 0 0 0 0 0 0Local authorities fuel tax, fines, infringement fees, and other receipts 0 0 0 0 0 0 0 0 0 0 0Total operating funding 218 279 390 387 388 399 396 395 395 395 409Applications of operating fundingPayments to staff and suppliers 20 59 138 127 123 186 126 166 134 140 221Finance costs 135 106 118 113 102 91 91 78 66 52 37Internal charges and overhead applied 11 14 13 14 14 15 16 15 16 16 17Other operating funding applications 0 0 0 0 0 0 0 0 0 0 0Total applications of operating funding 166 178 269 253 239 291 233 259 216 208 274Surplus (deficit) of operating funding 52 101 121 134 148 108 163 136 179 187 134Sources of capital fundingSubsidies and grants for capital expenditure 0 0 0 0 0 0 0 0 0 0 0Development and financial contributions 39 17 18 18 19 27 28 29 30 32 26Increase (decrease) in debt (91) 176 (76) (152) (167) 18 (191) (165) (209) (219) (75)Gross proceed from sale of assets 0 0 0 0 0 0 0 0 0 0 0Lump sum contributions 0 0 0 0 0 0 0 0 0 0 0Total sources of capital funding (52) 193 (59) (134) (148) 45 (163) (136) (179) (187) (49)Applications of capital fundingCapital expenditure- to meet additional demand 0 100 0 0 0 0 0 0 0 0 0- to improve the level of service 0 194 62 0 0 153 0 0 0 0 85- to replace existing assets 0 0 0 0 0 0 0 0 0 0 0Increase (decrease) in reserves 0 0 0 0 0 0 0 0 0 0 0Increase (decrease) of investments 0 0 0 0 0 0 0 0 0 0 0Total applications of capital funding 0 294 62 0 0 153 0 0 0 0 85Surplus (deficit) of capital funding (52) (101) (121) (134) (148) (108) (163) (136) (179) (187) (134)Funding balance 0 0 0 0 0 0 0 0 0 0 0Reconciliation between Financial Summary and Funding Impact StatementOperating Surplus/(Deficit) as per Financial Summary forStormwater 74 72 90 103 113 82 136 106 150 161 95Add depreciation 17 46 49 49 54 53 54 60 59 58 65Less development and financial contributions (39) (17) (18) (18) (19) (27) (28) (29) (30) (32) (26)Surplus (deficit) of operating funding 52 101 121 134 148 108 163 136 179 187 134179
---
www.hurunui.govt.nzROADING AND FOOTPATHSGROUP ACTIVITY FUNDING IMPACT STATEMENTAnnual Plan Year 1 Year 2 Year 3 Year 4 Year 5 Year 6 Year 7 Year 8 Year 9 Year 102011/2012 2012/2013 2013/2014 2014/2015 2015/2016 2016/2017 2017/2018 2018/2019 2019/2020 2020/2021 2021/2022($000) ($000) ($000) ($000) ($000) ($000) ($000) ($000) ($000) ($000) ($000)Sources of operating fundingGeneral rates, uniform annual general charges, rates penalties 2,531 3,332 3,448 3,580 3,676 3,803 3,956 4,065 4,216 4,411 4,557Targeted rates - other than for water supply 0 176 178 178 184 191 210 213 215 225 235Subsidies and grants for operating purposes 1,728 1,788 1,845 1,880 1,963 2,028 2,063 2,147 2,216 2,265 2,368Fees, charges and targeted rates for water supply 0 0 0 0 0 0 0 0 0 0 0Internal charges and overheads recovered 731 0 0 0 0 0 0 0 0 0 0Local authorities fuel tax, fines, infringement fees, and other receipts 147 148 152 157 162 167 172 177 183 189 196Total operating funding 5,137 5,443 5,623 5,796 5,986 6,190 6,401 6,602 6,830 7,090 7,356Applications of operating fundingPayments to staff and suppliers 2,784 3,006 3,100 3,195 3,296 3,405 3,501 3,600 3,714 3,839 3,965Finance costs 0 0 0 0 0 0 0 0 0 0 0Internal charges and overhead applied 622 599 618 638 659 682 703 723 747 774 800Other operating funding applications 0 0 0 0 0 0 0 0 0 0 0Total applications of operating funding 3,405 3,605 3,718 3,833 3,955 4,087 4,205 4,324 4,462 4,613 4,765Surplus (deficit) of operating funding 1,731 1,838 1,905 1,963 2,030 2,103 2,196 2,278 2,369 2,477 2,591Sources of capital fundingSubsidies and grants for capital expenditure 1,801 1,707 1,774 1,833 1,896 1,965 2,039 2,122 2,212 2,313 2,420Development and financial contributions 453 153 159 164 170 237 246 256 267 279 233Increase (decrease) in debt 219 0 (0) (0) 0 0 0 0 0 0 0Gross proceed from sale of assets 0 0 0 0 0 0 0 0 0 0 0Lump sum contributions 0 0 0 0 0 0 0 0 0 0 0Total sources of capital funding 2,473 1,860 1,933 1,997 2,066 2,202 2,285 2,378 2,480 2,593 2,653Applications of capital fundingCapital expenditure- to meet additional demand 453 153 159 164 170 237 246 256 267 279 233- to improve the level of service 27 70 73 75 78 81 84 87 91 95 99- to replace existing assets 3,725 3,475 3,606 3,721 3,849 3,987 4,151 4,313 4,491 4,696 4,912Increase (decrease) in reserves 0 0 0 0 0 0 0 0 0 0 0Increase (decrease) of investments 0 0 0 0 0 0 0 0 0 0 0Total applications of capital funding 4,204 3,698 3,838 3,960 4,096 4,305 4,481 4,656 4,848 5,070 5,243Surplus (deficit) of capital funding (1,731) (1,838) (1,905) (1,963) (2,030) (2,103) (2,196) (2,278) (2,369) (2,477) (2,591)Funding balance 0 0 0 0 0 0 0 0 0 0 0Reconciliation between Financial Summary and Funding Impact StatementOperating Surplus/(Deficit) as per Financial Summary for Roadingand Footpaths 1,085 835 655 769 894 748 913 1,076 839 1,049 1,208Add depreciation 2,900 2,863 3,182 3,191 3,202 3,558 3,568 3,581 4,009 4,021 4,035Less development and financial contributions (453) (153) (159) (164) (170) (237) (246) (256) (267) (279) (233)Less subsidies and grants for capital expenditure (1,801) (1,707) (1,774) (1,833) (1,896) (1,965) (2,039) (2,122) (2,212) (2,313) (2,420)Surplus (deficit) of operating funding 1,731 1,838 1,905 1,963 2,030 2,103 2,196 2,278 2,369 2,477 2,591180
---
Draft Hurunui Community Long Term Plan 2012 - 2022COMMUNITY SERVICES AND FACILITIESGROUP ACTIVITY FUNDING IMPACT STATEMENTAnnual Plan Year 1 Year 2 Year 3 Year 4 Year 5 Year 6 Year 7 Year 8 Year 9 Year 102011/2012 2012/2013 2013/2014 2014/2015 2015/2016 2016/2017 2017/2018 2018/2019 2019/2020 2020/2021 2021/2022($000) ($000) ($000) ($000) ($000) ($000) ($000) ($000) ($000) ($000) ($000)Sources of operating fundingGeneral rates, uniform annual general charges, rates penalties 116 80 133 189 151 106 113 116 122 127 133Targeted rates - other than for water supply 1,490 1,440 1,487 1,512 1,549 1,597 1,678 1,734 1,792 1,845 1,900Subsidies and grants for operating purposes 0 0 0 0 0 0 0 0 0 0 0Fees, charges and targeted rates for water supply 0 0 0 0 0 0 0 0 0 0 0Internal charges and overheads recovered 0 0 0 0 0 0 0 0 0 0 0Local authorities fuel tax, fines, infringement fees, and other receipts 729 756 701 724 746 770 792 814 839 867 895Total operating funding 2,335 2,276 2,321 2,425 2,447 2,473 2,583 2,664 2,753 2,840 2,928Applications of operating fundingPayments to staff and suppliers 2,603 2,831 2,801 2,945 3,001 3,025 3,119 3,209 3,310 3,424 3,540Finance costs 202 262 256 240 232 283 332 318 297 305 279Internal charges and overhead applied 955 1,006 1,021 1,043 1,067 1,093 1,126 1,139 1,166 1,196 1,226Other operating funding applications 0 0 0 0 0 0 0 0 0 0 0Total applications of operating funding 3,759 4,099 4,078 4,228 4,300 4,401 4,577 4,666 4,773 4,925 5,044Surplus (deficit) of operating funding (1,424) (1,823) (1,758) (1,803) (1,853) (1,927) (1,994) (2,002) (2,020) (2,085) (2,116)Sources of capital fundingSubsidies and grants for capital expenditure 0 0 0 0 0 0 0 0 0 0 0Development and financial contributions 317 239 248 256 253 234 242 250 251 264 232Increase (decrease) in debt (243) (4) (151) (32) 294 945 (167) (225) (26) (306) (341)Gross proceed from sale of assets 0 0 0 0 0 0 0 0 0 0 0Lump sum contributions 0 0 0 0 0 0 0 0 0 0 0Total sources of capital funding 74 235 97 224 548 1,179 75 25 225 (43) (108)Applications of capital fundingCapital expenditure- to meet additional demand 16 55 151 27 1,105 29 161 31 536 34 35- to improve the level of service 162 261 216 302 1,222 1,376 132 149 124 136 150- to replace existing assets 78 80 70 83 74 77 80 83 87 91 95Increase (decrease) in reserves (1,605) (1,983) (2,097) (1,991) (3,708) (2,230) (2,292) (2,240) (2,541) (2,389) (2,504)Increase (decrease) of investments 0 0 0 0 0 0 0 0 0 0 0Total applications of capital funding (1,349) (1,588) (1,661) (1,579) (1,305) (748) (1,919) (1,977) (1,795) (2,128) (2,224)Surplus (deficit) of capital funding 1,424 1,823 1,758 1,803 1,853 1,927 1,994 2,002 2,020 2,085 2,116Funding balance (0) (0) 0 0 0 0 0 (0) 0 (0) 0Reconciliation between Financial Summary and Funding Impact StatementOperating Surplus/(Deficit) as per Financial Summary forCommunity Services and Facilities (1,458) (1,946) (1,874) (1,912) (1,964) (2,057) (2,118) (2,118) (2,135) (2,188) (2,250)Add depreciation 351 362 364 364 364 364 366 366 366 366 366Less development and financial contributions (317) (239) (248) (256) (253) (234) (242) (250) (251) (264) (232)Surplus (deficit) of operating funding (1,424) (1,823) (1,758) (1,803) (1,853) (1,927) (1,994) (2,002) (2,020) (2,085) (2,116)181
---
www.hurunui.govt.nzENVIRONMENT AND SAFETYGROUP ACTIVITY FUNDING IMPACT STATEMENTAnnual Plan Year 1 Year 2 Year 3 Year 4 Year 5 Year 6 Year 7 Year 8 Year 9 Year 102011/2012 2012/2013 2013/2014 2014/2015 2015/2016 2016/2017 2017/2018 2018/2019 2019/2020 2020/2021 2021/2022($000) ($000) ($000) ($000) ($000) ($000) ($000) ($000) ($000) ($000) ($000)Sources of operating fundingGeneral rates, uniform annual general charges, rates penalties 1,921 2,156 2,255 2,324 2,358 2,450 2,527 2,593 2,677 2,769 2,862Targeted rates - other than for water supply 1,001 1,047 1,064 1,099 1,136 1,176 1,214 1,251 1,293 1,339 1,386Subsidies and grants for operating purposes 0 0 0 0 0 0 0 0 0 0 0Fees, charges and targeted rates for water supply 0 0 0 0 0 0 0 0 0 0 0Internal charges and overheads recovered 0 0 0 0 0 0 0 0 0 0 0Local authorities fuel tax, fines, infringement fees, and other receipts 1,275 1,290 1,331 1,371 1,415 1,461 1,503 1,545 1,594 1,648 1,702Total operating funding 4,196 4,493 4,649 4,795 4,909 5,087 5,244 5,389 5,564 5,756 5,949Applications of operating fundingPayments to staff and suppliers 3,431 3,673 3,800 3,934 3,992 4,149 4,241 4,387 4,499 4,678 4,802Finance costs 9 8 8 9 10 10 10 10 10 9 8Internal charges and overhead applied 695 724 743 769 797 827 862 881 913 948 983Other operating funding applications 0 0 0 0 0 0 0 0 0 0 0Total applications of operating funding 4,134 4,405 4,551 4,712 4,799 4,985 5,113 5,278 5,421 5,635 5,793Surplus (deficit) of operating funding 62 88 98 83 110 101 131 111 143 121 156Sources of capital fundingSubsidies and grants for capital expenditure 0 0 0 0 0 0 0 0 0 0 0Development and financial contributions 0 0 0 0 0 0 0 0 0 0 0Increase (decrease) in debt (1) 15 14 7 5 3 (0) (5) (9) (13) (17)Gross proceed from sale of assets 0 0 0 0 0 0 0 0 0 0 0Lump sum contributions 0 0 0 0 0 0 0 0 0 0 0Total sources of capital funding (1) 15 14 7 5 3 (0) (5) (9) (13) (17)Applications of capital fundingCapital expenditure- to meet additional demand 0 0 0 0 0 0 0 0 0 0 0- to improve the level of service 5 50 26 0 0 0 0 0 0 0 0- to replace existing assets 128 184 171 113 133 190 197 0 97 102 0Increase (decrease) in reserves (72) (131) (86) (23) (18) (86) (67) 106 37 6 138Increase (decrease) of investments 0 0 0 0 0 0 0 0 0 0 0Total applications of capital funding 61 103 112 90 115 104 130 106 134 108 138Surplus (deficit) of capital funding (62) (88) (98) (83) (110) (101) (131) (111) (143) (121) (156)Funding balance 0 (0) 0 0 0 0 0 0 0 0 0Reconciliation between Financial Summary and Funding Impact StatementOperating Surplus/(Deficit) as per Financial Summary forEnvironment and Safety (46) (23) (14) (30) (5) (15) 13 (8) 23 (1) 32Add depreciation 108 111 112 114 115 116 118 119 120 122 124Less development and financial contributions 0 0 0 0 0 0 0 0 0 0 0Surplus (deficit) of operating funding 62 88 98 83 110 101 131 111 143 121 156182
---
Draft Hurunui Community Long Term Plan 2012 - 2022DISTRICT PROMOTIONGROUP ACTIVITY FUNDING IMPACT STATEMENTAnnual Plan Year 1 Year 2 Year 3 Year 4 Year 5 Year 6 Year 7 Year 8 Year 9 Year 102011/2012 2012/2013 2013/2014 2014/2015 2015/2016 2016/2017 2017/2018 2018/2019 2019/2020 2020/2021 2021/2022($000) ($000) ($000) ($000) ($000) ($000) ($000) ($000) ($000) ($000) ($000)Sources of operating fundingGeneral rates, uniform annual general charges, rates penalties 89 90 93 96 99 102 105 108 111 115 118Targeted rates - other than for water supply 275 286 297 309 319 328 338 348 359 369 380Subsidies and grants for operating purposes 0 0 0 0 0 0 0 0 0 0 0Fees, charges and targeted rates for water supply 0 0 0 0 0 0 0 0 0 0 0Internal charges and overheads recovered 0 0 0 0 0 0 0 0 0 0 0Local authorities fuel tax, fines, infringement fees, and other receipts 4 5 5 5 5 6 6 6 6 6 7Total operating funding 368 381 396 411 423 436 449 462 476 490 505Applications of operating fundingPayments to staff and suppliers 394 416 436 452 466 480 494 509 524 541 557Finance costs 0 0 0 0 0 0 0 0 0 0 0Internal charges and overhead applied 13 3 4 4 4 4 4 4 4 5 5Other operating funding applications 0 0 0 0 0 0 0 0 0 0 0Total applications of operating funding 406 419 439 456 470 484 498 513 529 545 562Surplus (deficit) of operating funding (38) (38) (43) (45) (47) (48) (50) (51) (53) (55) (56)Sources of capital fundingSubsidies and grants for capital expenditure 0 0 0 0 0 0 0 0 0 0 0Development and financial contributions 0 0 0 0 0 0 0 0 0 0 0Increase (decrease) in debt 0 0 0 0 (0) (0) 0 0 0 (0) 0Gross proceed from sale of assets 0 0 0 0 0 0 0 0 0 0 0Lump sum contributions 0 0 0 0 0 0 0 0 0 0 0Total sources of capital funding 0 0 0 0 (0) (0) 0 0 0 (0) 0Applications of capital fundingCapital expenditure- to meet additional demand 0 0 0 0 0 0 0 0 0 0 0- to improve the level of service 0 0 0 0 0 0 0 0 0 0 0- to replace existing assets 0 0 0 0 0 0 0 0 0 0 0Increase (decrease) in reserves (38) (38) (43) (45) (47) (48) (50) (51) (53) (55) (56)Increase (decrease) of investments 0 0 0 0 0 0 0 0 0 0 0Total applications of capital funding (38) (38) (43) (45) (47) (48) (50) (51) (53) (55) (56)Surplus (deficit) of capital funding 38 38 43 45 47 48 50 51 53 55 56Funding balance 0 0 0 0 0 0 0 0 0 (0) 0Reconciliation between Financial Summary and Funding Impact StatementOperating Surplus/(Deficit) as per Financial Summary for Growthand Development (44) (45) (47) (49) (50) (52) (53) (55) (56) (58) (60)Add depreciation 6 8 4 4 4 4 4 4 4 4 4Surplus (deficit) of operating funding (38) (38) (43) (45) (47) (48) (50) (51) (53) (55) (56)183
---
www.hurunui.govt.nzHANMER SPRING THERMAL POOLS AND SPAGROUP ACTIVITY FUNDING IMPACT STATEMENTAnnual Plan Year 1 Year 2 Year 3 Year 4 Year 5 Year 6 Year 7 Year 8 Year 9 Year 102011/2012 2012/2013 2013/2014 2014/2015 2015/2016 2016/2017 2017/2018 2018/2019 2019/2020 2020/2021 2021/2022($000) ($000) ($000) ($000) ($000) ($000) ($000) ($000) ($000) ($000) ($000)Sources of operating fundingGeneral rates, uniform annual general charges, rates penalties 0 0 0 0 0 0 0 0 0 0 0Targeted rates - other than for water supply 0 0 0 0 0 0 0 0 0 0 0Subsidies and grants for operating purposes 0 0 0 0 0 0 0 0 0 0 0Fees, charges and targeted rates for water supply 0 0 0 0 0 0 0 0 0 0 0Internal charges and overheads recovered 0 0 0 0 0 0 0 0 0 0 0Local authorities fuel tax, fines, infringement fees, and other receipts 9,632 9,874 10,315 10,625 11,266 11,610 11,955 12,673 13,057 13,458 14,283Total operating funding 9,632 9,874 10,315 10,625 11,266 11,610 11,955 12,673 13,057 13,458 14,283Applications of operating fundingPayments to staff and suppliers 6,418 6,570 6,900 7,109 7,333 7,572 7,789 8,010 8,262 8,537 8,813Finance costs 761 849 940 986 1,059 1,059 1,059 1,059 1,059 1,059 1,059Internal charges and overhead applied 128 133 134 136 138 141 144 145 148 151 154Other operating funding applications 0 0 0 0 0 0 0 0 0 0 0Total applications of operating funding 7,307 7,552 7,973 8,232 8,531 8,772 8,992 9,215 9,469 9,746 10,026Surplus (deficit) of operating funding 2,325 2,322 2,342 2,394 2,735 2,838 2,963 3,458 3,588 3,711 4,257Sources of capital fundingSubsidies and grants for capital expenditure 0 0 0 0 0 0 0 0 0 0 0Development and financial contributions 0 0 0 0 0 0 0 0 0 0 0Increase (decrease) in debt 0 1,000 1,039 537 833 0 0 0 0 0 0Gross proceed from sale of assets 0 0 0 0 0 0 0 0 0 0 0Lump sum contributions 0 0 0 0 0 0 0 0 0 0 0Total sources of capital funding 0 1,000 1,039 537 833 0 0 0 0 0 0Applications of capital fundingCapital expenditure- to meet additional demand 0 0 0 0 0 0 0 0 0 0 0- to improve the level of service 0 1,550 1,351 537 833 0 0 0 0 0 0- to replace existing assets 200 100 104 107 111 115 119 124 130 136 142Increase (decrease) in reserves 2,125 1,672 1,926 2,286 2,624 2,723 2,844 3,334 3,458 3,576 4,115Increase (decrease) of investments 0 0 0 0 0 0 0 0 0 0 0Total applications of capital funding 2,325 3,322 3,381 2,930 3,568 2,838 2,963 3,458 3,588 3,711 4,257Surplus (deficit) of capital funding (2,325) (2,322) (2,342) (2,394) (2,735) (2,838) (2,963) (3,458) (3,588) (3,711) (4,257)Funding balance 0 0 0 0 0 0 0 0 0 0 0Reconciliation between Financial Summary and Funding Impact StatementOperating Surplus/(Deficit) as per Financial Summary for HanmerSprinsg Thermal Pools and Spa 1,540 1,480 1,424 1,432 1,818 1,936 2,101 2,585 2,703 2,846 3,349Add depreciation 786 842 917 962 918 903 862 873 885 865 907Surplus (deficit) of operating funding 2,325 2,322 2,342 2,394 2,735 2,838 2,963 3,458 3,588 3,711 4,257184
---
Draft Hurunui Community Long Term Plan 2012 - 2022GOVERNANCEGROUP ACTIVITY FUNDING IMPACT STATEMENTAnnual Plan Year 1 Year 2 Year 3 Year 4 Year 5 Year 6 Year 7 Year 8 Year 9 Year 102011/2012 2012/2013 2013/2014 2014/2015 2015/2016 2016/2017 2017/2018 2018/2019 2019/2020 2020/2021 2021/2022($000) ($000) ($000) ($000) ($000) ($000) ($000) ($000) ($000) ($000) ($000)Sources of operating fundingGeneral rates, uniform annual general charges, rates penalties 882 1,017 1,051 1,126 1,093 1,183 1,273 1,200 1,272 1,368 1,330Targeted rates - other than for water supply 0 0 0 0 0 0 0 0 0 0 0Subsidies and grants for operating purposes 0 0 0 0 0 0 0 0 0 0 0Fees, charges and targeted rates for water supply 0 0 0 0 0 0 0 0 0 0 0Internal charges and overheads recovered 0 0 0 0 0 0 0 0 0 0 0Local authorities fuel tax, fines, infringement fees, and other receipts 28 16 17 17 18 18 19 19 20 20 21Total operating funding 910 1,033 1,067 1,143 1,111 1,201 1,292 1,220 1,292 1,389 1,351Applications of operating fundingPayments to staff and suppliers 644 676 723 788 741 817 863 810 866 947 892Finance costs 0 0 0 0 0 0 0 0 0 0 0Internal charges and overhead applied 266 351 338 350 363 378 422 404 419 436 454Other operating funding applications 0 0 0 0 0 0 0 0 0 0 0Total applications of operating funding 910 1,027 1,061 1,137 1,105 1,195 1,286 1,214 1,286 1,383 1,345Surplus (deficit) of operating funding 0 6 6 6 6 6 6 6 6 6 6Sources of capital fundingSubsidies and grants for capital expenditure 0 0 0 0 0 0 0 0 0 0 0Development and financial contributions 0 0 0 0 0 0 0 0 0 0 0Increase (decrease) in debt 0 0 0 0 0 0 0 0 0 0 0Gross proceed from sale of assets 0 0 0 0 0 0 0 0 0 0 0Lump sum contributions 0 0 0 0 0 0 0 0 0 0 0Total sources of capital funding 0 0 0 0 0 0 0 0 0 0 0Applications of capital fundingCapital expenditure- to meet additional demand 0 0 0 0 0 0 0 0 0 0 0- to improve the level of service 0 0 0 0 0 0 0 0 0 0 0- to replace existing assets 0 0 26 0 0 29 0 0 32 0 0Increase (decrease) in reserves 0 6 (20) 6 6 (23) 6 6 (26) 6 6Increase (decrease) of investments 0 0 0 0 0 0 0 0 0 0 0Total applications of capital funding 0 6 6 6 6 6 6 6 6 6 6Surplus (deficit) of capital funding 0 (6) (6) (6) (6) (6) (6) (6) (6) (6) (6)Funding balance 0 0 (0) 0 0 (0) (0) 0 0 0 0Reconciliation between Financial Summary and Funding Impact StatementOperating Surplus/(Deficit) as per Financial Summary forGovernance 0 0 0 0 0 0 0 0 0 0 0Add depreciation 0 6 6 6 6 6 6 6 6 6 6Surplus (deficit) of operating funding 0 6 6 6 6 6 6 6 6 6 6185
---
www.hurunui.govt.nzRates SystemDistrict Wide Rates - General Rate & Uniform Annual General ChargeA portion of the general rate requirement will be collectedby way of a General Rate which will be set under section 13of the Local Government (Rating) Act 2002 and be appliedto all rateable land based on the capital value of the land. Nodifferential has been included for the collection of the GeneralRate.The remainder of the General Rate Requirement will collectedby way of a Uniform Annual General Charge which will beset under section 15 of the Local Government (Rating) Act2002 and be applied as a fi xed amount per separately used orinhabited part of the rating unit (Separately used or inhabitedpart of a property or building includes any part of a rating unitinhabited or used by a person other than the owners, and whohas the right to use or inhabit that portion by virtue of a tenancy,licence or other agreement).The portion of the rate collected by way of capital value anduniform annual general charge varies from year to year toensure that Council continues to comply with section 21 of theLocal Government (Rating) Act 2002, which sets a maximumlevel of rates collected by way of a fi xed charge as a percentageof the total rates revenue of 30%.The General Rates fund is offset by surpluses recorded from,the following activities:• District Promotion and Advocacy (part of the DistrictPromotion group of Activities)• Grants, Pensioner Housing, Residential and OtherProperty, Depots (all part of the Community Servicesand Facilities group of activities)• Subdivision Inspections, Health Inspection, LiquorLicensing, Ranging & Impounding, Building Control,Litter Bin Collection and Civil Defence (all part of theEnvironmental and Safety Group of Activities)• District Wide Stormwater (part of the Stormwater &Drainage Group of Activities)The General Rate requirement is also offset by the budgetedlevel of rate penalties received, external dividends andapproximately 17.5% of the surplus recorded by the Council'streasury function after allowance for Library funding is made.Governanceapplied to all rateable land based on the capital value of the land.The remainder (50%) of the Governance Rate Requirement willcollected by way of a Uniform Annual General Charge whichwill be set under section 15 of the Local Government (Rating)Act 2002 and be applied as a fi xed amount per separately usedor inhabited part of the rating unit.The Governance Rate funds the following activity:• Governance Group of Activities.The Governance Rate requirement is offset an allocation ofapproximately 7.5% of the surplus recorded by the Council'streasury function after allowance for Library funding is made.RoadingThe Roading Rate requirement will be collected by way of aGeneral Rate which will be set under section 13 of the LocalGovernment (Rating) Act 2002, and be applied to all rateableland based on the capital value of the land.The Roading Rate funds the following activities:• Subsidised Roading, Special Purpose Roading,Unsubsidised Roading, and Road Safety Programme (allpart of the Roads and Footpaths group of activities).The Roading Rate requirement is offset by an allocation ofapproximately 75% of the surplus recorded by the Council'streasury function after allowance for Library funding is made.Resource Management - PlanningThe Planning Rate Requirement will be collected by way of aGeneral Rate which will be set under section 13 of the LocalGovernment (Rating) Act 2002 and be applied to all rateableland based on the capital value of the land.The Planning Rate funds, or is offset by surpluses recorded from,the following activities:• Resource Management Act Implementation, ResourceManagement Act Regulatory and Resource ManagementAct Policy Development (all part of the Environmentaland Safety group of activities).A portion (50%) of the Governance Rate requirement will becollected by way of a General Rate which will be set undersection 13 of the Local Government (Rating) Act 2002 and be186
---
Draft Hurunui Community Long Term Plan 2012 - 2022Waste MinimisationThe Waste Rate Requirement will collected by way of a UniformAnnual General Charge which will be set under section 15 ofthe Local Government (Rating) Act 2002 and be applied as afi xed amount per separately used or inhabited part of the ratingunit.The Waste Minimisation Rate funds the following activities:• Recycling Centres and Transfer Stations (part ofEnvironmental and Safety group of activities).Canterbury MuseumThe Canterbury Museum Rate Requirement will collected byway of a Uniform Annual General Charge which will be set undersection 15 of the Local Government (Rating) Act 2002 and beapplied as a fi xed amount per separately used or inhabited partof the rating unit.The Canterbury Museum Rate funds the following activity:• Canterbury Museum Levy which is imposed oneach contributing Local Authority pursuant to theCanterbury Museum Trust Board Act 1993 (part ofCommunity Services and Facilities Group of Activities).Targeted RatesWard Amenities RatesThe Ward Amenities Rates will be assessed under section 16 ofthe Local Government (Rating) Act 2002. A portion of the WardAmenities Rate will be collected by way of a fi xed charge perseparately used or inhabited part of the rating unit. The balanceof the Ward Amenities Rate requirement will be collected byway of a rate applied to all rateable land in the Ward on Capitalvalue.The Ward Amenities Rate requirement will be used to fund thefollowing activities within each Ward:• General administration, cost of Ward Committees,township maintenance, halls, local amenity reservesand public swimming pools in each Ward (part ofCommunity Services and Facilities group of activities).Ward Roadside Construction RatesThe Ward Roadside Construction Rates will be assessed undersection 16 of the Local Government (Rating) Act 2002. TheWard Roadside Construction Rate will be collected by way of arate applied to all rateable land in the ward on the capital value.The Ward roadside construction rate will be set on a differentialbasis based on land use (the categories are "urban" and "rural"within each Ward).The Ward Roadside Construction Rate requirement funds thefollowing activities:• Roadside construction including: local kerb, channel,footpath and street lights (part of Roads and Footpathsgroup of activities).Water RatesWater Rates will be assessed under section 19 of the LocalGovernment (Rating) Act 2002. Water Rates will be collectedby way of a fi xed charge based on the volume of water suppliedto all rating units. In addition a fi xed charge will be set perseparately used or inhabited part of a rating unit which is eitherconnected to the scheme or for which connection is available.Both the fi xed charges will be set on a differential basis basedon location and on the availability of service (the categoriesare "connected" and "serviceable"). Rating units which are notconnected to the schemes and are not serviceable will not beliable for this rate.The Water Rate requirement funds the following activities (allpart of the Water Supply group of activities:• Amberley Water Supply• Amuri Plains Water Supply• Ashley Rural Water Supply• Balmoral Water Supply• Cheviot Water Supply• Culverden Township Water Supply• Hanmer Springs Water Supply• Hawarden-Waikari Water Supply• Hurunui Rural Water Supply• Leithfi eld Beach Water Supply• Waiau Rural Water Supply• Waiau Township Water Supply• Waipara Township Water Supply187
---
www.hurunui.govt.nzWater Treatment RatesWater Treatment Rates will be assessed be assessed undersections 16 & 17 and Schedule 2 of the Local Government(Rating) Act 2002. Water Treatment Rates will be collectedby way of a fi xed charge on each dwelling connected to theapplicable water supply requiring the new treatment.This charge will be set on a differential basis based on locationand will be charged to those dwelling connected to the followingwater supplies:• Waipara Township Water Supply• Waiau Rural Water Supply• Cheviot Water Supply• Hurunui Rural Water SupplyIt should be noted that the new treatment proposed for theAshley Rural Water Supply will be funded as part of its standardwater rates.The Water Treatment Rate requirement funds the followingactivities:• District Wide Water Treatment (part of the WaterSupplies group of activities).Sewerage RatesSewerage Rates will be assessed under section 16 of the LocalGovernment (Rating) Act 2002. Sewerage Rates will be collectedby way of a fi xed charge per separately used or inhabited partof a rating unit which is either connected to the scheme orfor which connection is available. This charge will be set on adifferential basis based on location and the provision of service(with the categories being "connected" and "serviceable").Rating units which are not connected to the schemes and whichare not serviceable will not be liable for this rate. A residenceof not more than one household is deemed to have one watercloset (toilet).The Sewerage rate requirement funds the following activities:• Sewerage group of activities.Stormwater/Drainage/LandProtection RatesStormwater/Drainage/Land Protection Rates Council will beassessed under section 16 of the Local Government (Rating)Act 2002. The Stormwater/Drainage/Land Protection Rates willbe collected by way of: a rate based on the land value of eachrating unit; a fi xed charge per hectare of land within a drainagearea; or per separately used or inhabited part of a rating unit ineach stormwater/drainage/land protection area. This charge willbe set on a differential basis based on location.• The Stormwater and Drainage Rate requirements fundthe following activities (all part of the Stormwater &Drainage group of activities).• Jed River Drainage• Amberley Stormwater• Hanmer Springs Stormwater• The Land Protection Rate funds the following activity:• Amberley Beach Erosion Protection Works (part of theStormwater & Drainage group of activities).TourismThe Tourism Rate will be assessed under section 16 of the LocalGovernment (Rating) Act 2002. In terms of section 2 of the Act,the categories of land to be assessed with the targeted rate havebeen determined by:• The use to which the land is put.• The capital value of the improvements on the land.• The location of the land.It is intended that the Tourism Rate will be phased out withthe funding for the Tourism activity to come from other sourcewhich is still to be determined.The targeted rate is assessed on the following:1. All rateable properties within the Ward of HanmerSprings that are used for any use other than solelyprivate use, or emergency services buildings, or that areused for any use other than an economic farming orforestry unit, but only to the extent that the unit is usedsolely for farming or forestry purposes; or2. All rateable properties within the Hurunui districtthat hold either a On, Off or Winemakers License asrequired by the Sale of Liquor Act 1989 except SportsClubs; or3. All rateable properties within the Hurunui district thathold a Health License as required by the Food HygieneRegulations 1974 except Sports Clubs, Hairdressers,Abattoirs, Apiaries, holders of a minor food licence; or188
---
Draft Hurunui Community Long Term Plan 2012 - 20224. All rateable properties within the Hurunui district thatare used for accommodation purposes on commerciallyzoned land with a land use category of CAPA, CAPB; or5. All rateable properties within the Hurunui district thatare used for the sale of petroleum products with a landuse category of CSP; or6. All rateable properties within the Hurunui district thatare used for Commercial Tourism operations with aland use category of CTP.The Targeted Tourism Rate will be calculated on the followingnine classes in terms of the Value of the Improvements of theRating Unit as follows:LevelsValue of Improvements to Rating UnitClass A $100 to $150,000Class B $150,001 to $250,000Class C $250,001 to $350,000Class D $350,001 to $450,000Class E $450,001 to $550,000Class F $550,001 to $650,000Class G $650,001 to $750,000Class H $750,001 to $850,000Class I $850,001 and aboveNotes to Category 1:1 A rateable property within the Ward of HanmerSprings will be considered to be used for solely private use ifthe ratepayer of the property:1.1 Does not receive or intend to receive any form ofpayment or other consideration from any other person for theuse of the property; and1.2 Signs a declaration in the form required by the Councildeclaring that the property is used solely for the private use ofthe ratepayer with no payment or consideration being receivedor to be received by the ratepayer. (In previous years, theCouncil has required a statutory declaration witnessed made inthe presence of a solicitor, justice of the peace or other personauthorised by the Oaths and Declarations Act 1957).2 If a ratepayer has made a declaration to the Councilthat the property is used for the ratepayers own private usewith the ratepayer not receiving any form of payment or otherconsideration from third parties for the use of the property,but the ratepayer subsequently does receive payment or otherconsideration for allowing other people to use the propertythen the property will immediately become liable for theTargeted Tourism Rate.The Tourism Rate funds the following activity:• Tourism activity (part of the District Promotion groupof activities).Medical BuildingsThe medical Buildings Rate will be assessed under section16 of the Local Government (Rating) Act 2002. The MedicalBuildings rate will be collected by way of a fi xed charge per eachseparately used or inhabited part of the rating unit in the Wardthat funds a medical building.The Medical Buildings Rate funds the following activity:• Medical Buildings (part of the Community Services andFacilities group of activities).Refuse and Recycling CollectionThe Refuse and Recycling Rate will be assessed under section16 of the Local Government (Rating) Act 2002. The Rate will beassessed as a fi xed charge per separately used or inhabited partof the rating unit and under section 17 of the Local Government(Rating) Act 2002.The rate is set differentially according to the following categoriesof land:• Urban properties that receive the service• Rural properties that receive the service• Business properties that receive the serviceThe Refuse and Recycling Rate funds the following activity:• Household and business waste collection and disposal(part of the Environmental and Safety group of activities).Amberley Ward District Library RateThe Amberley Ward District Library Rate will be will be assessedunder section 16 of the Local Government (Rating) Act 2002.The Rate will be assessed as a fi xed charge per separately usedor inhabited part of the rating unit and under section 17 of theLocal Government (Rating) Act 2002 the rate shall be applied toeach rating unit in the Amberley Ward.The Amberley Ward District Library Rate funds the followingactivity:• The costs associated with meeting the servicing costsof a loan that was apportioned to the Amberley Ward189
---
www.hurunui.govt.nzRural Fireupon construction of the Hurunui Memorial DistrictLibrary (part of the Community Services and Facilitiesgroup of activities).The Rural Fire Rate will be assessed under section 16 of theLocal Government (Rating) Act 2002. The Rural Fire Rate willbe collected by way of a rate applied on all ratable land in thedistrict based on the capital value. The Rural Fire rate will be seton a differential basis based on land location (the categories are"land within Hurunui District Rural Fire Authority (HDRFA)"and "land outside Hurunui District Rural Fire Authority(OHDRFA"). The differential is 80% HDRFA and 20% OHDRFA.The Rural Fire Rate requirement is used to fund the followingactivity:• Rural Fire (part of the Environmental and Safety groupof activities).Swimming Pool Inspection RateThe Swimming Pool Inspection Rate will be will be assessedunder section 16 of the Local Government (Rating) Act 2002.The Rate will be assessed as a fi xed charge per separately usedor inhabited part of the rating unit and under section 17 of theLocal Government (Rating) Act 2002 the rate shall be applied toeach rating unit on which a swimming pool is located.The Swimming Pool Inspection rate funds the following activity:• Pool Inspection (part of the Environmental and Safetygroup of activities).Fixed ChargesUnder section 21 of the Local Government (Rating) Act 2002,the Council is limited to setting fi xed charges, excluding chargesfor water and sewer, at no greater than 30% of the total revenuefrom all rates sought by Council.The Council ensures that the maximum allowable amount offi xed charges under the Act is proposed and to comply withthis section of the Act, the Uniform Annual General Charge isadjusted on an annual basis.Differential Matters and CategoriesWhere Council assess rates on a differential basis they arelimited to the list of matters specifi ed in Schedule Two of theLocal Government (Rating) Act 2002. Council is required tostate which matters will be used for what purpose, and thecategory or categories of any differentials.Differentials Based on Land UseCouncil will use this matter to:• Differentiate the Ward Roadside Construction rate andfor paying some of the tourism promotion rate.• Differentiate those properties to be charged a WaterTreatment rate.The differential categories are:• Urban – all rating units that are within the urbanboundaries as defi ned by the District Plan.• Rural – all rating units that are outside the urbanboundaries as defi ned by the District Plan.Properties which have more than one use (or where there isdoubt as to the relevant primary use) will be placed in a categorywith the highest rate factor.Note: That, subject to the rights of objection to the ratinginformation database set out in section 28 of the LocalGovernment (Rating) Act 2002, the Council is the soledeterminer of the categories.Differentials Based on LocationCouncil will use this matter for:the Ward or Community Rating Area amenity rateWard or Community Rating Area roadside construction rate,water supply rate, the water treatment rate, the sewage disposalrate, the refuse collection rate, land drainage rate, some of thetourism rate and medical facilities rate.The following categories will apply:• Amberley Ward – all rating units situated within theAmberley Ward• Amuri Community Rating Area – all rating units situatedwithin the former Amuri Ward (as defi ned prior to theOctober 2007 election)• Cheviot Ward – all rating units situated within theCheviot Ward• Glenmark Ward – all rating units situated within theGlenmark Ward• Hanmer Springs Ward – all rating units situated withinthe Hanmer Springs Ward• Hurunui Community Rating Area – all rating unitssituated within the former Hurunui Ward (as defi ned190
---
Draft Hurunui Community Long Term Plan 2012 - 2022prior to the October 2007 election)Where a rating unit is situated in more than one Ward orCommunity Rating Area, Council will assign the rating unit to aWard or Community Rating Area based on whichever part ofthe rating unit has the greatest land area.Water and sewerage, refuse collection, land drainage and ruralfi re areas:• All rating units situated within serviced areas as defi nedon plans held at the Council Offi ce.Note: that, subject to the rights of objection to the ratinginformation database set out in section 28 of the LocalGovernment (Rating) Act 2002, the Council is the soledeterminer of the categories.Availability of ServiceThe differential categories for the water supply rate are:• Connected – any rating unit that is connected to acouncil operated waterworks.• Serviceable – any rating unit that is not connected to acouncil operated waterworks but is within 100 metresof such waterworks.The differential categories for the sewage disposal rate are:• Connected – any rating unit that is connected to apublic sewerage drain.• Serviceable– any rating unit that is not connected to apublic sewerage drain but is within 30 metres of sucha drain.hold a Health License as required by the Food HygieneRegulations 1974 except Sports Clubs, Hairdressers,Abattoirs, Apiaries, holders of a minor food licence.Due Date for Payment of RatesAll rates will be payable in four instalments on due dates asfollows:Instalment numberDue DateOne 20 August 2012Two 20 November 2012Three 20 February 2013Four 20 May 2013PenaltiesThat pursuant to sections 57 and 58 of the Local Government(Rating) Act 2002, the Council prescribes the following penaltiesto be added to unpaid rates:• A charge of 10 per cent of the amount of any instalmentthat has been assessed after 1 July 2012 and which isunpaid after the due date.• A charge of 10 per cent on so much of any rates leviedbefore 1 July 2011 which remain unpaid on 30 June 2012.• A charge of 10 per cent on any rate to which a penaltyhas been added under (ii) if the rates remain unpaid on1 January 2013.Differentials – Tourism RateThe differential categories for the Tourism Rate are:• All rateable properties within the Ward of HanmerSprings that are used for any use other than solelyprivate use, or emergency services buildings, or that areused for any use other than an economic farming orforestry unit, but only to the extent that the unit is usedsolely for farming or forestry purposes.• All rateable properties within the Hurunui Districtthat hold either an On, Off or Winemakers License asrequired by the Sale of Liquor Act 1989 except SportsClubs.• All rateable properties within the Hurunui district that191
---
www.hurunui.govt.nzAccount Annual Plan Year 1 Year 2 Year 3 Year 4 Year 5 Year 6 Year 7 Year 8 Year 9 Year 102011/2012 2012/2013 2013/2014 2014/2015 2015/2016 2016/2017 2017/2018 2018/2019 2019/2020 2020/2021 2021/2022Breakdown of RatesDistrict Wide RatesGeneral Rates & UACG 370,737 531,453 661,359 688,893 671,314 711,547 726,681 733,256 750,537 764,053 784,584Canterbury Museum Rates 53,842 56,534 112,188 171,516 132,243 86,355 90,673 95,206 99,967 104,965 110,213Roading 2,530,693 2,555,635 2,640,257 2,798,802 2,812,931 2,934,642 3,014,400 3,066,041 3,160,755 3,269,203 3,359,242Governance 809,138 939,319 969,887 1,048,333 1,006,813 1,095,642 1,178,839 1,100,553 1,166,210 1,254,309 1,210,432Planning 718,324 819,106 859,579 886,768 901,067 932,397 961,554 988,684 1,021,631 1,057,901 1,094,350Waste Management 797,504 808,319 832,767 858,013 885,042 913,986 940,710 966,211 996,590 1,029,919 1,063,409Legislative Compliance 0 0 0 0 271,471 271,471 271,471 271,471 271,471 271,471 271,471Total District Wide Rates 5,280,238 5,710,365 6,076,037 6,452,326 6,680,881 6,946,041 7,184,329 7,221,423 7,467,161 7,751,822 7,893,701Raw Increase ($) 430,127 365,672 376,289 228,555 265,160 238,288 37,094 245,738 284,661 141,880Raw Increase (%) 8.15% 6.40% 6.19% 3.54% 3.97% 3.43% 0.52% 3.40% 3.81% 1.83%Growth Adjusted Increase (%) 7.15% 5.40% 5.19% 2.54% 2.97% 2.43% -0.48% 2.40% 2.81% 0.83%Targeted RatesRefuse Collection 801,348 742,952 748,410 771,146 795,523 821,632 845,818 868,727 896,135 926,213 956,436Swimming Pool Inspection 23,530 29,627 30,554 31,485 32,483 33,553 34,507 35,481 36,604 37,837 39,075Stormwater & Drainage 251,958 279,042 286,471 280,990 277,894 286,212 279,536 275,397 271,368 267,418 276,708Rural Fire Control 263,546 274,088 285,051 296,453 308,312 320,644 333,470 346,809 360,681 375,108 390,112Tourism 275,000 286,000 297,440 309,338 318,618 328,176 338,022 348,162 358,607 369,365 380,446Medical Centres 167,259 183,806 183,806 183,806 183,806 183,806 229,154 229,154 229,154 229,154 229,154Amberley Library Rate 34,358 34,358 34,358 9,253 0 0 0 0 0 0 0Amenities 1,305,678 1,324,755 1,371,316 1,419,704 1,469,996 1,521,419 1,574,849 1,630,369 1,688,066 1,748,031 1,810,358Sewerage 560,062 618,127 683,846 758,360 842,193 937,618 1,046,410 1,170,631 1,312,674 1,475,324 1,661,819Water 3,866,269 4,289,569 4,493,380 4,708,071 4,850,494 5,000,728 5,195,456 5,397,543 5,608,551 5,828,920 6,059,113Total Targeted Rates 7,549,008 8,062,325 8,414,633 8,768,606 9,079,318 9,433,789 9,877,221 10,302,273 10,761,840 11,257,370 11,803,221Raw Increase ($) 513,317 352,309 353,973 310,712 354,471 443,432 425,051 459,568 495,530 545,851Raw Increase (%) 6.80% 4.37% 4.21% 3.54% 3.90% 4.70% 4.30% 4.46% 4.60% 4.85%No Growth Adjustment madeTOTAL RATE REQUIREMENT 12,829,246 13,772,690 14,490,670 15,220,932 15,760,199 16,379,830 17,061,550 17,523,695 18,229,001 19,009,192 19,696,923Raw Increase ($) 943,444 717,981 730,262 539,267 619,631 681,720 462,145 705,306 780,191 687,730Raw Increase (%) 7.35% 5.21% 5.04% 3.54% 3.93% 4.16% 2.71% 4.02% 4.28% 3.62%Growth Adjusted Increase (%)- adjusted for District Wide Rates only 6.94% 4.80% 4.62% 3.12% 3.51% 3.74% 2.29% 3.61% 3.87% 3.21%192
---
Draft Hurunui Community Long Term Plan 2012 - 2022HURUNUI DISTRICT COUNCILPROPOSED AND INDICATIVE RATESFOR THE 2012/2013, 2013/2014 AND 2014/2015 YEARSDistrict Wide RatesActual Rates for2011/2012inclusive of GSTProposed Ratesfor 2012/2013inclusive of GSTIndicative Ratesfor 2013/2014inclusive of GSTIndicative Ratesfor 2014/2015inclusive of GSTRate TypeGeneral Rate and UAGCRate per $ of Capital Value $0.00003256 $0.00004976 $0.00006553 $0.00007152Fixed Charge Per Property $36.08 $49.39 $58.27 $57.69Total Expected Rates (Excl GST) $370,738 $531,453 $661,359 $688,893Governance RateRate per $ of Capital Value $0.00010005 $0.00011539 $0.00011797 $77.22080991Fixed Charge Per Property $61.11 $70.58 $72.16 $62.21Total Expected Rates (Excl GST) $809,138 $939,319 $969,887 $1,048,333Roading RateRate per $ of Capital Value $0.00062568 $0.00062775 $0.00064211 $0.00067393Total Expected Rates (Excl GST) $2,530,693 $2,555,635 $2,640,257 $2,798,802Planning RateRate per $ of Capital Value $0.00017764 $0.00020125 $0.00020911 $0.00021358Total Expected Rates (Excl GST) $718,324 $819,106 $859,579 $886,768Waste Management RateFixed Charge Per Property $120.55 $121.57 $124.01 $126.50Total Expected Rates (Excl GST) $797,504 $808,319 $832,767 $858,013Canterbury Museum RateFixed Charge Per Property - Operational Rate $8.13 $8.49 $9.24 $10.53Fixed Charge Per Property - Capital Rate $0.00 $0.00 $7.43 $14.72Total Expected Rates (Excl GST) $53,842 $56,534 $112,188 $171,516Targeted Rates - Amenities RatesActual Rates for2011/2012inclusive of GSTProposed Ratesfor 2012/2013inclusive of GSTIndicative Ratesfor 2013/2014inclusive of GSTIndicative Ratesfor 2014/2015inclusive of GSTRate TypeAmberley Ward Amenities RatesRate per $ of Capital Value $0.00002059 $0.00002163 $0.00002271 $0.00002385Fixed Charge Per Property $145.56 $152.84 $160.48 $168.50Total Expected Rates (Excl GST) $291,293 $308,037 $323,439 $339,611Amuri Ward Amenities RatesRate per $ of Capital Value $0.00000428 $0.00000420 $0.00000433 $0.00000446Fixed Charge Per Property $136.03 $136.03 $140.11 $144.31Total Expected Rates (Excl GST) $143,868 $146,649 $151,049 $155,580Cheviot Ward Amenities RatesRate per $ of Capital Value $0.00001120 $0.00001120 $0.00001154 $0.00001188Fixed Charge Per Property $81.06 $81.06 $83.49 $86.00Total Expected Rates (Excl GST) $73,108 $73,108 $75,302 $77,561Glenmark Ward Amenities RatesRate per $ of Capital Value $0.00000000 $0.00000000 $0.00000000 $0.00000000Fixed Charge Per Property $97.73 $97.73 $97.73 $97.73Total Expected Rates (Excl GST) $65,051 $65,051 $65,051 $65,051Hanmer Springs Ward Amenities RatesRate per $ of Capital Value $0.00003315 $0.00003320 $0.00003420 $0.00003522Fixed Charge Per Property $206.11 $206.11 $212.29 $218.66Total Expected Rates (Excl GST) $316,323 $320,211 $329,817 $339,712Hurunui Ward Amenities RatesRate per $ of Capital Value $0.00000500 $0.00000500 $0.00000520 $0.00000541Fixed Charge Per Property $68.51 $68.51 $71.25 $74.10Total Expected Rates (Excl GST) $50,258 $50,256 $52,266 $54,356Amberley Ward Roadside Construction RatesUrban Rate per $ of Capital Value $0.00022829 $0.00023993 $0.00025192 $0.00026452Rural Rate per $ of Capital Value $0.00003441 $0.00003612 $0.00003793 $0.00003982Total Expected Rates (Excl GST) $87,562 $92,583 $97,212 $102,073Amuri Ward Roadside Construction RatesUrban Rate per $ of Capital Value $0.00054937 $0.00054940 $0.00056588 $0.00058286Rural Rate per $ of Capital Value $0.00001091 $0.00001090 $0.00001123 $0.00001156Total Expected Rates (Excl GST) $50,005 $50,965 $52,494 $54,068Cheviot Ward Roadside Construction RatesUrban Rate per $ of Capital Value $0.00039341 $0.00039340 $0.00040520 $0.00041736Rural Rate per $ of Capital Value $0.00001666 $0.00001670 $0.00001720 $0.00001772Total Expected Rates (Excl GST) $38,219 $38,219 $39,365 $40,546Glenmark Ward Roadside Construction RatesUrban Rate per $ of Capital Value $0.00000000 $0.00000000 $0.00000000 $0.00000000Rural Rate per $ of Capital Value $0.00000000 $0.00000000 $0.00000000 $0.00000000Total Expected Rates (Excl GST) $0 $0 $0 $0Hanmer Springs Ward Roadside Construction RatesUrban Rate per $ of Capital Value $0.00031859 $0.00031860 $0.00032816 $0.00033800Rural Rate per $ of Capital Value $0.00009453 $0.00009450 $0.00009734 $0.00010026Total Expected Rates (Excl GST) $152,390 $154,246 $158,873 $163,640Hurunui Ward Roadside Construction RatesUrban Rate per $ of Capital Value $0.00051993 $0.00051990 $0.00054070 $0.00056232Rural Rate per $ of Capital Value $0.00001225 $0.00012300 $0.00012792 $0.00013304Total Expected Rates (Excl GST) $25,429 $25,430 $26,448 $27,506193
---
www.hurunui.govt.nzTargeted Rates - Water RatesActual Rates for2011/2012inclusive of GSTProposed Ratesfor 2012/2013inclusive of GSTIndicative Ratesfor 2013/2014inclusive of GSTIndicative Ratesfor 2014/2015inclusive of GSTRate TypeAmberley TownshipFixed Charge per connected property $120.82 $129.98 $139.86 $150.49Fixed Charge per serviceable property $60.41 $64.99 $69.93 $75.24Fixed Charge per m3 supplied $0.61803731 $0.66501104 $0.71555188 $0.76993382Total Expected Rates (Excl GST) $225,992 $211,610 $227,693 $244,998Culverden TownshipFixed Charge per connected property $174.65 $182.07 $189.81 $197.88Fixed Charge per serviceable property $87.33 $91.04 $94.91 $98.94Fixed Charge per m3 supplied $0.59079627 $0.61590900 $0.64208513 $0.66937375Total Expected Rates (Excl GST) $78,199 $81,522 $84,987 $88,599Hanmer Springs TownshipFixed Charge per connected property $177.64 $184.76 $123.19 $199.83Fixed Charge per serviceable property $88.82 $92.38 $61.60 $99.92Fixed Charge per m3 supplied $0.60064762 $0.62467600 $0.64966304 $0.67564956Fixed Charge per Rural connected property $583.79 $607.14 $631.43 $656.68Total Expected Rates (Excl GST) $335,553 $359,520 $373,900 $388,856Hawarden-Waikari TownshipFixed Charge per connected property $113.89 $118.46 $123.19 $128.12Fixed Charge per serviceable property $56.94 $59.23 $61.60 $64.06Fixed Charge per m3 supplied $0.41265941 $0.42916640 $0.44633306 $0.46418638Fixed Charge per Rural connected property on Medbury Line $393.40 $409.14 $425.50 $442.52Total Expected Rates (Excl GST) $138,180 $143,707 $149,455 $155,434Leithfield BeachFixed Charge per connected property $205.28 $222.24 $240.57 $260.42Fixed Charge per serviceable property $102.64 $111.12 $120.29 $130.21Total Expected Rates (Excl GST) $40,517 $43,860 $47,478 $51,395Waiau TownshipFixed Charge per connected property $137.12 $142.58 $148.29 $154.22Fixed Charge per serviceable property $68.56 $71.29 $74.14 $77.11Fixed Charge per m3 supplied $0.74907467 $0.77903280 $0.81019411 $0.84260188Total Expected Rates (Excl GST) $48,925 $50,882 $52,917 $55,034Waipara TownshipFixed Charge per connected property $67.54 $67.55 $67.55 $67.55Fixed Charge per serviceable property $33.77 $33.78 $33.78 $33.78Fixed Charge per m3 supplied $0.66117976 $0.66118000 $0.66118000 $0.66118000Fixed Charge per Rural connected property $514.86 $514.86 $514.86 $514.86Total Expected Rates (Excl GST) $30,333 $30,333 $30,333 $30,333Ashley RuralFixed Charge per unit provided $567.03 $589.68 $613.27 $637.80Fixed Charge for availability $10.00 $10.00 $10.00 $10.00Total Expected Rates (Excl GST) $1,115,757 $1,197,820 $1,251,065 $1,306,654Amuri Plains RuralFixed Charge per unit provided $185.53 $192.92 $200.64 $208.66Total Expected Rates (Excl GST) $97,122 $101,007 $105,047 $109,249Balmoral RuralFixed Charge per unit provided $65.86 $65.85 $65.85 $65.85Fixed Charge for availability $1.00 $1.00 $1.00 $1.00Total Expected Rates (Excl GST) $39,574 $39,574 $39,574 $39,574Waiau RuralFixed Charge per unit provided $666.00 $692.64 $720.35 $749.16Total Expected Rates (Excl GST) $249,151 $259,117 $269,482 $280,261CheviotFixed Charge per unit provided in Rural area $576.06 $656.70 $689.53 $724.01Fixed Charge for each half unit provided to Rural Residential Properties $360.64 $411.14 $863.40 $906.57Fixed Charge for availability $20.00 $20.00 $20.00 $20.00Total Expected Rates (Excl GST) $554,122 $624,132 $655,339 $688,105Hurunui RuralFixed Charge per unit provided for Operational $625.00 $656.25 $689.06 $723.52Fixed Charge per unit provided for Capital $0.00 $100.00 $75.00 $50.00Total Expected Rates (Excl GST) $912,500 $1,098,207 $1,109,552 $1,123,279Water Treatment RateFixed Charge per dwelling $0.00 $37.95 $75.90 $115.00Total Expected Rates (Excl GST) $0 $48,279 $96,558 $146,300194
---
Draft Hurunui Community Long Term Plan 2012 - 2022Targeted Rates - Sewerage RatesActual Rates for2011/2012inclusive of GSTProposed Ratesfor 2012/2013inclusive of GSTIndicative Ratesfor 2013/2014inclusive of GSTIndicative Ratesfor 2014/2015inclusive of GSTRate TypeAmberley & DistrictsFixed Charge per connected property $144.95 $170.32 $200.12 $235.14Fixed Charge for second Water Closet or Urinal $72.50 $85.19 $100.10 $117.61Fixed Charge for additional Water Closets or Urinals $36.28 $42.63 $50.09 $58.85Fixed Charge per serviceable property $72.50 $85.19 $100.10 $117.61Total Expected Rates (Excl GST) $193,050 $191,489 $225,000 $264,375CheviotFixed Charge per connected property $324.07 $340.27 $357.29 $375.15Fixed Charge for second Water Closet or Urinal $162.05 $170.15 $178.66 $187.59Fixed Charge for additional Water Closets or Urinals $81.04 $85.09 $89.35 $93.81Fixed Charge per serviceable property $162.05 $170.15 $178.66 $187.59Total Expected Rates (Excl GST) $72,557 $76,185 $79,994 $83,994Greta ValleyFixed Charge per connected property $302.99 $331.02 $361.64 $395.09Fixed Charge for second Water Closet or Urinal $151.54 $165.56 $180.87 $197.60Fixed Charge for additional Water Closets or Urinals $75.82 $82.83 $90.50 $93.81Fixed Charge per serviceable property $151.54 $165.56 $180.87 $197.60Total Expected Rates (Excl GST) $10,786 $11,784 $12,874 $14,065Motunau BeachFixed Charge per connected property $192.43 $201.57 $211.15 $221.17Fixed Charge per serviceable property $96.21 $100.79 $105.57 $110.59Total Expected Rates (Excl GST) $20,832 $21,822 $22,858 $23,944Hanmer SpringsFixed Charge per connected property $151.48 $168.14 $186.64 $207.17Fixed Charge for second Water Closet or Urinal $75.75 $84.08 $93.33 $103.60Fixed Charge for additional Water Closets or Urinals $37.88 $42.05 $46.67 $51.81Fixed Charge per serviceable property $75.75 $84.08 $93.33 $103.60Total Expected Rates (Excl GST) $180,358 $201,678 $223,863 $248,488HawardenFixed Charge per connected property $348.97 $358.57 $368.43 $378.56Fixed Charge for second Water Closet or Urinal $174.50 $179.30 $184.23 $189.30Fixed Charge for additional Water Closets or Urinals $87.24 $89.64 $92.10 $94.64Fixed Charge per serviceable property $174.50 $179.30 $184.23 $189.30Total Expected Rates (Excl GST) $40,359 $41,469 $42,609 $43,781WaikariFixed Charge per connected property $502.28 $522.37 $543.27 $565.00Fixed Charge for second Water Closet or Urinal $251.14 $261.19 $271.63 $282.50Fixed Charge for additional Water Closets or Urinals $125.57 $130.59 $135.82 $141.25Fixed Charge per serviceable property $251.14 $261.19 $271.63 $282.50Total Expected Rates (Excl GST) $70,866 $73,701 $76,649 $79,715Targeted Rates - Stromwater/Drainage/Land Protection RatesActual Rates for2011/2012Proposed Ratesfor 2012/2013Indicative Ratesfor 2013/2014Indicative Ratesfor 2014/2015Rate Typeinclusive of GST inclusive of GST inclusive of GST inclusive of GSTJed River DrainageRate per $ of Land Value $0.00003599 $0.00003600 $0.00003600 $0.00003600Class A - Fixed Charge per hectare $10.34 $10.34 $10.34 $10.34Class B - Fixed Charge per hectare $7.55 $7.55 $7.55 $7.55Class C - Fixed Charge per hectare $4.14 $4.14 $4.14 $4.14Total Expected Rates (Excl GST) $810 $810 $810 $810Amberley StormwaterFixed Charge per property $108.77 $108.77 $108.77 $108.77Total Expected Rates (Excl GST) $198,108 $234,713 $234,713 $234,713Hanmer Springs StormwaterFixed Charge per property $0.00 $24.90 $31.73 $26.69Total Expected Rates (Excl GST) $0 $27,084 $34,513 $29,032Amberley Beach Erosion ProtectionFixed Charge per property $175.00 $175.00 $175.00 $175.00Total Expected Rates (Excl GST) $18,911 $16,435 $16,435 $16,435Targeted Rates - Tourism RatesActual Rates for2011/2012inclusive of GSTProposed Ratesfor 2012/2013inclusive of GSTIndicative Ratesfor 2013/2014inclusive of GSTIndicative Ratesfor 2014/2015inclusive of GSTRate TypeFixed Charge per propertyClass A ($100 to $150,000) $238.67 $248.56 $258.50 $268.84Class B ($150,001 to $250,000) $355.35 $369.20 $383.97 $399.33Class C ($250,001 to $350,000) $472.04 $490.88 $510.52 $530.94Class D ($350,001 to $450,000) $599.33 $622.96 $647.88 $673.79Class E ($450,001 to $550,000) $710.71 $739.44 $769.02 $799.78Class F ($550,001 to $650,000) $822.09 $854.88 $889.08 $924.64Class G ($650,001 to $750,000) $928.16 $965.12 $1,003.72 $1,043.87Class H ($750,001 to $850,000) $1,039.54 $1,081.60 $1,124.86 $1,169.86Class I ($850,001 and over) $1,203.97 $1,252.16 $1,302.25 $1,354.34Total Expected Rates (Excl GST) $275,000 $286,000 $297,440 $309,338195
---
www.hurunui.govt.nzTargeted Rates - Medical Centre RatesActual Rates for2011/2012inclusive of GSTProposed Ratesfor 2012/2013inclusive of GSTIndicative Ratesfor 2013/2014inclusive of GSTIndicative Ratesfor 2014/2015inclusive of GSTRate TypeAmuri Ward Medical CentreFixed Charge per property $101.30 $101.30 $101.30 $101.30Total Expected Rates (Excl GST) $105,000 $105,000 $105,000 $105,000Cheviot Ward Medical CentreFixed Charge per property $24.93 $45.00 $45.00 $45.00Total Expected Rates (Excl GST) $20,553 $37,100 $37,100 $37,100Hanmer Springs Ward Medical CentreFixed Charge per property $19.91 $19.91 $19.91 $19.91Total Expected Rates (Excl GST) $28,651 $28,651 $28,651 $28,651Hurunui Ward Medical CentreFixed Charge per property $18.68 $18.68 $18.68 $18.68Total Expected Rates (Excl GST) $13,055 $13,055 $13,055 $13,055Targeted Rates - Other Targeted RatesActual Rates for2011/2012inclusive of GSTProposed Ratesfor 2012/2013inclusive of GSTIndicative Ratesfor 2013/2014inclusive of GSTIndicative Ratesfor 2014/2015inclusive of GSTRate TypeRefuse Collection RatesFixed Charge per Urban property $260.00 $260.00 $260.00 $260.00Fixed Charge per Rural property that receive the service $270.00 $270.00 $270.00 $270.00Fixed Charge per Business that receive the service $260.00 $260.00 $260.00 $260.00Total Expected Rates (Excl GST) $713,699 $742,952 $748,410 $771,146Amberley Ward Library RateFixed Charge per property $18.14 $18.14 $18.14 $4.88Total Expected Rates (Excl GST) $34,200 $34,358 $34,358 $9,253Rural Fire RatesClass A - Rate per $ of Capital Value $0.00008377 $0.00008715 $0.00009064 $0.00009426Class B - Rate per $ of Capital Value $0.00003546 $0.00003682 $0.00003829 $0.00003982Total Expected Rates (Excl GST) $263,546 $274,088 $285,051 $296,453Swimming Pool Inspection RatesFixed Charge per property $77.09 $98.76 $101.85 $104.95Total Expected Rates (Excl GST) $23,530 $29,627 $30,554 $31,485196
---
Draft Hurunui Community Long Term Plan 2012 - 2022Reserve FundsThe recent changes to the Local Government Act has imposeda new requirements to provide details and the movements overthe ten year period for each reserve fund that the Council hasset aside for a specifi c purpose.As outlined in the Council's Internal Financing Policy on page268, the Council have developed a system where variousactivities hold a separate account. The account may hold funds,which is set aside to meet future capital expenditure specifi callyfor that activity, or it may be in debt, which has been the result offunding capital expenditure in the past. As a result, the Councilholds 100 separate reserve funds, which are listed below:197
---
www.hurunui.govt.nzSpecial FundsActivity the Fund relatestoGroup of Activities the Fundrelates to Reason for Holding Reserve FundsForecast Balance 1July 2012Funds Deposited2012-2022Funds Withdrawn2012-2022Forecast Balance30 June 2022Fund NameCreative NZ Grants Community Services Community Services and Facilities To set aside grants that have been allocated 964 0 0 964SPARC Grants Community Services Community Services and Facilities To set aside grants that have been allocated 1,650 0 0 1,6501,258,438 0 1,258,438 0Nurses Block Government Grant Fund Reserves Community Services and Facilities To fund earthquake strengthening work and maintenance of theNurses Block on the Former Queen Mary Hospital SiteAmberley Beach Reserve Fund Reserves Community Services and Facilities To fund projects for Amberley Beach 25,939 10,651 0 36,590Amuri Ward Land Subdivision Fund Reserves Community Services and Facilities To fund projects for the Amuri Ward 20,879 8,573 0 29,452Amuri Sports Facilities Fund Reserves Community Services and Facilities To fund projects for sports facilities in the Amuri Ward 14,474 88,063 0 102,537Cheviot Ward Land Subdivision Fund Reserves Community Services and Facilities To fund projects for Cheviot Ward 4,970 2,041 0 7,011Waipara Pavilion Fund Reserves Community Services and Facilities To fund projects for the Waipara Pavilion 14,355 5,894 0 20,249Waiau Ferry Bridge Fund Reserves Community Services and Facilities To provide funds for the maintenance of the Waiau Ferry Bridge 11,248 58,196 0 69,444Hanmer Springs Tourism Fund Reserves Community Services and Facilities To fund marketing projects for the Hanmer Springs Ward 39,831 26,772 70,000 (3,397)Hurunui Ward Land Subdivision Fund Reserves Community Services and Facilities To fund projects for the Hurunui Ward 3,489 1,433 0 4,922Adverse Events Reserve Reserves Community Services and Facilities To provides funds relating to adverse events 13,114 0 0 13,114Forestry Treasury & Forestry Corporate Services To continue to provide for commercial forests and funds projects asdetermined by the Council.548,196 2,533,376 0 3,081,5721,957,547 2,734,998 1,328,438 3,364,107Reserve Committee FundsFund NameActivity the Fund relatestoGroup of Activities the Fundrelates to Reason for Holding Reserve FundsScargill-Motunau Reserve Reserves Community Services and Facilities To fund operations on the Scargill-Motunau Recreation Reserve asdetermined by the Scargill - Motunau Reserve CommitteeHawarden Reserve & Hall Reserves Community Services and Facilities To fund operations on the Hawarden Reserve as determined by theReserve CommitteeWaikari Reserve & Hall Reserves Community Services and Facilities To fund operations on the Waikari Reserve as determined by theReserve CommitteeHurunui Reserve Reserves Community Services and Facilities To fund operations on the Hurunui Reserve as determined by theReserve CommitteeWaiau Reserve Reserves Community Services and Facilities To fund operations on the Waiau Reserve as determined by theReserve CommitteeCheviot Reserve Reserves Community Services and Facilities To fund operations on the Cheviot Reserve as determined by theReserve CommitteeDomett Reserve Reserves Community Services and Facilities To fund operations on the Domett Reserve as determined by theReserve CommitteePort Robinson - Gore Bay Camp Reserves Community Services and Facilities To fund operations on the Port Robinson-Gore Bay Camp Reserveas determined by the Reserve CommitteePort Robinson Reserve Reserves Community Services and Facilities To fund operations on the Port Robinson Reserve as determined bythe Reserve CommitteeSpotswood Reserve Reserves Community Services and Facilities To fund operations on the Spotswood Reserve as determined by theReserve CommitteeDomett Camp Reserve Reserves Community Services and Facilities To fund operations on the Domett Camp Reserve as determined bythe Reserve CommitteeForecast Balance 1July 2012Funds Deposited2012-2022Funds Withdrawn2012-2022Forecast Balance30 June 202219,732 8,102 0 27,834(343) 0 0 (343)24,160 0 0 24,16010,007 4,109 0 14,11667,253 13,282 0 80,53568,834 0 32,752 36,08211,190 (1,430) 0 9,76074,908 100,598 0 175,50612,912 (2,065) 0 10,8475,329 0 14,982 (9,653)11,676 0 18,534 (6,858)305,658 122,595 66,268 361,985198
---
Draft Hurunui Community Long Term Plan 2012 - 2022Trust FundsActivity the Fund relatestoGroup of Activities the Fundrelates to Reason for Holding Reserve FundsForecast Balance 1July 2012Funds Deposited2012-2022Funds Withdrawn2012-2022Forecast Balance30 June 2022Fund NameChamberlain Bros Trust Reserves Community Services and Facilities To provide funds for projects on Chamberlain Park In Amberley 16,687 6,852 0 23,539169 69 0 238Busch Legacy Trust Reserves Community Services and Facilities To provide funds for maintenace of gravestones in the Council'sCemeteriesGraves Maintenance Trust Reserves Community Services and Facilities To provide funds for maintenace of gravestones in the Council'sCemeteriesCulverden Domain Gates Trust Reserves Community Services and Facilities To provide funds for the repalcement of the gates leading into theCulverden Domain1,922 789 0 2,711557 229 0 786Cheviot RSA Fund Reserves Community Services and Facilities To hold funds on behalf of the Cheviot RSA 4,196 1,723 0 5,919Hawarden Memorial Park Trust (ADF Neill Reserves Community Services and Facilities To fund projects on the Hawarden Reserve 4,250 1,745 0 5,995Bequest)Bridson Trust Reserves Community Services and Facilities To provide funds for maintenace of gravestones in the Council'sCemeteriesForrester Trust Reserves Community Services and Facilities To provide funds for maintenace of gravestones in the Council'sCemeteries1,009 414 0 1,4231,083 445 0 1,52829,873 12,266 0 42,139199
---
www.hurunui.govt.nzDevelopment Contributions FundsFund NameActivity the Fund relates toGroup of Activities the Fundrelates to Reason for Holding Reserve FundsForecast Balance 1 July 2012Funds Deposited 2012-2022Funds Withdrawn 2012-2022 Forecast Balance30 June 2022Amberley Water Development Contributions Water Supplies Water Supplies To provide funds for growth related projects for Amberley Water (95,630) (124,498) 307,585 (527,713)FundAshley Rural Water Development Contributions Community Services Water Supplies To provide funds for growth related projects for Ashley Rural Water 0 612,955 612,955 0FundCheviot Water Development Contributions Fund Water Supplies Water Supplies To provide funds for growth related projects for Cheviot Water 0 61,261 61,261 0Hanmer Springs Water DevelopmentWater Supplies Water Supplies To provide funds for growth related projects for Hanmer Springs0 0 0 0Contributions FundWaterHurunui Rural Water DevelopmentSewerage Sewerage To provide funds for growth related projects for Hurunui Rural Water 0 167,002 167,002 0Contributions FundAmberley Sewer Pipe DevelopmentSewerage Sewerage To provide funds for growth related projects for Amberley Sewer41,041 (308,036) 717,678 (984,673)Contributions FundPipesAmberley Sewer Pond DevelopmentSewerage Sewerage To provide funds for growth related projects for Amberley Sewer(88,026) 68,105 0 (19,921)Contributions FundPondHanmer Springs Sewer DevelopmentSewerage Sewerage To provide funds for growth related projects for Hanmer Springs0 284,198 284,198 0Contributions FundSewerAmberley Stormwater DevelopmentStormwater and Drainage Stormwater and Drainage To provide funds for growth related projects for Amberley(122,286) (136,005) 100,000 (358,291)Contributions FundStormwaterHanmer Springs Stormwater Development Stormwater and Drainage Stormwater and Drainage To provide funds for growth related projects for Hanmer Springs0 188,146 188,146 0Contributions FundStormwaterDistrict Library Development Contributions Fund Community Services Community Services and Facilities To provide funds for growth related projects for the District Library (125,214) 125,214 0 (0)Hanmer Springs Medical Centre Development Property Community Services and Facilities To provide funds for growth related projects for the Medical Centre0 190,789 190,789 0Contributions Fundin Hanmer SpringsAmberley Reserve Pavilion Development Property Community Services and Facilities To provide funds for growth related projects for the Amberley(38,187) 9,293 0 (28,894)Contributions FundReserve PavilionHanmer Springs Hall DevelopmentProperty Community Services and Facilities To provide funds for growth related projects for the Hanmer Springs(32,396) 32,395 0 (1)Contributions FundHallHanmer Springs Town Centre Development Property Community Services and Facilities To provide funds for growth related projects for the Town Centre in(670,604) 0 50,070 (720,674)Contributions FundHanmer SpringsQueen Mary Development Contributions Fund Reserves Community Services and Facilities To provide funds for growth related projects for development of the260,141 888,979 703,431 445,689former Queen Mary Hospital SiteAmberley Township Reserves Development Reserves Community Services and Facilities To provide funds for growth related projects for township reserves in54,168 96,037 345,199 (194,994)Contributions FundAmberleyAmberley Walking and Cycling Routes Reserves Community Services and Facilities To provide funds for growth related projects for Walking and Cycling20,913 22,077 200,312 (157,323)Development Contributions FundRoutes in the Amberley WardAmberley Ward Reserves Development Reserves Community Services and Facilities To provide funds for growth related projects for ward reserves in114,071 400,754 0 514,825Contributions FundAmberleyOmihi Reserve Development Contributions Reserves Community Services and Facilities To provide funds for growth related projects for the Omihi Reserve (9,911) 9,911 0 0FundHanmer Springs Conical Hill Walkway Reserves Community Services and Facilities To provide funds for growth related projects for Conical Walkway36,727 65,695 107,505 (5,083)Development Contributions Fundarea in Hanmer SpringsHanmer Springs Domain Upgrade Development Reserves Community Services and Facilities To provide funds for growth related projects for the Domain in0 138,924 553,690 (414,766)Contributions FundHanmer Springs(655,193) 2,793,195 4,589,820 (2,451,818)200
---
Draft Hurunui Community Long Term Plan 2012 - 2022Rate Reserve FundsActivity the Fund relatestoGroup of Activities the Fundrelates to Reason for Holding Reserve FundsForecast Balance 1July 2012Funds Deposited2012-2022Funds Withdrawn2012-2022Forecast Balance30 June 2022Fund NameInterim treatment Water Supplies Water Supplies To fund capital projects relating to interim treatment of water 0 349,715 758,000 (408,285)Full Treatment Water Supplies Water Supplies To fund capital projects relating to full treatment of water 0 2,111,887 0 2,111,887Amberley Water Water Supplies Water Supplies To fund capital projects for Amberley water (431,410) 800,242 1,250,754 (881,922)Leithfield Beach Water Water Supplies Water Supplies To fund capital projects for Leithfield Beach water (123,483) 39,925 0 (83,558)Ashley Rural Water Water Supplies Water Supplies To fund capital projects for Ashley Rural water (1,122,367) 6,388,115 2,292,870 2,972,879Culverden Water Water Supplies Water Supplies To fund capital projects for Culverden water (54,170) 56,076 177,534 (175,628)Waiau Township Water Water Supplies Water Supplies To fund capital projects for Waiau Township water 56,142 272,558 210,940 117,760Amuri Plains Water Water Supplies Water Supplies To fund capital projects for Amuri Plains water (11,878) 64,503 53,461 (836)Balmoral Water Water Supplies Water Supplies To fund capital projects for Balmoral water 129,586 (58,825) 47,527 23,235Waiau Rural Water Water Supplies Water Supplies To fund capital projects for Waiau Rural water (160,393) 575,188 328,225 86,570Cheviot Water Water Supplies Water Supplies To fund capital projects for Cheviot water (1,246,301) 559,163 972,326 (1,659,464)Waipara Township Water Water Supplies Water Supplies To fund capital projects for Waipara Township water 71,364 109,413 20,000 160,777Hanmer Springs Water Water Supplies Water Supplies To fund capital projects for Hanmer Springs water (552,899) 1,164,235 1,030,630 (419,293)Hawarden - Waikari Water Water Supplies Water Supplies To fund capital projects for Hawarden-Waikari water (43,500) 414,363 115,087 255,775Hurunui Rural Water Water Supplies Water Supplies To fund capital projects for Hurunui Rural water (433,283) 2,699,214 2,443,323 (177,392)Amberley Sewer Sewerage Sewerage To fund capital projects for Amberley sewer (2,397,254) 1,732,920 956,888 (1,621,223)Culverden Sewer Sewerage Sewerage To fund capital projects for Culverden sewer (4,116) (11,339) 0 (15,455)Cheviot Sewer Sewerage Sewerage To fund capital projects for Cheviot sewer (53,334) 210,639 165,286 (7,981)Greta Valley Sewer Sewerage Sewerage To fund capital projects for Greta Valley sewer (14,256) 15,236 59,015 (58,035)Motunau Beach Sewer Sewerage Sewerage To fund capital projects for Motunau Beach sewer 19,963 20,513 179,325 (138,850)Waipara Sewer Sewerage Sewerage To fund capital projects for Waipara sewer (16,362) (16,584) 0 (32,946)Hanmer Springs Sewer Sewerage Sewerage To fund capital projects for Hanmer Springs sewer (1,279,755) 190,866 1,750,003 (2,838,891)Hawarden Sewer Sewerage Sewerage To fund capital projects for Hawarden sewer 658 110,931 146,476 (34,886)Waikari Sewer Sewerage Sewerage To fund capital projects for Waikari sewer (215,871) 352,632 120,873 15,888Amberley Beach Foreshore Protection Stormwater and Drainage Stormwater and Drainage To fund capital projects for Amberley Beach Foreshore Protection 94,849 23,743 0 118,592Amberley Stormwater Stormwater and Drainage Stormwater and Drainage To fund capital projects for Amberley stormwater (1,162,479) 1,590,722 378,001 50,241Jed River Clearance Stormwater and Drainage Stormwater and Drainage To fund capital projects for Jed River Clearance 1,789 (3,165) 0 (1,376)Hanmer Springs Stormwater Stormwater and Drainage Stormwater and Drainage To fund capital projects for Hanmer Springs Stormwater (221,096) 280,648 216,438 (156,886)District Library Development - Amberley Ward Community Services Community Services and Facilities To fund portion of District Library construction costs (69,406) 69,406 0 (0)Amberley Amenities Community Services Community Services and Facilities To fund capital projects for Amberley Ward Amenities (1,081,191) 150,628 222,981 (1,153,544)Amuri Amenities Community Services Community Services and Facilities To fund capital projects for Amuri Ward Amenities (50,695) 427,306 250,728 125,883Cheviot Amenities Community Services Community Services and Facilities To fund capital projects for Cheviot Ward Amenities (2,739) 82,780 0 80,041Glenmark Amenities Community Services Community Services and Facilities To fund capital projects for Glenmark Ward Amenities 8,060 47,688 0 55,748Hanmer Springs Amenities Community Services Community Services and Facilities To fund capital projects for Hanmer Springs Ward Amenities (593,740) 785,726 1,057,871 (865,885)Hurunui Amenities Community Services Community Services and Facilities To fund capital projects for Hurunui Ward Amenities (3,508) 1,203 0 (2,305)Amuri Medical General Property Community Services and Facilities To fund capital projects for medical centres in the Amuri Ward (775,229) 693,907 0 (81,322)Cheviot Medical General Property Community Services and Facilities To fund capital projects for medical centres in the Cheviot Ward (194,502) 533,355 1,150,700 (811,847)Hanmer Springs Medical General Property Community Services and Facilities To fund capital projects for medical centres in the Hanmer Springs(343,553) 389,411 0 45,858WardWaikari Medical Centre Property Community Services and Facilities To fund capital projects for medical centres in the Hurunui Ward (107,900) 88,972 0 (18,928)Rural Fire Control Emergency Services Environmental and Safety To fund previous deficits recorded for Rural Fire Control (96,197) 1,755 0 (94,442)Animal Control Compliance and Regulatory FunctionsEnvironmental and Safety Funds utilised to offset the cost of Animal Control 47,976 0 47,976 0Dog Control Compliance andRegulatory FunctionsEnvironmental and Safety Funds utilised to offset the cost of Animal Control 0 0 0 0Refuse Collection Waste Minimistaion Environmental and Safety To fund previous deficits recorded for Refuse Collection (15,372) 15,372 0 0District Tourism District Promotion District Promotion To hold funds for projects relating to District Tourism 0 0 0 0Hanmer Springs Thermal Reserve Balance Hanmer Springs ThermalPools & SpaHanmer Springs Thermal Reserve Internal Loan Hanmer Springs ThermalPools & SpaHanmer Springs Thermal Pools &SpaHanmer Springs Thermal Pools &SpaUnused surpluses derived from the operation of the HSTP&S 2,858,695 6,493,219 2,049,780 7,302,134Interest-only internal debt relating to key expansion projects for theHSTP&S(8,698,003) 0 3,409,125 (12,107,128)(18,287,162) 29,824,263 21,862,141 (10,325,040)TOTAL RESERVE FUNDS (16,649,277) 35,487,317 27,846,667 (9,008,627)201
---
www.hurunui.govt.nzCouncil Controlled OrganisationsThe Hurunui District Council has fi nancial interest in thefollowing Council Controlled Organisations:• Hurunui Holdings Limited• Enterprise North Canterbury• Transwaste Canterbury Limited• Canterbury Economic Development CompanyHurunui Holdings LimitedHurunui Holdings Limited is 100% owned by the HurunuiDistrict Council. The Company was incorporated in July 1995,with a principal activity to arrange the sale of the Lyttleton PortCompany Shares previously purchased from the Council. Thetransaction of the sale of the shares was completed in June 1996.In May 2004, Hurunui Roading Limited, a former Local AuthorityTrading Enterprise (LATE), was amalgamated with HurunuiHoldings Limited. The Company is retained as a 'shelf company',principally due to the fact that it has signifi cant tax losses tocarry forward. The future of the Company is being reviewed.In June 2010, the Council transferred the remaining assets fromHurunui Holdings Limited and resolved to exempt the Companyfor under section 7 (3) of the Local Government Act 2002. Theresult of this action is that Hurunui Holdings Limited is notconsidered to be a Council Controlled Organisation (CCO)for the purposes of the LGA and as such is not required to beaudited.Enterprise North CanterburyEnterprise North Canterbury provides promotions andeconomic development services for the North Canterburyregion. On behalf of Waimakariri and Hurunui District Councilsits activities are focussed on developing existing businesses andpromoting new businesses within the region. The Trust alsopromotes the region as a visitor destination.The Mayors of the two Councils are trustees and the twoChief Executive Offi cers are advisory trustees. Other trusteesare appointed jointly by the Hurunui and Waimakariri DistrictCouncils.Key Performance Targets and ObjectivesThe main objects of the trust are to cultivate and promoteeconomic activity and foster growth in North Canterbury.• Retaining and supporting existing businesses• Promote and encourage large businessopportunities into North Canterbury• Lobby for infrastructure and facilities wherethere are gaps that impact on the creation ofwealth• Assist town development when invitedTranswaste Canterbury LimitedTranswaste Canterbury Limited operates a regional landfi ll atKate Valley and associated transport services in a joint venturewith Canterbury Waste Services.The Hurunui District Council is one of the councils in theCanterbury region which between them own 50% of the sharesin Transwaste Canterbury Limited. Hurunui's share of theCompany amounts to 1.2%.The council shareholders appoint representatives to a jointcommittee which in turn appoints four of the eight directors.Key Performance Targets and ObjectivesEnsure that Transwaste performs in accordance with itsStatement of Intent.Canterbury Economic Development CompanyThe Canterbury Economic Development Company was set upas a Council Controlled Organisation (CCO) in 2006 to enablethe allocation of regional partnership funding for economicdevelopment from Central Government for the CanterburyRegion. Two of the ten Company Directors represent NorthCanterbury; one was nominated by the three Councils (Kaikoura,Hurunui and Waimakariri District's) and the other is an industryrepresentative endorsed by the Councils. The intention wasfor these directors to represent North Canterbury during anycontestable funding allocation processes undertaken by thisCCO.This company was expected to have a short life and as theRegional Strategy Funding Programme has now been completed;the Board will meet in April 2012 to discuss the future of thecompany and whether the company is shelved for future use ofthe councils or whether it will be wound up.• Performance targets are based around:202
---
Draft Hurunui Community Long Term Plan 2012 - 2022Key Performance Targets and Objectives• Facilitate project proposals in the region.• Provide leadership to stimulate and transform theCanterbury economy.• Communicate national shifts to regional economicdevelopment role players.203
---
www.hurunui.govt.nzCouncil Policies205 Policy Introduction206 Development Contributions Policy222 External Liability Management Policy224 Investment Policy226 Rates Remission for Biodiversity Policy227 Rates Remissions on Land Affected byNatural Calamity Policy228 Reserves Funding Policy230 Revenue and Funding Policy257 Significance Policy264 Treasury Risk Management Policy268 Internal Financing Policy204
---
Policy IntroductionMost of the policies that are included in this section have beenreviewed and updated, hence their inclusion into this draft Plan.These policies are:Draft Hurunui Community Long Term Plan 2012 - 2022• Development Contributions Policy• External Liability Management Policy• Investment Policy• Internal Financing Policy• Rates Remissions on Biodiversity Policy• Reserves Funding Policy• Revenue and Financing Policy• Treasury Risk Management PolicyA policy has been developed in light of the Canterburyearthquakes and the reminder that from time to time, situationsbeyond anyone's control can signifi cantly impact on our abilityto pay rates. It is the:• Rate Remissions on Land Affected by Natural CalamityAnother policy has been added for your information as it is animportant one regarding Council decision making. This policysets out guidelines and requirements around what we mustconsider when making decisions. It is the:• Signifi cance PolicyYou are able to submit on any of these policies. Most of thechanges to the existing policies are minor and have beenupdated to refl ect legislative changes and current practice. Wedo have many other policies in place that are not included in thisdraft Plan. Our policy manual can be located on our website.205
---
www.hurunui.govt.nzDevelopment Contributions PolicyIntroductionAny growth in the District will impact on the existing reserves,sewerage, water, stormwater, roading, township infrastructureand recreation facilities. To ensure that the expected populationgrowth does not adversely affect residents the Council hasidentifi ed a number of infrastructural developments needed tocope with this growth.The Local Government Act 2002 (LGA) allows councils tocollect 'Development Contributions', which are contributionsof land or money made by developers towards the cost ofproviding new infrastructure, or increased capacity in existinginfrastructure as a result of growth.Councils can also collect Financial Contributions under theResource Management Act 1991 via rules in the District Plan. ACouncil cannot however take both Development Contributionsand Financial Contributions for the same purpose. The typeof contribution must be stipulated in the DevelopmentContributions Policy. The diagram on the next page illustratesthis.The Hurunui District Council has decided that growth in theDistrict will be funded from 3 main sources:• Financial Contributions (levied under the ResourceManagement Act), which are designed to offset adverseeffects of a particular development, and are identifi ed inthe Hurunui District Plan.• Development Contributions (charged under the LocalGovernment Act 2002) which are for growth relatedprojects that are identifi ed in the Hurunui Long TermCommunity Plan.• Existing ratepayers and residents through rates andloans.Review of Development ContributionsPolicyCouncil's Development Contributions Policy as outlined in the2009-2019 LTCCP was based on a number of assumptions, ofwhich growth projections formed a key component. Councildirected that the Policy should provide for a signifi cant increasein development in the Amberley Township, and adjustments tothe Policy were made accordingly. However, in the interveningperiod, the amount of growth has been signifi cantly lowerthan anticipated and as a result, the level of DevelopmentContributions received has been lower than budgeted.As preparation for the 2012-2022 LTP, the Council contractedPricewaterhouseCoopers, in conjunction with the Council'slegal advisers, Buddle Findlay, to undertake a comprehensivereview of out Development Contributions Methodology. Thereview concluded that the methodology was sound, and basedon experience sourced from other Councils, suggestions weremade to simplify the methodology.One of the key suggestions was to consider rationalising thenumber of collection areas for contributions. For metropolitanCouncils, this is relatively easy to achieve as each newdevelopment will generally receive the same benefi t from thegrowth projects identifi ed as the next development. Due to thegeography of the Hurunui District and the specifi c requirementsfor individual areas, Council felt that this could not be easilyachieved.A further suggestion was for the Council to reinstate aninterest component to the calculation of the contribution. Thissuggestion was made in the light that a number of the growthrelated projects will occur ahead of receiving a suffi cient level ofdevelopment contributions and as a result, there will normally bea holding cost attached to the project. When this was reviewedas part of the 2009-2019 LTCCP, the Council favoured the useof an infl ation component rather than an interest component,which meant that the individual development contribution willincrease on an annual basis to match the increase in infl ation, soas a result, the developer who pays a contribution in four years'time will pay a higher level of contribution than the developerwho pays now. The Council considered that the inclusion of aninterest component would result in further increases to theindividual contributions and decided against it.Updated growth projections based on Statistics New Zealanddata have been provided which are at a more conservative rateof development than was provided for in the 2009-2019 LTCCPdue to the Council not making specifi c adjustments to particularareas. It is important to note that due to the earthquake inChristchurch in February 2011 that the census scheduled for 8March 2011 was not undertaken and as a result, the populationprojections have not been updated. The census has now beenscheduled for 5 March 2013 and the population projections canbe re-assessed at that stage.Key Changes made to MethodologyAs a result of the review, the Council has made some changesto the methodology.In general, the Council has retained the projects that are subjectto the methodology, so those projects that were identifi ed inthe 2009-2019 methodology have been continued, however, dueto the lower level of growth that has resulted in the last threeyears, a some projects have been deferred for a longer period.The Council has, in some cases, reduced the portion of theproject that relates to growth, refl ecting that some of the206
---
Draft Hurunui Community Long Term Plan 2012 - 2022projects (particularly in relation to Community Infrastructureand Reserves) will benefi t the wider community rather thanstrictly those ratepayers who occupy the new developments.Specifi cally, the Council has resolved that the portion of thecosts relating to growth for: the Amberley Township Reserveswill reduce to 90% (down from 100%); Amberley Walking andCycling Routes at 80% (down from 100%); Amberley WardReserves at 90% (down from 100%) and Conical Hill ReserveWalkway at 90% (down from 100%).The Council proposes to introduce one new developmentcontribution for the Hanmer Springs Domain. As a result ofcommunity discussions, in the preparation of the budgets to beincluded in the 2012-2022 Long Term Plan, the Hanmer SpringsCommunity Board recommended that a total of $1 million bebudgeted for an upgrade to the various facilities situated on theHanmer Springs Domain. The full identifi cation of the projectwill be undertaken in the 2012/2013 with proposed physicalworks to be undertaken in 2015/2016. It was resolved that theportion of the project that relates to growth is estimated at50%.Result of Key ChangesThe Council's overriding philosophy in regards to theDevelopment Contributions was that the level of the individualcontribution should be consistent with the level that has beencharged in the past, with the adjustment for infl ation and anyadjustment required as a result of reducing the growth relatedportion of the project.With the uncertain nature of development due to the currentsituation in Canterbury as a whole and Christchurch in particularand coupled with the delays in obtaining updated populationprojections, it was felt that there was a need for consistencyof the level of contributions for the short term, in particular inlight of various developments that are in their formative stagewhose feasibility may be reliant on the levels of contributionsnot increasing signifi cantly.On the basis of a consistent level of individual developmentcontributions received and with a lower level of developmentforecast, to ensure that the levels of contributions received issuffi cient to meet the similar level of project costs, the Councilhas proposed that the collection period for some of the projectsbe extended. This will allow the similar number of developmentsthat contribute to the cost of the project to be undertaken,however, as it is expected to take longer to achieve that.Specifi cs of the DevelopmentContributions PolicyThe specifi cs of this policy are divided into three main sections,which identify the rationale and formula for contributionsfor: Reserves, Network infrastructure, and Communityinfrastructure. These are preceded by a few general policystatements, as set out below.Development ContributionsThe Council is charging development contributions to ensurethat the growth related capital expenditure identifi ed in this LongTerm Plan (LTP) is recovered from those who directly benefi tfrom it, rather than from ratepayers. Development contributionswill be charged when the effect of the development, or thecumulative effect of developments, contribute to the need forthe development of physical works or Council services andwhen these works or services have been allowed for in the LTP.Financial ContributionsThe purposes for which Financial Contributions may be takenunder the Resource Management Act 1991 are related tosection 5 of the Act (the sustainable management of naturaland physical resources). A Financial Contribution can beimposed on a resource consent as long as it is in accordancewith a rule in the district plan.Financial Contributions in District Plan can be taken to pay thecosts of services such as roads, water supplies, sewerage anddrainage systems which must be developed to address adverseeffects on the environment.Council uses fi nancial contributions to fund capital expenditureon infrastructure and community facilities where:• The development has not been foreseen in the LTP,but the effect of development directly contributes tothe need for physical works on Council services andinfrastructure; or• The Council's population projections do not indicatethat the costs of the Council's investment will berecovered within an appropriate timeframe; or• The costs of Council-funded investment will impact onexisting ratepayers; or• There is a need to offset adverse environmental effectsthat may result from a development, for example toimprove a wetland to offset land disposal.Financial contributions are also used to take land for anyinfrastructure, reserves or other community facility within adevelopment, where that land or those facilities will vest in theCouncil.Further information on Financial Contributions is available inthe Council's District Plan.207
---
www.hurunui.govt.nzBasis for Calculation of ContributionThe detailed basis for assessment for developments is explainedfor each contribution. There are two broad groups ofcontributions. One applies to services and facilities that have aDistrict wide benefi t and the costs are apportioned across thewhole District. The second group has more tangible benefi ts fora defi ned group of users and the costs are apportioned to thedirect benefi ciaries.Growth Forecasting AssumptionsOver the last three census periods, the Hurunui District hasexperienced a 10% increase in its permanent resident populationas measured by Statistics New Zealand (SNZ). As the censustimed for 8 March 2011 was deferred due to the earthquake inChristchurch in February, there have been no suitable updatedpopulation projections. High rates of absentee ownership oflifestyle blocks and holiday homes (especially in Hanmer Springs)complicate the process of forecasting growth in the District, butstatistical correlations indicate a signifi cant relationship betweenthe census data upon which these fi gures are based (the "usuallyresident population") and overall growth in the District (thenumber of properties added to the rating database from whichdevelopment contributions may be collected, including holidayhomes, seasonal accommodation etc.) In some localities, thiscorrelation is stronger with census data in the surrounding area(Ward), or even with that for the District as a whole, and insuch cases it has been assumed that population growth in thesewider areas is more of a driver of growth (i.e. that there will bemore migration into the locality than the SNZ fi gures for thatlocality indicate).The SNZ medium series has been used for long range forecasting,as this series is the more likely to be stable over time. Whenpreparing the methodology for the 2009-2019 LTCCP, theCouncil deviated from the projections to take into accountof a level of potential development in Amberley, which due toa number of reasons, did not eventuate over the subsequentthree year period. The Council, erring on the conservative sidehave adopted the medium series for the growth projections forthe period of the LTP, however, instead of reducing the numberof new units of growth to be collected in the defi ned periodto calculate the resulting level of the individual developmentcontribution, it has extended the collection period in which toachieve that same level of growth. The graphs on page 26 showthe growth expected in key areas of the District and for theDistrict as a whole.Accuracy of PredictionsUnfortunately, the "area unit" boundaries used by SNZ do notalways align with the areas from which the Council wishes tocollect development contributions, and, accordingly, a numberof assumptions have been used for calculating the populationprojections for these areas (e.g. subtracting or adding areas forwhich we do have fi gures; extrapolating GIS data for unknownareas in cases in which there is a good correlation between thisand known areas).This procedure and all of the assumptions mentioned above arepotential sources of error for this policy, but they are necessaryapproximations given the information and resources that wehave to work with.There is obviously a large degree of uncertainty in any attemptat predicting the future (the variance between the SNZ highand low population projection series is 17%), and, given thelarge number of assumptions for this policy (detailed above),this is diffi cult to quantify. All trends have also been checked ina qualitative way by examining graphs.The accuracy of the growth projections is further complicatedby the as yet unknown effect of ability for land to be rebuilt onin both Christchurch and Kaiapoi and the possible effects thatmay have on the Hurunui District, being in close proximity toboth areas.AdministrationDevelopment Contributions will be levied at differentdevelopment 'trigger' points. Under the Local Government Act2002 the contribution can be collected on grant of a resourceconsent under the Resource Management Act, or the grant of abuilding consent under the Building Act or an authorisation fora service connection. These are detailed for each contributionin the pages following.The particular development contributions payable will bedetermined from the policy schedules applicable at the date ofapproval of a resource consent, building consent, or serviceconnectionauthorisation.If these contributions are paid within a period of two years of theapproval of the resource consent, building consent, or serviceconnectionauthorisation, no further development contributionswill be payable for the units for which the contributionshave been paid. Contributions paid upon sections will coversubsequent development relating to one residential housingunit per section. Additional sections, units of housing, and/orunits of water connected will incur additional contributions asdetermined from the policy schedules applicable at the date ofapproval of the resource consent, building consent, or serviceconnectionauthorization for the additional units.If contributions are not paid within the period of two years fromthe date of assessment, a reassessment of contributions payablewill be made in accordance with the policy schedules applicableat the date of payment. The consequence of this is that the totalamount of contributions payable will likely be greater than thatset out in the assessment made at the date of approval.Contributions will be refunded, less administration costs, if the208
---
Draft Hurunui Community Long Term Plan 2012 - 2022works for which they were collected (ore equivalent works) donot proceed within the "maximum period" identifi ed for eachwork in Table Two below.The requirement to pay a development contribution is notimposed as a condition of the resource consent or the buildingconsent, but arises by operation of law as a consequence of theadoption of this policy, and is not therefore subject to either theobjection and appeal processes set out in Resource ManagementAct or the determination procedures set out in the Building Act.Projects CostsProjected units of demand have been updated for all projects, andwhere the capital cost of a project has increased or decreasedfrom the amount previously projected, the capital expenditureon which the development contributions are calculated has beenamended. All fi gures have been infl ation adjusted as shown inAppendix Table 2, and the projected development contributionpayable for each year of the ten year fi nancial planning period ofthis plan is set out in Appendix Table 3 (GST added and fi guresrounded).Reserves Development ContributionPolicyDefi nitionWithin the Hurunui District, development contributions forreserves apply to land and the development of land that is underthe control and management of the Hurunui District Councilor is being managed under the Reserve Management Act 1977.• Development contributions are collected for thefollowing purposes:• Land purchase of reserves for the reserves networkincluding linkage strips• Development of vested reserve land, including:• Construction of recreation facilities including buildings• Fencing and gates• Sport surfaces• Development and upgrading of reserves to meet growth• Developing access to reserves, including paths, roads,car parking and cycleways• Signage• Planting of major trees• Public toilets associated with the use of the reserve• Playgrounds and play equipment• Park furniture including seats, litter bins, picnic tablesand lighting• Infrastructure, water, irrigation, power and sewage• Any site specifi c requirements.• Particular projects are the:• Development and upgrade of the Queen Mary Site forrecreational use• Redevelopment of the Amberley Pavilion• Omihi Domain Netball Court Development.• Development of facilities on the Hanmer SpringsDomain• Conical Hill/Oregon Heights/Lucas Lane walkwaydevelopment• Acquisition and development of Amberley WardReserves• Acquisition and development of Amberley TownshipReservesNeed to Undertake the ActivityThe Council aims to add to and develop its reserve networkto provide areas that allow people to enjoy physical andpassive recreation, while at the same time retaining areas ofconservation value. All of the above are important for individualand community wellness. The capital projects proposed will addconsiderable improvements to the existing network of reservesand facilities.Community Outcomes to which the ActivityPrimarily RelatesA desirable and safe place to live.Distribution of Benefi tsEconomicThe ongoing development of the reserves network will result ina better physical environment and a healthier community, whichin turn will encourage more people to do business and live inthe area.SocialAs growth increases and demographic and lifestyle changesoccur, it is necessary for appropriate reserve space to beprovided and enhanced, in line with community expectations.CulturalOpen spaces, pedestrian links and sports fi elds provideopportunities for sporting and other recreational activitieswhich are important aspects of the community's culture.209
---
www.hurunui.govt.nzEnvironmentalThe development of reserves will enable the physicalenvironment, including special heritage, vistas and open spacesto be protected as growth increases.Duration of Benefi tsThe reserves that are being developed over the next twentyyears will provide ongoing and long term benefi ts to theCommunity.Impact of the Activity on the Current andFuture Well Being of the CommunityThe development of reserves and the facilities on reservesto meet the demands from growth will have a considerableimpact on the social, economic, cultural and environmentalwell being of the community. Future changes in lifestyle and thestructure of the population will require responsiveness on thepart of the Council to provide recreation opportunities, social,environmental and cultural spaces that will encourage individualsto be involved in a range of leisure, play and recreation activitiesand will promote a healthy community. Benefi ts apply to thewhole community from the provision of reserves. While thereare wider community and environmental benefi ts from thecreation of new reserves, the Council considers that futureproperty owners should contribute directly to the developmentcosts of reserves to ensure that the District can continue toprovide the existing level of service to a growing population.Sources of FundingLoansRatesDevelopment ContributionsYesYesYesFor further detail on funding for capital expenditure refer tothe Capital Expenditure Schedule on page230 the Revenue andFinancing Policy, and the Reserves Activity Plan.Calculation of ContributionThere are two reserve contributions, one for District WideReserves applicable to all new residential units of demand. Thisis based on a wider sphere of use of the land. The other is forAmenity Reserves, which are primarily based around use by theresidents of a ward or township. In both cases, contributionswill be payable on a unit rate of demand for any new residentialactivity or subdivision, which creates a residential opportunitywhether urban or rural.Contributions are calculated per lot by dividing the cost of thecapital expenditure due to growth as detailed in Table One bythe number of units of growth expected in the target period.The resulting amounts are set out in Table Two. These amountsare capped as per statutory requirements at the greater of 7.5%of the value of the additional allotments created by a subdivisionor the value equivalent of 20 square metres of land for eachadditional household unit created by the development. This valuewill be calculated on an individual basis based upon estimatedmarket value at the time that the contributions are collected.Points at which Contributions are CollectedContributions will be collected at the time of granting asubdivision consent, or if a separate certifi cate of title existsagainst which no development levy has been paid, at the time ofissuing a building consent.Rationale for Individual ProjectsThe Queen Mary site is envisaged as providing for futurerecreational opportunities for a twenty year planning horizonfrom 2004. There is a need to add to and improve this landand expand its potential for recreation use. It will be a DistrictReserve and, as such, all expenditure on development will bespread across both existing and future units of demand acrossthe district over the twenty year period.The development and upgrade of the Conical Hill/OregonHeights/Lucas Lane reserve walkway is required to cater for theincreased demands put on this reserve from growth and a localdesire to fund this project. The cost will therefore be spreadacross the future units of demand from within the HanmerSprings Ward.The development of the facilities at the Hanmer Springs Domainwas identifi ed by the Hanmer Springs Community Board as akey project to undertake after discussions with the community.The portion of the costs that is deemed to be growth relatedwill be spread across the future units of demand from within theHanmer Springs Ward.The Amberley Domain Pavilion redevelopment provides for animprovement to an amenity reserve. The cost will therefore bespread across both existing and future units of demand fromwithin the Amberley Ward.The Omihi Reserve Netball court upgrade provides for animprovement to an amenity reserve. The cost will therefore bespread across both existing and future units of demand fromwithin the Glenmark Ward.The acquisition and development of Amberley Ward Reservesare to provide for additional recreation facilities and sportsgrounds within the Ward that will be required due to growthover the foreseeable future, as identifi ed in the Amberley ReserveStrategy. Its cost will thus be recovered from developmentoccurring within the Amberley Ward. Due to a lower amount of210
---
Draft Hurunui Community Long Term Plan 2012 - 2022growth since the initial planning period, the date for this projecthas been pushed out to 2029, and its cost will be spread acrossthe future units of demand expected.The acquisition and development of Amberley TownshipReserves are to provide for additional neighbourhood reserves,passive reserve areas and linkage strips, in line with the AmberleyReserve Strategy. These reserves will be required due to growthwithin the Township. Since, again, this is projected to slow, thesehave been rescheduled to start at a later date, and thereforethe cost will be spread across the future units of demand fromwithin the Amberley Township.Basis for AssessmentIt is recognised that there are two main types of reserves; thosethat are used by the community as a whole and those that areused more often by those living or working in the immediatelocality of the reserve. For this reason the Reserves Policy isdivided into "District Wide Reserves" And "Amenity Reserves".Residents and workers in a Ward or township area make use ofAmenity Reserves, while a wider cross section of the communitywill more often use a District Reserve. Accordingly the formulafor calculating contributions is adjusted to recognise the type ofreserve which development is occurring on. The exception tothis rule is the Conical Hill/Oregon Heights/Lucas Lane Reservewhich is a District Reserve but will be funded by growth in theHanmer Ward. This is due to a desire by the local communityto upgrade this reserve in order to accommodate the demandsfrom growth occurring within the Ward. The Council hasaccepted this modification to the general policy.Multi Unit Residential Developments:The payment for multi unit residential housing including fl ats,town houses, retirement villages and apartments, will be appliedon the basis that each separate residential unit shall be treatedas a separate unit of demand and be charged accordinglyTravellers Accommodation Including Hotel/MotelUnits and Long Term Workers Accommodation:For each hotel, motel unit or separate unit of travellers orworkers accommodation (excluding home stays accommodatingless than 6 visitors) a payment of 50% of the standard reservedevelopment contribution will be applied to each separate unitof accommodation let for tariff.For camping grounds, hostels, bunkhouses and backpackersaccommodation or comparative travellers accommodation acontribution shall be determined on the basis of payment of50% of the standard reserve development contribution for each4 visitors the premises/camping ground can accommodate.AssumptionsThat all households should contribute equally to either Districtor Amenity Reserves irrespective of whether the unit of demandis urban based or rurally based. This assumption is based on thefact that the capital expenditure being proposed on reserves forgrowth is likely to be used on an equal basis by both urban andrural dwellers.That development that creates equivalent transient demands forinfrastructure upgrades should contribute on a reduced scale.That the District will grow as per the forecasts set out in thisPolicy.Circumstances for Refunds or ReductionsIn the event that planned reserve purchases, developments oralternative upgrades are not undertaken within the "maximumperiod" set out in Table Two, development contributions will berefunded, after allowing for the associated administration costs.(In the case of land taken for reserve purposes, the maximumperiod will be negotiated with the land owner at the time thecontribution is made).Where land is transferred to the Council for reserve purposesby agreement that will have benefi ts to the community that aresimilar to those which would be provided by a reserve underits existing control, the Council may agree to a reduction inthe reserve contribution to acknowledge the benefi t. ForAmberley Township Reserves and Amberley Ward Reserves,circumstances where this may be appropriate are detailedfurther in the Amberley Reserve Strategy.Where the Council and a developer agree that the developmentwill incorporate assets of benefi t to the community, the Councilmay agree to a reduction in the reserve contribution toacknowledge the benefi t.Where the Council assesses that no additional demand onreserves will arise from a development, the Council may agreeto a reduction in the reserve contribution.Network Infrastructure DevelopmentContributions PoliciesDefi nitionWithin the Hurunui District, network infrastructure for thepurposes of development contributions includes sewer; water;and stormwater services under the control and management ofthe Hurunui District Council.Any manager's accommodation associated with travellers orworkers accommodation shall be charged at the full rate.211
---
www.hurunui.govt.nzPolicy PrinciplesThe policies for the assessment of development contributionsfor sewer, water, and stormwater have been developed on thebroad principle that infrastructure costs incurred to meetdemands associated with growth should be spread as equitablyand as practicable among the benefi ciaries of the expenditure.The primary benefi ciaries of expenditure on new networkinfrastructure are developers, builders, and new property /building owners; hence development contributions are collectedfor the costs involved.District Plan Development AreasThe District Plan identifi es zoning for future growth inAmberley, Hanmer Springs and Leithfi eld. Growth is alsooccurring in areas serviced by the Ashley, Cheviot and HurunuiRural Water schemes. Growth in other towns in the Districtcan be accommodated without substantial upgrading of water,sewerage or stormwater infrastructure.FormulaThe formula and the contribution for each category of networkinfrastructure is the capital cost of the project attributableto growth Appendix 2 divided by the number of new unitsof demand expected in the target period, producing thecontribution amounts shown in Appendix 3.Point at which Contributions are CollectedContributions for rural water schemes are collected at thepoint of making an application to connect to the scheme inquestion. Contributions for stormwater are collected when asubdivision consent is granted and / or where subsequently anadditional dwelling house or business premise is promoted onthe same lot at the time when either a resource consent ora building consent is granted. All other network infrastructureconnections (i.e. Sewerage and Township water) are collected atthe time of granting a subdivision consent or if no developmentlevy has been paid, at the time of issuing a building consent orresource consent or at time of connection to the networkservice.Connecting to Existing ServicesIn addition to any Development Contribution charge, allconnections to utilities and services will be charged a connectionfee, based on an assessment of actual costs.Water Infrastructure PolicyThe Hurunui District Council operates several different watersupply schemes and while the policies and methodology forcalculating development contributions are the same for eachscheme, the actual level of contribution varies because ofdifferent growth and planned expenditure.The Schedule details the different amounts applicable todevelopments within each scheme.Need to Undertake the ActivityThe Council provides potable water to avoid the risk of waterborne diseases affecting public health. The growth of the Districtwill result in additional connections to the system which willincrease the demand on existing services. The Council believesit should be developing long term sustainable solutions thatcater for users of today and tomorrow; therefore, any schemeit develops or extends will have a planned growth componentwithin it.Community Outcomes to Which the ActivityPrimarily Contributes• A place with essential infrastructure• A desirable place to LiveDistribution of Benefi tsEconomicThe supply of potable water supports economic growth, whichimpacts on the whole community; however the individuals thatare connecting to a system will gain the direct benefi ts of theservice.SocialIt is convenient and effi cient that an agreed level of supply ismade available. The expansion of the systems in line with growthbenefi ts the health of individuals and the community.CulturalThe extraction of water is done in a manner that respectscultural relationships with water.EnvironmentalThe extraction of water for potable water supply systemsimpacts on the natural waterways and ecosystems of thisdistrict. Sustainable growth contributes to the maintenance ofa high quality natural environment.Duration of Benefi ts212
---
Draft Hurunui Community Long Term Plan 2012 - 2022The water supply systems that are being upgraded over the yearswithin their respective planning horizons will provide long-termbenefi t to the Community. The duration of benefi t is dependenton the ability to gain the necessary resource consents, but isanticipated to be a minimum of 35 years with any engineeringsolution intended to provide future benefi ts equivalent to thedesign life of the system's components which for certain assetsis in excess of 70 years.Impact of the Activity on the Current and FutureWell Being of the CommunityWater is a necessity of life and the supply of potable waterto meet the needs of growth will have a considerably positiveimpact on the social, economic and environmental well being ofthe community.The capacity of the schemes allow for growth that ensures notonly current users, but also future users, will benefi t from thesystem. It is equitable that those who join a scheme shouldcontribute to the cost of providing for growth. Current usersmust fund the cost of additional capacity until those future usersare connected; therefore it is reasonable that when those futureusers arrive they make a contribution to the cost of catering forthat growth.Sources of Funding:LoansRatesDevelopment ContributionsYesYesYesFor further detail on funding for capital expenditure refer to theCapital Expenditure Schedule, the Revenue and Financing Policyor the Water Activity Plan.Calculation of ContributionThe contribution for Hanmer Springs Water, Amberley Waterand Ashley, Cheviot and Hurunui Rural Water Supplies will becalculated on the cost of the capital expenditure associated withincreasing the capacity of the systems to enable growth dividedby the number of new units of demands (including business andresidential use development) that the area is capable of servicing.The result is the cost that will apply to each new unit of demand.The units of demand for Hanmer have been calculated on thebasis of providing capacity for the future. The units of demandfor Amberley, Cheviot Rural, Ashley Rural and Hurunui Ruralhave been calculated on the basis of providing capacity forthe future as well. These fi gures have been extended from theplanning periods set out in earlier versions of this policy due tolower than expected growth.Basis for AssessmentCurrent users and future users benefi t equally from the maximumcapacity of a water supply system. Based on the assumptionthat one current user will consume the same amount of systemcapacity as a future user, they should equally share the cost ofproviding that maximum capacity.Residential & Business Activities (Urban Areas)Each new standard connection or subdivision lot establishedwill be charged one development contribution as identifi ed inthe schedule. Additional business established on the same lotwill be charged a separate development contribution.Multi Unit Residential Developments:The payment for multi unit residential housing including fl ats,town houses, retirement villages and apartments, will be appliedon the basis that each separate residential unit shall be treatedas a separate unit of demand and be charged accordingly.Travellers Accommodation Including Hotel/Motel Units andLong Term Workers Accommodation (Urban Areas)For each hotel, motel unit or separate unit of travellers orworkers accommodation (excluding home stays accommodatingless than 6 visitors) a payment of 50% of the standard waterdevelopment contribution will be applied to each separate unitof accommodation let for tariff. For camping grounds, hostels,bunkhouses and backpackers accommodation or comparativetravellers accommodation a contribution shall be determined onthe basis of payment of 50% of the standard water developmentcontribution for each 4 visitors the premises/camping groundcan accommodate. Any manager's accommodation associatedwith travellers or workers accommodation shall be charged atthe full rate.AssumptionsThat all Residential and Business zone properties consume thesame unit of demand and that where this is not the case a meansexist to determine a variance to the standard (see above).That the District will continue to grow as per the populationforecasting contained within this Policy and new infrastructureassets will be designed to cater for additional growth capacity.Circumstances for Refunds or ReductionsIn the event that planned system upgrades or alternativeupgrades are not undertaken within the "maximum period" setout in Table Two, development contributions will be refunded,after allowing for the costs of investigating the upgrade optionsand associated administrative costs.213
---
www.hurunui.govt.nzThere will be no postponements of payments or remissions ofpayments.Sewer Infrastructure PolicyThe District operates sewerage schemes in Amberley andHanmer which are subject to the pressures of growth andrequire extra capacity. While the policies and methodologyfor calculating Development Contributions are the same foreach scheme, the actual level of contribution varies becauseof different growth and the level of planned expenditure. TheSchedule (Appendix 3) details the different amounts applicableto developments within each area.In addition to the Amberley sewerage contribution, Councilalso charges fi nancial contributions under the District Planin particular areas along Osbourne Road, Douglas Roadand Leithfi eld Road. (Further information on the areas thesecontributions apply to can be obtained from Council's offi ces.)Need to Undertake the ActivityThe Council provides reticulated sewer treatment anddisposal systems to achieve high quality public health and tominimise adverse effects on the receiving environment. Thereis an expectation from the community that high environmentalstandards will be met.The growth of the District and the resulting additionalconnections to the system will increase the demand on existingservices. The Council believes it should be developing longterm sustainable solutions that cater for users of today andtomorrow; therefore, any scheme it develops or extends willhave a planned growth component within it.Community Outcomes to Which the ActivityPrimarily Contributes• A place with essential infrastructure• A place that demonstrate environmental responsibility• A desirable Place to LiveDistribution of Benefi tsEconomicEffective and effi cient sewerage treatment and disposal systemswill support economic growth, which impacts on the wholecommunity, however the individuals that are connecting to asystem, will gain the direct benefi ts of the service.SocialThe expansion of the systems in line with growth benefi ts thehealth of individuals and the community.CulturalEffective sewerage treatment and disposal systems and practicesrespect the values of all sections of the community.EnvironmentalThe health of the District's water resources and naturalecosystems will be better protected by reticulated treatmentand disposal systems.Duration of Benefi tsThe reticulation, treatment and disposal systems that are beingimplemented over the life if this Plan is anticipated to have aminimum of 35 years benefi t, with any engineering solutionintended to provide future benefi ts equivalent to the design lifeof the systems' components.Impact of the Activity on the Current and FutureWell Being of the CommunityThe continued provision of sewerage reticulation treatmentand disposal systems to meet the needs of growth will have aconsiderable positive impact on the economic, social, culturaland environmental well being of the community. The capacityof the schemes allow for growth that ensures not only currentusers, but also future users, will benefi t from the system. Itis equitable that those who join a scheme should contributeto the cost of providing for that growth. Current users mustfund the cost of additional capacity until those future users areconnected; therefore it is reasonable that when those futureusers arrive they make a contribution to the cost of cateringfor that growth.Sources of Funding:• Loans Yes• Rates Yes• Development Contributions YesFor further detail on funding for capital expenditure refer to theExpenditure Schedule at the rear of this Policy, the Revenue andFunding Policy or the Sewerage Activity Plan.Calculation of ContributionThe contribution for both Amberley and Hanmer SewerageSchemes is calculated on the cost of the capital expenditureassociated with increasing the capacity of the system to provide214
---
Draft Hurunui Community Long Term Plan 2012 - 2022for growth, divided by the number of units of demand that areexpected. The result is the cost that will apply to each new lot.(Refer to Appendix 3 for details of each contribution.)The Amberley Sewerage Scheme is broken down into twocontributions: one which applies to all Amberley Urban areasserviced by the scheme for a pond upgrade which will increasecapacity for the whole scheme; the other for pipe upgradeswhich benefi t and are therefore funded by future Amberleytownship units only. The Hanmer Springs capital expenditureis funded by new units of growth within the Hanmer Springssewer area.Basis for Assessment for Treatment, Disposal andReticulation CostsCurrent users and future users benefi t equally from the maximumcapacity of a sewerage system. Based on the assumption thatone current user will consume the same amount of systemcapacity as a future user, they should equally share the cost ofproviding that maximum capacity.Residential & Business Activities (Urban Areas):Each new standard connection or subdivision lot establishedwill be charged one development contribution as identifi ed inthe schedule. Additional business established on the same lotwill be charged a separate development contribution.Multi Unit Residential Developments:The payment for multi unit residential housing including fl ats,town houses, retirement villages and apartments, will be appliedon the basis that each separate residential unit shall be treatedas a separate unit of demand and be charged accordingly.Travellers Accommodation Including Hotel/Motel Units andLong Term Workers Accommodation (Urban Areas)For each hotel, motel unit or separate unit of travellers orworkers accommodation (excluding home stays accommodatingless than 6 visitors) a payment of 50% of the standard sewerdevelopment contribution will be applied to each separate unitof accommodation let for tariff. For camping grounds, hostelsbunkhouses and backpackers accommodation or comparativetravellers accommodation a contribution shall be determined onthe basis of payment of 50 % of the standard sewer developmentcontribution for each 4 visitors the premises/camping groundcan accommodate. Any managers' accommodation associatedwith travellers' or workers accommodation shall be charged atthe full rate.AssumptionsThat all residential lots produce the same unit of demand.That the District will continue to grow as set out within thepopulation forecasting contained within this policy.That new infrastructural assets will be designed to allow foradditional growth capacity.That the costs of reticulating, treating and disposing of sewageare in proportion to the volume of sewage produced.Circumstances for Refunds or ReductionsIn the event that planned system upgrades, or alternativeupgrades, are not undertaken within the "maximum period" setout in Table Two, development contributions will be refunded,after allowing for the costs of investigating the upgrade optionsand associated administrative costs.There will be no postponements of payments or remissions ofpayments.Stormwater and DrainageInfrastructure PolicyThe Council is establishing a new stormwater area in HanmerSprings for stormwater disposal associated with expecteddemands created by growth. The Council will also undertakeextensive upgrades to the Amberley stormwater system, foroff-site upgrades to the reticulation system required by theexpected growth in the township and for fl ood-managementpurposes (a component of which will cater for future growth).All on-site stormwater works in Amberley will be funded bydevelopers through fi nancial contributions under the DistrictPlan. The stormwater systems and upgrades will cater for growth.The policy and methodology for calculating DevelopmentContributions are the same for each area, but the actual level ofcontribution varies depending upon the capital cost and uponthe growth component.Appendix 3 includes details of the different amounts applicableto developments within each township area.Need to Undertake the ActivityThe Council needs to provide stormwater systems to achievehigh quality public health and to minimise adverse effects on thereceiving environment.Effective stormwater systems and networks remove a constrainton land development.There is an expectation from the community for highenvironmental standards to be met.The growth of the District and the resulting additional215
---
www.hurunui.govt.nzconnections will increase the demand on existing services. TheCouncil believes it should be developing long-term sustainablesolutions that cater for users tomorrow; therefore, any schemeit develops will primarily be designed to accommodate plannedgrowth.Community Outcomes to Which the ActivityPrimarily Contributes• A place with essential infrastructure• A desirable and safe place to liveDistribution of Benefi tsEconomicEffective and effi cient stormwater systems will support economicgrowth and mitigate the costs associated with fl ooding for thewhole community. The individuals that are connecting to asystem will gain the direct benefi ts of the service.SocialHealth, effi ciency and safety benefi ts apply indirectly to thewhole community and directly to those who are connected toeach scheme. Stormwater systems minimise harm to peoplefrom potential fl ooding.CulturalEffective stormwater systems protect community valuesassociated with waterways and incorporate the culturalconcerns of Maori with land and water.EnvironmentalStormwater systems contribute to a high quality naturalenvironment and mitigate the adverse environmental effects offl ooding.Duration of Benefi tsThe stormwater systems that are being implemented willprovide a long-term benefi t to the Community. The durationof benefi t is dependent on the ability to gain the necessaryresource consents, but is anticipated to be a minimum of 35years.Impact of the Activity on the Current and FutureWell Being of the CommunityEffective and effi cient stormwater systems that meet the needsof growth will have a considerable impact on the current andfuture social, economic, cultural and environmental well being ofthe community.Current users must fund the cost of providing capacity untilthose future users are connected; therefore it is reasonable thatwhen those future users arrive they make a contribution thatrelates to the cost of providing stormwater systems.Sources of Funding:LoansRatesDevelopment ContributionsYesYesYesFor further detail on funding for capital expenditure refer to theFunding Schedule at the rear of this Policy or the Finance andRevenue Policy.Calculation of ContributionThe contribution is calculated on the cost of the capitalexpenditure associated with constructing that component ofthe stormwater systems that cater for growth (estimated atabout 80% in the case of Hanmer Springs and Amberley, and thendividing it by the number of new units of demand establishingwithin the area being serviced. The result is the cost that willapply to each new lot. (Refer to Table Two for details of eachcontribution.)Basis for AssessmentFuture users both business and residential benefi t equally fromthe maximum capacity of a stormwater system. Based on theassumption that one current user will need the same amount ofsystem capacity as a future user, they should equally share thecost of providing that maximum capacity. Each new business orsubdivision allotment that is created will pay on the basis of oneunit of demand.AssumptionsThat all Residential and Business zone properties have the samevolume of run off.That the District will continue to grow as predicted in thepopulation forecasting as contained in this Policy and the newinfrastructure assets will be designed to accommodate thegrowth projected over 26 years (2004-2030).Circumstances for Refunds or ReductionsIn the event that planned system upgrades, or alternativeupgrades, are not undertaken within the "maximum period" setout in Table Two, development contributions will be refunded,after allowing for the costs of investigating the upgrade options216
---
Draft Hurunui Community Long Term Plan 2012 - 2022and associated administrative costs.There will be no postponements of payments or remissions ofpayments.Community InfrastructureDevelopment Contribution PolicyWithin the life of the LTP, the Hurunui District Council hasplanned for considerable capital investment on CommunityInfrastructure that is under its management and control.A proportion of this expenditure relates to catering forthe increased demands of growth. The fi ve projects listedbelow relate to planned capital development associated withcommunity infrastructure demands within the HLTCP.• Hurunui District Library• Hanmer Springs Medical Centre• Hanmer Springs Hall redevelopment• Hanmer Springs town centre development• Amberley walkway & cycleway networkAll these community infrastructure projects fall under the'Community Services and Facilities' group of activities.Need to Undertake the ProjectsThe community infrastructure projects identifi ed are essentialto the ongoing economic, social, cultural and environmentalwellbeing of the District, especially the Hanmer Springs andAmberley Townships.In particular, the District Library facilities provide opportunitiesfor people and visitors to the District to participate in lifelong learning experiences, and have access to high standardsof education. The Hanmer Springs projects will enhancecommunity facilities, provide access to health care, and resultin an improved and pleasant environment, which will meet thedemands of future growth. Extending and improving Amberley'swalkway and cycleway network will help create connectivitybetween the existing township and new development areas.Community Outcomes to Which the ActivityPrimarily Contributes• A place where traditional rural values and heritagemake Hurunui uniqueCulturalFacilities provide opportunities for participation in educational,recreational and cultural activities.SocialCommunity infrastructure supports a high quality of life forresidents through participation in activities and access toservices.The built environment is integral to the look, feel and functionalityof the District.EnvironmentalCommunity infrastructure supports the natural environment byproviding appropriate places to carry out activities.Duration of Benefi tsCommunity infrastructure provides benefi ts for the duration ofthe assets. Given the nature of the assets, the duration is likelyto be for the next 50 years.Impact of the Activities on the Current and FutureWell Being of the CommunityThe provision and development of the Communityinfrastructure identifi ed to meet the demands of growth willhave a considerable impact on the social, economic, cultural andenvironmental wellbeing of the whole community. The proposedprojects will each provide varying levels of benefi t to differentmembers of the community. The District Library will provideprincipally District benefi ts whereas the Hanmer Springs MedicalCentre, Hanmer Springs Hall redevelopment and HanmerSprings town centre development will provide benefi ts to thoseowning property in the Hanmer Springs Ward. The expansion ofAmberley's walkways and cycleways will principally be of benefi tto the town's residents.Future population growth, the demographic profi le of theDistrict and changes in lifestyle will require the Council toprovide a range of opportunities for individuals and groups toparticipate in at various levels.The Council considers that future property owners shouldcontribute to the provision of these projects proposed underCommunity Infrastructure as they provide opportunities forindividual and group wellbeing.Distribution of Benefi tsEconomicImproved community facilities will draw people into the Districtto invest in new business or to participate in the labour force.Sources of Funding:LoansRatesDevelopment ContributionsYesYesYes217
---
www.hurunui.govt.nzFor further detail on funding for capital expenditure refer toTable Two at the rear of this Policy, the Finance and RevenuePolicy or the Libraries / Local Facilities and Maintenance ActivityPlans.Point at which Contributions are CollectedContributions for community infrastructure will be collectedupon granting a subdivision consent or Building Consent orResource Consent. All new subdivisions will be subject to thecommunity infrastructure contributions set out in Table Two.Where allotments already exist but have not been built on thecontribution will be collected on the granting of the buildingconsent or resource consent.Basis for AssessmentThe Library, medical centre and hall redevelopment benefi tscurrent and future users equally from access to and opportunitiesprovided by these items of community infrastructure. Thereforeeach unit of demand, both existing and future, should contributeequally to infrastructure intended to be constructed over theperiod (set at the initial planning period of 10 years from 2004).The Hanmer Springs town centre development has somebenefi t to existing residents, but is required due to increasinginfrastructure to cope with the expected growth over theplanning period. Council has determined that it is fair andequitable that development contributions fund those areasof development which are necessitated by growth, not drivenby community desire. Council recognises that renewals orupgrades of existing facilities will also benefi t new residents,but considers that the demand for these are from the existingpopulation are therefore should be funded by existing units ofdemand. The target period for collection is set at initial 20 yearplanning period of the project (from 2004).Where the extension of Amberley's existing walkway andcycleway network is into new development areas, each newunit of demand should contribute to the development of thenetwork. Where the proposed infrastructure is an upgrade toexisting areas it will be met by existing units of demand. Thetarget period has been extended from its initial 20 year horizonto as a result of the lower level of growth anticipated.Residential & Business Activities:Each new subdivision lot established will be charged onedevelopment contribution for each item of communityinfrastructure as identifi ed in the schedule. Additional businessestablished on the same lot will be charged a separatedevelopment contribution.Multi Unit Residential Developments:The payment for multi unit residential housing including fl ats,town houses, retirement villages and apartments, will be appliedon the basis that each separate residential unit shall be treatedas a separate unit of demand and be charged accordingly.Travellers Accommodation Including Hotel/MotelUnits and Long Term Workers Accommodation(Urban Areas)For each hotel, motel unit or separate unit of travellersor workers accommodation (excluding home staysaccommodating less than 6 visitors) a payment of 50% of thestandard community infrastructure development contributionsidentified in the schedule will be applied to each separate unitof accommodation let for tariff. For camping grounds, hostels,bunkhouses and backpackers accommodation or comparativetravellers accommodation a contribution shall be determinedon the basis of payment of 50 % of the standard communityinfrastructure development contribution for each 4 visitorsthe premises/camping ground can accommodate. Any manager'saccommodation associated with travellers' or workers'accommodation shall be charged at the full rate.AssumptionsThat all people in the District create a demand for CommunityInfrastructure irrespective of the type of lot created.That all people in the District have the same opportunity to useCommunity Infrastructure facilities.That Community Infrastructure use is related to people nottype of property.That the District will continue to grow as set out in thepopulation forecasting contained in this Policy.Circumstances for Refunds or ReductionsIn the event that planned Community Infrastructure upgradesare not undertaken within the "maximum period" set out inTable Two, or alternative upgrades are not completed withinthat time-frame, development contributions will be refunded,after allowing for the costs of investigating the upgrade optionsand associated administrative costs.There will be no postponements of payments or remissions ofpayments.218
---
Draft Hurunui Community Long Term Plan 2012 - 2022Appendix 1.Projected Number of New UnitsDevelopment Contribution Year 1 Year 2 Year 3 Year 4 Year 5 Year 6 Year 7 Year 8 Year 9 Year 10Collection Area 2012/2013 2013/2014 2014/2015 2015/2016 2016/2017 2017/2018 2018/2019 2019/2020 2020/2021 2021/2022Amberley Sewer Area 9 9 9 9 9 9 9 9 9 11Amberley Township 7 7 7 7 7 7 7 7 7 8Amberley Ward 24 24 24 24 21 21 21 21 21 20Amberley Water 9 9 9 9 9 9 9 9 9 11Ashley Water 10 10 10 10 10 10 10 10 10 10Cheviot Water 2 2 2 2 2 2 2 2 2 2Glenmark Ward 4 4 4 4 2 2 2 2 2 2Hanmer Springs Sewer Area 9 9 9 9 14 14 14 14 14 9Hanmer Springs Township 15 15 15 15 23 23 23 23 23 15Hanmer Springs Urban WaterArea 13 13 13 13 20 20 20 20 20 13Hanmer Springs Ward 30 30 30 30 38 38 38 38 38 29Hurunui Water 6 6 6 6 3 3 3 3 3 3Hurunui District 106 106 106 106 98 98 98 98 98 82219
---
www.hurunui.govt.nzAppendix 2.Appendix 2 - Inflation adjusted Capital Costs and Proporation Realting to Grwoth for Year 1-3 and 10 of this planProjectFundedFromAmberley Domain PavilionAmberley Sewer Pipe UpgradesAmberley Sewer Pond UpgradeAmberley StormwaterAmberley Township ReservesAmberley Walking & CyclingRoutesAmberley Ward ReservesAmberley WaterAshley WaterCheviot WaterConnical Hill Reserve WalkwayDevelopmentHanmer Springs HallHanmer Springs MedicalHanmer Springs SewerHanmer Springs StormwaterHanmer Springs Town CentreDevelopmentHanmer Springs DomainHanmer Springs WaterHurunui District LibraryHurunui WaterOmihi ReserveQueen Mary DevelopmentAmberleyWardAmberleyTownshipAmberleySewer AreaAmberleyTownshipAmberleyTownshipAmberleyTownshipAmberleyWardAmberleyWaterAshleyWaterCheviotWaterHanmerSpringsWardHanmerSpringsWardHanmerSpringsWardHanmerSpringsSewer AreaHanmerSpringsTownshipHanmerSpringsWardHanmerSpringsWardHanmerSpringsUrbanWater AreaHurunuiDistrictHurunuiWaterGlenmarkWardHurunuiDistrictTotal CapitalCost ofProject(including nongrowthrelatedcomponents)in 2013dollarsEst. Proportion of Growthattributable toDevelopment (net result ofestimates for each capitalitem in project)Est. TotalUnits ofDemand byend of targetperiod (tospreadDevelopmentCost ifapplicable)Est. (actualwhenavailable)Total CapitalCost due togrowth,inflationadjusted to2013Est. (actualwhenavailable)Total CapitalCost due togrowth,inflationadjusted to2014Est. (actualwhenavailable)Total CapitalCost due togrowth,inflationadjusted to2015Est. (actualwhenavailable)Total CapitalCost due togrowth,inflationadjusted to2022$257,699 Spread based on a ratio ofnew units of demand /total units of demand1,912 $40,459 $42,045 $43,444 $57,345$678,000 100% 1,199 $678,000 $704,578 $728,029 $960,978$670,823 80% 1,581 $536,658 $557,696 $576,258 $760,644$488,215 68% 1,107 $332,929 $345,980 $357,496 $471,884$813,000 90% 1,257 $731,700 $760,383 $785,692 $1,037,091$274,000 80% 1,199 $219,200 $227,793 $235,375 $310,688$1,450,000 90% 2,890 $1,305,000 $1,356,157 $1,401,295 $1,849,669$609,869 63% 1,088 $383,869 $398,917 $412,194 $544,084$4,176,700 87% 2,763 $3,626,700 $3,768,869 $3,894,312 $5,140,381$493,869 66% 1,174 $327,807 $340,657 $351,995 $464,624$100,000 90% 1,822 $90,000 $93,528 $96,641 $127,563$507,340 Spread based on a ratio ofnew units of demand /total units of demand1,687 $127,201 $132,188 $136,587 $180,291$798,208 Spread based on a ratio of 1,687 $200,128 $207,973 $214,896 $283,656new units of demand /total units of demand$1,141,272 60% 1,593 $681,543 $708,260 $731,833 $965,999$616,423 80% 1,764 $493,138 $512,469 $529,526 $698,960$2,276,479 60% 2,446 $1,365,887 $1,419,431 $1,466,675 $1,935,969$1,000,000 50% 2,277 $500,000 $519,600 $536,895 $708,686$581,849 60% 1,583 $349,109 $362,795 $374,870 $494,818$2,135,217 Spread based on a ratio ofnew units of demand /total units of demand6,043 $412,685 $428,863 $443,137 $584,928$424,861 75% 1,721 $318,646 $331,137 $342,159 $451,640$36,941 100% 458 $36,941 $38,389 $39,667 $52,359$4,479,382 Spread based on a ratio ofnew units of demand /total units of demand6,993 $1,356,791 $1,409,978 $1,456,908 $1,923,076220
---
Draft Hurunui Community Long Term Plan 2012 - 2022Appendix 3: Development Contribution Schedule for Years 1-3 and 10 of this planProject Funded From Relevant Subsection of Policy(Category of Contribution)Point at whichContribution iscollected (numberrefers to options inNOTES below)Start Year forContributionsMaximum No. ofyears from startyear until projectis undertaken*Target period(years from startyear) over whichto collectcontributionsEst. Num of NewUnits to CollectFrom in targetperiod based ongrowth modelNewDevelopmentContribution(GST added)2012/2013NewDevelopmentContribution(GST added)2013/2014NewDevelopmentContribution(GST added)2014/2015NewDevelopmentContribution(GST added)2021/2022Amberley Domain Pavilion Amberley Ward Reserves 1 2004 10 10 300 $150 $160 $170 $220Amberley Sewer Pipe Upgrades Amberley Township Network Infrastructure 2 2008 10 76 497 $1,570 $1,630 $1,690 $2,230Amberley Sewer Pond Upgrade Amberley Sewer Area Network Infrastructure 2 2004 10 48 482 $1,280 $1,330 $1,370 $1,810Amberley Stormwater Amberley Township Network Infrastructure 3 2004 10 66 476 $800 $840 $860 $1,140Amberley Township Reserves Amberley Township Reserves 1 2008 25 85 555 $1,520 $1,570 $1,630 $2,150Amberley Walking & Cycling Amberley Township Community Infrastructure 4 2008 20 76 497 $500 $520 $530 $700Amberley Ward Reserves Amberley Ward Reserves 1 2008 25 63 1,109 $1,350 $1,410 $1,450 $1,920Amberley Water Amberley Water Network Infrastructure 2 2004 15 37 390 $1,130 $1,180 $1,210 $1,600Ashley Water Ashley Water Network Infrastructure 5 2006 15 27 703 $5,930 $6,170 $6,370 $8,410Cheviot Water Cheviot Water Network Infrastructure 5 2006 10 60 157 $2,410 $2,500 $2,590 $3,410Connical Hill Reserve Walkway Hanmer Springs Ward Reserves 1 2008 10 10 410 $250 $260 $270 $360Hanmer Springs Hall Hanmer Springs Ward Community Infrastructure 4 2004 10 10 423 $350 $360 $370 $490Hanmer Springs Medical Hanmer Springs Ward Community Infrastructure 4 2004 10 10 423 $540 $570 $580 $770Hanmer Springs Sewer Hanmer Springs Sewer Area Network Infrastructure 2 2004 10 22 326 $2,410 $2,500 $2,580 $3,410Hanmer Springs Stormwater Hanmer Springs Township Network Infrastructure 3 2004 20 26 600 $940 $980 $1,010 $1,340Hanmer Springs Town Centre Hanmer Springs Ward Community Infrastructure 4 2004 10 35 1,182 $1,330 $1,380 $1,430 $1,880Hanmer Springs Domain Hanmer Springs Ward Reserves 1 2013 10 20 620 $930 $960 $1,000 $1,310Hanmer Springs Water Hanmer Springs Urban Water Area Network Infrastructure 2 2004 10 18 390 $1,030 $1,070 $1,110 $1,460Hurunui District Library Hurunui District Community Infrastructure 4 2004 10 10 1,168 $410 $420 $440 $580Hurunui Water Hurunui Water Network Infrastructure 5 2006 10 21 105 $3,500 $3,640 $3,760 $4,960Omihi Reserve Glenmark Ward Reserves 1 2004 10 11 85 $500 $510 $530 $700Queen Mary Development Hurunui District Reserves 1 2004 20 20 2,118 $740 $770 $790 $1,040NOTES: Points at which Contributions are payable and maximum contribution for reserves** Totals:1. At the time of granting a subdivision consent, or if a separate certificate of title exists against Hanmer Springs Township $8,930 $9,270 $9,580 $12,640which no development levy has been paid, at the time of issuing a building consent. Hanmer Springs Ward (excl. Town) $4,550 $4,720 $4,880 $6,4302. At time of granting subdivision consent or if no development levy has been paid, Amberley Township $9,450 $9,830 $10,140 $13,390at the time of issuing a building consent or resource consent or at time of connection to service. Leithfield Township & Amberley Beach Township $9,860 $10,260 $10,590 $13,9803. When subdivision consent is granted and or where subsequently an additional dwelling house or business premise Leithfield Beach Township $3,930 $4,090 $4,220 $5,570is promoted on the same lot at the time when either a resource consent or a building consent is granted. Amberley Ward (excl. Townships) $2,650 $2,760 $2,850 $3,7604. Upon granting a subdivision consent or Building Consent or Resource Consent. All new subdivisions will be subject to the Glenmark Ward $1,650 $1,700 $1,760 $2,320community infrastructure contributions set out in this table. Where allotments already exist but have not been built on Cheviot Ward $3,560 $3,690 $3,820 $5,030the contribution will be collected on the granting of the building consent or resource consent. Hurunui Community (/Ward) $4,650 $4,830 $4,990 $6,5805. At time of application to the Rural Water Scheme. Amuri Community (/Ward) $1,150 $1,190 $1,230 $1,620** In the case of reserves contributions, the contribution payable will be capped at the greater of 7.5% of the value of the additional allotments created * In the case of land taken for reserve purposes, this figure will be negotiated with the land owner at the time the contribution is made.by a subdivision or the value equivalent of 20 square metres of land for each additional household unit created by the development.221
---
www.hurunui.govt.nzExternal Liability Management PolicyIntroductionCouncil took on external debt for the fi rst time in 2010. It isintended that the Council shall have a level of core debt forthe period outlined in the Long Term Plan. Council's liabilitiescomprise borrowings and various other liabilities.Debt Ratios and LimitsDebt will be managed within the following macro limits.Borrowing MechanismsHurunui is able to borrow through a variety of marketmechanisms including issuing stock/bonds, commercial paper(CP) and debentures, direct bank borrowing, LGFA, accessingthe short and long-term wholesale and retail debt capitalmarkets directly or internal borrowing of reserve and specialfunds. In evaluating strategies for new borrowing (in relation tosource, term, size and pricing) the MFS, takes into account thefollowing:RatioHurunuiNet debt as a percentage of equity
---
Draft Hurunui Community Long Term Plan 2012 - 2022Council offers deemed rates as security for general borrowingprograms. From time to time, with prior Council and DebentureTrustee approval, security may be offered by providing a chargeover one or more of Councils assets.Physical assets will be charged only where:• There is a direct relationship between the debt andthe purchase or construction of the asset, which itfunds (e.g. an operating lease, or project fi nance).• Council considers a charge over physical assets to beappropriate.• Any pledging of physical assets must comply with theterms and conditions contained within the DebentureDeed.Debt RepaymentThe funds from all asset sales and operating surpluses willbe applied to the reduction of debt and/or a reduction inborrowing requirements, unless the Council specifi cally directsthat the funds will be put to another use.New Zealand Local Government Funding Agency LimitedInvestmentDespite anything earlier in this Liability Management Policy, theCouncil may borrow from the New Zealand Local GovernmentFunding Agency Limited (LGFA) and, in connection with thatborrowing, may enter into the following related transactions tothe extent it considers necessary or desirable:(a) Contribute a portion of its borrowing back to the LGFAas an equity contribution to the LGFA, for exampleBorrower Notes;(b) Provide guarantees of the indebtedness of other localauthorities to the LGFA and of the indebtedness of theLGFA itself;(c) Commit to contributing additional equity (or subordinateddebt) to the LGFA if required;(d) Subscribe for shares and uncalled capital in the LGFA; and(e) Secure its borrowing from the LGFA and the performanceof other obligations to the LGFA or its creditors with acharge over the Council's rates and rates revenue.223
---
www.hurunui.govt.nzInvestment PolicyGeneral PolicyInvestments are maintained to meet specifi ed business reasons.Such reasons can be:1. For strategic purposes consistent with Council's LongTerm Plan;2. To reduce the current ratepayer burden;3. The retention of vested land;4. Holding short term investments for working capitalrequirements;5. Holding investments that are necessary to carry outCouncil operations consistent with Annual Plans.Council recognises that as a responsible public authority allinvestments held, should be low risk. Council also recognisesthat low risk investments generally mean lower returns.In its financial investment activity, Council's primary objective wheninvesting is the protection of its investment capital and that a prudentapproach to risk/ return is always applied within the confines of thispolicy. Accordingly, only approved credit worthy counterparties isacceptable.Investment MixCouncil maintains investments in the following assets from timeto time:• Equity investments, including investments held in CCO/CCTO and other shareholdings.• Property investments incorporating land, buildings, aportfolio of ground leases and land held for development.• Forestry investments• Financial investments• Loan advances for staff and rural housing purposes• Other.Equity InvestmentsCouncil maintains equity investments and other minorshareholdings.Council's equity investments fulfi ll various strategic, economicdevelopment and fi nancial objectives as outlined in the LTP.Council seeks to achieve an acceptable rate of return on all itsequity investments consistent with the nature of the investmentand their stated philosophy on investments.Dividends received from CCO's and unlisted companies notcontrolled by Council are recognised when they are receivedin the consolidated revenue account.Any purchase or disposition of equity investments requiresCouncil approval and any profi t or loss arising from thesale of these investments is to be recognised in the Statementof Comprehensive Income.Any purchase or disposition of equity investments will bereported to the next meeting of Council.Unless otherwise directed by Council, the proceeds from thedisposition of equity investments will be used fi rstly to repayany debt relating to the investment and then included in therelevant consolidated capital account.Council recognises that there are risks associated with holdingequity investments and to minimise these risks Council, throughthe relevant sub-committee, monitors the performance of itsequity investments on a twice yearly basis to ensure that thestated objectives are being achieved. Council seeks professionaladvice regarding its equity investments when it considers thisappropriate.Property InvestmentsCouncil's overall objective is to only own property that isnecessary to achieve its strategic objectives. As a general rule,Council will not maintain a property investment where it isnot essential to the delivery of relevant services, andproperty is only retained where it relates to a primary outputof Council. Council reviews property ownership throughassessing the benefi ts of continued ownership in comparisonto other arrangements which could deliver the same results.This assessment is based on the most fi nancially viable methodof achieving the delivery of Council services. Council generallyfollows similar assessment criteria in relation to new propertyinvestments.Council reviews the performance of its property investmentson a regular basis.All income, including rentals and ground rent from propertyinvestments is included in the Statement of ComprehensiveIncome.224
---
Draft Hurunui Community Long Term Plan 2012 - 2022Forestry InvestmentsForestry assets are held as long term investments on the basisof net positive discounted cash fl ows, factoring in projectedmarket prices and annual maintenance and cutting costs.All income from forestry is included in the Statement ofComprehensive Income.Any disposition of these investments requires Council approval.The proceeds from forestry disposition are used fi rstly torepay related borrowings and then included in the relevantconsolidated capital account.Financial InvestmentsLiquid investment funds will be prudently invested as follows:• Any liquid investments must be restricted to a termthat meets future cash fl ow and capital expenditureprojections.• Interest income from fi nancial investments is creditedto general funds, except for income from investmentsfor special funds, reserve funds and other funds whereinterest may be credited to the particular fund.• Internal borrowing will be used wherever possible toavoid external borrowingFinancial Investment ObjectivesTrust FundsWhere Council hold funds as a trustee, or manages funds for aTrust then such funds must be invested on the terms providedwithin the trust. If the Trusts investment policy is not specifi edthen this policy should apply.New Zealand Local GovernmentFunding Agency Limited InvestmentDespite anything earlier in this Investment Policy, the Councilmay invest in shares and other fi nancial instruments of the NewZealand Local Government Funding Agency Limited (LGFA), andmay borrow to fund that investment. The Council's objective inmaking any such investment will be to:(a) Obtain a return on the investment; and(b) Ensure that the LGFA has suffi cient capital to becomeand remain viable, meaning that it continues as a sourceof debt funding for the Council.Because of these dual objectives, the Council may invest inLGFA shares in circumstances in which the return on thatinvestment is potentially lower than the return it could achievewith alternative investments.If required in connection with the investment, the Council mayalso subscribe for uncalled capital in the LGFA.• Council's primary objectives when investing is theprotection of its investment capital. Accordingly,Council may only invest in approved creditworthycounterparties. Creditworthy counterparties andinvestment restrictions are covered in the Treasury RiskManagement Policy. Credit ratings are monitored andreported quarterly to Council.• Council may invest in approved fi nancial instrumentsas set out in the Treasury Risk Management Policy Theseinvestments are aligned with Council's objectiveSpecial Funds and Reserve FundsLiquid assets are not required to be held against special fundsand reserve funds. Instead Council will internally borrow orutilise these funds where ever possible.Unless otherwise directed by Council, internal borrowing to/(from) reserves will be undertaken at the external cost ofborrowing.225
---
www.hurunui.govt.nzRates Remission for Biodiversity PolicyIntroductionThe purpose of this rates remission policy is to recognisevoluntary protection of the District's indigenous fl ora and faunavia conservation covenants and to promote and encouragemore land owners to participate in this process. This policyalso acknowledges the wider community benefi t of protectingSignifi cant Natural Areas (SNAs), which are on privatelyowned land, by sharing the cost by way of a rates remissioncommensurate with the level of protection offered.Conservation CovenantsCouncil will grant 100% rates remission to those rating units orportions of rating units, which are protected by a conservationcovenant that is registered on the Certifi cate of Title in perpetuity.This includes protection afforded by conservation covenantsestablished under the Queen Elizabeth the Second Trust Act,Reserves Act, Conservation Act, Resource Management Act1991 (as a condition of resource consent), and the Wildlife Act.Rates remission will be granted on receipt of a Certifi cate ofTitle registering the protective covenant and a deposited planthat shows the affected land area.Signifi cant Natural AreasCouncil will grant up to 90% rates remission to those ratingunits or portions of rating units, which are scheduled as aSignifi cant Natural Area in the District Plan. The percentageremission granted will depend on the extent to which the areais actively managed to protect and enhance biodiversity values.226
---
Draft Hurunui Community Long Term Plan 2012 - 2022Rates Remissions on Land Affected by Natural Calamity PolicyIntroductionThe purpose of the policy is to give the Council discretion toremit rates where a rating unit has been detrimentally affectedby a natural calamity.PolicyThe Council may remit rates either wholly or in part whereland has been detrimentally affected by erosion, subsidence,submersion or other natural calamity to an extent the Councilconsiders that it would be unfair or unreasonable to requirethat the rates be paid as assessed.Applications must be made in writing and signed by the owner(s)of the rating unit.Full details must be provided of the nature of the event thatcaused the damage and the degree of damage to the land. If thedamage is temporary and the land is expected to return to itsformer use in the future, an estimate of the time it will take theland to recover to a useable state and the steps that the ownerwill take to achieve this should be provided. The Council mayask for a report from a Registered Engineer or other similarlyqualifi ed expert.The amount of remission given in any case will be set by theCouncil having regard to the severity of the event, the degreeof damage to the subject land and other land in the district andother fi nancial assistance available. Consideration will also begiven to the effect of remissions on the remaining rating base.227
---
www.hurunui.govt.nzReserves Funding PolicyDraft Long Term Plan 2012 - 2022IntroductionAll reserves in the District will be divided into two categoriesfor funding purposes, which are identifi ed by area of benefi trather than by the legal classifi cation of reserve. This policywill provide a foundation for the creation of a prioritised longtermdevelopment programme for reserves and how they arefunded.In determining the category status and the extent of benefi t ofany reserve, the Council will have regard to the degree to whichone or more of the factors apply to a particular reserve:• Heritage value• Visitor numbers• Local use• Local amenity value• Social / Economic value• Location to visitor attractions• Location to State Highways• Location to tourist routes and• Ecological valueFor example, the higher the degree of local use or contributiontowards local amenity, the greater the weighting towardsclassifi cation as an "Amenity Reserve". The more visitor- orientedor the greater the heritage or ecological value, the greater theweighting towards classifi cation as a "District Reserve".Should these factors change over time, Council may review thefunding category of any reserve if circumstances warrant this.District ReservesFunding:Capital expenditure and maintenance is funded 100% by thegeneral rate or the Hanmer Springs Thermal Pools and Spasurpluses if available*.Defi ned as:A reserve that serves and provides benefi ts principally to theDistrict and wider community as a whole rather than the localcommunity. District Reserves are utilised by a wide range ofuser groups, and visitors may travel some distance to access thereserve. District Reserves may also have distinctive features whichmake them unique, such as geothermal activity, or uncommonlandforms and vegetation. They may also be valuable in termsof their historic buildings, proximity to watercourses and theiramenity value. The accessibility to and public use of DistrictReserves will generally tend to be high, (with the exception ofundeveloped esplanade reserves, ecological reserves, gravel pitsand some historical reserves). All gravel, forestry, cemetery andesplanade reserves will be funded as "District Reserves".Amenity ReservesFunding:Capital expenditure and maintenance are funded 100% by thelocal amenity rate or, at the discretion of the Council, fully orpartially funded by Hanmer Springs Thermal Reserve surpluses.Defi ned as:A reserve that provides benefi ts principally to the localcommunity in which it is situated.* In setting out the aboveformula it is recognised that funding of reserve projects willstill be subject to the normal budgeting processes. Individual Wards/Rating Areas may utilise funds allocated to it by Council on anannual basis as the contestable reserves fund. There is also aneed to ensure local support exists for meeting the costs ofmaintenance where these fall locally. The following limitationsalso apply:The fi rst call for project funding on a District Reserve or aDistrict/Amenity Reserve shall be against unallocated fundingfrom a Ward's land subdivision account or unallocated surplusesheld by a reserve's administering body. An exception to thisapplies in the case of the Cheviot Reserves Committee's JointVenture forestry surpluses, the interest from which it requiresto fund the ongoing maintenance of the reserves under itscontrol.Prior to any capital expenditure being promoted on a District/Amenity Reserve, the Ward Committee or group managingthe reserve on the Council's behalf agree to the project,acknowledging that future maintenance costs will fall on theamenity account.The administering group of any category of reserve canpromote projects and fund them locally outside the fundingregime described above in the event that Council decides not tofund a particular project.228
---
Draft Hurunui Community Long Term Plan 2012 - 2022An exception to the above funding basis occurs in situationswhere surplus funds are held within reserve accounts. In thecase of all capital works, the fi rst call for funds is to unallocatedsurpluses held within all accounts of the reserve's administeringbody. An exception to this applies in the case of the CheviotReserves Committee's Joint Venture forestry surpluses, theinterest from which it requires to fund the ongoing maintenanceof the reserves under its control.Funding for reserve development may also be obtained fromdevelopment contributions levied under the Local GovernmentAct (2002) via the Hurunui Long Term Community Plan orfi nancial contributions levied under the Resource ManagementAct 1991 via the District Plan.229
---
www.hurunui.govt.nzRevenue and Financing PolicyIntroductionThis policy is about Council services and who pays for them, andis required under Section 102 (4) of the Local Government Act2002. Sections 103 and 101(3) of this act require the Council toidentify for each Council service:(i)(ii)(iii)(iv)(v)the community outcomes to which the serviceprimarily contributes;the distribution of benefi ts between the Districtas a whole, any identifi able part of the District,and individuals;the period in or over which those benefi ts areexpected to occur;the extent to which the actions or inaction ofparticular individuals or a group contribute tothe need to undertake the service; andthe costs and benefi ts, including consequencesfor transparency and accountability, of fundingthe service distinctly from other services.There is also a requirement to consider the overall impact ofany allocation for revenue needs on the current and futuresocial, economic, environmental, and cultural wellbeing of thecommunity.Costs for each service are collected unless the Council believesthat to do so would not be fair or not be in the interest ofresidents and ratepayers or is in confl ict with Council policy. Asan elected representative body, the Council has the responsibilityto make the fi nal decision.The following section of this policy is an explanation of thepolicy and terms used.Capital Value:The value expected to be realised at the time of valuation ifoffered for sale on such reasonable terms and conditions as abona fi de seller might be expected to require.Development Contributions:Drainage Rate:Targeted Rate on a defi ned area benefi ting from a classifi eddrainage scheme.Lot:A rateable property (lots can be combined). A lot is a legal entity.Targeted Rate:Is a rate within a ward or other defi ned area and may be basedon cents per dollar of capital value of every property or a fi xedamount per rating unit (known for the purposes of this policyas a "Uniform Annual Charge", UAC). Money is spent in thatarea only.UAC:Uniform Annual Charge. Within the context of this policy,this is a Targeted Rate for a set dollar amount collected foreach rateable property (or each separately used or inhabitedpart of a property) in the District as a whole or within partof the District for a specifi c Council service (e.g. water supply,sewerage, reserves).UAGC:Uniform Annual General Charge. This is a set dollar amountwhich is collected for each rateable property or each separatelyused or inhabited part of a property in the District, irrespectiveof the value of the property, to cover the combined costs ofvarious Council services.User Charges:Charges collected from individuals at the time service is used.Utilities:Combination of water, wastewater and refuse services.Service by Service ReviewThe service by service reviewes are detailed on the followingpages.Charges on future lots or units of demand to fund the growthportion of capital expenditure.District Rate:District wide collection of revenue based on a set number ofcents per dollar of the Capital Value of every property, or auniform annual general charge (UAGC).230
---
Draft Hurunui Community Long Term Plan 2012 - 2022ServiceRelevant CommunityOutcomesRelevant Issues &ConstraintsWho benefi ts,and over whatperiodFuture Funding & SustainabilityWater SupplyTreatment andReticulation of Waterto the followingWater Supply areas:• Amberley• Leithfi eld Beach• Ashley Rural• Culverden• Waiau Town• Amuri Plains• Balmoral• Waiau Rural• Cheviot• Waipara• Hanmer Springs• Hawarden-Waikari• Hurunui RuralThe Council's funding ofWater Supply servicescontributes to theHurunui district being:A desirable and safe placeto live:• We have attractive welldesigned townships• Communities haveaccess to adequatehealth and emergencyservices and systemsand resources areavailable to meet civildefence emergencies• Risks to public healthare identifi ed andappropriately managedA place with essentialinfrastructure:• We have a strongemphasis on servicedelivery acrossall infrastructureincluding roading,water (for drinking anddevelopment), wastewater, stormwater andsolid wasteRestricted supplyschemes are based onunmetered, restrictedsupply with a maximumsupply per dayirrespective of usage.Unrestricted schemesface a number of issues.There is a need to curbexcess water use. Inaddition, bach ownerswho use their beachesinfrequently, object topaying fees for a systemthat they say theyhardly use. However,the system was built tohandle the needs of allthe residents and if theysold to a permanentresident that personwould want a systemthat could meet theirneeds. The existenceof water supply to aproperty is refl ectedin the value of thatproperty.Accordingly, as allratepayers own anequal share in the watersupply system, all usersshould meet an equalcomponent of the fi xedcosts of the watersupply that was built tomeet their needs. Theyshould then pay theeconomic marginal costof any additional usage.Costs will be reallocatedacross usersand signifi cant change isexpected.100% privatebenefi t to users.Operational Costs:• Restricted Supply• As a local Uniform Annual Charge on water unitentitlement.Unrestricted Supply:• Fixed costs – As a local Uniform Annual Charge.Variable Costs :• As a set price based per cubic meter of water asrecorded by the individual water meters.Capital Costs:• Signifi cant Council capital expenditure should befunded by loan for the life of the investment; if loansare not raised then it will be treated as a fi xed costand funded from annual rates. If any of the CapitalExpenditure caters for future growth of the scheme,then that portion of the expenditure that relatesto growth may be funded from future users viaDevelopment Contributions.• Landowners with new connections will pay the cost ofconnecting to the nearest main plus, if a new subdivide,putting in the sub-main and any levies as specifi ed inthe Development Contributions policy.• Property owners wanting new connections will paythose costs necessary for the connection.Loan Repayments:• Signifi cant Council capital expenditure should befunded by loan for the life of the investment. Repaymentof the loan will be treated as a fi xed cost and will befunded from a local Uniform Annual Charge.Sustainability:• The ongoing negative effects on the economicwellbeing of those who pay for water supply serviceswill be offset by future gains in social, economic andenvironmental well- being.Increased Drinking Water Standards:• The increased requirements to meet desiredstandards for drinking water place an exceptional (ifnot unaffordable) burden on small water schemes.To fund the increased costs associated with meetingstandards and to avoid the exorbitant fi nes that will beimposed on small local authorities who cannot meetthese requirements, the Council is considering fundingall drinking water requirements form a General Rate,rather than placing that burden on a limited numberof ratepayers.231
---
www.hurunui.govt.nzServiceRelevant CommunityOutcomesRelevant Issues &ConstraintsWho benefits, and overwhat periodFuture Funding & SustainabilitySewerageProvision ofreticulation andtreatment ofsewage for thefollowing SewerageAreas:• Amberley• Cheviot• Greta Valley• Motunau Beach• Hanmer Springs• Hawarden• WaikariThe Council's fundingof Sewerage servicescontributes to the Hurunuidistrict being:A desirable and safe placeto live:• We have attractive welldesigned townships• Communities haveaccess to adequatehealth and emergencyservices and systems andresources are availableto meet civil defenceemergencies• Risks to public healthare identifi ed andappropriately managedA place that demonstratesenvironmentalresponsibility:• We protect ourenvironment whilepreserving people'sproperty rights• We minimise solid wasteto the fullest extent, andmanage the rest in asustainable wayA place with essentialinfrastructure:• We have a strongemphasis on servicedelivery acrossall infrastructureincluding roading,water (for drinking anddevelopment), wastewater, stormwater andsolid wasteThis is a signifi cant servicein terms of expenditure,so there are benefi tsfor accountability andtransparency from fundingit separately from otherservices. Funding thisservice separately adds nosignifi cant extra cost.The various resourceconsents the Councilholds under the ResourceManagement Act 1991govern the way in which theCouncil manages disposalwhether it is the Council'sown or ratepayer's disposal.Signifi cant capitalinvestments made by theexisting ratepayers can beused by new connections,which may be consideredunfair.100% benefi t to users of thesystem.Benefi ts from capitalexpenditure accrue over thelife of the investment andbenefi ts from operationalexpenditure accrue at the timeof the expenditure. CapitalExpenditure should be fundedby a loan, pursuant to theCouncil's Internal FinancingPolicy. New connections willpay all costs of connecting tonearest sewer main. If any ofthe capital expenditure catersfor future growth, then thatportion of the expenditurethat relates to growth maybe funded from future lotsor units of demand withinthe ward or communityrating area via developmentcontributions.Operations & Loan Repayments:• Operation and loan repayments should befunded by way of a wastewater UniformAnnual Charge on each connection and forconnected commercial properties a chargeof 1 for the fi rst pan, ½ charges on thesecond pan and ¼ charges on the third andsubsequent pans. Serviceable propertieswithin the urban sewerage scheme will becharged ½ the Uniform Annual Charge.• Council may allow capital contributions tobe made at its discretion in place of a loanUniform Annual Charge.Capital Costs:• Signifi cant Council capital expenditureshould be funded by loan pursuant to theCouncil's Internal Financing Policy, if loansare not raised then it will be from targetedrates.• The Council may loan fund sewerage mainextensions with the loan repayments metby those properties directly benefi tingwhere the majority of the property ownersagree to the extension.• If any of the Capital Expenditure catersfor future growth of the scheme, then thatportion of the expenditure that relatesto growth may be funded from futureusers via Development Contributions andFinancial Contributions, as detailed in theDevelopment Contributions Policy and theDistrict Plan.• Landowners with new connections will paythe cost of connecting to the nearest mainplus, if a new subdivide, putting in the submain.• Property owners wanting new connectionswill pay those costs necessary for theconnection and any levies as specifi ed inthe Development Contributions policy. TheCouncil should pay any costs of schemerequirements that are over and abovethose necessary for the connection and thedirect costsSustainability:• The ongoing negative effects on theeconomic wellbeing of those who pay forsewerage services will be offset by futuregains in social and environmental wellbeing.232
---
Draft Hurunui Community Long Term Plan 2012 - 2022ServiceRelevantCommunityOutcomesRelevant Issues &ConstraintsWho benefi ts, andover what periodFuture Funding & SustainabilityStormwater &DrainageCosts relating toconstruction andmaintenance ofstormwater anddrainage systemsin the followingarea:• AmberleyWard• Jed River,Cheviot• HanmerSpringsTownshipThe Council's fundingof Stormwater andDrainage servicescontributes to theHurunui district being:A desirable and safeplace to live:- We have attractivewell designedtownships- Communitieshave access toadequate health andemergency servicesand systems andresources areavailable to meetcivil defenceemergencies- Risks to publichealth are identifiedand appropriatelymanagedA place with essentialinfrastructure:- We have a strongemphasis on servicedelivery acrossall infrastructureincluding roading,water (for drinkingand development),waste water,stormwater andsolid wasteThose who use theservice benefi t morethan those who donot, hence, for reasonsof transparency andaccount- ability, thereis justifi cation forfunding it distinctlyfrom other services.There are no signifi cantcosts involved in thisdistinction.100% benefi t to theproperties, and this basedon the area drained.Benefi ts from capitalexpenditure accrue overthe life of the investment.If any of the CapitalExpenditure caters forfuture growth of thescheme, then that portionof the expenditure thatrelates to growth maybe funded from futureusers via DevelopmentContributions. Benefi tsfrom operationalexpenditure accrue at thetime of the expenditure;benefi ts are proportionalto the area drained.Operational Costs:- 100% Targeted Rate based on the area benefi ting.- Engineer for stormwater catchment andmanagement plans funded through the GeneralRate.Capital Costs:- Signifi cant Council capital expenditure is funded bya loan as per the Council's Internal Financing Policy.- If loans are not raised, then it will be from targetedrates.- If any of the Capital Expenditure caters for futuregrowth of the scheme, then that portion of theexpenditure that relates to growth may be fundedfrom future users via Development Contributionsand Financial Contributions.Sustainability:- The ongoing negative effects on the economicwellbeing of those who pay for stormwaterservices will be offset by future gains in economicand environmental wellbeing.233
---
www.hurunui.govt.nzServiceRelevantCommunityOutcomesRelevant Issues &ConstraintsWho benefi ts, and overwhat periodFuture Funding & SustainabilityRoads andFootpathsThe Council's fundingof Roading servicescontributes to theHurunui district being:A place with essentialinfrastructure:- We have a strongemphasis on servicedelivery acrossall infrastructureincluding roading,water (for drinkingand development),waste water,stormwater and solidwasteThis is a signifi cant service interms of expenditure, so thereare benefi ts for accountabilityand transparency from funding itseparately from other services.Funding this service separatelyadds no signifi cant extra cost.We have an issue relating tomaintaining our roading networkat the levels of service shownthrough our Asset ManagementPlans due to NZTA reducingfunding. Whereas we expect tomanage for the next three years,the problem will start to appearfrom 2015 when our incomewill not match our maintenanceprogramme. We have builtinfl ation into the NZTA subsidybut unsure at this stage whetherthat will actually be the case.Is it fair that ratepayers on statehighways should pay for localroads?Yes, because they have accessand the option of using allthe roads in the district andthroughout NZ.Is it fair that one ratepayer ona road should have their road(which is essentially a drive)maintained?Yes, because it is a networkand we all get the potentialto use any part of the roadingnetwork. A road may well leadto a recreational resource. Suchroads provide public access aswell providing benefi t to tradespeople requiring access to farmsfor their business.100% benefi t to road users,but all people in the Districtwill use the roads at somestage, and it is generally notpractical to distinguish betweendifferent levels of use. Optionalenhancements to road surfaceswill require contributions fromaffected property owners(see the Road Seal ExtensionsPolicy), with the balance beingmet by the Council. There willbe some component of benefi tto visitors to the District, andin recognition of this, subsidiesfrom the New Zealand LandTransport Agency will beemployed where possible.Benefi ts from roading maygenerally be tagged to the areaof property owned, and henceto Capital Value.Benefi ts from capitalexpenditure occur for thelifetime of the road (15 to 30years). However the roads aremaintained in perpetuity sothe roading should be fundedby loan for its life withoutmaintenance. Benefi ts fromoperational expenditure accrueat the time the expenditure wasmade.Operational Costs:• For the Council contribution, 100%District Rate for operations, roadsand bridges to be known as theRoading Rate.Caital Costs:• Capital improvements above$100,000 may be funded by reservesor loans pursuant to the Council'sInternal Financing Policy. OtherCapital Expenditure to be funded asoperational.• If a community wishes the Councilto carry out resealing work thatdoes not qualify for a NZTA Subsidy,then there is a mechanism throughthe Road Seal Extension policywhich allows for the ratepayersto meet 50% of the costs and theCouncil contributing the remaining50% from the General rate.• If any of the Capital Expenditurecaters for future growth, then thatportion of the expenditure thatrelates to growth may be fundedfrom future users via FinancialContributions.Footpaths• Operational and Capital Costs:• Township maintenance100% localamenity rate on ward or communityrating area.Sustainability:• The ongoing maintenance andbuilding of new roads will continueto be demanding fi nancially,to individual ratepayers andgovernment subsidies. However, thenegative effects on the economicwellbeing of those who pay forroads will be offset by future gains insocial and economic wellbeing.234
---
Draft Hurunui Community Long Term Plan 2012 - 2022ServiceRelevant CommunityOutcomesRelevant Issues &ConstraintsWho benefi ts, and overwhat periodFuture Funding & SustainabilityCommunityServices andFacilities - LocalHallsThe Council's funding ofLocal Halls contributes tothe Hurunui district being:A desirable and safe placeto live:• We have attractive welldesigned townships• Communities have accessto adequate health andemergency services andsystems and resourcesare available to meet civildefence emergencies• Risks to public healthare identifi ed andappropriately managedA place where ourtraditional rural values andheritage make Hurunuiunique:• People have a rangeof opportunities toparticipate in leisure andculture activities• Our historic and culturalheritage is protected forfuture generationsThose living closest to afacility benefi t more thanthose living further away,hence there is a need tofund this service distinctlyfrom other services.There are no signifi cantcosts associated with thisdistinction, and there arebenefi ts for transparencyand accountability, as theCouncil's revenue from andexpenditure on halls canmore easily be related tothe state of the District'shalls.The predominant benefi t is tousers of the hall, but there areindirect benefi ts to the localcommunity in which the hallis situated, as the hall mayattract visitors and events tothe area.Operational Costs:• A rental charge the local market will stand,with any shortfall met from a local amenityrate on the local ward or community ratingarea. taCapital Costs:• If any of the capital expenditure caters forfuture growth, then that portion of theexpenditure that relates to growth may befunded from future lots or units of demandwithin the ward or community rating areavia development contributions. If long termfunding is required, it can be catered forunder the Council's Internal Financing Policy.The monies needed to meet the loan costsunder the Internal Financing Policy should betreated as operational expenditureinabiliSustainability:• Local facilities such as halls in smallcommunities are viewed as important to thesocial wellbeing of those communities andpeople are generally content to pay. Theseare very much local assets and decisionsabout future funding are guided by those whoare prepared to pay (or not pay).235
---
www.hurunui.govt.nzServiceRelevant CommunityOutcomesRelevant Issues &ConstraintsWho benefi ts, and overwhat periodFuture Funding & SustainabilityCommunityServices andFacilities - ReservesThe Council's funding ofServices and Facilities -Reserves contributes to theHurunui district being:A desirable and safe placeto live:• We have attractive welldesigned townships• Communities have accessto adequate health andemergency services andsystems and resourcesare available to meet civildefence emergencies• Risks to public healthare identifi ed andappropriately managedA place where ourtraditional rural valuesand heritage makeHurunui unique:- People have a rangeof opportunities toparticipate in leisure andculture activities- Our historic and culturalheritage is protected forfuture generationsCouncil reserves are fundeddifferently depending uponwhether they are classifi ed asDistrict or Amenity (i.e. local)reserves. Council policy isthat camping grounds shouldpay their own way. Thereare small administrativecosts associated with theseparate funding of reserves(e.g. costs for runningReserves Committees ineach area), but these areoutweighed by the benefi tsin increased transparencyand accountability in regardto the allocation of funds forreserves and the statutoryrequirement that any revenuefrom reserves be spent onlyon reserves.District Reserves - 100%benefi t to the District inthat people from all over theDistrict use the reserve, andthe reserve attracts visitorsto the District.Amenity Reserves - 100%benefi t to residents in thelocal rating area.Hanmer Springs ThermalPools & Spa - 100% benefi tto users.Camping Grounds - 100%benefi t to users.The benefi ts from capitalexpenditure accrue over thelife of the investment and thebenefi ts from operationalexpenditure accrue at thetime of expenditure.Operational; Costs:• Amenity Reserves - 100% local amenityrates on the ward or community ratingarea in which the reserve is located.• District Reserves - 100% District Rate.• Hanmer Springs Thermal Pools - 100% usercharge.• Camping Grounds - 100% user chargewith any shortfall met by a local amenityrate in the ward or community ratingarea.itaCapital Costs:• District Reserves - Capital expenditure forDistrict Reserves is funded 100% by theDistrict Rate and/or the Hanmer SpringsThermal Reserve surpluses.• Amenity Reserves - Capital expenditurefor Amenity Reserves is funded 100% bythe local amenity rate on the ward orcommunity rating area within which thereserve in question is located.• If any of the capital expenditure caters forfuture growth, then that portion of theexpenditure that relates to growth maybe funded from future lots or units ofdemand via development contributions.If long term funding is required, it can becatered for under the Council's InternalFinancing Policy. The monies needed tomeet the loan costs under the InternalFinancing Policy should be treated asoperational expenditure.• Contestable Funding - Council may alsoprovide an amount of funds from thesurpluses from the Hanmer SpringsThermal Reserve to each Ward orRating area that may be used for meetingdevelopment costs on amenity reserves.Sustainability:• There are slight negative effects on thecurrent and future economic wellbeingof the communities affected, but thiswill be offset by proportional gains incurrent and future social, environmentaland cultural wellbeing. There will also besome gain in economic wellbeing, to theextent that tourists are attracted to theDistrict's reserves.236
---
Draft Hurunui Community Long Term Plan 2012 - 2022ServiceRelevant CommunityOutcomesRelevant Issues &ConstraintsWho benefi ts, and overwhat periodFuture Funding & SustainabilityCommunityServices andFacilities –TownshipMaintenanceThe Council's funding of TownshipMaintenance contributes to theHurunui district being:A desirable and safe place to live:• We have attractive welldesigned townships• Communities have accessto adequate health andemergency services andsystems and resources areavailable to meet civil defenceemergencies• Risks to public health areidentifi ed and appropriatelymanagedA place where our traditionalrural values and heritage makeHurunui unique:- People have a range ofopportunities to participate inleisure and culture activities- Our historic and culturalheritage is protected for futuregenerationsThose living closest to a facilitybenefi t more than those livingfurther away, hence there is abenefi t in terms of transparencyand accountability from fundingthis service distinctly from otheractivities, and however, it is notpractical in cost-benefi t terms toimplement a differential ratingscheme for this service withineach ward or community ratingarea. There is no signifi cantcost associated with funding thisservice separately.There is an element of benefi tto the wider District (e.g.street refuse bins improve thecleanliness and image of theDistrict by minimizing littering),but the predominant benefi t isto property owners in the wardor community rating area inquestion.The benefi ts from capitalexpenditure accrue over thelife of the investment and thebenefi ts from operationalexpenditure accrue at the time ofexpenditure.Operational and Capital Costs:• Township maintaneance100%local amenity rate on ward orcommunity rating area.Sustainability:• Local communities are veryinvolved in the decisionmaking around what townshipmaintenance is done andto what standard and areprepared to pay the cost. Thisis viewed as vital to the fourwellbeings (social, economic,cultural and environmental) ofour communities.237
---
www.hurunui.govt.nzServiceRelevant CommunityOutcomesRelevant Issues &ConstraintsWho benefi ts, andover what periodFuture Funding & SustainabilityCommunity Servicesand Facilities - HurunuiYouth and CommunityDevelopmentProgrammesThe Council's fundingof community serviceprogrammes contributes tothe Hurunui district being:A desirable and safe placeto live:• We have attractive welldesigned townships• Communities have accessto adequate health andemergency services andsystems and resourcesare available to meet civildefence emergencies• Risks to public healthare identifi ed andappropriately managedA place where ourtraditional rural values andheritage make Hurunuiunique:• People have a rangeof opportunities toparticipate in leisure andculture activities• Our historic and culturalheritage is protected forfuture generationsThe programmes deliveredby council are oftendependent on externalfunding. If funded via Councilrates, their continuationis very dependent onthe community activelysupporting the programmes.Long term continuation cannot be guaranteed.100% benefi t to thepeople in the districtthrough strengtheningcommunities ability tofi nd local solutions andstrengthening the skillsand development of youth.There are no capitalcosts, and benefi ts fromoperational costs accrueat the time of expenditure.Operating Costs:• Youth is funded via District rate or thermalreserve surplus.• Community development programme is100% funded via government grant.Sustainability:• Both programmes are not likely to besustainable into the future as they aredependent on external funding whichhas fi nite dates, or funding via rates. Theprogrammes are designed to suit today'sissues and not necessarily the right fi t infuture years. They are very dependent onpublic support and results being produced.238
---
Draft Hurunui Community Long Term Plan 2012 - 2022ServiceRelevant CommunityOutcomesRelevant Issues &ConstraintsWho benefi ts, and over whatperiodFuture Funding & SustainabilityCommunityServices andFacilities –Medical CentresThe Council's fundingof Medical Centrescontributes to the Hurunuidistrict being:A desirable and safe placeto live:• We have attractive welldesigned townships• Communities haveaccess to adequatehealth and emergencyservices and systemsand resources areavailable to meet civildefence emergencies• Risks to public healthare identifi ed andappropriately managedA place where ourtraditional rural values andheritage make Hurunuiunique:• People have a rangeof opportunities toparticipate in leisure andculture activities• Our historic and culturalheritage is protected forfuture generationsIn remote rural locations,property developers /property owners do notwish to take the commercialrisk to develop and leaseout specialised medicalfacilities. Without thesefacilities, local residentsand visitors would be somedistance away from primarymedical care. Usersclosest to a facility havethe potential to benefi tmost from it, hence thereare benefi ts in terms ofincreased transparency andaccountability from fundingthese facilities separatelyfrom other Councilservices, and however it isnot practical to implementa differential rate withineach ward or communityrating area. Funding thisservice separately adds noextra cost.The predominant benefi t is to usersof the facilities, but there will also bea benefi t to each local community inwhich facilities are situated, in thatthe general health of the communityis likely to be improved and in thatthere will be less need to transportthose who are in need of treatmentto other areas of the District. In thissense there may also be some benefi tto the District as a whole.The benefi ts from Capital Expenditureaccrue over the life of the investmentand so capital expenditure should befunded by a loan or from reserves. Thebenefi ts from operational expenditureaccrue at the time of expenditure.Operational Costs:• 100% User charges with any shortfallfunded by a medical centre rate withinthe relevant ward or communityrating area.Capital Costs:• Any capital requirements will becatered for by loan funding pursuantto the Council's Internal FinancingPolicy to be funded by a medicalcentre rate within the relevant wardor community rating area. If Councildecides that the District shouldcontribute (in the past, there has beena $150,000 contribution made to eachcommunity) then the amount of thecontribution is subtracted from theloan. If any of the Capital Expenditurecaters for future growth, then thatportion of the expenditure that relatesto growth may be funded from futureunits of demand via DevelopmentContributions and loans.Sustainability:• There are slight negative effects onthe current and future economicwellbeing of the communitiesaffected, but this will be offset by gainsin current and future social wellbeing.There will also be some gain ineconomic wellbeing, to the extentthat the need for out-of-district travelis lessened.239
---
www.hurunui.govt.nzServiceRelevant CommunityOutcomesRelevant Issues & ConstraintsWho benefi ts, andover what periodFuture Funding & SustainabilityCommunity Servicesand Facilities –Pensioner HousingThe Council's funding ofPensioner Housing contributesto the Hurunuidistrict being:A desirable and safe placeto live:• We have attractive welldesigned townships• Communities haveaccess to adequatehealth and emergencyservices and systemsand resources areavailable to meet civildefence emergencies• Risks to public healthare identifi ed andappropriately managedA place where ourtraditional rural values andheritage make Hurunuiunique:• People have a rangeof opportunities toparticipate in leisureand culture activities• Our historic andcultural heritage isprotected for futuregenerationsThose living in an area withhousing benefi t more thanthose living outside of suchan area, and those who qualifyfor housing benefi t muchmore than those who do not,hence there is a benefi t interms of increased transparencyand accountability fromfunding this service distinctlyfrom other activities. Thereare no signifi cant costs associatedwith this distinction.The predominant benefi tis to those provided withhousing, however theDistrict as a whole alsobenefi ts from the knowledgethat pensioners on lowincomes are housed inreasonable accommodationand are housed locally -the need to travel out ofthe District to visit elderlyfriends and relations will belessened.There are capital costsassociated with theconstruction of the housing.The benefi ts accrue overthe life of the buildings. Thisimplies that the structuresshould be funded by wayof a loan pursuant to theCouncil's Internal FinancingPolicy. Operational costsare maintenance andbenefi ts accrue at the timethe expenditure takes place.Operational and Capital Costs:• Rents a r e set at an affordable level, ideallyso as to recover 100% o f costs, with anyshortfall to be made up from the DistrictRate on Capital Value.Sustainability:• There will be a positive effect on the currentand future economic wellbeing of thepersons housed. Any slight negative effect onthe current and future economic wellbeing ofratepayers in general will be offset by gains insocial wellbeing.240
---
Draft Hurunui Community Long Term Plan 2012 - 2022ServiceRelevantCommunityOutcomesRelevant Issues &ConstraintsWho benefi ts, and overwhat periodFuture Funding & SustainabilityCommunityServices andFacilities –Residential HousingThe Council's fundingof Residential Housingcontributes to theHurunui district being:A desirable and safe placeto live:• We have attractive welldesigned townships• Communities haveaccess to adequatehealth and emergencyservices and systemsand resources areavailable to meet civildefence emergencies• Risks to public healthare identifi ed andappropriately managedA place where ourtraditional rural valuesand heritage makeHurunui unique:• People have a rangeof opportunities toparticipate in leisureand culture activities• Our historic andcultural heritage isprotected for futuregenerationsThose living in areas withhousing and/or who qualify forhousing benefi t most fromit; hence there is justifi cationin terms of transparency andaccountability for fundingthis service distinctly fromother activities. There are nosignifi cant costs associated withthis distinction.The predominant benefi t is tothose provided with housing,but there is a componentof benefi t to the Districtas a whole, as medicalpractitioners and Councilstaff who might otherwisenot live in the District areprovided with housing.There are capital costsassociated with theconstruction of the housing.The benefi ts accrue for thelife of the buildings. Thisimplies that the structuresshould be funded by way of aloan pursuant to the Council'sInternal Financing Policy.Operational costs aremaintenance and benefi tsaccrue at the time theexpenditure takes place.Operational and Capital Costs:• Market rents for Council staff with anyshortfall to be made up from the DistrictRate on Capital Value.Sustainability:• There will be a positive effect on thecurrent and future economic wellbeing ofthe persons housed. Any slight negativeeffect on the current and future economicwellbeing of ratepayers in general will beoffset by gains in social wellbeing.241
---
www.hurunui.govt.nzServiceRelevant CommunityOutcomesRelevant Issues &ConstraintsWho benefi ts, and overwhat periodFuture Funding & SustainabilityCommunityServices andFacilities –CemeteriesThe Council's funding ofCemeteries contributes tothe Hurunui district being:A desirable and safe placeto live:• We have attractive welldesigned townships• Communities have accessto adequate health andemergency services andsystems and resourcesare available to meet civildefence emergencies• Risks to public healthare identifi ed andappropriately managedA place where ourtraditional rural values andheritage make Hurunuiunique:• People have a rangeof opportunities toparticipate in leisure andculture activities• Our historic and culturalheritage is protected forfuture generationsThe Burial and Cremation Act1964 requires Territorial LocalAuthorities to provide andmaintain cemeteries and setand charge fees for the use ofcemeteries. Residents, and theirfamilies, who opt for cremationshould not have to pay all theCemetery related generalcosts as their benefi t is muchless. Non-residents can alsouse the cemeteries but makeno contribution to the generalcosts.There is currently no time limiton the use made of a burial plot.The fees charged cover the costof maintenance for 60 years afterthat the plot becomes a chargeon the Council. The Council alsohas to carry the areas that havebeen set aside for graves buthave yet to be used.Because of the infinite life of acemetery it is not possible torecoup the capital costs overits life. Accordingly, the capitalcost of the plot should be theeconomic marginal cost of theplot that can be estimated by thecurrent capital valuation fromthe Council's Valuation ServiceProviders.The predominant benefi t is tothe those who will be buried(knowing that their wisheswill be carried out), and theirfamily and friends, but there isa benefi t to the heritage andgeneral atmosphere of Districtas a whole through the provisionof peaceful, tranquil andaesthetically pleasing cemeteries.Benefi ts from capital expenditureaccrue when burial takes placeand continue for the life ofthe cemetery. Benefi ts fromoperational expenditure accruewhen the costs are incurred.Operational and Capital Costs:• Interment costs and purchase ofplots are charged as user charges. Anyshortfall in operational costs will becharged as a District Rate.• If the Council decides to apply some ofthe surplus from the Hanmer SpringsThermal Reserve, the amount of thecontribution is subtracted from theDistrict RateSustainability:• There will be a slight negative effecton the current economic wellbeingof those from whom user charges areeducated, and a slight ongoing negativeeffect on the economic wellbeing ofratepayers in general, but this will beoffset by gains in social and culturalwellbeing.242
---
Draft Hurunui Community Long Term Plan 2012 - 2022ServiceRelevant CommunityOutcomesRelevant Issues &ConstraintsWho benefits, and overwhat periodFuture Funding & SustainabilityCommunityServices andFacilities – PublicToiletsThe Council's funding ofPublic Toilets contributesto the Hurunui districtbeing:A desirable and safe placeto live:• We have attractive welldesigned townships• Communities haveaccess to adequatehealth and emergencyservices and systemsand resources areavailable to meet civildefence emergencies• Risks to public healthare identifi ed andappropriately managedA place where ourtraditional rural values andheritage make Hurunuiunique:• People have a rangeof opportunities toparticipate in leisureand culture activities• Our historic andcultural heritage isprotected for futuregenerationsThose who use the publictoilets benefi t more thanthose who do not, sothere is justifi cation interms of account- abilityand transparency forfunding these separatelyfrom other facilities andservices. Funding thisservice separately adds noextra cost.Council policy is that thereshould be at least onepublic toilet in each townon tourist routes (moretoilets if the ex- tent of theusage by visitors demandsthis). It is impractical tocharge individual users.Toilets on tourist routes- visitors and localsbenefi t from being ableto use the toilets, butthe predominant benefi tis to the District as awhole, as the provisionof good quality and wellmaintained toilets forvisitors should improvetheir experience ofthe District and thusencourage them to visitagain or to tell othersto do so, leading toeconomic benefi ts for theDistrict.Other toilets - Thepredominant benefi t isto residents of the localcommunity in which thetoilets are situated.Benefi ts from capitalexpenditure are receivedover the life of thefacility and benefi ts fromoperational expenditureare accrued at the timethe expenditure is made.Operational and Capital Costs:• Toilets provided on tourist routes:• 100% District Rate or use of surpluses from theHanmer Springs Thermal Reserve.• Ward or Community Rating Area toilets: Included inTownship Maintenance – 100% local amenity rate onthe local ward or community rating area.• If the Council decides to apply some of the surplusfrom the Hanmer Springs Thermal Reserve, theamount of the contribution is subtracted from theDistrict Rate.• If any of the Capital Expenditure caters for futuregrowth, then that portion of the expenditure thatrelates to growth may be funded from future lots viaDevelopment Contributions and loans.Sustainability:• There will be a slight negative effect on the currentand future economic wellbeing of those who pay forthis service, but this will be offset by gains in socialand/or economic wellbeing.243
---
www.hurunui.govt.nzServiceRelevant CommunityOutcomesRelevant Issues & ConstraintsWho benefi ts, andover what periodFuture Funding & SustainabilityCommunityServices andFacilities –LibrariesThe Council's funding ofCemeteries contributes tothe Hurunui district being:A desirable and safe placeto live:• We have attractive welldesigned townships• Communities haveaccess to adequatehealth and emergencyservices and systems andresources are availableto meet civil defenceemergencies• Risks to public healthare identifi ed andappropriately managedA place where ourtraditional rural values andheritage make Hurunuiunique:• People have a rangeof opportunities toparticipate in leisure andculture activities• Our historic and culturalheritage is protected forfuture generationsLibraries receive a signifi cantamount of funding; hence there isjustifi cation in terms of transparencyand account- ability for fundingthis service distinctly from otherservices. Funding this serviceseparately adds no extra cost.It is Council policy to providea public library network for thedistrict and the high number ofvolunteers and the high membershiprate demonstrate a strong level ofcommunity support.The Local Government Act 2002stipulates free membership oflibraries - the aim being to providean accessible library servicethat supports an educated andculturally enriched community. Thelibrary provides resources for thecommunity regardless of income,isolation, ability and technicalexpertise.Funding discussions centre aroundthe 'who pays' argument and theimpact that charges will have onthe community. Library collectionstoday are made up of many formatsincluding books, video, DVD, CD,magazines, newspapers and a varietyof online databases including theinternet. The library retrieves 3% ofits operational costs. Charges applyto overdue items and to services thatare considered value added. Rentalsare applied to most audiovisual loans– copyright legislation stipulates thatlibraries are not to make a profi t onthese items – and to some internetusage.Having different charges for differentgroups of people (low incomeearners, children, superannuatants,etc) is more costly to administerthan the cost of free access tolibrary services.The target group (adults with lowincome and children) could notafford to pay user charges for books.Bringing in differentiated chargeswould be an enormous administrativeload that would cost more than freeaccess. The closest to a user chargewould be a Uniform Annual GeneralCharge.The predominant benefi tfrom libraries is to theDistrict as a wholein encouraging thedevelopment of an informedand educated Community.Additional benefi ts fromenhanced library servicesmay be derived fromresidents of the local wardor community rating area inwhich the library is located.Operational Costs:• Library user charges (overdue fi nes,book reserves etc).• The libraries in Amberley andHanmer Springs are locatedon reserves, therefore, the netoperational costs are funded throughthe surplus from the Hanmer SpringsThermal Reserve.• The libraries in Culverden, Hawardenand Cheviot are not located onreserves and as such, the fundingof the operational costs for theseis made from an allocation fromthe Council's treasury surplus.Therefore, there is no rating input tooperate the libraries.Capital Costs:• Signifi cant Capital Expenditure onland and building will be funded fromCouncil reserves or loans pursuantthe Council's Internal FinancingPolicy, and if any of this CapitalExpenditure caters for future growth,then that portion of the expenditurethat relates to growth may be fundedfrom future units of demand viaDevelopment Contributions.• The construction of the HurunuiMemorial Library has been fundedfrom two loans pursuant to theCouncil's Internal Financing Policy.• The fi rst loan represented themajority of the cost. The repaymentsof principal and interest for themajority of the loan are funded byway of development contributions.• The second loan was the marginalcost of an enhanced building whichwas assigned to the Amberley Ward.The marginal cost was assessed at$260,000. Since 2004, the AmberleyWard Ratepayers have beencontributing $16.00 per rating unit,which has been used to fund theinterest and principal repayments.This loan is expected to be repaidin 2016.Sustainability:• There will be a positive effect onthe current and future social andcultural wellbeing of library users.244
---
Draft Hurunui Community Long Term Plan 2012 - 2022ServiceRelevant CommunityOutcomesRelevant Issues &ConstraintsWho benefits, and overwhat periodFuture Funding & SustainabilityEnvironment andSafety – CivilDefenceThe Council's fundingof Civil Defence servicecontributes to the Hurunuidistrict being:A desirable and safe placeto live:• We have attractive welldesigned townships• Communities have accessto adequate health andemergency services andsystems and resourcesare available to meet civildefence emergencies• Risks to public healthare identifi ed andappropriately managedA place that demonstratesenvironmental responsibility:• We protect ourenvironment whilepreserving people'sproperty rights• We minimise solid wasteto the fullest extent, andmanage the rest in asustainable wayThere are (or can be)signifi cant costs associatedwith Civil Defence, andfunding includes governmentcontributions, hence, in theinterests of transparencyand accountability, thereis justification for fundingthis service distinctly fromother services. Thereis no significant cost inmaintaining this distinction.Who Benefi ts, and over whatPeriod?It is not practical to quantifybenefi ts to individualratepayers or groups ofratepayers, so the District asa whole is assumed to benefi t.There is a small component ofbenefi t to visitors, who mightotherwise be more adverselyaffected by an emergency, andto the national community,who would have to contributemore resources for emergencyrelief if local measures werenot in place.No signifi cant capitalinvestment in this area.Benefi ts of operationalexpenditure accrue at the timeof expenditure.Operational Costs:• 100% District Rate after taking intoaccount the small central governmentcontribution via an annual grant.Sustainability:• The negative impact of the cost ofthis service is offset by the socialwellbeing through having a safe andhealthy communities.245
---
www.hurunui.govt.nzServiceRelevant CommunityOutcomesRelevant Issues &ConstraintsWho benefi ts, and overwhat periodFuture Funding & SustainabilityEnvironment andSafety – Rural FireThe Council's fundingof Rural Fire servicecontributes to theHurunui district being:A desirable and safe placeto live:- We have attractive welldesigned townships- Communities haveaccess to adequatehealth and emergencyservices and systemsand resources areavailable to meet civildefence emergencies- Risks to public healthare identifi ed andappropriately managedA place that demonstratesenvironmentalresponsibility:- We protect ourenvironment whilepreserving people'sproperty rights- We minimise solidwaste to the fullestextent, and manage therest in a sustainablewayRural communities benefi tmore than others from thisservice, hence there arebenefi ts to transparency andaccountability from fundingthis service distinctly fromother services, and notsignifi cant costs involved.It is questionable whether ornot urban ratepayers withinthe District should contributeto the provision of a ruralfi re service. The assistancethat the rural brigades maketo the urban areas is offsetby reciprocal arrangement ofurban brigades to turn out torural fi res.The New Zealand Fire Servicemay attend rural fi res with thefi rst hour being at no charge.There is a subsidy applied bygovernment.The predominant benefi t isto properties in the defi nedrural fi re areas, but there isa benefi t to the District asa whole, and to the nationas a whole in mitigating theenvironmental and economiceffects of vegetation fi res.Benefi ts from operationalexpenditure are spread overthe fi nancial year to whichthey apply.Fighting fi res:• Property owner pays. In some instancesthere may be a portion of the fi refi ghting costs that may not be able tobe recovered. Such cost will need to berecovered in line with other costs.Other costs:• After taking Government grants intoaccount, 80% from ratepayers in theRural Fire Authority area and 20%from ratepayers outside the Rural FireAuthority area. Both will be collectedby way of a Targeted Rate known as theRural Fire Rate.Sustainability:• The negative impact of the cost of thisservice is offset by the social wellbeingthrough having a safe and healthycommunities.246
---
Draft Hurunui Community Long Term Plan 2012 - 2022ServiceRelevantCommunityOutcomesRelevant Issues &ConstraintsWho benefi ts, and overwhat periodFuture Funding & SustainabilityEnvironment andSafety – ResourceManagementThe Council's funding ofResource Managementservices contributesto the Hurunui districtbeing:A desirable and safeplace to live:- We have attractivewell designedtownships- Communities haveaccess to adequatehealth and emergencyservices and systemsand resources areavailable to meet civildefence emergencies- Risks to publichealth are identifi edand appropriatelymanagedA place thatdemonstratesenvironmentalresponsibility:- We protect ourenvironment whilepreserving people'sproperty rights- We minimisesolid waste to thefullest extent, andmanage the rest in asustainable wayThis is a signifi cant andreasonably discrete areaof expenditure; hencethere are benefi ts interms of transparency andaccountability from funding itdistinctly from other services.There are no signifi cant costsinvolved in this distinction.Statutory constraintsapply. Recovery of"reasonable costs" relatingto administration is allowedunder the terms of section 36of the Resource ManagementAct.Resource Management Act– resource consents, 100%user charges. The Councilmay waive consent fees asprovided for in the RMA.In general applicants forresource consents should payall processing costs.100% benefi t from policyservices to the District as awhole through promotion ofthe sustainable managementof the District's natural andphysical resources for futuregenerations.The predominant benefi t fromconsents is to the individualswho require them, butthere is some benefi t to theDistrict as a whole in that allratepayers can be assured thatthe environment they work,eat, drink and live in is safeand managed in accordancewith the principles of sustainablemanagement under theprovisions of the ResourceManagement Act.Capital costs are minimal inthis function and the benefi tsfrom operational expenditureare spread over the yearit is incurred. Any costs ofmediation to make the DistrictPlan operative to be spreadover the life of the plan (10years).Resource Consents:• 100% user charges. Council may waiveconsent fees as provided for in the ResourceManagement Act.Private District Plan Changes:• All costs met by the applicant.Council Initiated Plan Changesded by the l Rate.• Extraordinary Planning Issues will beassessed on a case-by-case basis todetermine the appropriate method forfunding.• Some of the benefi ts from RMA relatedservices will be linked to the value of landowned; others will be independent of this.The balance of the costs will be met by aDistrict Rate (known as the planning rate).Sustainability:• The slight ongoing negative effects on theeconomic wellbeing of ratepayers from thecost of the service will be offset by futuregains in environmental and social wellbeing.247
---
www.hurunui.govt.nzServiceRelevant CommunityOutcomesRelevant Issues &ConstraintsWho benefi ts, and over whatperiodFuture Funding &Sustainability•Environment and The Council's funding ofSafety - Amberley coastal fl ood-protectionBeach Foreshore works helps to make theProtection Hurunui district being:A desirable and safe placeto live:• We have attractive welldesigned townships• Communities haveaccess to adequatehealth and emergencyservices and systems andresources are availableto meet civil defenceemergencies• Risks to public healthare identifi ed andappropriately managedA place that demonstratesenvironmentalresponsibility:• We protect ourenvironment whilepreserving people'sproperty rights• We minimise solid wasteto the fullest extent, andmanage the rest in asustainable wayThose living in affectedareas benefi t more thanothers, hence there isjustifi cation, in terms ofincreased transparency andaccountability, for funding thisservice distinctly from otherservices.Amberley Beach is acommunity that is threatenedby coastal erosion. Unlessthe coastal protection isreplenished by adding moresuitable material, property will,eventually, be lost.The community wishesthe Council to re-nourishthe coastal protection byadding more material asnecessary. The frequency ofre-nourishment is expected tobe between two to fi ve years.The Council has the powerto ensure that all who benefi tfrom the scheme pay andthat there are no free riderproblems.Since the works are topreserve property values thenthe expenditure should befunded by a rate on propertyvalue. If any Council propertyis located in the community,or any other organisation'sproperty is located inthe community, then thatorganisation should contributein proportion to the propertyvalue in the same measureas other properties in thecommunity.100% benefi t to the owners ofproperties protected by the works, andthis is in proportion to the value of theproperty.The benefi ts from capital expenditureaccrue over the life of the asset and thebenefi ts from operational expenditureaccrue at the time that the work iscompleted.Capital Costs:• Flooding protection works willbe funded 100% Targeted Rateon each rating unit that Councilconsiders receives direct benefi tfrom such protection.Sustainability:• The slight ongoing negative effectson the economic well- being ofthose who pay for this servicewill be offset by future gains ineconomic and environmentalwellbeing.248
---
Draft Hurunui Community Long Term Plan 2012 - 2022ServiceRelevant CommunityOutcomesRelevant Issues &ConstraintsWho benefi ts, and overwhat periodFuture Funding & SustainabilityEnvironmentand Safety –Swimming PoolInspectionsThe Council's fundingSwimming Pool Inspectionsservices contributes to theHurunui district being:A desirable and safe placeto live:- We have attractive welldesigned townships- Communities haveaccess to adequatehealth and emergencyservices and systemsand resources areavailable to meet civildefence emergencies- Risks to public healthare identifi ed andappropriately managedA place that demonstratesenvironmentalresponsibility:- We protect ourenvironment whilepreserving people'sproperty rights- We minimise solidwaste to the fullestextent, and manage therest in a sustainable wayThose with swimming poolsbenefi t more from this servicethan others; hence there arebenefi ts to accountability andtransparency from fundingthis service distinctly fromother services. There are nosignifi cant costs involved inthis distinction.The Council is required totake all reasonable steps toen- sure private swimmingpools meet the requirementsof the Fencing of SwimmingAct 1987. The Council isconcerned at the level of noncompliancerelating to thisAct. The Council is currentlyauditing 33% of swimmingpools on its register annuallyand believes this will increasepool owners' awareness ofthe importance of maintainingexisting fence standards tothose required by the Act.100% benefi t to swimming poolowners, as they would be heldliable if an accident were tooccur due to their swimmingpool not having adequatefencing. There is also a benefi tto other persons who may usethe swimming pool in question,in the form of a reduced risk ofaccidental drowning, but this isimpractical to quantify.The benefi ts from capitalexpenditure accrue over thelife of the asset and the benefi tsfrom operational expenditureaccrue at the time that the workis completed.Operational Costs:- 100% of the costs will be recovered froma targeted rate on each rating unit onwhich is located a swimming pool.- Pools which remain non-compliant willincur an inspection fee for any inspectionand subsequent inspections.Sustainability:- The negative impact of the cost of thisservice is offset by the social wellbeingthrough having a safe and healthycommunities.249
---
www.hurunui.govt.nzServiceRelevantCommunityOutcomesRelevant Issues &ConstraintsWho benefi ts, and overwhat periodFuture Funding & SustainabilityEnvironment andSafety – BuildingControlsThe Council's fundingBuilding Servicescontributes to theHurunui district being:A desirable and safeplace to live:- We have attractivewell designedtownships- Communities haveaccess to adequatehealth and emergencyservices and systemsand resources areavailable to meet civildefence emergencies- Risks to publichealth are identifi edand appropriatelymanagedA place thatdemonstratesenvironmentalresponsibility:- We protect ourenvironment whilepreserving people'sproperty rights- We minimisesolid waste to thefullest extent, andmanage the rest in asustainable wayThose who use the servicebenefi t more than thosewho do not, hence, forreasons of transparencyand account- ability, thereis justifi cation for fundingit distinctly from otherservices. There are nosignifi cant costs involved inthis distinction.The predominant benefi t isto the owner of the premises,but there are benefi ts to theDistrict as a whole in thatthe service is available on anongoing basis to cater forfuture development and inthat residents are assuredthat the environment theywork and live in is safe.The benefi ts from capitalexpenditure accrue overthe life of the asset and thebenefi ts from operationalexpenditure accrue atthe time that the work iscompleted.Building consents:- 100% user charges.Building Administration other than consentsprocessing (including some advice):- Some of the benefi t from this will be related toproperty value and some will not. The Councilhas determined that this should be funded fromthe District The slight ongoing negative effectson the economic well- being of those who payfor these services will be offset by future gains insocial and environmental wellbeing.BCA Costs:- The costs relating to the BCA Accreditationprocess will be funded by a separate levy chargedon building consents.Sustainability:- The negative impact of the cost of this service isoffset by the social wellbeing through having a safeand healthy communities.250
---
Draft Hurunui Community Long Term Plan 2012 - 2022ServiceRelevant CommunityOutcomesRelevant Issues &ConstraintsWho benefi ts, andover what periodFuture Funding & SustainabilityEnvironment andSafety – Healthand LiquorLicensingThe Council's fundingHealth and LiquorLicensing servicescontributes to the Hurunuidistrict being:A desirable and safe placeto live:- We have attractive welldesigned townships- Communities haveaccess to adequatehealth and emergencyservices and systemsand resources areavailable to meet civildefence emergencies- Risks to public healthare identifi ed andappropriately managedA place that demonstratesenvironmentalresponsibility:- We protect ourenvironment whilepreserving people'sproperty rights- We minimise solidwaste to the fullestextent, and manage therest in a sustainable wayThose who use the servicesbenefi t more than thosewho do not, hence, forreasons of transparencyand accountability, thereis justifi cation for fundingthem distinctly from otherservices. There are nosignifi cant costs involved inthis distinction.For some health functionsthere are statutoryconstraints on theapplication of user charges,e.g. infectious diseasefollow-ups. The Sale ofLiquor Act sets the fees thatcan be charged for liquorlicensingThe predominant benefi tis to the occupier of thepremises that are licensed,but there is a componentof benefi t to the Districtas a whole in that peopleare assured that theenvironment they work,eat, drink and live in is safe.There is no relationshipbetween this benefi t andproperty value.The benefi ts from capitalexpenditure accrue overthe life of the asset and thebenefi ts from operationalexpenditure accrue at thetime work is completed.Health:- User charges meet a portion of the cost with theshortfall to be met from the District Rate.Liquor:- Maximum fees as set out in the Sale of Liquor Actwith any shortfall from the District Rate.Sustainability:- The negative impact of the cost of this service isoffset by the social wellbeing through having a safeand healthy communities.251
---
www.hurunui.govt.nzServiceRelevantCommunityOutcomesRelevant Issues &ConstraintsWho benefi ts, andover what periodFuture Funding & SustainabilityEnvironment andSafety – AnimalControlThe Council's fundingAnimal Control servicescontributes to theHurunui district being:A desirable and safeplace to live:- We have attractivewell designedtownships- Communities haveaccess to adequatehealth and emergencyservices and systemsand resources areavailable to meet civildefence emergenciesA place thatdemonstratesenvironmentalresponsibility:- We protect ourenvironment whilepreserving people'sproperty rights- We minimisesolid waste to thefullest extent, andmanage the rest in asustainable wayThose who use theservice benefi t morethan those who donot, hence, for reasonsof transparency andaccountability, there isjustifi cation for fundingit distinctly fromother services. Thereare no signifi cantcosts involved inthis distinction. Dogregistration cost issuesand recovery of costsassociated with dogcontrol are set out inthe Dog Control Act.Dog owners questionwhat benefi t theyderive from the- Risks to publichealth are identifi edand appropriately registrationmanagedprocess.Do the majorityof owners pay forthe minority whoare negligent intheir ownershipresponsibilities? Whilethis is a valid question,it is impractical toamend the system asto do so would costmore than any gainthat would be derived.Dog and animalcontrol legislationis clearly based on amix of the principlethat the owner shouldpay for animal control"incidents" with theestablishment of theservice being a publicgood.100% benefi t to animalowners for incidentsand 100% benefi t tothe District as a wholefor service readiness.This latter benefi t willrelate to the area ofland owned (the moreland, the more scopefor wandering stock),and thus for all practicalpurposes may be tiedto its Capital Value.100% benefi t tothe dog owner forincidents; 100% dogregistration fee forreadiness.No signifi cant capitalexpenditure is involvedwith this service.All operationalexpenditure is appliedto the pro- vision ofservice in the year it iscollected.Dog Registration:Process and standby (including record keeping) are funded bythe dog registration fee.The owner pays with the shortfall (eg: complaint unfounded,dog gone, etc), funded by dog registration fees.Stock Control:Costs relating to animal or stock control are paid 100% fromstock owners; the balance of remaining costs to be met fromthe District Rate.Sustainability:The negative impact of the cost of this service is offset by thesocial wellbeing through having a safe and healthy communities.252
---
Draft Hurunui Community Long Term Plan 2012 - 2022ServiceRelevant CommunityOutcomesRelevant Issues &ConstraintsWho benefi ts, andover what periodFuture Funding & SustainabilityEnvironment andSafety – WasteMinimisationThe Council's fundingof Solid Waste servicescontributes to the Hurunuidistrict being:A desirable and safe placeto live:- We have attractive welldesigned townships- Communities have accessto adequate health andemergency services andsystems and resourcesare available to meet civildefence emergencies- Risks to public healthare identifi ed andappropriately managedA place that demonstratesenvironmental responsibility:- We protect ourenvironment whilepreserving people'sproperty rights- We minimise solid wasteto the fullest extent, andmanage the rest in asustainable wayThis is a signifi cantservice in termsof expenditure, sothere are benefi ts foraccountability andtransparency fromfunding it separatelyfrom other services.Funding this serviceseparately adds nosignifi cant extra cost.The predominant benefi tis to those disposing oftheir waste but there isa general benefi t to theDistrict as a whole throughhaving adequate wastedisposal systems in placeand discouraging illegaldumping or storing ofrubbish.Benefi ts from capitalexpenditure accrue forthe lifetime of facilitiessuch as transfer stations.Benefi ts from operationalexpenditure occur at thetime the expenditure ismade.Operational Costs:- -Refuse collection costs are all met throughtargeted rates for each dwelling or business in eachurban area based on the cost of collection in thaturban area.- -Rural rate payers on the route can have theirrubbish picked up for the above cost plus a marginalcharge for the provision of the rural collectionstickers.- -Transfer station costs are met through fees set ateach transfer station. The fees are set to encourageuse and discourage illegal dumping. Any shortfall incosts is met from a District Rate.- -Litter bin collection costs are all met through aDistrict Rate.Capital Costs:- -Any capital expenditure on the transfer stations isfunded over the life of the asset through a DistrictRate.- -Income from the Council's reimbursement fromthe landfi ll levy maybe used for capital purchases.Sustainability:The ongoing negative effects on the economicwellbeing of those who pay for solid waste collectionwill be offset by future gains in social and environmentalwellbeing.253
---
www.hurunui.govt.nzServiceRelevantCommunityOutcomesRelevant Issues &ConstraintsWho benefits, and over whatperiodFuture Funding & SustainabilityDistrict Promotion The Council's fundingDistrict Promotion andDevelopment servicescontributes to theHurunui district being:A place with a thrivinglocal economy:- We are seen as agood place to dobusiness, to live andto visitThis is a distinct area ofCouncil expenditure; hence,for reasons of transparencyand accountability, thereis justifi cation for fundingthese services distinctly fromother services. There are nosignifi cant costs involved in thisdistinction100% benefi t to the District as awhole for general district promotion(in proportion to Capital Value), andthe same for general economicdevelopment (partly in proportionto Capital Value, partly independentof this).There is no signifi cant capitalrequirement and operation- albenefi ts are received at the time, ornear to the time, of expenditure.Operational Costs:- 100% District RateSustainability:- The negative impact through paying forthis service is offset by the economicwellbeing of the district.254
---
Draft Hurunui Community Long Term Plan 2012 - 2022ServiceRelevantCommunityOutcomesRelevant Issues &ConstraintsWho benefi ts, and overwhat periodFuture Funding & SustainabilityHanmer SpringsThermal Poolsand SpaThe Council's fundingthe Hanmer SpringsThermal Pools and Spa(also known as theHanmer Springs ThermalReserve) functioncontributes to theHurunui district being:A place with a thrivinglocal economy:- We are seen as agood place to dobusiness, to live andto visitA place where ourtraditional rural valuesand heritage makeHurunui unique:- People have a rangeof opportunities toparticipate in leisureand culture activities- Our historic andcultural heritage isprotected for futuregenerationsThe Thermal Pool complexis run as a department ofthe Council and as such, theuse of the profi ts has certainrestrictions placed on it andmost of it must be in accordwith the Reserves Act. ThePools is run as a business anddeliberately aims for increasedprofi ts. The resulting profi tscan amount to more thanneeds to be spent on reserves.All ratepayers living in theHurunui District benefi t fromthe Thermal Pools operationin some way or other. Becauseof the profi ts earned from thePools, these are used to offsetthe amount of rates chargedto the ratepayer. All reservesand operations run on reserves,such as libraries, are fundedfrom the pools surpluses ratherthan through direct rates.Residents in the Hurunuibenefi t from having the thermalpools resource in the Districtfrom a recreational point ofview. Residents have specialdiscounted rates to use thepools.The Thermal Pool complexbrings visitors and tourists intothe District which brings abouteconomic benefi ts to otherbusiness operators.Operational Costs:-100% user charge as per the pools fee schedule.Capital Costs:- -Replacement of existing assets is fundedfrom the Hanmer Springs Thermal Reservesurpluses.- -Expenditure on new assets are generallyfunded through an internal loan according toCouncil's internal fi nancing policy.- The Thermal Pools and Spa are funded 100%by user charges and generate an annualsurplus for Council. Major capital works arefunded through the Thermal Pools and Spaborrowing from the Council pursuant tothe Council's Internal Financing Policy. Theinterest rate set at:- -2.5% above the Council's external borrowingrate- Minor capital works are funded through theThermal Pools and Spa's retained earnings.The additional interest derived from theinternal fi nancing to the Thermal Pools andSpa ($25,000 per $1 million of borrowings)provides a good return for the Council thatcontributes toward lower rates.Use of income derived from the Thermal Poolsand Spa:- The Thermal Pools and Spa are situatedon a Recreation Reserve which has beenvested in the Council under the ReservesAct 1977. Pursuant to the Reserves Act, theCouncil is only able to apply any surplusesderived from the Thermal Reserve to otherreserves administered by the Council. TheCouncil actively uses these surpluses to fundthe costs relating to other District Reserves,Cemeteries, Public Toilets, and as the DistrictLibrary has been built on a Reserve, the costsassociated with the Library function is alsosubsidised by the surpluses from the ThermalReserve.- The pools and spa were expanded andimproved in a major upgrade in 2010. Thiswas funded by way of internal loan fi nance,as per Council's Internal Financing Policy.The interest costs incurred by the HanmerSprings Thermal Pools and Spa createsa distinct fl ow of income that is derivedfrom the use of the funds that the Councilis investing, rather than from the use of theRecreation Reserve.As a result, we now have two distinct streamsof income generated from the Pools and Spaoperation:- one from internal interest, which the Counciluses to offset General Rates (in accordancewith the Council's funding policies)- and the other being on-going surpluses whichare used to fund costs relating the reserves(as per the provisions of the Reserve Act1977).255
---
www.hurunui.govt.nzServiceRelevantCommunityOutcomesRelevant Issues &ConstraintsWho benefi ts, andover what periodFuture Funding & SustainabilityGovernanceThe Council's funding Council members The Council process Operational Costs:the Governance are elected by the and advocacy offunction contributes ratepayers; hence ratepayers' intereststo the Hurunui district there is a benefi t in benefi ts the District asbeing:terms of transparency a whole.A desirable and safe and account- ability No signifi cant capitalplace to live:from funding them investment in this area.distinctly from other- We have attractiveBenefi ts of operationalservices. There arewell designedexpenditure accrue atSustainability:no signifi cant coststownshipsthe time of expenditure.associated with thisdistinction.- Communities haveaccess to adequatehealth and emergencyservices and systemsand resources areavailable to meet civildefence emergencies- Risks to publichealth are identifi edand appropriatelymanagedTheLocalGovernment Act andmany other statutesgovern the Council'sdemocratic process.These defi ne theCouncil's role andset out the Council'sobligationsFunded from the District Rate (known as the GovernanceRate). Information supplied under the Offi cial Information Actis charged as allowed for under that act.The elected members' costs relating to the Hanmer SpringsCommunity Board shall be funded by the Hanmer Springs WardAmenities Rate.This activity benefi ts communities and contributes to theirwellbeing across all of the four wellness areas.256
---
Signifi cance PolicyIntroductionThe purpose of this policy is to outline the general approach ofthe Hurunui District Council to determining the signifi canceof proposals and decisions in relation to issues, assets or othermatters. The policy includes determinants (any thresholds,criteria or procedures) used to assist in assessing the extentto which issues, proposals, decisions or other matters aresignifi cant. It also includes procedural guidelines designed toensure that a proper process is followed and that all compliancerequirements of the Local Government Act 2002 in relation todecision making will be met by Council.This policy is made up of the following parts:Legislative Framework• Legislative requirements• Defi nitionsApplication of the Policy on Signifi cance• Determining signifi cance• Criteria for determining signifi cance• Signifi cant issues, proposals, decisions and other matters• ConsultationStrategic Assets• Introduction• Schedule of Strategic AssetsAppendices• Relevant Extracts from the Local Government Act2002• Signifi cance Consideration for Inclusion in CouncilAgendasLegislative FrameworkEvery local authority is required to have a policy on signifi cancepursuant to section 90 of the Local Government Act 2002(LGA). Adoption and the amendment of this policy must use thespecial consultative procedure. A summary of the policy mustbe included in the Long Term Plan (the Hurunui CommunityLong Term Plan).Defi nitionsSection 5 of the LGA defi nes signifi cance, signifi cant andstrategic asset as follows:Draft Hurunui Community Long Term Plan 2012 - 2022Signifi cance, in relation to any issue, proposal, decision, or othermatter that concerns or is before a local authority, means thedegree of importance of the issue, proposal, decision, or matter,as assessed by the local authority, in terms of its likely impacton, and likely consequences for:(a) the current and future social, economic,environmental or cultural wellbeing of the District orregion;(b) any persons who are likely to be particularlyaffected by, or interested in the issue, proposal, decision ormatter;(c) the capacity of the local authority to perform itsrole, and the fi nancial and other costs of doing so.Signifi cant, in relation to any issue, proposal, decision, or anyother matter means that the issue, proposal, decision, or othermatter has a high degree of signifi cance.Strategic Asset, in relation to the assets held by a local authoritymeans an asset or group of assets that the local authority needsto retain if the local authority is to maintain the local authority'scapacity to achieve or promote any outcome that the localauthority determines to be important to the current and futurewellbeing of the community and includes:(a) any asset or group of assets listed in accordance withsection 90(2) by the local authority; and(b) any land or building owned by the local authorityand required to maintain the local authority's capacity toprovide affordable housing as part of its social policy; and(c) any equity securities held by the local authority in:(i) a port company within the meaning of thePort Companies Act 1988(ii) an airport company within the meaning of theAirport Authorities Act 1966.Application of the Policy onSignifi canceDetermining Signifi canceEach issue, proposal, decision or other matter is consideredby Council on a case by case basis to determine:• whether it is signifi cant, and, if so,• the degree of signifi cance. The higher the impact orconsequences, costs or implications, the higher thedegree of signifi cance.257
---
www.hurunui.govt.nzThe starting point for determining the degree of signifi canceis to consider:• the likely impact on or consequences for thewellness of the community, taking account inrelation to current and future needs (i.e.sustainability) the social, economic, environmentaland cultural wellbeing of the District, along withthe District's landscape & outlook, individual andcommunity lifestyle, education and skills development,heritage & tradition, and infrastructure.• the likely impact on or consequences for thoseaffected or interested.• the capacity of the Council (including fi nancial capacity)to implement the decision and carry out its normal role.It is Council's decision as to what "a high degree of signifi cance"means in each instance.Criteria for Determining Signifi canceThe signifi cance of a decision will help determine theappropriate nature, extent and degree of compliance requiredwith the decision-making process set out in Part 6 of the LGA.For signifi cant decisions, the Council will ensure appropriatecompliance.The questions set out below should be used by Council toassist in determining the degree of signifi cance of any issue,proposal, decision or other matter. These questions will alsohelp with the required level of compliance with sections 77, 78,80, 81 and 82 of the LGA. (Refer to the appendices.)Firstly: Does Council have suffi cient information about theissue, proposal, decisions or other matter?If not, then no decision as to the signifi cance of the issue canbe made.Secondly: If the answer is yes to any of the following questionsthen the issue, proposal, decisions or other matter hassignifi cance. The greater the number of 'yes' answers, the greaterthe degree of signifi cance.In the opinion of the Council, does the issue, proposal, decisionor other matter:• affect all or a large portion of the community in a farreachingway?• have a potential impact or consequence on the affectedpersons (being a number of persons) that is substantial?• have fi nancial implications on the Council's resourcesthat would be substantial?• generate (or would be expected to generate) a highdegree of controversy?• fail to fl ow logically or consequentially from a decisionin the Hurunui Long Term Community Plan (includingthe ideal of District and community wellness)?Signifi cant Issues, Proposals, Decisions and OtherMattersSignifi cant issues, proposals, decisions or other matters will beincluded in the Hurunui Long Term Community Plan whereverpossible. Where this is not practical they will be includedwherever possible in the Annual Plan produced in the yearsbetween the Hurunui Long Term Community Plan or whererequired by the Act in an amendment to the Hurunui Long TermCommunity Plan.Signifi cant decisions will only be made outside of the aboveprocesses where there are compelling reasons for it not beingpractical for them to be included in the Hurunui Long TermCommunity Plan or Annual Plan.The Council will not proceed with a decision that is deter- minedto be signifi cant without consideration of a detailed statementevidencing compliance with sections 77, 78, 80,81 and 82 of theLGA.Other implications of signifi cance under the LGA are:• The Council must use the special consultativeprocedure (SCP) when considering a proposal to alterthe mode (as set out in LGA section 88(1-2)) by whicha signifi cant activity is undertaken.• If an option identifi ed in the decision-making processinvolves a signifi cant decision in relation to land or abody of water, the local authority must take intoaccount the relationship of Mäori and their culture andtraditions with their ancestral land, water, etc.• The Council must not lose control of, sell or disposeof 'signifi cant infrastructure' necessary for providingwater services.ConsultationThe signifi cance of a matter will guide the Council's decisionsconcerning the extent and nature of the consultation to beundertaken with the persons likely to be affected or interestedin the decision or matter as set out in section 82 of the LGA.In determining what is appropriate, the Council must haveregard to various matters including its likely impact from theperspective of the persons who will or may be affected by thedecision. The degree of signifi cance will help decide whethera special round of consultation is necessary, or whether it issufficient to rely on information already gathered and held bythe Council. The degree of compliance and associated costinvolved when making a judgment about signifi cance of aparticular decision also needs to be considered.258
---
Draft Hurunui Community Long Term Plan 2012 - 2022ProceduresEvery agenda will include a statement of "Signifi canceConsideration" which will include the questions whichdetermine the level of signifi cance. (Refer to the appendices.)Every report to the Council must include a statement indicatingthat the issue of signifi cance has been considered, and including arecommendation where necessary.When the Council is considering the signifi cance of an issue,proposal, decision or other matter, in the event one or moreelected members consider it to be signifi cant, but are in theminority, the Council will:(a)(b)Reconsider the signifi cance questions, and/or;Consider whether a view should be sought fromthe relevant Ward if appropriate to do so.If a decision to be made is considered to be signifi cant, thereport will also include a statement addressing what has beendone to ensure compliance with sections 77, 78, 80, 81 and 82 ofthe LGA as applicable.Strategic AssetsIntroductionThe Council is required pursuant to section 90(2) of theLGA, to list all strategic assets as defi ned in section 5 of theLGA and set out under the 'Legislative Framework' of this policy.The schedule of the strategic assets set out on the oppositepage is not exhaustive but includes those which are consideredsignifi cant in ensuring the Council's capacity to achieve orpromote important outcomes.It is important to note that the Council manages a number ofstrategic assets as a whole. This is because these asset classesas a whole deliver the service. Strategic decisions in theseareas, therefore only concern the whole asset class and notindividual components, unless those components substantiallyaffect the ability of the Council to deliver the service. It is theprinciple of the provision of the services that makes these assetgroups strategic, not the individual roads, individual toilet blocks,individual halls, etc.259
---
www.hurunui.govt.nzAppendix 1: Schedule of Strategic AssetsActivity or group ofactivitiesInvestmentsAssetEquity in Transwaste LimitedEconomic(districtgrowth)√Strategic issuesSocial(quality of life) Cultural EnvironmentThe Council Forestry estates as a whole√Water SupplySewerageStorm Water andDrainageRoads and FootpathsCommunity Servicesand FacilitiesEnvironment and SafetyHanmer Springs ThermalPools and SpaThe water supply network as a whole includingreservoirs, treatment plants, pump stations andreticulation√ √ √The wastewater collection, treatment anddisposal system as a whole including the sewers, √ √ √ √pump stations and the treatment worksThe land drainage system as a whole includingstormwater pipe network, the open riversystem, waterways, wetlands and retention√ √ √ √basinsThe Hurunui District roading network as awhole√ √ √The Library network as a whole including theDistrict Library and the Communities Libraries√ √ √The reserves lands as a whole including landheld under the Reserves Act and land usedfor parks, domains, village greens, cemeteries,√ √ √ √sports fi elds and recreational areasThe lands and buildings as a whole used for theadministration of the District√The lands and buildings as a whole owned bythe Council for its pensioner housing provision√ √The lands and buildings comprising communityhalls√ √The land and buildings as a whole owned bythe Council to support primary health care √ √availabilityThe Hurunui solid waste network as a wholeincluding transfer stations√ √ √The lands, buildings and commercial operationsas a whole on Hanmer Springs Thermal Reserve √ √ √260
---
Draft Hurunui Community Long Term Plan 2012 - 2022Appendix 2: Relevant Extracts From the Local Government Act 2002S 77 Requirements in Relation to Decisions:(1) A local Authority must, in the course of the decisionmakingprocess:(a) seek to identify all reasonably practicable options forthe achievement of the objective of a decision; andparagraph (c) are adopted;(3) A local authority is not required by this section aloneto undertake any consultation process or procedure.(4) This section is subject to section 79.(b)assess those options by considering:(i) the benefi ts and costs of each option interms of the present and future social, economic,environmental, and cultural wellbeing of the districtor region; and(ii) the extent to which community out- comeswould be promoted or achieved in an integrated andeffi cient manner by each option; and(iii) the impact of each option on the localauthority's capacity to meet present and future needsin relation to any statutory responsibility of the localauthority; and(iv) any other matters that, in the opinion ofthe local authority, are relevant; and(c) if any of the options identifi ed under paragraph (a)involves a signifi cant decision in relation to land or a bodyof water, take into account the relationship of Mäori andtheir culture and traditions with their ancestral land,water, sites, waahi tapu, valued fl ora and fauna, and othertaonga.(2) This section is subject to section 79.S 78 Community views in relation to decisions:(1) A local authority must, in the course of its decisionmakingprocess in relation to a matter, give consideration to theviews and preferences of persons likely to be affected by, or tohave an interest in, the matter.(2) That consideration must be given at:(a) the stage at which the problems and objectives relatedto the matter is defi ned;(b) the stage at which the options that may be reasonablypracticable options of achieving an objective are identifi ed;(c) the stage at which reasonably practicable options areassessed and proposals developed;(d) the stage at which proposals of the kind described inS 80 Identifi cation of inconsistent decisions:(1) If a decision of a local authority is signifi cantlyinconsistent with, or is anticipated to have con- sequences thatwill be signifi cantly inconsistent with, any policy adopted by thelocal authority or any plan required by this Act or any otherenactment, the local authority must, when making the decision,clearly identify:(a) the inconsistency; and(b) the reasons for the inconsistency;and(c) any intention of the local authority to amend thepolicy or plan to accommodate the decision.(2) Subsection (1) does not derogate from any otherprovision of this Act or of any other enactment.S 81 Contributions to decision-making processesby Mäori:(1) A local authority must:(a) establish and maintain processes to provideopportunities for Mäori to contribute to the decisionmakingprocesses of the local authority; and(b) consider ways in which it may foster the developmentof Mäori capacity to contribute to the decision-makingprocesses of the local authority; and(c) provide relevant information to Mäori for the purposesof paragraphs (a) and (b).(2) A local authority, in exercising its responsibility tomake judgments about the manner in which subsection (1) is tobe complied with, must have regard to:(a) the role of the local authority, as set out in section 11;and(b) such other matters as the local authority considers onreasonable grounds to be relevant to those judgments.261
---
www.hurunui.govt.nzS 82 Principles of consultation:(1) Consultation that a local authority undertakes inrelation to any decision or other matter must be undertaken,subject to subsections (3) to (5), in accordance with the followingprinciples:(a) that persons who will or may be affected by, or havean interest in, the decision or matter should be providedby the local authority with reasonable access to relevantinformation in a manner and format that is appropriate tothe preferences and needs of those persons(b) that persons who will or may be affected by, or have aninterest in, the decision or matter should be encouragedby the local authority to present their views to the localauthority(c) that persons who are invited or encouraged to presenttheir views to the local authority should be given clearinformation by the local authority concerning the purposeof the consultation and the scope of the decisions to betaken following the consideration of views presented(d) that persons who wish to have their views on thedecision or matter considered by the local authorityshould be provided by the local authority with a reasonableopportunity to present those views to the local authority ina manner and format that is appropriate to the preferencesand needs of those persons(e) that the views presented to the local authority shouldbe received by the local authority with an open mind andshould be given by the local authority, in making a decision,due consideration(f) that persons who present views to the local authorityshould be provided by the local authority with informationconcerning both the relevant decisions and the reasons forthose decisions.(2) A local authority must ensure that it has in placeprocesses for consulting with Mäori in accordance withsubsection (1).(3) The principles set out in subsection (1) are, subject tosubsections (4) and (5), to be observed by a local authority insuch manner as the local authority considers, in its discretion, tobe appropriate in any particular instance.(4) A local authority must, in exercising its discretionunder subsection (3), have regard to:authority; and(c) the nature and signifi cance of the decision or matter,including its likely impact from the perspective of thepersons who will or may be affected by, or have an interestin, the decision or matter; and(d) the provisions of Part I of the Local GovernmentOffi cial Information and Meetings Act 1987 (which Part,among other things, sets out the circumstances in whichthere is good reason for withholding local authorityinformation); and(e) the costs and benefi ts of any consultation process orprocedure.(5) Where a local authority is authorised or required bythis Act or any other enactment to undertake consultation inrelation to any decision or matter and the procedure in respectof that consultation is prescribed by this Act or any otherenactment, such of the provisions of the principles set out insubsection (1) as are inconsistent with specifi c requirementsof the procedure so prescribed are not to be observed by thelocal authority in respect of that consultation.S 88 (1-2) Use of special consultativeprocedure in relation to change of mode ofdelivery of signifi cant activity:(1) A local authority must use the special consultativeprocedure in relation to any proposal for an alteration (ofthe kind described in subsection (2)) in the mode by which asignifi cant activity is undertaken by or on be- half of the localauthority.(2) The kind of alteration to which subsection (1) refersis an alteration that involves:(a) a change from delivery of the activity by the localauthority itself to delivery of the activity by a councilcontrolled organisation in which the local authority is ashareholder; or(b) a change from delivery of the activity by the localauthority itself to delivery of the activity by anotherorganisation or person; or(c) a change from delivery of the activity by a councilcontrolled organisation in which the local authorityis a shareholder to delivery of the activity by anotherorganisation or person.(a) the requirements of section 78; and(b) the extent to which the current views and preferencesof persons who will or may be affected by, or have aninterest in, the decision or matter are known to the local262
---
Draft Hurunui Community Long Term Plan 2012 - 2022Appendix 3: Signifi cance Consideration For Inclusion in all Council AgendasThe [name of the council committee], in considering each matter,must be:a. Satisfi ed that it has suffi cient information about thepracticable options and their benefi ts, costs and impacts,bearing in mind the signifi cance of the decisionsb. Satisfi ed that it knows enough about and will giveadequate consideration to the views and preferencesof affected and interested parties bearing in mind thesignifi cance of the decisions to be madeQuestionsa. Does the Council have suffi cient information aboutthe issue, proposal, decisions or other matter?b. Does the issue, proposal, decision or other matter:Evaluation• affect all or a large portion of the communityin a far-reaching way?• have a potential impact or consequence onthe affected persons (being a number of persons)that is substantial?• have fi nancial implications on the Council'sresources that would be substantial?• generate (or would be expected to generate)a high degree of controversy?• fail to fl ow logically or consequentially froma decision in the Hurunui Long Term CommunityPlan (including the ideal of District and communitywellness)?Council offi cers preparing these reports will have regard tothe Council's policy on signifi cance. Council, Committee andCommunity Board members will make the fi nal assessment onwhether the subject under consideration is to be regardedas being signifi cant or not. Unless the Council, a Committeeor the Community Board explicitly determines that the subjectunder consideration is to be deemed signifi cant then thesubject will be deemed as not being signifi cant.263
---
www.hurunui.govt.nzTreasury Risk Management PolicyThe defi nition and recognition of interest rate, liquidity, funding,investment, counterparty credit, market, operational andlegal risk of Council will be as detailed below and applies toboth the Liability Management policy and Investment policy.Interest Rate RiskRisk RecognitionInterest rate risk is the risk that funding costs (due to adversemovements in market interest rates) will materially exceed orfall short of projections included in the LTCCP and Annual Planso as to adversely impact revenue projections, cost control andcapital investment decisions/returns/and feasibilities.The primary objective of interest rate risk management is toreduce uncertainty relating to interest rate movements throughfixing/hedging of funding costs.Approved Financial InstrumentsDealing in interest rate products must be limited to fi nancialinstruments approved by the Council.CategoryCash managementandborrowingInvestmentsInterest rate riskmanagementInstrumentBank overdraftCommitted cash advance and bank accepted bill facilities(short term and long term loan facilities)Uncommitted money market facilitiesRetail and wholesale Bond and Floating Rate Note (FRN)issuanceCommercial paper (CP)Short term bank depositsBank certifi cates of deposit (RCDs)Treasury billsNZ Government, Local Authority bonds and FRNs(secured/senior)LGFA borrower notes / CP / bills / bonds/ FRNs (fl oatingrate notes)Local Authority promissory notes, Commercial paper(secured/senior)Forward rate agreements ("FRAs") on:Bank billsGovernment bondsInterest rate swaps including:Forward start swaps (start date
---
Draft Hurunui Community Long Term Plan 2012 - 2022During the term of the option, only the sold side of thecollar can be closed out (i.e. repurchased) otherwise,both sides must be closed simultaneously. The soldoption leg of the collar structure must not have a strikerate "in-the-money".• Purchased borrower swap options mature within12 months.• Interest rate options with a maturity date beyond 12months that have a strike rate (exercise rate) higherthan 2.00% above the appropriate swap rate, cannotbe counted as part of the fi xed rate cover percentagecalculation.• Forward start period on swaps and collar strategies tobe no more than 24 months, and the underlying cap orswap starts within this period.Special and General Reserve FundsGiven that Council may require funding for capital expenditurecash shortfalls over the remaining life of the existing special andgeneral reserve funds, where such funds are deemed necessarythey should be used for internal borrowing purposes whenexternal borrowing is required. Accordingly Council maintainsits funds in short term maturities emphasising counterpartycredit worthiness and liquidity. The interest rate yield achievedon the funds therefore is a secondary objective.This will negate counterparty credit risk and any interest raterepricing risk that occurs when Council borrows at a higherrate compared to the investment rate achieved by Special /Reserve Funds.Liquid assets will not be required to be held against specialfunds or reserve funds unless such funds are held within a trustrequiring such, instead, Council will manage these funds usinginternal borrowing facilities.Foreign CurrencyHurunui has minor foreign exchange exposure through theoccasional purchase of foreign exchange denominated services,plant and equipment. Generally, all signifi cant commitments forforeign exchange are hedged using foreign exchange contracts,once expenditure is approved. Both spot and forward foreignexchange contracts can be used by Hurunui. Council shall notborrow or enter into incidental arrangements, within or outsideNew Zealand, in currency other than New Zealand currency.Liquidity Risk/Funding RiskRisk RecognitionCash flow defi cits in various future periods based on longterm fi nancial forecasts are reliant on the maturity structureof cash, fi nancial investments, loans and bank facilities. Liquidityrisk management focuses on the ability to access committedfunding at that future time to fund the gaps. Funding riskmanagement centres on the ability to re-fi nance or raise newdebt at a future time at the same or more favourable pricing(fees and borrowing margins) and maturity terms of existingloans and facilities.The management of Council's funding risks is important asseveral risk factors can arise to cause an adverse movementin borrowing margins, term availability and general fl exibilityincluding:• Local Government risk is priced to a higher fee andmargin level;• Council's own credit standing or financialstrength as a borrower deteriorates due to fi nancial,regulatory or other reasons;• A large individual lender to Council experiences theirown fi nancial/exposure diffi culties resulting in Councilnot being able to manage their debt portfolio asoptimally as desired;• New Zealand investment community experiences asubstantial "over supply" of Council investment assets;A key factor of funding risk management is to spread andcontrol the risk to reduce the concentration of risk at onepoint in time so that if any of the above events occur, the overallborrowing cost is not unnecessarily increased and desiredmaturity profi le compromised due to market conditions.Liquidity/Funding Risk Control LimitsAlternative funding mechanisms such as leasing should beevaluated with fi nancial analysis in conjunction with traditionalon-balance sheet funding. The evaluation should take intoconsideration, ownership, redemption value and effective costof funds.External, term loans and committed debt facilities together withliquid investments/cash equivalents must be maintained at anamount of 110% over existing external debt.The CEO has the discretionary authority to re-fi nance existingdebt on more favourable terms. Such action is to be reportedand ratifi ed by the Council at the earliest opportunity.Council has the ability to pre-fund up to 12 months of forecastdebt requirements including re-fi nancings.The maturity profi le of the total committed funding in respectto all external debt/loans and committed debt facilities, is tobe controlled by the following system and apply when external265
---
www.hurunui.govt.nzdebt exceeds $25 million:Period Minimum Maximum0 to 3 years15%60%3 to 5 years15%60%5 years plus10%40%A maturity schedule outside these limits will require specifi cCouncil approval.Counterparty Credit RiskCounterparty credit risk is the risk of losses (realisedor unrealised) arising from a counterparty defaulting ona fi nancial instrument where the Council is a party. Thecredit risk to the Council in a default event will be weighteddifferently depending on the type of instrument entered into.Each transaction should be entered into a treasury spreadsheetand a quarterly report prepared to show assessed counterpartyactual exposure versus limits. Individual counterparty limits arekept in a spreadsheet by management and updated on a day today basis. Credit ratings should be reviewed by the MFS on anongoing basis and in the event of material credit downgrades;this should be immediately reported to the CEO and assessedagainst exposure limits. Counterparties exceeding limits shouldbe reported to the Council.Investments are normally held to maturity date. Whereinvestments are liquidated before legal maturity date, approvalis obtained from the CEO.Risk ManagementCredit risk will be regularly reviewed by the Council. Treasuryrelated transactions would only be entered into withorganisations specifi cally approved by the Council.Counterparties and limits can only be approved on the basis oflong-term credit ratings (Standard & Poor's, Fitch or Moody's)being A+ and above or short term rating of A-1 or above.Limits should be spread amongst a number of counterparties toavoid concentrations of credit exposure. See Matrix Guide.In determining the usage of the previous gross limits, thefollowing product weightings will be used:• Investments (e.g. Bank Deposits) – Transaction Notionalx Weighting 100%.(unless a legal right of set-off overcorresponding borrowings exit whereupon a 0%weighting may apply)• Interest Rate Risk Management (e.g. swaps, FRAs) –Transaction Notional x Maturity (years) x 3%.• Foreign Exchange – Transactional principal amount xthe square root of the Maturity (years) x 15%Matrix GuideTo avoid undue concentration of exposures, fi nancial instrumentsshould be used with as wide a range of approved counterpartiesas possible. Maturities should be well spread. The approvalprocess must take into account the liquidity of the market theinstrument is traded in and repriced from.Operational Risk• Operational risk is the risk of loss as a result of humanerror (or fraud), system failures and inadequateprocedures and controls.• Operational risk is very relevant when dealing withfi nancial instruments given that:• Financial instruments may not be fully understood• Too much reliance is often placed on the specialisedskills of one or two people• Most treasury instruments are executed over thephone• Operational risk is minimised through the adoptionof all requirements outlined in the full Treasury RiskManagement Policy, which include:Counterparty/IssuerMinimum long term / shortterm credit rating – statedand possibleInvestments maximum percounterparty($m)Interest rate risk managementinstrument maximum percounterparty ($m)Total maximum percounterparty($m)NZ Government N/A unlimited none UnlimitedLocal Government FundingAgency GFAN/A Unlimited N/A UnlimitedNZD RegisteredSupranationalsAAA 10.0 none 10.0NZ Registered Bank [name] A+/ A-1 10.0 10.0 20.0Local Government Stock/Bonds/ FRN/ CPA+/ A-1 (if rated)2.0none 5.0* Subject to a maximum exposure no greater than 10% of the portfolio being invested in Local Government debt at any one point in time. The maximumportfolio exposure limit does not apply to the LGFA.This summary list will be expanded on a counterparty named basis which will be authorised by the CEO266
---
Draft Hurunui Community Long Term Plan 2012 - 2022Legal Risk• Dealing Authorities and Limits• Segregation of Duties• Reporting procedures, including records,confi rmations and reconciliations• Organisational ControlsLegal and regulatory risks relate to the unenforceability of atransaction due to an organisation not having the legal capacityor power to enter into the transaction usually because ofprohibitions contained in legislation. While legal risks are morerelevant for banks, Hurunui may be exposed to such risks.Hurunui will seek to minimise this risk by adopting policyregarding:• The use of standing dealing and settlement instructions(including bank accounts, authorised persons, standarddeal confi rmations, contacts for disputed transactions)to be sent to counterparties.• The matching of third party confirmations andthe immediate follow-up of anomalies.• The use of expert advice.AgreementsFinancial instruments can only be entered into with banksthat have in place an executed ISDA Master Agreementwith Council.Council's internal/appointed legal counsel must sign off onall documentation for new loan borrowings, re-financingsand investment structures.Financial Covenants and OtherObligationsCouncil must not enter into any transactions where it wouldcause a breach of fi nancial covenants under existing contractualarrangements.Council must comply with all obligations and reportingrequirements under existing funding facilities and legislativerequirements.267
---
www.hurunui.govt.nzInternal Financing PolicyIntroductionCouncil has developed a system of internal fi nancing for variousactivities within the organisation. The system is designed toprovide funding for communities to meet the cost of capitalexpenditure rather than setting its rates at a level to cover theentire cost in the year that it is incurred. The system allowscommunities to spread the cost of such capital expenditureover a longer period than just one year.The system is used instead of the Council specifi cally setting itsrates to cover the cost of depreciation on some of its assets(notably Water, Sewer, Stormwater and Community Facilities),which is generally required under the Local Government Act2002.The internal fi nancing system is applicable those activities thatare funded by a Targeted Rate, which requires the Council toensure that the funds generated from rates are only applied tothat activity, or there is reasons to separately account for anactivity. As a result, the internal fi nancing system is applied tothe following:• Ward Amenities• Rural Fire Control• Animal Control• Household Refuse Collection• Water Supplies• Sewerage Schemes• Stormwater and Drainage Schemes• Medical Centres• Foreshore Protection Schemes• Special Funds including Development ContributionFunds• Hanmer Springs Thermal Reserve (with regards to thedebt resulting from expansion work)Mechanics of the SystemEach activity has a capital balance, which in essence is an individualbank account for that activity. Receipts from that activity –Rates, Fees & Charges, and Development Contributions etc.– are deposited into that account. Payments for that activity– Employment Costs, Direct Operating Expenditure, CouncilOverheads etc. and Capital Expenditure – are withdrawn fromthat account. The result is that at any stage, that bank accountmay be in funds or it could be overdrawn.Like most bank accounts, if there are funds in the account fromthat activity, then the Council will pay interest to that activity.Conversely, if the bank account is overdrawn, then that activitywill be charged interest.Debt RepaymentThere is also a need for those activities whose bank accountsare overdrawn to make provision to get out of overdraft. Thisis most likely done by setting rates at a level to not only paythe annual operating costs and interest charge, but to also fundadditional amounts that will offset the overdraft. The Council'spolicy is that debt should be repaid over 20 years (or such termCouncil deems appropriate in particular circumstances) and asa result, communities are required to fund at least 5% of theopening balance of their loan as repayments and set the ratesaccordingly.Increasing the AccountAs a way of increasing the account so communities are ina position to cover some or all of the cost of major capitalprojects in the future, the communities are encouraged tocontinue setting its rates at a level to cover the annual operatingcost but also additional amounts (as a deemed affordable) whichwill increase the balance of the account. As a result, there will bea number of activities whose bank accounts will increase overtime, with the knowledge that those funds will be utilised oncapital expenditure.Interest ComponentTo ensure consistency throughout the entire organisation, withthe exception of the Hanmer Springs Thermal Reserve, theinterest rates have been set as follows:• Interest rate on Overdrawn Activity Accounts is chargedinterest at 100 basis points (1%) above the interest ratethat Council is charged for any external debt.• Interest rate on Activity Accounts in funds receivedinterest at the interest rate that the Council receiveson its call accounts.Hanmer Springs Thermal ReserveThe Hanmer Springs Thermal Reserve is an exception to theInternal Financing Policy.268
---
Draft Hurunui Community Long Term Plan 2012 - 2022As any development that the Hanmer Springs Thermal Reserveundertakes is of a commercial nature, there is an increased levelof risk involved and as such, the interest rate charged for anydebt drawn down by the Thermal Reserve attracts an interestrate of 250 basis points (2.5%) above the interest rate thatCouncil is charged for any external debt.It is intended that any debt funding provided to theHanmer Springs Thermal Reserve crystallises with the ThermalReserve not required to actively repay debt unless requiredto by Council. This will result in the Council holding both adebt investment as well as an equity investment in the ThermalReserve.Use of InterestAll interest derived from internal fi nancing is accumulated bythe Council's treasury function. Costs associated with treasury,such as any external interest, external advice, and Counciloverheads, are paid from the interest derived with the overallsurplus from the treasury function used actively to offset theDistrict Rate requirement.269
---
www.hurunui.govt.nzAppendices271 Representatives of our District272 Draft Waste Management andMinimisation Plan Summary274 Hurunui Waiau Zone ImplimentationProgramme276 Water and Sanitary ServicesAssessment Summary278 Levels of Service Water and Sewer281 Rates: Sample Properties287 Independent Auditor's Report291 Submission Form270
---
Representatives of our DistrictDraft Hurunui Community Long Term Plan 2012 - 2022Mayor Winton DalleyMayorPh 03 314 8816mayor@hurunui.govt.nzPO Box 13AmberleyCr Marie BlackCouncillor Amuri-Hurunui WardPh 03 314 4142marie.black@hurunui.govt.nzCr Michael MalthusDeputy MayorCouncillor Hanmer Springs WardPh 03 315 7757michael.malthus@hurunui.govt.nzCr Jim HarréCouncillor Amuri-Hurunui WardPh 03 315 6162jim.harre@hurunui.govt.nzCr Ross LittleCouncillor Amberley WardPh 03 314 5841ross.little@hurunui.govt.nzCr Dick DavisonCouncillor Amuri-Hurunui WardPh 03 315 8015dick.davison@hurunui.govt.nzCr Gary CooperCouncillor Amberley WardPh 03 314 9229gary,cooper@hurunui.govt.nzCr Russell BlackCouncillor Glenmark WardPh 03 314 5888russell.black@hurunui.govt.nzCr Judith McKendryCouncillor Amberley WardPh 03 314 8308judith.mckendry@hurunui.govt.nzCr Vincent DalyCouncillor Cheviot WardPh 03 319 8773vincent.daly@hurunui.govt.nz271
---
www.hurunui.govt.nzDraft Waste Management and Minimisation Plan - SummaryIntroductionOur Draft Waste Management and Minimisation Plan describesour vision for this activity including our objectives, policies andtargets to enable residents, businesses and ratepayers to haveaccess to an effi cient, reliable, safe and cost effective service.We are committed to working to reduce the levels of wastedisposed of into landfi ll. We continually review our wasteand recycling services and facilities to ensure effectiveness,effi ciencies and affordability.The draft Waste Management and Minimisation Plan outlinesobjectives that we will focus on over the next six years.Sometimes changes will be necessary (including potentialcontractor changes as these expire during the life of the Plan),but we will ensure that any such changes are consistent withthe Plan's objectives. Please refer to full draft Plan on ourwebsite for further information.• Under the Waste Minimisation Act (2008), all Councilsare required to compileand adopt aWasteManagement and Minimisation Plan by 1 July 2012.According to Waste Minimisation Act, we need to meet anumber of specifi c requirements including:• Having due regard for the waste hierarchy – reduce,re-use, recycle, recover, treatment and disposal.• Considering the fi ndings and recommendations of ourmost recent waste assessment.• Undertake public consultation. At the time ofcompleting the draft Long Term Plan, consultation forthe draft Waste Management and Minimisation Plan hadbeen completed, but we had not yet heard submissions.When the fi nal Long Term Plan is completed, theconfi rmed Waste Management and Minimisation Planwill have been fi nalised.We compiled this draft Waste Management and MinimisationPlan at a time when the management of waste and recyclingin the district has undergone signifi cant change, with theintroduction of the combined model in early 2009 andsubsequent contractual changesthe following year. We areworking towards thefuture with the plannedconstruction of aTransferStationsDualRefuseandRecyclingCollectionSomeof theHurunui DistrictCouncil'swaste management andminimisationservicesCommercialRecycling and drywasteGlass RecyclingRecyclingBins272
---
Draft Hurunui Community Long Term Plan 2012 - 2022new transfer station in Amberley, the reviewing of existingcontractual arrangements and the need to improve effi cienciesto ensure effective and affordable waste management andrecycling services are provided at all times.FundingThe funding of our waste management and recycling services isachieved through:• Targeted rates• Uniform Annual Charge• User charges• Waste levy reimbursementProposed ActivitiesThe draft Waste Management and Minimisation Plan outlinesactions and activities that will be under¬taken during the lifeof the plan to provide effi cient, effective and affordable wastemanagement and minimisation services. Many of the activitiesare business-as-usual and the current activities will continue,however, there are a few that are new. Some of these are outlinedhere, but please refer to the full Plan for more information.Key Issues and ChallengesWe face a number of waste management and minimisationissues and challenges, and these will need to be consideredas decisions are made. Some of these are listed below:• A low rating base which covers a wide geographical area• An increase in illegal dumping as landfi ll costs rise• Market uncertainty for recyclable materials• The impact of waste related legislation and policy• The development process for the Amberley TransferStationIncreased public awareness programmes including:• piloting a schools education programme• supporting Paper 4 Trees school scheme• providing recycling public workshops• developing guidance material for the agriculture sectorWorking with Target Sustainability to undertake waste auditswith local businesses• Evaluating the introduction of domestic kerbside glasscollection in urban areas• Evaluating the possibility of introducing dual refuse/recycling collection• Considering the use of wheelie bins, plastic crates andplastic sacks• Considering the acceptance of commercial waste in thedesign of the new Amberley Transfer Station• Reviewing transfer station operating hours• Promoting home composting including investigating thepossibility of providing subsidised compost bins• Considering trialling putrescible (food scraps etc) wastecollection in Amberley or Hanmer Springs• Considering the advantages and disadvantages of using prepaidbags for refuse• Licensing operators collecting or disposing of waste in theHurunui district and advocating for regional/nationwidelicensing requirements273
---
www.hurunui.govt.nzHurunui Waiau Zone Implementation ProgrammeSummarySince July 2010, the Hurunui Waiau Zone Committee, a jointcommittee of the Hurunui District Council and EnvironmentCanterbury, has worked collaboratively and undertakenextensive consultation with, and received submissions from,Runanga, local communities, interested parties, industry groups,government and non-government organisations, scientistsand advisory groups to develop the recommendations onwater management presented in this Zone ImplementationProgramme (ZIP).environmental outcomes in order to achieve a 'net gain' for thewater resources and associated ecosystems as well as preservingcultural and recreational values. This will require effective andresponsible economic and natural resource management of theland and rivers including the implementation of appropriateenvironmental fl ow regimes in the major rivers and their 4tributaries, the setting of nutrient load limits in catchmentsand the adoption of sustainable best practice audited selfmanagement programmes led by community/user-based landcare groups and industry backed up by a regulatory framework.The key recommendations in the ZIP are:The Zone Committee and this ZIP are part of implementingthe Canterbury Water Management Strategy (CWMS) inthe Hurunui Waiau Zone. The CWMS sets as its fi rst orderpriorities: environment, customary use, community suppliesand stock water; with second order priorities as irrigation,renewable electricity generation, recreation and amenity. TheZone Committee recognizes that clean drinking water, land use,water quality and quantity, environmental fl ows and allocationfor the rivers, biodiversity protection and enhancement,irrigation, hydropower development and water storage options,and the principles of kaitiakitanga are all (intimately) interrelatedand must be considered as a whole rather than in isolation. ThisZIP recommends actions and approaches for collaborativeand integrated water management solutions to achieve theCWMS vision "To enable present and future generationsto gain the greatest economic, recreational and culturalbenefi ts from our water resources within an environmentallysustainable framework". In accordance with the CWMS theZone Committee has arrived at its recommendations throughconsensus.The ZIP is a suite of water-management recommendations toEnvironment Canterbury, Hurunui District Council, developersand other parties. It is not a statutory plan under the ResourceManagement Act (RMA). However, the Zone Committeeexpects the Hurunui Waiau Environmental Flow and AllocationRegional Plan (Hurunui Waiau Regional Plan) to give effect to therecommendations of the ZIP through an integrated approach tothe development and management of the district's freshwaterresources. This ZIP represents a 'snapshot' of the position theCommittee has reached with regard to recommendations afterreceiving and considering over 125 submissions to the DraftZIP, together with feedback from meetings and communities ofinterest, including public meetings at Amberley, Omihi, Cheviot,Culverden, Hawarden, Hanmer Springs and Christchurch intotal involving more than 300 people.The Zone Committee recognizes that the future socialand economic prosperity of the zone is largely dependenton utilization of its water resources, for agricultural andhorticultural development through the expansion of irrigation,and tourism activities. The Committee's vision is that thiscan be achieved while maintaining, but striving to enhance,• Flow and allocation regimes must be set for the riversand their tributaries to ensure the life supportingcharacter of the rivers are maintained:• For Waiau River minimum fl ows can remainunchanged provided current water use remainsunchanged and in-river values do not deteriorate;• For Hurunui River the Variation 8 minimum fl owsand A Block allocation are appropriate withminor changes.• Nutrient load limits must be set for the major riversand their tributaries:• The water quality for Hurunui River at StateHighway One should be at or about the same orbetter standard as present;• Current land users will need to improve nutrientmanagement to allow new irrigation development tooccur;• New irrigation development must have good nutrientmanagement;• Implementing load limits should take a tributary- andland/water user-based approach.• More widespread monitoring of the major rivers andtheir tributaries and hapua needs to be established toensure water quality standards are being achieved.• Implementation of sustainable best practice audited selfmanagement programmes, particularly for water quality,led by community/land user based land care groupsand industry is essential (and has commenced) and bebacked up by a regulatory framework.• Provision of 'more water' for irrigation andaugmentation of river fl ows (in Waipara River),preferably with associated hydropower development,but not for hydropower development on its own, willcome from an integrated use of run-of-river takes andoff-mainstem storage:274
---
Draft Hurunui Community Long Term Plan 2012 - 2022• The Waitohi River catchment is the preferredlocation for major water storage in Hurunuicatchment;• Water storage options in Lake Sumner or theHurunui South Branch should be deferred untila Waitohi storage option has been determinedto not be viable or for two years, whichever isshorter;• Isolated Hill appears to be one of the few viableoptions for off-river major water storage inWaiau River and is supported by the ZoneCommittee.• Immediate Steps Biodiversity funding over the nextfour years will be used in a more strategic mannerfor projects that optimize freshwater biodiversityoutcomes and community involvement. Five priorityareas are being considered:• North Pegasus Bay coastal wetlands;• Lower Waitohi wetlands;• Conway Flat to Waiau River mouth;• Braided River ecosystems;• Sumner lakes complex.Included in the appendices of this ZIP is an assessment of itscoverage of the CWMS Targets and Goals and a list of thereports and presentations that have been provided to the ZoneCommittee. The full Hurunui Waiau Zone ImplementationProgramme is on our website and that of the CanterburyRegional Council.275
---
www.hurunui.govt.nzWater and Sanitary Services Assessment SummaryIntroductionWe have a statutory responsibility to carry out Water andSanitary Assessments under Sections 124-129 of the LocalGovernment Act [2002]. The fi rst assessments were completedin November 2004. This set of Assessments updates the 5year period from December 2004 – May 2010. Some originalCouncil managed water and wastewater networks assessmentsremain current in that no changes of material signifi cance haveoccurred.Scope of the AssessmentGiven our resources available, updated assessments haveonly been prepared for water supply networks that fi t inwith the following criteria. Networks are then groupedinto three categories, with regard to how they are affectedby the criteria. All wastewater network assessmentshave been completed. The criteria includes water supplynetworks that have:3. Amberley Urban Water• new water sources4. Hanmer Springs Water• new water treatment & reservoirs5. Cheviot Main Intake• new water treatment6. Cheviot Urban Area• new wastewater consent7. Culverden Water• new bore & reservoir considerationsGroup 2Water networks affected by current/ anticipatedissues or may warrant some improvement/requireworks and are shown as brief summaries.• Undergone considerable growth or change of use• Incorporated upgrades to supply, treatment disposal orhave new works• Recently been topical in the public arena or arepolitically sensitive• Transgressed signifi cantly in public health orenvironmental impact• New and not covered by the original assessment• Become subject to new legislation or notably differentconsent conditionsGroup 1Water networks having signifi cant capital work/alterationcompleted or pending that markedly improve networkcapacity, performance, service levels or resource consentcompliance and are shown as full updates.Presented as full updates covering all matters not detailedin the original assessments1. Ashley Main Intake• new intake bores, relocation of treatment2. Ashley North Area• new deep bores and water allocation1. Leithfi eld Beach Water• bore corrosion and water quality deterioration2. Waiau Urban Water• treatment defi ciencies & asbestos reservoir roof3. Upper Waitohi Water• supply reliability and consumer expectationsGroup 3Water networks that have experienced nil or little changein demand or operational aspects over the past 5 years orwhere consumers are not demanding treatment/disposalor water source improvements, so are therefore notincluded in the June 2010 assessment update.Water:1. Hurunui Main (Hurunui)2. Lower Waitohi (Hurunui)3. Peaks (Hurunui)4. Kaiwara (Cheviot)5. Parnassus (Cheviot)6. Blythe (Cheviot)7. Balmoral (treated with chlorine)8. Amuri Plains (treated with uV)9. Waiau Rural10. Hawarden-Waikari (treated with uV chlorine back-up)276
---
Draft Hurunui Community Long Term Plan 2012 - 2022This approach is considered appropriate with how the LG Act[2002] is interpreted. It is also considered that the requiredPublic Health Risk Management Plans [PHRMP] being verysimilar in purpose and content, would be better integratedwith future assessments to minimize duplication of effort andreporting.As the Assessments and PHRMP documents are key reports onactivities, they sit well with our obligations to maintain ActivityManagement Plans (AMP), and so the Utilities section will beincorporating these as part of our network AMP codicils. Thisapproach is consistent with what other territorial authoritiesare doing and is consistent with Audit NZ and Ministry ofHealth's expectations.Few of our water networks comply with the source ortreatment criteria under the Drinking Water Standards NewZealand [2005]. Of the 25 intakes, 4 have basic uV treatment(but are not considered by DWSNZ [2005] as fully effective),1 has advanced uV and 6 utilize chlorine. Five intakes treat tocorrect aesthetic faults. One intake provides for fi ltration ofsuspended solids.Some communities have further sought and/or securedimprovements in the quality and quantity of their water (CheviotUrban area, Ashley Main Intake, North Ashley area, Amberley,Culverden and Hanmer Springs).There are seven public wastewater facilities in the district, all arecurrently consented and perform reasonably well. Hanmer andAmberley have undergone signifi cant upgrading for dischargequality and consent compliance.We are committed to managing and maintaining public waterand wastewater services. Asset Management Plans for waterand wastewater have been updated (2009/10) with an emphasison meeting "core" levels of management.Future growth and renewal considerations will continue to beidentifi ed by the utilities section and in response to consumerdemand and will be presented in each Long Term Plan processand updated or highlighted in intervening Annual Plans.Information on funding, consumer information and assets canbe found in the Asset Management Plan/Codicils and is notrepeated in these updates.The full Water and Sanitary Services Assessment is available onour website.277
---
www.hurunui.govt.nzLevels of Service Water and SewerNetworkWater Source andTreatmentAmberley Deep bore in daily useall year.No treatment butlooking to prove securegroundwater status.Low supply outage riskLeithfi eld Beach Deep bore only. Nowater treatmentModerate risk foroutageCulverden Deep bore withshallow bore back-upand chlorine (if neededfor shallow bore). Lowrisk of supply outageWaiau Shallow river bore withtwo pumps. uV withchlorine introducedwhen turbidity climbsModerate riskWaipara Two moderate depthbores with the olderas back-up. No watertreatment. Moderaterisk of supply outageHanmer Springs River intake. Low riskdue to open reservoirstorage. Settling pond,dose aided fi ltration, uV& chlorine back-upHawardenWaikariModerate depth riverbore with shallowgallery back-up. LowriskLEVELS OF SERVICE – ON-DEMAND (URBAN) WATER NETWORKS – February 2011Management Documents and ServiceStorage Based onDemandHydraulicPerformanceDWSNZ GradingWarnings andComplianceFire Fightiing Continuity of SupplyAsset Management Plan in placeApproved PHRMP.Water Assessments doneTerms & Conditions ContractDedicated operator for network with full back-upresourcesAll hours phone access for faultsVolume - 816m3% average - 26hrs% peak - 10hrsMin flow - 15l/minMin press . 200kpaMax press - 650kpaSources - UReticulation - uWarnings by phone,mail out and localadvertisingCompliance - NoU/G hydrantsMeets minimum stds of12.5l/s @250kpa - YesBack up generatorMax planned outage 4 hrs. Supplyactive for 98.5% of year, excldisasters and CD emergencies.Asset Management Plan in placeNo PHRMP.Water Assessments doneTerms & Conditions ContractDedicated operator for network with full back-upresourcesAll hours phone access for faultsVolume - 120m3% average - 13hrs% peak - 4.5hrsMin flow - 12l/minMin press . 100kpaMax press - 580kpaSource - UReticulation - uWarnings by phone,mail out and localadvertisingCompliance - YesU/G hydrantsMeets minimum stds of12.5l/s @250kpa - needstestingBack up generatorMax planned outage 4 hrs. Supplyactive for 98.5% of year, excldisasters and CD emergencies.Asset Management Plan in placeNo PHRMP.Water Assessments doneTerms & Conditions ContractDedicated operator for network with full back-upresourcesAll hours phone access for faultsAsset Management Plan in placeApproved PHRMP.Water Assessments doneTerms & Conditions ContractDedicated operator for network with full back-upresourcesAll hours phone access for faultsAsset Management Plan in placePHRMP requires update.Water Assessments doneTerms & Conditions ContractDedicated operator for network with full back-upresourcesAll hours phone access for faultsAsset Management Plan in placePHRMP requires update.Water Assessments doneTerms & Conditions ContractDedicated operator for network with full back-upresourcesAll hours phone access for faultsAsset Management Plan in placePHRMP drafted.Water Assessments doneTerms & Conditions ContractDedicated operator for network with full back-upresourcesAll hours phone access for faultsVolume - 90m3% average - 6.5hrs% peak - 3hrsVolume - 180m3% average - 17hrs% peak - 6.5hrsVolume - 92m3% average - 19hrs% peak - 8hrsVolume - 92m3% average - 19hrs% peak - 8hrsVolume - 35m3% average - 16hrs% peak - 3.5hrsMin flow - 15l/minMin press . 200kpaMax press - 500kpaMin flow - 12l/minMin press . 300kpaMax press - 600kpaMin flow - 12l/minMin press . 300kpaMax press - 600kpaMin flow - 15l/minMin press . 300kpaMax press - 600kpaMin flow - 12l/minMin press . 200kpaMax press - 650kpaSource - UReticulation - uWarnings by phone,mail out and localadvertisingCompliance - Yes(Ecoli)Source - UReticulation - uWarnings by phone,mail out and localadvertisingCompliance - NoSource - EReticulation - eWarnings by phone,mail out and localadvertisingCompliance - NoSource - UReticulation - uWarnings by phone,mail out and localadvertisingCompliance - NoSource - UReticulation - uWarnings by phone,mail out and localadvertisingCompliance - Yes(Ecoli)U/G hydrantsMeets minimum stds of12.5l/s @250kpa - YesU/G hydrantsMeets minimum stds of12.5l/s @250kpa - needstestingU/G hydrantsMeets minimum stds of12.5l/s @250kpa - needstestingU/G hydrantsMeets minimum stds of12.5l/s @250kpa - YesU/G hydrantsMeets minimum stdsof 12.5l/s @250kpa -needs testingBack up generatorMax planned outage 4 hrs. Supplyactive for 98.5% of year, excldisasters and CD emergencies.Max planned outage 4 hrs. Supplyactive for 98.5% of year, excldisasters and CD emergencies.Max planned outage 4 hrs. Supplyactive for 98.5% of year, excldisasters and CD emergencies.Gravity plus back-up diesel pump.Max planned outage 4 hrs. Supplyactive for 98.5% of year, excldisasters and CD emergencies.Connection for portablegenerator. Max planned outage4 hrs. Supply active for 98.5%of year, excl disasters and CDemergencies.278
---
Draft Hurunui Community Long Term Plan 2012 - 2022NetworkWater Source andTreatmentAshley Shallow bore field MainIntake.Deep bore RacecourseRd. Deep bores Kowai& Smiths Road (bothmothballed).uV at Main Intake. Ionexchange Kowai &Smiths. Sand filtrationKowaiWaiau Shallow river bore. Nowater treatmentAmuri Plains Shallow river plain borewith uV disinfectionBalmoral Stream weir and rivergallery back-up withchlorine on bothsourcesCheviot Shallow river plainbores (3). No watertreatmentHurunui Gallery on #1 & UpperWaitohi. Shallow boreson Lower Waitohi &Peaks. Chlorine onUpper Waitohi. NoneelsewhereLEVELS OF SERVICE – RESTRICTED (RURAL) WATER NETWORKS – February 2011Management Documents and ServiceStorage Based onDemandHydraulicPerformanceDWSNZ GradingWarnings andComplianceFire Fightiing Continuity of SupplyAsset Management Plan in placePHRMP requires update.Water Assessments doneTerms & Conditions ContractDedicated operator for network with full back-upresourcesAll hours phone access for faults3 days min atcontracted rate ofsupply1800l/day units withminimum supplypressure of 200kpaSource - UZone - uWarnings by phone,mail out and localadvertisingCompliance - NoU/G hydrants in someurban areas. Remainder o/head fillers4 hours planned and up to 12unplanned repairs. Emergenciesnot includedAsset Management Plan in placeNo PHRMP.Water Assessments doneTerms & Conditions ContractDedicated operator for network with full back-upresourcesAll hours phone access for faults3 days min atcontracted rate ofsupply1800l/day units withminimum supplypressure of 200kpaSource - UZone - uWarnings by phone,mail out and localadvertisingCompliance - NoO/head fillers 6 hours planned and up to 12unplanned repairs. Emergenciesnot includedAsset Management Plan in placeNo PHRMP.Water Assessments doneTerms & Conditions ContractDedicated operator for network with full back-upresourcesAll hours phone access for faults3 days min atcontracted rate ofsupply1800l/day units withminimum supplypressure of 200kpaSource - UZone - uWarnings by phone,mail out and localadvertisingCompliance - NoO/head fillers 4 hours planned and up to 12unplanned repairs. Emergenciesnot includedAsset Management Plan in placeNo PHRMP.Water Assessments doneTerms & Conditions ContractDedicated operator for network with full back-upresourcesAll hours phone access for faults3 days min atcontracted rate ofsupply1800l/day units withminimum supplypressure of 200kpaSource - UZone - uWarnings by phone,mail out and localadvertisingCompliance - NoO/head fillers 4 hours planned and up to 12unplanned repairs. Emergenciesnot includedAsset Management Plan in placeDraft PHRMP.Water Assessments doneTerms & Conditions ContractDedicated operator for network with full back-upresourcesAll hours phone access for faults3 days min atcontracted rate ofsupply1800l/day units withminimum supplypressure of 200kpaSource - EZone - eWarnings by phone,mail out and localadvertisingCompliance - Yes(Ecoli)Hydrants in Cheviot townotherwise o/head fillers6 hours planned and up to 12unplanned repairs. Emergenciesnot includedAsset Management Plan in placeNo PHRMP.Water Assessments doneTerms & Conditions ContractDedicated operator for network with full back-upresourcesAll hours phone access for faults3 days min atcontracted rate ofsupply1800l/day units withminimum supplypressure of 200kpaSource - UZone - uWarnings by phone,mail out and localadvertisingCompliance - NoO/head fillers 6 hours planned and up to 12unplanned repairs. Emergenciesnot included279
---
www.hurunui.govt.nzLEVELS OF SERVICE – WASTE WATER NETWORKS – February 2011Network Collection Management Documents and Service Council ResponsibilityLimits on Domesticor Trade DischargesAmberley Gravity reticulation inAmberley and gravitycollection then pumpedfrom all other areasAsset Management Plan in placeWater Assessments doneTerms & Conditions ContractDedicated operator for network with full back-upresourcesAll hours phone access for faultsCheviot Gravity to main Asset Management Plan in placelift pump prior to Water Assessments donetreatment pondTerms & Conditions ContractDedicated operator for network with full back-upresourcesAll hours phone access for faultsGreta Valley Gravity Asset Management Plan in placeMotunau Beach Gravity to pumpstationsHanmer Springs Gravity with someprivate pumped linesfeeding inHawarden Gravity to main pumpstationWaikari Gravity to main pumpstationWater Assessments doneTerms & Conditions ContractDedicated operator for network with full back-upresourcesAll hours phone access for faultsAsset Management Plan in placeWater Assessments doneTerms & Conditions ContractDedicated operator for network with full back-upresourcesAll hours phone access for faultsAsset Management Plan in placeWater Assessments doneTerms & Conditions ContractDedicated operator for network with full back-upresourcesAll hours phone access for faultsAsset Management Plan in placeWater Assessments doneTerms & Conditions ContractDedicated operator for network with full back-upresourcesAll hours phone access for faultsAsset Management Plan in placeWater Assessments doneTerms & Conditions ContractDedicated operator for network with full back-upresourcesAll hours phone access for faultsTo consumersproperty boundary.Consumer responsiblefor line up-flow ofproperty boundaryTo consumersproperty boundary.Consumer responsiblefor line up-flow ofproperty boundaryTo consumersproperty boundary.Consumer responsiblefor line up-flow ofproperty boundaryTo consumersproperty boundary.Consumer responsiblefor line up-flow ofproperty boundaryTo consumersproperty boundary.Consumer responsiblefor line up-flow ofproperty boundaryTo consumersproperty boundary.Consumer responsiblefor line up-flow ofproperty boundaryTo consumersproperty boundary.Consumer responsiblefor line up-flow ofproperty boundaryDomestic - 2000l/day at a maximumrate of 2 l/secCommercial - asagreed Trade/Industry - asagreedDomestic - 2000l/day at a maximumrate of 2 l/secCommercial - asagreed Trade/Industry - asagreedDomestic - 2000l/day at a maximumrate of 2 l/secCommercial - asagreed Trade/Industry - asagreedDomestic - 2000l/day at a maximumrate of 2 l/secCommercial - asagreed Trade/Industry - asagreedDomestic - 2000l/day at a maximumrate of 2 l/secCommercial - asagreed Trade/Industry - asagreedDomestic - 2000l/day at a maximumrate of 2 l/secCommercial - asagreed Trade/Industry - asagreedDomestic - 2000l/day at a maximumrate of 2 l/secCommercial - asagreed Trade/Industry - asagreedContinuity ofCollection4 hours plannednotice givenahead of time.Emergenciesexcluded4 hours plannednotice givenahead of time.Emergenciesexcluded4 hours plannednotice givenahead of time.Emergenciesexcluded4 hours plannednotice givenahead of time.Emergenciesexcluded4 hours plannednotice givenahead of time.Emergenciesexcluded4 hours plannednotice givenahead of time.Emergenciesexcluded4 hours plannednotice givenahead of time.Emergenciesexcluded280
---
Rates: Sample PropertiesDraft Hurunui Community Long Term Plan 2012 - 2022Amberley TownshipAmberley TownshipAmberley Water (x 209 units)Amberley Water (x 238 units)1 x Fixed Charges 1 x Fixed ChargesCapital Value: $255,000 Capital Value: $520,000Actual Rates for Proposed Rates for Indicative Rates for Indicative Rates for Actual Rates for Proposed Rates for Indicative Rates for Indicative Rates for2011/2012 2012/2013 2013/2014 2014/2015 2011/2012 2012/2013 2013/2014 2014/2015General RatesGeneral Rates & UAGC 44.39 62.08 74.98 75.93 53.03 75.26 92.35 94.88Roading 159.55 160.08 163.74 171.85 325.36 326.43 333.90 350.44Governance 86.61 100.01 102.24 109.41 113.12 130.59 133.50 142.87Planning 45.29 51.32 53.32 54.46 92.35 104.65 108.73 111.06Waste Management 120.55 121.57 124.01 126.50 120.55 121.57 124.01 126.50Canterbury Museum 8.13 8.49 9.24 10.53 8.13 8.49 9.24 10.53464.53 503.54 527.53 548.69 712.54 766.99 801.74 836.29Amenities RatesCapital Value 63.52 66.70 70.03 73.53 129.53 136.01 142.81 149.95Uniform Annual Charges 145.56 152.84 160.48 168.50 145.56 152.84 160.48 168.50209.08 219.53 230.51 242.04 275.09 288.85 303.29 318.45Utilities RatesWater 249.97 268.97 289.41 311.40 267.89 288.25 310.16 333.73Water Compliance - Miox Treatment - - - - - - - -Sewer 144.95 170.32 200.12 235.14 144.95 170.32 200.12 235.14Drainage/Protection 108.77 108.77 108.77 108.77 108.77 108.77 108.77 108.77503.69 548.05 598.30 655.32 521.61 567.34 619.05 677.65Other RatesRefuse Collection 260.00 260.00 260.00 260.00 260.00 260.00 260.00 260.00Swimming Pool Inspection - - - - - - - -Rural Fire 9.03 9.39 9.76 10.15 18.41 19.14 19.91 20.71Medical Centres - - - - - - - -Tourism - - - - - - - -Amberley Library Rate 18.14 18.14 18.14 4.88 18.14 18.14 18.14 4.88287.17 287.53 287.90 275.03 296.55 297.28 298.05 285.58TOTAL $ 1,464.46 $ 1,558.66 $ 1,644.25 $ 1,721.07 $ 1,805.80 $ 1,920.46 $ 2,022.13 $ 2,117.97Increase ($) 94.19 85.59 76.82 Increase ($) 114.66 101.67 95.84Increase (%) 6.43% 5.49% 4.67% Increase (%) 6.35% 5.29% 4.74%Amberley Beach TownshipAmberley RuralAshley Water (x 0.5 points)Ashley Water (x 1 point)1 x Fixed Charges 0 x Fixed ChargesCapital Value: $175,000 Capital Value: $2,400,000Actual Rates for Proposed Rates for Indicative Rates for Indicative Rates for Actual Rates for Proposed Rates for Indicative Rates for Indicative Rates for2011/2012 2012/2013 2013/2014 2014/2015 2011/2012 2012/2013 2013/2014 2014/2015General RatesGeneral Rates & UAGCRoadingGovernancePlanningWaste ManagementCanterbury MuseumAmenities RatesCapital ValueUniform Annual ChargesUtilities RatesWaterWater Compliance - Miox TreatmentSewerDrainage/ProtectionOther RatesRefuse CollectionSwimming Pool InspectionRural FireMedical CentresTourismAmberley Library RateTOTAL41.79 58.10 69.74 70.21 78.24 119.42 157.28 171.64109.50 109.86 112.37 117.94 1,501.68 1,506.59 1,541.07 1,617.4378.61 90.78 92.80 99.31 240.02 276.95 283.13 303.0031.08 35.22 36.59 37.38 426.24 483.00 501.85 512.60120.55 121.57 124.01 126.50 - - - -8.13 8.49 9.24 10.53 - - - -389.65 424.01 444.76 461.87 2,246.18 2,385.96 2,483.33 2,604.6743.59 45.77 48.06 50.46 132.00 138.60 145.53 152.81145.56 152.84 160.48 168.50 - - - -189.15 198.61 208.54 218.97 132.00 138.60 145.53 152.81283.50 294.84 306.63 318.90 567.00 589.68 613.27 637.80- - - - - - - -144.95 170.32 200.12 235.14 - - - -283.77 283.77 283.77 283.77 - - - -712.22 748.93 790.53 837.81 567.00 589.68 613.27 637.80260.00 260.00 260.00 260.00 - - - -- - - - - - - -6.20 6.44 6.70 6.97 201.12 209.16 217.53 226.23- - - - - - - -- - - - - - - -18.14 18.14 18.14 4.88 - - - -284.34 284.58 284.84 271.84 201.12 209.16 217.53 226.23$ 1,575.36 $ 1,656.13 $ 1,728.66 $ 1,790.49 $ 3,146.30 $ 3,323.40 $ 3,459.66 $ 3,621.51Increase ($) 80.77 72.54 61.83 Increase ($) 177.10 136.25 161.85Increase (%) 5.13% 4.38% 3.58% Increase (%) 5.63% 4.10% 4.68%281
---
www.hurunui.govt.nzLeithfield TownshipLeithfield BeachAshley Water (x 0.5 point)Leithfield Beach Water (x 1 unit)1 x Fixed Charges 1 x Fixed ChargesCapital Value: $205,000 Capital Value: $180,000Actual Rates for Proposed Rates for Indicative Rates for Indicative Rates for Actual Rates for Proposed Rates for Indicative Rates for Indicative Rates for2011/2012 2012/2013 2013/2014 2014/2015 2011/2012 2012/2013 2013/2014 2014/2015General RatesGeneral Rates & UAGCRoadingGovernancePlanningWaste ManagementCanterbury MuseumAmenities RatesCapital ValueUniform Annual ChargesUtilities RatesWaterWater Compliance - Miox TreatmentSewerDrainage/ProtectionOther RatesRefuse CollectionSwimming Pool InspectionRural FireMedical CentresTourismAmberley Library RateTOTAL42.76 59.59 71.70 72.35 41.95 58.35 70.07 70.57128.27 128.69 131.63 138.16 112.63 112.99 115.58 121.3181.61 94.24 96.34 103.10 79.11 91.35 93.39 99.9536.41 41.26 42.87 43.78 31.97 36.23 37.64 38.45120.55 121.57 124.01 126.50 120.55 121.57 124.01 126.508.13 8.49 9.24 10.53 8.13 8.49 9.24 10.53417.73 453.83 475.80 494.43 394.33 428.98 449.93 467.2951.07 53.62 56.30 59.11 44.84 47.08 49.43 51.91145.56 152.84 160.48 168.50 145.56 152.84 160.48 168.50196.63 206.46 216.78 227.62 190.40 199.92 209.91 220.41283.50 294.84 306.63 318.90 205.30 222.24 240.57 260.42- - - - - - - -144.95 170.32 200.12 235.14 144.95 170.32 200.12 235.14- - - - - - - -428.45 465.16 506.76 554.04 350.25 392.55 440.69 495.56260.00 260.00 260.00 260.00 260.00 260.00 260.00 260.00- - - - - - - -17.18 17.87 18.58 19.32 6.37 6.63 6.89 7.17- - - - - - - -- - - - - - - -18.14 18.14 18.14 4.88 18.14 18.14 18.14 4.88295.32 296.01 296.72 284.20 284.51 284.77 285.03 272.04$ 1,338.13 $ 1,421.45 $ 1,496.05 $ 1,560.29 $ 1,219.49 $ 1,306.22 $ 1,385.57 $ 1,455.31Increase ($) 83.33 74.60 64.23 Increase ($) 86.72 79.35 69.74Increase (%) 6.23% 5.25% 4.29% Increase (%) 7.11% 6.08% 5.03%Waiau TownshipRotherham TownshipWaiau Township Water (x 147 units)No Water1 x Fixed Charges 1 x Fixed ChargesCapital Value: $200,000 Capital Value: $270,000Actual Rates for Proposed Rates for Indicative Rates for Indicative Rates for Actual Rates for Proposed Rates for Indicative Rates for Indicative Rates for2011/2012 2012/2013 2013/2014 2014/2015 2011/2012 2012/2013 2013/2014 2014/2015General RatesGeneral Rates & UAGCRoadingGovernancePlanningWaste ManagementCanterbury MuseumAmenities RatesCapital ValueUniform Annual ChargesUtilities RatesWaterWater Compliance - Miox TreatmentSewerDrainage/ProtectionOther RatesRefuse CollectionSwimming Pool InspectionRural FireMedical CentresTourismAmberley Library RateTOTAL42.60 59.34 71.38 72.00 44.88 62.82 75.96 77.00125.14 125.55 128.42 134.79 168.94 169.49 173.37 181.9681.11 93.66 95.75 102.47 88.11 101.74 104.01 111.3135.52 40.25 41.82 42.72 47.95 54.34 56.46 57.67120.55 121.57 124.01 126.50 120.55 121.57 124.01 126.508.13 8.49 9.24 10.53 8.13 8.49 9.24 10.53413.05 448.86 470.63 489.00 478.57 518.45 543.06 564.97110.72 110.72 114.04 117.46 149.47 149.47 153.96 158.57136.03 136.03 140.11 144.31 136.03 136.03 140.11 144.31246.75 246.75 254.15 261.78 285.50 285.50 294.07 302.89247.21 257.10 267.39 278.08 - - - -- - - - - - - -- - - - - - - -- - - - - - - -247.21 257.10 267.39 278.08 - - - -260.00 260.00 260.00 260.00 260.00 260.00 260.00 260.00- - - - - - - -7.08 7.36 7.66 7.96 - - - -101.30 101.30 101.30 101.30 101.30 101.30 101.30 101.30- - - - - - - -- - - - - - - -368.38 368.66 368.96 369.26 361.30 361.30 361.30 361.30$ 1,275.40 $ 1,321.38 $ 1,361.12 $ 1,398.12 $ 1,125.37 $ 1,165.25 $ 1,198.42 $ 1,229.16Increase ($) 45.98 39.74 37.00 Increase ($) 39.89 33.17 30.74Increase (%) 3.61% 3.01% 2.72% Increase (%) 3.54% 2.85% 2.56%282
---
Draft Hurunui Community Long Term Plan 2012 - 2022Culverden TownshipAmuri RuralCulverden Township Water (x 322 units)Waiau Rural Water (x 8 points)1 x Fixed Charges 1 x Fixed ChargesCapital Value: $215,000 Capital Value: $2,215,000Actual Rates for Proposed Rates for Indicative Rates for Indicative Rates for Actual Rates for Proposed Rates for Indicative Rates for Indicative Rates for2011/2012 2012/2013 2013/2014 2014/2015 2011/2012 2012/2013 2013/2014 2014/2015General RatesGeneral Rates & UAGCRoadingGovernancePlanningWaste ManagementCanterbury MuseumAmenities RatesCapital ValueUniform Annual ChargesUtilities RatesWaterWater Compliance - Miox TreatmentSewerDrainage/ProtectionOther RatesRefuse CollectionSwimming Pool InspectionRural FireMedical CentresTourismAmberley Library RateTOTAL43.09 60.09 72.36 73.07 108.29 159.60 203.43 216.11134.53 134.97 138.05 144.90 1,385.93 1,390.46 1,422.28 1,492.7682.61 95.39 97.52 104.36 282.63 326.18 333.46 356.8638.18 43.27 44.96 45.92 393.38 445.77 463.17 473.09120.55 121.57 124.01 126.50 120.55 121.57 124.01 126.508.13 8.49 9.24 10.53 8.13 8.49 9.24 10.53427.09 463.77 486.15 505.28 2,298.91 2,452.07 2,555.59 2,675.84119.02 119.02 122.59 126.27 33.45 33.45 34.45 35.48136.03 136.03 140.11 144.31 136.03 136.03 140.11 144.31255.05 255.05 262.71 270.59 169.48 169.48 174.56 179.80364.89 380.40 396.56 413.42 5,328.00 5,541.12 5,762.76 5,993.28- - - - - - - -- - - - - - - -- - - - - - - -364.89 380.40 396.56 413.42 5,328.00 5,541.12 5,762.76 5,993.28260.00 260.00 260.00 260.00 - - - -- - - - - - - -7.61 7.92 8.23 8.56 185.62 193.04 200.76 208.79101.30 101.30 101.30 101.30 101.30 101.30 101.30 101.30- - - - - - - -- - - - - - - -368.91 369.22 369.53 369.86 286.92 294.34 302.06 310.09$ 1,415.94 $ 1,468.44 $ 1,514.95 $ 1,559.14 $ 8,083.30 $ 8,457.01 $ 8,794.98 $ 9,159.01Increase ($) 52.50 46.51 44.20 Increase ($) 373.71 337.96 364.03Increase (%) 3.71% 3.17% 2.92% Increase (%) 4.62% 4.00% 4.14%Amuri RuralCheviot TownshipAmuri Plains Water (x 7 points)Cheviot Water (x 0.5 point)4 x Fixed Charges 1 x Fixed ChargesCapital Value: $7,725,000 Capital Value: $170,000Actual Rates for Proposed Rates for Indicative Rates for Indicative Rates for Actual Rates for Proposed Rates for Indicative Rates for Indicative Rates for2011/2012 2012/2013 2013/2014 2014/2015 2011/2012 2012/2013 2013/2014 2014/2015General RatesGeneral Rates & UAGCRoadingGovernancePlanningWaste ManagementCanterbury MuseumAmenities RatesCapital ValueUniform Annual ChargesUtilities RatesWaterWater Compliance - Miox TreatmentSewerDrainage/ProtectionOther RatesRefuse CollectionSwimming Pool InspectionRural FireMedical CentresTourismAmberley Library RateTOTAL396.16 581.93 739.34 783.25 41.62 57.85 69.41 69.854,833.53 4,849.34 4,960.31 5,206.11 106.37 106.72 109.16 114.571,017.02 1,173.75 1,199.94 1,284.15 78.11 90.20 92.21 98.681,371.96 1,554.67 1,615.34 1,649.93 30.19 34.21 35.55 36.31482.20 486.29 496.04 506.01 120.55 121.57 124.01 126.5032.52 33.95 36.98 42.10 8.13 8.49 9.24 10.538,133.38 8,679.94 9,047.94 9,471.57 384.97 419.04 439.58 456.44116.65 116.65 120.15 123.75 68.78 68.78 70.85 72.97544.12 544.12 560.44 577.26 81.06 81.06 83.49 86.00660.77 660.77 680.59 701.01 149.84 149.84 154.34 158.971,298.50 1,350.44 1,404.46 1,460.64 360.65 411.14 431.70 453.28- - - - - 37.95 75.90 115.00- - - - 324.07 340.27 357.29 375.15- - - - 2.34 2.34 2.34 2.341,298.50 1,350.44 1,404.46 1,460.64 687.06 791.70 867.23 945.77- - - - 260.00 260.00 260.00 260.0077.09 98.76 101.85 104.95 - - - -647.36 673.25 700.18 728.19 6.02 6.26 6.51 6.77405.20 405.20 405.20 405.20 24.93 45.00 45.00 45.00- - - - - - - -- - - - - - - -1,129.65 1,177.21 1,207.23 1,238.34 290.95 311.26 311.51 311.77$ 11,222.30 $ 11,868.35 $ 12,340.22 $ 12,871.55 $ 1,512.82 $ 1,671.84 $ 1,772.65 $ 1,872.95Increase ($) 646.05 471.87 531.33 Increase ($) 159.02 100.81 100.30Increase (%) 5.76% 3.98% 4.31% Increase (%) 10.51% 6.03% 5.66%283
---
www.hurunui.govt.nzCheviot RuralMotunau BeachCheviot Water (x 2.5 points)Hurunui Rural Water (x 0.5 point)2 x Fixed Charges 1 x Fixed ChargesCapital Value: $2,025,000 Capital Value: $390,000Actual Rates for Proposed Rates for Indicative Rates for Indicative Rates for Actual Rates for Proposed Rates for Indicative Rates for Indicative Rates for2011/2012 2012/2013 2013/2014 2014/2015 2011/2012 2012/2013 2013/2014 2014/2015General RatesGeneral Rates & UAGCRoadingGovernancePlanningWaste ManagementCanterbury MuseumAmenities RatesCapital ValueUniform Annual ChargesUtilities RatesWaterWater Compliance - Miox TreatmentSewerDrainage/ProtectionOther RatesRefuse CollectionSwimming Pool InspectionRural FireMedical CentresTourismAmberley Library RateTOTAL138.18 199.54 249.25 260.21 48.79 68.80 83.83 85.591,267.04 1,271.19 1,300.28 1,364.71 244.02 244.82 250.42 262.83324.74 374.84 383.20 410.10 100.11 115.59 118.17 126.46359.64 407.54 423.44 432.51 69.26 78.49 81.55 83.30241.10 243.14 248.02 253.01 120.55 121.57 124.01 126.5016.26 16.98 18.49 21.05 8.13 8.49 9.24 10.532,346.96 2,513.22 2,622.67 2,741.58 590.87 637.75 667.22 695.2056.50 56.50 58.19 59.94 - - - -162.12 162.12 166.98 171.99 97.73 97.73 97.73 97.73218.62 218.62 225.18 231.93 97.73 97.73 97.73 97.731,440.13 1,641.74 1,723.83 1,810.02 312.50 328.13 344.53 361.76- 75.90 151.80 230.00 - 37.95 75.90 115.00- - - - 192.43 201.57 211.15 221.17- - - - - - - -1,440.13 1,717.64 1,875.63 2,040.02 504.93 567.65 631.58 697.93- - - - 260.00 260.00 260.00 260.00- - - - - - - -169.70 176.48 183.54 190.88 13.81 14.36 14.93 15.5349.86 90.00 90.00 90.00 - - - -- - - - - - - -- - - - - - - -219.56 266.48 273.54 280.88 273.81 274.36 274.93 275.53$ 4,225.26 $ 4,715.96 $ 4,997.02 $ 5,294.41 $ 1,467.34 $ 1,577.48 $ 1,671.46 $ 1,766.40Increase ($) 490.70 281.06 297.40 Increase ($) 110.14 93.98 94.93Increase (%) 11.61% 5.96% 5.95% Increase (%) 7.51% 5.96% 5.68%Waipara TownshipGlenmark RuralWaipara Water (x 66 units)Hurunui Rural Water (x 7 points)1 x Fixed Charges 2 x Fixed ChargesCapital Value: $220,000 Capital Value: $1,900,000Actual Rates for Proposed Rates for Indicative Rates for Indicative Rates for Actual Rates for Proposed Rates for Indicative Rates for Indicative Rates for2011/2012 2012/2013 2013/2014 2014/2015 2011/2012 2012/2013 2013/2014 2014/2015General RatesGeneral Rates & UAGCRoadingGovernancePlanningWaste ManagementCanterbury MuseumAmenities RatesCapital ValueUniform Annual ChargesUtilities RatesWaterWater Compliance - Miox TreatmentSewerDrainage/ProtectionOther RatesRefuse CollectionSwimming Pool InspectionRural FireMedical CentresTourismAmberley Library RateTOTAL43.25 60.34 72.69 73.43 134.10 193.32 241.06 251.27137.65 138.10 141.26 148.26 1,188.83 1,192.72 1,220.01 1,280.4783.11 95.97 98.11 105.00 312.24 360.41 368.46 394.3139.07 44.28 46.00 46.99 337.44 382.38 397.30 405.81120.55 121.57 124.01 126.50 241.10 243.14 248.02 253.018.13 8.49 9.24 10.53 16.26 16.98 18.49 21.05431.77 468.74 491.32 510.71 2,229.97 2,388.95 2,493.33 2,605.92- - - - - - - -97.73 97.73 97.73 97.73 195.46 195.46 195.46 195.4697.73 97.73 97.73 97.73 195.46 195.46 195.46 195.46111.19 111.19 111.19 111.19 4,375.00 4,593.75 4,823.44 5,064.61- 37.95 75.90 115.00 - 75.90 151.80 230.00- - - - - - - -- - - - - - - -111.19 149.14 187.09 226.19 4,375.00 4,669.65 4,975.24 5,294.61260.00 260.00 260.00 260.00 - - - -- - - - - - - -7.79 8.10 8.42 8.76 159.22 165.59 172.21 179.10- - - - - - - -- - - - - - - -- - - - - - - -267.79 268.10 268.42 268.76 159.22 165.59 172.21 179.10$ 908.48 $ 983.71 $ 1,044.56 $ 1,103.38 $ 6,959.65 $ 7,419.65 $ 7,836.24 $ 8,275.09Increase ($) 75.24 60.85 58.82 Increase ($) 460.00 416.59 438.85Increase (%) 8.28% 6.19% 5.63% Increase (%) 6.61% 5.61% 5.60%284
---
Draft Hurunui Community Long Term Plan 2012 - 2022Hanmer Springs TownshipHanmer Springs TownshipHanmer Springs Water (x 216 units)Hanmer Springs Water (x 27 units)1 x Fixed Charges & Tourism 1 x Fixed ChargesCapital Value: $405,000 Capital Value: $430,000Actual Rates for Proposed Rates for Indicative Rates for Indicative Rates for Actual Rates for Proposed Rates for Indicative Rates for Indicative Rates for2011/2012 2012/2013 2013/2014 2014/2015 2011/2012 2012/2013 2013/2014 2014/2015General RatesGeneral Rates & UAGCRoadingGovernancePlanningWaste ManagementCanterbury MuseumAmenities RatesCapital ValueUniform Annual ChargesUtilities RatesWaterWater Compliance - Miox TreatmentSewerDrainage/ProtectionOther RatesRefuse CollectionSwimming Pool InspectionRural FireMedical CentresTourismAmberley Library RateTOTAL49.28 69.54 84.81 86.66 50.10 70.79 86.45 88.45253.41 254.24 260.06 272.94 269.05 269.93 276.11 289.79101.61 117.32 119.93 128.35 104.11 120.20 122.88 131.5171.93 81.51 84.69 86.50 76.37 86.54 89.92 91.84120.55 121.57 124.01 126.50 120.55 121.57 124.01 126.508.13 8.49 9.24 10.53 8.13 8.49 9.24 10.53604.91 652.66 682.74 711.48 628.31 677.52 708.61 738.61142.48 142.48 146.75 151.16 151.27 151.27 155.81 160.49206.11 206.11 212.29 218.66 206.11 206.11 212.29 218.66348.59 348.59 359.05 369.82 357.38 357.38 368.11 379.15307.39 319.69 332.47 345.77 193.87 201.62 209.69 218.07- - - - - - - -151.48 168.14 186.64 207.17 151.48 168.14 186.64 207.17- - - - - - - -458.87 487.83 519.11 552.94 345.35 369.77 396.33 425.24260.00 260.00 260.00 260.00 260.00 260.00 260.00 260.00- - - - - - - -14.34 14.91 15.51 16.13 15.22 15.83 16.46 17.1219.91 19.91 19.91 19.91 19.91 19.91 19.91 19.91355.00 369.20 383.97 399.33 - - - -- - - - - - - -649.25 664.02 679.38 695.36 295.13 295.74 296.37 297.03$ 2,061.62 $ 2,153.10 $ 2,240.29 $ 2,329.61 $ 1,626.17 $ 1,700.41 $ 1,769.42 $ 1,840.04Increase ($) 91.48 87.19 89.32 Increase ($) 74.23 69.01 70.62Increase (%) 4.44% 4.05% 3.99% Increase (%) 4.56% 4.06% 3.99%Hanmer Springs RuralHawarden TownshipNo WaterHawarden-Waikari Water (x 292 units)1 x Fixed Charges 1 x Fixed ChargesCapital Value: $3,325,000 Capital Value: $138,000Actual Rates for Proposed Rates for Indicative Rates for Indicative Rates for Actual Rates for Proposed Rates for Indicative Rates for Indicative Rates for2011/2012 2012/2013 2013/2014 2014/2015 2011/2012 2012/2013 2013/2014 2014/2015General RatesGeneral Rates & UAGCRoadingGovernancePlanningWaste ManagementCanterbury MuseumAmenities RatesCapital ValueUniform Annual ChargesUtilities RatesWaterWater Compliance - Miox TreatmentSewerDrainage/ProtectionOther RatesRefuse CollectionSwimming Pool InspectionRural FireMedical CentresTourismAmberley Library RateTOTAL144.48 214.83 276.17 295.49 40.58 56.26 67.31 67.562,080.45 2,087.26 2,135.02 2,240.82 86.35 86.63 88.61 93.00393.64 454.27 464.41 497.00 74.91 86.51 88.44 94.64590.52 669.16 695.27 710.17 24.51 27.77 28.86 29.47120.55 121.57 124.01 126.50 120.55 121.57 124.01 126.508.13 8.49 9.24 10.53 8.13 8.49 9.24 10.533,337.77 3,555.58 3,704.13 3,880.50 355.03 387.22 406.47 421.71424.60 424.60 437.34 450.46 72.44 72.44 75.33 78.35206.11 206.11 212.29 218.66 68.51 68.51 71.25 74.10630.71 630.71 649.63 669.12 140.95 140.95 146.58 152.45- - - - 234.40 243.77 253.52 263.66- - - - - - - -- - - - 348.97 358.57 368.43 378.56- - - - - - - -- - - - 583.37 602.34 621.95 642.22- - - - 260.00 260.00 260.00 260.00- - - - - - - -278.64 289.78 301.37 313.43 4.89 5.08 5.28 5.5019.91 19.91 19.91 19.91 18.68 18.68 18.68 18.68- - - - - - - -- - - - - - - -298.55 309.69 321.28 333.34 283.57 283.76 283.96 284.18$ 4,267.03 $ 4,495.98 $ 4,675.04 $ 4,882.96 $ 1,362.90 $ 1,414.27 $ 1,458.97 $ 1,500.56Increase ($) 228.96 179.06 207.92 Increase ($) 51.37 44.70 41.59Increase (%) 5.37% 3.98% 4.45% Increase (%) 3.77% 3.16% 2.85%285
---
www.hurunui.govt.nzWaikari TownshipHurunui RuralHawarden-Waikari Water (x 694 units)Hurunui Water (x 2 points)1 x Fixed Charges 1 x Fixed ChargesCapital Value: $175,000 Capital Value: $3,435,000Actual Rates for Proposed Rates for Indicative Rates for Indicative Rates for Actual Rates for Proposed Rates for Indicative Rates for Indicative Rates for2011/2012 2012/2013 2013/2014 2014/2015 2011/2012 2012/2013 2013/2014 2014/2015General RatesGeneral Rates & UAGCRoadingGovernancePlanningWaste ManagementCanterbury MuseumAmenities RatesCapital ValueUniform Annual ChargesUtilities RatesWaterWater Compliance - Miox TreatmentSewerDrainage/ProtectionOther RatesRefuse CollectionSwimming Pool InspectionRural FireMedical CentresTourismAmberley Library RateTOTAL41.79 58.10 69.74 70.21 148.06 220.31 283.38 303.36109.50 109.86 112.37 117.94 2,149.28 2,156.31 2,205.65 2,314.9578.61 90.78 92.80 99.31 404.64 466.96 477.38 510.8931.08 35.22 36.59 37.38 610.06 691.30 718.28 733.66120.55 121.57 124.01 126.50 120.55 121.57 124.01 126.508.13 8.49 9.24 10.53 8.13 8.49 9.24 10.53389.65 424.01 444.76 461.87 3,440.72 3,664.94 3,817.95 3,999.8891.86 91.86 95.53 99.35 439.68 439.68 457.27 475.5668.51 68.51 71.25 74.10 68.51 68.51 71.25 74.10160.37 160.37 166.78 173.45 508.19 508.19 528.52 549.66381.72 396.98 412.86 429.38 1,250.00 1,312.50 1,378.13 1,447.03- - - - - 75.90 151.80 230.00502.28 522.37 543.27 565.00 - - - -- - - - - - - -884.00 919.36 956.13 994.38 1,250.00 1,388.40 1,529.93 1,677.03260.00 260.00 260.00 260.00 - - - -- - - - - - - -6.20 6.44 6.70 6.97 121.60 126.46 131.52 136.7818.68 18.68 18.68 18.68 18.68 18.68 18.68 18.68- - - - - - - -- - - - - - - -284.88 285.12 285.38 285.65 140.28 145.14 150.20 155.46$ 1,718.89 $ 1,788.85 $ 1,853.05 $ 1,915.35 $ 5,339.19 $ 5,706.67 $ 6,026.59 $ 6,382.03Increase ($) 69.96 64.20 62.30 Increase ($) 367.48 319.92 355.44Increase (%) 4.07% 3.59% 3.36% Increase (%) 6.88% 5.61% 5.90%286
---
Independent Auditor's ReportDraft Hurunui Community Long Term Plan 2012 - 2022Independent Auditor's ReportTo the readers ofHurunui District Council's Long-term Plan Statement of Proposalfor public consultaon for the ten years commencing 1 July 2012The Auditor-General is the auditor of Hurunui District Council (the District Council). The Auditor-Generalhas appointed me, Andy Burns, using the staff and resources of Audit New Zealand, to report on theLong-Term Plan Statement of Proposal (LTP Statement of Proposal) for public consultation on her behalf.We have audited the District Council's LTP Statement of Proposal dated 23 February 2012, for publicconsultation for the ten years commencing 1 July 2012.The Auditor-General is required by section 84(4) of the Local Government Act 2002 (the Act) to report on:• the extent to which the LTP Statement of Proposal complies with the requirements of the Act;and• the quality of information and assumptions underlying the forecast information provided in theLTP Statement of Proposal.OpinionOverall OpinionIn our opinion the District Council's LTP Statement of Proposal dated 23 February 2012 provides areasonable basis for long term integrated decision-making by the District Council and for participation indecision-making by the public and subsequent accountability to the community about the activities ofthe District Council.In forming our overall opinion, we considered the specific matters outlined in section 84(4) of the Actwhich we report on as follows.Opinion on Specific Maers Required by the ActIn our view:• the District Council has complied with the requirements of the Act in all material respectsdemonstrating good practice for a council of its size and scale within the context of itsenvironment; and• the underlying information and assumptions used to prepare the LTP Statement of Proposalprovide a reasonable and supportable basis for the preparation of the forecast information.Actual results are likely to be different from the forecast information since anticipated events frequentlydo not occur as expected and the variation may be material. Accordingly, we express no opinion as towhether the forecasts will be achieved.Our report was completed on 23 February 2012. This is the date at which our opinion is expressed.The basis of the opinion is explained below. In addition, we outline the responsibilities of the Council and287
---
www.hurunui.govt.nzthe Auditor, and explain our independence.Basis of OpinionWe carried out the audit in accordance with the International Standard on Assurance Engagements3000: Assurance Engagements Other Than Audits or Reviews of Historical Financial Information andthe Auditor-General's Auditing Standards, which incorporate the International Standards on Auditing(New Zealand). We have examined the forecast financial information in accordance with the InternationalStandard on Assurance Engagements 3400: The Examination of Prospective Financial Information.Those standards require that we comply with ethical requirements and plan and carry out our audit toobtain all the information and explanations we considered necessary to obtain reasonable assurancethat the LTP Statement of Proposal does not contain material misstatements. If we had found materialmisstatements that were not corrected, we would have referred to them in our opinion.An audit involves performing procedures to obtain audit evidence about the forecast informationand disclosures in the LTP Statement of Proposal. The procedures selected depend on our judgement,including the assessment of risks of material misstatement of the information in the LTP Statement ofProposal. In making those risk assessments we consider internal control relevant to the preparation ofthe District Council's LTP Statement of Proposal. We consider internal control in order to design auditprocedures that are appropriate in the circumstances, but not for the purpose of expressing an opinionon the effectiveness of the District Council's internal control.Our audit procedures also include assessing whether:• the LTP Statement of Proposal provides the community with sufficient and balanced informationabout the strategic and other key issues, choices and implications it faces to provide anopportunity for participation by the public in decision making processes;• the District Council's financial strategy, supported by financial policies is financially prudent, andhas been clearly communicated to the community in the LTP Statement of Proposal;• the presentation of the LTP Statement of Proposal complies with the legislative requirements ofthe Act;• the decision-making and consultation processes underlying the development of the LTPStatement of Proposal are compliant with the decision-making and consultation requirementsof the Act;• the information in the LTP Statement of Proposal is based on materially complete and reliableasset or activity information;• the agreed levels of service are fairly reflected throughout the LTP Statement of Proposal;• the District Council's key plans and policies have been consistently applied in the developmentof the forecast information;• the assumptions set out within the LTP Statement of Proposal are based on best informationcurrently available to the District Council, and provide a reasonable and supportable basis forthe preparation of the forecast information;• the forecast information has been properly prepared on the basis of the underlying informationand the assumptions adopted and the financial information complies with generally acceptedaccounting practice in New Zealand;• the rationale for the activities is clearly presented;• the levels of service and performance measures are reasonable estimates and reflect the key288
---
Draft Hurunui Community Long Term Plan 2012 - 2022aspects of the District Council's service delivery and performance; and• the relationship of the levels of service, performance measures and forecast financialinformation has been adequately explained within the LTP Statement of Proposal.We do not guarantee complete accuracy of the information in the LTP Statement of Proposal. Ourprocedures included examining on a test basis, evidence supporting assumptions, amounts and otherdisclosures in the LTP Statement of Proposal and determining compliance with the requirements ofthe Act. We evaluated the overall adequacy of the presentation of information. We obtained all theinformation and explanations we required to support our opinion above.Responsibilies of the CouncilThe Council is responsible for preparing a LTP under the Act, by applying the Council's assumptionsand presenting the financial information in accordance with generally accepted accounting practice inNew Zealand. The Council is also responsible for such internal controls as it determines is necessary toenable the preparation of a LTP that is free from material misstatement.The Council's responsibilities arise from Section 93 of the Act.Responsibilies of the AuditorWe are responsible for expressing an independent opinion on the LTP Statement of Proposal andreporting that opinion to you based on our audit. This responsibility arises from section 15 of the PublicAudit Act 2001 and section 84(4) of the Act.It is not our responsibility to express an opinion on the merits of any policy content within the LTPStatement of Proposal.IndependenceWhen reporting on the LTP Statement of Proposal we followed the independence requirements ofthe Auditor-General, which incorporate the independence requirements of the Institute of CharteredAccountants of New Zealand.Other than this report and in conducting the annual audit, we have no relationship with or interests inthe District Council or any of its subsidiaries.Andy BurnsAudit New ZealandOn behalf of the Auditor-GeneralChristchurch, New Zealand289
---
www.hurunui.govt.nz290
---
Draft Hurunui Community Long Term Plan2012 - 2022Submission FormWe welcome your submission by 5pm Friday 13 April 2012Please write your comments here:Online submissions are encouraged through: www.hurunui.govt.nzTick one boxI wish to be heard in support of my submissionIf you need more space please turn over and continue on the reverse.If you wish to be heard, you will need to keep your presentation to 5-10 minutes. Councillors will have read your written submission prior to the meeting.If you intend presenting additional material during the hearing you will need to supply 14 copies at the time.Hurunui District Council, PO Box 13, Amberley, 7441,submission@hurunui.govt.nz , Questions? P: (03) 3140011I do not wish to be heard in support of my submissionIf others make a similar submission I would/would not (delete one) be prepared to consider presenting a joint case with themat any hearing.Full name of submitter:Postal address:Phone:Email:Signature: Date: / /Signature of person making submission or authorized agent
---
PLEASE NOTE: Submissions to the Council are normally made public and may also be required to be disclosed in response to any requests under the OfficialInformation Act. If you are an individual, as opposed to an organisation, we will consider removing your personal details from the submission if you tick thebox below. Be aware that by doing so, you will NOT be able to speak to your submission.Please consider removing my personal details from the submission
---
Draft Hurunui Community Long Term Plan 2012 - 2022Phone: 03 314 8816Fax: 03 314 9181email: info@hurunui.govt.nzweb: hurunui.govt.nz293
---
Phone: 03 314 8816Fax: 03 314 9181Email: info@hurunui.govt.nzWeb: www.hurunui.govt.nz