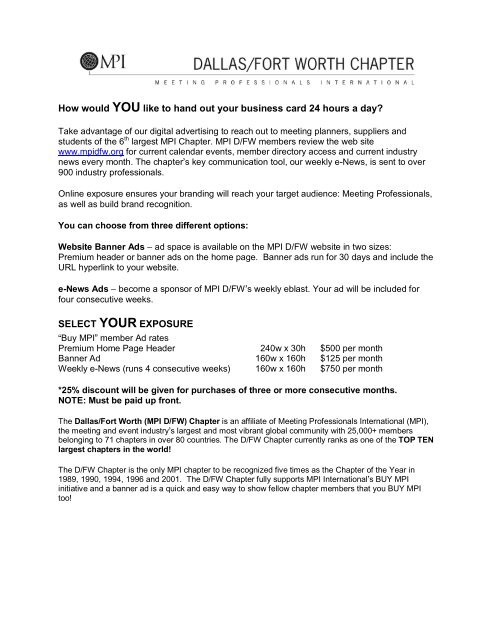 Website Banner Advertising Rates & Application Form - Meeting ... Website Banner Advertising Rates & Application Form - Meeting ...
How would YOU like to hand out your business card 24 hours a day?Take advantage of our digital advertising to reach out to meeting planners, suppliers andstudents of the 6 th largest MPI Chapter. MPI D/FW members review the web sitewww.mpidfw.org for current calendar events, member directory access and current industrynews every month. The chapters key communication tool, our weekly e-News, is sent to over900 industry professionals.Online exposure ensures your branding will reach your target audience: Meeting Professionals,as well as build brand recognition.You can choose from three different options:Website Banner Ads ad space is available on the MPI D/FW website in two sizes:Premium header or banner ads on the home page. Banner ads run for 30 days and include theURL hyperlink to your website.e-News Ads become a sponsor of MPI D/FWs weekly eblast. Your ad will be included forfour consecutive weeks.SELECT YOUR EXPOSUREBuy MPI member Ad ratesPremium Home Page Header 240w x 30h $500 per monthBanner Ad 160w x 160h $125 per monthWeekly e-News (runs 4 consecutive weeks) 160w x 160h $750 per month*25% discount will be given for purchases of three or more consecutive months.NOTE: Must be paid up front.The Dallas/Fort Worth (MPI D/FW) Chapter is an affiliate of Meeting Professionals International (MPI),the meeting and event industrys largest and most vibrant global community with 25,000+ membersbelonging to 71 chapters in over 80 countries. The D/FW Chapter currently ranks as one of the TOP TENlargest chapters in the world!The D/FW Chapter is the only MPI chapter to be recognized five times as the Chapter of the Year in1989, 1990, 1994, 1996 and 2001. The D/FW Chapter fully supports MPI Internationals BUY MPIinitiative and a banner ad is a quick and easy way to show fellow chapter members that you BUY MPItoo!
---
ADVERTISING SPACE RESERVATION FORMADVERTISING CONTACT: ____________________________________________________PHONE: _________________________________FAX:_______________________________EMAIL: _____________________________________________________________________COMPANY: _________________________________________________________________ADDRESS: __________________________________________________________________CITY/STATE/ZIP: ____________________________________________________________WEBSITE ADDRESS OR LINK FOR AD: ________________________________________PREFERRED ADVERTISING OPTION? CIRCLE ONEPremium Header Banner Ad Weekly E-blastPREFERRED MONTH(S)*? _________________________________* Options are based upon availabilityPAYMENT: Due 15 days prior to start of ad date. Total: ___________________________( ) Check, made payable to MPI D/FW Chapter( ) MasterCard, VISA, AMEX (Circle one)Card Number: _______________________________________________________________Name on Card: _________________________________ Expiration Date: _______________Authorization:By signing below, we authorize the placement of our ad on the MPI D/FW website,www.mpidfw.org.Signature: _______________________________________Date:________________________CONTACTARTWORKPaula Bruton, CMP, VP Communications Patty Stern, CMP, Website Manager972-768-6239 973-669-2891paula@bruton.compatty@groupdmm.comREMIT PAYMENT TO:Randie Charnes, Chapter AdministratorMPI D/FW Chapter7750 North Mac Arthur Blvd - #120, PMB 259, Irving TX 75063Phone: 972-869-3836, Fax: 972-506-7485
More magazines by this user