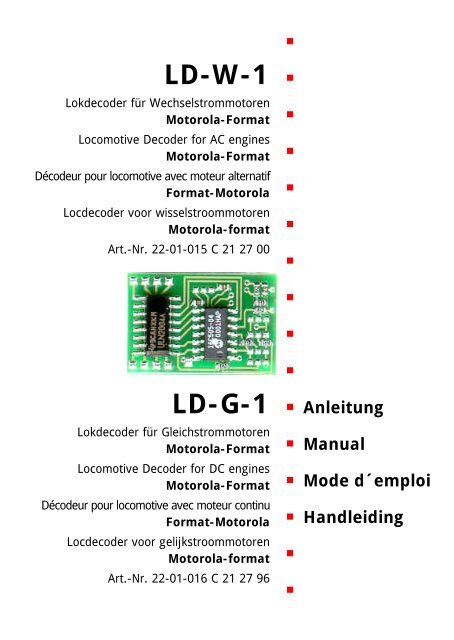 LD-W-1 - Tams
LD-W-1 - Tams
LD-W-1 - Tams
SHOW MORE
SHOW LESS
You also want an ePaper? Increase the reach of your titles
YUMPU automatically turns print PDFs into web optimized ePapers that Google loves.
•LD-W-1 •Lokdecoder für WechselstrommotorenMotorola-FormatLocomotive Decoder for AC enginesMotorola-FormatDécodeur pour locomotive avec moteur alternatifFormat-MotorolaLocdecoder voor wisselstroommotorenMotorola-formatArt.-Nr. 22-01-015 C 21 27 00••••••••LD-G-1 • AnleitungLokdecoder für GleichstrommotorenMotorola-FormatLocomotive Decoder for DC enginesMotorola-FormatDécodeur pour locomotive avec moteur continuFormat-MotorolaLocdecoder voor gelijkstroommotorenMotorola-formatArt.-Nr. 22-01-016 C 21 27 96• Manual• Mode d´emploi• Handleiding••
---
© 07/2002 Tams Elektronik GmbHAlle Rechte, insbesondere das Recht derVervielfältigung und Verbreitung sowie derÜbersetzung vorbehalten. Vervielfältigungenund Reproduktionen in jeglicher Formbedürfen der schriftlichen Genehmigungdurch die Tams Elektronik GmbH.Technische Änderungen vorbehalten.© 07/2002 Tams Elektronik GmbHAll rights reserved. No part of thispublication may be reproduced ortransmitted in any form or by any means,electronic or mechanical, includingphotocopying, without prior permission inwriting from Tams Elektronik GmbH.Subject to technical modification.© 07/2002 Tams Elektronik GmbHTout droits réservés, en particulier les droitsde reproduction et de diffusion ainsi que letraduction. Toute duplication oureproduction sous quelque forme que ce soitnécessite l´accord écrit de la societé TamsElektronik GmbH.Sous réserve de modifications techniques.© 07/2002 Tams Elektronik GmbHAlle rechten voorbehouden. Niets uit dezepublicatie mag worden vermenigvuldigdopgeslagen of openbaar gemaakt, zondervoorafgaande schriftelijke toestemming vanTams Elektronik GmbH.Technische wijzigingen voorbehouden.•••• Deutsch 3• English 20• Français 35• Nederlands 51•••••••••••••
---
EnglishLD-G-1 / LD-W-1Table of contentsHow to use this manual 21Intended use 21Safety instructions 22EMC declaration 24Information: Motorola I and Motorola II format 24Operation overview 25Technical specifications 26Checking the package contents 26Required tools and consumables 27Safe and correct soldering 27Performing a visual check 28Mounting the locomotive decoder 28Setting the locomotive decoder 30Operation 32FAQ 33Manufacturer's note 34Certification 34Conditional warranty 34Diagram: Setting the locomotive address 68Circuit Diagram LD-G-1 (Fig. 1)Circuit Diagram LD-W-1 (Fig. 2)Connections 1: front LD-G-1 and LD-W-1 (Fig. 3a and 3b)Connections 2: rear LD-G-1 (Fig. 4) and LD-W-1 (Fig. 5)IIIIIIIV(Pages I to IV in the centre of this handbook are removeable)Page 20
---
LD-G-1 / LD-W-1EnglishHow to use this manualIf you have no specialist technical training, this manual gives step-bystepinstructions for safe and correct fitting of the module, andoperation. Before you start, we advise you to read the whole manual,particularly the chapter on safety instructions and the FAQ chapter. Youwill then know where to take care and how to prevent mistakes whichtake a lot of effort to correct.Keep this manual safely so that you can solve problems in the future. Ifyou pass the kit on to another person, please pass on the manual withit.Intended use! Caution:Integrated circuits are very sensitive to static electricity. Do not touchcomponents without first discharging yourself. Touching a radiator orother grounded metal part will discharge you.The module can be used according to the specifications of this manual.It is designed for the mounting in a model railway locomotive with d.c.motor (LD-G-1) resp. a.c. motor (LD-W-1).It evaluates the Motorola format data sent by the digital central unit toits address. The decoder controls the vehicle performance (velocity,direction of travel, acceleration), switches the lighting and four furtheroptional functions.The module is not suitable for children under the age of 14.Reading, understanding and following the instructions in this manualare mandatory for the user.Any other use of the kit is inappropriate and invalidates any guarantees.Page 21
---
EnglishLD-G-1 / LD-W-1Safety instructionsMechanical hazardsCut wires can have sharp ends and can cause serious injuries. Watchout for sharp edges when you pick up the PCB.Visibly damaged parts can cause unpredictable danger. Do not usedamaged parts: recycle and replace them with new ones.Electrical hazards• Do not touch powered, live components.• Do not touch conducting components which are live due tomalfunction.• Avoid short circuits.• Do not connect the circuit to a higher voltage than designed.• Impermissibly high humidity.• Condensation building up can cause serious injury due to electricalshock.Take the following precautions to prevent this danger:• Never perform wiring on a powered module.• Only use low power for this module as described in this manual andonly use certified transformers.• Connect transformers and soldering stations only in approved mainssockets installed by an authorised electrician.• Observe cable diameter requirements.• Assembling the kit should only be done in closed, clean, dry rooms.Beware of humidity.• If the humidity in the room is too high, please do not start workinguntil after a minimum of 2 hours of acclimatisation.• Use only original spare parts if you have to repair the kit or theready-built module.Page 22
---
LD-G-1 / LD-W-1EnglishFire riskTouching flammable material with a hot soldering iron can cause lifethreateningfire, burns and toxic smoke. Connect your soldering iron orsoldering station only when actually needed. Use the correct solderingiron or station and never leave a hot soldering iron or stationunattended.Thermal dangerA hot soldering iron or liquid solder accidentally touching your skin cancause skin burns. As a precaution:• use a heat-resistant mat during soldering,• always put the hot soldering iron in the soldering iron stand,• point the soldering iron tip carefully when soldering, and• remove liquid solder with a thick wet rag or wet sponge.Dangerous environmentsA working area that is too small or cramped is unsuitable and can causeaccidents, fires and injury. Prevent this by working in a clean, dry roomwith enough freedom of movement.Other dangersChildren can cause any of the accidents mentioned above because theyare inattentive and not responsible enough. Children under the age of14 should not be allowed to work with this kit or the ready-builtmodule.Little children can swallow small components with sharp edges. Lifethreatening! Do not allow components to reach small children.In schools, training centres, clubs and workshops, assembly must besupervised by qualified personnel.In industrial institutions, health and safety regulations applying toelectronic work must be adhered to.Page 23
---
EnglishLD-G-1 / LD-W-1EMC declarationThis product is developed in accordance with the European standardsEN 55014 and EN 50082-1, tested corresponding to the EC - directive89/336/EWG (EMVG of 09/11/1992, electromagnetic tolerance) andmeets legal requirements.To guarantee the electromagnetic tolerance you must take thefollowing precautions:• Connect the transformer only to an approved mains socket installedby an authorised electrician.• Make no changes to the original parts and accurately follow theinstructions, circuit diagram and PCB layout included with this manual.• Use only original spare parts if you have to repair the kit or theready-built module.Information: Motorola I and Motorola II formatThe digital driving data is differently encoded and transmitted in the(old) Motorola I format and the (new) Motorola II format. Thelocomotive decoder is designed to evaluate data in Motorola II format.This limits its use in Motorola I format.Since data of the auxiliary functions F1 to F4 sent in Motorola I Formatcannot be evaluated by the locomotive decoder, it is not possible toswitch these functions on or off when using Motorola I format.Unlike the Motorola II format, no absolute direction data is sent inMotorola I format, but a single driving signal reverses the direction oftravel. This has the following consequences:1. If the change direction command is not recognized by thelocomotive, it continues in the original direction.2. If the decoder is switched off for some time and the direction data isnot saved, the locomotive continues in its favourite direction when it isswitched on again.Page 24
---
LD-G-1 / LD-W-1EnglishOperation overviewThe decoder is designed for operation in Motorola I or II format and canbe adjusted to one of 255 adresses. It evaluates the digital data sent bythe central unit to its address and transmitts it to the locomotive.Function speed level and direction of motionThe speed level set at the central unit and the change-directioncommand are transmitted to the locomotive by the decoder. At adirection change the existing direction of travel is not saved, so thelocomotive continues in Motorola I format in its preferred direction afterthe decoder has been off for some time.Velocity characteristicsTwo velocity characteristics are available. By attaching a solder bridgethe second velocity characteristic can be fixed. Compared to the setstandard velocity characteristic this characteristic allows a highermaximum speed, however the shunting gear is no longer available.Acceleration and brake delayThree variants of acceleration and brake delay are available: fast, mediumand slow. By attaching solder bridges one of the three variants can be fixed.Function lightingThe lighting can be switched on and off according to the direction of travelfrom the central unit via the function "function". In addition, another optionalaccessory can be switched on and off according to the direction of travel.Auxiliary functions in Motorola II formatThe auxiliary functions F1 to F4 can be switched from the central unit.They are available to control optional accessories (e.g. smokegenerator, cab lighting, noise module).Shunting gearIf the standard velocity characteristic is set, the auxiliary function F4allows you to switch into the shunting gear mode. In the shunting gearPage 25
---
EnglishPage 26LD-G-1 / LD-W-1mode the velocity of all speed levels is reduced to ca. 50 % comparedto the standard velocity. The accessories connected to the outputswitched by the auxiliary function F4 are switched together with theshunting gear. As soon as the shunting gear is switched on, anyacceleration or brake delay settings are deactivated.By attaching a solder bridge the shunting gear can be deactivatedpermantly.Restrictions in Motorola I formatThe auxiliary functions F1 to F4 are not available in Motorola I format.It is possible to control one accessory via the function "function"according to the direction of travel.Technical specificationsData formatMotorola I and IISupply voltage12-22 Volt digital voltageCurrent consumption(without connected loads) ca. 10 mAMax. current for motor1.000 mAMax. current per function output 500 mAMax. total current1.500 mAProtected to IP 00Ambient temperature in use 0 - + 60° CAmbient temperature in storage -10 - + 80° CComparative humidity allowed max. 85 %Dimensionsca. 25 x 17 x 8 mmWeightca. 5 gChecking the package contentsCheck the contents of the package for completeness:• 1 module• 1 manual
---
LD-G-1 / LD-W-1EnglishRequired tools and consumablesMake sure you have the following tools, equipment and materials ready for use:• a heat-resistant mat and a soldering iron stand with tip-cleaning sponge• a small side cutter and wire stripper• an electronic soldering iron (max. 30 Watt) with a fine tip• tin solder (0,5 mm. diameter) and wire (diameter: > 0,08 mm²)Safe and correct soldering! Caution:Incorrect soldering can cause fires (through excessive heat). Avoid thisdanger by reading the chapter Safety instructions again andfollowing the directions given.If you have had training in soldering you can skip this chapter.• When soldering electronic circuits never use soldering-water orsoldering grease. They contain acids that can corrode componentsand copper tracks.• Only use tin solder SN 60 Pb (i.e. 60 % tin, 40 % lead) with rosinbasedflux.• Solder fast: long soldering can destroy components and coppertracks, and damages through plated holes.• Use a small soldering iron with max. 30 Watt. Keep the soldering tip cleanso the heat of the soldering iron is applied to the solder point effectively.• Apply the soldering tip to the soldering spot in such a way that the partand the soldering spot are heated at the same time. Simultaneouslyadd solder (not too much). As soon as the solder becomes liquid take itaway. Hold the soldering tip at the spot for a few seconds so that thetin solder finds its way, then remove the soldering iron.• To make a good soldering joint you must use a clean andunoxidised soldering tip. Clean the soldering tip with a damp pieceof cloth, a damp sponge or a piece of silicon cloth.• Do not move the component for about 5 seconds after soldering. Aglossy and perfect soldering spot should remain.Page 27
---
EnglishLD-G-1 / LD-W-1Performing a visual checkDamaged materials can cause injury. Parts damaged during transit canalso be dangerous.Check the module for damage, missing parts or poorsoldering. If you find damage, return the module for exchange.Mounting the locomotive decoderOpen the locomotive housing. Locate the position for the decoder.Disconnect the motor from the rail current collector respectively thechange-over switch from the motor and rails if you have a locomotivewith electronic change-over switch.! Caution:The interference suppression devices mounted to the motor or theconnecting wire must not be removed! Motor and interferencesuppression devices are one unit. If even one part is removed, it cancause extreme interference!Connecting the LD-G-1Follow the connections diagrams (fig. 4)! Solder the connections to the railsat points X1 and X2 (rear of the decoder) and the connections to the motorat the points X11 and X12 (rear of the decoder). The connection to the railsis optional, but you must observe polarity when connecting the motor.Connecting the LD-W-1Follow the connections diagrams (fig. 5)! Solder the connections to therails at points X1 and X2 (rear of the decoder) and the connections tothe motor at the points X11, X12 and X19 (rear of the decoder).Connecting the lighting and other accessoriesFollow the connections diagrams (fig. 3a and 3b)!Disconnect any existing diodes in the leads to the lamps. Connect the lampsfor forward motion to X4 and the lamps for reverse to point X5 (front of thedecoder). If the lamps are already connected with one side to locomotiveground, you must solder in a diode between the decoder and the lamp (seePage 28
---
LD-G-1 / LD-W-1Englishfig. 3a) or you must connect the second side of the lamps according to fig.3b to the return conductor (point X3 on the front of the decoder).Connect other accessories (e.g. smoke generator, cab lighting), which areswitched by the functions F1 to F4, to the points X7 to X10 (front of thedecoder). You can connect the second side of the accessories either tothe return conductor (point X3) or to locomotive ground. If connectingthe accessory to locomotive ground you must solder in a diode.! Caution:The return conductor for all functions (point X3) must under nocircumstances be connected to locomotive ground. Possible shortcircuit! The locomotive decoder will be damaged in operation.Tip: If the second side of the lamps is connected to locomotive groundthe lamps often flicker in operation. You can avoid the flickering of thelamps if you connect the second side to the return conductor (point X3)instead of locomotive ground.! Caution:If you connect the loads to the return conductor for all functions (pointX3), the load must be insulated. The loads must not make contact withmetal parts of the locomotive. Possible short circuit! The locomotivedecoder will be damaged in operation.Connecting the LEDsThe function outputs of the locomotive decoder switch against decoderground. For that reason you must connect the cathode (-) of the LED tothe output of the relevant function.! Caution:If you use light-emitting diodes (LEDs) you must always operate themvia a series resistor.LEDs are available in many different models. There are LEDs with 2-5mA, but also LEDs with 15-30 mA power consumption. The seriesresistor limits the current flow of the LED and will need to be calculatedfor each model. Ask for the max current rating when buying your LEDs.Page 29
---
EnglishPage 30LD-G-1 / LD-W-1You can connect several LEDs in parallel to each output. In this case everyLED must have a series resistor of its own. If you connect several LEDs toone output in series, only one series resistor is needed. The number ofLEDs connected in series to one output depends on the digital voltage.You can determine the number of the LEDs that can be connected inseries to one output from the following formula:(number of LEDs + 2) x 1,5 < digital voltageFixing the locomotive decoderAfter completing all connections fix the locomotive decoder with doublesidedadhesive tape, for example.Using an NEM 652 interface connectorContact Connection Colour of cable Connecting points1 Motor connection 1 orange X112 Lighting back (-) yellow X53 Not used or F1 green X74 Power supply left black X15 Motor connection 2 grey X126 Lighting front (-) white X47 Common conductor blue X3for all functions (+)8 Power supply right red X2Some locomotives already have an NEM 652 interface connectormounted. Using a convenient connecting plug you save disconnectingthe connections and you do not need to solder at the locomotive.The list shows how to connect the contacts of the interface connectorto the connecting points of the locomotive decoder.Setting the locomotive decoderSetting the driving characteristicsDifferent driving characteristics can be fixed for the locomotve decoder:
---
LD-G-1 / LD-W-1• Standard or second velocity characteristics• Shunting gear active or inactive• Fast, medium or slow acceleration and brake delayEnglishThe setting of the delay can be combined with any setting of thevelocity characteristic and the shunting gear.The setting is made by attaching solder bridges to X17 (on the front ofthe decoder, underneath the IC U1) and to X20 (on the front of thedecoder, to the left of IC U1). The assignment is as follows:ConnectionOperationX17 Pin 1: no solder bridge Standard velocity characteristic +shunting gear active, switched via F4X17 Pin 1 - X 20 Second velocity characteristic +shunting gear inactiveX17 Pin 1 - X 17 Pin 2 Standard velocity characteristic +shunting gear inactiveX17 Pin 3: no solder bridge Fast delayX17 Pin 3 - X 20Slow delayX17 Pin 3 - X 17 Pin 2 Medium delaySetting the locomotive addressExample:Adjusting the second velocitycharacteristic and the mediumacceleration and brake delayThe locomotive decoder can be set to one of 255 addresses. Thesetting is made by mounting solder bridges to X13 - X17 (on the frontof the decoder, left of the IC U1) resp. X18 on the front of the decoder,right of the IC U1). The assignment is shown in the list on page 68.The solder pads are numbered from the left side of the PCB as follows:1 2 3Page 31
---
EnglishPage 32LD-G-1 / LD-W-1The solder pad "4" is identical with connecting point X18. If for oneaddress two connections to solder pad 4 are given, two connections topoint X18 must be made.! Caution:Use a soldering iron with a small tapered point and max. 30 Watt tomake the solder bridges. Take special care to avoid short circuits. Ifnecessary, check the solder bridges with a magnifiying glass to makesure that the solder bridges are closed correctly and solder has notshort-circuited adjacent components or connections.OperationEmergency stop during active acceleration and brake delayAn emergency stop during acceleration and brake delay can beperformed from the central unit by changing the direction of travel.Switching the shunting gearThe solder bride X17 is used for switching the shunting gear. Whenactivated the aproach and braking delays are automatically deactivated.The other accessories connected to the output X10 will also switch withthe shunting gear.Improvement of the driving characteristicsLocomotives with especially high current consumption or track sectionswith bad contacts (e.g. some types of points) may give anunsatisfactory performance after the mounting of the locomotivedecoder. You can improve the locomotive performance by soldering acapacitor 220 µF / > 25 V in parallel to the capacitor C2 (rear of thelocomotive decoder, see fig. 4 or 5).The settings cannot be saved by the decoder and are lost after a powersupply interruption of a certain length. When the interruption is only short,the capacitor C1 maintains the voltage and the settings are kept. You canlengthen this period of time by soldering a capacitor 47 µF / > 6,3 V inparallel to the capacitor C1 (rear of the locomotive decoder, see fig. 4 or 5).
---
LD-G-1 / LD-W-1EnglishFAQ• Parts are getting too hot and/or start to smoke.! Disconnect the system from the mains immediately!Possible cause: one or more connections are soldered incorrectly.à Check the connections.Possible cause: The connection of the motor is connected tolocomotive ground.à Disconnect the connection from locomotive ground.• The locomotive lighting does not correspond to its direction of travel.Possible cause: The forward and backward light connections havebeen exchanged.à Check the connections.Possible cause: The connections of the motor to the points X11 andX12 have been exchanged.à Exchange the connections.• A lamp flickers (this is not a defect).Possible cause: The lamp is connected with one side to locomotiveground.à If you do not want the lamp to flicker, disconnect it from locomotiveground, insulate it and connect it to the return conductor (point X3).• The locomotive does not run.Possible cause: The locomotive address is not set correctly.à Check the solder bridges (if necessary with a magnifiying glass).If you cannot find the problem, please return the decoder for repair(address on the cover page).Manufacturer's noteAccording to DIN VDE 0869, the person who builds this kit or brings thecircuit into operation is the manufacturer of the product. If he sells theproduct to another person he is responsible for passing on all thePage 33
---
EnglishLD-G-1 / LD-W-1relevant papers. Domestic appliances assembled from a kit are deemedindustrial products and must comply with health and safety regulations.CertificationThis product conforms with the EC- directive 89/336/EWG onelectromagnetic radiation and is therefore CE certified.Conditional warrantyThis product is guaranteed for two years. The warranty includes freerepair if the problem is due to material failure or incorrect assembly ofthe module by us. We guarantee the quality of the components.Other claims are excluded. By law, we are not responsible for damagesor secondary damages in connection with this product. We retain theright to repair, make improvements, supply spare parts or return thepurchase price.The following invalidate the warranty:• using an unsuitable soldering iron, solder containing liquid acids or similar,• if damage is caused by not following the instructions in this manualor the circuit diagram,• if the circuit has been altered and repair attempts have failed,• if arbitrary changes in the circuit are made,• if parts are stored incorrectly and if the wires to the switches, thepower resistors, etc. are made incorrectly,• if the copper tracks or soldering points are damaged,• if parts are placed incorrectly or the circuit is connected incorrectly,• if damage occurs due to an overload of the circuit,• if the wrong power or current is connected,• if damaged by other persons,• if damaged by the wrong use or abuse of the circuit,• if parts are damaged due to static because they were touchedbefore a discharge is performed.Page 34
---
LD-G-1 / LD-W-1Einstellung der Adresse / Adjusting the addressRéglage de l'adresse / Instellen van het adresAdresseAddressAdresseLötfeld - Soldering fieldPlots d´une rangéSoldeerpuntenAdres X14 X16 X15 X13Seite - Page - Page - Pagina 68Beispiel:Einstellung der Adresse "107"Example:Adjusting the address "107"Exemple:Réglage de l´adresse "107"Voorbeeld:Instellen van adres "107"AdresseAddressAdresseLötfeld - Soldering fieldPlots d´une rangéSoldeerpuntenAdres X14 X16 X15 X131 2-3 2-3 2-4 2-4 21 2-3 1-2 1-2 2-42 2-3 2-4 2-4 2-4 22 2-3 -- 2-4 1-23 -- -- 2-4 1-2 23 2-3 1-2 2-4 2-44 2-3 2-3 2-4 1-2 24 2-4 2-4 2-4 1-25 1-2 1-2 2-4 1-2 25 2-3 1-2 2-4 1-26 -- 2-4 2-4 1-2 26 2-3 -- 1-2 2-47 -- 1-2 2-4 1-2 27 2-4 2-4 1-2 1-28 2-3 2-4 2-3 2-4 28 2-3 2-3 1-2 1-29 1-2 1-2 2-4 2-4 29 2-3 2-4 1-2 1-210 -- -- 2-4 2-4 30 1-2 -- 1-2 --11 -- 1-2 2-4 2-4 31 2-4 -- 1-2 --12 2-4 -- 2-4 -- 32 1-2 -- 1-2 1-213 2-3 2-4 1-2 -- 33 2-4 1-2 1-2 --14 -- 2-4 1-2 -- 34 2-4 2-4 1-2 --15 2-4 1-2 1-2 1-2 35 1-2 2-4 1-2 --16 2-4 1-2 1-2 2-4 36 1-2 1-2 1-2 1-217 2-4 1-2 2-4 1-2 37 -- -- 1-2 1-218 1-2 2-4 2-4 2-4 38 -- 1-2 1-2 1-219 -- 2-3 2-4 2-4 39 2-3 2-4 2-4 2-320 -- 2-4 2-4 2-4 40 -- 2-3 1-2 2-3
---
AdresseAddressAdresseLötfeld - Soldering fieldPlots d´une rangéSoldeerpuntenAdres X14 X16 X15 X13LD-G-1 / LD-W-1AdresseAddressAdresseLötfeld - Soldering fieldPlots d´une rangéSoldeerpuntenAdres X14 X16 X15 X1341 -- -- 1-2 2-3 77 -- 2-3 1-2 --42 -- 1-2 2-4 2-3 78 -- 2-4 1-2 2-343 -- 2-4 2-4 2-3 79 -- -- 1-2 --44 2-3 1-2 2-4 2-3 80 2-4 2-4 2-4 2-445 1-2 2-4 1-2 1-2 81 2-4 2-3 2-4 2-446 -- 2-3 1-2 1-2 82 1-2 2-4 2-4 1-247 -- 2-4 1-2 1-2 83 2-3 1-2 1-2 --48 2-4 1-2 2-4 2-4 84 2-3 2-4 2-4 1-249 2-3 2-4 1-2 2-3 85 1-2 2-3 2-4 2-450 2-4 2-3 2-4 2-3 86 2-3 1-2 1-2 1-251 2-4 -- 1-2 1-2 87 1-2 2-3 2-4 2-352 2-3 -- 2-4 2-4 88 2-3 -- 1-2 1-253 1-2 2-3 1-2 -- 89 2-4 -- 2-4 2-454 2-4 2-4 1-2 2-4 90 2-4 -- 2-3 2-455 2-3 2-3 1-2 2-4 91 2-4 -- 2-4 2-356 2-3 2-4 1-2 2-4 92 2-4 -- 2-3 2-357 2-3 2-4 2-4 -- 93 1-2 -- 2-4 2-458 2-3 1-2 1-2 2-3 94 1-2 -- 2-3 2-459 -- 1-2 1-2 2-3 95 1-2 -- 2-4 2-360 -- 1-2 2-4 -- 96 1-2 -- 2-3 2-361 -- 2-4 2-4 -- 97 2-4 2-3 1-2 2-462 2-3 1-2 2-4 -- 98 2-4 2-3 -- 2-463 1-2 1-2 1-2 2-4 99 2-4 2-3 1-2 2-364 -- -- 1-2 2-4 100 2-4 2-3 -- 2-365 -- 1-2 1-2 2-4 101 1-2 2-3 1-2 2-466 2-3 -- 1-2 2-3 102 1-2 2-3 -- 2-467 1-2 1-2 1-2 -- 103 1-2 2-3 1-2 2-368 2-3 2-3 2-4 -- 104 1-2 2-3 -- 2-369 -- -- 2-4 -- 105 2-4 -- 1-2 2-470 -- 2-3 2-4 -- 106 2-4 -- -- 2-471 2-3 -- 2-4 -- 107 2-4 -- 1-2 2-372 1-2 2-4 1-2 2-4 108 2-4 -- -- 2-373 -- 2-3 1-2 2-4 109 1-2 -- 1-2 2-474 -- 2-4 1-2 2-4 110 1-2 -- -- 2-475 2-3 -- 1-2 -- 111 1-2 -- 1-2 2-376 2-3 2-3 1-2 -- 112 1-2 -- -- 2-3Seite - Page - Page - Pagina 69
---
LD-G-1 / LD-W-1AdresseAddressAdresseLötfeld - Soldering fieldPlots d´une rangéSoldeerpuntenAdres X14 X16 X15 X13Seite - Page - Page - Pagina 70AdresseAddressAdresseLötfeld - Soldering fieldPlots d´une rangéSoldeerpuntenAdres X14 X16 X15 X13113 2-4 2-3 2-4 1-2 149 2-4 2-4 1-2 2-3114 2-4 2-3 2-3 1-2 150 1-2 2-4 1-2 2-3115 2-4 2-3 2-4 -- 151 2-4 1-2 1-2 2-3116 2-4 2-3 2-3 -- 152 1-2 1-2 1-2 2-3117 1-2 2-3 2-4 1-2 153 2-4 2-4 2-4 --118 1-2 2-3 2-3 1-2 154 1-2 2-4 2-4 --119 1-2 2-3 2-4 -- 155 2-4 1-2 2-4 --120 1-2 2-3 2-3 -- 156 1-2 1-2 2-4 --121 2-4 -- 2-4 1-2 157 2-3 2-3 -- 1-2122 2-4 -- 2-3 1-2 158 2-3 2-4 -- 1-2123 -- 1-2 1-2 -- 159 2-4 2-4 -- 1-2124 2-4 -- 2-3 -- 160 -- -- -- 2-3125 1-2 -- 2-4 1-2 161 2-3 2-3 2-4 2-3126 1-2 -- 2-3 1-2 162 -- 2-3 2-4 2-3127 1-2 -- 2-4 -- 163 2-3 -- 2-4 2-3128 1-2 -- 2-3 -- 164 -- -- 2-4 2-3129 2-4 2-3 1-2 1-2 165 2-3 2-3 1-2 2-3130 2-4 2-3 -- 1-2 166 -- -- -- --131 2-4 2-3 1-2 -- 167 1-2 1-2 -- 2-3132 2-4 2-3 -- -- 168 -- 1-2 -- --133 1-2 2-3 1-2 1-2 169 -- 1-2 -- 2-3134 1-2 2-3 -- 1-2 170 -- -- -- 2-4135 -- 2-4 -- 1-2 171 -- 1-2 -- 2-4136 1-2 2-3 -- -- 172 1-2 1-2 -- 2-4137 1-2 2-4 -- 1-2 173 -- 2-3 -- 2-3138 2-4 -- -- 1-2 174 -- 2-4 -- 2-3139 2-3 2-3 -- -- 175 1-2 2-4 -- 2-3140 2-4 -- -- -- 176 -- 2-3 -- 2-4141 2-3 2-4 -- -- 177 1-2 1-2 -- --142 1-2 -- -- 1-2 178 -- -- -- 1-2143 2-4 2-4 -- -- 179 -- 1-2 -- 1-2144 1-2 -- -- -- 180 1-2 1-2 1-2 1-2145 2-4 2-4 2-4 2-3 181 -- 2-3 -- --146 1-2 2-4 2-4 2-3 182 1-2 2-4 -- 2-4147 2-4 1-2 2-4 2-3 183 2-3 2-3 -- 2-3148 1-2 1-2 2-4 2-3 184 2-3 2-4 -- 2-3
---
AdresseAddressAdresseLötfeld - Soldering fieldPlots d´une rangéSoldeerpuntenAdres X14 X16 X15 X13LD-G-1 / LD-W-1AdresseAddressAdresseLötfeld - Soldering fieldPlots d´une rangéSoldeerpuntenAdres X14 X16 X15 X13185 2-4 2-4 -- 2-3 221 2-3 -- 2-3 2-4186 2-3 2-3 -- 2-4 222 2-3 -- -- 2-4187 2-3 2-4 -- 2-4 223 2-3 -- 2-3 1-2188 2-4 2-4 -- 2-4 224 2-3 -- -- 1-2189 -- -- 2-3 2-3 225 2-3 1-2 2-3 2-4190 -- 1-2 2-3 2-3 226 2-3 1-2 -- 2-4191 -- 2-4 -- -- 227 2-3 1-2 2-3 1-2192 1-2 1-2 2-3 2-3 228 2-3 1-2 -- 1-2193 1-2 2-4 -- -- 229 1-2 2-4 2-3 2-4194 -- -- 2-3 2-4 230 2-3 2-3 2-3 2-3195 -- 1-2 2-3 2-4 231 2-4 2-3 2-3 2-3196 1-2 1-2 2-3 2-4 232 2-4 2-4 2-3 --197 -- 2-3 -- 1-2 233 2-3 2-3 2-3 --198 -- 2-4 2-3 2-4 234 2-3 2-4 2-3 --199 -- 2-3 2-3 2-3 235 2-4 2-4 2-3 1-2200 1-2 2-3 2-3 2-3 236 2-3 2-3 2-3 1-2201 -- 2-4 2-3 2-3 237 2-3 2-4 2-3 1-2202 1-2 2-4 2-3 2-3 238 2-3 2-4 2-3 2-3203 -- 2-3 2-3 2-4 239 2-4 2-4 2-3 2-3204 1-2 2-3 2-3 2-4 240 2-3 2-3 2-3 2-4205 2-4 1-2 2-3 2-3 241 1-2 1-2 2-3 --206 2-4 1-2 -- 2-3 242 -- -- 2-3 --207 2-4 1-2 2-3 -- 243 -- 1-2 2-3 --208 2-4 1-2 -- 1-2 244 1-2 1-2 2-3 1-2209 2-3 -- 2-3 2-3 245 -- -- 2-3 1-2210 2-3 -- -- 2-3 246 -- 1-2 2-3 1-2211 2-3 -- 2-3 -- 247 2-4 2-3 2-3 2-4212 2-3 -- -- -- 248 2-3 2-4 2-3 2-4213 2-3 1-2 2-3 2-3 249 -- 2-4 2-4 1-2214 2-3 1-2 -- 2-3 250 2-4 2-4 2-3 2-4215 2-3 1-2 2-3 -- 251 -- 2-3 2-3 --216 2-3 1-2 -- -- 252 -- 2-4 2-3 --217 2-4 1-2 2-3 2-4 253 1-2 2-4 2-3 1-2218 2-4 1-2 -- 2-4 254 -- 2-3 2-3 1-2219 2-4 1-2 2-3 1-2 255 -- 2-4 2-3 1-2220 2-4 1-2 -- 1-2Seite - Page - Page - Pagina 71
---
LD-G-1LD-G-1LD-G-1SchaltplanCircuit diagramSchéma de principeSchakelschema• • • Fig. 1 AusgängeOutputsSortiesUitgangenSeite - Page - Page - Pagina ISeite - Page - Page - Pagina I
---
LD-W-1LD-W-1LD-W-1SchaltplanCircuit diagramSchéma de principeSchakelschema• • • Fig. 2AusgängeOutputsSortiesUitgangenSeite - Page - Page - Pagina IISeite - Page - Page - Pagina II
---
LD-G-1 / LD-W-1LD-G-1 / LD-W-1Anschlußplan 1Connections 1Plan deraccordement 1Aansluit plan 1• • • Fig. 3a / 3bSeite - Page - Page - Pagina IIISeite - Page - Page - Pagina III
---
LD-G-1 / LD-W-1LD-G-1 / LD-W-1Anschlußplan 2Connections 2Plan deraccordement 2Aansluit plan 2• • • Fig. 4 / 5Seite - Page - Page - Pagina IVSeite - Page - Page - Pagina IV
---
•••Aktuelle Informationen und Tipps:Information and tips:Informations et conseils:Actuele informatie en tips:http://www.tams-online.de••••••Garantie und Service:Warranty and service:Garantie et service:Garantie en service:••Tams Elektronik GmbHSievertstraße 22D-30625 Hannoverfon: 0049 (0)511 / 55 60 60fax: 0049 (0)511 / 55 61 61e-mail: modellbahn@tams-online.de••