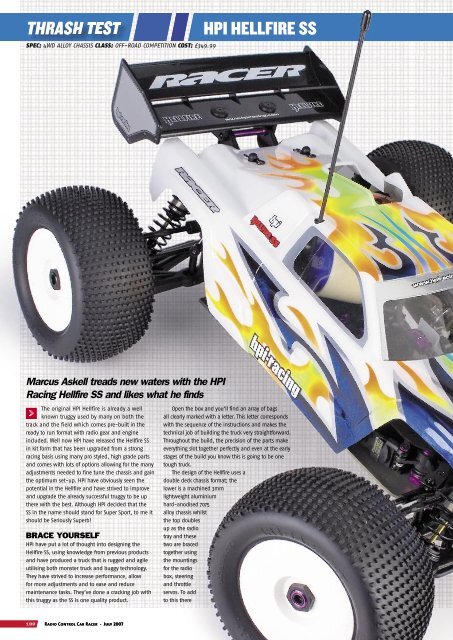 p100-104 TT HPIHFSS Jul07 - HPI Racing UK
p100-104 TT HPIHFSS Jul07 - HPI Racing UK
p100-104 TT HPIHFSS Jul07 - HPI Racing UK
SHOW MORE
SHOW LESS
You also want an ePaper? Increase the reach of your titles
YUMPU automatically turns print PDFs into web optimized ePapers that Google loves.
THRASH TESTSPEC: 4WD ALLOY CHASSIS CLASS: OFF-ROAD COMPETITION COST: £349.99HPI HELLFIRE SSMarcus Askell treads new waters with the HPIRacing Hellfire SS and likes what he findsThe original HPI Hellfire is already a wellknown truggy used by many on both thetrack and the field which comes pre-built in theready to run format with radio gear and engineincluded. Well now HPI have released the Hellfire SSin kit form that has been upgraded from a strongracing basis using many pro styled, high grade partsand comes with lots of options allowing for the manyadjustments needed to fine tune the chassis and gainthe optimum set-up. HPI have obviously seen thepotential in the Hellfire and have strived to improveand upgrade the already successful truggy to be upthere with the best. Although HPI decided that theSS in the name should stand for Super Sport, to me itshould be Seriously Superb!
---
THRASH TESTare three 7075 alloy chassis braces, twoat the front and one at the back. Onebraces the lower chassis to the front of thetop deck close to the front diff housing and two thatbrace the top deck front and rear to each of the 5mm7075 hard-anodised aluminium shock towers. To easemaintenance, the centre diff housing is separate to thetop deck and is a stand-alone unit bolted to the chassisand can be removed by undoing four screws. The centrediff has the 52-tooth spur gear boltedto it and with it being made fromlightened steel, it reduces the rotatingmass and increases acceleration. Allthree differentials are of the sametype, using hardened machined crownand bevel gears. The front and reardiffs are filled with the supplied 7000wtoil and the centre diff uses 15000wt,again included in the box. Each diff hasrubber O-ring seals on the outdrives anda gasket, which requires a light coating ofoil to seal the two halves and eradicate anyleakage problems. The front and rear diffs are thenslotted into the sphere shaped gearboxes that sealup tight using a lipped edge to keep dirt and dustfrom getting in. Each gearbox is then clamped intothe gearbox housings front and rear. At this stage it'simportant to ensure you mount the gearboxes theright way up and this is distinguished by two smalldots in the top of the casing. Once built, you canremove the gearboxes for maintenance by undoingsix screws from the housing – this does not requirethe dismantling of the main chassis so this reducesmaintenance work and time.
---
Laydown radiofollows the latesttrends from thecompetition sceneHPI HELLFIRE SSTHRASH TESTRACER TIPSA key part to being consistent on the trackis having a reliable truck and reliability isinfluenced by the level of maintenance.HPI have gone to great lengths to easeand reduce maintenance tasks on theHellfire SS, which makes life much easier.Another key part is having a good setupand again HPI have made all of theadjustments needed available. Take smallsteps, changing one thing at a time andthe results will be measurable. Put thetime in to get the results out.The neat radio box seesthe switch placed foreasy access but withoutthe chance of it gettingknockedNosram suppliedmost of theequipment includingthe high-capacityVTEC receiver packpurposes, wewent for the factory set-upfollowing the instruction,but many different parts areincluded in the kit, which meansfull adjustability is available.RACING RUBBERHPI Nubz racing tyres are supplied pre-gluedonto lightweight dished wheels using 17mm buggystyle hexes with knurled M17 nuts. The rear hexesare interestingly 7.5mm thick, some 2mm wider thanthe fronts, which is designed to increase steeringwithout loosing rear end grip. The steering isn'tleft out of the design process either as this uses a7075 machined aluminium steering plate with extraHard-coatedshock absorbedbodies withTitanium Nitridecoated shaftsmachiningto reduceweight and addtie rod clearance.The steering tierods are large andsubstantial just like thesuspension rods and a steering servo saver isincorporated in one of the vertical pivot posts.The body comes unpainted yet its neatly precutand trimmed. Large holes are pre-cut in thewindscreen, side window and rear panel allow forCommon to many racingaccess to thefuel tank andengine. Theseholes alsoallow for goodairflow to keepthe enginerunning cool.truggies these daysis a buggy style wing to gain rear down force andthe SS is no exception so the package includes alarge bi-level black wing. The mounting for thewing is adjustable and braced to make it very stronggiving the body some extra protection too. The wingdoes sit fairly low in comparison to the body andcould be doing with being a little higher to allow itto be fully utilised.FULLY EQUIPPEDTo give the SS a performance edge we used varioustop of the range components to get the truckbuzzing. To give the SS some grunt we fitted aNosram RS.28 Monster engine, with a displacementof .28 (4.59ccm) provides this engine with themassive power of 3.81hp for the ultimate drivingfeeling. The RS.28 fitted into the SS's anodisedengine mounting without any modifications and
---
THRASH TESTTAMIYA HPI HELLFIRE TRF501X SSSPEC: 4WD ALLOY CHASSIS CLASS: OFF-ROAD COMPETITION COST: £349.99VERDICTHigh quality performance parts usedPrecision of build and attention to detailLow-slung, competitionHigh level of adjustabilitystyle racing bodyPosition of the rear wingensures goodThe powerful Nosramaerodynamics for theRS28 Monster hidesRacer Rating ★★★★★rear winginside the bodyshellof the Hellfire SSWith much of the influencecoming from racing, theHellfire is very adjustable withplenty of option parts includedHPI's Nubz tyres worked wellduring our testing with theirsmall block tread designoffering good traction andside bite. The tyres are SCompund and are suppliedwith moulded inserts onRace-Fit dished rims