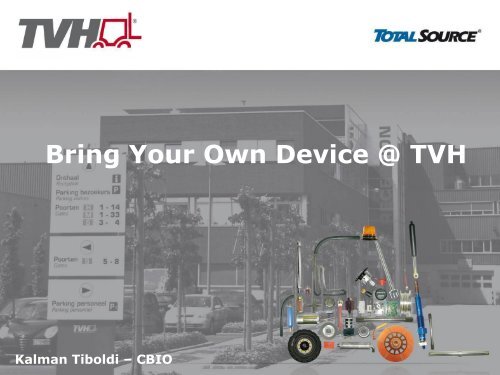 Bring Your Own Device @ TVH - Minoc
Bring Your Own Device @ TVH - Minoc
Bring Your Own Device @ TVH - Minoc
SHOW MORE
SHOW LESS
Create successful ePaper yourself
Turn your PDF publications into a flip-book with our unique Google optimized e-Paper software.
Bring Your Own Device @ TVHKalman Tiboldi – CBIO
---
TVH OVERVIEWPARTS & ACCESSORIES DIVISIONEQUIPMENT DIVISIONRENTAL DIVISIONSERVICE & REPAIR DIVISION• 450.000 SKU's• 16 mil cross ref.• 100.000m² warehousefacilitiesAll parts, All makes!-Not cheap parts but quality partscheaper!-Your one-stop shop for all yourparts & accessories!-The genuine Alternative!
---
TVH OVERVIEWPARTS & ACCESSORIES DIVISIONEQUIPMENT DIVISIONRENTAL DIVISIONSERVICE & REPAIR DIVISIONTVH offers the widest rangeof internal handlingequipment. From hand pallettrucks, stackers, lift tables,hydraulic jacks to lift cranes,hand trolleys and much more…
---
TVH OVERVIEWPARTS & ACCESSORIES DIVISIONEQUIPMENT DIVISIONRENTAL DIVISIONSERVICE & REPAIR DIVISIONNew and second-hand lifttrucks and aerial workplatforms.More than 2000 machinespermanent on stock
---
TVH OVERVIEWPARTS & ACCESSORIES DIVISIONEQUIPMENT DIVISIONRENTAL DIVISIONSERVICE & REPAIR DIVISIONThe TVH Rental Divisionadvises and helps customersmake the right choice, bothfor short-term and long-termprojects
---
TVH OVERVIEWPARTS & ACCESSORIES DIVISIONEQUIPMENT DIVISIONRENTAL DIVISIONSERVICE & REPAIR DIVISIONMore than 65 specialized on-theroadengineers answer all questionson-site, all over Belgium. In thefully-equipped workshop, more than60 in-house engineers work on aneffective solutions for customers
---
International presence• 2700 employees worldwide• 45 companies in 23 countries• 600 mil turnover• 32 languages
---
Enterprise Mobility Is Here• Business communication – Faster decision making• Mobile Information System – Having the right information• Empower employees to be more productive• Improved customer servicesPresent• Communication enabled business processes• Mobile Unified Communication & CollaborationEnable the power of real-time response8
---
Consumerization of ITPresent9
---
"TVH Goes Mobile" ProjectMobileDevicesMobileApplicationsMobile BusinessPlatformMobileCommunication&CollaborationPresentMobileeCommerce10
---
Introducing new mobile devicesWhy ?• Increasing demand for corporate use of Smartphones• Mobile Access To Corporate Information• Tablet PC's for showcasing TVH Products and Services• Bring-Your-Own-Device (BYOD)What we are proposing…• Choose which operating systems/devices to support• Define a Strategy for Mobile Applications• Enforce Security for all Mobile Data• Implement Enterprise Policy for voice and data usagePresent11
---
Mobile Applications• Unleashing the power of mobile applications• Utility components mail/calendar/contacts• Choosing third-party mobile applications• Extend internal applications to mobile devices• Business process improvement through MobilityDeveloping in-house mobile applicationsPresent• Native apps versus device-independent applications• Less is more – functionalities to be deployed• Small-form factor• Choosing the right tools and platforms• Starting with Private Company Appstore12
---
Contacts/Agenda/MailPresent13
---
GIRA Facility Server on iPadPresent14
---
TVH Products and Services on iPadPresent15
---
QlikView BI on mobile devicesPresentUsing native Apps and Ajax16
---
Mobile eCommercePresent17
---
Testing Salesforce on mobile devicesPresent18
---
Jim's Journal on iPadPresent19
---
myEquipmentFinder on Samsung GalaxyPresent20
---
TVH Routing service
---
Mobile Communication & Collaboration• Mobile Device convergence• Dial Via Office• Single Business Number Reach• Single Business Voicemail• Presence ManagementPresent• Web Conferencing using Webex/GoToMeeting• VOIP using IAX/SIP clients• Collaboration using Lotus Sametime/CUPC• Extending TVH wireless network - Home working• New contract with Mobile Operators22
---
Selected company devicesThe same devices are used by many of our employees
---
Factors driving adoption of BYOD• Rapid proliferation of smartphones and tablets• Ease of working outside the office – Business continuity• Staff have relevant equipment• Attract and retain top talent (any age), GenY, home-based workers• Reduce costsPresent• Enterprise ready mobile applications• Mobility moves to the Cloud24
---
Expected benefits from BYOD• Improved employee satisfaction• Increased worker productivity• Greater mobility for workers• More flexible work environments• Improved business continuity• Reduced IT costsPresent• Attracting / retaining high quality staff• Better quality of devices used by workers• Better care and/or longevity of devices• Speeding up the rate of technology adoption25
---
Major concerns related to BYOD• Information security issues , data loss/theft• Potential device/support issues• Financial risks – roaming costs, excessive data consumption• Compliance and legal implicationsPresent• Implementation/management costs• Implementation of flexible enough policies26
---
Security is the major issue• Sensitive data on device which is stolen• Infected personal device connected to corporate network• Malicious apps downloaded by users• Theft of data via uploading to a personal device• Easy to lose or have stolen• Secured network connection - VDI• Remote device wiping• Controlled access to Internet• User and device authentication• Centralized data with a good layer ofsecurity built in to access• Cloud based data / services
---
Technical solutions we are considering• Implementation of Mobile Device Management• Cloud based Internet access through zScaler• Cloud based utility components – Google Apps• Desktop Virtualization• Application development - Company AppStore• Cloud based single-sign-on
---
Mobile Device Management (MDM)• Supporting multiple platforms – Android, iOS, BlackBerry• Centralized IT management for company/private devices• Mobile usage visibility – Expense management• Controlling and optimizing Service Quality• TVH App storefront accessMobile device securityPresent• Connect devices securely to TVH resources• Enforce security policies to protect data• Encryption of data• Role-based access, logging and auditing• Remote lock and wipe29
---
Mobile Iron MDM• What happened?• What is happening?• Why did it happen?• What will happen?• What do I want to happen?Present30
---
Having clear policies set in placeMobile device usage must be governed by an acceptable use policy• Which BOYD model ? Is it truly BYO or company will offer a stipend ?• Predefined list of allowable devices and applications• Policies and contracts that clearly state who owns what data• Remote wiping policy if device is infected or stolen• Installment of hypervisor or remote-control software• Clear rules for user authentication• Process and timeline for removing company access, data, and securesoftware from device when it will no longer be used• Support policies that outline when issues will be handled by IT, the enduser or the device manufacturer.
---
How to implement it ?• Don't just say "NO" to BYOD• Be prepared to give up some control• Listen to the end users• Consider a pilot program - research and test your approach• Define different user profiles• Document and communicate a clear set of policies• Adopt a reasonable reimbursement• Plan your mobile application development policy• Plan for a more complex support burden• Prepare your helpdesk for the task
---
Thank you for your time!