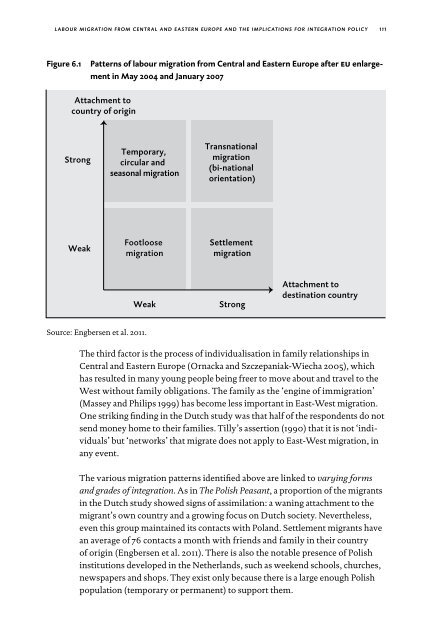 Making Migration Work - Wetenschappelijke Raad voor het ... Making Migration Work - Wetenschappelijke Raad voor het ...
labour migration from central and eastern europe and the implications for integration policy111Figure 6.1Patterns of labour migration from Central and Eastern Europe after eu enlargementin May 2004 and January 2007Attachment tocountry of originStrongTemporary,circular andseasonal migrationTransnationalmigration(bi-nationalorientation)WeakFootloosemigrationSettlementmigrationWeakStrongAttachment todestination countrySource: Engbersen et al. 2011.The third factor is the process of individualisation in family relationships inCentral and Eastern Europe (Ornacka and Szczepaniak-Wiecha 2005), whichhas resulted in many young people being freer to move about and travel to theWest without family obligations. The family as the 'engine of immigration'(Massey and Philips 1999) has become less important in East-West migration.One striking finding in the Dutch study was that half of the respondents do notsend money home to their families. Tilly's assertion (1990) that it is not 'individuals'but 'networks' that migrate does not apply to East-West migration, inany event.The various migration patterns identified above are linked to varying formsand grades of integration. As in The Polish Peasant, a proportion of the migrantsin the Dutch study showed signs of assimilation: a waning attachment to themigrant's own country and a growing focus on Dutch society. Nevertheless,even this group maintained its contacts with Poland. Settlement migrants havean average of 76 contacts a month with friends and family in their countryof origin (Engbersen et al. 2011). There is also the notable presence of Polishinstitutions developed in the Netherlands, such as weekend schools, churches,newspapers and shops. They exist only because there is a large enough Polishpopulation (temporary or permanent) to support them.
More magazines by this user