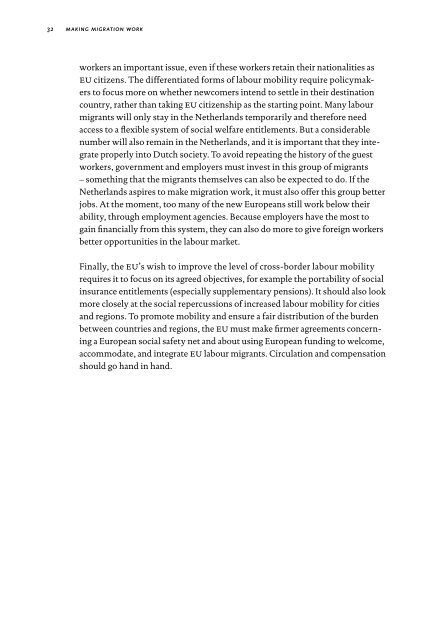 Making Migration Work - Wetenschappelijke Raad voor het ... Making Migration Work - Wetenschappelijke Raad voor het ...
32making migration workworkers an important issue, even if these workers retain their nationalities aseu citizens. The differentiated forms of labour mobility require policymakersto focus more on whether newcomers intend to settle in their destinationcountry, rather than taking eu citizenship as the starting point. Many labourmigrants will only stay in the Netherlands temporarily and therefore needaccess to a flexible system of social welfare entitlements. But a considerablenumber will also remain in the Netherlands, and it is important that they integrateproperly into Dutch society. To avoid repeating the history of the guestworkers, government and employers must invest in this group of migrants– something that the migrants themselves can also be expected to do. If theNetherlands aspires to make migration work, it must also offer this group betterjobs. At the moment, too many of the new Europeans still work below theirability, through employment agencies. Because employers have the most togain financially from this system, they can also do more to give foreign workersbetter opportunities in the labour market.Finally, the eu's wish to improve the level of cross-border labour mobilityrequires it to focus on its agreed objectives, for example the portability of socialinsurance entitlements (especially supplementary pensions). It should also lookmore closely at the social repercussions of increased labour mobility for citiesand regions. To promote mobility and ensure a fair distribution of the burdenbetween countries and regions, the eu must make firmer agreements concerninga European social safety net and about using European funding to welcome,accommodate, and integrate eu labour migrants. Circulation and compensationshould go hand in hand.
More magazines by this user