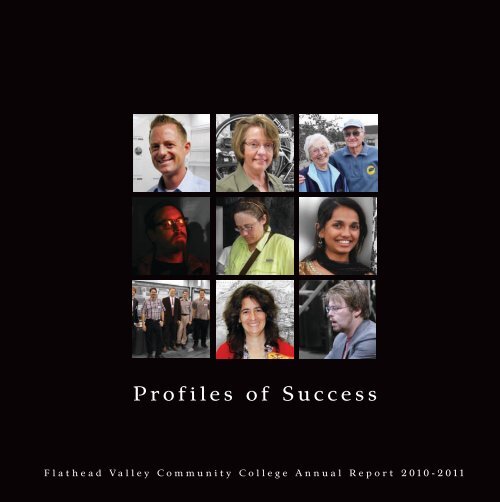 Annual Report 2010-2011 - Flathead Valley Community College
Annual Report 2010-2011 - Flathead Valley Community College
Annual Report 2010-2011 - Flathead Valley Community College
SHOW MORE
SHOW LESS
You also want an ePaper? Increase the reach of your titles
YUMPU automatically turns print PDFs into web optimized ePapers that Google loves.
Profiles of Success

Flathead Valley Community College Annual Report 2010-2011
---
A Message from the President

am honored to be celebrating my 10th year as president at

I Flathead Valley Community College. During my tenure,

FVCC's student enrollment and campus have doubled in

size to provide unlimited educational opportunities to our

students and to better serve our community.

I have been fortunate to represent our college, our

community and our state on the national level. I was

honored to attend the first-ever White House Summit on

Community Colleges, chaired by Jill Biden, Ph.D, that

focused on the critical role community colleges play in

achieving America's workforce and educational goals.

I also had the distinct privilege of presenting U.S. Senator

Max Baucus with the 2011 National Education Service

Award at the Community College National Legislative

Summit in Washington, D.C. This summer, I was honored

to be among 36 experts in education, business, policy

and communications invited to serve on the American

Association of Community College's 21st Century

Commission on the Future of Community Colleges

supported by the Bill and Melinda Gates Foundation.

We are grateful for your support which has enabled us to provide an outstanding education and limitless opportunities to our

dedicated students and our hardworking community. Thanks to you, we have become an exceptional college.

It is my great pleasure to share with you some of our success stories. This is a small sample of the many lives our college has

touched. These stories are intriguing, inspiring and real. They are what define FVCC and who we are.

Warm regards,

Jane A. Karas, Ph.D.

President
---
We are FVCC.

1
---
2

Andrew Crawford

Former professional

snowboarder Andrew

Crawford who toured with

Olympic gold medalist Shaun

White left his 10-year career

to return to college to study

engineering. When he signed

up for classes at FVCC, he

never imagined he would

become a NASA scholarship

award winner, win a NASA

rover design contest involving

a trip to the Houston space

center and later a paid summer

internship with NASA in

California. Following his

graduation from FVCC this

spring, Andrew transferred

to Montana State University

in Bozeman to continue

his studies in aeronautical

engineering.

I am FVCC.
---
Bill McClaren, the last living original founder of Flathead Valley Community College, and his wife,

Lois, were awarded the college's prestigious Eagle Award for the 2010-2011 academic year. Bill

served as FVCC's first employee, head guidance counselor and dean of students in the challenging first

years of the college. On any given week, you can find Bill and Lois, two of FVCC's greatest advocates,

actively engaged in the college, whether they are teaching a class, volunteering, attending events or

activities or maintaining the FVCC Arboretum.

"Bill was the caring, gentle leader of FVCC – the anchor and the steady glue that

kept the infant college alive, and Lois was the wind beneath his wings. Without

the vision of these individuals, FVCC might not exist."

~ Jane A. Karas, Ph.D.

FVCC President

Bill & Lois McClaren

We are FVCC.

3
---
4

Dr. Christina Relyea

Natural Resources Instructor Christina Relyea, Ph.D., traveled to Haiti where she

joined a team of volunteers who spent eight days operating a medical clinic and

providing food aid, water education and water purifying tablets to the people of Haiti. Dr.

Relyea utilizes her experience by integrating it into her classes.

I am FVCC.
---
The Broussard Family gave Flathead Valley Community

College $4 million, the largest gift ever given to the college,

to build a Nursing and Health Science Center as a tribute to the

late Rebecca Chaney Broussard. The facility will house classes

and labs for FVCC nursing programs as well as other health

science programs. It also will include a student health clinic to

provide affordable basic health care services to FVCC students.

Through the previous generosity of the Broussard family, the

Jerome and Rebecca Broussard Family Endowed Scholarship

Fund at FVCC was established in 2003. The fund has grown to

over $1.2 million and has provided 229 students with scholarships.

We are FVCC.

The Broussard Family

"FVCC touches the lives of so many people in our

community in many ways. We wanted to recognize

Becky's extraordinary life as a nurse and philanthropist

and build a lasting legacy for Becky who deeply cared

about nursing and the community."

~ Jerome Broussard

We are FVCC.

5
---
6

FVCC's Logger Sports Team

FVCC's Logger Sports Team took home the top national title of Western Collegiate Logging Sports

Champions after defeating 12 teams including Division I schools. Team members were awarded

commemorative championship glasses for their achievements. Throughout the national championship's

history, FVCC has won 13 of the 25 national titles, making it the most successful logger sports team

in the nation.

We are FVCC.
---
Margaret LeKander

M

argaret LeKander,

owner of Wheaton's in

Kalispell, received FVCC's 2011

Distinguished Alumni Award.

Deemed "downtown Kalispell's

biggest supporter," LeKander

has successfully owned and

operated the business for

over 35 years. LeKander was

named Business Woman of the

Year in 1997 by the Kalispell

Chamber of Commerce, and

in 2009, the Flathead Beacon

named her one of its Business

People of the Year. In addition

to her career achievements,

she has served on the boards

of Kalispell Downtown

Association, Kalispell Business

Improvement District, the

City of Kalispell's Brownfield

Steering Committee, Center

for Restorative Youth Justice

and the Job Service Employer

Council.

I am FVCC.

7
---
8

David Smith photo credit: Dan Hafferman

Ceramics Instructor David Smith was one of 18 artists invited to participate in a

national traveling exhibition featuring works by Montana ceramic artists. He

also was one of 45 artists among 1,000 applicants whose works were exhibited at

the 2011 National Council on Education for the Ceramic Arts Biennial Show at the

Tampa Museum of Art. In addition, Smith was published in the September/Octo-

ber 2010 issue of Pottery Making Illustrated, the leading ceramic art magazine in the

United States.

I am FVCC.
---
Anmol Manchala came

to the Flathead Valley

as part of the Youth With

a Mission, an international

volunteer organization dedicated

to changing lives for those in

need. A native of India, she

grew up with the organization

living and traveling throughout

many parts of the country and

watching both her parents

work to improve countless lives.

Manchala is carrying on the

family tradition by helping those

in need in Northwest Montana,

and this summer, she traveled to

Brazil to help the less fortunate

of São Paulo. A member of

the first Scholars Program

class, Manchala was one of six

FVCC students who served as

a liaison officer for the Asia-

Pacific Economic Cooperation

in Big Sky this spring. After she

completes her college education,

she hopes to return to India as a

physician to help the children of

the streets who are in desperate

need of medical care.

I am FVCC.

photo credit: Raju Manchala

Anmol Manchala

9
---
Chemistry Students Daniel Therrien, Al Steiner, Jonathan Burden, Jacob Harris,

Patrick Ingham and Nicole Therrien, along with their instructor Paul Martino,

Ph.D., second from left, attended the American Society for Mass Spectrometry

10

Chemistry Students

Conference in Denver. The group presented groundbreaking research on protein

folding, and the students were among 2,700 presenters at the global conference.

We are FVCC.
---
Joshua Kelly

Joshua Kelly is a 22-year-old

Equity-Eligible actor who has

performed in various capacities

in theatre for over 17 years, has

received awards and recognition

from The National Endowment

for the Arts, and as an actor,

has taken part in well over 100

productions. Some of his career

highlights include performing

on stage with an entire cast of

Emmy Award-winners, serving as

primary speaker for the National

Book Festival in Washington

D.C., and winning Montana

State Champion in Serious

Oral Interpretation for his

performance of Antonio Salieri

in "Amadeus." After spending

two years performing for a

professional theatre company

in California, Kelly returned to

the Flathead Valley and enrolled

at FVCC to begin his college

studies in neuropsychology. Since his

return, he has starred in several wellreceived

plays, including "Cabaret,"

"Evil Dead: The Musical," "The

Pillowman" and "Pygmalion" and has

artistically directed all over the valley,

including the largest show in FVCC

Theatre history, "Evita," which had a

completely sold out run.

I am FVCC.

11
---
Dr. Janice Alexander

Chemistry Instructor

Janice Alexander,

Ph.D., united with 16 other

faculty members from

across the nation in South

Africa to participate in the

Women in Higher Education

Professional Delegation to

South Africa initiative.

Under the auspice of People

to People Professional

Ambassadors program, the

12-day mission involved

visiting various universities

to speak with faculty and

students and to collect

information pertaining

to what South African

people expect of the higher

education system and the

main educational challenges

facing South African women

in higher education today.

12

I am FVCC.
---
Shantel Williams found herself in a hard place after becoming the single mom of her young son, Kagin.

Shantel, who has battled dyslexia all of her life, purposely avoided working in jobs that involved reading. She

grew tired of becoming dependent on government assistance to survive, so she decided to enroll at FVCC. She

went from fearing written words to becoming a work study student in the library, a staff member of The Mercury

News student newspaper and a graphic design teaching assistant. She earned a degree in Information Technology

and Web Technology from FVCC this spring, and she is now a successful entrepreneur who owns three companies.

I am FVCC.

Shantel Williams

13
---
14

Lowell Jaeger

While Lowell Jaegar is not busy teaching creative writing and journalism and serving as the faculty

advisory of FVCC's The Mercury News student newspaper, his small office doubles as the world

headquarters of FVCC's Many Voices Press, a nonprofit small literary press he founded in 2005 and

operated by nonpaid volunteers, including himself as editor. MVP has funded the publication of five

books containing collections of poems from various poets across Montana and the western United States,

including "New Poets of the American West," which generated over 50 literary reading events in some of

the West's most prominent independent bookstores in Denver, Los Angeles, Seattle and Portland, among

others. This spring, Montana Governor Brian Schweitzer and Lieutenant Governor John Bohlinger

presented Jaegar the 2011 Montana Governor's Humanities Award. Later this year, his book, "We,"

received a 2011 Paterson Award for Literary Excellence.

I am FVCC.

"Lowell is an exceptional asset to our college, our students, our community and

Montana's poet society. His creativity and entrepreneurial spirit have resulted

in many Native American poets and poets in the rural communities of the West

achieving their goals and dreams of becoming published authors."

~ Jane A. Karas, Ph.D.

FVCC President
---
Kathy Emerson

Kathy Emerson's mission to raise

awareness for the fight against

cancer and to advocate for affordable

health care began when her oldest son,

Alex, was diagnosed with leukemia at

the age of 12 and then two years later

non-Hodgkin's lymphoma. Today, she

volunteers at Shepherd's Hand Free Clinic

in Whitefish and works at North Valley

Hospital as a certified nurse's aide on the

medical/surgical floor and continues to

care for others, particularly cancer patients

undergoing treatment, while working

toward earning a Bachelor of Science in

nursing through Montana State University.

During FVCC's spring 2011 commencement,

Emerson was recognized by National

Campus Compact President Maureen

Curley for being one of 135 students across

the country to receive the Campus Compact

Newman Civic Fellow Award.

I am FVCC.

photo credit: Daily Inter Lake/Brenda Ahearn

15
---
16

Ben Woody

Ben Woody fell from a shining star

in high school to a very dark place.

He was diagnosed with major depressive

disorder, and in one year, his grade point

average plummeted from 4.0 to 2.0. After

a hiatus from school, Ben came to FVCC

where the college welcomed him with

open arms. Woody thrived as editor-inchief

of the college's student newspaper,

The Mercury News. Before graduating

from FVCC this spring, he was awarded a

Georgetown Journalism Scholarship, and

this summer he completed an internship

in Washington, D.C. This fall, Woody is

continuing his studies in journalism via

distance education through The University

of Montana.

I am FVCC.
---
Ivan Lorentzen

Ivan Lorentzen calls joining the FVCC faculty in 1971 at the age of 24 a "fortunate

accident" as his position was funded through a grant that was awarded at the

last minute. Forty years later, Lorentzen is still going strong as the college's longeststanding

employee and director of The Scholars Program at FVCC, a program

for highly-motivated honors students founded in 2009. Last year, Lorentzen was

honored at the Association of Community College Trustees Leadership Congress in

Toronto, Ontario, Canada, for winning ACCT Faculty Member of the Year for the

Western Region.

I am FVCC.

17
---
18

G. George Ostrom

In 1966, Flathead Valley radio icon G. George Ostrom joined forces with Flathead Valley Community College's original

founders to advocate the need for a community college to the citizens of Flathead County. One year later, FVCC

opened its doors. Throughout the college's history, Ostrom has remained one of the FVCC's biggest supporters, whether

sitting on the first advisory board, serving on the Board of Trustees, teaching history or speech courses or reporting the

college's 'good news' on his morning radio program. FVCC President Jane Karas recognized Ostrom's vision, leadership,

integrity and passion by presenting him with her sixth annual Montana Mentor Award this spring. The awards adds

to the national award-winning columnist and book author's long list of achievements from winning The University of

Montana's Distinguished Alumni Award to being inducted into the Montana Broadcasters Association Hall of Fame.

I am FVCC.

"His vision of a local college in

a community like the Flathead

Valley has benefitted women and

men seeking to better their lives

and has significantly impacted

the economy in Northwest

Montana. His contributions to

the education community are

immeasurable, abundant and

significant."

~ Jane A. Karas, Ph.D.

President
---
At the age of 23, Steve Leavitt, Jr. underwent

heart surgery to clear a 90 percent blockage.

After his recovery, the amateur radio expert enrolled

at FVCC with the goal of becoming the first member

of his family to earn a college degree. His computer

science instructor Nick Thiel took note of his gifted

abilities after 178,000 people downloaded his class

project five weeks after it launched on the Web and

Steve Leavitt, Jr.

nominated Leavitt for the 2011 Terry O'Banion Student

Developer Champion Award. He won, designating him

one of three students in the nation to receive a student

technology award through the League for Innovation.

Today, he is working with Montana Disaster and

Emergency Services to develop hardware to support

a back-up communications system in the event of a

catastrophic emergency.

I am FVCC.

19
---
20

Daniel and Michelle Seymour

Brother and sister Daniel and Michelle Seymour were

born in Tokyo, Japan, and raised in the Flathead

Valley. In their early teens, their family uprooted back

to Japan to help their grandparents' church. When the

Seymours returned, Michelle and Daniel were ready

to begin college but had a difficult time adjusting to

the cultural differences. They were thankful FVCC

was there to help them with the transition. Among

the first class of Scholars Program graduates, Michelle

was awarded a 2 Plus 2 Honor Scholarship from the

Office of the Commissioner of Higher Education, and

this fall, she transferred to Montana State University

to continue her studies in secondary education and

Japanese studies. Daniel founded his own professional

photography company, Sharpeye Photography, and is a

staff photographer for 406 Woman magazine.

We are FVCC.
---
Kalispell native John Engebretson

was elected to the FVCC Board of

Trustees in 1991 and was dedicated to

his service on the Board for 20 years. A

graduate of Flathead County High School,

Engebretson served in the United States

Army and earned a Bachelor of Arts from

St. Olaf College. Following his service,

Engebretson returned to Kalispell with

his brother-in-law to operate a concrete,

gravel and general construction business.

After selling the business, he worked for

the Montana Department of Labor and

Industry for over 20 years and retired as a

supervisor at Kalispell Job Service. From

1958 through 1977, Engebretson, alongside

Moose Miller, announced Flathead Braves

high school football and basketball games

on the radio and, together, they generated a

large following of sports fans. As an FVCC

Trustee, Engebretson served as Board chair

for over 10 terms. In 2008, he was honored

with the college's most prestigious award,

the Eagle Award, and was recognized by

FVCC President Jane A. Karas, Ph.D., with

the third annual Montana Mentor Award

created to honor remarkable Montanans who

every day inspire us with their leadership,

vision, integrity and passion.

John D. Engebretson

1932 - 2011

I am FVCC.

21
---
22

2010 - 2011 Highlights

Scholars Program

The Scholars Program at FVCC recognized members of its

first graduating class during the 2011 Scholars Conference

on Student Research. Thirteen scholars students in total

were presented special medallions to commemorate their

achievements and to wear at commencement.

Big Night

The FVCC Art Department's Big Night fundraiser raised

funds to create three $4,000 student scholarships

for its 2012 Semester in Venice program. The gala was

comprised of an Italian-inspired dinner created by FVCC

culinary arts students and instructor Chef Howard Karp

a showing of the hit film "Big Night", an Italian-themed

live auction, a Venice photo exhibit by Photography

Instructor Peter Hertlein, paintings and a journal exhibi

by 2011 Semester in Venice students and presentations by

Semester in Venice alumni.

Phi Theta Kappa

FVCC applauded its largest group of new Phi Theta Kappa

members during the international honor society's fall 2010

induction ceremony. Seventy-seven FVCC students were inducted

into the Alpha Iota Pi Chapter of Phi Theta Kappa.
---
Senior Institute

Flathead Valley Community College

welcomed a record number of students

to its 17th annual Senior Institute this

spring. The program enrolled more than

260 senior citizens 62 years of age and older

and involved a series of 14 credit classes

with subjects ranging from ceramics, the

Civil War and beginning yoga to ceramics,

computers and line dancing.

All Sky Camera Network

Under the direction of Physics Instructor Jim Boger, FVCC is the first

institution in Montana and outside of the state of New Mexico to

participate in the All Sky Camera Network. The program, developed and

operated by New Mexico State University, involves a nationwide system

of cameras to track, monitor and analyze atmospheric meteor events to

assist satellite operators in

separating natural and manmade

events.

Spring Break in London

English and Theatre

Arts Instructor Brian

Bectold led a group of

students during FVCC's

first London spring break

tour. Students earned up

to six credits while touring

the city's landmarks and

historic sites.

AT&T Grant

FVCC was one of three

colleges in the nation

to receive a $25,000

AT&T Technology and

Environment Award to

fund research to investigate

the impact of information

and communications

technology on the study

and management of wolves

in Northwest Montana.

Biology Instructor Ruth

Wrightsman, Ph.D., Natural

Resources Instructor Christina Relyea, Ph.D., and FVCC President Jane

Karas, Ph.D., were presented the grant by AT&T Montana President Adam

Gryzbicki along with Mark Baker, Senator Bruce Tutvedt, Senator Jon Sonju

and Joe Unterreiner.

23
---
FVCC honored its largest class of practical nursing graduates

comprised of 17 students. The graduates participated in a

traditional pinning ceremony to honor their accomplishments.

24

Practical Nursing

Mobile Welding Classroom

Trades instructors Roddy Hill, Tim Creighton and Hugh Naldrett

and electrical technology students Mick Lewis, Hal Treat and Mark

Bowman, Sr. renovated a tractor trailer into a mobile welding classroom

that contains 10 welding stations. The trailer was transported to the

FVCC Lincoln County Campus to train Libby and other area residents

to become certified welders through the American Welding Society.

Those who pass the program will be certified welders and eligible to be

considered for employment at Stinger Welding Inc. in Libby.

Multicultural Events

FVCC hosted a number

of public multicultural

events throughout the

year from traditional

Balinese mask dancing

presentations by mask

carver Made Surya of Bali,

Indonesia, to a Native

American Round Dance.
---
Montana Bison Summit

FVCC and Humanities Montana teamed up to present

the Montana Bison Summit this spring. The event

featured presentations by leaders within Montana's

Bison ranching, wildlife, conservation, activist and

tribal communities who addressed various issues

concerning bison sustainability in Montana. The event

featured multiple showings of the critically acclaimed,

newly-released documentary, "Facing the Storm: The

Story of the American Bison," and a question-andanswer

segment with the award-winning filmmaker

Doug Hawes-Davis (pictured on the left with summit

organizer George Shryock.)

MetiMan Hi-Fi Simulators

Through a U.S. Department of Labor Strengthening

the Indigenous Nursing and Emergency Workforce

Community Based Job Training Grant, FVCC received

two MetiMan high-fidelity simulators. The cuttingedge

patient simulators are mannequins equipped with

human characteristics and responses providing nursing

and paramedicine students new opportunities to develop

critical thinking skills and apply the information they

learn in their classes through realistic patient situations.

Visiting Artist

FVCC welcomed a number of visiting artists including

South African Master Painter Ryno Swart. In

addition to Swart conducting a five-day workshop,

the college hosted a free exhibition of his works and a

kick-off reception inviting the community on campus

to meet the master artist, one of South Africa's most

accomplished premiere oil painters.

25
---
The FVCC Board of Trustees, President Jane Karas, Ph.D.,

and the faculty recognized retired faculty Robert Beall,

Ph.D., Tom Jay and Jeanette Oliver, Ph.D., as Emeritus

Honorees for serving FVCC with distinction over their lengthy

careers and for their meritorious and significant contributions

to the college.

Jewelry students and

instructors Karen

Chesna, Janet Fischer

and Karen Kolar

traveled to Helena to

present the pictured

commemorative coins

to Montana legislators. The coins were designed by jewelry

student Justin Rubalcaba and produced by FVCC jewelry

students and faculty using the jewelry lab's new computer

numerical control mill and equipment.

26

Emeritus Honorees

Montana Commemorative Coins

Montana Campus

Compact Conference

FVCC hosted the

2010 Building

Engaged Citizens

Conference.

Approximately 120

Campus Corps members from across Montana gathere

at FVCC to network and participate in skills training an

community service projects.

APEC Liaison Officers

FVCC students (L-R) Becca Eisenman, Michell

Seymour, Erik Emery, Katy Steiner, Kyle Koslosky

Anmol Manchala and Jim Boer were appointed to serve a

liaison officers for the Asia-Pacific Economic Cooperatio

ministerial meetings in Big Sky. Approximately 1,50

delegates from the 21 APEC economies across the glob

convened to engage in high-level trade negotiations.
---
FVCC Foundation Highlights 2010-2011

uring the 2010-2011 academic year, 390 FVCC students received $472,594 in FVCC and community scholarship support.

Festival of Flavors Raises Record $50,000

The FVCC Foundation's Festival of Flavors 2010 fundraising

event raised a record net income of approximately $50,000

for student scholarships and programs at FVCC. The 10-day

festival comprised of 12 events highlighted nine of the Flathead

Valley's finest chefs and FVCC culinary arts students. The

event kicked off with special performances by The University of

Montana's Monte the Grizzly and Miss Montana and Montana

State University student Kacie West and culminated with a

grand wine tasting event.

Scholarship Luncheon

The FVCC Foundation welcomed a record crowd of

222 guests for its 17th annual Scholarship Awards

Luncheon. Mary Lou Hartman, Naomi Perry and Tom Perry,

Jr. (pictured) were among the guests at the event.

Ambassadors and Alumni

The Ambassadors and Alumni, whose mission is to serve as advocates

for the college, hosted several events for alumni and friends of the

college. Seventeen students were recruited to assist the Foundation with

public events and to share their stories about FVCC. Below: Student

Ambassador Tamara Gilham and Lois Robinson, a member of FVCC's

first graduating class, attended the spring A&A luncheon.

27
---
FVCC Foundation Highlights 2010-2011

Bibler Home and Gardens

This Mother's Day weekend,

Bibler Home and Gardens

debuted to tour goers its complete

internationally-recognized

collection of exquisite Persian

tribal rugs never before seen in

its entirety. Author and noted

Persian rug expert James Opie

was on hand at the kick-off event to

discuss the significance of the rugs

in the collection and share stories

of his 35-year friendship with the

Bibler family. In addition, guests

were treated to a Mother's Day

champagne brunch. Combined,

the Bibler Home and Gardens

spring and summer tours were

attended by 465 guests and raised

$8,463 to support FVCC student

scholarships and programs.

President's Donor Dinner

record crowd of nearly 300 guests

A attended the 16th annual President's

Donor Dinner.

28
---
2010-2011 Honor Roll of Donors

Gifts and pledges received between July 1, 2010, and June 30, 2011

We gratefully acknowledge the following friends and businesses for their confidence and investment in the students and programs at Flathead Valley

Community College. The Honor Roll of Donors includes donors who have contributed from July 1, 2010 to June 30, 2011.

The Heritage Society

The Heritage Society is composed of friends who have remembered Flathead Valley Community College through establishment of

an FVCC endowment fund, bequest, will or other planned gift – establishing a lasting legacy.

AAUW

Ruth Ackroyd Mentor Endowed Scholarship Fund

Kathy and Greg Barkus

The Beyer Family Foundation

Founding President, Dr. Larry J. Blake, Sr., Endowed Scholarship Fund

Kim and Mick Blodnick

William M. Boehme, M.D.

John Bowdish

Jerome and Rebecca Broussard Family Endowed Scholarship Fund

The Mary Grace Houlberg Certainty Scholarship Endowment Fund

Theodore Chase Honors Symposium Endowment Fund

Diamond Marketing Inc./Diamond Auto Glass

Selma Dodge Memorial Endowed Scholarship Fund

Ila B. Dousman Endowed Scholarship Fund

Rose and James Ennis Endowed Scholarship Fund

Mary Fetter Endowed Scholarship Fund

Flathead County Tavern Association Endowed Scholarship Fund

Flathead Electric Cooperative, Inc. Endowed Scholarship Fund

Flathead Valley Community Theatre Endowment Fund

Marion Foley

Glacier Bank Endowed Scholarship Fund

Jim Gordley Endowed Scholarship Fund

Lawrence A. Goroski Memorial Endowed Scholarship Fund

Eugene E. and Barbara P. Graf Memorial Endowed Scholarship Fund

Ora and Stanley Halvorson Endowed Scholarship Fund

Ella Hanley and Jacobson Family Endowed Scholarship Fund

Thelma Hetland

Mark Hodgson and Dorothy Jaquette Hodgson Memorial Scholarship Fund

Marjory and Alvin Jacobson Memorial Art Scholarship

Charlotte Kempf Johnson Endowed Scholarship Fund

Rita Johnson Endowment Fund for Nursing Students

Viola Jore Memorial Scholarship Fund

Junkermier, Clark, Campanella, and Stevens

Lil and Jim Laidlaw

Marcia and Tom Laux

Karen Longhart Memorial Mathematics Education Endowed Scholarship Fund

C. K. Logue Endowed Scholarship Fund

Ellen and John MacMillan Endowed Scholarship Fund

Mattson Memorial Scholarship Fund

Walt and Mary Louise Mauritson Memorial Endowed Scholarship Fund

Bill and Lois McClaren Endowed Scholarship Fund

Perry and Luella Melton and Stephen F. Hagel Memorial Scholarship Fund

Kathryn and Chuck Mercord

Meredith Construction Co. Endowment for Building and Construction Trades

Curtis and Evelyn Mitchell Memorial Endowed Scholarship Fund

The Morton Endowment Fund

Paul Boe Mosby Memorial Endowed Scholarship Fund

Thomas C. Perry Endowed Scholarship Fund

Dustin Petersen Memorial Endowed Scholarship Fund

Red Lion Hotels Endowed Scholarship Fund

Rhoades Family Endowed Scholarship Fund

Mel Ruder – Ruder Educational Fund

Christopher Savage Memorial Endowed Scholarship Fund

Sliters Ace Lumber and Building Supply Endowed Scholarship Fund

Owen E. Sowerwine, Alton Pearce, and

Milton Mercord Memorial Scholarship Fund

Robbie Sullivan Endowed Scholarship Fund

Sullivan Family Endowed Scholarship Fund

Cal Tassinari/Flathead Land Trust Endowed Scholarship Fund

Mary Treloar Endowed Memorial Scholarship Fund

TRIO Employee Endowed Scholarship Fund

Dick Uhde Endowed Memorial Scholarship Fund

Paul D. Wachholz

Suzy and Paul Williams

Paul T. Williams Memorial Endowed Scholarship Fund

Winter Sports, Inc.

29
---
Golden Circle

$1,000 and Above

AAUW

General Henry H. Arnold

Education Grant Program

Cherie Anderson

Gretchen and Michael Apgar

Associated Logging Contractors, Inc.

Marie and Michael Auten

Anna Marie and David Bailey

Baraga Area Schools

Bethlehem Lutheran Church

Bibler Foundation, Inc.

Big Sky Exxon

Bigfork Lady Lions

Margaret and Larry Blake, Jr.

Kim and Mick Blodnick

Leslie Breaux

Rebecca and Jerome Broussard

Patsy and Hayes Bryan

Susie and Art Burch

Jean and Peter Butcher

CTA Architects Engineers

John Chaney

Charlo School District #7

Chenega Future Inc.

Stephanie and Dana Christensen

Chugach Heritage Foundation

Marie and Brian Clark

Kim Clausen and Melissa Davis

The Cobb Foundation

Anne and John Collins

Connie and George Colonius

Columbia Falls Lions Club

Columbia Falls School District #6

Comanche Nation

The Daily Inter Lake

Jim and Doris Daley Foundation

Darby High School

George Darrow

Dearborn Ranch Scholarship Fund

Don "K" Chevrolet-Subaru

Ila B. Dousman Fund, Inc.

Susan Ennis

Evergreen School District #50

Ann and Dan Fey

First Interstate Bank

The Flathead Beacon

Flathead County Democratic Women

Flathead County Republican Women

Flathead Electric Cooperative, Inc.

Flathead Farm Mutual Insurance Co.

FVCC Adjunct Faculty Union

FVCC Student Senate

Fun Beverage, Inc.

President's Club

This is a special group of friends of FVCC with great dedication.

Their generosity provides strength, educational excellence, and funding for the future.

Mary and Harry Gibson

Glacier Bank

Nancy Gordley

Richard Gordon and Cheryl Watkins

Nancy and David Greer

Donna and Phil Harris

Fay Harwood

Hilda Hatlen Scholarship Fund

Hawkins Scholarship Foundation

The Health Center

Herriges Family Scholarship Fund

Herrin Scholarship Fund

Charlene Herron

Charlotte and Wilson Higgs

Lynne and Jack Hilleboe

E. A. Hinderman Memorial

Scholarship, Inc.

Holy Trinity Episcopal Church

Heather and Derek Houseworth

Howard Scholarship Fund

Mary and Poul Houlberg

Kathy and John Hughes

Immanuel Lutheran Home

Institute for Socioeconomic Studies

Jackola Engineering and

Architecture, P.C.

Laura and Chuck Jensen

The Johnson Family – Rita,

Reesie, and Ann

Sharon and Steve Johnson

Ann Jones

Jordahl & Sliter, PLLP

Kalispell Daybreak Rotary

Kalispell Farmers Market

Kalispell Lions Club

Kalispell Regional Medical Center

Jane Karas and John Goroski

Mary and Lee Kaufman

Almeda and Jack King

Debbie and Terry Kramer

Kroger Company Foundation

Scholarship Fund

Carol and Kurt Larson

Donna and L. Peter Larson

Anita and Jack Lavin

Deanne and Jim Lehner

Cindy and Jeff Lewis

Lincoln Electric Co-op, Inc.

C. K. Logue Trust

Fred Longhart

Mary Ann and Curtis Lund

Ellen and John MacMillan

Kevin Marshall

McDonald's

Mille Lacs Band Scholarship Fund

Missoula County Scholarship Fund

Missoula Federal Credit Union

Montana Innkeepers Association

Montana Police Protective

Association Foundation

Montana Woman Foundation

Moody Bible Institute

MTB Management, Inc./Taco Bell

Nadeau/Senft Scholarship Fund

Helen and Van Kirke Nelson

North Valley Hospital

North Valley Hospital Auxiliary

Northwest Montana Retired

Educators Association

NXGEN - Jamie and Giuseppe

Caltabiano

Kim and Bob Nystuen

Ivan O'Neil

Northstar Fund Scholarship

Jennet and Edith Orr

Scholarship Fund

Gwyn and Andy Palchak

Marylou and Tony Patterson

PEO Chapter BM

PEO Chapter C

Plum Creek

Polson Dollars for Scholars

Alice Ritzman Golf Tournament Scholarship

Fund

Grace Ritzman Scholarship Fund

Julie and Bill Robbins

Rocky Mountain Bank

Rotary Club of Whitefish

Char Rygg

Patricia and Simmons B. Savage, III

Alex Saylor and Kelly Baisch

Dick Schaus

Lisa and Tim Schnee

Scholarship America

Donna Scholl

James Sewell

Shriner's Hospital –

Patrick Scholarship Fund

Margie and Larry Simpson

Ralene and Tom Sliter

Smith Valley School District #89

Sokaogon Chippewa Community

Soroptimists of Whitefish

Southwest Airlines Pilots' Association

Owen E. Sowerwine Endowment

Fund, Inc.

Sportsman & Ski Haus

Velinda and Mark Stevens

Joyce and Robin Street

Student Assistance Foundation

Shirley and Ed Sullivan

The Sustainability Fund

John L. and Ann Taylor

Scholarship Fund

The Tracy Foundation/ Sherry

and Peter Tracy

The Treacy Company

Troy Youth Scholarship Fund

Colleen and Joe Unterreiner

Valier Education Foundation

Faye and Neil Van Sickle

Veni Legi Vici Scholarship Fund

Dennis & Phyllis Washington

Foundation

Wells Fargo Bank

Whitefish Credit Union

Whitefish Kiwanis Club

Whitefish Mountain Resort

Suzy Williams

The Windmill Foundation, Inc.

Pat and R. Dennis Winkel

Two Anonymous Donors

Silver Circle

$500 to $999

April Acey

Ruth and David Ackroyd

American Homestead Mortgage

Arizona Community Foundation

Assemblies of God

Augusta School District #45

Thomas Beaubien

Jennifer Bowman

Stephanie and Justin Breck –

Kaplan and Breck, PC

B. J. and Milt Carlson

Kathy and Ron Chandonais

Charlo PTA

Chester-Joplin-Iverness High School

Christensen, Moore, Cockrell,

Cummings & Axelberg, P.C.

Columbia Falls Junior Bowling

Association

Columbia Falls Library Association

Columbia Falls Methodist Church

Judy and Bill Cox

Sue and Steve Cummings

D. A. Davidson & Co.

Mikie diMuro

Patricia and Frank diStefano

Divide County Dollars for

Scholars

Jessica Dubois

Dr. A. Craig Eddy

Sara and Donald Ericksen

Flathead Chapter of Montana

Society of CPAs
---
Flathead County Sheriff's Posse

Flathead Extension Homemakers

Council

Paulette and Mark Fopp

Glacier Employee Association

Shirley and William Glidden

Golf Northwest

Good Samaritan Society

Teresa and Charlie Grenier

Pat Hagel

Brenda and Eric Hanson

Kathleen and Jack Hickey

Faith and Dale Hodges

Jackie and Robert Hostetler

Delores and Bob James

Kalispell Education Foundation

Kristen Kohlbeck

Kayleen and Tony Kohler

Kootenai Valley Federal Credit Union

Lil and Jim Laidlaw

Patrice LaTourelle

Libby Public Schools

Darla and Tim Lindsey

Jeannie and Steve Luckey

Shannon and Tom Lund

Dick Maddux Foundation

Madison Valley Women's Club

National Flood

Ursula and Dick Mattson

Lois and Bill McClaren

Marjory McClaren

Marla McClaren

Carol and Tom McElwain

Patricia and Perry Melton, Jr.

Leslie Mercord and Reed Blackburn

Modern Machinery

Montana Academy

Montana Health Care Association

Montana High School Rodeo

Association

Diane Morton and Blake Stout

Mountain Brook Memorial

Scholarship Fund

National Flood Services

Barbara and Doug Nelson

Linda and Joel Nelson

Nite Owl and Back Room Restaurants

Gini and Randy Ogle

Bob O'Neil and Barbara Truckner

Ottawa Sports Club

PEO Chapter AB

PEO Chapter BR

PEO Chapter D

Tom Perry

Rebekah Assembly of Montana

Reiland Memorial Scholarship Fund

Sheila and David Rhoades

Helen Rich Memorial Scholarship

Fund

Rio Tinto Minerals

Helen Rohde

Rotary Club of Libby

Carol and John Santa

Colleen Purdy Stacy Scholarship

Fund

Nikki and Everit Sliter

Deborah Stanitski

Ellie and Joe Stimpson

Sherri and Robert Stolzenbach

Swank Enterprises

Barbara Taylor

Three Rivers Employee Association

Troy Public Schools

Troy Volunteer Ambulance

Fay and Ed Tucker

United Way

Dennis Wolfe

Women of the Moose

Woodmen of the World

Ruth Wrightsman and Jerry Manning

Mary Yokan

Arlene Zepeda de Walker and

John Walker

Three Anonymous Donors

Benefactors

$250 to $499

Glen Aasheim

Debbie Acord

Mark Alsup and Connie Small

George Antunes

Sheila and Earl Applekamp

Augusta Community Church

Sandra and Russ Barnes

Gail Bauman

Betsy and Bill Bayne

Carol Bibler and Jim Watson

Bigfork Gallery Group

Debra and Craig Bohn

John Brennan

Susie and Jay Brown

Thomas Caughlan

Marilyn and Rick Champoux

Class of '61, Inc.

Rennie and Chuck Corrigan

Joan and Jack Creek

Dani Dobyns

Dave Dorsett

Eide Bailey

Greg Eller

EnCana Oil & Gas

Renee and Todd Erickson

Mendy Estill

Susan and David Evans

Flathead Bank

Flathead Beverage Co.

Flathead County Deputy Sheriffs

Association

FVCC Physical Plant and Recycling Club

Helen and Kenneth Ford

Fortine School District #14

Freedom Bank

Claude Garon

Gretchen Gates

Glacier Symphony and Chorale

Tawnya Granger

Jean and Jim Hagan

Jeremy Hancock

Sue and Tom Harding

Dana and James Haring

Darcie and Rex Harris

Susan Heger

Bob Herron Insurance

Heidi and Don Hickethier

Karen Hines and Scott Roberts

Molly Hobgood

Jackie Hostetler

Melissa Hulvat

Jennifer and Mark Johnson

Dianna and Vince Johnson

Kalispell Chamber of Commerce

J. Bryant Kirkland

Sasha and Darryl Kistler

Holly Jean Larson and Tom Klein

Donna Lawson

LHC, Inc.

Sydney Lillard

Travis Lindsey

Mary and Don Lloyd

Connie and Ivan Lorentzen

Kala and Ryan Lougheed

Sandy and Doug Loy

Cathy Malarchick and Ken Siderius

Anne Scott-Markle and Robert Markle

Leann Marvin

The McGuire and Forwoodson Family

Medical Arts Pharmacy

Mission Scholarship Foundation

Debra Mota

Aaron Mower

James Murphy

Carol and Peter Nelson

Judy Nesbitt

NorthWestern Energy

Kayla Pancheri

Curt Peterson and Jan McDonald

Ed Prach

Sharon and Gerry Randolph

Rebel Fest 2011

Marilyn Reynolds

Sue and Hank Ricklefs

Myrna and Bud Ridenour

Edna Robbin Scholarship Fund

Brenda and Joe Rudolph

Mary Catherine and

Frederick Savage

Amanda and Peter Savage

Cynthia Sease

Monica Settles

Barbara and Rande Simon

Gary Smith

Margaret Stewart

Muffie and Jack Thomson

Wendy and Warren Tolley

Jane and Scott Wheeler

Jackie Wildgen

Chris Williams and Emily Hutton

Jeri and David Williams

Bernadette Wilson

Darrell Worm

Ruth and Clyde Wright

Tammy Yonkers

One Anonymous Donor

Partners

$100 to $249

Eileen Alexander

Bev and Allan Aronson

Dawn Atchley

Cindy Bardwell

Kathy and Greg Barkus

Jean Barragan

Stephanie and Sherman Pointer

Donald Bauder

Brian Bechtold

Paula Betthauser

Rita and Bob Bishop

Mary Blazine

Mary and Charles Bleck

Joanne Bodenhamer

Jim Boger

Chris and Bill Bond

Bruce Boody

Barbara Boorman

Lynne Bradley

Dave Brant

Karen and Steven Breck

Kelly and Chris Brewer

Sue and Bob Brown

Leslie Budewitz and Donald Beans

Barbara and Scott Burch

Deb and Glenn Burfeind

Carrie Burnham

Richard Burningham

Business Resource and Training

Company/Patti Peters

Melanie Cross and Andy Hurst

Kelli Campbell

Dorothy and Luther Campbell

Pam and Joe Carbonari

Mary Ann Carlson

Chris Carter

Kathleen Chollman

Connie and Gary Christiansen

Bonnie and Robert Chrysler

Janet and Butch Clark

Mary and David Clough

Jenny Cloutier

31
---
Dale Cockrell

Theresa Cole

Sara Connor

Jody and David Cooley

Patrick Cooney

Sue and Ed Corrigan

Carol and Fred Cory

Sue and Bill Crawford

Waded Cruzado

Dawn and David Cummings

Lisa and Tony Dawson

Wendy Dellerson

Karen and David Dimmick

Sabrina and Zachary Dobson

Nancy Donahue

Julie and Jerry Doyle

Mark Dyer

Mary and Bill Eisenlohr

Karen and Brad Eldredge

Janice Elias

Aaron Ells

Warren Elmore

Marian and John Emerson

Larry Ertel

Charlene and Tom Esch

Scott Eskenazi

Dennis Eskew

Maura and Edwin Fields

Pat Fierro

FVCC Math Department

FVCC Student Services

Kathleen and George Flint

Mary and William Fowler

Darlene and Lyle Frahm

Cheryl and Jerry Frank

John Fredenberg

Deborah and Burl French

Barbara and Clarence Furnia

Kari Gabriel

Mike Galvin

Teresa and Frank Garner

Sharon and David Gassaway

Timothy Gaston

Christopher Gill

Lea Given

Glacier Insurance Strategies –

Melissa and Daren Engellant

Grandview Townhouse Association

Joan and John Greene

Patti and Dan Gregerson

Connee and Gary Greig

Dianne Gronley

Terry Guidi

Mary and Reed Gunlikson

Toni and John Gunnerson

Susan Guthrie

Barbara Gutschenritter

Barbara and Brent Hall

Nancy Hanchett

Susan and Dave Handy

Cherie Hansen

Marlene Hanson

Susan and Marlin Hanson

Rich Haptonstall

Lynn and Gary Havens

Merrie Helm

Karin and David Hergesheimer

Judy and Gary Hewson

Lorin Hicks

Marge and Bob Hoene

Nancy Hohnstein

Sue Hoker

Wanda and James Hollensteiner

Pam Holmquist

Marcy and Mark Holston

Cindy Howell

David Hudak

Jessica Jacobson

Gregory Johnson

Heidi Johnson

Gail Jokerst

Lillian and Ken Judge

Suzanne Kameon

Sara Kephart

Jean and James Kerr

Heather Kinniburgh

Tracy and Joel Kola

Barbara and Keith Koslosky

Dorothy and Tom Laird

Russ Lamson

Kristen Ledyard

Julie and Joe Legate

Karen Leigh

John Lepo

Lincoln County Homemakers

Bob and Jane Lopp/Prudential

Insurance

Lynette and Marc Lorenzen

Hermine Makman

Timothy Malach

Leona Maneval

Ann and Elwyn Mateka

Sarah McConnell

Shane McGuire

Anne and Andy Miller

Shirley Miller

Doug Mills Memorial

Scholarship Fund

Alison Mizner

Montana Logging Association

Mullan High School Associated

Students

Barb and Ed Myers

Emmett Myhre

Andrea Naples

Sharon Nau

James Ness

Adrienne Newlon

Mary and Frank Nguyen

North Valley Eagle's Auxiliary

Glenda and Marvin Northcutt

Northwest Montana Hoo Hoo Club

Rebecca Note

Doug Nuckolls

Wilma and Barry O'Connor

Janaya and Scott Okerlund

Tafford Oltz

Connie and Tom Parker

Robert Peccia and Associates

Laurie Peiffer

Naomi Perry

Jennifer Petry

Annegret and Klaus Pfeifer

Pisk Chiropractic

Dawn and Conrad Rauscher

Souheir and John Rawlings

Jan Rayford

Roberta Reese

Tracy Rae Reiling

Christina Relyea

Cheryl Richards

Marcia Rieke

Keith Robinson

Sue Robison

Jill Rocksund and Dan Yuhas

Rocky Mountain Contractors

Sue and Steve Rolfing

Lawrence Rooney

Mary and Alan Ruby

Joann Russell

Susan Salsbury

Pat Sanders

Kenni Ann Schauer

Schellinger Construction

Joan Schmidt

Patty and Ralph Schnieder

Faye Schoknecht

Sue and Bill Schottelkorb

Vicki Schultz

Jeffrey Scogin

Patti Scruggs

Jeanne Seeley

Roberta and Jon Shandorf

Victoria Sherman

Lisa and Jarrod Shew

Jane and George Shryock

Katherine and David Sibert

Winnie Simmonds

Susan Simon

Joann and Bob Sleadd

Ann and David Smirnow

Jodi Smith

Sherrie Smith

Somers Bay Cafe

Jane Spain

Karen Sparby

Mary Frances and Robert Sparkman

Lorraine Springer

Shareen and Matt Springer

Joan and Robert Stack

Harlan Steele

Kevin Sullivan

Mark Sullivan

Michael Sullivan

Lynn Sundelius

Toot and Tom Sward

JeanAnne Swope and James Mechem

Sue Syvertson

Taco John's

Connie and Frank Tetrault

John Thomas and Kris Zetah

Donna Rae Thompson

Three Rivers Bank

Trapper Peak Winery

Pixie Traynham

Don Trepina

Troy PTA

Anita and David Tseng

Joyce Tucker

Turner Public Schools

Denise VanArtsdale

K. C. and Dan Voermans

Debbi and Dave Waldenberg

David Walker

Stephanie and Todd Wallace

Kelly and Ken Weber

Mary and Tim Wells

Karla and Chuck Werk

Western States Equipment

Fay White

Whitefish School District #44

Bonnie and John Whitehouse

Gail Whitney

Matthew Williams and Dana Spaeth-

Williams

Rodger Yokota

Pamela Young

Debbie and Tod Young

One Anonymous Donor

Friends

Up To $100

Roger Ackerly

Jean Agather

Pamela and Mark Agather

Janice Alexander

Helen Allen

Mark Allen

Marlene Allen

Jean Allhoff

Patricia and Roger Allick

Cohen Ambrose

Terri Amici

Amy Anderson

Brenda Anderson

Erika Anderson

Linda Anderson

Phyllis Anderson

Marion and Ted Andrew
---
Linda Andrews

Jean Arcel

Cindy Ault

Back at You Multimedia

Elisabeth Bailey

Margaret and William Baird

David Baltz

Deb Barrett

Marci Barron

Tim Bauer

Leslie Beard

Anne Beckenstein

Katharine Beers

Caryl and Robert Bennett

Melissa and Monte Bennett

Melissa Berdimurat

Sharon and Lee Berger

Sarah Bergford

Austin Berner

Angie Berry

Kelly Bertram

Jon Bertsche

Barb and Gordon Besel

Creed Bicknell

Maria and Henri Bienvenu

Livvy and Reuben Bienvenu

Sarah Bilal

Betty and Duane Bitney

Landon Blake

Melissa Blauvelt

Emily Bogut

Diane Bokor

Robert Bonsor

Ann Bourassa

Dan Bourne

Brett Bowden

Tamara and Tan Bowen

Debbie Bowers

Matt Brake

Colleen and Steven Breeze

Roger Brewer

Marit Bridger

Kathryn and Michael Brauer

Craig Bronner

Ken Brooks

Blakeley Brown

Char Brown

Chris Brown

Cecille and Jack Brown

Kris and John Bruninga

Paula Bruno

Deidre Brunty

Norma and Fred Buck

Cheryl and Art Buckley

Victoria and Thomas Bundy

Billie Ann Burch

Margaret and William Burg

Crystal Burnham

Bobette Bush

Helen Bushby

Deanna Byrer

Susan Cahill

Kristina Callahan

Roselyn Campbell

Toni Cancilla

Patricia Carlson

Eileen Carney

Marty Cash

Gene Castellino

Jerry Cathey

Sonja Cawood

Leslie Charest

Savita Chaudhry

Dan Chisholm

Kyle Chollman

Diane and Chris Christensen

Holly Clandfield

Phyllis Clark

Nancy and Steve Clawson

Patsy Cloud

Connie Cohen

Jodi Collinsworth

Gayle Colman

Joyce and Gary Coombe

Carol and Hugh Corn

Kathleen Cotner

Joyce Cottet

Amy Courser

Jill Courtney

Diane and George Cowan

Violet and Nathan Cox

Linda Crawford

Ronna Cross

Nancy Curtis

Laura and Tom Damon

Irene Danz

Gail and Russell Davenport

Andrea Davis

Liza Dawson

Genevieve Debrecht

Teresa DeStefano

June and Dan Diamond

Becky Dickman

Carol DiNolfo

Bradley Dixon

Wanda Domrose

JoAnn and Tom Donovan

Margie Dornfeld

Dennis Dortch

Linda Doty

Robert Dregne

Carol Duffner

JoAnn and Dennis Dugger

Kathy Dunnehoff

Mary and Jack Dykstra

Susanna and Ray Eaton

Keah and Matt Elkins

Lori Elwell

Suzanne Eovaldi

Rosemary Esseltine

Virginia and Steve Eudy

Andy Evans

Carol Ewert

Alison Ewing

Cathy and Brad Fabel

Lance Fahrney

Kelly Fear

Kyle Fedderly

Janet Fischer

Florence and Jack Fletcher

Darla Floyd

Kate Fraser

Linda Fredenberg

Susan Freeland

Cynthia French

Fred Frey

Sandi Friesen

Dick Frisk

Steve Funke

Mary Gabb

Vicky and Davar Gardner

Joan and Robert Gates

Carrie Gehrke

Anne Gentry

Connie and Kevin Gills

Hillary Ginepra

Alana Goers

Joanna Goetting

Jana and Bill Goodman

Susan Gordon

Barbara and George Gould

Robin and Murry Graham

Charles Grant

Joan Grant

Lisa Gregerson

Helen Greve

Tanis Gribbin

Laramie Groats

Holly Groves

Karen Gunderson

Karen Haarr

Susan Hagen

Kenneth Hall

Chris Hanchett

Rich Hankemeier

Erin Harapat

Kay Hardy

Alice Harris

Shirley Harryman

Janice and Neil Hart

Richard Hawk

Kelly Hawkinson

Nola Hawley

Dawn Hellbusch

Charlotte Hennessy

Tyler Hensleigh

Dottie Hertel

Sandy and Larry Heuscher

Eloise and Gerald Hill

Michele Hills

Chandra Hodges

Cary and Dave Hofstad

Jeanne Hogan

Mary and Jerry Hollinger

June Hommas

Jessica Hopkins

Kelsey Hovey

Erin Howardson

Charles Hubbard

Brooke Huffman

Germaine Hugill

Nancy Hulick

Carolyn Hummel

Karen Hunt

Linda Ihrke

Alice Infeslis

Tabitha and Bob Ivy

Rich Jacobson

Ed James

Linda James

Edward Javorka

Joy Javorka

Casey Jensen

Roger Jensen

Tiffanie and Stephen Jensen

Wendy Jeschke

Audrey and Corey Johnson

Shirley and Kent Johnson

Sally Johnson

Sidney Johnson

Clemence and Bill Jones

Cindy and Nick Jones

Susan Jones

Mary Jordt

Rocky Journey

Sue Justis

Amy Kanewischer

Barbie Kearns

Ronna Keim

Katherine and Dennis Kelly

Nancy Kelly

Sue Kelly

Connie Kelsay

Mary Kemp

Paula Kestell

Cindy and Warren Kiefer

Karen King

Elizabeth Klein

Loree Klein

Pam Klein

Barbara and Gregory Knox

Teresa Knutson

Mike Kofford

Karen Kolar

Mary Kovacich

Ken Kramer

Hal Krause

Nancy and Walter Kuhn

Meri Kulina

William Kupka

33
---
Kathy Kusler

Launa and Jim Lackey

Rita LaFerriere

Steve Lamb

Mary Lamons

Kylie and Brian Larson

Marilyn LaSorte

Marvin Lattimore

Lois and Dale Lauman

Paulette Lawrence

Roxie and Richard Lehl

Margaret Lekander

Cindy Lindsay

Tanya Linn

James Lodman

Cathy Love

Donna Luke

Michelle Luke

Corinne Lundgren

Jerry Lundgren

Colleen and Bruce Lutz

Cleona and Ray Lybeck

Bart Lynch

Barbara and Phil MacGregor

Barbara Madden

Catherine Malkuch

Jo and Marshall Mahler

Jo Mahoney

Abe Malouf

Linda Malvin

Chrys Marchant

Despina Margaris

Gale Marguerite

Marka and Steve Marquesen

Lindy Marriott

Iola Mason

David Maurer

Tracy Mayer

Suzanne McAllister

Molly McCabe

Cathryn McDevitt

Marolyn McDonald

Wayne McEntire

Valeri and Allan McGarvey

Hilda McGaugh

Art McKee

Kari McKendry

Barbara and George McMahon

Karen McNeil

Marilyn and William McPherson

Trudi Medrano

Erin Meeks

Rhona and Jerry Meislik

Anita and Paul Menssen

Kathy Mercord

Luanne Metcalf

Sheila Michels

Denis Migneault

Holly Miller

Treg Miller

Rhudi and Wayne Miller

Debra and Rob Miller

Lauretta and Dwight Milne

Pete Milne

Ann Minckler

Carla and Lyle Mitchell

Helen Moen

Kelly Moncur

Montana Forest Products

Eileen Montano

Kendra Montignani

Moose's Saloon

Pat Morgan

Marlene and Robert Moriarity

Cass and Chris Moritz

Peggy Morris

Laurie Morrison

Cintra and Gary Morton

Joyce and John Mottola

Brian Muldoon

Theora Mumm

Rachel Munson-Young

Terri and Bob Muraoka

Kathy Myerowitz

Kathleen Nash

Carrie Nelson

Cheri Nelson

Christine Nelson

Glen Nelson

Evelyn Nockleby

Maridona and Kenneth Norick

Michael Noud

Marilyn Nyquist

Michael Ober

Maxine and Kenneth O'Brien

Nancy O'Kelly

Dennis Olson

Synoia and Roger Olson

Linda Ornowski

Sue Osborne

Susan Ossit

Kathy Page

Carol Pardini

Nancy Parrett

Parsons Tractor and Implement Co.

Charline Payne

Patricia and Ron Peebles

Debbie and Rob Pero

Joan Perrins

Marilyn Peterson

Judith Pressmar

Cathy Petersen

Elenore Pfirman

Melisa and John Phelps

Josh Poe

Eleanor Porter

Mimi Prussack

Pam Purcell

Annette Ramberg

Ernie Ratzburg

Kippy and Jim Redman

Lorraine and James Reid

Carolyn Rhubottom

Karen Ridenour

P. J. Rismon-Beckley and

Paul Beckley

Mary Roane

Marilyn Roberts

Kaye Robinson

Lois Robinson

Pamela and Peter Robinson

Rocky Mountain Engineers

Leslie Rogers

Andrea Rolandson

Elizabeth Romain

Brian Rombough

Deborah and Dieter Rosenberger

Robert Ross

Arla Rosso

Tara Roth

Suzanne Royer-Long

Sally and Mike Russell

Renee Russell

Anna San Diego

Jennifer Sandefer

Eileen and Arnold Sandefur

Patricia Saregent

Ruth and Royce Satterlee

Chris Suave

Jean Schloss

Darlene Schottle

Margaret and David Scott

Jo Scott

John Scott

Carol Seddon

Delores Sheremeta

Denise and Earl Shuman

Brent Silcox

Kelly and Don Skare

Sydney Slen

Jennifer and Justin Sliter

Glenna Small

Donna Smith

Kathy Smith

Jean Smith

Joan and Lee Smith

Mary Smith

Matthew Smith

Lori Smithwick-Hann

Richard Smythe

Irene and Tom Snyder

Jane and Dick Solberg

Kendra Solberg

Melissa and Roger Somerville

Lucille Sorensen

Tim Soule

A. J. Spear

Kathy and Fred Spoerl

Roger Spragg

Tiffany Starkel

Dianne and John Stearns

Sheila Stearns

Patricia Stetson

Marlene Stevens

Phyllis Stewart

Carol and Vern Stewart

Joyce and Russell Stilwell

Trina and Patrick Stivers

Marlene Stoltz

Marilyn Strand

Nikki Streeter

Naomi Streich

Kendra Strowbridge

Debbie Struck

Grace Stuart

Murray Suarez

Devin Sugden

Lyndal Sundt

Florence Sutherland

Shari Sutherland

Sutherland's Dry Cleaners

Amy Tag

Kiki Tahler

Brenda Talbert

Bamma Taylor

Jean and Andrew Tegoli

Jay Thiessen

Corey Thomas

DeAnn and Pat Thomas

Pam and Butch Thornton

Candice Thornton

Elizabeth Thornton

Carol Thuerbach

Ann and Norman Thurnau

Gregory Thurston

Marcia Triplett

Sylvia and John Trundle

Kathy and Jack Truzzolino

United States Bowling Congress

Serra Valentine

Valley Bank

Summer and Nicholas Van Oort

Kathy VanBemmel

Laura VanDeKop

Karen Vanderkolk

Vikki Vasquez

Jean Veeneman

Cheryl VonLindern

Pauline and Henry Voorhees

Joel Voytoski

Tracy Vranizan

Pete Wade

Lois Wagner

Ronda Walker

Ken Wallace

Rosemary Ward

Kathy and Tom Watters

Dorothy Weaver

Elana Weaver

Rick Weaver
---
Beth and Steve Weber

Laurie Wehr

Diane and Jack Weisert

Nick Weisert

Jeff Weyh

Kendall Wheeler

Danelle Whitten

George Wilhelm

Sue Wilkins

Kathy and Alan Williams

Amy Williams

Ken Williams

Pat Wilson

Robert Wilson

Betty and Doug Wise

Meredith Witherspoon

Helen and Donovan Working

Donna Worth

Alida Wright

Sonja Yunka

Kirk Zander

Rachel Zeigler

Kathleen and Donald Zundel

Five Anonymous Donors

Gifts-in-Kind and

Professional Services

Mary Jane Bennett

Alice Brosten

Community Medical Center

Deanna and Bob Conley

Joyce Corbett

Scott Eisenlohr

Patty and Larry Faloon

Five Guys Burgers & Fries

Franklin Metal Services

George's Distributing

Glacier Steel

Linda and Jerry Grimes

Dan Hartwell

Heritage Place

Chris Hughes

J2 Office Products

Heidi Johnson

Rita Johnson

Jordahl & Sliter, PLLP

Kalispell Division

Rhonda and Brad Kastelitz

Edie Kauffman-Landis

The Lincoln Electric Company

Montana Frameworks

Montana Veterans Home

Chuck Overcast

Park Side Federal Credit Union

Robin Putnam

Qdoba

Starbucks

Stephanie and David Walker

Festival of Flavors 2010

Event Sponsors

The Flathead Beacon

Fun Beverage

Champagne Level

The Daily Inter Lake

Philip and Donna Harris

Sportsman and Ski Haus

Bordeaux Level

CTA Architects Engineers

Don "K" Chevrolet-Subaru

First Interstate Bank

George's Distributing

Glacier Bank

Pinot Noir

American Homestead Mortgage

Flathead Lake Winery

McDonald's/Icicle Creek

Montana Coffee Traders

Chardonnay

Christensen, Moore, Cockrell,

Cummings & Axelberg, P.C.

D. A. Davidson & Co.

Flathead Bank

Bob Herron Insurance

Kaplan and Breck, PC

Jane Karas and John Goroski

Medical Arts Pharmacy

National Flood

Nite Owl and Back Room

Restaurants

Plum Creek

Nikki and Everit Sliter

Sliters Ace Lumber and Building

Supply

State Farm ® – Lyle Mitchell, Agent

Swank Enterprises

Suzy Williams

Pat and Denny Winkel

Ruth and David Ackroyd

Table Sponsors

First Interstate Bank

Flathead Electric

Flathead Orthopedics

Golf Northwest

Laidlaw/Hilleboe Party

Donna Lawson and Friends

Cindy and Jeff Lewis and Friends

Plum Creek

Rocky Mountain Bank

Barkus/Larson Party

Quail Ridge

Food Vendors

Bajio Mexican Grill

Blue Canyon Kitchen and Tavern

Ciao Mambo

FVCC Culinary Arts

The Commissary at Gresko's

Mikie's Cheesecake

eat your art

Pescado Blanco

SakeToMe Sushi

Thomas Cuisine

Tupelo Grille

Special Thanks/Prize Donors

Lin Akey

Amore Salon and Spa

Ashley Furniture

Josh Auerhammer

Marie and Michael Auten

Kathy and Greg Barkus

Sandra and Russell Barnes

Belton Chalet

Lee Berger

Big Mountain Golf Club

Blue Canyon Kitchen and Tavern

John Bowdish

Stephanie and Justin Breck/

Kaplan and Breck, P.C.

Buffalo Hill Golf Club

Camas Creek Yarn

The Carlton Inn

Nancy Cawdrey

Ceres Bakery

The Cherry Tree

Terry Click

Dar Zerbia House of Rugs

Charlie Davis

Mikie diMuro

Sabrina and Zachary Dobson

Eagle Bend Golf Club and

Northern Pines Golf Club

Eagle's Nest/Thomas Cuisine

Sally Elliman

Far West

First Interstate Bank

Janet Fischer

Flathead Lake Winery

Flathead Travel Service

FVCC Americorps Team

FVCC Bookstore

FVCC Chef's Table

FVCC Culinary Arts Students

FVCC Continuing Education

FVCC Foundation Boards

FVCC Trades Program

FVCC Theatre

FVCC Faculty and Staff

FVCC Festival Volunteers

FVCC Board of Trustees

FVCC Educational Services

FVCC Student Ambassadors

FVCC Student Services

FVCC Maintenance Staff

FVCC Custodial Staff

FVCC Media Center

Nancy and Fred Flint

Frame It – Greg Smith

Frame of Reference

Fun Beverage

Mary and Hi Gibson

Chef Hillary Ginepra

Glacier Symphony & Chorale

Glacier Insurance Strategies/

Melissa and Daren Engellant

Nancy Gordley

Great Harvest Bread Co.

Connee Greig

Barbara and Brent Hall

Jeremy Hancock

Lynne and Jack Hilleboe

Hilton Garden Inn

Holiday Inn Bozeman

Home Depot

House Afire Clay/Kathy Erickson

Mary Howard – Silpada Designs

Chris Hyatt

The Jug Tree

Kalispell Grand Hotel and the

KB Bar and Grill

Chef Howard Karp

Karen Kershaw

Kayleen and Tony Kohler

Karen Kolar

Lil and Jim Laidlaw

Carol and Kurt Larson

Pat LaTourelle

Donna Lawson

Julie and Joe Legate

Deanne and Jim Lehner

Cindy and Jeff Lewis

Gale Marguerite

Marka and Steve Marquesen

Lois and Bill McClaren

Karen Chesna-McNeil

Meadow Lake Golf Resort

Leslie Mercord and Reed Blackburn

Anne and Andy Miller

Montana Club

Diane Morton and Blake Stout

Aaron Mower

Moxi Salon – Thadeus Johnson

Nite Owl and Back Room

Restaurants

Norby's Conoco Car Care

Nancy O's

Jim O'Day

Patti's Place – Patti Peters

Plum Creek

John Rawlings

Ridge Distillery

35
---
Bill Roope

April Russell

Saffron Mediterranean Kitchen

Saviah Winery

Lisa and Tim Schnee

Melanie Settle

Lisa and Jarrod Shew

Silver Cloud Inn

Margie and Larry Simpson

Ralene and Tom Sliter

Sliter's Ace Lumber and Building

Supply

David Smith

Roger Somerville

Ellie Stimpson

Student Assistance Foundation

University of Montana -

Hoyt Athletic Complex

Colleen and Joe Unterreiner

Vietnamese Noodles

Village Greens

Walking Man Frame and Art Gallery

Stephanie and Todd Wallace

Marcus Whitman Hotel

AAUW Endowed

Hannah Mundt

AXA Foundation

Ernie Cottle

Acey Educational Fund

Charden Wood

Assemblies of God

Timothy Butterfield

Clayton Larsen

Augusta Community Church

Kelsey Barker

Augusta School District #45

Kelsey Barker

Arizona Community

Foundation

Alesia LaRoque

Henry H. Arnold

Educational Grant Program

Andrew Dlask

Baraga Area Schools

Paige Maskill

36

Suzy Williams

Pat and Denny Winkel

Woodland Floral

Darrell Worm

Kim Clausen and Brian Clark

Laci Slack

Jim Hutcheson, Young's Market

Jeff Peda, Renwood Winery

Mitch Preston, Rodney Strong

Jack Gregor, Francis Ford

Coppola Presents

Kevin Marshall, George's Distributing

Mike Vrentas, Fun Beverage

Rich Marshall, Maryhill Winery

Steve Erickson, Odom Beverage Co.

Patrick Cooney and Marianne Graham,

Greg Graham Winery

Pepsi-Cola Bottling of Kalispell

Great Northern Brewing Co.

Glacier Brewing Co.

Flathead Lake Brewing Co.

Tamarack Brewing Co.

Flathead Beverage Co.

David Gassaway and Greg Dulin,

Barce Family

Scholarship Fund

Barak Evans

Vivian Beardslee Memorial

Shauna Brigham

Belgrade School District #44

Hannah Mundt

Bethlehem Lutheran

Church

Amanda Schmid

Ethan West

Beyer Family

Foundation Endowed

Jessica Roedel

Jenna Wold

Big Sky Exxon

Stephanie Vogelman

Bigfork Gallery Group

Hillary Bilodeau

Bigfork Lady Lions

Nikkea Uskoski

Founding President,

Dr. Larry J. Blake, Sr.

Endowed

Laura Colvin

Smokin' Hot Grill Friends

Flathead Beverage

Chef Doug Day, Capers

Chef Marc Guizol, La Provence

Jane Karas and John Goroski

Chef Andy Blanton, Café Kandahar

Chef Zachary Bernheim,

North Bay Grille

Chef Chris DiMaio, Three Forks

Grille, Tim and Sara Seward,

Owners

Chef Joshua Auerhammer,

Culinary Design Studio

Chef Phil Vilar, Wasabi Sushi Bar

Jeff Gilman's Woodworking Studio

Chef Roger Vanlandingham,

Tamarack Brewing Company

Alehouse and Grill

Flathead Beacon

Daily Inter Lake

Bo Carpenter – Auctioneer

First Interstate Bank/North Branch

Kacie West

2010-2011 Scholarship Recipients

Jerome and Rebecca

Broussard Family

Jacquelyn Alexander

Montana Andrews

Wendy Barton

Skye Bennett

Marion Bernhard

Amber Blodgett

James Boer

Brock Boll

Kristen Brackin

Shauna Brigham

Tomi Ann Clark

Shaunda Crutsinger

Charles Daughton

Amanda Edwards

Cody Elek

Tina Grande

Jeff Hagen

Kylelee Hall

Scott Johnson

Terry Johnson

Keri Kelly

Sarah Kirchner

Clayton Larsen

Jan Layton

Lanette Macfarlane

Jennifer Mager

Patrick McCurry

Andrea McDonald

Angela McLauchlin

Virginia Meyers

Britney Mickelson

Nathan Nestegard

Amber Phelps

Sandra Ranson

Linda Rasmussen

Jessica Roedel

Holli Rose

Alyssa Salandi

Katie Schabel

Jennifer Skillings

Kendra Solberg

Amber South

Jese Stetson

Taylor Tutvedt

Stephanie Vogelman

Terri Vonder Heide

Alicia Waggener

Kelly Walker

David Weichel

Ethan West

Charden Wood

Charlo PTA

Victoria Jensen

Charlo School District #7

Victoria Jensen

Chenega Future, Inc.

Marilyn Brisbois

Chrysler & Gordon, CPAs

Donna Van Derveer

Monte the Grizzly

Michelle Seymour

Jamie Karp

Kathy Hughes

Hughie's Audio Visual,

Ryan Groshong

Glacier Bank

KTMF-TV, Terri Elander

Bee Broadcasting

KAJ-TV

KOFI

KECI-TV

KCFW-TV

Flathead Electric Cooperative

Darryl Kistler

Jessica Dubois

Todd Liphardt and Laurie Otto

Every effort has been made to ensure this report

is correct. We would appreciate any errors or

omissions being brought to our attention by

calling (406) 756-3963 so we can correct our

records.

Chugach Heritage

Foundation

Marilyn Brisbois

Class of '61, Inc.

Kayla White

Cobb Foundation

Kevin Dettmering

Columbia Falls Junior

Bowling Association

Tanner Trottier

Candance Ward-Shears

Columbia Falls Library

Association

Alesia LaRoque

Kathleen Pearson

Torey Seward

Columbia Falls Lions Club

John Woody

Columbia Falls School

District #6

Pennelopy Borland

Brooke Cady

Lori Church

Shay Mason Riley
---
Columbia Falls United

Methodist Church

Dawson Lynch

Comanche Nation

Dirk Bennett

Steve and Sue Cummings

Brittney Mickelson

Stephanie Daily

Memorial Scholarship

Elizabeth King

Jim and Doris Daley

Foundation

Alycia Marsh

Corinne Minnehan

Marissa Stivers

Darby High School

Paisley Burtsfield

Dearborn Ranch

Scholarship

Zane Brown

Sara Christensen

Elizabeth King

Danielle Dimmick

Jesse Stetson

Oreste J. diMuro

Ruth Perry

Diogenes Award

John Kremmer

Divide County Area

Dollars for Scholars

Nikita Haugenoe

Selma Dodge Memorial

Endowed

Patrick Blouin

Don "K" Chevrolet-Subaru

Stephanie Vogelman

John Woody

Ila B. Dousman

Endowment Fund, Inc.

Charles Pope

Susan Ennis Scholarship

Beverly Cummings

Jacob Hardman

Evergreen School District

No. 50

Kristen Storle

Festival of Flavors/Nite Owl and

Back Room Restaurants

Emily Poe

Festival of Flavors/Jack and

Andrea Palmer Scholarship

Jillian Hamilton

Festival of Flavors/

Scholarship Squares

Al Steiner

Festival of Flavors

General Scholarship

Lauren Young

Mary Fetter Memorial

Endowed

Joellaine Giacomo

Daniel and Ann Fey

Nursing Scholarship

Liisa Lommatsch

Daniel and Ann Fey Veterans

Scholarship

Darci Reed

Flathead Bank

Brennan Boots

Flathead Chapter of

Montana Society of CPAs

Lindsay Osler-Caudle

Flathead County

Democratic Women

Ginger Jackson

Flathead County

Republican Women

Candice Johnston

Stacy Seipold

Flathead County Tavern

Association

Amber Phelps

Flathead Education

Foundation/Howard

Scholarship

Candice Johnston

Kara Leukuma

Lanette MacFarlane

Corrinne Minnehan

Fresa Ramirez

Flathead Electric

Cooperative, Inc.

Kendra Bennett

Brennan Boots

Kristen Brackin

Lori Church

Ernie Cottle

Joellaine Giacomo

Candice Johnston

Dawson Lynch

Jamel Perkins

Faith Salo

Austin Styler

Jan West

Flathead Electric

Cooperative, Inc. Endowed

Nicholas Friesen

Flathead Extension

Homemakers Council

Virginia Meyers

Holli Rose

Flathead Farm Mutual

Insurance Co.

Candice Johnston

Sonya Palmiter

Flathead Pomona Grange

No. 2

Lori Church

FVCC Adjunct Faculty Union

Casey Brinegar

Dawna Cegler

Shawna Charbonneau

Cody Dewitt

James Everett

Jesse Fallon

Cory Hooper

Robin Idol

Dorothy Lynch

Krystal Mena-Wieland

Hana Olson

Martha Overbeek

Tabitha Spencer

Jill Wilson

FVCC Foundation

Heidi Dettmering

Tracy Lost-Bear

Michael Pedersen

FVCC/LCC Employee

Giving

Teresa Pfeiffer

Stacy Seipold

Amy Stewart

FVCC Merit Award

Jade Bosic

Ernie Cottle

Dannah Turner

Morgen Zauner

Glenn Ford Memorial

(Family)

Tina Grande

Glenn Ford Memorial and

Recycling

Jamesen Motley

Glacier Bank

Lori Church

Tayler Johnson

Alesia LaRoque

Glacier Bank Endowed

Becca Bowen

Maya Franchi

Donna Van Derveer

Glacier Employee

Association

Alesia LaRoque

Jim Gordley Memorial

Endowed

Tyler Wagstaff

Lawrence A. Goroski

Memorial Endowed

Brittany Seubert

Barbara P. and Eugene E.

Graf Memorial Endowed

Gale Marguerite

Karen Gunderson

Scholarship

Robin Idol

Ora and Stanley Halvorson

Memorial Endowed

Skye Bennett

Ella Hanley and Jacobson

Family Endowed

Kendra Solberg

Hilda Hatlen Scholarship

Tawnya Granger

Hawkins Scholarship

Becca Bowen

Hannah Martinez

Meagan Sims

Herriges Family Memorial

Scholarship

Brooke Campbell

Herrin Scholarship

Fresa Ramirez

Bartholomew Tobiason

E. A. Hinderman Memorial

Scholarship, Inc.

Chelsi Birgensmith

Loni Hanson

Elizabeth King

Nathan LaBuda

Erin Wilson

Maggie Wilson

Mark Hodgson and Dorothy

Jaquette Hodgson Endowed

Jenna Wold

Holy Trinity Episcopal

Church

Delphia Anderson

Mary Grace Houlberg

Certainty Endowed

Rachel Feistner

Kenneth Harwood

Paige Maskill

Jean Houseworth Memorial

Art Scholarship

Matthew Hill

Kelsey Hovey

Institute of Socioeconomic

Studies/Leonard M. Greene

Lori Church

Laura Colvin

Kathryn Emerson

Candance Ward-Shears

Jan West

Marjory and Alvin Jacobson

Memorial Endowed

Jessica Kuchynka

Charles Johnson/Troy Youth

Memorial Scholarship

Stacy Reid

Charlotte Kempf Johnson

Memorial Endowed

Marci Harris

Rita Johnson Endowment

Fund for Nursing Students

Chantal Coolidge

37
---
Melody and Stuart Johnson

Culinary Arts Scholarship

Kallai Griepp

Viola Jore Memorial Endowed

Patrick Reilly

Kalispell Daybreak Rotary

Wendy Barton

Shaunda Crutsinger

Michele Fauth

Lindsey Hagen

Kay Leeds

Morgen Zauner

Kalispell Farmers Market

Heidi Dettmering

Brittany Tiensvold

Kalispell Lions Club

Lanette MacFarlane

Fresa Ramirez

Bartholomew Tobiason

Kila School District #20

Christine Hansen

Carissa Krusoff

Almeda and Jack King

Susan Absalonson

Lyndsey Hoffenbacker

Kathryn Swaim

Kootenai Valley Federal

Credit Union

Lacey Erickson

Kroger Foundation

Kasey Swanstrom

Law Enforcement

Education Program

Bartholomew Tobiason

Libby Rotary Club

Tawnya Granger

Lincoln Electric Cooperative

Timothy Pine

Virginia Pine

T&D Lindsey Scholarship

Lacy Erickson

Stacy Reid

C. K. Logue

Donald Brown

Christina Compton

Kathryn Gee

Alyssa Hands

Henry King

Lorena Kirby

Falina Lintner

Rebecca Neumann

Charles Pope

Nicholas Potratz

Tiffany Starkel

Kathryn Swaim

Austin Wargo

MTB/Taco Bell

Devin Glasman

Ellen and John MacMillan

Teresa Nichols

Bill and Lois McClaren

Endowed

Kristin Weyrauch

Dick Maddux Foundation

Stormy Fuller

Madison Valley Woman's

Club

Kelly Britton

Perry and Luella Melton and

Stephen F. Hagel Endowed

Kayla White

Milton Mercord Memorial

Kylie Rocker

Mille Lacs Band of Ojibwe

Rosie Glass

Doug Mills Memorial

Kelsey Barker

Missoula County Scholarship

Fund

Samantha Hulett

Jessica Lester

Missoula Federal Credit

Union

Victoria Jensen

Curtis and Evelyn Mitchell

Endowed

Christie Burns

Modern Machinery Co., Inc.

Lindsay Ridgway

State of Montana Essay

Contest

Victoria Jensen

Kelsey Lowitz

Corrinne Minnehan

Montana Association of

Registered Land Surveyors

Collin Brady

Sean Gooch

Jesse Heldstab

Jeramie Phillips

Ronald Post

Amy Rudie

Derek Shattuck

Stephanie Stein

Dana Thorn

Austin Wargo

Montana Health Care

Association

Kathleen Lembrich

Montana High School

Rodeo Association

Matt Triplett

Montana Police Protective

Association Foundation

Casey Bardwell

Montana Space Consortium

Grant

Andrew Crawford

Montana Woman Foundation

Joellaine Giacomo

Moody Bible Institute

Karlina Dacy

Morton Endowment Fund

Nichole Johnson

Paul Boe Mosby Memorial

Endowed

Josh Kelly

Jessica Roedel

Mountain Brooke Ladies

Club

Matthew Probert

Nadeau/Senft Scholarship

Foundation

Montana Andrews

Christine Hansen

Amanda Schmid

North Valley Eagles Auxiliary

Pennelopy Borland

Amanda Jandron

North Valley Hospital

Auxiliary

Brooke Campbell

Lori Church

Katherine Emerson

Elizabeth King

Katie Maetzold

Northstar Scholarship Fund

Ryan Stolte

Northwest Healthcare

Foundation

Monica Peterson

Northwest Montana Retired

Educators Association

Tracy Lost-Bear

Anmol Manchala

Ottawa Sport Club

Paige Maskill

Jennet and Edith Orr

Dawson Lynch

Kyrsten Pilsch

Wade Robinson

Hannah Sanborn

Rose Osler Memorial

Skyler Waters

PEO Chapter AB

Courtney Ferguson

PEO Chapter BM

Theresa Nichols

PEO Chapter BR

Elizabeth King

Ruth Perry

PEO Chapter C

Janina Hobday

Rachel Spinosa

PEO Chapter D

Brooke Campbell

Park Side Federal Credit

Union

Kara Leukuma

Pathways – State of Montana

Adri Antoine

Alton Pearce

Brandon Olesen

Thomas C. Perry Endowmen

Fund

Candice Johnston

Dustin Petersen Memorial

Endowed John Kremmer

Polson Dollars for Scholars

Danielle Kinyon

Plum Creek

Hillary Bilodeau

Nicole Bilodeau

Kris Gross

Kalee Haxby

William Hobbs

Nichole Johnson

Cory Potter

Torey Seward

Lindsey Shaver

Dannah Turner

Catharine Ward

Candance Ward-Shears

Rebekah Assembly of

Montana

Austin Peppenger

Red Lion Hotels Corporatio

Endowed

JoAnne Murillo

Rhoades Family Endowed

Dawson Lynch

Helen Rich Memorial

Scholarship

Janelle Greenwood

Rio Tinto Minerals

Casey Jensen

Alice Ritzman Golf

Tournament

Henry Martin

Grace Ritzman Scholarship

Celeste Balcom

Leland Fabel

Austin Styler

Candance Ward-Shears

Edna Robbin

Charden Wood

Ruder Educational Fund

Karmyn Carlson

Sophia Lewis-Peterson
---
Philip J. Rygg Memorial

Amber Harrell

Amanda Jandron

Cori Mower

Shantel Williams

Christopher Savage

Memorial

Endowed Suzanne Johnstone

Shriners/Patrick Scholarship

Riley O'Brien

Sliter's Ace Lumber and

Building Supply Endowed

Jordan Penney

Heather Smith Memorial

Angela McLauchlin

Smith Valley School District

Amanda Schmid

Sokaogon Chippewa

Community

Bradley Narducci

Sons of Norway

Heather Gerhard

Soroptimists of Whitefish

Brooke Campbell

Candance Ward-Shears

Southwest Airlines Pilots'

Association

Dawson Lynch

Owen E. Sowerwine

Kirk Gordon

Katy Steiner

Colleen Purdy Stacy

Cami Stacy

Robbie Sullivan Memorial

Endowed Thomas Ashcraft

Linda Rasmussen

Sullivan Family Endowed

Brittany Tiensvold

Edna Robbin

Charden Wood

Olga Stromset

Sandra Corpron

Kathleen Lembrich

Anthony Stanford

Sally Thorne

Candy Van Franchen

Student Assistance

Foundation

Celeste Balcom

Jeremy Luttrell

Brittany Seubert

Sustainability Fund

Leland Fabel

Swanson/Budreau & Pepsi

Cola Scholarship

Paige Maskill

Cal Tassinari/Flathead Land

Trust Endowed

Zane Brown

John L. and Ann Taylor

Caitlin Sterchi

Three Rivers Employees

Association

Stacy Reid

The Treacy Company

Ryan Corbett

Mary Treloar Memorial

Endowed

Beverly Cummings

TRIO Employee Endowed

Kelli Casias

Tobin Frizzell

Troy PTA/William Addey

Memorial

Delphia Anderson

Troy Public Schools

Jacob Alexander

Troy Volunteer Ambulance

Service

Delphia Anderson

Troy Youth Scholarship

Jacob Alexander

United States Bowling

Congress

Tyler Thorney

Valier Education Foundation

Adrianna Fitzpatrick

Mike Venner Hospitality

Scholarship

Heidi Sagen

Veni Legi Vici Scholarship

Jake Walp

Dennis and Phyllis

Washington Foundation

Andrew Crawford

Nichole Johnson

Jennifer Jones

Kathleen Pearson

Meggie Ray

Al Steiner

Whitefish Credit Union

Tymber Liehr

Whitefish Credit Union

Community Pride

Thomas Ashcraft

Seth Bergman

James Boer

Lynn Dawson

Alesia LaRoque

Gavin Lommatsch

Jesse McCafferty

Mike Paulson

Presley Pritchard

Jennifer Quien

Holli Rose

Jennifer Skillings

Ryan Stolte

Whitefish Kiwanis Club

Erin Wilson

Whitefish Masonic Lodge

Jessica Slaybaugh

Whitefish PTA

Merrilee Thomas

Erin Wilson

Maggie Wilson

Whitefish Rotary Club

Loni Hanson

Elizabeth King

Whitefish School District #44

Ruth Perry

Whitefish Women of the

Moose

Lori Church

Paul T. Williams Memorial

Endowed

Anna Millitello

Windmill Foundation

Jacquelyn Alexander

Justin Allison

Justin Anderson

Roger Anderson

Darrell Bacon

Chelsie Barron

Kathleen Bell

Cynthia Benefiel

Seth Bergman

Richard Berry

Michael Bierkamp

Amanda Black

Kimberly Blake

Daniel Bothwell

Don Bradshaw

Michael Brown

Karen Browning

Robin Bunker

Noelle Byrne

Leanne Catron

Becki Child

Douglas Collins

Chantal Coolidge

David Couch

Trista Cox

Scott Dotson

John Dunkley

Charles Elkins

Catherine Ellman

Stephanie Erickson

Travis Gallegos

Kevin Gelinas

Jessica Gresczyk

Elvis Hamblin

Jamie Haraldson

Amber Harrell

Jacob Hill

Casey Jensen

Vince Johnson

Dianna Kindle

Cheryl Kusch

Kristopher Lacher

Pamela Laurenti-Eisenbarth

Amber Lawson

Dan Leavitt

Liisa Lommatsch

Aaron Long

Patrick Long

Richard Long

Andrea Macdonald

Tamara Madison

Stephen Malone

Sarah Mandarino

Julianna Marttila

Kathleen Mayer

Lara McDonnell

Bradley McGinnis

Michelle McGovern

Jason McIntyre

Kent McLellan

Joel Miller

Amanda Mitchell

Mandy Moulton

Wanda Murray

Daniel Newton

Bethany Owens

Larry Owens

Anthony Palmer

Julie Passmore

Tanner Perry

Jason Pitts

Stacee Proctor

Micah Rauch

Chad Recer

Suzanne Roberts

Robin Robinson

Melissa Roose

Justin Rubalcaba

Heidi Sagen

David Sample

Johanna Schaeffer

Gregory Schroeder

Stephan Secrest

Claudette Sexton

Kathryn Siggins

Matthew Sillivan

Tana Simpson

Jennifer Skillings

Craig Smith

Jared Smith

Kendra Solberg

John Sonderegger

Rodger Spurgeon

Amy Stewart

Merinda Sudan

Kenneth Tate

Richard Taylor

Michael Thielen

Raymond Thornhill

Wilbur Thornley

Joshua Timm

Brad Tull

Marcus Tunison

Donald Weakly

David Weichel

Alta Williams

Laura Williams

Shantel Williams

Benjamin Woody

April Yardley-Russell

Gerald Young

Vickie Young

Jeri Zorn

Woodmen of the World

Victoria Jensen

Youth Serve Montana

Samantha Hulett

39
---
40

Financial Aid Report Year End 2010-2011

Types of Federal and State Assistance 2010-11

Amount # of Students

Academic Competitiveness Grant (ACG) 28,819 41

Pell Grant (PELL) 5,080,393 1449

Supplemental Educational Opportunity Grant (SEOG) 38,670 93

State SEOG 12,890 29

Federal Work-Study 50,058 64

State Work-Study 80,340 71

Direct Student Loans 6,267,684 1073

Direct Parent PLUS Loan 10,308 1

Montana Baker Grant (formerly MTAP) 119,229 149

MGSLP Grant No Funding 0

Montana Higher Education Grant (MHEG) 37,995 88

Governor's Post Secondary Scholarship 226,000 231

SINEW Grant Scholarship 74,025 59

TRIO Grant 62,972 136

Student Assistance Foundation Access Grant 60,126 94

Subtotal of Federal and State Funding 12,149,509 1717**

Other Assistance

Bureau of Indian Affairs Grant (BIA) 17,577 5

Americorp Education Awards 51,505 34

Alternative Student Loans 23,182 5

Job Service, Vocational Rehabilitation and other Agencies 1,186,892 323

Veterans' Chapter Benefits and Military Tuition Assistance 1,318,169 142

Scholarships 493,893 423

Athletic Tuition Waivers 45,173 31

Tuition Waivers 535,457 366*

Emergency Student Loans 1,400 28

Subtotal of Other Assistance 3,673,248 1056**

Grant Total of Assistance 15,822,757 2290**

During fiscal year 2010, the Financial Aid Office made awards to and/or processed assistance for 2290 students.

We had 2801 degree/certificate seeking students for 2010-11. Of those, 2070 or 74% received some type of aid processed through our office

Our 2009 Cohort Default rate is 6.5%, compared to 3.5% in 2008 and 1.9% in 2007. The increase is mostly due to a calculation change by the Dept. of Ed.

* Senior Citizen waivers have been removed. We had 341 Seniors take advantage of educational opportunitie

**Unduplicated Coun
---
BOARD OF TRUSTEES FOUNDATION EXECUTIVE BOARD

Robert A. Nystuen

Chair – Lakeside

Thomas K. Harding

Whitefish

Mark Holston

Kalispell

Shannon Lund

Kalispell

ADMINISTRATION

Jane A. Karas, Ph.D.

President

John M. Phelps

Vice-Chair – Whitefish

Ralene Sliter

Kalispell

Tom McElwain

Columbia Falls

Kristen Jones, Ed.D.

Vice President of Instruction and Student Services

Chuck Jensen, M.B.A., CPA

Vice President of Administration

and Finance

Warren Tolley, SPHR

Executive Director, Human Resources

Colleen Unterreiner, M.P.A.

Executive Director, Institutional Advancement

Bill Bond, M.S.

Executive Director, Management Information Services

Patrick Pezzelle, M.A.

Director, Extended Learning/Lincoln County Campus

Susan Burch

Executive Director, Economic Development

and Continuing Education

Brad Eldredge, Ph.D.

Executive Director, Institutional Research,

Assessment and Planning

Brenda Hanson, M.A.

Dean of Students

Leslie Mercord, Chair – Whitefish

Diane Morton, Vice Chair – Kalispell

Justin Sliter, Treasurer – Kalispell

Margie Simpson, Past Chair – Kalispell

John Bowdish – Kalispell

Stephanie Breck – Columbia Falls

Zachary Dobson – Kalispell

Nancy Gordley – Whitefish

Kayleen Kohler – Columbia Falls

Jeremy Hancock – Kalispell

Pat LaTourelle – Whitefish

Donna Lawson – Bigfork

Jim Lehner – Kalispell

Lin Akey – Whitefish

Michael Auten – Polson

Joshua Auerhammer – Bigfork

Kathy Barkus – Kalispell

Lee Berger – Kalispell

Marie Cheyne-Auten – Polson

Sally Elliman – Whitefish

Mary B. Gibson – Kalispell

Megan Gordley – Whitefish

Lynne Hilleboe – Lakeside

Colleen Unterreiner

Executive Director,

Institutional Advancement

ASSOCIATE MEMBERS

STAFF

Nancy Clawson

Foundation Coordinator

Andy Miller – Kalispell

Aaron Mower – Kalispell

Karin Olsen – Whitefish

Lisa Schnee – Kalsipell

Alan Stinson – Whitefish

DeAnn Thomas – Kalispell

Stephanie Wallace – Kalispell

Suzy Williams – Kalispell

Pat Winkel – Kalispell

Chris Hyatt – Whitefish

Lil Laidlaw – Bigfork

Dorothy Laird – Whitefish

Carol Larson – Kalispell

Cindy Lewis – Lakeside

Jarrod Shew – Polson

Roger Somerville – Bozeman

Ellie Stimpson – Lakeside

Debbi Waldenberg – Kalispell

Darrell Worm – Bigfork

EX-OFFICIO, NON-VOTING DIRECTORS

Dr. Jane A. Karas, President

Ralene Sliter, Board of Trustees

Chuck Jensen, Vice President of

Administration and Finance

Susan Evans

Associate Director,

FVCC Foundation
---
Our Mission

Flathead Valley Community College

promotes excellence in lifelong learning,

focused on student success and community needs.

Kalispell & Libby, Montana

www.fvcc.edu