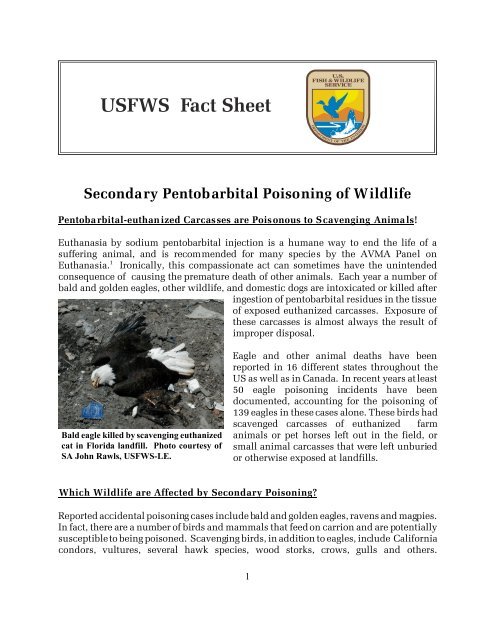 Secondary Pentobarbital Poisoning of Wildlife - Veterinary Clinical ...
Secondary Pentobarbital Poisoning of Wildlife - Veterinary Clinical ...
Secondary Pentobarbital Poisoning of Wildlife - Veterinary Clinical ...
SHOW MORE
SHOW LESS
Create successful ePaper yourself
Turn your PDF publications into a flip-book with our unique Google optimized e-Paper software.
criminal conviction. Thus, an individual that caused a bird to be harmed, evenunintentionally, may be held criminally liable under the act. Similarly, ESA and EPAapply a "strict liability" standard for civil cases, though a criminal prosecution wouldrequire that the offender acted "knowingly" or with a "wanton disregard" for theconsequences. Thus, under these two statutes a civil violation could occur even whenthe individual did not purposely set out to break the law.The best way to avoid liability is to avoid an accidental poisoning! This also applies tosmall animal clients who wish to bury an animal at home. A prominent carcass disposalwarning on the client's copy of the euthanasia consent form might be of help as anadditional reminder.How can Secondary Pentobarbital Poisoning be Prevented?1. Proper DisposalIncineration/Cremation, if available, is the preferred method of disposal.Immediate deep burial will also prevent access to scavengers. Most regulationsrequire at least 3-4 feet of cover. Beyond local statutory minimums, additionalamounts or types of exclusionary cover may be required in certain habitat areas.This total coverage should always be defined by the ability of local scavengingwildlife to access buried carcasses.All burials should properly address the required distance above groundwatertable, appropriate soil type, and permitted locations for burial pits. If frozenground prevents immediate burial, the carcass must be covered or stored in sucha way that access by animal scavengers is prevented. Some regulations specifythat a wooden or metal lid designed to exclude scavengers may be used in burialpits that are not immediately covered over with the required amount of soil.Double bagging with "heavy duty" sacs and clear labeling of poison carcassesshould be the minimum acceptable standard at every small animal veterinaryclinic, humane shelter, or animal control facility that sends out carcasses forthird party disposal.Local landfill regulations and management practices must be reviewed andrevised if they currently afford easy access by scavengers to poisoned animalcarcasses.Rendering is not an acceptable way to dispose of a pentobarbital-tainted carcass. Thedrug residues are not destroyed in the rendering process, so the tissues and by-productsmay contain poison and must not be used for animal feed.5
---
Note on Carcass Disposal Regulations:Carcass disposal regulations and requirements vary substantially among cities, counties,and states, as do the agencies that administer and enforce them. In the event of clientinquiry, direct clients to check with federal, state and local agricultural, environmental,and public health authorities. Agricultural regulators include the (federal) USDA,APHIS, and your state Department of Agriculture. Environmental regulators whose entireor partial focus is solid waste handling and disposal include the (federal) EPA, and stateand local Departments of Ecology, Environmental Health, Environmental Management,Solid Waste Management, or other similar agency. Your State Veterinarian and otherpublic health regulators such as the Department of Health or Public Health, Board ofAnimal Health, or other similar agency will be able to advise on the public and animalhealth aspects of carcass disposal and burial. Many state and local codes can be accessedonline. Also, University cooperative extension services may have information on carcassdisposal methods approved for your area.Finally, note that regulations may change as lawmakers seek to balance growing concernsover biosecurity and transmissible spongiform encephalopathies with the ongoing needfor environmental protection.2. Better CommunicationVeterinarian-Client communication is paramount. It is essential that the clientis informed and understands that a pentobarbital-euthanized animal carcass inhis custody can poison and kill a scavenging animal, including federally-protectedspecies, other wildlife, and domestic dogs. The veterinarian must be certain eachclient understands the requirement for rapid burial, incineration, or otherapproved disposal. Livestock owners must be informed by the veterinarian thatany "temporary storage" that may leave a carcass exposed to scavenging isunacceptable.All pentobarbital-euthanized carcassesshould be prominently tagged with oneor more highly-visible "POISON"warning labels. Bagged animals shouldhave a label affixed to the carcass itselfand also attached to the outside of thebag.A prominent carcass disposal warningon the client and practice copies of theeuthanasia consent form would serve asan additional reminder to both the6Sample warning tag for pentobarbitaleuthanizedcarcass. Tag courtesy ofHabitat and Animal Health Concern,Inc.
---
veterinarian and the client.Small animal practices and humane shelters that lack on-site cremation facilitiesand therefore contract out to third parties for carcass removal should be sure toemploy a reputable, licensed disposal company.3. Alternate Euthanasia Methods for Free-ranging WildlifeEuthanasia methods such as gunshot or penetrating captive bolt have been usedon free-ranging wildlife by specially trained personnel in cases where burial orother methods of disposal were unavailable. While pentobarbital injection isgenerally the preferred method of humane euthanasia, there are some instancesinvolving field euthanasia of wildlife by lawenforcement or other wildlife professionals in whichthe carcass must be left exposed in the field (e.g. whenfrozen ground prevents burial). According to theAVMA Panel on Euthanasia 1 , in these situations "...agunshot to the head, penetrating captive bolt, orinjectable agents that are non-toxic (potassiumchloride in combination with a non-toxic generalBald eagle perched on carcass bagsat dump. Photo courtesy of Dr.Dick Stroud, USFWS (photographerunknown).anesthetic) should be used so that the potential forscavenger or predator toxicity is lessened." While adiscussion of these alternate methods is beyond thescope of this fact sheet, it must be emphasized thatthey are last resort procedures restricted to use bytrained, authorized personnel, where no other options are available.1 2000 Report of the AVMA Panel on Euthanasia. J Am Vet Med Assoc 2001; 218: 669-696.Who Can be Contacted for Further Information on Secondary PentobarbitalPoisoning?1. For information on medical treatment of poisoning victims, the National AnimalPoison Control Center of the ASPCA runs a fee-based service for emergencies and othercases: 1-888-426-4435 (1-888-4ANIHELP).2. To determine whether a case falls under USFWS jurisdiction, for information on lawenforcement and liability issues, or if you have found a dead animal, contact yourregional US Fish and Wildlife Service Law Enforcement Office and visit the USFWS website at www.fws.gov. Regional Law Enforcement Office information is listed below.7
---
Pacific Region (1) Northeast Region (5)USFWS-LEUSFWS-LE911 NE 11 th Avenue 300 Westgate Center DrivePortland, OR 97232-4171 Hadley, MA 01035phone: 503-231-6125 phone: 413-253-8274CA, HI, ID, NV, OR, WACT, DE, ME, MD, MA, NH, NJ, NY, PAand Pacific Trust TerritoriesRI, VT, VA, WVSouthwest Region (2) Mountain-Prairie Region (6)USFWS-LEUSFWS-LEPO BOX 329PO BOX 25486-DFCAlbuquerque, NM 97103 Denver, CO 80225phone: 505-248-7889 phone: 303-236-7540AZ, NM, OK, TXCO, KS, MT, NE, ND, SD, UT, WYGreat Lakes-Big Rivers Region (3) Alaska Region (7)USFWS-LEUSFWS-LEOne Federal Drive 1011 E. Tudor Road, Mail Stop 151Fort Snelling, MN 55111-0045 Anchorage, AK 99503-6199phone: 612-713-5320 phone: 907-786-3311IL, IN, IO, MI, MN, MO, OH, WI AKSoutheast Region (4)National HeadquartersUSFWS-LEUSFWS-LEPO BOX 492264401 North Fairfax DriveAtlanta, GA 30359 Arlington, VA 22203phone: 404-679-7057 phone: 703-358-1949AL, AR, FL, GA, KY, LA, MS, NC,SC, TN, PR, USVI3. To determine whether a case falls under the jurisdiction of your state wildlife agency,for state and local assistance with dead wildlife, carcass issues, or other wildlife-relatedquestions contact your nearest office of the state Department of Fish and Wildlife, Fishand Game, or other Wildlife agency in your state. Links to many state wildlife agenciescan be found at http://www.tc.umn.edu/devo0028/gov.htm.4. For nonwildlife poisonings contact your local law enforcement office, Animal Control,or Humane Society.8
---
5. USGS National Wildlife Health Center, Madison, Wisconsin, www.nwhc.usgs.gov,maintains a partial database of secondary pentobarbital poisoning cases.National Wildlife Health Center6006 Schroeder RoadMadison, WI 53711phone: 608-270-2400AcknowledgmentsThe following individuals have contributed data or referrals to data sources to thisproject: Dr. Dick Stroud, USFWS National Wildlife Forensics Laboratory; Drs. GraceMcLaughlin and Kathryn Converse, USGS National Wildlife Health Center; Dr. MarkPokras, Tufts University School of Veterinary Medicine; Dr. Bob Poppenga, PADLS-NBCToxicology Laboratory; USFWS Special Agents Roger Gephart, Gary Mowad, Andy Buhl,Philip Knudsen, Roger Parker, John Rawls, Tim Santel, Frank Solis, Steve Magone, BillTalkin, Terry Jorgensen, Stephen Tuttle, and Ed Spoon; Mr. Bob Hosea, CA Dept. of Fishand Game; Mr. Sean Strom, WI Dept. of Natural Resources; Dr. John Huckabee, PAWS;Dr. Ken Langelier, Island Veterinary Hospital; and Dr. Cynthia Johnson, National Fishand Wildlife Foundation.Fact sheet prepared for USFWS by Betsy W. Krueger, DVM and Kirsten A. Krueger, Ph.D.,Habitat and Animal Health Concern, Inc., 26 Shawnee Way, Stafford, VA 22556.9