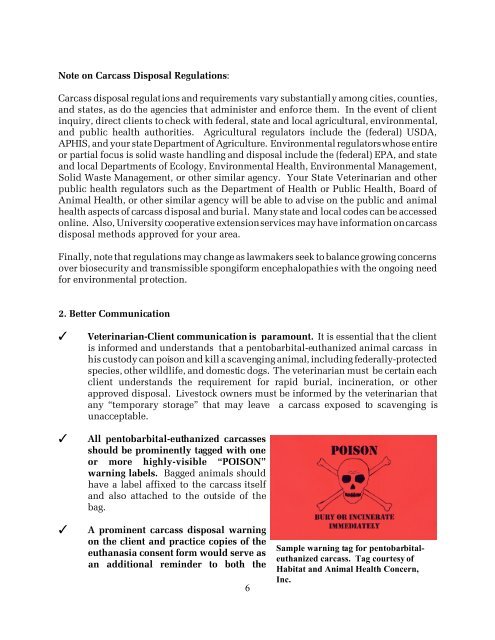 Secondary Pentobarbital Poisoning of Wildlife - Veterinary Clinical ...
Secondary Pentobarbital Poisoning of Wildlife - Veterinary Clinical ...
Secondary Pentobarbital Poisoning of Wildlife - Veterinary Clinical ...
SHOW MORE
SHOW LESS
Create successful ePaper yourself
Turn your PDF publications into a flip-book with our unique Google optimized e-Paper software.
Note on Carcass Disposal Regulations:Carcass disposal regulations and requirements vary substantially among cities, counties,and states, as do the agencies that administer and enforce them. In the event of clientinquiry, direct clients to check with federal, state and local agricultural, environmental,and public health authorities. Agricultural regulators include the (federal) USDA,APHIS, and your state Department of Agriculture. Environmental regulators whose entireor partial focus is solid waste handling and disposal include the (federal) EPA, and stateand local Departments of Ecology, Environmental Health, Environmental Management,Solid Waste Management, or other similar agency. Your State Veterinarian and otherpublic health regulators such as the Department of Health or Public Health, Board ofAnimal Health, or other similar agency will be able to advise on the public and animalhealth aspects of carcass disposal and burial. Many state and local codes can be accessedonline. Also, University cooperative extension services may have information on carcassdisposal methods approved for your area.Finally, note that regulations may change as lawmakers seek to balance growing concernsover biosecurity and transmissible spongiform encephalopathies with the ongoing needfor environmental protection.2. Better CommunicationVeterinarian-Client communication is paramount. It is essential that the clientis informed and understands that a pentobarbital-euthanized animal carcass inhis custody can poison and kill a scavenging animal, including federally-protectedspecies, other wildlife, and domestic dogs. The veterinarian must be certain eachclient understands the requirement for rapid burial, incineration, or otherapproved disposal. Livestock owners must be informed by the veterinarian thatany "temporary storage" that may leave a carcass exposed to scavenging isunacceptable.All pentobarbital-euthanized carcassesshould be prominently tagged with oneor more highly-visible "POISON"warning labels. Bagged animals shouldhave a label affixed to the carcass itselfand also attached to the outside of thebag.A prominent carcass disposal warningon the client and practice copies of theeuthanasia consent form would serve asan additional reminder to both the6Sample warning tag for pentobarbitaleuthanizedcarcass. Tag courtesy ofHabitat and Animal Health Concern,Inc.