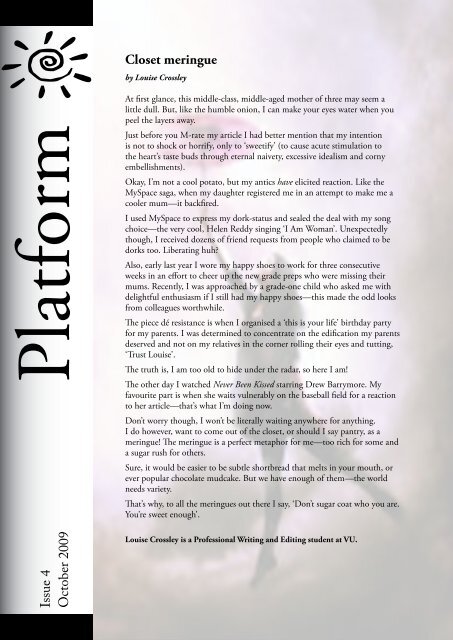 Issue 4 2010 - Learning and teaching portal - Victoria University
Issue 4 2010 - Learning and teaching portal - Victoria University
Issue 4 2010 - Learning and teaching portal - Victoria University
SHOW MORE
SHOW LESS
You also want an ePaper? Increase the reach of your titles
YUMPU automatically turns print PDFs into web optimized ePapers that Google loves.
Platform<br />
<strong>Issue</strong> 4<br />
October 2009<br />
Closet meringue<br />
by Louise Crossley<br />
At first glance, this middle-class, middle-aged mother of three may seem a<br />
little dull. But, like the humble onion, I can make your eyes water when you<br />
peel the layers away.<br />
Just before you M-rate my article I had better mention that my intention<br />
is not to shock or horrify, only to 'sweetify' (to cause acute stimulation to<br />
the heart's taste buds through eternal naivety, excessive idealism <strong>and</strong> corny<br />
embellishments).<br />
Okay, I'm not a cool potato, but my antics have elicited reaction. Like the<br />
MySpace saga, when my daughter registered me in an attempt to make me a<br />
cooler mum—it backfired.<br />
I used MySpace to express my dork-status <strong>and</strong> sealed the deal with my song<br />
choice—the very cool, Helen Reddy singing 'I Am Woman'. Unexpectedly<br />
though, I received dozens of friend requests from people who claimed to be<br />
dorks too. Liberating huh?<br />
Also, early last year I wore my happy shoes to work for three consecutive<br />
weeks in an effort to cheer up the new grade preps who were missing their<br />
mums. Recently, I was approached by a grade-one child who asked me with<br />
delightful enthusiasm if I still had my happy shoes—this made the odd looks<br />
from colleagues worthwhile.<br />
The piece dé resistance is when I organised a 'this is your life' birthday party<br />
for my parents. I was determined to concentrate on the edification my parents<br />
deserved <strong>and</strong> not on my relatives in the corner rolling their eyes <strong>and</strong> tutting,<br />
'Trust Louise'.<br />
The truth is, I am too old to hide under the radar, so here I am!<br />
The other day I watched Never Been Kissed starring Drew Barrymore. My<br />
favourite part is when she waits vulnerably on the baseball field for a reaction<br />
to her article—that's what I'm doing now.<br />
Don't worry though, I won't be literally waiting anywhere for anything.<br />
I do however, want to come out of the closet, or should I say pantry, as a<br />
meringue! The meringue is a perfect metaphor for me—too rich for some <strong>and</strong><br />
a sugar rush for others.<br />
Sure, it would be easier to be subtle shortbread that melts in your mouth, or<br />
ever popular chocolate mudcake. But we have enough of them—the world<br />
needs variety.<br />
That's why, to all the meringues out there I say, 'Don't sugar coat who you are.<br />
You're sweet enough'.<br />
Louise Crossley is a Professional Writing <strong>and</strong> Editing student at VU.
---
Managing Editor<br />
Bruno Lettieri<br />
bruno.lettieri@vu.edu.au<br />
Editors & Designers<br />
Megan Green<br />
greenmegan@bigpond.com<br />
Martina Michael<br />
martinamichael@bigpond.com<br />
Acknowledgements<br />
Maree Wheelens<br />
Youth, VCE & Community<br />
Education<br />
Susanna Bryceson<br />
Coordinator<br />
Professional Writing & Editing<br />
Paul Kinna<br />
Western Futures Program<br />
Stephen Weller<br />
Pro Vice-Chancellor (Students)<br />
<strong>Victoria</strong> <strong>University</strong><br />
Sam Romijn<br />
TOTeM Project<br />
Sara Irel<strong>and</strong><br />
Photography<br />
www.chameleonphotography.<br />
deviantart.com<br />
Microsoft Corporation<br />
Clipart<br />
Enquiries<br />
Youth Enquiries VCE<br />
Susheel Ch<strong>and</strong><br />
03 9919 8643<br />
TOTeM Project<br />
03 9867 8740<br />
ESL Youth Courses<br />
03 9919 8744<br />
Submissions to:<br />
bruno.lettieri@vu.edu.au<br />
Editorial<br />
by Bruno Lettieri<br />
A magazine or newsletter cannot just exist in a vacuum. It would accumulate<br />
in hidden boxes <strong>and</strong> have no life, no ability to come up for air. It needs to<br />
circulate in <strong>and</strong> around a vibrant readership. Does the magazine create its own<br />
readership or does it attach itself affectionately to something happening, <strong>and</strong><br />
then help bind that thing together? Unanswerable? perhaps. But I'd like to<br />
think Platform could be both instigator <strong>and</strong> attacher.<br />
I know with great certainty that when enthusiastic language-loving teachers<br />
carry it into classes <strong>and</strong> read from it, speculate with their folk about the<br />
informing spirit of the bundled pages, <strong>and</strong> use it as an instrument to encourage<br />
the best of their generous creative thinking, it becomes a lovely instrument<br />
of possibility. We began with the hope that Platform would be read with long<br />
pauses <strong>and</strong> wide lenses gazing out of train windows.<br />
We imagine it could bring established talented writers <strong>and</strong> those putting ink<br />
on paper for the first tentative time into an unexpected alliance, <strong>and</strong> that<br />
some emboldened creative audacity could be released in that lovely chemistry.<br />
And of course, there is that broad constituency of people who usually write in<br />
role-directed ways who turn up in Platform in unfettered guise. Long may they<br />
dance here.<br />
Platform gets released four times a year at The Terrace Restaurant, Footscray<br />
Nicholson campus. It's that attempt to draw an audience of teachers, staff,<br />
students, <strong>and</strong> those loosely gathered under the awning of 'interested in youth'<br />
that makes me think of it as 'Instigator'.<br />
The magazine gives us something to build that's tangible <strong>and</strong> creative. All that<br />
writing from all those people who share something that's a little unspoken but<br />
very forceful, all that sculpturing into shape <strong>and</strong> recognisable form—gives us<br />
something to weave a celebration around. We come into a space that's a little<br />
different from the daily rounds. The gathering itself, is made <strong>and</strong> hopefully<br />
infused, with a sense of the importance of coming together when people bring<br />
their goodwill, better social instincts <strong>and</strong> attentiveness to the stories of others.<br />
Welcome to <strong>Issue</strong> 4. I know there are new surprises in it because we have urged<br />
<strong>and</strong> begged <strong>and</strong> asked nicely of many good new people. It's slowly working its<br />
way into some of our neighbouring schools <strong>and</strong> toward new friendships <strong>and</strong><br />
alliances.<br />
Our last Platform release featured our own students in gentle conversation in<br />
front of a real audience around the questions: What brought you here to VU?<br />
What keeps you here? What makes it worthwhile? Questions I would eagerly<br />
take to any person at any place any time. I have a profound faith that when<br />
people are acknowledged seriously they will respond.<br />
P4, as we call it in the backrooms, urges you to write for it, encourage others to<br />
write for it. Please, put that wonderful imagination to full-thoughtful-curiouseager-to-communicate<br />
effect.<br />
Page 2
---
What constitutes youth?<br />
by Stephen Weller<br />
When I think about youth—I think about my children.<br />
When I think about my children—I think about myself as a parent.<br />
And when I think about myself as a parent—I think about my own parents.<br />
Yet when I think about my parents—I think of myself as a youth.<br />
So, what constitutes youth?<br />
Is youth a stage in life represented by age? Or is youth a state of mind?<br />
If youth is a stage in life then what stage is it? Is it teens, adolescence, or the coming<br />
of age?<br />
If youth can be described as a state of mind, is this just a desire by the old to hold on<br />
to the past?<br />
And once we know who the youth are, what is to be done with them?<br />
For those rightfully amongst the youth there seems to be an uncertainty as to when<br />
it is time to act.<br />
For those no longer amongst the youth there seems to be an insistence that the<br />
youth must wait.<br />
But surely given that youth are our future then why not let them have their time<br />
now?<br />
If youth is the period between childhood <strong>and</strong> adulthood then let it be a time to be<br />
celebrated.<br />
Let the blurred boundaries between naivety <strong>and</strong> experience be a time to be<br />
championed.<br />
Bobby Kennedy described youth as: 'the appetite for adventure over the life of ease'.<br />
So why not let adventure triumph over ease?<br />
Let us recognise the perspective that youth provides fresh from childhood.<br />
Let us recognise the perspective of youth that is yet to experience adulthood.<br />
Let us invest in our youth <strong>and</strong> celebrate this unique period of transformation.<br />
So let us celebrate youth <strong>and</strong> put the h<strong>and</strong>s of the future in those who will live in it!<br />
Stephen Weller is the Pro Vice-Chancellor (Students) of <strong>Victoria</strong> <strong>University</strong><br />
Page 3
---
Western Futures<br />
Platform,<br />
My name is Chantelle Gordon.<br />
I am 19 years old.<br />
I use to go to Rosamond School in 1996.<br />
I was a volunteer in SRC school council.<br />
But my favourite sport is football because in<br />
2002 I was in Auskick.<br />
And my 14 words are:<br />
Kathy is cool<br />
Kathy is smart<br />
Kathy will always still be a great teacher<br />
We will miss you Kathy <strong>and</strong> I hope it's a girl.<br />
by Chantelle Gordon<br />
Hello, my name is Vu.<br />
I'm nineteen years of age.<br />
I have two brothers <strong>and</strong> two sisters <strong>and</strong> my<br />
parents.<br />
My favourite TV shows are 'Home <strong>and</strong><br />
Away', 'Two <strong>and</strong> a Half Men', 'How I meet<br />
my Mother', 'Neighbours', 'The Simpsons',<br />
'Futurama' <strong>and</strong> Wrestling.<br />
My favourite football teams are Hawthorn,<br />
Geelong, Collingwood, St Kilda <strong>and</strong> Carlton.<br />
My favourite sport is football, cricket, soccer<br />
<strong>and</strong> basketball.<br />
by Vu<br />
My Flower Power Story.<br />
My name is Tu-Tu Halaseh.<br />
I would like to be a football <strong>and</strong> cricket umpire.<br />
I also love flowers.<br />
My favourite flowers are daisies, roses <strong>and</strong> pink<br />
flowers.<br />
They make you grow up everyday.<br />
Flowers are very special for all occasions.<br />
On a beautiful spring day, flowers bloom.<br />
Freshly cut flowers are very, very special indeed.<br />
All flowers are lovely.<br />
I like white flowers, yellow flowers, <strong>and</strong> red<br />
roses.<br />
All these flowers are wonderful <strong>and</strong> beautiful<br />
<strong>and</strong> I love to pick some.<br />
by Tu-Tu Halaseh<br />
My name is Glenn McDonald.<br />
I live in Moonee Ponds.<br />
I have a happy life.<br />
I live with my mum <strong>and</strong> Nan.<br />
My hobbies are watching rugby, race-calling<br />
<strong>and</strong> going to the Sam Merrifield Library.<br />
by Glenn McDonald<br />
I am Deana Horvat.<br />
I have a dog, his name is Jasper.<br />
I have a pool in the backyard.<br />
I have a mum, dad, sister <strong>and</strong> me.<br />
I am 19 years old.<br />
I will be 20 years-old on 17th October.<br />
I go for Essendon with my mum <strong>and</strong> sister.<br />
by Deana Horvat<br />
I am Robyn Sherrott.<br />
The school I came from was Ascot Vale.<br />
Before I came here I was in the Annexe.<br />
I play indoor cricket for a club called Footscray.<br />
There are two dogs at home <strong>and</strong> their names are<br />
Samson <strong>and</strong> Bain.<br />
I like to ride a bike.<br />
I also bowl on a Monday, my partner's name is<br />
Brett <strong>and</strong> our team name is RMB.<br />
by Robyn Sherrott<br />
Hi, my name is Lauren Joy Sherrott<br />
I am 19 years old.<br />
I was born at Bacchus Marsh Hospital.<br />
I went to two primary schools, Coburg <strong>and</strong><br />
Aberfeldie. Then I went to Ascot Vale.<br />
In 2007, I was school captain.<br />
In 2008, I finished high school <strong>and</strong> moved on<br />
to Uni.<br />
Every Monday night, I bowl in a league called<br />
the Terrorways. My partner's name is Jessica<br />
<strong>and</strong> our team is called the Girly Girls.<br />
Thursday nights I go to Mooney Valley to do a<br />
Hip Hop Class.<br />
by Joy Sherrott<br />
Page Page 45
---
Western Futures<br />
My Idol success<br />
by Jason Heagerty<br />
I started to audition for 'Australian Idol' when I was sixteen years-old. For two months before the<br />
2004 'Australian Idol' had started. I practised the song choice that I wanted to sing. I watched<br />
'Australian Idol—The Journey Begins' (2004 tutor) which is all about how to deal with fame. It<br />
had about the success of Guy Sebastian, Shannon Noll <strong>and</strong> the 'Australian Idol' 2003 Final twelve<br />
<strong>and</strong> gave advice on 'Australian Idol' auditions.<br />
I realised that I couldn't afford to catch a taxi to the auditions <strong>and</strong> back so I recorded my originals<br />
onto a tape using my 'Australian Idol' Karaoke CD-G's I got from my Santa Christmas Wish<br />
list (2003 model), <strong>and</strong> I performed my version of the Australian national anthem, 'You Are<br />
My Sunshine' <strong>and</strong> also the Richmond Tigers' AFL theme song. I sent it to the 'Australian Idol'<br />
Melbourne audition <strong>and</strong> then two months later I received a letter with the judge's autographs:<br />
Marcia Hines, Ian Dickson <strong>and</strong> Mark Holden.<br />
I sang well, but I know I've got a long way to go to superstar stardom, so I headed back to<br />
training. I was nervous at the start, especially when you go for it <strong>and</strong> then you don't make it. But<br />
I was happy <strong>and</strong>, well let's say it was a silent cry, that means I wanted it bad but there are others<br />
that are better than me, so I went back to practise.<br />
After that I did my originals, but in the next stage I used a DJ software called E-Tag <strong>and</strong> did my<br />
hottest remix version of 'This Is Your Night'. The judges said I was getting better except when it<br />
came to Kyle S<strong>and</strong>l<strong>and</strong>s. He didn't like my performance. Marcia felt like saying yes but rejected<br />
me due to wrong genre choice. Techno song choices are not a strong point for me unless I get<br />
advanced equipment.<br />
I moved on to 'Australia's Got Talent' Kit-Kat Competition. I recorded my video clip of me<br />
performing my version of 'Barbie Girl' by Aqua. I sent it by sms. I was the best in street ranks<br />
<strong>and</strong> got 1242 votes, but didn't win a trip for four to Queensl<strong>and</strong>, but I was glad to give it a go.<br />
On my 21st birthday I went to a Caroline Springs' restaurant <strong>and</strong> had food, dessert <strong>and</strong> played<br />
Xbox. Later that night I did some karaoke. I sang 'Buses And Trains' by Bachelor Girl. The<br />
ladies that worked in the pub loved my singing <strong>and</strong> dancing <strong>and</strong> they thought I was hot, so they<br />
gave me an encore. So, I sang 'All I Have to Give' by Backstreet Boys. I really enjoyed my first<br />
karaoke night performances. I am looking forward to going in to the Centro Idol competition in<br />
Footscray soon. I found out about it by looking at the window sign on my way to school.<br />
Music is the best medicine to entertain yourself <strong>and</strong> friends.<br />
Thank you to the students from VU's Western Futures Program.<br />
Page 5
---
we only loaned him to you<br />
by Kristin Henry<br />
We only loaned him to you.<br />
He was perfect up till then.<br />
He was smart <strong>and</strong> he was funny,<br />
there was nothing wrong with him,<br />
since before he was born<br />
when we curled our lives around his<br />
to keep him safe.<br />
For every new word he spoke<br />
we made up songs.<br />
We played each of his first steps together<br />
like games.<br />
Like a bunch of galahs I guess<br />
but loved was the only way<br />
he knew himself.<br />
And laugh, he used to laugh.<br />
Eyes full of tricks <strong>and</strong> spit.<br />
He was a hell of a giggler.<br />
But now he's quieter.<br />
We gave him to you<br />
<strong>and</strong> this is what you do.<br />
He's started to jump at touches,<br />
every day he's smaller.<br />
He looks surprised<br />
like we lied<br />
when we let him think he was beautiful<br />
to everyone's eyes.<br />
We gave him to you<br />
<strong>and</strong> this is what you've done.<br />
He's torn, we cannot find the spot<br />
but we can see his childhood<br />
spilling out.<br />
You've made these holes.<br />
We want them fixed.<br />
We gave him to you perfect<br />
<strong>and</strong> you...<br />
you were supposed to be careful.<br />
Kristin Henry's previous anthologies include quick packer, slices of wry <strong>and</strong> others.<br />
Page Page 67
---
Audit<br />
by Robert Corbet<br />
I'm not sure about my blood type<br />
but I've got a birth certificate somewhere,<br />
library card, Citylink, Friends of the Zoo<br />
ATM, driver's licence, I lost three demerits<br />
for not having my seat belt on.<br />
Medicare, dentist X-Rays, Vitamin C<br />
I'm not allergic, broke my arm in Grade 5<br />
one beer is enough, steer clear of whisky<br />
a few more lines when I look in the mirror<br />
don't leap out of bed like I used to.<br />
Reading the morning paper is depressing<br />
mixed feelings about humanity<br />
mortality <strong>and</strong> anxieties at arm's length<br />
lost <strong>and</strong> found, stray dogs<br />
family, friends <strong>and</strong> aquaintances.<br />
Gas <strong>and</strong> electricity bills, rates coming up<br />
plastic bags, hard rubbish, green waste<br />
I put my bins out every Wednesday<br />
limited assets, no liabilities, creditors or debt<br />
a few leaks I fixed with a bucket.<br />
Power naps, late night TV, top tens<br />
celebrity guests via satellite, sports reports<br />
so many books to read, movies to see<br />
Do you take a chance on something new<br />
or go back to the classics?<br />
Need time to think, smell the roses<br />
make hay while sun shines<br />
treading water, running to st<strong>and</strong> still<br />
dreaming about places I'll never visit<br />
stories I'll never write, people I'll never meet.<br />
Melway references, e-tags, short-cuts, dead-ends<br />
junk emails, door-knockers, pizza delivery<br />
dam levels, rain-shadows, long-range forecasts<br />
night-time disturbances: bats, possums, burn-outs<br />
thoughts falling asleep, forgotten next morning.<br />
Robert Corbet teaches Professional Writing <strong>and</strong> Editing at VU.<br />
Page 7
---
What matters<br />
by Hannie Rayson<br />
Four days ago, my son was whispering, 'Be brave, Mum. Be brave'. Minutes later he was<br />
laughing <strong>and</strong> waving <strong>and</strong> then he was gone. The big steel doors at Tullamarine had closed<br />
<strong>and</strong> I found myself sobbing in the arms of my ex-husb<strong>and</strong>.<br />
My son is fourteen years-old <strong>and</strong> he's gone to Paris.<br />
We drive back down the Tulla together, my ex-husb<strong>and</strong> <strong>and</strong> I. We talk about the prices<br />
of houses in Carlton. I am fighting back the urge to make him swing the car around <strong>and</strong><br />
retrieve our boy, to prize open the steel doors. 'Sorry everyone, we've made a ridiculous<br />
mistake.'<br />
From Paris, Jack will take a train to Granville in Norm<strong>and</strong>y. He'll live with a French<br />
family for three months <strong>and</strong> attend the local school. The family has two children, a rabbit<br />
<strong>and</strong> a cat. From his bedroom window he'll be able to see the English Channel. 'We will<br />
roast chestnuts from our tree,' writes his French mother. She is the only one who speaks<br />
English—Un peu—with the aid of a phrase book.<br />
My son is travelling as part of a program organised by the Southern Cross Cultural<br />
Exchange, now in its 18th year. In 2001 the nine-thous<strong>and</strong>th student will go overseas with<br />
this organisation.<br />
So I am the nine-thous<strong>and</strong>th mother to lie in bed <strong>and</strong> stare at the ceiling, imagining her son<br />
crying silently into his pillow. Lonely, homesick, scared. (Missing his mother.) Suddenly,<br />
the phone rings. It is 2 a.m.<br />
'I'm here, Mum. I'm in Paris!' He is trilling with excitement. 'My God, it's divine. I've just<br />
seen the Eiffel Tower.'<br />
My heart leaps.<br />
In Melbourne, my son lives between two houses. He has four parents. Together we form his<br />
personal polit bureau. Where other children just have to manage two adult personalities in<br />
their nuclear family, ours has to go before a committee. Interestingly, there is rarely division<br />
between households. When it comes to decision making, the differences occur along gender<br />
lines. Usually the father <strong>and</strong> the step-father line up against the mother <strong>and</strong> the step-mother.<br />
Here is an example. We go to Jimmy Watson's wine bar in Carlton after the airport <strong>and</strong><br />
meet up with the step-parents. They are very pleased because in French they are called<br />
beaux parents—the good parents.<br />
I am told firmly that I must not let Jack know that I am missing him terribly.<br />
My husb<strong>and</strong> says, 'You must set him free. He has to go with your full encouragement to<br />
have the time of his life.'<br />
My ex-husb<strong>and</strong> agrees, 'Don't let him worry about you. You mustn't do that.'<br />
'I don't want him to feel ab<strong>and</strong>oned,' I say lamely.<br />
Georgina, his step-mother, underst<strong>and</strong>s. 'I think it's okay in the beginning. Until he settles<br />
in.'<br />
As a mother I've never performed myself to my son. I've never pretended in front of him. I<br />
have never ushered him out of the room when the news was on. My motto has always been:<br />
Don't protect, equip.<br />
Once, I remember my neighbour came to the door <strong>and</strong> burst into tears. Her father had just<br />
died. Jack was three.<br />
I said, 'Say you're sorry, Jack.'<br />
He looked bewildered, 'I didn't do it.'<br />
Page Page 89
---
He has been party to the full gamut of life experiences. He's been to hospitals <strong>and</strong><br />
funerals <strong>and</strong> law courts <strong>and</strong> weddings <strong>and</strong> the birth of two babies. He has learned that<br />
there is no more significant human response both privately <strong>and</strong> politically than the<br />
capacity for empathy. As a result he is insightful about the me<strong>and</strong>erings of the human<br />
heart.<br />
So now I must pretend, apparently. And crack hardy.<br />
It's not as if we haven't been separated before. Last summer he lied about his age to get<br />
into acting classes at NIDA. He was encouraged by his step-father who said, 'Lying about<br />
your age is a great Australian tradition. It's not an act of deceit. It's a show of pluckiness.'<br />
Then, we all gathered at Southern Cross Station <strong>and</strong> ran along the platform waving <strong>and</strong><br />
waving as the train slithered off to Sydney.<br />
I was fine then. But this is different. This is character building of a different order.<br />
I ring my girlfriend. 'Do you think I've molly-coddled Jack?'<br />
'Absolutely not.'<br />
Two days pass. I am living in a time zone ten hours earlier. He is having breakfast now, I<br />
think. He is looking down at his plate. She is serving brains.<br />
My ex-husb<strong>and</strong> rings up. 'I was awake all night,' he says. 'I was worried he might not be<br />
warm enough'.<br />
The phone rings. So far Jack has sent two emails <strong>and</strong> made four calls. 'You can ring me,<br />
you know,' he says, <strong>and</strong> I detect a little crack in his voice.<br />
'What are they like?' I whisper down the phone.<br />
He is silent.<br />
'Can't you talk?'<br />
'Not really'.<br />
I hang up <strong>and</strong> replay the conversation over <strong>and</strong> over. There in all the cracks is uncertainty<br />
<strong>and</strong> strangeness <strong>and</strong> yearning. Perhaps I'll have to fly over there at Christmas.<br />
I lie in bed <strong>and</strong> wonder, who is not coping here, me or him?<br />
'Hey Mum,' says the next email. 'Remember moles from Enid Blyton? The cat just<br />
caught one.'<br />
I go to Safeway feeling quite chipper. I don't know why, but the mole story has cheered<br />
me enormously. I run into his best friend. 'I got an email,' she tells me. 'It says, "I'm safe.<br />
I'm scared. And I'm dealing with it."'<br />
I hug my husb<strong>and</strong> in the toiletries aisle.<br />
'This is why we sent him, remember?'<br />
Hannie Rayson is an Australian Playwright. This piece was first published in The Age 'What<br />
Matters' column.<br />
Page 9
---
A son again<br />
by Barry Garner<br />
Thirty years between prayers is a long time, but I was mad at God for letting my dad die.<br />
I was only thirteen when it happened. I prayed a lot back then. Begged God to make him<br />
better, but my prayers went unanswered. At thirteen it's hard to underst<strong>and</strong> death <strong>and</strong> it<br />
was even harder to underst<strong>and</strong> God. All I knew was the man I idolised was gone forever.<br />
Dad died on a Wednesday, sports day at Collingwood Tech. At the same time I was running<br />
round the basketball court, my dad just slipped away. I had thought he'd get better. After all<br />
I'd prayed about it. God was on the job, he'd fix it, he'd make Dad well again. But he didn't.<br />
I didn't get to say goodbye. He was just gone.<br />
I couldn't believe that life could be so unfair. Dad was only forty-two, a hard worker <strong>and</strong><br />
a loving father. He loved the Goons, World Championship Wrestling <strong>and</strong> Al Jolson. Dad<br />
loved a good laugh <strong>and</strong> lived each day for us, his family, or to quote him, 'My Mob'. Why<br />
would God take him? How could this happen to our family? What good was prayer when<br />
God didn't answer?<br />
For years after Dad's death I did my best to shut God out of my life. Like I said, I held<br />
a grudge for almost as long as Dad's life. But I refused to give in. Even when the need to<br />
connect to something bigger than my own life swamped me, I wouldn't pray. It was no use,<br />
prayers didn't get answered. God wouldn't help me. God was a hard man.<br />
It wasn't till I met my wife eight years ago that I was encouraged to talk to God again.<br />
Carolyn helped me see that God didn't take my father, cancer had. She led me quietly <strong>and</strong><br />
patiently to her God, who wasn't an ogre, but a loving father. This new way of looking at<br />
God meant I, the fatherless, was a son again. Carolyn taught me that the peace <strong>and</strong> hope<br />
that could come from talking to God is real. Is necessary.<br />
I pray every day now, but these days I do it without dem<strong>and</strong>ing a result. I know that we<br />
don't always get what we ask for. That earthly bodies wear out <strong>and</strong> that for each of us there<br />
is a season. I now see prayer as the path to God <strong>and</strong> trust him enough to listen.<br />
Barry Garner studied Creative Writing at Sunbury.<br />
Page Page 10 11
---
The heart<br />
by Rhiannon Lacy<br />
You were beating. Slow <strong>and</strong> steady. But empty. Hollow. Nothing but blood pulsed<br />
through your chambers.<br />
Then one dreary day, when the sky was full of blackened clouds, you fluttered a little.<br />
A warm sensation filled you for a brief moment. As soon as you felt it, it was gone. Like<br />
glimpsing a shooting star, you stored this feeling <strong>and</strong> remembered it, tried to recreate it<br />
when you were alone. But it was a dull shadow. Not enough.<br />
On a windy day when the trees were bent so low towards the ground they could<br />
uproot, the feeling returned. You sensed it at a distance. It inched closer <strong>and</strong> closer until<br />
its heat warmed your chambers. A faint laugh entered your veins. This time the feeling<br />
lasted for a short while, long enough to exchange phone numbers. You fluttered once<br />
more.<br />
That same evening the sensation arrived at seven-thirty. Its heat returned to your<br />
chambers, flooding your valves, running through your veins until you were overflowing.<br />
The feeling left early the next morning, promising to come back in the afternoon. That<br />
promise was fulfilled. It stayed for the afternoon which became evening <strong>and</strong> turned into<br />
the weekend. This pattern of return continued <strong>and</strong> became a habit.<br />
You grew accustomed to the routine <strong>and</strong> soon the feeling remained, even when the<br />
cause had left. Its imprint visible to the stranger's eye. You were now alive, very alive,<br />
content <strong>and</strong> happy.<br />
You fell into a rhythm of comfort. The comfort of smelly socks lying on the bedroom<br />
floor <strong>and</strong> the toilet seat left up.<br />
Summer came <strong>and</strong> the air was filled with the smell of freshly-cut grass. It was then<br />
that the feeling you had carried <strong>and</strong> tended to in the winter months through to spring<br />
decided to stay. You soared through the clouds <strong>and</strong> higher than heaven. Pure bliss.<br />
Not long after, on a heavily hot afternoon, the screech of tyres echoed through you.<br />
Shards of glass sprinkled across the road as a grey haze settled in the air. You stopped. Still<br />
<strong>and</strong> quiet. Then blood pounded through your chambers. Its rhythm growing faster <strong>and</strong><br />
faster. The smell of summer vanished <strong>and</strong> was replaced by fear. The feeling that had made<br />
you full had gone. Your beating grew louder <strong>and</strong> louder. Blood flooded your chambers,<br />
valves <strong>and</strong> arteries. Away. Then you broke, splitting down the middle, tearing in two<br />
uneven pieces.<br />
You had known the sensation for seven weeks. Seven weeks after it had gone you<br />
began stitching yourself back together. The feeling had been shared for eighteen weeks.<br />
It took eighteen weeks for you to seal the tear. You had seen each other at least three days<br />
each week which had turned into every day. After thirty-seven weeks the scars began to<br />
appear. It took you two hundred <strong>and</strong> fifty-nine days to mend yourself. But the scars are<br />
still there, twisted into you. They will remain.<br />
You are still beating, slow <strong>and</strong> steady. But empty. Hollow. Nothing but blood pulsing<br />
through your chambers.<br />
Rhiannon Lacy is a VU student.<br />
Page 11
---
Facing the future<br />
by Martin Flanagan<br />
For someone of her age <strong>and</strong> many experiences, Georgia Savage is almost unreasonably glad<br />
of life. I know people who would be wrecked by what she has been through, but her eyes<br />
continue to gleam like a child's as she tells me what she has seen <strong>and</strong> learned. In the event<br />
of her death, she once told me, I can find her by looking at the grass in the back straight at<br />
Flemington during the Spring Carnival. Imagine a brush of sun-touched green with maybe<br />
a rustle of wind in it. And that is why, the week before the season began, when asked to<br />
speak in a pub on the topic, Facing the Future, I thought I would take Georgia along. I<br />
wanted to say something green, something that had life, but was nonetheless real.<br />
There were about eighty or so, mostly older, people in the pub. I basically told two stories.<br />
I told how, a week after 'September 11', I spoke at a testimonial dinner for Bob Brown in<br />
Melbourne. Afterwards, he <strong>and</strong> I had a talk about whether the human experiment could<br />
ever achieve any sort of enduring stability for all the peoples of the earth, or whether it<br />
would end in chaos <strong>and</strong> destruction.<br />
'I don't know that it won't end in chaos,' he said. 'But I choose to act as if it won't.'<br />
Bob Brown believes an act of defiance, within ourselves, is necessary if we are to resist the<br />
logic of our times.<br />
The second story I told was about meeting Rainsy Sam, the leader of the democracy<br />
movement in Cambodia, in 2002. At the time we met, the number of his party workers<br />
murdered for trying to establish democracy in their country was twelve. His wife told of a<br />
legally authorised march they participated in—turning a corner, they were met by a line of<br />
soldiers, rifles levelled. Her husb<strong>and</strong> continued walking towards the soldiers, so did those<br />
behind him. When he finally reached the tip of the barrel of the first gun, presumably<br />
belonging to the comm<strong>and</strong>er, the military stood back <strong>and</strong> the marchers passed.<br />
'Where do you get your courage from?' I asked.<br />
Rainsy Sam told me that if you have a choice between right <strong>and</strong> wrong, take the right way<br />
without hesitation, because if you pause for a moment your fear will get you. He also told<br />
me, with a trace of regret, 'I thought, that once people believe in you, you don't have a<br />
choice.'<br />
Martin Flanagan is a senior journalist for The Age. This piece appeared in his book, The Game<br />
in Time of War.<br />
Page Page 12 13
---
Four seasons of the heart<br />
by Paul Mitchell<br />
winter<br />
Below a steadfast sky<br />
blood glistens on a dove's beak.<br />
I underst<strong>and</strong> again<br />
the wisdom of deceit.<br />
autumn<br />
Alone in thrilling rain<br />
my umbrella folded<br />
I watch the past fall<br />
all coloured lights <strong>and</strong> lampshades.<br />
spring<br />
Skipping through the thoughtless<br />
forest of my life, I use the rope<br />
to lasso mistakes<br />
kiss each <strong>and</strong> every one.<br />
summer<br />
Awake for luminous breakfast,<br />
charcoal clouds retreat,<br />
cereal stars are crumpetted.<br />
I raise a toast <strong>and</strong> dance.<br />
Paul Mitchell is a Yarraville poet <strong>and</strong> has two<br />
poetry anthologies, Minorphysics <strong>and</strong> awake<br />
despite the hour.<br />
Page 13
---
Waving goodbye to Granny<br />
by Marlene Gorman<br />
It was cold on the deck; the wind whipped around us as we stood at the rail of the ship. It<br />
wasn't supposed to be cold. It was July 12th, 1950, <strong>and</strong> it was summer.<br />
I stepped up onto the first rail of the iron stopping me from falling into the chasm between<br />
the boat <strong>and</strong> the dock. My Dad was holding on to the back of my coat.<br />
We had come to Tilbury by train from Manchester that morning as we embarked on our<br />
journey to Australia. I was feeling very excited by all this fuss. However, I could see that my<br />
Mam was not happy.<br />
'What's wrong, Mam? It's going to be great on the boat.'<br />
'I'm feeling really sad because Granny hasn't been able to get down here to see us off,' Mam<br />
said tearfully.<br />
Granny lived in London, not far from Tilbury, but she was not very well <strong>and</strong> no-one really<br />
expected her to travel to the docks. We had had only six weeks notice to sail to Sydney after<br />
Mam <strong>and</strong> Dad applied for passage to Australia together with my brother, who was big then;<br />
he was seventeen.<br />
Once we had been told when we were going to sail, we all went down to London to see<br />
Granny, aunts <strong>and</strong> uncles. Granny lived on the first floor in a large three-storey house that<br />
had been converted to flats right next door to Holloway Prison. Her other neighbour was<br />
an empty block of l<strong>and</strong> where a house had been blitzed during the war. There were a lot of<br />
empty blocks on Holloway Road.<br />
'I'll never see you again,' said Granny. 'I'm too old to come to Australia to see you.' She<br />
wept as she held me <strong>and</strong> Mam close to her.<br />
'Don't be daft. We'll earn lots of money in Australia <strong>and</strong> we'll come back to see you,' Mam<br />
said as she held Granny tighter.<br />
Aunt Daisy, the beauty of the family who lived on the ground floor, was asking my Mam<br />
everything about how we were able to go to Australia.<br />
'Oh, it would be great if you, Fred <strong>and</strong> the kids could come too,' Mam said.<br />
We eventually said our goodbyes <strong>and</strong> went back to Manchester by train to a very hurried<br />
selling-off of furniture <strong>and</strong> household goods as we were only given a small allocation of<br />
cargo space for our skip. Mam sold off everything except linen <strong>and</strong> blankets; she also kept<br />
her sewing machine.<br />
There was a huddle of people on the wharf; not too many as we were a very small company<br />
going to Sydney. Only six hundred passengers were on board the MV Cheshire, mainly<br />
families as ten-pound migrants. Dad had said that I was free because I was only six years<br />
old.<br />
I was looking at all the people <strong>and</strong> suddenly I saw Granny. You could not mistake Granny<br />
as she always had a brightly coloured scarf on her head.<br />
'Mam, Mam, look it's Granny. There she is!' I yelled excitedly. 'She's st<strong>and</strong>ing near the big<br />
green box—over there.'<br />
We waved <strong>and</strong> waved <strong>and</strong> then Granny saw us <strong>and</strong> started to wave back at us. Mam, Dad<br />
<strong>and</strong> Brian called out to Granny but I doubt she could hear us because just then the ship's<br />
signal went off to announce that we were sailing. The hawsers came off <strong>and</strong> were pulled<br />
back onto the ship by the crew. Someone had thrown streamers out to the crowd on the<br />
wharf <strong>and</strong> as the boat pulled away from the dock they stretched out in the wind until they<br />
finally broke.<br />
Page Page 14 15
---
We saw then, that Granny had taken off her scarf <strong>and</strong> was waving it at us. Dad waved his<br />
hanky back until we could not see her any more.<br />
We did not see her again. She died less than two years later after my Aunt Daisy <strong>and</strong> her<br />
family immigrated to Australia. But I will never forget my last glimpse of Engl<strong>and</strong> in that<br />
cold summer of 1950.<br />
We didn't get rich but we have all been back to Engl<strong>and</strong> several times. We just love it<br />
when we arrive back home in Australia though.<br />
Marlene Gorman is studying Professional Writing <strong>and</strong> Editing at VU.<br />
Page 15
---
A tough act to follow<br />
by Angela Jones<br />
He seems like a bright kid, which is why I suspect the education system has let him down.<br />
He says he was initially at a mainstream school; he struggled <strong>and</strong> failed. I doubt he was<br />
given the help he needed to cross the line. He then found himself enrolled at one of those<br />
schools for kids with intellectual disabilities. The lack of stimulation would have bored him<br />
to tears, that's how I'm guessing he wound up working for Waverley Industries.<br />
He is creative but not in the artistic sense; more that he enjoys creating new personas<br />
for himself, which he tries on like one might a pair of shoes. A different persona for the<br />
different groups of people he's with. He seems unsure as to which group of people to be<br />
friends with, unsure of who he is <strong>and</strong> who he wants to become.<br />
Some would say that when he's in the presence of someone he admires, he lies; he shows off<br />
claiming to have done all these macho things <strong>and</strong> maybe one day he may do them. At the<br />
moment I think it's all a fantasy, one of his many personas he tries on because he thinks it<br />
makes him seem cool <strong>and</strong> tough.<br />
He needs his personas to give him that air of confidence because he feels or thinks that he's<br />
stupid. I believe this, because when a co-worker was telling him how to do his job I said,<br />
'He's a bright enough guy, I'm sure he'll work it out for himself.'<br />
He was astonished <strong>and</strong> speechless when he finally spoke; he thanked me.<br />
When he's in trouble he puts on the pathetic look, which he's mastered over time <strong>and</strong> acts<br />
all hard-done-by, like the world owes him a favour.<br />
Angela Jones studied creative writing at VU Sunbury.<br />
Page Page 16 17
---
Coffee for Lucia was the remedy for every ill<br />
by Enza G<strong>and</strong>olfo<br />
Lucia brews coffee when she is sick, when she is sad. She brews coffee for visitors <strong>and</strong> for<br />
her men—she brews coffee several times every day—for breakfast, after lunch <strong>and</strong> dinner,<br />
mid-morning <strong>and</strong> mid-afternoon.<br />
Concetta drinks her mother-in-law's coffee, thick <strong>and</strong> black, sweetened with two<br />
sugars, all through her pregnancy. She craves it. It is the 1950s <strong>and</strong> there are no medical<br />
warnings declaring coffee's harmful effects on the unborn. It doesn't appear to have any<br />
harmful effects on Cia who is ten pounds at birth, a healthy <strong>and</strong> lively child; a child with<br />
her own addiction to coffee.<br />
'There is no point making coffee,' Lucia says, 'unless it's strong. No one wants to<br />
drink dirty water.' Lucia grinds the coffee beans each time she makes coffee. As each<br />
bean cracks, the thick aroma invades the house. This is sacred coffee. The ritual is in the<br />
making <strong>and</strong> serving.<br />
Each time Lucia takes the espresso pot from the cupboard, fills the base with water<br />
<strong>and</strong> spoons in the ground coffee—heaped spoon after heaped spoon, pushing the coffee<br />
down until it is packed tight. Once the pot is on the stove, the gas low, Lucia opens<br />
the draw of the dresser to reveal her collection of table cloths. Layer upon layer; each<br />
one ironed <strong>and</strong> folded. Square embroidered tablecloths: pink flowers in every corner, a<br />
bouquet in the middle. Or round white tablecloths with lace rims. Linen tablecloth in<br />
green <strong>and</strong> blue. New Australian fine cotton cloths with floral prints. Lucia shakes the<br />
chosen cloth <strong>and</strong> flings it across the table.<br />
On a silver serving dish she places sugar-coated biscuits <strong>and</strong> thick sponge cake. From<br />
the kitchen dresser she selects the miniature gold leaf coffee cups. As she places the last<br />
cup on the table, the pot on the stove begins to hiss. The steam, dense with the coffee<br />
essence fills the room. Lucia pours the coffee—black, thick, spitting—into the cups.<br />
'The coffee was better in Italy, stronger,' she says.<br />
Her family gathers around the table. They nod in agreement. Each one of them<br />
adding spoonfuls of sugar <strong>and</strong> their own comments; for them, of course, everything was<br />
better in the old country.<br />
Only Carmela shakes her head, 'No coffee thanks, not for me.' Later as they drive<br />
home, Carmela says to Alberto, 'My mother tells so many lies. How often did she have<br />
coffee in Italy—never.'<br />
In Castellino coffee was expensive; it was a luxury. Mostly they drank water <strong>and</strong> wine,<br />
if they had their own cows, they drank milk. On the occassional chilly December night,<br />
they might grind chicory beans—cheaper than real coffee, but hardly the same.<br />
The men drank coffee more often than the women. Usually, at Marco's café in the<br />
piazza. A quick, short expresso over a h<strong>and</strong>shake as they leaned against the bar <strong>and</strong><br />
finalised the sale of wheat or l<strong>and</strong>. Or a lingering one, spiked with a shot of grappa at<br />
night as they played cards at one of the back tables. The women never went into the<br />
cafés.<br />
In Australia, even the poorest Italian migrant can afford coffee. They buy imported<br />
Italian coffee, packets of roasted beans from delicatessens in Carlton. Inclined as they are<br />
to be nostalgic, coffee, becomes a persistent thread connecting them back. Each time they<br />
drink it, they remember with affection a better coffee, in a better country.<br />
It is not just this fabrication that torments Carmela.<br />
'My mother lies about everything.'<br />
Carmela sits with Alberto on the steps of the ver<strong>and</strong>a of their brick veneer home,<br />
more solid than her mother's weatherboard across town; a refuge from her family. He sips<br />
his coffee <strong>and</strong> Carmela drinks tea.<br />
'Memories play tricks on all of us.'<br />
'How can you defend her, she treats you like dirt?'<br />
'I'm not defending her, Carmela, I'm just saying we all remember Castellino with<br />
Page 17
---
fondness as if things were better there—the air, the trees, the food, the coffee. We forget; we<br />
forget the things we didn't like, the reasons why we left or maybe now that we are here—<br />
those things don't seem so bad <strong>and</strong> we wonder if we should have left.'<br />
'I'm glad we left. I hated Castellino. I have no fond memories of it. I hated my mother's<br />
house—the stone walls, the narrow stairway; every time I climbed my mother's stairs, every<br />
time I opened that door—even after they'd left, even after you <strong>and</strong> I took it over—I felt<br />
breathless, claustrophobic. There are no good memories for me there.'<br />
'Nothing?'<br />
'Nothing Alberto. Nothing.'<br />
Carmela sighs <strong>and</strong> leans hard against the wall. She closes her eyes <strong>and</strong> begins to talk,<br />
Alberto is not sure if she's talking to him.<br />
'I remember my doll, Yanna. I slept with her every night. I loved her. She was the only<br />
thing in the whole world that belong to me. That was all mine. One night, Paolo took her<br />
from me <strong>and</strong> threw her into the fire. She turned black, <strong>and</strong> half her face was burnt away.<br />
My mother yelled at me. At me, not at Paolo. She was angry with me for getting soot all<br />
over myself. As I pulled her out of the fire; she took her from me, pulled her out of my<br />
h<strong>and</strong>s <strong>and</strong> threw her back in the fire.<br />
"It's too late now to be crying, you should have looked after her. Anyway you're too old<br />
for dolls,"she said.<br />
'She never liked the doll because my father had made her for me. He had spent hours,<br />
several nights in a row carving <strong>and</strong> shaping her out of a block of wood. He painted her<br />
face—blue eyes, long curling lashes, a tiny nose <strong>and</strong> large red lips that always smiled. My<br />
gr<strong>and</strong>mother made me a dress for her, <strong>and</strong> we glued str<strong>and</strong>s of wool to her head for hair.<br />
She was a happy doll. I loved her. My mother knew how much the doll meant to me but<br />
she didn't care.<br />
'It was the same with everything I loved. I loved school <strong>and</strong> I was good at it. I could<br />
read better than anyone in my class. My teacher thought I could have studied <strong>and</strong> become<br />
a teacher myself. She came especially to visit my mother, to ask her to let me study but my<br />
mother never said anything about that; never talked to my father about it; she just took me<br />
out of school as early as she could get away with. I still remember the teachers. I wanted to<br />
be like them. When I close my eyes, I am back in that classrooms. I can see the blue-green<br />
slate; I can feel the chalk dust on my fingers, specks of it catching on my throat. School was<br />
my favorite time of the day. Sitting in the classroom listening, writing, reading; that was the<br />
happiest time of my childhood; they were the only happy times I can remember.'<br />
Alberto took Carmela's h<strong>and</strong>s in his, 'It is better to forget all this. You have a different<br />
life now.'<br />
'I can't forget Alberto—if we had children maybe I could...I thought by loving my own<br />
children I could...'<br />
'Carmela, don't; there is still hope.'<br />
'My mother made me lots of dresses when I was young, a new dress for every festa. I<br />
didn't ask for them. I didn't care about new dresses. "See how lucky you are, your friends<br />
can't afford new dresses." She made those dresses for show, so people would think she was<br />
a good mother. All that fuss over a dress—<strong>and</strong> over <strong>and</strong> over I would hear how much the<br />
material cost, how special it was, how lucky I was to have a dress made from material that<br />
came all the way from Vittoria. But I could see—she knew I could see how her face lit up<br />
at the sight of Aldo or Paolo or Luciano—never for me—never glad to see me. The sight<br />
of me was the memory of things to be done. "Bring the washing in, put the pot on, <strong>and</strong> do<br />
the dusting, the bed."'<br />
Carmela straightened her shoulders <strong>and</strong> held them back, 'I don't remember her ever<br />
kissing me or holding me. I don't remember her ever having a kind word. There are no<br />
good memories.'<br />
Page Page 18 19
---
'Carmela, please.' As Alberto started to speak she turned to look at him. 'You don't<br />
remember everything Carmela, none of us do. She must have held you, kissed you as a<br />
child. All our mothers did.'<br />
'Not mine. She was too busy holding her sons. They were her favorites. She should<br />
never have had a daughter. I took my father's attention away from her. She hated it when<br />
father came home <strong>and</strong> picked me up, throwing me up in the air, laughing with me as I<br />
flew above his head. She hated it. I could see it in her face. Quickly she would find him<br />
something to do—some chore to take him away from me. And then as I got older he<br />
too started to distance himself, as I became a young woman he stopped touching me,<br />
stopped laughing at the things I did. He stopped. She was at him until he stopped.<br />
He became just as bad as her. He kisses me now, one kiss on each cheek like a stranger.<br />
I could be anyone...he always takes her side in the end. He dotes on her, does whatever<br />
she says, he thinks she's perfect. I never heard him criticise her.<br />
Carmela, Alberto thought, was about to cry, instead she took a deep breath catching<br />
the emotion in her mouth, swallowing <strong>and</strong> then spitting out.<br />
'You don't know what it was like with her; you can't imagine that. I hate her you<br />
know. She makes me so angry. She's cunning. She knows how to be nice to people, she<br />
knows how to put it on for show, but if you watch her, you can see what she is really<br />
like.'<br />
They sit, husb<strong>and</strong> <strong>and</strong> wife, in silence. The memories of her childhood have been<br />
haunting Carmela since her brother's death, since the arguments with her mother over<br />
the money.<br />
Carmela goes inside the house, she takes a photograph from the shelf, a photograph of<br />
her family—parents <strong>and</strong> brothers <strong>and</strong> herself. The photograph was taken just before her<br />
wedding several years ago now—she takes it out to the ver<strong>and</strong>a. She has a strong urge to<br />
rip it up.<br />
She's been thinking too much about the past, she knows that.<br />
'Relax,' the doctor said, 'there's no physical reasons why you can't have a normal<br />
pregnancy. It's nerves. You have to take it easy.'<br />
'I have my period. I am bleeding,' she says to Alberto <strong>and</strong> starts to cry. He holds her<br />
but says nothing. He knows platitudes won't help.<br />
Every month's bleeding is another barren month. Every month, Carmela grieves anew<br />
for the lost child.<br />
'I just want to be like everyone else, like every other woman. I just want a child, a<br />
child of my own. I will love my child. I will love her so much.'<br />
Carmela looked at her mother in the photograph. A large woman, with full breasts<br />
<strong>and</strong> her wide hips. Her belly protruding—stretched after the birth of five children.<br />
'Why can't I give birth? Why do my children die? Why does life refuse to live inside<br />
me? Why am I barren? I wish I could stop seeing her, I wish I never had to see my<br />
mother again.'<br />
'But Carmela, it is not her fault. She is your mother. She wants you to have children.<br />
And there is your father, your brothers.'<br />
'Do you think she wants me to have children? Do you think she cares? And my father<br />
<strong>and</strong> brothers—they will always be on her side. They never understood what it was like for<br />
me <strong>and</strong> they never will. Only Luciano <strong>and</strong> now he is gone.'<br />
This piece is an extract from Lucia's Story.<br />
Dr Enza G<strong>and</strong>olfo is a Lecturer in Professional Writing <strong>and</strong> Editing at VU <strong>and</strong> author of<br />
newly released novel Swimming.<br />
Page 19
---
Kastellorizo<br />
by Komninos Zervos<br />
my family came, my family came, from kastellorizo<br />
been living in the l<strong>and</strong> of oz, for eighty years or so<br />
they called them refs, they called them wogs, they called them<br />
so <strong>and</strong> so's<br />
but they survived, the racist jibes, for eighty years you know<br />
now my papou, he's ninety-two, he watched the family grow<br />
it grew <strong>and</strong> grew, <strong>and</strong> grew <strong>and</strong> grew, the greeks like sex you know.<br />
my family came, the cazzies came, from kastellorizo<br />
been living in, the l<strong>and</strong> of oz, for eighty years or so.<br />
from fish <strong>and</strong> chips, <strong>and</strong> steak <strong>and</strong> egg, they built their family<br />
homes<br />
on good australian soil they built, they helped australia grow<br />
<strong>and</strong> in their homes, their souvenirs, from kastellorizo<br />
the hallowed map, the harbour view, the painted plates on show<br />
<strong>and</strong> photographs, old photographs, that told a tale of woe<br />
of poverty, <strong>and</strong> tyranny, under the bed they go!<br />
my family came, the cazzies came, from kastellorizo<br />
been living with, the memories, for eighty years or so.<br />
their children grew, they went to school, they learnt the aussie<br />
ways<br />
they changed their clothes, they changed their talk, they even<br />
changed their names<br />
but in the house, the parents taught, that cazzies they will stay<br />
a cazzie born, a cazzie be, until their dying day<br />
'cos everything that's greek is good, it's always been that way<br />
<strong>and</strong> cazzies are, the best of all, my old yiayia would say.<br />
Page Page 20 21
---
my family came, the cazzies came, from kastellorizo<br />
been living in, a time-warp zone, for eighty years or so.<br />
at weddings <strong>and</strong>, at christenings, they'd sing the cazzie songs<br />
we did the cazzie dances, <strong>and</strong> we all would sing along<br />
<strong>and</strong> all the stories, you would hear, about this grecian isle<br />
would put it on, a pedestal, a faultless pure lifestyle<br />
but reality, as time goes by, gets twisted, warped <strong>and</strong> changed<br />
<strong>and</strong> the longer, they had been here, the bigger the myth became.<br />
my family came, the cazzies came, from kastellorizo<br />
been living in, the past too long, for eighty years or so.<br />
the myth of kastellorizo, so good, so greek, so great<br />
to live by myth, in a changing world, simply does not equate<br />
'cos no man can, an isl<strong>and</strong> be, the proverb wisely states<br />
<strong>and</strong> progress never comes to those, to those who sit <strong>and</strong> wait<br />
<strong>and</strong> so we see, the culture clash, worship of myth creates<br />
you can't live in, another time, another mental state.<br />
my family came, my family stayed, in kastellorizo<br />
been living with the myth too long, for eighty years or so<br />
the cazzies came, the cazzies stayed, in kastellorizo<br />
they left reality behind, some eighty years ago!<br />
Komninos Zervos is a Melbourne Poet<br />
This piece was first published in komninos (1991).<br />
Page 21
---
The Anchoviad<br />
by Brian Doyle<br />
My daughter, age six, sleeps with her bear, also age six. My son, age three, sleeps with his<br />
basketball <strong>and</strong> a stuffed tiger, age unknown. My other son, also age three, sleeps with a<br />
can of anchovy fillets—King Oscar br<strong>and</strong>, caught off Morocco <strong>and</strong> distributed by the H.J.<br />
Nosaki Company in New York.<br />
He sleeps with the can every night, won't go to sleep without it under his right cheek.<br />
The can is bright red <strong>and</strong> features a drawing of King Oscar, an avuncular, bearded fellow,<br />
apparently a benevolent despot. Every night after Liam is asleep I gently delete the can from<br />
his grip <strong>and</strong> examine it. It's a roll-key can, 56 grams, with 'about six fillets (15g).' Other<br />
than the friendly visage of King Oscar, my favorite thing about the can is the word 'about',<br />
a rare concession, in the corporate world, to ambiguity. I suppose it's a legal thing, but still<br />
it pleases me, for murky reasons.<br />
I sit there in the dark, holding the anchovies, <strong>and</strong> ponder other murky things like:<br />
What's the deal with this boy <strong>and</strong> his anchovies? How is it that we are drawn to the odd<br />
things we love? How came anchovies from Morocco to be swimming headless under my<br />
son's cheek in Oregon? What do we know about anchovies other than their savory saltiness?<br />
What really do we know well about any creature, including <strong>and</strong> most of all ourselves, <strong>and</strong><br />
how is it that even though we know painfully little about anything we often manage worldwrenching<br />
hubris about our wisdom?<br />
Consider the six animals in the can. They are members of the family Engraulididae,<br />
the anchovies, which range in size from a Brazilian anchovy the size of your thumbnail<br />
to a ravenous New Guinea anchovy as long as your forearm. Anchovies don't survive in<br />
captivity, <strong>and</strong> they don't survive long after being netted either, so we know little about<br />
them—but that little is riveting:<br />
* Their hearing is perhaps the sharpest of any marine animal, <strong>and</strong> the frequency<br />
they hear best is, eerily, exactly the frequency of the tail-beats of other fish. Is their<br />
unimaginably crisp hearing how they manage to swim in darting collectives that twist<br />
as one astonishing creature? We don't know.<br />
* Their noses contain a sensory organ that no other creature in the world has. What's<br />
it for? No one knows.<br />
* Sensory complexes in anchovies' heads also form dense nets in the cheeks. What do<br />
these nets do? A puzzle.<br />
* Anchovies get their food by dragging their open mouths through the ocean in<br />
mammoth schools, but what, exactly, do they eat? Surprise: no one knows.<br />
Among the species of anchovy are, to the delight of meditative fathers sitting in<br />
the dark on their sons' beds, the buccaneer anchovy (which ranges furthest into the<br />
open ocean), <strong>and</strong> the sabre-tooth anchovy, which has very large teeth <strong>and</strong> hangs around,<br />
underst<strong>and</strong>ably, by itself. And I do not even mention the anchovies' cousin, the wolf<br />
herring, which grows to be a yard long, <strong>and</strong> has so many teeth that it has teeth on its<br />
tongue.<br />
Thus the anchovy, fully as mysterious a creature as, well, as this boy sleeping with the<br />
fishes. And what, really, do I know irrefutably about my son? Some of his quirks, a bit of<br />
his character, his peculiar dietary habits, the lilt of his song, the ache of his sob, where his<br />
scars are, the way his hair wants to go, the knock of his knees—<strong>and</strong> not much else. He is a<br />
startling, one-time-only, bone-headed miracle with a sensory complex in his head <strong>and</strong> heart<br />
that I can only guess at <strong>and</strong> dimly try to savor in the few brilliant moments I have been<br />
given to swim with him. He is a sort of anchovy, as are we all; so I sing our collective salty<br />
song—the song of fast, mysterious, open-mouthed creatures, traveling with vast schools of<br />
our fellows, listening intently, savoring the least of our brethren, <strong>and</strong> doing our absolute<br />
level best to avoid the wolf herring.<br />
Brian Doyle is the author of Thirsty for the Joy: Australian & American Voices.<br />
Page Page 22 23
---
Love story<br />
by Chris Beck<br />
The shared experiences between people <strong>and</strong> dogs make for a life the dogless can only<br />
dream about: a walk in the park, a run along the beach, a snuggle on the couch on a<br />
rainy afternoon, the sharing of snacks, the laughing at each other's jokes (sight gags), the<br />
naps together (no fidgeting).<br />
The fun <strong>and</strong> games—ball throwing, stick tossing, bird chasing, kite demolishing, shoe<br />
chewing, sausage stealing—foster a connection second to none.<br />
On that evening stroll he clears the area of any suspicious looking cats (<strong>and</strong> just to<br />
make sure, the innocent-looking ones too). He investigates the bushes in the park <strong>and</strong><br />
runs through the puddles, checks out the trees, pokes his nose everywhere, all the while<br />
checking you're still there.<br />
At the beach he swims towards you with pure love <strong>and</strong> affection in his eyes <strong>and</strong> just as his<br />
nails dig into your skin, he licks your face to muffle the screams. And when Rover leaps<br />
into the back of the car wet <strong>and</strong> covered in s<strong>and</strong>, avoiding the towel you placed carefully<br />
on the seat, you sigh <strong>and</strong> roll down the window so he can feel the wind through his hair.<br />
Rover sits attentively <strong>and</strong> listens while you complain about the loss of the corner shop<br />
to multi-nationals <strong>and</strong> the madness of progress, when all he really wants is some positive<br />
feedback about the hole he just dug in the front garden. Then you'll scratch him in that<br />
special place that makes his hind leg twitch. And you both feel better.<br />
At obedience classes Rover st<strong>and</strong>s to attention, rolls over, sits, drops, pretends to like<br />
children <strong>and</strong> maintains a safe distance from an enticing, tasty treat for god-knows-whatreason,<br />
while you st<strong>and</strong> in the shade because you feel a little faint. Then you both go<br />
home <strong>and</strong> fight over space on the couch.<br />
The help dogs offer can't be bought. Rover comes up smiling with that daggy look on his<br />
face, offering his arse to kick if you've had a bad day—though you never actually kick it.<br />
He selflessly guards the house all by himself, bored out of his mind <strong>and</strong> busting to go<br />
to the toilet, just so your stereo is still there when you get back from that all day outing.<br />
And when you get home <strong>and</strong> the contents of the bin are strewn throughout the house,<br />
you don the rubber gloves <strong>and</strong> cast an angry look his way. Five minutes later you offer<br />
him a biscuit.<br />
Rover barks every single time he hears the faintest glimmer of a noise, just in case you<br />
didn't hear it. And when there's a thunderstorm he burrows under the house to dig a<br />
shelter big enough for the whole family.<br />
The rapport is spooky. When you're sick, a concerned Rover sits at the foot of the bed.<br />
When you're sad Rover leaps into your arms <strong>and</strong> licks the pain away. When you're feeling<br />
sorry for yourself Rover brings you the lead. And when you bath him, you get soaking<br />
wet—he makes sure of that.<br />
On that visit to the vet, you feel that cold hard thermometer going up his bottom in<br />
sympathy. And though he has a weight problem you won't discuss it in front of him.<br />
Being with a dog means it's OK to let your freak flag fly. You can play stupid games<br />
together <strong>and</strong> not feel stupid. But please remember that when you get drunk <strong>and</strong> dress<br />
him up as Elvis (the Vegas years) he is stone cold sober.<br />
The bonding of the beasts will go on for a long time yet. Long after the world has been<br />
concreted <strong>and</strong> sold off to the highest bidder, because dogs don't care about money or fast<br />
cars, or revenge or power. They care about going for a walk.<br />
Chris Beck has written for The Age <strong>and</strong> other publications. Chris teaches Professional<br />
Writing <strong>and</strong> Editing. This piece was featured in the book, Dogs And Lovers.<br />
Page 23
---
The art of finding<br />
by Margaret McCarthy<br />
The art of finding is easy to master.<br />
A five cent piece from the gutter,<br />
Roads heading out of town,<br />
A window seat on a Boeing 747,<br />
An extra breath in my jumper.<br />
Finding myself<br />
In a city on my own,<br />
A sweet lover,<br />
A sour one.<br />
Finding friends with<br />
Easy conversation,<br />
Discovering joints, politics,<br />
Knowing more than I thought.<br />
Finding myself in<br />
A house of God,<br />
Without Him in it.<br />
I've found beach houses,<br />
H<strong>and</strong> written directions,<br />
Hard rubbish furniture as near as new,<br />
Squashed jewellery,<br />
Expired bus tickets,<br />
My own mother at a fair<br />
But things I lost—<br />
I found peace in crazy times,<br />
Good in everyone.<br />
I found out for myself<br />
What no one wants to know.<br />
I found a gold charm bracelet<br />
On the footpath,<br />
And took it home.<br />
Someone else's flattened memories<br />
Along the path<br />
Towards the stray cats,<br />
Car seat, fire trap house of<br />
My lost property life.<br />
Margaret McCarthy is a Melbourne poet <strong>and</strong><br />
teaches Professional Writing <strong>and</strong> Editing at<br />
VU. This piece has previously been published<br />
in Eureka Street.<br />
Page Page 24 25
---
Suitcase of foreign collections<br />
by Alex<strong>and</strong>ra Pelevaniuc<br />
Composed of sophisticated <strong>and</strong><br />
organic charm,<br />
She is a soft memory of luscious foliage <strong>and</strong><br />
botanical beauties, a dainty perfume of forgotten flowers.<br />
She l<strong>and</strong>s delicately <strong>and</strong> shimmers<br />
in the midday sun,<br />
Her full leather body ample enough<br />
to carry documents is perfect for a summer stroll<br />
Voluminous, her exotic spices line<br />
the interior panels,<br />
Compartments are incessantly<br />
crammed with postcards <strong>and</strong> vintage wear,<br />
A soft whisper slides on the sea<br />
touching the lost corners of the globe,<br />
Her vibrancy emerges with eclectic elegance,<br />
Her ornament design is enriched<br />
with admirable craftsmanship,<br />
Attention to detail, only likened to<br />
that found in Mother Nature's timeless work,<br />
Comes a goddess of eternal beauty<br />
An envied species torn between east<br />
<strong>and</strong> west,<br />
Awakened form a silver mist,<br />
She is an outl<strong>and</strong>ish piece<br />
of created bliss,<br />
Just simply a feminine accessory for the arm.<br />
Alex<strong>and</strong>ra Pelevaniuc is VU student.<br />
Page 25
---
Sunday far away<br />
Joy Barton<br />
Rickie always went to church, as did her husb<strong>and</strong>, Moss. I never go. I ab<strong>and</strong>oned religion<br />
after the Holocaust. But I was visiting them on their remote farm, after my husb<strong>and</strong> had<br />
died, <strong>and</strong> I wanted to be with them. I asked if I could go too. Of course they said yes, but<br />
Rickie warned me she always had to remember she was there for the service <strong>and</strong> not to<br />
laugh when Eva played the organ <strong>and</strong> sang.<br />
I remembered Eva. I had taught there fifty years before <strong>and</strong> now she would be ninety. It was<br />
a tiny stone church, set in among the tea-trees, graced with a font Moss had carved out of<br />
limestone. When we arrived we found only four congregated there—two older women, a<br />
young mum with her son, <strong>and</strong> Eva, sitting there in a vintage 40s coat three inches shorter<br />
than her dress wearing fingerless gloves. I greeted her with a kiss, <strong>and</strong> she said, 'I have the<br />
flu. I can't sing today.' There went my chance of hysteria.<br />
We sat, this congregation of five, chatting while Moss waited outside to meet the minister,<br />
who visited once a month on circuit. He hadn't arrived; Moss came in to tell us, <strong>and</strong> one of<br />
the older women said to him, 'You will have to take it, Moss.' So he did.<br />
We sang a hymn, Eva peddling away on the ancient organ as she had done forever. Opening<br />
the big bible in front of him on the altar, my friend turned the pages, peering intently at<br />
one.<br />
'Oh, I don't like the look of that,' he said <strong>and</strong> kept turning.<br />
He found a passage on 'Grief' <strong>and</strong> read from it. I recognised the loving sympathy for me in<br />
his choice.<br />
We sang another hymn <strong>and</strong> at one stage Moss said, 'If my wife had thought to bring some<br />
of my notes I might have had some help in this.'<br />
'Come off it, Moss!' called back his wife.<br />
He talked about the old history of the pioneering families who had lived there <strong>and</strong> of the<br />
hymn-writers, <strong>and</strong> the hour passed away, with comments from the small congregation.<br />
Back home, in our snug stone cottage beside the lake, Moss rang the minister who had<br />
forgotten. I asked him later if he had explained his own part in it.<br />
'No,' said Moss. 'He wouldn't think much of us if we couldn't conduct our own service.'<br />
Joy Barton is part of the Kerrie Campus Writing Group.<br />
Page Page 26 27
---
Maybe tomorrow<br />
by James Button<br />
It has become a ritual. Clutching her<br />
resumé Jennifer Mead, twenty, takes the<br />
bus from her home on the city's fringe to<br />
the CES, or to an interview for a job. She<br />
has done this for three years. This is the<br />
story of one person's unrelenting struggle<br />
to find work.<br />
Jennifer Mead, twenty, has been looking<br />
for a job for three years. Every week she<br />
circles advertisements in the paper, makes<br />
phone calls, sends off resumés. At least<br />
twice a week she journeys from her home<br />
in the far northern suburb of Craigieburn<br />
to the CES office in Glenroy. There she<br />
takes a number <strong>and</strong> waits.<br />
On Saturday mornings Jennifer's father,<br />
Alec, gets up early to buy The Age. He cuts<br />
out ads that sound promising <strong>and</strong> puts<br />
them in a pile, ready for when Jennifer gets<br />
up. If she looks doubtful, he urges her.<br />
'You could do that, Jen, you've got those<br />
skills.'<br />
She has lost count of the jobs she has<br />
applied for, but knows it is in the<br />
hundreds. Although she has her VCE<br />
from Craigieburn Secondary College, <strong>and</strong><br />
completed basic hospitality <strong>and</strong> computer<br />
courses, most companies don't reply to her<br />
applications.<br />
Still, she has a sheaf of rejection letters<br />
from: the Commonwealth Bank, Hungry<br />
Jacks, Transfield, Safeway. At one point<br />
last year she was getting a letter a day. One<br />
letter from Drake Personnel arrived twice<br />
within a few days. Jennifer smiles at that<br />
now. 'If I was working for them, that sort<br />
of thing wouldn't happen.'<br />
In the afternoon her parents bring in the<br />
mail. 'Go on,' they say, 'open it.'<br />
'There's no point. If it's a letter it means I<br />
didn't get the job.'<br />
Sometimes, to console her, her father takes<br />
a rejection letter <strong>and</strong> throws it in the fire.<br />
'Watch it burn, Jen. Watch it burn.'<br />
For a city interview, Jennifer has to walk<br />
for fifteen minutes, ride a bus for half an<br />
hour into Broadmeadows, <strong>and</strong> then make<br />
a thirty-five minute train trip into town.<br />
By then she has to prepare herself again, so<br />
she uses the Flinders Street Station toilets<br />
to redo her lipstick <strong>and</strong> brush her windblown<br />
hair. The light is dingy, the room<br />
smells.<br />
She likes to arrive an hour early, to locate<br />
the building. She'd hate to be flustered<br />
at the interview. Once she knows where<br />
to go, she finds a café. She never drinks<br />
coffee—it might smell on her breath—or<br />
Coke, which might make her burp. She<br />
sips juice, reads her book <strong>and</strong> waits.<br />
She has come so close to what she calls 'the<br />
magical job' that fits her skills. She had<br />
three interviews <strong>and</strong> a medical for a food<br />
<strong>and</strong> beverage job at Crown Casino before<br />
the axe fell. Late last year she got a second<br />
interview for a clerical position with a<br />
computer company on Southbank.<br />
The interviewer asked what she expected<br />
to be paid, showed her the desk she would<br />
fill, <strong>and</strong> where she could park. He asked<br />
questions that made her think, yep, for<br />
sure. He was a bit daggy, which she liked.<br />
They had a few laughs <strong>and</strong> even chatted<br />
about his favourite music. Despite all her<br />
knock-backs, Jennifer got really excited.<br />
The job, she decided, was heaven-sent.<br />
Then the letter came. When she collected<br />
herself <strong>and</strong> rang the company for<br />
feedback—'to find out what I was doing<br />
wrong'—the response was familiar: 'Your<br />
application was excellent. We just found<br />
someone more appropriate.'<br />
Although national unemployment remains<br />
at 8.6 percent, <strong>and</strong> although Jennifer has<br />
many friends who are unemployed, she<br />
blames herself for her predicament. After<br />
finishing her VCE in 1993, she was torn<br />
between further study <strong>and</strong> work. She<br />
worried that she might finish four more<br />
years of study with no work experience.<br />
'I totally made the wrong decision. I am<br />
still whipping myself. I feel like I have let<br />
myself down so much.'<br />
Job hunting brought unexpected shocks.<br />
At seventeen she was shy about asking<br />
street directions. She is more confident<br />
Page 27
---
now, but was appalled when one interviewer<br />
lectured her that her neckline was too low,<br />
her shoes <strong>and</strong> necklace all wrong. Jennifer<br />
hurried home trying to cover her blouse.<br />
For a year she worked casually as a room<br />
attendant at the YWCA, but 6 a.m. starts<br />
<strong>and</strong> requests that she begin work in a few<br />
hours made the job impossible. She does<br />
computer work for her parents' home<br />
businesses. She has good friends <strong>and</strong> a<br />
bright ready laugh.<br />
The fourth of five children, she was the first<br />
in the family to do her VCE.<br />
'It was always going to be me that had the<br />
job <strong>and</strong> went far.'<br />
Both her parents have two jobs. Her father,<br />
who does promotions for Workcover <strong>and</strong> is<br />
a part-time masseur, is at a loss to explain<br />
his daughter's bad luck.<br />
'She's a lovely kid. She's got a great<br />
personality, she's got the skills. To her credit<br />
she just keeps trying...we hate to see her<br />
hurting so much, but what can you do? You<br />
can't actually buy them a job,' he says.<br />
'Work For the Dole', declared a newspaper<br />
headline on the Meads' living room table.<br />
The proposal floated by Prime Minister<br />
John Howard, put unemployment back<br />
in the news. Jennifer likes the idea if it<br />
gives her skills that would help her get a<br />
permanent job. From what she's read, she's<br />
not sure that is the case.<br />
'Still, I'd do it. I'd rather be out there.'<br />
On Tuesday morning Jennifer calls a contact<br />
in a CES office, who tells her about some<br />
jobs that might suit her. Because she may<br />
have to go straight from the CES to an<br />
interview, she dresses in her best clothes:<br />
a dark suit with a green blouse. She wears<br />
platform soles to give her more height.<br />
Beside the newspaper is her sketch book.<br />
Her passion is art. Four of her pieces were<br />
chosen for the walls of her old school, <strong>and</strong><br />
still hang there. But it never occurred to her<br />
that art might lead to work or to further<br />
study.<br />
The family lives right on the city's edge. To<br />
reach the bus stop, Jennifer walks across<br />
vacant lots <strong>and</strong> treeless parks. The winding<br />
streets full of new homes are empty, save the<br />
occasional woman pushing a pram. There<br />
isn't a shop in sight, let alone an office or a<br />
factory.<br />
On the bus she meets a friend who is job<br />
hunting with a stack of resumés in her<br />
bag. Recounting her experiences so far, she<br />
is laughing, optimistic. The bus trundles<br />
down the Hume Highway. At the Ford<br />
factory, the friend says she might st<strong>and</strong> at<br />
the intersection <strong>and</strong> h<strong>and</strong> cars her resumé.<br />
Jennifer sits back <strong>and</strong> says quietly, 'I was like<br />
that when I started, too.'<br />
An hour after leaving home Jennifer enters<br />
the CES, <strong>and</strong> takes a number. The office<br />
is crowded. Jennifer waits twenty minutes.<br />
In her h<strong>and</strong> is a piece of paper with the<br />
job descriptions written down: lingerie<br />
retail, <strong>and</strong> clerical work with a mechanic in<br />
Airport West.<br />
At 11:55 a.m. with her number next to be<br />
called, a CES clerk puts up a sign: NO JOB<br />
VACANCY REFERRALS BETWEEN<br />
12PM AND 2PM. Jennifer groans. 'I don't<br />
believe it.'<br />
By 2 p.m. the jobs have gone.<br />
Jennifer hears the news n the city office<br />
of her case manager, Jane Norris, who has<br />
access to the CES Computer. Ms Norris<br />
works for Employment Express, one of the<br />
private companies to offer case management<br />
after the Labor Government introduced<br />
one-on-one support for the long-term job<br />
seekers in 1994.<br />
On her desk, Ms Norris has some other<br />
vacancies. A city jeweler wants a clerk;<br />
a personnel firm wants part-timer who<br />
qualifies, as Jennifer does, for a Jobstart<br />
subsidy.<br />
'What about coming in for twenty hours a<br />
week?' Ms Norris asks.<br />
Jennifer shrugs <strong>and</strong> smiles. 'If it's a job I'll<br />
take it.'<br />
'Or a job with Melbourne Pathology. Is<br />
Fitzroy too hard to get to?' Ms Norris asks.<br />
Page Page 28 29
---
'No, no. I've got a great friend in Fitzroy. I<br />
can probably stay with her.'<br />
Although she manages 130 unemployed<br />
people, Ms Norris has a special fondness<br />
for Jennifer, whom she sees regularly.<br />
She tries to keep her optimistic; their<br />
conversation is playful. Ms Norris believes<br />
Jennifer would appeal to most employers<br />
face-to-face, but lacks the weighty resume<br />
to get her in the door. 'Jennifer, she's a<br />
bright girl, she's punctual, willing to go<br />
anywhere, do anything. She's constantly<br />
calling me up...I have absolute faith I will<br />
find Jennifer a job.'<br />
While Ms Norris makes calls <strong>and</strong> faxes<br />
resumes on her client's behalf, Jennifer<br />
gets back on the train. She passes inner<br />
northern suburbs that grew up last century<br />
around workshops <strong>and</strong> small factories.<br />
Further on are Glenroy <strong>and</strong><br />
Broadmeadows, which drew post-war<br />
migrants in search of work at Ford <strong>and</strong><br />
other factories. The suburbs are like<br />
geological strata, showing a city built<br />
through work—until you come to the<br />
outer suburbs, <strong>and</strong> no work.<br />
On Wednesday, Jennifer gets a call from<br />
Ms Norris, who has arranged an interview<br />
with an engineering firm in the city. It's a<br />
job in the mail room. Is she nervous?<br />
'No, not now. I just take a deep breath <strong>and</strong><br />
go, "Oh well, we'll see what happens." I<br />
don't get really excited anymore.'<br />
Still, the next day she puts on her best suit<br />
<strong>and</strong> an orange shirt. Her younger brother,<br />
Michael, carefully straightens her collar.<br />
She grabs her resumé <strong>and</strong> hair brush <strong>and</strong><br />
consults the bus timetable.<br />
Just before Broadmeadows the bus lurches<br />
<strong>and</strong> Jennifer's suit almost collides with a<br />
huge chocolate stain on the back of a seat.<br />
In the city she notices her shirt has creased,<br />
She stretches it under a toilet h<strong>and</strong> dryer<br />
<strong>and</strong> the wrinkles disappear.<br />
Before the interview she sees Jane Norris<br />
for a pep talk. 'Ask to be shown around,'<br />
Ms Norris advises. 'Remember employers<br />
are nervous too <strong>and</strong> like to be put at ease.<br />
And good luck.'<br />
The interview lasts fifteen minutes. Yet<br />
Jennnifer emerges feeling positive. She<br />
thinks she did her best. The interviewer<br />
was friendly <strong>and</strong> smart.<br />
'She said, "I'm not going to ask stupid<br />
questions like where you want to be in ten<br />
years."'<br />
At the interview, Jennifer was shown the<br />
desk where she would work if she got<br />
the job. The interviewer asked about her<br />
parents. She <strong>and</strong> Jennifer had a joke about<br />
how much they liked massages. She said<br />
she would probably let Jennifer know the<br />
following day.<br />
At 5:00 p.m. Jennifer has not heard from<br />
the company. After all this time she is<br />
philosophical. What dogs her most is the<br />
thought of having wasted three years.<br />
'I'll be twenty-one in September, <strong>and</strong> I've<br />
done nothing. It wasn't supposed to be this<br />
way.'<br />
She's thinking about more computer<br />
courses, volunteer work. She'll keep trying.<br />
'At this stage of my life I don't want a<br />
relationship, marriage, children, anything.<br />
I just want a job.'<br />
James Button was a journalist at the The Age<br />
<strong>and</strong> a senior editor.<br />
This piece was first published in The Age<br />
(1997).<br />
Page 29
---
How does your garden grow?<br />
VU students get a taste for the real world.<br />
by Pat Reid<br />
There's something special about working away in a vegetable garden. Maybe it's getting back<br />
in touch with nature, the soil under your nails <strong>and</strong> the dirt patches you get from working<br />
on your knees. Not only do VU students from the Footscray Nicholson Campus get plenty<br />
of therapeutic relaxation, but they develop heaps of great skills, giving them the confidence<br />
to enter the workforce.<br />
Take a short walk from the Nicholson Campus on Albert Street to find the VU community<br />
garden. The block is 15 x 50 metres, with a possibility of future expansion. The garden is<br />
impressive. Robust cabbages grow alongside silverbeet <strong>and</strong> spinach. The smell of cori<strong>and</strong>er<br />
<strong>and</strong> parsley drift through the air. VU School of General Education Programs <strong>and</strong> Services<br />
teacher, Majella Grainger, greets me enthusiastically, introducing me to each student as we<br />
w<strong>and</strong>er through the garden.<br />
'For a lot of students, working in the garden is a first workplace. The garden is a simulated<br />
workplace that enriches the development of skills they'll need to gain work experience or<br />
move into paid work,' says Majella.<br />
Students ranging from sixteen to fifty-five years of age who are enrolled in the Certificates<br />
in General Education for Adults have a chance to become involved in this innovative<br />
gardening program through Certificate I in Horticulture. This program helps to develop<br />
their literacy <strong>and</strong> numeracy skills <strong>and</strong> employability skills.<br />
A group of students finish planting a line of fruit trees. Melissa spreads mulch around<br />
the tree bases. She says she likes working in a team <strong>and</strong> that Majella is a nice teacher.<br />
Nicholas walks around, clipboard in h<strong>and</strong>, filling out the weekly checklist. He's a bit of a<br />
maintenance man, having fixed a leaking tap this morning. Down the back of the garden,<br />
Joshua shovels compost into a wheelbarrow. He has finished the course, but loves coming<br />
back to help out, saying, 'I just like being here with the people.' This once-vacant block of<br />
l<strong>and</strong> has now been transformed into a productive garden offering a range of innovative skills<br />
<strong>and</strong> learning experiences.<br />
Each week the students take on different working roles, such as team leader or filling in the<br />
weekly checklist. They negotiate who's going to do what <strong>and</strong> make everything accountable.<br />
For example, the garden is established as a workplace, where students wear uniforms <strong>and</strong><br />
fill in time sheets. The students are encouraged to use skills in planning, organisation,<br />
communication, design, construction <strong>and</strong> problem solving, while also learning the<br />
importance of environmental education.<br />
Majella stresses, 'Environmental education is essential to the project <strong>and</strong> includes<br />
sustainable gardening practices such as water conservation, crop rotation, garden waste<br />
recycling <strong>and</strong> worm farming.'<br />
Every month the produce is sold to students <strong>and</strong> staff at a market stall on the Nicholson<br />
Campus. The students are involved from the very beginning with harvesting the produce,<br />
calculating the sale price, keeping records <strong>and</strong> once the sale is over, working out how<br />
much money has been made. Usually the stall generates approximately $90 per month.<br />
The veggies are sold at a cheaper price than organic produce so you are getting a bargain<br />
considering they're chemical free <strong>and</strong> freshly picked.<br />
Another inventive approach to this program is the emphasis on healthy nutritional choices.<br />
Page Page 30 31
---
Students discuss recipes, cook the produce <strong>and</strong> get to taste different types of vegetables.<br />
Majella believes when the students get involved in preparing the dishes, there is more of a<br />
chance they'll eat it. 'And that's why I think it's unique what we're doing here; because it<br />
is a holistic learning environment…the garden offers an integration of so many skills.'<br />
This program has been running for eighteen months now <strong>and</strong> continues to evolve. Over<br />
seventeen sponsors are involved—VU, Burnley Horticulture College, Maribyrnong City<br />
Council, Home Hardware (Footscray), Flemings Nurseries, Hanson <strong>and</strong> Shed Bonanza<br />
are just a few.<br />
'We couldn't have built this garden without these partnerships,' says Majella. Recently a<br />
student has gained regular part-time employment through Home Hardware.<br />
In 2009 the Certificate II in Horticulture (L<strong>and</strong>scape) will begin to run over two years.<br />
There are other programs coming into the garden, such as Western Futures, where<br />
students come in to work on the herb bed; the VU Child Care Centre also tends a bed.<br />
There is hope that an Indigenous food garden will be established at the back of the plot.<br />
This would offer students the opportunity to grow traditional bush tucker, learn how to<br />
prepare the foods <strong>and</strong> even use them for medicinal purposes.<br />
'Our vision is to set up a partnership with the Aboriginal community <strong>and</strong> it would<br />
revolve around an Indigenous garden with bush food plants, storytelling <strong>and</strong> an<br />
Aboriginal person representing the Koorie community bringing in h<strong>and</strong>s-on experience<br />
<strong>and</strong> knowledge,' says Majella.<br />
Further plans include a community café where the focus is on the garden becoming a<br />
place for everyone in the community. A few locals recently came through the gates to say<br />
'hi' <strong>and</strong> left with some free veggies. A café would not only benefit the locals but open up<br />
opportunities for students to learn hospitality skills.<br />
Majella says, 'The garden has many facets, but an important aspect is to give students the<br />
opportunity to be empowered, to give them the opportunity to share their knowledge<br />
<strong>and</strong> skills, to build their self-esteem <strong>and</strong>, hopefully, a pathway for them into further study<br />
or employment.'<br />
Majella gathers her students together at the end of today's session asking them, 'What<br />
have you achieved today?'<br />
Andrew says he moved compost bins, making more room.<br />
Shane adds cheekily, 'I didn't do anything. I'm innocent!'<br />
Nicholas was the resource man.<br />
Tony was everywhere.<br />
Majella says, 'The students have done it all. They created it. And within the group they<br />
pass on their knowledge—so invaluable. They teach me <strong>and</strong> that's the thing, we are all<br />
learning.'<br />
Pat Reid is a Professional Writing <strong>and</strong> Editing student at VU.<br />
Page 31
---
The estate of the philosopher<br />
by Paul Yeatman<br />
Pondering the rising of the moon<br />
So soon the sky turns to slate.<br />
The streetlights popped.<br />
At the lights the traffic stopped.<br />
Over the encircling wall<br />
The ball of the moonlight heaves.<br />
Colourbond glows.<br />
The sound of the highway traffic slows.<br />
We should've spent the fifty gr<strong>and</strong><br />
We planned to buy across the park.<br />
Regrets flowed.<br />
Someone parked across the road.<br />
The air conditioner's gentle hum<br />
The thrum of the fountain's pump.<br />
A buzz of voices.<br />
We had so many choices.<br />
The agent showed us plots with a view<br />
A few were over by the lake.<br />
Money's down.<br />
At least we're in this blessed town.<br />
The double story was the pick<br />
They're thick on the ground over there.<br />
Fifty gr<strong>and</strong>.<br />
I could've made a stronger st<strong>and</strong>.<br />
She'll be home soon.<br />
The moon is getting higher.<br />
Pergola dreaming.<br />
Somewhere ACDC's screaming.<br />
The double garage is what sold me<br />
You see we need two cars.<br />
We both work.<br />
But on weekends we go berserk.<br />
This is the life<br />
The wife <strong>and</strong> I have made it.<br />
That new house smell.<br />
All our friends think we've done well.<br />
Excepting I don't like this street.<br />
It's neat but too many kids around.<br />
White st<strong>and</strong>ard roses.<br />
At least we're away from those damned<br />
bulldozers.<br />
We can't decide on televisions.<br />
Decisions—LCD or plasma?<br />
A car door.<br />
Is that her returning from the store?<br />
This is the life<br />
The wife <strong>and</strong> I have made it.<br />
Backyard delight.<br />
I wonder what the poor people are doing<br />
tonight?<br />
Think I'll have another glass.<br />
All class the houses 'round here are.<br />
A shooting star.<br />
I'm pretty sure that that's her car.<br />
After the TV we'll get the pool<br />
It's cool to have one in the yard.<br />
We've got good stuff.<br />
I feel sorry for those who do it tough.<br />
This is the life<br />
The wife <strong>and</strong> I have made it.<br />
Fantastic weather.<br />
I wish we had more time together.<br />
It's nice to have a quiet think<br />
And drink while waiting here.<br />
A bit more dough…<br />
I'd rather watch a TV show.<br />
I'm sick of waiting every night<br />
Half tight, waiting for her to come.<br />
Blasted shop.<br />
This second job will have to stop.<br />
Paul Yeatman is a Melbourne writer <strong>and</strong><br />
<strong>Victoria</strong>n school principal.<br />
Page Page 32 33
---
Beautiful Girl<br />
by George Athanasiou<br />
She's a beautiful girl<br />
Her face picturesque, drenched in an ocean of<br />
curls<br />
That makes up the str<strong>and</strong>s of her hair<br />
Her endearing face untainted by make-up<br />
Her eyes small, gazing, sharp <strong>and</strong> penetrating<br />
Warm <strong>and</strong> glowing like a couple of campfires<br />
Glistening in the darkness from a distance<br />
Like beacons of light<br />
Paving the way to the depths of her soul<br />
She's left the windows open again<br />
But it's warm inside her mind<br />
The lights are slightly down low but she's<br />
thinking…<br />
While he writes<br />
Drawing from her<br />
Sculpting words into an exquisite work of art<br />
He knows she will always have a place in his<br />
heart<br />
After all she's always been his favourite<br />
sculpture<br />
As he's tinkering away at her<br />
Whether she's out at the cinema watching a<br />
film on her own<br />
Or staying at home tonight<br />
Drenched by the same picturesque ocean of<br />
curls<br />
That makes up the str<strong>and</strong>s of her hair<br />
She knows what to wear too<br />
Today she's wearing a smile<br />
The likes of which he hasn't seen in a while<br />
Ever beautiful in appearance<br />
As her image penetrates the very depths of his<br />
mind<br />
He can see inside her personality<br />
As warm <strong>and</strong> as inviting as the sun drenched<br />
s<strong>and</strong>s of the beach in summer<br />
Blue skies on a cloudless clear day<br />
Beautiful in every way<br />
Her face picturesque, drenched in an ocean of<br />
curls<br />
That makes up the str<strong>and</strong>s of her wavy hair<br />
Like the waves of the ocean<br />
Gently caressing the shore <strong>and</strong> the s<strong>and</strong><br />
As it desires more water<br />
To quench its thirst from the heat of the sun<br />
The sea breeze quickly alleviates its pain<br />
Just as the sun <strong>and</strong> the day give in to the moon<br />
On a clear night littered with stars.<br />
George Athanasiou is a Professional Writing<br />
<strong>and</strong> Editing student at VU.<br />
Page 33
---
Nails<br />
by Tom Petsinis<br />
I shake the tartan tin awake,<br />
Struggle with its lid, rust-sealed, tight.<br />
Arising from the nest of nails,<br />
You take me by heart,<br />
Remind me with half a smile:<br />
Luck's never found looking up.<br />
A boy, eyes glowing still<br />
From last night's thunderstorm,<br />
You prospect the village,<br />
Thinking as your pockets fill:<br />
They're also from gr<strong>and</strong>father-God,<br />
Like silver rain, lightning bolts.<br />
Some go back fifty years<br />
To Fitzroy's blue-stone lanes;<br />
Others, extracted with joy<br />
From hardwood boards <strong>and</strong> beams,<br />
You tapped lightly on a brick-<br />
A chiropractor of crooked spines.<br />
Sitting on a home-made bench,<br />
Tin on knees, you're looking for<br />
A tack to close my gaping sole,<br />
A brad for Mum's curtain rod,<br />
A grey clout to keep evening light<br />
Slipping our corrugated fence.<br />
It's a decade since you died,<br />
But they remain, a legacy of sorts,<br />
Set by your galvanising touch.<br />
I see you in the shape of my h<strong>and</strong><br />
Rummaging for the nail<br />
That crucifies father to son.<br />
Tom Petsinis is a lecturer at VU.<br />
This piece is from the collection,<br />
My Father's Tools (Arcadia 2009).<br />
Available in VU bookshops.<br />
Page Page 34 35
---
If only for the moments<br />
by Fiona.L.Browning<br />
If only for the moments,<br />
I walk this weary tread.<br />
If only for the moments,<br />
I crawl out of my bed.<br />
If only for the moments,<br />
I had all trace of tears.<br />
If only for the moments,<br />
I silence all my fears.<br />
If only for the moments,<br />
I say the voices are quiet.<br />
If only for the moments<br />
I hide when they run riot.<br />
If only for the moments,<br />
I cross over the bridge.<br />
If only for the moments,<br />
I stay back from the ridge.<br />
If only for the moments,<br />
When I hold my children tight.<br />
For those safe <strong>and</strong> happy moments,<br />
I hang in for another night.<br />
Fiona.L.Browning is a Professional Writing <strong>and</strong> Editing student at VU.<br />
Page 35
---
Meteor Shower<br />
by Helen Garner<br />
I'm on my way to get a view of the Leonid Meteor Shower, whatever the hell that is.<br />
I couldn't give a damn about the science. I just want to witness a heavenly spectacle.<br />
Apparently it's on at 3.30 a.m. I've brought my alarm clock.<br />
I peel off the highway at Werribee <strong>and</strong> head west across the stony, wind-scoured, volcanic<br />
plain. Under tremendous pale cloudscapes, I cruise along back roads that run dead straight<br />
for miles, hitting up against each other in a series of dramatic T-intersections. Out here,<br />
whatever the weather, the world is always beautiful, full of wonders <strong>and</strong> surprises.<br />
Once, when my daughter was a teenager, we spotted, 100 metres ahead of us on this road,<br />
a mini-bus packed with men in uniform. Back then I drove a Renault 16. It was summer,<br />
<strong>and</strong> over the grassy plain a warm wind was blowing. In our fluttering clothes we felt<br />
sophisticated <strong>and</strong> sexy. As we caught up with the bus, we fluffed our hair, stuck our elbows<br />
out the windows <strong>and</strong> adopted lithe bored poses. I pulled out to pass. We glanced casually<br />
up at the bus. They weren't soldiers. They were middle-aged Japanese tourists in floppy<br />
cotton hats.<br />
When she still had her P-plates, I let the girl drive one of the empty stretches of this twolane<br />
blacktop. In broad daylight she nearly wiped us out. She over-corrected after a small<br />
bump, <strong>and</strong> suddenly we were zigzagging from verge to verge in wild sweeps. It took her fifty<br />
metres to get the car under control. She pulled off the bitumen. We threw open the doors,<br />
leaped out on trembling legs, <strong>and</strong> hobbled about on the gravel as if we'd been stabbed,<br />
cursing <strong>and</strong> screaming <strong>and</strong> crying with laughter.<br />
On our way home, the next night, we flew over a small rise on the loneliest stretch, <strong>and</strong><br />
picked up in our headlights, in the middle of the road, a figure with its arms out in a big<br />
curve, its legs capering, its face split by a manic rictus. It was a man dancing.<br />
And once, on a blazing day of forty degrees, I stopped for a hitch-hiker who was plodding<br />
along at least ten miles from a dwelling or shop. He opened the car door <strong>and</strong> hopped<br />
in, smiling. In his h<strong>and</strong> was a still unbitten banana Paddle Pop, its hard yellow surface<br />
glistening with tiny points of ice.<br />
Anyway, this is now, <strong>and</strong> I'm bumping along a rutted track to the piece of l<strong>and</strong> that once<br />
was mine but belongs these days to my sister. Here are the collapsing sheds near the gate,<br />
here are the big purple irises. Here is the ver<strong>and</strong>ah neatly stacked with wood. Here is the<br />
steep gully with the black dam at its very bottom, while the late sun still brightens the<br />
opposite ridge.<br />
It's daylight savings but the evening is cold. I light a fire in the wood stove. Now—what<br />
about these blooming meteors. The Bureau of Meteorology said to look to the north-east.<br />
Clouds cluster more thickly there than anywhere else in the sky. I light the c<strong>and</strong>les <strong>and</strong><br />
crack open the flagon of sherry.<br />
At three a.m. the alarm goes off. I sit up <strong>and</strong> look out the window. Yay! Stars! It's bloody<br />
freezing. I pull on, over my pyjamas, every rag of clothing the shack contains, drag on my<br />
boots, boil the kettle, <strong>and</strong> clump out on to the grassy hill. And there I st<strong>and</strong> for an hour,<br />
holding a hot water bottle to my chest <strong>and</strong> staring doggedly to the north-east.<br />
What a sky! The slow beat of the big bodies, the colossal lacy field of the small. What am<br />
I looking for? A peppering? A cataract of light? Should I expect a sound? A roar? A sharp<br />
patter? All around me, on the ground, I hear only the usual tiny clickings <strong>and</strong> rustlings,<br />
the rhythmic frog choir in the dam. A mating koala lets out a discontented, guttural rattle.<br />
Come on! What's the hold-up?<br />
Page Page 36 37
---
A long fast streak of white rips across the sky. Oh! A second white bolt bursts straight up<br />
from the horizon. And here comes a third! Yaaaaaaah!<br />
They were fast, all right, but were they meant to be so small <strong>and</strong> colourless? I wait <strong>and</strong><br />
wait. Nothing more happens. My feet are cold. My neck starts to hurt. Then a sheet of<br />
fine, grey-brown cloud materialises briskly across the north-eastern sky <strong>and</strong> blots out<br />
everything. Can I go now?<br />
I crawl back under the doona, berating myself. I should have crossed the Divide, or gone<br />
to a desert. What a flop I am. I picture vast tracts of North African s<strong>and</strong> strewn with<br />
spread-eagled, ecstatic nomads. I imagine Arctic fishermen pausing from the flensing of<br />
enormous seals <strong>and</strong> gazing up into a sky torn by roseate fireballs with trails of fluorescent<br />
turquoise. I envy every Arab, every Eskimo.<br />
As I doze off, though, I remember that even in this misty gully, three heavenly objects did<br />
pass overhead. Three. And I saw them. The famous meteor shower may have gone about<br />
its celestial business without consulting me, but it did not entirely escape my vigilance.<br />
Helen Garner is the acclaimed author of The Spare Room <strong>and</strong> many others. This piece was<br />
first published in The Age (2001).<br />
Page 37
---
Rooku<br />
by VU's Creative Writing Class, Altona Meadows<br />
Black'n'white TV days<br />
A delicate crater moon<br />
The flag begins to wave<br />
by Dave<br />
Midnight<br />
A full moon<br />
Shadows<br />
Computers<br />
Connect to the world<br />
Skype<br />
by Sylvia<br />
In the lucky country<br />
At a suburban pokies venue<br />
Dad is lucky<br />
by Rob<br />
Foggy shore—<br />
St<strong>and</strong>ing figure silently weeps<br />
Floating garl<strong>and</strong><br />
by Angela<br />
Young fat child<br />
Who is going to look after<br />
You?<br />
by Abi<br />
Sea water<br />
Protected in the bay<br />
Unruffled feathers glide<br />
by Louise<br />
Same self<br />
What did I do to deserve<br />
An absence of dreams<br />
Evening clouds caressed by pink<br />
In the car<br />
Kids laugh over Nintendo<br />
Mid-life crisis<br />
On a park bench<br />
So little has changed<br />
by Halyna<br />
Library at closing time<br />
Stacking shelves<br />
With books<br />
Morning walk in the woods<br />
Playing ball with the dog<br />
Among the trees<br />
by Doreen<br />
Battle of Birds<br />
Thrush chases crow<br />
Speckled brown ruffles sleep black dappled<br />
victory<br />
by Elena<br />
Empty church grounds<br />
Inside the lead light filled church<br />
He kneels, head bowed in prayer<br />
by Lee<br />
Rookus are three-line poems. The form is the invention of Melbourne poet, Myron<br />
Lysenko, <strong>and</strong> draws from the Japanese Haiku.<br />
Page Page 38 39
---
Death of a patriot<br />
by Megan Green<br />
myn love,<br />
it's no right, what they did to ye<br />
i fought, with impassable madness<br />
to avenge yer slaying<br />
blood <strong>and</strong> duodenum wis spilt, aye,<br />
an' fer the days of my remainder, i be at war with the English<br />
ye have gone from me now,<br />
i canna describe the plague that rots at ma disposition<br />
thay took our l<strong>and</strong>s <strong>and</strong> hooses<br />
<strong>and</strong> i stood<br />
at the place where only remains the blood of ye<br />
i swore<br />
no longer shall thay circumscribe<br />
our souls for the crust thay call King<br />
gothic limbs shall no prevail<br />
seeded navels of our own kind linger still<br />
bring forth generic survival<br />
of the generational kind<br />
ma love, ye must not fret, for implanted is ane, not of his line, bot of mines<br />
bot ma heart knows no falter<br />
suppose this<br />
let it be foresaid, that i, fought, no for na maner of revenge<br />
bot in case thay took from mines, soul an' breath, from mines ayre, laid buried<br />
in an ither<br />
thay think thay have won<br />
becos i bleed aneath thaim<br />
a condemmed man<br />
man Claidheamh-mor cannae save me<br />
bot, lass, now, gratefully, i lay down aside ye<br />
Megan Green is a Melbourne writer <strong>and</strong> editor.<br />
Page 39
---
Gr<strong>and</strong>father's last lesson<br />
by Cam Black<br />
By the time he was in his late eighties, my Gr<strong>and</strong>father was very ill: problems with<br />
digestion, breathing, <strong>and</strong> his mobility hindered by very bad arthritis. Physically he had<br />
become a shell of what he had been. But his mind, his imagination, never slowed. And he<br />
never stopped talking to me, telling stories, <strong>teaching</strong> me new ways of looking at life.<br />
Of all the lessons he taught me, I remember none more so than his last.<br />
I remember that day he had me to drive him to our favourite lookout—the high cliffs<br />
overlooking the bay around which our town sat. When he'd been stronger <strong>and</strong> healthier we<br />
would go there regularly to sit high up on the edge of the cliffs <strong>and</strong> he'd tell me about the<br />
tanker vessels we could see in the distance <strong>and</strong> his time as a seaman. He'd point out birds<br />
flying by, <strong>and</strong> sea creatures far below on the rocks <strong>and</strong> swimming in the shallows, <strong>and</strong> tell<br />
me strange tales of how they got their names—tales that I knew were fantastic, but which<br />
somehow fit each creature they were about. And sometimes we'd go at night to watch stars<br />
<strong>and</strong> planets, the occasional satellite, <strong>and</strong> the stories would continue.<br />
The day of his last lesson I drove him out to the lookout <strong>and</strong> helped him up the short track<br />
to the cliff edge where we sat in silence <strong>and</strong> just looked out over the bay for a while. It felt<br />
good being there with him again. I'd been up here a lot by myself, but I hadn't realised how<br />
much I'd missed him being there with me.<br />
'You remember how old you were when I first brought you here, lad?'<br />
'Yeah, Gramps, about five or six. I thought we were so high up I could see across the world.'<br />
He chuckled, a slightly wet wheeze of a noise I tried not to think about. 'I know what you<br />
mean. I was about the same age when my old man first sat me down here to look out over<br />
the world. I remember watching the birds fly past <strong>and</strong> thinking we were high enough that<br />
if I jumped off here I could fly with them <strong>and</strong> head out over the bay, out over the sea <strong>and</strong><br />
never touch ground again.'<br />
I sat there imagining my gr<strong>and</strong>father flying out over the sea, free as a bird.<br />
'That's why I worked the sea later, out there on trawlers hauling all sorts of strange creatures<br />
up from the deep. But I never did stop imagining myself up in the clouds with the gulls<br />
that followed us around. Even remember the first time I saw an albatross way out at sea,<br />
days from l<strong>and</strong>, way up above us, <strong>and</strong> gliding along all peaceful <strong>and</strong> calm with wings that<br />
seemed wide enough to encompass the sky.'<br />
I looked at him, his aged familiar profile staring up at the sky with a dreamy look on his<br />
face, picturing himself flying across the world <strong>and</strong> loving him for the imagination he always<br />
took the time to share with me.<br />
'Life's a funny old trip, lad.' He continued, still staring into the sky. 'It'll twist <strong>and</strong> turn on<br />
you, take you places you'd never expect, <strong>and</strong> they're not all gonna be happy. But remember,<br />
whatever she throws at you, life is to be lived; you grab whatever it is <strong>and</strong> you squeeze all<br />
you can out of each little twist <strong>and</strong> turn. And if it's a bum turn, you get all you can from<br />
it; look at it from every way you can <strong>and</strong> remember it for later, 'cause there's always some<br />
beauty to be found anywhere, no matter how bad it may seem at the time.'<br />
He turned to me then, the light in his eyes bright, put a h<strong>and</strong> on my shoulder, smiled <strong>and</strong><br />
flipped me a wink. 'Time to fly, lad.'<br />
I sat there for a while thinking about what he'd said, then pulled out the binoculars we<br />
Page Page 40 41
---
always brought up there with us, the one's he'd given me so many years before, <strong>and</strong><br />
looked down from the cliff edge at his body. He'd made it out past most of the rocks <strong>and</strong><br />
had slipped into the water. His blood stained some of the rocks <strong>and</strong> was a dissipating<br />
cloud in the water in which many small fish were starting to collect. Some of the more<br />
adventurous ones were beginning to nibble at him, <strong>and</strong> I thought of how he'd appreciate<br />
that—how fitting to return to the sea from which he'd drawn so much of his life.<br />
I sat there for a long time, until long after it was too dark to see him down in the water,<br />
watching the stars come out <strong>and</strong> thinking. And I knew that I'd never forget, at that<br />
moment, how young <strong>and</strong> graceful <strong>and</strong> free, how beautiful he had looked, the day my<br />
gr<strong>and</strong>father finally flew.<br />
Cam Black is a Melbourne poet.<br />
Page 41
---
Fudge<br />
by Initially NO<br />
I was once given a teddy bear<br />
Whose name was Fudge.<br />
I didn't much care for the bear.<br />
But I took him with me<br />
When I left that place<br />
Because the fellow<br />
Who gave him to me<br />
Wanted to stick marshmallows<br />
Up Fudge's behind<br />
And get him to cross borders<br />
And stuff. And I thought, stuff that<br />
You're not doing that to Fudge.<br />
So I took the bear with me<br />
When I left that house<br />
And put him in the cupboard<br />
Of my new home.<br />
Bit cruel, sticking him in there<br />
All squashed in. But anyway…<br />
Wasn't until sometime later<br />
That I took him<br />
To a nearby opportunity store.<br />
They looked at Fudge<br />
And said there was<br />
Something spooky about the bear.<br />
And I said, don't judge him for his past,<br />
Some things are best left sewn up.<br />
They sold him eventually<br />
Inittially NO is a Melbourne Poet<br />
To a person who was really sweet.<br />
And had lots of other teddy bears<br />
For Fudge to meet;<br />
All of which got to travel overseas<br />
With things stuffed in their behind<br />
To be checked by overbearing<br />
Border-crossing officialese.<br />
Eventually, Fudge got caught<br />
Trying to take some smarties<br />
To far-off countries.<br />
And got barred<br />
From ever using his passport again.<br />
He ended up in a police locker.<br />
Jammed in so tight, quite a shocker.<br />
My cupboard had nothing on that.<br />
By then he had lost some of his stuffing<br />
As well as his transportation job<br />
And the poor bear felt like<br />
He had been robbed of the good life<br />
He might've had<br />
Just doing the marshmallows,<br />
For the first fellow<br />
Who thought of the possibilities<br />
Of using the bear's behind<br />
For work…of a scary beary kind.<br />
Page Page 42 43
---
Queen<br />
by Elan Hunter<br />
To my Queen,<br />
My safe haven in the dark<br />
Your castle light has dimmed now,<br />
But you have ruled your kingdom well.<br />
Your people will march forward<br />
With strength, honesty<br />
And a pride<br />
That allows us to bow<br />
To no other but you.<br />
Dedicated to Ruby (Rene) Linda Barnett—my GG.<br />
Elan Hunter is a Youth Studies student at VU.<br />
Declare<br />
by Lorraine Jane Allport<br />
Shall imply, you know not I, what I have<br />
become<br />
Trial <strong>and</strong> tribulations overcome<br />
Times a living hell, stories I could tell<br />
For I am not weak but strong<br />
Now know, where I belong<br />
Do declare, you have not been there<br />
Scantily, came charity<br />
Lies <strong>and</strong> deceit, time to retreat<br />
Feelings denied, found places to hide<br />
Quite bizarre, how shallow you are<br />
Interjection for protection<br />
Cried, while human right denied<br />
Victim from abuse of power, left to cower<br />
Hails, free will now prevails<br />
Talk not to me of humanity, compassion <strong>and</strong><br />
equality<br />
Do declare, I have been there<br />
Lorraine Jane Allport studied Creative<br />
Writing at VU.<br />
To my queen, rest now<br />
Knowing you have done all<br />
You came here to do.<br />
But always know<br />
…I loved you madly.<br />
Page 43
---
Pulsing blue lights in the third<br />
A short story by Michael Seebach<br />
Pulsing blue lights, the energy rises from the ground almost electric <strong>and</strong> spreads, nearly fifty<br />
bodies bounce into the air <strong>and</strong> crash at the proper climax. The techno beats resonate loudly<br />
throughout the club floor as Paul Van Dyke's latest hit pounds out of the wall speakers. A<br />
peppy set of lyrics echoes out by a woman in the sexiest come-hither voice that's possible<br />
through a synthesizer:<br />
'I'm still alive.'<br />
'I'm still alive.'<br />
'And I'm not gonna apologise oooh no!'<br />
A soothingly rhythmic piano solo is thrown into the ensemble, syncing with the<br />
electronic beats so beautifully David forgot where he was, if only for a moment. It was<br />
dark in the bar area. David stood with his sixth glass of water for that night. Only the dim<br />
blue <strong>and</strong> green neon wall, showcasing the shelf-full of drinks he was too young to order,<br />
provided what little illumination there was. He leaned against the wooden bar counter—so<br />
shiny he could see his reflection in it—<strong>and</strong> watched the lone bartender, in her black blouse,<br />
cleaning glasses, <strong>and</strong> talked to the waitress in a white tank-top <strong>and</strong> black mini-skirt. The<br />
nagging voice in his head was the only thing keeping him from enjoying himself.<br />
'You've got a test tomorrow!'<br />
'I'll do fine.'<br />
'You don't belong here!'<br />
'Shut the fuck up.'<br />
David snapping out of his daze noticed that he'd been staring at the bartender for far too<br />
long <strong>and</strong> turned to survey the rest of the area. More blue light lined the low wooden ceiling<br />
showcasing blue leather coaches stretching from one end of the wall to the other. Several<br />
college students, mostly women with a few men peppered in, were lounging, alcohol in<br />
h<strong>and</strong>, talking, flirting. Their clothes <strong>and</strong> skin having all the light sucked out of them from<br />
the environment; he could only see these people in shades of grey. Only their eyes with the<br />
faintest of twinkles <strong>and</strong> their drinks showed any sign of colour: blue eyes; green drink; red<br />
eyes, yellow drink; green eyes; blue drink. Such beautiful grey faces with eyes giving him a<br />
thous<strong>and</strong> promises of unfathomable pleasure <strong>and</strong> unspeakable pain.<br />
'I don't belong here.' David took another glance once again at the lines of alcohol,<br />
mocking him as they sat on the shelf. I could use some liquid courage right about now he<br />
thought.<br />
'Hey, produce guy.'<br />
He nearly spilled his drink.<br />
The girl from the cosmetics section. Her tanned skin showed off trances of Latin heritage<br />
barely visible in this dim part of the club. Her short black hair was in a wavy mess covering<br />
half of her face, beads of perspiration dotted her cheeks <strong>and</strong> nose, along with her pink lips<br />
pursed only scarcely showing a straight set of pearly whites.<br />
David smiled. 'Hey, cosmetics girl.'<br />
'How was the floor?'<br />
'A bit crowded, came back here,' said David. He tried desperately to keep the<br />
conversation going. 'You looked like you were having a good time!'<br />
'Yeah,' she said with a laugh. 'I had a bit too much to drink though!'<br />
His eyes slowly moved down to her body. A pink T-shirt <strong>and</strong> a skirt that would barely<br />
pass a high school dress code covered the petite figure. He'd never seen this much exposed<br />
skin from her before. The legs, tanned, tight <strong>and</strong> athletic. I bet she's a swimmer he thought.<br />
David could feel his h<strong>and</strong>s trembling. A thought crept from the depths of his consciousness<br />
<strong>and</strong> he strangled it to death before it had time to manifest. David couldn't help but keep<br />
smiling.<br />
Page Page 44 45
---
'That's alright,' said David trying to sound nonchalant. 'I hear the drinks here are<br />
really good.'<br />
'I know!' Her interest seemed to peak at the comment. 'I've already had two hits of<br />
that vodka-tonic already, how about you?'<br />
'Oh, not much,' he said with a shrug. 'I've had enough tonight.'<br />
She inches closer.<br />
'Hey I was wondering,' she paused. 'I was wondering if you could give me a ride back<br />
tonight, maybe your place?'<br />
David's heart stopped, he could feel the blood thinning in his veins. His mind became<br />
strained <strong>and</strong> shut down. All he could do was st<strong>and</strong> there. His entire body was working<br />
in a burst of chemical overdrive, nerve endings firing, his heart pumping more oxygen<br />
to the brain. All this work concentrated the cellular level towards nothing more than<br />
keeping the glass in David's h<strong>and</strong> <strong>and</strong> processing the question. No, let's go to a hotel, was<br />
all he wanted to say. I don't want to go home, <strong>and</strong> I don't want to go to your place either.<br />
The thought returned: a path of clothes, socks, pants, skirt, <strong>and</strong> the pink shirt leading to<br />
a bed.<br />
David saw those lips again, pouting <strong>and</strong> green eyes giving an invitation he didn't<br />
deserve. No, I can do this he thought; people do this all the time here. Why should I be<br />
left out of all the fun? Everyone here calls you the 'nice guy' <strong>and</strong> now you can prove them<br />
all wrong right here, tonight, <strong>and</strong> yet he couldn't bring himself to do it. Am I feeling<br />
guilty he thought, stuck in a sea of panic? David opened his mouth but nothing came<br />
out. The voice that he'd tried to block out all night returned to reap its vengeance.<br />
'You don't deserve her.'<br />
'God, just go away.'<br />
A whole thirty seconds had passed, his mind screaming for him to say something,<br />
anything. His heart rate slowed, his subtle exhale filled the space between them.<br />
'I…no,' David finally answered. Her mouth opens; she's surprised. David could see<br />
the muscles around her face begin to tighten <strong>and</strong> those eyes lost all the charm that went<br />
into finessing an answer.<br />
'Sorry,' he continued. 'But I have to be at some place early tomorrow.'<br />
'Some place important.' She looks down; her left h<strong>and</strong> begins to fidget with her index<br />
finger.<br />
'Yeah.'<br />
'Well, I'll tell Chad.'<br />
'Thank you.' David tried once again to turn on the smile. 'I'll see you at work!'<br />
'Yeah, I'll see you.' She was already making her way towards the bar counter.<br />
David squeezed his way through the crowd on the dance floor, he couldn't hear the<br />
music anymore. He stepped into the cold empty street, stars in his eyes. The haze was<br />
still blurring his vision from being in the club for so long. Maybe I should go back, he<br />
thought? No, I blew it. Besides, I need to review that test anyway. I know the material<br />
backwards <strong>and</strong> forwards, but one more go at it won't hurt. That is what's important, that<br />
test. I need to make an A on it.<br />
David tried to forget what had happened at the bar <strong>and</strong><br />
began to make his way to the parking garage, pounding the<br />
memory out of existence with every heavy step. He knew it<br />
was going to be a long ride home.<br />
Michael Seebach is an American writer.<br />
Page 45
---
Mother<br />
by Katherine Hubbard<br />
When he fell from the<br />
Bough of the apple tree<br />
That's when Johnny's mum<br />
Decided she loved him<br />
Whilst he flapped like a fish<br />
In the moment between heaven <strong>and</strong> earth<br />
That's when her womb contracted<br />
For only the second time<br />
As she lowed like a cow,<br />
Like an animal<br />
The St Christopher she never believed in<br />
Became human, made flesh between her breasts<br />
So she prayed to him <strong>and</strong> all the saints<br />
To grant her one last wish<br />
She brokered that deal in the back yard<br />
Her nail varnish now in ruins<br />
Chastising the make over<br />
In front of the tele<br />
When she should have spied his misdemeanour<br />
And run yelling<br />
But she was watching the man on screen<br />
As she lined her fingers purple<br />
He was selling her a machine to clean<br />
The house from the inside out<br />
As he intoned like a guru, like a lover<br />
She forgot her own suburban squalor<br />
Katherine Hubbard is a poet <strong>and</strong> actor.<br />
So now she barters with God<br />
Have my eyes, scar me<br />
Deform my limbs so he can live<br />
But live well<br />
Not dribbling on a feed-cup<br />
In a recreation centre cell<br />
Nor lying staring out from a wheelchair<br />
With tubes up his arse <strong>and</strong> nose <strong>and</strong> nothing<br />
Going on upstairs<br />
Spare me that, selfish bitch I am<br />
I cannot deal with an idiot son<br />
Stick me out to pasture<br />
May the sun harden me to alabaster<br />
But don't mark him God<br />
I just don't know how to do the endless<br />
Self sacrifice, change my stockings for tights<br />
Be all mother but no woman<br />
Stop the bourbon on Friday night<br />
The jiggle of breast in a good light<br />
I don't know how to be it, her, she<br />
The one with no name but<br />
The one he calls me<br />
Spare my soul from that identity<br />
Which knows no other<br />
Than the one born for man<br />
The mother<br />
Page Page 46 47
---
This I know<br />
by Antonia Dingey-Attard<br />
Love endures all, but<br />
Sometimes love is not enough.<br />
In the quiet moments of the night<br />
As I lie in my bed alone,<br />
I cry because I am sad.<br />
THIS I KNOW.<br />
I love my children, my parents <strong>and</strong> my dog.<br />
I love spending time with friends.<br />
I love the feel of freshly washed hair<br />
Blown in the wind.<br />
Slipping into clean sheets of a newly made<br />
bed.<br />
BBQ's on a hot summer's night.<br />
The smell of fish <strong>and</strong> chips.<br />
I love an old song on the radio, watching<br />
Classic black <strong>and</strong> white movies on TV.<br />
THIS I KNOW.<br />
Antonia Dingey-Attard is a VU student.<br />
I am person known to be friendly,<br />
Warm, capable, pleasant <strong>and</strong> kind.<br />
There is always a smile on my face.<br />
This is how others see me.<br />
This is a part of who I am,<br />
The person I strive to be.<br />
THIS I KNOW.<br />
Deep in the recesses of my mind,<br />
In the darkness of my soul,<br />
In the stillness of my everyday<br />
I face the loneliness of my life.<br />
Vulnerable, cold, weary <strong>and</strong><br />
Troubled. I am broken <strong>and</strong> afraid.<br />
This is part of who I am,<br />
The person I do not want to be.<br />
THIS I KNOW TO BE ME.<br />
Page 47
---
mediator<br />
by Cam Black<br />
a fight in my street this morning<br />
on the walk to the tram<br />
a difference of colour<br />
four of one<br />
attacking<br />
one of another<br />
loud exclamations by all in<br />
languages<br />
i could not underst<strong>and</strong><br />
i crossed the road<br />
to help<br />
the weight of my presence<br />
Cam Black is a Melbourne poet.<br />
Army of G<br />
by Raymond G Leavold<br />
The fragments<br />
Need to be<br />
Reconciled,<br />
Come back to me<br />
Everything that I've lost,<br />
All the flakes of skin,<br />
The hairs,<br />
The nails I've picked off,<br />
Complete me,<br />
Make me a new person:<br />
Raymond G Leavold is a writing student.<br />
enough to end the<br />
melee<br />
four indian mynah birds flew<br />
in different directions at<br />
my approach<br />
the harassed-looking<br />
small common blackbird<br />
did not spare me a glance<br />
as he took the exit<br />
thus opened<br />
but i was there<br />
nonetheless<br />
The old one,<br />
Make me three more,<br />
There's enough to go around,<br />
Give me the hair & nails<br />
That grow<br />
When I'm dead,<br />
& I will give you<br />
an army<br />
from everything<br />
I've shed.<br />
Page Page 48 49
---
Once in a lifetime<br />
by Carolyn Garner<br />
I didn't have a hope. I wasn't that good of a driver <strong>and</strong> you weren't looking. You were just<br />
lost <strong>and</strong> afraid. I slammed on the brakes but you were no match for four angry wheels.<br />
I could hear you crying while I sat motionless, imagining you twisted out of shape<br />
underneath one of them. What would I do then? Reverse? Go forwards?<br />
I got out. Holly followed. 'Shouldn't you move the car Mum?'<br />
I became aware that traffic was banking up behind me. Mean, impatient faces glaring as<br />
they drove around my own killing machine. Bugger the car! Bugger the traffic!<br />
Miraculously you had made it onto the median strip. Each appeal was a thorn in my<br />
flesh. Your leg was raised up in the air like you were asking a question.<br />
'You did this so why aren't you helping me?'<br />
But I didn't know how to pick you up without doing more damage. So we just stood<br />
there. You <strong>and</strong> me <strong>and</strong> Holly.<br />
Suddenly someone stopped. Someone with a kind face.<br />
'Can I help?'<br />
She picked you up, popped you in her car, drove you to the vets. I followed gingerly,<br />
feeling guilty as hell. They'd already taken you out the back by the time we arrived. I<br />
spoke to the receptionist, left my number. I had to know your future, if you had one.<br />
I cooked tea on auto-pilot. They rang about an hour <strong>and</strong> four cigarettes later. They had<br />
traced your family. You had a broken pelvis. But best of all you were going to be okay.<br />
I think about you often. I hope that you are better <strong>and</strong> happy <strong>and</strong> well-loved. Then I<br />
pray that neither you nor I will ever be in the same situation again. Once in a lifetime is<br />
definitely enough.<br />
Carolyn Garner studied at VU Sunbury.<br />
Page 49
---
The sound of silence<br />
by Sherryl Clark<br />
The child was screaming. Again. And she could tell by the way his screams echoed that he'd<br />
been put outside again. In the alley.<br />
It was dark in the alley, <strong>and</strong> overgrown with weeds, littered with rubbish <strong>and</strong> sometimes<br />
needles.<br />
She stood by her back door, listening. Every now <strong>and</strong> then she heard him shriek,<br />
'Mummy, let me in,' but the door to his house stayed shut.<br />
The sound of his screams frayed at her edges. She pulled her cardigan closer <strong>and</strong><br />
hunched her shoulders. She wanted the sound to bounce off her, but it soaked in, like<br />
blood into an old sheet.<br />
She opened her back door. The screams were louder; they pulled her outwards, towards<br />
the fence, making her stumble on the broken footpath <strong>and</strong> bang her head on the clothesline<br />
arm.<br />
The old fence was made of palings hammered onto a frame. The nails protruded, as if<br />
the wood was squeezing them out, a millimeter at a time. Her fingers touched the rough<br />
palings, caressing the splintered edges, as she listened.<br />
His screams had subsided into loud sobbing. He knew, <strong>and</strong> she knew, that he wouldn't<br />
be allowed back inside until he'd been quiet for at least five minutes. Maybe longer, if his<br />
mother was on the phone or in the shower or watching a good TV show.<br />
She pulled one paling aside. The window opposite blared with yellow light; the kitchen<br />
with its dark brown cupboards was empty. Dishes piled on the sink <strong>and</strong> benches, a<br />
container of margarine <strong>and</strong> a dirty knife lay on the laminate table.<br />
The boy stood next to the door, as if to make sure his sobbing carried straight into the<br />
house. Why didn't he stop? Why didn't the mother come?<br />
It was pointless wondering. It was always the same.<br />
She pulled the other two palings away <strong>and</strong> bent sideways, struggling through, catching<br />
her cardigan on a nail <strong>and</strong> pausing to carefully unhook it.<br />
The boy stared at her, but kept sobbing.<br />
'Hello,' she said.<br />
The sobbing died down into crying. Crying was much better.<br />
'I've made hot cocoa <strong>and</strong> biscuits,' she said. 'Do you want some?'<br />
His eyes widened but he didn't reply.<br />
She held out her h<strong>and</strong>. 'Want to come <strong>and</strong> visit me for a while?'<br />
He kept crying. Why did he keep crying? Didn't all children like hot cocoa <strong>and</strong> biscuits?<br />
What was the matter with him?<br />
She stepped forward <strong>and</strong> he shrank back against the door. He kept crying.<br />
'I won't hurt you,' she said crossly. 'I just want to help. Don't you want nice hot cocoa?'<br />
She grabbed his h<strong>and</strong>. 'I'm your friend. I live over there, behind the fence.'<br />
He shook his head <strong>and</strong> tried to pull his h<strong>and</strong> away. He began the ungodly shrieking<br />
again, all of a sudden, as if the noise was in a bottle inside him <strong>and</strong> he'd popped the cork.<br />
She felt a shriek of her own surge up her throat <strong>and</strong> let him go, clapping her h<strong>and</strong>s over<br />
her mouth. The shriek came out as a stifled howl.<br />
She reached out <strong>and</strong> shook him hard. 'Look what you made me do!' Then she scrambled<br />
back through the fence, panting, gasping, ripping her cardigan on the nail, staggering across<br />
the yard <strong>and</strong> into her house, slamming her door hard. She sank to the floor, held her breath,<br />
listened. Silence.<br />
'Good boy,' she said.<br />
Sherryl Clark is an award-winning writer, <strong>and</strong> teaches Professional Writing <strong>and</strong> Editing at VU.<br />
This piece was first published on everydayfiction.com.<br />
Page Page 50 51
---
Ruth<br />
by David Weaver<br />
It was the loneliest Christmas imaginable, <strong>and</strong> my mother said that it would be much<br />
better by next year, but this was now <strong>and</strong> she didn't underst<strong>and</strong>.<br />
When I asked Ruth to marry me I really meant it, <strong>and</strong> even though she'd told me to drop<br />
dead I knew it wouldn't take long to change her mind.<br />
'You're the ugliest person in Engl<strong>and</strong> <strong>and</strong> your ears stick out, so why should I marry you?'<br />
she'd said.<br />
I slunk away to a secret place to lick my wounds, <strong>and</strong> everywhere I looked she was<br />
lurking in some quiet corner, laughing at me from the dark shadows.<br />
I remember she had long blonde hair sweeping past her shoulders, a cotton print dress<br />
<strong>and</strong> pink shoes, <strong>and</strong> the crowning glory was the beautiful matching pink ribbon tied in a<br />
big bow on top of her head. She smiled a lot <strong>and</strong> once held my h<strong>and</strong> as we sat on a coal<br />
barrow in the dusty yard with the smell of horse muck mingling with the hops from the<br />
brewery. How could I not want to marry her in such a lovely place? For these were our<br />
roots, this was where we belonged together for the rest of our lives.<br />
The air raid was no worse than the ones before it, just fear piled on top of fear—all that<br />
waiting, waiting. The next day Mum told me the bomb had killed her instantly, <strong>and</strong><br />
there was no pain. That the explosion was so intense there was no chance for her or her<br />
family. Eight dead from a single bomb, but I had to see if it was true for who but a fool<br />
would believe it.<br />
Mum walked with me, talked to me, <strong>and</strong> tried to explain to me about death, until we<br />
arrived at, what had once been, Ruth's home. I searched through the rubble, looking<br />
for anything that would remind me of her, until I found a burned piece of pink ribbon<br />
shaped in a bow. I kept that bow hidden in my pocket <strong>and</strong> would take it out sometimes<br />
when feeling lonely. That's until I fell in love again. For let's face it. What boy of twelve<br />
has a pink ribbon in his pocket for another girl to find?<br />
David Weaver studied Writing at VU.<br />
This piece is dedicated to the Freer family.<br />
Page 51
---
Surfing with my brother<br />
by Paul Bateman<br />
My brother takes me surfing. I don't want<br />
to go, but he's insistent. My brother James is<br />
always insistent.<br />
'Bugger work. You work too much. A surf<br />
will do you good!'<br />
By work too much, my brother means<br />
think too much, worry too much, <strong>and</strong><br />
goof around too little. My brother wants to<br />
hear that I'm lying on the couch, watching<br />
television. That, says James, is a proper day<br />
off.<br />
I've seen James st<strong>and</strong> before the wall of<br />
books that line my apartment, eyeing<br />
off each volume with a look of deep<br />
suspicion—like he might want to fight<br />
them if that meant I'd leave the house.<br />
'Have you read all these?' he asked me once,<br />
<strong>and</strong> grunted when I said I had.<br />
James would rather surf. Every Sunday<br />
for most of the last three years, James has<br />
strapped a board to the roof of his car<br />
<strong>and</strong> headed east to Phillip Isl<strong>and</strong>, south<br />
to Gunnamatta or west to Torquay. That's<br />
quite a commitment for someone who<br />
works six days a week; James is a real estate<br />
agent.<br />
The business of buying <strong>and</strong> selling things<br />
would pretty much kill me if that was what<br />
I had to do in order to make a living: if my<br />
heart's not in it, my head won't stay. James,<br />
however, does alright. He's what others call<br />
'a natural'.<br />
A prospective home buyer once rang James<br />
with no real idea what he wanted in a new<br />
home: Two bedrooms? Four bedrooms? A<br />
backyard? A garage?<br />
James cut him short: 'I'm busy, mate, call<br />
me back when ya know what ya want…'<br />
And the buyer did.<br />
'Trust me', said James, 'he needed to be<br />
told.'<br />
James will leave the office early to catch<br />
some waves before day's end, explaining his<br />
departure with the following advice: 'tell em<br />
I'm on a course.'<br />
A course?<br />
'Yeah, a golf course!'<br />
The line comes complete with a generous<br />
laugh <strong>and</strong> a look of childish delight. Most<br />
of all, it's completely untrue: his mobile<br />
phone is never off; there's always someone<br />
in his ear.<br />
My brother's a dog; that's what I tell my<br />
mates. When he's happy, he wags his tail.<br />
When he's not happy, he barks <strong>and</strong> growls.<br />
He's as loyal as a dog, as buoyant as a dog<br />
<strong>and</strong> as smart as a dog—in as much as he<br />
follows his nose <strong>and</strong> leads by his nose.<br />
Whatever else his faults, he's not neurotic.<br />
The Chilean poet, Pablo Neruda, has<br />
a poem called Another Dog wherein he<br />
describes a night spent trailing a mutt<br />
through the streets of a sleeping city, 'for no<br />
better reason than to know where dogs go<br />
in their tour of the night.'<br />
'A thous<strong>and</strong> times, by my count, he stopped<br />
to pee in odd places,<br />
then went on with the air of<br />
someone expecting a telegram.<br />
He passed houses, crossed corners,<br />
parks, villages, countries,<br />
while I followed behind him to know<br />
where dogs needed to go.'<br />
'The dog,' says Neruda, 'leads the way <strong>and</strong> I<br />
at his heels…'<br />
So it is with me <strong>and</strong> James.<br />
We cross the Westgate Bridge, surfboards<br />
on the roof, thongs on our feet, <strong>and</strong> the city<br />
fast retreating in our rear vision mirrors.<br />
Chimney stacks <strong>and</strong> factories arrange<br />
themselves below us <strong>and</strong> gusts of wind<br />
batter the car.<br />
'The Geelong Road,' says James, 'is officially<br />
the world's most boring road.'<br />
A fact he imparts with such authority that<br />
I believe it must be true—that somewhere,<br />
maybe Oslo, a committee of learned<br />
types has made this strange <strong>and</strong> binding<br />
pronouncement.<br />
I tell James that the earth beneath the road<br />
is thous<strong>and</strong>s of years old, the product of<br />
wild <strong>and</strong> ancient volcanic activity.<br />
'I can't get my head around that', he says<br />
c<strong>and</strong>idly, <strong>and</strong> then having so decided seems<br />
to let the thought drift loose as though<br />
freeing a balloon. He shrugs <strong>and</strong> it's gone.<br />
Page Page 52 53
---
I talk about work, about the things I'm<br />
writing <strong>and</strong> things I wish I would write.<br />
He listens in a half-hearted sort of way,<br />
fiddling with the stereo <strong>and</strong> announcing<br />
the towns on the road to Torquay in a<br />
loud, theatrical fashion: 'Ava-lon! La-ra!<br />
Co-ri-o!'<br />
He makes me laugh, which stops me<br />
talking, which was probably his intention;<br />
I can't switch off the way he does.<br />
Thoughts blow about inside my head <strong>and</strong><br />
the weather there is often grey. He knows<br />
this. I think he wants to break the pattern<br />
of my thought <strong>and</strong> speech.<br />
'All good?' he often asks, in reference to<br />
nothing, 'all good?'<br />
He's trying to tie me to the moment at<br />
h<strong>and</strong>.<br />
I used to worry how I fare in my brother's<br />
estimation—I'm older than him, more<br />
earnest <strong>and</strong> cerebral—but recently a friend<br />
of mine saw James <strong>and</strong> me among a crowd<br />
of mates. She said that whenever James<br />
told a joke, it was me he looked to for a<br />
response.<br />
I mail things to James that I've had<br />
published in books <strong>and</strong> magazines <strong>and</strong><br />
he rarely ever reads them. Most of the<br />
time, he can barely recall where he put the<br />
envelope. It drives me nuts.<br />
Yet I can ring him as I'm writing <strong>and</strong><br />
read him what I've got <strong>and</strong> his response is<br />
always honest <strong>and</strong> rarely off the mark. His<br />
entire <strong>and</strong> utterly trustworthy school of<br />
literary criticism is contained in one of two<br />
words—'yep' or 'nup'.<br />
By 'yep', he means that he can see what I'm<br />
saying—literally see it, in his mind's eye.<br />
'Nup' means he can't see it. 'Nup' means<br />
I've got to go away <strong>and</strong> rewrite the thing in<br />
a simpler, clearer language until it's put to<br />
him again <strong>and</strong> I get myself a 'yep'. Could a<br />
writer have a better friend?<br />
We arrive in Torquay.<br />
'This'll do', says James, steering the car<br />
into a space at the edge of the town's main<br />
beach, 'let's get into it!'<br />
Out beyond the bonnet of the car, beyond<br />
a broad expanse of dense <strong>and</strong> yellow<br />
s<strong>and</strong>, the surface of the ocean wobbles<br />
in the sunlight. Rolling rows of big lefth<strong>and</strong>ers<br />
build up slowly, hold up high then<br />
throw themselves upon the shore in long,<br />
consistent curls.<br />
James gets busy with the boards—waxing<br />
them, attaching ropes <strong>and</strong> inspecting the<br />
fins—while I look on, wetsuit in h<strong>and</strong>, my<br />
eyes adjusting to the light.<br />
Much of the day will be spent like<br />
this: he taking charge, energised by the<br />
physical environment, ploughing without<br />
reservation into the surf or things to<br />
be done; me in thrall of his energy, his<br />
effortless joy <strong>and</strong> ways.<br />
We paddle out, beyond the breakers, to sit<br />
astride our boards <strong>and</strong> read the patterns of<br />
the surf. Now James does all the talking:<br />
enthusiastic observations on currents,<br />
swells <strong>and</strong> tides; cautions on the strength<br />
of the rip, the placement of rocks <strong>and</strong> the<br />
likelihood of 'dumpers'.<br />
The waves roll in. We let them pass. We're<br />
like new batsmen at the cricket crease,<br />
watching intently, sizing things up.<br />
'Right'o', says James, eventually, 'Get on<br />
this one, Tiger…'<br />
I drop flat to the board, nose to the shore,<br />
<strong>and</strong> dig my h<strong>and</strong>s into the water. The sea<br />
inhales <strong>and</strong> sucks me in, the back of my<br />
board rising fast. There is one second of<br />
perfect equilibrium—a balance between<br />
wave <strong>and</strong> board—<strong>and</strong> then imagine, if you<br />
can, that the wave exhales <strong>and</strong> spits you<br />
out, violently.<br />
I'm up, momentarily, but too late; the<br />
board nose dives, arrowing forward hard<br />
into the water, then snapping back just as<br />
fast from beneath my feet. I'm dumped—a<br />
tangle of sprawling limbs hammered under<br />
crashing surf, the leg rope tearing at my<br />
ankle.<br />
There's a story about a student of Buddha,<br />
who is burdened by all sorts of existential<br />
questions <strong>and</strong> concerns. The student sits<br />
before the enlightened one <strong>and</strong> asks him<br />
how he, the student, can be truly sure<br />
that anything is real. Buddha smiles <strong>and</strong><br />
without warning slaps the student across<br />
the face.<br />
'Ow!' exclaims the student, grasping at his<br />
stinging cheek.<br />
Page 53
---
'That's real,' says Buddha.<br />
I emerge from the foaming tumult spitting<br />
<strong>and</strong> spluttering. James is out the back, sitting<br />
on his board <strong>and</strong> laughing uncontrollably;<br />
'that woke you up!'<br />
Yes, mate, it did. The sea has smashed my<br />
conscious self with a single burst of force.<br />
There's water slapping back <strong>and</strong> forth in<br />
both my pounding ears. I'm short of breath,<br />
shaking with adrenaline <strong>and</strong> I can barely<br />
keep from squealing. I feel alive.<br />
James is yelling: 'Go again, mate! Go again!'<br />
And so I do: waiting, paddling, breathing<br />
hard, pushing down upon the board <strong>and</strong><br />
lifting to my feet. I slice through the water,<br />
a 'goofy foot'—left leg back, right leg<br />
forward—riding the white wash far into the<br />
shallows.<br />
James <strong>and</strong> I surf until late in the afternoon:<br />
sometimes together, both of us paddling for<br />
the same breaking wave; sometimes apart,<br />
me watching him or him watching me<br />
negotiate a rolling wall of hissing, tumbling<br />
sea.<br />
He's good. He catches more waves than me<br />
<strong>and</strong> does more with them. From behind<br />
the wave he's chasing I watch him sink<br />
from sight then reappear on the other side,<br />
charging upright to the shore.<br />
Coming on sunset, I call it quits. I'm tired<br />
<strong>and</strong> I paddle in. The cliffs that shoulder the<br />
right side of the shoreline are bathed in the<br />
last light of day, a swathe of salmon <strong>and</strong><br />
orange that softens the rocks <strong>and</strong> turns to<br />
silhouette the two or three people perched at<br />
their heights, high above the sea.<br />
Back on the beach the s<strong>and</strong> has grown cold<br />
<strong>and</strong> is streaked with water marks—damp,<br />
abstract patterns left by the receding reach of<br />
the sea. The tide is going out. The car park's<br />
half empty. Night is coming on.<br />
My brother's the last man st<strong>and</strong>ing; a lone,<br />
lumbering fellow with an ocean to himself.<br />
Some of us, wrote the American mystic<br />
Thomas Merton, persist in misunderst<strong>and</strong>ing<br />
life, 'analysing it out into strange finalities<br />
<strong>and</strong> complex purposes' <strong>and</strong> thus, inevitably,<br />
'involving ourselves in sadness, absurdity <strong>and</strong><br />
despair.'<br />
But it does not matter much, he said,<br />
'because no despair of ours can alter the<br />
reality of things, or stain the joy of the<br />
cosmic dance…indeed, we are invited to<br />
forget ourselves on purpose.'<br />
Fellow human, he wrote, 'cast aside your<br />
awful solemnity <strong>and</strong> enter the dance.'<br />
My brother would probably no more read<br />
the thoughts of Thomas Merton than fly to<br />
the moon but, if pressed for his opinion, I<br />
think he'd take what Merton said <strong>and</strong> say<br />
it in reverse: 'Enter the dance <strong>and</strong> your<br />
solemnity will be cast aside.'<br />
Life begets life. Go for a surf. Get out of the<br />
house. See what you find.<br />
There's time enough before we go for a salty<br />
pile of fish <strong>and</strong> chips <strong>and</strong> a stubby of beer<br />
caked in melting ice. The boards are back<br />
upon the roof, our wetsuits in the boot.<br />
My brother flicks the headlights on <strong>and</strong> rolls<br />
the car, in no real hurry, past the surf club,<br />
over some speed humps <strong>and</strong> on to the road<br />
that will take us home.<br />
We listen to the radio, we listen to<br />
cassettes—mangled, dying, dated things that<br />
breed within his glove box—we talk a bit<br />
<strong>and</strong> then we don't, each to his thoughts, the<br />
two of us in silence, gliding in a gleaming<br />
line of ever-growing traffic.<br />
Travelling over the Westgate Bridge we stir<br />
again <strong>and</strong> lift our concentration. The car<br />
shifts a gear <strong>and</strong> growls. The city shines like<br />
a welcoming flame <strong>and</strong> I have within me an<br />
optimism born of what we've done.<br />
Brother, I want to say, I know now why<br />
you surf. I know who you are. Creature of<br />
instinct, impulse <strong>and</strong> sensation, I underst<strong>and</strong><br />
your love of nature, its mystery <strong>and</strong> power.<br />
I see reflected in your self, salt <strong>and</strong> s<strong>and</strong> <strong>and</strong><br />
sea. I love your gift for living.<br />
But I don't say these things. My brother is<br />
whistling, tapping his fingers on the steering<br />
wheel <strong>and</strong> nodding his head to a tune on the<br />
radio.<br />
I look from the car, high on the bridge,<br />
to the towering sweep of the city; to the<br />
harbour <strong>and</strong> its giant ships laden with<br />
containers; to the lights of the bay strung like<br />
diamonds far into the night.<br />
'How good's this?' I ask my brother, 'how<br />
bloody good is this?'<br />
And he says, 'yep'.<br />
Paul Bateman is a Melbourne Writer<br />
This piece has been published in The Age.<br />
Page Page 54 55
---
Neither good nor bad<br />
by Lauren Ham<br />
I try, find the inner strength, though i am weak, still. I talk, not really saying much, not telling<br />
you much, in the end. I just ramble <strong>and</strong> words dribble out, sounds springing from my open<br />
mouth. Still no strength, still I try, put the blood stained towel in the wash, go get another clean<br />
cloth to dirty. You don't hear me, my fault. All my fault. In the end, my fault. But I am who I<br />
am.<br />
Insight<br />
by Lauren Ham<br />
When it's good it's like I'm flying<br />
Manic, or sane but, I'm here ain't i ? But when it gets bad, the negativity consumes me until i am<br />
trapped in my own little bubble. When the depression holds on tight <strong>and</strong> chokes me with both<br />
h<strong>and</strong>s.<br />
Nothing else matters.<br />
Happiness doesn't exist…it's overwhelming.<br />
Lauren Ham is a Community Services student at VU.<br />
Autumn oud<br />
by Tom Clark<br />
I am that sorrow<br />
you dreamt of yesterday,<br />
oh pillow friend<br />
of my steaming eye.<br />
My childhood was filled<br />
with all dreams<br />
in the long run, filled as<br />
your two cupped h<strong>and</strong>s poured on.<br />
Tom Clark is a lecturer at VU.<br />
I invite all friends<br />
to partake of mine without<br />
discrimination, bringing<br />
here each one as one.<br />
Since one is all,<br />
this, then, is my call:<br />
does your sorrow last? Weep in me!<br />
Foreign leaves must fall.<br />
Page 55
---
Walking over the mountain<br />
by Clare Boyd-Macrae<br />
Each Friday morning I spend an hour at my son's school, working with a little boy called<br />
Joel. He's a sweet kid, no trouble. He has a soft face, big dreamy eyes, long lashes that curl.<br />
When I praise something he's done, some effort he puts in, he rewards me with a slow,<br />
heart-stopping smile.<br />
Joel has trouble focussing, keeping track. He w<strong>and</strong>ers off, not physically but in his head. I<br />
have to keep saying to him, 'Joel, try <strong>and</strong> ignore what's going on over in that other corner<br />
of the classroom, just concentrate on this, this paper right in front of you, what we're doing<br />
here, Joel, can you hear me?'<br />
Slowly he turns to me, <strong>and</strong> then looks down at the sheet in front of him <strong>and</strong> we work on<br />
another sentence, spelling, punctuation, <strong>and</strong> then he drifts off <strong>and</strong> I remind him, <strong>and</strong> the<br />
process starts all over again.<br />
Joel's letters are legible but big <strong>and</strong> ungainly. He forgets things like capitals <strong>and</strong> full stops.<br />
He takes a while to think of things like, 'four words that rhyme with best'.<br />
We work on reading <strong>and</strong> writing, on Joel's skill with words. Without words, without being<br />
able to manipulate <strong>and</strong> underst<strong>and</strong> them, Joel will be powerless as he grows up. He will also<br />
be cut off from a whole world, a whole universe of delight.<br />
'Okay Joel,' I say, 'this morning, we're going to make up some sentences with certain words<br />
in them. Here's the first one. Sing. Can you write a sentence with the word 'sing' in it?'<br />
He looks at me, looks away, looks at the other kids on his table who are playing a math<br />
game with dice.<br />
'Joel,' I gently tap the worksheet; he studies it <strong>and</strong> chews the small orange rubber on the<br />
end of his pencil.<br />
'Sing. What do you think Joel, what's a sentence with 'sing' in it?'<br />
Suddenly his face clears <strong>and</strong> he writes laboriously, 'I sing'.<br />
Hmm. 'Yes, that's a sentence, but let's see if we can write something a bit longer. Could you<br />
add a couple of words to that?'<br />
More thinking, then he adds, 'a song.' I sing a song.<br />
'Okay. Let's do the next one. A sentence containing the word 'walked.'<br />
The same process, the same result: 'I walked' is Joel's sentence.<br />
'Two words aren't really a sentence Joel,' I say. 'Here, I tell you what. The next word we have<br />
to include is 'over'. Let's try <strong>and</strong> do two things at once, let's write a sentence with 'walked'<br />
<strong>and</strong> 'over' in it.'<br />
My own attention w<strong>and</strong>ers while I am waiting for Joel. I look around the room: the<br />
tall, grimy windows, the tattered blinds, the bright projects that cover the wall, the two<br />
computers in the corner. I watch the kids, some working away, others daydreaming or<br />
chatting while the teacher's back is turned. The teacher goes from group to group, checking<br />
on their work. A full minute passes before I look at Joel again <strong>and</strong> see him suddenly put pen<br />
to paper.<br />
He writes 'I walked over the mountain'. Then he looks to see my reaction. I'm excited.<br />
'Yes, that's it. Well done! That's a sentence, that's a good sentence.'<br />
I want to throw my arms around this dear <strong>and</strong> struggling little boy <strong>and</strong> infuse him with<br />
my own passion for words, for language, for the sound <strong>and</strong> rhythm <strong>and</strong> magic of it, for the<br />
world upon endless world it opens up.<br />
Page Page 56 57
---
Why is it so important to me that Joel should read with ease <strong>and</strong> delight? I'm not talking<br />
about literacy here, vital as it is. I'm talking of something more. I want Joel, like any<br />
child, to catch a glimpse of the boundless possibilities that multiply almost magically<br />
when words <strong>and</strong> imagination are powerfully linked. And I fear the flattened world that<br />
will come if children lose the ability to see print on a page <strong>and</strong> let their imaginations do<br />
the rest. Or pick up a pen <strong>and</strong> let their minds soar, until they produce something that is<br />
uniquely theirs.<br />
I want to say to Joel, 'Imagine this. I walked. I walked over… I walked over the<br />
mountain. I walked over the mountain <strong>and</strong> down the other side. I walked over the<br />
mountain <strong>and</strong> into another country, into another world where everything was different.<br />
I walked into a new world where waterfalls leapt <strong>and</strong> glistened <strong>and</strong> grass glowed <strong>and</strong><br />
trees shimmered <strong>and</strong> people walked with a spring in their step. I walked, <strong>and</strong> found a<br />
nightmare world where I was no longer loved. I walked over the mountain <strong>and</strong> I was<br />
on the other side of death, but I no longer felt fear, only calm, <strong>and</strong> certainty that all was<br />
well. I walked over the mountain <strong>and</strong>, well, the sky's the limit Joel.'<br />
My younger son gets into trouble most mornings because he is reading instead of getting<br />
organized for school. He's miles away. He has walked over the mountain. This is what<br />
I want for Joel. I want him to drive his parents mad with his reading instead of making<br />
his lunch <strong>and</strong> brushing his teeth in the morning. I want him to look at words in a book,<br />
or at a blank page <strong>and</strong> no longer feel the tyranny that lack of comprehension brings, the<br />
weight of the unwanted pencil in his h<strong>and</strong>s.<br />
I want him to write, 'I walked over the mountain', <strong>and</strong> tingle with excitement. What will<br />
I write next? What will be on the other side of the mountain today? I want his mouth to<br />
water with anticipation, as he views the endless worlds opening out from his mind <strong>and</strong><br />
his h<strong>and</strong>, like mirrors opposite each other. Except that here all the worlds, all the views<br />
are different. They are whatever you want them to be, but at the same time they are never<br />
quite what you expect.<br />
These are the fears <strong>and</strong> hopes that keep me reading with my own kids <strong>and</strong> kids like Joel,<br />
who may never know the joys of the world on the other side of the mountain. Maybe it's<br />
a hopeless battle, against massive forces way too powerful for me with my puny pen <strong>and</strong><br />
paper <strong>and</strong> bound books. But I keep turning up Friday mornings, dreaming that one day I<br />
will get there <strong>and</strong> find Joel ignoring his teacher because he is so deep into a book. Or that<br />
his face will light up <strong>and</strong> his h<strong>and</strong> will tear across the page: 'I walked over the mountain,<br />
<strong>and</strong> you will never believe what I saw there.'<br />
Clare Boyd-Macrae is a Melbourne writer who studied Professional Writing <strong>and</strong> Editing at<br />
VU. This piece was first published in The Age.<br />
Page 57
---
Flashing lights<br />
by Marie James<br />
I only entered the bookshop to buy something new to read on the train.<br />
The shop was one I'd never visited before. I had chosen it only because it was on the<br />
route from the dental clinic, where I'd spent my afternoon, to the train station. It was<br />
long, rectangular <strong>and</strong> the shelves blocked the back wall from view. The shop was filled with<br />
people, all clustered around the bestsellers shelf. The teenage assistant stood behind the<br />
front counter. Opposite was the wide door <strong>and</strong> the shelf of new releases. Just inside the<br />
door stood a large display for an author who would be appearing at the store during the<br />
week.<br />
At first I took no notice of the display, my eyes already scanning the new release shelves<br />
for whatever caught my attention. But then something about the display registered in my<br />
mind <strong>and</strong> I looked again.<br />
The title on the st<strong>and</strong> looked familiar: 'Flashing Lights'. It was more than familiar. That<br />
title was mine. The author's name wasn't.<br />
Daniel Taylor.<br />
Though it had been four years, I still remembered quite clearly, Danny holding my<br />
manuscript <strong>and</strong> saying, 'Thanks, Ben, I better read the rest of this <strong>and</strong> see what happens.'<br />
They were the last words he ever said to me. One day he was at school, the next he<br />
wasn't. I'd heard that he had to leave suddenly to see his gr<strong>and</strong>parents in the country<br />
because his gr<strong>and</strong>father had suffered a stroke. He never came back <strong>and</strong> neither did my<br />
manuscript.<br />
It was the best piece of writing I'd ever done <strong>and</strong> I'd spent seven years trying to make it<br />
perfect. When I'd shown it to him, there was still a lot of work that had to be done, but he'd<br />
been impressed with it anyway.<br />
When Danny disappeared with my manuscript in his bag, everyone told me not to<br />
worry about it. Surely he would read it <strong>and</strong> send it back through the post. He was that kind<br />
of guy, Danny. He could be trusted <strong>and</strong> everyone was impressed by him. He was good at<br />
anything he put his mind to, whether it be football, art class, or academics. I, on the other<br />
h<strong>and</strong>, had always been shocking at sports, couldn't draw a straight line if my life depended<br />
on it, <strong>and</strong> was only ever an average student. My manuscript was my one claim to fame, <strong>and</strong><br />
even that wasn't as great as I wanted it to be.<br />
Initially, like everyone else, I thought the best of Danny. Of course he would send the<br />
manuscript back. He had to. But soon three months had passed <strong>and</strong> I was forced to declare<br />
the manuscript missing-in-action.<br />
With all the old memories swirling around my mind, I saw my h<strong>and</strong> reach out to grab<br />
a copy of the book on the display, but couldn't feel the movement. Everything in me was<br />
numb. I felt the heat drain from my face <strong>and</strong> the book felt unnaturally heavy as I hefted it<br />
in my h<strong>and</strong>s. The cover was a strange blur of blue <strong>and</strong> red (I'd always pictured bright green)<br />
<strong>and</strong> a hardcover (I preferred paperback).<br />
My manuscript wasn't missing anymore.<br />
The crisp thrup of pages as I rifled through them sent the smell of fresh ink <strong>and</strong> new<br />
pages into my head. As I closed the book with a forced calmness, a finger caught on a page.<br />
A thin line appeared in my skin <strong>and</strong> it became red with blood. I clenched my fist to numb<br />
the stinging.<br />
My eyes travelled up <strong>and</strong> over the wall display, focusing this time on the large,<br />
professional photo of Danny in the centre. Much to my dismay, he was no longer the greasy<br />
haired, patchy, stubble-ridden, bottle-blonde boy I remembered from my Year 12 math<br />
class. Now, his hair was well-washed, a natural brown colour, <strong>and</strong> he had a neatly trimmed<br />
goatee.<br />
I turned to the teen behind the counter <strong>and</strong> laid the book down in front of her, with<br />
Page Page 58 59
---
a fifty lying on its mis-coloured cover. She rang up the purchase <strong>and</strong> h<strong>and</strong>ed me my<br />
change.<br />
I picked up the book before she had the chance to put it in a bag <strong>and</strong> she said, 'He's<br />
here today, you know. Why not have him sign your copy?'<br />
She pointed towards the other side of the store <strong>and</strong> I turned reluctantly.<br />
I was wrong when I'd entered the shop. The crowd surrounding the bestseller shelf<br />
weren't gathered there for the novels, they were there for the man behind the table. He<br />
was sitting, blue pen in h<strong>and</strong> <strong>and</strong> surrounded by copies of my book.<br />
Almost without thinking, I was joining the end of the line stretching out in front of<br />
Danny's table, book clutched tightly against my stomach.<br />
The queue stretched until it looked a mile long. I took a slow, deep breath <strong>and</strong> reassessed<br />
the people surrounding me. A lot of the people were just st<strong>and</strong>ing around<br />
watching, but most were, like me <strong>and</strong> the elderly woman up front who appeared to be<br />
trying to chat Danny up, in the queue itself. I heaved a sigh; the line wasn't shortening<br />
anytime soon.<br />
The man st<strong>and</strong>ing in front of me couldn't have been older than I was. He was<br />
bouncing on his toes <strong>and</strong> had his nose stuck in the book. His beer-bottle glasses were no<br />
more than an inch from the page. As I watched, he gasped <strong>and</strong> quickly turned the page.<br />
I glowered.<br />
That was my book the guy was excited about. And he was st<strong>and</strong>ing in line to get it<br />
signed by a fraud. The injustice of it all was a physical pain in the pit of my stomach.<br />
The young woman in front of the man was trying to see Danny around the middleaged,<br />
skirt-suit-wearing woman in front of her. Both of them were holding their books<br />
like a life-line.<br />
The queue moved slowly, with people shuffling their feet. I took to counting stupid<br />
things, like buttons on jackets, to distract from the wait between then <strong>and</strong> Danny's black<br />
eye.<br />
The young man in front of me continued reading <strong>and</strong> gasping, the pages turning<br />
faster <strong>and</strong> faster. I glared at the back of his head <strong>and</strong> resisted the urge to yell in his ear. I<br />
let my anger simmer, so it could boil over for Danny when I got to see him. As soon as<br />
Danny mentioned the characters, Roy <strong>and</strong> Melanie, or anyone else beginning with an 'R'<br />
or an 'M', I'd have him over his table <strong>and</strong> on the floor before he knew what had hit him.<br />
The picture was so appealing, I almost grinned.<br />
Finally I was there, the front of the line. The young man shook Danny's h<strong>and</strong> yet<br />
again <strong>and</strong> stumbled away.<br />
I took another slow, deep breath <strong>and</strong> approached the table. I set the book down in<br />
front of him but kept it in place with my h<strong>and</strong>.<br />
Danny's blue pen was poised to sign, but when I was not forthcoming he looked up.<br />
For a moment, he didn't seem to recognise me, though I hadn't changed that much.<br />
His gaze travelled over my face, frown creasing his forehead, before his eyes widened.<br />
'Ben?'<br />
'Hello, Danny.'<br />
'Wow. I never thought I'd see you again.'<br />
The anger rumbled in my chest. 'No, I guess you didn't.'<br />
'What have you been up to? Still writing?'<br />
I wondered why he was bringing up writing at all. If I were him, I'd have avoided the<br />
topic at all costs. Surely he knew that I knew what he'd done. I was holding the book<br />
after all.<br />
I said, 'Yeah.'<br />
Page 59
---
A small frown appeared on his forehead. 'You all right, Ben? You look a little pale.'<br />
'Do I? Tell me, how did you come up with the story?'<br />
I couldn't wait to see how he got himself out of this one. Alluding to the topic was one<br />
thing, but addressing it directly was quite another. This was my book <strong>and</strong> I wanted him to<br />
admit it. If he didn't, I'd just have to call him on it, here in front of all his fans, <strong>and</strong> then I'd<br />
flatten him.<br />
It sounded like a good plan to me.<br />
'Well,' said Danny, who appeared startled, 'I was just driving home one day <strong>and</strong> it hit<br />
me, you know, how one moment can change your life.'<br />
I nodded <strong>and</strong> felt the anger surge.<br />
Danny said, 'So, I thought about two very different people <strong>and</strong> how the same trauma<br />
would affect both of them. What would their relationship be like? Would they blame each<br />
other? Would they be able to connect at all? I got to thinking, <strong>and</strong> eventually I came up<br />
with George <strong>and</strong> Tiffany.'<br />
'Wait.' I held up a h<strong>and</strong>. 'Who are George <strong>and</strong> Tiffany? There's no George or Tiffany<br />
anywhere in the book.'<br />
Danny stared. 'George <strong>and</strong> Tiffany are my main characters. The guy in line before you<br />
thought they were great. Apparently he was freaking out about their head-on collision while<br />
waiting in the line. I wish I could find out what he thinks about the hospital scene, <strong>and</strong> the<br />
chapter about the car ride through regional <strong>Victoria</strong>.'<br />
I felt like I'd been hit by a truck. A string of words rattled around my head in an endless<br />
loop. George. Tiffany. Collision. Hospital. Car. <strong>Victoria</strong>.<br />
I snatched the book up from the table <strong>and</strong> almost dropped it in my haste to read the<br />
blurb on the back cover.<br />
Two cars colliding in the middle of a June night will change the lives of George Stanley<br />
<strong>and</strong> Tiffany Morgan forever. Overcome by guilt <strong>and</strong> rage, for themselves <strong>and</strong> each other,<br />
they must try to steer their way through months of loneliness. But fate is conspiring against<br />
them, <strong>and</strong> George <strong>and</strong> Tiffany learn that through loss comes life. This is a riveting love<br />
story that will stay with you the rest of your life.<br />
I looked up at Danny. 'Love story? I don't underst<strong>and</strong>. This isn't a love story! It's a<br />
fantasy adventure! What happened to Roy <strong>and</strong> Melanie? What about the centaur? What<br />
about the parallel universe? What did you do to my book?'<br />
Danny's eyebrows were up near his hairline. 'Your book? What are you…?' Realisation<br />
flashed in Danny's eyes <strong>and</strong> he laughed. 'You think this is your 'Flashing Lights'? No, no,<br />
no. I'm sorry, Ben. You must think I'm a real prick. I couldn't send your manuscript back all<br />
those years ago—my gr<strong>and</strong>mother's cat discovered a taste for paper <strong>and</strong> destroyed it. I knew<br />
you had a copy on your computer, so I just put it through the paper shredder. I didn't think<br />
you'd like getting it back in the state it was in.'<br />
The explanation was so…normal. Could it be that simple?<br />
'But…what about the title? "Flashing Lights" is mine.'<br />
Danny laughed <strong>and</strong> shook his head. 'Oh, Ben.' The sympathy in his voice made me feel<br />
small <strong>and</strong> stupid. 'Didn't anyone ever tell you? You can't copyright titles.'<br />
Marie James is a Professional Writing <strong>and</strong> Editing student at VU.<br />
Page Page 60 61
---
John Platten<br />
by John Clark<br />
Another of the 'Parramatta Poets' <strong>and</strong> perennial Hawthorn rover. The image of Platten streaming<br />
away from the pack bouncing the stitched icon on his own bow-wave carries with it the picture<br />
four seconds later of Jason Dunstall surfing through the rich loam with a mark on his chest <strong>and</strong><br />
the opposing fullback pleading insanity.<br />
Are we there yet?<br />
My father <strong>and</strong> I would sometimes go out,<br />
Looking for ideas,<br />
Now <strong>and</strong> again we'd bag one,<br />
But most of them<br />
Would get away.<br />
They can smell embarrassment<br />
A mile away.<br />
He never talked about ideas,<br />
He told stories,<br />
Which would sometimes illustrate an idea.<br />
The idea they would sometimes illustrate<br />
Was that he didn't talk<br />
About ideas.<br />
Courtesy of John Clark, from The Even More Complete Book of Australian Verse, Text<br />
Publishing, Melbourne, 1989, 1994 <strong>and</strong> 2003.<br />
Page 61
---
Little Shot<br />
Fiona.L.Browning<br />
Sharon's dead. That was how the day started. It was like I'd heard the shortest Chinese<br />
whisper in the world. Girls huddled in clusters, arms encircling each other, seeking to<br />
ward out the words. Boys stood alone or in pairs—silent stoic statues. Teachers hovered,<br />
shepherding their charges towards their common rooms. I heard them as they walked past.<br />
'Such a waste of a young life.'<br />
As I stood, stunned, in my locker bay, the words besieged my mind. Sharon was dead.<br />
Forty-eight hours earlier we had all been celebrating. The first musical ever to be staged at<br />
our school had concluded its fairytale run of three glorious days. Sharon was in charge of<br />
the stage crew. She was a tiny, bubbly fountain of cheek, <strong>and</strong> one of those kids we junior<br />
kids looked up to. It would be wrong to paint a picture of Sharon as the perfect student,<br />
because she was far from it. She was always late to class, more often than not wagged last<br />
period on a Friday, <strong>and</strong> had a running date scheduled with Miss Smith for lunchtime<br />
detentions. But she was fun, <strong>and</strong> lovable <strong>and</strong> always looked out for us younger ones.<br />
Being a super-nerd, I wasn't much into sports, which Sharon loved, so I didn't get to know<br />
her until she was made Captain of my house. But she apparently knew me. She made<br />
herself known to me at the swimming carnival. Some smart arse had put me down to do the<br />
1500m, <strong>and</strong> five minutes before the race there she was dragging my sorry butt to the pool.<br />
'But I can't swim that far,' I implored, 'I never signed up for this race. I can't do it.'<br />
None of it mattered. Before I knew what was happening I was st<strong>and</strong>ing on the block, with<br />
four other kids <strong>and</strong> Sharon st<strong>and</strong>ing behind me, cheering for all she was worth.<br />
I sometimes wonder if fate brought us together that day. Somehow, with Sharon walking up<br />
<strong>and</strong> back with me, I finished the race. I was dead last, <strong>and</strong> held up the whole carnival with<br />
my lousy time, but Sharon didn't care. I'd done it. As I staggered up the steps, Sharon was<br />
waiting for me with a towel. She smiled <strong>and</strong> thumped me on the back.<br />
'Way to go Little Shot!' she said, <strong>and</strong> then repeated the whole process again with another<br />
unwilling aquatic hero.<br />
From that time on I knew I wanted to be like Sharon. Whenever I bumped into her at<br />
school, she would give me a flash of her ever-present grin <strong>and</strong> say, 'Hey Little Shot.' I<br />
wanted to know why she called me that, but with her in year eleven <strong>and</strong> me in year eight,<br />
just her noticing me was one of those 'oh-my-God-she-spoke-to-me,' kinds of things which<br />
left me incapable of a reply.<br />
When the play was announced <strong>and</strong> Sharon was made stage manager, it was only natural for<br />
all of her protégés to sign up to help. For over four months we worked with her, painting<br />
scenery, making props <strong>and</strong> laughing as she goofed around with staff <strong>and</strong> students alike.<br />
The week before the play she called us all together <strong>and</strong> announced that she was assigning a<br />
couple of assistants to help her run the communications centre. As this was before mobile<br />
phones, it meant manning the walkie talkies <strong>and</strong> carrying notes to the actors during the<br />
performances. It seems inconsequential looking back now, but being picked for the job<br />
made me feel so important, <strong>and</strong> for a chubby, A-grade nobody, that was a rare thing. .<br />
On the final Saturday night, Sharon was even more vivacious than usual. As soon as the<br />
lights in the gym went up <strong>and</strong> the audience left, she went into full party mode. Even though<br />
teachers <strong>and</strong> parents there, Sharon managed to down a couple of UDLs <strong>and</strong> danced herself<br />
silly. It was the era of Boy George <strong>and</strong> Bon Jovi <strong>and</strong> the girl got down. God, I so wanted to<br />
be like Sharon. Just before she <strong>and</strong> a group of year elevens left for their own party, she came<br />
up to me. She signed my program, gave me a hug <strong>and</strong> said, 'Later Little Shot.'<br />
Page Page 62 63
---
The next morning I read what she wrote on my program. 'Always remember, the big shots<br />
are the little shots that keep on shooting'.<br />
It's funny how we remember some events so well, <strong>and</strong> others so dimly. When I arrived at<br />
school the next Monday, I didn't see, at first, the boy statues, or hear the sniffs <strong>and</strong> the sobs<br />
of the crying girls. It wasn't until I bounced happily into my own locker bay full of shellshocked<br />
kids that it dawned on me something was wrong.<br />
'Sharon's dead,' said one of my class mates. 'She committed suicide Saturday night.'<br />
I didn't get to go to her funeral, or say goodbye. I didn't underst<strong>and</strong> why she felt she had to<br />
kill herself. It was such a short life <strong>and</strong> so many around me said it was such a waste.<br />
A couple of years later I got a glimpse into Sharon's world, when I too was engulfed in the<br />
black endless hole of depression. Only, back then, I didn't know it was depression. What<br />
I did know, was that I was a bloody good actress. My family was oblivious <strong>and</strong> no one at<br />
school seemed to notice. Not even my friends could tell something was wrong. All they<br />
could see was me, the eternal nerd, hiding behind her books. And I couldn't tell anyone<br />
what I was thinking, or feeling, because all I could think about was Sharon, <strong>and</strong> nobody<br />
talked about Sharon.<br />
Then one day, it all became too much. Even now, I don't really know what made me go<br />
to the cemetery. All I knew was that I wanted to be with Sharon. I remember finding her<br />
tiny bronze plaque amidst dozens of others in the flower garden. I sat on the grass ripping<br />
petals off a rose—terrified that maybe I was like Sharon. As I sat there sobbing, I relived that<br />
terrible day. I saw the huddling girls, the stoic boys <strong>and</strong> heard the teachers say Sharon's life<br />
was a waste. Though part of me wanted to let go, I knew I couldn't. The hole was terrifying,<br />
but there had to be another way out. I said goodbye <strong>and</strong> the next day went to a trusted<br />
teacher who helped me get help.<br />
Sharon didn't get to be a big shot, <strong>and</strong> maybe I never will. But whenever things get hard<br />
again, <strong>and</strong> I feel like giving up, I remind myself that big shots are the little shots that keep<br />
on shooting.<br />
Fiona Browning is a Professional Writing <strong>and</strong><br />
Editing student at VU.<br />
A note from the author:<br />
Youth depression is a real illness <strong>and</strong> help is out<br />
there. If you, or someone you know, needs help<br />
but don't know where to start, try Youth Beyond<br />
Blue or call Life Line on 13 11 14.<br />
www.beyondblue.org.au<br />
www.lifeline.org.au<br />
No one has to go it alone.<br />
Page 63
---
Youth, VCE & Community Education (TAFE)<br />
Letter<br />
by Judith Wright<br />
How write a honest letter<br />
to you my dearest?<br />
We know each other wellnot<br />
well enough.<br />
You, the dark baby hung<br />
in a nurse's arms,<br />
seen through mist-your eyes<br />
still vague, a stranger's eyes;<br />
hung in a hospital world<br />
of drugs <strong>and</strong> fevers.<br />
You, too much wanted,<br />
reared in betraying love.<br />
Yes, love is dangerous.<br />
The innocent beginner<br />
can take for crystal-true<br />
that rainbow surface;<br />
surprise, surprisepaddling<br />
the slime-dark bottom<br />
the bull-rout's sting <strong>and</strong> spine<br />
stuns your soft foot.<br />
Why try to give<br />
what never can be givensafety,<br />
a green world?<br />
It's mined, the trip-wire's waiting.<br />
Perhaps we should have trained you<br />
in using weapons,<br />
bequeathed you a straight eye,<br />
a sure-shot trigger-finger,<br />
or that most commonplace<br />
of self-defences,<br />
an eye to Number One,<br />
shop-lifting skills,<br />
Judith Wright is a Melbourne writer.<br />
a fibrous heart, a head<br />
sharp with arithmetic<br />
to figure out the chances?<br />
You'd not have that on.<br />
What then? Drop-out, dry-rot?<br />
Wipe all the questions<br />
into an easy haze,<br />
a fix for everything?<br />
Or split the mind apart—<br />
An old solution—<br />
shouting to mental-nurses<br />
your coded secrets?<br />
I promised you unborn<br />
something better than thatthe<br />
chance of love; clarity,<br />
charity, caritas-dearest,<br />
don't throw it in. Keep searching.<br />
Dance even among these<br />
poisoned swords; frightened only<br />
of not being what you are-<br />
of not expecting love<br />
or hoping truth;<br />
of sitting in lost corners<br />
ill-willing time.<br />
I promised what's not given,<br />
<strong>and</strong> repent of that,<br />
but do not. You are you,<br />
finding your own way;<br />
nothing to do with me,<br />
though all I care for.<br />
I blow a kiss on paper.<br />
I send your letter.<br />
Page 64