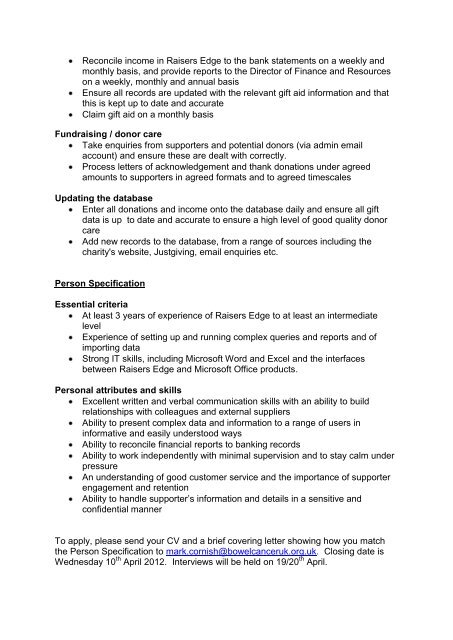 Job Description Bowel Cancer UK Database Officer About Bowel ...
Job Description Bowel Cancer UK Database Officer About Bowel ...
Job Description Bowel Cancer UK Database Officer About Bowel ...
SHOW MORE
SHOW LESS
Do you know the secret to free website traffic?
Use this trick to increase the number of new potential customers.
Reconcile income in Raisers Edge to the bank statements on a weekly andmonthly basis, and provide reports to the Director of Finance and Resourceson a weekly, monthly and annual basisEnsure all records are updated with the relevant gift aid information and thatthis is kept up to date and accurateClaim gift aid on a monthly basisFundraising / donor careTake enquiries from supporters and potential donors (via admin emailaccount) and ensure these are dealt with correctly.Process letters of acknowledgement and thank donations under agreedamounts to supporters in agreed formats and to agreed timescalesUpdating the databaseEnter all donations and income onto the database daily and ensure all giftdata is up to date and accurate to ensure a high level of good quality donorcareAdd new records to the database, from a range of sources including thecharity's website, Justgiving, email enquiries etc.Person SpecificationEssential criteriaAt least 3 years of experience of Raisers Edge to at least an intermediatelevelExperience of setting up and running complex queries and reports and ofimporting dataStrong IT skills, including Microsoft Word and Excel and the interfacesbetween Raisers Edge and Microsoft Office products.Personal attributes and skillsExcellent written and verbal communication skills with an ability to buildrelationships with colleagues and external suppliersAbility to present complex data and information to a range of users ininformative and easily understood waysAbility to reconcile financial reports to banking recordsAbility to work independently with minimal supervision and to stay calm underpressureAn understanding of good customer service and the importance of supporterengagement and retentionAbility to handle supporter's information and details in a sensitive andconfidential mannerTo apply, please send your CV and a brief covering letter showing how you matchthe Person Specification to mark.cornish@bowelcanceruk.org.uk. Closing date isWednesday 10 th April 2012. Interviews will be held on 19/20 th April.