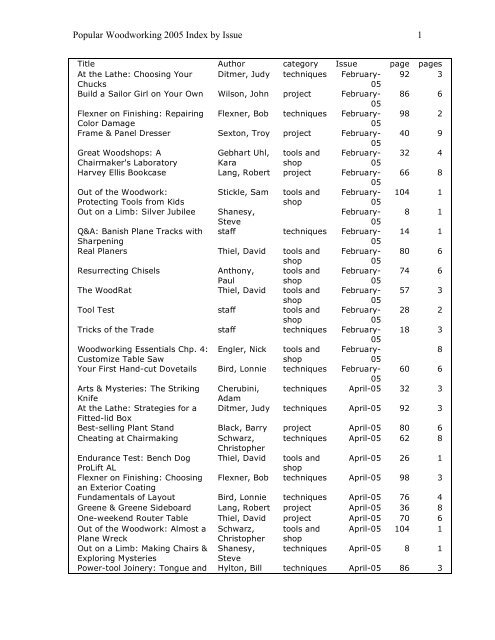 Popular Woodworking 2005 Index by Issue 1
Popular Woodworking 2005 Index by Issue 1
Popular Woodworking 2005 Index by Issue 1
SHOW MORE
SHOW LESS
Create successful ePaper yourself
Turn your PDF publications into a flip-book with our unique Google optimized e-Paper software.
Popular Woodworking 2005 Index-Sorted by Article Category 2Arts & Mysteries: The Plane My Brother is Cherubini, Adam tools and shop November-05 40 3Out of the Woodwork: Farewell Fractions, Hello Bob Dunstan, Robert tools and shop June-05 96 1Woodworking Essentials Chp. 4: Customize Table Saw Engler, Nick tools and shop February-05 8Woodworking Essentials Chp. 5: Advanced Joinery Engler, Nick tools and shop April-05 8Woodworking Essentials Chp. 6: Special Techniques Engler, Nick tools and shop June-05 8Woodworking Essentials Chp. 7: Advanced Techniques Engler, Nick tools and shop August-05 8Great Woodshops: A Chairmaker's Laboratory Gebhart Uhl, Kara tools and shop February-05 32 4Great Workshops: A Writer's Workshop Gebhart Uhl, Kara tools and shop June-05 74 3Great Workshops: New Yankee Workshop Gebhart Uhl, Kara tools and shop August-05 34 4Great Woodshops: The Art of Engineering flutes Gebhart Uhl, Kara tools and shop October-05 102 6Total Shop in a Box Gibson, Scott tools and shop April-05 57 5Great Woodshops: A School Built to Thrive and Last Gibson, Scott tools and shop November-05 92 4Out of the Woodwork: Quit Crying and Get to Work Grandstaff, Scott tools and shop October-05 112 1A Better Table for a Drill Press Hedberg, Eric tools and shop October-05 36 6Out of the Woodwork: A Whiff of the Past Knebel, Ben tools and shop December-05 104 1Setting Jointer & Planer Knives Lang, Robert tools and shop October-05 88 6Out of the Woodwork: Almost a Plane Wreck Schwarz, Christopher tools and shop April-05 104 1Two Plane Makers Schwarz, Christopher tools and shop June-05 56 10Best New Tools of 2005 Schwarz, Christopher tools and shop December-05 61 5The Essential Awl Sellers, Paul tools and shop November-05 44 5Out of the Woodwork: Woodshop Pest Control Sieling, Peter tools and shop August-05 96 1Chair Devils Somerville, Kathy tools and shop December-05 80 3Tool Test staff tools and shop February-05 28 2Tool Test: Hitachi Digital Readout Miter Saw staff tools and shop June-05 25 2SawStop Cabinet Saw staff tools and shop October-05 86 2Out of the Woodwork: Protecting Tools from Kids Stickle, Sam tools and shop February-05 104 1Real Planers Thiel, David tools and shop February-05 80 6The WoodRat Thiel, David tools and shop February-05 57 3Endurance Test: Bench Dog ProLift AL Thiel, David tools and shop April-05 26 1Woodworking Miter Saw Thiel, David tools and shop August-05 66 6Are Lasers Just a Gimmick? Thiel, David tools and shop November-05 82 4Newest Tools from Las Vigas AWFS Show Thiel, David tools and shop November-05 86 614.4-Volt Drills Thiel, David tools and shop December-05 70 6Efficient Shop Wiring Wedlock, Bruce tools and shop October-05 82 6$5 Router Plane Wilson, John tools and shop August-05 72 4Out on a Limb: Silver Jubilee Shanesy, Steve February-05 8 1
---
Popular Woodworking 2005 Index-by Issue 2Harvey EllisBookcase Lang, Robert projectOut of theWoodwork:Protecting Toolstools andfrom KidsStickle, Sam shopOut on a Limb:Silver JubileeShanesy,SteveQ&A: Banish PlaneTracks withSharpening staff techniquesResurrectingChiselsAnthony,Paultools andshopFebruary-05 66 8February-05 104 1February-05 8 1February-05 14 1February-05 74 6tools he's invented,proves he's asuccessful scientist,too.We recreate theclassic glass-frontbookcase fromHarvey Ellis andGustav Stickley, andshow you step-bystephow you can,too. Plus, learn tofinish with ammoniafuming safely. Articleincludes step-by-stepphotos, illustrations,a cutting list andinstruction.Sometimes a littletalking-to (and videosurveillance) is all ittakes.Not-so-big Shops,and a Silver Jubliee:Editor and PublisherSteve Shanesydiscusses why bigshopenvy is amisplaced sentimentplus comments onour 25thanniversary. OurContributors columnfeatures Troy Sextonand Lonnie Bird.Smoothing planescan leave grooves(called plane tracks)in the face of yourboard. Learn how toget rid of them withsharpening. Plus:How can I remedydrawers that aredifficult to open? •Which chisels aresuitable forhandcuttingdovetails?Rusty and abusedchisels abound atflea markets, garagesales and auctions.
---
Popular Woodworking 2005 Index-by Issue 3The WoodRatTool TestThiel, Davidstafftools andshoptools andshopTricks of the Trade staff techniquesWoodworkingEssentials Chp. 4:Customize TableSawEngler, Nicktools andshopYour First HandcutDovetails Bird, Lonnie techniquesFebruary-05 57 3February-05 28 2February-05 18 3February-05 8February-05 60 6Learn how toproperly restorethem – it's easierthan you think.Vogue in Britain, wereview this multipurposejig, cutsome perfectdovetails and wonderwhy it's not morepopular here.Alloyed LaminatedSteel Carpenters'Chisels • HitachiKM12SC Two-baseRouter • Bosch PB-10CD Power Box •Norton#1,000/#8,000Waterstone •Graham Blackburn's"TraditionalWoodworkingTechniques"A Quick Stop-blockfor Short Cuts. Plus:finishing drawers •open-end thicknessgauge • clean-edgedmasking • closingthe gates • improvedhand screws • pockethole shelf hanger • abetter hammerhandle • hole sawejector • hidingreinforcing dowels •lag screw levelersLearn to soup upyour existing tablesaw or customizeyour new one withaccessories. Inreturn, you'll have asafer, more accurateand easier-to-usemachine. Plus, ashop-made saw sled.Master dovetailerLonnie Bird takesyou by the hand onthe path to cuttingperfect dovetails.
---
Popular Woodworking 2005 Index-by Issue 4Arts & Mysteries:The Striking KnifeCherubini,Adam techniques April-05 32 3At the Lathe:Strategies for aFitted-lid Box Ditmer, Judy techniques April-05 92 3Best-selling PlantStand Black, Barry project April-05 80 6Cheating atChairmakingEndurance Test:Bench Dog ProLiftALSchwarz,Christopher techniques April-05 62 8Thiel, Davidtools andshop April-05 26 1Flexner onFinishing:Choosing anExterior Coating Flexner, Bob techniques April-05 98 3Fundamentals ofLayout Bird, Lonnie techniques April-05 76 4The essential secretis simple: Saw astraight line.Our new seriesabout workingquickly andefficiently with handtools starts off byrevealing how anearly extinct tool,the striking knife,can greatly improveyour accuracy atwoodworking.Turning objects withfitted lids can bechallenging. Our eggbox project is theperfect practicepiece.Barry Black sells aton of these at showseach year. Simple tobuild, this little tablefits well in any home.Article includesdetailed instruction,illustrations, stepphotos and a cuttinglist.You don't need aslew of tools orspecialized skills tocall yourself abodger. Our list oftips and tricks willhave you shapingseats in short order.The manufacturerhas improved somethings we wantedchanged on what isstill a shop favorite.Five different typesof protection exist.Here's a guide tochoosing the bestone for your project.Laying out jointscarefully is the first(and mostimportant) step foraccurate work. Here
---
Popular Woodworking 2005 Index-by Issue 5Greene & GreeneSideboard Lang, Robert project April-05 36 8One-weekendRouter Table Thiel, David project April-05 70 6Out of theWoodwork: Almost Schwarz, tools anda Plane Wreck Christopher shop April-05 104 1Out on a Limb:Making Chairs &ExploringMysteriesShanesy,Steve techniques April-05 8 1Power-toolJoinery: Tongueand Groove Joints Hylton, Bill techniques April-05 86 3are the basicprinciples you shouldknow to do the jobwell.We unearthedoriginal Greene andGreene drawings anddiscovered thatsignature details ontheir furniture wereoriginally builtwithout fuss. Here'show. Article includesdetailed instruction,illustrations, stepphotos and a cuttinglist for building aGreene and Greenesideboard.Forget the priceycommercial ones thathog precious shopspace. Thisinexpensive, quickto-buildrouter tableclamps into yourbench vise andstores easily.The perilous flight ofthe world's mostvaluable tool.Don Weber, atraditionalwoodworker andchairmaker, spentfour days showingseveral of us how tobuild Welsh stickchairs. Editor andPublisher SteveShanesy shares whathe learned. Plus,Shanesy introduces anew column: Arts &Mysteries.When buildingfurniture, this joint isexcellent for edgeto-edgeglue-ups.Here are some goodways to cut bothparts of the jointquickly and
---
Popular Woodworking 2005 Index-by Issue 6accurately.Q&A: ClampingStrategies for FlatPanels staff techniques April-05 14 1Tool Test: All-newFein Cordless Drill staff techniques April-05 28 3Total Shop in aBoxGibson, Scotttools andshop April-05 57 5Traveling Toolbox Weber, Don project April-05 44 5Properly positionedclamps and a flatwork surface allowyou to glue up largepanels that end upflat. Plus, true up apanel with handplanes and learn howto correctly storeyour wood.After putting Fein'snew 12-volt cordlessdrill through a seriesof tests we'velabeled it one of ourfavorites. Plus,Ashley Iles turningtools, Grizzlydisc/spindle sander,Veritasstraightedges,Automatic FluteSpacing Jig, SilasKopf's "The MasterTechniques ofMarquetry" DVD andthe increasinglypopular Drill Doctor.German toolmanufacturer Festooloffers a well-madesystem of portablepower tools. See ifit's the right solutionfor your shop.Don Weber wedshand-tool andpower-tooltechniques to createa sturdy, handytoolbox. Articleincludes detailedinstruction, stepphotos, illustrationsand a cutting list.Also included isinformation on handforgedhardware andthe plow plane.
---
Popular Woodworking 2005 Index-by Issue 7Tricks of theTrade: ShootingBoard for Veneer staff techniques April-05 18 4WoodworkingEssentials Chp. 5:Advanced JoineryEngler, Nicktools andshop April-05 8A Practical ShopCabinet Sexton, Troy project June-05 53 3Great Workshops:A Writer'sWorkshopArts & Mysteries:Advanced ChiselTechniquesGebhart Uhl,Karatools andshop June-05 74 3Cherubini,Adam techniques June-05 82 5A jig and a handplane are all youneed for tight veneerjoints. Plus, learn totie a super-strongknot for transportinglumber, the wrongtype of metal for jigsand a trick tovacuum in tightspaces.The table saw canbe used to create asurprising number ofcomplex joints, suchas compound miters,tenons, dovetails,lock joints andsplines. We show youhow. Plus, how tobuild amicroadjustablefinger-joint jig.If you have lots oflittle bits and piecesin your shop (andwho doesn't?), findout a fisherman'ssecret that allowsyou to organizeeverything withoutbuilding a singledrawer.Take a tour of afunky Victorian-eraworkspace thatserves as a shop forSteve Shanesy,PopularWoodworking'seditor and publisher.Chisels are good formore than justturning up joints andremoving dried glue.We look back to the18th century todiscover howastonishingly usefulthis simple tool canbe – when wielded ina very old way.Article includes
---
Popular Woodworking 2005 Index-by Issue 8detailed text, stepphotos andillustrations, plus "AProper Set of Chiselsfor Hand Joinery."Baltimore CardTable Huey, Glen project June-05 66 8Build BetterBookcases Lang, Robert project June-05 32 10Flexner onFinishing: TheMany Faces ofVarnish Flexner, Bob techniques June-05 90 2Out of theWoodwork:Farewell Fractions,Hello BobOut on a Limb:Onthe Cutting Edgeof EnlightenmentDunstan,Roberttools andshop June-05 96 1Shanesy,Steve techniques June-05 8 1Based on an originalfrom ColonialWilliamsburg, thistraditional demilunetable unfolds toreveal your joinery,inlay and veneeringskills. Article includesdetailed text, stepphotos, illustrationsand a cutting list.We show you how tomake a greatbookcase in anystyle, with one basicbox design, and onesheet of plywood.Includes plans for aShaker,Contemporary, Arts& Crafts and Formalstyle bookcases.Despite their names,many of yourfinishing productssimply are a form ofvarnish. Bob Flexnerinvestigates.A new unit ofmeasure attempts totrump thetroublesome imperialand metric systems.Editor SteveShanesy reflects onthe importance oflearning both handandpower-tool skills."Knowing bothmakes you a wellroundedwoodworker, a'double threat' whocan call on eitherskill set to deliver the
---
Popular Woodworking 2005 Index-by Issue 10for dovetailing andcarving, and a lookat Milwaukee's 28-volt cordless line thatuses lithium ionbattery technology.Tricks of theTrade: SettingMiter GaugeAngles staff techniques June-05 18 2At the Lathe:TurnYour First Bowl Ditmer, Judy techniques June-05 77 3Two Plane MakersWoodworkingEssentials Chp. 6:Special TechniquesSchwarz,ChristopherEngler, Nicktools andshop June-05 56 10tools andshop June-05 8A quick and easyway to set mitergauge angles. Keep aBrush Fresh WhileWaiting for the NextCoat • Double-sidedRouter Template Jig• Aluminum WindingSticks • ProtectingSaw Teeth • LipstickTraces At the Door •Refreshing a Sled toRestore Accuracy •Capping Caulk • AQuick Swing toCenterLearn the tools andstrategies for turninga bowl, anenlighteningintroduction tofaceplate turning.Lie-NielsenToolworks and LeeValley Tools havechangedwoodworking withtheir premium handplanes. Meet themen behind thebrands and learn thereal differencesbetween the tools.Plus, discover whyWayne Anderson'splanes are inspiringworkhorses in"Building Planes Oneat a Time."Find out how andwhy you should usea mouldingcutterhead in yourtable saw. Plus, learn
---
Popular Woodworking 2005 Index-by Issue 11$5 Router Plane Wilson, JohnArts & Mysteries-Plane Namestools andshop August-05 72 4Cherubini,Adam techniques August-05 82 4Power-toolJoinery: Cope andStick Joints Hylton, Bill techniques August-05 30 3Flexner onFinishing:FixingFinished Surfaces Flexner, Bob techniques August-05 86 2to cut accuratetapers, and the tricksto frame-and-paneldoors. In our JigJournal we shouldyou how to build aheight gauge.A router plane is thehand tool choice forsmoothing a grooveor shallow mortisebottom. Commercialversions can beexpensive or hard tofind. You can makeyour own in just afew hours with somescrap wood and afew dollars worth ofmetal parts.Knowing the namesof wood and metalplanes can providethe key tounderstanding theiruse. You too canbecome a planeexpert once youknow the propername and function ofdifferent planes.Manufacturers and"experts" often addto the confusion.Adam explains thehistory and uses ofleveling, fitting, andornamental planes.When making doorsor panels you canrun the moldingprofile and make thejoints at the sametime. Learn all thetricks and techniquesto make these jointson your router table.The world can be adangerous place,expecially for a finelyfinished piece offurniture. Learn howto clean common
---
Popular Woodworking 2005 Index-by Issue 12Leaning ShelvesLearning Curves-Plane IronsGreat Workshops:New YankeeWorkshopSchwarz,Christopher project August-05 61 6Charlesworth,David techniques August-05 53 7Gebhart Uhl,Karatools andshop August-05 34 4surface problems likestickers, candlewax,paint spatter,and mold withoutdamaging thesurface finish.A sturdy anddistintivecontemporary designfor a set of shelveswith a desk that leanagainst a wall. All ofthe shelf and deskparts come from onesheet of plywood,and the supports aremade from six 8'long 2 x 4s.Christopher showshow to use a routerto make the curvedfronts on the shelvesand rock solid joints.Noted Britishwoodworking teacherDavid Charlesworthexplains the benefitsof a cambered planeiron and shows howto quickly sharpenthe proper curve.Techniques for usingthe cambered iron tosquare edges andsetting up your planeare covered in detail.What is the NewYankee Workshopreally like? Is it a TVproduction set, orthe real shop of areal woodworker? Wevisit Norm Abramand take a behindthe scenes look togive you the realstory about 7 "NewYankee" myths.
---
Popular Woodworking 2005 Index-by Issue 13Norm Abram'sAdirondack ChairShanesy,Steve project August-05 38 7Power AssistedDovetails Gibson, Scott techniques August-05 77 4Q&A: Greene &Greene Finish staff techniques August-05 10 2At the Lathe: SolidRoots for GoodDesign Ditmer, Judy techniques August-05 90 2Tricks of the Trade staff techniques August-05 18 4Editor SteveShanesy travels tothe New YankeeWorkshop to workside by side withNorm Abram,building an improvedversion of Norm'sclassic Adirondackchair. Includes plans,step by stepinstructions, and aclose look at Norm'smethods andtechniques.Get the look of handcut dovetails in afraction of the timeby using a router todo the grunt work.This combination ofhand and power tooljoinery lets you cuthalf-blind dovetailsquickly, easily, andaccurately.Mixing the colors fora Greene and Greenefinish, sawmillowners weigh in onrough stockthickness, EnglishRounder planes forchairmakingWhen turning abowl, you need away to turn yourdesign idea intoreality. Judydiscusses variouskinds of bowls andhow to mount themon the lathe.Mortising spacereliminates or reducesmeasuring whenmakingmultiples,Shop builtoverarm table sawblade guard, aknockdown benchtopand more.
---
Popular Woodworking 2005 Index-by Issue 14Out on a Limb:Value ofWoodworkingOut of theWoodwork:Woodshop PestControlWoodworkingMiter SawWoodworkingEssentials Chp. 7:AdvancedTechniquesA Better Table fora Drill PressShanesy,Steve techniques August-05 8 1Sieling, PeterThiel, DavidEngler, NickHedberg, Erictools andshop August-05 96 1tools andshop August-05 66 6tools andshop August-05 8tools andshopOctober-05 36 6Can professionalwoodworkers survivein the 21st century?Will the work createdtoday ever bring theremarkable prices ofantiques? Steveexplores thedifferences betweenthen and now.A humorous look ona lumberyard ownersapproach tocontrolling snakes,small mammals andchildren.Compound mitersaws are great tools,but out of the boxthey are more suitedto job-site roughcarpentry than inshopwoodworker.David explains whatto look for in a sawand then adds aninexpensive fence,stop and tablesystem. Turn yoursaw into a precisionmachine that deliversaccuracy,repeatability andeasier use.Here's how to get themost from yourtablesaw. Thischapter coverseverything fromcutting coves andodd-shaped boardsto pattern sawingand kerf bending.The problem withmost drill pressesisn't the machine;it's the table andfence. Here is an allpurposetable andfence system thatwill turn any drillpress into a precisionwoodworking
---
Popular Woodworking 2005 Index-by Issue 15machine.Arts & Mysteries:The Secrets toSawing FastCherubini,AdamtechniquesAt the Lathe: Howto Pursue an IdealForm Ditmer, Judy techniquesBent Laminations Lang, Robert projectBuild an Oil WickePeterson,SamuelprojectOctober-05 42 4October-05 96 3October-05 76 6October-05 61 1Do you really need atable saw? Adammakes a case forsawing by hand,showing you thetools and techniquesthat were efficientlyused in days goneby.Using a variety ofturned objects asexamples, Judydiscusses the basicsof good design,getting good ideasfrom other mediums,acquiring good taste,and the impossibilityof perfection.You don't need tosteam wood to makea curved form. Weshow you how toglue multiple thinstrips on a form tocreate curved shapesfrom flat lumberwhile making acontemporary wallhung shelf.If you're slidingdown the slipperyslope of hand tools,this ancient benchaccessory willlubricate the sole ofyour plane in just afew seconds. Atraditionalwoodworker showsyou how to makeand use this nearlyforgotten benchaccessory.
---
Popular Woodworking 2005 Index-by Issue 16CaseworkConstruction:BeginningPrinciples Thiel, David techniquesEfficient ShopWiringWedlock,Brucetools andshopFlexner onFinishing: WoodConditionerConfusion Flexner, Bob techniquesFrank Klausz'sFinal Word onDovetails Klausz, Frank techniquesOctober-05 53 8October-05 82 6October-05 110 2October-05 46 6This openingchapter in our sevenpartseries coversterminology, historyand design principlesbehind greatcasework. If you'rebuilding a simpleshop cabinet or apiece of furniture,David Thiel will getyou started in theright direction todesign and buildsolid, functional andgood lookingcabinets.Most heavy-dutypower tools, likecabinet saws andplaners require 240volts to run. Here'san efficient way toprovide both 240-volt and 120-voltpower from a singlecable. While you'reat it, you can alsoautomate your dustcollector.Wood Conditioner ismarketed as a wayto control blotching,and the directions onthe can are oftenmisleading. Bobunravels themystery, andexplains how to usethis product.Frank Klausz hasused his nononsenseapproachto teach thousandsof woodworkers tohand cut throughdovetails in an hour.One of his secrets isto forget aboutmeasuring. Learn therest of the methodsused to develop theskills needed to
---
Popular Woodworking 2005 Index-by Issue 17make these joints.Great Woodshops:The Art ofEngineering flutesOut of theWoodwork: QuitCrying and Get toWorkGebhart Uhl,KaraGrandstaff,Scotttools andshoptools andshopPower ToolJoinery: TemplateMortising Hylton, Bill techniquesPrairie-style CoffeeTable Thiel, David projectOctober-05 102 6October-05 112 1October-05 99 3October-05 62 6An engineer and ajeweler team up tomake some of themost sought afterinstruments in theworld, all from agarage sizeworkshop just stepsfrom the back doorof their house.Even if you can'tafford the newestand fanciest toolsyou can still get busyand make somesawdust. A semiretiredcabinetmakergives you a kick inthe seat of the pantsand tells you whereto look and what tolook for.With a router and atemplate, you canmake mortises atany size, shape orposition you wantwith accurate andrepeatable results.Bill gives you thehows and whys ofmaking templates,using guide collars,and matching theright collar to theright bit.Coffee tables didn'texist when FrankLloyd Wright wasperfecting the Prairiestyle. Our 21stcentury homage isgreat looking, andsimple to build.
---
Popular Woodworking 2005 Index-by Issue 18SawStop CabinetSawSetting Jointer &Planer KnivesstaffLang, Roberttools andshoptools andshopShiplappedCabinet Backs Gibson, Scott techniquesThe Magic of Ironand Fire Weber, Don techniquesGreat Woodshops:A School Built toThrive and LastGibson, Scotttools andshopOctober-05 86 2October-05 88 6October-05 68 4October-05 72 4November-05 92 4Everybody's talkingabout this new tablesaw thatautomatically stopsthe blade if it comesin contact with anypart of your body.Our staff used oneon a daily basis forseveral months togive you the realstory. Find out how itcompares to othercabinet saws, andlearn about theimportant safetyfeature that hasnothing to do withthe brakingmechanism.Replacing knives is atask mostwoodworkers dread.We review jigs thatcan make it easier,and go over thebasic techniques soyou can get back towork quickly.In the days beforeplywood, solid-woodshiplapped backswere common. Learnhow to make them,and why they makea better back.Chair bodger andblacksmith DonWeber gives apersonal look at howwoodworking andblacksmithing gohand in hand. Photosshow Don handforging a wroughtiron bench holdfast.The Center forFurnitureCraftsmanship inMaine offers coursesfor woodworkers ofall skill levels in afacility designed to
---
Popular Woodworking 2005 Index-by Issue 19Anthony HayCabinet ShopAre Lasers Just aGimmick?Cherubini,AdamThiel, Davidtools andshoptools andshopArts & CraftsBridal Chest Lang, Robert projectNovember-05 66 4November-05 82 4November-05 76 6be student friendly.Scott Gibsoninterviews founderand director PeterKorn, and takes uson a tour of theschool.A reproductionfurnituremaker visitsthe working 18thcentury shop inColonial Williamsburgand shows what theaverage 2-car garageshop of today has incommon with acommercial shop ofthe period. Whetheryour focus is handtools or power toolsyou can improveyour work with tipsand techniques fromover two hundredyears ago.Lasers areappearing on almostevery power tool,from miter saws anddrills, to scroll sawsand circular saws.We put them all tothe test and find outwhich ones areuseful, and whichones are only clevermarketing devices.The elegance ofclassic Arts & Craftsdesigns sometimesgets lost when madein dark quartersawnoak. We take a 1901Gustav Stickleydesign, strip off theiron hardware andbuild it in contrastingwoods to reveal asurprisingly gracefuland contemporaryform. Includes stepby-stepinstructionsand detailed
---
Popular Woodworking 2005 Index-by Issue 20drawings.Arts & Mysteries:The Plane MyBrother isCherubini,Adamtools andshopFlexner onFinishing: Basicsof Wiping Varnish Flexner, Bob techniquesCaseworkConstruction:Wood Selection &Prep Thiel, David techniquesNovember-05 40 3November-05 70 6November-05 49 8The broad hatchetwas once a commontool in furnitureshops. Adamexplores the historyand techniques ofthis ancient tool andshows how (andwhy) it belongs inthe modern shop.Splitting, hewing andparing are amongthe techniquescovered.This durable andeasy to apply finishis the first choice formany woodworkers,but in the store itcan be hard toidentify from theinformation on thecan. Bob explains thedifference betweenwiping varnish andother "wipe-on"finishes, and tellsyou how to identifyit, how to use it, andhow to make yourown.Choose the bestwood for yourproject, plywood orsolid wood and get itready to go. Davidoutlines when to usesolid wood, when touse plywood and thesimple steps toensure a successfulproject. Learn thedifferent grades andtypes of plywood,how to figure how
---
Popular Woodworking 2005 Index-by Issue 21much material youwill need andlumberyard lingo.Newest Tools fromLas Vigas AWFSShowThiel, Davidtools andshopPower ToolJoinery: GlazedDoors Hylton, Bill techniquesTall Chest:CarcaseConstruction Bird, Lonnie projectNovember-05 86 6November-05 100 4November-05 58 8Once a yearmanufacturers rollout their newofferings. We surveythe cream of thecrop including bigiron at low prices, anew PowermaticTable saw andmortiser, the slidingtable we had tohave, and a drill thatmight just lastforeverMost cope-and-stickrouter bit sets will letyou produce doorswith glass lightsinstead of woodpanels. The troubleis, the instructionsdon't always tell youhow. Bill Hyltonshows you how toadapt your existingbits, create strongjoints, and looks atsome special routerbits that are new onthe market.Fine furniture maylook intimidating, butit's all a matter ofmaking boxes.Veteran furnituremaker, author andteacher Lonnie Birdshares some timetesting,andsometimes surprisingtechniques forbuilding solid andsquare casework.Includes a pictorialfeature of Lonnie's
---
Popular Woodworking 2005 Index-by Issue 22techniques forcarcase dovetailing.The Essential Awl14.4-Volt DrillsSellers, PaulThiel, Davidtools andshoptools andshopAnvil Test Lang, Robert techniquesNovember-05 44 5December-05 70 6December-05 76 4Awls are designedfor making holes andlaying out marks.Learn which ones arebetter for certaintasks. Paul began hiswoodworking career40 years ago inEngland, and nowteaches in Texas. Inhis training the awlwas considered anessential took, but itisn't common today.Find out which ofthree types to use,how to sharpen themand how to replace aworn out handle.Cordless Drills havebecome morepowerful and moreaffordable. How dothe newer drillscompare to previousyear's 12-voltmodels? Is there adrill that stands outfrom the pack? Weput the newest cropof drills through realworldtests and findthe answer.We drop anvils on10 different joints tostudy their strengthsand weaknesses. Yesit was juvenile andfun, but we learnedsome surprisingthings about jointdesign and thestrength of modernglues.
---
Popular Woodworking 2005 Index-by Issue 23Arts & Mysteries:The Lost Arts &MysteriesCherubini,AdamtechniquesAuthentic ShakerConstructionMethods Pierce, Kerry techniquesBest New Tools of2005Schwarz,Christophertools andshopDecember-05 32 5December-05 38 7December-05 61 5Centuries oldsecrets to workingquickly andefficiently with handtools are revealed asAdam reviews hiscolumns from thepast year. Whatapprentices learnedfrom their masterswent beyond theobvious techniques.Each column had asecret lesson whichis explained in detail.Noted Shakerfurniture maker andauthor Kerry Piercevisits the Shakercommunity asPleasant HillKentucky and makesan in depthinvestigation ofconstructionmethods used. Helooks under tablesand inside cabinetsin one of the most indepth examinationsof the Shakers everpublished. What hefound surprised him,and it will surpriseyou.Our annual look atthe cream of thecrop forwoodworkers. Asmall but powerfulrouter, and acordless drill with anew motor that cansurvive driving amillion screws on thepower tool side, andnew chisels, planesand a honing guideon the hand toolside. Jet introduces anew clamp foreveryone. These arethe tools that
---
Popular Woodworking 2005 Index-by Issue 24grabbed ourattention in 2005.CaseworkConstruction: CaseJoinery Thiel, David techniquesChair DevilsSomerville,Kathytools andshopConstructingLipped Drawers Bird, Lonnie projectOut of theWoodwork: AWhiff of the PastKnebel, Bentools andshopDecember-05 45 8December-05 80 3December-05 66 4December-05 104 1Chapter 3 of ourWoodworkingEssentialsSupplement givesyou the best way toput it all together.The best joints touse for face frame orframeless cabinetconstruction areexplained in detail.Learn which jointswork best for faceframes, carcases andbacks.This hard to findscraping tool is idealfor removing toolmarks from chairspindles and posts.Make one from scrapwood, an old cardscraper, and a littlebit of hardware.Fitting half blinddovetailed lippeddrawers is a rite ofpassage in furnituremaking. This masterwoodworker leadsyou through thesteps of measuring,cutting the joints,and fitting thecompleted drawers.Planemaker BenKnebel writes abouthis memories of hisfather, and how oursense of smell canbring back memoriesof our past.
---
Popular Woodworking 2005 Index-by Issue 25Flexner onFinishing: SprayGun Maintenance Flexner, Bob techniquesAt the Lathe: TwoHoliday TurningProjects Ditmer, Judy techniquesDecember-05 98 2December-05 90 5Properly cleaningand maintaining yourspray gun is the keyelement to keep itworking properly. Weshow you how to doboth of these taskswith commonbrushes and solventsin a clear-cutstraightforwardmanner.Step by step guideto turning twobeautiful holidayornaments. Use awaste block mount toturn both a spindleand a hollow globeornament.