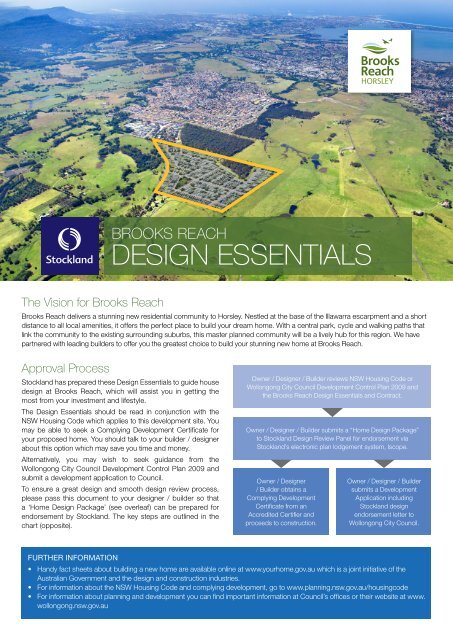 Download the Brooks Reach Design Essentials - Stockland
Download the Brooks Reach Design Essentials - Stockland
Download the Brooks Reach Design Essentials - Stockland
SHOW MORE
SHOW LESS
Do you know the secret to free website traffic?
Use this trick to increase the number of new potential customers.
BROOKS REACHDESIGN ESSENTIALSThe Vision for Brooks ReachBrooks Reach delivers a stunning new residential community to Horsley. Nestled at the base of the Illawarra escarpment and a shortdistance to all local amenities, it offers the perfect place to build your dream home. With a central park, cycle and walking paths thatlink the community to the existing surrounding suburbs, this master planned community will be a lively hub for this region. We havepartnered with leading builders to offer you the greatest choice to build your stunning new home at Brooks Reach.Approval ProcessStockland has prepared these Design Essentials to guide housedesign at Brooks Reach, which will assist you in getting themost from your investment and lifestyle.The Design Essentials should be read in conjunction with theNSW Housing Code which applies to this development site. Youmay be able to seek a Complying Development Certificate foryour proposed home. You should talk to your builder / designerabout this option which may save you time and money.Alternatively, you may wish to seek guidance from theWollongong City Council Development Control Plan 2009 andsubmit a development application to Council.To ensure a great design and smooth design review process,please pass this document to your designer / builder so thata 'Home Design Package' (see overleaf) can be prepared forendorsement by Stockland. The key steps are outlined in thechart (opposite).Owner / Designer / Builder reviews NSW Housing Code orWollongong City Council Development Control Plan 2009 andthe Brooks Reach Design Essentials and Contract.Owner / Designer / Builder submits a "Home Design Package"to Stockland Design Review Panel for endorsement viaStockland's electronic plan lodgement system, Iscope.Owner / Designer/ Builder obtains aComplying DevelopmentCertificate from anAccredited Certifier andproceeds to construction.Owner / Designer / Buildersubmits a DevelopmentApplication includingStockland designendorsement letter toWollongong City Council.FURTHER INFORMATION• Handy fact sheets about building a new home are available online at www.yourhome.gov.au which is a joint initiative of theAustralian Government and the design and construction industries.• For information about the NSW Housing Code and complying development, go to www.planning.nsw.gov.au/housingcode• For information about planning and development you can find important information at Council's offices or their website at www.wollongong.nsw.gov.au
---
Home Design PackageA 'Home Design Package' must include the following forStockland to complete a fair and timely assessment andsuccessful endorsement:• Site Plan [1:200] with overall dimensions for all structures; totalsite and floor area; site coverage; floor space ratio; landscapearea; all easements and services; dimensioned front, rear & sidesetbacks; driveway/crossover; contours & levels describing cut& fill including any retaining walls.• Floor Plans [1:100] showing all dimensions; porch; main building;garage setback; door & window positions; roof overhang.• Sections [1:100] dimensioned building heights (ground touppermost ceiling); internal floor to ceiling heights; roof pitch;eaves depth.• Elevations [1:100] indicating all external materials, finishes& colours schedule; building height; existing and proposedground lines.• Landscape Plan [1:200] (may be shown on site plan).Your Home Design Package can only be submitted electronicallyvia Stockland's IScope website www.stockland-iscope.com.au which also provides relevant project information under theReference Library.Further query can be directed to:Brooks ReachSTOCKLAND DEVELOPMENT PTY LTDAttn: Customer Relations NSWSydney NSW 2001Phone: 02 9035 2000Email: customer.relations.nsw@stockland.com.auwww.stockland.com.au/brooksreachROOF COLOURS PALETTESectionDesign Essentials ChecklistSITE SETBACKSSetbacks to building lines shall be as per NSW HousingCode (or Council DCP variations excepted).ARTICULATION ZONEAn entry feature porch, verandah or deck may projectforward of the main building line by up to 1.5m in front.ROOFSRoofs shall be constructed of sheet metal or tile selectedfrom the range of colours and materials (below) Section or similarequivalent approved.Roof eaves are to overhang a minimum of 450mm to allhabitable rooms.CORNER LOTSFor side elevations on corner lots; the maximum run of unbrokenwall length is 12m. A step of 480mm in the wall mustotherwise be designed.GARAGE AND ACCESSGarage doors are to be a maximum of 50% of the dwellingwidth. A third car garage shall be setback from the adjoininggarage bay by a minimum of 450mm.Driveways must be constructed of pavers, plain or colouredconcrete or single colour only stencil concrete selectedfrom the Driveway Colours Palette or similar approved.DRIVEWAY COLOURS PALETTECCS ®Ghost GumCCS ®Stone BeigeCCS ®PewterCCS ®LimestoneRETAINING WALLRetaining walls visible to public view shall be constructed offlat cut timber sleepers (no logs) or of masonry constructionin a colour and material similar to that of the main walls ofthe dwelling.LANDSCAPINGAt least one native tree (of minimum pot size 45Litres) to beplanted in the front setback and one tree planted in the reargarden.Fence Type 1: Rear Elevationand Side Boundaries – fencing shallgenerally be 1.8m high sheet metal in COLORBOND ® steelGrey Ridge ® (Woodland Grey ® ) or can be reduced to 1.5mhigh when built on top of a retaining wall.Fence Type 2: Corner Lots Side Boundary – 1.8m highsheet metal in COLORBOND ® steel Grey Ridge ® (WoodlandGrey ® ) with strip planting 200mm wide of tall grass and/orshrubs planted in front.2.4mFence Type 2: Corner Lot Side BoundaryElevationFence Type 3: Optional Front Fence – Masonry piers 1mhigh with low wall up to 300mm high and shrub plantingbehind or open metal/timber infill between pieces.Fence Type 3: Optional Front Fence(Allowed forward of building line)CCS ®Golden BronzeCCS ®DriftwoodCCS ®Desert Buff1.8m1.8mCOLOURBOND ®MonumentOR Monier ®BarramundiCOLOURBOND ®LoftOR Bristile ®ChocolateCOLOURBOND ®Woodland GreyOR Bristile ®SlateCOLOURBOND ®JasperOR Monier ®Mocha ChocCOLOURBOND ®BushlandOR Bristile ®GumnutCOLOURBOND ®WindsprayOR Boral ®Storm GreyCOLOURBOND ®DuneOR Boral ®Mineral1000Note: Brick blend façades, red and black colours will not be endorsed.DISCLAIMER OF LIABILITY: It should be noted that meeting the controls described in this Design Essentials document andsecuring a design endorsement from Stockland does not constitute an approval from Wollongong City Council or certificationfrom an Accredited Certification Authority. In the event that Stockland allows a variation from these Design Essentials, the variationwill neither set a precedent nor imply that the approval will be repeated by Stockland or supported by an Accredited CertificationAuthority or Wollongong City Council. All information is subject to change without notice. Printed November 2012. BR.DE.