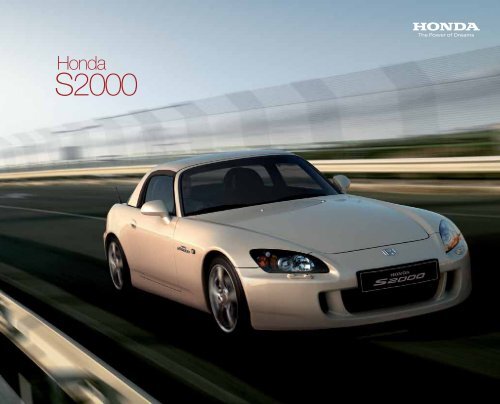 You also want an ePaper? Increase the reach of your titles
YUMPU automatically turns print PDFs into web optimized ePapers that Google loves.
HondaS2000
---
01 02 CONTENTScontents03 INTRODUCTION05 EXTERIOR DESIGN09 INTERIOR DESIGN13 PERFORMANCE15 SAFETY17 MODEL LINE UP21 OPTIONS23 COLOURS26 SPECIFICATION30 FINANCE31 AFTERSALES33 GLOSSARY35 THE POWER OF DREAMSModel shown is 2.0i VTEC Roadster
---
03 04 INTRODUCTIONTHE HONDA S2000Unveiled in 2000, the Honda S2000 was a present to ourselves. Since itwas introduced it has achieved four International Engine of the Year awards.It expresses our commitment of bringing pure driving pleasure through thedevelopment of advanced high performance cars. It is the embodiment ofthe Power of Dreams philosophy.Model shown is 2.0i VTEC GT
---
05 06 EXTERIOR DESIGNDESIGNED TO PERFORMThe Honda S2000 was built by people who share a passion for race engineering. So when itcame to aesthetics, the wind tunnel had a big influence in striking the right balance betweenlooks and aerodynamics. The distinctive exterior shape employs a rising front to rear bodylinethat gives it its classic, wedge shaped appearance. It's a design that performs as well as itlooks, reducing lift and optimising the balance between the front and rear ends for superiorstability at high speeds.Model shown is 2.0i VTEC GT
---
07 08
---
09 10 INTERIOR DESIGNINTERIOR OR DRIVER'S COCKPIT?To handle genuine sports car performance, a driverneeds to be in tune with the environment around them –a lesson we learned from Formula 1. In F1 the cockpit isergonomically designed around the driver so all controlscan be operated purely by feel. The Honda S2000follows this thinking but adds elegance and simplicity tocreate a purposeful interior where the controls areintelligently positioned around the steering wheel.Even the dashboard height has been lowered toincrease road visibility.Model shown is 2.0i VTEC GT
---
11 12
---
13 14 PERFORMANCE40 YEARS OF RACING KNOWLEDGEThere are three reasons why we asked Honda Formula 1 engineers todesign the Honda S2000: engine, gearbox, performance. The result is atotally unique power plant that brings true racetrack power to the road.To achieve rapid throttle response and consistent performance, wedeveloped a 2.0 litre naturally aspirated 4-cylinder DOHC VTEC engine.It delivers a maximum output of 240PS at 8,300rpm for a specific outputof 120PS per litre, and a maximum torque of 208Nm at 7,500rpm.As a result, engine output delivers power from low engine speedsall the way up to the 9,000rpm redline.0-62mph in 6.2 seconds never felt so exhilarating.Model shown is 2.0i VTEC GT
---
15 16 SAFETYRACETRACK PERFORMANCE NEEDS RACETRACK SAFETYRedefining the way sports cars are built for the road meant redefiningthe way they are tested. When we couldn't find a crash test centrethat met our high standards, we were left with only one option– to build our own. To this day, the Honda test centre at Tochigi is thelargest indoor test facility in the world.We've developed unique safety features for the Honda S2000 like a'High X-Bone frame' to create a light 'open-body' structure with therigidity and passenger crash protection qualities of a 'closed-body'structure. We also use a double walled, steel pipe reinforced tubularfront pillar, highly rigid roll bars, and twin door beams to providedriver and passengers with an ultra strong survival cell.The Honda S2000 also features dual SRS airbags, 3-point ELRseatbelts with load limiting pre-tensioners, and interior structuresthat protect the head in a collision. In addition, collapsible hoodhinges and wiper pivots help minimise pedestrian injuries in theevent of an accident.Protecting people also means protecting the environment.So we adopted a multi-port exhaust secondary air injection systemto achieve unprecedented performance and surprisingly cleanexhaust emissions in a production engine. This technology allowsquicker heating of the catalytic converter, reducing harmful emissions– especially during cold starts.
---
17 18 MODEL LINE UP2.0i VTEC ROADSTER 2.0i VTEC GTThe following features comeas standard on the Roadster:Electric soft-top convertible roofwith heated rear screen17" alloy wheelsLeather seatsLeather and alloy gear knobLeather wrapped steering wheelDrilled aluminium pedalsEngine start buttonHeadlight washersStereo CD tuner with RDSRoll bar speakersThe following features comeas standard on the GT:Body coloured hard-top detachable roofElectric soft-top convertible roof withheated rear screen17" alloy wheelsLeather seatsLeather and alloy gear knobLeather wrapped steering wheelDrilled aluminium pedalsEngine start buttonHeadlight washersStereo CD tuner with RDSRoll bar speakers
---
19 20 MODEL LINE UPTHE HONDA S2000 GT EDITION 100The Honda S2000 GT Edition 100 is uniquely finished in Grand Prix Whiteand red leather interior. Continuing to celebrate a classic, it deliverssubtle refinements and only 100 are being made available in the UK.It comes with graphite effect alloy wheels and black badge garnishto compliment the iconic classic design. Inside the new aluminiumgear knob with red trimmed leather stitching adds to its stylish andrefined interior.And to ensure every driver understands they are behind the wheel ofsomething unique, each Honda S2000 GT Edition 100 features alimited edition serial number plaque on the kick-plate. A reminder thateach time you step into the car you are celebrating over 50 years ofrace-bred engineering.
---
21 22 OPTIONS1. iPOD ® ADAPTERConnects your iPod ® to yourHonda S2000's sound system.2. CUSTOM MADEFULL BODY COVERConstructed of a poly/cottonfabric, this cover protects thepaintwork and prevents moisturefrom condensing underneath.44. CD CHANGERPlay and change up to eightCDs with this specially designedCD changer.5. SPOILERChoose from either the high wingspoiler (pictured) or the smallerboot version.1 2 35 673. PREMIUM FLOORCARPETSThese are available in black, redor birch and feature a grainedmetal emblem with an embossedHonda S2000 logo.6. ALUMINIUM GEAR KNOBCan be added to replace thestandard leather wrapped knob.iPod ® is a registered trademark of Apple Computer, Inc. registered in the US and other countries.Please check with your local Honda Dealer for iPod compatibility.
---
23 24 COLOURSCOLOUR OPTIONSThe colour of your car can say a lot about you. Studies showthat blue cars are chosen by perfectionists and those moredeliberate in their actions. Drivers of silver cars are often quietlyconfident, cool, calm and collected. A grey car often reflects acalm nature and someone dedicated to their work. Red cars aredriven by those who are passionate and full of zest, energy anddrive, while black has often been the choice of the rebel.So think hard before you decide – does your colour matchyour personality?NEW FORMULA REDBERMUDA BLUE PEARLGRAND PRIX WHITE(only available on 2.0i VTEC GT Edition 100)BERLINA BLACKMOON ROCK GREY METALLICSYNCHRO SILVER METALLICPlease check colour availability with your local Honda Dealer.
---
25 26 COLOURS / SPECIFICATIONRED LEATHER UPHOLSTERY2.0i VTECRoadster2.0i VTECGT2.0i VTECGT Edition100GRAND PRIX WHITEBERLINA BLACK- - •• • -BLACK LEATHER UPHOLSTERY2.0i VTECRoadster2.0i VTECGT2.0i VTECGT Edition100NEW FORMULA REDBERMUDA BLUE PEARL••• • --MOON ROCK GREY METALLICSYNCHRO SILVER METALLIC••••--SPECIFICATIONPlease check colour availability with your local Honda Dealer.
---
27 28 SPECIFICATION2.0i VTEC Roadster 2.0i VTEC GT / 2.0i VTEC GT Edition 100 2.0i VTEC Roadster 2.0i VTEC GT / 2.0i VTEC GT Edition 100EngineEngine displacement (cc) 1997 1997Maximum power (PS @ rpm) 240 @ 8300 240 @ 8300Maximum torque (Nm @ rpm) 208 @ 7500 208 @ 7500Fuel type Petrol PetrolRecommended fuel rating (RON) 98 recommended 98 recommendedTransmission6-speed manual • •Driven wheels Rear RearPerformanceMaximum speed (mph) 150 150Acceleration 0-62mph (secs) 6.2 6.2Fuel Economy †Urban (mpg) 20.3 20.3Urban (l/100km) 13.9 13.9Extra urban (mpg) 36.2 36.2Extra urban (l/100km) 7.8 7.8Combined (mpg) 28.2 28.2Combined (l/100km) 10.0 10.0CO 2 emissions (g/km) 236 236Weights and CapacitiesKerb weight (kg) 1288 1311Turning circle – kerb to kerb (m) 10.8 10.8Wheels and TyresWheels 17" alloy 17" alloyTyres (front) 215/45 215/45Tyres (rear) 245/40 245/40Spare wheel Space Saver Space SaverInstruments and ControlsEngine start button • •Digital odometer (trip) • •Automatic headlight height • •Tachometer (rev counter) • •SafetyDual front Supplemental Restraint System (SRS) airbags • •Vehicle Stability Assist (VSA) • •High level rear brake light • •Anti-lock Braking System (ABS) • •Headlight washers • •Front ventilated disc brakes • •Rear disc brakes • •Roll over protection • •Anti-roll bars Front/Rear Front/RearSide impact protection beams • •Seatbelt pre-tensioners • •SecurityRolling code ECU engine immobiliser • •Boot release in locking centre console • •Central locking • •Remote keyless entry • •Interior and perimeter alarm system (CAT 1) • •ExteriorElectrically adjustable and heated door mirrors • •Body coloured bumpers • •Body coloured door mirrors • •Body coloured hard-top - •Body coloured door handles • •High Intensity Discharge (HID) headlights • •Bee sting aerial • •Comfort and ConvenienceElectric power assisted steering • •Manual air conditioning with pollen filter • •Front cupholders • •Leather and alloy gear knob • •Leather wrapped steering wheel • •Drilled aluminium pedals • •Embossed kick plates • •Soft-top with glass heated rear screen • •Electric roof • •Front electric windows • •Passenger vanity mirror with lid in sunshade • •SeatingLeather upholstery • •
---
29 30 SPECIFICATION / FINANCEIn Car Entertainment (ICE)*Stereo CD tuner with RDS • •Front speakers • •Tweeters • •Roll bar speakers • •Remote stereo controls • •† Fuel consumption. This test is designed to give an indication of on-road fuel consumption.For more information on fuel consumption, please refer to the glossary on page 33.* For a full listing of accessories, please contact your local Honda Dealer.These specification details do not apply to any particular product which is supplied or offered for sale. Themanufacturers reserve the right to vary their specifications, including colours, with or without notice and at suchtimes in such manner as they think fit. Major as well as minor changes may be involved. Every effort, however,is made to ensure the accuracy of the particulars contained in this brochure. This publication shall not constitutein any circumstances whatsoever an offer by the Company to any person. All sales are made by the Distributoror Dealer concerned subject to and with the benefit of the standard Conditions of Sale and Warranty given bythe Distributor or Dealer, copies of which may be obtained from them on request. This publicity material appliesto the UK only Trade Descriptions Act (1968). Whilst efforts are made to ensure specification accuracy, brochuresare prepared and printed several months in advance of distribution and consequently cannot always immediatelyreflect either changes in specification or in some isolated cases the provision of a particular feature. Customersare always advised to discuss specification details with the supplying Dealer especially if your model selection isdependent upon one of the features advertised.2.0i VTEC Roadster 2.0i VTEC GT / 2.0i VTEC GT Edition 100• standard- not availableHONDA FINANCESIMPLE, FLEXIBLE AND CONVENIENT"Who better to finance your Honda than the peoplewho built it!"It's our aim at Honda Finance to help you buy your newHonda in the simplest way possible. That's why we offer aflexible and convenient range of finance options.When you finance your new car through Honda Finance,you'll not only benefit from a financial solution that's builtaround you, but also the added protection that comes withfunding a vehicle directly with the people who made it.HONDA HIRE PURCHASEHonda Hire Purchase is the traditional way to purchaseyour new Honda.You can decide on a deposit, repayment term and amonthly payment to suit your budget and then once youreach the end of your agreement, you then own yourHonda. Your payments are fixed each month, so you'llalways know how much your Honda will cost, making iteasier to budget.HONDA CONTRACT HIREOur Honda Contract Hire financing service allows yourlocal Dealer to give tailored monthly rentals to suit yourpersonal, fleet or business requirements.Honda Contract Hire gives you:• Monthly Rentals tailored to suit you. All we need isyour annual mileage and how long you would like tokeep the car.• Maintenance can be added to the rental, offering youhassle-free servicing and fixed budgeting.• No residual value concerns or disposal worries – youjust hand the car back.HONDA GAP INSURANCE"You have the best intentions for your Honda, othersmay not."If your Honda is written off or stolen, you'll get itscurrent value in the open market from your insurancecompany. With protection for up to three years, HondaGAP Insurance will cover you for the difference betweenwhat you originally paid for the car and its current value.1270mm1968mm (excl. door mirrors)4135mmHONDA ASPIRATIONSHonda Aspirations is one of the most affordable ways tofinance your new Honda. It gives you the opportunity tomake monthly payments over a shorter term, typicallytwo or three years, as we guarantee the future value ofyour car and offset this amount to the end of theagreement. You then have three flexible options at theend – part exchange it, keep it or hand it back.It's a straightforward financial package, designed tomake paying for your Honda as simple as possible.HONDA FINANCE PAYMENT PROTECTORHelp for when you really need it – Your financepayments, AND YOU, protectedAll our Payment Protection Plans basically do the samething: if you're unable to keep up the monthly paymentson your Honda Finance agreement because of anaccident, illness or redundancy, we'll pay them for you.Please speak to you local Dealer about any of theabove services.Terms and Conditions apply.Credit provided by Honda Finance Europe PLCAxis 2, Axis Park, Hurricane Way, Langley, SL3 8AGInsurers:London General Life Company LimitedIntegra House, Floor 2, Vicarage Road, Egham, Surrey, TW20 9JZ
---
31 32 AFTERSALEShonda happinessfixed pricerepairsfixed priceservicingbudget planservicingcarinsuranceWouldn't it be great if you could put your car in forrepair without any hidden charges, added extras orsurprise costs, with nobody taking one look andmaking the price up on the spot? With Fixed PriceRepairs, that's exactly what you get; one price thatincludes the cost of the parts, labour and VAT atparticipating dealerships.Imagine being able to escape the hidden costs,added extras and little surprises that come withgetting your car serviced? Well now you can.Fixed Price Servicing is a pre-paid package thatallows you, on selected new cars, to pay just onesum upfront for all your servicing.Why should your servicing and maintenance costsbreak the bank? At Honda we think you should beable to spread your payments over a term that suitsyou. So that's exactly how we do it. It's a servicethat includes regular safety checks and the cost ofselected maintenance items. Allowing you to paysmall monthly payments in return for a hugeamount of peace of mind.Why shouldn't your insurance fit around yourlifestyle? Our complimentary 7-day insurance startsthe second you leave the dealership so you canenjoy your Honda straight away. And after 7-daysyou can choose our Honda Happiness AnnualCover. It's an insurance package that is specificallydesigned for Honda owners to give you all thecover you need at a competitive rate.MOT andtyre insuranceroadsideassistanceextendedguaranteeaccidentmanagement serviceAt Honda, we don't want you to worry about whatthe future holds. That's why our MOT and TyreInsurance covers you for most eventualities. So youcan plan ahead without thinking about the cost oftyre repair or replacement and whatever the resultof your MOT test – you don't have to worry abouta thing.Don't you think you deserve a pat on the back forbeing a loyal customer? Here it is. Qualifyingcustomers who have their Honda serviced at one ofour participating dealerships will now receivecomplimentary roadside assistance. It means that ifyou break down at the roadside we can get help toyou, get a message to your family and get you towhere you want to go. It's a small thank you fromus that will keep you and your car on the road withas little difficulty as possible.Why shouldn't the happiness last a little longer? Wellnow it can. Our Honda Happiness Extended Guaranteeis a great value way to extend many of the features andbenefits of our standard 3 year/90,000 mile Warranty*.It is available on vehicles coming to the end of theirmanufacturer's warranty, whether new or used andprovides added protection against the unforeseenfailure of most mechanical and electrical items (partsand labour)*. We'll also give you breakdown andrecovery in the UK and Europe, and even arrangetransport for you, your passengers and your vehicle,to any mainland UK destination. It can also beextended for up to three years, keeping you secure,protected and happy.What do you do when the worst happens? Well,we think you should call on us. That's why we offera complimentary Accident Management Service.It means that if your vehicle is involved in an accidentat any time, 24 hours a day, 7 days a week and 365days a year, we can handle the complete accidentmanagement process for you. We'll also follow upthe estimating procedure and deal with yourinsurance company on your behalf.In the event of an accident, it's actually you thatdecides who should repair your car. Our HondaApproved Body Repair Centres understand Hondarepair techniques and use only genuine Hondaparts, panels and approved paint. That way yourmechanical, paint and anti-corrosion warranty willnot be affected and your Honda will stay a Honda.*For a list of exclusions and further details, please see the termsand conditions which are available from your local Honda Dealer.
---
33 34 GLOSSARYANTI-LOCK BRAKING SYSTEM (ABS)The Anti-lock Braking System preventsthe wheels from locking when the brakesare applied in an emergency, reducing thepossibility of a skid on wet, icy or loosesurfaces, and enabling the driver to retainsteering control. To further improvebraking in all conditions, the front brakediscs are ventilated.FUEL CONSUMPTION The figures for thefuel consumption and CO 2 emissions are togive you an indication of the car'sperformance. Following legislation by theVCA (Vehicle Certification Agency), all carmanufacturers generate these statisticsthrough the same industry standard test. Thisallows comparison across all manufacturersand models. The tests use a base gradeversion of the model and do not take intoaccount optional levels of equipment, suchas different sized wheels, tyres and otherfactors that can affect the economy of themodel. The test is on a rolling road and thereis no additional weight in the car other thanthe driver (no passengers or cargo) and itdoes not account for individual driving style,which can mean a difference to the figuresachievable in the real world.HIGH INTENSITY DISCHARGE (HID)HEADLIGHTS Instead of a bulb, the sealedHID headlights contain xenon gas. Anelectric spark (arc) passing through the gasproduces an even, true white light with ahigher intensity than conventional halogenunits for improved visibility.HIGH X-BONE FRAME In this frameconstruction, the raised centre tunnelfeatures a strong boxed type structure thatconnects to the front and rear sidemembers in a single horizontal plane.Completely straight front side members areconnected to the floor tunnel, side sills, andfloor frame to form a 'three-point supportstructure'. Impact load is thus efficientlydistributed, resulting in an open body withrigidity and collision safety equal to that of aclosed body without the weight penalty.IN-WHEEL TYPE DOUBLE WISHBONESUSPENSION This suspension wasspecially designed for the Honda S2000 tooffer maximum cornering potential andresponse, together with superior stabilityand linear response. While separatelyproviding strong lateral rigidity, the adoptionof this in-wheel type design contributed tokeeping the dimensions compact and thecentre of gravity low. Bolting thesuspension onto sub-frames that aredirectly attached to the body has furtherenhanced cornering performance andresponse. The use of floating piston type,single tube gas-filled shock absorbers hascontributed to improved roll response andmaximised tyre contact, for highperformance and stability. Furthermore,locating the rear suspension's control armunder the lower arm and forward of the axleaxis improves toe and camber rigidity forfurther improved stability and control.ROLL BARS The Honda S2000 has twohighly rigid roll bars that are reinforcedsteel hoops and are fitted directly to the -chassis. These, along with other safetyfeatures, help minimise any injury in theevent of a collision.TORQUE Torque is a twisting or rotationalforce. For example, when you use a spannerto tighten a bolt, you are actually applyingtorque to turn the bolt. The further out youhold the spanner, the more torque you apply.Low rev torque is the ability of an engine todevelop strong response (rotational force),and hence, acceleration from lower revs andspeeds. As speed rises, torque becomesless important than power for maintaininghigh speeds.TRACTION CONTROL Traction control isintegrated into the VSA and helps the HondaS2000 to accelerate smoothly on slipperysurfaces. Any wheel about to break tractionupon acceleration will have its brake appliedand/or power diverted from it until securetraction is regained.VEHICLE STABILITY ASSIST (VSA)With an array of sensors, Vehicle StabilityAssist (VSA) has been designed to detectincidences of both understeer and oversteer.Based on the severity of the condition, thesystem can increase engine power and/orapply braking to an individual wheel in orderto correct the situation and return to theintended course. This system worksseamlessly and unobtrusively to ensure asafe passage. In addition to aiding corneringstability, the system also acts as a tractioncontrol device.2.0i VTEC ENGINE This engine varies theamount of valve lift and the duration ofvalve opening during the intake stroke ofeach engine cylinder. The effect isoptimised combustion over changingengine speeds with the result of reducedfuel combustion and emissions, as well asincreased engine performance.
---
35 36 THE POWER OF DREAMSWe've always done things differently. Not just because we can, but because it can lead us into areas of development and discovery that we didn't knowexisted. Because it can help make people, machines and the world a better place. This though, is only part of the story, as it's how we apply this alternativethinking that matters the most. As our founder, Soichiro Honda once said:"We only have one future, and it will be made of our dreams, if we have the courage to challenge convention".THE POWER TO BE DIFFERENTWe believe that engines are good. The challengeis making them better for all of us. This is why wecreated a jet with engines above the wing insteadof below to increase fuel efficiency and loweremissions. We also vowed never to manufacture2-stroke outboard engines and only make lighter,cleaner 4-strokes.ADVANCED TECHNOLOGYEvery piece of technology we create is for a reason.Even the cameras, laser sensors and microprocessorsin ASIMO, our advanced humanoid robot, areinfluencing the design of our cars to be safer andmore intelligent than ever beforeA BRIGHTER FUTUREAt Honda we have always strived to developproducts that benefit all, and that includes ourplanet. We believe our development of emissionfree cars and reusable energy sources is achallenge we need to undertake to help protectthe planet for everyone. And as Soichiro said,"If it is difficult, it is worth doing."
---
Honda (UK) - Cars 470 London Road, Slough, Berkshire, SL3 8QY. Honda Contact Centre - Telephone: 0845 200 8000 www.honda.co.ukA division of Honda Motor Europe Ltd. No. 857969 Registered in England and Wales Part No: BEZ-502 Issue Date: 02/09Please don't bin me. Pass me on to a friend or recycle me. The pulp in the manufacture of this paper is from renewable timber producedon a fully sustainable basis. The paper used in this brochure is manufactured using ECF (Elemental Chlorine Free) pulp.