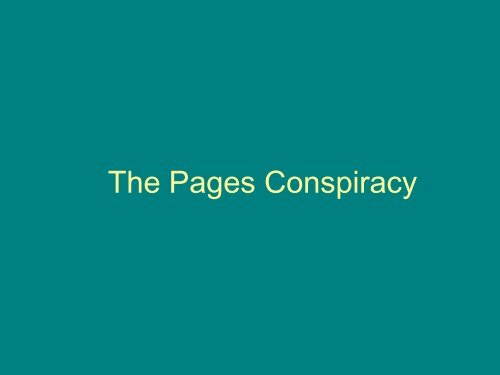 The Pages Conspiracy The Pages Conspiracy
---
Who were the Pages?• Young Macedonian nobles• They were the closest attendants to theking.
---
What happened?• Read Curtius' account (Pg 190 – 192) &make a flow chart of the main events inthe incident.
---
Hermolaus' reasons for plotting• Read Curtius Pg 192 – 193 & record whyHermolaus says the Pages plotted to killAlexander.• Read Alexander's reply to theseaccusations (Curtius Pg 194 – 195).
---
Was Callisthenes involved?• What evidence is there that Callistheneswas involved in the conspiracy?• Read Plutarch Pg 313 for further evidence.• Do you think Alexander believed thatCallisthenes was innocent or guilty?- What reasons did he have to get rid ofCallisthenes?• What supposedly happened toCallisthenes? (Arrian Pg 226)
---
How did others react?• The army wasn't particularly concerned- many disliked the notoriously arrogantCallisthenes• The Greek world reacted with anger- Callisthenes was a Greek & a nephew ofAristotle
---
What does the event show?• The events & plots up to this time illustrate theopposition to:- Alexander's policy of fusion.& - His implied divinity.• It also shows Alexander's determination to:- proceed with his policy of fusion- suppress opposition• It also shows his ruthlessness & megalomania
More magazines by this user