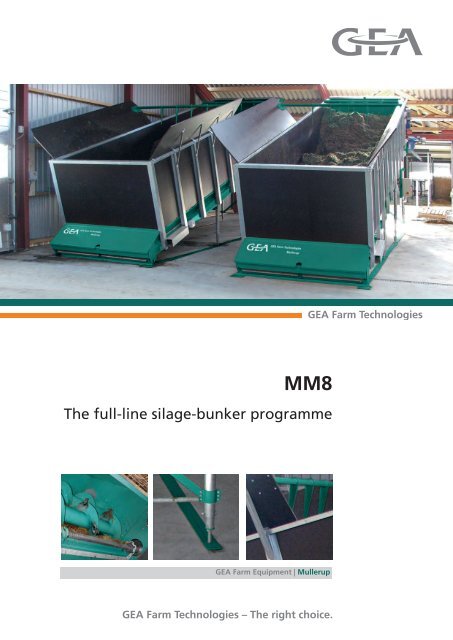 The full-line silage-bunker programme - Mullerup The full-line silage-bunker programme - Mullerup
MM8The full-line silage-bunker programmeGEA Farm Equipment | MullerupGEA Farm Technologies – The right choice.
---
The modular silage-bunker with the non-waste?Non-waste double floor is a natural part of the automatic feeding system.MM8 silage-bunkers maintain stocks of all different types ofroughage and are an integrated part of your automatic feedingsystem. The non-waste double floor is designed to avoidany rest material on the floor and what is left over on thecarriers and chains at the top-end will automatically be pulledin from the bottom-end. The heat treated MU-1031 chainsand spring steel carriers ensure a strong and reliable transportof silage to the top augers which dose even and precise intothe feeder or the belt. The bottom and other parts like lowestside plates are naturally made of stainless steel ensuringlong lifetime. The automatic- or semiautomatic chaintightensystemensures a reliable and safe operation of the bottomchain. Strong and waterproofed plywood for the sides,strength outside with galvanized profiles makes the MM8a bunker with probably the lowest maintenance costs onthe market. Take full advantage of the flexibility in the MM8bunker and choose between the angled- or the horizontalversion, extent the bunker with another module, make thebunker fit to your way of feeding using silage blocks orloose material. The reverse function is an option for fillingthe bunker even more efficiently. Choose the optimal mix ofbunkers and let it fit to your feeding system and you areready to reduce your work load to a minimum just filling thebunkers once per day and only when it suits into to yourdaily programme.Advantages of the modular principle• full-line silage bunker program; 8 to 32 m³,angled or horizontal• thoroughly clean and safe environment: doublebottomconstruction avoid waste from silage andensures high level of safety by daily work• reliable day for day: low-maintenance componentsguarantee functionality and long running timesAutomatically into the profit zone• space for great possibilities: large volumes for morefeed elements and successful strategiesBeater rollers: ensure an even and precise dosage• minimum effort, maximum benefit: little timeneeded for filling, complete assurance of perfectsupplies for the herdMM8.3: Advantages in the tightest of spacesSupport construction: at the perfect angle for the system?2 | GEA Farm Technologies
---
GEA Farm TechnologiesThe right choice.GEA Farm Technologies GmbHSiemensstraße 25 - 27, D-59199 BönenTel. +49 (0) 23 83 93 7-0, Fax +49 (0) 23 83 93 8-0www.gea-farmtechnologies.com9997-1647-000 / S+L:d&d / D:Stu / 10.10 · We reserve the right to make changes in construction and design!
More magazines by this user