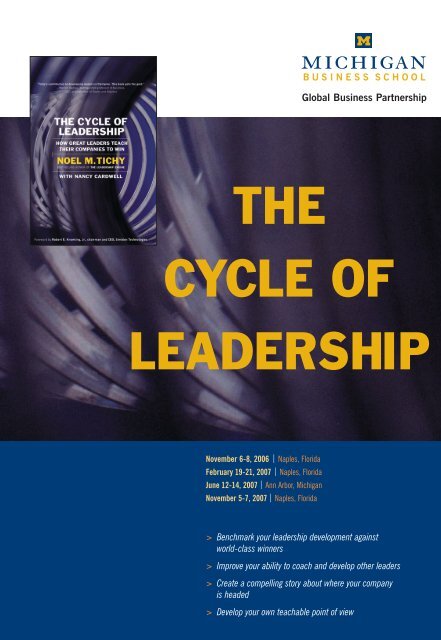 THE CYCLE OF LEADERSHIP - Noel Tichy
THE CYCLE OF LEADERSHIP - Noel Tichy
THE CYCLE OF LEADERSHIP - Noel Tichy
SHOW MORE
SHOW LESS
You also want an ePaper? Increase the reach of your titles
YUMPU automatically turns print PDFs into web optimized ePapers that Google loves.
Global Business PartnershipTHECYCLE OFLEADERSHIPNovember 6-8, 2006 | Naples, FloridaFebruary 19-21, 2007 | Naples, FloridaJune 12-14, 2007 | Ann Arbor, MichiganNovember 5-7, 2007 | Naples, Florida> Benchmark your leadership development againstworld-class winners> Improve your ability to coach and develop other leaders> Create a compelling story about where your companyis headed> Develop your own teachable point of view
---
Learn From The World's BestLeaders / TeachersThe Cycle of Leadership program is basedon 25 years of work by Professor Noel Tichywho has written extensively on leadership,change and knowledge creation (over 12 booksand a hundred articles). The program draws onhis extensive practical experience applying theconcepts of action learning, leaders as teachersand the building of virtuous teaching cycles.Professor Tichy headed up GE's famedLeadership Development Center, Crotonvilleand has worked with CEOs around the worldto develop leadership development capacityincluding Royal/Dutch Shell, NomuraSecurities, Nokia, Pepsico and Mercedes Benz.The Cycle of Leadership program isdesigned to help leaders articulate their own"teachable point of view" for developingleaders in their organizations. The highlyinteractive, three-day experience, is designedto provide new concepts, benchmark bestpractice examples, and provide real timecoaching from faculty and other participants.The participants are prepared at the end ofthe program to teach and develop leadershipcapacity in their own organizations, they leavethe program with a clearly articulated andwritten "teachable point of view" for thesuccess of their organization as well as practicalmethodology and action plans for enhancingthe performance of their organizations anddevelopment of leaders.Best Practice BenchmarksThe program blends state of the art concepts aswell as practical benchmark examples. Hereare some examples:General ElectricIf you show up on the right day every coupleof weeks at GE's Crotonville LeadershipDevelopment Institute, you will find JeffInmelt, CEO of GE, teaching. Inmelt like hispredecessor Jack Welch spends an enormousamount of time giving speeches to employeesand taking the "hot seat" in question andanswer sessions, but he also interactivelyteaches. He has a variety of modules, usuallya half day at a time, that he uses to teachleadership.In the most senior program, when Welch wasCEO, he asked among other things, "If youwere named CEO of GE tomorrow, what wouldyou do?" Welch used the question to orchestratea "no holds barred" discussion, in whichhe joused with participants and honed theiranalytical abilities and leadership instincts.He did this by having them also joust witheach other. He considered such sessions essentialand was proud of his commitment. SaysWelch, "I went to Crotonville every 2 weeksfor 20 years to interact with new employees,middle managers and senior managers. I nevermissed a session."3MCEO, Jim McNerney, taught the first threedaysession on Six Sigma (the quality program)and meets almost weekly to coach the SixSigma Black Belt middle managers who arefull-time teachers at 3M. Why does he makehimself the head teacher for Six Sigma? JimMcNerney knows that if it does not start fromthe top and if he is not engaged in teachingand learning as a role model, as the orchestratorof the process, it will not end up in theDNA of 3M. Jim McNerney also leads anaction learning program of high potentialexecutives who work on real 3M projects whilesimultaneously working on enhancing theirleadership capabilities. The projects yieldcreative and breakthrough practical ideas for3M while the leaders, Jim McNerney and hissenior team receive an intensive developmentexperience.Royal Dutch/ShellIn a matter of one year, thousands were taughtby the top thousand Shell leaders in a programcalled Focus Results Delivery. ProfessorTichy and team worked with the leadershipof Shell to articulate their "teachable point ofview" on leadership and company performance.The leaders then were trained to runtheir own three-day leadership workshops anddrive projects which engaged over 50 thousandShell employees world wide and resulted inseveral billion dollars of cost savings as wellas innovative ideas for top line growth. Theleaders developing leaders concepts andmethodologies both transformed the companyculture but build a cadre of new leaders.IntelIn Santa Clara, California, Andy Grove entersinto the classroom several times a year to teachIntel managers how to lead in an industry inwhich the product (microprocessors) doublesin capacity every 18 months. In Grove's teachingsessions, he discusses the role of leaders indetecting and navigating the turbulent industryshifts that many companies fail to survive.Why does Grove take the time to do this?Because he believes that having leaders at alllevels of Intel who can spot the trends andhave the courage to act will enable Intel toprosper while competitors falter. Grove isdedicated to teaching and developing winningleaders.PepsiCoIn an 18-month period shortly before hebecame CEO of PepsiCo in early 1996, RogerEnrico spent nearly a third of his time teachingrising PepsiCo executives what he knewabout the industry and how to be a leader.Gathering nine executives at a time, he wouldspend 5 days from dawn until late in theevening teaching his point of view on how togrow a business. Then, he would have participantscome up with ideas for their businessesand facilitate their discussion to help shapetheir ideas. The results of those and othersessions were 100, better-prepared leadersand, according to one observer, "some of thebiggest business ideas that PepsiCo has hadin the past several years."The Cycle of Leadership program isbased on The Cycle of Leadershipby Noel Tichy with Nancy Cardwelland Building the Leadership Engine:How Winning Companies BuildLeaders At Every Level, written withEli Cohen.Contact Us TodayEnsure your place in this dynamic programby sending in the enclosed application today(see application for details).In addition to these examples, participantswill be challenged by looking atother leaders and their impacts:• Find out how Michael Dell continuouslyteaches his organization how to win throughhis teachable point of view which includeseveryone applying ROIC (return on investedcapital), growth ideas and ways of enhancingthe customer experience.• How is Best Buy transforming itselfthrough the application of virtuous teachingcycles right down to the store level? BradAnderson, CEO of Best Buy, is the leadteacher and can be found in workshops atall levels of Best Buy.• How did Joe Liemandt, CEO and founderof Trilogy, transform his software companyfrom a potential casualty of the "bubbleeconomy" to a model of customer centricitywith leaders teaching leaders at all levels?• How does David Novak, CEO of YUM!Brands (Taco Bell, Pizza Hut and KFC)teach thousands of leaders around theworld? You will get a window on the 10workshops a year he personally runs todevelop leadership talent.• Find out how Bob Knowling rapidly builtthe New York City Leadership Academy forPrinciples.• How do the United States Navy SEALsand Army Rangers create leaders who canassume command of any team, anytime,anywhere? Learn from General WayneDowning former head of the SpecialOperations Forces.• How did Royal Dutch/Shell break its100-year-old mentality of entitlement andcreate a competitive culture where leadersdevelop other leaders?Here is what some thought leaders are sayingabout the Cycle of Leadership:"The Cycle of Leadership defines a road mapfor business leaders that is both practical andmemorable."—Joe Forehand, Chairman and CEOAccenture"With The Cycle of Leadership, Noel Tichy notonly offers the spot-on insight that the futurebelongs to a new breed of companies that is big,fast, and smart, he also shows what it will taketo be part of that future. It's a book filled withteachable-and learnable-moments."—Alan Webber, Founding EditorFast Company"Noel Tichy's concept of building VirtuousTeaching Cycles gives today's leaders a path tobuild organizations fast enough to benefit fromtoday's unprecedented rate of change."—Brad Anderson,Vice Chairman and CEOBest Buy
---
THE CYCLE OF LEADERSHIPNovemb er 6-8, 2006Naples, FloridaFebruary 19-21, 2007Naples, FloridaJune 12-14, 2007Ann Arbor, MichiganNovember 5-7, 2007Naples, Florida$6,100$6,300$6,000$6,300Winning Organizations Are Teaching OrganizationsWhy do some companies consistently win in the marketplace while others struggle from crisisto crisis? The answer is leadership. Winning companies have good leaders who know how to makesmart decisions and implement them quickly…and they develop others to be leaders as well.See enclosed application formTechnologies, products, and economies constantly change. To get ahead and stay ahead companiesneed agile, flexible people who can anticipate change and respond instantly to new realities.And, they need them throughout the organization. That's why it's importantto invest the time to improve your own leadership abilities and to learn howVIRTUOUS TEACHING CYCLEto build an organization of leaders around you.The key to winning today –– and to creating an organization that can winagain tomorrow –– is teaching. If you look at the world's best leaders,you'll see that they are also the world's best teachers, because teaching isat the heart of leadership.The Cycle of Leadership program is based on the best practices andinsights presented in The Cycle of Leadership: How Great Leaders TeachTheir Companies to Win by Noel Tichy (with Nancy Cardwell). The coremessage is that inside all great business leaders –– whether they areCEOs, mid-managers, or shop stewards –– are great teachers. To becomemembers off this world-class elite, executives must commit to improvingtheir own leadership abilities and then they must go out and teach othersto be leaders as well.KNOWLEDGE CREATION / ALIGNMENTTEACHLEARNVirtuous Teaching CycleWinning leaders are teachers, and winning organizations encourage and reward teaching.But there is more to it than that. Winning organizations are explicitly designed to be TeachingOrganizations, with business processes, organizational structures and day-to-day operatingmechanisms all built to promote teaching.More importantly, the teaching that takes place is a distinctive kind of teaching. It is interactive,two-way, even multi-way. Throughout the organization, "teachers" and the "students" atall levels teach and learn from each other, and their interactions create a Virtuous TeachingCycle that keeps generating more learning, more teaching and the creation of new knowledge.Virtuous teaching cycles are what keep people in winning companies getting smarter, morealigned and more energized every day. Teaching Organizations make them possible." At the end of the day,you bet on people —not strategies."Larry Bossidyformer CEO, Honeywell
---
2Teaching organizations, in which leaders at all levels actively contribute to the collectiveknowledge pool, enable employees to act faster and more effectively. This is because they havecultures where everyone is expected to teach others, to learn and to contribute new ideas.These institutions have fundamental building blocks that are required to succeed in the newera of knowledge."Somewhere alongthe way, we eithertold people, or theysurmised…that it wasa paint by the numberssystem. If you usethese tools in thissequence in this way,success is inevitable…If it were that easy,I wouldn't need amanager, I'd havea machine."Roger Enricoformer CEO of PepsiCoIn Teaching Organizations, learners at all levels are teachers. This is what creates the VirtuousTeaching Cycle, the self-reinforcing pattern that keeps everyone engaged in a teaching andlearning process, improving the organization's effectiveness. This interactive teaching, engagingmore and more of an organization's members, expands knowledge while it also aligns people.There is no one model and no paint-by-the-numbers formula for building a TeachingOrganization. Each one will reflect the ideas, values and personalities of the people withinthem. Teaching Organizations can be large or small and can be created in any industry. Goodnon-profits are often Teaching Organizations. At the heart of each one, however is the dynamicof the Virtuous Teaching Cycle at work. At all levels of the organization this core process isreplicated.Develop Your Own Teachable Point of ViewThis program will help participants become better leaders and teachers by developing theirown "teachable points of view." These points of view are invaluable to leaders not only in theeveryday management of their companies, but also in developing other leaders through formaldevelopment opportunities and informal coaching.The Cycle of Leadership is built around insights acquired from dozens of leaders overdecades of research and practical experience.This program was designed and directed by Dr. Noel Tichy, who ran General Electric'sCrotonville Management Development center and who founded the University of MichiganBusiness School's Global Leadership Program, which was named the most innovative executiveeducation program in the world. Dr. Tichy will be joined at each program by other facultymembers and by accomplished executives who are case studies in The Cycle of Leadershipand who role-model leading through teaching.
---
Learning ObjectivesDuring the Cycle of Leadership program, participants will:> Benchmark their own leadership and their companies' leadership development againstworld-class winners.> Fully develop their own teachable points of view, encompassing:– Ideas about the external environment and their company's internal core capabilities.– How these ideas fit together into what Peter Drucker calls a business theory, whichdetermines how they make money in the marketplace.– Operational values that will help them implement their business ideas.– Methods of energizing the workforce — both one-on-one and with large-scale mechanisms.– The ways that tough decisions about people and products are made.> Create a compelling story about where their organization is going that can engagepeople at all levels.> Examine how world-class leaders develop leaders:– Improve their own ability to coach and develop other leaders.3Who Should AttendThis program is ideal for senior line executives and senior level staff people. Ideally, a seniorexecutive will attend with a team of people –– for example, a division president who brings herline and staff managers. Teams are better able to maximize the program's impact by workingtogether to develop strategies for transforming their businesses, including moves in the marketand methods of developing other leaders.Human resource managers will increase their own ability to lead and also learn to help othersbe better leaders. Their effectiveness is also enhanced by bringing a team of people. Of course,individual managers are welcome. Past participants have held positions as Managers, Directors,Vice Presidents, and CEOs, with specialization in a wide range of functional areas.The Cycle of Leadership program is an intense, highly interactive, three-day experience.It is based on several action learning programs that were developed to help large companiestransform through developing leaders. These have their roots at Crotonville (General Electric'sManagement Development Center), where Noel Tichy was the director from 1985 to 1987.They have gone on to be used at companies that range from Accenture, GE, Genentech, Nokia,Nomura Securities, Pepsi, Royal Dutch/Shell, and others.The framework for the program is a "coaches' clinic." Every participant is a leader in theirown sphere and they have the responsibility to develop other leaders. The program, like atennis camp, is the chance to pull the game of leadership apart — working on each individualelement –– and then putting it together again into the whole game. After the program, participantsmust be prepared to go to their individual work units and teach others to be leaders aswell — thus the "coaches' clinic."The Cycle ofLeadershipThe key to winningtoday — and to creatingan organization that canwin again tomorrow — isteaching. If you look atthe world's best leaders,you'll see that they arealso the world's bestteachers, becauseteaching is at theheart of leadership.Each module is based on the idea that people gain from benchmarking others. No matter theirprofession — a tennis player, an opera singer, a musician, an executive — individuals benefitfrom looking at other examples. For each module of the program, the facilitators will introduceconcepts and offer benchmarks. Then, participants will be asked to apply this to their own situations.Throughout the program, participants will coach each other and be coached by facilitators.
---
THE CYCLE OF LEADERSHIP4The companies that are featured in The Cycle of Leadership program have consistentlybeaten their competitors in the marketplace. As a result, they have all sustained enviable trackrecords of enriching their shareholders, rewarding and motivating their employees, andimproving their communities. But, because winning is built on unique responses to unique situations,the answers that other leaders have come up with for their organizations may not be— in fact, probably aren't — right for yours. The Cycle of Leadership program, therefore,focuses not on the specific results that these winning organizations have achieved but on howtheir world-class leaders consistently come up with smart strategies and lead their people toachieve those results.The program is framed around three building blocks:Building Block 1: Develop a Teachable Point of ViewWinning leaders, whether they sit in the chairman's office or run a production line on thefactory floor, have a point of view about how to manage and grow their businesses. A leaderuses this teachable point of view to create a compelling description of where their company isgoing and to enlist others' energy to get there. Leaders also use their teachable points of viewto teach others to be leaders. Leaders use their teachable points of view everyday. They usethem to create dynamic and engaging stories that detail where their company is, where it isgoing, and how they will get there.Winning leaders need teachable points of view in four specific areas:IdeasGreat companies are built on central ideas. By passing theideas to others, and teaching others how to develop goodideas, leaders create organizations that are finely tunedtoward delivering success.ValuesWinning leaders articulate values explicitly and shape values thatsupport business ideas. For example, GE's Jack Welch articulatesthe value of "boundarylessness" in order to facilitate speed-tomarket,the generation of ideas, and the sharing of best practices.EdgeLeadership is about making tough yes-no decisions. Winning leaders face reality, and theymake decisions about people, products, businesses, customers, and suppliers.EnergyWinning leaders are motivated and they motivate others about change and transition. Leadersenergize others when they personally interact with them.The Cycle of Leadership program will challenge participants to develop their teachablepoints of view and stories through faculty-led discussions and interactive exercises. Thisincludes using a proprietary database of examples from leaders at companies such asAccenture, GE, Genentech, Intel, Nokia, Trilogy, and many others.
---
Building Block 2: Leaders TeachInside every great leader is a great teacher.Autocrats and managers can command behaviorsby issuing orders. Cheerleaders can producetemporary "highs" in which people pursue thingswith great gusto. These may work for a shorttime. But leaders produce sustainable resultsbecause they teach people how to think aboutbusiness and the world. This requires that theyfind ways to engage people in mutual learningthrough in-depth, candid discussions andthrough learning from experiences.5Developing an organization of true leadersrequires that leaders invest the time andemotional energy to teach. The figure to theright presents a framework for how approachesto teaching and leading require differentcommitments and bring different results.The Cycle of Leadership program will helpparticipants understand how well they areteaching others currently by asking them tocompare their own teaching to that of worldclass leaders.Then, each participant will pull together thelearning from these examples to create theirown plan for teaching others on a personal scale(individual coaching) and wide scale(company-wide programs).Building Block 3: Commit to Building a Teaching OrganizationAfter leaders develop their teachable points of view and personally begin to teach others,the next step is to create a teaching organization. This requires the personal role modelinginvolved in building blocks 1 and 2. It also involves creating large-scale mechanisms tomake every leader into a teacher.Participants in the Cycle of Leadership program will examine how they can createlarge-scale systems for teaching. This includes examining how leaders like Larry Bossidy,former CEO of Honeywell, engaged people through coaching sessions after every meeting andhow leaders like Jack Welch of GE created programs like "Work Out." The program ends witha personal commitment to carry the message forward and encourage teaching.
---
CORE FACULTYNoel M. TichyDr. Noel M. Tichy is a Professor of Organizational Behavior and Human Resource Managementat the University of Michigan Business School,where he is the director of the Global BusinessPartnership. Recently, he led the launch of the Global Corporate Citizenship Initiative inpartnership with General Electric and Proctor & Gamble, designed to create a national modelfor partnership opportunities between business and society emphasizing free enterprise anddemocratic principles. Between 1985-87, Dr. Tichy was Manager of Management Educationfor General Electric where he directed its worldwide development efforts at Crotonville. Priorto joining the Michigan Faculty he served for nine years on the Columbia University BusinessSchool faculty.Noel M. TichyProfessor Tichy is the author of numerous books and articles. His most recent book is TheEthical Challenge (Jossey-Bass 2003, with Andy McGill) and The Cycle of Leadership:How Winning Leaders Teach Their Organizations to Win (Harper-Collins 2002, withNancy Cardwell). He authored The Leadership Engine: How Winning Companies BuildLeaders at Every Level (with Eli Cohen), named one of the top 10 business books in 1997by BusinessWeek. He is co-author of Every Business is a Growth Business (with RamCharan), published October 1998 (Random House). In addition, Tichy is also the co-author ofControl Your Destiny or Someone Else Will: How Jack Welch is Making GeneralElectric the World's Most Competitive Company (with Stratford Sherman). Tichy haslong been regarded as a staple of management literacy as noted by his rating as one of the"Top 10 Management Gurus" by BusinessWeek and Business 2.0. He has served on theeditorial boards of the Academy of Management Review, Organizational Dynamics, Journal ofBusiness Research, and Journal of Business Strategy and was the founding editor and chief ofHuman Resource Management.Noel Tichy consults widely in both the business and public sectors. He is a senior partnerin Action Learning Associates. His clients have included: Best Buy, General Electric, Pepsico,Coca Cola, General Motors, Nokia, Nomura Securities, 3M, Daimler-Benz and Royal Dutch/Shell.Christopher M. DeRoseChristopher DeRose is a researcher and consultant who has been an associate of theUniversity of Michigan's Global Business Partnership, a consortium of multinational corporationssince 1989. In addition, DeRose is an associate of Action Learning Associates, a consultingorganization focused on organizational transformation. He has consulted with companiessuch as Accenture, Chrysler, Harper Collins, Trilogy, HP, US West, and Royal Dutch/Shell. Hisresearch work in the areas of leadership, organizational change, and growth has taken place inthe automotive, telecommunications, financial services, and beverages industries. DeRose hasalso worked in the financial services industry and led a sales organization in Japan.Christopher M. DeRoseDeRose holds a B.A. from the University of Michigan in Political Economics. He also receivedhis M.B.A. and M.A. of Japanese studies from the same institution. He has co-authored articlesfor Fortune Magazine, Training & Development, and Australian Human Resources Journal.
---
J. Richard StonesiferJ. Richard (Dick) Stonesifer is a graduate of Teterboro School of Aeronautics and the HarvardBusiness School Advanced Management Program. He began his career with GE in 1959, andspent the next 14 years with GE's aircraft engine business in Korea, training the Korean AirForce to maintain F-5 fighter planes, managing field service engineering in Vietnam during thewar, training German fighter maintenance personnel, and managing a number of other enginebusinesses. He was Chairman and CEO of GE Philippines, and also GE Portugal, before, during,and after the Portuguese Revolution in the mid-1970s. He served as general manager of GE'sCarboloy Systems (1978-80); chairman and CEO of GE Brazil (1980-84); vice president andgeneral manager, International Construction & Service Division, GE Power Systems (1984-87);vice president and general manager-International Sales & Services Division, GE Industrial &Power Systems (1987-88); vice president and general manager, GE Supply (1988-90); and vicepresident and general manager, marketing and product management, GE Industrial & PowerSystems (1990-91). He was appointed senior vice president, GE Appliances in January 1992and became President and CEO in August 1992.J. Richard StonesiferDick retired from GE in July 1996. He owns his own company, is a management consultant,and serves on several boards.Wayne A. DowningGeneral Wayne A. Downing retired after a thirty-four year career in the U.S. Army. During thisperiod he served in a variety of command assignments in infantry, armored, special operationsand joint units culminating in his appointment as the Commander-in-Chief of the U.S. SpecialOperations Command. He served two combat tours in Vietnam as a junior infantry officer. As ageneral officer, he commanded the special operations of all services during the 1989 invasionof Panama and then commanded a joint special operations task force operating deep behindthe Iraqi lines during Operation Desert Storm. He has had extensive experience in combatingterrorism, crisis management, training large and small organizations, planning and programming,and in acquisition.Following retirement, he was appointed by the President to head an assessment of the terroristattack on the U.S. base at Khobar Towers, Saudi Arabia, and to make recommendations to protectAmerican people and facilities world wide from terrorist attack.Wayne A. DowningGeneral Downing graduated from the U.S. Military Academy at West Point with a B.S. degreein Engineering and has an M.B.A. from Tulane University.
---
APPLICATION AND ADMISSIONNovember 6-8, 2006Naples, Florida$6,100February 19-21, 2007Naples, Florida$6,300June 12-14, 2007Ann Arbor, Michigan$6,000November 5-7, 2007Naples, Florida$6,300General Program OutlineMorningAfternoonEveningDay One> Opening Challenge:Leaders develop leaders> Leadership Journey:Gaining the most from personalexperience> Business Ideas:Participants examine externaland internal trendsDay Two> Values:Participants plot the culture changerequired to implement their businessideas> Edge:Making tough decisions on peopleand products> Coaching examples:How to re-examine your activities in thecontext of teaching and coaching others> Dinner and teambuilding > Leading Change:Understanding fundamentaldynamics of transformation> Dealing with the humanemotions of change> Using change to energizeDay Three> Creating Your Story — How to createa compelling case of where you are,where you're going, and how you willget there> Video practice and feedback sessions> Action planning> Closing SessionsThis program is intended for people in senior positions who are committed to the developmentof leaders in their organization. Teams from the same company are encouraged to attendtogether to enhance the transfer of learning.The Director will be glad to confer with sponsoring organization members regarding the Cycleof Leadership program and the application process. Potential sponsors and applicants areencouraged to contact Ida Faye Webster, Program Associate, with Global Business Partnershipat 734.998.6353, before submitting formal applications. Visits to the University of MichiganBusiness School to discuss the program with staff and faculty also are welcome.Applications for admission are accepted throughout the year, but should be submitted at leasttwo months prior to the program's starting date. To request brochures and application materials,call 734.764.5134.Program FeeThe program fee includes tuition, books, instructional materials, accommodations, meals,and coffee breaks.