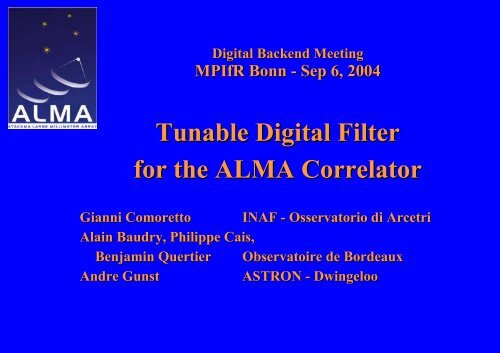 Tunable Digital Filter for the ALMA Correlator - RadioNet
Tunable Digital Filter for the ALMA Correlator - RadioNet
Tunable Digital Filter for the ALMA Correlator - RadioNet
SHOW MORE
SHOW LESS
You also want an ePaper? Increase the reach of your titles
YUMPU automatically turns print PDFs into web optimized ePapers that Google loves.
Digital Backend MeetingMPIfR Bonn - Sep 6, 2004Tunable Digital Filterfor the ALMA CorrelatorGianni ComorettoINAF - Osservatorio di ArcetriAlain Baudry, , Philippe Cais,Benjamin QuertierObservatoire de BordeauxAndre GunstASTRON - Dwingeloo
---
NRAO filterboard (onechannel) on test fixtureDigital Backend Meeting MPIfR Bonn - Sep 6, 2004
---
Digital Backend Meeting MPIfR Bonn - Sep 6, 2004ALMA Correlator (2)Hybrid correlator (F-X-F) architecture• Digital filterbank to split the input bandwidth into 32 sub-channels• One or more correlator planes analyze each sub-channel• 8192 usable spectral channels (for all polarizations)• Each sub-channel can be independently tuned => zoomingProblems• Sub-channel stitching and platforming => overlapping subchannels• Digital filter architecture => economically implement 32 filters• Multiple quantization effects• Increased data rate to control computer => keep original TM mode
---
Digital Backend Meeting MPIfR Bonn - Sep 6, 2004Hybrid correlatorGeneral architecture• Hybrid correlator concept:• Filterbank to adapt inputbandwidth to correlatorspeed• Conventional correlatorto analyze the output ofeach filter• Increased resolution &flexibility• Sub-bands must be joinedtogether2 GHz bandwidth32 x62.5 MHz bw
---
Digital Backend Meeting MPIfR Bonn - Sep 6, 2004General problems with hybrid correlators●Edge effects important● aliasing & filter rolloff● different response for real andimaginary components● different "barycenter shift"● phase errors near band edge●To reduce effects:● Fourier transform on semi-integerchannel freqs.● Band filter: Ntaps=2xNchans.4Ktaps, but should increase withresolution● Correct for channel shift
---
Example simulation.Digital Backend Meeting MPIfR Bonn - Sep 6, 2004Nonoverlapping subchannelscorrelated pseudo-randomnoise with defined amplitudeand phase spectrumprocessed through hybrid,nonoverlapping correlator,with 64 pts/sub-bandGreen: Original spectrumRed: continuous sub-bandspectrumx: spectral pointsPhase cancels at band edges
---
Digital Backend Meeting MPIfR Bonn - Sep 6, 2004Subchannel edge errorsRed: corrected for amplituderesponseblue: corrected for channelbarycenter shiftCorrecting only for amplituderesponse leaves errors of ~25%and ~10 deg. in phaseDynamic range limited to ~15dBCorrecting for channel shiftimproves by a factor of 2Error is confined on 2 edgechannels.
---
Digital Backend Meeting MPIfR Bonn - Sep 6, 2004Overlapping subchannels• An overlap of 1-2 channels improve dramatically the spectralaccuracy• Some band lost at the edges of the whole 2 GHz band• In principle can be done with polyphase, but requires change ofrate in the data clock or radix-17 FFT• Adopted solution: complete digital receiver with tunable LO• filter requirements less stringent (2Ktaps)• further simplified using a 2-stage FIR• Amplitude accuracy ~0.2%• Phase ~0.5 deg
---
Digital Backend Meeting MPIfR Bonn - Sep 6, 2004Subchannel stitchingThe problem- Subchannels in the hybrid correlator are separatelydigitized- Quantization errors are different for different subchannels- Multiple quantizations present in the systemThus:Sub-channel alignment problems- Must measure total power in each subchannel- Level-dependent quantization correction- Validate with simulations
---
Digital Backend Meeting MPIfR Bonn - Sep 6, 2004Subchannel stitchingSimulation data setSimulation data set• Gaussian noise: completely stochastic signal to simulate real data• Independent uncorrelated noise and correlated signal• Variable phase relation between the two signals• Maximum correlation coefficient ~0.3• 65 Msample: 16 ms of real data• Reference cross spectrum obtained using a 2048 ch. continuouscorrelator
---
Digital Backend Meeting MPIfR Bonn - Sep 6, 2004• Result from hybrid correlatorcompared to referencespectrum• Hybrid spectrum both withand without final 2-bitquantization to discriminateeffectsSubchannel stitchingResult analysisDifference within noise except corresponding to strong linesNo difference except excess noise in spectrum with 2-bit quantization35 dB of measured dynamic range, despite unrealistc strong spectral lines
---
Digital Backend Meeting MPIfR Bonn - Sep 6, 2004Tunable digital filter• Conceptually a SSB digital receiver• Complex LO and mixer• Low pass filter for band selection• Implementation using a 2-stage complex low-pass filter• 1 st stage: minimum selectivity required for correct decimation• 2 nd stage operates at 125 MHz, determines bandshape & final width
---
Digital Backend Meeting MPIfR Bonn - Sep 6, 2004Tunable digital filter architecture (1)Signal processingTest signal with random noise +2 strong spectral lines Input band rotated in order tohave the desired frequencyaround zero First filter: complex low-passfew taps, wide transitionregionstap encoding with 8 bitrejection ~ 47-50 dB
---
Digital Backend Meeting MPIfR Bonn - Sep 6, 2004Tunable digital filter architecture (2) Resampling to final frequencytransition regions aliasedback, but passband is clean Second filter:equivalent number of tapsmultiplied by decimationfactor.Compensates for 1 st filterrolloff Conversion to real output Total power measurement andre-quantization
---
Digital Backend Meeting MPIfR Bonn - Sep 6, 2004Implementation parameters• Local• 1• 2Oscillator:• 16 bit (5+11) frequency register, 30 KHz step, 0-2 GHz range• 9 bit sin/cos table implemented in 512x6 LUT (block RAM)• output 6 bit: 0.9% loss, > 50 dB spurious free dynamic rangest stage filter:• symmetric 128 taps, implemented with 64 LUTs (each branch)• 8 bits frozen coefficients (LUT optimization) ~ 48 dB rejection• output re-quantized to 8 bits (0.2% sensitivity loss)• 1:32 decimationnd stage filter:• symmetric 64 taps (loadable)• implemented with 16 9x9 bit multipliers (each branch)• 9 bits coefficients: >40 dB rejection, 0.3 dB peak-to-peak ripple• Real output, quantized to 2 bits
---
Digital Backend Meeting MPIfR Bonn - Sep 6, 2004Quantization effects - LO Phase resolution in mixer sin/cos table determines SFDR Mixer output requantization determines SFDR and loss For > 50 dB SFDR at least 6 bits of mixer output are needed Sin/cos generation, mixing, requantization can be implemented ina single LUT memory LO leakage very well rejected.Main source of unwantedharmonics is sampler DC offsetPerformance of quantized mixers(3 bit input, N bit output)# Bits Loss SFDR3 3,3% 31 dB4 1,5% 38 dB6 0,9% 52 dB
---
Digital Backend Meeting MPIfR Bonn - Sep 6, 2004Filter response 8 bit taps in 1 st filter and 9 in 2 nd adequate for 47 dBminimum stopband rejection
---
In-band rippleDigital Backend Meeting MPIfR Bonn - Sep 6, 2004Filter responseComposite stopband rejection(8+9 bit)2 nd FIR tap width: 9 bit10 bitmany bits
---
Digital Backend Meeting MPIfR Bonn - Sep 6, 2004Operation modes• Basic mode: 62.5 MHz band, 32independently tunable filters• Bypass mode: each filter outputs omeof the 32 input samples, requantizedto 2 bit• Reduced bandwidth: 31.25 MHz (tobe used with correlator oversamplemode) - 27.3 MHz usable BW• 4x2 and 4x4 bit modes for increasedsensitivity
---
Digital Backend Meeting MPIfR Bonn - Sep 6, 2004Filter board implementation• Tunable filter board iscompatible with existingfilter board• Interface chip (CPLD2)for programming andpersonality download• Delay with 3 XilinxSpartan FPGAs – 8µsdelay range• 32 filters implementedon 16 Altera StratixFPGAs• Final version usingAltera 1S40 Hardcopy• Signal distribution usingpoint-to-point 1.8V• Estimated powerconsumption: ~60W40W for Hardcopy
---
Digital Backend Meeting MPIfR Bonn - Sep 6, 2004Pre-prototype board• 6 channels (3 FPGAs)• Delay and distributionlogic identical to finalboard• Single-ended and LVDSinterconnections• Selectable I/O voltage• A/D and D/A converter+ speed-up memory• Standalone tests or usedwith test fixture
---
Digital Backend Meeting MPIfR Bonn - Sep 6, 2004• Pre-prototype board built andunder test• Test fixture from NRAO forsignal generation and analysis– Digital noise + 2 tones– A/D and D/A converter +speed-up memory– Socket for ALMA sampler– ALMA correlator chip– C167 controller– Control program on PC• Prototype board designed andawaiting test resultsDesign status
---
Digital Backend Meeting MPIfR Bonn - Sep 6, 2004Alternate design - undecimated LOReversing LO and 1 st filterLO operates at decimated speed. Full (N bit) multiplication possible1 st filter must be recomputed/reloaded every time band changes2 nd filter identical
---
Same test signalDigital Backend Meeting MPIfR Bonn - Sep 6, 2004Alternate design signal processing1 st filter: complex coefficientsbandpass. Frequency rotated version ofprototype LPF Coefficient truncation cannotbe optimized for all freqs.Decimation produces desired bandin an arbitrary positionComplex LO/mixer recoverscorrect frequency orderingSuccessive processing identical