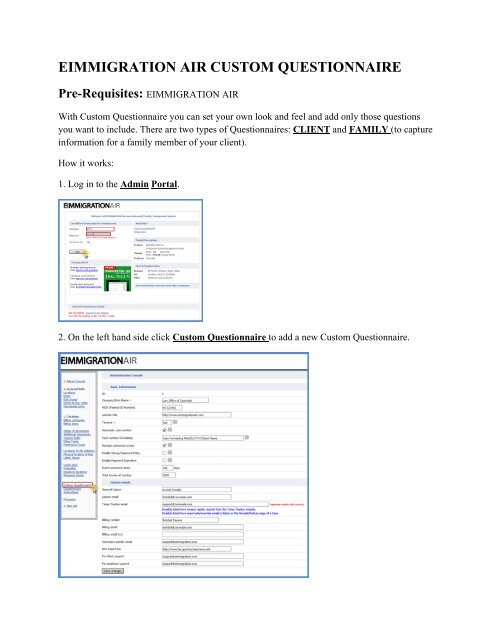 EIMMIGRATION AIR CUSTOM QUESTIONNAIRE - Cerenade EIMMIGRATION AIR CUSTOM QUESTIONNAIRE - Cerenade
EIMMIGRATION AIR CUSTOM QUESTIONNAIREPre-Requisites: EIMMIGRATION AIRWith Custom Questionnaire you can set your own look and feel and add only those questionsyou want to include. There are two types of Questionnaires: CLIENT and FAMILY (to captureinformation for a family member of your client).How it works:1. Log in to the Admin Portal.2. On the left hand side click Custom Questionnaire to add a new Custom Questionnaire.
---
3. Click on Add4. Type the Title of your questionnaire. Select Client, Language, and click Go.
---
5. Click on the button to Add Fields. If fields are mandatory select the Mandatory checkbox.
---
6. Add Biographic Section.
---
7. Click the button to add a Logo. Then click OK.8. Click to Save Changes.
---
9. Click on Processes to add your Custom Questionnaire to one or more Processes.10. Select a Process.
---
11. Click View or Modify.12. Click Save changes. Select Custom Questionnaire and then select the Questionnaire.13. Login to your LAW FIRM Portal, and click and send the Custom Questionnaireto your Client.
More magazines by this user