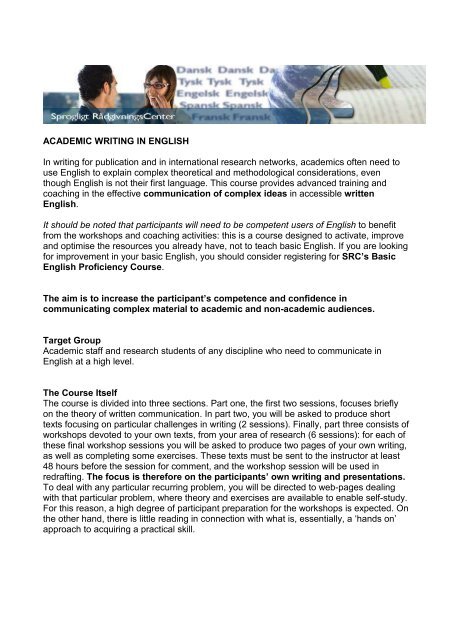 ACADEMIC WRITING IN ENGLISH In writing for publication and in ... ACADEMIC WRITING IN ENGLISH In writing for publication and in ...
ACADEMIC WRITING IN ENGLISHIn writing for publication and in international research networks, academics often need touse English to explain complex theoretical and methodological considerations, eventhough English is not their first language. This course provides advanced training andcoaching in the effective communication of complex ideas in accessible writtenEnglish.It should be noted that participants will need to be competent users of English to benefitfrom the workshops and coaching activities: this is a course designed to activate, improveand optimise the resources you already have, not to teach basic English. If you are lookingfor improvement in your basic English, you should consider registering for SRC's BasicEnglish Proficiency Course.The aim is to increase the participant's competence and confidence incommunicating complex material to academic and non-academic audiences.Target GroupAcademic staff and research students of any discipline who need to communicate inEnglish at a high level.The Course ItselfThe course is divided into three sections. Part one, the first two sessions, focuses brieflyon the theory of written communication. In part two, you will be asked to produce shorttexts focusing on particular challenges in writing (2 sessions). Finally, part three consists ofworkshops devoted to your own texts, from your area of research (6 sessions): for each ofthese final workshop sessions you will be asked to produce two pages of your own writing,as well as completing some exercises. These texts must be sent to the instructor at least48 hours before the session for comment, and the workshop session will be used inredrafting. The focus is therefore on the participants' own writing and presentations.To deal with any particular recurring problem, you will be directed to web-pages dealingwith that particular problem, where theory and exercises are available to enable self-study.For this reason, a high degree of participant preparation for the workshops is expected. Onthe other hand, there is little reading in connection with what is, essentially, a 'hands on'approach to acquiring a practical skill.
---
The 'coach'Andrew FishTimes, dates & structureThe course will take 30 lessons (of 45 minutes)4 sessions of 2 lessons each6 final sessions of 3 lessons each (workshops)No teaching during the winter holiday (week 8) and Easter (week 15).The first 4 sessions will be on Thursdays from 12.00 until 14.00The final 6 sessions will be on Thursdays from 12.00 until 15.00First session: 29th January 2009.PRICE: 6600krPlease e-mail Lisbeth Rieshøj Amos amos@hum.aau.dk to sign up for the course.Deadline for enrolment: Monday 19th January 2009 at 4:00pm
More magazines by this user