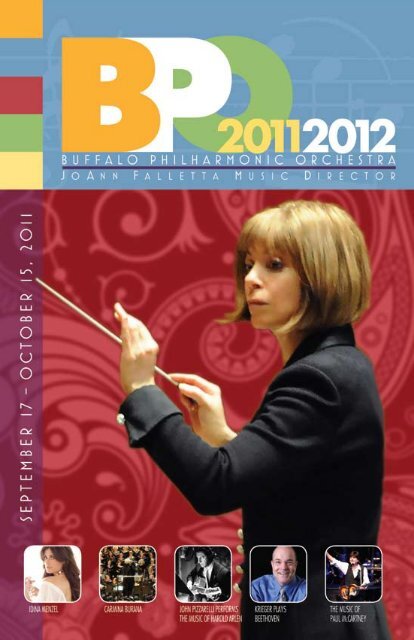 Table of Contents - The Buffalo Philharmonic Orchestra
Table of Contents - The Buffalo Philharmonic Orchestra
Table of Contents - The Buffalo Philharmonic Orchestra
SHOW MORE
SHOW LESS
Create successful ePaper yourself
Turn your PDF publications into a flip-book with our unique Google optimized e-Paper software.
Table of Contents | September 17 – October 15

BPO Board of Trustees 7

BPO Musician Roster 11

Idina Menzel 15

BlueCross BlueShield of WNY Pops Series

September 17

Carmina Burana 17

M&T Bank Classics Series

September 24

John Pizzarelli Performs the Music of Harold Arlen 25

BlueCross BlueShield of WNY Pops Series

October 1

Krieger Plays Beethoven 27

M&T Bank Classics Series

October 7 & 9

Spotlight on Sponsors 36

Annual Fund Donors 38

Patron Information 47

Contact

BPO Administrative Offices (716) 885-0331

BPO Administrative Fax Line (716) 885-9372

Box Office (716) 885-5000

Box Office Fax Line (716) 885-5064

VoIP phone service powered by

Development Office (716) 885-0331 Ext. 420

Subscription Sales Office (716) 885-9371

Group Sales Office (716) 885-5001

Kleinhans Music Hall (716) 883-3560

Buffalo Philharmonic Orchestra | 499 Franklin Street, Buffalo, NY 14202

www.bpo.org | info@bpo.org

5
---
6

Message from Board Chair

As chair of the Board of Trustees of the Buffalo Philharmonic Orchestra, I

would like to extend my gratitude and thanks to each and every one of

you for your help in making our past 75th anniversary a true celebration

of music for our community and beyond.

Last year your Buffalo Philharmonic Orchestra reached…

92,589 people through our M&T Bank Classics, BlueCross BlueShield

of WNY Pops, Specials, Holiday, and Family Concerts

41,250 students through our Youth Concerts and Educational Programs

26,816 students through our Run-out Concerts in the community.

12,300 people through our Free First Niagara Summer in the Parks Concerts.

And millions more through our many radio broadcasts and CDs around the world.

It is remarkable how many lives have been touched by the music of the Buffalo Philharmonic Orchestra.

At every performance, the music reaches new ears and brings inspiration to new generations. With

your continued support, we now look forward to our dynamic 2011-2012 season filled with worldclass

performances. I look forward to seeing you at Kleinhans Music Hall.

Cindy Abbott Letro

Chair, Board of Trustees
---
Buffalo Philharmonic Orchestra Society, Inc.

Board of Trustees

offICers

Cindy Abbott Letro, Chair

Louis Ciminelli, Vice Chair/Chair Elect

Donald Ogilvie, Vice Chair

Randall Odza, Secretary

Angelo Fatta, Treasurer

Cheryl Howe, Immediate Past Chair

Board of TrusTees

Martin Anderson

Karen Arrison

Dennis Black

Donald Boswell

Anthony Cassetta

Janz Castelo

Paul B. Cronin

JoAnn Falletta*

Music Director

Lynne Marie Finn

John Fleischman*

Erie County Music

Educators Association

LIfe MeMBers

Ida Christie

Anthony J. Colucci, Jr.

G. Wayne Hawk

Marion Jones

Daniel Hart*

Executive Director

Robbie Hausmann

Monte Hoffman

Kate Holzemer

John Horn

John J. Hurley

Luke Jacobs

BPO Foundation Chair

Dinesh Joseph

Carol Kociela

Doreen Rao*

Buffalo Philharmonic Chorus

Music Director

Wilfred Larson

Edwin Polokoff

John N. Walsh, III

Robert G. Weber

Gary Schober

Brett Shurtliffe

Robert Skerker

Stephen Swift

Nicole Tzetzo

Joseph Voelkl

Stephen Wydysh

John Yurtchuk

*ex-officio

7
---
8

JoAnn Falletta, music director

Peter & Elizabeth C. Tower Endowed Chair

JoAnn Falletta has a rapidly growing international

reputation as a vibrant ambassador for music and an

inspiring artistic leader. An effervescent and exuberant

figure on the podium, she has been praised by The

Washington Post as having "Toscanini's tight control over

ensemble, Walter's affectionate balancing of inner voices,

Stokowski's gutsy showmanship, and a controlled frenzy

worthy of Bernstein." Acclaimed by The New York Times

as "one of the finest conductors of her generation", she

serves as the Music Director of the Buffalo Philharmonic

Orchestra and the Virginia Symphony Orchestra,

Principal Conductor of the Ulster Orchestra in Belfast,

Northern Ireland, and Principal Guest Conductor of the

Brevard Music Center.

Ms. Falletta is the recipient of many of the most prestigious conducting awards

including the Seaver/National Endowment for the Arts Conductors Award, the

coveted Stokowski Competition, and the Toscanini, Ditson and Bruno Walter Awards

for conducting, as well as the American Symphony Orchestra League's prestigious

John S. Edwards Award. She is an ardent champion of music of our time, introducing

over 400 works by American composers, including more than 100 world premieres.

Hailing her as a "leading force for the music of our time", she was honored with

her 10th ASCAP award in 2008. Ms. Falletta serves as a Member of the National

Council on the Arts.

The Buffalo Philharmonic, which celebrated its 75th Anniversary Season, last year,

will release three new recordings, and record a fourth this season and has been

invited to perform at Carnegie Hall in May 2013, as part of the Spring for Music

Festival. This spring, the League of American Orchestras and ASCAP presented the

BPO with a 2010-2011 ASCAP Award for Adventurous Programming and second

place nationally for Programming of Contemporary Music.

Since stepping up to the podium as Music Director of the Buffalo Philharmonic

Orchestra in the fall of 1999, Maestro Falletta has been credited with bringing the

Philharmonic to a new level of national and international prominence. Under her

direction, the Buffalo Philharmonic returned to recording, releasing 12 discs on the

NAXOS label over the course of 10 years, earning two Grammy Awards and five

Grammy nominations, and making the BPO one of the leading orchestras for the

Naxos label and one of the most frequently recorded orchestras in the country. This

season, the BPO is scheduled to release a disc of works by Gershwin and record

music of Duke Ellington for the Naxos label. The Orchestra will add to its Beau

Fleuve discography with two new discs. This season, the BPO will once again be

featured on national broadcasts of NPR's Performance Today and SymphonyCast,

and international broadcasts through the European Broadcasting Union.

Ms. Falletta received her undergraduate degree from the Mannes School of Music in

New York, her master's and doctorate degrees from The Juilliard School.

For more information on JoAnn Falletta, visit her website at www.joannfalletta.com
---
Matthew Kraemer, associate conductor

Recognized for his "musical sensitivity" and "energized

sense of interpretation", conductor Matthew Kraemer is

quickly gaining notice for his inspired performances and

innovative programming. Mr. Kraemer currently serves as

associate conductor of the Buffalo Philharmonic Orchestra

and in this role appears on each of the orchestra's major

series in addition to leading the orchestra's award-winning

education and community engagement programs.

Upcoming season highlights include performances with

fiddler and composer Mark O'Connor, jazz trumpeter

Chris Botti, pianist Jamie Parker, and tour performances

with Tony award-winner Idina Menzel. He additionally

appears as guest conductor with Canada's Mississauga

Symphony, the Rochester Philharmonic, the Butler County

Symphony, and returns to the Jacksonville Symphony

Orchestra for multiple performances.

Recipient of the distinguished Herbert von Karajan Conducting Fellowship and the

Bruno Walter Career Development Grant, Mr. Kraemer served a residency with the

Vienna Philharmonic at the Salzburg Music Festival during the summer of 2006.

His numerous guest conducting engagements have included appearances with the

symphony orchestras of Akron, Asheville, Atlanta, Baltimore, Cincinnati, Hartford,

Indianapolis, Jacksonville, Nashville, North Carolina, Spokane, St. Louis, and

Virginia, the Reno Chamber Orchestra, and in Europe with the Vidin Philharmonic

and the Orquesta de Cadaqués. He has served as conductor for Broadway

superstar Idina Menzel's numerous symphony engagements nationwide and he has

also collaborated with many other leading artists, including Awadagin Pratt, the Los

Angeles Guitar Quartet, Philippe Quint, Jennifer Koh, Ben Folds, Chris Botti, and

Richard Stolzman. He recently conducted the BPO to considerable acclaim when

internationally renowned superstar Lang Lang performed Tchaikovsky's First Piano

Concerto at Kleinhans Music Hall.

Prior to his appointment in Buffalo, Mr. Kraemer completed a highly successful, threeyear

tenure as associate conductor of the Virginia Symphony Orchestra. He has held

positions with the Akron Symphony and the Akron Youth Symphony, having led the

AYS into its 50th anniversary season with a performance in Carnegie Hall.

An Indiana native, Mr. Kraemer is a graduate of Butler University and the University of

Nevada, Reno. He studied conducting in Vienna, Austria with Salvador Mas Conde

and was twice a fellowship conductor at the American Academy of Conducting

at Aspen. His conducting teachers include David Zinman, Robert Spano, Stanley

DeRusha, and Jorma Panula. An accomplished violinist in his own right, he was a

member of the Nightingale String Quartet. Fluent in German and French, his principal

violin teachers include Phillip Ruder, Herbert Greenberg, and Larry Shapiro. When

he is not performing, Mr. Kraemer enjoys cooking, running, and reading. He and

his wife Megan reside in Buffalo, NY.

For more information on Mr. Kraemer, visit his website at www.matthewkraemer.com.

9
---
10

History of the Buffalo Philharmonic Orchestra

As Buffalo's cultural ambassador, the Grammy Award-winning Buffalo Philharmonic

Orchestra under the leadership of music director JoAnn Falletta presents more than 120

Classics, Pops and Youth Concerts each year and reaches over 40,000 students per

year (K-12) across all eight counties of Western New York. Since 1940, the orchestra's

permanent home has been Kleinhans Music Hall, a National Historic Site with an

international reputation as one of the finest concert halls in the United States.

The BPO has toured widely across the United States and Canada including the recent

Florida Friends Tour with JoAnn Falletta in March 2010, the first multi-city tour since

the 1988 European tour. The BPO has been invited to perform at Carnegie Hall as a

participant in the prestigious Spring for Music festival in 2013. This will be the orchestra's

24th appearance at Carnegie Hall and its first since Music Director JoAnn Falletta led

the orchestra in a much heralded appearance there in June 2004.

During the tenure of current music director JoAnn Falletta, the BPO has rekindled its

distinguished history of NPR broadcasts and recordings, including the release of 18

new CDs of a highly diverse repertoire on the NAXOS and Beau Fleuve labels. The

Philharmonic's Naxos recording of composer John Corigliano's "Mr. Tambourine Man:

Seven Poems of Bob Dylan," featuring soprano Hila Plitmann, won Grammys in two

categories of the three for which it was nominated: Classical Vocal Performance and

Classical Contemporary Composition.

For more information about the Buffalo Philharmonic Orchestra please visit

www. bpo.org.

History of Kleinhans Music Hall

Kleinhans Music Hall is a National Historic Site with an international reputation as one of

the finest concert halls in the United States. It was designed by the famous Finnish fatherand-son

team of Eliel and Eero Saarinen with F.J. and W.A Kidd, architects. Kleinhans is

considered one of the most acoustically perfect halls in the world.

Kleinhans Music Hall was built thanks to the generosity and vision of Edward and Mary

Seaton Kleinhans and the stewardship of their charitable dreams by the Community

Foundation for Greater Buffalo. The Community Foundation was bequeathed the estates

of Mr. and Mrs. Kleinhans who made their fortune from the clothing store that bore their

name and who died within three months of each other in 1934.

The Kleinhans, who were music lovers, found the Elmwood Music Hall drafty and

acoustically imperfect and specified their money was to be used "to erect a suitable

music hall…for the use, enjoyment and benefit of the people of the City of Buffalo."

Kleinhans Music Hall was officially opened on October 12, 1940; this date also

marked the Buffalo Philharmonic's first concert in the hall.

There are three notable rooms within Kleinhans: the Main Auditorium, Livingston Hall

(named in memory of Mary Livingston, mother of Mr. Kleinhans), and the Mary Seaton

Room (a memorial to Mr. Kleinhans' wife, Mary Seaton Kleinhans).

For more information about Kleinhans Music Hall please visit www.kleinhansbuffalo.org.
---
JoAnn Falletta, music director

Peter & Elizabeth C. Tower Endowed Chair

Matthew Kraemer, associate conductor

FIRST VIOLIN

Michael Ludwig

concertmaster

Clement & Karen Arrison

Endowed Chair

Amy Glidden

assoc. concertmaster

Louis P. Ciminelli Family

Foundation Chair

Ansgarius Aylward

asst. concertmaster

Marylouise Nanna

Douglas Cone

Frances Kaye

Karen Soffer

Deborah Greitzer

Diana Sachs

Alan Ross

Melanie Haas

Andrea Blanchard-Cone

Loren Silvertrust

SECOND VIOLIN

Antoine Lefebvre

principal

Jacqueline Galluzzo

assoc. principal

Richard Kay

Jeffrey Jones

Frances Morgante

Donald McCrorey

Robert Prokes

Amy Licata

Dmitry Gerikh

Diane Melillo

Shieh-Jian Tsai

VIOLA

Valerie Heywood

principal

Natalie Piskorsky

assoc. principal

Matthew Phillips

Kate Holzemer

Janz Castelo

NingNing Jin

CELLO

Roman Mekinulov

principal

Jane D. Baird

Endowed Chair

Feng Hew

assoc. principal

Nancy Anderson

Monte Hoffman1 Robert Hausmann

David Schmude

Amelie Fradette

BASS

Daniel Pendley

principal

Garman Family Foundation

Endowed Chair

Brett Shurtliffe

assoc. principal

William Burns

Michael Nigrin

John Haas

Makoto Michii

Edmond Gnekow

FLUTE

Christine Lynn Bailey

principal

Betsy Reeds

Natalie Debikey Scanio

PICCOLO

Natalie Debikey Scanio

OBOE

Pierre Roy

principal

Catherine Estes

Anna Mattix

ENGLISH HORN

Anna Mattix

CLARINET

John Fullam

principal

Patti Dilutis

Salvatore Andolina

E-FLAT CLARINET

Patti Dilutis

BASS CLARINET

& SAXOPHONE

Salvatore Andolina

BASSOON

Glenn Einschlag

principal

Ron Daniels

Martha Malkiewicz

CONTRABASSOON

Martha Malkiewicz

FRENCH HORN

Michael Winters*

Kay Koessler Endowed Chair

Daniel Kerdelewicz,

assoc. principal

Daniel Sweeley

Jay Matthews

Duane Saetveit

TRUMPET

Alex Jokipii

principal

Geoffrey Hardcastle

Philip Christner

TROMBONE

Jonathan Lombardo 2

principal

Timothy Smith

BASS TROMBONE

Jeffrey Dee

TUBA

Don Harry

principal

TIMPANI

Matthew Bassett

principal

Dinesh Joseph

asst. principal

PERCUSSION

Mark Hodges

principal

Dinesh Joseph

HARP

Suzanne Thomas

principal

* one year appointment

1 Chair dedicated to the memory

of Maer Bunis

2 Chair dedicated to the memory

of Scott Parkinson

11
---
Matthew Kraemer, conductor

Idina Menzel, special guest artist

Saturday, September 17, 2011 at 8:00 p.m

IDINA MENZEL

Pops Series

Bernstein Overture to Candide

Mancini Strings on Fire

Schwartz/ Day by Day from Godspell

Hermann

Styne/Bennett Gypsy: Selection for

Orchestra

Intermission

An Evening with Idina Menzel

Life of the Party

I'm Not That Girl

Love for Sale/Roxanne

Funny Girl

Don't Rain on My Parade

Asleep on the Wind

No Day But Today

Poker Face

Gorgeous

Look to the Rainbow

Walker/Smoochie

For Good

Defying Gravity

Patrons are asked to turn off all pagers, cell phones and signal watches.

The use of cameras and recording devices is strictly prohibited.

15
---
16

Idina Menzel

Tony Award winner Idina Menzel has a diverse career on

the stage, in films and in music. Idina is a powerhouse of

talent, who constantly amazes audiences with her strong,

emotional performances.

Menzel recently joined the cast of GLEE, the Fox juggernaut

about a varied group of high school kids who come

together to sing as the underdog of glee clubs. Menzel

plays the coach of rival glee club Vocal Adrenaline,

McKinley High Glee Club's main competition. Last year,

Menzel concluded a national tour promoting her album, I

STAND. A skillful songwriter, Idina writes and performs her own music. She released

the Glen Ballard-produced album for her record label, Warner Bros. Records, and

played to sold out houses around the United States. Menzel performed her show in

New York as part of the Mastercard Soundstage series, which aired on PBS. PBS

also aired the concert version of CHESS: THE MUSICAL, recorded at the Royal

Albert Hall where Idina shared the stage with Josh Groban.

In film, Idina appeared opposite Susan Sarandon, Patrick Dempsey and Amy Adams

in Disney's hit, ENCHANTED, directed by Kevin Lima. Prior to that, Idina was seen

in director Chris Columbus' film version of the Pulitzer and Tony Award winning

musical RENT, in which she reprised her role as Maureen. This was on the heels of

her co-starring role in Robert Towne's ASK THE DUST, opposite Salma Hayek and

Colin Farrell.

In television, Idina recently completed an arc on the Grey's Anatomy hit spin-off,

PRIVATE PRACTICE on ABC. In September 2006 Idina premiered the Broadway hit

WICKED in the West End in London to rave reviews and received the Theatregoers

Choice Award for Best Actress in a Musical. She starred in Michael John LaChiusa's

musical SEE WHAT I WANNA SEE directed by Ted Sperling at The Public Theater.

This role garnered Menzel a Drama Desk Award nomination as well as a Drama

League Award nomination. Menzel completed her Tony Award winning performance,

for Lead Actress in a Musical, in WICKED in December 2005. Helmed by Tony

Award-winning director Joe Mantello, WICKED played to packed audiences at the

Gershwin Theatre since it opened in October 2003. Additionally, Menzel was

nominated for a Drama Desk Award for her role as the misunderstood green girl.

Idina received a Tony nomination for her Broadway debut performance as Maureen,

in the original production of the Pulitzer Prize-winning hit RENT. She also earned a

Drama Desk nomination for her performance as Kate in Manhattan Theater Club's

Off-Broadway original musical THE WILD PARTY. She appeared as Sheila in the

Encores! production of HAIR and starred as Amneris in Broadway's AIDA. Her other

Off-Broadway credits include the pre-Broadway, original, buzz-creating production

of RENT and THE VAGINA MONOLOGUES.

For more information please visit www.idinamenzel.com.
---
JoAnn Falletta, conductor

Amy Van Roekel, soprano

Nicholas Phan, tenor

Richard Zeller, baritone

Buffalo Philharmonic Chorus

Doreen Rao, Music Director

Buffalo Niagara Youth Chorus

Saturday, September 24, 2011 at 8:00 p.m.

CARMINA BURANA

Classics Series

Kodály Háry János Suite

Prelude: The Fairy Tale Begins

Viennese Musical Clock Song

The Battle and Defeat of Napoleon

Intermezzo

Entrance of the Emperor and

his Court

Intermission

Orff Carmina Burana

Fortuna imperatrix mundi - Fortune,

Empress of the World

I. Primo vere - In Springtime

Uf dem Anger - On the Lawn

II. In taberna - In the Tavern

III. Cour d'amours - The Court of Love

Blanziflor et Helena - Blanziflor

and Helena

Fortuna imperatrix mundi - Fortune,

Empress of the World

Musically Speaking Sponsored by

Patrons are asked to turn off all pagers, cell phones and signal watches.

The use of cameras and recording devices is strictly prohibited.

17
---
18

Program Notes

Zoltán Kodály

Hungarian composer

Born: December 16, 1882,

Kecskemét

Died: March 6, 1967, Budapest

Háry János Suite

Prelude: The Fairy Tale Begins

Viennese Musical Clock

Song

The Battle and Defeat of Napoleon

Intermezzo

Entrance of the Emperor and his Court

First Classics performance: December 4,

1982, conducted by Julius Rudel; most

recent performance: June 6, 1991,

conducted by Arie Lipsky; duration

24 minutes

Zoltán Kodály's parents were serious

amateur musicians, his father a violinist, his

mother a pianist and singer. Beyond those

at-home advantages, young Zoltán also

revealed a keen aptitude for languages

and literature. With interest in the links

between speech and music, he began to

collect folk tales, tunes and dances. In turn,

for a change in venue and style, Zoltán

enrolled at the Paris Conservatoire, where

he studied the Impressionist techniques of

Claude Debussy.

Upon return to his own turf, Kodály

became an avid nationalist with a gift

for picturesque tone-painting. His lavishly

colored orchestral scores include Dances

of Galanta, the Peacock Variations and

the current symphonic suite derived from

his opera Háry János of 1926 (formally

a comic Singspiel, with songs, dialogue

and dances).

We should note that, particularly in Central

Europe, the decade which followed

World War I was marked by repressive

regimes. For his part, Kodály was well

aware that folklore could be used to

counter political repression without getting

the authors, composers and performers

jailed. But Kodály intended to do more

than offer Háry János as a lampoon to

the prevailing politic. He also wanted to

showcase folksong and folk dances on

the operatic stage. However, to make

it all work in sequence, Kodály himself

composed several of the 'indigenous'

tunes. A tall order.

Háry János is based on the theater farce The

Veteran by Janos Garay. The libretto was

derived by Bela Paulini and Zsolt Harsanyi,

who crafted a Prolog, Four Adventures

and a closing Epilog. In sum, the storyline

tells of the outlandish exaggerations of a

hussar of the Hungarian army who sits in

the village tavern day after day, filling his

gullible listeners with stories of his own

heroism. Nothing that strikes his inebriated

imagination is too far from the truth.

About the status of the opera today,

we should note the work remains in the

repertoire of the Budapest State Opera.

However, it is otherwise relatively unknown

around the world. Fortunately Kodály took

care to preserve the opera's delightful

highlights in the current Háry János Suite,

a setting which enjoys immense popularity

on the orchestral stage.

About the suite, Kodály provided the

following commentary:

"According to a Hungarian superstition,

if a statement is followed by a sneeze

by one of the hearers, it is regarded as

a confirmation of its truth.

No.1 - One of Háry's faithful listeners

sneezes when Háry declares that he

once subdued Napoleon himself. With

this orchestral sneeze, "The Fairy Tale

Begins".

No.2 - Viennese Musical Clock. At the

Imperial Castle in Vienna, the ingenious

Hungarian lad is enraptured by the

famous rotating music box with its little
---
soldier figures in their brave uniforms.

No.3 - Song. Háry and his sweetheart

long for their village home, its quiet

musical evenings with the melodies of

love songs.

No.4 - The Battle and Defeat of

Napoleon. Háry, the General, in

command of his hussars, confronts the

French army. He brandishes his sword,

and lo! they fall like tin soldiers! First,

two at a time, then four, eight, ten and

so on. Finally, Napoleon kneels before

his conqueror and pleads for mercy.

The ironical French victory march is

transformed into a dirge.

No.5 - Intermezzo. This movement has

no special significance.

No.6 - Entrance of the Emperor and his

Court. An ironical march of triumph in

which Háry pictures his entry into the

Imperial Court at Vienna. "Gesundheit!"

N.B. The unusual percussion instrument

heard in the third movement Song, and

also featured in the Intermezzo is the

cimbalom, a kind of dulcimer.

Carl Orff

German Composer

Born: July 10, 1895, Munich

Died: March 29, 1982, Munich

Carmina Burana

Fortuna Imperatrix Mundi -

Fortune, Empress of the World

1 O Fortuna

2 Fortune plango vulnera

I. Primo vere - In Springtime

3 Veris leta facies

4 Omnia sol temperat

5 Ecce gratum

Uf dem anger - On the Lawn

6 Tanz

7 Floret silva nobilis

8 Chramer, gip die varwe mir

9 Reie

10 Were diu werlt alle minute

II. In Taberna - In the Tavern

11 Estuans interius

12 Olim lacus colueram

13 Ego sum abbas

14 In taberna quando sumus

III. Cour d'amours -

The Court of Love

15 Amor volat undique

16 Dies, nox et omnia

17 Stetit puella

18 Circa mea pectora

19 Si puer cum puellula

20 Veni, veni, venias

21 In truitina

22 Tempus est iocundum

23 Dulcissime

Blanziflor et Helena - Blanziflor

and Helena

24 Ave formosissima

Fortuna Imperatrix Mundi -

Fortune, Empress of the World

25 O Fortuna

First Classics performance: October 2,

1982, conducted by Julius Rudel; most recent

performance: April 29, 2007, conducted

by JoAnn Falletta; duration 65 minutes

College drinking songs? Sassy tunes

and seductive harmonies? Lusty lyrics?

In scenes from heartache to joy? From

vagrant seminarians and monks dating

back to at least 740AD? In low-German,

quasi French and Latin patois? All of this

stored in monastery archives?

Yes, all of the above and more: add a

chorus, soloists and symphony orchestra

and sometimes dancers and stage props

and we have Carmina Burana - a musical

and theatrical masterpiece - Hollywood

will one day bring this dazzling score to

the wide and silver screen.

Carmina means 'songs,' and Burana

refers to a particular province named

Beuren, nestled in a little valley at the

19
---
20

edge of the Bavarian Alps about 30 miles

south of Munich. It was at this spot that

an ancient monastery stood untouched

by public hands for at least a millennium

until it was converted to the public domain

in 1803. Its archival libraries revealed a

wealth of ecclesiastical literature as well as

a collection of secular-cum-earthy poems

titled Codex latinus monacensis 4660,

now part of the permanent collection at

the German State Library in Munich.

Given his relentless search for primary

sources, it was natural that Orff (who

was a lifetime citizen of Munich) would

discover the text and set it to music, which

he completed in 1937. The piece has

been a knock-out concert favorite ever

since. About his choice of ancient and

arcane sources the composer provided the

following comment:

"I am often asked why I nearly

always select old material, fairy tales

and legends, for my stage works.

Because I do not feel them as being

old but rather as being valid. The

time element disappears, and only

the spiritual power remains. My entire

interest is in the expression of spiritual

realities. I write for the theater in order

to represent a spiritual attitude."

With regard to these celebrated lyrics and

their ostensibly bawdy references perhaps

far too much has been made. By current

Hollywood standards the text would not

receive more than a yawning PG. To be

sure, the text is far from sacred - we have

here in fact a secular oratorio - but in

the department of racy innuendo it is no

match even for the libretto of Mozart's Don

Giovanni.

Here Carl Orff has scored a work of

striking musical appeal, directly biased

with tantalizing rhythmic figures and

layered with wide open harmonies,

stunning melodies and the energy of

perpetual youth. The mix of choral, solo

and orchestral interplay maintains an

inspired arch from the opening chant to its

exhilarated return near the close.

As an aside it is remarkable that the

repetitive techniques employed by Orff in

Carmina have been fashionably adapted

into the styles of many of today's 'up-todate'

composers. The catchy mode even

has a name: 'minimalism,' i.e., using

small rhythmic and harmonic fragments

over and over again with little change

spread over lots of time. But there is not

a grain of tedium in Carmina Burana -

where Carl Orff's lyrical gift glides with

breezy color over every phrase and every

punchy rhythm. One might say the work

sings and dances from medieval stained

glass brought to life - reverent no less but

on secular themes.

Program Notes by Edward Yadzinski

Check out YOUR Buffalo Philharmonic Orchestra online!
---
Amy van Roekel, soprano

Praised by the WashingtonPost as a "lovely singer and

accomplished actress" with "limpid tone and agile high

notes," soprano Amy van Roekel has established herself

as a vibrant and captivating artist with opera companies

and orchestras across the country. She has developed a

reputation for combining her beautiful, clear voice with a

powerful dramatic presence and sensitive musicianship to

create unique and compelling portrayals on the stage.

She has received many awards and honors that include being

a 1st Place winner of the National Symphony Orchestra's

Concerto Competition, a Regional Finalist in the Metropolitan Opera National Council

Auditions, and a two-time award winner in the Washington International Competition

for Singers. Ms. van Roekel is also an accomplished pianist and holds degrees from the

University of Michigan and the University of Maryland.

Nicholas Phan, tenor

American tenor Nicholas Phan recently made his debut

at the BBC Proms, and this season returned to the San

Francisco Symphony for both Bach's Mass in B Minor and

Carmina Burana, to Carnegie Hall for Mendelssohn's Elijah

with the Oratorio Society of New York, and to the Music of

Baroque for performances of selections by Purcell.

A graduate of the University of Michigan, Mr. Phan also

studied at the Manhattan School of Music and the Aspen

Music Festival and School, and is an alumnus of the Houston

Grand Opera Studio and the Glimmerglass Opera Young

American Artists Program. He was the recipient of a 2006 Sullivan Foundation Award

and 2004 Richard F. Gold Career Grant from the Shoshana Foundation.

Richard Zeller, baritone

One of America's foremost baritones, Richard Zeller is

internationally acclaimed for both his concert and opera

roles. He is known for his sonorous dramatic voice, a

compelling stage presence and outstanding musicianship.

Zeller's full 2011/12 season include Carmina Buranas

with the Buffalo Philharmonic and Huntsville Symphony, as

well as a Missa Solemnis with the Charlotte Symphony,

Bach's Magnificat with Winter Park Bach Festival and a

Beethoven Ninth with the San Diego Symphony.

Richard Zeller's recordings include the critically acclaimed Merry Mount by Howard

Hanson for Naxos, Deems Taylor's Peter Ibbettson with Naxos, and the world premiere of

Henri Lazarof's Fifth Symphony on Centaur Records – all recorded with Gerard Schwartz

and the Seattle Symphony. He has recorded Dvorak's Te Deum with Zdenec Macal and

the New Jersey Symphony for Delos, and David Schiff's Gimpel the Fool for Naxos, as

well as Beethoven's Symphony No. 9 for Centaur Records, and Virgil Thompson's Lord

Byron and Aaron Copland's The Tender Land for Koch International.

21
---
22

Janice Adair

Catherine Agnello *

Constance Allison

Laura Anderson

Patrick B. Barrett

Tediyra Barton-Harris

Steven Bench *

Keith Bielmeier

Robert Biniszkiewicz

Peter Bleckinger

Aurora Boneberg

Devin Borget

Andrew Boron

Mark Borowski *

Peter Brand

Ian Brost

Lora Park Bunting

Caitlin Burns

Cara Calabrese

Margaret C. Callanan

Matthew Chisholm

Cecilia Chmurzynski

John Cline

Joyce Cline

John Collyer

Andrea Copley *

Donald Copley

Brenda J. Cowe

George H. Davidson

Jennifer Davie

Sandra DeGlopper

Florine Dehon

William E. DeRoo

Silvia de Rosas *

Richard Doetterl

Amanda Dragone

Helen Duchene

Jane Faruga

Angelo Fatta

Brad Felton

Karen Ferington

John Fleischman, Jr.

June R. Foster

Andrew Fritz

Kelly C. Gawron

Jennifer Georgakis

Doreen Rao, Music Director

John Fleischman, Assistant Conductor

Susan Schuman, Principal Accompanist

Donald Gibson

Melanie Goehle

Jocelyn Gordon

Holly Grant *

Ray Halbert

Jacob Harter

Michael Hayes

David Henry

Lynn Hodson-Thompson

David Hofmeier

Tiffany Imerese

Ute Inselmann

Dee Jakel

Daniel P. Johnson

Bruce N. Keiser *

Raymond J. Kelleher *

Andrew Kiersz

Donna Kiersz

Robert T. Kiersz, Jr.

Kristin K. Kight

Paul Kight

Jeffrey Kihl

Nicholas Kilkenny

Paula King

Claudia Koczka

Natalia Kojanova

Brett Kostrzewski

Joel S. Kumro *

Jane Lehman

Ann W. Lewis

Carolyn Liarakos

Alexander Lipnicki

Paul A. Litwin

Robert Liu

Christopher Lynch

Ada MacFarlane

Caroline Mallonee

Ralph Marino

Louise Marvin

Jane Mathias

Sarah Maybee

Cynthia Mayo

Diana Mercurio

Heidi Miller

Nell J. Mohn

Jeff Mokski

Jessica Nichele

Lori Pacer

Virginia Little Paul

Karen Peck

Andrea Perez-Mukdsi

Andrea Perry

Janice M. Peters

Ana Pope

Brett Potts

Barry L. Radlin

John Reagan

Jeffrey F. Renzoni

Meta Reuse

Philip Reynolds

Elizabeth Sanderson

Brian Sawka

Dennis G. Scaringi

Joan Schade

W. Scott Schaefer

Rebecca Schmitz

Leah Schneider

Victor Schuel

Clare Schultz

Nancy Shambach *

Veronica Shanchuk

Andrea Shurtliffe

J. Scott Slocum

J. Robert Smythe

Beverly Sutor

Cedric Taporco

Jennifer Temple

Alfonzo Tyson

Kathy Vallone

A. Kathy Vinchkoski

Kathleen Vitagliano

Frank Wesselenyi

Catherine T. Weyand

Karen E. Williams *

Gary Wilson

Mary Lou Wiltberger

Linda Yund

Marlene P. Zimpfer
---
Buffalo Philharmonic Chorus

The Buffalo Philharmonic Chorus is an independent, non-profit organization dedicated

to enriching the Western New York region through the performance of high-quality,

diverse musical programs and developing singers in the choral art. With a roster of

approximately 140 singers, the BPC is frequently heard as the principal guest chorus

of the Buffalo Philharmonic Orchestra.

What began in 1937 as the Buffalo Schola Cantorum became the Buffalo

Philharmonic Chorus in 1992 to reflect its close association with the BPO and

to clarify its mission to the public. Founder Jessamine E. Long led the group until

1945 when she was succeeded by a succession of noteworthy musicians, including

Cameron Baird and the twenty-two year leadership of Thomas Swan. Now under

the direction of master teacher and celebrated conductor Doreen Rao, the Buffalo

Philharmonic Chorus has a self-sponsored concert series as well as makes various

guest appearances throughout the region.

The BPC participates in a number of community service events throughout the year

including the Martin Luther King Celebration and the Daemen College graduation,

both held at Kleinhans Music Hall.

2011-2012 marks the 75th anniversary season of the Buffalo Philharmonic Chorus

and part of each self-sponsored concert will reflect and celebrate our rich, vibrant

history and celebrate the excitement of choral music.

Doreen Rao, music director

Doreen Rao's distinguished career as conductor and

master teacher links the standards of professional

performance with the goals of music education.

Celebrated for her spirited and moving concerts,

Rao's commitment to choral music is recognized in her

innovative programming, teaching initiatives, worldwide

conducting appearances, and her award-winning Choral

Music Experience publications with Boosey & Hawkes.

Appointed Music Director and Conductor of the Buffalo

Philharmonic Chorus in 2008, Rao holds the Cameron

Baird Conductor's Chair working in close collaboration with the Grammy Award

winning Maestro JoAnn Falletta and the Buffalo Philharmonic Orchestra. In this

position, Rao leads the newly inaugurated Buffalo Sings! Community Concert Series

dedicated to building bridges between artists and their audiences through concert

performances and educational programs throughout Western New York.

23
---
Saturday, October 1, 2011 at 8:00 p.m.

JOHN PIZZARELLI PERFORMS

THE MUSIC OF HAROLD ARLEN

Pops Series

Matthew Kraemer, conductor

John Pizzarelli, vocals

Larry Fuller, piano

Martin Pizzarelli, bass

Tony Tedesco, drums

Gershwin/ Overture from

McBride Girl Crazy

Leroy Anderson Jazz Legato

Jazz Pizzicato

Arr. Norris Here Come the Bands

Intermission

A SALUTE to HAROLD ARLEN

Overture:

Stormy Weather/The Man that

Got Away/Blues in the Night

That Old Black Magic

Get Happy

Somewhere Over the Rainbow

Paper Moon

Come Rain or Come Shine

Let's Fall in Love

One for My Baby

I've Got the World on a String

Patrons are asked to turn off all pagers, cell phones and signal watches.

The use of cameras and recording devices is strictly prohibited.

25
---
26

John Pizzarelli

John Pizzarelli, the world-renowned jazz guitarist

and singer, was called "Hip with a wink" by Town &

Country, "madly creative" by the Los Angeles Times and

"the genial genius of the guitar" by The Toronto Star.

When he performs with his wife, singer/actress Jessica

Molaskey, and his father, guitar legend Bucky Pizzarelli,

they were labeled "the First Family of Cool" by the San

Francisco Chronicle and "the von Trapps on Martinis" by

The New Yorker. According to The New York Times, "the

Pizzarelli-Molaskey duo are as good as it gets in any

entertainment medium."

Using performers like Nat "King" Cole, Frank Sinatra and Joao Gilberto and the

songs of composers from Richard Rodgers, George Gershwin to James Taylor,

Antonio Carlos Jobim and Lennon & McCartney as touchstones, John Pizzarelli has

established himself as one of the prime interpreters of the Great American Songbook

and beyond, bringing to his work the cool jazz flavor of his brilliant guitar playing

and singing.

Pizzarelli started playing guitar at age six, following in the tradition of his father.

After playing in pickup groups and garage bands through high school he began

exploring jazz with his father as a teenager, and was able to perform with a number

of great jazz musicians who would be a major influence on his work, including

Benny Goodman, Les Paul, Zoot Sims, Clark Terry and Slam Stewart.

Pizzarelli signed with the GRAMMY® Award winning label Telarc International

in 1999 recording a string of successful CDs starting with Kisses In The Rain, a

diverse set of standards and original tunes that showcases the spontaneity of his live

performances within a studio setting, followed by Let There Be Love.

In addition to being a bandleader and solo performer, John has been a special

guest on recordings for major pop names such as James Taylor, Natalie Cole, Kristin

Chenoweth, Tom Wopat, Rickie Lee Jones and Dave Von Ronk, as well as leading

jazz artists like Rosemary Clooney, Ruby Braff, Johnny Frigo, Buddy DeFranco, Harry

Allen and, of course, Bucky Pizzarelli. He was featured opposite Donna Summer,

Jon Secada and Roberta Flack on the Grammy Award winning CD, Songs From The

Neighborhood: The Music of Mr. Rogers in 2005.

A veteran radio personality, Pizzarelli hosted "New York Tonight" on WNEW

from 1984 to 1988. John has also successfully launched "Radio Deluxe with

John Pizzarelli," his nationally syndicated radio program, co-hosted with his wife,

Broadway star Jessica Molaskey. Bringing warmth, humor and that long-lost "live"

feel back to radio, the show takes place in their "deluxe living room high atop

Lexington Avenue" and the conversations are relaxed, candid, and off-the-cuff as

is the music. He has interviewed a wide range of guests from Liza Minnelli, Mitch

Albom and Regis Philbin to Kurt Elling, Annie Ross and Keely Smith. The show is

available globally as a podcast at www.johnpizzarelli.com and via iTunes.

For more information please visit www.johnpizzarelli.com.
---
Friday, October 7, 2011 at 10:30 a.m.

Sunday, October 9, 2011 at 2:30 p.m

KRIEGER PLAYS BEETHOVEN

Classics Series

JoAnn Falletta, conductor

Normal Krieger, piano

Gaubert Les Chants de la Mer

(Songs of the Sea)

Trois tableaux symphoniques

Chants et parfums, mer colorée

La ronde sur la falaise

La bas, très loin, sur la mer

Beethoven Concerto for Piano No.4 in

G Major, Op.58

Allegro moderato

Andante con moto

Rondo: Vivace

Norman Krieger, piano

Intermission

Nielsen Symphony No.4, Op.29

"The Inextinguishable"

Allegro

Poco allegretto

Poco adagio quasi andante

Finale: Allegro

Musically Speaking Sponsored by

Patrons are asked to turn off all pagers, cell phones and signal watches.

The use of cameras and recording devices is strictly prohibited.

27
---
28

Norman Krieger

A native of Los Angeles, Norman Krieger is one of the most

acclaimed pianists of his generation, highly regarded as

an artist of depth, sensitivity and virtuosic flair.

Norman Krieger's training began in Los Angeles under the

tutelage of Esther Lipton. At the age of 15, he became

a full scholarship student of Adele Marcus at the famed

Juilliard School, from which he received both Bachelor's

and Master's degrees. Subsequently, he studied with

Alfred Brendel and Maria Curcio in London, and was

awarded an Artists Diploma from the New England

Conservatory, where he worked with Russell Sherman.

A champion of contemporary music, Norman Krieger features the music of John

Adams, Leonard Bernstein, John Corigliano, Daniel Brewbaker, Judith St. Croix,

Lukas Foss and Lowell Liebermann among his active repertoire.

Norman Krieger's recordings include four albums available on the Artisie 4 label:

"Norman Krieger Piano Recital," with music by Bach, Mozart, Beethoven and

Chopin; "American Piano Concertos," featuring works by MacDowell and David

Wiley with the Roanoke Symphony Orchestra, conducted by Mr. Wiley; "Raising

the Roof," an album of chamber music by Haydn, Bloch, Bruch and Martinu; "The

Prince Albert Chamber Music Festival," including works by Barber, Beethoven, Bizet,

Chopin, Schubert and Tchaikovsky. Other releases include the two Brahms concerti

with the Orchestre Symphonique Francais on the Beaufour label, an all-Gershwin

album on Stradivari Classics and "Summerdays," music of Barber, Berg, Bernstein,

Gershwin, Glazunov, Lehar and Mozart, from the Musical Masterworks Festival at

Old Lyme, featuring Mr. Krieger and additional artists on Well-Tempered.

For more information please visit www.normankrieger.com.

Program Notes

Philippe Gaubert

French composer, flutist and conductor

Born: July 5, 879, Chahors, Lot

Died: July 8, 1941, Paris

Les Chants de la Mer (Songs of

the Sea)

Trois tableaux symphoniques

Chants et parfums, mer colorée

La ronde sur la falaise

La bas, très loin, sur la mer

These are the first performances of this work

on the Classics series; duration 15 minutes

As an exceptional student on the violin

and flute at the Paris Conservatoire,

Philippe Gaubert won top prizes in both,

in addition to the premier prix in fugue and

counterpoint. In turn, he was appointed as

the assistant conductor of the Conservatoire

orchestra. His career followed an unusual

path, switch-hitting from violin to flute

with the leading symphonic and theater

orchestras of Paris. After serving in the

French army during the First World War,

Gaubert became the music director of the

Paris Opera in 1920, a post he held for

almost 20 years.

While filling his role on the podium,

Gaubert also wrote several orchestral and

chamber works. Composed in 1929, Les

Chants de la Mer is a suite of three tone

pictures, the first two inspired by the poetic

imagery of the French Symbolist writer Paul

Fort (1872-1960). Fort's set of narrative

verses titled La rond autour de monde
---
(The round-dance across the world) is

an idyll to nature, including picturesque

evocations of the Mediterranean Sea from

the Côte d'Azure to the African shores.

Low, tenebrous strings open the first

tableau, Chants et parfums, mer colorée

(Songs and perfumes, colored sea). The

undulating timbres serve as escort to the

vague sonorities which glide over the

swells. Although cast with Impressionist

nuance - i.e. shimmering strings, misty

woodwinds, mellowed brass - the music

is altogether tonal, with shades of Cesàr

Franck and Claude Debussy. We should

also note the latter's La Mer (The Sea)

inspired a genre of French seascape music,

including Chausson's Poème de l'Amour

et de la Mer (Poem of Love and the Sea)

and Ibert's Escales (Ports of Call).

For the second movement Gaubert offers

a scherzo titled La ronde sur la falaise (A

rondo on the cliffs). Woodwinds and harp

scamper with spry glimmers, sprinkled over

playful strings. Light brush strokes from the

orchestral palette continue with a shower

of wind, sand and sea spray upon the

rocky cliffs.

The third movement sound-scape carries a

title presumably derived by the composer -

La bas, très loin, sur la mer (There below,

very far away, upon the sea). In the brass

and horns we hear an evocation of Roman

legions, with Moorish intonations. Soft

surges in the low strings again serve as the

primary motif. In a moment a tepid breeze

in full sunlight arrives like the legendary

Sirocco that blows from the Mediterranean

shores of North Africa. After a melange of

tonal effects, the tonal mirage closes like a

distant sunset in C major.

For reference, the verse of Paul Fort is at

once extravagant and exhilarating. A few

fragments speak volumes:

Movement I:

Douceur d'aimer! douceur de vivre !

chants et parfums, mer colorée des plus

touchantes harmonies de l'air, nuées et nue

mirées, mer chantante, mer parfumée...

que je vous aime!

So dear to love! so dear to live! melodies

and perfumes, the sea colored with the

most touching harmonies in the air, clouds

and inspired reflections, the singing sea,

the sea perfumed...how I love you!

Movement II:

Nous foulerons sur la falaise, à la musique

du vent frais, les roses fleurettes de mai

jusqu'à nous en trouver bien aise. Dansons

la ronde sur la falaise!

We will play on the cliffs, to the music of

the fresh breezes, the roses blooming in

May so easy for us to find. Let us rounddance

on the cliffs!

Ludwig van Beethoven

German composer and pianist

Born: December 17, 1770, Bonn

Died: March 26, 1827, Vienna

Concerto for Piano No.4 in G

Major, Op.58

Allegro moderato

Andante con moto

Rondo: Vivace

First Classics performance: May 3,

1936, conducted by Creighton Churchill,

with pianist Stanley Fletcher; most recent

performance: October 25, 1998,

conducted by Hermann Michael, with

pianist Louis Lortie; duration 34 minutes

Beethoven was fortunate to enjoy the rare

gift of a magnificent mental ear - while

composing he could hear perfectly all of

the pitches and harmonies in his head. But

we must also note that earning a livelihood

depended upon his reputation as one

of the great piano virtuosos of his time.

And like Mozart before him, Beethoven

composed a lot of music for his own use,

including his piano concertos. It is in that

regard that his hearing loss had to be

the most compromising. Composer Louis

Spohr noted:

29
---
30

"Beethoven's playing was not a treat,

for in the first place the piano was

badly out of tune, which Beethoven

minded little since he did not hear it.

In forte passages the poor deaf man

pounded on the keys till the strings

jangled, and in the piano passages

he played so softly that whole groups

of notes were omitted."

However, Beethoven never lost touch

with daily life and revealed a keen

interest in the technical development of

the piano. In fact, the composer was on

the scene at exactly the right moment to

take full advantage of important technical

developments. For example, the new

'pianoforte' as it was known (literally: softloud)

could produce a range of dynamic

contrasts which compared favorably with

today's modern concert grands. And

Beethoven did all he could to encourage

various manufacturers. He once wrote to a

leading piano builder:

"It is certain that the current ways of

playing the pianoforte are still the most

uncultivated of all the instruments. I

am glad, my dear fellow, that you

are one who comprehends and feels

that one may sing on the pianoforte,

if one is capable of feeling."

Beethoven was speaking about the new

Viennese six-octave instrument which not

only added a full octave of expressive

potential, but was the first keyboard to be

triple-strung, i.e. with three strings under

each hammer. Beyond that, the pedal

mechanism to shift the hammers was so

accurate a player could strike just one

string at a time. Indeed, Beethoven calls

for the effect throughout the Andante with

the instruction una corda. Our modern-day

pianists achieve the effect by employing

the soft pedal on a concert grand.

But of course, where Beethoven inspired

the greatest changes in both piano building

and performance technique is found in his

legacy to the repertoire: thirty-two sonatas,

five splendid concertos, a double concerto

and a broad array of other works which

feature the keyboard in a variety of roles.

Completed in 1805 and dedicated to

Archduke Rudolf, Concerto No.4 begins

with a deflecting surprise - as if the soloist

were browsing over the keys barely

aware that an orchestra was standing

by. This is a major departure from the

classical norm of a big intro from the full

orchestra, first and second themes, etc. But

in a moment the improvised feel transforms

into an orchestral bouquet, with full-scale

pyrotechnics from the keyboard.

The opening to the second movement

Andante is likewise unusual - we first hear

a stark recitative from the imperial strings,

with angular rhythms poised over plaintive

replies from the soloist in E minor. The yinyang

interplay is doubtless a symbolic

dialog - a kind of intermezzo - about which

Beethoven gave no direct hint. A dreamy

final lyric from the soloist closes the scene.

En garde. A brilliant dawn is about to break,

as a wake-up call from the morning breeze

captures the scene in full. Back in G major,

the dance-like energy is one of the happiest

and most playful movements from the desk of

Beethoven - the bringer of Promethian joy.

Carl Nielsen

Danish composer

Born: August 7, 1804, Sortelung

Died: December 12, 1886, Copenhagen

Symphony No.4, Op.29 "The

Inextinguishable"

Allegro

Poco allegretto

Poco adagio quasi andante

Finale: Allegro

First Classics performance: January 16,

1988, conducted by Chosei Komatsu;

most recent performance: October 14,

2001, conducted by JoAnn Falletta;

duration 36 minutes

There are a few rare tales about

individuals who - despite zero opportunity
---
- were nonetheless able to reveal their

extraordinary gifts, though in unexpected

ways. One such example concerns Danish

composer Carl Nielsen, the seventh of

twelve children from an exceedingly

poor family. The story holds that at five

years of age Nielsen went to the wood

pile behind the family shed, selected

and assembled a set of fire logs that

produced different pitches when struck

(like a primitive marimba) and proceeded

to 'perform' popular folk tunes that he had

heard in the neighborhood. To the point,

Nielsen never forgot his heritage. He

once observed:

"My mother always said to me 'You

should always endeavor to carry out

your work to the best of your ability,

and don't forget that Hans Christian

Andersen was poor like you.' These

words of my mother's I have always

born in mind. What I have done, I

have always done with delight, it has

been a labor of love."

Distressed by the horrific losses in the trench

fighting of World War I, Nielsen defiantly

sought to commemorate the eventual

and inexorable victory of life, political

antagonists notwithstanding. Composed

in the years 1914-1916, opus 29 carries

the universal title L'inestinguibile (at the

time French was the accepted language

for international diplomacy).

Nielsen himself was at the podium for the

premiere in Copenhagen in 1916, and

for the printed program he provided the

following commentary:

"The composer has tried through the

title L'inestinguibile to indicate in one

word what only Music itself is able to

express fully: the elementary will of life.

Facing a task like this: to express life

abstractly, where the other arts remain

unable, forced to use indirect means,

to make extracts, to symbolize, there

and only there does music feel at home

in its own original territory, rightly in its

own element, simply because it has

performed its task just by remaining

itself. For it is life there, where the

others (fine arts) only represent and

paraphrase life. Life is unconquerable

and inextinguishable, and there

it struggles, is wrestled, begotten

and consumed today as tomorrow,

tomorrow as today, and everything

turns back. Once again: Music is life,

and, like it, inextinguishable."

The music throughout Symphony No.4

is alternately vigorous and peaceful,

beginning with a frenzied declaration then

moderating with 20th Century complexions

of impatient intervals, symbolic rhythmic

figures and a crossword puzzle of

harmonic ingenuity. The Poco allegretto

of the second movement is described by

historian Povl Hamburger as "an idyllic

moment of chamber music featuring

primarily the woodwinds...almost out of

place in a great symphonic work, but

written in a charming manner with a fine

and fastidious instrumentation."

With a special comment on the expansive

third movement, Nielsen described the

grandly sonorous principal subject as "an

eagle riding on the wind," doubtless a

metaphoric reference to the mission of the

entire symphony: "Life is unconquerable -

music is life" A grand, sweeping episode

in the strings leads directly into the fourth

movement Finale.

At this point the conflict within the musical

drama is heightened by a second set

of kettledrums, which Neilsen indicates

must be played in a 'menacing manner.'

Then, ever so gradually, and with marked

deliberation in tempo and color, the worldly

turbulence is overcome. Near the close a

grand orchestral passage triumphantly

retraces the simple, persevering theme

introduced in the first movement.

Program Notes by Edward Yadzinski

31
---
32

Saturday, October 15, 2011 at 8:00 p.m.

"LIVE AND LET DIE"

A SYMPHONIC TRIBUTE TO PAUL MCCARTNEY

Pops Series

Martin Herman, conductor

Tony Kishman, vocals

Jim Owen, guitars/vocals

John Merjave, guitars/vocals

Chris Camilleri, drums

Program to be Announced from the stage

Selections to be chosen from the following:

17

All My Loving

Bluebird

Can't Buy Me Love

Eleanor Rigby

Get Back

Golden Slumbers

Hello Goodbye

Here Comes the Sun

Hey Jude

I Am the Walrus

Intro/Band on the Run

Jet

Let It Be

Listen to What Man Said

Live & Let Die

Long & Winding Road

McCartney Medley (Maybe I'm Amazed,

My Love, Let 'em In")

Mull of Kintyre

Ob-La-Di

Penny Lane

Silly Love Songs

Uncle Albert

When I'm 64

Yellow Submarine

Yesterday

Patrons are asked to turn off all pagers, cell phones and signal watches.

The use of cameras and recording devices is strictly prohibited.
---
Martin Herman, conductor

A resident of Los Angeles, Martin Herman is an active

conductor, composer and arranger. As an expert on the

Beatles and their various solo projects, and the longtime

music director of Classical Mystery Tour, Martin was

commissioned to provide the orchestral transcriptions for

the Live and Let Die show. Martin studied conducting and

composition at Duke University, University of Pennsylvania,

University of California at Berkeley, and spent two years

in Paris on a Fulbright Grant where he worked as a

composer and conductor with the "New American Music

in Europe" and "American Music Week" festivals.

Tony Kishman, bass guitar, piano, vocals

Actor, singer, and recording artist, Tony Kishman doubles

as featured performer and producer of Live and Let Die,

in which he performs the music of Paul McCartney. Tony

also developed and stars in the Beatles tribute show

Twist and Shout and starred for six years in Broadway's

smash hit, Beatlemania. During the 1990's, Kishman

joined the Classic recording group Wishbone Ash as

bassist and vocalist. Tony also performs in the well

known and highly successful Beatles symphony show,

Classical Mystery Tour.

Jim Owen, rhythm guitar, piano, vocals

Singer, arranger, and musician, Jim Owen was just sixteen when he made his first

professional appearance in a Beatles tribute band. By the time he was eighteen,

he was touring internationally with various productions of Beatlemania around the

world. In addition to his role in Twist & Shout, Jim stars in the symphonic Beatles

show, Classical Mystery Tour, which he developed and produced, and in Tony

Kishman's symphonic McCartney review, Live and Let Die. Jim Owen was born and

raised in Huntington Beach, California.

John Merjave, guitar

John Merjave has been singing and playing instruments since he was very young.

He started as a drummer until a high school garage band led him to the guitar which

he has been playing ever since. John Merjave began playing in the Beatles' tribute

band Liverpool as the George Harrison lead guitar role. He continues to write and

play music with his band 27 West and collaborator Kevin Thomas.

Chris Camilleri, drums, vocals

Born and raised on Long Island, New York, Chris Camilleri started listening to

Beatles records at a young age and, inspired by Ringo, took up the drums, the

instrument to which he has devoted his professional career. Chris has played drums

for major classic rock touring artists, including Peter Noone (of Herman's Hermits

fame), Badfinger, Micky Dolenz of "The Monkees", Joe Walsh, and other Beatlesera

bands.

33
---
Meet a Musician

Amy Glidden

Buffalo Philharmonic Orchestra

associate concertmaster

First season with the Buffalo Philharmonic: 2000-2001

Hometown: Wichita, Kansas

Education: The University of Kansas,

Cleveland Institute of Music

What is your favorite memory of playing with the BPO?

My first concert with the BPO was our televised broadcast concert with Mark O'Connor.

We were playing a very difficult work that he wrote, and we had to go into makeup

before the concert, and at the last minute the BPO bought us all matching purple sweaters

to wear on stage. The orchestra was very tense with so many unusual variables, but the

concert was a big success!

Some of my favorite concerts have been our trip to Carnegie Hall, our gala performance

with Itzhak Perlman, and our performance with Yo-Yo Ma. Also very memorable are the

performances of Mahler Symphonies. Each one is a revelation to me, and an inspiration.

When did you start playing your instrument and know you wanted to be a

professional musician?

I didn't know I wanted to be a professional musician until I was a junior in college. I was

a biology major and suddenly added a violin performance major, then went to a music

conservatory for graduate school. Although I had played the violin since I was three and

loved it, I had no idea as to the careers in music that were available. I now make it a

point to talk to my students about how they can perform music, whether as an amateur

or professional, throughout their lives.

What do you love most about Buffalo?

My biggest and happiest surprise in Buffalo is the community pride in the orchestra. I can

go to the grocery store or the doctor's office and everyone I meet has something positive

to say about the orchestra.

Don't miss Amy Glidden perform the Prokofiev Violin Concerto No.2 with the Buffalo

Philharmonic Orchestra on Saturday, November 19th and Sunday, November 20th

as a part of the Tchaikovsky's Fourth program. For tickets visit www.bpo.org or call

(716) 885-5000.

Check out YOUR Buffalo Philharmonic Orchestra online!

35
---
38

Annual Fund

The Buffalo Philharmonic Orchestra gratefully acknowledges contributions, grants and sponsorships received

from the following individuals, corporations and foundations who gave $500 and above. While the thousands

upon thousands of donors whose gifts ranged from $1 to $499 are too numerous to list here, we gratefully

acknowledge those additional individuals, groups, companies and foundations who give to us so generously.

Millonzi Society

$150,000+

The Cameron and Jane Baird

Foundation

BlueCross BlueShield

of Western New York, Inc.

Louis P. Ciminelli Family

Foundation

Carol & Angelo Fatta

First Niagara Bank

M&T Bank

The John R. Oishei Foundation

$100,000-$149,999

Clement & Karen Arrison

Peter & Elizabeth Tower

$50,000-$99,999

The Baird Foundation

Community Foundation for

Greater Buffalo

HSBC Bank USA N.A.

Jaeckle Fleischmann &

Mugel, LLP

Corinne & Victor Rice

$25,000-49,999

Brent D. Baird

Mr. Bruce C. Baird and

Mrs. Susan O'Connor-Baird

Robert J. & Martha B. Fierle

Foundation

Mr. & Mrs. Peter B. Flickinger

Grigg Lewis Foundation

National Grid

J. Warren Perry & Charles

Donald Perry Memorial

Mr. & Mrs. George F. Phillips, Jr.

Mr. and Mrs. John R. Yurtchuk

Maestro's Circle

$10,000-$24,999

Anonymous

Ms. Cindy Abbott Letro and

Mr. Francis M. Letro

Elizabeth & John Angelbeck

Mr. & Mrs. Brian D. Baird

Mr. Charles Balbach

Bank of America

Paul & Catherine Beltz

The Rev. and Mrs. Peter Bridgford

Anthony J. & Barbara Cassetta

The Robert and Patricia Colby

Foundation

Anthony J. & Carmela M. Colucci

Members, Erie County Music

Educators Association

Ms. JoAnn Falletta

& Mr. Robert Alemany

Foundation for Jewish Philanthropies

Dick & Pat Garman

Ann & Gordon Getty Foundation

Gioia Fund at the

Community Foundation

Daniel & Barbara Hart

Mr. & Mrs. George G. Herbert

Hodgson Russ LLP

John & Cheryl Howe

Independent Health

Roberta & Michael Joseph

Seymour H. Knox Foundation

Bradford Lewis, Ph.D.

LPCiminelli Employees

"Creative for a Cause"

Mr. & Mrs. Carl J. Montante

Moog, Inc.

Mulroy Family Foundation

The Vincent and Harriet Palisano

Foundation

Perry's Ice Cream Co., Inc.

The Frederick S. & Phyllis W. Pierce

Family Fund

Salvatore's Italian Gardens

Scott and Rachel Stenclik

Mr. & Mrs. Robert B. Skerker

Harriet B. Stewart

Superior Group

Time Warner Cable

Uniland Development Company

Joyce L. Wilson

Leslie & Howard Zemsky

Concertmaster Circle

$5,000-$9,999

Anonymous (2)

Dr. & Mrs. Friedrich J. Albrecht

Allentown Village Society, Inc.

Joan and Peter Andrews

Family Foundation

Anthony Baldi & Associates

AXA Network, LLC

Buffalo Pharmacies Inc.

Mr.* & Mrs. William Christie

Mrs. George A. Cohn

Anthony J. and Carmela M. Colucci

Dr. Timothy G. DeZastro

Donald & Sarah Dussing

Ecology & Environment, Inc.

Ellicott Development Company

Eric Mower & Associates

Neil & Doris Farmelo

Robert Fashano

Ms. Lynne M. Finn

Fisher-Price, Inc.

Mr. & Mrs. William J. Frederick

Friends of the BPO

General Mills Foundation

George & Bodil Gellman

Gordon & Gretchen Gross

Charles J. Hahn & Joy Rogers

Harter, Secrest & Emery, LLP

Carlos and Elizabeth Heath

Foundation

Barbara W. Henderson

The Hicks Fund

Monte Hoffman & Niscah Koessler

Mrs. L. Nelson Hopkins, Jr.

Nick & Bonnie Hopkins

Ms. Nancy Julian* &

Mr. Kenneth Schmieder

Dwight E. King & Leslie Duggelby

Carl Klingenschmitt & Sue Fay Allen

Mrs. Mary M. Koessler

Mr. John W. Koessler, III

Kosciuszko Foundation

W. & J. Larson Family Foundation

Linton Foundation

Sandra & Dennis McCarthy

Merchants Insurance Group

Carolyn & Bob Montgomery

Mrs. Frances L. Morrison

Mr. & Mrs. Reginald B. Newman, II

Dr. Patricia & Burt Notarius

Daniel C. Oliverio

Ms. Catherine F. Schweitzer

Vaspian

Carolyn & Joe Voelkl

The Western New York Foundation

Dorothy Westhafer

Encore Circle

$2,500-$4,999

Anonymous

Vanda Albera
---
Mr. & Mrs. Martin G. Anderson

Andy T. Anselmo

Ansie Baird

Anthony Baldi & Associates

Nancy S. Barrett

James M. Beardsley & Ellen M. Gibson

Mr. & Mrs. Gary M. Brost

Paul & Niamh Cronin

Mr. & Mrs. Joseph S. DePaolo

Alan Dozoretz & Judith Clarke

Bob & Doris Drago

R. Irene Dwigans

E3 Communications, Inc.

Mr. & Mrs. Warren E. Emblidge

Mrs. Rosemary G. Esty

Marion S. Fay

Edward N. Giannino, Jr.

Dr. Samuel Goodloe, Jr.

Ms. Constance A. Greco

Dr. Elisabeth Zausmer &

Dr. Angel A. Gutierrez

Mrs. Halim A. Habib

The Hahn Family Fund

Mr. Thomas J. Hanifin

Edwin P. Hart

Mr. & Mrs. G. Wayne Hawk

Barbara W. Henderson

Mr. & Mrs. John G. Horn

John J. & Maureen O. Hurley

Dr. Robert & Hana Jacobi

Kenneth A. & Gretchen P. Krackow

Reverend* & Mrs. Warren W. Lane*

Lawley Service Insurance

Ms. Marie A. Marshall

Mrs. Frances L. Morrison

Carol & Emmett Murphy

Dr. & Mrs. George H. Nancollas

Donald F. & Barbara L. Newman

Mr. & Mrs. James D. Newman

Mr. & Mrs. Franklin Nice

Jane & Don Ogilvie

Karen & Richard Penfold

Polish Cultural Institute

The Reid Group

Miss Frances M. Rew

Mr. & Mrs. David L. Rogers

Maureen W. & Dr. Richard J. Saab

Ms. Anne Schneider &

Mr. Ronald L. Frank

Arnold Shykofsky

Joan & Roger Simon

Drs. Stephen & Monica Spaulding

Steve & Nicole Swift

UBS

Michal & Jim Wadsworth

Mr. & Mrs. Robert C. Wetter

Mr. & Mrs. Kurt Wiedenhaupt

Xerox Corporation – Buffalo

C. Richard & Joyce T. Zobel

Principal's Circle

$1,750-$2,499

Anonymous

John & Joan Bozer

Michele O. Heffernan & John J. Cordes

Dr. and Mrs. Ralph W. Hinds, III

Drs. Clement and Margot M. Ip

Saxon P. Graham, Jr.

Mr. & Mrs. Richard A. Honsberger

Mr. & Mrs. Robert Irwin

Joy Family Foundation

C.F. and A.F. Kurtz

Norma Jean Lamb

Dr. & Mrs. William D. Lawrence

Mr. and Mrs. Sanford M. Nobel

Mrs. Judith Parkinson

Richard and Karen Penfold

The Ralph F. Peo Foundation, Inc.

Ms. Georgeann W. Redman

Drs. Robert and Maxine Seller

Lowell and Ellen Shaw

Lionel Shub*

Frank & Deetta Silvestro

James and Karen Stephenson

Superior Staff Resources, Inc.

Mr. & Mrs. Ted W. Wetherbee

Mrs. Mary W. Wickett

Paul B. Zuydhoek & Tamar P. Halpern

Bravo Circle

$1,000-$1,749

Anonymous (3)

Morton and Natalie Abramson

Charlotte C. Acer

Mr. & Mrs. Philip C. Ackerman

Ronald E. and Mary L. Banks

Mr. Steve Earnhart &

Mrs. Jennifer Barbee

Dr. Kevin J. Barlog &

Dr. Elizabeth A. Barlog

David & Wendy Barth

Brenda B. Benzin

Mr. and Mrs. Joseph F. Biondolillo

Dennis and Leilani Black

Mr. and Mrs. Donald K. Boswell

Elaine & Mel Brothman

Mrs. Dorothy J. Brown

Buffalo Bills Youth Foundation

Buffalo Dental Group

Richard and Barbara Byron

C.S. Behler, Inc.

Rudolph and Ann Casarsa

Barbara & Jerry Castiglia

Mrs. John Churchill

Ciminelli Development Company

Elizabeth G. Clark

Dr. Elizabeth Conant &

Ms. Camille Cox

Ellen Todd Cooper

Andrea and Donald Copley

Mrs. Betty Cornelius

Marilyn R. Cornelius

Arthur & Elaine Cryer

Roger and Roberta Dayer

Joan M. Doerr

Juan & Silvia B. De Rosas

Lois and Tim DiCarlo

Alan Dozoretz & Judith Clarke

George T. Driscoll, Jr.

Mr. & Mrs. James J. Eagan

Mr. & Mrs. Douglas P. Easton

Jeanne C. Eaton

Peter & Maria Eliopoulos

Paul Erisman

Ms. Gretchen Fierle

Peter & Ilene Fleischmann

Mrs. Burt P. Flickinger, Jr.

Frey Electric Construction Co., Inc.

Bill & Marjorie Gardner

Reed E. Garver*

Mr. and Mrs. Michael A. Giambra

Dr. and Mrs. Louis J. Goldberg

Ms. Sarah C. Goodyear

Goya Foods Great Lakes

Susan Graham & Jon Kucera

Dr. James O. Grunebaum &

Dr. Penelope Prentice

Mr. & Mrs. Paul R. Guenther

Mr. & Mrs. Charles F. Harrington

Dr. & Mrs. David F. Hayes

Mr. & Mrs. Sherlock A. Herrick, Jr.

Dr. Theodore Herman and

Ms. Judith Ann Cohen

Lynn & Richard Hirsch

Hiscock & Barclay

Duncan C. Hollinger

Dr. & Mrs. Curtis F. Holmes

Mr. and Mrs. Frederic K. Houston

Mrs. Jayne T. Hubbell

Mr. & Mrs.* Philip H. Hubbell

Drs. Clement & Margot Ip

Laurie Menzies, Esq. &

David James. MD

William & Genevieve James

Bruce and Gail Johnstone

Dr. & Mrs. Kenneth R. Kahn

Kavinoky & Cook

Kathleen Keenan-Takagi

Ms. Kathie A. Keller

Milton Kicklighter

Mr. Douglas G. and

Mrs. Nancy M. Kirkpatrick

Mr. and Mrs. John T. Kociela

Ms. Ellen Koessler

Bob & Liz Kolken

Kreher Fund at The Community

Foundation for Greater Buffalo

Robert and Mary Ann Kresse

Rise & Kevin Kulick

Paul & Claudine Kurtz

Michael & Stephanie Laipple

Norma Jean Lamb

Lamparelli Construction Company

Dr. and Mrs. Louis Lazar

Dr. and Mrs. Richard V. Lee

Mrs. Blossom Levy

Gerald S. Lippes Esq.

Howard and Lorna Lippes

Dr. & Mrs. Jack Lippes

Judy & Edward* Marine

Jim and Kathy Marshall

Mr. & Mrs. William E. Mathias II

Ray and Louise McGrath

Elsie P. & Lucius B. McCowan Private

Charitable Foundation

39
---
40

Julian R. McQuiston

Enrico & Marisa Mihich

Mr. & Mrs. John A. Mitchell

Mr. & Mrs. Randall M. Odza

Dr. & Mrs. James P. Nolan

Oliver's Restaurant

Dr. Joseph A. Paris

Patricia* & Robert Patterson

Richard and Karen Penfold

Dr. & Mrs. John H. Peterson

Rev. Diane & Craig Phinney

Mr. & Mrs. Henry M. Porter

J. Forrest Posey

Mr. and Mrs. Theodore J. Pyrak

Ms. Elaine Ragusa

Dr. Doreen Rao

Sylvia L. Rosen

Russo Family Charitable Foundation

Anne Saldanha M.D.

Saldanha Family Foundation

W. Scott & Kristin Saperston

Mr. & Mrs. David M. Schmidt

Mr. & Mrs. Gary M. Schober

Mr. & Mrs. William D. Schulz

Sealing Devices, Inc.

Joseph & Carole Sedita

Sevenson Environmental Services, Inc.

Mr. & Mrs. Arthur M. Sherwood

Shuman Family Foundation, Inc.

Robert and Dixie Siegel

Mrs. Maurice C. Smith

Rosemarie C. Steeb

James and Karen Stephenson

Supermarket Management Inc.

Joseph R. Takats Foundation

Mr. James J. Tanous

Tapecon Inc.

Nancy & Donald B.* Thomas

Hon. and Mrs. Paul A. Tokasz

Mr. & Mrs. Peter R. Travers Jr.

Tzetzo Brothers, Inc.

Nicole & Nicholas Tzetzo

Mr. & Mrs. Joseph Varga

Persis & Robert Vehar

Vogt Family Foundation

The VIYU Foundation

Nancy S. Warner

Jeffrey and Susan Wellington

Janet & Wayne Wisbaum

Mr. & Mrs. Frederick S. Wood

Mr. Paul M. Wos

Gregory & Donna Yungbluth

Paul Zarembka

Dr. & Mrs. Stanley Zionts

C. Richard and Joyce T. Zobel

Patron Circle

$750-$999

Anonymous (2)

Dr. David B. Bender

Natalee Benstock

Barbara & Alan Blackburn

The Reverend Sarah J. Buxton-Smith

Mr. & Mrs. James M. Campbell

Mrs. Janet M. Casagrande

James and Mary Frances Derby

Mr. & Mrs. Cornelius F. Donovan

Dr. Philip Dvoretsky and

Dr. Linda B. Ludwig

Mr. and Mrs. Arthur Efron

Nitza & Avery Ellis

Stephen & Suzanne Evans

Mr. and Mrs. James S. Fanning

Dr. Robert Fenstermaker

Mr. Kim A. Ferullo

Mrs. George H. Forman

Arnold* and Sue Gardner

Robert* & Roberta Grimm

Mr. Gary B. Greenfield

Mr. and Mrs. Philip M. Henderson II

Ms. Michaelene J. McFarlane

Mr. & Mrs. Sheldon E. Merritt

Dr. & Mrs. Donald E. Miller

Mr. Henry Murak

Mary G. Peterson

Ted & Mary Ann Pyrak

Darwin and Ruth Schmitt

William Kenneth Schmitt Fund

Dr. Gary & Patricia Smith & Family

Edwin and Virginia Sprague

Mrs. Sheila Trossman

U-C Coatings Corporation

Dr. Raymond & Sheila Vaughan

Dr. Pierre Williot

Dr. Michael F. Wilson

Crescendo

$500-$749

Anonymous (5)

Morton and Natalie Abramson

Mr. David Alexander &

Ms. Margaret McDonnell

Burtram W. & Ellen Anderson

Monica Angle &

Samuel D. Magavern III

Architectural Resources

Mr. & Mrs. James M. Arena

Astronics Corporation

Bradford H. Banks

Mr. and Mrs. Tibor Baranski

Mrs. Rudolf L. Bauer

Dr. & Mrs. Theodore S. Bistany

Barbara & Alan Blackburn

Rev. Paul R. Bossi

Mr. & Mrs. F. B. Bossler

Mrs. Janet A. Boyce

Mr. and Mrs. William D. Broderick

Dorothy J. Brown

Mr. & Mrs. Bruce R. Brown

Bernice M. Brown

Drs. Douglas R. & Barbara B. Bunker

Mr. William D. Burns

Tim and Belle Butler

Dr. & Mrs. John L. Butsch

Mrs. Robert E. Buyer

The Buyer Family

Mr. & Mrs. James E. Buzzard

Grace E. Caines

Joseph and Susan Cardamone

Jackie Castle

Mr. & Mrs. James L. Cecchini

Miss Victoria A. Christopher

Dr. Sebastian & Marilyn Ciancio

Nan & Will Clarkson

Mrs. Ruth Cohan

Debby and Gary Cohen

Joan & Michael Cohen

Mr. & Mrs. Frank M. Collins

Commercial Pipe & Supply

Complete Personnel Solutions

Conax Technologies LLC

Marilyn R. Cornelius

Mrs. Nancy A. Cunningham

Michael D'Ambrosio

Mr. & Mrs. Lawrence H. Dautch

Beverly J. Davies

Juan & Silvia B. De Rosas

Dr. & Mrs. David C. Dean

Mr. & Mrs. Joseph A. Deck

Dental Health Products

Mr. & Mrs.* Roger V. DesForges

Mr. & Mrs*. David A. Di Carlo

Elvira A. Diaz

Don Davis Auto World

Richard and Cornelia Dopkins

Mr. and Mrs. Shaun T. Doyle

David T. Duff

David and Martha Dunkelman

Ms. Marianne G. Dunn

E. I. Dupont De Nemours & Company

Mr. & Mrs. Edward Eardley

Dr. Edward G. Eberl

Stephen Edge & Cynthia Swain

Nitza & Avery Ellis

Erie and Niagara Insurance

Association

Joan Michael Eschner

Mr. & Mrs. Robert Falkner

Paul & Karen Ferington

Ms. Joyce E. Fink

Mr. George Fisher

Thomas and Grace Flanagan

Mr. and Mrs. Robert B. Fleming, Jr.

Dr. & Mrs. William A. Fleming

Mrs. George H. Forman

Laurence & Eileen Franz

Maryann Saccomando Freedman

Dr. Ellen S. Friedland &

Dr. Thomas A. Hays

Mr. Richard L. Friend

Mr. & Mrs. Philemon R. Galanis

Bill and Marjorie Gardner

Mrs. Billie Jean Gates

Joe and Lynne Giroux

Dr. & Mrs. Louis J. Goldberg

Mr. Mark Goldman

Grand Island Transit

Mr. & Mrs. Robert M. Greene

Kathryn Karlic & Peter Gross

Mr. & Mrs. Paul R. Guenther

Thomas & Barbara Guttuso

Mr. & Mrs. Kenneth I. Hardcastle

Mr. & Mrs. Paul M. Hassett Jr.

Arlene Haug

Dr. & Mrs. Reid R. Heffner, Jr.
---
Ms. Ana M. Hurd

Mr. & Mrs. Clinton F. Ivins, Jr.

Suzanne M. Jacobs

Craig & Deborah Johnston

Ms. Marilyn Jones

Mr. & Mrs. Timothy W. Jones

Joy Family Foundation

Dr. & Mrs. Stephen T. Joyce

Marie L. Keller

Mrs. Irvine J. Kittinger, Jr.

Ms. Juliet E. Kline

Dr. & Mrs. Robert A. Klocke

The Herbert & Ella Knight Family

Charitable Fund

James & Mona Kontos

Mr. & Mrs. James Kramer

Ms. Joan Kuhn

Ted Kuzniarek

Mr. & Mrs. Erick J. Laine

Peter T. Lansbury, Ph.D.

Mr. & Mrs. Paul R. Lazarus

Mrs. Kalista S. Lehrer

Fern & Joel Levin

Dr. George R. Levine

Mr. and Mrs. Jordan A. Levy

Mr. & Mrs. Robert Lindenfeld

Rita and Richard Lipsitz

Anne and Alan Lockwood

Dr. & Mrs. Thomas A. Lombardo Jr.

Mr. James L. Magavern

Mr. Edward G. McClive

Dr. G. Allen McFarren

McLain Foundation

The Mentholatum Company

Mrs. Anita Kaye Militello

Dr. & Mrs. Donald E. Miller

Mr. & Mrs. Hugh I. Miller, Sr.

Government

Mr. John E. Milner

Dr. Michael C. Moore

Andrew T. Morgan

Ms. Sandra G. Morrison

Mr. & Mrs. Leo W. Nalbach

Philip and Linda* Nicolai

Mr. & Mrs. Sanford M. Nobel

Dr. & Mrs. James P. Nolan

Phillip L. Nones

Mr. Robert J. North, Jr.

Ms. Susan Nusbaum and

Mr. Ronald G. Van Blargan

Osmose, Inc.

Thomas & Lois Pause

Mr. & Mrs. Roger J. Peck Jr.

Mr. & Mrs. James R. Peterson

Mr. Gregory Photiadis and

Ms. Sandra Chelnov

The Pierce Family Charitable

Foundation

Mr. & Mrs. Christopher D. Porter

John & Betty Preble

Mr. Joseph Priselac, Jr.

Mr. & Mrs. Charles J. Privitera

Mr. Dennis P. Quinn

Mr. Paul D. Reid and Family

Mr. & Mrs. John Reinhold

Susan Reynell

Rigidized Metals Corporation

Dianne & Irving Rubin

Elizabeth S. Rundle

Mr. & Mrs. W. Scott Schaefer

Mr. & Mrs. William L. Scheider

Mr. & Mrs. John H. Schlegel

Mr. Daniel J. Schmauss

Mr. David Schopp

Mr. & Mrs. William D. Schulz

City of Buffalo

State of New York

Erie County

Major support for the BPO is provided

by Erie County, County Executive Chris

Collins, the Erie County Legislature.

National

Endowment

for the Arts

Gift-In-Kind Partners

Ms. Cindy Abbott Letro &

Mr. Francis M. Letro

Avenue Art & Frame

Balloon Masters

Bennett Direct, Inc.

Bloom Floristry

Brian Parisi Copiers Systems, Inc.

Buffalo and Erie County Public Library

Buffalo Limousine

Buffalo News

New York State

Council on the Arts

New York State Office of Parks,

Recreation & Historic Preservation

Western New York

Delegation

Senator George Maziarz

Senator Michael Ranzenhofer

Buffalo Spree Publishing, Inc.

Ronald W. Daniels

Downtown Buffalo

Eber Bros. Wine & Liquor Corp.

Enterprise Car Rental

Paul Ferington

Gates Circle Liquors

Hyatt Regency Buffalo

Jaeckle, Fleischmann & Mugel, LLP

Casey Kelly

Caren & Stuart Shapiro

Mrs. Brenda K. Shelton

Dr. Peter Siedlecki &

Ms. Lynnette N. Mende

Mr. Carlton M. Smith

Ruth & Ted Steegmann

Mr. Eric Stenclik

Mr. & Mrs. Edwin F. Stohrer

Mr. & Mrs. Edwin F. Stohrer, Jr.

Mr. & Mrs. David G. Strachan

Jonathan S. Sullivan & Laura Devine

Marilyn & Irving Sultz

Mr. & Mrs. Harry A. Sultz

Mr. Robert Tell & Ms. Rebecca Landy

Mr. & Mrs. John M. Thomas

Freddie M. Thompson

Dr. & Mrs. D.J. Triggle

Rev. William R. Tuyn

U-C Coatings Corporation

Ron and Susan Uba

Ms. Francine Valvo

Mr. William Vosteen

Mr. & Mrs. Peter J. Walsh

Dr. Maryjane Petruzzi &

Dr. Wayne R. Waz

R. Thomas Weeks

Ms. Marlene A. Werner

Dr. & Mrs. Milton M. Weiser

Dr. & Mrs. Richard A. Wiesen

WILLCARE

Mr. & Mrs. Frederick S. Wood

Dr. & Mrs. Douglas F. Wright

Arden and Julie Wrisley

Stephen & Maureen Wydysh

Cynthia Zane & Stephen Mazurak

Amy M. Zeckhauser

*deceased

Senator Timothy M. Kennedy

Senator Patrick Gallivan

Senator Catharine M. Young

Senator Mark J. Grisanti

Assemblyman Daniel Burling

Assemblymember Jane L. Corwin

Assemblyman John Ceretto

Assemblyman Dennis Gabryszak

Assemblyman James Hayes

Assemblyman Sam Hoyt

Assemblyman Andrew Goodell

Assemblymember Crystal O. Peoples-Stokes

Assemblyman Kevin S. Smardz

Assemblyman Robin Schimminger

Assemblyman Mark J. Schroeder

Maureen's Wholesale Flower Market

McCullagh Coffee

Ray and Louise McGrath

Nickel City Studio Photography

Oliver's Restaurant

Rich Products

Vaspian

Zenger Group

41
---
42

Tribute Registry

Music is timeless & lives on, as do memories of good deeds & special friends. Gifts made in honor or

memory are lasting tributes that perpetuate those memories while ensuring the music lives on. Donors'

names are listed below the names of those in whose honor or memory the gifts were made. These gifts were

received between April 1, 2011 through August 15, 2011.

In Honor Of:

Buffalo Philharmonic Orchestra

Kenneth Young &

Kathleen Rizzo Young

Barbara Bunker

Your Birthday

Mr. & Mrs. Murray Levine

Colin Drury

Your Birthday

Sara, Jim, Amy, Albert & Judy

JoAnn Falletta

Her outstanding contributions to

our community

Buffalo Alumnae - Sigma Alpha Iota

Kathy Kreis & Bob Grzedzicki

Your Wedding

Anne Reagan Perricelli

In Memory of:

Ruth K. Astmann

Andrew K. Astmann

Lucille S. Cole

Dr. and Mrs. Philip Culliton

Gloria Drake & Lisa Horlein

The Fatta Foundation

Peter and Marion Feig

Amy J. Habib

Ms. Eileen Ludders

M & T Charitable Foundation

Mrs. Jacqueline M. Melton

Karen Rumsey

Mr. and Mrs. J. C. Slesinger

William E. Conron

Anita L. Conron

Charles E. Dowdell

Robert & Maxine Johnson

Philip Easter

Anonymous

Halim A. Habib

My Husband

Amy J. Habib

Alfred M. Haines

Mr. and Mrs. Edwin F. Stohrer, Jr.

K. N. Leibovic

Your Birthday

Mr. & Mrs. Martin Lewin

Cindy Abbott Letro

Your Birthday

Mr. & Mrs. Charles F. Kreiner, Jr.

Gilda Raiken

Your 85th Birthday

Donald & Dvorah Joseph

Eli & Velina Ruckenstein

Dr. Robert Seller

Your 80th Birthday

Mrs. Florence Fradin

Dr. & Mrs. David H. Kelly

Dr. Sidney Haniford

Mrs. Beatrice Haniford

Edwin R. Ilardo

Anonymous

Nancy L. Julian

Dan & Barbara Hart

Dr. Carlos & Judith Jimenez

Annette & Joseph Masling

Mathew & Anne Knapp

Barbara A. McCulloch

Wolfgang Kolodziej

Mary Bloom

Larry Justinus

Chet Kryszczuk

Nancy B. Kryszczuk

Ann Marie Long

Darlene Gorski

Dr. Horace X. Mann

Dr. Sharon F. Cramer

Marjorie Shafer

Your 90th Birthday

Barbara L. Organek

Mary Mancuso Sottile

Your 100th Birthday

Marjorie Schafer

Vanda Spicola*

My Mother

Vanda A. Albera

James & Karen Stephenson

Your 50th Wedding Anniversary

Quinton & Ingrid Meyer

Katherine Paglia

Lois D'Arcangelo

Olga A. Deavitt

Mrs. David C. Eaton

Michael F. Kennedy

Mr. & Mrs. Edwin R. Sherwood

Scott Parkinson

Judith Parkinson

Dr. J. Warren Perry

Stanton H. Hudson, Jr. & Anthony P.

Ippoli

Stephen M. Shrestinian

Peter & Maria Eliopoulos

Edward S. Spector

Leonard & Kathleen Lenihan

Vanda Spicola

My Mother

Vanda A. Albera

Norman Warren

For his love of music and the BPO.

Bruce Thomson
---
Planned Giving

Musical Heritage Society

We are pleased to list the current members herein because they have realized the importance

of "the gift that keeps giving." Each of these individuals or couples have made provisions for a

contribution to the BPO in their estate plans and while there are many different methods, the most

common is by adding the BPO as a beneficiary in one's will.

Charlotte C. Acer

Elizabeth & John Angelbeck

Anonymous

Carol & Charles Balbach

The Reverend and

Mrs. Peter W. Bridgford

Anthony J. Cassetta

Barbara & Jerry Castiglia

Mrs. Ida Christie

Louis & Ann Louise Ciminelli

Ms. Elizabeth G. Clark

Mr. & Mrs. William M. Clarkson

Miss Mary E. Clemesha

Ruth Cohan

Mrs. George Cohn

Dr. Elizabeth Conant

Marilyn R. Cornelius

Beverly Davies

Mrs. Roberta Dayer

Charles* & Nancy Dowdell

Sarah & Donald Dussing

Mr. Neil R. Farmelo

Angelo & Carol Fatta

Mrs. Marion Fay

Judith & John* Fisher

Mr. & Mrs. Byron R. Goldman

Gordon & Gretchen Gross

Marion Hanson

Margaret W. Henry

Mr. & Mrs. George G. Herbert

Monte & Cheryl* Hoffman

Mrs. L. Nelson Hopkins, Jr.

Bruce and Gail Johnstone

Kathleen Keenan-Takagi

The Herbert & Ella Knight

Family Charitable Fund

Norma Jean Lamb

Mrs. Virginia Lane*

Mr. & Mrs. Wilfred J. Larson

Francie D. & Joel N. Lippman

Marie Marshall

Mr.* & Mrs. J. A. Mattern

Donna & Leo Nalbach

Drs. Howard & Karen Noonan

Robert & Marion North Fund

Dr. J. Warren Perry*

Mrs. Frederick S. Pierce

Dr. Julia C. Piquette

Edwin Polokoff

Dennis Quinn

Virginia Ann Quinn

Evelyn Joyce Ramsdell

John and Susan Rowles

Nancy E. Ryther

Paul and Gerda Sanio

Catherine F. Schweitzer

Roger & Joan Simon

Mr. & Mrs. Robert B. Skerker

Dennis M. Smolarek

Jane Snowden

Harriet Stewart

David D. Stout &

Janet E. Popp Stout

Gerald R. Strauss

Sue W. Strauss

Mrs. Donald Thomas

Jim and Michal Wadsworth,

as trustees of the Mulroy,

Heath and Colby Foundations

Mrs. Robert Warner

Mrs. Marjorie W. Watson

Wayne & Janet Wisbaum

Betty Ann Withrow

Mr.* & Mrs. J. Milton Zeckhauser

* deceased

Bequests

Dr. Theodore S. Bistany Charles Dowdell Dorothy F. Goldman Marilyn J. Hillman

Donald I. MacDavid Richard F. Miller Catherine K. Parkes

Trusts

Anonymous

Cameron Baird Fund

Virgil A. and Margaret L. Black Memorial Fund

Mildred Bork Conners & Joseph E. Conners Fund

Buffalo Philharmonic Orchestra Society Inc.

Endowment Fund

Grace Neff Daniels Memorial

Joan Hetzelt Hanifin Memorial Fund

The Herbert & Ella Knight Family Charitable Fund

Janet K. Larkin & John D. Larkin III Fund

Albert H. Laub Bequets

Marie A. Marshall Fund

MPZ Endowment Fund

Benjamin and Lila Obletz Endowment Fund

Susan Harvey Prentis Fund

Natalie Kubera Roth Fund

William Kenneth Schmitt Fund

Franz & Katherine Stone Trust

Joseph and Loretta Swart Fund

Nellie B. Warner Endowment Fund

Charlotte Potter Whitcher Trust

The Buffalo Philharmonic Orchestra endorses the LEAVE A LEGACY® WESTERN NEW YORK

program, an initiative of the WNY Planned Giving Consortium and a public awareness campaign

of the National Committee on Planned Giving.

Make a Difference in the Lives that Follow

www.leavealegacyWNY.org

To ensure your wishes are carried on for generations to come,

you may call (716) 879-0944 for more information.

43
---
BPO Administrative Staff

Administration

Daniel Hart

Executive Director

Diana Martinusek

Executive Assistant

Development

Jennifer Barbee

Director of Development

Kelly Campbell

Annual Fund Coordinator

Wendy Diina

Event and Project Coordinator

Barbara A. McCulloch

Manager of Information

Resources

Alison Merner

Development Assistant

Education

Robin Parkinson

Director of Education

Patrick O'Herron

Education Coordinator

Finance

Kevin James

Finance Director

Nicole Bzibziak

Financial Accountant

Jacqueline Henry

Receptionist/Finance Assistant

Susan Hill

Payroll and Accounts Payable

Associate

Information

Technology

Mike Rosati

IT Administrator

Marketing

Michael Giambra

Interim Marketing Director

Lindsay Adornetto

Marketing Associate

Patrick O'Herron

Marketing Assistant

Jennifer L. Smith

Media & Community Relations

Manager

Cary Michael Trout

Graphic Designer Consultant

Ed Yadzinski

BPO Historian

Operations

Lisa J. Gallo

Director of Orchestra and

Artistic Operations

Maggie Shea

Operations Coordinator

Jennifer N. Comisso

Personnel Manager

Becky Davidson

Assistant to JoAnn Falletta

Richard George

Master Property Person, IATSE

local 10

Charles Gill

Assistant Property Person,

IATSE local 10

Travis Hendra

Assistant Librarian

Patricia Kimball

Principal Librarian

Jon Mosbo

Production Manager

Elaine Riek

Audience Services Manager

Sales and Patron

Services

Michael Giambra

Director of Sales and Patron

Services

Joshua Fehskens

Sales Manager

Adam Cady

Patron & Ticket Services

Manager

Phil Cunningham

Ticket Services

Anika Lindquist

Ticket Services

Abbott Nixon

Ticket Services

Cheryl Selib

Ticket Services

John Van Haneghan

Patron Services Supervisor

Subscription Sales

Deborah Camizzi

Solomon Dixon

Karl Hohn

Sarah Mayer

Andrea Zlotowitz

Kleinhans Music

Hall Staff

Chuck Avery

Master Electrician, IATSE

local 10

Danny Gill

Sound Engineer, IATSE

local 10

Charlie McDonald

Chief Engineer

45
---
Patron Information

Backstage Access

Access to backstage after a performance

is strictly controlled. If you wish to see one

of the performers please present yourself at

the Stage Door (on the left as you face the

stage) at the end of the performance. After

a 10-minute waiting period the House

Manager will be notified when and if

access is available.

Cameras, Recording Devices

Filming and/or recording a performance is

strictly prohibited. If you have a camera or

recording device when you arrive, please

ask an usher to arrange for safekeeping of

the item until after the performance.

Food and Beverages

Food and beverages are not allowed in

the main hall.

Handicapped Seating/Assistance

Patrons requiring special assistance are

urged to contact the Box Office prior

to attending the concert for special

handicapped seating arrangements.

Handicapped seating is located on the

main floor on the extreme outside aisles

from rows A-CC. Hearing Assistance

Devices are available at the coat check.

Late Arrivals

Patrons arriving after the performance has

started will be seated at the discretion of the

House Manager. Seating will not be until

the first suitable break or at intermission.

Note that late seating may not be in the

purchased location.

Lost and Found

You may present items to any usher. All items

found in the hall will be held at the coat

check area during the performance and

at the Kleinhans Music Hall Administrative

Office (716) 883-3560 (press 7).

Medical/Security

Security staff is available at all times. Please

notify an usher if there is a security need.

Medical assistance is available when

required; again please notify an usher or

any BPO staff member.

Parking Options for 2011-2012 Season

Kleinhans/Grace Manor Lots $5

For Saturday evening performances.

Located on Wadsworth St. and North St.

Price Rite North Street Lot

FREE Parking for Saturday/Sunday concerts

at 253 North Street for 200 vehicles. This

is a comfortable walking distance to the

music hall.

D'Youville College $2

On nights where capacity crowds are

expected, Parking and Shuttle service

will be available from 6:30pm and

immediately following the concert from the

lot located at 430 West Ave.

Join our email club at www.bpo.org for

notification or call the box office at 885-

5000 for exact dates.

Symphony Shuttles

Salvatore's Symphony Shuttle $10

Salvatore's Italian Gardens, offers shuttle

service from the rear corner of their parking

lot for $10. Patrons are encouraged to enjoy

a gourmet dinner before the concert from

a Prix Fixe "Symphony Menu" for $28.95.

Call 683-7990 for dinner reservations

and 885-5000 to reserve your seat on the

shuttle. Dinner and shuttle sold separately,

shuttle leaves at 7pm sharp.

Henry's Restaurant

Enjoy dinner at Henry's located on the

ground floor of Kleinhans Music Hall before

evening BPO concerts. For reservations

call (716) 881-4438.

Sonoma Grille

Sonoma Grille in Snyder offers shuttle

service on Saturday concert nights for $10

round trip (minimum passengers required to

run.) Call 204-0251 for dinner reservations

and 885-5000 to reserve your seat on the

shuttle. Dinner and shuttle sold separately.

Shuttle leaves at 7pm sharp.

31 Club

31 Club, on N. Johnson Pk. in Buffalo, offers

a Prix Fixe dinner menu and complimentary

shuttle service to and from Kleinhans on

all concert nights. Call 332-3131 for

reservations or more information.

47