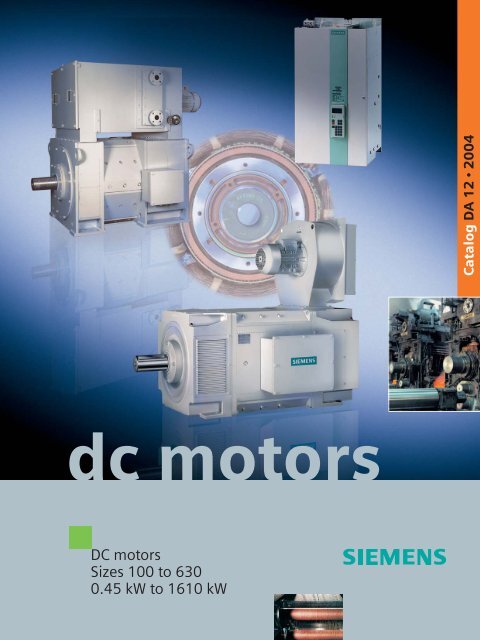 Selection and ordering
Selection and ordering
Selection and ordering
SHOW MORE
SHOW LESS
You also want an ePaper? Increase the reach of your titles
YUMPU automatically turns print PDFs into web optimized ePapers that Google loves.
Catalog DA 12 • 2004dc motorsDC motorsSizes 100 to 6300.45 kW to 1610 kW
---
Catalogs for "Large Drives"SINAMICS G150 Drive ConverterCabinet Units 75 kW to 560 kWD 11Components forAutomationCA 01Order No.:German: E86060-K5511-A101-A2English: E86060-K5511-A101-A2-7600DC MotorsDA 12Sizes 100 to 6300.45 kW to 1610 kWOrder No.:German: E86060-K5312-A101-A1English: E20002-K5312-A101-A1-7600Order No.:German: E86060-D4001-A100-C1English: E86060-D4001-A110-C1-7600A&D MallInternet:www.siemens.com/automation/mallSIMOREG DC-MASTER 6RA70 DA 21.1Digital Chassis ConvertersOrder No.:German: E86060-K5121-A111-A1English: E86060-K5121-A111-A1-7600French: E86060-K5121-A111-A1-7700SIMOREG K 6RA22Analog Chassis ConvertersDA 21.2Order No.:German: E86060-K4021-A121-A1English: E86060-K4021-A121-A1-7600Spare Parts for SIMOREGChassis ConvertersDA 21 Ewww.siemens.de/simoregwww.siemens.com/simoregSIMOREG DC MASTER 6RM70Digital Converter Cabinet UnitsDA 22Order No.:German: E86060-K5122-A101-A1English: E86060-K5122-A101-A1-7600SIMOVERT MV Medium-VoltageDrives 660 kVA to 7200 kVADA 63Order No.:German: E86060-K5363-A101-A2English: E86060-K5363-A101-A2-7600TrademarksAll designations marked in this Product Brief with ® areregistered trademarks of Siemens AG.Other designations used in this document may be trademarks;the owner's rights may be violated if they areused by third parties for their own purposes.
---
DC motorsSizes 100 to 6300.45 kW to 1610 kWCatalog DA 12 · 2004IntroductionWelcome to Automation<strong>and</strong> DrivesDC technology remainsof prime importanceDC motors – For whattypes of applications?Why use DC motors fromSiemens?1ExplanationsSupersedes:Catalog DA 12 · 1995/96Supplement DA 12 · July 20012© Siemens AG 2004<strong>Selection</strong> <strong>and</strong> <strong>ordering</strong> GuidelineOrder No. codeOrder No. supplements<strong>Selection</strong> <strong>and</strong> <strong>ordering</strong>dataOptions3DimensionsThe products <strong>and</strong> systemsdescribed in thiscatalog are manufacturedunder application ofa quality managementsystem certified byDQS in accordancewith EN ISO 9001 (CertificateRegistration No.002241 QM UM).The certificate is recognizedin all IQ Netcountries.AppendixRegulations, st<strong>and</strong>ards<strong>and</strong> specificationsSiemens contact partnersworldwideA&D online servicesCustomer supportIndicesConditions of sale <strong>and</strong>delivery45s
---
Welcome toAutomation <strong>and</strong> DrivesWe would like to welcome you to Automation<strong>and</strong> Drives <strong>and</strong> our comprehensive range ofproducts, systems, solutions <strong>and</strong> services forproduction <strong>and</strong> process automation <strong>and</strong>building technology worldwide.With Totally Integrated Automation <strong>and</strong>Totally Integrated Power, we deliver solutionplatforms based on st<strong>and</strong>ards that offer youa considerable savings potential.Discover the world of our technology now. Ifyou need more detailed information, pleasecontact one of your regional Siemenspartners. They will be glad to assist you.1/2Siemens DA 12 · 2004
---
True values endure – DC technologyremains of prime importance– even if its immediate demise has been forecast formore than fifteen years: Siemens Automation & Driveswill continue to provide this simple <strong>and</strong> user-friendlytechnology into the future. After all, it has proved itselfto be reliable in daily use for decades <strong>and</strong> therefore remainsof prime importance.With our extensive know-how <strong>and</strong> with more than 125years of experience, we remain your reliable partner forall your DC drive requirements. We offer perfect up-todatesolutions for both new plants or retrofitting. We areconstantly working on the further development of theDC technology.The perfect example: SIMOREG ® Control Module, theperfect retrofit solution for your DC drives – <strong>and</strong> themost effective method to safeguard your investmentspermanently.Siemens DA 12 · 20041/3
---
DC motors – For what types of application?The modular DC motors are well-proven in combinationwith static converters as variable-speed drives in almostall industry sectors.This secures competitive strength <strong>and</strong> efficiency –internationally as well.Our DC drives are the optimum solution, no matter whichfunctions have to be fulfilled in drive, power or processengineering.For example:• In elevators <strong>and</strong> cable cars• In rolling mills• In the printing industry• In the textile <strong>and</strong> man-made fiber industries• For hoisting equipment• In the basic industries1/4 Siemens DA 12 · 2004
---
Why use DC motors from Siemens?Siemens DC drives distinguish themselves as follows:• Their excellent static <strong>and</strong> dynamic control response• Their wide range with high control precision• The high efficiency of the complete drive system.DC motors continue to be a high-quality alternative to three-phase motors.Together with SIMOREG drive converters, they form optimum, variablespeeddrives for numerous branches of industry <strong>and</strong> are used whereverthere is a requirement for favorably priced technology <strong>and</strong> high availability.Outst<strong>and</strong>ing features:• High power density with small motor dimensions• High thermal reserves for continuous duty <strong>and</strong> overload thanks to theDURIGNIT 2000 ® insulating system• Minimal losses thanks to excellent efficiency• High quality of smooth running <strong>and</strong> vibration• Low noise values• High mechanical rigidity• Low weight• Long brush lifetimes thanks to optimized commutation system• High operational reliability <strong>and</strong> availability thanks to numerousdiagnostic functions when fed from SIMOREG drive converters.Siemens DA 12 · 20041/5
---
1/6 Siemens DA 12 · 2004
---
Explanations22/2 Motor design2/2 Magnetic circuit, rate of change ofcurrent2/2 Rotors2/2 Carbon brushes, commutation2/2 Supply, converter connection,armature voltage <strong>and</strong> smoothingreactor2/2 Installation <strong>and</strong> operatingconditions2/3 Intermittent duty2/3 DURIGNIT 2000 insulating system2/3 Rated power2/3 Direction of rotation2/3 Field control range2/3 Speed data on the rating plate2/3 Sector-specific applications2/3 Paint finish2/3 Aggressive gases <strong>and</strong> vapors2/4 Noise levels2/4 Bearings2/4 Cooling <strong>and</strong> ventilation2/5 Encoders2/5 Protection <strong>and</strong> monitoring2/6 Terminal boxes2/6 Shaft ends2/6 BalancingSiemens DA 12 · 2004
---
Explanations2Motor designAll DC motors are fully laminated <strong>and</strong>, up to <strong>and</strong> including Size280, they are uncompensated. From Size 355, the motors areequipped with a compensation winding.At constant torque, the forced-cooled motors 1GH, 1GG, 1GF,1HQ <strong>and</strong> 1HS can be coasted down to 10 rpm by means ofarmature control.The self-ventilated 1HA motors can be coasted down when thetorque falls by means of armature control 1:3.At constant torque, the non-ventilated 1HC motors can be coasteddown to approximately 50 rpm by means of armature control.Magnetic circuit, rate of change of currentThe motors have a fully laminated magnetic circuit <strong>and</strong> are thereforesuitable for being fed from converter units. In the case of dynamicprocesses, a rate of change of current up to 250I N /s ispermissible.RotorsThe laminated rotor packages have screwed slots to minimizenoise <strong>and</strong> torque ripple. The rotors are dynamically balanced.Carbon brushes, commutationPractically spark-free commutation when fed from drive convertersis achieved as a result of the optimum motor design, even inthe overload range. This results in extremely long brush lifetimes.Brush wear is essentially dependent on the operating <strong>and</strong> ambientconditions of the DC motor, so the following conditionsshould apply in order to achieve a long brush lifetime:• Relative air humidity 10 to 50%• Effective load > 50% ¼ I N• Cooling air temperature > 10 °CFor conditions outside these ranges, information is available onrequest.Critical applications can also be mastered if the appropriatebrush materials are chosen.Supply, converter connection, armature voltage <strong>and</strong>smoothing reactorThe rated voltages listed in the selection tables are rated voltagesaccording to DIN 40 030.The rated data assigned to each of these rated voltages is onlyvalid in combination with the specified converter connection <strong>and</strong>supply voltage. The inductances specified in the "<strong>Selection</strong> <strong>and</strong><strong>ordering</strong> data" tables are applicable for 100 Hz with singlephase<strong>and</strong> for 300 Hz with three-phase bridge connections <strong>and</strong>a line frequency of 50 Hz, which is generally specified on therating plate.Installation <strong>and</strong> operating conditionsOperating conditionsThe motors are designed for the following conditions ofoperation:• Site altitude ˆ 1000 m (> 1000 m, see adjacent characteristics)• Cooling air temperature up to 40 °C (> 40 °C, see adjacentcharacteristics)• Cooling air must not contain any foreign bodies or aggressivecomponents• Maximum permissible vibration levels (see adjacent table).Output changes as a function of the site altitude <strong>and</strong> the coolant supplytemperature for DC motors. & $ " Speed deviations as a function of the site altitude <strong>and</strong> the coolant supplytemperature for DC motors.VibrationVibrationfrequencyvaluesHzFrame size< 6.3 Vibration displacement smm6.3 – 63 Vibration velocity V rmsmm/sUp to160160<strong>and</strong>aboveˆ 0.16 ˆ 0.25ˆ 4.5 ˆ 7.1> 63 Vibration acceleration am/s 2 ˆ 2.55 ˆ 4.0CondensationIf there is a risk of condensation, anti-condensation heating canbe fitted to the motors. Supply voltages of 115 V <strong>and</strong> 230 V arepermitted.Overload capacityOverloading of the motors is possible in accordance with the followingtable. In the event of frequent overloading, it is assumedthat the effective load of the motor does not exceed the ratedload.Overload capacity (with reference to P N <strong>and</strong> n N ) formotors withoutcompensation5 EJA = JEJK @ A ! " ! " # + $ + = JI K F F O JA F A H= JK HA5 EJA = JEJK @ A" ! & ! " # + $ + = JI K F F O JA F A H= JK HAmotors withcompensationTorque Current Torque CurrentM max /M N I max /I N M max /M N I max /I N15 s 1.6 ~1.85 1.8 ~1.855s 1.8 ~2.2 2.0 ~2.1/ , ) - &/ , ) - '2/2Siemens DA 12 · 2004
---
ExplanationsIntermittent dutyThe following increases in output can be assumed with referenceto the rated outputs listed in the "<strong>Selection</strong> <strong>and</strong> <strong>ordering</strong>data" for separately ventilated motors in S3 mode (intermittentduty):S3 operating modeIncrease in output from P N in S1operating mode–60% 1.15–40% 1.3–25% 1.5DURIGNIT 2000 insulating systemThe high-quality DURIGINIT 2000 insulating system mainly comprisesplastic materials with a high temperature overload capability<strong>and</strong> track resistance. It also meets the requirements placedon motors that are operating in tropical conditions (humid <strong>and</strong>hot climate).Temperature class F (overtemperature limit 105 K at KT 40 °C) isimplemented for 1G.5/1H.5 motors (1HA5 motors, temperatureclass H in the stator). For utilization in temperature class B, deratingof 13% to 87% must be implemented (106% speed, forSizes 100 to 160 only).Temperature class H (overtemperature limit 125 K at KT 40 °C)is implemented for 1G.6/1H.6 <strong>and</strong> 1G.7/1H.7 motors. For utilizationin temperature class F, derating of 8% to 92% is necessary(103% speed).Rated powerThe rated output power specified in the selection tables is applicablefor S1 continuous duty according to EN 60 034-1 when themotors are fed from drive converters using the applicable converterconnections <strong>and</strong> supply voltages specified for the ratedarmature voltages <strong>and</strong>, where necessary, combined with theseries-connected inductance specified in the selection tables.In the case of self-ventilated motors for a control range of 1:3 <strong>and</strong>falling torque, linear interpolation is possible between the ratedtorque <strong>and</strong> the torque at the lower limit of the control range overthe speed.Direction of rotationThe motors are designed for both clockwise <strong>and</strong> anti-clockwiserotation or reversing operation. The direction of rotation only hasto be specified for motors of Size 500 <strong>and</strong> 630.Field control rangeThe motor speed can be increased by field weakening• At constant armature voltage <strong>and</strong> power as far as the fieldweakening speeds n Fmax specified in the "<strong>Selection</strong> <strong>and</strong> <strong>ordering</strong>data" tables• Beyond these values, as far as the maximum permissible mechanicallimit speed n mech as specified in the "<strong>Selection</strong> <strong>and</strong><strong>ordering</strong> data" tables with reduced power P red as follows:n *1n FP redn *n Fmax1P Nn* Fictitious reference value with units of speed from the table shownbelown F Required field weakening speed in the range n Fmax < n F ˆ n mechSpeeds n* (fictitious reference values only)Motor Size Speed n*rpm100 26000112 22800132 18100160 (1G.5/1H.5) 14900160 (1G.6) 14400180 13000200 11700225 10500250 9400280 8300355 6400400 5700450 4950500 4580630 3580In the speed range from n Fmax to n mech , the series inductances<strong>and</strong> noise values can increase; further details on request.Speed data on the rating plateIf specified in the order, the field weakening speed will be givenon the rating plate as shown in the following table.DesignSt<strong>and</strong>ard designSpecial design in accordancewith the section of the catalog"<strong>Selection</strong> <strong>and</strong> <strong>ordering</strong>" -"Options" for an additionalprice, with short order codeC05C06Field weakening speed n Frpm1.15 ¼ n N maximum n Fmax(see selection tables)1.7 ¼ n N maximum n Fmax(see selection tables)n Fmax >1.7¼ n NIf the speeds of the respective motor deviate from those specifiedin the "<strong>Selection</strong> <strong>and</strong> <strong>ordering</strong> data" tables, for example,due to• Speed compensation by means of armature voltage changes<strong>and</strong>/or field weakening• Additional, permissible field weakening speeds not specifiedfor the st<strong>and</strong>ard design (without a short code or for short codesC05 <strong>and</strong> C06)the short code Y80 "Deviating rating plate data" <strong>and</strong> informationin plain text must also be specified, see "<strong>Selection</strong> <strong>and</strong> <strong>ordering</strong>"- "Options".Sector-specific applicationsShort codes are specified for the following sector-specificapplications (see "<strong>Selection</strong> <strong>and</strong> <strong>ordering</strong>" - "Options").Paint finishThe st<strong>and</strong>ard paint color is anthracite according to RAL 7016.Motors can be supplied with a special paint finish (short codeL53) or with primer only (short code K24).Aggressive gases <strong>and</strong> vaporsIf chemically aggressive gases <strong>and</strong> vapors are expected at theinstallation site, additional precautions must be taken with regardto insulation, surface protection <strong>and</strong> brush types. Pleaseenquire specifying the substance type <strong>and</strong> concentration.2Siemens DA 12 · 2004 2/3
---
Explanations2Noise levelsThe noise levels of the motors have been determined accordingto EN ISO 1680 <strong>and</strong> lie far below the values permitted accordingto EN 60 034-9. This has been achieved thanks to the mechanicaldesign <strong>and</strong> by optimizing the magnetic circuit <strong>and</strong> theventilation.The sound pressure level L pA <strong>and</strong> the acoustic power level L WA(acc. to the table below, including tolerance) are applicable atfull load up to 2000 rpm, for converter infeed in B6C connection<strong>and</strong> with a st<strong>and</strong>ard external fan at 50 Hz.The acoustic power level L WA is the sum of measuring surfacesize <strong>and</strong> the measuring surface sound pressure level L pA .For comparisons with the st<strong>and</strong>ard, a no-load/load differential ofthe machine noise of 3 to 5 dB can be assumed. The no-loadnoise values for an infeed of pure DC current lie about 3 dBbelow the noise values for converter infeed.When a filter is installed, the noise values are reduced by1 to 2 dB.When a silencer is used (see "<strong>Selection</strong> <strong>and</strong> <strong>ordering</strong>" - "Options"),the noise values are reduced by approx. 5 dB.Frame size Measuring surfacesound pressure levelL pAdB (A)1GF5, 1GG5 <strong>and</strong> 1GH5 motors100 68 80112 68 80132 71 83160 74 86Acoustic power levelL WAdB (A)1H.5 motors1HC5 1HA5 1HC5 1HA5100 55 – 67 –112 62 – 74 –132 63 74 75 86160 64 77 76 891GF6, 1GG6 <strong>and</strong> 1GH6 motors160 73 861G.6/ <strong>and</strong> 1H.6 motors1GH6 1GG61HS6 1HQ61GH61HS6180 72 76 85 90200 73 77 87 91225 76 80 90 94250 78 82 93 97280 80 84 95 99Noise values are available for larger motors on request.1GG61HQ6BearingsMotors up to <strong>and</strong> including Size 200 have roller bearings(grooved ball bearings) with permanent lubrication. Larger motorsare provided with a regreasing device. In the case of increasedlateral forces, a special design of the drive-end bearingis required (see "<strong>Selection</strong> <strong>and</strong> <strong>ordering</strong>" - "Options" <strong>and</strong> theproject engineering manual).In motors up to Size 160, the fixed bearings are at the drive end<strong>and</strong> in larger sizes they are at the non-drive end.For positioning angles up to the vertical, the bearings of the motorsup to Size 280 can carry the weight of the rotor as well asone half of the coupling. In the case of additional axial loads,please enquire.Cooling <strong>and</strong> ventilationCooling:The cooling air is normally fed from the non-drive end (NDE) tothe drive end (DE), i.e. from the commutator end to the outputend, where it discharges through vents to the left <strong>and</strong> right. Thisdirection of air flow is necessary to achieve adequate cooling forthe commutator for motors operating at high speeds <strong>and</strong> outputs.The direction of air flow can be reversed (from the drive end tothe non-drive end; i.e. from the output end to the commutatorend). This is recommended for motors operated with weakloads, low cooling-air intake temperature, or under harsh ambientconditions (aggressive gases, organic liquids, dust, etc.)Derating may be necessary under some circumstances(request).The fan unit of the 1GG motors can also be retrofitted to 1GHmotors.Frame size Cooling air Permissible pressureflow drop in the ductsfor 1GF <strong>and</strong> 1GGV·motorsDp1GF5, 1GG5, 1GH5m 3 /s Pa Pa100/102 0.045 40 300104 - 108 0.06 45 500114/116 0.07 45 500118 0.08 70 650132 - 136 0.09 45 500162 - 166 0.2 60 7001GF6, 1GG6, 1GH6160 0.20 60 1300180 0.30 70 1350200 0.35 70 1250225 0.50 80 1600250 0.60 80 1500280 0.75 80 16001GG7, 1GH7351 1.3 100 1800352 1900353 2000354 2300355 2500401 1.6 100 1800402 1900403 2100404 2200405 2500451 2.0 100 1700452 1800453 2000454 2200455 24001GG5, 1GH5500 2.0 70 1400630 3.0 70 1350Requiredpressurefor 1GH motorsDp2/4Siemens DA 12 · 2004
---
ExplanationsDuct connectionFans are not included in the scope of supply of motors designedfor use with a separately-driven fan 1GH. The ducts should bedimensioned to ensure that the motor is provided with a coolingair flow V·<strong>and</strong> pressure Dp as specified in the above table.Separately-driven fanIn the case of separately-driven fan assemblies for 1GG, 1HS<strong>and</strong> 1HQ motors, three-phase induction motors with supply voltagesof 50 Hz 380 V to 420 V AC are used (according to EN60 034 – 5%). Motors up to Size 160 are provided with fan motorswith a wide-range winding of 50 Hz 380 to 500 V AC. Forother supply voltages <strong>and</strong> frequencies, a three-phase inductionmotor with a non-st<strong>and</strong>ard winding is required (short code Y81).Separately-driven fan motors for cooling air temperatures of55 °C or higher or at site altitudes above 3000 m are available onrequest.Filter installationA dry-type air filter can be mounted <strong>and</strong> even retrofitted on all1GG motors without any derating.Air/water coolers for 1HS5, 1HS6 <strong>and</strong> 1HS7 motorsFor 1HS5, 1HS6 <strong>and</strong> 1HS7 motors, the heated internal air iscooled down by the air/water coolers installed in the heat exchangerassembly. The internal air is circulated by separatelydrivenfans.For a cooling water inlet temperature of 25 °C, 1HS motors havethe same output data as 1GH motors; output data can be suppliedon request for other temperatures.The water connections are mounted as st<strong>and</strong>ard on the righth<strong>and</strong>side (viewed from the drive end).It is only possible with coolers in special design to subsequentlychange over the cooler for water connection from the left.If a water analysis is not provided when <strong>ordering</strong> the motors, ast<strong>and</strong>ard cooler is supplied.The cooling water temperature rise is, for the st<strong>and</strong>ard version,up to 10 K <strong>and</strong> the maximum water pressure is up to 6 bar (testoverpressure 9 bar).For motorsRequired coolingwater flow1HS. ... m 3 /h bar.... 186 2.3 0.1.... 188 2.5 0.1.... 206 2.7 0.1.... 208 3.0 0.12.... 226 3.5 0.15.... 228 3.8 0.18.... 256 4.5 0.15.... 258 4.8 0.18.... 286 5.7 0.22.... 288 6.0 0.24.... 351-355 5.7 0.13.... 401-405 6.6 0.2.... 451-455 7.5 0.26.... 500-504 6.9 0.3.... 631-634 9.0 0.37.... 635 9.6 0.43Pressure drop incooler• St<strong>and</strong>ard designCooler with copper ducts <strong>and</strong> copper collectors (not removable)for water that has been cleared of solid particles <strong>and</strong> thatdoes not contain aggressive substances.• Special versionCooler with CuNi10Fe ducts, removable plastic coated steelchambers, suitable for brackish water. Cooling ducts can becleaned mechanically.EncodersVarious tachometers <strong>and</strong> pulse encoders can be mounted onthe motors, see "<strong>Selection</strong> <strong>and</strong> <strong>ordering</strong>" - "Options".Speed encoder types <strong>and</strong> variants other than those specified inthe list of options can be obtained order-specifically <strong>and</strong> fitted.The possible design variants <strong>and</strong> combinations of tachometersor pulse encoders can be found in the catalog product rangesof the following manufacturers:• Hübner Berlin• Hübner Gießen• Heidenhain• Radio Energie• Leine & Linde.The encoder type required must be accurately described <strong>and</strong>requested in combination with the motor from the factory. When<strong>ordering</strong>, the option Y70 = "Tacho / pulse encoder, special version"must be specified <strong>and</strong> supplemented with the order numberor type number <strong>and</strong> the manufacturer in plain text.The required encoders are then procured by the factory <strong>and</strong>fitted.In the case of encoder types with long delivery times, it is importantto note that the delivery time for the motors may beextended.The motors can be supplied without encoders but with a mountingflange <strong>and</strong> mounting components for fitting a speed sensor.The types of speed sensors for which the mounting assemblycan be prepared are listed under "<strong>Selection</strong> <strong>and</strong> <strong>ordering</strong> data".Protection <strong>and</strong> monitoringThermal motor protectionThe motors can be fitted with temperature sensors if required.The temperature sensors are installed in the coil end of the commutatingpole winding on the air outlet side or, in the case ofcompensated motors, in the compensation winding. Reliablemotor protection can be achieved thanks to current limiting <strong>and</strong>I 2 t monitoring of the associated SIMOREG DC MASTER. Temperaturesensors are connected on auxiliary terminals in themotor terminal box.Continuous temperature monitoring can be implemented by selectinga KTY84-130 silicon sensor (short code A23) or a PT100resistance thermometer (short code A62). For limit value monitoring(2 components are installed if both "Warning" <strong>and</strong> "Shutdown"are required), PTC thermistors are available (PTC resistors,short codes A11 <strong>and</strong> A12) <strong>and</strong> bi-metal strip temperaturemonitors (short code A31).Bearing temperature monitoringThe bearing temperature can be monitored for motors fromSize 180 by means of PT100 resistance thermometers(short code A76). They are connected on the auxiliary terminalsin the motor terminal box.2Siemens DA 12 · 2004 2/5
---
Explanations2Air flow monitorFor motors with an externally mounted separately-driven fan, theinternal air can be monitored using an air flow monitor (shortcode A97). The air flow monitor cannot be used for monitoringthe air filter.Brush monitoringThe brush length can be monitored (limit value) using a microswitchmounted on the brush holder (short code A06). Theoutput signal is floating <strong>and</strong> can be evaluated by the SIMOREGDC MASTER.For motors of Sizes 500 <strong>and</strong> 630, non-floating evaluation only ispossible by means of signaling brushes (short code A00). Forevaluation, the KM01 signaling unit can be ordered from SchunkKohlenstofftechnik GmbH, Wettenburg, Germany.Cooling air thermometerIn the internal air circuit of the air-to-air <strong>and</strong> air-to-water cooledmotors, a PT100 cooling air thermometer can be installed for detectingthe temperature of the heated air (short code A45). ThePT100 is connected on an auxiliary terminal block mounted inthe cooler assembly.Leak warning deviceMotors with an air/water cooler assembly can be equipped witha warning electrode for monitoring water leakage (short codeH08). The warning electrode is connected in the electrodecasing.Anti-condensation heatingFor motors that are subjected to a risk of frequent condensationof the winding due to climatic conditions, e.g. motors that are ata st<strong>and</strong>still in humid ambient air or motors that are subjected tolarge temperature variations, anti-condensation heating can beprovided (short code K45 for 230 V). This heats the air in the motor<strong>and</strong> condensation does not form inside the motor. Anti-condensationheating must not be switched on during operation.They are connected on the auxiliary terminals in the motor terminalbox.The motor can also be heated, however, through the excitationwinding. For this purpose, a current of 30% to 40% of the ratedexcitation current is applied to the excitation terminals of the motorwith the armature circuit open (without external cooling). Inthis case, approximately 10% to 15% of the rated excitation outputis available as heat output.Terminal boxAll motors are equipped with a terminal box to the IP55 degreeof protection which houses the power connections, excitation<strong>and</strong> terminals for connecting temperature sensors, anti-condensationheating, etc.For the size of conductor cross-sections, see DIN VDE 0298.Terminal box designThe terminal boxes of the motors with a rated current of
---
<strong>Selection</strong> <strong>and</strong> <strong>ordering</strong>33/2 Guide for drive selection3/3 Specification of motor type accordingto cooling method <strong>and</strong>degree of protection3/4 Preselection of the motor accordingto torque <strong>and</strong> outputOrder No. code3/5 Order No., identification codesOrder No. supplements3/6 Exciting voltage, designsSeries1GF5, 1GG5 <strong>and</strong> 1GH5Sizes 100 to 1603/7 Size 1003/9 Size 1123/12 Size 1323/14 Size 160Series1GF6, 1GG6, 1GH6 <strong>and</strong> 1HS6Sizes 160 to 1803/18 Size 1603/20 Size 180Series1GG6, 1GH6 <strong>and</strong> 1HS6Sizes 200 to 2803/23 Size 2003/26 Size 2253/29 Size 2503/32 Size 280Series1GG7, 1GH7 <strong>and</strong> 1HS7Sizes 355 to 4503/35 Size 3553/45 Size 4003/56 Size 450Series1GG5, 1GH5 <strong>and</strong> 1HS5Sizes 500 to 6303/67 Size 5003/78 Size 630Series 1HA53/89 Size 160Series 1HC5Sizes 100 to 1603/91 Size 1003/93 Size 1123/94 Size 1323/96 Size 160Series 1HQ6Sizes 180 to 2803/97 Size 1803/99 Size 2003/102 Size 2253/105 Size 2503/108 Size 280Series 1HQ7Sizes 355 to 4503/111 Size 3553/117 Size 4003/127 Size 450Options3/137 Mounting accessories3/139 Operation <strong>and</strong> diagnostics3/140 Add-onsSiemens DA 12 · 2004
---
<strong>Selection</strong> <strong>and</strong> <strong>ordering</strong>Guideline for drive selectionThese "Recommendations for drive selection" guide youstep-by-step through this catalog to the required motorFor further notes <strong>and</strong> support with project engineering, see theproject engineering manual.Details <strong>and</strong> explanations for the converters can be found in CatalogsDA 21 (Chassis Converters) <strong>and</strong> DA 22 (ConverterCabinet Units).3Step 1Determine the required productprofileDetermine the rated armaturevoltage➠ ➠ ➠ ➠ ➠ ➠Technical requirements for the motorRated supply voltage3 AC 50/60 Hz, 400, 500 or 690 VOperating mode1Q/4QDegree of protection <strong>and</strong> type of IP.. / IC..coolingSpeed rangen =................rpmOutputTorqueP =................kWM = P ¼ 9550/n = ................NmType of construction IM ..Rated supply voltage Operating mode Rated armature voltage2 AC 50/60 Hz 400 V 4Q 280 V DC2 AC 50/60 Hz 400 V 1Q 310 V DC3 AC 50/60 Hz 400 V 4Q 420 V DC3 AC 50/60 Hz 400 V 1Q 470 V DC3 AC 50/60 Hz 500 V 4Q 520 V DC3 AC 50/60 Hz 500 V 1Q 600 V DC3 AC 50/60 Hz 690 V 4Q 720 V DC3 AC 50/60 Hz 690 V 1Q 810 V DCStep 2 Environmental requirements for the motor Å Page 2/2Determine the installation conditionsAmbient temperature ˆ 40 °C > 40 °CSite altitude ˆ 1000 m >1000mDetermining the factors for output<strong>and</strong> speed changeStep 3 Select the motor Å Pages 3/3 <strong>and</strong> 3/4Determine the range of possiblemotors– For determining the factors for output<strong>and</strong> speed change (see Part 2under "Installation <strong>and</strong> operatingconditions")Select the size <strong>and</strong> therefore the possible motors on the basis of the following parameters: type of cooling,degree of protection, torque <strong>and</strong> output range.Step 4 Detailed selection of the motor Å Pages 3/7 to 3/136Determine the motor Order No.Step 5Speed adaptation<strong>and</strong> the associatedparameter changeDetermine the motor Order No. according to the following parameters: rated armature voltage, speed, torque<strong>and</strong> output from the "<strong>Selection</strong>- <strong>and</strong> <strong>ordering</strong> data" for the motors that have already been identified as possibilities.Adapt the speed if necessaryn = n N n < n N n > n NSpeed adaptation:not requiredSpeed adaptation:through armature controlSpeed adaptation:through field weakeningU= U N ¼ n / n N U = constantP= P N ¼ n / n N P = constantM N = constantStep 6 <strong>Selection</strong> of the options Å Page 3/137 to 3/140Complete the motor order No.Step 7Select the SIMOREG converter<strong>and</strong> the line-side componentsM = M N ¼ n N / nDetermine the options <strong>and</strong> the associated short codes for special versions (mounted assemblies, operation <strong>and</strong>diagnostics).For Order No. of the converter <strong>and</strong> the line-side components, see Catalogs DA 21 <strong>and</strong> DA 22.3/2Siemens DA 12 · 2004
---
<strong>Selection</strong> <strong>and</strong> <strong>ordering</strong>Guideline for drive selectionDetermining the motor type according to type of cooling <strong>and</strong> degree of protection (for further selection according to torque <strong>and</strong>output, see overleaf)Modular configuration inseries enables the followingcooling methodsSuitable for use<strong>and</strong> degrees of protectionto be derived fromin dry indoorrooms with lowone basic motor moduledust levelsCoolingmethodDesignationtoDIN 34, Part 6Internally cooled motorsInternal coolingwith axiallymounted fanunitWith ductconnectionDegree of protectionDesignation toDIN 34, Part 5IC05 – IP23 Fan unitAdapting the basic motor module/ , ) : : $Motortype1GF/ , ) : : #Internal coolingwith radiallymountedfan unitIC06 – IP23 Fan unit1GG/ , ) : : Internal coolingusing separately-mountedfan throughductIC17IC37Singleend(cool-IP23ing airinlet)Both ends IP54(coolingair inlet<strong>and</strong> outlet)No/ , ) : : #1GH3Surface-cooled motorsSuitable for useoutdoors or inextremely dusty<strong>and</strong>/or humidenvironmentsHeat exchangethrough selfcoolingusingair-to-air heatexchangerIC A01 A61 – IP54 Air-to-airheatexchanger/ , ) : : !1HASurface coolingthrough naturalcoolingIC0041 – IP54 No1HC/ , ) : : #Heat exchangethrough externalcoolingusing air-to-airheat exchangerIC A06 A66 – IP54 Air-to-airheatexchanger,fan unit1HQ/ , ) : : %Heat exchangethrough externalcoolingusing air-towaterheatexchangerIC W37 A86 – IP54 Air-to-waterheatexchanger,fan unit1HS/ , ) : : &Siemens DA 12 · 2004 3/3
---
<strong>Selection</strong> <strong>and</strong> <strong>ordering</strong>Guideline for drive selection<strong>Selection</strong> of the motor according to torque <strong>and</strong> outputMotor type/seriesSizeTorqueNm 0 1 10 100 1000 10000OutputkW 0 1 10 100 1000 10000Detailed selection<strong>and</strong> <strong>ordering</strong> dataPage1GF5 112 27.8 – 56 2.45 – 16.2 3/9 – 3/10132 68 – 148 6.90 – 39 3/12 – 3/13160 132 – 276 13 – 76 3/14 – 3/171GF6 160 256 – 506 30 – 111 3/18 – 3/191GG5/1GH5 100 8.7 – 36.3 1.09 – 9.9 3/7 – 3/8112 27.8 – 61.5 2.45 – 17.9 3/9 – 3/11132 68 – 148 6.9 – 39 3/12 – 3/13160 132 – 176 13 – 76 3/14 – 3/171GG6/1GH6 160 256 – 506 30 – 111 3/18 – 3/19180 450 – 670 44.2 – 191 3/20 – 3/22200 670 – 965 64.5 – 256 3/23 – 3/25225 1070 – 1550 94.5 – 340 3/26 – 3/28250 1630 – 2300 121 – 436 3/29 – 3/31280 2400 – 3360 170 – 510 3/32 – 3/341GG7/1GH7 355 2950 – 8280 236 – 770 3/35 – 3/44400 4400 – 12920 230 – 880 3/45 – 3/55450 6830 – 18400 197 – 1020 3/56 – 3/6631GG5/1GH5 500 5700 – 20600 288 – 1110 3/67 – 3/77630 16000 – 44500 344 – 1610 3/78 – 3/881HA5 160 75.5 – 95.5 8.4 – 25.2 3/89 – 3/901HC5 100 3.15 – 10.7 0.45 – 2.15 3/91 – 3/92112 10 – 19.1 1.24 – 4.55 3/93132 13.7 – 45.7 1.87 – 8.55 3/94 – 3/95160 40.3 – 69 6.3 – 15.3 3/961HQ6 180 264 – 482 36.7 – 110 3/97 – 3/98200 422 – 715 55.5 – 169 3/99 – 3/101225 630 – 1180 82 – 264 3/102 – 3/104250 1170 – 1780 107 – 340 3/105 – 3/107280 1770 – 2750 151 – 436 3/108 – 3/1101HQ7 355 2300 – 7440 220 – 645 3/111 – 3/116400 3400 – 11700 225 – 770 3/117 – 3/126450 5610 – 15800 176 – 845 3/127 – 3/1361HS6 180 450 – 670 44.2 – 191 3/20 – 3/22200 670 – 965 64.5 – 256 3/23 – 3/25225 1070 – 1550 94.5 – 340 3/26 – 3/28250 1630 – 2300 121 – 436 3/29 – 3/31280 2400 – 3360 170 – 510 3/32 – 3/341HS7 355 2950 – 8280 236 – 770 3/35 – 3/44400 4400 – 12920 230 – 880 3/45 – 3/55450 6830 – 18400 197 – 1020 3/56 – 3/661HS5 500 5700 – 20600 288 – 1110 3/67 – 3/77630 16000 – 44500 344 – 1610 3/78 – 3/88TorqueNm 0Output1 10 100 1000 10000 kW 0 1 10 100 1000 100003/4Siemens DA 12 · 2004
---
<strong>Selection</strong> <strong>and</strong> <strong>ordering</strong>Order No. codeOrder No.The Order No. comprises a combination of letters <strong>and</strong> numbers<strong>and</strong> for clarity it is subdivided into three blocks which areconnected by hyphens,e.g. 1GG6 288-0ND40-1VV1The first block (positions 1 to 7) identifies the machine type; furthercharacteristics of the version are coded in the second(positions 8 to 12) <strong>and</strong> third (positions 13 to 16) blocks.For deviations in the third block from the catalog codes, either Zor 9 should be used as appropriate.Ordering data:• Complete Order No. <strong>and</strong> short code(s) or plain text.• If a quotation has been requested, please specify the quotationnumber in addition to the Order No.• When <strong>ordering</strong> a complete motor as a spare part, please specifythe works serial No. for the previously supplied motor as wellas the Order No.Structure of the Order No.: Position: 1 2 3 4 5 6 7 - 8 9 10 11 12 - 13 14 15 16Positions 1 to 3: Internally cooled DC machinesdigit,character,• Separate ventilation using axially-mounted, st<strong>and</strong>ard fan 1 G Fcharacter • Separate ventilation using radially-mounted, st<strong>and</strong>ard fan 1 G G• Separate ventilation using external fan (not included in 1 G Hscope of supply), connected via ductSurface-cooled DC machines• Self-ventilated 1 H A• Self-cooled 1 H C• Separate ventilation using mounted air-to-air heat exchanger 1 H Q• Separate ventilation using mounted air-to-water heat exchanger 1 H SPosition 4:digitPositions 5 to 7:digitsPosition 8:digitPosition 9:characterPosition 10:characterPosition 11:digitPosition 12:digitPosition 13:digitPosition 14:characterPosition 15:characterPosition 16:digitSeries 5Series 6Series 7Motor size(the size is encoded in positions 5 <strong>and</strong> 6)Connection <strong>and</strong> mode of operationField power levelArmature circuit type of constructionRated field voltageType of constructionConverter circuit <strong>and</strong> terminal dataRated armature voltageArmature control rangeLoad-torque characteristic, performance data (latest edition)Special versions:codedshort code also requirednot codedplain text also required567- Z3Siemens DA 12 · 2004 3/5
---
<strong>Selection</strong> <strong>and</strong> <strong>ordering</strong>3Order No. supplementsField voltageThe st<strong>and</strong>ard field voltage is 310 V. Other field voltages havebeen determined in accordance with the recommended fieldvoltages according to DIN 40 030 <strong>and</strong> in accordance with theSIMOREG product range as "St<strong>and</strong>ard versions". They can becoded using a digit at position 11 of the Order No. or using ashort code.• St<strong>and</strong>ard rated field voltages:FieldvoltagePosition:Shortcode1 2 3 4 5 6 7 - 8 9 10 11 12 - 13 14 15 16110 V DC 3180 V DC 1190 V DC 9 L5C200 V DC 9 L5A210 V DC 6220 V DC 2310 V DC 4325 V DC 9 L5D330 V DC 9 L5F340 V DC 9 L5E350 V DC 9 L5B360 V DC 7500 V DC 5• Non-st<strong>and</strong>ard rated field voltages:If an field voltage is required that is not covered by the "St<strong>and</strong>ardversions", the digit "9" must be placed in position 11 of theOrder No. The short code for the field voltage range must bespecified in accordance with the table below <strong>and</strong> the requiredfield voltage must be specified in plain text.FieldvoltagePosition:1 2 3 4 5 6 7 - 8 9 10 11 12 - 13 14 15 16Shortcode *)Motor Sizes 100 to 160:< 110 V DC 9 L2Yfrom9 L1Y110 V DC to440 V DCfrom>440 V DCto500 V DC9 L2YMotor Sizes 180 to 630:< 110 V DC 9 L4Yfrom9 L3Y110 V DC to500 V DC> 500 V DC 9 L4Y*) Short codes only determine the price of the versions, so plain text is alsorequired.Type of constructionsacc. to IEC 34, Part 7; flange type of construction to DIN 42 948.The Order No. listed in the selection tables must be supplementedwith the type of construction code digit in Position 12.In the case of type of construction code digit "9", the short codefor the required type of construction must also be specified (seetable below).Type of constructions for motor Sizes 100 to 280 1 )Type ofconstructionPosition:Shortcode1 2 3 4 5 6 7 - 8 9 10 11 12 - 13 14 15 16IM B 3 0IM B 35 6IM B 5 2 ) 1IM V 1 2 ) 4IM B 6 3 ) 9 M1AIM B 7 3 ) 9 M1BIM B 8 9 M1CIM V 15 9 M1HIM V 3 2 ) 9 M1GIM V 36 9 M1JIM V 5 3 ) 9 M1DIM V 6 3 ) 9 M1E1) DC motors in Sizes 355 to 630 are only offered in the catalog in the IM B 3type of construction2) The motors are supplied in IM B 35 type of construction for IM B 5, inIM V 15 type of construction for IM V 1 <strong>and</strong> in IM V 36 type of constructionfor IM V 3. 1HQ <strong>and</strong> 1HS motors are only supplied in the type of constructionsIM B 3 <strong>and</strong> IM B 35.3) For these type of constructions, special support feet must be provided forrelieving the strain on the fixing bolts in the transverse direction (notincluded in scope of supply).3/6Siemens DA 12 · 2004
---
<strong>Selection</strong> <strong>and</strong> <strong>ordering</strong>1GG5, 1GH5Size 100■ <strong>Selection</strong> <strong>and</strong> <strong>ordering</strong> dataThese motors are uncompensated.Rated speedn NrpmRatedoutputRatedtorqueMaximumfieldweakeningspeedOrder No.RatedcurrentEfficiencySeriesinductanceArmature circuitResistanceat tanceInduc-120 °Cat rated armature voltage P N M N n Fmax I N h R a L a280 V 310 V 420 V 470 V kW Nm rpm A % W mH mHOverall length 21170 1.09 8.9 1400 1G75 102-0ED77 -4TV1 5.4 63 10.7 40.5 731290 1.37 10.1 1600 -3UV1 6.15 64 541840 2.2 11.4 4900 -6VV1 6.95 70 -2110 2.5 11.3 5000 -6WV1 6.85 73 -1640 1.52 8.85 2000 1G75 102-0EE77 -4TV1 7.2 68 6.41 23 631820 1.93 10.1 2300 -3UV1 8.2 69 542590 2.85 10.5 6300 -6VV1 8.65 74 -2950 3.15 10.2 5600 -6WV1 8.4 75 -1890 1.72 8.7 2300 1G75 102-0EF77 -4TV1 7.95 69 5.08 18 592090 2.2 10.1 2650 -3UV1 9.1 71 522970 3.1 9.95 6300 -6VV1 9.2 75 -3380 3.4 9.6 5600 -6WV1 8.9 76 -Overall length 41100 1.65 14.3 1300 1G75 104-0ED77 -4TV1 8.2 64 7.45 27 481210 2.15 17 1500 -3UV1 9.6 65 431750 3.3 18 4200 -6VV1 10.4 71 -2010 3.7 17.6 4350 -6WV1 10.2 73 -1500 2.2 14 1800 1G75 104-0EE77 -4TV1 10.4 69 4.6 16.5 431650 2.9 16.8 2100 -3UV1 12.3 70 432370 4.2 16.9 5300 -6VV1 12.5 75 -2710 4.6 16.2 4750 -6WV1 12.1 77 -1820 2.6 13.6 2250 1G75 104-0EF77 -4TV1 11.8 73 3.29 12 402010 3.4 16.2 2550 -3UV1 13.9 74 412850 4.7 15.7 5300 -6VV1 13.7 78 -3240 5.1 15 4750 -6WV1 13.2 79 -Overall length 6850 1.85 20.8 1000 1G75 106-0EC77 -4TV1 9.3 63 7.03 26.5 39930 2.35 24.2 1150 -3UV1 10.9 64 341350 3.75 26.5 3250 -6VV1 12 70 -1550 4.3 26.5 3300 -6WV1 11.9 73 -1110 2.4 20.6 1350 1G75 106-0ED77 -4TV1 11.3 68 4.53 17.5 371220 3.15 24.6 1550 -3UV1 13.5 69 371750 4.75 26 4150 -6VV1 14.3 74 -2010 5.3 25.2 4150 -6WV1 14 76 -1530 3.2 20 1900 1G75 106-0EE77 -4TV1 14.5 73 2.63 10.5 321690 4.25 24 2150 -3UV1 17.3 74 342400 6 23.8 4600 -6VV1 17.3 78 -2720 6.6 23.2 4150 -6WV1 16.9 80 -1980 4 19.3 2500 1G75 106-0EF77 -4TV1 17.5 76 1.69 6.6 292190 5.2 22.6 2800 -3UV1 20.6 78 303080 6.9 21.4 4600 -6VV1 19.6 80 -3500 7.55 20.6 4100 1G75 106-0FF77 -6WV1 19.1 81 -Fan unit Radially mounted GSeparateRated field voltage 310 V 4Type of construction IM B 3 0IM B 35 6H3Siemens DA 12 · 2004 3/7
---
<strong>Selection</strong> <strong>and</strong> <strong>ordering</strong>1GF5, 1GG5, 1GH5Size 112■ <strong>Selection</strong> <strong>and</strong> <strong>ordering</strong> dataThese motors are uncompensated.Rated speedn NrpmRatedoutputRatedtorqueMaximumfieldweakeningspeedOrder No.RatedcurrentEfficiencySeriesinductanceArmature circuitResistanceat tanceInduc-120 °Cat rated armature voltage P N M N n Fmax I N h R a L a280 V 310 V 420 V 470 V kW Nm rpm A % W mH mHOverall length 4885 3.9 42 2450 1G75 114-0FA77 -6VV1 13.1 67 7.87 62 -1030 4.5 41.7 2450 -6WV1 13 70 -735 2.45 31.7 850 1G75 114-0FB77 -4TV1 12.2 65 5.22 39.5 10820 3.05 35.5 1000 -3UV1 13.6 67 -1170 5.1 41.7 3100 -6VV1 16.2 71 -1350 5.85 41.5 3100 -6WV1 16.1 74 -865 2.9 32 1000 1G75 114-0FC77 -4TV1 13.9 68 4.11 30 14980 3.35 32.7 1200 -3UV1 14.5 70 -1370 5.95 41.5 3550 -6VV1 18.4 74 -1570 6.75 41 3600 -6WV1 18.3 76 -1060 3.5 31.5 1300 1G75 114-0FD77 -4TV1 16.2 72 2.83 22 161180 4.45 36 1450 -3UV1 18.5 73 91670 7.15 41 4200 -6VV1 21.2 78 -1910 8.05 40.3 4250 -6WV1 21 79 -1320 4.3 31 1650 1G75 114-0FE77 -4TV1 19.3 75 1.96 15.5 161470 5.55 36 1850 -3UV1 22.2 76 132070 8.6 39.7 5100 -6VV1 24.8 80 -2350 9.6 39 5200 -6WV1 24.4 81 -1550 5 30.7 1950 1G75 114-0FF77 -4TV1 22 77 1.53 11.5 161720 6.45 35.7 2200 -3UV1 25.6 78 132420 9.8 38.7 6000 -6VV1 28 81 -2750 10.9 37.7 6000 1G75 114-0GF77 -6WV1 27.4 83 -1870 5.95 30.5 2350 1G75 114-0FG77 -4TV1 25.8 79 1.07 8.3 162080 7.65 35 2650 -3UV1 29.8 80 132940 11.2 36.5 6000 1G75 114-0GG77 -6VV1 31.5 83 -3350 12.2 34.7 6000 -6WV1 30.3 84 -2080 6.55 30 2650 1G75 114-0FH77 -4TV1 28.2 80 0.871 6.8 152320 8.4 34.5 3000 -3UV1 32.3 81 133300 12 34.7 6000 1G75 114-0GH77 -6VV1 33.3 84 -2340 7.25 29.6 3000 1G75 114-0FJ77 -4TV1 30.7 81 0.703 5.5 152610 9.2 33.7 3350 1G75 114-0GJ77 -3UV1 35 82 132660 8.1 29 3400 1G75 114-0GK77 -4TV1 34 82 0.55 4.4 142990 10.7 34.3 3850 -3UV1 40.5 83 183100 9 27.8 4000 1G75 114-0GL77 -4TV1 37.7 83 0.432 3.35 143490 11.7 32 4500 1G75 114-0HL77 -3UV1 44 84 17Fan unit Axially mounted FRadially mountedSeparateRated field voltage 310 V 4Type of construction IM B 3 0IM B 35 6GH3Siemens DA 12 · 2004 3/9
---
<strong>Selection</strong> <strong>and</strong> <strong>ordering</strong>1GF5, 1GG5, 1GH5Size 1123Rated speedn NrpmRatedoutputRatedtorqueMaximumfieldweakeningspeedOrder No.RatedcurrentEfficiencySeriesinductanceArmature circuitResistanceat tanceInduc-120 °Cat rated armature voltage P N M N n Fmax I N h R a L a280 V 310 V 420 V 470 V kW Nm rpm A % W mH mHOverall length 6900 5.3 56 2500 1G75 116-0FC77 -6VV1 16.9 70 5.22 41.5 -1040 6.05 55.5 2550 -6WV1 16.8 73 -1160 6.75 55.5 3100 1G75 116-0FD77 -6VV1 20.5 75 3.41 28 -1330 7.7 55.5 3150 -6WV1 20.4 77 -1440 8.25 54.5 3750 1G75 116-0FE77 -6VV1 24.4 78 2.38 19.5 -1640 9.35 54.5 3800 -6WV1 24.2 79 -1850 10.4 53.5 4750 1G75 116-0FF77 -6VV1 29.8 80 1.59 12.5 -2100 11.6 52.5 4850 -6WV1 29.5 81 -2270 12.4 52 5900 1G75 116-0FG77 -6VV1 34.7 83 1.06 8.6 -2570 13.8 51.5 6000 -6WV1 34.3 83 -2550 13.6 51 6000 1G75 116-0FH77 -6VV1 38 83 0.857 7 -2900 14.9 49 6000 1G75 116-0GH77 -6WV1 37 84 -2920 14.9 48.7 6000 1G75 116-0GJ77 -6VV1 41 84 0.662 5.5 -3330 16.2 46.5 5700 -6WV1 39.7 85 -3400 16.2 45.5 6000 1G75 116-0GK77 -6VV1 44.3 85 0.529 4.25 -Fan unit Axially mounted FRadially mountedSeparateRated field voltage 310 V 4Type of construction IM B 3 0IM B 35 6GHMotor typeFieldpowerapprox.Moment ofinertiaMechanicallimit speedP field J n mechkW kgm² rpm kg1GF5 114 0.33 0.032 6000 931GG5 114 0.33 0.032 6000 931GH5 114 0.33 0.032 6000 86Weight,netapprox.1GF5 116 0.4 0.042 6000 1151GG5 116 0.4 0.042 6000 1151GH5 116 0.4 0.042 6000 110Armature controlSpeed can be coasted down by means of armature control toapprox. 10 rpm at constant torque of the motor.Field weakeningThe order numbers for the motors are valid for field weakeningspeeds n F up to 1.15 ¼ n N . At higher field weakening speedssupplementary short codes are required: "C05" forn F >1.15¼ n N to 1.7 ¼ n N <strong>and</strong> "C06" for n F >1.7¼ n N(short codes: from Page 3/137)The motors can be operated at rated output P N up to the fieldweakening speed n Fmax .For higher speeds, the output must be reduced.Rated field voltageFor other rated field voltages <strong>and</strong> the associated Order No. supplement,see Page 3/6.Type of constructionFor other type of constructions <strong>and</strong> the associated Order No.supplement, see Page 3/6.3/10Siemens DA 12 · 2004
---
<strong>Selection</strong> <strong>and</strong> <strong>ordering</strong>1GG5, 1GH5Size 112■ <strong>Selection</strong> <strong>and</strong> <strong>ordering</strong> dataThese motors are uncompensated.Rated speedn NrpmRatedoutputRatedtorqueMaximumfieldweakeningspeedOrder No.RatedcurrentEfficiencySeriesinductanceArmature circuitResistanceat tanceInduc-120 °Cat rated armature voltage P N M N n Fmax I N h R a L a420 V 470 V kW Nm rpm A % W mH mHOverall length 8915 5.85 61 2350 1G75 118-0FC77 -6WV1 16.4 72 5.5 45 -1020 6.55 61.5 2850 1G75 118-0FD77 -6VV1 20 74 3.62 30 -1170 7.45 61 2850 -6WV1 20 76 -1270 8 60 3450 1G75 118-0FE77 -6VV1 23.8 76 2.59 21 -1450 9.1 60 3500 -6WV1 23.6 78 -1630 10.1 59 4350 1G75 118-0FF77 -6VV1 29.4 79 1.71 13.5 -1850 11.4 59 4400 -6WV1 29.2 81 -2020 12.2 57.5 5300 1G75 118-0FG77 -6VV1 34.5 82 1.14 9.3 -2280 13.6 57 5400 -6WV1 34 83 -2270 13.5 57 5500 1G75 118-0FH77 -6VV1 37.5 83 0.912 7.5 -2560 15 56 5500 -6WV1 37 84 -2580 14.9 55 5500 1G75 118-0FJ77 -6VV1 41.3 84 0.717 5.9 -2920 16.3 53.5 5500 1G75 118-0GJ77 -6WV1 40.3 84 6 -3000 16.4 52 5500 1G75 118-0GK77 -6VV1 45 84 0.564 4.55 -3410 17.9 50 5500 1G75 118-0GK77 -6WV1 43.7 85 4.6 -Fan unit Radially mounted GSeparateRated field voltage 310 V 4Type of construction IM B 3 0IM B 35 6H3Motor typeFieldpowerapprox.Moment ofinertiaMechanicallimit speedP field J n mechkW kgm² rpm kg1GG5 118 0.44 0.046 5500 121Weight,netapprox.1GH5 118 0.44 0.046 5500 114Armature controlSpeed can be coasted down by means of armature control toapprox. 10 rpm at constant torque of the motor.Field weakeningThe order numbers for the motors are valid for field weakeningspeeds n F up to 1.15 ¼ n N . At higher field weakening speedssupplementary short codes are required: "C05" for n F >1.15¼ n Nto 1.7 ¼ n N <strong>and</strong> "C06" for n F >1.7¼ n N(short codes: from Page 3/137)The motors can be operated at rated output P N up to the fieldweakening speed n Fmax .For higher speeds, the output must be reduced.Rated field voltageFor other rated field voltages <strong>and</strong> the associated Order No. supplement,see Page 3/6.Type of constructionFor other type of constructions <strong>and</strong> the associated Order No.supplement, see Page 3/6.Siemens DA 12 · 2004 3/11
---
<strong>Selection</strong> <strong>and</strong> <strong>ordering</strong>1GF5, 1GG5, 1GH5Size 1323■ <strong>Selection</strong> <strong>and</strong> <strong>ordering</strong> dataThese motors are uncompensated.Rated speedn NrpmRatedoutputRatedtorqueMaximumfieldweakeningspeedOrder No.RatedcurrentEfficiencySeriesinductanceArmature circuitResistanceat tanceInduc-120 °Cat rated armature voltage P N M N n Fmax I N h R a L a420 V 470 V kW Nm rpm A % W mH mHOverall length 2740 6.9 89 1350 1G75 132-0GA77 -6VV1 22.4 70 4.5 56 -860 7.95 88.5 1350 -6WV1 22.4 73 -900 8.15 86.5 1600 1G75 132-0GB77 -6VV1 25.4 73 3.42 41.5 -1040 9.35 86 1600 -6WV1 25.2 75 -1050 9 82 1900 1G75 132-0GC77 -6VV1 27.4 75 2.86 31.5 -1210 10.3 81.5 1900 -6WV1 27.2 78 -1280 11.3 84.5 2100 1G75 132-0GD77 -6VV1 33 79 1.91 23 -1470 12.8 83 2150 -6WV1 32.7 81 -1470 12.7 82.5 2400 1G75 132-0GE77 -6VV1 36.3 80 1.58 18.5 -1670 14.3 82 2400 -6WV1 36 82 -1720 14.8 82 2700 1G75 132-0GF77 -6VV1 41.5 83 1.16 14 -1950 16.6 81.5 2700 -6WV1 41 84 -1950 16.7 82 2950 1G75 132-0GG77 -6VV1 46.3 84 0.928 11 -2210 18.7 81 3000 -6WV1 45.7 85 -2240 17.7 75.5 3550 1G75 132-0GH77 -6VV1 48.3 85 0.776 8.6 -2530 19.7 74.5 3600 -6WV1 47.7 86 -2620 20.2 73.5 4050 1G75 132-0GJ77 -6VV1 54.5 86 0.595 6.4 -2960 21.6 69.5 4250 -6WV1 51.5 88 -3160 22.5 68 4900 1G75 132-0GK77 -6VV1 60 88 0.409 4.55 -Overall length 4705 8.5 115 1300 1G75 134-0GA77 -6VV1 27.4 70 3.58 43.5 -815 9.8 115 1300 -6WV1 27.4 73 -840 9.4 107 1600 1G75 134-0GB77 -6VV1 29.4 73 2.93 32.5 -970 10.8 106 1600 -6WV1 29.2 76 -1050 12 109 1850 1G75 134-0GC77 -6VV1 35.7 78 1.97 23 -1200 13.8 110 1850 -6WV1 35.7 79 -1240 15 116 1950 1G75 134-0GD77 -6VV1 43 80 1.4 17.5 -1410 17 115 2000 -6WV1 43 82 -1460 16.5 108 2400 1G75 134-0GE77 -6VV1 47 81 1.14 13 -1660 18.7 108 2450 -6WV1 46.7 83 -1710 19.8 111 2650 1G75 134-0GF77 -6VV1 55.5 83 0.844 9.9 -1940 22.2 109 2650 -6WV1 54.5 85 -1910 21.4 107 3000 1G75 134-0GG77 -6VV1 58.5 84 0.717 8.1 -2160 23.8 105 3050 -6WV1 57.5 86 -2300 24.2 100 3600 1G75 134-0GH77 -6VV1 65.5 86 0.52 5.7 -2600 26.8 98.5 3700 -6WV1 64 88 -2660 27 97 4150 1G75 134-0GJ77 -6VV1 72 88 0.407 4.4 -3000 28.8 91.5 4300 -6WV1 68.5 88 -3140 33 100 4500 1G75 134-0GK77 -6VV1 87.5 88 0.297 3.2 -Fan unit Axially mounted FRadially mountedSeparateRated field voltage 310 V 4Type of construction IM B 3 0IM B 35 6GH3/12Siemens DA 12 · 2004
---
<strong>Selection</strong> <strong>and</strong> <strong>ordering</strong>1GF5, 1GG5, 1GH5Size 132Rated speedn NrpmRatedoutputRatedtorqueMaximumfieldweakeningspeedOrder No.RatedcurrentEfficiencyat rated armature voltage P N M N n Fmax I N h R a L a420 V 470 V kW Nm rpm A % W mH mHOverall length 6715 11.1 148 1300 1G75 136-0GA77 -6VV1 34.7 73 2.6 32.5 -825 12.8 148 1300 -6WV1 34.7 75 -910 13.7 144 1600 1G75 136-0GB77 -6VV1 41 76 1.81 22 -1040 15.7 144 1600 -6WV1 41 78 -1090 16.2 142 1850 1G75 136-0GC77 -6VV1 47.3 79 1.37 16 -1240 18.5 142 1900 -6WV1 47.3 81 -1350 20.2 143 2200 1G75 136-0GD77 -6VV1 57 82 0.921 11.5 -1540 23 143 2200 -6WV1 57 83 -1730 24.8 137 2750 1G75 136-0GE77 -6VV1 68.5 84 0.627 7.2 -1960 27.8 135 2800 -6WV1 67.5 86 -2000 28.2 135 3150 1G75 136-0GF77 -6VV1 77 86 0.486 5.5 -2260 31.5 133 3200 -6WV1 76 87 -2370 32.3 130 3700 1G75 136-0GG77 -6VV1 86.5 88 0.355 4.05 -2680 35.5 126 3750 -6WV1 84 88 -2600 34 125 3400 1G75 136-0GH77 -6VV1 91 88 0.302 3.4 -2940 36.5 119 3550 -6WV1 86 89 -2890 36.7 121 3750 1G75 136-0GJ77 -6VV1 97 89 0.244 2.8 -3250 39 115 3800 -6WV1 91 89 -3220 38 113 4250 1G75 136-0GK77 -6VV1 100 89 0.204 2.25 -Fan unit Axially mounted FRadially mountedSeparateRated field voltage 310 V 4Type of construction IM B 3 0IM B 35 6GHSeriesinductanceArmature circuitResistanceat tanceInduc-120 °C3Motor typeFieldpowerapprox.Moment ofinertiaMechanicallimit speedP field J n mechkW kgm² rpm kg1GF5 132 0.47 0.09 5000 1251GG5 132 0.47 0.09 5000 1251GH5 132 0.47 0.09 5000 1151GF5 134 0.54 0.11 5000 1451GG5 134 0.54 0.11 5000 1451GH5 134 0.54 0.11 5000 1351GF5 136 0.62 0.14 5000 1701GG5 136 0.62 0.14 5000 170Weight,netapprox.1GH5 136 0.62 0.14 5000 160Armature controlSpeed can be coasted down by means of armature control toapprox. 10 rpm at constant torque of the motor.Field weakeningThe order numbers for the motors are valid for field weakeningspeeds n F up to 1.15 ¼ n N . At higher field weakening speedssupplementary short codes are required: "C05" forn F >1.15¼ n N to 1.7 ¼ n N <strong>and</strong> "C06" for n F >1.7¼ n N(short codes: from Page 3/137)The motors can be operated at rated output P N up to the fieldweakening speed n Fmax .For higher speeds, the output must be reduced.Rated field voltageFor other rated field voltages <strong>and</strong> the associated Order No. supplement,see Page 3/6.Type of constructionFor other type of constructions <strong>and</strong> the associated Order No.supplement, see Page 3/6.Siemens DA 12 · 2004 3/13
---
<strong>Selection</strong> <strong>and</strong> <strong>ordering</strong>1GF5, 1GG5, 1GH5Size 1603■ <strong>Selection</strong> <strong>and</strong> <strong>ordering</strong> dataThese motors are uncompensated.Rated speedn NrpmRatedoutputRatedtorqueMaximumfieldweakeningspeedOrder No.RatedcurrentEfficiencySeriesinductanceArmature circuitResistanceat tanceInduc-120 °Cat rated armature voltage P N M N n Fmax I N h R a L a420 V 470 V 520 V 600 V kW Nm rpm A % W mH mHOverall length 2730 13 170 1500 1G75 162-0GB77 -6WV1 35.7 74 2.59 31 -830 14.7 169 1500 -7MV1 35.5 76 -985 17.4 169 1500 -7NV1 35.5 79 -760 14.2 178 1600 1G75 162-0GC77 -6VV1 43 76 1.8 24 -875 16.3 178 1600 -6WV1 43 78 -985 18.3 177 1600 -7MV1 42.7 80 -1170 21.2 173 1650 -7NV1 41.7 82 -915 16.8 175 1850 1G75 162-0GD77 -6VV1 49.5 78 1.37 17.5 -1040 19.2 176 1850 -6WV1 49.5 80 -1170 21.5 175 1850 -7MV1 49.5 82 -1390 24.4 168 1950 -7NV1 47 84 -1120 20 171 2250 1G75 162-0GE77 -6VV1 57.5 81 1 12 -1280 22.6 169 2250 -6WV1 57 83 -1440 25.4 168 2250 -7MV1 56.5 84 -1690 28.6 162 2350 -7NV1 54.5 85 -1370 24 167 2650 1G75 162-0GF77 -6VV1 67 83 0.705 8.6 -1560 27.2 167 2650 -6WV1 66.5 84 -1740 30 165 2700 -7MV1 66.5 85 -2040 33 154 2850 -7NV1 62 87 -1630 28.6 168 3000 1G75 162-0GG77 -6VV1 78.5 85 0.518 6.3 -1850 32.3 167 3000 -6WV1 78 86 -2060 35.3 164 3050 -7MV1 77 87 -2410 37.5 149 3300 -7NV1 69.5 88 -1860 32.5 167 3300 1G75 162-0GH77 -6VV1 88 86 0.411 5 -2100 36.3 165 3350 -6WV1 87 87 -2340 39.7 162 3400 -7MV1 85.5 88 -2730 41 143 3600 -7NV1 76 89 -2150 36.3 161 3750 1G75 162-0GJ77 -6VV1 97 88 0.305 3.8 -2430 40.3 158 3800 -6WV1 96 88 -2710 43.3 153 3900 -7MV1 92 89 -3150 45.3 137 3600 -7NV1 83 89 -2530 42 159 4250 1G75 162-0GK77 -6VV1 112 88 0.237 2.8 -2850 45.3 152 4400 -6WV1 107 89 -3180 47 141 4150 -7MV1 100 89 -2770 43.7 151 4500 1G75 162-0GL77 -6VV1 116 88 0.208 2.35 -3120 46.7 143 4500 -6WV1 110 89 -3470 48 132 4150 1G75 162-0GL77 -7MV1 102 89 -Fan unit Axially mounted FRadially mountedSeparateRated field voltage 310 V 4Type of construction IM B 3 0IM B 35 6GH3/14Siemens DA 12 · 2004
---
<strong>Selection</strong> <strong>and</strong> <strong>ordering</strong>1GF5, 1GG5, 1GH5Size 160Rated speedn NrpmRatedoutputRatedtorqueMaximumfieldweakeningspeedOrder No.RatedcurrentEfficiencyat rated armature voltage P N M N n Fmax I N h R a L a420 V 470 V 520 V 600 V kW Nm rpm A % W mH mHOverall length 4685 16 223 1500 1G75 164-0GB77 -6VV1 48.5 76 1.62 21.5 -785 18.3 223 1500 -6WV1 48.5 78 -885 20.6 222 1500 -7MV1 48.3 80 -1050 24.4 222 1500 -7NV1 48.3 82 -850 19 213 1800 1G75 164-0GC77 -6VV1 55.5 79 1.18 15 -970 21.6 213 1800 -6WV1 55.5 81 -1090 24.2 212 1850 -7MV1 55.5 83 -1280 28.5 213 1850 -7NV1 55.5 84 -1040 23 211 2150 1G75 164-0GD77 -6VV1 65.5 82 0.832 10.5 -1180 26.2 212 2150 -6WV1 65.5 83 -1330 29 208 2150 -7MV1 64.5 84 -1560 33.7 206 2200 -7NV1 64 86 -1240 28.2 217 2400 1G75 164-0GE77 -6VV1 78.5 83 0.607 7.8 -1410 31.7 215 2400 -6WV1 78 85 -1580 35.3 213 2450 -7MV1 77 86 -1840 38.7 201 2550 -7NV1 72.5 88 -1520 33.3 209 2850 1G75 164-0GF77 -6VV1 91 85 0.423 5.4 -1720 37.5 208 2900 -6WV1 90 87 -1920 41.3 205 2950 -7MV1 89 88 -2240 45 192 3100 -7NV1 83.5 89 -1780 37.7 202 3300 1G75 164-0GG77 -6VV1 101 87 0.325 4.05 -2010 42.3 201 3350 -6WV1 100 88 -2240 46 196 3400 -7MV1 98 88 -2600 50.5 185 3350 -7NV1 93 89 -2130 45.3 203 3750 1G75 164-0GH77 -6VV1 120 88 0.23 2.9 -2400 50.5 201 3800 -6WV1 119 89 -2670 54.5 195 3900 -7MV1 115 89 -3090 57.5 178 3350 -7NV1 105 90 -2350 47 191 4200 1G75 164-0GJ77 -6VV1 124 88 0.199 2.4 -2640 52 188 4300 -6WV1 122 89 -2940 54 175 3900 -7MV1 115 90 -3410 58.5 164 3410 -7NV1 107 90 -2620 51 186 4500 1G75 164-0GK77 -6VV1 134 89 0.164 1.95 -2950 57.5 186 4300 -6WV1 134 89 -3270 59 172 3850 -7MV1 125 90 -2960 55 177 3850 1G75 164-0GL77 -6VV1 145 89 0.127 1.5 -3330 58.5 168 3400 1G75 164-0GL77 -6WV1 137 90 -Fan unit Axially mounted FRadially mountedSeparateRated field voltage 310 V 4Type of construction IM B 3 0IM B 35 6GHSeriesinductanceArmature circuitResistanceat tanceInduc-120 °C3Siemens DA 12 · 2004 3/15
---
<strong>Selection</strong> <strong>and</strong> <strong>ordering</strong>1GF5, 1GG5, 1GH5Size 1603Rated speedn NrpmRatedoutputRatedtorqueMaximumfieldweakeningspeedOrder No.RatedcurrentEfficiencyat rated armature voltage P N M N n Fmax I N h R a L a420 V 470 V 520 V 600 V kW Nm rpm A % W mH mHOverall length 6725 20.2 266 1450 1G75 166-0GB77 -6WV1 53 78 1.43 20.5 -815 22.8 267 1450 -7MV1 53 80 -965 26.8 265 1450 -7NV1 53 83 -820 23.6 275 1750 1G75 166-0GC77 -6VV1 68.5 80 0.918 13.5 -935 27 276 1750 -6WV1 68.5 81 -1050 30.3 276 1750 -7MV1 68.5 83 -1240 35.3 272 1750 -7NV1 68 85 -1060 30.3 273 2150 1G75 166-0GD77 -6VV1 84.5 83 0.588 8.5 -1210 34.3 271 2150 -6WV1 84 84 -1350 38 269 2150 -7MV1 84 86 -1590 43.5 261 2250 -7NV1 81.5 88 -1340 37 264 2600 1G75 166-0GE77 -6VV1 101 85 0.397 5.6 -1520 41.7 262 2650 -6WV1 100 86 -1690 46 260 2650 -7MV1 100 88 -1980 52 251 2750 -7NV1 96 88 -1610 44 261 3050 1G75 166-0GF77 -6VV1 118 88 0.279 4 -1820 49.5 260 3050 -6WV1 118 88 -2030 54 254 3100 -7MV1 116 89 -2360 59.5 241 3250 -7NV1 109 90 -1790 48.5 259 3300 1G75 166-0GG77 -6VV1 129 88 0.229 3.3 -2020 54 255 3350 -6WV1 128 89 -2250 59 250 3400 -7MV1 125 89 -2610 64 234 3500 -7NV1 117 90 -2000 51 244 3750 1G75 166-0GH77 -6VV1 134 89 0.188 2.7 -2250 57 242 3750 -6WV1 134 89 -2510 63.5 242 3750 -7MV1 134 90 -2910 69.5 228 3500 -7NV1 126 91 -2260 57.5 243 3450 1G75 166-0GJ77 -6VV1 151 89 0.154 2.1 -2540 64 241 3500 -6WV1 149 90 -2820 63.5 215 3200 -7MV1 133 90 -2600 65 239 3900 1G75 166-0GK77 -6VV1 171 90 0.118 1.6 -2920 70 229 3550 -6WV1 163 90 -3230 70 207 3250 -7MV1 147 91 -3030 72 227 4000 1G75 166-0GL77 -6VV1 188 90 0.0969 1.2 -3400 76 213 3550 1G75 166-0GL77 -6WV1 178 90 -Fan unit Axially mounted FRadially mountedSeparateRated field voltage 310 V 4Type of construction IM B 3 0IM B 35 6GHSeriesinductanceArmature circuitResistanceat tanceInduc-120 °C3/16Siemens DA 12 · 2004
---
<strong>Selection</strong> <strong>and</strong> <strong>ordering</strong>1GF5, 1GG5, 1GH5Size 160Motor typeFieldpowerapprox.Moment ofinertiaMechanicallimit speedP field J n mechkW kgm² rpm kg1GF5 162 0.68 0.24 4500 2251GG5 162 0.68 0.24 4500 2251GH5 162 0.68 0.24 4500 2151GF5 164 0.75 0.29 4500 2551GG5 164 0.75 0.29 4500 2551GH5 164 0.75 0.29 4500 2401GF5 166 0.81 0.36 4500 3001GG5 166 0.81 0.36 4500 300Weight,netapprox.1GH5 166 0.81 0.36 4500 290Armature controlSpeed can be coasted down by means of armature control toapprox. 10 rpm at constant torque of the motor.Field weakeningThe order numbers for the motors are valid for field weakeningspeeds n F up to 1.15 ¼ n N . At higher field weakening speedssupplementary short codes are required: "C05" forn F >1.15¼ n N to 1.7 ¼ n N <strong>and</strong> "C06" for n F >1.7¼ n N(short codes: from Page 3/137)The motors can be operated at rated output P N up to the fieldweakening speed n Fmax .For higher speeds, the output must be reduced.Rated field voltageFor other rated field voltages <strong>and</strong> the associated Order No. supplement,see Page 3/6.Type of constructionFor other type of constructions <strong>and</strong> the associated Order No.supplement, see Page 3/6.3Siemens DA 12 · 2004 3/17
---
<strong>Selection</strong> <strong>and</strong> <strong>ordering</strong>1GF6, 1GG6, 1GH6Size 1603■ <strong>Selection</strong> <strong>and</strong> <strong>ordering</strong> dataThese motors are uncompensated.Rated speedn NrpmRatedoutputRatedtorqueMaximumfieldweakeningspeedOrder No.RatedcurrentEfficiencyArmature circuitResistanceat tanceInduc-120 °Cat rated armature voltage P N M N n Fmax I N h R a L a420 V 470 V 520 V 600 V kW Nm rpm A % W mHOverall length 2995 31.5 302 2500 1G76 162-0JC77 -6VV5 90 79 0.65 6.61130 35.7 302 2550 -6WV5 90 811270 40 301 2550 -7MV5 90 831490 47 301 2550 -7NV5 90 841310 41.5 303 2350 1G76 162-0JD77 -6VV5 114 83 0.403 41480 47 303 2350 -6WV5 115 841660 52.5 302 2400 -7MV5 114 851940 60.5 298 2250 -7NV5 113 871660 53 305 2500 1G76 162-0JE77 -6VV5 142 86 0.252 2.651880 59.5 302 2500 -6WV5 141 872140 63.5 283 4500 1G76 162-0JF77 -6VV5 168 88 0.173 1.652410 71 281 4500 -6WV5 168 882690 77 273 4500 -7MV5 163 893120 88.5 271 4500 -7NV5 161 902750 78.5 273 4400 1G76 162-0JG77 -6VV5 206 89 0.108 13100 87.5 270 4450 -6WV5 204 903430 92 256 4500 -7MV5 193 903440 93.5 260 4500 1G76 162-0JH77 -6VV5 242 90 0.0691 0.66Overall length 4725 30 395 2000 1G76 164-0JC77 -6VV5 88 77 0.774 8.7830 34.3 395 2000 -6WV5 87.5 79935 38.5 393 2000 -7MV5 87.5 811100 45.3 393 2000 -7NV5 87.5 83960 39.5 393 1850 1G76 164-0JD77 -6VV5 111 81 0.479 5.31090 45 394 1850 -6WV5 111 831220 50 391 1900 -7MV5 111 841430 59 394 1750 -7NV5 111 861220 52 407 1950 1G76 164-0JE77 -6VV5 142 84 0.299 3.551390 58.5 402 1950 -6WV5 141 851590 64.5 387 3550 1G76 164-0JF77 -6VV5 173 86 0.197 2.151800 72.5 385 3600 -6WV5 171 882000 79 377 3650 -7MV5 168 882330 91 373 3700 -7NV5 166 892050 81.5 380 3400 1G76 164-0JG77 -6VV5 214 88 0.122 1.352310 90.5 374 3450 -6WV5 212 892580 97.5 361 3550 -7MV5 204 902990 111 355 3200 -7NV5 200 912570 99.5 370 4000 1G76 164-0JH77 -6VV5 258 90 0.0762 0.882890 110 363 3750 1G76 164-0JH77 -6WV5 252 91Fan unit Axially mounted FRadially mountedSeparateRated field voltage 310 V 4Type of construction IM B 3 0IM B 35 6GH3/18Siemens DA 12 · 2004
---
<strong>Selection</strong> <strong>and</strong> <strong>ordering</strong>1GF6, 1GG6, 1GH6Size 160Rated speedn NrpmRatedoutputRatedtorqueMaximumfieldweakeningspeedOrder No.Ratedcurrentat rated armature voltage P N M N n Fmax I N h R a L a420 V 470 V 520 V 600 V kW Nm rpm A % W mHOverall length 6710 36 484 1650 1G76 166-0JC77 -7MV5 84 78 0.932 11.5840 42.7 485 1650 -7NV5 84 81730 37.3 488 1500 1G76 166-0JD77 -6VV5 107 79 0.578 7830 42.5 489 1500 -6WV5 107 80930 47.5 488 1550 -7MV5 107 831100 56 486 1400 -7NV5 107 84935 49.5 506 1550 1G76 166-0JE77 -6VV5 138 83 0.361 4.71060 56 504 1550 -6WV5 138 841220 61.5 481 3000 1G76 166-0JF77 -6VV5 167 85 0.237 2.91380 69.5 481 3000 -6WV5 167 861540 77.5 481 3000 -7MV5 166 881800 89 472 3050 -7NV5 164 881580 79.5 480 2800 1G76 166-0JG77 -6VV5 210 88 0.147 1.751780 89 477 2850 -6WV5 210 881990 97 465 2900 -7MV5 204 892310 111 459 2500 -7NV5 200 901990 98.5 473 3250 1G76 166-0JH77 -6VV5 256 89 0.0914 1.152240 110 469 2900 1G76 166-0JH77 -6WV5 254 90Fan unit Axially mounted FRadially mountedSeparateRated field voltage 310 V 4Type of construction IM B 3 0IM B 35 6GHEfficiencyArmature circuitResistanceat tanceInduc-120 °C3Motor typeFieldpowerapprox.Moment ofinertiaMechanicallimit speedP field J n mechkW kgm² rpm kg1GF6 162 1.81 0.32 4500 3221GG6 162 1.81 0.32 4500 3201GH6 162 1.81 0.32 4500 3071GF6 164 2.08 0.38 4500 3671GG6 164 2.08 0.38 4500 3651GH6 164 2.08 0.38 4500 3521GF6 166 2.3 0.46 4500 4301GG6 166 2.3 0.46 4500 428Weight,netapprox.1GH6 166 2.3 0.46 4500 415Armature controlSpeed can be coasted down by means of armature control toapprox. 10 rpm at constant torque of the motor.Field weakeningThe order numbers for the motors are valid for field weakeningspeeds n F up to 1.15 ¼ n N . At higher field weakening speedssupplementary short codes are required: "C05" forn F >1.15¼ n N to 1.7 ¼ n N <strong>and</strong> "C06" for n F >1.7¼ n N(short codes: from Page 3/137)The motors can be operated at rated output P N up to the fieldweakening speed n Fmax .For higher speeds, the output must be reduced.Rated field voltageFor other rated field voltages <strong>and</strong> the associated Order No. supplement,see Page 3/6.Type of constructionFor other type of constructions <strong>and</strong> the associated Order No.supplement, see Page 3/6.Siemens DA 12 · 2004 3/19
---
<strong>Selection</strong> <strong>and</strong> <strong>ordering</strong>1GG6, 1GH6, 1HS6Size 1803■ <strong>Selection</strong> <strong>and</strong> <strong>ordering</strong> dataThese motors are uncompensated.Rated speedn NrpmRatedoutputRatedtorqueMaximumfieldweakeningspeedOrder No.RatedcurrentEfficiencyArmature circuitResistanceat tanceInduc-120 °Cat rated armature voltage P N M N n Fmax I N h R a L a420 V 470 V 520 V 600 V kW Nm rpm A % mW mHOverall length 6815 44.8 525 2150 1776 186-0NA77 -1VV3 127 80 472 7.85930 51 525 1990 -1WV3 127 821050 57.5 525 1820 -7MV3 127 831230 67.5 525 1500 -7NV3 127 85995 55.5 535 1930 1776 186-0NB77 -1VV3 153 83 330 5.831130 63 530 1740 -1WV3 153 841270 70.5 530 1500 -7MV3 153 861220 65.5 515 3400 1776 186-0NC77 -1VV3 177 85 242 3.891380 74 510 3400 -1WV3 176 861540 82.5 510 3400 -7MV3 176 871800 96.5 510 3400 -7NV3 176 891530 83.5 520 3400 1776 186-0ND77 -1VV3 220 87 156 2.721730 94.5 520 3400 -1WV3 220 881920 105 520 3400 -7MV3 220 892240 122 520 3400 -7NV3 220 901770 96 520 3400 1776 186-0NE77 -1VV3 252 88 118 1.962000 108 515 3400 -1WV3 250 892240 120 510 3400 -7MV3 250 902600 139 510 2720 -7NV3 248 912140 117 520 3400 1776 186-0NF77 -1VV3 302 90 82.5 1.462400 132 525 3220 -1WV3 302 912680 144 515 2720 -7MV3 296 912600 136 500 3400 1776 186-0NG77 -1VV3 348 91 60.5 0.972940 151 490 3400 -1WV3 344 913260 164 480 3400 -7MV3 335 922840 139 468 3400 1776 186-0NH77 -1VV3 354 91 51.5 0.843200 151 450 3400 1776 186-0NH77 -1WV3 342 92Separate ventilation Fan unit, radially mounted GGFan unit, separately-mountedMounted air-to-water heat exchangerRated field voltage 310 V 4Type of construction IM B 3 0GHHSIM B 35 63/20Siemens DA 12 · 2004
---
<strong>Selection</strong> <strong>and</strong> <strong>ordering</strong>1GG6, 1GH6, 1HS6Size 180Rated speedn NrpmRatedoutputRatedtorqueMaximumfieldweakeningspeedOrder No.Ratedcurrentat rated armature voltage P N M N n Fmax I N h R a L a420 V 470 V 520 V 600 V kW Nm rpm A % mW mHOverall length 8645 44.2 655 1730 1776 188-0NA77 -1VV3 129 78 535 9.65735 50.5 655 1620 -1WV3 129 80830 57 655 1490 -7MV3 129 82980 67 655 1240 -7NV3 129 84790 55 665 1580 1776 188-0NB77 -1VV3 156 81 374 7.17900 63 670 1410 -1WV3 157 831010 70.5 665 1250 -7MV3 156 84970 65.5 645 2920 1776 188-0NC77 -1VV3 181 83 275 4.781100 74 640 3300 -1WV3 180 851240 82.5 635 3320 -7MV3 178 861450 96.5 635 3320 -7NV3 178 881230 83.5 650 3300 1776 188-0ND77 -1VV3 224 86 177 3.341390 94 645 3320 -1WV3 222 871550 104 640 3240 -7MV3 220 881810 121 640 2980 -7NV3 220 901420 96 645 3300 1776 188-0NE77 -1VV3 254 87 134 2.411610 108 640 3080 -1WV3 252 891800 119 630 2800 -7MV3 250 892100 137 625 2200 -7NV3 246 911720 116 645 3020 1776 188-0NF77 -1VV3 302 89 93.5 1.791940 130 640 2680 -1WV3 300 902160 143 630 2240 -7MV3 296 912100 135 615 3400 1776 188-0NG77 -1VV3 348 90 69 1.192380 150 600 3400 -1WV3 342 912640 162 585 3400 -7MV3 332 913060 183 570 3400 -7NV3 324 922300 144 600 3400 1776 188-0NH77 -1VV3 370 91 58.5 1.032580 158 585 3400 -1WV3 360 912880 172 570 3400 -7MV3 352 923340 191 545 3400 1776 188-0NH77 -7NV3 336 92Separate ventilation Fan unit, radially mounted GGFan unit, separately-mountedMounted air-to-water heat exchangerRated field voltage 310 V 4Type of construction IM B 3 0GHHSIM B 35 6EfficiencyArmature circuitResistanceat tanceInduc-120 °C3Siemens DA 12 · 2004 3/21
---
<strong>Selection</strong> <strong>and</strong> <strong>ordering</strong>1GG6, 1GH6, 1HS6Size 180Motor typeFieldpowerapprox.Moment ofinertiaMechanicallimit speedP field J n mechkW kgm² rpm kg1GG6 186 2.5 0.6 3800 4601GH6 186 2.5 0.6 3800 4301HS6 186 2.5 0.6 3800 5301GG6 188 2.7 0.7 3800 5201GH6 188 2.7 0.7 3800 490Weight,netapprox.1HS6 188 2.7 0.7 3800 600Armature controlSpeed can be coasted down by means of armature control toapprox. 10 rpm at constant torque of the motor.Field weakeningThe order numbers for the motors are valid for field weakeningspeeds n F up to 1.15 ¼ n N . At higher field weakening speedssupplementary short codes are required: "C05" forn F >1.15¼ n N to 1.7 ¼ n N <strong>and</strong> "C06" for n F >1.7¼ n N(short codes: from Page 3/137)The motors can be operated at rated output P N up to the fieldweakening speed n Fmax .For higher speeds, the output must be reduced.Rated field voltageFor other rated field voltages <strong>and</strong> the associated Order No. supplement,see Page 3/6.Type of constructionFor other type of constructions <strong>and</strong> the associated Order No.supplement, see Page 3/6.33/22Siemens DA 12 · 2004
---
<strong>Selection</strong> <strong>and</strong> <strong>ordering</strong>1GG6, 1GH6, 1HS6Size 200■ <strong>Selection</strong> <strong>and</strong> <strong>ordering</strong> dataThese motors are uncompensated.Rated speedn NrpmRatedoutputRatedtorqueMaximumfieldweakeningspeedOrder No.RatedcurrentEfficiencyArmature circuitResistanceat tanceInduc-120 °Cat rated armature voltage P N M N n Fmax I N h R a L a420 V 470 V 520 V 600 V kW Nm rpm A % mW mHOverall length 6815 66.5 780 2450 1776 206-0NA77 -1VV3 186 82 292 5.81925 76 785 2750 -1WV3 187 841040 85 780 2750 -7MV3 186 851220 100 785 2750 -7NV3 187 87960 80 795 2740 1776 206-0NB77 -1VV3 220 85 212 4.281090 91 795 2740 -1WV3 220 861220 102 800 2720 -7MV3 220 871430 119 795 2740 -7NV3 220 881120 93 795 3000 1776 206-0NC77 -1VV3 250 86 160 3.191270 106 795 2980 -1WV3 252 871420 118 795 2980 -7MV3 250 881660 137 790 2850 -7NV3 250 901340 109 775 2800 1776 206-0ND77 -1VV3 288 88 117 2.291510 123 780 2800 -1WV3 288 891690 137 775 2800 -7MV3 288 901970 159 770 2350 -7NV3 286 911570 131 795 2680 1776 206-0NE77 -1VV3 342 89 84.5 1.661780 147 790 2700 -1WV3 340 901980 163 785 2300 -7MV3 338 911870 152 775 3100 1776 206-0NF77 -1VV3 394 90 63.5 1.22120 170 765 3100 -1WV3 388 912350 186 755 3100 -7MV3 382 922720 212 745 3100 -7NV3 376 922040 161 755 3100 1776 206-0NG77 -1VV3 414 91 54.5 1.042300 181 750 3100 -1WV3 414 912560 200 745 3100 -7MV3 410 922960 230 740 3100 -7NV3 408 922480 185 710 3100 1776 206-0NH77 -1VV3 472 92 38.2 0.762800 202 690 3100 -1WV3 456 923100 218 670 3100 1776 206-0NH77 -7MV3 444 92Separate ventilation Fan unit, radially mounted GGFan unit, separately-mountedMounted air-to-water heat exchangerRated field voltage 310 V 4Type of construction IM B 3 0GHHSIM B 35 63Siemens DA 12 · 2004 3/23
---
<strong>Selection</strong> <strong>and</strong> <strong>ordering</strong>1GG6, 1GH6, 1HS6Size 2003Rated speedn NrpmRatedoutputRatedtorqueMaximumfieldweakeningspeedOrder No.Ratedcurrentat rated armature voltage P N M N n Fmax I N h R a L a420 V 470 V 520 V 600 V kW Nm rpm A % mW mHOverall length 8650 64.5 950 1950 1776 208-0NA77 -1VV3 184 81 334 7.18740 73.5 950 2220 -1WV3 184 82835 82.5 945 2420 -7MV3 183 84980 97 945 2420 -7NV3 183 86770 77.5 960 2320 1776 208-0NB77 -1VV3 215 83 242 5.29875 88 960 2420 -1WV3 215 85980 98.5 960 2420 -7MV3 215 861150 116 965 2420 -7NV3 216 88900 90.5 960 2650 1776 208-0NC77 -1VV3 246 85 183 3.951020 103 965 2640 -1WV3 248 861140 115 965 2560 -7MV3 246 871330 134 960 2300 -7NV3 246 891080 106 935 2460 1776 208-0ND77 -1VV3 282 87 134 2.841220 120 940 2460 -1WV3 282 881360 133 935 2300 -7MV3 280 891590 155 930 1900 -7NV3 280 901270 128 965 2350 1776 208-0NE77 -1VV3 336 88 96.5 2.051430 144 960 2150 -1WV3 336 891600 160 955 1890 -7MV3 334 901510 151 955 3100 1776 208-0NF77 -1VV3 394 89 72.5 1.481700 170 955 3100 -1WV3 394 901900 186 935 3100 -7MV3 385 912200 212 920 3100 -7NV3 378 921650 158 915 3100 1776 208-0NG77 -1VV3 408 90 62 1.281860 178 915 3100 -1WV3 408 912060 197 915 3100 -7MV3 406 912400 228 905 3100 -7NV3 405 922020 183 865 3100 1776 208-0NH77 -1VV3 466 91 43.8 0.942260 206 870 3100 -1WV3 468 922520 228 865 3100 -7MV3 466 922920 256 835 3100 1776 208-0NH77 -7NV3 450 93Separate ventilation Fan unit, radially mounted GGFan unit, separately-mountedMounted air-to-water heat exchangerRated field voltage 310 V 4Type of construction IM B 3 0GHHSIM B 35 6EfficiencyArmature circuitResistanceat tanceInduc-120 °C3/24Siemens DA 12 · 2004
---
<strong>Selection</strong> <strong>and</strong> <strong>ordering</strong>1GG6, 1GH6, 1HS6Size 200Motor typeFieldpowerapprox.Moment ofinertiaMechanicallimit speedWeight,netapprox.P field J n mechkW kgm² rpm kg1GG6 206 2.8 1.2 3500 6101GH6 206 2.8 1.2 3500 5801HS6 206 2.8 1.2 3500 7101GG6 208 2.9 1.3 3500 6901GH6 208 2.9 1.3 3500 6601HS6 208 2.9 1.3 3500 800Armature controlSpeed can be coasted down by means of armature control toapprox. 10 rpm at constant torque of the motor.Field weakeningThe order numbers for the motors are valid for field weakeningspeeds n F up to 1.15 ¼ n N . At higher field weakening speedssupplementary short codes are required: "C05" forn F >1.15¼ n N to 1.7 ¼ n N <strong>and</strong> "C06" for n F >1.7¼ n N(short codes: from Page 3/137)The motors can be operated at rated output P N up to the fieldweakening speed n Fmax .For higher speeds, the output must be reduced.Rated field voltageFor other rated field voltages <strong>and</strong> the associated Order No. supplement,see Page 3/6.Type of constructionFor other type of constructions <strong>and</strong> the associated Order No.supplement, see Page 3/6.3Siemens DA 12 · 2004 3/25
---
<strong>Selection</strong> <strong>and</strong> <strong>ordering</strong>1GG6, 1GH6, 1HS6Size 2253■ <strong>Selection</strong> <strong>and</strong> <strong>ordering</strong> dataThese motors are uncompensated.Rated speedn NrpmRatedoutputRatedtorqueMaximumfieldweakeningspeedOrder No.RatedcurrentEfficiencyArmature circuitResistanceat tanceInduc-120 °Cat rated armature voltage P N M N n Fmax I N h R a L a420 V 470 V 520 V 600 V 720 V 810 V kW Nm rpm A % mW mHOverall length 6745 96 1230 2020 1776 226-0NA77 -1VV3 264 85 180 4.71845 109 1230 2020 -1WV3 264 86950 122 1230 2020 -7MV3 262 871110 142 1220 2040 -7NV3 262 891350 171 1210 2050 -2XV3 258 901530 192 1200 1850 -2YV3 256 91855 110 1230 2020 1776 226-0NB77 -1VV3 296 86 139 3.56970 125 1230 2020 -1WV3 298 881080 139 1230 2020 -7MV3 296 891270 162 1220 2040 -7NV3 294 901540 193 1200 1730 -2XV3 288 911020 132 1240 1970 1776 226-0NC77 -1VV3 350 88 103 2.71150 148 1230 1990 -1WV3 348 891280 164 1220 2000 -7MV3 346 901500 190 1210 1790 -7NV3 342 911260 156 1180 2460 1776 226-0ND77 -1VV3 408 89 74 1.911420 175 1180 2460 -1WV3 406 901590 193 1160 2500 -7MV3 400 911850 222 1150 2520 -7NV3 396 922240 260 1110 2580 -2XV3 382 932520 286 1080 2640 -2YV3 372 931480 182 1170 2650 1776 226-0NE77 -1VV3 470 90 55 1.491660 205 1180 2650 -1WV3 472 911850 225 1160 2680 -7MV3 464 922150 256 1140 2700 -7NV3 454 922600 296 1090 2700 -2XV3 434 931750 218 1190 2660 1776 226-0NF77 -1VV3 560 91 38.8 1.031970 242 1170 2680 -1WV3 550 922180 262 1150 2700 -7MV3 535 922540 296 1110 2700 -7NV3 520 932100 248 1130 2680 1776 226-0NG77 -1VV3 625 92 26 0.672360 272 1100 2700 -1WV3 610 932620 294 1070 2700 -7MV3 595 932300 266 1100 2700 1776 226-0NH77 -1VV3 670 93 22 0.612600 292 1070 2700 1776 226-0NH77 -1WV3 655 93Separate ventilation Fan unit, radially mounted GGFan unit, separately-mountedMounted air-to-water heat exchangerRated field voltage 310 V 4Type of construction IM B 3 0GHHSIM B 35 63/26Siemens DA 12 · 2004
---
<strong>Selection</strong> <strong>and</strong> <strong>ordering</strong>1GG6, 1GH6, 1HS6Size 225Rated speedn NrpmRatedoutputRatedtorqueMaximumfieldweakeningspeedOrder No.Ratedcurrentat rated armature voltage P N M N n Fmax I N h R a L a420 V 470 V 520 V 600 V 720 V 810 V kW Nm rpm A % mW mHOverall length 8585 94.5 1540 1740 1776 228-0NA77 -1VV3 264 83 206 5.83665 107 1540 1750 -1WV3 262 85745 120 1540 1740 -7MV3 262 86875 140 1530 1750 -7NV3 260 871070 169 1510 1710 -2XV3 258 891220 190 1490 1500 -2YV3 254 90670 109 1550 1730 1776 228-0NB77 -1VV3 298 85 160 4.4765 123 1540 1750 -1WV3 296 86855 137 1530 1750 -7MV3 294 871000 160 1530 1730 -7NV3 294 891220 191 1500 1400 -2XV3 288 90800 130 1550 1700 1776 228-0NC77 -1VV3 350 86 118 3.34910 146 1530 1710 -1WV3 346 881020 163 1530 1690 -7MV3 345 891190 188 1510 1450 -7NV3 340 90995 154 1480 2140 1776 228-0ND77 -1VV3 408 88 85 2.371130 173 1460 2150 -1WV3 404 891260 191 1450 2160 -7MV3 398 901460 220 1440 2200 -7NV3 395 911770 258 1390 2250 -2XV3 382 922000 286 1370 2280 -2YV3 374 931170 181 1480 2300 1776 228-0NE77 -1VV3 472 89 63.5 1.841320 202 1460 2340 -1WV3 466 901470 224 1460 2340 -7MV3 464 911710 255 1420 2380 -7NV3 454 922060 296 1370 2460 -2XV3 435 932340 325 1330 2520 -2YV3 420 931390 216 1480 2320 1776 228-0NF77 -1VV3 555 91 44.5 1.281560 240 1470 2360 -1WV3 550 911740 262 1440 2400 -7MV3 535 922020 296 1400 2440 -7NV3 520 932440 338 1320 2550 -2XV3 492 931670 255 1460 2280 1776 228-0NG77 -1VV3 650 92 29.8 0.831880 282 1430 2320 -1WV3 635 922080 305 1400 2360 -7MV3 620 932420 340 1340 2440 -7NV3 595 941840 270 1400 2380 1776 228-0NH77 -1VV3 680 92 25.2 0.752060 302 1400 2400 -1WV3 680 932300 330 1370 2420 1776 228-0NH77 -7MV3 665 93Separate ventilation Fan unit, radially mounted GGFan unit, separately-mountedMounted air-to-water heat exchangerRated field voltage 310 V 4Type of construction IM B 3 0GHHSIM B 35 6EfficiencyArmature circuitResistanceat tanceInduc-120 °C3Siemens DA 12 · 2004 3/27
---
<strong>Selection</strong> <strong>and</strong> <strong>ordering</strong>1GG6, 1GH6, 1HS6Size 225Motor typeFieldpowerapprox.Moment ofinertiaMechanicallimit speedP field J n mechkW kgm² rpm kgWeight,netapprox.1GG6 226 2.9 2.2 3000 8801GH6 226 2.9 2.2 3000 8401HS6 226 2.9 2.2 3000 10001GG6 228 3.5 2.5 3000 9901GH6 228 3.5 2.5 3000 9501HS6 228 3.5 2.5 3000 1100Armature controlSpeed can be coasted down by means of armature control toapprox. 10 rpm at constant torque of the motor.Field weakeningThe order numbers for the motors are valid for field weakeningspeeds n F up to 1.15 ¼ n N . At higher field weakening speedssupplementary short codes are required: "C05" forn F >1.15¼ n N to 1.7 ¼ n N <strong>and</strong> "C06" for n F >1.7¼ n N(short codes: from Page 3/137)The motors can be operated at rated output P N up to the fieldweakening speed n Fmax .For higher speeds, the output must be reduced.Rated field voltageFor other rated field voltages <strong>and</strong> the associated Order No. supplement,see Page 3/6.Type of constructionFor other type of constructions <strong>and</strong> the associated Order No.supplement, see Page 3/6.33/28Siemens DA 12 · 2004
---
<strong>Selection</strong> <strong>and</strong> <strong>ordering</strong>1GG6, 1GH6, 1HS6Size 250■ <strong>Selection</strong> <strong>and</strong> <strong>ordering</strong> dataThese motors are uncompensated.Rated speedn NrpmRatedoutputRatedtorqueMaximumfieldweakeningspeedOrder No.RatedcurrentEfficiencyArmature circuitResistanceat tanceInduc-120 °Cat rated armature voltage P N M N n Fmax I N h R a L a420 V 470 V 520 V 600 V 720 V 810 V kW Nm rpm A % mW mHOverall length 6690 122 1690 1780 1776 256-0NA77 -1VV1 325 87 120 4.03780 138 1690 1780 -1WV1 325 88875 154 1680 1780 -7MV1 324 891020 180 1690 1710 -7NV1 325 901240 218 1680 1310 -2XV1 324 91785 141 1720 1780 1776 256-0NB77 -1VV1 372 88 93.5 3.04890 159 1710 1780 -1WV1 370 89990 177 1710 1730 -7MV1 370 901150 206 1710 1430 -7NV1 370 91920 165 1710 1850 1776 256-0NC77 -1VV1 430 89 69 2.321040 186 1710 1640 -1WV1 428 901160 206 1700 1450 -7MV1 425 911120 196 1670 2200 1776 256-0ND77 -1VV1 505 90 50.5 1.721260 220 1670 2220 -1WV1 505 911400 245 1670 2200 -7MV1 505 921630 284 1660 2220 -7NV1 505 921970 342 1660 2220 -2XV1 500 932220 384 1650 2220 -2YV1 500 941280 224 1670 2220 1776 256-0NE77 -1VV1 575 91 38.2 1.281440 252 1670 2220 -1WV1 575 921610 278 1650 2220 -7MV1 565 921870 322 1640 2220 -7NV1 565 932250 384 1630 2250 -2XV1 560 941480 282 1820 1980 1776 256-0NF77 -1VV1 720 92 27.5 0.921660 316 1820 1990 -1WV1 715 921850 344 1780 2020 -7MV1 700 932140 372 1660 2140 -7NV1 650 941720 314 1740 2300 1776 256-0NG77 -1VV1 795 92 21.2 0.691940 352 1730 2300 -1WV1 790 932150 384 1710 2300 -7MV1 780 931970 350 1700 2300 1776 256-0NH77 -1VV1 880 93 16.1 0.552220 394 1690 2300 1776 256-0NH77 -1WV1 880 93Separate ventilation Fan unit, radially mounted GGFan unit, separately-mountedMounted air-to-water heat exchangerRated field voltage 310 V 4Type of construction IM B 3 0GHHSIM B 35 63Siemens DA 12 · 2004 3/29
---
<strong>Selection</strong> <strong>and</strong> <strong>ordering</strong>1GG6, 1GH6, 1HS6Size 2503Rated speedn NrpmRatedoutputRatedtorqueMaximumfieldweakeningspeedOrder No.Ratedcurrentat rated armature voltage P N M N n Fmax I N h R a L a420 V 470 V 520 V 600 V 720 V 810 V kW Nm rpm A % mW mHOverall length 8540 121 2140 1510 1776 258-0NA77 -1VV1 328 85 138 5615 137 2120 1520 -1WV1 326 86685 153 2140 1520 -7MV1 326 87800 179 2140 1380 -7NV1 328 89975 218 2140 1070 -2XV1 328 90615 139 2160 1530 1776 258-0NB77 -1VV1 372 86 107 3.77700 158 2160 1530 -1WV1 372 88780 176 2150 1390 -7MV1 372 89910 205 2150 1180 -7NV1 370 90720 164 2180 1470 1776 258-0NC77 -1VV1 432 88 79.5 2.87815 185 2160 1320 -1WV1 432 89910 206 2160 1170 -7MV1 430 90880 195 2120 1910 1776 258-0ND77 -1VV1 510 89 58.5 2.13995 220 2120 1910 -1WV1 505 901110 244 2100 1910 -7MV1 505 911290 284 2100 1910 -7NV1 505 921560 342 2100 1920 -2XV1 505 931760 386 2100 1920 -2YV1 505 931010 222 2100 1920 1776 258-0NE77 -1VV1 570 90 44 1.591140 250 2100 1930 -1WV1 570 911270 278 2100 1930 -7MV1 570 921480 324 2100 1920 -7NV1 570 921780 388 2080 1930 -2XV1 570 932020 416 1970 2020 -2YV1 535 941170 282 2300 1700 1776 258-0NF77 -1VV1 720 91 31.6 1.151310 316 2300 1710 -1WV1 720 921460 348 2280 1720 -7MV1 710 921700 394 2220 1760 -7NV1 690 931360 314 2200 1990 1776 258-0NG77 -1VV1 800 92 24.4 0.851530 352 2200 2000 -1WV1 795 921700 390 2200 2000 -7MV1 795 931970 436 2120 2060 -7NV1 765 941560 352 2150 2000 1776 258-0NH77 -1VV1 890 92 18.6 0.681750 395 2160 2000 -1WV1 890 931940 436 2150 2000 1776 258-0NH77 -7MV1 885 93Separate ventilation Fan unit, radially mounted GGFan unit, separately-mountedMounted air-to-water heat exchangerRated field voltage 310 V 4Type of construction IM B 3 0GHHSIM B 35 6EfficiencyArmature circuitResistanceat tanceInduc-120 °C3/30Siemens DA 12 · 2004
---
<strong>Selection</strong> <strong>and</strong> <strong>ordering</strong>1GG6, 1GH6, 1HS6Size 250Motor typeFieldpowerapprox.Moment ofinertiaMechanicallimit speedP field J n mechkW kgm² rpm kgWeight,netapprox.1GG6 256 4 3.6 2600 11601GH6 256 4 3.6 2600 11201HS6 256 4 3.6 2600 13201GG6 258 4.7 4.2 2600 13201GH6 258 4.7 4.2 2600 12801HS6 258 4.7 4.2 2600 1500Armature controlSpeed can be coasted down by means of armature control toapprox. 10 rpm at constant torque of the motor.Field weakeningThe order numbers for the motors are valid for field weakeningspeeds n F up to 1.15 ¼ n N . At higher field weakening speedssupplementary short codes are required: "C05" forn F >1.15¼ n N to 1.7 ¼ n N <strong>and</strong> "C06" for n F >1.7¼ n N(short codes: from Page 3/137)The motors can be operated at rated output P N up to the fieldweakening speed n Fmax .For higher speeds, the output must be reduced.Rated field voltageFor other rated field voltages <strong>and</strong> the associated Order No. supplement,see Page 3/6.Type of constructionFor other type of constructions <strong>and</strong> the associated Order No.supplement, see Page 3/6.3Siemens DA 12 · 2004 3/31
---
<strong>Selection</strong> <strong>and</strong> <strong>ordering</strong>1GG6, 1GH6, 1HS6Size 2803■ <strong>Selection</strong> <strong>and</strong> <strong>ordering</strong> dataThese motors are uncompensated.Rated speedn NrpmRatedoutputRatedtorqueMaximumfieldweakeningspeedOrder No.RatedcurrentEfficiencyArmature circuitResistanceat tanceInduc-120 °Cat rated armature voltage P N M N n Fmax I N h R a L a420 V 470 V 520 V 600 V 720 V 810 V kW Nm rpm A % mW mHOverall length 6605 171 2700 1330 1776 286-0NA77 -1VV1 452 88 80 3.44685 193 2700 1330 -1WV1 450 89765 215 2680 1290 -7MV1 450 90890 252 2700 1090 -7NV1 454 91715 197 2640 1390 1776 286-0NB77 -1VV1 515 89 59.5 2.59805 222 2640 1250 -1WV1 515 90900 246 2620 1110 -7MV1 510 91815 218 2550 1660 1776 286-0NC77 -1VV1 565 90 49.4 2.19920 246 2550 1660 -1WV1 565 911020 274 2560 1660 -7MV1 565 911190 318 2550 1660 -7NV1 565 921440 384 2550 1660 -2XV1 565 931630 434 2540 1660 -2YV1 565 94915 242 2520 1880 1776 286-0ND77 -1VV1 620 91 39.6 1.661030 274 2540 1870 -1WV1 625 911150 304 2520 1880 -7MV1 620 921330 352 2520 1880 -7NV1 620 931610 424 2520 1880 -2XV1 620 931820 478 2500 1880 -2YV1 620 941050 292 2660 1740 1776 286-0NE77 -1VV1 745 91 29.6 1.311180 328 2650 1750 -1WV1 745 921310 364 2650 1750 -7MV1 745 931520 422 2650 1750 -7NV1 745 931830 480 2500 1840 -2XV1 700 941260 344 2600 1740 1776 286-0NF77 -1VV1 870 92 21 1.011410 386 2620 1740 -1WV1 870 931570 428 2600 1750 -7MV1 870 931810 474 2500 1810 -7NV1 830 941410 390 2640 1710 1776 286-0NG77 -1VV1 985 93 16.3 0.741590 438 2640 1710 -1WV1 980 931760 472 2560 1760 -7MV1 955 941600 428 2550 1690 1776 286-0NH77 -1VV1 1070 93 13 0.581790 448 2400 1790 1776 286-0NH77 -1WV1 1000 94Separate ventilation Fan unit, radially mounted GGFan unit, separately-mountedMounted air-to-water heat exchangerRated field voltage 310 V 4Type of construction IM B 3 0GHHSIM B 35 63/32Siemens DA 12 · 2004
---
<strong>Selection</strong> <strong>and</strong> <strong>ordering</strong>1GG7, 1GH7, 1HS7Size 355■ <strong>Selection</strong> <strong>and</strong> <strong>ordering</strong> dataThese motors are compensated.Rated speedn NrpmRatedoutputRatedtorqueMaximumfieldweakeningspeedOrder No.RatedcurrentEfficiencyArmature circuitResistanceat tanceInduc-120 °Cat rated armature voltage P N M N n Fmax I N h R a L a420 V 470 V 520 V 600 V 720 V 810 V kW Nm rpm A % mW mHOverall length 1580 244 4000 1740 1777 351-5NA77 -1VV1 635 90 50.9 0.74655 274 3990 1840 -1WV1 635 90730 305 3990 1850 -7MV1 635 91850 355 3990 1850 -7NV1 635 921030 422 3920 1890 -2XV1 625 931170 476 3890 1900 -2YV1 620 94660 274 3960 1830 1777 351-5NB77 -1VV1 715 90 43.6 0.54745 310 3970 1820 -1WV1 720 91835 344 3940 1850 -7MV1 715 91970 400 3940 1850 -7NV1 715 921180 458 3710 1920 -2XV1 675 931330 515 3700 1930 -2YV1 675 94735 308 4000 1810 1777 351-5NC77 -1VV1 800 91 34.4 0.5830 348 4000 1820 -1WV1 800 92925 386 3990 1840 -7MV1 800 921070 448 3990 1840 -7NV1 800 931300 510 3740 1920 -2XV1 750 941470 565 3670 1940 -2YV1 735 94835 344 3940 1820 1777 351-5ND77 -1VV1 890 91 28.4 0.35940 388 3940 1810 -1WV1 890 921050 416 3780 1860 -7MV1 855 931220 482 3770 1870 -7NV1 855 931480 525 3390 2000 -2XV1 770 941670 590 3370 2020 1777 351-5ND77 -2YV1 770 94Separate ventilation Fan unit, radially mounted GGFan unit, separately-mountedMounted air-to-water heat exchangerRated field voltage 310 V 4Type of construction IM B 3 0GHHS3Siemens DA 12 · 2004 3/35
---
<strong>Selection</strong> <strong>and</strong> <strong>ordering</strong>1GG7, 1GH7, 1HS7Size 3553Rated speedRated Rated Maximum Order No.Rated EfficiencyNArmature circuitn output torque fieldcurrent Resistanceat tanceInduc-rpmweakeningspeed120 °Cat rated armature voltage P N M N n Fmax I N h R a L a420 V 470 V 520 V 600 V 720 V 810 V kW Nm rpm A % mW mH960 394 3920 1760 1777 351-5NE77 -1VV1 1010 92 20.7 0.311080 442 3910 1770 -1WV1 1010 931200 472 3750 1820 -7MV1 965 931400 535 3650 1850 -7NV1 940 941690 570 3220 2020 -2XV1 835 941910 620 3100 2060 -2YV1 805 941060 434 3900 1780 1777 351-5NF77 -1VV1 1100 93 17.2 0.241200 486 3870 1780 -1WV1 1100 931330 510 3660 1860 -7MV1 1040 941550 580 3570 1880 -7NV1 1020 941880 580 2950 2100 -2XV1 850 941210 488 3850 1790 1777 351-5NG77 -1VV1 1230 94 12.3 0.191360 540 3790 1810 -1WV1 1210 941520 555 3490 1920 -7MV1 1120 941760 625 3390 1950 -7NV1 1100 941370 515 3590 1870 1777 351-5NH77 -1VV1 1300 94 10.5 0.141540 575 3570 1870 -1WV1 1300 941710 565 3150 2040 -7MV1 1150 941600 565 3370 2100 1777 351-5NJ77 -1VV1 1420 94 8.26 0.111800 620 3290 2100 1777 351-5NJ77 -1WV1 1390 94Separate ventilation Fan unit, radially mounted GGFan unit, separately-mountedMounted air-to-water heat exchangerRated field voltage 310 V 4Type of construction IM B 3 0GHHS3/36Siemens DA 12 · 2004
---
<strong>Selection</strong> <strong>and</strong> <strong>ordering</strong>1GG7, 1GH7, 1HS7Size 355Rated speedn NrpmRatedoutputRatedtorqueMaximumfieldweakeningspeedOrder No.Ratedcurrentat rated armature voltage P N M N n Fmax I N h R a L a420 V 470 V 520 V 600 V 720 V 810 V kW Nm rpm A % mW mHOverall length 3416 240 5510 1250 1777 353-5NA77 -1VV1 635 88 58.9 0.92472 272 5500 1420 -1WV1 635 89525 302 5490 1560 -7MV1 630 90615 352 5460 1560 -7NV1 630 91750 428 5450 1570 -2XV1 635 92845 482 5450 1570 -2YV1 635 93475 272 5470 1430 1777 353-5NB77 -1VV1 715 89 50.5 0.66540 306 5420 1550 -1WV1 715 90600 342 5440 1550 -7MV1 715 91700 398 5430 1550 -7NV1 715 92855 484 5410 1550 -2XV1 720 93970 545 5370 1550 -2YV1 715 93530 306 5510 1540 1777 353-5NC77 -1VV1 800 90 39.8 0.62600 345 5490 1540 -1WV1 800 91670 385 5490 1540 -7MV1 800 91780 448 5480 1540 -7NV1 800 92945 540 5450 1550 -2XV1 795 931070 610 5440 1550 -2YV1 795 94605 346 5460 1510 1777 353-5ND77 -1VV1 900 90 32.8 0.43680 390 5480 1510 -1WV1 900 91760 435 5460 1510 -7MV1 900 92885 505 5450 1510 -7NV1 900 931080 580 5130 1580 -2XV1 850 941220 655 5130 1580 1777 353-5ND77 -2YV1 850 94Separate ventilation Fan unit, radially mounted GGFan unit, separately-mountedMounted air-to-water heat exchangerRated field voltage 310 V 4Type of construction IM B 3 0GHHSEfficiencyArmature circuitResistanceat tanceInduc-120 °C3Siemens DA 12 · 2004 3/39
---
<strong>Selection</strong> <strong>and</strong> <strong>ordering</strong>1GG7, 1GH7, 1HS7Size 3553Rated speedRated Rated Maximum Order No.Rated EfficiencyNArmature circuitn output torque fieldcurrent Resistanceat tanceInduc-rpmweakeningspeed120 °Cat rated armature voltage P N M N n Fmax I N h R a L a420 V 470 V 520 V 600 V 720 V 810 V kW Nm rpm A % mW mH695 398 5470 1460 1777 353-5NE77 -1VV1 1020 92 24 0.39785 448 5450 1460 -1WV1 1020 92870 498 5460 1460 -7MV1 1020 931010 575 5430 1470 -7NV1 1020 941230 655 5090 1540 -2XV1 955 941390 730 5010 1560 -2YV1 945 95770 444 5510 1470 1777 353-5NF77 -1VV1 1140 92 19.9 0.3870 498 5460 1470 -1WV1 1130 93965 550 5440 1470 -7MV1 1120 931120 640 5450 1470 -7NV1 1130 941360 700 4920 1590 -2XV1 1020 95880 505 5470 1470 1777 353-5NG77 -1VV1 1280 93 14.3 0.23990 570 5500 1470 -1WV1 1280 941100 625 5430 1480 -7MV1 1270 941280 715 5350 1500 -7NV1 1250 95995 555 5340 1490 1777 353-5NH77 -1VV1 1400 93 12.1 0.171120 625 5340 1490 -1WV1 1410 941240 660 5070 1550 -7MV1 1340 941160 630 5190 1680 1777 353-5NJ77 -1VV1 1680 94 9.57 0.141300 705 5170 1690 1777 353-5NJ77 -1WV1 1580 94Separate ventilation Fan unit, radially mounted GGFan unit, separately-mountedMounted air-to-water heat exchangerRated field voltage 310 V 4Type of construction IM B 3 0GHHS3/40Siemens DA 12 · 2004
---
<strong>Selection</strong> <strong>and</strong> <strong>ordering</strong>1GG7, 1GH7, 1HS7Size 355Rated speedn NrpmRatedoutputRatedtorqueMaximumfieldweakeningspeedOrder No.Ratedcurrentat rated armature voltage P N M N n Fmax I N h R a L a420 V 470 V 520 V 600 V 720 V 810 V kW Nm rpm A % mW mHOverall length 4344 238 6610 1030 1777 354-5NA77 -1VV1 635 87 64.8 1.06390 270 6610 1170 -1WV1 635 89436 300 6570 1310 -7MV1 630 90510 350 6550 1410 -7NV1 630 91620 426 6560 1410 -2XV1 635 92705 482 6530 1410 -2YV1 635 93392 268 6530 1180 1777 354-5NB77 -1VV1 710 88 55.4 0.75445 304 6520 1340 -1WV1 715 89498 340 6520 1390 -7MV1 715 90580 396 6520 1390 -7NV1 715 91710 480 6460 1400 -2XV1 715 92805 545 6470 1400 -2YV1 715 93438 304 6630 1310 1777 354-5NC77 -1VV1 800 89 43.8 0.71496 342 6590 1380 -1WV1 795 90555 382 6570 1390 -7MV1 795 91645 445 6590 1390 -7NV1 795 92785 540 6570 1390 -2XV1 800 93890 610 6540 1390 -2YV1 800 94500 344 6570 1350 1777 354-5ND77 -1VV1 900 90 36 0.49565 388 6560 1360 -1WV1 900 91630 432 6550 1360 -7MV1 900 91735 505 6560 1360 -7NV1 900 92895 600 6400 1380 -2XV1 885 931010 680 6430 1380 1777 354-5ND77 -2YV1 885 94Separate ventilation Fan unit, radially mounted GGFan unit, separately-mountedMounted air-to-water heat exchangerRated field voltage 310 V 4Type of construction IM B 3 0GHHSEfficiencyArmature circuitResistanceat tanceInduc-120 °C3Siemens DA 12 · 2004 3/41
---
<strong>Selection</strong> <strong>and</strong> <strong>ordering</strong>1GG7, 1GH7, 1HS7Size 3553Rated speedRated Rated Maximum Order No.Rated EfficiencyNArmature circuitn output torque fieldcurrent Resistanceat tanceInduc-rpmweakeningspeed120 °Cat rated armature voltage P N M N n Fmax I N h R a L a420 V 470 V 520 V 600 V 720 V 810 V kW Nm rpm A % mW mH575 396 6580 1310 1777 354-5NE77 -1VV1 1020 91 26.4 0.45650 446 6550 1310 -1WV1 1020 92725 496 6530 1310 -7MV1 1020 92845 575 6500 1320 -7NV1 1020 931020 685 6420 1330 -2XV1 1000 941160 765 6290 1350 -2YV1 990 95640 440 6570 1320 1777 354-5NF77 -1VV1 1130 92 21.9 0.34720 496 6580 1320 -1WV1 1130 92805 550 6520 1320 -7MV1 1130 93935 640 6530 1320 -7NV1 1130 941130 740 6260 1370 -2XV1 1080 94735 505 6560 1320 1777 354-5NG77 -1VV1 1280 93 15.7 0.26825 565 6540 1330 -1WV1 1270 93915 630 6560 1320 -7MV1 1280 941060 730 6550 1320 -7NV1 1280 94830 555 6410 1340 1777 354-5NH77 -1VV1 1410 93 13.3 0.19930 625 6410 1340 -1WV1 1410 941030 690 6370 1340 -7MV1 1400 94965 625 6170 1540 1777 354-5NJ77 -1VV1 1580 93 10.5 0.161090 705 6190 1530 1777 354-5NJ77 -1WV1 1580 94Separate ventilation Fan unit, radially mounted GGFan unit, separately-mountedMounted air-to-water heat exchangerRated field voltage 310 V 4Type of construction IM B 3 0GHHS3/42Siemens DA 12 · 2004
---
<strong>Selection</strong> <strong>and</strong> <strong>ordering</strong>1GG7, 1GH7, 1HS7Size 355Rated speedn NrpmRatedoutputRatedtorqueMaximumfieldweakeningspeedOrder No.Ratedcurrentat rated armature voltage P N M N n Fmax I N h R a L a420 V 470 V 520 V 600 V 720 V 810 V kW Nm rpm A % mW mHOverall length 5275 236 8200 710 1777 355-5NA77 -1VV1 640 86 73.5 1.25312 268 8200 940 -1WV1 640 87350 300 8180 1050 -7MV1 640 88410 352 8200 1220 -7NV1 640 90498 426 8170 1230 -2XV1 640 91565 482 8150 1230 -2YV1 640 92314 268 8150 945 1777 355-5NB77 -1VV1 725 86 62.9 0.88355 302 8120 1070 -1WV1 720 88398 338 8110 1200 -7MV1 720 89465 395 8110 1210 -7NV1 720 90570 482 8080 1210 -2XV1 720 91645 545 8070 1210 -2YV1 720 92350 302 8240 1050 1777 355-5NC77 -1VV1 800 88 49.7 0.85398 342 8210 1200 -1WV1 800 89442 380 8210 1200 -7MV1 800 90520 446 8190 1200 -7NV1 805 91630 540 8190 1200 -2XV1 805 92715 610 8150 1210 -2YV1 800 93400 346 8260 1170 1777 355-5ND77 -1VV1 915 89 40.7 0.57452 392 8280 1170 -1WV1 915 90505 435 8230 1170 -7MV1 910 90590 505 8190 1180 -7NV1 910 92715 610 8150 1180 -2XV1 905 93810 690 8150 1180 1777 355-5ND77 -2YV1 905 93Separate ventilation Fan unit, radially mounted GGFan unit, separately-mountedMounted air-to-water heat exchangerRated field voltage 310 V 4Type of construction IM B 3 0GHHSEfficiencyArmature circuitResistanceat tanceInduc-120 °C3Siemens DA 12 · 2004 3/43
---
<strong>Selection</strong> <strong>and</strong> <strong>ordering</strong>1GG7, 1GH7, 1HS7Size 3553Rated speedRated Rated Maximum Order No.Rated EfficiencyNArmature circuitn output torque fieldcurrent Resistanceat tanceInduc-rpmweakeningspeed120 °Cat rated armature voltage P N M N n Fmax I N h R a L a420 V 470 V 520 V 600 V 720 V 810 V kW Nm rpm A % mW mH462 395 8170 1140 1777 355-5NE77 -1VV1 1030 90 30 0.53520 446 8190 1140 -1WV1 1030 91580 495 8150 1140 -7MV1 1020 92675 575 8140 1140 -7NV1 1030 93820 700 8150 1130 -2XV1 1030 94510 440 8240 1150 1777 355-5NF77 -1VV1 1140 91 24.8 0.4575 495 8220 1140 -1WV1 1150 92640 550 8210 1140 -7MV1 1130 92745 640 8190 1140 -7NV1 1140 93905 770 8130 1150 -2XV1 1130 94585 500 8160 1150 1777 355-5NG77 -1VV1 1290 92 17.8 0.31660 565 8180 1150 -1WV1 1280 93735 620 8060 1150 -7MV1 1260 93855 725 8100 1150 -7NV1 1270 94665 550 7900 1170 1777 355-5NH77 -1VV1 1400 93 15.1 0.23745 620 7940 1160 -1WV1 1400 93830 690 7940 1160 -7MV1 1400 94775 625 7700 1340 1777 355-5NJ77 -1VV1 1580 93 11.9 0.19870 705 7740 1340 1777 355-5NJ77 -1WV1 1590 94Separate ventilation Fan unit, radially mounted GGFan unit, separately-mountedMounted air-to-water heat exchangerRated field voltage 310 V 4Type of construction IM B 3 0GHHSMotor typeFieldpowerapprox.Moment ofinertiaMechanicallimit speedP field J n mechkW kgm² rpm kg1GG7 351 3.8 17 2200 24001GH7 351 3.8 17 2200 22001HS7 351 3.8 17 2200 27001GG7 352 4.1 20 2200 26001GH7 352 4.1 20 2200 24001HS7 352 4.1 20 2200 29001GG7 353 4.5 22 2200 28001GH7 353 4.5 22 2200 26001HS7 353 4.5 22 2200 31001GG7 354 5.1 25 2200 30001GH7 354 5.1 25 2200 28001HS7 354 5.1 25 2200 33001GG7 355 5.7 29 2200 33001GH7 355 5.7 29 2200 31001HS7 355 5.7 29 2200 3600Weight, netapprox.Armature controlSpeed can be coasted down by means of armature control toapprox. 10 rpm at constant torque of the motor.Field weakeningThe order numbers for the motors are valid for field weakeningspeeds n F up to 1.15 ¼ n N . At higher field weakening speedssupplementary short codes are required: "C05" forn F >1.15¼ n N to 1.7 ¼ n N <strong>and</strong> "C06" for n F >1.7¼ n N(short codes: from Page 3/137)The motors can be operated at rated output P N up to the fieldweakening speed n Fmax .For higher speeds, the output must be reduced.Rated field voltageFor other rated field voltages <strong>and</strong> the associated Order No. supplement,see Page 3/6.3/44Siemens DA 12 · 2004
---
<strong>Selection</strong> <strong>and</strong> <strong>ordering</strong>1GG7, 1GH7, 1HS7Size 400■ <strong>Selection</strong> <strong>and</strong> <strong>ordering</strong> dataThese motors are compensated.Rated speedn NrpmRatedoutputRatedtorqueMaximumfieldweakeningspeedOrder No.RatedcurrentEfficiencyArmature circuitResistanceat tanceInduc-120 °Cat rated armature voltage P N M N n Fmax I N h R a L a420 V 470 V 520 V 600 V 720 V 810 V kW Nm rpm A % mW mHOverall length 1412 242 5600 1240 1777 401-5NA77 -1VV1 640 88 59.2 1.13466 272 5600 1400 -1WV1 635 89520 304 5600 1560 -7MV1 635 90610 355 5550 1650 -7NV1 640 91740 430 5550 1660 -2XV1 640 92835 485 5550 1660 -2YV1 635 93468 274 5600 1400 1777 401-5NB77 -1VV1 715 89 46.3 0.73530 308 5550 1590 -1WV1 715 90590 345 5600 1630 -7MV1 720 91685 402 5600 1620 -7NV1 720 92830 472 5450 1660 -2XV1 695 93940 530 5400 1670 -2YV1 690 94530 310 5600 1600 1777 401-5NC77 -1VV1 805 90 37.5 0.54600 350 5550 1600 -1WV1 805 91665 390 5600 1600 -7MV1 805 92775 454 5600 1610 -7NV1 810 92940 530 5400 1660 -2XV1 780 931060 600 5400 1650 -2YV1 780 94590 350 5650 1600 1777 401-5ND77 -1VV1 900 91 28.8 0.53665 394 5650 1600 -1WV1 900 92745 434 5550 1630 -7MV1 890 93865 505 5600 1630 -7NV1 890 931050 575 5250 1700 -2XV1 840 941180 645 5200 1710 1777 401-5ND77 -2YV1 835 95Separate ventilation Fan unit, radially mounted GGFan unit, separately-mountedMounted air-to-water heat exchangerRated field voltage 310 V 4Type of construction IM B 3 0GHHS3Siemens DA 12 · 2004 3/45
---
<strong>Selection</strong> <strong>and</strong> <strong>ordering</strong>1GG7, 1GH7, 1HS7Size 4003Rated speedRated Rated Maximum Order No.Rated EfficiencyNArmature circuitn output torque fieldcurrent Resistanceat tanceInduc-rpmweakeningspeed120 °Cat rated armature voltage P N M N n Fmax I N h R a L a420 V 470 V 520 V 600 V 720 V 810 V kW Nm rpm A % mW mH675 375 5300 1640 1777 401-5NE77 -1VV1 960 92 24.5 0.34760 422 5300 1640 -1WV1 960 92850 455 5100 1680 -7MV1 930 93985 525 5100 1680 -7NV1 925 941190 585 4700 1780 -2XV1 855 941350 650 4600 1800 -2YV1 840 95765 448 5600 1570 1777 401-5NF77 -1VV1 1140 92 19 0.27860 505 5600 1570 -1WV1 1140 93955 540 5400 1610 -7MV1 1100 931110 625 5400 1610 -7NV1 1100 941350 675 4780 1750 -2XV1 985 951520 750 4700 1760 -2YV1 970 95870 492 5400 1610 1777 401-5NG77 -1VV1 1240 93 14.1 0.28980 545 5300 1630 -1WV1 1230 941090 585 5150 1670 -7MV1 1190 941260 665 5050 1690 -7NV1 1160 941530 705 4400 1800 -2XV1 1020 95975 555 5450 1550 1777 401-5NH77 -1VV1 1400 94 11.3 0.181100 615 5350 1570 -1WV1 1380 941220 645 5050 1640 -7MV1 1300 941410 730 4950 1660 -7NV1 1270 951190 630 5050 1780 1777 401-5NJ77 -1VV1 1580 94 8.3 0.121340 700 4980 1790 -1WV1 1570 941490 695 4450 1800 1777 401-5NJ77 -7MV1 1400 94Separate ventilation Fan unit, radially mounted GGFan unit, separately-mountedMounted air-to-water heat exchangerRated field voltage 310 V 4Type of construction IM B 3 0GHHS3/46Siemens DA 12 · 2004
---
<strong>Selection</strong> <strong>and</strong> <strong>ordering</strong>1GG7, 1GH7, 1HS7Size 400Rated speedn NrpmRatedoutputRatedtorqueMaximumfieldweakeningspeedOrder No.Ratedcurrentat rated armature voltage P N M N n Fmax I N h R a L a420 V 470 V 520 V 600 V 720 V 810 V kW Nm rpm A % mW mHOverall length 2335 240 6850 1000 1777 402-5NA77 -1VV1 640 87 64.6 1.3380 270 6800 1140 -1WV1 635 89425 302 6800 1280 -7MV1 635 89496 352 6800 1490 -7NV1 635 91605 428 6750 1500 -2XV1 635 92685 485 6750 1500 -2YV1 635 93380 272 6850 1140 1777 402-5NB77 -1VV1 715 89 50.4 0.82430 306 6800 1290 -1WV1 710 90482 342 6800 1450 -7MV1 715 91560 398 6800 1470 -7NV1 715 92680 482 6750 1480 -2XV1 715 93770 545 6750 1480 -2YV1 715 93432 308 6800 1300 1777 402-5NC77 -1VV1 805 89 40.8 0.6488 348 6800 1460 -1WV1 805 90545 388 6800 1460 -7MV1 805 91635 452 6800 1460 -7NV1 805 92770 545 6750 1470 -2XV1 805 93870 615 6750 1470 -2YV1 800 94484 348 6850 1460 1777 402-5ND77 -1VV1 900 91 31.4 0.6545 392 6850 1450 -1WV1 900 91610 436 6850 1470 -7MV1 900 92705 508 6900 1460 -7NV1 900 93855 600 6700 1500 -2XV1 880 94970 670 6600 1510 1777 402-5ND77 -2YV1 870 94Separate ventilation Fan unit, radially mounted GGFan unit, separately-mountedMounted air-to-water heat exchangerRated field voltage 310 V 4Type of construction IM B 3 0GHHSEfficiencyArmature circuitResistanceat tanceInduc-120 °C3Siemens DA 12 · 2004 3/47
---
<strong>Selection</strong> <strong>and</strong> <strong>ordering</strong>1GG7, 1GH7, 1HS7Size 4003Rated speedRated Rated Maximum Order No.Rated EfficiencyNArmature circuitn output torque fieldcurrent Resistanceat tanceInduc-rpmweakeningspeed120 °Cat rated armature voltage P N M N n Fmax I N h R a L a420 V 470 V 520 V 600 V 720 V 810 V kW Nm rpm A % mW mH555 382 6850 1460 1777 402-5NE77 -1VV1 985 91 26.6 0.39625 430 6850 1460 -1WV1 985 92695 466 6400 1490 -7MV1 955 93810 540 6350 1500 -7NV1 955 93980 610 5950 1570 -2XV1 890 941110 690 5950 1570 -2YV1 890 95625 450 6900 1410 1777 402-5NF77 -1VV1 1150 92 20.7 0.3705 505 6850 1410 -1WV1 1150 92785 555 6750 1430 -7MV1 1135 93910 645 6750 1430 -7NV1 1135 941100 720 6250 1520 -2XV1 1050 951250 805 6150 1530 -2YV1 1040 95715 505 6750 1430 1777 402-5NG77 -1VV1 1280 93 15.4 0.33805 565 6700 1440 -1WV1 1270 93895 610 6500 1470 -7MV1 1240 941040 695 6400 1490 -7NV1 1210 941250 765 5850 1590 -2XV1 1110 95800 565 6750 1390 1777 402-5NH77 -1VV1 1430 93 12.3 0.21900 635 6750 1390 -1WV1 1430 941000 680 6500 1430 -7MV1 1370 941160 775 6400 1450 -7NV1 1350 95980 655 6400 1580 1777 402-5NJ77 -1VV1 1640 94 9 0.131100 735 6400 1580 -1WV1 1640 941220 755 5900 1680 1777 402-5NJ77 -7MV1 1520 95Separate ventilation Fan unit, radially mounted GGFan unit, separately-mountedMounted air-to-water heat exchangerRated field voltage 310 V 4Type of construction IM B 3 0GHHS3/48Siemens DA 12 · 2004
---
<strong>Selection</strong> <strong>and</strong> <strong>ordering</strong>1GG7, 1GH7, 1HS7Size 400Rated speedn NrpmRatedoutputRatedtorqueMaximumfieldweakeningspeedOrder No.Ratedcurrentat rated armature voltage P N M N n Fmax I N h R a L a420 V 470 V 520 V 600 V 720 V 810 V kW Nm rpm A % mW mHOverall length 3284 240 8100 850 1777 403-5NA77 -1VV1 645 86 70.4 1.48322 270 8030 970 -1WV1 640 88360 302 8030 1080 -7MV1 640 89420 354 8070 1260 -7NV1 645 90510 430 8070 1350 -2XV1 645 91580 485 8030 1360 -2YV1 640 92320 270 8060 960 1777 403-5NB77 -1VV1 715 88 54.9 0.93362 306 8070 1090 -1WV1 715 89404 342 8080 1210 -7MV1 720 90472 402 8150 1330 -7NV1 725 91570 485 8100 1340 -2XV1 720 92650 550 8120 1340 -2YV1 720 93364 310 8130 1090 1777 403-5NC77 -1VV1 815 89 44.4 0.67412 350 8130 1240 -1WV1 815 90458 390 8130 1320 -7MV1 815 91535 452 8080 1330 -7NV1 810 92650 550 8120 1330 -2XV1 815 93730 625 8150 1320 -2YV1 815 93406 348 8190 1220 1777 403-5ND77 -1VV1 905 90 34.2 0.68460 392 8160 1330 -1WV1 900 91510 436 8150 1330 -7MV1 900 92595 505 8110 1330 -7NV1 900 93720 605 8030 1350 -2XV1 890 94815 680 7980 1360 1777 403-5ND77 -2YV1 885 94Separate ventilation Fan unit, radially mounted GGFan unit, separately-mountedMounted air-to-water heat exchangerRated field voltage 310 V 4Type of construction IM B 3 0GHHSEfficiencyArmature circuitResistanceat tanceInduc-120 °C3Siemens DA 12 · 2004 3/49
---
<strong>Selection</strong> <strong>and</strong> <strong>ordering</strong>1GG7, 1GH7, 1HS7Size 4003Rated speedRated Rated Maximum Order No.Rated EfficiencyNArmature circuitn output torque fieldcurrent Resistanceat tanceInduc-rpmweakeningspeed120 °Cat rated armature voltage P N M N n Fmax I N h R a L a420 V 470 V 520 V 600 V 720 V 810 V kW Nm rpm A % mW mH464 382 7860 1330 1777 403-5NE77 -1VV1 990 91 29 0.43525 432 7890 1320 -1WV1 990 91585 470 7690 1350 -7MV1 970 92680 545 7670 1350 -7NV1 970 93825 625 7250 1410 -2XV1 915 94930 705 7240 1410 -2YV1 915 94525 450 8200 1280 1777 403-5NF77 -1VV1 1160 91 22.5 0.33590 510 8240 1270 -1WV1 1160 92660 565 8210 1280 -7MV1 1160 93765 655 8190 1280 -7NV1 1160 93930 740 7620 1350 -2XV1 1080 941050 835 7620 1350 -2YV1 1080 95600 500 7970 1310 1777 403-5NG77 -1VV1 1270 92 16.8 0.37675 570 8080 1290 -1WV1 1290 93750 620 7900 1320 -7MV1 1260 93870 710 7790 1330 -7NV1 1250 941050 800 7260 1400 -2XV1 1160 95670 570 8100 1250 1777 403-5NH77 -1VV1 1440 93 13.4 0.23755 640 8090 1250 -1WV1 1440 93840 695 7900 1270 -7MV1 1410 94975 800 7840 1280 -7NV1 1400 95820 670 7780 1430 1777 403-5NJ77 -1VV1 1690 94 9.8 0.15925 750 7750 1430 -1WV1 1680 941030 785 7290 1500 1777 403-5NJ77 -7MV1 1580 94Separate ventilation Fan unit, radially mounted GGFan unit, separately-mountedMounted air-to-water heat exchangerRated field voltage 310 V 4Type of construction IM B 3 0GHHS3/50Siemens DA 12 · 2004
---
<strong>Selection</strong> <strong>and</strong> <strong>ordering</strong>1GG7, 1GH7, 1HS7Size 400Rated speedn NrpmRatedoutputRatedtorqueMaximumfieldweakeningspeedOrder No.Ratedcurrentat rated armature voltage P N M N n Fmax I N h R a L a420 V 470 V 520 V 600 V 720 V 810 V kW Nm rpm A % mW mHOverall length 4225 235 9970 680 1777 404-5NA77 -1VV1 640 85 78.5 1.74256 266 9930 770 -1WV1 640 87286 298 9950 860 -7MV1 640 88336 348 9900 1010 -7NV1 640 89410 425 9900 1220 -2XV1 640 91466 470 9840 1220 -2YV1 640 92256 266 9930 770 1777 404-5NB77 -1VV1 715 87 61.2 1.07292 302 9880 880 -1WV1 715 88326 338 9900 980 -7MV1 715 89380 394 9900 1140 -7NV1 715 90464 480 9880 1190 -2XV1 720 92525 545 9910 1190 -2YV1 720 92292 304 9950 880 1777 404-5NC77 -1VV1 805 88 49.3 0.77330 344 9950 990 -1WV1 805 89370 384 9910 1110 -7MV1 810 90432 448 9910 1180 -7NV1 810 91525 545 9910 1180 -2XV1 810 92595 615 9880 1180 -2YV1 810 93328 345 10050 980 1777 404-5ND77 -1VV1 905 89 38.2 0.8370 385 9950 1110 -1WV1 895 90414 430 9930 1190 -7MV1 895 91482 505 10010 1190 -7NV1 905 92585 615 10040 1180 -2XV1 910 93660 690 9980 1190 1777 404-5ND77 -2YV1 900 94Separate ventilation Fan unit, radially mounted GGFan unit, separately-mountedMounted air-to-water heat exchangerRated field voltage 310 V 4Type of construction IM B 3 0GHHSEfficiencyArmature circuitResistanceat tanceInduc-120 °C3Siemens DA 12 · 2004 3/51
---
<strong>Selection</strong> <strong>and</strong> <strong>ordering</strong>1GG7, 1GH7, 1HS7Size 4003Rated speedRated Rated Maximum Order No.Rated EfficiencyNArmature circuitn output torque fieldcurrent Resistanceat tanceInduc-rpmweakeningspeed120 °Cat rated armature voltage P N M N n Fmax I N h R a L a420 V 470 V 520 V 600 V 720 V 810 V kW Nm rpm A % mW mH375 384 9780 1130 1777 404-5NE77 -1VV1 1010 90 32.3 0.5424 432 9740 1170 -1WV1 1000 91474 475 9570 1180 -7MV1 985 91550 555 9640 1180 -7NV1 990 92670 640 9120 1230 -2XV1 940 93755 725 9170 1220 -2YV1 945 94424 445 10030 1140 1777 404-5NF77 -1VV1 1150 91 25 0.38478 500 9990 1150 -1WV1 1150 91535 560 10000 1140 -7MV1 1150 92620 650 10010 1150 -7NV1 1150 93755 760 9620 1170 -2XV1 1120 94850 860 9670 1170 -2YV1 1120 94485 498 9810 1170 1777 404-5NG77 -1VV1 1280 92 18.8 0.44545 560 9820 1170 -1WV1 1280 92610 625 9790 1160 -7MV1 1280 93710 720 9690 1170 -7NV1 1270 94855 830 9280 1210 -2XV1 1210 95545 565 9910 1120 1777 404-5NH77 -1VV1 1440 92 15 0.27615 635 9870 1110 -1WV1 1440 93685 710 9900 1110 -7MV1 1450 94795 820 9850 1110 -7NV1 1440 94670 675 9620 1270 1777 404-5NJ77 -1VV1 1710 93 10.9 0.17750 760 9680 1270 -1WV1 1710 94835 810 9270 1310 1777 404-5NJ77 -7MV1 1640 94Separate ventilation Fan unit, radially mounted GGFan unit, separately-mountedMounted air-to-water heat exchangerRated field voltage 310 V 4Type of construction IM B 3 0GHHS3/52Siemens DA 12 · 2004
---
<strong>Selection</strong> <strong>and</strong> <strong>ordering</strong>1GG7, 1GH7, 1HS7Size 400Rated speedn NrpmRatedoutputRatedtorqueMaximumfieldweakeningspeedOrder No.Ratedcurrentat rated armature voltage P N M N n Fmax I N h R a L a420 V 470 V 520 V 600 V 720 V 810 V kW Nm rpm A % mW mHOverall length 5171 230 12850 510 1777 405-5NA77 -1VV1 640 83 91.7 2.16195 260 12730 590 -1WV1 635 85220 292 12680 660 -7MV1 635 86258 342 12670 770 -7NV1 635 88316 420 12700 950 -2XV1 640 90360 475 12600 1050 -2YV1 640 91196 262 12770 590 1777 405-5NB77 -1VV1 715 85 71.3 1.31224 300 12790 670 -1WV1 720 86250 335 12800 750 -7MV1 720 88294 390 12680 880 -7NV1 715 89358 475 12680 1010 -2XV1 715 91406 540 12700 1010 -2YV1 720 92224 300 12790 670 1777 405-5NC77 -1VV1 810 86 57.4 0.92254 338 12710 760 -1WV1 805 88284 380 12780 850 -7MV1 810 89332 445 12800 990 -7NV1 810 90405 540 12730 1000 -2XV1 810 91460 610 12670 1000 -2YV1 805 92252 340 12890 760 1777 405-5ND77 -1VV1 905 88 44.6 0.98285 385 12900 860 -1WV1 905 89318 425 12760 950 -7MV1 895 90372 498 12790 1010 -7NV1 900 91452 605 12780 1010 -2XV1 900 92515 685 12700 1010 1777 405-5ND77 -2YV1 900 93Separate ventilation Fan unit, radially mounted GGFan unit, separately-mountedMounted air-to-water heat exchangerRated field voltage 310 V 4Type of construction IM B 3 0GHHSEfficiencyArmature circuitResistanceat tanceInduc-120 °C3Siemens DA 12 · 2004 3/53
---
<strong>Selection</strong> <strong>and</strong> <strong>ordering</strong>1GG7, 1GH7, 1HS7Size 4003Rated speedRated Rated Maximum Order No.Rated EfficiencyNArmature circuitn output torque fieldcurrent Resistanceat tanceInduc-rpmweakeningspeed120 °Cat rated armature voltage P N M N n Fmax I N h R a L a420 V 470 V 520 V 600 V 720 V 810 V kW Nm rpm A % mW mH288 382 12670 860 1777 405-5NE77 -1VV1 1010 88 37.5 0.6326 432 12660 980 -1WV1 1010 89365 476 12460 990 -7MV1 1000 90426 555 12450 990 -7NV1 1000 91520 655 12040 1010 -2XV1 970 93585 740 12080 1020 -2YV1 970 93326 440 12900 960 1777 405-5NF77 -1VV1 1150 90 29.1 0.46368 498 12920 960 -1WV1 1150 90412 555 12870 960 -7MV1 1150 91480 645 12840 970 -7NV1 1150 92585 780 12730 965 -2XV1 1150 93660 880 12730 970 -2YV1 1150 94375 495 12610 980 1777 405-5NG77 -1VV1 1280 91 21.9 0.54424 555 12500 980 -1WV1 1270 92472 620 12550 980 -7MV1 1280 92550 720 12500 980 -7NV1 1270 93665 855 12280 970 -2XV1 1250 94420 555 12620 940 1777 405-5NH77 -1VV1 1420 92 17.4 0.33474 630 12700 940 -1WV1 1430 92530 700 12620 940 -7MV1 1430 93615 810 12580 940 -7NV1 1430 94520 670 12300 1090 1777 405-5NJ77 -1VV1 1700 92 12.7 0.2585 755 12330 1080 -1WV1 1700 93650 835 12270 1090 1777 405-5NJ77 -7MV1 1700 94Separate ventilation Fan unit, radially mounted GGFan unit, separately-mountedMounted air-to-water heat exchangerRated field voltage 310 V 4Type of construction IM B 3 0GHHS3/54Siemens DA 12 · 2004
---
<strong>Selection</strong> <strong>and</strong> <strong>ordering</strong>Motor typeFieldpowerapprox.Moment ofinertiaMechanicallimit speedP field J n mechkW kgm² rpm kg1GG7 401 4.3 23 2000 30001GH7 401 4.3 23 2000 28001HS7 401 4.3 23 2000 33001GG7 402 4.8 26 2000 33001GH7 402 4.8 26 2000 31001HS7 402 4.8 26 2000 36001GG7 403 5.2 30 2000 37001GH7 403 5.2 30 2000 35001HS7 403 5.2 30 2000 40001GG7 404 6.1 34 2000 41001GH7 404 6.1 34 2000 39001HS7 404 6.1 34 2000 44001GG7 405 6.6 41 2000 48001GH7 405 6.6 41 2000 46001HS7 405 6.6 41 2000 5100Weight, netapprox.1GG7, 1GH7, 1HS7Size 400Armature controlSpeed can be coasted down by means of armature control toapprox. 10 rpm at constant torque of the motor.Field weakeningThe order numbers for the motors are valid for field weakeningspeeds n F up to 1.15 ¼ n N . At higher field weakening speedssupplementary short codes are required: "C05" forn F >1.15¼ n N to 1.7 ¼ n N <strong>and</strong> "C06" for n F >1.7¼ n N(short codes: from Page 3/137)The motors can be operated at rated output P N up to the fieldweakening speed n Fmax .For higher speeds, the output must be reduced.Rated field voltageFor other rated field voltages <strong>and</strong> the associated Order No. supplement,see Page 3/6.3Siemens DA 12 · 2004 3/55
---
<strong>Selection</strong> <strong>and</strong> <strong>ordering</strong>1GG7, 1GH7, 1HS7Size 4503■ <strong>Selection</strong> <strong>and</strong> <strong>ordering</strong> dataThese motors are compensated.Rated speedn NrpmRatedoutputRatedtorqueMaximumfieldweakeningspeedOrder No.RatedcurrentEfficiencyArmature circuitResistanceat tanceInduc-120 °Cat rated armature voltage P N M N n Fmax I N h R a L a420 V 470 V 520 V 600 V 720 V 810 V kW Nm rpm A % mW mHOverall length 1254 210 7900 1020 1777 451-5NA77 -1VV1 580 85 93.1 1.53290 238 7870 1160 -1WV1 575 86324 266 7840 1300 -7MV1 575 88380 312 7840 1350 -7NV1 575 89464 375 7720 1370 -2XV1 565 91525 426 7740 1370 -2YV1 565 92288 238 7890 1150 1777 451-5NB77 -1VV1 640 87 70.9 1.32326 268 7850 1300 -1WV1 635 88365 300 7850 1340 -7MV1 635 89426 350 7850 1340 -7NV1 635 91520 420 7730 1360 -2XV1 625 92590 476 7730 1350 -2YV1 625 93322 266 7870 1290 1777 451-5NC77 -1VV1 710 88 58.5 0.93365 302 7900 1340 -1WV1 710 89408 334 7820 1350 -7MV1 705 90476 390 7810 1350 -7NV1 705 91580 465 7660 1370 -2XV1 690 93655 525 7630 1370 -2YV1 690 93364 304 8000 1310 1777 451-5ND77 -1VV1 810 88 49.1 0.76412 344 8000 1310 -1WV1 810 90460 380 7890 1320 -7MV1 800 91535 444 7900 1320 -7NV1 800 92655 525 7680 1350 -2XV1 780 93740 595 7690 1340 1777 451-5ND77 -2YV1 780 94Separate ventilation Fan unit, radially mounted GGFan unit, separately-mountedMounted air-to-water heat exchangerRated field voltage 310 V 4Type of construction IM B 3 0GHHS3/56Siemens DA 12 · 2004
---
<strong>Selection</strong> <strong>and</strong> <strong>ordering</strong>1GG7, 1GH7, 1HS7Size 450Rated speedRated Rated Maximum Order No.Rated EfficiencyNArmature circuitn output torque fieldcurrent Resistanceat tanceInduc-rpmweakeningspeed120 °Cat rated armature voltage P N M N n Fmax I N h R a L a420 V 470 V 520 V 600 V 720 V 810 V kW Nm rpm A % mW mH418 350 8000 1320 1777 451-5NE77 -1VV1 910 90 35.5 0.66472 394 7960 1320 -1WV1 910 91525 435 7890 1330 -7MV1 900 92615 505 7860 1330 -7NV1 900 93745 595 7640 1360 -2XV1 875 94840 670 7600 1360 -2YV1 870 94505 420 7960 1290 1777 451-5NF77 -1VV1 1080 92 25 0.49570 472 7940 1290 -1WV1 1080 92635 520 7850 1300 -7MV1 1070 93735 600 7790 1310 -7NV1 1060 94890 695 7440 1350 -2XV1 1010 951010 780 7390 1360 -2YV1 1010 95610 500 7800 1040 1777 451-5NG77 -1VV1 1270 93 17.2 0.35690 560 7760 1170 -1WV1 1270 93765 610 7600 1290 -7MV1 1240 94890 705 7560 1300 -7NV1 1240 951080 795 7050 1370 -2XV1 1150 951220 885 6950 1380 -2YV1 1140 96765 605 7550 1270 1777 451-5NH77 -1VV1 1530 93 12.3 0.19860 680 7540 1280 -1WV1 1530 94960 725 7210 1320 -7MV1 1470 941110 830 7120 1330 -7NV1 1450 95880 680 7360 1290 1777 451-5NJ77 -1VV1 1710 94 9 0.17985 760 7400 1290 -1WV1 1700 951100 800 6960 1350 -7MV1 1610 951270 910 6830 1360 1777 451-5NJ77 -7NV1 1580 96Separate ventilation Fan unit, radially mounted GGFan unit, separately-mountedMounted air-to-water heat exchangerRated field voltage 310 V 4Type of construction IM B 3 0GHHS3Siemens DA 12 · 2004 3/57
---
<strong>Selection</strong> <strong>and</strong> <strong>ordering</strong>1GG7, 1GH7, 1HS7Size 4503Rated speedn NrpmRatedoutputRatedtorqueMaximumfieldweakeningspeedOrder No.Ratedcurrentat rated armature voltage P N M N n Fmax I N h R a L a420 V 470 V 520 V 600 V 720 V 810 V kW Nm rpm A % mW mHOverall length 2210 208 9460 840 1777 452-5NA77 -1VV1 580 84 101 1.7240 238 9510 960 -1WV1 585 85268 265 9450 1070 -7MV1 580 87315 310 9400 1240 -7NV1 575 88385 376 9330 1250 -2XV1 570 90438 428 9360 1240 -2YV1 575 91238 236 9470 950 1777 452-5NB77 -1VV1 640 86 76.7 1.47270 268 9480 1080 -1WV1 640 87302 300 9490 1210 -7MV1 645 88354 350 9440 1220 -7NV1 640 90432 422 9350 1230 -2XV1 635 91490 478 9340 1230 -2YV1 635 92268 266 9520 1070 1777 452-5NC77 -1VV1 715 87 63.1 1.03302 302 9520 1210 -1WV1 715 88338 335 9440 1230 -7MV1 710 89396 392 9460 1230 -7NV1 710 91482 468 9280 1250 -2XV1 700 92545 530 9260 1250 -2YV1 700 93302 304 9650 1190 1777 452-5ND77 -1VV1 815 88 52.9 0.84342 344 9640 1190 -1WV1 815 89382 382 9550 1200 -7MV1 810 90446 446 9550 1200 -7NV1 810 91545 530 9320 1220 -2XV1 790 92615 600 9320 1220 1777 452-5ND77 -2YV1 790 93Separate ventilation Fan unit, radially mounted GGFan unit, separately-mountedMounted air-to-water heat exchangerRated field voltage 310 V 4Type of construction IM B 3 0GHHSEfficiencyArmature circuitResistanceat tanceInduc-120 °C3/58Siemens DA 12 · 2004
---
<strong>Selection</strong> <strong>and</strong> <strong>ordering</strong>1GG7, 1GH7, 1HS7Size 450Rated speedRated Rated Maximum Order No.Rated EfficiencyNArmature circuitn output torque fieldcurrent Resistanceat tanceInduc-rpmweakeningspeed120 °Cat rated armature voltage P N M N n Fmax I N h R a L a420 V 470 V 520 V 600 V 720 V 810 V kW Nm rpm A % mW mH348 350 9640 1200 1777 452-5NE77 -1VV1 920 90 38.4 0.74392 395 9600 1200 -1WV1 920 91438 438 9550 1210 -7MV1 910 91510 510 9550 1210 -7NV1 910 92620 605 9320 1230 -2XV1 890 93700 680 9270 1240 -2YV1 890 94418 420 9580 1180 1777 452-5NF77 -1VV1 1090 91 27 0.55472 475 9610 1180 -1WV1 1090 92525 525 9530 1180 -7MV1 1080 92615 605 9430 1190 -7NV1 1070 93745 710 9130 1220 -2XV1 1040 94840 795 9040 1230 -2YV1 1030 95510 505 9480 1150 1777 452-5NG77 -1VV1 1290 92 18.6 0.39575 565 9400 1160 -1WV1 1280 92640 620 9270 1170 -7MV1 1270 94740 715 9200 1170 -7NV1 1260 94900 820 8720 1220 -2XV1 1190 951010 915 8620 1230 -2YV1 1180 95640 615 9210 1150 1777 452-5NH77 -1VV1 1560 93 13.3 0.21720 690 9180 1150 -1WV1 1560 94800 740 8840 1190 -7MV1 1500 94930 850 8740 1190 -7NV1 1490 95730 685 8940 1170 1777 452-5NJ77 -1VV1 1730 94 9.74 0.19825 770 8940 1170 -1WV1 1730 94915 825 8610 1200 -7MV1 1660 951060 945 8510 1220 1777 452-5NJ77 -7NV1 1640 95Separate ventilation Fan unit, radially mounted GGFan unit, separately-mountedMounted air-to-water heat exchangerRated field voltage 310 V 4Type of construction IM B 3 0GHHS3Siemens DA 12 · 2004 3/59
---
<strong>Selection</strong> <strong>and</strong> <strong>ordering</strong>1GG7, 1GH7, 1HS7Size 4503Rated speedn NrpmRatedoutputRatedtorqueMaximumfieldweakeningspeedOrder No.Ratedcurrentat rated armature voltage P N M N n Fmax I N h R a L a420 V 470 V 520 V 600 V 720 V 810 V kW Nm rpm A % mW mHOverall length 3173 206 11400 690 1777 453-5NA77 -1VV1 585 83 110 1.92197 236 11400 790 -1WV1 585 84222 265 11400 890 -7MV1 585 86260 310 11400 1040 -7NV1 580 87318 378 11300 1110 -2XV1 580 89362 430 11300 1110 -2YV1 580 90196 236 11500 785 1777 453-5NB77 -1VV1 650 85 84.2 1.68224 268 11500 895 -1WV1 650 86250 300 11500 1000 -7MV1 650 87294 350 11400 1100 -7NV1 645 89358 425 11300 1100 -2XV1 645 91406 482 11300 1100 -2YV1 645 92220 266 11500 880 1777 453-5NC77 -1VV1 725 86 69.1 1.16250 302 11500 1000 -1WV1 725 87280 336 11400 1100 -7MV1 720 88328 394 11500 1100 -7NV1 720 90400 472 11300 1110 -2XV1 710 91454 535 11300 1110 -2YV1 710 92248 304 11700 990 1777 453-5ND77 -1VV1 825 87 57.8 0.93282 345 11700 1060 -1WV1 825 88316 384 11600 1070 -7MV1 820 89370 448 11600 1070 -7NV1 820 90452 535 11300 1090 -2XV1 800 92510 610 11400 1080 1777 453-5ND77 -2YV1 805 93Separate ventilation Fan unit, radially mounted GGFan unit, separately-mountedMounted air-to-water heat exchangerRated field voltage 310 V 4Type of construction IM B 3 0GHHSEfficiencyArmature circuitResistanceat tanceInduc-120 °C3/60Siemens DA 12 · 2004
---
<strong>Selection</strong> <strong>and</strong> <strong>ordering</strong>1GG7, 1GH7, 1HS7Size 450Rated speedRated Rated Maximum Order No.Rated EfficiencyNArmature circuitn output torque fieldcurrent Resistanceat tanceInduc-rpmweakeningspeed120 °Cat rated armature voltage P N M N n Fmax I N h R a L a420 V 470 V 520 V 600 V 720 V 810 V kW Nm rpm A % mW mH288 350 11600 1080 1777 453-5NE77 -1VV1 925 89 42.1 0.83326 396 11600 1080 -1WV1 925 90364 440 11500 1080 -7MV1 925 91424 515 11600 1080 -7NV1 925 92515 615 11400 1100 -2XV1 910 93585 690 11300 1100 -2YV1 900 94348 420 11500 1050 1777 453-5NF77 -1VV1 1100 90 29.6 0.63392 474 11500 1050 -1WV1 1100 91438 525 11500 1060 -7MV1 1090 92510 615 11500 1060 -7NV1 1100 93620 725 11200 1080 -2XV1 1070 94700 815 11100 1090 -2YV1 1060 94424 510 11500 1020 1777 453-5NG77 -1VV1 1310 92 20.4 0.45478 575 11500 1020 -1WV1 1310 92530 630 11300 1040 -7MV1 1290 93620 730 11300 1040 -7NV1 1290 94750 845 10800 1080 -2XV1 1230 95845 950 10700 1080 -2YV1 1230 95530 625 11300 1020 1777 453-5NH77 -1VV1 1600 93 14.5 0.23595 700 11200 1020 -1WV1 1590 93665 760 10900 1040 -7MV1 1550 94775 880 10900 1050 -7NV1 1550 94610 685 10700 1060 1777 453-5NJ77 -1VV1 1730 94 10.7 0.21685 770 10700 1060 -1WV1 1730 94765 855 10700 1060 -7MV1 1730 95885 985 10600 1060 1777 453-5NJ77 -7NV1 1720 95Separate ventilation Fan unit, radially mounted GGFan unit, separately-mountedMounted air-to-water heat exchangerRated field voltage 310 V 4Type of construction IM B 3 0GHHS3Siemens DA 12 · 2004 3/61
---
<strong>Selection</strong> <strong>and</strong> <strong>ordering</strong>1GG7, 1GH7, 1HS7Size 4503Rated speedn NrpmRatedoutputRatedtorqueMaximumfieldweakeningspeedOrder No.Ratedcurrentat rated armature voltage P N M N n Fmax I N h R a L a420 V 470 V 520 V 600 V 720 V 810 V kW Nm rpm A % mW mHOverall length 4138 204 14100 550 1777 454-5NA77 -1VV1 595 80 123 2.21158 232 14000 630 -1WV1 585 83178 262 14100 710 -7MV1 590 84210 308 14000 840 -7NV1 590 86258 376 13900 980 -2XV1 585 88294 428 13900 980 -2YV1 585 89158 232 14000 630 1777 454-5NB77 -1VV1 650 83 94.2 1.95180 265 14100 720 -1WV1 655 85202 298 14100 810 -7MV1 655 86238 348 14000 950 -7NV1 650 88290 424 13900 970 -2XV1 650 90330 482 14000 970 -2YV1 650 91178 264 14200 710 1777 454-5NC77 -1VV1 730 84 77 1.33202 300 14200 810 -1WV1 730 86226 334 14100 905 -7MV1 725 87266 392 14100 970 -7NV1 725 89325 474 13900 975 -2XV1 720 91370 540 14000 975 -2YV1 720 91200 298 14200 800 1777 454-5ND77 -1VV1 820 85 64.4 1.06228 338 14100 910 -1WV1 820 87256 380 14200 940 -7MV1 820 88300 445 14200 940 -7NV1 820 89366 540 14100 950 -2XV1 815 91416 610 14000 955 1777 454-5ND77 -2YV1 810 92Separate ventilation Fan unit, radially mounted GGFan unit, separately-mountedMounted air-to-water heat exchangerRated field voltage 310 V 4Type of construction IM B 3 0GHHSEfficiencyArmature circuitResistanceat tanceInduc-120 °C3/62Siemens DA 12 · 2004
---
<strong>Selection</strong> <strong>and</strong> <strong>ordering</strong>1GG7, 1GH7, 1HS7Size 450Rated speedRated Rated Maximum Order No.Rated EfficiencyNArmature circuitn output torque fieldcurrent Resistanceat tanceInduc-rpmweakeningspeed120 °Cat rated armature voltage P N M N n Fmax I N h R a L a420 V 470 V 520 V 600 V 720 V 810 V kW Nm rpm A % mW mH232 345 14100 930 1777 454-5NE77 -1VV1 925 88 47.1 0.97264 390 14100 950 -1WV1 920 89295 436 14100 955 -7MV1 920 90345 510 14100 950 -7NV1 925 91420 615 14000 965 -2XV1 915 92476 695 13900 970 -2YV1 915 93282 415 14000 935 1777 454-5NF77 -1VV1 1090 89 33.1 0.73318 470 14000 930 -1WV1 1100 90356 525 14100 930 -7MV1 1100 91415 610 14000 935 -7NV1 1090 92505 735 13900 945 -2XV1 1090 93570 825 13800 955 -2YV1 1080 94344 510 14200 900 1777 454-5NG77 -1VV1 1320 91 22.8 0.53388 575 14200 900 -1WV1 1320 92432 635 14000 905 -7MV1 1310 92505 735 13900 910 -7NV1 1300 93610 865 13500 935 -2XV1 1260 94690 970 13400 940 -2YV1 1250 95430 625 13900 895 1777 454-5NH77 -1VV1 1600 92 16.2 0.27486 705 13900 895 -1WV1 1600 93540 770 13600 910 -7MV1 1580 93630 895 13600 910 -7NV1 1570 94496 705 13600 905 1777 454-5NJ77 -1VV1 1790 93 12 0.25560 790 13500 910 -1WV1 1780 94620 875 13500 915 -7MV1 1780 94720 1010 13400 915 1777 454-5NJ77 -7NV1 1770 95Separate ventilation Fan unit, radially mounted GGFan unit, separately-mountedMounted air-to-water heat exchangerRated field voltage 310 V 4Type of construction IM B 3 0GHHS3Siemens DA 12 · 2004 3/63
---
<strong>Selection</strong> <strong>and</strong> <strong>ordering</strong>1GG7, 1GH7, 1HS7Size 4503Rated speedn NrpmRatedoutputRatedtorqueMaximumfieldweakeningspeedOrder No.Ratedcurrentat rated armature voltage P N M N n Fmax I N h R a L a420 V 470 V 520 V 600 V 720 V 810 V kW Nm rpm A % mW mHOverall length 5103 197 18300 412 1777 455-5NA77 -1VV1 595 78 143 2.68119 226 18100 476 -1WV1 590 80134 255 18200 535 -7MV1 590 82159 302 18100 635 -7NV1 590 84196 372 18100 785 -2XV1 590 86224 424 18100 825 -2YV1 590 88119 226 18100 476 1777 455-5NB77 -1VV1 655 81 110 2.38136 260 18300 545 -1WV1 660 82153 292 18200 610 -7MV1 660 84181 344 18200 725 -7NV1 655 86222 420 18100 815 -2XV1 650 88252 478 18100 815 -2YV1 650 89134 258 18400 535 1777 455-5NC77 -1VV1 735 82 89.6 1.6153 294 18400 610 -1WV1 735 84172 330 18300 690 -7MV1 730 85202 388 18300 810 -7NV1 730 87248 470 18100 825 -2XV1 725 89282 535 18100 825 -2YV1 725 90151 290 18300 605 1777 455-5ND77 -1VV1 815 83 74.8 1.27173 330 18200 690 -1WV1 815 85194 370 18200 775 -7MV1 815 86228 436 18200 800 -7NV1 815 88280 530 18100 800 -2XV1 810 90318 605 18100 800 1777 455-5ND77 -2YV1 815 91Separate ventilation Fan unit, radially mounted GGFan unit, separately-mountedMounted air-to-water heat exchangerRated field voltage 310 V 4Type of construction IM B 3 0GHHSEfficiencyArmature circuitResistanceat tanceInduc-120 °C3/64Siemens DA 12 · 2004
---
<strong>Selection</strong> <strong>and</strong> <strong>ordering</strong>1GG7, 1GH7, 1HS7Size 450Rated speedRated Rated Maximum Order No.Rated EfficiencyNArmature circuitn output torque fieldcurrent Resistanceat tanceInduc-rpmweakeningspeed120 °Cat rated armature voltage P N M N n Fmax I N h R a L a420 V 470 V 520 V 600 V 720 V 810 V kW Nm rpm A % mW mH177 338 18200 720 1777 455-5NE77 -1VV1 920 86 54.9 1.18202 384 18200 805 -1WV1 920 87225 430 18300 805 -7MV1 925 88264 505 18300 805 -7NV1 925 90322 615 18200 815 -2XV1 925 91365 695 18200 815 -2YV1 920 92215 408 18100 790 1777 455-5NF77 -1VV1 1090 88 38.5 0.9244 464 18200 790 -1WV1 1090 89272 515 18100 800 -7MV1 1090 90318 605 18200 795 -7NV1 1090 91388 735 18100 795 -2XV1 1090 92440 835 18100 795 -2YV1 1100 93264 505 18300 755 1777 455-5NG77 -1VV1 1330 90 26.6 0.64298 570 18300 760 -1WV1 1320 91332 635 18300 760 -7MV1 1320 91388 735 18100 765 -7NV1 1310 92470 875 17800 775 -2XV1 1290 94535 985 17600 780 -2YV1 1280 94330 625 18100 750 1777 455-5NH77 -1VV1 1620 91 18.9 0.32372 710 18200 745 -1WV1 1640 92416 775 17800 760 -7MV1 1600 92484 905 17900 755 -7NV1 1610 93382 695 17400 770 1777 455-5NJ77 -1VV1 1780 92 14 0.3430 785 17400 770 -1WV1 1780 93478 875 17500 770 -7MV1 1790 93555 1020 17600 770 1777 455-5NJ77 -7NV1 1790 94Separate ventilation Fan unit, radially mounted GGFan unit, separately-mountedMounted air-to-water heat exchangerRated field voltage 310 V 4Type of construction IM B 3 0GHHS3Siemens DA 12 · 2004 3/65
---
<strong>Selection</strong> <strong>and</strong> <strong>ordering</strong>31GG7, 1GH7, 1HS7Size 450Motor typeFieldpowerapprox.Moment ofinertiaMechanicallimit speedP field J n mechkW kgm² rpm kg1GG7 451 2.9 39 1800 38001GH7 451 2.9 39 1800 36001HS7 451 2.9 39 1800 41001GG7 452 3.2 44 1800 41001GH7 452 3.2 44 1800 39001HS7 452 3.2 44 1800 44001GG7 453 3.3 50 1800 46001GH7 453 3.3 50 1800 44001HS7 453 3.3 50 1800 49001GG7 454 3.6 57 1800 53001GH7 454 3.6 57 1800 51001HS7 454 3.6 57 1800 56001GG7 455 4.2 70 1800 62001GH7 455 4.2 70 1800 60001HS7 455 4.2 70 1800 6500Weight, netapprox.Armature controlSpeed can be coasted down by means of armature control toapprox. 10 rpm at constant torque of the motor.Field weakeningThe order numbers for the motors are valid for field weakeningspeeds n F to 1.15 ¼ n N . At higher field weakening speeds supplementaryshort codes are required: "C05" forn F >1.15¼ n N to 1.7 ¼ n N <strong>and</strong> "C06" for n F >1.7¼ n N(short codes: from Page 3/137)The motors can be operated at rated output P N up to the fieldweakening speed n Fmax .For higher speeds, the output must be reduced.Rated field voltageFor other rated field voltages <strong>and</strong> the associated Order No. supplement,see Page 3/6.3/66Siemens DA 12 · 2004
---
<strong>Selection</strong> <strong>and</strong> <strong>ordering</strong>1GG5, 1GH5, 1HS5Size 500■ <strong>Selection</strong> <strong>and</strong> <strong>ordering</strong> dataThese motors are compensated.Rated speedn NrpmRatedoutputRatedtorqueMaximumfieldweakeningspeedOrder No.RatedcurrentEfficiencyArmature circuitResistanceat tanceInduc-120 °Cat rated armature voltage P N M N n Fmax I N h R a L a420 V 470 V 520 V 600 V 720 V 810 V kW Nm rpm A % mW mHOverall length 0345 302 8350 1170 1775 500-5EA77 -1VV5 805 88 49 0.7392 340 8300 1170 -1WV5 800 89438 375 8200 1180 -7MV5 790 90510 435 8150 1190 -7NV5 785 91620 510 7850 1220 -2XV5 760 92705 570 7700 1230 -2YV5 745 93382 335 8400 1150 1775 500-5EC77 -1VV5 885 89 39.8 0.6432 378 8350 1160 -1WV5 880 90482 418 8300 1160 -7MV5 875 91565 484 8200 1170 -7NV5 865 92685 560 7800 1210 -2XV5 825 93775 625 7700 1220 -2YV5 815 93450 360 7650 1280 1775 500-5EE77 -1VV5 935 90 31.6 0.48510 406 7600 1280 -1WV5 930 91565 448 7550 1290 -7MV5 925 92660 520 7500 1290 -7NV5 925 92795 620 7450 1300 -2XV5 910 93900 690 7300 1320 -2YV5 895 94470 398 8100 1380 1775 500-5EG77 -1VV5 1030 91 26.5 0.43530 450 8100 1380 -1WV5 1030 91590 496 8050 1390 -7MV5 1020 92685 570 7950 1400 -7NV5 1010 93835 645 7400 1470 -2XV5 940 94940 725 7350 1470 -2YV5 940 94525 448 8150 1300 1775 500-5EJ77 -1VV5 1150 91 21.8 0.32590 505 8150 1300 -1WV5 1150 92660 540 7800 1340 -7MV5 1100 93765 625 7800 1340 -7NV5 1100 93930 685 7050 1440 -2XV5 995 941050 770 7000 1440 1775 500-5EJ77 -2YV5 990 94Separate ventilation Fan unit, radially mounted GGFan unit, separately-mountedMounted air-to-water heat exchangerRated field voltage 310 V 4Type of construction IM B 3 0GHHS3Siemens DA 12 · 2004 3/67
---
<strong>Selection</strong> <strong>and</strong> <strong>ordering</strong>1GG5, 1GH5, 1HS5Size 5003Rated speedRated Rated Maximum Order No.Rated EfficiencyNArmature circuitn output torque fieldcurrent Resistanceat tanceInduc-rpmweakeningspeed120 °Cat rated armature voltage P N M N n Fmax I N h R a L a420 V 470 V 520 V 600 V 720 V 810 V kW Nm rpm A % mW mH595 510 8200 1470 1775 500-5EL77 -1VV5 1300 92 16.8 0.27670 570 8100 1480 -1WV5 1290 93745 605 7750 1530 -7MV5 1230 93865 695 7650 1540 -7NV5 1220 941050 750 6800 1650 -2XV5 1090 941190 835 6700 1670 -2YV5 1070 95700 565 7700 1490 1775 500-5EN77 -1VV5 1430 93 12.7 0.18785 630 7650 1500 -1WV5 1420 93875 660 7200 1560 -7MV5 1340 941020 760 7100 1560 -7NV5 1320 941230 755 5850 1700 -2XV5 1090 941390 850 5850 1700 -2YV5 1090 95765 620 7750 1470 1775 500-5EQ77 -1VV5 1560 93 10.5 0.17860 685 7600 1490 -1WV5 1540 94955 715 7150 1550 -7MV5 1440 941110 810 6950 1570 -7NV5 1410 941340 800 5700 1700 -2XV5 1160 94850 670 7550 1470 1775 500-5ES77 -1VV5 1690 93 8.6 0.13960 745 7400 1480 -1WV5 1660 941070 750 6700 1580 -7MV5 1510 941240 865 6650 1580 -7NV5 1500 94995 735 7050 1510 1775 500-5EV77 -1VV5 1840 94 6.6 0.121120 810 6900 1520 -1WV5 1800 941240 815 6300 1620 -7MV5 1640 941440 925 6150 1640 1775 500-5EV77 -7NV5 1620 94Separate ventilation Fan unit, radially mounted GGFan unit, separately-mountedMounted air-to-water heat exchangerRated field voltage 310 V 4Type of construction IM B 3 0GHHS3/68Siemens DA 12 · 2004
---
<strong>Selection</strong> <strong>and</strong> <strong>ordering</strong>1GG5, 1GH5, 1HS5Size 500Rated speedn NrpmRatedoutputRatedtorqueMaximumfieldweakeningspeedOrder No.Ratedcurrentat rated armature voltage P N M N n Fmax I N h R a L a420 V 470 V 520 V 600 V 720 V 810 V kW Nm rpm A % mW mHOverall length 1256 300 11200 985 1775 501-5EA77 -1VV5 810 86 56 0.84290 340 11200 985 -1WV5 810 88325 380 11200 985 -7MV5 810 89380 444 11200 985 -7NV5 810 90464 530 10900 1000 -2XV5 795 91525 600 10900 1000 -2YV5 795 92284 334 11200 970 1775 501-5EC77 -1VV5 890 88 45.6 0.73322 378 11200 970 -1WV5 890 89360 420 11100 975 -7MV5 885 90420 490 11100 975 -7NV5 885 91510 590 11000 980 -2XV5 880 92580 665 10900 985 -2YV5 875 93335 360 10300 1090 1775 501-5EE77 -1VV5 945 89 36 0.57380 406 10200 1090 -1WV5 940 90422 450 10200 1090 -7MV5 935 91492 525 10200 1090 -7NV5 940 92595 625 10000 1110 -2XV5 925 93675 710 10000 1100 -2YV5 925 93350 400 10900 1180 1775 501-5EG77 -1VV5 1040 90 30.4 0.53396 450 10900 1190 -1WV5 1040 91440 500 10900 1190 -7MV5 1040 91515 580 10800 1190 -7NV5 1030 92620 695 10700 1200 -2XV5 1020 93705 780 10600 1200 -2YV5 1010 94390 464 11400 1080 1775 501-5EJ77 -1VV5 1210 90 24.8 0.38440 525 11400 1070 -1WV5 1210 91490 570 11100 1100 -7MV5 1180 92570 660 11100 1100 -7NV5 1170 93695 750 10300 1160 -2XV5 1100 94785 840 10200 1160 1775 501-5EJ77 -2YV5 1090 94Separate ventilation Fan unit, radially mounted GGFan unit, separately-mountedMounted air-to-water heat exchangerRated field voltage 310 V 4Type of construction IM B 3 0GHHSEfficiencyArmature circuitResistanceat tanceInduc-120 °C3Siemens DA 12 · 2004 3/69
---
<strong>Selection</strong> <strong>and</strong> <strong>ordering</strong>1GG5, 1GH5, 1HS5Size 5003Rated speedRated Rated Maximum Order No.Rated EfficiencyNArmature circuitn output torque fieldcurrent Resistanceat tanceInduc-rpmweakeningspeed120 °Cat rated armature voltage P N M N n Fmax I N h R a L a420 V 470 V 520 V 600 V 720 V 810 V kW Nm rpm A % mW mH448 525 11200 1260 1775 501-5EL77 -1VV5 1350 91 19.3 0.33505 595 11300 1250 -1WV5 1360 92565 645 10900 1280 -7MV5 1320 93655 740 10800 1290 -7NV5 1300 93795 830 9950 1360 -2XV5 1210 94895 925 9850 1370 -2YV5 1190 95520 600 11000 1230 1775 501-5EN77 -1VV5 1530 92 14.5 0.22590 670 10800 1240 -1WV5 1510 93655 715 10400 1280 -7MV5 1450 93760 825 10400 1290 -7NV5 1450 94925 885 9150 1400 -2XV5 1280 951040 995 9150 1400 -2YV5 1280 95570 660 11100 1220 1775 501-5EQ77 -1VV5 1680 93 12 0.21640 740 11000 1220 -1WV5 1670 93715 785 10500 1260 -7MV5 1590 94830 895 10300 1280 -7NV5 1560 941000 950 9050 1400 -2XV5 1380 95635 705 10600 1220 1775 501-5ES77 -1VV5 1780 93 9.8 0.16715 790 10600 1230 -1WV5 1780 94795 840 10100 1270 -7MV5 1700 94925 970 10000 1270 -7NV5 1690 95745 755 9700 1290 1775 501-5EV77 -1VV5 1890 94 7.6 0.15835 850 9700 1280 -1WV5 1900 94930 925 9500 1300 -7MV5 1860 941080 1060 9350 1310 1775 501-5EV77 -7NV5 1840 95Separate ventilation Fan unit, radially mounted GGFan unit, separately-mountedMounted air-to-water heat exchangerRated field voltage 310 V 4Type of construction IM B 3 0GHHS3/70Siemens DA 12 · 2004
---
<strong>Selection</strong> <strong>and</strong> <strong>ordering</strong>1GG5, 1GH5, 1HS5Size 500Rated speedn NrpmRatedoutputRatedtorqueMaximumfieldweakeningspeedOrder No.Ratedcurrentat rated armature voltage P N M N n Fmax I N h R a L a420 V 470 V 520 V 600 V 720 V 810 V kW Nm rpm A % mW mHOverall length 2199 296 14200 795 1775 502-5EA77 -1VV5 810 85 63 0.98226 336 14200 855 -1WV5 810 86254 376 14100 855 -7MV5 810 87298 440 14100 855 -7NV5 810 89362 535 14100 855 -2XV5 810 91412 605 14000 855 -2YV5 805 91222 330 14200 840 1775 502-5EC77 -1VV5 890 86 51.5 0.86252 374 14200 840 -1WV5 890 87282 416 14100 845 -7MV5 885 89330 486 14100 845 -7NV5 885 90400 590 14100 845 -2XV5 885 91454 665 14000 850 -2YV5 880 92262 356 13000 950 1775 502-5EE77 -1VV5 940 88 40.5 0.67296 402 13000 955 -1WV5 940 89332 448 12900 955 -7MV5 940 90386 520 12900 955 -7NV5 935 91468 625 12800 965 -2XV5 925 92530 710 12800 960 -2YV5 930 93274 402 14000 1030 1775 502-5EG77 -1VV5 1060 88 34.2 0.62310 454 14000 1030 -1WV5 1060 90345 505 14000 1030 -7MV5 1060 90402 585 13900 1030 -7NV5 1050 91488 705 13800 1040 -2XV5 1040 93555 795 13700 1040 -2YV5 1040 93305 460 14400 945 1775 502-5EJ77 -1VV5 1210 89 28 0.45345 520 14400 940 -1WV5 1210 90384 575 14300 950 -7MV5 1200 91448 670 14300 950 -7NV5 1200 92545 770 13500 990 -2XV5 1130 93615 865 13400 995 1775 502-5EJ77 -2YV5 1130 94Separate ventilation Fan unit, radially mounted GGFan unit, separately-mountedMounted air-to-water heat exchangerRated field voltage 310 V 4Type of construction IM B 3 0GHHSEfficiencyArmature circuitResistanceat tanceInduc-120 °C3Siemens DA 12 · 2004 3/71
---
<strong>Selection</strong> <strong>and</strong> <strong>ordering</strong>1GG5, 1GH5, 1HS5Size 5003Rated speedRated Rated Maximum Order No.Rated EfficiencyNArmature circuitn output torque fieldcurrent Resistanceat tanceInduc-rpmweakeningspeed120 °Cat rated armature voltage P N M N n Fmax I N h R a L a420 V 470 V 520 V 600 V 720 V 810 V kW Nm rpm A % mW mH352 530 14400 1100 1775 502-5EL77 -1VV5 1380 90 21.6 0.39398 595 14300 1110 -1WV5 1370 91442 655 14200 1120 -7MV5 1350 92515 755 14000 1130 -7NV5 1340 93625 855 13100 1190 -2XV5 1250 94710 955 12800 1200 -2YV5 1230 94408 605 14200 1080 1775 502-5EN77 -1VV5 1560 91 16.3 0.26460 680 14100 1080 -1WV5 1550 92515 730 13500 1110 -7MV5 1490 93595 845 13600 1110 -7NV5 1490 93725 930 12300 1200 -2XV5 1350 94820 1050 12200 1200 -2YV5 1350 95446 670 14300 1060 1775 502-5EQ77 -1VV5 1710 92 13.5 0.25505 755 14300 1060 -1WV5 1710 93560 810 13800 1090 -7MV5 1650 93650 925 13600 1100 -7NV5 1620 94790 1010 12200 1190 -2XV5 1460 95500 705 13500 1080 1775 502-5ES77 -1VV5 1790 93 11 0.18565 795 13400 1070 -1WV5 1790 93625 870 13300 1090 -7MV5 1770 94725 1010 13300 1090 -7NV5 1770 94585 765 12500 1120 1775 502-5EV77 -1VV5 1920 93 8.5 0.17660 860 12400 1120 -1WV5 1920 94730 950 12400 1130 -7MV5 1920 94845 1100 12400 1130 1775 502-5EV77 -7NV5 1920 95Separate ventilation Fan unit, radially mounted GGFan unit, separately-mountedMounted air-to-water heat exchangerRated field voltage 310 V 4Type of construction IM B 3 0GHHS3/72Siemens DA 12 · 2004
---
<strong>Selection</strong> <strong>and</strong> <strong>ordering</strong>1GG5, 1GH5, 1HS5Size 500Rated speedn NrpmRatedoutputRatedtorqueMaximumfieldweakeningspeedOrder No.Ratedcurrentat rated armature voltage P N M N n Fmax I N h R a L a420 V 470 V 520 V 600 V 720 V 810 V kW Nm rpm A % mW mHOverall length 3164 292 17000 655 1775 503-5EA77 -1VV5 810 83 70 1.12186 332 17000 745 -1WV5 810 85208 372 17100 755 -7MV5 815 86245 436 17000 755 -7NV5 810 88300 530 16900 755 -2XV5 805 90340 605 17000 750 -2YV5 810 91182 326 17100 730 1775 503-5EC77 -1VV5 895 85 57 0.98208 370 17000 740 -1WV5 890 86232 414 17000 740 -7MV5 890 87272 485 17000 740 -7NV5 890 89332 590 17000 740 -2XV5 890 91376 665 16900 745 -2YV5 885 91216 354 15700 800 1775 503-5EE77 -1VV5 945 87 45 0.77245 400 15600 800 -1WV5 945 88274 446 15500 805 -7MV5 940 89320 520 15500 805 -7NV5 940 90388 630 15500 805 -2XV5 940 92440 710 15400 810 -2YV5 935 92225 400 17000 900 1775 503-5EG77 -1VV5 1070 87 38.2 0.72255 454 17000 910 -1WV5 1070 89285 505 16900 910 -7MV5 1060 90332 590 17000 910 -7NV5 1070 91404 710 16800 915 -2XV5 1060 92458 805 16800 915 -2YV5 1060 93252 458 17400 835 1775 503-5EJ77 -1VV5 1210 88 31 0.51285 520 17400 830 -1WV5 1220 89318 575 17300 840 -7MV5 1210 90370 675 17400 830 -7NV5 1220 91452 785 16600 865 -2XV5 1160 93510 885 16600 865 1775 503-5EJ77 -2YV5 1160 93Separate ventilation Fan unit, radially mounted GGFan unit, separately-mountedMounted air-to-water heat exchangerRated field voltage 310 V 4Type of construction IM B 3 0GHHSEfficiencyArmature circuitResistanceat tanceInduc-120 °C3Siemens DA 12 · 2004 3/73
---
<strong>Selection</strong> <strong>and</strong> <strong>ordering</strong>1GG5, 1GH5, 1HS5Size 5003Rated speedRated Rated Maximum Order No.Rated EfficiencyNArmature circuitn output torque fieldcurrent Resistanceat tanceInduc-rpmweakeningspeed120 °Cat rated armature voltage P N M N n Fmax I N h R a L a420 V 470 V 520 V 600 V 720 V 810 V kW Nm rpm A % mW mH290 530 17500 985 1775 503-5EL77 -1VV5 1390 89 24.2 0.44328 600 17500 980 -1WV5 1390 90366 660 17200 995 -7MV5 1370 91426 765 17100 995 -7NV5 1370 92520 880 16200 1040 -2XV5 1290 93585 985 16100 1050 -2YV5 1280 94338 610 17200 955 1775 503-5EN77 -1VV5 1580 91 18.2 0.3380 685 17200 955 -1WV5 1570 91425 745 16700 975 -7MV5 1530 92495 860 16600 980 -7NV5 1520 93600 965 15400 1040 -2XV5 1410 94680 1090 15300 1040 -2YV5 1410 94368 675 17500 935 1775 503-5EQ77 -1VV5 1740 91 15 0.29416 760 17400 935 -1WV5 1740 92464 825 17000 955 -7MV5 1690 93540 945 16700 970 -7NV5 1660 93655 1060 15500 1030 -2XV5 1540 94415 710 16300 955 1775 503-5ES77 -1VV5 1810 92 12.2 0.21468 795 16200 960 -1WV5 1800 93520 875 16100 965 -7MV5 1780 93605 1020 16100 960 -7NV5 1790 94485 765 15100 1010 1775 503-5EV77 -1VV5 1930 93 9.5 0.2545 860 15100 1010 -1WV5 1930 93605 955 15100 1010 -7MV5 1930 94705 1110 15000 1000 1775 503-5EV77 -7NV5 1930 94Separate ventilation Fan unit, radially mounted GGFan unit, separately-mountedMounted air-to-water heat exchangerRated field voltage 310 V 4Type of construction IM B 3 0GHHS3/74Siemens DA 12 · 2004
---
<strong>Selection</strong> <strong>and</strong> <strong>ordering</strong>1GG5, 1GH5, 1HS5Size 500Rated speedn NrpmRatedoutputRatedtorqueMaximumfieldweakeningspeedOrder No.Ratedcurrentat rated armature voltage P N M N n Fmax I N h R a L a420 V 470 V 520 V 600 V 720 V 810 V kW Nm rpm A % mW mHOverall length 4137 288 20000 550 1775 504-5EA77 -1VV5 815 82 76.5 1.26156 328 20000 625 -1WV5 815 83175 368 20000 675 -7MV5 815 85206 432 20000 675 -7NV5 810 87252 525 19900 680 -2XV5 805 89286 600 20000 675 -2YV5 810 90153 322 20000 610 1775 504-5EC77 -1VV5 895 83 62.5 1.11174 366 20000 665 -1WV5 895 85195 410 20000 665 -7MV5 890 86228 480 20200 665 -7NV5 890 88280 585 20000 665 -2XV5 890 90318 665 20000 665 -2YV5 890 91182 350 18400 730 1775 504-5EE77 -1VV5 945 86 49.4 0.87206 398 18500 755 -1WV5 950 87230 444 18400 755 -7MV5 945 88270 520 18400 755 -7NV5 945 89328 625 18200 760 -2XV5 935 91372 710 18200 760 -2YV5 940 92190 398 20000 760 1775 504-5EG77 -1VV5 1070 86 42 0.81215 450 20000 820 -1WV5 1070 87240 500 19900 825 -7MV5 1060 89280 585 20000 825 -7NV5 1060 90342 710 19800 825 -2XV5 1060 91388 805 19800 825 -2YV5 1060 92212 455 20500 750 1775 504-5EJ77 -1VV5 1220 87 34 0.57240 515 20500 750 -1WV5 1220 88268 575 20500 750 -7MV5 1220 89312 670 20500 750 -7NV5 1210 91382 790 19800 770 -2XV5 1170 92432 890 19700 775 1775 504-5EJ77 -2YV5 1170 93Separate ventilation Fan unit, radially mounted GGFan unit, separately-mountedMounted air-to-water heat exchangerRated field voltage 310 V 4Type of construction IM B 3 0GHHSEfficiencyArmature circuitResistanceat tanceInduc-120 °C3Siemens DA 12 · 2004 3/75
---
<strong>Selection</strong> <strong>and</strong> <strong>ordering</strong>1GG5, 1GH5, 1HS5Size 5003Rated speedRated Rated Maximum Order No.Rated EfficiencyNArmature circuitn output torque fieldcurrent Resistanceat tanceInduc-rpmweakeningspeed120 °Cat rated armature voltage P N M N n Fmax I N h R a L a420 V 470 V 520 V 600 V 720 V 810 V kW Nm rpm A % mW mH244 525 20500 890 1775 504-5EL77 -1VV5 1390 88 26.6 0.5276 595 20600 890 -1WV5 1390 89308 660 20500 895 -7MV5 1380 90360 765 20200 900 -7NV5 1370 91438 890 19400 930 -2XV5 1310 93496 995 19200 940 -2YV5 1300 93285 610 20400 855 1775 504-5EN77 -1VV5 1590 90 20 0.33322 685 20400 860 -1WV5 1580 91360 745 19800 880 -7MV5 1540 91418 865 19800 880 -7NV5 1540 92510 985 18400 925 -2XV5 1440 94575 1110 18400 930 -2YV5 1440 94312 675 20600 840 1775 504-5EQ77 -1VV5 1750 90 16.5 0.33352 760 20600 845 -1WV5 1740 91392 830 20200 860 -7MV5 1710 92456 955 20000 865 -7NV5 1690 93555 1080 18600 915 -2XV5 1570 94350 705 19200 865 1775 504-5ES77 -1VV5 1810 91 13.4 0.23395 795 19200 865 -1WV5 1810 92440 880 19100 865 -7MV5 1800 93510 1020 19100 870 -7NV5 1800 93410 760 17700 915 1775 504-5EV77 -1VV5 1930 92 10.5 0.23462 855 17700 915 -1WV5 1920 93515 950 17600 915 -7MV5 1920 93595 1100 17700 915 1775 504-5EV77 -7NV5 1920 94Separate ventilation Fan unit, radially mounted GGFan unit, separately-mountedMounted air-to-water heat exchangerRated field voltage 310 V 4Type of construction IM B 3 0GHHS3/76Siemens DA 12 · 2004
---
<strong>Selection</strong> <strong>and</strong> <strong>ordering</strong>MotortypeFieldpowerapprox.Moment ofinertiaMechanicallimit speedP field J n mechkW kgm² rpm kg1GG5 500 5 55 1800 41501GH5 500 5 55 1800 39501HS5 500 5 55 1800 45501GG5 501 5.5 65 1800 46501GH5 501 5.5 65 1800 44501HS5 501 5.5 65 1800 50501GG5 502 6.8 75 1800 51001GH5 502 6.8 75 1800 49001HS5 502 6.8 75 1800 55001GG5 503 7.6 85 1700 58001GH5 503 7.6 85 1700 56001HS5 503 7.6 85 1700 62001GG5 504 9.3 94 1700 63001GH5 504 9.3 94 1700 61001HS5 504 9.3 94 1700 6700Weight, netapprox.1GG5, 1GH5, 1HS5Size 500Armature controlSpeed can be coasted down by means of armature control toapprox. 10 rpm at constant torque of the motor.Field weakeningThe order numbers for the motors are valid for field weakeningspeeds n F up to 1.15 ¼ n N . At higher field weakening speedssupplementary short codes are required: "C05" forn F >1.15¼ n N to 1.7 ¼ n N <strong>and</strong> "C06" for n F >1.7¼ n N(short codes: from Page 3/137)The motors can be operated at rated output P N up to the fieldweakening speed n Fmax .For higher speeds, the output must be reduced.Rated field voltageFor other rated field voltages <strong>and</strong> the associated Order No. supplement,see Page 3/6.3Siemens DA 12 · 2004 3/77
---
<strong>Selection</strong> <strong>and</strong> <strong>ordering</strong>1GG5, 1GH5, 1HS5Size 6303■ <strong>Selection</strong> <strong>and</strong> <strong>ordering</strong> dataThese motors are compensated.Rated speedn NrpmRatedoutputRatedtorqueMaximumfieldweakeningspeedOrder No.RatedcurrentEfficiencyArmature circuitResistanceat tanceInduc-120 °Cat rated armature voltage P N M N n Fmax I N h R a L a420 V 470 V 520 V 600 V 720 V 810 V kW Nm rpm A % mW mHOverall length 1186 358 18400 745 1775 631-5EA77 -1VV5 965 87 46.4 0.96210 405 18400 840 -1WV5 965 88236 452 18300 925 -7MV5 960 89276 530 18300 920 -7NV5 965 90335 640 18200 925 -2XV5 955 92380 725 18200 925 -2YV5 955 92206 418 19400 825 1775 631-5EC77 -1VV5 1120 88 36.8 0.72234 472 19300 880 -1WV5 1110 89262 525 19100 880 -7MV5 1110 90305 615 19300 880 -7NV5 1110 91372 735 18900 890 -2XV5 1090 92420 830 18900 890 -2YV5 1090 93230 462 19200 920 1775 631-5EE77 -1VV5 1220 89 30.8 0.58260 520 19100 965 -1WV5 1220 90290 575 18900 975 -7MV5 1210 91340 670 18800 975 -7NV5 1200 92412 785 18200 1000 -2XV5 1160 93466 885 18100 1000 -2YV5 1160 93252 492 18600 895 1775 631-5EG77 -1VV5 1290 89 26.5 0.5285 555 18600 895 -1WV5 1290 90318 615 18500 900 -7MV5 1280 91370 720 18600 895 -7NV5 1290 92448 855 18200 910 -2XV5 1260 93510 960 18000 915 -2YV5 1250 94284 575 19300 985 1775 631-5EJ77 -1VV5 1490 90 20.2 0.38320 645 19200 990 -1WV5 1480 91356 705 18900 1010 -7MV5 1460 92415 815 18800 1010 -7NV5 1450 93505 945 17900 1040 -2XV5 1380 94570 1060 17800 1050 1775 631-5EJ77 -2YV5 1370 94Separate ventilation Fan unit, radially mounted GGFan unit, separately-mountedMounted air-to-water heat exchangerRated field voltage 310 V 4Type of construction IM B 3 0GHHS3/78Siemens DA 12 · 2004
---
<strong>Selection</strong> <strong>and</strong> <strong>ordering</strong>1GG5, 1GH5, 1HS5Size 630Rated speedRated Rated Maximum Order No.Rated EfficiencyNArmature circuitn output torque fieldcurrent Resistanceat tanceInduc-rpmweakeningspeed120 °Cat rated armature voltage P N M N n Fmax I N h R a L a420 V 470 V 520 V 600 V 720 V 810 V kW Nm rpm A % mW mH306 605 18900 1010 1775 631-5EL77 -1VV5 1570 91 17.9 0.31346 685 18900 1010 -1WV5 1570 92385 755 18700 1020 -7MV5 1550 92448 870 18500 1020 -7NV5 1540 93545 995 17400 1070 -2XV5 1450 94615 1120 17400 1070 -2YV5 1450 95338 675 19100 980 1775 631-5EN77 -1VV5 1730 92 14.4 0.3382 760 19000 980 -1WV5 1730 92425 830 18700 995 -7MV5 1700 93494 955 18500 1000 -7NV5 1680 94600 1080 17200 1050 -2XV5 1570 95675 1210 17100 1060 -2YV5 1560 95374 725 18500 970 1775 631-5EQ77 -1VV5 1850 92 12.5 0.23422 815 18400 970 -1WV5 1850 93470 880 17900 990 -7MV5 1790 93545 1010 17700 1000 -7NV5 1770 94660 1120 16200 1060 -2XV5 1620 95745 1250 16000 1070 -2YV5 1610 95410 805 18800 980 1775 631-5ES77 -1VV5 2050 92 10.5 0.21462 900 18600 985 -1WV5 2040 93515 965 17900 1010 -7MV5 1960 94600 1110 17700 1020 -7NV5 1940 94725 1220 16100 1090 -2XV5 1760 95464 890 18300 1060 1775 631-5EV77 -1VV5 2250 93 8.2 0.15520 995 18300 1060 -1WV5 2240 94580 1060 17500 1090 -7MV5 2140 94675 1220 17300 1100 1775 631-5EV77 -7NV5 2120 95Separate ventilation Fan unit, radially mounted GGFan unit, separately-mountedMounted air-to-water heat exchangerRated field voltage 310 V 4Type of construction IM B 3 0GHHS3Siemens DA 12 · 2004 3/79
---
<strong>Selection</strong> <strong>and</strong> <strong>ordering</strong>1GG5, 1GH5, 1HS5Size 6303Rated speedn NrpmRatedoutputRatedtorqueMaximumfieldweakeningspeedOrder No.Ratedcurrentat rated armature voltage P N M N n Fmax I N h R a L a420 V 470 V 520 V 600 V 720 V 810 V kW Nm rpm A % mW mHOverall length 2146 356 23200 585 1775 632-5EA77 -1VV5 970 85 51.5 1.11166 405 23200 665 -1WV5 970 87185 452 23400 740 -7MV5 970 88216 530 23400 810 -7NV5 975 89264 640 23200 815 -2XV5 965 91300 730 23200 810 -2YV5 970 92162 416 24500 650 1775 632-5EC77 -1VV5 1130 86 41.2 0.84184 472 24500 735 -1WV5 1130 88205 530 24600 765 -7MV5 1130 89240 615 24500 775 -7NV5 1120 90292 750 24500 770 -2XV5 1130 91332 850 24500 770 -2YV5 1120 92180 468 24800 720 1775 632-5EE77 -1VV5 1260 87 34.2 0.66204 530 24800 815 -1WV5 1260 88228 585 24500 850 -7MV5 1240 89266 680 24400 850 -7NV5 1230 91325 810 23800 865 -2XV5 1210 92368 915 23800 870 -2YV5 1200 93198 488 23500 790 1775 632-5EG77 -1VV5 1290 88 29.5 0.58224 550 23400 795 -1WV5 1290 89250 615 23500 795 -7MV5 1290 90292 715 23400 795 -7NV5 1290 91355 865 23200 800 -2XV5 1280 93402 975 23200 800 -2YV5 1280 93222 585 25200 865 1775 632-5EJ77 -1VV5 1540 89 22.5 0.43252 655 24800 870 -1WV5 1520 90282 725 24600 875 -7MV5 1510 91328 840 24500 880 -7NV5 1500 92398 980 23500 905 -2XV5 1440 93450 1100 23400 910 1775 632-5EJ77 -2YV5 1430 94Separate ventilation Fan unit, radially mounted GGFan unit, separately-mountedMounted air-to-water heat exchangerRated field voltage 310 V 4Type of construction IM B 3 0GHHSEfficiencyArmature circuitResistanceat tanceInduc-120 °C3/80Siemens DA 12 · 2004
---
<strong>Selection</strong> <strong>and</strong> <strong>ordering</strong>1GG5, 1GH5, 1HS5Size 630Rated speedRated Rated Maximum Order No.Rated EfficiencyNArmature circuitn output torque fieldcurrent Resistanceat tanceInduc-rpmweakeningspeed120 °Cat rated armature voltage P N M N n Fmax I N h R a L a420 V 470 V 520 V 600 V 720 V 810 V kW Nm rpm A % mW mH242 605 23800 900 1775 632-5EL77 -1VV5 1570 90 19.9 0.35274 685 23800 900 -1WV5 1580 91304 755 23800 905 -7MV5 1560 92354 880 23800 905 -7NV5 1570 93430 1040 23000 925 -2XV5 1520 94486 1170 23000 925 -2YV5 1520 94266 680 24400 865 1775 632-5EN77 -1VV5 1760 91 16.1 0.34302 770 24400 865 -1WV5 1760 92335 855 24400 865 -7MV5 1760 92390 985 24200 870 -7NV5 1740 93474 1140 23000 900 -2XV5 1660 94535 1270 22600 910 -2YV5 1640 95295 745 24200 840 1775 632-5EQ77 -1VV5 1920 91 13.9 0.26332 840 24200 840 -1WV5 1920 92370 910 23500 860 -7MV5 1870 93432 1050 23200 865 -7NV5 1850 93525 1190 21600 910 -2XV5 1730 94590 1330 21500 915 -2YV5 1710 95324 815 24000 865 1775 632-5ES77 -1VV5 2080 92 11.7 0.24365 920 24000 860 -1WV5 2100 92406 1010 23800 870 -7MV5 2060 93472 1160 23500 880 -7NV5 2040 94575 1310 21800 925 -2XV5 1900 95365 920 24000 925 1775 632-5EV77 -1VV5 2340 93 9.1 0.18412 1030 23800 930 -1WV5 2320 93458 1110 23200 950 -7MV5 2250 94530 1280 23000 955 -7NV5 2240 94645 1400 20800 670 1775 632-5EV77 -2XV5 2020 95Separate ventilation Fan unit, radially mounted GGFan unit, separately-mountedMounted air-to-water heat exchangerRated field voltage 310 V 4Type of construction IM B 3 0GHHS3Siemens DA 12 · 2004 3/81
---
<strong>Selection</strong> <strong>and</strong> <strong>ordering</strong>1GG5, 1GH5, 1HS5Size 6303Rated speedn NrpmRatedoutputRatedtorqueMaximumfieldweakeningspeedOrder No.Ratedcurrentat rated armature voltage P N M N n Fmax I N h R a L a420 V 470 V 520 V 600 V 720 V 810 V kW Nm rpm A % mW mHOverall length 3121 356 28000 484 1775 633-5EA77 -1VV5 985 84 57 1.27137 404 28200 550 -1WV5 985 85154 452 28000 615 -7MV5 980 87180 530 28200 720 -7NV5 985 88220 645 28000 725 -2XV5 980 90250 735 28000 720 -2YV5 985 91134 416 29600 535 1775 633-5EC77 -1VV5 1140 85 45.4 0.95152 474 29800 610 -1WV5 1150 86170 530 29800 680 -7MV5 1150 88200 620 29600 685 -7NV5 1140 89244 755 29600 685 -2XV5 1140 91276 855 29600 685 -2YV5 1140 92149 470 30200 595 1775 633-5EE77 -1VV5 1280 86 37.6 0.75169 530 30000 675 -1WV5 1270 87189 590 29800 755 -7MV5 1260 88222 690 29600 755 -7NV5 1260 90270 825 29200 765 -2XV5 1240 91306 930 29000 770 -2YV5 1230 92165 484 28000 660 1775 633-5EG77 -1VV5 1290 87 32.4 0.65187 550 28000 710 -1WV5 1300 89208 610 28000 715 -7MV5 1290 90244 715 28000 710 -7NV5 1290 91296 865 28000 715 -2XV5 1290 92336 975 27800 715 -2YV5 1280 93185 585 30200 740 1775 633-5EJ77 -1VV5 1550 88 24.8 0.49210 665 30200 770 -1WV5 1560 89234 735 30000 780 -7MV5 1540 90272 850 29800 785 -7NV5 1530 92332 1010 29000 800 -2XV5 1490 93376 1130 28800 805 1775 633-5EJ77 -2YV5 1480 94Separate ventilation Fan unit, radially mounted GGFan unit, separately-mountedMounted air-to-water heat exchangerRated field voltage 310 V 4Type of construction IM B 3 0GHHSEfficiencyArmature circuitResistanceat tanceInduc-120 °C3/82Siemens DA 12 · 2004
---
<strong>Selection</strong> <strong>and</strong> <strong>ordering</strong>1GG5, 1GH5, 1HS5Size 630Rated speedRated Rated Maximum Order No.Rated EfficiencyNArmature circuitn output torque fieldcurrent Resistanceat tanceInduc-rpmweakeningspeed120 °Cat rated armature voltage P N M N n Fmax I N h R a L a420 V 470 V 520 V 600 V 720 V 810 V kW Nm rpm A % mW mH202 600 28400 810 1775 633-5EL77 -1VV5 1570 89 21.8 0.39228 680 28500 815 -1WV5 1580 90254 755 28400 820 -7MV5 1570 91296 880 28400 815 -7NV5 1570 92358 1060 28200 820 -2XV5 1560 93406 1200 28200 820 -2YV5 1560 94222 685 29500 775 1775 633-5EN77 -1VV5 1790 90 17.8 0.39250 775 29600 770 -1WV5 1790 91280 860 29400 775 -7MV5 1780 92325 1000 29400 775 -7NV5 1780 93395 1180 28500 790 -2XV5 1730 94446 1320 28200 800 -2YV5 1710 94246 745 29000 755 1775 633-5EQ77 -1VV5 1930 91 15.3 0.29278 840 28800 755 -1WV5 1930 91308 930 28800 760 -7MV5 1920 92360 1080 28600 760 -7NV5 1910 93436 1240 27200 795 -2XV5 1810 94494 1400 27000 795 -2YV5 1810 95272 815 28600 780 1775 633-5ES77 -1VV5 2100 91 12.4 0.22306 920 28800 780 -1WV5 2100 92340 1020 28600 780 -7MV5 2080 93395 1180 28500 785 -7NV5 2080 94480 1340 26600 825 -2XV5 1950 95304 940 29500 820 1775 633-5EV77 -1VV5 2400 92 10 0.2344 1050 29200 825 -1WV5 2380 93382 1140 28500 845 -7MV5 2320 93445 1320 28400 845 -7NV5 2320 94540 1480 26200 620 1775 633-5EV77 -2XV5 2140 95Separate ventilation Fan unit, radially mounted GGFan unit, separately-mountedMounted air-to-water heat exchangerRated field voltage 310 V 4Type of construction IM B 3 0GHHS3Siemens DA 12 · 2004 3/83
---
<strong>Selection</strong> <strong>and</strong> <strong>ordering</strong>1GG5, 1GH5, 1HS5Size 6303Rated speedn NrpmRatedoutputRatedtorqueMaximumfieldweakeningspeedOrder No.Ratedcurrentat rated armature voltage P N M N n Fmax I N h R a L a420 V 470 V 520 V 600 V 720 V 810 V kW Nm rpm A % mW mHOverall length 4102 350 32800 408 1775 634-5EA77 -1VV5 985 83 62.5 1.43117 398 32500 468 -1WV5 980 84131 446 32500 525 -7MV5 980 86154 525 32600 615 -7NV5 980 87188 640 32500 655 -2XV5 980 89214 725 32400 660 -2YV5 975 90114 410 34400 456 1775 634-5EC77 -1VV5 1140 84 49.6 1.06130 466 34200 520 -1WV5 1140 85145 525 34600 580 -7MV5 1140 87171 615 34400 620 -7NV5 1140 88208 745 34200 625 -2XV5 1130 90236 850 34400 620 -2YV5 1140 91126 468 35500 505 1775 634-5EE77 -1VV5 1290 85 41.2 0.84144 535 35500 575 -1WV5 1300 86161 595 35200 645 -7MV5 1290 87189 695 35200 675 -7NV5 1280 89230 835 34600 685 -2XV5 1270 91262 945 34400 690 -2YV5 1260 92141 480 32500 565 1775 634-5EG77 -1VV5 1290 86 35.4 0.73159 545 32800 635 -1WV5 1300 88178 610 32800 645 -7MV5 1300 89208 710 32600 645 -7NV5 1290 90254 860 32400 650 -2XV5 1290 92288 975 32400 650 -2YV5 1290 92157 590 35800 630 1775 634-5EJ77 -1VV5 1590 87 27.2 0.55178 670 36000 695 -1WV5 1590 89199 740 35500 700 -7MV5 1570 90232 865 35600 700 -7NV5 1570 91284 1030 34600 715 -2XV5 1530 92322 1160 34400 715 1775 634-5EJ77 -2YV5 1520 93Separate ventilation Fan unit, radially mounted GGFan unit, separately-mountedMounted air-to-water heat exchangerRated field voltage 310 V 4Type of construction IM B 3 0GHHSEfficiencyArmature circuitResistanceat tanceInduc-120 °C3/84Siemens DA 12 · 2004
---
<strong>Selection</strong> <strong>and</strong> <strong>ordering</strong>1GG5, 1GH5, 1HS5Size 630Rated speedRated Rated Maximum Order No.Rated EfficiencyNArmature circuitn output torque fieldcurrent Resistanceat tanceInduc-rpmweakeningspeed120 °Cat rated armature voltage P N M N n Fmax I N h R a L a420 V 470 V 520 V 600 V 720 V 810 V kW Nm rpm A % mW mH172 600 33400 690 1775 634-5EL77 -1VV5 1590 89 23.8 0.43195 675 33000 745 -1WV5 1570 90218 755 33000 745 -7MV5 1580 91254 880 33000 745 -7NV5 1580 92308 1060 32800 750 -2XV5 1570 93348 1200 33000 750 -2YV5 1570 93190 680 34200 705 1775 634-5EN77 -1VV5 1780 89 19.4 0.44215 765 34000 710 -1WV5 1770 90240 855 34000 705 -7MV5 1780 91278 995 34200 705 -7NV5 1780 92338 1200 34000 710 -2XV5 1770 93382 1360 34000 710 -2YV5 1770 94210 740 33600 690 1775 634-5EQ77 -1VV5 1930 90 16.7 0.32238 840 33800 685 -1WV5 1940 91264 930 33600 690 -7MV5 1930 92308 1080 33500 690 -7NV5 1920 93374 1290 33000 700 -2XV5 1890 94422 1450 32800 705 -2YV5 1880 94232 810 33400 710 1775 634-5ES77 -1VV5 2100 91 13.6 0.24262 915 33400 710 -1WV5 2100 92292 1010 33000 715 -7MV5 2080 92340 1180 33200 715 -7NV5 2080 93410 1390 32400 730 -2XV5 2040 94465 1580 32400 472 -2YV5 2040 95260 935 34400 750 1775 634-5EV77 -1VV5 2400 91 11 0.22294 1060 34400 750 -1WV5 2420 92328 1170 34000 755 -7MV5 2400 93380 1360 34200 755 -7NV5 2400 94462 1550 32000 735 1775 634-5EV77 -2XV5 2250 95Separate ventilation Fan unit, radially mounted GGFan unit, separately-mountedMounted air-to-water heat exchangerRated field voltage 310 V 4Type of construction IM B 3 0GHHS3Siemens DA 12 · 2004 3/85
---
<strong>Selection</strong> <strong>and</strong> <strong>ordering</strong>1GG5, 1GH5, 1HS5Size 6303Rated speedn NrpmRatedoutputRatedtorqueMaximumfieldweakeningspeedOrder No.Ratedcurrentat rated armature voltage P N M N n Fmax I N h R a L a420 V 470 V 520 V 600 V 720 V 810 V kW Nm rpm A % mW mHOverall length 581 344 40400 326 1775 635-5EA77 -1VV5 985 80 70.5 1.6693 392 40000 374 -1WV5 980 82105 442 40200 420 -7MV5 985 84124 520 40000 496 -7NV5 985 86151 635 40200 575 -2XV5 985 88172 725 40200 575 -2YV5 985 8991 404 42400 364 1775 635-5EC77 -1VV5 1140 82 56 1.23104 460 42200 416 -1WV5 1140 84117 515 42000 468 -7MV5 1140 85137 605 42200 545 -7NV5 1140 87168 740 42000 545 -2XV5 1140 89191 845 42200 540 -2YV5 1140 90101 460 43500 404 1775 635-5EE77 -1VV5 1290 83 46.4 0.97115 525 43600 460 -1WV5 1300 85129 590 43600 515 -7MV5 1300 86152 690 43400 595 -7NV5 1290 88186 845 43400 595 -2XV5 1290 90212 955 43000 595 -2YV5 1280 91113 474 40000 452 1775 635-5EG77 -1VV5 1300 85 39.8 0.84128 540 40200 510 -1WV5 1300 86144 600 39800 570 -7MV5 1290 88168 705 40000 565 -7NV5 1300 89205 855 39800 570 -2XV5 1290 91232 970 40000 570 -2YV5 1290 92126 585 44400 505 1775 635-5EJ77 -1VV5 1600 86 30.6 0.63143 665 44400 570 -1WV5 1600 87160 745 44500 610 -7MV5 1600 88187 870 44400 610 -7NV5 1600 90228 1040 43600 620 -2XV5 1570 91260 1180 43400 620 1775 635-5EJ77 -2YV5 1560 92Separate ventilation Fan unit, radially mounted GGFan unit, separately-mountedMounted air-to-water heat exchangerRated field voltage 310 V 4Type of construction IM B 3 0GHHSEfficiencyArmature circuitResistanceat tanceInduc-120 °C3/86Siemens DA 12 · 2004
---
<strong>Selection</strong> <strong>and</strong> <strong>ordering</strong>1GG5, 1GH5, 1HS5Size 630Rated speedRated Rated Maximum Order No.Rated EfficiencyNArmature circuitn output torque fieldcurrent Resistanceat tanceInduc-rpmweakeningspeed120 °Cat rated armature voltage P N M N n Fmax I N h R a L a420 V 470 V 520 V 600 V 720 V 810 V kW Nm rpm A % mW mH139 595 40800 555 1775 635-5EL77 -1VV5 1590 87 26.8 0.5157 670 40800 630 -1WV5 1580 88175 750 41000 655 -7MV5 1590 89205 875 40800 660 -7NV5 1580 91248 1060 40800 660 -2XV5 1580 92282 1200 40600 660 -2YV5 1580 93153 675 42200 610 1775 635-5EN77 -1VV5 1790 88 22 0.51173 765 42200 620 -1WV5 1790 89193 850 42000 625 -7MV5 1790 90226 990 41800 625 -7NV5 1780 91274 1200 41800 625 -2XV5 1780 93310 1360 41800 625 -2YV5 1780 93169 735 41500 605 1775 635-5EQ77 -1VV5 1940 89 18.7 0.37192 835 41500 605 -1WV5 1940 90214 925 41200 610 -7MV5 1930 91250 1080 41200 605 -7NV5 1930 92302 1300 41200 610 -2XV5 1920 93342 1470 41000 610 -2YV5 1920 94187 805 41200 625 1775 635-5ES77 -1VV5 2100 90 15.9 0.35210 910 41400 625 -1WV5 2120 91235 1010 41000 625 -7MV5 2100 91274 1180 41200 625 -7NV5 2100 92332 1420 40800 630 -2XV5 2080 93376 1610 40800 500 -2YV5 2100 94210 930 42200 665 1775 635-5EV77 -1VV5 2420 91 12.3 0.25238 1050 42200 665 -1WV5 2420 91265 1170 42200 665 -7MV5 2420 92308 1360 42200 665 -7NV5 2420 93374 1610 41200 680 1775 635-5EV77 -2XV5 2350 94Separate ventilation Fan unit, radially mounted GGFan unit, separately-mountedMounted air-to-water heat exchangerRated field voltage 310 V 4Type of construction IM B 3 0GHHS3Siemens DA 12 · 2004 3/87
---
<strong>Selection</strong> <strong>and</strong> <strong>ordering</strong>31GG5, 1GH5, 1HS5Size 630MotortypeFieldpowerapprox.Moment ofinertiaMechanicallimit speedP field J n mechkW kgm² rpm kgWeight, netapprox.1GG5 631 5.6 174 1500 74501GH5 631 5.6 174 1500 72001HS5 631 5.6 174 1500 79501GG5 632 6.8 199 1500 82501GH5 632 6.8 199 1500 80001HS5 632 6.8 199 1500 87501GG5 633 7.1 226 1300 93501GH5 633 7.1 226 1300 91001HS5 633 7.1 226 1300 98501GG5 634 7.4 251 1300 101501GH5 634 7.4 251 1300 99001HS5 634 7.4 251 1300 106501GG5 635 9.2 289 1300 115001GH5 635 9.2 289 1300 112501HS5 635 9.2 289 1300 12000Armature controlSpeed can be coasted down by means of armature control toapprox. 10 rpm at constant torque of the motor.Field weakeningThe order numbers for the motors are valid for field weakeningspeeds n F up to 1.15 ¼ n N . At higher field weakening speedssupplementary short codes are required: "C05" forn F >1.15¼ n N to 1.7 ¼ n N <strong>and</strong> "C06" for n F >1.7¼ n N(short codes: from Page 3/137)The motors can be operated at rated output P N up to the fieldweakening speed n Fmax .For higher speeds, the output must be reduced.Rated field voltageFor other rated field voltages <strong>and</strong> the associated Order No. supplement,see Page 3/6.3/88Siemens DA 12 · 2004
---
<strong>Selection</strong> <strong>and</strong> <strong>ordering</strong>1HA5Size 160■ <strong>Selection</strong> <strong>and</strong> <strong>ordering</strong> dataThese motors are uncompensated.Rated speedn NrpmRatedoutputRatedtorqueMaximumfieldweakeningspeedOrder No.RatedcurrentEfficiencySeriesinductanceArmature circuitResistanceat tanceInduc-120 °Cat rated armature voltage P N M N n Fmax I N h R a L a420 V 470 V 520 V 600 V kW Nm rpm A % W mH mHOverall length 41060 8.4 75.5 2800 1HA5 164-0BC77 -6VE0 22.4 86 0.955 16 -1200 9.7 77 2800 -6WE0 23 86 -1320 10.9 79 2800 -7ME0 23.4 87 -1540 13 80.5 2800 -7NE0 24 88 -1490 12.4 79.5 2800 1HA5 164-0BE77 -6VE0 32.7 88 0.522 8.2 -1660 14.2 81.5 2800 -6WE0 33.7 88 -1840 15.7 81.5 2800 1HA5 164-0CE77 -7ME0 33.5 88 -2130 18.1 81 2800 -7NE0 33.5 88 -1790 15.3 81.5 2800 1HA5 164-0BF77 -6VE0 40.5 88 0.361 5.7 -2000 17.1 81.5 2800 1HA5 164-0CF77 -6WE0 40.3 88 -2220 18.4 79 2800 -7ME0 39.3 88 -2560 21.2 79 2800 -7NE0 39.3 88 -Overall length 61030 9.3 86 2800 1HA5 166-0BC77 -6VE0 24.5 86 0.773 14 -1150 10.7 89 2800 -6WE0 25.2 87 -1280 12 89.5 2800 -7ME0 25.5 88 -1470 14.3 93 2800 -7NE0 26.4 88 -1290 12.1 89.5 2800 1HA5 166-0BD77 -6VE0 32 88 0.496 8.9 -1440 13.9 92 2800 -6WE0 32.7 88 -1590 15.5 93 2800 -7ME0 33 88 -1840 18.4 95.5 2800 1HA5 166-0CD77 -7NE0 33.7 89 -1580 15.4 93 2800 1HA5 166-0BE77 -6VE0 40.5 88 0.319 5.8 -1780 17.7 95 2800 -6WE0 41.5 89 -1960 19.1 93 2800 1HA5 166-0CE77 -7ME0 40.5 89 -2260 22 93 2800 -7NE0 40.7 89 -1860 18.4 94.5 2800 1HA5 166-0CF77 -6VE0 48.5 88 0.25 4.2 -2090 20.5 93.5 2800 -6WE0 48.5 88 -2310 21.8 90 2800 -7ME0 46.7 88 -2660 25.2 90.5 2800 -7NE0 46.7 88 -2060 19.8 92 2800 1HA5 166-0CG77 -6VE0 52.5 88 0.204 3.45 -2300 22.2 92 2800 -6WE0 52.5 88 -2540 23.6 88.5 2800 1HA5 166-0CG77 -7ME0 50.5 88 -Rated field voltage 310 V 4Type of construction IM B 3 0IM B 35 63Siemens DA 12 · 2004 3/89
---
<strong>Selection</strong> <strong>and</strong> <strong>ordering</strong>1HA5Size 160Motor typeFieldpowerapprox.Moment ofinertiaMechanicallimit speedP field J n mechkW kgm² rpm kg1HA5 164 0.42 0.29 2800 2651HA5 166 0.47 0.36 2800 310Weight, netapprox.Armature controlSpeed can be coasted down 1:3 by armature control with fallingmotor torque.Field weakeningThe order numbers for the motors are valid for field weakeningspeeds n F up to 1.15 ¼ n N . At higher field weakening speedssupplementary short codes are required: "C05" forn F >1.15¼ n N to 1.7 ¼ n N <strong>and</strong> "C06" for n F >1.7¼ n N(short codes: from Page 3/137)The motors can be operated at rated output P N up to the fieldweakening speed n Fmax .For higher speeds, the output must be reduced.Rated field voltageFor other rated field voltages <strong>and</strong> the associated Order No. supplement,see Page 3/6.Type of constructionFor other type of constructions <strong>and</strong> the associated Order No.supplement, see Page 3/6.33/90Siemens DA 12 · 2004
---
<strong>Selection</strong> <strong>and</strong> <strong>ordering</strong>1HC5Size 100■ <strong>Selection</strong> <strong>and</strong> <strong>ordering</strong> dataThese motors are uncompensated.Rated speedn NrpmRatedoutputRatedtorqueMaximumfieldweakeningspeedOrder No.RatedcurrentEfficiencySeriesinductanceArmature circuitResistanceat tanceInduc-120 °Cat rated armature voltage P N M N n Fmax I N h R a L a280 V 310 V 420 V 470 V kW Nm rpm A % W mH mHOverall length 21320 0.64 4.65 4200 1HC5 102-0CA77 -6VU1 2.02 72 36.9 150 -1520 0.73 4.6 4450 -6WU1 2.02 74 -1190 0.45 3.6 1450 1HC5 102-0CB77 -3UU1 1.92 70 25.3 100 1051690 0.79 4.45 5000 1HC5 102-0DB77 -6VU1 2.4 75 -1940 0.88 4.35 5000 -6WU1 2.35 77 -1420 0.53 3.55 1750 1HC5 102-0CC77 -4TU1 2.42 73 15.7 61 1901610 0.59 3.5 2000 -3UU1 2.42 74 1052320 0.98 4.05 5000 1HC5 102-0DC77 -6VU1 2.88 78 15.7 -2680 1.08 3.85 5000 1HC5 102-0EC77 -6WU1 2.82 79 -1730 0.63 3.5 2200 1HC5 102-0DD77 -4TU1 2.8 75 10.7 45 1751950 0.7 3.45 2450 -3UU1 2.78 77 1002850 1.09 3.65 5000 1HC5 102-0ED77 -6VU1 3.15 80 -2440 0.82 3.2 3100 1HC5 102-0DE77 -4TU1 3.63 78 6.41 25.5 1452770 0.91 3.15 3550 1HC5 102-0EE77 -3UU1 3.6 79 92Overall length 41260 0.8 6.05 4050 1HC5 104-0CA77 -6VU1 2.4 75 24.9 105 -1460 0.91 5.95 4500 -6WU1 2.38 77 -1120 0.56 4.75 1400 1HC5 104-0CB77 -3UU1 2.3 73 18.2 72 1001580 0.96 5.8 5000 -6VU1 2.82 77 -1820 1.08 5.65 5000 1HC5 104-0DB77 -6WU1 2.8 78 -1330 0.65 4.65 1650 1HC5 104-0CC77 -4TU1 2.88 75 10.3 44.5 1701510 0.73 4.6 1900 -3UU1 2.86 77 952140 1.18 5.25 5000 1HC5 104-0DC77 -6VU1 3.37 80 -2450 1.31 5.1 5000 -6WU1 3.3 81 -1670 0.79 4.5 2100 1HC5 104-0DD77 -4TU1 3.45 78 7.45 30 1451890 0.88 4.45 2400 -3UU1 3.43 78 862710 1.31 4.6 5000 1HC5 104-0ED77 -6VU1 3.73 81 -Overall length 61290 1.08 8 4150 1HC5 106-0CA77 -6VU1 3.13 78 15 66 -1460 1.21 7.9 4550 -6WU1 3.1 79 -1120 0.75 6.4 1400 1HC5 106-0CB77 -3UU1 2.98 75 11.2 45.5 881570 1.25 7.6 5000 -6VU1 3.57 80 -1800 1.4 7.45 4550 1HC5 106-0DB77 -6WU1 3.53 81 -1290 0.86 6.35 1650 1HC5 106-0CC77 -4TU1 3.73 78 7.03 29 1351450 0.95 6.25 1850 -3UU1 3.67 78 792070 1.48 6.85 5000 1HC5 106-0DC77 -6VU1 4.13 82 -2350 1.63 6.6 4600 -6WU1 4.05 83 -1640 1.06 6.15 2100 1HC5 106-0DD77 -4TU1 4.53 79 4.53 19.5 1151850 1.17 6.05 2350 -3UU1 4.47 80 702630 1.58 5.75 5000 1HC5 106-0ED77 -6VU1 4.4 83 -Rated field voltage 310 V 4Type of construction IM B 3 0IM B 35 63Siemens DA 12 · 2004 3/91
---
<strong>Selection</strong> <strong>and</strong> <strong>ordering</strong>1HC5Size 1003Rated speedn NrpmRatedoutputRatedtorqueMaximumfieldweakeningspeedOrder No.RatedcurrentEfficiencyat rated armature voltage P N M N n Fmax I N h R a L a280 V 310 V 420 V 470 V kW Nm rpm A % W mH mHOverall length 81230 1.38 10.7 4000 1HC5 108-0CA77 -6VU1 3.93 79 10.9 46 -1400 1.56 10.6 4050 -6WU1 3.95 80 -1170 1.06 8.65 1450 1HC5 108-0CB77 -3UU1 4.07 78 6.76 28 701640 1.71 9.95 4550 1HC5 108-0DB77 -6VU1 4.77 82 -1870 1.9 9.7 4100 -6WU1 4.7 83 -1240 1.12 8.65 1550 1HC5 108-0CC77 -4TU1 4.75 79 4.81 20.5 1101390 1.25 8.6 1750 -3UU1 4.77 80 641970 1.89 9.15 4600 1HC5 108-0DC77 -6VU1 5.25 83 -2240 2.1 8.95 4100 -6WU1 5.1 84 -1520 1.35 8.5 1950 1HC5 108-0CD77 -4TU1 5.65 81 3.19 14.5 941710 1.5 8.4 2200 1HC5 108-0DD77 -3UU1 5.65 82 572430 1.99 7.8 4600 -6VU1 5.5 83 -2800 2.15 7.35 4150 1HC5 108-0ED77 -6WU1 5.35 84 -Rated field voltage 310 V 4Type of construction IM B 3 0IM B 35 6SeriesinductanceArmature circuitResistanceat tanceInduc-120 °CMotor typeFieldpowerapprox.Moment ofinertiaMechanicallimit speedP field J n mechkW kgm² rpm kg1HC5 102 0.05 0.013 7000 341HC5 104 0.058 0.016 7000 421HC5 106 0.072 0.02 7000 531HC5 108 0.088 0.025 7000 68Weight, netapprox.Armature controlSpeed can be coasted down by means of armature control toapprox. 50 rpm at constant torque of the motor.Field weakeningThe order numbers for the motors are valid for field weakeningspeeds n F up to 1.15 ¼ n N . At higher field weakening speedssupplementary short codes are required: "C05" forn F >1.15¼ n N to 1.7 ¼ n N <strong>and</strong> "C06" for n F >1.7¼ n N(short codes: from Page 3/137)The motors can be operated at rated output P N up to the fieldweakening speed n Fmax .For higher speeds, the output must be reduced.Rated field voltageFor other rated field voltages <strong>and</strong> the associated Order No. supplement,see Page 3/6.Type of constructionFor other type of constructions <strong>and</strong> the associated Order No.supplement, see Page 3/6.3/92Siemens DA 12 · 2004
---
<strong>Selection</strong> <strong>and</strong> <strong>ordering</strong>1HC5Size 112■ <strong>Selection</strong> <strong>and</strong> <strong>ordering</strong> dataThese motors are uncompensated.Rated speedn NrpmRatedoutputRatedtorqueMaximumfieldweakeningspeedOrder No.RatedcurrentEfficiencySeriesinductanceArmature circuitResistanceat tanceInduc-120 °Cat rated armature voltage P N M N n Fmax I N h R a L a280 V 310 V 420 V 470 V kW Nm rpm A % W mH mHOverall length 41170 1.24 10.1 1500 1HC5 114-0DB77 -4TU1 5.4 79 5.22 44.5 671310 1.39 10.1 1650 1HC5 114-0EB77 -3UU1 5.4 80 281840 2.5 13 4500 1HC5 114-0FB77 -6VU1 7.1 83 -2080 2.8 12.9 4500 -6WU1 7 84 -1610 1.7 10.1 2050 1HC5 114-0ED77 -4TU1 7.2 83 2.83 25 591800 1.89 10 2300 1HC5 114-0FD77 -3UU1 7.15 83 302510 3.25 12.4 4500 -6VU1 8.95 85 -2820 3.45 11.7 4500 1HC5 114-0GD77 -6WU1 8.5 85 -Overall length 61150 2.3 19.1 3550 1HC5 116-0DB77 -6VU1 6.6 81 7.66 72 -1300 2.6 19.1 3850 1HC5 116-0EB77 -6WU1 6.6 83 -1020 1.57 14.7 1300 1HC5 116-0DC77 -3UU1 6.15 81 5.22 47.5 171440 2.85 18.9 4450 1HC5 116-0EC77 -6VU1 8.05 83 -1630 3.2 18.7 4500 -6WU1 8 84 -1140 1.74 14.6 1450 1HC5 116-0DD77 -4TU1 7.45 82 3.41 32 501280 1.94 14.5 1650 1HC5 116-0ED77 -3UU1 7.4 83 221800 3.5 18.6 4500 1HC5 116-0FD77 -6VU1 9.7 85 -2030 3.9 18.3 4500 -6WU1 9.5 86 -1400 2.1 14.3 1800 1HC5 116-0EE77 -4TU1 8.8 83 2.38 22 461560 2.35 14.4 2000 -3UU1 8.8 84 232190 4.1 17.9 4500 1HC5 116-0FE77 -6VU1 11.2 86 -2470 4.55 17.6 4500 1HC5 116-0FE77 -6WU1 11 87 -Rated field voltage 310 V 4Type of construction IM B 3 0IM B 35 63Motor typeFieldpowerapprox.Moment ofinertiaMechanicallimit speedP field J n mechkW kgm² rpm kg1HC5 114 0.043 0.032 6000 861HC5 116 0.05 0.042 6000 110Weight, netapprox.Armature controlSpeed can be coasted down by means of armature control toapprox. 50 rpm at constant torque of the motor.Field weakeningThe order numbers for the motors are valid for field weakeningspeeds n F up to 1.15 ¼ n N . At higher field weakening speedssupplementary short codes are required: "C05" forn F >1.15¼ n N to 1.7 ¼ n N <strong>and</strong> "C06" for n F >1.7¼ n N(short codes: from Page 3/137)The motors can be operated at rated output P N up to the fieldweakening speed n Fmax .For higher speeds, the output must be reduced.Rated field voltageFor other rated field voltages <strong>and</strong> the associated Order No. supplement,see Page 3/6.Type of constructionFor other type of constructions <strong>and</strong> the associated Order No.supplement, see Page 3/6.Siemens DA 12 · 2004 3/93
---
<strong>Selection</strong> <strong>and</strong> <strong>ordering</strong>1HC5Size 1323■ <strong>Selection</strong> <strong>and</strong> <strong>ordering</strong> dataThese motors are uncompensated.Rated speedn NrpmRatedoutputRatedtorqueMaximumfieldweakeningspeedOrder No.RatedcurrentEfficiencySeriesinductanceArmature circuitResistanceat tanceInduc-120 °Cat rated armature voltage P N M N n Fmax I N h R a L a280 V 310 V 420 V 470 V kW Nm rpm A % W mH mHOverall length 21130 2.75 23.2 3150 1HC5 132-0DA77 -6VU1 7.65 83 4.29 62 -1290 3.1 23 3250 1HC5 132-0EA77 -6WU1 7.55 83 -955 2.05 20.5 1200 1HC5 132-0DB77 -3UU1 7.85 80 3.09 45 301360 3.2 22.5 3600 1HC5 132-0EB77 -6VU1 8.8 84 -1590 3.6 21.6 3600 -6WU1 8.75 85 -990 1.87 18 1250 1HC5 132-0DC77 -4TU1 7.85 80 2.45 34.5 441110 2.4 20.6 1400 -3UU1 8.95 82 321640 3.65 21.2 3600 1HC5 132-0EC77 -6VU1 10 85 -1930 4.05 20 3600 1HC5 132-0FC77 -6WU1 9.9 85 -1180 2.2 17.8 1500 1HC5 132-0DD77 -4TU1 9.1 82 1.73 25.5 431340 2.8 20 1700 1HC5 132-0ED77 -3UU1 10.4 83 342080 4.2 19.3 3600 1HC5 132-0FD77 -6VU1 11.5 86 -2600 4.7 17.3 3600 -6WU1 11.6 86 -1370 2.45 17.1 1750 1HC5 132-0EE77 -4TU1 10.1 83 1.41 20.5 411570 3.15 19.2 2000 -3UU1 11.8 84 352610 4.7 17.2 3600 1HC5 132-0GE77 -6VU1 12.9 85 -1650 2.8 16.2 2100 1HC5 132-0EF77 -4TU1 11.5 84 1.05 16 381900 3.65 18.3 2450 1HC5 132-0FF77 -3UU1 13.4 85 361930 3.1 15.3 2500 1HC5 132-0FG77 -4TU1 12.8 84 0.827 13 362310 4.1 16.9 3000 -3UU1 15.3 85 382410 3.45 13.7 3100 1HC5 132-0FH77 -4TU1 14.5 84 0.691 10 332910 4.35 14.3 3600 1HC5 132-0GH77 -3UU1 16.5 84 37Overall length 41040 3.8 35 2900 1HC5 134-0DA77 -6VU1 10.4 83 3.03 47.5 -1190 4.2 33.7 3000 -6WU1 10.2 85 -875 2.9 31.7 1100 1HC5 134-0DB77 -3UU1 10.8 81 2.32 35 231240 4.35 33.5 3350 1HC5 134-0EB77 -6VU1 11.8 85 -1450 4.85 32 3400 -6WU1 11.7 86 -955 2.7 27 1200 1HC5 134-0DC77 -4TU1 11 82 1.68 25 311060 3.4 30.7 1350 -3UU1 12.6 83 261570 5.15 31.3 3600 1HC5 134-0EC77 -6VU1 13.8 86 -1860 5.7 29.2 3600 1HC5 134-0FC77 -6WU1 13.7 87 -1110 3.05 26.2 1400 1HC5 134-0DD77 -4TU1 12.4 83 1.26 19 311240 3.9 30 1600 1HC5 134-0ED77 -3UU1 14.3 84 271900 5.7 28.6 3600 1HC5 134-0FD77 -6VU1 15.4 88 -2380 6.4 25.6 3600 -6WU1 15.4 88 -1330 3.45 24.8 1700 1HC5 134-0EE77 -4TU1 14.1 84 0.958 14 301520 4.55 28.6 1950 -3UU1 16.7 86 272620 6.6 24 3600 1HC5 134-0GE77 -6VU1 17.9 88 -Rated field voltage 310 V 4Type of construction IM B 3 0IM B 35 63/94Siemens DA 12 · 2004
---
<strong>Selection</strong> <strong>and</strong> <strong>ordering</strong>1HC5Size 132Rated speedn NrpmRatedoutputRatedtorqueMaximumfieldweakeningspeedOrder No.RatedcurrentEfficiencyat rated armature voltage P N M N n Fmax I N h R a L a280 V 310 V 420 V 470 V kW Nm rpm A % W mH mHOverall length 61020 4.9 45.7 2950 1HC5 136-0DA77 -6VU1 13.4 84 2.22 35 -1170 5.5 45 3000 -6WU1 13.2 86 -910 3.95 41.5 1150 1HC5 136-0DB77 -3UU1 14.7 83 1.51 24 201300 5.9 43.3 3500 1HC5 136-0EB77 -6VU1 15.7 86 -1520 6.65 41.7 3550 -6WU1 15.9 88 -965 3.55 35.3 1200 1HC5 136-0DC77 -4TU1 14.6 83 1.15 17.5 251090 4.6 40.3 1400 -3UU1 16.9 84 211620 6.85 40.5 3600 1HC5 136-0EC77 -6VU1 18.3 88 -1930 7.6 37.5 3600 1HC5 136-0FC77 -6WU1 18.1 88 -1190 4.2 33.7 1500 1HC5 136-0DD77 -4TU1 17 85 0.774 12 241360 5.5 38.5 1750 1HC5 136-0ED77 -3UU1 20 86 222240 8.1 34.5 3600 1HC5 136-0FD77 -6VU1 21.5 88 -2790 8.55 29.2 3600 1HC5 136-0GD77 -6WU1 20.4 88 -Rated field voltage 310 V 4Type of construction IM B 3 0IM B 35 6SeriesinductanceArmature circuitResistanceat tanceInduc-120 °C3Motor typeFieldpowerapprox.Moment ofinertiaMechanicallimit speedP field J n mechkW kgm² rpm kg1HC5 132 0.135 0.09 5000 1151HC5 134 0.175 0.11 5000 1351HC5 136 0.21 0.14 5000 160Weight, netapprox.Armature controlSpeed can be coasted down by means of armature control toapprox. 50 rpm at constant torque of the motor.Field weakeningThe order numbers for the motors are valid for field weakeningspeeds n F up to 1.15 ¼ n N . At higher field weakening speedssupplementary short codes are required: "C05" forn F >1.15¼ n N to 1.7 ¼ n N <strong>and</strong> "C06" for n F >1.7¼ n N(short codes: from Page 3/137)The motors can be operated at rated output P N up to the fieldweakening speed n Fmax .For higher speeds, the output must be reduced.Rated field voltageFor other rated field voltages <strong>and</strong> the associated Order No. supplement,see Page 3/6.Type of constructionFor other type of constructions <strong>and</strong> the associated Order No.supplement, see Page 3/6.Siemens DA 12 · 2004 3/95
---
<strong>Selection</strong> <strong>and</strong> <strong>ordering</strong>1HC5Size 1603■ <strong>Selection</strong> <strong>and</strong> <strong>ordering</strong> dataThese motors are uncompensated.Rated speedn NrpmRatedoutputRatedtorqueMaximumfieldweakeningspeedOrder No.RatedcurrentEfficiencySeriesinductanceArmature circuitResistanceat tanceInduc-120 °Cat rated armature voltage P N M N n Fmax I N h R a L a420 V 470 V kW Nm rpm A % W mH mHOverall length 41140 6.3 53 3600 1HC5 164-0DC77 -6VU1 16.7 86 0.955 16 -1290 7.05 52 3600 1HC5 164-0EC77 -6WU1 16.7 87 -1390 7.4 51 3600 1HC5 164-0ED77 -6VU1 19.6 88 0.67 11.5 -1580 8.25 49.7 3600 -6WU1 19.6 88 -1670 8.5 48.5 3600 1HC5 164-0EE77 -6VU1 22.6 88 0.522 8.6 -1930 9.45 46.7 3600 1HC5 164-0FE77 -6WU1 22.6 88 -2120 9.75 44 3600 1HC5 164-0FF77 -6VU1 26 88 0.361 6.1 -2510 10.6 40.3 3600 -6WU1 25.5 88 -Overall length 61090 7.85 69 3600 1HC5 166-0DC77 -6VU1 20.8 88 0.773 14.5 -1240 8.85 68 3600 1HC5 166-0EC77 -6WU1 20.8 88 -1420 9.85 66 3600 1HC5 166-0ED77 -6VU1 26 88 0.496 9.3 -1640 11.2 65 3600 -6WU1 26.2 89 -1850 12.2 63 3600 1HC5 166-0FE77 -6VU1 32.3 89 0.319 6.2 -2160 13.6 60 3600 -6WU1 31.7 89 -2340 14.1 57.5 3600 1HC5 166-0FF77 -6VU1 37.3 89 0.25 4.55 -2820 15.3 52 3600 1HC5 166-0GF77 -6WU1 36.3 88 -Rated field voltage 310 V 4Type of construction IM B 3 0IM B 35 6Motor typeFieldpowerapprox.Moment ofinertiaMechanicallimit speedP field J n mechkW kgm² rpm kg1HC5 164 0.26 0.29 4500 2451HC5 166 0.29 0.36 4500 290Weight, netapprox.Armature controlSpeed can be coasted down by means of armature control toapprox. 50 rpm at constant torque of the motor.Field weakeningThe order numbers for the motors are valid for field weakeningspeeds n F up to 1.15 ¼ n N . At higher field weakening speedssupplementary short codes are required: "C05" forn F >1.15¼ n N to 1.7 ¼ n N <strong>and</strong> "C06" for n F >1.7¼ n N(short codes: from Page 3/137)The motors can be operated at rated output P N up to the fieldweakening speed n Fmax .For higher speeds, the output must be reduced.Rated field voltageFor other rated field voltages <strong>and</strong> the associated Order No. supplement,see Page 3/6.Type of constructionFor other type of constructions <strong>and</strong> the associated Order No.supplement, see Page 3/6.3/96Siemens DA 12 · 2004
---
<strong>Selection</strong> <strong>and</strong> <strong>ordering</strong>1HQ6Size 180■ <strong>Selection</strong> <strong>and</strong> <strong>ordering</strong> dataThese motors are uncompensated.Rated speedn NrpmRatedoutputRatedtorqueMaximumfieldweakeningspeedOrder No.RatedcurrentEfficiencyArmature circuitResistanceat tanceInduc-120 °Cat rated armature voltage P N M N n Fmax I N h R a L a420 V 470 V 520 V 600 V kW Nm rpm A % mW mHOverall length 6930 37.6 386 2540 1HQ6 186-0NA77 -1VV1 104 84 472 7.851060 42.8 386 2280 -1WV1 104 851190 47.8 384 2020 -7MV1 103 861390 56 385 1570 -7NV1 103 881140 46.2 388 2180 1HQ6 186-0NB77 -1VV1 124 86 330 5.831290 52.5 388 1880 -1WV1 125 871440 58 385 1570 -7MV1 123 881390 53.5 368 3400 1HQ6 186-0NC77 -1VV1 141 87 242 3.891570 60.5 368 3400 -1WV1 141 881750 66.5 362 3400 -7MV1 139 892040 76.5 358 3400 -7NV1 137 901730 62 342 3400 1HQ6 186-0ND77 -1VV1 159 90 156 2.721950 69 338 3400 -1WV1 157 902180 75.5 330 3400 -7MV1 156 912520 86 326 3400 -7NV1 153 922000 75 358 3400 1HQ6 186-0NE77 -1VV1 192 90 118 1.962260 84.5 358 3400 -1WV1 194 912520 93 352 3400 -7MV1 192 922400 81.5 324 3400 1HQ6 186-0NF77 -1VV1 208 91 82.5 1.462700 91.5 324 3400 -1WV1 208 922920 85.5 280 3400 1HQ6 186-0NG77 -1VV1 216 92 60.5 0.973280 96 280 3400 -1WV1 218 923160 87.5 264 3400 1HQ6 186-0NH77 -1VV1 222 92 51.5 0.84Rated field voltage 310 V 4Type of construction IM B 3 0IM B 35 63Siemens DA 12 · 2004 3/97
---
<strong>Selection</strong> <strong>and</strong> <strong>ordering</strong>1HQ6Size 1803Rated speedn NrpmRatedoutputRatedtorqueMaximumfieldweakeningspeedOrder No.Ratedcurrentat rated armature voltage P N M N n Fmax I N h R a L a420 V 470 V 520 V 600 V kW Nm rpm A % mW mHOverall length 8745 37.6 482 2000 1HQ6 188-0NA77 -1VV1 106 82 535 9.65850 42.8 480 1840 -1WV1 106 83955 47.8 478 1660 -7MV1 105 851120 56 478 1290 -7NV1 105 87915 46.2 482 1760 1HQ6 188-0NB77 -1VV1 127 84 374 7.171040 52.5 482 1550 -1WV1 127 861160 58.5 482 1290 -7MV1 126 871120 54.5 465 3360 1HQ6 188-0NC77 -1VV1 146 86 275 4.781270 61.5 462 3400 -1WV1 146 871420 68 458 3400 -7MV1 144 881650 78.5 454 3400 -7NV1 142 901400 64 436 3400 1HQ6 188-0ND77 -1VV1 167 89 177 3.341590 72 432 3400 -1WV1 165 901770 79.5 428 3400 -7MV1 164 902060 91.5 424 3400 -7NV1 164 911620 76.5 450 3400 1HQ6 188-0NE77 -1VV1 197 90 134 2.411830 86 448 3400 -1WV1 197 902040 95.5 448 3160 -7MV1 198 911940 83.5 412 3400 1HQ6 188-0NF77 -1VV1 212 91 93.5 1.792180 94 412 3020 -1WV1 212 922360 88 356 3400 1HQ6 188-0NG77 -1VV1 222 92 69 1.192660 98.5 354 3400 -1WV1 222 922960 109 352 3400 -7MV1 222 922580 92 340 3400 1HQ6 188-0NH77 -1VV1 234 92 58.5 1.032900 102 336 3400 -1WV1 230 923220 110 326 3400 1HQ6 188-0NH77 -7MV1 224 92Rated field voltage 310 V 4Type of construction IM B 3 0IM B 35 6EfficiencyArmature circuitResistanceat tanceInduc-120 °CMotor typeFieldpowerapprox.Moment ofinertiaMechanicallimit speedP field J n mechkW kgm² rpm kg1HQ6 186 1.5 0.6 3800 5401HQ6 188 1.6 0.7 3800 610Weight, netapprox.Armature controlSpeed can be coasted down by means of armature control toapprox. 10 rpm at constant torque of the motor.Field weakeningThe order numbers for the motors are valid for field weakeningspeeds n F up to 1.15 ¼ n N . At higher field weakening speedssupplementary short codes are required: "C05" forn F >1.15¼ n N to 1.7 ¼ n N <strong>and</strong> "C06" for n F >1.7¼ n N(short codes: from Page 3/137)The motors can be operated at rated output P N up to the fieldweakening speed n Fmax .For higher speeds, the output must be reduced.Rated field voltageFor other rated field voltages <strong>and</strong> the associated Order No. supplement,see Page 3/6.Type of constructionFor other type of constructions <strong>and</strong> the associated Order No.supplement, see Page 3/6.3/98Siemens DA 12 · 2004
---
<strong>Selection</strong> <strong>and</strong> <strong>ordering</strong>1HQ6Size 200■ <strong>Selection</strong> <strong>and</strong> <strong>ordering</strong> dataThese motors are uncompensated.Rated speedn NrpmRatedoutputRatedtorqueMaximumfieldweakeningspeedOrder No.RatedcurrentEfficiencyArmature circuitResistanceat tanceInduc-120 °Cat rated armature voltage P N M N n Fmax I N h R a L a420 V 470 V 520 V 600 V kW Nm rpm A % mW mHOverall length 6935 56.5 575 2800 1HQ6 206-0NA77 -1VV1 154 85 292 5.811060 64 575 3100 -1WV1 154 861190 71.5 575 3100 -7MV1 153 881390 83.5 575 3100 -7NV1 153 891100 66 575 3100 1HQ6 206-0NB77 -1VV1 176 87 212 4.281250 75 575 3100 -1WV1 176 881390 83.5 575 3100 -7MV1 176 891630 97 570 3100 -7NV1 175 901270 72 540 3100 1HQ6 206-0NC77 -1VV1 188 89 160 3.191440 80.5 535 3100 -1WV1 185 901600 88.5 530 3100 -7MV1 183 901860 102 525 3100 -7NV1 181 911520 87.5 550 3100 1HQ6 206-0ND77 -1VV1 226 90 117 2.291710 98 545 3100 -1WV1 225 901910 107 535 3100 -7MV1 222 912220 122 525 2540 -7NV1 218 921770 95.5 515 3100 1HQ6 206-0NE77 -1VV1 242 91 84.5 1.661990 106 510 3100 -1WV1 242 922220 116 500 2600 -7MV1 238 922100 102 464 3100 1HQ6 206-0NF77 -1VV1 260 92 63.5 1.22360 113 458 3100 -1WV1 256 922620 122 445 3100 -7MV1 248 933040 136 428 3100 -7NV1 240 932280 116 486 3100 1HQ6 206-0NG77 -1VV1 295 92 54.5 1.042580 130 482 3100 -1WV1 294 922860 144 480 3100 -7MV1 294 932760 122 422 3100 1HQ6 206-0NH77 -1VV1 308 92 38.2 0.76Rated field voltage 310 V 4Type of construction IM B 3 0IM B 35 63Siemens DA 12 · 2004 3/99
---
<strong>Selection</strong> <strong>and</strong> <strong>ordering</strong>1HQ6Size 2003Rated speedn NrpmRatedoutputRatedtorqueMaximumfieldweakeningspeedOrder No.Ratedcurrentat rated armature voltage P N M N n Fmax I N h R a L a420 V 470 V 520 V 600 V kW Nm rpm A % mW mHOverall length 8745 55.5 710 2240 1HQ6 208-0NA77 -1VV1 154 84 334 7.18850 63 710 2550 -1WV1 153 85950 70.5 710 2780 -7MV1 153 861110 82.5 710 2780 -7NV1 153 88880 66 715 2640 1HQ6 208-0NB77 -1VV1 178 86 242 5.29995 74.5 715 2800 -1WV1 178 871120 83.5 710 2800 -7MV1 178 881310 97.5 710 2800 -7NV1 177 891020 72.5 680 3060 1HQ6 208-0NC77 -1VV1 191 88 183 3.951150 81.5 675 3100 -1WV1 190 891290 90.5 670 3100 -7MV1 189 901500 105 670 2700 -7NV1 188 911220 89 695 2850 1HQ6 208-0ND77 -1VV1 232 89 134 2.841380 100 690 2860 -1WV1 232 901540 110 680 2640 -7MV1 228 901790 127 680 2060 -7NV1 226 911420 97.5 655 2960 1HQ6 208-0NE77 -1VV1 250 90 96.5 2.051600 110 655 2520 -1WV1 250 911790 121 645 2060 -7MV1 250 921690 103 580 3100 1HQ6 208-0NF77 -1VV1 260 91 72.5 1.481900 116 585 3100 -1WV1 260 922120 128 575 3100 -7MV1 262 922450 146 570 3100 -7NV1 258 931840 118 610 3100 1HQ6 208-0NG77 -1VV1 298 92 62 1.282080 132 605 3100 -1WV1 300 922300 146 605 3100 -7MV1 298 932680 169 600 3100 -7NV1 298 932220 124 535 3100 1HQ6 208-0NH77 -1VV1 310 92 43.8 0.942500 139 530 3100 -1WV1 314 932780 154 530 3100 1HQ6 208-0NH77 -7MV1 314 93Rated field voltage 310 V 4Type of construction IM B 3 0IM B 35 6EfficiencyArmature circuitResistanceat tanceInduc-120 °C3/100Siemens DA 12 · 2004
---
<strong>Selection</strong> <strong>and</strong> <strong>ordering</strong>1HQ6Size 200Motor typeFieldpowerapprox.Moment ofinertiaMechanicallimit speedP field J n mechkW kgm² rpm kg1HQ6 206 1.7 1.2 3500 7201HQ6 208 1.9 1.3 3500 810Weight, netapprox.Armature controlSpeed can be coasted down by means of armature control toapprox. 10 rpm at constant torque of the motor.Field weakeningThe order numbers for the motors are valid for field weakeningspeeds n F up to 1.15 ¼ n N . At higher field weakening speedssupplementary short codes are required: "C05" forn F >1.15¼ n N to 1.7 ¼ n N <strong>and</strong> "C06" for n F >1.7¼ n N(short codes: from Page 3/137)The motors can be operated at rated output P N up to the fieldweakening speed n Fmax .For higher speeds, the output must be reduced.Rated field voltageFor other rated field voltages <strong>and</strong> the associated Order No. supplement,see Page 3/6.Type of constructionFor other type of constructions <strong>and</strong> the associated Order No.supplement, see Page 3/6.3Siemens DA 12 · 2004 3/101
---
<strong>Selection</strong> <strong>and</strong> <strong>ordering</strong>1HQ6Size 2253■ <strong>Selection</strong> <strong>and</strong> <strong>ordering</strong> dataThese motors are uncompensated.Rated speedn NrpmRatedoutputRatedtorqueMaximumfieldweakeningspeedOrder No.RatedcurrentEfficiencyArmature circuitResistanceat tanceInduc-120 °Cat rated armature voltage P N M N n Fmax I N h R a L a420 V 470 V 520 V 600 V 720 V 810 V kW Nm rpm A % mW mHOverall length 6850 82.5 925 2320 1HQ6 226-0NA77 -1VV1 220 87 180 4.71960 93 925 2320 -1WV1 220 881070 104 930 2320 -7MV1 220 891260 120 910 2340 -7NV1 216 901530 143 895 2300 -2XV1 214 911730 160 885 1970 -2YV1 212 92970 94.5 930 2320 1HQ6 226-0NB77 -1VV1 250 88 139 3.561100 106 920 2340 -1WV1 246 891220 118 925 2340 -7MV1 248 901430 136 910 2360 -7NV1 244 911730 161 890 1850 -2XV1 238 921150 111 920 2300 1HQ6 226-0NC77 -1VV1 290 89 103 2.71300 124 910 2320 -1WV1 286 901450 137 900 2320 -7MV1 284 911690 157 885 1890 -7NV1 282 921420 127 855 2700 1HQ6 226-0ND77 -1VV1 326 91 74 1.911610 142 840 2700 -1WV1 326 911790 156 830 2700 -7MV1 322 922080 178 815 2700 -7NV1 316 932500 208 795 2700 -2XV1 306 931650 136 785 2700 1HQ6 226-0NE77 -1VV1 344 92 55 1.491860 153 785 2700 -1WV1 344 922080 169 775 2700 -7MV1 345 932400 195 775 2700 -7NV1 344 931950 156 765 2700 1HQ6 226-0NF77 -1VV1 395 93 38.8 1.032200 175 760 2700 -1WV1 395 932440 193 755 2700 -7MV1 392 932320 164 675 2700 1HQ6 226-0NG77 -1VV1 412 93 26 0.672600 184 675 2700 -1WV1 412 942540 167 630 2700 1HQ6 226-0NH77 -1VV1 420 93 22 0.61Rated field voltage 310 V 4Type of construction IM B 3 0IM B 35 63/102Siemens DA 12 · 2004
---
<strong>Selection</strong> <strong>and</strong> <strong>ordering</strong>1HQ6Size 225Rated speedn NrpmRatedoutputRatedtorqueMaximumfieldweakeningspeedOrder No.Ratedcurrentat rated armature voltage P N M N n Fmax I N h R a L a420 V 470 V 520 V 600 V 720 V 810 V kW Nm rpm A % mW mHOverall length 8665 82 1180 1990 1HQ6 228-0NA77 -1VV1 224 85 206 5.83755 93 1180 1990 -1WV1 222 87845 103 1160 2000 -7MV1 220 88985 120 1160 2020 -7NV1 220 891200 144 1150 1860 -2XV1 216 911360 162 1140 1580 -2YV1 214 91760 94 1180 1990 1HQ6 228-0NB77 -1VV1 252 87 160 4.4860 106 1180 2000 -1WV1 250 88960 118 1170 2000 -7MV1 250 891120 136 1160 1920 -7NV1 246 901370 162 1130 1480 -2XV1 240 92905 111 1170 1960 1HQ6 228-0NC77 -1VV1 292 88 118 3.341020 125 1170 1970 -1WV1 292 891140 138 1160 1890 -7MV1 288 901330 159 1140 1540 -7NV1 284 911120 129 1100 2480 1HQ6 228-0ND77 -1VV1 335 90 85 2.371270 145 1090 2500 -1WV1 332 911410 161 1090 2500 -7MV1 332 911640 185 1080 2520 -7NV1 328 921990 215 1030 2600 -2XV1 316 932240 236 1010 2660 -2YV1 308 931300 137 1010 2700 1HQ6 228-0NE77 -1VV1 350 91 63.5 1.841470 154 1000 2700 -1WV1 348 921640 171 995 2700 -7MV1 350 921900 198 995 2700 -7NV1 346 932300 238 990 2700 -2XV1 348 942600 264 970 2700 -2YV1 344 941540 158 980 2700 1HQ6 228-0NF77 -1VV1 398 92 44.5 1.281730 177 975 2700 -1WV1 396 931930 196 970 2700 -7MV1 398 932240 226 965 2700 -7NV1 398 941830 167 870 2700 1HQ6 228-0NG77 -1VV1 415 93 29.8 0.832060 187 865 2700 -1WV1 418 932280 206 865 2700 -7MV1 416 942660 238 855 2700 -7NV1 416 942000 168 800 2700 1HQ6 228-0NH77 -1VV1 416 93 25.2 0.752260 189 800 2700 -1WV1 422 942500 208 795 2700 1HQ6 228-0NH77 -7MV1 420 94Rated field voltage 310 V 4Type of construction IM B 3 0IM B 35 6EfficiencyArmature circuitResistanceat tanceInduc-120 °C3Siemens DA 12 · 2004 3/103
---
<strong>Selection</strong> <strong>and</strong> <strong>ordering</strong>1HQ6Size 225Motor typeFieldpowerapprox.Moment ofinertiaMechanicallimit speedP field J n mechkW kgm² rpm kg1HQ6 226 1.9 2.2 3000 10201HQ6 228 2.3 2.5 3000 1030Weight, netapprox.Armature controlSpeed can be coasted down by means of armature control toapprox. 10 rpm at constant torque of the motor.Field weakeningThe order numbers for the motors are valid for field weakeningspeeds n F up to 1.15 ¼ n N . At higher field weakening speedssupplementary short codes are required: "C05" forn F >1.15¼ n N to 1.7 ¼ n N <strong>and</strong> "C06" for n F >1.7¼ n N(short codes: from Page 3/137)The motors can be operated at rated output P N up to the fieldweakening speed n Fmax .For higher speeds, the output must be reduced.Rated field voltageFor other rated field voltages <strong>and</strong> the associated Order No. supplement,see Page 3/6.Type of constructionFor other type of constructions <strong>and</strong> the associated Order No.supplement, see Page 3/6.33/104Siemens DA 12 · 2004
---
<strong>Selection</strong> <strong>and</strong> <strong>ordering</strong>1HQ6Size 250■ <strong>Selection</strong> <strong>and</strong> <strong>ordering</strong> dataThese motors are uncompensated.Rated speedn NrpmRatedoutputRatedtorqueMaximumfieldweakeningspeedOrder No.RatedcurrentEfficiencyArmature circuitResistanceat tanceInduc-120 °Cat rated armature voltage P N M N n Fmax I N h R a L a420 V 470 V 520 V 600 V 720 V 810 V kW Nm rpm A % mW mHOverall length 6765 107 1340 1990 1HQ6 256-0NA77 -1VV1 282 88 120 4.03865 121 1340 1990 -1WV1 282 89965 134 1330 2000 -7MV1 280 901130 156 1320 1860 -7NV1 278 91870 123 1350 2000 1HQ6 256-0NB77 -1VV1 320 89 93.5 3.04985 138 1340 2020 -1WV1 318 901100 153 1330 1910 -7MV1 315 911280 178 1330 1520 -7NV1 315 921020 143 1340 2050 1HQ6 256-0NC77 -1VV1 368 90 69 2.321150 161 1340 1800 -1WV1 366 911280 178 1330 1530 -7MV1 364 921240 168 1290 2300 1HQ6 256-0ND77 -1VV1 428 91 50.5 1.721400 189 1290 2300 -1WV1 428 921560 208 1270 2300 -7MV1 426 921810 240 1270 2300 -7NV1 425 932180 285 1250 2300 -2XV1 418 941420 191 1280 2300 1HQ6 256-0NE77 -1VV1 484 92 38.2 1.281600 214 1280 2300 -1WV1 480 931780 236 1270 2300 -7MV1 482 932060 270 1250 2300 -7NV1 476 931640 230 1340 2300 1HQ6 256-0NF77 -1VV1 585 93 27.5 0.921840 252 1310 2300 -1WV1 570 932040 270 1260 2300 -7MV1 550 941900 240 1210 2300 1HQ6 256-0NG77 -1VV1 605 93 21.2 0.692120 262 1180 2300 -1WV1 590 942160 265 1170 2300 1HQ6 256-0NH77 -1VV1 665 94 16.1 0.55Rated field voltage 310 V 4Type of construction IM B 3 0IM B 35 63Siemens DA 12 · 2004 3/105
---
<strong>Selection</strong> <strong>and</strong> <strong>ordering</strong>1HQ6Size 2503Rated speedn NrpmRatedoutputRatedtorqueMaximumfieldweakeningspeedOrder No.Ratedcurrentat rated armature voltage P N M N n Fmax I N h R a L a420 V 470 V 520 V 600 V 720 V 810 V kW Nm rpm A % mW mHOverall length 8600 107 1700 1700 1HQ6 258-0NA77 -1VV1 285 87 138 5675 121 1710 1700 -1WV1 285 88755 135 1710 1700 -7MV1 285 89885 157 1690 1480 -7NV1 284 901070 189 1690 1110 -2XV1 282 91680 123 1730 1710 1HQ6 258-0NB77 -1VV1 324 88 107 3.77770 139 1720 1690 -1WV1 324 89860 154 1710 1530 -7MV1 322 901000 179 1710 1240 -7NV1 320 91795 144 1730 1640 1HQ6 258-0NC77 -1VV1 375 89 79.5 2.87900 162 1720 1450 -1WV1 374 901000 180 1720 1230 -7MV1 372 91975 170 1670 2140 1HQ6 258-0ND77 -1VV1 438 90 58.5 2.131100 191 1660 2140 -1WV1 435 911220 212 1660 2150 -7MV1 435 921420 245 1650 2150 -7NV1 432 931720 292 1620 2180 -2XV1 425 931950 328 1610 2180 -2YV1 428 941120 193 1650 2160 1HQ6 258-0NE77 -1VV1 490 91 44 1.591260 218 1650 2150 -1WV1 492 921400 240 1640 2160 -7MV1 488 921630 276 1620 2180 -7NV1 488 931970 330 1600 2200 -2XV1 484 941290 240 1780 1950 1HQ6 258-0NF77 -1VV1 610 92 31.6 1.151450 266 1750 1980 -1WV1 600 931610 290 1720 2000 -7MV1 585 931870 326 1660 2060 -7NV1 575 941500 256 1630 2300 1HQ6 258-0NG77 -1VV1 640 93 24.4 0.851690 282 1590 2300 -1WV1 635 931870 305 1560 2300 -7MV1 620 942160 340 1500 2300 -7NV1 595 941700 268 1510 2300 1HQ6 258-0NH77 -1VV1 675 93 18.6 0.681910 294 1470 2300 -1WV1 660 942120 315 1420 2300 1HQ6 258-0NH77 -7MV1 635 94Rated field voltage 310 V 4Type of construction IM B 3 0IM B 35 6EfficiencyArmature circuitResistanceat tanceInduc-120 °C3/106Siemens DA 12 · 2004
---
<strong>Selection</strong> <strong>and</strong> <strong>ordering</strong>1HQ6Size 250Motor typeFieldpowerapprox.Moment ofinertiaMechanicallimit speedP field J n mechkW kgm² rpm kg1HQ6 256 2.6 3.6 2600 13401HQ6 258 3.2 4.2 2600 1520Weight, netapprox.Armature controlSpeed can be coasted down by means of armature control toapprox. 10 rpm at constant torque of the motor.Field weakeningThe order numbers for the motors are valid for field weakeningspeeds n F up to 1.15 ¼ n N . At higher field weakening speedssupplementary short codes are required: "C05" forn F >1.15¼ n N to 1.7 ¼ n N <strong>and</strong> "C06" for n F >1.7¼ n N(short codes: from Page 3/137)The motors can be operated at rated output P N up to the fieldweakening speed n Fmax .For higher speeds, the output must be reduced.Rated field voltageFor other rated field voltages <strong>and</strong> the associated Order No. supplement,see Page 3/6.Type of constructionFor other type of constructions <strong>and</strong> the associated Order No.supplement, see Page 3/6.3Siemens DA 12 · 2004 3/107
---
<strong>Selection</strong> <strong>and</strong> <strong>ordering</strong>1HQ6Size 2803■ <strong>Selection</strong> <strong>and</strong> <strong>ordering</strong> dataThese motors are uncompensated.Rated speedn NrpmRatedoutputRatedtorqueMaximumfieldweakeningspeedOrder No.RatedcurrentEfficiencyArmature circuitResistanceat tanceInduc-120 °Cat rated armature voltage P N M N n Fmax I N h R a L a420 V 470 V 520 V 600 V 720 V 810 V kW Nm rpm A % mW mHOverall length 6665 151 2160 1490 1HQ6 286-0NA77 -1VV1 394 89 80 3.44750 170 2160 1490 -1WV1 394 90840 189 2150 1390 -7MV1 392 91980 220 2140 1150 -7NV1 390 92785 173 2100 1520 1HQ6 286-0NB77 -1VV1 445 90 59.5 2.59885 195 2100 1340 -1WV1 445 91985 216 2100 1160 -7MV1 444 92890 192 2060 1850 1HQ6 286-0NC77 -1VV1 492 91 49.4 2.191010 216 2040 1850 -1WV1 490 921120 238 2020 1860 -7MV1 485 921300 276 2020 1860 -7NV1 485 931580 330 1990 1880 -2XV1 484 941780 370 1990 1890 -2YV1 480 941000 212 2020 2100 1HQ6 286-0ND77 -1VV1 540 91 39.6 1.661130 238 2020 2100 -1WV1 535 921260 264 2000 2100 -7MV1 535 931460 305 2000 2100 -7NV1 535 931770 364 1960 2120 -2XV1 530 942000 406 1940 2140 -2YV1 525 941150 252 2100 1970 1HQ6 286-0NE77 -1VV1 635 92 29.6 1.311290 282 2080 1970 -1WV1 635 931440 312 2060 1980 -7MV1 635 931670 356 2040 2000 -7NV1 625 942000 400 1910 2120 -2XV1 585 941370 282 1970 2040 1HQ6 286-0NF77 -1VV1 710 93 21 1.011540 308 1910 2080 -1WV1 690 931700 332 1870 2140 -7MV1 670 941960 364 1770 2200 -7NV1 635 941540 328 2040 1970 1HQ6 286-0NG77 -1VV1 820 93 16.3 0.741730 358 1980 2020 -1WV1 805 941920 384 1910 2060 -7MV1 775 941740 335 1840 2050 1HQ6 286-0NH77 -1VV1 840 94 13 0.581950 364 1780 2100 1HQ6 286-0NH77 -1WV1 815 94Rated field voltage 310 V 4Type of construction IM B 3 0IM B 35 63/108Siemens DA 12 · 2004
---
<strong>Selection</strong> <strong>and</strong> <strong>ordering</strong>1HQ6Size 280Rated speedn NrpmRatedoutputRatedtorqueMaximumfieldweakeningspeedOrder No.Ratedcurrentat rated armature voltage P N M N n Fmax I N h R a L a420 V 470 V 520 V 600 V 720 V 810 V kW Nm rpm A % mW mHOverall length 8525 151 2750 1270 1HQ6 288-0NA77 -1VV1 400 88 91.5 4.24595 170 2720 1210 -1WV1 398 89665 190 2720 1110 -7MV1 398 90775 220 2720 925 -7NV1 395 91620 174 2680 1220 1HQ6 288-0NB77 -1VV1 454 89 68.5 3.19705 196 2660 1080 -1WV1 452 90785 218 2650 950 -7MV1 450 91710 193 2600 1580 1HQ6 288-0NC77 -1VV1 498 90 56.5 2.7800 216 2580 1590 -1WV1 494 91890 240 2580 1600 -7MV1 494 911040 280 2580 1590 -7NV1 494 921260 335 2540 1610 -2XV1 492 931420 378 2540 1610 -2YV1 488 94795 214 2580 1800 1HQ6 288-0ND77 -1VV1 550 91 45.5 2.04900 240 2550 1810 -1WV1 545 911000 268 2560 1800 -7MV1 550 921160 310 2550 1810 -7NV1 545 931410 370 2500 1830 -2XV1 540 941590 416 2500 1830 -2YV1 540 94915 255 2660 1690 1HQ6 288-0NE77 -1VV1 650 91 34 1.621030 286 2650 1690 -1WV1 645 921150 316 2620 1700 -7MV1 640 931330 366 2620 1700 -7NV1 640 931610 436 2580 1720 -2XV1 640 941090 296 2600 1710 1HQ6 288-0NF77 -1VV1 745 92 24 1.241230 328 2550 1730 -1WV1 735 931360 356 2500 1760 -7MV1 715 931580 400 2420 1810 -7NV1 700 941230 338 2620 1670 1HQ6 288-0NG77 -1VV1 850 93 18.7 0.911390 380 2620 1670 -1WV1 855 931540 414 2560 1700 -7MV1 840 941390 356 2450 1700 1HQ6 288-0NH77 -1VV1 885 94 15 0.721560 392 2400 1730 1HQ6 288-0NH77 -1WV1 875 94Rated field voltage 310 V 4Type of construction IM B 3 0IM B 35 6EfficiencyArmature circuitResistanceat tanceInduc-120 °C3Siemens DA 12 · 2004 3/109
---
<strong>Selection</strong> <strong>and</strong> <strong>ordering</strong>1HQ6Size 280Motor typeFieldpowerapprox.Moment ofinertiaMechanicallimit speedP field J n mechkW kgm² rpm kg1HQ6 286 3.3 6.4 2500 18001HQ6 288 3.9 7.5 2500 2040Weight, netapprox.Armature controlSpeed can be coasted down by means of armature control toapprox. 10 rpm at constant torque of the motor.Field weakeningThe order numbers for the motors are valid for field weakeningspeeds n F up to 1.15 ¼ n N . At higher field weakening speedssupplementary short codes are required: "C05" forn F >1.15¼ n N to 1.7 ¼ n N <strong>and</strong> "C06" for n F >1.7¼ n N(short codes: from Page 3/137)The motors can be operated at rated output P N up to the fieldweakening speed n Fmax .For higher speeds, the output must be reduced.Rated field voltageFor other rated field voltages <strong>and</strong> the associated Order No. supplement,see Page 3/6.Type of constructionFor other type of constructions <strong>and</strong> the associated Order No.supplement, see Page 3/6.33/110Siemens DA 12 · 2004
---
<strong>Selection</strong> <strong>and</strong> <strong>ordering</strong>1HQ7Size 355■ <strong>Selection</strong> <strong>and</strong> <strong>ordering</strong> dataThese motors are compensated.Rated speedn NrpmRatedoutputRatedtorqueMaximumfieldweakeningspeedOrder No.RatedcurrentEfficiencyArmature circuitResistanceat tanceInduc-120 °Cat rated armature voltage P N M N n Fmax I N h R a L a420 V 470 V 520 V 600 V 720 V 810 V kW Nm rpm A % mW mHOverall length 1590 222 3590 1970 1HQ7 351-5NA77 -1VV1 580 90 50.9 0.74670 250 3560 1970 -1WV1 580 91745 274 3510 2000 -7MV1 570 91870 316 3470 2000 -7NV1 565 921050 362 3290 2080 -2XV1 535 931190 405 3250 2100 -2YV1 530 94675 244 3450 1980 1HQ7 351-5NB77 -1VV1 635 90 43.6 0.54765 275 3430 1990 -1WV1 635 91850 298 3350 2020 -7MV1 620 92990 345 3330 2040 -7NV1 615 931210 384 3030 2100 -2XV1 565 931360 428 3000 2100 -2YV1 560 94755 276 3490 1980 1HQ7 351-5NC77 -1VV1 710 91 34.4 0.5850 310 3480 1980 -1WV1 710 92945 335 3380 2020 -7MV1 690 931100 384 3330 2040 -7NV1 680 931330 422 3030 2100 -2XV1 620 941510 464 2930 2100 -2YV1 605 94860 302 3350 1970 1HQ7 351-5ND77 -1VV1 775 92 28.4 0.35965 338 3340 1980 -1WV1 770 921080 358 3170 2050 -7MV1 735 931250 410 3130 2060 -7NV1 725 941520 424 2660 2100 -2XV1 620 941720 466 2590 2100 -2YV1 605 94980 335 3260 1970 1HQ7 351-5NE77 -1VV1 850 93 20.7 0.311100 376 3250 1970 -1WV1 850 931230 396 3080 2050 -7MV1 805 941430 446 2980 2080 -7NV1 785 941730 442 2440 2100 -2XV1 645 941950 470 2300 2100 -2YV1 610 941090 368 3220 1960 1HQ7 351-5NF77 -1VV1 930 93 17.2 0.241230 408 3170 1980 -1WV1 920 941370 418 2910 2100 -7MV1 850 941590 470 2820 2100 -7NV1 825 941240 402 3100 2040 1HQ7 351-5NG77 -1VV1 1010 94 12.3 0.191390 445 3050 2060 -1WV1 1000 941550 440 2710 2100 -7MV1 890 941800 484 2570 2100 -7NV1 850 941400 415 2830 2100 1HQ7 351-5NH77 -1VV1 1040 94 10.5 0.141580 456 2760 2100 -1WV1 1020 941640 440 2560 2100 1HQ7 351-5NJ77 -1VV1 1100 94 8.26 0.111840 472 2450 2100 1HQ7 351-5NJ77 -1WV1 1060 94Rated field voltage 310 V 4Type of construction IM B 3 03Siemens DA 12 · 2004 3/111
---
<strong>Selection</strong> <strong>and</strong> <strong>ordering</strong>1HQ7Size 3553Rated speedn NrpmRatedoutputRatedtorqueMaximumfieldweakeningspeedOrder No.Ratedcurrentat rated armature voltage P N M N n Fmax I N h R a L a420 V 470 V 520 V 600 V 720 V 810 V kW Nm rpm A % mW mHOverall length 2505 224 4250 1800 1HQ7 352-5NA77 -1VV1 590 89 54.5 0.82570 252 4220 1810 -1WV1 590 90635 278 4180 1820 -7MV1 580 91740 322 4150 1830 -7NV1 580 92900 375 3980 1880 -2XV1 555 931020 420 3930 1900 -2YV1 550 94575 246 4080 1820 1HQ7 352-5NB77 -1VV1 645 90 46.7 0.6650 278 4080 1820 -1WV1 645 90725 305 4020 1840 -7MV1 635 91845 354 4000 1840 -7NV1 630 921030 402 3720 1930 -2XV1 590 931170 450 3680 1940 -2YV1 585 94640 282 4200 1800 1HQ7 352-5NC77 -1VV1 730 91 36.8 0.55725 316 4160 1800 -1WV1 725 92810 344 4060 1830 -7MV1 710 92940 396 4020 1850 -7NV1 700 931140 446 3730 1940 -2XV1 650 941290 496 3670 1960 -2YV1 645 94730 308 4030 1800 1HQ7 352-5ND77 -1VV1 790 92 30.4 0.38825 346 4000 1800 -1WV1 790 92920 372 3860 1840 -7MV1 760 931070 428 3820 1860 -7NV1 755 931300 462 3390 2020 -2XV1 675 941470 515 3340 2020 -2YV1 665 94840 335 3810 1820 1HQ7 352-5NE77 -1VV1 850 93 22.2 0.35945 376 3800 1820 -1WV1 850 931050 415 3770 1830 -7MV1 845 941220 474 3710 1850 -7NV1 830 941480 498 3220 2040 -2XV1 725 951670 540 3090 2100 -2YV1 700 95935 382 3900 1760 1HQ7 352-5NF77 -1VV1 970 93 18.5 0.261050 426 3880 1780 -1WV1 960 931170 445 3630 1860 -7MV1 905 941360 505 3540 1880 -7NV1 885 941650 496 2870 2100 -2XV1 720 941060 405 3650 1880 1HQ7 352-5NG77 -1VV1 1020 94 13.2 0.211190 454 3640 1880 -1WV1 1020 941320 482 3480 1940 -7MV1 975 941540 540 3350 1980 -7NV1 945 951200 428 3410 1950 1HQ7 352-5NH77 -1VV1 1080 94 11.2 0.151350 480 3400 1950 -1WV1 1070 941500 480 3050 2080 -7MV1 970 941400 485 3300 2100 1HQ7 352-5NJ77 -1VV1 1210 94 8.85 0.121570 530 3230 2100 1HQ7 352-5NJ77 -1WV1 1190 94Rated field voltage 310 V 4Type of construction IM B 3 0EfficiencyArmature circuitResistanceat tanceInduc-120 °C3/112Siemens DA 12 · 2004
---
<strong>Selection</strong> <strong>and</strong> <strong>ordering</strong>1HQ7Size 355Rated speedn NrpmRatedoutputRatedtorqueMaximumfieldweakeningspeedOrder No.Ratedcurrentat rated armature voltage P N M N n Fmax I N h R a L a420 V 470 V 520 V 600 V 720 V 810 V kW Nm rpm A % mW mHOverall length 3426 225 5040 1640 1HQ7 353-5NA77 -1VV1 600 88 58.9 0.92482 255 5050 1630 -1WV1 600 89540 282 4980 1640 -7MV1 595 90630 328 4970 1650 -7NV1 590 91765 385 4800 1690 -2XV1 570 93870 434 4770 1700 -2YV1 570 93490 244 4750 1670 1HQ7 353-5NB77 -1VV1 645 89 50.5 0.66555 275 4730 1680 -1WV1 640 90620 304 4680 1690 -7MV1 635 91720 354 4680 1690 -7NV1 635 92875 416 4540 1730 -2XV1 615 93990 468 4520 1730 -2YV1 610 93545 285 5000 1630 1HQ7 353-5NC77 -1VV1 740 90 39.8 0.62615 322 5000 1630 -1WV1 740 91685 352 4900 1650 -7MV1 730 92800 406 4850 1660 -7NV1 720 93970 466 4590 1730 -2XV1 685 941100 520 4510 1740 -2YV1 675 94620 312 4800 1620 1HQ7 353-5ND77 -1VV1 805 91 32.8 0.43700 352 4800 1620 -1WV1 805 92780 382 4680 1660 -7MV1 785 92910 442 4640 1660 -7NV1 785 931110 492 4230 1770 -2XV1 720 941250 550 4200 1780 -2YV1 710 94715 332 4430 1680 1HQ7 353-5NE77 -1VV1 845 92 24 0.39805 372 4410 1690 -1WV1 840 93895 412 4400 1690 -7MV1 835 931040 476 4370 1690 -7NV1 835 941260 540 4100 1770 -2XV1 785 951420 595 4000 1800 -2YV1 770 95795 380 4560 1620 1HQ7 353-5NF77 -1VV1 965 93 19.9 0.3895 428 4560 1620 -1WV1 965 93995 468 4490 1640 -7MV1 950 941160 535 4400 1660 -7NV1 940 941400 560 3820 1840 -2XV1 815 95905 406 4290 1720 1HQ7 353-5NG77 -1VV1 1020 93 14.3 0.231020 456 4270 1720 -1WV1 1020 941130 500 4220 1740 -7MV1 1010 941310 580 4220 1730 -7NV1 1010 951020 430 4020 1780 1HQ7 353-5NH77 -1VV1 1080 94 12.1 0.171150 484 4020 1780 -1WV1 1080 941280 525 3920 1810 -7MV1 1060 941190 490 3930 2020 1HQ7 353-5NJ77 -1VV1 1230 94 9.57 0.141340 550 3920 2020 1HQ7 353-5NJ77 -1WV1 1230 94Rated field voltage 310 V 4Type of construction IM B 3 0EfficiencyArmature circuitResistanceat tanceInduc-120 °C3Siemens DA 12 · 2004 3/113
---
<strong>Selection</strong> <strong>and</strong> <strong>ordering</strong>1HQ7Size 3553Rated speedn NrpmRatedoutputRatedtorqueMaximumfieldweakeningspeedOrder No.Ratedcurrentat rated armature voltage P N M N n Fmax I N h R a L a420 V 470 V 520 V 600 V 720 V 810 V kW Nm rpm A % mW mHOverall length 4354 225 6070 1420 1HQ7 354-5NA77 -1VV1 605 87 64.8 1.06402 255 6050 1460 -1WV1 605 89450 282 6000 1470 -7MV1 600 90525 330 6000 1470 -7NV1 600 91640 390 5810 1500 -2XV1 580 92725 440 5800 1510 -2YV1 580 93408 240 5620 1520 1HQ7 354-5NB77 -1VV1 640 88 55.4 0.75462 270 5580 1530 -1WV1 635 89515 300 5560 1530 -7MV1 630 90600 350 5560 1530 -7NV1 630 91730 416 5430 1550 -2XV1 620 93830 472 5430 1550 -2YV1 620 93455 282 5920 1470 1HQ7 354-5NC77 -1VV1 740 90 43.8 0.71515 318 5900 1470 -1WV1 740 91575 354 5880 1470 -7MV1 735 91670 412 5870 1470 -7NV1 735 92810 478 5630 1530 -2XV1 705 93920 535 5560 1540 -2YV1 700 94520 310 5700 1460 1HQ7 354-5ND77 -1VV1 805 90 36 0.49585 350 5700 1460 -1WV1 805 91655 386 5640 1470 -7MV1 800 92760 448 5630 1480 -7NV1 795 93925 510 5260 1550 -2XV1 750 941040 575 5260 1550 -2YV1 745 94595 334 5350 1500 1HQ7 354-5NE77 -1VV1 855 92 26.4 0.45675 376 5320 1500 -1WV1 850 93750 416 5300 1510 -7MV1 850 93870 482 5290 1510 -7NV1 845 941050 570 5180 1530 -2XV1 830 941190 635 5100 1550 -2YV1 820 95665 384 5510 1440 1HQ7 354-5NF77 -1VV1 980 92 21.9 0.34750 432 5500 1440 -1WV1 980 93835 476 5440 1450 -7MV1 970 93965 550 5440 1460 -7NV1 965 941170 605 4930 1570 -2XV1 880 95755 406 5130 1550 1HQ7 354-5NG77 -1VV1 1020 93 15.7 0.26850 456 5120 1550 -1WV1 1020 94v945 500 5050 1570 -7MV1 1010 941100 580 5050 1570 -7NV1 1010 95855 432 4820 1600 1HQ7 354-5NH77 -1VV1 1090 93 13.3 0.19960 485 4820 1600 -1WV1 1090 941070 530 4730 1620 -7MV1 1070 94995 492 4720 1830 1HQ7 354-5NJ77 -1VV1 1230 94 10.5 0.161120 550 4690 1840 1HQ7 354-5NJ77 -1WV1 1230 94Rated field voltage 310 V 4Type of construction IM B 3 0EfficiencyArmature circuitResistanceat tanceInduc-120 °C3/114Siemens DA 12 · 2004
---
<strong>Selection</strong> <strong>and</strong> <strong>ordering</strong>1HQ7Size 355Rated speedn NrpmRatedoutputRatedtorqueMaximumfieldweakeningspeedOrder No.Ratedcurrentat rated armature voltage P N M N n Fmax I N h R a L a420 V 470 V 520 V 600 V 720 V 810 V kW Nm rpm A % mW mHOverall length 5282 220 7440 1130 1HQ7 355-5NA77 -1VV1 600 86 73.5 1.25322 250 7410 1280 -1WV1 600 87360 278 7370 1280 -7MV1 595 89420 326 7400 1280 -7NV1 595 90515 390 7250 1300 -2XV1 585 91585 440 7180 1310 -2YV1 585 92326 232 6800 1300 1HQ7 355-5NB77 -1VV1 620 87 62.9 0.88370 262 6760 1350 -1WV1 620 89414 292 6730 1350 -7MV1 620 90484 340 6700 1360 -7NV1 615 91590 408 6600 1370 -2XV1 610 92665 462 6620 1370 -2YV1 610 93365 275 7190 1300 1HQ7 355-5NC77 -1VV1 725 89 49.7 0.85412 310 7180 1300 -1WV1 725 90460 345 7160 1300 -7MV1 720 91535 402 7160 1300 -7NV1 720 92650 482 7080 1320 -2XV1 715 93740 545 7030 1320 -2YV1 715 93416 302 6930 1290 1HQ7 355-5ND77 -1VV1 790 90 40.7 0.57470 342 6940 1290 -1WV1 790 91525 378 6880 1300 -7MV1 785 91610 440 6880 1300 -7NV1 785 92745 520 6670 1320 -2XV1 770 93840 590 6700 1320 -2YV1 770 94480 330 6570 1310 1HQ7 355-5NE77 -1VV1 850 91 30 0.53540 372 6560 1310 -1WV1 850 92605 412 6500 1320 -7MV1 845 93700 478 6520 1320 -7NV1 845 93850 570 6410 1330 -2XV1 830 94960 645 6420 1330 -2YV1 835 95535 378 6750 1260 1HQ7 355-5NF77 -1VV1 970 92 24.8 0.4600 426 6750 1260 -1WV1 970 92670 472 6720 1270 -7MV1 965 93780 550 6740 1260 -7NV1 970 94945 635 6420 1310 -2XV1 925 94610 402 6300 1360 1HQ7 355-5NG77 -1VV1 1020 93 17.8 0.31685 452 6300 1360 -1WV1 1020 93760 500 6280 1370 -7MV1 1010 94885 580 6260 1360 -7NV1 1010 94690 430 5950 1400 1HQ7 355-5NH77 -1VV1 1090 93 15.1 0.23775 482 5940 1410 -1WV1 1080 94860 530 5880 1420 -7MV1 1070 94805 490 5820 1630 1HQ7 355-5NJ77 -1VV1 1230 94 11.9 0.19905 550 5810 1630 1HQ7 355-5NJ77 -1WV1 1230 94Rated field voltage 310 V 4Type of construction IM B 3 0EfficiencyArmature circuitResistanceat tanceInduc-120 °C3Siemens DA 12 · 2004 3/115
---
<strong>Selection</strong> <strong>and</strong> <strong>ordering</strong>1HQ7Size 355Motor typeFieldpowerapprox.Moment ofinertiaMechanicallimit speedP field J n mechkW kgm² rpm kg1HQ7 351 3.8 17 2200 27001HQ7 352 4.1 20 2200 29001HQ7 353 4.5 22 2200 31001HQ7 354 5.1 25 2200 33001HQ7 355 5.7 29 2200 3600Weight, netapprox.Armature controlSpeed can be coasted down by means of armature control toapprox. 10 rpm at constant torque of the motor.Field weakeningThe order numbers for the motors are valid for field weakeningspeeds n F up to 1.15 ¼ n N . At higher field weakening speedssupplementary short codes are required: "C05" forn F >1.15¼ n N to 1.7 ¼ n N <strong>and</strong> "C06" for n F >1.7¼ n N(short codes: from Page 3/137)The motors can be operated at rated output P N up to the fieldweakening speed n Fmax .For higher speeds, the output must be reduced.Rated field voltageFor other rated field voltages <strong>and</strong> the associated Order No. supplement,see Page 3/6.33/116Siemens DA 12 · 2004
---
<strong>Selection</strong> <strong>and</strong> <strong>ordering</strong>1HQ7Size 400■ <strong>Selection</strong> <strong>and</strong> <strong>ordering</strong> dataThese motors are compensated.Rated speedn NrpmRatedoutputRatedtorqueMaximumfieldweakeningspeedOrder No.RatedcurrentEfficiencyArmature circuitResistanceat tanceInduc-120 °Cat rated armature voltage P N M N n Fmax I N h R a L a420 V 470 V 520 V 600 V 720 V 810 V kW Nm rpm A % mW mHOverall length 1426 230 5150 1700 1HQ7 401-5NA77 -1VV1 600 90 59.2 1.13482 260 5150 1730 -1WV1 600 91540 288 5100 1740 -7MV1 595 91625 334 5100 1740 -7NV1 595 92760 394 4950 1780 -2XV1 580 93860 440 4900 1790 -2YV1 570 94v478 258 5150 1710 1HQ7 401-5NB77 -1VV1 670 90 46.3 0.73540 292 5150 1700 -1WV1 670 91605 320 5050 1720 -7MV1 660 92700 370 5050 1730 -7NV1 655 93850 430 4820 1780 -2XV1 630 94960 482 4800 1790 -2YV1 625 94545 285 5000 1720 1HQ7 401-5NC77 -1VV1 735 91 37.5 0.54610 322 5050 1720 -1WV1 740 92685 350 4880 1750 -7MV1 720 92795 404 4850 1760 -7NV1 715 93965 460 4560 1840 -2XV1 670 941090 515 4500 1850 -2YV1 665 94605 324 5100 1720 1HQ7 401-5ND77 -1VV1 830 92 28.8 0.53685 364 5100 1720 -1WV1 825 93760 396 4980 1750 -7MV1 805 93885 455 4920 1760 -7NV1 795 941070 515 4600 1840 -2XV1 745 951210 570 4500 1870 -2YV1 730 95695 358 4920 1700 1HQ7 401-5NE77 -1VV1 910 93 24.5 0.34780 400 4900 1710 -1WV1 900 93870 428 4700 1760 -7MV1 860 941010 492 4650 1770 -7NV1 860 941220 530 4150 1900 -2XV1 765 951380 590 4080 1900 1HQ7 401-5NE77 -2YV1 755 95Rated field voltage 310 V 4Type of construction IM B 3 03Siemens DA 12 · 2004 3/117
---
<strong>Selection</strong> <strong>and</strong> <strong>ordering</strong>1HQ7Size 4003Rated speedRated Rated Maximum Order No.Rated EfficiencyNArmature circuitn output torque fieldcurrent Resistanceat tanceInduc-rpmweakeningspeed120 °Cat rated armature voltage P N M N n Fmax I N h R a L a420 V 470 V 520 V 600 V 720 V 810 V kW Nm rpm A % mW mH780 382 4680 1770 1HQ7 401-5NF77 -1VV1 965 93 19 0.27880 428 4650 1770 -1WV1 960 94980 468 4560 1790 -7MV1 945 941140 535 4500 1810 -7NV1 930 951380 555 3840 1900 -2XV1 800 951550 615 3780 1900 -2YV1 790 95890 444 4760 1730 1HQ7 401-5NG77 -1VV1 1110 94 14.1 0.281000 492 4700 1750 -1WV1 1100 941110 515 4420 1820 -7MV1 1030 951290 580 4290 1850 -7NV1 1000 951560 595 3640 1900 -2XV1 855 951000 464 4440 1770 1HQ7 401-5NH77 -1VV1 1160 94 11.3 0.181120 520 4420 1780 -1WV1 1160 951250 540 4120 1860 -7MV1 1080 951450 610 4020 1890 -7NV1 1060 951220 515 4030 1900 1HQ7 401-5NJ77 -1VV1 1280 94 8.3 0.121370 575 4000 1900 -1WV1 1280 951530 545 3400 1900 1HQ7 401-5NJ77 -7MV1 1090 95Rated field voltage 310 V 4Type of construction IM B 3 03/118Siemens DA 12 · 2004
---
<strong>Selection</strong> <strong>and</strong> <strong>ordering</strong>1HQ7Size 400Rated speedn NrpmRatedoutputRatedtorqueMaximumfieldweakeningspeedOrder No.Ratedcurrentat rated armature voltage P N M N n Fmax I N h R a L a420 V 470 V 520 V 600 V 720 V 810 V kW Nm rpm A % mW mHOverall length 2350 234 6400 1400 1HQ7 402-5NA77 -1VV1 615 89 64.6 1.3396 264 6350 1550 -1WV1 615 90442 292 6300 1560 -7MV1 610 91515 338 6250 1570 -7NV1 605 92625 402 6140 1600 -2XV1 595 93710 452 6100 1600 -2YV1 590 94394 260 6300 1530 1HQ7 402-5NB77 -1VV1 680 90 50.4 0.82445 294 6300 1530 -1WV1 680 91496 324 6250 1550 -7MV1 670 91580 376 6200 1550 -7NV1 670 92700 440 6000 1590 -2XV1 645 93795 496 5950 1590 -2YV1 645 94446 288 6150 1550 1HQ7 402-5NC77 -1VV1 750 90 40.8 0.6505 325 6150 1550 -1WV1 750 91565 356 6000 1570 -7MV1 735 92655 412 6000 1580 -7NV1 730 93795 475 5700 1630 -2XV1 695 94900 535 5700 1640 -2YV1 695 94500 322 6150 1570 1HQ7 402-5ND77 -1VV1 825 92 31.4 0.6565 362 6120 1570 -1WV1 825 92625 402 6120 1570 -7MV1 820 93730 465 6080 1580 -7NV1 820 94885 535 5800 1630 -2XV1 780 941000 595 5700 1650 -2YV1 765 95570 364 6100 1520 1HQ7 402-5NE77 -1VV1 930 92 26.6 0.39645 408 6050 1530 -1WV1 925 93715 440 5900 1570 -7MV1 895 93830 510 5860 1570 -7NV1 895 941010 565 5350 1670 -2XV1 820 951140 630 5280 1680 1HQ7 402-5NE77 -2YV1 810 95Rated field voltage 310 V 4Type of construction IM B 3 0EfficiencyArmature circuitResistanceat tanceInduc-120 °C3Siemens DA 12 · 2004 3/119
---
<strong>Selection</strong> <strong>and</strong> <strong>ordering</strong>1HQ7Size 4003Rated speedRated Rated Maximum Order No.Rated EfficiencyNArmature circuitn output torque fieldcurrent Resistanceat tanceInduc-rpmweakeningspeed120 °Cat rated armature voltage P N M N n Fmax I N h R a L a420 V 470 V 520 V 600 V 720 V 810 V kW Nm rpm A % mW mH645 380 5620 1610 1HQ7 402-5NF77 -1VV1 965 93 20.7 0.3725 428 5620 1610 -1WV1 965 93810 472 5580 1620 -7MV1 955 94940 545 5550 1620 -7NV1 950 941140 600 5020 1730 -2XV1 865 951280 670 5000 1750 -2YV1 860 95735 444 5770 1580 1HQ7 402-5NG77 -1VV1 1120 94 15.4 0.33825 498 5750 1580 -1WV1 1110 94920 545 5650 1600 -7MV1 1100 951070 620 5550 1620 -7NV1 1080 951290 670 4980 1750 -2XV1 965 95825 450 5200 1650 1HQ7 402-5NH77 -1VV1 1120 94 12.3 0.21930 505 5200 1580 -1WV1 1120 941030 555 5150 1660 -7MV1 1110 951190 640 5130 1670 -7NV1 1110 951010 515 4880 1880 1HQ7 402-5NJ77 -1VV1 1280 94 9 0.131130 580 4880 1880 -1WV1 1290 951260 615 4660 1900 1HQ7 402-5NJ77 -7MV1 1230 95Rated field voltage 310 V 4Type of construction IM B 3 03/120Siemens DA 12 · 2004
---
<strong>Selection</strong> <strong>and</strong> <strong>ordering</strong>1HQ7Size 400Rated speedn NrpmRatedoutputRatedtorqueMaximumfieldweakeningspeedOrder No.Ratedcurrentat rated armature voltage P N M N n Fmax I N h R a L a420 V 470 V 520 V 600 V 720 V 810 V kW Nm rpm A % mW mHOverall length 3294 232 7540 1180 1HQ7 403-5NA77 -1VV1 615 88 70.4 1.48332 262 7540 1330 -1WV1 615 89372 292 7500 1420 -7MV1 615 90434 338 7450 1430 -7NV1 610 91525 404 7350 1450 -2XV1 600 93595 455 7300 1450 -2YV1 595 93332 255 7340 1330 1HQ7 403-5NB77 -1VV1 670 89 54.9 0.93375 290 7400 1390 -1WV1 675 90418 320 7300 1400 -7MV1 665 91488 372 7300 1410 -7NV1 665 92590 442 7150 1430 -2XV1 650 93670 498 7100 1440 -2YV1 650 94375 288 7340 1400 1HQ7 403-5NC77 -1VV1 755 90 44.4 0.67424 324 7300 1410 -1WV1 750 91474 356 7200 1430 -7MV1 740 91550 414 7200 1430 -7NV1 740 92670 482 6870 1470 -2XV1 710 93760 545 6850 1470 -2YV1 710 94420 320 7260 1430 1HQ7 403-5ND77 -1VV1 825 91 34.2 0.68475 362 7280 1430 -1WV1 825 92530 400 7220 1440 -7MV1 820 93615 466 7240 1430 -7NV1 825 93745 545 7000 1470 -2XV1 795 94840 610 6940 1480 -2YV1 790 95480 364 7250 1380 1HQ7 403-5NE77 -1VV1 935 92 29 0.43540 410 7250 1380 -1WV1 935 92600 446 7100 1410 -7MV1 910 93700 515 7050 1420 -7NV1 905 94850 585 6600 1480 -2XV1 850 95960 655 6500 1490 1HQ7 403-5NE77 -2YV1 845 95Rated field voltage 310 V 4Type of construction IM B 3 0EfficiencyArmature circuitResistanceat tanceInduc-120 °C3Siemens DA 12 · 2004 3/121
---
<strong>Selection</strong> <strong>and</strong> <strong>ordering</strong>1HQ7Size 4003Rated speedRated Rated Maximum Order No.Rated EfficiencyNArmature circuitn output torque fieldcurrent Resistanceat tanceInduc-rpmweakeningspeed120 °Cat rated armature voltage P N M N n Fmax I N h R a L a420 V 470 V 520 V 600 V 720 V 810 V kW Nm rpm A % mW mH545 384 6740 1460 1HQ7 403-5NF77 -1VV1 980 92 22.5 0.33610 432 6750 1460 -1WV1 980 93680 478 6700 1460 -7MV1 975 93790 555 6700 1460 -7NV1 975 94955 630 6300 1530 -2XV1 915 951080 705 6230 1540 -2YV1 905 95620 455 7000 1410 1HQ7 403-5NG77 -1VV1 1150 93 16.8 0.37695 510 7000 1420 -1WV1 1150 94775 560 6900 1430 -7MV1 1130 94900 635 6750 1450 -7NV1 1110 951080 705 6250 1550 -2XV1 1020 95695 465 6400 1470 1HQ7 403-5NH77 -1VV1 1170 94 13.4 0.23780 520 6350 1480 -1WV1 1160 94870 575 6300 1480 -7MV1 1160 951010 660 6250 1480 -7NV1 1150 95850 520 5850 1720 1HQ7 403-5NJ77 -1VV1 1300 94 9.8 0.15955 580 5800 1730 -1WV1 1290 951060 635 5720 1750 1HQ7 403-5NJ77 -7MV1 1280 95Rated field voltage 310 V 4Type of construction IM B 3 03/122Siemens DA 12 · 2004
---
<strong>Selection</strong> <strong>and</strong> <strong>ordering</strong>1HQ7Size 400Rated speedn NrpmRatedoutputRatedtorqueMaximumfieldweakeningspeedOrder No.Ratedcurrentat rated armature voltage P N M N n Fmax I N h R a L a420 V 470 V 520 V 600 V 720 V 810 V kW Nm rpm A % mW mHOverall length 4240 228 9100 950 1HQ7 404-5NA77 -1VV1 615 87 78.5 1.74270 255 9000 1080 -1WV1 600 88302 286 9000 1210 -7MV1 605 89354 336 9050 1260 -7NV1 610 91430 402 8900 1280 -2XV1 600 92488 455 8900 1280 -2YV1 600 93268 255 9050 1270 1HQ7 404-5NB77 -1VV1 680 88 61.2 1.07305 288 9000 1220 -1WV1 675 89340 320 8950 1240 -7MV1 675 90398 376 9000 1240 -7NV1 680 91484 448 8850 1260 -2XV1 665 93550 505 8800 1270 -2YV1 660 93306 285 8900 1220 1HQ7 404-5NC77 -1VV1 755 89 49.3 0.77345 322 8900 1250 -1WV1 750 90386 356 8800 1260 -7MV1 745 91450 415 8800 1260 -7NV1 745 92550 485 8450 1290 -2XV1 715 93620 550 8450 1290 -2YV1 720 94344 310 8600 1270 1HQ7 404-5ND77 -1VV1 800 90 38.2 0.8388 350 8600 1280 -1WV1 805 91432 400 8800 1270 -7MV1 825 92505 456 8620 1280 -7NV1 810 93610 545 8520 1280 -2XV1 800 94690 615 8500 1280 -2YV1 795 94392 365 8900 1220 1HQ7 404-5NE77 -1VV1 945 91 32.3 0.5442 412 8900 1220 -1WV1 945 92492 450 8750 1240 -7MV1 925 92575 520 8650 1250 -7NV1 920 93695 600 8250 1290 -2XV1 875 94785 675 8200 1300 1HQ7 404-5NE77 -2YV1 870 95Rated field voltage 310 V 4Type of construction IM B 3 0EfficiencyArmature circuitResistanceat tanceInduc-120 °C3Siemens DA 12 · 2004 3/123
---
<strong>Selection</strong> <strong>and</strong> <strong>ordering</strong>1HQ7Size 4003Rated speedRated Rated Maximum Order No.Rated EfficiencyNArmature circuitn output torque fieldcurrent Resistanceat tanceInduc-rpmweakeningspeed120 °Cat rated armature voltage P N M N n Fmax I N h R a L a420 V 470 V 520 V 600 V 720 V 810 V kW Nm rpm A % mW mH445 378 8100 1310 1HQ7 404-5NF77 -1VV1 965 92 25 0.38500 426 8100 1310 -1WV1 970 92555 475 8150 1300 -7MV1 970 93650 555 8150 1300 -7NV1 975 94785 655 8000 1320 -2XV1 950 95885 740 8000 1320 -2YV1 950 95505 454 8550 1260 1HQ7 404-5NG77 -1VV1 1150 93 18.8 0.44570 510 8550 1260 -1WV1 1150 93635 565 8500 1260 -7MV1 1140 94735 655 8500 1260 -7NV1 1140 94890 740 7940 1260 -2XV1 1070 95570 465 7800 1310 1HQ7 404-5NH77 -1VV1 1170 93 15 0.27640 525 7800 1300 -1WV1 1170 94715 575 7700 1320 -7MV1 1160 94825 670 7750 1310 -7NV1 1170 95700 520 7100 1550 1HQ7 404-5NJ77 -1VV1 1300 94 10.9 0.17785 585 7100 1550 -1WV1 1300 94870 640 7000 1570 1HQ7 404-5NJ77 -7MV1 1290 95Rated field voltage 310 V 4Type of construction IM B 3 03/124Siemens DA 12 · 2004
---
<strong>Selection</strong> <strong>and</strong> <strong>ordering</strong>1HQ7Size 400Rated speedn NrpmRatedoutputRatedtorqueMaximumfieldweakeningspeedOrder No.Ratedcurrentat rated armature voltage P N M N n Fmax I N h R a L a420 V 470 V 520 V 600 V 720 V 810 V kW Nm rpm A % mW mHOverall length 5183 225 11700 730 1HQ7 405-5NA77 -1VV1 620 85 91.7 2.16208 256 11700 830 -1WV1 620 87234 285 11600 935 -7MV1 615 88274 334 11600 1070 -7NV1 615 89334 404 11500 1080 -2XV1 610 91380 456 11500 1080 -2YV1 605 92206 250 11600 825 1HQ7 405-5NB77 -1VV1 675 86 71.3 1.31235 284 11500 940 -1WV1 680 88262 316 11500 1050 -7MV1 675 89308 370 11500 1050 -7NV1 675 90375 448 11400 1060 -2XV1 670 92425 505 11300 1070 -2YV1 670 92235 282 11500 940 1HQ7 405-5NC77 -1VV1 760 87 57.4 0.92266 320 11500 1050 -1WV1 760 88298 354 11300 1060 -7MV1 750 89348 414 11300 1060 -7NV1 750 91424 492 11100 1090 -2XV1 735 92480 555 11000 1090 -2YV1 730 93266 314 11300 1060 1HQ7 405-5ND77 -1VV1 825 89 44.6 0.98300 354 11200 1090 -1WV1 825 90335 394 11200 1090 -7MV1 820 91390 460 11200 1090 -7NV1 820 92474 555 11200 1090 -2XV1 820 93535 630 11200 1090 -2YV1 820 94302 360 11300 1040 1HQ7 405-5NE77 -1VV1 940 90 37.5 0.6342 408 11400 1030 -1WV1 945 91382 450 11300 1040 -7MV1 935 92444 525 11300 1040 -7NV1 935 92540 615 11000 1070 -2XV1 900 94610 695 10900 1070 1HQ7 405-5NE77 -2YV1 900 94Rated field voltage 310 V 4Type of construction IM B 3 0EfficiencyArmature circuitResistanceat tanceInduc-120 °C3Siemens DA 12 · 2004 3/125
---
<strong>Selection</strong> <strong>and</strong> <strong>ordering</strong>1HQ7Size 4003Rated speedRated Rated Maximum Order No.Rated EfficiencyNArmature circuitn output torque fieldcurrent Resistanceat tanceInduc-rpmweakeningspeed120 °Cat rated armature voltage P N M N n Fmax I N h R a L a420 V 470 V 520 V 600 V 720 V 810 V kW Nm rpm A % mW mH344 386 10700 1080 1HQ7 405-5NF77 -1VV1 1000 91 29.1 0.46388 435 10700 1080 -1WV1 1000 92432 482 10600 1090 -7MV1 995 92500 560 10600 1090 -7NV1 995 93610 670 10500 1100 -2XV1 980 94685 760 10500 1100 -2YV1 985 95394 450 10900 1070 1HQ7 405-5NG77 -1VV1 1150 92 21.9 0.54444 505 10800 1070 -1WV1 1150 93494 560 10800 1080 -7MV1 1140 93575 655 10900 1070 -7NV1 1150 94695 770 10600 995 -2XV1 1120 95444 460 9900 1110 1HQ7 405-5NH77 -1VV1 1160 93 17.4 0.33498 520 9950 1110 -1WV1 1170 93555 575 9900 1120 -7MV1 1160 94645 670 9900 1110 -7NV1 1170 94540 520 9200 1340 1HQ7 405-5NJ77 -1VV1 1310 93 12.7 0.2610 585 9200 1340 -1WV1 1310 94675 645 9100 1340 1HQ7 405-5NJ77 -7MV1 1300 94Rated field voltage 310 V 4Type of construction IM B 3 0Motor typeFieldpowerapprox.Moment ofinertiaMechanicallimit speedP field J n mechkW kgm² rpm kg1HQ7 401 4.3 23 2000 33001HQ7 402 4.8 26 2000 36001HQ7 403 5.2 30 2000 40001HQ7 404 6.1 34 2000 44001HQ7 405 6.6 41 2000 5100Weight, netapprox.Armature controlSpeed can be coasted down by means of armature control toapprox. 10 rpm at constant torque of the motor.Field weakeningThe order numbers for the motors are valid for field weakeningspeeds n F up to 1.15 ¼ n N . At higher field weakening speedssupplementary short codes are required: "C05" forn F >1.15¼ n N to 1.7 ¼ n N <strong>and</strong> "C06" for n F >1.7¼ n N(short codes: from Page 3/137)The motors can be operated at rated output P N up to the fieldweakening speed n Fmax .For higher speeds, the output must be reduced.Rated field voltageFor other rated field voltages <strong>and</strong> the associated Order No. supplement,see Page 3/6.3/126Siemens DA 12 · 2004
---
<strong>Selection</strong> <strong>and</strong> <strong>ordering</strong>1HQ7Size 450■ <strong>Selection</strong> <strong>and</strong> <strong>ordering</strong> dataThese motors are compensated.Rated speedn NrpmRatedoutputRatedtorqueMaximumfieldweakeningspeedOrder No.RatedcurrentEfficiencyArmature circuitResistanceat tanceInduc-120 °Cat rated armature voltage P N M N n Fmax I N h R a L a420 V 470 V 520 V 600 V 720 V 810 V kW Nm rpm A % mW mHOverall length 1262 189 6890 1050 1HQ7 451-5NA77 -1VV1 515 86 93.1 1.53298 214 6860 1190 -1WV1 510 88334 238 6800 1340 -7MV1 510 89390 278 6810 1480 -7NV1 510 90476 334 6700 1490 -2XV1 500 92540 378 6680 1490 -2YV1 500 92296 214 6900 1180 1HQ7 451-5NB77 -1VV1 570 88 70.9 1.32336 242 6880 1340 -1WV1 570 89375 268 6820 1460 -7MV1 565 90438 314 6840 1460 -7NV1 565 91530 374 6740 1480 -2XV1 555 93605 422 6680 1480 -2YV1 555 93332 240 6900 1330 1HQ7 451-5NC77 -1VV1 635 89 58.5 0.93375 270 6880 1460 -1WV1 630 90418 300 6840 1460 -7MV1 625 91488 348 6800 1470 -7NV1 625 92595 412 6610 1500 -2XV1 610 93670 464 6610 1500 -2YV1 605 94375 270 6880 1440 1HQ7 451-5ND77 -1VV1 710 90 49.1 0.76424 305 6870 1440 -1WV1 710 91474 336 6770 1450 -7MV1 700 91550 392 6800 1450 -7NV1 700 92670 460 6560 1480 -2XV1 680 93760 515 6470 1500 -2YV1 670 94430 310 6890 1450 1HQ7 451-5NE77 -1VV1 800 91 35.5 0.66486 350 6880 1440 -1WV1 800 92540 384 6790 1460 -7MV1 790 93630 444 6730 1470 -7NV1 785 93765 515 6430 1510 -2XV1 750 94865 580 6410 1520 1HQ7 451-5NE77 -2YV1 750 95Rated field voltage 310 V 4Type of construction IM B 3 03Siemens DA 12 · 2004 3/127
---
<strong>Selection</strong> <strong>and</strong> <strong>ordering</strong>1HQ7Size 4503Rated speedRated Rated Maximum Order No.Rated EfficiencyNArmature circuitn output torque fieldcurrent Resistanceat tanceInduc-rpmweakeningspeed120 °Cat rated armature voltage P N M N n Fmax I N h R a L a420 V 470 V 520 V 600 V 720 V 810 V kW Nm rpm A % mW mH520 370 6800 1420 1HQ7 451-5NF77 -1VV1 v945 92 25 0.49585 415 6770 1430 -1WV1 940 93650 454 6660 1440 -7MV1 925 94755 520 6580 1460 -7NV1 915 94915 595 6210 1520 -2XV1 865 951030 665 6160 1530 -2YV1 855 95630 432 6550 1420 1HQ7 451-5NG77 -1VV1 1090 93 17.2 0.35705 485 6570 1420 -1WV1 1090 94785 530 6440 1440 -7MV1 1070 94915 605 6310 1450 -7NV1 1050 951100 670 5810 1540 -2XV1 965 961240 740 5700 1570 -2YV1 945 96790 510 6170 1450 1HQ7 451-5NH77 -1VV1 1280 94 12.3 0.19885 575 6200 1450 -1WV1 1280 94985 605 5860 1500 -7MV1 1220 951140 690 5770 1520 -7NV1 1200 95900 575 6100 1460 1HQ7 451-5NJ77 -1VV1 1430 95 9 0.171010 645 6100 1460 -1WV1 1430 951130 665 5610 1540 1HQ7 451-5NJ77 -7MV1 1330 95Rated field voltage 310 V 4Type of construction IM B 3 03/128Siemens DA 12 · 2004
---
<strong>Selection</strong> <strong>and</strong> <strong>ordering</strong>1HQ7Size 450Rated speedn NrpmRatedoutputRatedtorqueMaximumfieldweakeningspeedOrder No.Ratedcurrentat rated armature voltage P N M N n Fmax I N h R a L a420 V 470 V 520 V 600 V 720 V 810 V kW Nm rpm A % mW mHOverall length 2216 187 8270 865 1HQ7 452-5NA77 -1VV1 515 85 101 1.7246 212 8230 985 -1WV1 510 87276 238 8230 1100 -7MV1 515 88324 278 8190 1300 -7NV1 510 89395 334 8080 1370 -2XV1 505 91448 378 8060 1370 -2YV1 500 92245 212 8260 980 1HQ7 452-5NB77 -1VV1 570 87 76.7 1.47278 240 8240 1110 -1WV1 570 88310 268 8260 1240 -7MV1 570 89362 312 8230 1340 -7NV1 565 91442 375 8100 1350 -2XV1 560 92500 424 8100 1350 -2YV1 560 93274 238 8300 1100 1HQ7 452-5NC77 -1VV1 635 88 63.1 1.03310 270 8300 1240 -1WV1 635 89348 298 8180 1350 -7MV1 630 90405 348 8200 1350 -7NV1 625 91494 414 8000 1370 -2XV1 615 93560 468 7980 1370 -2YV1 615 93310 270 8320 1240 1HQ7 452-5ND77 -1VV1 715 89 52.9 0.84352 305 8270 1310 -1WV1 715 90392 336 8180 1330 -7MV1 705 91458 392 8170 1330 -7NV1 705 92555 462 7950 1360 -2XV1 685 93630 520 7880 1360 -2YV1 680 94356 310 8320 1320 1HQ7 452-5NE77 -1VV1 805 90 38.4 0.74402 350 8320 1320 -1WV1 805 91448 385 8200 1340 -7MV1 795 92525 446 8120 1340 -7NV1 790 93635 525 7900 1370 -2XV1 770 94715 590 7880 1380 1HQ7 452-5NE77 -2YV1 765 94Rated field voltage 310 V 4Type of construction IM B 3 0EfficiencyArmature circuitResistanceat tanceInduc-120 °C3Siemens DA 12 · 2004 3/129
---
<strong>Selection</strong> <strong>and</strong> <strong>ordering</strong>1HQ7Size 4503Rated speedRated Rated Maximum Order No.Rated EfficiencyNArmature circuitn output torque fieldcurrent Resistanceat tanceInduc-rpmweakeningspeed120 °Cat rated armature voltage P N M N n Fmax I N h R a L a420 V 470 V 520 V 600 V 720 V 810 V kW Nm rpm A % mW mH430 370 8210 1300 1HQ7 452-5NF77 -1VV1 950 92 27 0.55484 416 8210 1310 -1WV1 950 92540 456 8060 1320 -7MV1 935 93625 525 8020 1330 -7NV1 925 94760 610 7670 1370 -2XV1 885 95860 680 7560 1380 -2YV1 875 95520 440 8080 1280 1HQ7 452-5NG77 -1VV1 1120 93 18.6 0.39585 494 8060 1280 -1WV1 1110 94655 535 7800 1310 -7MV1 1090 94760 615 7720 1320 -7NV1 1070 95915 695 7260 1380 -2XV1 1000 951040 770 7070 1400 -2YV1 985 96655 525 7660 1300 1HQ7 452-5NH77 -1VV1 1320 94 13.3 0.21735 585 7600 1310 -1WV1 1310 94820 620 7220 1360 -7MV1 1250 95950 715 7190 1360 -7NV1 1240 95750 570 7260 1350 1HQ7 452-5NJ77 -1VV1 1420 94 9.74 0.19840 640 7270 1350 -1WV1 1420 95935 690 7050 1380 1HQ7 452-5NJ77 -7MV1 1380 95Rated field voltage 310 V 4Type of construction IM B 3 03/130Siemens DA 12 · 2004
---
<strong>Selection</strong> <strong>and</strong> <strong>ordering</strong>1HQ7Size 450Rated speedn NrpmRatedoutputRatedtorqueMaximumfieldweakeningspeedOrder No.Ratedcurrentat rated armature voltage P N M N n Fmax I N h R a L a420 V 470 V 520 V 600 V 720 V 810 V kW Nm rpm A % mW mHOverall length 3179 186 9920 715 1HQ7 453-5NA77 -1VV1 520 84 110 1.92204 212 9920 815 -1WV1 520 86228 236 9880 910 -7MV1 515 87268 276 9840 1070 -7NV1 510 89328 335 9750 1230 -2XV1 510 90372 380 9760 1230 -2YV1 510 91202 212 10000 810 1HQ7 453-5NB77 -1VV1 580 86 84.2 1.68230 240 9960 920 -1WV1 575 87258 268 9920 1030 -7MV1 575 89302 312 9870 1210 -7NV1 570 90368 376 9760 1220 -2XV1 565 92418 426 9730 1220 -2YV1 565 92228 238 9970 910 1HQ7 453-5NC77 -1VV1 640 87 69.1 1.16258 270 9990 1030 -1WV1 640 88288 298 9880 1150 -7MV1 635 90338 348 9840 1210 -7NV1 630 91410 418 9740 1230 -2XV1 625 92465 472 9690 1230 -2YV1 620 93258 268 9920 1030 1HQ7 453-5ND77 -1VV1 720 88 57.8 0.93292 304 9940 1170 -1WV1 720 89326 338 9900 1190 -7MV1 715 90382 394 9850 1190 -7NV1 710 91464 468 9630 1210 -2XV1 695 93525 530 9640 1210 -2YV1 695 93296 312 11000 1180 1HQ7 453-5NE77 -1VV1 820 90 42.1 0.83335 352 10000 1190 -1WV1 815 91374 388 9900 1200 -7MV1 805 91436 450 9860 1210 -7NV1 805 92530 535 9640 1220 -2XV1 785 94600 600 9550 1230 1HQ7 453-5NE77 -2YV1 780 94Rated field voltage 310 V 4Type of construction IM B 3 0EfficiencyArmature circuitResistanceat tanceInduc-120 °C3Siemens DA 12 · 2004 3/131
---
<strong>Selection</strong> <strong>and</strong> <strong>ordering</strong>1HQ7Size 4503Rated speedRated Rated Maximum Order No.Rated EfficiencyNArmature circuitn output torque fieldcurrent Resistanceat tanceInduc-rpmweakeningspeed120 °Cat rated armature voltage P N M N n Fmax I N h R a L a420 V 470 V 520 V 600 V 720 V 810 V kW Nm rpm A % mW mH358 372 9920 1170 1HQ7 453-5NF77 -1VV1 960 91 29.6 0.63404 420 9920 1170 -1WV1 960 92450 462 9800 1180 -7MV1 950 93525 535 9730 1190 -7NV1 945 93635 625 9400 1220 -2XV1 910 94715 700 9350 1230 -2YV1 905 95435 446 9790 1140 1HQ7 453-5NG77 -1VV1 1140 92 20.4 0.45490 500 9740 1150 -1WV1 1130 93545 545 9550 1170 -7MV1 1110 94635 630 9470 1170 -7NV1 1100 94765 725 9050 1220 -2XV1 1050 95865 805 8890 1230 -2YV1 1030 95545 535 9370 1160 1HQ7 453-5NH77 -1VV1 1350 93 14.5 0.23615 600 9320 1160 -1WV1 1350 94685 645 9000 1190 -7MV1 1300 94795 740 8900 1200 -7NV1 1290 95625 590 9010 1190 1HQ7 453-5NJ77 -1VV1 1480 94 10.7 0.21705 665 9000 1190 -1WV1 1480 95780 720 8810 1210 1HQ7 453-5NJ77 -7MV1 1450 95Rated field voltage 310 V 4Type of construction IM B 3 03/132Siemens DA 12 · 2004
---
<strong>Selection</strong> <strong>and</strong> <strong>ordering</strong>1HQ7Size 450Rated speedn NrpmRatedoutputRatedtorqueMaximumfieldweakeningspeedOrder No.Ratedcurrentat rated armature voltage P N M N n Fmax I N h R a L a420 V 470 V 520 V 600 V 720 V 810 V kW Nm rpm A % mW mHOverall length 4144 183 12100 575 1HQ7 454-5NA77 -1VV1 520 82 123 2.21164 208 12100 655 -1WV1 520 84185 234 12100 740 -7MV1 520 86218 274 12000 870 -7NV1 515 87266 334 12000 1060 -2XV1 515 89302 378 12000 1090 -2YV1 510 90164 208 12100 655 1HQ7 454-5NB77 -1VV1 575 85 94.2 1.95186 238 12200 745 -1WV1 580 86208 265 12200 830 -7MV1 575 87245 310 12100 980 -7NV1 575 89298 376 12100 1070 -2XV1 570 91340 426 12000 1080 -2YV1 570 92184 235 12200 735 1HQ7 454-5NC77 -1VV1 640 86 77 1.33208 266 12200 830 -1WV1 640 87234 298 12200 935 -7MV1 640 88274 348 12100 1070 -7NV1 640 90334 418 12000 1090 -2XV1 630 91378 474 12000 1090 -2YV1 630 92208 266 12200 830 1HQ7 454-5ND77 -1VV1 720 87 64.4 1.06236 302 12200 945 -1WV1 720 88265 336 12100 1050 -7MV1 720 89310 392 12100 1060 -7NV1 715 90378 470 11900 1070 -2XV1 705 92428 530 11800 1070 -2YV1 700 93240 308 12300 960 1HQ7 454-5NE77 -1VV1 815 89 47.1 0.97272 348 12200 1060 -1WV1 815 90304 386 12100 1070 -7MV1 810 91354 450 12100 1070 -7NV1 810 92430 535 11900 1090 -2XV1 790 93488 605 11800 1090 1HQ7 454-5NE77 -2YV1 790 94Rated field voltage 310 V 4Type of construction IM B 3 0EfficiencyArmature circuitResistanceat tanceInduc-120 °C3Siemens DA 12 · 2004 3/133
---
<strong>Selection</strong> <strong>and</strong> <strong>ordering</strong>1HQ7Size 4503Rated speedRated Rated Maximum Order No.Rated EfficiencyNArmature circuitn output torque fieldcurrent Resistanceat tanceInduc-rpmweakeningspeed120 °Cat rated armature voltage P N M N n Fmax I N h R a L a420 V 470 V 520 V 600 V 720 V 810 V kW Nm rpm A % mW mH290 372 12300 1030 1HQ7 454-5NF77 -1VV1 970 90 33.1 0.73328 420 12200 1030 -1WV1 970 91366 462 12100 1050 -7MV1 955 92426 535 12000 1050 -7NV1 950 93520 635 11700 1070 -2XV1 930 94585 715 11700 1070 -2YV1 925 94354 446 12000 1010 1HQ7 454-5NG77 -1VV1 1150 92 22.8 0.53400 500 11900 1010 -1WV1 1140 93445 550 11800 1020 -7MV1 1130 93515 635 11800 1030 -7NV1 1120 94625 740 11300 1060 -2XV1 1080 95705 830 11200 1010 -2YV1 1070 95444 535 11500 1020 1HQ7 454-5NH77 -1VV1 1360 93 16.2 0.27500 605 11600 1020 -1WV1 1370 93555 655 11300 1040 -7MV1 1330 94645 760 11300 1040 -7NV1 1330 95510 590 11100 1050 1HQ7 454-5NJ77 -1VV1 1490 94 12 0.25575 660 11000 1060 -1WV1 1480 94640 730 10900 1060 1HQ7 454-5NJ77 -7MV1 1470 95Rated field voltage 310 V 4Type of construction IM B 3 03/134Siemens DA 12 · 2004
---
<strong>Selection</strong> <strong>and</strong> <strong>ordering</strong>1HQ7Size 450Rated speedn NrpmRatedoutputRatedtorqueMaximumfieldweakeningspeedOrder No.Ratedcurrentat rated armature voltage P N M N n Fmax I N h R a L a420 V 470 V 520 V 600 V 720 V 810 V kW Nm rpm A % mW mHOverall length 5108 176 15600 432 1HQ7 455-5NA77 -1VV1 515 80 143 2.68124 202 15600 496 -1WV1 515 82140 228 15600 560 -7MV1 515 84165 268 15500 660 -7NV1 515 86204 328 15400 815 -2XV1 510 88232 372 15300 930 -2YV1 510 89124 202 15600 496 1HQ7 455-5NB77 -1VV1 575 83 110 2.38141 232 15700 565 -1WV1 575 84159 260 15600 635 -7MV1 575 86187 305 15600 750 -7NV1 575 87230 370 15400 915 -2XV1 570 89260 420 15400 915 -2YV1 565 90139 230 15800 555 1HQ7 455-5NC77 -1VV1 645 84 89.6 1.6159 260 15600 635 -1WV1 640 86178 292 15700 710 -7MV1 640 87210 342 15600 840 -7NV1 635 88256 414 15400 920 -2XV1 630 90290 470 15500 920 -2YV1 630 91158 260 15700 630 1HQ7 455-5ND77 -1VV1 720 85 74.8 1.27180 295 15700 720 -1WV1 720 86202 330 15600 810 -7MV1 715 88236 386 15600 900 -7NV1 715 89290 466 15400 910 -2XV1 705 91328 530 15400 905 -2YV1 705 92183 302 15800 730 1HQ7 455-5NE77 -1VV1 815 87 54.9 1.18208 344 15800 830 -1WV1 820 88232 382 15700 905 -7MV1 815 89272 446 15700 905 -7NV1 810 91332 535 15400 920 -2XV1 800 92376 605 15400 920 1HQ7 455-5NE77 -2YV1 800 93Rated field voltage 310 V 4Type of construction IM B 3 0EfficiencyArmature circuitResistanceat tanceInduc-120 °C3Siemens DA 12 · 2004 3/135
---
<strong>Selection</strong> <strong>and</strong> <strong>ordering</strong>1HQ7Size 4503Rated speedRated Rated Maximum Order No.Rated EfficiencyNArmature circuitn output torque fieldcurrent Resistanceat tanceInduc-rpmweakeningspeed120 °Cat rated armature voltage P N M N n Fmax I N h R a L a420 V 470 V 520 V 600 V 720 V 810 V kW Nm rpm A % mW mH222 366 15800 880 1HQ7 455-5NF77 -1VV1 970 89 38.5 0.9252 414 15700 880 -1WV1 970 90282 460 15600 885 -7MV1 965 91328 535 15600 890 -7NV1 960 92398 635 15200 905 -2XV1 940 93452 720 15200 905 -2YV1 940 94272 442 15500 855 1HQ7 455-5NG77 -1VV1 1150 91 26.6 0.64306 498 15500 855 -1WV1 1150 92342 550 15400 865 -7MV1 1140 92398 640 15400 865 -7NV1 1140 93484 750 14800 890 -2XV1 1100 94545 845 14800 810 -2YV1 1090 95342 530 14800 870 1HQ7 455-5NH77 -1VV1 1360 92 18.9 0.32385 595 14800 870 -1WV1 1360 93430 660 14700 875 -7MV1 1350 93500 770 14700 870 -7NV1 1350 94394 580 14100 905 1HQ7 455-5NJ77 -1VV1 1470 93 14 0.3442 655 14200 900 -1WV1 1470 94492 725 14100 905 1HQ7 455-5NJ77 -7MV1 1470 94Rated field voltage 310 V 4Type of construction IM B 3 0Motor typeFieldpowerapprox.Moment ofinertiaMechanicallimit speedP field J n mechkW kgm² rpm kg1HQ7 451 2.9 39 1800 42001HQ7 452 3.2 44 1800 45001HQ7 453 3.3 50 1800 50001HQ7 454 3.6 57 1800 57001HQ7 455 4.2 70 1800 6600Weight, netapprox.Armature controlSpeed can be coasted down by means of armature control toapprox. 10 rpm at constant torque of the motor.Field weakeningThe order numbers for the motors are valid for field weakeningspeeds n F up to 1.15 ¼ n N . At higher field weakening speedssupplementary short codes are required: "C05" forn F >1.15¼ n N to 1.7 ¼ n N <strong>and</strong> "C06" for n F >1.7¼ n N(short codes: from Page 3/137)The motors can be operated at rated output P N up to the fieldweakening speed n Fmax .For higher speeds, the output must be reduced.Rated field voltageFor other rated field voltages <strong>and</strong> the associated Order No. supplement,see Page 3/6.3/136Siemens DA 12 · 2004
---
<strong>Selection</strong> <strong>and</strong> <strong>ordering</strong>Options■ <strong>Selection</strong> <strong>and</strong> <strong>ordering</strong> dataWhen <strong>ordering</strong>, the Order No. must be supplemented with "-Z"<strong>and</strong> with one or more 3-character short codes.Ordering example:1GG7 352-5NA40-1WV1-ZK10 + K55Mounted equipmentOptionDescriptionShort codeTerminal box Terminal box position 1 ) when viewing DE •Right K09Cable infeed into terminal boxFan unit mounting <strong>and</strong> airintake for 1GG 1 )Cable infeed into terminal box for horizontal type of constructions:From below (with terminal box on left or right)From the right (terminal box at top <strong>and</strong> viewing at DE)For vertical type of constructions: From the rightFrom DE (terminal box rotated by 90°)From NDE (terminal box rotated by 90°)Terminal box rotated by 180°Cable entry plate drilled for maximum numberof components(see Part 2 "Terminal boxes")Fan unit at NDE <strong>and</strong> air entry into the fan unit from NDEMounting of fan unit/ , ) : : With heavy-gauge threadedjoints to DIN 46320With metric gl<strong>and</strong>s toDIN 89280•LeftK10•Top K11 2 )•••K83K84K85K55K57•Top G04 5 )•Right G02•LeftG003Fan unit at NDE <strong>and</strong> air entry into the fan unit from DEMounting of fan unit/ , ) : : Fan unit at DE <strong>and</strong> air entry into the fan unit from NDEMounting of fan unit/ , ) : : !Fan unit at DE <strong>and</strong> air entry into the fan unit from DEMounting of fan unit/ , ) : : •Top G05 6 )•Right G03•Left G01•Top G10+K64 4 )•Right G08+K64 4 )•Left G06+K64 4 )•Top G11+K64 4 )•Right G09+K64 4 )•Left G07+K64 4 )Intermediate socket required when terminal box <strong>and</strong> mounted fan areL50 3 )located in the same positionAir filter/silencer for 1GG Dry-type filter G14 7 )Silencer G15 3 ) 8 )Combined silencer <strong>and</strong> filter assembly (for 1G.6 Sizes 180 to 280 only)H42• St<strong>and</strong>ard version1) Must be specified on <strong>ordering</strong>.2) Not possible for 1H.. motors.3) From Size 180 upwards.4) Up to Size 160.5) St<strong>and</strong>ard up to Size 450.6) St<strong>and</strong>ard with 1GG5 50. <strong>and</strong> 63..7) Not possible for 1GG5 100 to 166 when fan <strong>and</strong> terminal box arelocated in the same position.8) For arrangement above motor casing only.Siemens DA 12 · 2004 3/137
---
<strong>Selection</strong> <strong>and</strong> <strong>ordering</strong>Options3OptionDescriptionShort codeDuct connection for 1GH On one end (IP23/IC17 degree of protection) •Both ends (IP54/IC37 degree of protection)Air flow from DE to NDEDuct connection at NDE •Top K71•Right•LeftDuct connection at DE •Top K67•RightDegree of protection IP55 K49Paint finish St<strong>and</strong>ard paint finish in RAL 7016 •Primer onlyNon-st<strong>and</strong>ard paint finish in RAL 7016•LeftSt<strong>and</strong>ard paint finish in RAL Y53 1 )Non-st<strong>and</strong>ard paint finish in RAL Y54 1 )Bearings Bearing for high lateral forces K20 2 )Bearing with regreasing device K40 3 )Shafts Second st<strong>and</strong>ard shaft end K16Non-st<strong>and</strong>ard shaft end on DE diameter less than or equal to st<strong>and</strong>ard,Y55 1 )perm. length max. 2 x lSt<strong>and</strong>ard shaft end without keywayK42Shaft constructed from high-grade steel L72 4 )K48K64K69K70K65K66K24L53• St<strong>and</strong>ard version1) Plain text is necessary.2) Cannot be used with 1HA5/1HC5 <strong>and</strong> Sizes 355 to 630.3) Not possible for Sizes 100 <strong>and</strong> 112, from Size 225 upwardsst<strong>and</strong>ard version.4) Only possible for Sizes 180 to 280.3/138Siemens DA 12 · 2004
---
<strong>Selection</strong> <strong>and</strong> <strong>ordering</strong>OptionsOperation <strong>and</strong> diagnosticsOptionDescriptionShort codeExtended field control range n F >1.15n N to 1.7n N (to max. n Fmax ) C05n F > 1.7n N =n FmaxSector-specific applications Paper machine drives C34Extruder drivesPump motors for water treatment plantsPress motorsMotors for lifts <strong>and</strong> cable railwaysPrinting machine drivesRolling mill drivesHoisting equipmentDirection of rotation Both directions of rotation for motors of Sizes 100 to 450 •Both directions of rotation for motors of Sizes 500 to 630Anti-condensation heating 230 V AC K45115 V AC K46 1 )Visual brush inspection Servicing covers with inspection window L73Brush length limit value Microswitch, floating signal (for motors up to Size 450) A06Overtemperature limit valueSignaling brushes (for motors from Size 500 upwards)Thermistor motor protection with PTC thermistor• for tripping• for warning <strong>and</strong> trippingBimetal strip temperature monitor for trippingOvertemperature, continuous Measurement with KTY84-130 temperature sensor A23Air flow for 1GG/1HS/1HQMeasurement with PT100 resistance thermometerVent captor air-flow monitoring• U B = AC 230 V relay output• U B = DC 24 V transistor outputCooling air temperature for 1HS/1HQ Resistance thermometer in cooling air circuit A45Leak warning for 1HS Humidity sensor in cooler unit H08Bearing monitoring 2 PT100 resistance thermometers A76 1 )Measuring fitting Type 32000 at DE <strong>and</strong> NDE for shock pulse measurementG50 1 )with mobile unitsMeasuring fitting Type 40000 at DE <strong>and</strong> NDE for fixed connection of an SPMH60 1 )alarm boxRating plate Deviating rating plate data Y80 2 )Supply 2nd rating plate looseK31Additional rating plate Y82 2 )Balancing Half-key balancing L69 3 )Full-key balancing L68 4 )Vibration severity acc. to DIN ISO 2373 •GradeN •Flange accuracy R acc. to DIN 42 955 (for flange motors with vibrationclass R only)C06C35C36C37C38C40C41C42K99A00A11A12A31A62A09A97•GradeR K01 5 )•GradeSK02K043• St<strong>and</strong>ard version1) From Size 180 upwards.2) Plain text is necessary.3) St<strong>and</strong>ard with 1G.7/1H.7.4) St<strong>and</strong>ard with 1G.5/1H.5/1G.6/1H.6.5) St<strong>and</strong>ard up to Size 160.Siemens DA 12 · 2004 3/139
---
<strong>Selection</strong> <strong>and</strong> <strong>ordering</strong>OptionsMounted equipment3OptionDescriptionShort codeFan unit Non-st<strong>and</strong>ard voltage <strong>and</strong>/or frequency of the fan unit Y81 4 )BrakesMounting of a DC spring-operated brake• Supply voltage 230 V, 50 Hz G40 1 )• Supply voltage 24 V DC C00 2 )Manual release K82 3 )Combined mounting of brake <strong>and</strong> tacho/pulse encoderG92TachometersPulse encodersTacho or pulse encoder, non-st<strong>and</strong>ardversionsTacho or pulse encoder mountingprepared forTD 3 AE 4 KAEM (Thalheim)0.075 W, 30 V DC, non-st<strong>and</strong>ard type of construction (for single-quadrant drives only)TDP 0.09 LT-3 (Hübner, Berlin) 0.4 W, 40 V DC, IM B 10REO 444 R (Radio Energie) 4 W, DC 60 V, IM B 5GMP 1.0 LT-4 (Hübner, Berlin)30 W, DC 100 V, IM B 5 n, IP55GTB 9.06 L/420 (Hübner, Berlin)0.06 W, 20 V DC, hollow shaft type of constructionTDP 0.2 LT-4 (Hübner, Berlin)4 W, 60 V DC, IM B 10, IP55POG 9 D 500 (Hübner, Berlin)2 x 500 pulses per revolution, offset by 90°POG 9 D 600 (Hübner, Berlin)2 x 600 pulses per revolution, offset by 90°POG 9 D 1024 (Hübner, Berlin)2 x 1024 pulses per revolution, offset by 90°POG 10 D 1024 (Hübner, Berlin)2 x 1024 pulses per revolution, offset by 90°ROD 436.001E (Heidenhain)2 x 1024 pulses per revolution, offset by 90°The device will be obtained by the factory to order. For further information, see Part 2"Encoders"TDP 0.2 LT; OG 9; POG 9; POG 10; REO 444R; FG4; L&L 850TDP 0.09TDP 1.2; GMP 1.0 L (Type of construction B5n)ROD 436Air/water cooler for 1HS Non-st<strong>and</strong>ard heat exchanger, suitable for brackish water M10G20G30G39G37G28H14G16H48H55H56H54Y70 4 )G75G76G77G781) For 1GF/1GL/1HA: Brakes mounted on request, not possible for Sizes355 to 630.2) Only possible for Sizes 100 to 160.3) From Size 180 upwards st<strong>and</strong>ard version.4) Plain text is necessary.3/140Siemens DA 12 · 2004
---
Dimensions41G.5 seriesSizes 112 to 1604/2 1GF5 114 - 1GF5 1664/4 1GG5 100 - 1GG5 1184/6 1GG5 132 - 1GG5 1664/8 1GH5 100 - 1GH5 1184/10 1GH5 132 - 1GH5 1664/12 Speed encoder assembly <strong>and</strong> footniche dimensions for 1G.5 motorsSizes 100 to 1601HA5 seriesSize 1604/14 1HA5 164 - 1HA5 1661HC5 seriesSizes 100 to 1604/16 1HC5 102 - 1HC5 1661G.6 series <strong>and</strong> 1H.6Sizes 160 to 2804/19 1GF6 162 - 1GF6 1664/20 1GG6 162 - 1GG6 2884/22 1GH6 162 - 1GH6 2884/24 Types IM B 5, IM B 35, IM V 1 <strong>and</strong>IM V 15 for 1G.6 motors4/26 1HS6 186 - 1HS6 2884/28 1HQ6 186 - 1HQ6 2884/30 Speed encoder assembly, footniche dimensions <strong>and</strong> brakeassembly for 1G.6 <strong>and</strong> 1H.6 motors1G.7 <strong>and</strong> 1H.7 seriesSizes 355 to 4504/32 1GG7 351 - 1GG7 3554/33 1GG7 401 - 1GG7 4054/34 1GG7 451 - 1GG7 4554/35 1GH7 351 - 1GH7 3554/36 1GH7 401 - 1GH7 4054/37 1GH7 451 - 1GH7 4554/38 1HS7 351 - 1HS7 3554/39 1HS7 401 - 1HS7 4054/40 1HS7 451 - 1HS7 4554/41 1HQ7 351 - 1HQ7 3554/42 1HQ7 401 - 1HQ7 4054/43 1HQ7 451 - 1HQ7 4551G.5 <strong>and</strong> 1H.5 seriesSizes 500 <strong>and</strong> 6304/44 1GG5 500 - 1GG5 6354/46 1GH5 500 - 1GH5 6354/48 1HS5 500 - 1HS5 635Siemens DA 12 · 2004
---
?KFF@Dimensions1GF5 114 - 1GF5 166■ Dimension drawings• Air inlet to the fan assembly from the left (st<strong>and</strong>ard version)• Terminal box on right (st<strong>and</strong>ard version) "G "BH 5 E A !GG # G $ K F J 5 E A G CCC#C "C !J@ $NN !D F 'GIN M =A >BF "F !/ , ) - ! $ =Type IM B 3B ? A > =EGA/ , ) : : ! % =I= 4Types IM B 5, IM B 35, IM V 1 <strong>and</strong> IM V 15For Type IM B 5/IM V 1, motors of TypeIM B 35/IM V 15 will be supplied.Type IM B 3For motorsDimensions acc. toFor the dimensions of the foot niches, see "Speed sensor assembly<strong>and</strong> foot niche dimensions for 1G.5 Sizes 100 to 160".SizeType1GF5...Terminalbox typeDIN aIEC BbAcHAeBBfABg–g 2–112 ....114 gk 330 340 190 10 419 220 262 220 283 243 125 112 103 60 40 243 217 238 110....116 gk 330 400 190 10 479 220 262 220 283 243 125 112 103 60 40 243 217 238 110132 ....132 gk 420 320 216 11 425 258 – 255 376 297 203 132 126 75 45 318 269 280 129gk 427....134 gk 420 370 216 11 475 258 – 255 376 297 203 132 126 75 45 318 269 280 129gk 427....136 gk 420 430 216 11 535 258 – 255 376 297 203 132 126 75 45 318 269 280 129gk 427160 ....162 gk 420 390 254 12 517 314 – 310 425 324 208 160 149 80 55 374 289 336 157gk 427gk 527....164 gk 420 450 254 12 577 314 – 310 425 324 208 160 149 80 55 374 289 336 157gk 427gk 527....166 gk 420gk 427gk 527530 254 12 657 314 – 310 425 324 208 160 149 80 55 374 289 336 157g 3–g 4–g 5–hHmBAm 1–nAAp–p 3–p 4–p 9–4/2Siemens DA 12 · 2004
---
DimensionsType IM B 3 (continued)1GF5 114 - 1GF5 166For motors Dimensions acc. to Drive end shaft extensionSizeType1GF5...Terminalbox typeDIN qIEC –q 1–q 2–q 4–q 5–q 6–112 ....114 gk 330 275 89 89 355 138 376 12 70 213 132 152 38 80 41 10 M12....116 gk 330 295 89 89 405 138 436 12 70 273 132 152 38 80 41 10 M12132 ....132 gk 420gk 427275 121 121 – 176 361 12 89 174 16216216216242 110 45 12 M16....134 gk 420gk 427....136 gk 420gk 427160 ....162 gk 420gk 427gk 527....164 gk 420gk 427gk 527....166 gk 420gk 427gk 527310 121 121 – 176 411 12 89 224 162162370 121 121 – 176 471 12 89 284 162162342 120 120 – 185 457 14 108 246 162162270402 120 120 – 185 517 14 108 306 162162270482 120 120 – 185 597 14 108 386 162162270sKw 1Cx 1–x 2–x 3–162162162162162162186162162186162162186dDIEtGAuFd 6–42 110 45 12 M1642 110 45 12 M1655 110 59 16 M2055 110 59 16 M2055 110 59 16 M20Types IM B 5, IM B 35, IM V 1 <strong>and</strong> IM V 15For motorsDimensions acc. toSizeType1GF5...112 ....114....116132 ....132....134....136160 ....162....164....166Mounting flange to DIN 42 948DIN Size a 1IECPMotors with add-on unitsFor motors DimensionsSize Type k 41GF5... without add-on units112 ....114....116132 ....132....134....136160 ....162....164....166910970100210521112118212421322a 2 1 )–b 1Nc 1LAA300 300 240 230 12 265 4 80 14 383443A350 350 – 250 18 300 5 110 18 374424484A400 400 – 300 20 350 5 110 18 517577657k 4with tachoTD3 A4 KAEMGTB 9.06 L910970100210521112118212421322e 1Mk 4with tachoTDP 0.2 LTREO 444 RTDP 0.09 LT10831143117512251285135514151495f 1Ti 2–k 4with tachoTDP 1.2GMP 1.0 L11601220124512951355142514851565s 2SeBBq 2–125172120k 4with pulse encoderPOG 9DPOG 10DROD 436999105910901140120012701330141041) The mounting flange with flattened sides protrudes beyond the machinecontour.Siemens DA 12 · 2004 4/3
---
?@FK'Dimensions1GG5 100 - 1GG5 118■ Dimension drawings• Fan assembly on the non-drive end, top• Air inlet to the fan assembly from the non-drive end• Terminal box on right (st<strong>and</strong>ard version)+ 9 # ! # # B= H J= J= > A > O & ! $ % & E E K ? A = H= ? AB HBEJA HHA L = / , ) - ! & =CG #GG !G $CF JNN !D FG@ $G ) @ @ K EJINM =AI>BF "F !Type IM B 34A > / , ) - ! ' =B ? ) @ @ K EJ= EGAI !Types IMB5, IMB35, IMV1 <strong>and</strong> IMV15For Type IM B 5/IM V 1, motors of TypeIM B 35/IM V 15 will be supplied.For the dimensions of the foot niches <strong>and</strong> device assemblies,see "Speed sensor assembly <strong>and</strong> foot niche dimensions for 1G.5Sizes 100 to 160".4/4Siemens DA 12 · 2004
---
Dimensions1GG5 100 - 1GG5 118Type IM B 3For motorsDimensions acc. toSizeType1GG5 . . .Terminalbox typeDIN aIEC BbAcHAeBBfABg–g 2–hH100 ....100 gk 230 225 160 9 260 198 240 220 100 447 316 102 162 117 100 60 60 40 220 446 191 226 99kL....102 gk 230 225 160 9 260 198 240 220 100 447 316 102 162 117 100 60 60 40 220 446 191 226 99....104 gk 230 257 160 9 292 198 224 220 100 479 316 102 162 117 100 60 60 40 220 446 191 226 99....106 gk 230 305 160 9 340 198 240 220 100 527 316 102 162 117 100 60 60 40 220 446 191 226 99....108 gk 230 369 160 9 404 198 240 220 100 591 316 102 162 117 100 60 60 40 220 446 191 226 99112 ....114 gk 330 340 190 10 419 220 262 220 112 600 316 102 162 117 100 103 60 40 243 469 217 238 110....116 gk 330 400 190 10 479 220 262 220 112 660 316 102 162 117 100 103 60 40 243 469 217 238 110....118 gk 330 426 190 10 505 220 262 255 112 686 367 102 182 144 100 103 60 40 243 526 217 238 110k 3–k 6–k 7–k 8–k 10–mBAm 1–nAAp–p 1HDp 3–p 4–p 9–For motors Dimensions acc. to Drive end shaft extensionSizeType1GG5 . . .Terminalbox typeDIN qIEC –q 1–q 2–q 3–q 5–q 6–sK100 ....100 gk 230 224 61 105 224 110 252 12 16 63 87 117 122 28 60 31 8 M10....102 gk 230 224 61 105 224 110 252 12 16 63 87 117 122 28 60 31 8 M10....104 gk 230 256 61 105 256 110 284 12 16 63 119 117 122 28 60 31 8 M10....106 gk 230 239 61 105 299 110 332 12 16 63 167 117 122 28 60 31 8 M10....108 gk 230 256 61 105 369 110 396 12 16 63 231 117 122 28 60 31 8 M10112 ....114 gk 330 275 89 89 355 138 376 12 12 70 213 132 152 38 80 41 10 M12....116 gk 330 295 89 89 405 138 436 12 12 70 273 132 152 38 80 41 10 M12....118 gk 330 295 89 89 420 138 462 12 12 70 299 132 152 38 80 41 10 M12s 2–w 1Cx 1–x 2–x 3–dDIEtGAuFd 6–Types IM B 5, IM B 35, IM V 1 <strong>and</strong> IM V 15For motorsDimensions acc. toSizeType1GG5 . . .100 ....100....102....104....106....108112 ....114....116....118Mounting flange to DIN 42 948DIN Size a 1IECPb 1Nc 1LAeBBA250 250 180 16 260260292340404A300 300 230 12 383443469e 1 f 1 i 2 I m s 3 q 2M T – E BA S –215 4 60 60 60 14 105265 4 80 80 67 14 1254Siemens DA 12 · 2004 4/5
---
?K@F'Dimensions1GG5 132 - 1GG5 166■ Dimension drawings• Fan assembly on the non-drive end, top• Air inlet to the fan assembly from the non-drive end• Terminal box on right (st<strong>and</strong>ard version) ! $ % E E K ? A = H= ? AB HBEJA HHA L = C+ 9 # ! $ % B= H J= J= > A > O & & / , ) - # &GG #G $G F JNN !D F@ $) @ @ K EJGIN M =A F>BF !Type IM B 34> / , ) - # '? B A EGA) @ @ K EJI= Types IM B 5, IM B 35, IM V 1 <strong>and</strong> IM V 15For Type IM B 5/IM V 1, motors of Type IM B 35/IM V 15 will besupplied.For the dimensions of the foot niches <strong>and</strong> device assemblies,see "Speed encoder assembly <strong>and</strong> foot niche dimensions for1G.5 Sizes 100 to 160".4/6Siemens DA 12 · 2004
---
Dimensions1GG5 132 - 1GG5 166Type IM B 3For motorsSizeType1GG5 . . .Terminalbox type132 ....132 gk 420gk 427....134 gk 420gk 427....136 gk 420gk 427160 ....162 gk 420gk 427gk 527....164 gk 420gk 427gk 527....166 gk 420gk 427gk 527Dimensions acc. toDIN aIEC BbAcHAeBBfABg 2–hHkLk 3–k 6–k 7–320 216 11 425 258 255 132 653 367 102 182 144 100 126 75 45 318 543 140 241 129370 216 11 475 258 255 132 703 367 102 182 144 100 126 75 45 318 543 140 241 129430 216 11 535 258 255 132 763 367 102 182 144 100 126 75 45 318 543 140 241 129390 254 12 517 314 310 160 778 415 121 232 184 135 149 80 55 374 654 168 270270298450 254 12 577 314 310 160 838 415 121 232 184 135 149 80 55 374 654 168 270270298530 254 12 657 314 310 160 918 415 121 232 184 135 149 80 55 374 654 168 270270298k 8–k 10–mBAm 1–nAAp–p 1HDp 2–p 3–p 9–157157157For motors Dimensions acc. to Drive end shaft extensionSizeType1GG5 . . .Terminalbox type132 ....132 gk 420gk 427....134 gk 420gk 427....136 gk 420gk 427160 ....162 gk 420gk 427gk 527....164 gk 420gk 427gk 527....166 gk 420gk 427gk 527DIN qIEC –q 1–q 2–q 5–q 6–sKw 1Cx 1–275 121 121 176 361 12 89 174 162 162 42 110 45 12 M16310 121 121 176 411 12 89 224 162 162 42 110 45 12 M16370 121 121 176 471 12 89 284 162 162 42 110 45 12 M16342 120 120 185 457 14 108 246 162162270402 120 120 185 517 14 108 306 162162270482 120 120 185 597 14 108 386 162162270x 2–x 3–162162186162162186162162186dDIEtGAuFd 6–55 110 59 16 M2055 110 59 16 M2055 110 59 16 M204Types IM B 5, IM B 35, IM V 1 <strong>and</strong> IM V 15For motorsDimensions acc. toSizeType1GG5 . . .132 ....132....134....136160 ....162....164....166Mounting flange to DIN 42 948DIN Size a 1IECPb 1Nc 1LAeBBA350 350 250 18 374424484A400 400 300 20 517577657e 1 f 1 i 2 l m s 2 q 2M T – E BA S –300 5 110 110 75 18 172350 5 110 110 149 18 120Siemens DA 12 · 2004 4/7
---
?KF@=Dimensions1GH5 100 - 1GH5 118■ Dimension drawings• Terminal box on right (st<strong>and</strong>ard version)GG GG !CJ@ $N) @ @ K EJN !D F 'G# G $IN M =A / , ) - " = # $ " !I>BF "F !Type IM B 3? B / , ) - " => ) @ @ K EJEGAI !Types IM B 5, IM B 35, IM V 1 <strong>and</strong> IM V 154For Type IM B 5/IM V 1, motors of Type IM B 35/IM V 15 will besupplied.For single-sided duct connection at the drive end, the moldedribs of Size ö 5 xö 4 will be removed (corner radius 8 mm).For the dimensions of the foot niches <strong>and</strong> device assemblies,see "Speed sensor assembly <strong>and</strong> foot niche dimensions for 1G.5Sizes 100 to 160".4/8Siemens DA 12 · 2004
---
Dimensions1GH5 100 - 1GH5 118Type IM B 3For motorsDimensions acc. toSizeType1GH5...Terminalbox typeDIN aIEC BbAcHAeBBfABg–h 1 )HkL100 ....100 gk 230 225 160 9 260 198 240 100 447 60 60 40 95 115 80 100 70 98 220 191 226 99mBA....102 gk 230 225 160 9 260 198 240 100 447 60 60 40 95 115 80 100 70 98 220 191 226 99....104 gk 230 257 160 9 292 198 224 100 479 60 60 40 95 115 80 100 70 98 220 191 226 99....106 gk 230 305 160 9 340 198 240 100 527 60 60 40 95 115 80 100 70 98 220 191 226 99....108 gk 230 369 160 9 404 198 240 100 591 60 60 40 95 115 80 100 70 98 220 191 226 99112 ....114 gk 330 340 190 10 419 220 262 112 600 103 60 40 95 115 80 100 70 98 243 217 238 110....116 gk 330 400 190 10 479 220 262 112 660 103 60 40 95 115 80 100 70 98 243 217 238 110....118 gk 330 426 190 10 505 220 262 112 686 103 60 40 95 115 80 100 70 98 243 217 238 110m 1–nAAö–ö 1–ö 2–ö 3–ö 4–ö 5–p–p 3–p 4–p 9–For motors Dimensions acc. to Drive end shaft extensionSizeType1GH5...Terminalbox typeDINIEC q –q 1–q 2–q 3–q 5–q 6–sK100 ....100 gk 230 224 61 105 224 110 252 12 16 63 87 117 122 28 60 31 8 M10....102 gk 230 224 61 105 224 110 252 12 16 63 87 117 122 28 60 31 8 M10....104 gk 230 256 61 105 256 110 284 12 16 63 119 117 122 28 60 31 8 M10....106 gk 230 239 61 105 299 110 332 12 16 63 167 117 122 28 60 31 8 M10....108 gk 230 256 61 105 369 110 396 12 16 63 231 117 122 28 60 31 8 M10112 ....114 gk 330 275 89 89 355 138 376 12 12 70 213 132 152 38 80 41 10 M12....116 gk 330 295 89 89 405 138 436 12 12 70 273 132 152 38 80 41 10 M12....118 gk 330 295 89 89 420 138 462 12 12 70 299 132 152 38 80 41 10 M12s 2–w 1Cx 1–x 2–x 3–dDIEtGAuFd 6–Types IM B 5, IM B 35, IM V 1 <strong>and</strong> IM V 15For motorsDimensions acc. toSizeType1GH5...100 ....100....102....104....106....108112 ....114....116....118Mounting flange to DIN 42 948DIN Size a 1IECPa 2–b 1Nc 1LAeBBA250 250 197 180 16 260260292340404A300 300 240 2 ) 230 12 383443469e 1 f 1 i 2 I m s 3 q 2M T – E BA S –215 4 60 60 60 14 105265 4 80 80 67 14 12541) Duct connection from below, short codes K68 (drive end) <strong>and</strong> K72 (nondriveend): The openings must be sealed with metal covers <strong>and</strong> extend(including bolts) by about 5 mm beyond the foot rest surface. It is thereforenot possible to position it with the cover attached on a level surface.2) The mounting flange with flattened sides protrudes beyond the motor contour.Siemens DA 12 · 2004 4/9
---
KF@Dimensions1GH5 132 - 1GH5 166■ Dimension drawings• Terminal box on right (st<strong>and</strong>ard version)GG GJ@ $N) @ @ K EJD F 'N !G# G $IN M =A / , ) - $ # $ " !>BF "?F !Type IM B 3? B / , ) - $ > ) @ @ K EJEGAITypes IM B 5, IM B 35, IM V 1 <strong>and</strong> IM V 154For Type IM B 5/IM V 1, motors of Type IM B 35/IM V 15 will besupplied.For single-sided duct connection at the drive end, the moldedribs of Size ö 5 xö 4 will be removed (corner radius 8 mm).For the dimensions of the foot niches <strong>and</strong> device assemblies,see "Speed sensor assembly <strong>and</strong> foot niche dimensions for 1G.5Sizes 100 to 160".4/10Siemens DA 12 · 2004
---
Dimensions1GH5 132 - 1GH5 166Type IM B 3For motorsSizeType1GH5...Terminalbox type132 ....132 gk 420gk 427....134 gk 420gk 427....136 gk 420gk 427160 ....162 gk 420gk 427gk 527....164 gk 420gk 427gk 527....166 gk 420gk 427gk 527Dimensions acc. toDIN aIEC BbAcHAeBBfABh 1 )HkLmBAm 1–nAA320 216 11 425 258 132 653 126 75 45 105 157 90 142 80 140 318 269 280 129370 216 11 475 258 132 703 126 75 45 105 157 90 142 80 140 318 269 280 129430 216 11 535 258 132 763 126 75 45 105 157 90 142 80 140 318 269 280 129390 254 12 517 314 160 778 149 80 55 125 190 110 175 100 170 374 289 336 157450 254 12 577 314 160 838 149 80 55 125 190 110 175 100 170 374 289 336 157530 254 12 657 314 160 918 149 80 55 125 190 110 175 100 170 374 289 336 157ö–ö 1–ö 2–ö 3–ö 4–ö 5–p–p 3–p 4–p 9–For motors Dimensions acc. to Drive end shaft extensionSizeType1GH5...Terminalbox type132 ....132 gk 420gk 427....134 gk 420gk 427....136 gk 420gk 427160 ....162 gk 420gk 427gk 527....164 gk 420gk 427gk 527....166 gk 420gk 427gk 527DIN qIEC –q 1–q 2–q 5–q 6–sKw 1Cx 1–275 121 121 176 361 12 89 174 162 162 42 110 45 12 M16310 121 121 176 411 12 89 224 162 162 42 110 45 12 M16370 121 121 176 471 12 89 284 162 162 42 110 45 12 M16342 120 120 185 457 14 108 246 162162270402 120 120 185 517 14 108 306 162162270482 120 120 185 597 14 108 386 162162270x 2–x 3–162162186162162186162162186dDIEtGAuFd 6–55 110 59 16 M2055 110 59 16 M2055 110 59 16 M204Types IM B 5, IM B 35, IM V 1 <strong>and</strong> IM V 15For motorsDimensions acc. toSizeType1GH5...132 ....132....134....136160 ....162....164....166Mounting flange to DIN 42 948DIN Size a 1IECPb 1Nc 1LAeBBA350 350 250 18 374424484A400 400 300 20 517577657e 1 f 1 i 2 l m s 2 q 2M T – E BA S –300 5 110 110 126 18 172350 5 110 110 149 18 1201) Duct connection from below, short codes K68 (drive end) <strong>and</strong> K72 (nondriveend): The openings must be sealed with metal covers <strong>and</strong> extend(including bolts) by about 5 mm beyond the foot rest surface. It is thereforenot possible to position it with the cover attached on a level surface.Siemens DA 12 · 2004 4/11
---
DimensionsSpeed encoder assembly <strong>and</strong> foot niche dimensionsfor 1G.5 Sizes 100 to 160■ Dimension drawings "/ , ) - # ! =) @ @ K EJ # ! ! #C ' $ " % M EJD K JJA H E = > N HF H A ? JE C ? A ? J H44/12Siemens DA 12 · 2004
---
DimensionsSpeed encoder assembly <strong>and</strong> foot niche dimensionsfor 1G.5 Sizes 100 to 1601GG5 <strong>and</strong> 1GH5 motors with add-on unitsFor motors Tacho assembly with Pulse encoder assemblySize Type1GG5 . . .1GH5...TD3A4KAEM(Minitacho)TDP 0.09LT REO 444R GTB 9.06L TDP 0.2LT GMP 1.0L TDP 1.2 TDP 1.2+TDP 1.2KPG 503 KPG 506 POG 9D POG 10D ROD 436100 ....100....102....104....106....108112 ....114....116....118132 ....132....134....136160 ....162....164....166g 9 k 4 g 9 k 4 g 9 k 4 g 9 k 4 g 9 k 4 g 9 k 4 g 9 k 4 g 9 k 4 g 9 k 4 g 9 k 4 g 9 k 4 g 9 k 4 g 9 k 456 50350353558364765671674256 70975981983489497482 59259262467273674580583182 798848908923983106396 62962966170977378284286896 8358859459601020110094 47447450655461862768771394 680730790805865945102 635635667715779788848874102 84189195196610261106110 700700732780844853913939110 9069561016103110911171135 720720752800864873933959135 9269761036105111111191135 81381384589395796610261052135 101910691129114412041284127 671671703751815824884910127 877927987100210621142127 711711743791855864924950127 917967102710421102118285 59759762967774175081083685 8038539139289881068103 589589621669733742802828103 795845905920980106058 52552555760566967873876458 732782842857917997Foot nichesFor motorsSizeType1G.5...100 ....100....102....104....106....108112 ....114....116....118132 ....132....134....136160 ....162....164....166Dimensions acc. toLargest machine footscrew that can beusedDINIEC m 2–m 3–m 4–M10x30 32 94 32 40 –M10x30 27 88 35 40 108M10x30 32 110 38 45 141M12x40 34 132 48 58 179m 5–m 6–m 7–4Siemens DA 12 · 2004 4/13
---
K@Dimensions1HA5 164 - 1HA5 166■ Dimension drawings• Terminal box on right (st<strong>and</strong>ard version)GG !G ?F/ , ) - " # =F$ F !JNN !D F '@ $IM N A= ) @ @ K EJ>BF "Type IM B 3> I? B / , ) - " $ =A ) @ @ K EJEGA4Types IM B 5, IM B 35, IM V 1 <strong>and</strong> IM V 15/ , ) - " % = "C ' ) @ @ K EJ # ! ! # $ " % M EJD K JJA H E = > N HF H A ? JE C ? A ? J HFoot niches <strong>and</strong> tacho/encoder assemblyFor 1H.513. with brake (dimension drawing 510.34335), dimension k 4 islengthened by 126 mm.For 1H.516. with brake (dimension drawing 510.34335) dimension k 4 islengthened by 140 mm.4/14Siemens DA 12 · 2004
---
Dimensions1HA5 164 - 1HA5 166Type IM B 3For motorsSizeType1HA5 . . .Terminalbox type160 ....164 gk 420gk 427gk 527....166 gk 420gk 427gk 527Dimensions acc. toDIN aIEC BbAcHAeBBfABhHkL450 254 12 577 314 160 937 149 80 55 430 213 269269294530 254 12 657 314 160 1017 149 80 55 430 213 269269294mBAm 1–nAAp–p 2–p 3–p 4–p 9–336 157336 157For motors Dimensions acc. to Drive end shaft extensionSizeType1HA5 . . .Terminalbox typeDIN qIEC –q 1–q 3–sKw 1–x 1–x 2–x 3–dDIEtGAuFd 6–160 ....164 gk 420gk 427gk 527299 120 500 14 108 306 16216227016216218655 110 59 16 M20....166 gk 420gk 427gk 527299 120 580 14 108 386 16216227016216218655 110 59 16 M20Types IM B 5, IM B 35, IM V 1 <strong>and</strong> IM V 15For motorsDimensions acc. toSizeType1HA5 . . .160 ....164....166Mounting flange to DIN 42 948DIN Size a 1IECPb 1Nc 1LAeBBA400 400 300 20 577657e 1 f 1 i 2 s 2 m q 2M T –S ––350 5 110 18 149 120Motors with add-on units 1 )For motors Tacho assembly with Pulse encoder assemblyTD3A4KA GTB 9.06L TDP 0.09LT TDP 0.2LT REO 444R TDP 1.2 GMP 1.0L KPG 503 KPG 506 TDP 1.2+ POG 9D POG 10D ROD 436EM(Minitacho)TDP 1.2Size Type1HA5 . . .g 9 k 4 g 9 k 4 g 9 k 4 g 9 k 4 g 9 k 4 g 9 k 4 g 9 k 4 g 9 k 4 g 9 k 4 g 9 k 4 g 9 k 4 g 9 k 4 g 9 k 4160 ....164....16656 995 95 966 83 1084 88/ 1130 96 1128 135 1212 110 1175 127 1163 127 1203 135 1305 85 1089 103 981 58 9181075 1046 1164 103 1210 1208 1292 1255 1243 1283 1385 1169 1061 9984Foot nichesFor motorsSizeType1HA5 . . .160 ....164....166Dimensions acc. toLargest machine footscrew that can beusedDIN m 2IEC –m 3–m 4–M12x40 34 132 48 58 179m 5–m 6–m 7–1) For 1HA5 16. motors with brake, dimension k 4 is lengthened by 140 mm.Siemens DA 12 · 2004 4/15
---
?K@Dimensions1HC5 102 - 1HC5 166■ Dimension drawings• Terminal box on right (st<strong>and</strong>ard version)FJG G=NBH 5 E A !K F J 5 E A / , ) - " & =CN !D F 'F@ $) @ @ K EJIG !> I !F !GM N =ABF "Type IM B 3? ) @ @ K EJB / , ) - " ' =EGAI !4Types IM B 5, IM B 35, IM V 1 <strong>and</strong> IM V 15C ' #> ! ! " $/ , ) - # %) @ @ K EJ # " %Tacho/encoder assemblies <strong>and</strong> foot niches M EJD K JJA H E = > N HF H A ? JE C ? A ? J H4/16Siemens DA 12 · 2004
---
Dimensions1HC5 102 - 1HC5 166Type IM B 3For motorsDimensions acc. toSizeType1HC5 . . .Terminalbox typeDIN aIEC BbAcHAeBBfABgAC100 ....102 gk 230 225 160 9 260 198 240 100 447 60 60 40 220 191 226 99....104 gk 230 257 160 9 292 198 240 100 479 60 60 40 220 191 226 99....106 gk 230 305 160 9 340 198 240 100 527 60 60 40 220 191 226 99....108 gk 230 369 160 9 404 198 240 100 591 60 60 40 220 191 226 99112 ....114 gk 330 340 190 10 419 220 262 112 600 103 60 40 243 217 238 110....116 gk 330 400 190 10 479 220 262 112 660 103 60 40 243 217 238 110132 ....132 gk 420 320 216 11 425 258 – 132 653 126 75 45 318 269 280 129gk 427....134 gk 420 370 216 11 475 258 – 132 703 126 75 45 318 269 280 129gk 427....136 gk 420 430 216 11 535 258 – 132 763 126 75 45 318 269 280 129gk 427160 ....164 gk 420 450 254 12 577 314 – 160 838 149 80 55 374 289 336 157gk 427gk 527....166 gk 420gk 427gk 527530 254 12 657 314 – 160 918 149 80 55 374 289 336 157hHkLmBAm 1–nAAp–p 3–p 4–p 9–For motors Dimensions acc. to Drive end shaft extensionSizeType1HC5 . . .Terminalbox typeDIN qIEC –q 1–q 2–q 3–sKs 2–100 ....102 gk 230 224 61 105 224 12 16 63 87 117 122 28 60 31 8 M10....104 gk 230 256 61 105 256 12 16 63 119 117 122 28 60 31 8 M10....106 gk 230 239 61 105 299 12 16 63 167 117 122 28 60 31 8 M10....108 gk 230 256 61 105 369 12 16 63 231 117 122 28 60 31 8 M10112 ....114 gk 330 275 89 89 355 12 12 70 213 132 152 38 80 41 10 M12....116 gk 330 295 89 89 405 12 12 70 273 132 152 38 80 41 10 M12132 ....132 gk 420gk 427275 121 121 – 12 12 89 174 16216216216242 110 45 12 M16....134 gk 420gk 427....136 gk 420gk 427160 ....164 gk 420gk 427gk 527....166 gk 420gk 427gk 527310 121 121 – 12 12 89 224 162162370 121 121 – 12 12 89 284 162162402 120 120 – 14 14 108 306 162162270482 120 120 – 14 14 108 386 162162270w 1Cx 1–x 2–x 3–162162162162162162186162162186dDIEtGAuFd 6–42 110 45 12 M1642 110 45 12 M1655 110 59 16 M2055 110 59 16 M204Types IM B 5, IM B 35, IM V 1 <strong>and</strong> IM V 15For motorsDimensions acc. toSize Type1HC5 . . .100 ....102....104....106....108112 ....114....116132 ....132....134....136160 ....164....166Mounting flange to DIN 42 948DIN Size a 1IEC Pa 2–b 1Nc 1LAA250 250 197 180 16 215 4 60 14 260292340404A300 300 240 1 ) 230 12 265 4 80 14 383443A350 350 – 250 18 300 5 110 18 374424484A400 400 – 300 20 350 5 110 18 577657e 1Mf 1Ti 2–s 3SeBBm–q 2–60 10567 12595 172149 120Siemens DA 12 · 2004 4/17
---
Dimensions1HC5 102 - 1HC5 166Motors with add-on unitsFor motors Tacho assembly with Pulse encoder assemblySize Type1HC5 . . .TD3A4KAEM(Minitacho)TDP 0.09LT REO 444R GTB 9.06LTDP 0.2LT GMP 1.0L TDP 1.2 TDP 1.2+TDP 1.2KPG 503 KPG 506 POG 9D POG 10D ROD 436100 ....102....104....106....108112 ....114....116132 ....132....134....136160 ....164....166g 9 k 4 g 9 k 4 g 9 k 4 g 9 k 4 g 9 k 4 g 9 k 4 g 9 k 4 g 9 k 4 g 9 k 4 g 9 k 4 g 9 k 4 g 9 k 4 g 9 k 456 50353558364765671670975981989497482 592624672736745805798848908983106396 6296617097737828428358859451020110094 474506554618627687680730790865945102 63566771577978884884189195110261106110 700732780844853913906956101610911171135 720752800864873933926976103611111191135 813845893957966102610191069112912041284127 67170375181582488487792798710621142127 71174379185586492491796710271102118285 5976296777417508108038539139881068103 589621669733742802795845905980106058 5265586066706797397327828429179974Foot nichesFor motorsSizeType1HC5 . . .100 ....102....104....106....108112 ....112....114....116132 ....132....134....136160 ....162....164....166Dimensions acc. toLargest machine footscrew that can beusedDIN m 2IEC –m 3–m 4–M10x30 32 94 32 40 –M10x30 27 88 35 40 108M10x30 32 110 38 45 141M12x40 34 132 48 58 179m 5–m 6–m 7–1) The mounting flange with flattened sides protrudes beyond the motorcontour.4/18Siemens DA 12 · 2004
---
L?K@FDimensions1GF6 162 - 1GF6 166■ Dimension drawings• Air inlet to the fan assembly from the left• Terminal box on right (st<strong>and</strong>ard version)JM # M $@ $N ! "C "CC %D F 'IN M =A / , ) - # $F '>BC &F 'C5 F A ? E= EBJE C A O AType IM B 3For dimensions of the foot niches, see "Speed encoder assembly,foot niche dimensions <strong>and</strong> brake assembly for 1G.6 <strong>and</strong>1H.6 motors".Type IM B 3For motorsSizeType1GF6. . .Dimensions acc. toDINIEC aBbAcHAe–fAB160 ....162 590 254 12 691 316 379 302 310 492 339 160gACg 2ADg 4–g 7–g 8–hHk 4–mBAm 1–1 ) 140 125....164 660 254 12 761 316 379 302 310 492 339 160 1 ) 140 125....166 750 254 12 851 316 379 302 310 492 339 1601 ) 140 125For motors Dimensions acc. to Drive end shaft extensionSizeType1GF6. . .DIN m 2IEC –nAAo–p–p 9–sKv–160 ....162 58 55 12 326 158 14 55 70 87 470 304 210 60 140 M20 64 18w 1C....164 58 55 12 326 158 14 55 70 87 540 374 210 60 140 M20 64 18....166 58 55 12 326 158 14 55 70 87 630 464 210 60 140 M20 64 18w 5–w 6–x 1–x 3–dDIEd 6–tGAuF4Motors with add-on unitsFor motorsSizeType1GF6...Tachoassembly, dimensions k 4without tacho <strong>and</strong>withTD3 A4 KAEMGTB 9.06 LwithTDP 0.2LTREO 444RTDP 0.9LTwithTDP 1.2GMP 1.0LKPG 503KPG 506Pulse encoderassembly, dimensions k 4withPOG 9DPOG 10DROD 436160 ....162....164....1661270134014301450152016101520159016801365143515251) For dimensions, see table below "Motors with add-on units".Siemens DA 12 · 2004 4/19
---
Dimensions1GG6 162 - 1GG6 288■ Dimension drawings• Air inlet to the fan assembly from the non-drive end• Terminal box on right (st<strong>and</strong>ard version)utk 13 k 3k 6k9w 5 w 6 k8k 7 k 10Space forremovingfilter1lod 6dx 3Add-on unitG_DA12_EN_00055ag 7gg 4cvh p 9 p 10p 2smm 9m 2 x 1w 1kaenm 1 bp 9p 9g 2fg 81 Special lifting eye for size 160, no graphic representation for sizes 180 to 280Type IM B 3IP23 degree of protectionFor dimensions of foot niches <strong>and</strong> assemblies, see "Speed encoderassemblies, foot niche dimensions <strong>and</strong> brake assembliesfor 1G.6 <strong>and</strong> 1H.6 motors", for flange dimensions, see "TypesIM B 5, IM B 35, IM V 1 <strong>and</strong> IM V 15 for 1G.6 motors".44/20Siemens DA 12 · 2004
---
DimensionsType IM B 3For motorsSizeType1GG6 . . .Dimensions acc. toDIN aIEC BbAcHAe–fABgACg 2ADg 4–1GG6 162 - 1GG6 288160 ....162 590 254 12 691 316 379 302 310 492 339 160 858 334 121 232 184 74 135 436g 7–....164 660 254 12 761 316 379 302 310 492 339 160 928 334 121 232 184 74 135 506....166 750 254 12 851 316 379 302 310 492 339 160 1018 334 121 232 184 74 135 596180 ....186 600 279 14 730 360 460 350 350 580 382 180 1020 470 185 310 250 130 130 522....188 670 279 14 800 360 460 350 350 580 382 180 1090 470 185 310 250 130 130 592200 ....206 645 318 18 815 400 500 370 350 620 422 200 1090 470 185 310 250 130 130 558....208 725 318 18 895 400 500 370 350 620 422 200 1170 470 185 310 250 130 130 638225 ....226 735 356 18 925 450 550 430 430 705 475 225 1290 530 215 380 305 140 170 675....228 825 356 18 1015 450 550 430 430 705 475 225 1380 530 215 380 305 140 170 765250 ....256 785 406 22 1015 500 620 455 430 765 525 250 1420 530 215 380 305 140 170 774....258 885 406 22 1115 500 620 455 430 765 525 250 1520 530 215 380 305 140 170 874280 ....286 850 457 22 1100 560 680 485 430 825 585 280 1500 530 215 380 305 140 170 846....288 960 457 22 1210 560 680 485 430 825 585 280 1610 530 215 380 305 140 170 956g 8–hHkLk 3–k 6–k 7–k 8–k 9–k 10–k 13–For motors Dimensions acc. to Drive end shaft extensionSizeType1GG6 . . .DIN mIEC BAm 1–m 2–m 9–nAAo–p 2–p 9–p 10–160 ....162 140 125 58 – 55 12 655 158 337 14 55 70 87 470 304 210 60 140 M20 64 18sK....164 140 125 58 – 55 12 655 158 337 14 55 70 87 540 374 210 60 140 M20 64 18....166 140 125 58 – 55 12 655 158 337 14 55 70 87 630 464 210 60 140 M20 64 18180 ....186 110 130 50 51 70 20 740 180 380 15 30 121 130 592 370 310 65 140 M20 69 18....188 110 130 50 51 70 20 740 180 380 15 30 121 130 662 440 310 65 140 M20 69 18200 ....206 120 180 70 43 80 20 780 200 380 19 50 133 133 625 390 310 70 140 M20 74.5 20....208 120 180 70 43 80 20 780 200 380 19 50 133 133 705 470 310 70 140 M20 74.5 20225 ....226 140 200 50 49 85 50 965 225 515 19 50 149 175 720 475 360 80 170 M20 85 22....228 140 200 50 49 85 50 965 225 515 19 50 149 175 810 565 360 80 170 M20 85 22250 ....256 150 240 50 58 95 60 1030 250 530 24 75 168 183 811 530 360 90 170 M24 95 25....258 150 240 50 58 95 60 1030 250 530 24 75 168 183 911 630 360 90 170 M24 95 25280 ....286 160 230 80 50 100 60 1090 280 530 24 105 190 183 883 585 360 95 170 M24 100 25....288 160 230 80 50 100 60 1090 280 530 24 105 190 183 993 695 360 95 170 M24 100 25v–w 1Cw 5–w 6–x 1–x 3–dDIEd 6–tGAuF4Siemens DA 12 · 2004 4/21
---
Dimensions1GH6 162 - 1GH6 288■ Dimension drawings• Terminal box on right (st<strong>and</strong>ard version)utkw 5 w 6lo1d 6dx 31Add-on unitG_DA12_EN_00054agg 7cvh p 9psmm 9m 2 x 1w 1aem 1nbp 9p 9fg 8g 21 Special lifting eye for size 160, no graphic representation for sizes 180 to 280Type IM B 3IP23 degree of protection # " !/ , ) - # " !45 E A I $ " N $ JD H K C D D A5 E A I & J # " N & $ @ A A F5 E A I # = @ & $ N & $ @ A A FFlange for air inlet or outletFor dimensions of foot niches <strong>and</strong> assemblies, see "Speed encoderassemblies, foot niche dimensions <strong>and</strong> brake assembliesfor 1G.6 <strong>and</strong> 1H.6 motors", for flange dimensions, see "TypesIM B 5, IM B 35, IM V 1 <strong>and</strong> IM V 15 for 1G.6 motors".4/22Siemens DA 12 · 2004
---
DimensionsType IM B 3For motorsSizeType1GH6...Dimensions acc. toDIN aIEC BbAcHAe–fABgACg 2ADg 7–g 8–1GH6 162 - 1GH6 288160 ....162 590 254 12 691 316 379 302 492 339 160 858 140 125 58 – 55 12 326 158 14....164 660 254 12 761 316 379 302 492 339 160 928 140 125 58 – 55 12 326 158 14....166 750 254 12 851 316 379 302 492 339 160 1018 140 125 58 – 55 12 326 158 14180 ....186 600 279 14 730 360 460 350 580 382 180 1020 110 130 50 51 70 20 370 180 15....188 670 279 14 800 360 460 350 580 382 180 1090 110 130 50 51 70 20 370 180 15200 ....206 645 318 18 815 400 500 370 620 422 200 1090 120 180 70 43 80 20 410 200 19....208 725 318 18 895 400 500 370 620 422 200 1170 120 180 70 43 80 20 410 200 19225 ....226 735 356 18 925 450 550 430 705 475 225 1290 140 200 50 49 85 50 460 225 19....228 825 356 18 1015 450 550 430 705 475 225 1380 140 200 50 49 85 50 460 225 19250 ....256 785 406 22 1015 500 620 455 765 525 250 1420 150 240 50 58 95 60 510 250 24....258 885 406 22 1115 500 620 455 765 525 250 1520 150 240 50 58 95 60 510 250 24280 ....286 850 457 22 1100 560 680 485 825 585 280 1500 160 230 80 50 100 60 570 280 24....288 960 457 22 1210 560 680 485 825 585 280 1610 160 230 80 50 100 60 570 280 24hHkLmBAm 1–m 2–m 9–nAAo–pHDp 9–sKFor motors Dimensions acc. to Drive end shaft extensionSizeType1GH6...DIN vIEC –w 1Cw 5–w 6–x 1–x 3–ö–160 ....162 55 70 87 470 304 210 130 196 110 175 105 170 60 140 M20 64 18ö 1–....164 55 70 87 540 374 210 130 196 110 175 105 170 60 140 M20 64 18....166 55 70 87 630 464 210 130 196 110 175 105 170 60 140 M20 64 18180 ....186 30 121 130 592 370 310 155 220 135 200 115 190 65 140 M20 69 18....188 30 121 130 662 440 310 155 220 135 200 115 190 65 140 M20 69 18200 ....206 50 133 133 625 390 310 155 220 135 200 115 190 70 140 M20 74.5 20....208 50 133 133 705 470 310 155 220 135 200 115 190 70 140 M20 74.5 20225 ....226 50 149 175 720 475 360 185 265 165 245 135 230 80 170 M20 85 22....228 50 149 175 810 565 360 185 265 165 245 135 230 80 170 M20 85 22250 ....256 75 168 183 811 530 360 230 300 210 280 180 265 90 170 M24 95 25....258 75 168 183 911 630 360 230 300 210 280 180 265 90 170 M24 95 25280 ....286 105 190 183 883 585 360 230 300 210 280 180 265 95 170 M24 100 25....288 105 190 183 993 695 360 230 300 210 280 180 265 95 170 M24 100 25ö 2–ö 3–ö 4–ö 5–dDIEd 6–tGAuF4Siemens DA 12 · 2004 4/23
---
= > >A A DimensionsTypes IM B 5, IM B 35, IM V 1 <strong>and</strong> IM V 15 for 1G.6■ Dimension drawingsEB? IA) @ @ K EJ= / , ) - # =A" # Types IM B 5, IM B 35, IM V 1 <strong>and</strong> IM V 15Size 160EB? I = C A B H5 E A & I = C A B H5 E A I & ) @ @ K EJ/ , ) - # =" # # Types IM B 5, IM B 35, IM V 1 <strong>and</strong> IM V 15Sizes 180 to 280For Type IM B 5 or IM V 1, motors of Type IM B 35 or IM V 15 willbe supplied.44/24Siemens DA 12 · 2004
---
DimensionsMounting flange acc. to DIN 42 948For motorsSizeType1GF6...1GG6 . . .1GH6...160 ....162....164....166180 ....186....188200 ....206....208225 ....226....228250 ....256....258280 ....286....288Dimensions acc. toDINIEC Sizea 1Pb 1Nc 1LATypes IM B 5, IM B 35, IM V 1 <strong>and</strong> IM V 15 for 1G.6e 1MA400 400 1 ) 300 21 350 5 140 18 4A400 400 300 15 350 5 140 19 4A450 450 350 16 400 5 140 19 8A550 550 450 18 500 5 170 19 8A660 660 550 22 600 6 170 24 8A660 660 550 22 600 6 170 24 8f 1Ti 2–s 2Sz–41) External flange contour matches casing. Diagonal edge-to-edge dimensiononly 395 mm.Siemens DA 12 · 2004 4/25
---
?LDFDimensions1HS6 186 - 1HS6 288■ Dimension drawingsCC#C"C$F "#K # $JNN N !L L@@$M N A=I>BC &CC %OC@ #@">B #@4 A G K EHA @ ? A = H= ? A B HHA L E C M = JA H? A H) @ @ K EJ/ , ) - =4 J= J= > A EBJE C K C4Type IM B 3IP54 degree of protectionFor dimensions of the foot niches <strong>and</strong> device assemblies, see"Speed encoder assembly, foot niche dimensions <strong>and</strong> brakeassembly for 1G.6 <strong>and</strong> 1H.6 motors".4/26Siemens DA 12 · 2004
---
DimensionsType IM B 3For motorsSizeType1HS6...Dimensions acc. toDIN aIEC BbAcHAeBBfABg–g 1–g 2ADg 4–g 5–1HS6 186 - 1HS6 288180 ....186 600 279 14 730 360 460 732 350 462 540 750 580 382 180 1202 150 770 110 130 50 55 70....188 670 279 14 800 360 460 732 350 462 540 750 580 382 180 1272 150 840 110 130 50 55 70200 ....206 645 318 18 815 400 500 732 370 462 540 750 620 422 200 1238 160 800 120 180 70 65 80....208 725 318 18 895 400 500 732 370 462 540 750 620 422 200 1318 160 880 120 180 70 65 80225 ....226 735 356 18 925 450 550 732 430 462 540 750 705 475 225 1455 230 910 140 200 50 65 85....228 825 356 18 1015 450 550 732 430 462 540 750 705 475 225 1545 230 1000 140 200 50 65 85250 ....256 785 406 22 1015 500 620 845 455 505 640 840 765 525 250 1554 240 1000 150 240 50 80 95....258 885 406 22 1115 500 620 845 455 505 640 840 765 525 250 1654 240 1100 150 240 50 80 95280 ....286 850 457 22 1100 560 680 845 485 505 640 840 825 585 280 1626 210 1100 160 230 80 85 100....288 960 457 22 1210 560 680 845 485 505 640 840 825 585 280 1736 210 1190 160 230 80 85 100g 6–g 7–g 8–hHkLk 5–k 6–mBAm 1–m 2–m 5–nAAFor motors Dimensions acc. to Mounting flange acc. to DIN 2633 Drive end shaft extensionSizeType1HS6...DINIEC p 2–p 14–sKv–v 1–v 2–w 1Cx 1–x 2–x 3–x 12–y–Size b 2–180 ....186 980 60 15 30 505 270 121 370 250 310 56 260 DN 20 16 105 14 58 2 75 65 140 69 18 M20....188 980 60 15 30 505 270 121 440 320 310 56 260 DN 20 16 105 14 58 2 75 65 140 69 18 M20200 ....206 1020 60 19 50 545 270 133 390 273 310 56 280 DN 20 16 105 14 58 2 75 70 140 74.5 20 M20....208 1020 60 19 50 545 270 133 470 353 310 56 280 DN 20 16 105 14 58 2 75 70 140 74.5 20 M20225 ....226 1070 60 19 50 595 270 149 475 380 360 56 320 DN 20 16 105 14 58 2 75 80 170 85 22 M20....228 1070 60 19 50 595 270 149 565 470 360 56 320 DN 20 16 105 14 58 2 75 80 170 85 22 M20250 ....256 1240 60 24 75 655 370 168 530 460 360 56 350 DN 32 16 140 18 78 2 100 90 170 95 25 M24....258 1240 60 24 75 655 370 168 630 560 360 56 350 DN 32 16 140 18 78 2 100 90 170 95 25 M24280 ....286 1300 60 24 105 715 370 190 585 570 360 56 380 DN 32 16 140 18 78 2 100 95 170 100 25 M24....288 1300 60 24 105 715 370 190 695 620 360 56 380 DN 32 16 140 18 78 2 100 95 170 100 25 M24d 2–d 4–d 15–f 2–k 15–dDlEtGAuFd 6–4Siemens DA 12 · 2004 4/27
---
?LD#@KDimensions1HQ6 186 - 1HQ6 288■ Dimension drawings # $C%C#CF FJN !) @ @ K EJ@ $MN I A=/ , ) - =>BC &CO4 J= J= > A EBJE C K CType IM B 3IP54 degree of protectionFor dimensions of the foot niches <strong>and</strong> device assembly, see"Speed encoder assembly, foot niche dimensions <strong>and</strong> brakeassembly for 1G.6 <strong>and</strong> 1H.6 motors".44/28Siemens DA 12 · 2004
---
DimensionsType IM B 3For motorsSizeType1HQ6...Dimensions acc. toDIN aIEC BbAcHAeBBfABgACg 2ADg 5–1HQ6 186 - 1HQ6 288180 ....186 600 279 14 730 360 460 350 440 580 382 180 1310 210 780 110 130 50 55....188 670 279 14 800 360 460 350 440 580 382 180 1380 210 850 110 130 50 55200 ....206 645 318 18 815 400 500 370 460 620 422 200 1330 210 800 120 180 70 65....208 725 318 18 895 400 500 370 460 620 422 200 1410 210 880 120 180 70 65225 ....226 735 356 18 925 450 550 430 500 705 475 225 1480 275 860 140 200 50 65....228 825 356 18 1015 450 550 430 500 705 475 225 1560 275 950 140 200 50 65250 ....256 785 406 22 1015 500 620 455 550 765 525 250 1640 260 1000 150 240 50 80....258 885 406 22 1115 500 620 455 550 765 525 250 1740 260 1100 150 240 50 80280 ....286 850 457 22 1100 560 680 485 600 825 585 280 1710 260 1070 160 230 80 85....288 960 457 22 1210 560 680 485 600 825 585 280 1820 260 1180 160 230 80 85g 7–g 8–hHkLk 5–k 6–mBAm 1–m 2–m 5–For motors Dimensions acc. to Drive end shaft extensionSizeType1HQ6...DIN nIEC AAp 1–p 2–sKv–w 1C180 ....186 70 950 1320 15 30 121 370 310 260 65 140 69 18 M20x 1–....188 70 950 1320 15 30 121 440 310 260 65 140 69 18 M20200 ....206 80 1020 1455 19 50 133 390 310 280 70 140 74.5 20 M20....208 80 1020 1455 19 50 133 470 310 280 70 140 74.5 20 M20225 ....226 85 1110 1545 19 50 149 475 360 320 80 170 85 22 M20....228 85 1110 1545 19 50 149 565 360 320 80 170 85 22 M20250 ....256 95 1210 1695 24 75 168 530 360 350 90 170 95 25 M24....258 95 1210 1695 24 75 168 630 360 350 90 170 95 25 M24280 ....286 100 1280 1765 24 105 190 585 360 380 95 170 100 25 M24....288 100 1280 1765 24 105 190 695 360 380 95 170 100 25 M24x 3–y–dDIEtGAuFd 6–4Siemens DA 12 · 2004 4/29
---
DimensionsSpeed encoder assembly, foot niche dimensions<strong>and</strong> brake assembly for 1G.6/1H.6 motors■ Dimension drawings "C ' #) @ @ K EJ/ , ) - "$!"% & M EJD K JJA H E = > N HF H A ? JE C ? A ? J HEncoder <strong>and</strong> brake assembly <strong>and</strong> foot niches44/30Siemens DA 12 · 2004
---
DimensionsSpeed encoder assemblyFor motorsSizeType1G.6....Tacho assembly withSpeed encoder assembly, foot niche dimensions<strong>and</strong> brake assembly for 1G.6/1H.6 motorsPulse encoderassemblyGTB 9.06L TD3A4KAEMTDP 0.09LT TDP 0.2LT REO 444R TDP 1.2 GMP 1.0L KPG 503 KPG 506POG 9DPOG 10 D ROD 436g 9 k 4 g 9 k 4 g 9 k 4 g 9 k 4 g 9 k 4 g 9 k 4 g 9 k 4 g 9 k 4 g 9 k 4 g 9 k 4 g 9 k 4160 ....162 95 881 56 914 83 1022 103 1046 94 1040 135 1135 110 1120 127 1090 127 1134 103 1008 58 936....164 951 984 1092 1116 1110 1205 1190 1160 1204 1078 1006....166 1041 1074 1182 1206 1200 1295 1280 1250 1294 1168 10961G.6....1H.6....180 ....186 1080 1080 1180 1205 1200 1290 1265 1245 1290 1165 1100....188 1150 1150 1250 1275 1270 1360 1335 1315 1360 1235 1170200 ....206 1155 1155 1255 1280 1275 1365 1340 1320 1365 1240 1175....208 1235 1235 1335 1360 1355 1445 1420 1400 1445 1320 1255225 ....226 1350 1350 1450 1475 1470 1560 1535 1515 1560 1435 1370....228 1440 1440 1540 1565 1560 1650 1625 1605 1650 1525 1460250 ....256 1485 1485 1585 1610 1605 1695 1670 1650 1695 1570 1505....258 1585 1585 1685 1710 1705 1795 1770 1750 1795 1670 1605280 ....286 1560 1560 1660 1685 1680 1770 1745 1725 1770 1645 1580....288 1670 1670 1770 1795 1790 1880 1885 1835 1880 1755 1690Foot niche dimensions <strong>and</strong> brake assemblyFor motorsSizeType1G.6...Dimensions acc. toDINIEC m 2–Foot nichesLargestmachine footscrews thatcan be usedm 3–m 4–m 5–Brake assembly160 ....162 M12 x 35 39 38 46 88 72 56 258 997....164 1067....166 11571G.6...1H.6 . . .180 ....186 M12 x 40 35 25 55 80 95 65 280 1180....188 320 1250200 ....206 M16 x 50 25 55 65 80 140 70 320 1260....208 320 1340225 ....226 M16 x 50 70 45 65 115 170 75 360 1470....228 360 1560250 ....256 M20 x 60 80 35 80 115 200 80 450 1620....258 450 1720280 ....286 M20 x 60 60 35 85 120 190 85 500 1710....288 500 1820m 6–m 7–m 8–g 9–k 4–Dimensionsfor brake<strong>and</strong> speedencoder onrequest4Siemens DA 12 · 2004 4/31
---
Dimensions1GG7 351 - 1GG7 355■ Dimension drawings @ $# & ! K ! $ # - N JA H = BEJA H& "8 A JE= JE F = JA " & $ % $ M $$ ! ## ! " $ #" ! $$! % $ #") 1 ) 1 ) 1 ) 1/ , ) - ") !") 1) J5 F = ? A B HHA F = ? A A J BBEJA H5 F = ? A B HHA F = ? A A J BBEJA H F JE = O JD A A BJ HHEC D JI E@ A = = @ JA H E = > N J F9 EJD I EA ? A HA C JDE ? HA = I A I > O # ) EHE A J) EH K JA J # "&N =A #! : / #! # # $ % & $ # # " #4Type IM B 3Type IM B 3For motors Dimensions acc. to Drive end shaft extension Tacho DimensionsSizeType1GG7 . . .DINIEC aBe–kLk 1LCw 6–355 ....351 770 1065 1450 582 850 415 110 116 28 ROD 436 85....352 870 1115 1500 632 900 465 110 116 28 POG 9 D / 150POG 10 D....353 930 1175 1560 692 960 525 120 127 32 REO 444 R 180....354 1000 1255 1640 772 1040 605 120 127 32 TDP 0.09 195....355 1120 1375 1760 992 1160 725 120 127 32 TDP 0.2 T 185x 1–dDtGAuF–XG4/32Siemens DA 12 · 2004
---
Dimensions1GG7 401 - 1GG7 405■ Dimension drawings@ $## # K ! $ # - N JA H = BEJA H& "8 A JE= JE F = JA " & $ % $ " M $$ & # ! # & " ! $J & ! #N =A #' #: /! & & ") 1 ) 1 ) 1 ) 1) / , ) - #!") 1) 5 F = ? A B HHA F = ? A A J BBEJA H5 F = ? A B HHA F = ? A A J BBEJA H F JE = O JD A A BJ HHEC D JI E@ A = = @ JA H E = > N J F9 EJD I EA ? A HA C JDE ? HA = I A I > O # ) EHE A J) EH K JA J" #! $ & $ & ' # # " & ' Type IM B 3Type IM B 3For motors Dimensions acc. to Drive end shaft extension Tacho DimensionsSizeType1GG7 . . .DIN aIEC Be–kLk 1LCw 6–400 ....401 830 1100 1515 659 915 450 130 137 32 ROD 436 85....402 900 1170 1585 729 985 520 130 137 32 POG 9 D / 150POG 10 D....403 1000 1245 1660 804 1060 595 130 137 32 REO 444 R 180....404 1105 1350 1765 909 1165 800 140 150 36 TDP 0.09 195....405 1275 1520 1935 1079 1335 970 140 150 36 TDP 0.2 T 185x 1–dDtGAuF–XG4Siemens DA 12 · 2004 4/33
---
Dimensions1GG7 451 - 1GG7 455■ Dimension drawings $ $#! & % ! $ # - N JA H = BEJA H& "8 A JE= JE F = JA " & $ % $ # $ M $$ & " # !" ! $! ' & ") 1 ) 1 ) 1 ) 1) / , ) - $ $ & $ ': / #" # " !") 1) 5 F = ? A B HHA F = ? A A J BBEJA H5 F = ? A B HHA F = ? A A J BBEJA H F JE = O JD A A BJ HHEC D JI E@ A = = @ JA H E = > N J F9 EJD I EA ? A HA C JDE ? HA = I A I > O # ) EHE A J) EH K JA J '! #! #N =A #" ! ! " & ' # $ 4Type IM B 3Type IM B 3For motors Dimensions acc. to Tacho DimensionsSizeType1GG7 . . .DINIEC aBe–kLk 1LC450 ....451 930 1125 1660 781 1005 520 ROD 436 85....452 1000 1195 1730 851 1075 590 POG 9 D / 150POG 10 D....453 1090 1285 1820 941 1165 680 REO 444 R 180....454 1210 1405 1940 1061 1285 800 TDP 0.09 195....455 1400 1595 2130 1251 1475 990 TDP 0.2 T 185w 6–x 1––XG4/34Siemens DA 12 · 2004
---
KDimensions1GH7 351 - 1GH7 355■ Dimension drawings: / M $$ ! # @ $# & # !J " #$' & #! # # ! % #" ! $/ , ) - % # "&N A= #! $ % & $ " $ " ! # #" # #$ # = C A B H= EHE A J H K JA J $ N &Type IM B 3Type IM B 3For motors Dimensions acc. to Drive end shaft extension Tacho DimensionsSizeType1GH7...DIN aIEC Be–kLw 6–355 ....351 770 1065 1450 850 415 110 116 28 ROD 436 85....352 870 1115 1500 900 465 110 116 28 POG 9 D / 150POG 10 D....353 930 1175 1560 960 525 120 127 32 REO 444 R 180x 1–....354 1000 1255 1640 1040 605 120 127 32 TDP 0.09 195....355 1120 1375 1760 1160 725 120 127 32 TDP 0.2 T 185dDtGAuF–XG4Siemens DA 12 · 2004 4/35
---
KDimensions1GH7 401 - 1GH7 405■ Dimension drawings: / & !" M $$ & # @ $## !J" # ' & #" ! $/ , ) - & & ! #N A= #' #! $ & $ & ' # " $ " ! # " && # ! = C A B H= EHE A J H K JA J $ N &4Type IM B 3Type IM B 3For motors Dimensions acc. to Drive end shaft extension Tacho DimensionsSizeType1GH7...DIN aIEC Be–kLw 6–400 ....401 830 1100 1515 915 450 130 137 32 ROD 436 85x 1–....402 900 1170 1585 985 520 130 137 32 POG 9 D /POG 10 D 150....403 1000 1245 1660 1060 595 130 137 32 REO 444 R 180....404 1105 1350 1765 1165 800 140 150 36 TDP 0.09 195....405 1275 1520 1935 1335 970 140 150 36 TDP 0.2 T 185dDtGAuF–XG4/36Siemens DA 12 · 2004
---
Dimensions1GH7 451 - 1GH7 455■ Dimension drawings: / & ## $ M $% ! #! " $ $#& # ! % ' " ! $ $ ' #" # " / , ) - ' '! #! #N A= #" ! ! " & ' # " $ " ! $ & # ! = C A B H= EHE A J H K JA J $ N &Type IM B 3Type IM B 3For motors Dimensions acc. to Tacho DimensionsSizeType1GH7...DINIEC aBe–kL450 ....451 930 1125 1660 1005 520 ROD 436 85....452 1000 1195 1730 1075 590 POG 9 D / 150POG 10 D....453 1090 1285 1820 1165 680 REO 444 R 180....454 1210 1405 1940 1285 800 TDP 0.09 195....455 1400 1595 2130 1475 990 TDP 0.2 T 185w 6–x 1––XG4Siemens DA 12 · 2004 4/37
---
KDimensions1HS7 351 - 1HS7 355■ Dimension drawings% #@ $ ! # & ))N # $# !: /" ! $J! # # " #$) ) &! ! # # # !& & $ # ! / , ) - ! ' " #!4 A G K EHA @ M = JA HB M H= JA # % D2 HA I I K HA @ H F E ? E C A A A J ! > = H = N E A JJA F A H= JK HA BM = JA H # +& N A# " = #! $ % ' & #& $ # #4Type IM B 3Type IM B 3For motors Dimensions acc. to Drive end shaft extension Tacho DimensionsSizeType1HS7...DIN aIEC Be–kLk 1LCx 1–355 ....351 770 1065 1450 1520 415 550 110 116 28 ROD 436 85....352 870 1115 1500 1570 465 600 110 116 28 POG 9 D / 150POG 10 D....353 930 1175 1560 1630 525 660 120 127 32 REO 444 R 180....354 1000 1255 1640 1710 605 740 120 127 32 TDP 0.09 195....355 1120 1375 1760 1830 725 860 120 127 32 TDP 0.2 T 185x 2–dDtGAuF–XG4/38Siemens DA 12 · 2004
---
KDimensions1HS7 401 - 1HS7 405■ Dimension drawings) ) &" # & #$ # !& & $@ $ # ## ))N # $# !: / $ / , ) - ! " ! $ " J" ' #!4 A G K EHA @ M = JA HB M H= JA $ % D2 HA I I K HA @ H F E ? E C A A A J > = H = N E A JJA F A H= JK HA BM = JA H # +! # N A& = #' #! # " &$ & $ & & !' # Type IM B 3Type IM B 3For motors Dimensions acc. to Drive end shaft extension Tacho DimensionsSizeType1HS7...DIN aIEC Be–kLk 1LCx 1–400 ....401 830 1100 1515 1580 450 630 130 137 32 ROD 436 85....402 900 1170 1585 1650 520 700 130 137 32 POG 9 D / 150POG 10 D....403 1000 1245 1660 1725 595 775 130 137 32 REO 444 R 180....404 1105 1350 1765 1830 700 880 140 150 36 TDP 0.09 195....405 1275 1520 1935 2000 870 1050 140 150 36 TDP 0.2 T 185x 2–dDtGAuF–XG4Siemens DA 12 · 2004 4/39
---
Dimensions1HS7 451 - 1HS7 455■ Dimension drawings) ) &% % ' #$ # # !& & $" $ $ % #! & ))N # $# !: / % / , ) - !" ! $ " $ ' #" # " !4 A G K EHA @ M = JA HB M H= JA % $ D2 HA I I K HA @ H F E ? E C A A A J $ > = H = N E A JJA F A H= JK HA BM = JA H # +! # 'N A! # = #" ! ! " $ & ' & # # 4Type IM B 3Type IM B 3For motors Dimensions acc. to Tacho DimensionsSizeType1HS7...DINIEC aBe–kLk 1LC450 ....451 930 1125 1660 1670 520 750 ROD 436 85....452 1000 1195 1730 1740 590 820 POG 9 D / 150POG 10 D....453 1090 1285 1820 1830 680 910 REO 444 R 180....454 1210 1405 1940 1950 800 1030 TDP 0.09 195....455 1400 1595 2130 2140 990 1220 TDP 0.2 T 185x 1–x 2––XG4/40Siemens DA 12 · 2004
---
Dimensions1HQ7 351 - 1HQ7 355■ Dimension drawings@ $# & ! K% # !" ! $$) ) ) ) ! ! $ #) 1) 1 ) 1J #& N A# " = #! / , ) - ! !: /! # # $ % ' & #& $ # # " #) 1) ) EHE A J) EH K JA JType IM B 3Type IM B 3For motors Dimensions acc. to Drive end shaft extension Tacho DimensionsSizeType1HQ7...DIN aIEC Be–kLk 1LCx 1–355 ....351 770 1065 1450 1510 415 110 116 28 ROD 436 85....352 870 1115 1500 1560 465 110 116 28 POG 9 D / 150POG 10 D....353 930 1175 1560 1620 525 120 127 32 REO 444 R 180....354 1000 1255 1640 1700 605 120 127 32 TDP 0.09 195....355 1120 1375 1760 1820 725 120 127 32 TDP 0.2 T 185dDtGAuF–XG4Siemens DA 12 · 2004 4/41
---
Dimensions1HQ7 401 - 1HQ7 405■ Dimension drawings@ $## # K) ) ) ) & & & # !" ! $ % ) 1) 1 ) 1J #! # N A& = #' #/ , ) - ! ": /" ! # " &$ & $ & & !' # ' ) 1) ) EHE A J) EH K JA J4Type IM B 3Type IM B 3For motors Dimensions acc. to Drive end shaft extension Tacho DimensionsSizeType1HQ7...DIN aIEC Be–kLk 1LCx 1–400 ....401 830 1100 1515 1530 450 130 137 32 ROD 436 85....402 900 1170 1585 1600 520 130 137 32 POG 9 D / 150POG 10 D....403 1000 1245 1660 1675 595 130 137 32 REO 444 R 180....404 1105 1350 1765 1780 800 140 150 36 TDP 0.09 195....405 1275 1520 1935 1950 970 140 150 36 TDP 0.2 T 185dDtGAuF–XG4/42Siemens DA 12 · 2004
---
Dimensions1HQ7 451 - 1HQ7 455■ Dimension drawings) ) ) ) ' " $ $#! & # ! % " ! $% ) 1) 1 ) 1 $ '! # 'N A! # = #" / , ) - ! #: / #" # ! ! " $ & ' & # # ' ) 1) ) EHE A J) EH K JA JType IM B 3Type IM B 3For motors Dimensions acc. to Tacho DimensionsSizeType1HQ7...DIN aIEC Be–kL450 ....451 930 1125 1660 1620 520 ROD 436 85....452 1000 1195 1730 1690 590 POG 9 D / 150POG 10 D....453 1090 1285 1820 1780 680 REO 444 R 180....454 1210 1405 1940 1900 800 TDP 0.09 195....455 1400 1595 2130 2090 990 TDP 0.2 T 185k 1LCx 1––XG4Siemens DA 12 · 2004 4/43
---
?LD@@FKFDimensions1GG5 500 - 1GG5 635■ Dimension drawingsM #M $ % $ & ' !F &F F 'C C !C "F 'CN !" J@ $!!"+ A JA H B= EH F A E C/ HA = I A EF F A4 A ? A I I J , 1 # '+ A JA H BJA H E = > NMN =AI / , ) - #>BOType IM B 344/44Siemens DA 12 · 2004
---
DimensionsType IM B 3For motorsSizeType1GG5 . . .Terminalbox type500 ....500 1XB7 7101XB7 942....501 1XB7 7101XB7 942....502 1XB7 7101XB7 942....503 1XB7 7101XB7 942....504 1XB7 7101XB7 942630 ....631 1XB7 7101XB7 942....632 1XB7 7101XB7 942....633 1XB7 7101XB7 942....634 1XB7 7101XB7 942....635 1XB7 7101XB7 942Dimensions acc. toDIN aIEC BbAcHAeBBfABg 1–g 2–g 3–g 4–hHkLk 3–k 6–k 7–k 8–k 9–1GG5 500 - 1GG5 6351210 850 30 1455 1072 14201560 770 1300 940 500 2115 425 280 1000 905 185 560 635 125 170 1000 16809101210 850 30 1455 1072 14201560 770 1300 940 500 2115 425 280 1000 905 185 460 635 125 170 1000 16809101210 850 30 1455 1072 142015601410 850 30 1655 1072 142015601410 850 30 1655 1072 14201560770 1300 940 500 2115 425 280 1000 905 185 360 635 125 170 1000 1680910770 1300 940 500 2365 425 280 1000 905 185 460 635 125 170 1000 1680910770 1300 940 500 2365 425 280 1000 905 185 360 635 125 170 1000 16809101280 1060 34 1565 1354 17301870 1050 910 1640 1255 630 2270 425 330 1070 960 220 515 700 145 210 1260 19401280 1060 34 1565 1354 17301870 1050 910 1640 1255 630 2270 425 330 1070 960 220 415 700 145 210 1260 19401480 1060 34 1765 1354 1730 910 1640 1255 630 2520 425 330 1070 960 220 515 700 145 210 1260 19401870 10501480 1060 34 1765 1354 1730 910 1640 1255 630 2520 425 330 1070 960 220 415 700 145 210 1260 19401870 10501630 1060 34 1915 1354 1730 910 1640 1255 630 2670 425 330 1070 960 220 415 700 145 210 1260 19401870 1050mBAm 1–m 2–nAAp–p 2–For motors Dimensions acc. to Drive end shaft extensionSizeType1GG5 . . .Terminalbox type500 ....500 1XB7 7101XB7 942....501 1XB7 7101XB7 942....502 1XB7 7101XB7 942....503 1XB7 7101XB7 942....504 1XB7 7101XB7 942630 ....631 1XB7 7101XB7 942....632 1XB7 7101XB7 942....633 1XB7 7101XB7 942....634 1XB7 7101XB7 942....635 1XB7 7101XB7 942DIN p 8IEC –p 9–p 10–sKv–w 1Cw 5–w 6–485 526 645 35 320 200 255 1090 830800485 526 645 35 320 200 255 1090 830800485 526 645 35 320 200 255 1090 830800x 1–x 3–360480360480360480485 526 645 35 320 200 255 1290 10301000 360480485 526 645 35 320 200 255 1290 10301000615 667 645 42 450 224 286 1150 880850615 667 645 42 450 224 286 1150 880850615 667 645 42 450 224 286 1350 10801050360480360480360480360480615 667 645 42 450 224 286 1350 10801050 360480615 667 645 42 450 224 286 1500 12301200 360480y–670755670755670755670755670755810895810895810895810895810895dDIEtGAuFd 6–d 10–140 250 148 36 M30 150140 250 148 36 M30 150150 250 158 36 M30 160160 300 169 40 M30 170160 300 169 40 M30 170160 300 169 40 M30 170170 300 179 40 M30 180190 350 200 45 M30 200190 350 200 45 M30 200200 350 210 45 M30 2204Siemens DA 12 · 2004 4/45
---
@@K?LDFDimensions1GH5 500 - 1GH5 635■ Dimension drawingsM #M $C CC !F F ' ' "J @ $!N !"F &F & # # # ! ! ! !" MN =AI / , ) - $>BO N &!"+ A JA H B= EH F A E C/ HA = I A EF F A4 A ? A I I J , 1 # '+ A JA H BJA H E = > NType IM B 344/46Siemens DA 12 · 2004
---
DimensionsType IM B 3For motorsSizeType1GH5...Terminalbox type500 ....500 1XB7 7101XB7 942....501 1XB7 7101XB7 942....502 1XB7 7101XB7 942....503 1XB7 7101XB7 942....504 1XB7 7101XB7 942630 ....631 1XB7 7101XB7 942....632 1XB7 7101XB7 942....633 1XB7 7101XB7 942....634 1XB7 7101XB7 942....635 1XB7 7101XB7 942DIN aIEC BDimensions acc. tobAcHAeBBfABg 1–g 2–g 3–hHkLmBAm 1–m 2–nAAö–ö 1–ö 2–1GH5 500 - 1GH5 6351210 850 30 1455 1072 14201560 770 1300 500 1850 560 635 125 170 230 620 210 140 180 270 1000 4859101210 850 30 1455 1072 14201560 770 1300 500 1850 460 635 125 170 230 620 210 140 180 270 1000 4859101210 850 30 1455 1072 142015601410 850 30 1655 1072 142015601410 850 30 1655 1072 14201560770 1300 500 1850 360 635 125 170 230 620 210 140 180 270 1000 485910770 1300 500 2100 460 635 125 170 230 620 210 140 180 270 1000 485910770 1300 500 2100 360 635 125 170 230 620 210 140 180 270 1000 4859101280 1060 34 1565 1354 17301870 1050 910 1640 630 2010 515 700 145 210 265 840 245 195 215 380 1260 6151280 1060 34 1565 1354 17301870 1050 910 1640 630 2010 515 700 145 210 265 840 245 195 215 380 1260 6151480 1060 34 1765 1354 1730 910 1640 630 2260 515 700 145 210 265 840 245 195 215 380 1260 6151870 10501480 1060 34 1765 1354 1730 910 1640 630 2260 415 700 145 210 265 840 245 195 215 380 1260 6151870 10501630 1060 34 1915 1354 1730 910 1640 630 2410 415 700 145 210 265 840 245 195 215 380 1260 6151870 1050ö 3–ö 4–ö 5–p–p 8–For motors Dimensions acc. to Drive end shaft extensionSize Type1GH5...Terminalbox typeDIN p 9IEC –sKv–w 1Cw 5–w 6–x 1–x 3–y–dDIEtGAuF500 ....500 1XB7 7101XB7 942....501 1XB7 7101XB7 942....502 1XB7 7101XB7 942....503 1XB7 7101XB7 942....504 1XB7 7101XB7 942630 ....631 1XB7 7101XB7 942....632 1XB7 7101XB7 942....633 1XB7 7101XB7 942....634 1XB7 7101XB7 942....635 1XB7 7101XB7 942526 35 320 200 255 1090 830800526 35 320 200 255 1090 830800526 35 320 200 255 1090 830800526 35 320 200 255 1290 10301000526 35 320 200 255 1290 10301000667 42 450 224 286 1150 880850667 42 450 224 286 1150 880850667 42 450 224 286 1350 10801050667 42 450 224 286 1350 10801050667 42 450 224 286 1500 12301200360480360480360480360480360480360480360480360480360480360480670755670755670755670755670755810895810895810895810895810895d 6–d 10–140 250 148 36 M30 150140 250 148 36 M30 150150 250 158 36 M30 160160 300 169 40 M30 170160 300 169 40 M30 170160 300 169 40 M30 170170 300 179 40 M30 180190 350 200 45 M30 200190 350 200 45 M30 200200 350 210 45 M30 2204Siemens DA 12 · 2004 4/47
---
@@KDimensions1HS5 500 - 1HS5 635■ Dimension drawings ?LDLFCC # $C !C #C "C $#M #N M $$ LF N !"J!/ HA = I A EF F A@ $ ! 4 A ? A I I J , 1 # '" + A JA H BJA H E = > N# 5 F = ? A B HM = JA H? A HHA L = $ E = @ E= A JA H B? E C M = JA H? A ? JE J , 1 # ! !M N =AI/ , ) - %>BOType IM B 344/48Siemens DA 12 · 2004
---
DimensionsType IM B 3 1 )For motorsSizeType1HS5...Terminalbox type500 ....500 1XB7 7101XB7 942....501 1XB7 7101XB7 942....502 1XB7 7101XB7 942....503 1XB7 7101XB7 942....504 1XB7 7101XB7 942630 ....631 1XB7 7101XB7 942....632 1XB7 7101XB7 942....633 1XB7 7101XB7 942....634 1XB7 7101XB7 942....635 1XB7 7101XB7 942Dimensions acc. toDIN aIEC BbAcHAeBBfABg 1–1210 850 30 1455 1072 142015601210 850 30 1455 1072 142015601210 850 30 1455 1072 142015601410 850 30 1655 1072 142015601410 850 30 1655 1072 142015601280 1060 34 1565 1354 173018701280 1060 34 1565 1354 173018701480 1060 34 1765 1354 173018701480 1060 34 1765 1354 173018701630 1060 34 1915 1354 17301870g 2–77091077091077091077091077091091010509101050910105091010509101050g 3–g 4–g 5–g 6–hHkLk 5–k 6–1HS5 500 - 1HS5 635mBAm 1–m 2–nAA1300 666 995 1250 500 2115 410 1280 560 635 125 1701300 666 995 1250 500 2115 410 1280 460 635 125 1701300 666 995 1250 500 2115 410 1280 360 635 125 1701300 666 995 1250 500 2365 460 1480 460 635 125 1701300 666 995 1250 500 2365 460 1480 360 635 125 1701640 796 1255 1470 630 2270 475 1370 515 700 145 2101640 796 1255 1470 630 2270 475 1370 415 700 145 2101640 796 1255 1470 630 2520 525 1570 515 700 145 2101640 796 1255 1470 630 2520 525 1570 415 700 145 2101640 796 1255 1470 630 2670 525 1720 415 700 145 210For motors Dimensions acc. to Drive end shaft extensionSizeType1HS5...Terminalbox type500 ....500 1XB7 7101XB7 942....501 1XB7 7101XB7 942....502 1XB7 7101XB7 942....503 1XB7 7101XB7 942....504 1XB7 7101XB7 942630 ....631 1XB7 7101XB7 942....632 1XB7 7101XB7 942....633 1XB7 7101XB7 942....634 1XB7 7101XB7 942....635 1XB7 7101XB7 942DIN o 1IEC –p 1–p 2–sKv–v 1–v 2–w 1C50 1800 1860 35 320 1226 440 200 83080050 1800 1860 35 320 1226 440 200 83080050 1800 1860 35 320 1226 440 200 83080050 1800 1860 35 320 1226 440 200 1030100050 1800 1860 35 320 1226 440 200 1030100065 2200 2260 42 450 1505 540 224 88085065 2200 2260 42 450 1505 540 224 88085065 2200 2260 42 450 1505 540 224 1080105065 2200 2260 42 450 1505 540 224 1080105065 2200 2260 42 450 1505 540 224 12301200x 1–x 2–x 3–715 360480715 360480715 360480915 360480915 360480762 360480762 360480962 360480962 3604801112 360480y–670755670755670755670755670755810895810895810895810895810895dDIEtGAuFd 6–d 10–140 250 148 36 M30 150140 250 148 36 M30 150150 250 158 36 M30 160160 300 169 40 M30 170160 300 169 40 M30 170160 300 169 40 M30 170170 300 179 40 M30 180190 350 200 45 M30 200190 350 200 45 M30 200200 350 210 45 M30 22041) The dimensions are valid for special version 1 <strong>and</strong> 2 of the heat exchanger.Please request dimensions of the st<strong>and</strong>ard heat exchanger.Siemens DA 12 · 2004 4/49
---
DimensionsNotes44/50Siemens DA 12 · 2004
---
Appendix5Further information5/2 Regulations, st<strong>and</strong>ards <strong>and</strong>specifications5/3 Siemens contact partnersworldwideA&D online services5/4 Information <strong>and</strong> <strong>ordering</strong> optionson the Internet <strong>and</strong> on CD-ROMCustomer support5/5 Our services for every phase of theproject5/6 Knowledge base <strong>and</strong>Automation Value CardIndices5/7 Subject index5/8 Order No. index5/10 Conditions of sale <strong>and</strong> delivery,export regulationsSiemens DA 12 · 2004
---
AppendixFurther informationRegulations, st<strong>and</strong>ards <strong>and</strong> specificationsThe motors comply with the appropriate st<strong>and</strong>ards <strong>and</strong> regulations,see table below.As a result of the fact that in many countries the national regulationshave been completely harmonized with the internationalIEC 60 034-1 recommendation, there are no longer anydifferences with respect to coolant temperatures, temperatureclasses <strong>and</strong> maximum temperature rises.Title DIN/EN IECGeneral specifications for rotating electrical machines EN 60 034-1 IEC 60 034-1IEC 60 085Terminal designations <strong>and</strong> direction of rotation for electrical machines DIN VDE 0530, Part 8 IEC 60 034-8Types of construction <strong>and</strong> installation EN 60 034-7 IEC 60 034-7Built-in thermal protection – IEC 60 034-11Cooling methods for rotating electrical machines EN 60 034-6 IEC 60 034-6Degrees of protection of rotating electrical machines EN 60 034-5 IEC 60 034-5Vibration severity of rotating electrical machines EN 60 034-14 IEC 60 034-14Cylindrical shaft ends for electrical machines DIN 748-3 IEC 60 072Noise limit values for rotating electrical machines EN 60 034-9 IEC 60 034-955/2Siemens DA 12 · 2004
---
AppendixSiemens contacts worldwideAthttp://www.siemens.com/automation/partneryou can find details of Siemens contact partners worldwideresponsible for particular technologies.You can obtain in most cases a contact partner for• Technical Support,• Spare parts/repairs,•Service,•Training,• Sales or• Consultation/engineering.You start by selecting a• Country,• Product or•Sector.By further specifying the remaining criteria you will find exactlythe right contact partner with his/her respective expertise.5Siemens DA 12 · 2004 5/3
---
AppendixA&D online servicesInformation <strong>and</strong> Ordering in the Internet <strong>and</strong> onCD-ROM■ A&D in the WWWA detailed knowledge of the range of products <strong>and</strong> servicesavailable is essential when planning <strong>and</strong> configuring automationsystems. It goes without saying that this information must alwaysbe fully up-to-date.The Siemens Automation <strong>and</strong> Drives Group (A&D) has thereforebuilt up a comprehensive range of information in the World WideWeb, which offers quick <strong>and</strong> easy access to all data required.Under the addresshttp://www.siemens.com/automationyou will find everything you need to know about products, systems<strong>and</strong> services.■ Product <strong>Selection</strong> Using the Interactive CatalogDetailed information together with convenient interactive functions:The interactive catalog CA 01 covers more than 80,000 products<strong>and</strong> thus provides a full summary of the Siemens Automation<strong>and</strong> Drives product base.Here you will find everything that you need to solve tasks in thefields of automation, switchgear, installation <strong>and</strong> drives.All information is linked into a user interface which is easy towork with <strong>and</strong> intuitive.After selecting the product of your choice you can order at thepress of a button, by fax or by online link.Information on the interactive catalog can be found in the Internetunderhttp://www.siemens.com/automation/ca01or on CD-ROM:• Automation & Drives CA 01,Order No.: E86060-D4001-A110-C2-76005■ Easy shopping with the A&D MallThe A&D Mall is the virtual department store of Siemens AG inthe Internet. Here you have access to a huge range of productspresented in electronic catalogs in an informative <strong>and</strong> attractiveway.Data transfer via EDIFACT allows the whole procedure from selectionthrough <strong>ordering</strong> to tracking of the order to be carried outonline via the Internet.Numerous functions are available to support you.For example, powerful search functions make it easy to find therequired products, which can be immediately checked for availability.Customer-specific discounts <strong>and</strong> preparation of quotescan be carried out online as well as order tracking <strong>and</strong> tracing.Please visit the A&D Mall on the Internet under:http://www.siemens.com/automation/mall5/4Siemens DA 12 · 2004
---
AppendixCustomer supportOur Services for Every Phase of Your Project■ Configuration <strong>and</strong> Software EngineeringSupport in configuring <strong>and</strong> developingwith customer-orientedservices from actual configurationto implementation of the automationproject. 1 ).IIn the face of harsh competition you need optimum conditions tokeep ahead all the time:A strong starting position. A sophisticated strategy <strong>and</strong> team forthe necessary support - in every phase.Service & Support from Siemens provides this support with acomplete range of different services for automation <strong>and</strong> drives.In every phase: from planning <strong>and</strong> startup to maintenance <strong>and</strong>upgrading.Our specialists know when <strong>and</strong> where to act to keep the productivity<strong>and</strong> cost-effectiveness of your system running in top form.■ Online SupportThe comprehensive informationsystem available round theclock via Internet ranging fromProduct Support <strong>and</strong> Service &Support services to SupportTools in the Shop.http://www.siemens.com/automation/service&support■ Service On Site■ Repairs <strong>and</strong> Spare PartsWith Service On Site we offerservices for startup <strong>and</strong> maintenance,essential for ensuringsystem availability.In Germany0180 50 50 444 1 )In the operating phase of a machineor automation system weprovide a comprehensive repair<strong>and</strong> spare parts service ensuringthe highest degree of operatingsafety <strong>and</strong> reliability.In Germany0180 50 50 448 1 )■ Technical SupportCompetent consulting in technicalquestions covering a widerange of customer-oriented servicesfor all our products <strong>and</strong>systems.Tel.: +49 (0)180 50 50 222Fax: +49 (0)180 50 50 223E-Mail:adsupport@siemens.com■ Optimization <strong>and</strong> UpgradingTo enhance productivity <strong>and</strong>save costs in your project we offerhigh-quality services in optimization<strong>and</strong> upgrading. 1 )■ Technical ConsultingSupport in the planning <strong>and</strong> designingof your project from detailedactual-state analysis,target definition <strong>and</strong> consultingon product <strong>and</strong> system questionsright to the creation of theautomation solution. 1 )51) For country-specific telephone numbers go to our Internet site at:http://www.siemens.com/automation/service&supportSiemens DA 12 · 2004 5/5
---
AppendixCustomer supportKnowledge Base <strong>and</strong> Automation Value Card5■ Knowledge Base on CD-ROMFor locations without online connectionsto the Internet there areexcerpts of the free part of theinformation sources available onCD-ROM (Service & SupportKnowledge Base). This CD-ROM contains all the latestproduct information at the timeof production (FAQs, Downloads,Tips <strong>and</strong> Tricks, Updates)as well as general informationon Service <strong>and</strong> Technical Support.The CD-ROM also includes afull-text search <strong>and</strong> our Knowl-■ Automation Value CardSmall card - great supportThe Automation Value Card is an integral component of the comprehensiveservice concept with which Siemens Automation <strong>and</strong>Drives will accompany you in each phase of your automationproject.It doesn't matter whether you want just specific services from ourTechnical Support or want to purchase high-quality SupportTools in our Online Shop, you can always pay with your AutomationValue Card. No invoicing, transparent <strong>and</strong> safe. With yourpersonal card number <strong>and</strong> associated PIN you can view thestate of your account <strong>and</strong> all transactions at any time.Services on card. This is how it's done.Card number <strong>and</strong> PIN are on the back of the Automation ValueCard. When delivered, the PIN is covered by a scratch field,guaranteeing that the full credit is on the card.edge Manager for targeted searches for solutions. The CD-ROMwill be updated every 4 months.Just the same as our online offer in the Internet, the Service &Support Knowledge Base on CD comes complete in 5 languages(German, English, French, Italian, Spanish).You can order the Service & Support Knowledge Base CDfrom your Siemens contact.Order no. 6ZB5310-0EP30-0BA2Orders via the Internet(with Automation Value Card or credit card) at:http://www.siemens.com/automation/service&supportin the Shop domain.By entering the card number <strong>and</strong> PIN you have full access to theService & Support services being offered. The charge for theservices procured is debited from the credits on your AutomationValue Card.All the services offered are marked in currency-neutral credits,so you can use the Automation Value Card worldwide.Automation Value Card order numbersCredits Order no.200 6ES7 997-0BA00-0XA0500 6ES7 997-0BB00-0XA01000 6ES7 997-0BC00-0XA010000 6ES7 997-0BG00-0XA0Detailed information on the services offered is available on ourInternet site at:http://www.siemens.com/automation/service&supportService & Support à la Card: ExamplesTechnical Support"Priority" Priority processing for urgent cases"24 h" Availability round the clock"Extended" Technical consulting for complex questionsSupport Tools in the Support Shop"System Utilities""Applications""Functions &Samples"Tools that can be used directly for configuration,analysis <strong>and</strong> testingComplete topic solutions including ready-tested softwareAdaptable blocks for accelerating your developments5/6Siemens DA 12 · 2004
---
■ Subject indexPageAA&D in the WWW 5/4A&D online services 5/4Acoustic power level 2/4Add-on units 2/4, 3/140Aggressive gases <strong>and</strong> vapors 2/3Air filter 3/137Air flow 3/139Air flow monitor 2/6Air inlet 3/137Air/water cooler 2/5, 3/140Anti-condensation heating 2/6, 3/139Appendix Part 5Application conditions 2/2Armature voltage 2/2BBalancing 2/6, 3/139Bearing monitoring 3/139Bearing temperature monitoring 2/5Bearings 2/4, 3/138Benefits 1/5Brakes 3/140Brush length 3/139Brush materials 2/2Brush monitoring 2/6Brush service life 2/2Brushes 3/139CCable inlet 3/137Carbon brushes 2/2Commutation 2/2Compensated motors 3/35 - 3/88,3/111 - 3/136Condensation 2/2Conditions of sale 5/10Converter circuit 2/2Coolant inlet temperature 2/2Cooling 2/4Cooling air temperature 3/139Cooling air thermometer 2/6Cooling method 3/3Customer Support 5/5 - 5/6DDC technology is of prime importance 1/3Degree of protection 3/3, 3/138Designs 3/6Determining the motor type 3/3Diagnostics 3/139Dimensions Part 4Direction of rotation 2/3Drive selection 3/2Dry-type filter 3/137Duct connection 2/5, 3/138DURIGNIT 2000 2/3DURIGNIT insulation system 2/3EEasy shopping with the A&D Mall 5/4Encoder 2/5Excitation voltage 3/6Explanations Part 2Export regulations 5/10Extended field control range 3/139AppendixIndicesSubject <strong>and</strong> order number indexPageFField control range 2/3Field service 5/5Field weakening 2/3Field weakening speed 2/3Fields of application 1/4Filter assembly 2/5GGases 2/3Guide for drive selection 3/2IIndices 5/7 - 5/9Information <strong>and</strong> <strong>ordering</strong> on the Internet <strong>and</strong>on CD-ROM 5/4Installation <strong>and</strong> operating conditions 2/2Intermittent mode 2/3Introduction Part 1KKnowledge base <strong>and</strong> Automation Value Card 5/6LLeak warning 3/139Leak warning device 2/6MMagnetic circuit 2/2Monitoring 2/5Motor design 2/2Motor type 3/3Mounted assemblies 3/137Mounting of separately-driven fan 3/137NNoise levels 2/4Non-st<strong>and</strong>ard rated excitation voltages 3/6OOnline support 5/5Operating conditions 2/2Operating mode 2/3Operation <strong>and</strong> diagnostics 3/139Optimization <strong>and</strong> modernization 5/5Options 3/137 - 3/140Order No. 3/5Order No. index 5/9Order No. supplements 3/6Order number code 3/5Our services for every phase of the project 5/5Output 3/4Output variations 2/2Overload capability 2/2Overtemperature 3/139PPaint finish 2/3, 3/138Product selection using the interactive catalog 5/4Project engineering <strong>and</strong> software engineering 5/5Protection 2/5Pulse encoder 2/5, 3/140QQuality management 1/1RRate of change of current 2/2Rated excitation voltages 3/6Rated output 2/3Rating plate 3/139Regreasing device 2/4Regulations 5/2Repairs <strong>and</strong> spare parts 5/5Rotor 2/2Siemens DA 12 · 2004 5/75
---
IndicesAppendixSubject <strong>and</strong> order number indexPageSSector-specific applications 2/3, 3/139<strong>Selection</strong> <strong>and</strong> <strong>ordering</strong> Part 3<strong>Selection</strong> of the motor according to torque<strong>and</strong> output 3/4Self-cooled motors 3/3Separately-driven fan 2/5, 3/140Shaft extension 2/6, 3/138Short codes 3/137 - 3/140Siemens contact partners worldwide 5/3Silencer 3/137Site altitude 2/2Smoothing reactor 2/2Sound pressure level 2/4Specifications 5/2Speed data on the rating plate 2/3Speed deviations 2/2Speed direction 3/139St<strong>and</strong>ard paint finish 2/3St<strong>and</strong>ard rated field voltages 3/6St<strong>and</strong>ards 5/2Structure of the Order No. 3/5Supply system 2/2Surface-cooled motors 3/3PageTTachometers 2/5, 3/140Technical consulting 5/5Technical support 5/5Temperature class 2/3Terminal box 2/6, 3/137Terms of supply 5/10Thermal motor protection 2/5Torque 3/4UUncompensated motors 3/7 - 3/34,3/89 - 3/110VVapors 2/3Ventilation 2/4Vibration severity 3/139WWelcome to Automation <strong>and</strong> Drives 1/25■ Order No. indexOrder No.Page1GF51GF5 114 3/91GF5 116 3/101GF5 132 3/121GF5 134 3/121GF5 136 3/131GF5 162 3/141GF5 164 3/151GF5 166 3/161GF61GF6 162 3/171GF6 164 3/181GF6 166 3/191GG51GG5 102 3/71GG5 104 3/71GG5 106 3/71GG5 108 3/81GG5 114 3/91GG5 116 3/101GG5 118 3/111GG5 132 3/121GG5 134 3/121GG5 136 3/131GG5 162 3/141GG5 164 3/151GG5 166 3/161GG5 500 3/67 - 3/681GG5 501 3/69 - 3/701GG5 502 3/71 - 3/721GG5 503 3/73 - 3/741GG5 504 3/75 - 3/761GG5 631 3/78 - 3/791GG5 632 3/80 - 3/811GG5 633 3/82 - 3/831GG5 634 3/84 - 3/841GG5 635 3/86 - 3/87Order No.Page1GG61GG6 162 3/181GG6 164 3/181GG6 166 3/191GG6 186 3/201GG6 188 3/211GG6 206 3/231GG6 208 3/241GG6 226 3/261GG6 228 3/271GG6 256 3/291GG6 258 3/301GG6 286 3/321GG6 288 3/331GG71GG7 351 3/35 - 3/361GG7 352 3/37 - 3/381GG7 353 3/39 - 3/401GG7 354 3/41 - 3/421GG7 355 3/43 - 3/441GG7 401 3/45 - 3/461GG7 402 3/47 - 3/481GG7 403 3/49 - 3/501GG7 404 3/51 - 3/521GG7 405 3/53 - 3/541GG7 451 3/56 - 3/571GG7 452 3/58 - 3/591GG7 453 3/60 - 3/611GG7 454 3/62 - 3/631GG7 455 3/64 - 3/655/8Siemens DA 12 · 2004
---
Order No.Page1GH51GH5 102 3/71GH5 104 3/71GH5 106 3/71GH5 108 3/81GH5 114 3/91GH5 116 3/101GH5 118 3/111GH5 132 3/121GH5 134 3/121GH5 136 3/131GH5 162 3/141GH5 164 3/151GH5 166 3/161GH5 500 3/67 - 3/681GH5 501 3/69 - 3/701GH5 502 3/71 - 3/721GH5 503 3/73 - 3/741GH5 504 3/75 - 3/761GH61GH6 162 3/181GH6 164 3/181GH6 166 3/191GH6 186 3/201GH6 188 3/211GH6 206 3/231GH6 208 3/241GH6 226 3/261GH6 228 3/271GH6 256 3/291GH6 258 3/301GH6 286 3/321GH6 288 3/331GH71GH7 351 3/35 - 3/361GH7 352 3/37 - 3/381GH7 353 3/39 - 3/401GH7 354 3/41 - 3/421GH7 355 3/43 - 3/441GH7 401 3/45 - 3/461GH7 402 3/47 - 3/481GH7 403 3/49 - 3/501GH7 404 3/51 - 3/521GH7 405 3/53 - 3/541GH7 451 3/56 - 3/571GH7 452 3/58 - 3/591GH7 453 3/60 - 3/611GH7 454 3/62 - 3/631GH7 455 3/64 - 3/651HA51HA5 164 3/891HA5 166 3/891HC51HC5 102 3/911HC5 104 3/911HC5 106 3/911HC5 108 3/921HC5 114 3/931HC5 116 3/931HC5 132 3/941HC5 134 3/941HC5 136 3/951HC5 164 3/961HC5 166 3/96AppendixIndicesSubject <strong>and</strong> order number indexOrder No.Page1HQ61HQ6 186 3/971HQ6 188 3/981HQ6 206 3/991HQ6 208 3/1001HQ6 226 3/1021HQ6 228 3/1031HQ6 256 3/1051HQ6 258 3/1061HQ6 286 3/1081HQ6 288 3/1091HQ71HQ7 351 3/1111HQ7 352 3/1121HQ7 353 3/1131HQ7 354 3/1141HQ7 355 3/1151HQ7 401 3/117 - 3/1181HQ7 402 3/119 - 3/1201HQ7 403 3/121 - 3/1221HQ7 404 3/123 - 3/1241HQ7 405 3/125 - 3/1261HQ7 451 3/127 - 3/1281HQ7 452 3/129 - 3/1301HQ7 453 3/131 - 3/1321HQ7 454 3/133 - 3/1341HQ7 455 3/135 - 3/1361HS51HS5 500 3/67 - 3/681HS5 501 3/69 - 3/701HS5 502 3/71 - 3/721HS5 503 3/73 - 3/741HS5 504 3/75 - 3/761HS61HS6 186 3/201HS6 188 3/211HS6 206 3/231HS6 208 3/241HS6 226 3/261HS6 228 3/271HS6 256 3/291HS6 258 3/301HS6 286 3/321HS6 288 3/331HS71HS7 351 3/35 - 3/361HS7 352 3/37 - 3/381HS7 353 3/39 - 3/401HS7 354 3/41 - 3/421HS7 355 3/43 - 3/441HS7 401 3/45 - 3/461HS7 402 3/47 - 3/481HS7 403 3/49 - 3/501HS7 404 3/51 - 3/521HS7 405 3/53 - 3/541HS7 451 3/56 - 3/571HS7 452 3/58 - 3/591HS7 453 3/60 - 3/611HS7 454 3/62 - 3/631HS7 455 3/64 - 3/655Siemens DA 12 · 2004 5/9
---
AppendixConditions of sale <strong>and</strong> delivery■ Terms <strong>and</strong> Conditions of Sale <strong>and</strong> Delivery■ Export regulationsBy using this catalog you can acquire hardware <strong>and</strong> softwareproducts described therein from the Siemens AG subject to thefollowing terms. Please note! The scope, the quality <strong>and</strong> the conditionsfor supplies <strong>and</strong> services, including software products,by any Siemens entity having a registered office outside of Germany,shall be subject exclusively to the General Terms <strong>and</strong>Conditions of the respective Siemens entity.For customers with a seat or registered office in the FederalRepublic of GermanyALThe General Terms of Payment as well as the General Conditionsfor the Supply of Products <strong>and</strong> Services of the Electrical <strong>and</strong>Electronics Industry shall apply.For software products, the General License Conditions for SoftwareProducts for Automation <strong>and</strong> Drives for Customers withSeat or registered Office in Germany shall apply.For customers with a seat or registered office outside ofGermanyThe General Terms of Payment as well as the General Conditions ECCNfor Supplies of Siemens, Automation <strong>and</strong> Drives for Customerswith a Seat or registered Office outside of Germany shall apply.For software products, the General License Conditions for SoftwareProducts for Automation <strong>and</strong> Drives for Customers withSeat or registered Office outside of Germany shall apply.GeneralThe prices are in € (Euro) ex works, exclusive packaging.The sales tax (value added tax) is not included in the prices.It shall be debited separately at the respective rate according tothe applicable legal regulations.In addition to the prices of products which include silver <strong>and</strong>/orcopper, surcharges may be calculated if the respective limits ofthe notes are exceeded.Prices are subject to change without prior notice. We will debitthe prices valid at the time of delivery.The dimensions are in mm. Illustrations are not binding.Insofar as there are no remarks on the corresponding pages- especially with regard to data, dimensions <strong>and</strong> weights given -these are subject to change without prior notice.The products listed in this catalog / price list may be subject toEuropean / German <strong>and</strong>/or US export regulations.Therefore, any export requiring a license is subject to approvalby the competent authorities.According to current provisions, the following export regulationsmust be observed with respect to the products featured in thiscatalog / price list:Number of the German Export ListProducts marked other than "N" require an exportlicense.In the case of software products, the export designationsof the relevant data medium must alsobe generally adhered to.Goods labeled with an "AL not equal to N" aresubject to a European or German export authorizationwhen being exported out of the EU.Export Control Classification NumberProducts marked other than "N" are subject to areexport license to specific countries.In the case of software products, the exportdesignations of the relevant data medium mustalso be generally adhered to.Goods labeled with an "ECCN not equal to N" aresubject to a US re-export authorization.Even without a label or with an "AL: N" or "ECCN: N" label,authorization may be required due to the final destination <strong>and</strong>purpose for which the goods are to be used.The deciding factors are the AL or ECCN export authorizationindicated on order confirmations, delivery notes <strong>and</strong> invoices.Errors excepted <strong>and</strong> subject to change without prior notice.A&D/VuL/En 14.11.035Comprehensive Terms <strong>and</strong> Conditions of Sale <strong>and</strong> Delivery areavailable free of charge from your local Siemens business officeunder the following Order Nos.:• 6ZB5310-0KR30-0BA0(for customers based in the Federal Republic of Germany)• 6ZB5310-0KS53-0BA0(for customers based outside of the Federal Republic ofGermany)or download them from the Internet:http://www.siemens.com/automation/mall(Germany: A&D Mall Online Help System)Responsible forTechnical content:Siemens AG, A&D LD I B PASiemens AGAutomation & DrivesLarge DrivesPO Box 47 4390025 Nuremberg, GermanyGeneral editing:Siemens AG, A&D PT 5, Erlangen,GermanyOrder No. for the bound edition:E86060-K5312-A101-A1-7600Printed in GermanyKG K 0504 10.0 E 212 En/4222795/10Siemens DA 12 · 2004
---
Catalogs of theAutomation <strong>and</strong> Drives Group (A&D)Further information can be obtained from our branchoffices listed in the appendix of this catalogAutomation & DrivesCatalogInteractive catalog on CD-ROM• Components for Automation & Drives CA 01Automation Systems for Machine ToolsSINUMERIK & SIMODRIVE NC 60Cables, Connectors <strong>and</strong> System ComponentsNC ZDrive SystemsVariable-Speed DrivesDC Motors DA 12DC Drives Preferred Series up to 500 kW DA 12.1DC Drives Preferred Series 215 kW to 1500 kW DA 12.2SIMOREG DC MASTER 6RA70 Digital Chassis DA 21.1ConvertersSIMOREG K 6RA22 Analog Chassis Converters DA 21.2SIMOREG DC MASTER 6RM70 Digital Converter DA 22Cabinet UnitsSIMOVERT PM Modular Converter Systems DA 45SIEMOSYN Motors DA 48MICROMASTER 410/420/430/440 Inverters DA 51.2MICROMASTER 411/COMBIMASTER 411 DA 51.3SIMOVERT MV Medium-Voltage Drives DA 63SIMOVERT MASTERDRIVES Vector Control DA 65.10SIMOVERT MASTERDRIVES Motion Control DA 65.11Synchronous <strong>and</strong> asynchronous servomotors for DA 65.3SIMOVERT MASTERDRIVESSIMODRIVE 611 universal <strong>and</strong> POSMO DA 65.4Low-Voltage Three-Phase-MotorsProject Manual M 10Squirrel-Cage Motors, Totally Enclosed, Fan-Cooled M 11Automation Systems for Machine Tools SIMODRIVE NC 60• AC Main Spindle Motors 1PM, 1FE, 1PH• AC Servomotors 1FT, 1FK• AC Linear motors 1FN• Converter System SIMODRIVE 611• Converter Systems SIMODRIVE POSMO A/CD/CA/SIDrive <strong>and</strong> Control Components for Hoisting Equipment HE 1Low-Voltage Controls <strong>and</strong> DistributionLow-Voltage Controlgear, Switchgear <strong>and</strong> SystemsCommunication-Capable Controlgear,Controlgear with SIRIUS, SIGUARD Safety Systems,Control <strong>and</strong> Signalling Devices, Switchgear,Transformers <strong>and</strong> DC Power Supplies,Main- <strong>and</strong> EMERGENCY-STOP Switches,Control Switches, Terminal BlocksBERO - Sensors for AutomationProducts <strong>and</strong> Systemsfor Low-Voltage Power DistributionSENTRON WLCatalogNS KNS BERONS PSNS WLMotion Control System SIMOTION PM 10Process Instrumentation <strong>and</strong> AnalyticsField Instruments for Process AutomationFI 01Measuring Instruments for Pressure,Differential Pressure, Flow, Level <strong>and</strong> Temperature,Positioners <strong>and</strong> Liquid MetersPDF: Indicators for panel mounting MP 12SIREC Recorders <strong>and</strong> Accessories MP 20SIPART, Controllers <strong>and</strong> Software MP 31SIWAREX Weighing Systems WT 01Continuous Weighing <strong>and</strong> Process Protection WT 02Gas Analysis Equipment for the Process Industry PA 10PDF: Process Analytics,PA 11Components for the System IntegrationSIPAN Liquid Analysis PA 20SIMATIC Industrial Automation SystemsSIMATIC PCS Process Control System ST 45PDF: SIMATIC S5/505 Automation Systems ST 50Components for Totally Integrated Automation <strong>and</strong> ST 70Micro AutomationSIMATIC PCS 7 Process Control System ST PCS 7PDF: Add-ons for the SIMATIC PCS 7ST PCS 7.AProcess Control SystemSIMATIC Control SystemsST DASIPOS Electric ActuatorsElectric Rotary, Linear <strong>and</strong> Part-turn Actuators MP 35Electric Rotary Actuators for Nuclear Plants MP 35.1/.2Electrical Installation TechnologyPDF: ALPHA Small Distribution Boards <strong>and</strong>Distribution BoardsPDF: ALPHA Side-by-Side Switchgear CabinetsPDF: BETA Modular Installation DevicesPDF: DELTA Switches <strong>and</strong> OutletsPDF: GAMMA Building Management SystemsET A1ET A3ET B1ET D1ET G1Systems EngineeringPower supplies SITOP power KT 10.1System cabling SIMATIC TOP connect KT 10.2MOBY Identification Systems KT 21Industrial Microcomputers SICOMP KT 51System SolutionsApplications <strong>and</strong> Products for Industry are part of theinteractive catalog CA 01Human Machine Interface Systems SIMATIC HMI ST 80Industrial Communication <strong>and</strong> Field DevicesIK PITELEPERM M Process Control SystemAS 235, AS 235H <strong>and</strong> AS 235K automation systems PLT 111PDF: AS 488/TM automation systems PLT 112Operating <strong>and</strong> monitoring with WinCC/TM PLT 123CS 275 bus system PLT 130PDF: These catalogs are only available as pdf files.A&D/3U/En 27.10.03
---
The information provided in this catalog contains descriptionsor characteristics of performance which in case of actual usedo not always apply as described or which may change as aresult of further development of the products. An obligationto provide the respective characteristics shall only exist if expresslyagreed in the terms of contract. Availability <strong>and</strong> technicalspecifications are subject to change without notice.Siemens AGAutomation <strong>and</strong> DrivesLarge DrivesPostfach 47 43, D-90025 Nürnbergwww.siemens.com/motorsOrder No. E86060-K5312-A101-A1-7600