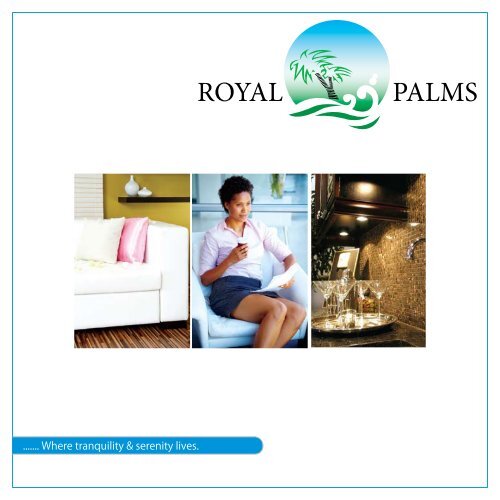 Royal Palms brochure.pdf - Villa Care Royal Palms brochure.pdf - Villa Care
....... Where tranquility & serenity lives.
---
Quality livingA unique development consisting of 310 units is destined to become the heartand soul of a City and a way of life.The interior design expertise assures unparalleled workmanship, immaculatefinishes and the finest attention to details; so that you can sit back, relax andenjoy the most exceptional quality living........ Where tranquility & serenity lives.
---
Site Plan....... Where tranquility & serenity lives.A9753110864297531108642975311086429753110864297531108642B97531108642A97531108642B97531108642C97531108642D97531108642E97531108642I97531108642J97531108642H97531108642G97531108642FCDB97531108642A97531108642I97531108642J97531108642K97531108642B97531108642CTWIGA COURTNDOVUMAMBASWARA97531108642D97531108642E97531108642F97531108642G97531108642H97531108642E97531108642F97531108642C97531108642ATWIGA COURT3BR.WITHOUT DSQMAMBACOURTA & C - BR.WITH DSQNDOVUCOURT3BR. + DSQSWARACOURTA & B - 3BR.+ DSQC-J - 2BR.
---
Apartment Details• 2 bedroom - 80 units• 3 bedroom with Dsq - 100 units• 3 bedroom without Dsq - 130 units• Common cloakroom• In-built wardrobes in all bedrooms• Utility area• Master bedroom en suite• Walk-in closets in master bedrooms• Open plan kitchen cum dining....... Where tranquility & serenity lives.
---
Extra features & amenitiesThe units feature spacious lounge with balconies, dining, fitted kitchen openingto the balcony/yard. You can enjoy breathtaking, uninterrupted views of thelush greenery. Your evolving lifestyle is complimented by luxurious superiorfittings, a swimming pool overlooking the club house, bore hole and you cansave on gym memberships with a state of the art gym and jogging track.More additional feature 24hr security, 24hr internet access, CCTV, ample cabropaved parking for his and hers. If you are looking for a school where yourchildren can be attending, there is one at your disposal........ Where tranquility & serenity lives.
More magazines by this user