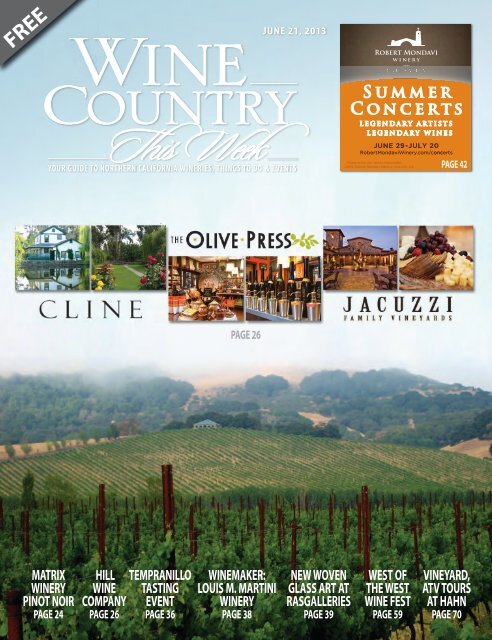 Download as a PDF - Wine Country This Week
Download as a PDF - Wine Country This Week
Download as a PDF - Wine Country This Week
SHOW MORE
SHOW LESS
Create successful ePaper yourself
Turn your PDF publications into a flip-book with our unique Google optimized e-Paper software.
FREEJUNE 21, 2013YOUR GUIDE TO NORTHERN CALIFORNIA WINERIES, THINGS TO DO & EVENTSLEGENDARYARTISTSLEGENDARY WINESJUNE 29-JULY 20RobertMondaviWinery.com/concertsoncertsPlease enjoy our wines responsibly.©2013 Robert Monda vi Wineryinery, Oakville, CAPAGE 42PAGE 26MATRIXWINERYPINOT NOIRPAGE 24HILLWINECOMPANYPAGE 26TEMPRANILLOTASTINGEVENTPAGE 36WINEMAKER:LOUIS M. MARTINIWINERYPAGE 38NEW WOVENGLASS ART ATRASGALLERIESPAGE 39WEST OFTHE WESTWINE FESTPAGE 59VINEYARD,ATV TOURSAT HAHNPAGE 70
---
Wine CoUntrY tHis WeeKPublished Weekly Since 1981More than 1,000 distribution points –Read by more than 2 million people annuallywww.winecountrythisweek.comTASTE OUR WINEATWine Tasting, Cycling, Food & Wine Pairings,Espresso, Patio SeatingOpen daily 10:00AM - 6:00PM709 MAINSTREET. ST. HELENA CA 707.968.062562CLIFFAMILYWINERY.COMLYWINERYY.COMComplimentary tasting with the purchase of two bottles of wine.669 Broadway, Suite B • Sonoma, CA 95476PUBLISHERMANAGING EDITORP.O. Box 92 • El Verano, CA 95433707-938-3494 Fax 707-938-3674Mike GiangrecoDirect (707) 938-3734mike@winecountrythisweek.comChandra GrantPhone 707-938-1783 • Fax 707-938-3674Email chandra@winecountrythisweek.comOFFICE MANAGER & Cathy GoreCALENDAR EDITOR Phone 707-938-3494 • Fax 707-938-3674Email cathy@winecountrythisweek.comCIRCULATION &DISTRIBUTIONSUBSCRIPTIONSSINGLE COPYJeff Burgess, Director707-304-6464 or jeff@fyiwinecountry.com$75 per year ($1.44 each)PO Box 92, El Verano, CA 95433Send check for $5 toPO Box 92, El Verano, CA 95433EDITORIALCONTRIBUTORSKarin Argoud, Michelle Baker, Alexandra CharsleyMonica Dashwood, Mike Hyland, Denise OlliffeLaura Ness, Charles Neave, Josh Stein,Sue Straight - The Wine Wenchand Abigail ZimmermanMEDIAwww.WineCountryThisWeek.comwww.facebook.com/WineCountryThisWeek@WineCountryTWS A L E SGeneral SalesMike Giangreco707-938-3734, mike@winecountrythisweek.comSonoma, Mendocinoand Lake CountiesNapa ValleyJet Howell707-495 9385, winecountryjet1@att.netRoseAnn Trzesniewski707-334-1930, rmtrue@comcast.netLivermore, Treasure Island, Mike GiangrecoMonterey Bay, Central Coast mike@winecountrythisweek.comSanta Cruz Mountains 707-938-3734Reproduction, in whole or in part, without written permission is prohibited.2Planning a Visit to Central Coast Wine Country?Pick up a copy of WINE COUNTRY THIS MONTH: CENTRAL COASTor download the current issue at www.winecountrythismonth.comwww.WineCountrythisWeek.com
---
Wine CoUntrY tHis WeeKGOLDEN HAVEN HOT SPRINGSExperience the TraditionSAVE $ 60on a Mud Bath for Two! *Calistoga Mud Baths for CouplesFor over 100 years, people have come to Calistogato take the mud baths and enjoy the hot springs.At Golden Haven, couples enjoy the mud baths together in private treatmentrooms. Relax for the day in a hot springs mineral pool or stay overnight in oneof our rooms featuring whirlpool spas and saunas. Experience the century-oldtradition of the mud baths and hot springs.Mud Bath for 2 persons for $59 per person(REGULAR PRICE $89 PER PERSON)Golden Haven Hot Springs1713 Lake Street, Calistoga(707) 942-8000 • www.goldenhaven.comSpecial price of $59 per person is valid Monday-Friday, excluding holiday periods. On Saturdays,Sundays and holiday periods, price is $64 per person. Ad is also valid for 10% discount on hotel rooms,Monday-Thursday, excluding holiday periods. Ad must be presented to receive discount.GLook for us on Facebook and become a Fan!3
---
TABLE OF CONTENTS | WINE COUNTRY THIS WEEK JUNE 21, 2013 | ISSUE 25 , VOLUME 3222WINE REGIONS8 | NORTHERN CALIFORNIA MAP34 | SUISUN VALLEY37 | NAPA VALLEYNapa Valley Wineries Map, 44-45Yountville, 39Calistoga, 40-41Downtown Napa Map, 47St. Helena Map, 4648 | SONOMA COUNTYSonoma County Wineries Map, 48-49Northern Sonoma County Wineries Map, 50Downtown Healdsburg Map, 52Geyserville Wineries Map, 53Sonoma Valley Wineries Map, 60Sonoma Plaza Map, 62Kenwood Map, 6566 | MENDOCINO & LAKE COUNTIESLake & Mendocino Counties Map, 6668 | SANTA CLARA, SANTA CRUZ & MONTEREY COUNTIESMonterey Bay/Santa Cruz Mountains Map, 68Salinas Valley Wineries Map, 7071 | LIVERMORE VALLEYLivermore Valley Map, 7138FEATURES22 HILL WINE COMPANYTwo Winemakers, One Goal:Great Grapes into Great, Affordable Wines36 TEMPRANILLO TAPAS GRAND WINE TASTING24 MATRIX WINERY"Sip-Sip" Fine Pinot Noir26 ON THE COVER: CLINE CELLARS,JACUZZI FAMILY VINEYARDS, THE OLIVE PRESSA Perfect Day – Sonoma Valley's Gateway31 WHITEHALL LANE WINERYCelebrating 20 Years of Family Winemaking34 VEZER-STOCK FESTIVALSet to Rock Suisun Valley38 WINEMAKER PROFILE – MICHAEL MARTINILouis M. Martini Winery39 NEW AT RASGALLERIESWoven Glass Sculpture from William Zweifel42 ROBERT MONDAVI WINERY SUMMER CONCERT SERIESKicks Off with 100th Birthday Celebration, June 2959 WEST OF THE WEST WINE FESTIVALVarious Events in Sebastopol, August 2-470 VINEYARD TOURS, ATV ADVENTURES AT HAHN ESTATEREGULARS6 | WINE COUNTRY DEALS & DISCOUNTS2410 | WINEOLOGY By Len NapolitanoWhich wines are compatible with a wide variety of foods?12 | WINE GROWING DECISIONS By Josh SteinIf I Could Keep Time in a Barrel…14 | CALENDAR OF EVENTS32 | CONCIERGE FAVORITES36 | WINE COUNTRY LODGING72 | WINERY LISTINGSNapa Valley, 72Sonoma County, 77Monterey, Santa Cruz & Santa Clara Counties, 82Lake & Mendocino Counties, 83Suisun, 84Bay Area/Livermore, 8573 | NAPA VALLEY'S TOP 5 'CAVE' TOURS75 | PET FRIENDLY WINERIES77 | SONOMA COUNTY'S TOP 5 'CAVE' TOURS79 | SONOMA COUNTY'S TOP 5 PICNIC SPOTS86 | DINING DIRECTORYWine Country This Week's preferred restaurantsin Sonoma County (p86) and Napa Valley (p87)4 www.WineCountryThisWeek.com
---
Wine CoUntrY tHis WeeKVGS Chateau Potelle Tasting House & GardenInnovative, Intimate, Convivialand ExtraordinaryOpen Daily 10am-5pm> Enjoy 4 of our wines,each served in its own Reidel glass> Indoor and outdoor seated tastingReservations strongly suggestedHighway 29 at 1200 Dowdell LaneSt. Helena(just two blocks south of town)707-255-9440vgschateaupotelle.comSmall Family OwnedWinery in the Heart ofNapa ValleyCOME IN AND TASTE OUR WINES:Cabernet SauvignonMerlotPinot NoirSauvignon BlancChardonnayDessert WinesOpen Daily 10am to 5:45pm1563 St. Helena Hwy, St. Helena | 800-963-9454 | whitehalllane.comFollow us: facebook.com/whitehalllanewinery | twitter.com/whitehalllaneFollow us on twitter @WineCountrytW5
---
Wine CoUntrY tHis WeeKDEALS & DISCOUNTSnAPA vALLeY5 | Andretti WinerY 2 for 1 tasting with ad5 | CALiForniA Wine toUrs special price on tours and tastings10 | FAmoUs CitY LimoUsine First hour free! see ad for details.3 | goLden HAven discounts on Couples mud Bath/spa getaway47 | HAgAFen CeLLArs 2 for 1 tasting with ad34 | JeLLY BeLLY 20% off purchase, see ad for details39 | JessUP CeLLArs tasting fee waived with purchase37 | LoUis m. mArtini WinerY 2 for 1 tasting with ad"…a picture–perfectplace to wind down…"–Huffington Post41 | oLd FAitHFUL geYser $1 off with ad6 | reAtA At JAmieson rAnCH two for one cheese and wine88 | rUtHerFord HiLL WinerY 10% off your purchase with ad46 | stAgeCoACH exPress Complimentary shipping box13 | sterLing vineYArds visit their website for $5 savings41 | sUmmers Wines 15% discount with ad2 | veLo vino Complimentary tasting with purchase of two bottles31 | WiLLiAm HiLL 2 for 1 tasting with adsonomA CoUntY64 | B Wise mention ad for an enhanced tasting experienceTWO for ONEARTISAN CHEESE & WINE PAIRINGTasting Room Open from 10 am to 5 pm. Tours and pairings by appointment.t.1 Kirkland Ranch Road, Napa 94558Reservations 707.254.8673 ext. 119 or online at www.jamiesonranch.com51 | BALLetto vineYArds Complimentary tasting with ad5 | CALiForniA Wine toUrs special price on tours and tastings49 | CeLLArs oF sonomA 2 for 1 tasting with ad10 | FAmoUs CitY LimoUsine First hour free! see ad for details.78 | FerrAri-CArAno 2 for 1 Classic Wines tasting with ad51 | Fritz WinerY mention ad for $5 off wine tasting78 | HoP KiLn WinerY 2 for 1 tasting with ad77 | KeLLer estAte mention WCtW for $20 off cave tour & barrel tasting57 | KendALL-JACKson WinerY 2 for 1 reserve tasting with ad65 | Ledson WinerY & vineYArds mention ad for upgraded tasting55 | Lost CAnYon WinerY Complimentary tasting for two with ad51 | mArtin rAY WinerY 15% discount with ad65 | mUsCArdini CeLLArs two for one tasting with ad52 | rodneY strong Complimentary estate tasting/20% discount with ad55 | stAtion 1870 Complimentary tasting for two with ad64 | vJB vineYArds & CeLLArs 2 complimentary tastings & 15% off61 | viAnsA WinerY 2 for 1 tasting & 10% off purchase with adsAntA CLArA, sAntA CrUz & montereY CoUnties70 | HAHn WinerY Complimentary tasting for two with ad*See individual ads for details.6 sign up for our email newsletter at www.WineCountrythisWeek.com
---
Wine CoUntrY tHis WeeKCome for the ViewStay for the WineJOIN US FOR WINE TASTINGOpen daily from 10 a.m. to 5 p.m ~ seminars available by appointment, 707.963.1160A TASTE OF TERROIRAn exclusive side-by-side evaluation of four Trinchero cabernets from St. Helena, Rutherford,Atlas Peak & Mt. Veeder in the private downstairs cellar – $50 per person.THE SENSORY CHALLENGEIdentify key aromatics in wine by playing the Le Nez du Vin aroma challenge – $35 per person.TASTING ROOMOPEN DAILY 12-5PM2867 St. Helena Hwy North,St. Helena, CA 94574866.877.5939 | stclement.com3070 North St. Helena Highway, St. Helena, CA 94574707.963.1160 | www.trincheronapavalley.comwww.WineCountrythisWeek.com7
---
NORTHERN CALIFORNIATOEUREKATOREDDINGFort Bragg1ElkPt. ArenaMendocinoLittleRiver20P P a a c c i i f f i i c c O O c c e e a a n nUkiahWillitsCalpella20253BoonvilleYorkville Hopland128Gualala LakeSonomaSea RanchPt. ReyesTimber CoveJenner29LakeportGeyserville101ClearLakeGuerneville12 •San Francisco1175Half MoonBayCloverdaleHealdsburgBodega BaySebastopol116TomalesPt. ReyesStationMuirWoodsPacificaSFO29101SanRafael1101Lower Lake29MiddletownSanta Rosa280WoodsideKenwoodGlenEllenPetaluma 116n n S S a a801288412Sonoma121Monterey Bay293720San PabloBay58053ClearlakeF r a n c i s c o B a yF r a n c i s c o B a yPaloAltoCalistoga92YountvilleBerkeley84St. Helena580NapaOaklandSantaCruzRutherford12121AlamedaSantaClaraVallejo6807802412Pleasanton880680FremontSan Jose17Capitola152WatsonvilleMoss Landing4121Hayward680LakeBerryessaFairfieldBrooks128 WintersDavisConcordWalnut Creek580Morgan Hill125Williams16Gilroy5054805SacramentoRio VistaLivermore1215220558099Lodi99Stocktongetting to nAPA TRAVEL TIMEFROM MILES (Average)Sonoma 15 23minsSan Francisco 48 1hrMonterey 152 2hrs 45minsLos Angeles 400 6hrs 20minsgetting to sonomA TRAVEL TIMEFROM MILES (Average)Napa 15 23minsHealdsburg 38 54minsSan Francisco 45 1 hrMonterey 161 3hrsLos Angeles 410 6hrs 30minsgetting to HeALdsBUrg TRAVEL TIMEFROM MILES (Average)Sonoma 38 54minsNapa 56 1hr 10minsSan Francisco 69 1hr 22minsMonterey 184 3hrs 20minLos Angeles 442 7hrsManteca50 Placerville88Oakdale4SutterCreek4949AngelsCampChineseCampJacksonJamestowngetting to montereY TRAVEL TIMEFROM MILES (Average)Sonoma 162 3hrsNapa 153 2hrs 45minsSan Francisco 114 2hrs 10minsSan Jose 73 1hrs 20minsPaso Robles 117 2hrsLos Angeles 321 5hrs 30minsgetting to sAn Jose TRAVEL TIMEFROM MILES (Average)Sonoma 90 1hr 50minsNapa 86 1hr 35minsSan Francisco 48 1 hrMonterey 73 1hr 20minsLos Angeles 340 5hrs 30minsDestination Drivers156You Relax, We Drive...Your car, where you want to goSalinasin the wine country.Monterey68A better, smarter, safer way PacificGrove101to tour and taste.5Carmel TOTOBook a driver atBIG SUR &PASO ROBLES &TOMORRO BAY Gonzales SAN LUIS OBISPOLOS ANGELES8 destinationdrivers.comFollow us on Twitter @WineCountryTWor call 707-293-8137TORENOTOLAKE TAHOETOYOSEMITE99
---
Wine CoUntrY tHis WeeK sign up for our email newsletter at www.WineCountrythisWeek.com9
---
I N T E L L I G E N C E f O r T H E W I N E C O N S U M E rBY LEN NAPOLITANOWhich wines are compatible with a wide variety of foods?This question arises often when I am out to dinner with agroup of people. I am asked to pick a wine for the table that willsatisfy everyone. This is almost impossible, not only because eachperson has their own preference for wine, but also because eachwill choose his or her own dinner independent of the others,which will invariably result in a wide variety of foods on thetable. The problem therefore becomes how to satisfy as manypeople as possible with one wine selection.Depending on the number of people at the table, one way toapproach the task is to order at least one type of white wine atleast one type of red wine. This is always my first choice whendining with more four or more people. The wines I like to selecton these occasions are light-bodied whites and medium-bodiedreds. For white, I find Sauvignon Blanc to be very versatile withSEDANS • STRETCH, HUMMER and EXCURSION limousinesTop quality limousines andexceptional chauffeur servicesince 1996800-310-8787www.famouscitylimo.comFirst Hour Freewith 6+ hour bookingMENTION WCTW WHENMAKING RESERVATIONSWINE TASTING • SPECIAL OCCASIONS • CORPORATE ACCOUNTSalmost all fish, vegetarian and chicken dishes. This wine typicallyhas a crisp, refreshing feel and doesn't dominate food flavors.People who say they will only drink white wines will pretty muchalways feel comfortable with a Sauvignon Blanc.With the red wine selection for a group there are two roads Ican take, depending on the style of restaurant we're in. If meatand game dishes and other big, flavorful meals dominate themenu, I like to make the red choice a blended wine. This couldbe one of many different blends, such as Cabernet Sauvignoncombined with Merlot, Cabernet with Shiraz or Cabernet withSangiovese. These wines combine richness of flavor with asmoothness that will appeal to many red wine drinkers. If,however, the menu is mostly middle-of-the-road style withpastas, chicken, light sauces and salads, I will usually select aPinot Noir as the red wine. This wine is probably the mostversatile of all reds, and will usually appeal to both red and whitewine lovers. When dining in French restaurants, you can call outfor a red Burgundy and know you will get a Pinot Noir.When you are unsure of which wine to order with a largegroup, these suggestions will help your odds of pleasing the mostpeople. In a quality restaurant, there is usually a wine expert onhand who can make suggestions, and you should feel free to takeadvantage of their knowledge of the menu and their wines thatpair best with it.Certified in Wine by the Society of Wine Educators and the Wine & Spirits Education Trust,Len Napolitano is the author of Nose, Legs, Body! Know Wine Like The Back of Your Hand.Available on Amazon.com and at wineology.com. Follow Len on Twitter: @wineologistE mail your wine questions to: Len@wineology.comT10Follow us on twitter @WineCountrytW
---
Wine CoUntrY tHis WeeK100% Organic Grapes, Estate Grown Napa Valley WinesHill Wine Company Specializes in small lots of Cabernet Sauvignon,Merlot, Chardonnay, Sauvignon Blanc to ensure the highest quality wines.Come sit back relax and taste the difference in our wines at the estatecraftsman tasting room or walk our estate olive orchard and grounds.Of every bottle sold, a portion is donated to the ASPCAOpen Daily 10am-5pm707-963-7000club@hillwinecompany.comwww.hillwinecompany.com1001 Silverado Trail South, St Helena CA 94574ODETTE ESTATEWelcome to Odette Estate, Stags Leap District newest winery.We invite you to visit our vibrant tasting room.Open daily for tastings 10:30 am – 4 pm by appointment.To schedule your visit please call 707.224.7533or visit www.odetteesate.com.ODETTE ESTATE WINERY5998 SILVERADO TRAIL NAPA, CA 94558sign up for our email newsletter at www.WineCountrythisWeek.comPREMIUM NAPA VALLEY WINES • FOUNDED IN 1897Come and experience the history andpastoral setting with picnic grounds,a bocce court and a horse shoe pit.Tours & Tastings offered dailyExclusive Group & LunchPackages by appointmentOpen Daily 11-56613 Pope Valley Road, Pope Valley, CA 94567(707) 965-1246 • www.popevalleywinery.com11
---
If I Could Keep Time in a Barrel…BY JOSH STEINJune brings heat, and with it, lots of things happen in the cellar.Over the winter and into early spring, with cellars cold, wines in barreltend to slowly blurb along, the yeasts gently doing their thing with thelast percent or two of residual sugars or the bacteria finishing up theconversion of malic to lactic acid, both of which are good for aromaand mouthfeel, but come the warmth of late spring, the wines inbarrel come alive again because heat speeds up reactions – just like inyour high school chem lab – which means decision time once again.For whites, generally Chardonnay but occasionally SauvignonBlanc or another oaked variety, this is when the secondary malolacticfermentation finishes if it has not already, and with the exception ofthose who are going for a long time in barrel, this is when theprevious fall's white wines are bottled. Some whites, like SauvignonBlanc or Riesling, generally made in steel the whole time, would bereleased immediately, the freshness and vibrancy preserved for exactlyhow appealing these wines are when young.Most producers, however, would bottle oaked whites and thenallow them to age under glass for at least a few months, if not longer.This is not just about bottle shock from bottling, which does tend tojoin us atour tastingroommute or cause otherwise great wines to taste a bit off for a month ortwo. No, the anaerobic conditions actually allow the wines to againundergo a slow maturation, bringing out more mouthfeel andcomplexity through the lack of oxygen. This is why the wines "wakeup" when opened – they have returned to aerobic conditions,activating bouquet and flavors through the reintroduction of oxygen.Red wines, of course, take a parallel but different trajectory thanthe whites. Just about all reds spend time in oak, and spring willmean time to transfer, or "rack," again as every few months barrelsneed to be topped up to reduce the oxygen of headspace, and thebest way to address this is to conslidate into fewer barrels. Thiscauses a gradual reduction of the overall wine in the cellar as barreledwines are racked out of their homes and then into either a new barrelor a tank, some folks deciding to maintain the integrity of each winelot while others allow for a general mixing in a larger tank beforegoing back to individual barrels again.Any given red spends eighteen to twenty-four months in thiscycle, and along the way, each racking creates a natural fining effect asparticles fall out of solution and end up in the belly of each barrel.These lees provide for complexity but also possible microbialcontamination, which is why the monitoring of each wine in barreland as it is racked is most important of all – we can taste and smellproblems far quicker through sensory monitoring, and knowing thatSpring brings warmth, and warmth speeds things up, simply meanspaying closer attention rather than necessarily doing anything at all.As I hope is clear, the reality of winemaking is that every step ofthe process presents a series of options. Regardless of which arechosen, or not, each time the winegrower chooses to tweak or not, torack or not, how often, the logistics of the racking, etc., all leave animpact on the final wine. While the processes are scientific,measurable, and generally predictable, the application is whereexperience and creativity come to the fore. Those willing toexperiment intentionally create an alternate path for their wines,choosing differently at the moments above, while those callingthemselves minimally impactful or conservative seek to decide ordisturb as little as possible. There is no one right answer, which iswhat makes winegrowing so much fun. If we knew all the answersahead of time, there'd be no point in doing it since wines tend tohave mnds of their own. Consider that when you pop the next bottleand enjoy!121426 Main Street, St. Helena, CA 94574 P:707.244.4600Josh Stein has been in the Napa wine business for more than a decade, and, in addition to being owner/winemakerof the Stein Family Wine Group, which produces a nationally and internationally distributed portfolio of wine brandsand donates 5% of its sales to the children of wineworkers in the form of college scholarships and support funds, heregularly consults for wineries and organizations throughout the North Bay and Coast via their subsidiaries, DiscreteWine Support Services and SF-Integrated Vineyard Management.Follow us on twitter @WineCountrytW
---
CALendAr oF events | Wine CoUntrY tHis WeeKNAPA VALLEYONGOINGNapa Valley Wine TrainNapa, www.winetrain.com, 800-427-4124• June 13-17, 20-24, 27-30: Sip & Supper• June 13: Murder Mystery Dinner• June 20: Moonlight Escape• June 21: Vintner's Lunch, Judd's Hill• June 29: Grill the ChefONGOINGSeminars & Tastingsat Merryvale VineyardsSt. Helena, 10am-6:30pm, www.merryvale.com, 707-963-7777• Merryvale tasting, $15• reserve tasting, $35• Wine Sensory Seminar, $45, fridays 12pm or by appt• Wine & Cheese Experience, $45, by appt• Sommelier Grand reserve Tasting, $65, by apptONGOINGJefferson House Reserve RoomTasting at Monticello VineyardsNapa – reserve room Wine Tasting, Corley family Napa Valley, $25rSVP 707-253-2802 x18, www.CorleyfamilyNapaValley.comONGOINGV. Sattui WinerySt. Helena, 9am-6pm summer, no appt. necessarywww.vsattui.com, 707-963-7774• Premium tasting, daily, $10• Italian Marketplace with 200+ cheeses• Deli with panini, sandwiches, crabcakes & more• Weekend BBQ, wood-fired pizza, oysters, mozzarella bar• 2 ½ acres of tree-shaded picnic groundsONGOINGTours & Tasting at ZD Winesrutherford, rSVP 800-487-7757, www.zdwines.com• Traditional Tasting, $10, daily 10am-4:30pm• Premier Tasting, $20, daily 10am-4:30pm• Private Group Tasting, $25, by appt• Cellar Tour & Tasting, $40, by appt• Vineyard View Tasting, $75, by appt• Abacus Tasting, $650, by appt• Wine Train, $199•Library Selection Tour, $75, by appt• Eco Tour, $50, by apptONGOINGTours and Tastingsat William Hill Estate WineryNapa, 10am-5pm, by prior appointment onlywww.williamhillestate.com, 707-265-3024• Taste the Napa Valley, $15• Taste of Chardonnay, $18• Taste the Silverado Bench, $20• William Hill Estate Vineyard Experience, $25• William Hill Estate Experience, $50ONGOINGVineyard & Winery Toursat Raymond VineyardsSt. Helena, 10:30am and 3pm (by appt), $45www.raymondvineyards.com, 707-963-6929ONGOINGTours & Tastings at Andretti WineryNapa, www.andrettiwinery.com, 877-386-5070x227• Individual Tastings, $15• Private Winery Tour & Tasting, $20/person by appointment• Vineyard Tours, $20/person by appointmentONGOINGTasting at Grgich Hills Estaterutherford, 9:30am-4:30pm, Tours at 11am & 2pm, $10Wine library tasting/$30, Barrel tasting on most fridays 2-4pmwww.grgich.com, 707-963-2784ONGOINGEducational Tours & Wine Tastingat Castello di AmorosaCalistoga, www.castellodiamorosa.com, rSVP, 707-967-6272No appointment necessary for tasting; tours need an appointment.• regular tour & tasting• reserve tour & tasting• Tasting only• Private VIP tours• Napa Valley Neighbor ProgramONGOINGTasting Experiences at ArtesaUp to 10 guests, some require 72 hour notice707-254-2126, Tours@artesawinery.com, www.ArtesaWinery.com• Estate reserve Experience, 10:30am, daily• Vino con Queso, $60, 11:30am, daily• Chocolate Indulgence, $50, 1:30pm, daily• Spanish Tapas and Wine Pairing, $60, 1:03pm, daily• International Tapas & Wine Pairing, $60, 2:30pm, daily• Vines & Wines Vineyard Tour, $45, 10:30am, fri-Sun May-Oct• food & Wine Pairing, $80, 12:30pm, fri-Sun• Ultimate Tasting, $55, 2:30pm, Sat-Sun, Jan-JulONGOINGTastings at St. Supéryrutherford, www.stsupery.com, 800-942-0809• Vineyard to Glass: 10:30am, 1pm; Mon, Thurs, fri, Sun; $25• Cellar Tour, fridays, 2pm, $50• Dollarhide Library Tasting, daily, $35• Élu Library Tasting, daily, $35ONGOINGWine Tasting Experiences at Benessere VineyardsSt. Helena, www.benesserevineyards.com, by appt 707-963-5853 x105• Personalized Wine flights, daily, $20• Vineyards Walking Tour & Tasting, M-W, 10:30am, $15• fudge Pairing Experience, Sun, 10:30am, $15• Barrel Tasting, rSVP, Tues, Sat-Sun, 11am, $20• Barrel Tasting & Current release, Tues, Sat-Sun, 11am, $25• Barrel Tasting & Vertical, Tues, Sat-Sun, 11am, $25• Group Tasting, Sat-Sun, 1:30pm, $15ONGOINGJoseph Phelps Vineyards: Wine Experiences & TastingsAn opportunity to participate in a wide range of semi-private seated tastings.11am daily, 2:30pm Monday-friday & 2pm Saturday & Sunday$75; free/club members• Insignia Blending• Wine Aroma Challenge• Napa Valley rocks • Barrel Tastingfriday, Saturday & Sunday only at 11am, Wine & Cheese Pairing $75/person.Casual terrace tastings available daily, $35 & $70.for reservations, info: 707-967-3720, www.josephphelps.comONGOINGTours & Tastings at Clos du ValNapa, daily 10am-5pm, www.closduval.com, 800-993-9463• Classic tastings, $10: fee waived with purchase of a bottle wine.• reserve tastings, $20: fee not waived with purchase of a bottle of wine.• Tours by appointment with 24 hour advance noticeONGOINGVisitor Programs at Robert Mondavi Wineryfor details, www.robertmondavi.com, 888-rMONDAVI x2• The Signature Tour & Tasting• Discover tour• The Exclusive Cellar Tasting• The Wine Tasting Basics• Twilight Tour• Tasting Beyond the BasicsONGOINGVIP Tasting at Bourassa VineyardsNapa, Daily by appointment, www.bourassavineyards.com, 800-499-2366ONGOINGTastings at Silverado VineyardsNapa, www.silveradovineyards.com, 707-259-6611, 800-997-1770 x611• Saddleblock Vineyard Tasting, by appt, $75• Library Tasting, by appt, $75• Daily Tasting room flights, Estate/$15, Premier/$25• Public Tours & Tasting, 10:30am & 2:30pm, by appt, $25• Private Tour/Tasting, 15-25 guests, by appt, $20/tour, $25/tour & tastingONGOINGNapa Valley Opera House1030 Main Street, Napa, www.nvoh.org, 707-226-7372• June 14-15: Little feet School of Dance 32nd Annual recital• June 17: film, The Adventures of Priscilla Queen of the Desert• June 20: fatoumata Diawara• June 22: Mariachi Divas• June 25: Tuesday Night flicks, Adam's rib• June 27: Mark Hummel's Blues Harp Blowout, Little Walter TributeONGOINGWine Tasting at Back Room WinesNapa, www.backroomwines.com, 707-226-1378• June 14: Back room Blow Out LII• June 29: Hot Dogs & WineONGOINGLive at Uptown TheatreNapa, www.uptowntheatrenapa.com, 707-259-0123• June 15: Jerry Douglas & Peter rowan's Big Twang Theory• June 23: Lily Tomlin• June 29: Berlin plus Big Country• July 5: free Show with Del the funky Homosapien & Guests• July 7: Katchafire with J Boog & Hot rain• July 18-19: Jewel – Greatest Hits TourONGOINGNapa Valley Performing Arts Centerat Lincoln TheaterYountville, www.lincolntheater.org, 707-944-9900• July 10, 16: Orchestra Institute – Summer festival Concert• July 12-21: Napa Valley festival Del SoleONGOING WEEKENDS THROUGH OCTOBERMusic on the Promenadeat Beringer VineyardsSt. Helena, 12-5pm, www.beringer.com, 707-963-8989x2069• June 15, 16, 22: Steel Jam• June 23: Jazz Mirage• June 29: The Blues Box Bayou Band• June 30: Sweet Burgundy• July 6, 14, 20, 28: Steel Jam• July 13, 27: The Blues Box Bayou Band• July 21: Jazz MirageONGOING WEDNESDAYSWinemaker Wednesdays at 1313 MainNapa, 6-8pm, www.1313main.com, 707-258-1313ONGOING FRIDAYSBubbles Bar at 1313 MainNapa, 9pm-12am, www.1313main.com, 707-258-1313UPCOMING• Daily: Valley first Tour• Daily: Grgich Hills Estate Winery Tour• fri-Sun: Domaine Chandon Winery Tour• Sat: Valley's only Evening Winery Tour• Mon-Thu: Ambassador Winery Tour• June 13-17, 20-24, 27-30: Sip & Supper• June 20: Moonlight Escape• June 21: Vintner's Lunch, Judd's Hill• June 29: Grill the Chef14 Look for us on Facebook and become a Fan!
---
Wine CoUntrY tHis WeeK | CALendAr oF eventsONGOINGNapa Valley MuseumYountville, www.NapaValleyMuseum.org, 707-944-0500• June 8-July 28: Miles Davis, The Art of Being Cool• June 18: Dig It Discovery Day• June 20: Jazzland reception with the Artist Edmund Ian Grant• June 20: Circle of Life Discovery Day for Kids• June 22: Jazz Day for Kids• June 25: Adventures in Art, Da Vinci, Picasso, Dali – Oh My!• July 2: fire & Ice! SenseSational Summer Discovery Days• July 9: Take a Walk on the Wild Side SenseSational Summer Discovery Days• July 11: ¡Viva Mexico!ONGOING FRIDAYS-SUNDAYSBarrel Tasting & Tours at ReataTour and Barrel Tasting by appointment.Napa, www.reatawines.com, 707-254-8673x119ONGOING FRIDAYS-SUNDAYSFood & Wine Pairings at Etude WineryNapa, 10am, 1pm & 3pm, $35, $25/memberswww.etudewines.com, 707-257-5300ONGOING FRIDAYS THROUGH OCTOBERTerrace Lounge at Sunsetround Pond Estate, rutherford, 6-8pmwww.roundpond.com, 888-302-2575, rSVPONGOING THROUGH JANUARY 5Serenity, Wonder, and Spiritby Jeffery A. Davis Photography Exhibitat Mumm Naparutherford, www.mummnapa.com, 707-967-7740ONGOING FRIDAYS THROUGH OCTOBER 25St. Helena Farmers Market & Cooking ClassSt. Helena, 8am-4pm, www.cookingwithjulie.com, 707-227-5036ONGOING TUESDAYS THROUGH OCTOBER 29Napa Farmers Market & Cooking ClassNapa, 8am-4pm, www.cookingwithjulie.com, 707-227-5036SUNDAYS THROUGH SEPTEMBER 1St. Clement Summer Music SeriesSt. Helena, 707-963-7221, www.stclement.com• June 16: Jon Popenoe, solo blues guitar• June 23: Tom Duarte, solo classical guitar• June 30: Tommy Hill, solo flamenco guitar• July 7: Tom Duarte, solo classical guitar• July 14: Jon Popenoe, solo blues guitarJUNE 15Sunset & Vines at Pine Ridge VineyardsNapa, 6-9pm, $160, $150/memberswww.pineridgevineyards.com, 800-400-6647, rSVPJUNE 15Taste of Howell MountainCharles Krug Winery, St. Helena, 12-5pm, $125www.howellmountain.org, 707-965-2665JUNE 15Merryvale June Barrel Tasting& Release PartySt. Helena, 1-4pm, $25, free/members, 877-887-7763, www.merryvale.comJUNE 15Pinot & Pig Roast PartyEtude Wines, Napa, rSVP, www.etudewines.com, 707-299-3064JUNE 15White Supper AffairEhlers Estate, St. Helena, 5-8pm, $75/members, $95/guestswww.ehlersestate.com, 707-963-5972, rSVPJUNE 16Father's Day BBQ at Acacia VineyardNapa, 707-226-9991, www.acaciavineyard.comJUNE 1623rd Annual Father's Day Invitational Auto ShowV Marketplace, Yountville, 10:30am-3;30pmwww.vmarketplace.com, 707-944-2451come for the Wine...stay for the FoodV. Sattui Winery& Italian MarketNapa ValleyOver a Dozen90+ Point RatedWi inesWine SpectatorConnoisseur's GuideWine EnthusiastArtisan Deli& Market200+ CheesesHouse-made Sandwiches,Panini & SaladsTree-shadedPicnic Grounds www.WineCountrythisWeek.com15
---
CALendAr oF events | Wine CoUntrY tHis WeeKJUNE 19Chocolate for BreakfastNapaStyle, Yountville, 5-6pm, www.NapaStyle.com, rSVP, $25JUNE 21Paella & Pinot Noir at Domaine CarnerosNapa, 7-10pm, $95/members, $105/guestswww.domainecarneros.com, 707-257-0101x135JUNE 21Summer Solstice Winemaker DinnerEhlers Estate, St. Helena, 4-7pm, www.ehlersestate.com, 707-963-5972JUNE 21Summers' Summer SolsticeWinemaker DinnerCalistoga, 6:30pm, $118, rSVP, www.summerswinery.com, 707-942-5508JUNE 21TGIF at Pine Ridge VineyardsNapa, 5:30-7:30pm, $45, $36/memberswww.pineridgevineyards.com, 800-400-6647, rSVPJUNE 21Race in to The Room to See the #11 FedEx Carflora Springs Winery, St. Helenawww.florasprings.com, 866-867-8032JUNE 21-22Summer Solstice CelebrationCornerstone Cellars, Yountville, 4-7pmwww.cornerstonecellars.com, 707-945-0388JUNE 22Chef Series: Surf 'n Turf with Waterbar SFBouchaine Vineyards, San francisco, 5-7pmwww.bouchaine.com, 707-252-9065, $85, $80/membersJUNE 22Clif Family Winery Summer SolsticeSt. Helena, 6-10pm, www.cliffamilywinery.com, 707-968-0625JUNE 22Midsummer Medievalat Castello di AmorosaCalistoga, $155/members, $185/guests, rSVPwww.castellodiamorosa.com, 707-967-6274JUNE 22Artesa Blending PartyNapa, 877-224-8309, www.artesawinery.comJUNE 22L'Italia in Vigneto Dinner at Andretti WineryNapa, 7pm, $95, rSVP 888-460-8463x229www.andrettiwinery.com, Tenaya@andrettiwinery.comJUNE 221st Annual Progressive Dinnerflora Springs Winery, St. Helena, 4-7pmwww.florasprings.com, 866-867-8032, $110, $80/membersJUNE 22Cooking ClassJoin Chef Brian Witmer & Clos du Val Wines, Cedar Gables Inn, Napa4-8pm, $169, www.cedargablesinn.com, 707-224-7969JUNE 27Winemaker Dinner Series: Jerome Chery of SaintsburySilverado resort & Spa, Napa, $150, www.silveradoresort.com, 707-257-5431JUNE 2935th Anniversary Vineyard Dinner Series:Dos Olivos Vineyard, OakvillePine ridge Vineyards, Napa, 5-9pm, $300, $290/memberswww.pineridgevineyards.com, 707-257-4717, rSVPJUNE 29Artist in Residence at Andretti Winery:Mars Lasar & Kim WildNapa, 12-5pm, www.andrettiwinery.com, 877-386-5070JUNE 30Peju Cooking Class: Summer Grillingrutherford, 10:30a1:30pm, $190, $165/memberswww.peju.com, 707-963-3600JULY 3Smoked Olive Oil – The New Pantry EssentialNapaStyle, Yountville, 5-6pm, www.NapaStyle.com, rSVP, $25JULY 5, 19L'Italia in Vigneto Dinner at Andretti WineryNapa, 7pm, $95, rSVP 888-460-8463x229www.andrettiwinery.com, Tenaya@andrettiwinery.comJULY 6Grgich Hills Annual Wine Club FestivalYountville, 11am-3pm, rSVP, www.grgich.com, 800-532-3057JULY 12TGIF at Pine Ridge VineyardsNapa, 5:30-7:30pm, $45, $36/memberswww.pineridgevineyards.com, 800-400-6647, rSVPJULY 13Velo Vino Group RideClif family Winery, St. Helena, www.cliffamilywinery.com, 707-968-0625JULY 13Cooking Class: Summer Harvest FeastJoin Chef Sarah Scott & Spring Mountain Winery, Cedar Gables Inn, Napa4-8pm, $175, www.cedargablesinn.com, 707-224-7969JULY 1440th Anniversary CelebrationDomaine Chandon, Yountville, 12-4pmwww.domainechandon.com, 707-944-2280JULY 15Festival del Sole at Grgich Hillsrutherford, 11am-2pm, www.grgich.com, 800-532-3057JULY 17Unbutton Your Mushroom RepertoireNapaStyle, Yountville, 5-6pm, www.NapaStyle.com, rSVP, $25JULY 19Andretti Winery & Il Posto Trattoria– Italian-style Wine LunchNapa, www.andrettiwinery.com, 707-259-6777x229JULY 19Sunset & Vines at Pine Ridge VineyardsNapa, 6-9pm, $160, $150/memberswww.pineridgevineyards.com, 800-400-6647, rSVPJULY 2031st Annual Home Winemakers ClassicCharles Krug Winery, St. Helena, 4-6:30pm, $35/adv, $45www.homewinemakersclassic.org, 707-255-6372JULY 202nd Annual Texas Style Chili CookoffBourassa Vineyards, Napa, 12-4pm, $35, $25/memberswww.BourassaVineyards.com, 707-254-4922JULY 20Artist in Residenceat Andretti Winery: Kim WildNapa, 12-5pm, www.andrettiwinery.com, 877-386-5070JULY 20Picnic & Bocce at Acacia VineyardNapa, 11am-2pm, 877-226-1700x2www.acaciavineyard.comJULY 20Annual Lobster Feed onthe Vineyard Green at Mumm Naparutherford, $125/members, $140/guestswww.mummnapa.com, 707-967-7781, rSVPJULY 202nd Annual Texas-Style Chili Cook-offat Bourassa VineyardsNapa, 12-4pm, $35, $25/memberwww.BourassaVineyards.com, 707-254-4922JULY 26Hot Havana Nightsat Castello di AmorosaCalistoga, $110/members, $130/guests, rSVPwww.castellodiamorosa.com, 707-967-6274JULY 27Artist in Residenceat Andretti Winery: Mars LasarNapa, 12-5pm, www.andrettiwinery.com, 877-386-5070SONOMA COUNTYONGOINGTastings at Fritz Underground WineryA Taste of fritz: $10, Indulge in fritz reserve Wines: $15Cloverdale, www.fritzwinery.com, 707-894-3389ONGOINGLive Music at Centre du VinSonoma, Ledson Hotel, www.ledsonhotel.com, 707-996-9779• June 28: Jess Petty DuoONGOINGPrivate Tastings at Viansawww.viansa.com, 800-995-7470• Italian Wine & Cheese Pairing10:30am, 12:30pm, 3pm by appointment, $10/members, $25• reserve Wine & food Pairing10:30am, 12:30pm, 3pm by appointment, free/members, $45ONGOINGReserve Wine & Food PairingPrivate Tasting at ViansaSonoma, 10:30am, 12:30pm, 3pm by appointmentwww.viansa.com, 800-995-7470, free/members, $45ONGOINGPrivate Wine Tastingsat Ferrari-Carano Vineyards and WineryHealdsburg –6-8 people, $20-$40ppby appointment, www.ferrari-carano.com, 707-433-6700Choose from:• Pick of the Bunch• Passion for Pinot• Scentiments – Test your Smell Memory• White Wine Lovers – wines paired with Artisan cheeses• King of reds – wines paired with dried fruits and chocolates• Matchmaker – wine and food pairing• PreVail Tasting – wines paired with Artisan Charcuterie plate• Cabernet Terroir Tasting – comparison wines from different elevationsONGOINGWine and Food Pairingat Ferrari-Carano Vineyards and WineryHealdsburg – Matchmaker, learn the art and science of matchingwines with the perfect food. 6-8 people, $35, by appointmentwww.ferrari-carano.com, 707-433-670016 Follow us on twitter @WineCountrytW
---
Wine CoUntrY tHis WeeK | CALendAr oF eventsONGOINGWine Down Friday at Muscardini CellarsKenwood, www.muscardinicellars.com, 707-933-9305ONGOINGFree Guided Winery Tourat Ferrari-Carano Vineyards and WineryHealdsburg – Monday-Saturday, 10am, by appointmentwww.ferrari-carano.com, 707-433-6700ONGOINGGroup Private Tastingsat Ferrari-Carano Vineyards and WineryHealdsburg – Includes 5 wines, 9-25 people in underground cellar, byappointment. $20 per person, www.ferrari-carano.com, 707-433-6700ONGOINGTerroir & History Tour at Chateau St. JeanKenwood – A visit to Chateau St. Jean lifts all of your senses.Complimentary, 11am-2pm, www.chateaustjean.com, 707-833-4134ONGOINGWine Experiencesat Chateau St. JeanKenwood – www.chateaustjean.com, 707-833-4134x5258• Cinq Cépages Blending Experience, Thu-Sun, 11am & 1pm, $75/$60 club• reserve Wine in riedel, daily, 10:30am & 1:30pm, $45/$36 club• Chateau Luxury Tasting, daily, 10:30am & 1:30pm, $25/$10 club• Promenade Tour & Tasting, daily, 11am & 1pm, $20/$16 clubONGOINGTours, Tastings & Seminarsat St. Francis WinerySanta rosa – Ten person minimum, call for more information & reservations888-675-WINE(9463)x255, www.stfranciswinery.com• Charcuterie, daily 11am-4pm, $25/$20 club members• Wine & food Pairing, $42/$33.60 club membersONGOINGFood and Wine Pairingat the Mayo Reserve Room9200 Sonoma Hwy, Kenwood, Daily, 10:30am-6pm, 7 course food/wine tasting$35, reservations recommended, www.mayofamilywinery.com, 707-833-5504ONGOINGGuided Winery Tours at Gloria FerrerSonoma, 11am, 1 & 3pm, $10, www.gloriaferrer.com, 707-996-7256ONGOINGWine & Food Pairing at Kendall-Jacksonfulton – Special reserve food & wine tasting, 10am-4pm, $25www.kj.com, 707-571-7500ONGOINGMoondance Cellars &Orchard Station WinesGlen Ellen – Paired with Wine Country Chocolates Truffle Tastes, $10www.moondancecellars.com, 707-938-7550ONGOING FRIDAY-SATURDAYLive Music at Eric K. James VineyardsSonoma, 8-11pm, www.erickjames.com, 707-996-1364ONGOINGHappy Hour at Proof'dMonday-Wednesday, 3-6pm, ½ off full poursSunday, 1-4pm, ½ off full pours, $1 off flightsSonoma, 707-938-2337, www.proofdspirits.comONGOINGCarneros Bistro & Wine Bar IntroducesThematic Wine ProgramHonoring great local winemakers. Plus, each Thursday, 6:30-8pmcelebrity wine-tenders. The Lodge at Sonoma, rSVPwww.thelodgeatsonoma.com, 707-931-2042• June 13: Special Guests from Imagery Estate Winery• June 20: Winemaker Marcia Monahan, Matanzas Creek Winery• June 27: Winemaker Morgan Twain-Peterson, Bedrock Wine Co.ONGOINGCarneros Bistro & Wine BarGrapes to Glass Wine EducationThe Lodge at Sonoma, www.thelodgeatsonoma.com, 707-931-2042• June 11: Exclusive Tasting of Imagery Estate Wines• June 18: Gold Medal Winning Picks• June 25: Sensational Summer PicksGrand Barrel RoomThe Great HallTours | Tastings | Pairings | Events 707-967-6272 CastellodiAmorosa.comLook for us on Facebook and become a Fan!17
---
CALendAr oF events | Wine CoUntrY tHis WeeKONGOINGVarious Tastings, Meals & Live MusicAnnex Wine Bar, Sonoma, Check website for events!www.annexwinebar.com, 707-938-7482ONGOING FRIDAYS, SATURDAYS & SUNDAYSTaste with the Count at Buena VistaA 45-minute tour and wine tasting, 11am & 12:30pm, $20A 90-minute "Taste with the Count" with reserve Buena Vista winesin "the Count's Lair" by the Count. 2pm, $45, rSVP, 800-926-1266ONGOINGBarrel Tour & Tasting at Buena Vista WinerySonoma, 11am and 2pm (by appt), $30.www.buenavistawinery.com, 800.926.1266ONGOING WEEKENDSWine & Chocolate Pairings at Fritz WineryCloverdale, 10:30am-4:30pm, $5 tasting fee covers the pairingwww.fritzwinery.com, 707-894-3389ONGOING THURSDAY-SATURDAYLive Music at Cellars of SonomaSanta rosa, 7:30-10:30pm, www.cellarsofsonoma.com, 707-578-1826ONGOING SATURDAYSJazz it up Wine & Concert Seriesferrari-Carano's Seasons of the Vineyard, Healdsburg, 4-6pmwww.seasonofthevineyard.com, 707-431-2222ONGOING WEEKENDSAlfresco Tasting at Muscardini CellarsKenwood, 12-5pm, 707-933-9305, www.muscardinicellars.comONGOINGMichel-Schlumberger Winery Back Roads TourHealdsburg, daily at 11am & 2pm, $30www.michelschlumberger.com, 800-447-3060EVERY WEDNESDAY & SATURDAYSanta Rosa Original Farmers' MarketSanta rosa Veteran's Building parking lot, 8:30am-noon, 707-522-8629EVERY FRIDAY MORNINGSonoma Valley Farmers' MarketDepot Park, Sonoma, 9am-noon, 707-538-7023ONGOINGSyrah Hill Experience at Cline CellarsSonoma, 11am-1pm, 2-4pm, $40, $30/memberswww.clinecellars.com, 707-940-4061ONGOINGCooking Classes at Ramekins Culinary School450 West Spain St, Sonoma, Check website for schedulewww.ramekins.com, 707-933-0450ONGOINGWells Fargo Center for the ArtsSanta rosa, wellsfargocenterarts.org, 707-546-3600• June 22: Blackbeard the Pirate• July 8: Draw it! Paint It! Sculpt It!• July 22: New Song Music CampONGOINGLive Shows at Hopmonk TavernSebastopol, www.hopmonk.com, 707-829-7300• June 14: White Trash Summer Bash• June 15: flowerbox• June 16: fanny Ara• June 21: JD McPherson• June 29: Sol HorizonONGOINGLive Shows at Hopmonk TavernSonoma, 707-935-9100, www.hopmonk.com• June 14: Karen Joy Brown, 6-8pm (singer/ songwriter)• June 14: Loosely Covered , 8:30-10:30pm (rock cover band)• June 15: Carb & Swarthy, 1-3pm (Americana/Celtic)• June 15: Sean Carscadden, 8:30-10:30pm (roots rock, funk, folk, blues)• June 16: Sioux City Kid (folk/Americana)• June 21: The ruminators, 6-8pm (folk rock)• June 21: Tony Gibson, 8:30-10:30pm (singer/songwriter)• June 22: Crosby Tyler , 1-3pm(back porch bluesy, ultra primitive Americana one man band)• June 22: David Thom Band, 8:30-10:30pm (bluegrass, folk)• June 28: Salet, 6-8pm (folk, soul, acoustic, rock and pop)• June 29: rob Larkin, 1-3pm (Americana/roots rock)• June 30: Scott foreman, 1-3pm (blues/soul)18ONGOINGGreen Music CenterSonoma State University, rohnert Parkwww.gmc.sonoma.edu, 866-955-6040• June 15: Berkshire Choral festival• July 4: 4th of July Celebration with the Santa rosa Symphony• July 14: Pink Martini• July 16: russian National Orchestra• July 24: Josh Groban with the Santa rosa SymphonyONGOING FRIDAYS, SOME SATURDAYSMusic at Vino di Amore Tasting LoungeCloverdale – Check the for details www.vinodiamore.com, 707-894-6166ONGOING FRIDAYSTGIF Happy HourAncient Oak Cellars, Santa rosa, 5-7pmwww.ancientoakcellars.com, 707-536-1564FRIDAYSFN@R2 – Friday Nights at R SquaredAppetizers, complimentary tasting & fun activities!Sonoma,6pm, www.r2winecompany.com, 707-933-1330LAST SUNDAY OF THE MONTHPizza in the Piazzaat Jacuzzi Family VineyardsSonoma, 11am-3pm, 707-937-7575, www.jacuzziwines.comONGOING SATURDAYSOysters & Bubbles at Muscardini CellarsKenwood, 1-3pm, 707-933-9305, www.muscardinicellars.comONGOING SUNDAYS THROUGH DECEMBERWindsor Farmers MarketMarket Street, Old Downtown Windsor, 11am-3pmwww.windsorfarmersmarket.com, 707-838-5947TUESDAYS THROUGH OCTOBER 29Tuesday Night Farmer's MarketSonoma Plaza, Sonoma, 5:30pm-duskwww.vomcfm.com, 707-694-3611WEDNESDAYS THROUGH OCTOBER 16Wine & Sunsets in ParadiseParadise ridge Winery, Santa rosa, 6pm-sunsetwww.prwinery.com, 707-528-9463FRIDAYS THROUGH SEPTEMBER 27Friday Night Music Seriesat Sebastiani WineryLast friday of the Month is food Truck fridaySonoma, 6pm, www.sebastiani.com, 707-933-3230• June 14: Jami Jameson• June 21: Madison Blues Band• June 28: five A.M. – food Truck friday• July 5: Hellhounds• July 12: rett Hamer• July 19: BackTraxWEEKENDS THROUGH LABOR DAYChateau St. JeanPinot & Pizza Music SeriesKenwood, 12-4pm, $20, $16/memberswww.chateaustjean.com, 707-/33-4134x5258• June 15: Dogbone• June 16: Solid Air• June 22-23: Jon Popenoe• June 29-30: Tony Malfatti• July 7: Tommy Hill• July 7: Nate Lopez• July 13: Smokin' Js• July 14: Bastille Day Music• July 20: Dogbone• July 21: Solid AirTHURSDAYS THROUGH AUGUSTWindsor Farmers MarketMarket Street, Old Downtown Windsor, 5-8pmwww.windsorfarmersmarket.com, 707-838-5947ONGOING WEDNESDAYS THROUGH AUGUST 28Wednesday Evening Farmers' MarketDowntown, Petaluma, 4:30-8pmwww.petalumafarmersmarket.com, 707-762-0344ONGOING THROUGH OCTOBER 12Weekends at Landmark WineryHorse-drawn carriage rides, private tours, seminars & more!Kenwood, Saturdays 11am, Sundays 12pmwww.landmarkwine.com, 707-833-0053ONGOING SATURDAYS THROUGH NOVEMBER 23Saturday Afternoon Farmers' MarketWalnut Park, Petaluma, 2-5:30pmwww.petalumafarmersmarket.com, 707-762-0344SECOND SUNDAY OF THE MONTHTHROUGH NOVEMBERSecond Sunday Event SeriesLive music, tasty food & wine! Bartholomew Park Winery, Sonomawww.bartpark.com, 707-935-9511FRIDAYS THROUGH AUGUST 30Friday Night Live at the Plaza & Farmers' MarketDowntown Cloverdale, 5:30pm market, 7pm musicwww.cloverdaleartsalliance.org, 707-894-4410• June 14: The Magnolia Sisters• June 21: Tommy Castro & The Painkillers• June 28: Monophonics• July 5: The far West• July 12: Hot Buttered rum• July 19: Lost Dog foundONGOINGSummer Music Series at Wilson WineryHealdsburg, 6-8pm, www.wilsonwinery.com, 707-433-4355• June 28: The Blues Pirates, Soul/funk• July 26: Acoustic Son, folk rockONGOINGViansa's Summer Music SeriesSonoma, 12-3pm, free, www.viansa.com, 707-935-4726• June 15: Veraison Band• June 22: Elaine Lucia• June 29: Brian WachhorstONGOINGSummer Music Series at Mazzocco WineryHealdsburg, 6-8pm, www.mazzocco.com, 707-433-3399• June 14: Anne O'Brien, Jazz• July 12: Solid Air, Americana• Aug 9: Jazz roots, Jazz• Sept 6: Double Standyrd, Blues/rockJUNE 14Comedy in the Cave at Gloria FerrerSonoma, 8-9:30pm, $25, $21.25/memberswww.gloriaferrer.com, 707-933-1917JUNE 14Father's Day LunchPaul Hobbs Winery, Sebastopol, 12pm, rSVP, $75www.paulhobbswinery.com, 707-824-9879x121JUNE 14-16Gay Wine Weekend 2013Various events & locations in Sonoma Valley, www.outinthevineyard.comONGOINGSummer Music Series at Matrix WineryHealdsburg, 1-4pm, www.matrixwinery.com, 888-884-1288• June 15: The Penguins, Jazz fusion• July 20: Brandon Hassur, GuitaristJUNE 15Wine Club Pick Up Party at BallettoSanta rosa, 10am-5pm, www.balletto.com, 707-568-2455JUNE 15VIP Wine Tasting & Winemaker Dinnerat Ledson WineryExclusive Event for Wine Club Members, Kenwood, 5-9pm, rSVPwww.ledson.com, 707-537-3823JUNE 15Annual Summer Soiree & Oyster Partyat Fritz Underground WineryCloverdale, 2-5pm, www.fritzwinery.com, 707-894-3389JUNE 15Cellar Soiree – Zinfandel & A Sense of PlaceTin Barn Vineyards, Sonoma, 1-2:30pm, 3-4:30pmwww.tinbarnvineyards.com, 707-938-5430JUNE 16Father's Day BBQ at Cline CellarsSonoma, 11am-5pm, www.clinecellars.com, 707-940-4000www.WineCountrythisWeek.com
---
Wine CoUntrY tHis WeeK | CALendAr oF eventsJUNE 16Father's Day at Centre du VinLedson Hotel, Sonoma, Special menu, $29www.ledsonhotel.com, 707-996-9779JUNE 15Bocce Ball TournamentLandmark Winery, Kenwood, www.landmarkwine.com, 707-833-0053JUNE 15Huichica Music FestivalGundlach Bundschu, Sonoma, www.gunbun.com, 707-939-3006JUNE 15Jazzy Summer NightsSonoma-Cutrer, Windsor, 6pm, $50, www.sonomacutrer.com, 707-237-3489JUNE 15-16Sonoma County Hot Air Balloon ClassicKeiser Park, Windsor, 6:30am, www.schabc.orgJUNE 16Viansa's Wine Club Pick Up PartySonoma, 12-2:30pm, rSVP, Live music by Dave rocha Jazz Bandwww.viansa.com, 707-935-4726JUNE 16Vineyard Tours at Meadowcroft WinesSonoma, 11am-2pm, $15, 707-934-4090, www.meadowcroftwines.comJUNE 16Father's Day BBQ at Cline CellarsSonoma, 11am-3pm, 707-940-4061, www.clinecellars.comJUNE 16Father's Day at BallettoSanta rosa, 11am-4pm, www.balletto.com, 707-568-2455JUNE 16Chardonnay & CroquetSonoma-Cutrer Vineyards, Windsor, www.sonomacutrer.com, 707-237-3489JUNE 16Soundcheck Sunday with The DavesDutton-Goldfield Winery, Sebastopol, 1-4pmwww.duttongoldfield.com, 707-823-3887JUNE 16Father's Day BBQLarson family Winery, Sonoma, 10am-5pmwww.larsonfamilywinery.com, 707-938-3031JUNE 16Library Pouring for Dads & Live MusicB.r. Cohn Winery, Glen Ellen, www.brcohn.com, 800-330-4064JUNE 16Classic Car Cruise-InB.r. Cohn Winery, Glen Ellen, 11am-4pmwww.brcohn.com, 800-330-4064, freeJUNE 1633rd Annual Cotati Jazz FestivalLa Plaza Park, Cotati, www.cotati.org, 707-795-5508JUNE 19Viansa Happy HourSonoma, www.viansa.com, 707-935-4726JUNE 1910th Anniversary Opera in the GardenMadrona Manor, Healdsburg, 707-431-1970www.healdsburgcenterforthearts.comJUNE 19-23Sonoma-Marin FairSonoma-Marin fairgrounds, Petaluma, www.sonoma-marinfair.orgJUNE 20Open House at The Spa at Kenwood InnEnjoy sparkling wine, hors d'oeuvres, mini spa treatments & more!Kenwood, 4-7pm, $25, www.kenwoodinn.com, 800-353-6966JUNE 20Band Blend NightsLittle Vineyards family Winery, Glen Ellenwww.littlevineyards.com, 707-996-2750, rSVPJUNE 2127th Annual Dinnerwith the Winemaker SeriesMichel-Schlumberger with Kerry Damskey; Inn at the Tides, Bodega Bay, $90www.innatthetides.com, 800-541-7788ONGOINGSummer Music Seriesat DeLorimier WineryGeyserville, 6-8pm, www.delorimier.com, 800-546-7718• June 21: Tracy rose, Jazz• July 19: Travelin Soul, Country/rock• Aug 16: Driftwood, Country• Sept 27: Blues Burners, Soul funkJUNE 21Classic Car Cruise-Infeaturing Cars of the West Coast NationalB.r. Cohn Winery, Glen Ellen, 11am-4pmwww.brcohn.com, 800-330-4064, freeJUNE 2223rd Annual Summer Concert Series atRodney Strong Vineyards: Michael McDonaldHealdsburg, 5pm, www.rodneystrong.com, 707-869-1595x4JUNE 22Propeller Club Summer Solstice BBQat Jacuzzi Family VineyardsSonoma, www.jacuzziwines.com, 707-931-7575JUNE 22Fandango – Wine Club Eventat St. Francis WinerySanta rosa, 6-9pm, rSVP, www.stfrancsiwinery.com, 800-650-5437JUNE 22Vineyard Picnic at Matrix WineryHealdsburg, $75, rSVP, www.matrixwinery.com, 888-884-1288JUNE 22Award-Winning Author & SpeakerNahid Sewell at Soda Rock WineryHealdsburg, 2-4:30pm, rSVP, www.sodarockwinery.com, 707-433-3303JUNE 22-23Sonoma Lavender FestivalSonoma Lavender Barn, Kenwoodwww.sonomalavender.com, 707-523-4411x2JUNE 23DeLoach Summer Solstice SoireeSanta rosa, 12-4pm, www.deloachvineyards.com, 707-526-9111JUNE 23Pinot Family Reunion at Vintners InnSanta rosa, www.vintnersinn.comJUNE 23Willmar Artist Series II Pinot Noir BarrelsTasting Event at Gloria FerrerSonoma, 1:30pm, $25, www.gloriaferrer.com, 707-933-1917JUNE 2338th Annual Symphony of Food, Wine & Artrohnert Park Community Center, rohnert Parkwww.srsymphonyleague.com, 707-522-8786JUNE 28Summer Concert Series:An Evening of Folk & Indie RockVML Winery, Healdsburg, 6-9pm, www.vmlwines.comJUNE 28-30, JULY 5-6Broadway Under the Stars: Fly Me To The MoonJack London State Park, Glen Ellen, 7:30pm, $29-$115www.BroadwayJackLondon..com, 877-424-1414JUNE 29Grower Pouring at Muscardini CellarsBill Sanderson of Madrone ridgeKenwood, 2-4pm, 707-933-9305, www.muscardinicellars.comJUNE 29Summertime Wine Club MemberAppreciation Days at Meadowcroft WinesSonoma, 1-4pm, 707-934-4090, www.meadowcroftwines.comJUNE 29Summer of ZinDry Creek Vineyard, Healdsburgwww.drycreekvineyard.com, 707-433-1000x123JUNE 2917th Annual Days of Wine & LavenderMatanzas Creek Winery, Santa rosa, 12-4pm, $95www.daysofwineandlavender.eventbrite.com, 800-590-6464JULY 5-74th of July BBQ at ViansaSonoma, www.viansa.com, 707-935-4726JULY 6All American Zin Day at Mazzocco WineryHealdsburg, 11am-4pm, 707-433-3399, www.mazzocco.comJULY 6All American Zin Day at Wilson WineryHealdsburg, 11am-4pm, www.wilsonwinery.com, 707-433-4355JULY 6Bocce Ball TournamentLandmark Winery, Kenwood, www.landmarkwine.com, 707-833-0053JULY 7Cuban Nights #1 (in the afternoon)at Sebastiani WineryWine Club Member Event, rSVP, www.sebastiani.com, 707-933-3230JULY 7Classic Car Cruise-In: 5th Annual Charity Car ClassicB.r. Cohn Winery, Glen Ellen, 11am-4pm, 800-330-4064, freeJULY 7Home Cheesemaking Class: Gravenstein Apple JamThe Epicurean Connection, Sonoma, 1-3pm, $45, rSVPwww.theepicureanconnection.com, 707-935-7960JULY 11Viansa & KJZY After Hours ConcertSonoma, 5:30-8pm, www.viansa.com, 707-935-4726JULY 13Wine & Dixieland Jazz Festivalat Cline CellarsSonoma, 11am-6pm, $30/adv, $35, Members: $25/adv, $30www.clinecellars.com, 707-940-4000JULY 13Rib Fest in the Vineyardsat DeLorimier WineryGeyserville, 11am-2pm, $55, www.delorimier.com, 800-546-7718JULY 13Maine Lobster DinnerSbragia family Vineyards, Geyserville, 6pmwww.sbragia.com, 707-473-2992x10JULY 133rd Annual Wine Country Big QSonoma Academy, Santa rosa, 1-5pmwww.winecountrybigq.com, 707-523-3728JULY 17Meet Your Farmer DinnerThe Epicurean Connection, Sonoma, 6-8pm, $24, rSVPwww.theepicureanconnection.com, 707-935-7960JULY 18Winemaker Dinner Series: Envolve WinerySanté restaurant, fairmont Sonoma Mission Inn, Sonomawww.fairmont.com/sonoma, 707-938-9000ONGOINGSt. Francis Outdoor Summer Film FestivalSanta rosa, 7pm, free, www.stfranciswinery.com, 888-675-WINE• July 18: Grease• July 25: PsychoJULY 18Band Blend NightsLittle Vineyards family Winery, Glen Ellenwww.littlevineyards.com, 707-996-2750, rSVPJULY 19Artist Reception forNancy Woods at BallettoSanta rosa, 5-7pm, www.balletto.com, 707-568-2455JULY 19-21NHRA Division 7 Drag Racespresented by KorbelSonoma raceway, Sonoma, www.racesonoma.comJULY 20Hike & Taste in the Vineyardsat Kunde Family EstateKenwood, 10am, www.kunde.com, 707-833-5501JULY 20Grower Pouring at Muscardini CellarsThomas' of Gracie Creek Vineyard, Kenwood, 2-4pm707-933-9305, www.muscardinicellars.comsign up for our email newsletter at www.WineCountrythisWeek.com 19
---
CALendAr oF events | Wine CoUntrY tHis WeeKJULY 20-21Resident Art Show at Ledson WineryKenwood, Sat 10am-5pm, Sun 10am-4pmwww.ledsonwinery.com, 707-537-3810JULY 20-2121st Annual Catalan Festivalat Gloria FerrerSonoma, 12-4pm, $55, $45/memberswww.gloriaferrer.com, 707-933-1917JULY 27Dog Hike at Kunde Family EstateKenwood, 10am, www.kunde.com, 707-833-5501JULY 27Summertime Wine Club MemberAppreciation Days at Meadowcroft WinesSonoma, 1-4pm, 707-934-4090, www.meadowcroftwines.comJULY 27Briquettes & Brixat Chateau St. Jean WineryMembers Only Summer BarbecueKenwood, www.chateaustjean.com, 707-265-5210JULY 27-287th Annual Barrel Tastingat Muscardini CellarsKenwood, 707-933-9305, www.muscardinicellars.comJULY 28Italian Festival at ViansaSonoma, 12-4pm, www.viansa.com, 707-935-4726LAKE/MENDOCINOONGOING FRIDAYSTuscan Village Music Art SeriesTerrill Cellars, Lower Lake, 6-9pm, www.terrillcellars.com, 707-994-3354EVERY SECOND SATURDAYWine & Food Pairings at McNab Ridge Tasting RoomHopland, 10am-5pm, www.mcnabridge.com, 707-744-1986FIRST TUESDAY OF THE MONTHWinemaker Dinner SeriesSaw Shop Gallery, Kelseyville, 6-9pmwww.sawshopbistro.com, 707-278-0129FIRST SATURDAY OF THE MONTHVillage MarketplaceTerrill Cellars, Lower Lake, www.terrillcellars.com, 707-252-8444JUNE 14-1621st Annual A Taste of Redwood ValleyVarious events & locations in redwood Valleywww.atasteofredwoodvalley.com, 707-785-0322JUNE 15Acoustic Café: Ed Reinhart & the Burning SensationsParducci Wine Cellars, Ukiah, 6:45-10pmwww.parducci.com, 707-463-5357, $14JUNE 15-16Middletown DaysMiddletown Central Park, Middletown, www.middletowndays.orgONGOINGSundays in the Park Free Concert SeriesTodd Grove Park, Ukiah, 6pmwww.cityofukiah.com, 707-463-6231• June 16: The California Honeydrops• June 30: funkacillin & Pura Vida• July 14: Antsy McClain & The Trailer Park TroubadoursJUNE 16Father's DayMcfadden farm Stand & Tasting room, Hoplandwww.McfaddenVineyard.com, 707-744-8463, 10am-5pmJUNE 21Taste of DowntownDowntown Ukiah, 5-8pm, 707-462-6789, www.downtownukiah.comJUNE 21-23Sierra Nevada World Music FestivalMendocino County fairgrounds, Boonvillewww.snwmf.com, 916-777-5550, $170/three day passJUNE 22Coro Wine 10th Anniversary ReleaseLittle river Inn, Little riverwww.coromendocino.com, 707-937-594220JUNE 2221st Annual Mendocino Coast Garden TourMendocino Art Center, Mendocino, 10am-5pmwww.mendocinoartcenter.org, 707-937-5818JUNE 27-29, JULY 3-4Frontier DaysWillits, 707-459-6330, www.willitsfrontierdays.comBAY AREASAN FRANCISCOONGOINGRifugio Food & Wine Pairingwith Clif Family WinesThe Barn Group, San francisco, www.thebarngroup.comJUNE 1-1512th Annual Dine About Town San FranciscoVarious restaurants in San francisco, www.dineabouttown.comSUNDAYS JUNE 16 – AUGUST 1876th Stern Grove FestivalStern Grove, San francisco, free, www.sterngrove.org, 415-252-6252JUNE 23TAPAS Grand Wine TastingTempranillo Advocates Producers & Amigos SocietyGolden Gate Club, Presidio, San francisco, www.tapasociety.orgJUNE 30San Francisco Pinot Daysfort Mason Center, San francisco, 1-4pmwww.pinotdays.com, 925-891-4553, $50MARIN COUNTYONGOINGMarin Center in San Rafaelwww.co.marin.ca.us, 415-499-6800• June 15-16: Marin Art festivalONGOINGLive Shows at Hopmonk TavernNovato, 415-892-6200, www.hopmonk.com• June 14: Moonalice• June 15: Black Market Blues• June 21: Shed Sessions• June 29: Shana Morrison• July 12: roy rogers• July 13: Volker StriflerJUNE 2332nd Annual 2013 Mill ValleyWine & Gourmet Food TastingDepot Plaza, Mill Valley, 1-4pm415-388-9700, $45/adv, $50SAN MATEO COUNTYJULY 20-2127th Annual Connoisseur's MarketplaceSanta Cruz Ave, Menlo Park, 10am-6pmwww.miramarevents.com, 650-325-2818ALAMEDA COUNTYJUNE 15Food Truck Fanatics! Saurno Burgerrosenblum Cellars, Alameda, 12-4:30pmwww.rosenblumcellars.com, 510-995-4100CONTRA COSTA COUNTYONGOING FRIDAYSTastings at PrimaWalnut Creek, www.primawine.com, 925-735-7780fri: 5:30-7pm, $20, $10/membersSat: 3-5pm, $20, $10/membersJUNE 28Hot Summer Sounds Concert SeriesHannah Nicole Vineyards, Brentwoodwww.hnvwines.com, 925-240-9463LIVERMOREWEDNESDAYS THROUGH THE SUMMERSummer Bocce Ball Nightswith Dinner at GarréOne hour of Bocce ball, two glasses of wine & 3 course dinner, $40Livermore, www.garrewinery.com, 925-371-8200FRIDAYS THROUGH THE SUMMERDinner & Music on the Patio at GarréLivermore, 6-9pm, www.garrewinery.com, 925-371-8200ONGOINGBankhead TheatreLivermore Valley Performing Arts Center, Livermorewww.livermoreperformingarts.org, 925-373-6800• June 15: forest fantasia• June 21-22: Dance Changes Everything• June 22-23: Sleeping Beauty….with a twist• June 27: Dance Around the World• June 28: Pavlo• June 29: Led Zeppelin ExperienceONGOING FRIDAYSConcert in the ParkLions Wayside Park, Pleasanton, 7-8:30pmwww.pleasantondowntown.net, 925-484-2199• June 14: The Cooltones Big Band• June 21: ruckatan Latin Tribe• June 28: The Crisis• July 5: The James Nagel Band• July 12: The Bacchus Brothers• July 12: West Grand BoulevardJUNE 14, 28Tapas, Tasting & TunesMcGrail Vineyards, Livermore, 6-9pm, $10www.mcgrailvineyards.com, 925-215-0717JUNE 16Father's Day BBQ at GarréLivermore, www.garrewinery.com, 925-371-8200JUNE 16Father's Day Lobster Feed LuncheonMcGrail Vineyards, Livermore, 2-6pm, $135, $120/memberwww.mcgrailvineyards.com, 925-215-0717JUNE 16Annual Father's Day Picnicretzlaff Vineyards, Livermore, 11:30am-4pmwww.retzlaffwinery.com, 925-447-8941, $10JUNE 16Father's Appreciation DayConcannon Vineyard, Livermorewww.concannonvineyard.com, 800-258-9866JUNE 16Father's Day FestivitiesMurrieta's Well, Livermore, 11am-6pm, $5www.murrietaswell.com, 925-456-2395JUNE 20Family Movie NightLos Positas Vineyards, Livermore, 6-10pmwww.laspositasvineyards.com, 925-449-9463JUNE 20-22, 30, JULY 5-6, 14, 20The Liar – Livermore Shakespeare FestivalConcannon Vineyard, Livermorewww.LivermoreShakes.org, 800-838-3006JUNE 21Evening in the VineyardLos Positas Vineyards, Livermore, 6-9pm, $30www.laspositasvineyards.com, 925-449-9463JUNE 23Cow FestWestover Vineyards, Castro Valley, 3-7pmwww.westoverwinery.com, 510-537-3932JUNE 25Yoga & Wine SeriesVineyard Lawn at Wente Vineyards, Livermorewww.wentevineyards.com, 925-456-2405JUNE 28Tapas, Tastings & TunesMcGrail Vineyards, Livermore, 6-9pm, $10www.mcgrailvineyards.com, 925-215-0717JUNE 29Wines, Beats & Mobile EatsWente Vineyards, Livermore, 12-4pmwww.wentevineyards.com, 925-456-2405JUNE 29, JULY 7, 12-13, 19-21The Taming of the Shrew –Livermore Shakespeare FestivalConcannon Vineyard, Livermorewww.LivermoreShakes.org, 800-838-3006JULY 2, 16Chef's Garden Tour & TastingThe Garden at Wente Vineyards, Livermore, 10:30am-12pmwww.wentevineyards.com, 925-456-2450, $20, $15/membersFollow us on twitter @WineCountrytW
---
Wine CoUntrY tHis WeeK | CALendAr oF eventsJULY 31st Wednesday Street Party – Red, White & BlueDowntown, Pleasanton, 6-9pmwww.pleasantondowntown.net, 925-484-2199JULY 12, 26Tapas, Tastings & TunesMcGrail Vineyards, Livermore, 6-9pm, $10www.mcgrailvineyards.com, 925-215-0717JULY 13-14Cabernet Celebration WeekendMcGrail Vineyards, Livermore, 12-4:30pm, $10www.mcgrailvineyards.com, 925-215-0717JULY 137th Annual The Front Porch presentsHomegrown Music Seriesfeaturing Tumbleweed Wanderers & The front Porch with Wolf HamlinWente Vineyards Estate Winery, Livermore, 5-9pmwww.wentevineyards.com, 925-456-2305JULY 18-21Taste Our TerroirVarious events & locations in Livermore Valley, www.lvwine.orgJULY 21Opera in the Vineyardretzlaff Winery, Livermore, 5-9:30pm, www.LivermoreValleyOpera.orgSANTA CLARA, SANTA CRUZ& MONTEREY COUNTIESONGOINGSunset Cultural Center-CarmelCarmel, www.sunsetcenter.com, 831-620-2048• June 13: The Donkeys with The Silhouette Era• June 29: Mirth "O"Matics• July 10-11: Weird Al YankovicONGOINGLive at Golden State TheatreMonterey, www.goldenstatetheatre.com, 831-372-3800• June 19: Dr. Sketchy's Anti-Art School• June 21-23: That's Amore!• June 27: Iris DeMent• June 28: Spyro GyraEVERY THIRD WEEKEND OF THE MONTHPair Your Wine with Ice Cream at Kirigin CellarsGilroy, Pair your complimentary wine tasting with a cool Vino de Mocca IceCream Sundae! And stock the cellar 30% of 6 bottle purchases & 50% off cases.www.kirigincellars.com, 408-847-8827EVERY WEDNESDAYWine Down Wednesdaysfortino Winery, Gilroy, 5-8pm, free, www.fortinowinery.com, 408-842-3305ONGOING FRIDAYS THROUGH AUGUSTFree Friday Night Bands on the BeachSanta Cruz Beach Boardwalk, Santa Cruz, 6:30 & 8:30pmwww.beachboardwalk.com, 831-423-5590• June 14: ABC• June 21: Gin Blossoms• June 28: Santana Original Lead Singer Gregg rolie• July 5: The Tubes featuring fee Waybill• July 12: Blue Oyster Cult• July 19: Cracker/Camper Van BeethovennJUNE 15Ingrid's Vineyard TourBernardus Lodge, Carmel Valley, 1-2:30pmwww.bernardus.com, 888-648-9463, $35JUNE 16Father's Day Barbecue & BocceBernardus Lodge, Carmel Valley, 12-3pmwww.bernardus.com, 888-648-9463, $45, $20/kidsJUNE 20Winemaker Series:Sheldon Wines, Santa RosaPacific's Edge, Hyatt Carmel Highlands, Carmelwww.hyattcarmelhighlands.com, 831-620-1234JUNE 21Music in the Vineyard: Sexy Backfortino Winery, Gilroy, 7-10pm, $15, $10/memberswww.fortinowinery.com, 408-842-3305JUNE 22Carmel House & Garden TourVarious locations throughout Carmelwww.carmelheritage.org, 831-624-4447www.WineCountrythisWeek.comONGOING WEDNESDAYS THROUGH AUGUST 14Free Movies on the BeachSanta Cruz Beach Boardwalk, Santa Cruz, 9pmwww.beachboardwalk.com, 831-423-5590• June 26: The Lost Boys• July 3: The Wedding Singer• July 10: Willy Wonka & the Chocolate factory• July 17: TremorsJUNE 29Coastal Cooking: Demonstration & LunchBernardus Lodge, Carmel Valley, 11am-2pmwww.bernardus.com, 888-648-9463, $95JULY 4City Fourth of July BBQ CelebrationCaledonia Park, Pacific Grove, 11am-2pmwww.pacificgrove.org, 831-373-3304JULY 444th Annual 4th of July CelebrationDevendorf Park, Carmel, 12-4pmwww.ci.carmel.ca.us, 831-620-2020JULY 13Meet the Farmer Lunch Series:AA Sport Fishing of MontereyPacific's Edge, Hyatt Carmel Highlands, Carmelwww.hyattcarmelhighlands.com, 831-620-1234JULY 13Hot Rods for Kids Car Show2601 East Lake Ave, Watsonville, 9am-5pmwww.hotrods4kids.com, 831-724-9100JULY 13Lavender Harvest CelebrationBernardus Lodge, Carmel Valley, 11am-2pmwww.bernardus.com, 888-648-9463, $95JULY 13-27Carmel Bach FestivalSunset Center, Carmel, 831-624-1521, www.bachfestival.orgSANTA CLARA COUNTYJUNE 28J. Lohr Wine, Cheese & Chocolate Tastingwith Snake & ButterflySan Jose, 7-9pm, www.jlohr.com, 408-288-5057SANTA CRUZ MOUNTAINSONGOINGThe Mountain Winery Concert SeriesSaratoga, www.mountainwinery.com, 408-741-2822• June 15: Boz Scaggs & Michael McDonald• June 19: Cyndi Lauper, She's So Unusual Tour with Hunter Valentine• June 22: The fab four – The Ultimate Tribute• June 25-26: The Last Summer on Earth, Barenaked Ladies andBen folds five with Boothby Graffoe• June 27: Smokey robinson• June 29: Erykah Badu• Jul 5: Ziggy Marley/Steel Pulse• July 7: An Evening with YES• July 8: railroad Earth/Bruce Hornsby & the Noisemakers• July 9: The Go-Go's/ The B-52s• July 10: rodrigo y Gabriela• July 11: Under The Sun 2013, Smash Mouth, Sugar ray, Gin Blossoms,Vertical Horizon and fastball• July 12-13: Garrison Keillor's A Prairie Home Companion radioromance Tour with Aoife O'Donovan• July 14: Jim GaffiganJUNE 16Father's Day – Hats Off to Dadroaring Camp railroad, feltonwww.roaringcamp.com, 831-335-4484JUNE 16Great Train Robberyroaring Camp railroad, feltonwww.roaringcamp.com, 831-335-4484JUNE 16-17Father's Day BBQ Weekendregale Winery, Los Gatoswww.regalewine.com, 408-353-2500JULY 20Passport DaySanta Cruz Mountains Winegrowers, 11am-5pm, $45Various Santa Cruz Mountains Wineries, www.scmwa.comJUNE 22-23Wine Tasting Weekend – Celebrate SummerVilla del Monte, Winery, Los Gatoswww.villadelmontewinery.com, 888-788-4583JUNE 23Summer Solstice TastingThomas fogarty Winery, Woodside, 1-5pmwww.fogartywinery.com, 650-851-6777JULY 44th of July Celebrationroaring Camp railroad, feltonwww.roaringcamp.com, 831-335-4484JULY 4Great Train Robberyroaring Camp railroad, feltonwww.roaringcamp.com, 831-335-4484CENTRAL CALIFORNIAONGOINGSierra Railroadwww.sierrarailroad.com, Oakdale, 800-866-1690• June 15: Murder Mystery Dinner• June 29: Saturday Night Dinner• June 30: Sunday Brunch• July 4: Independence Day Brunch• July 13: Murder Mystery DinnerSACRAMENTO VALLEYONGOINGSacramento River Trainwww.sacramentorivertrain.com, 800-866-1690• June 16: father's Day BBQ• June 22: Sacramento Beer Train• June 29: Murder Mystery• June 29: Great Train robbery• July 13, 27: Great Train robbery• July 14: Sunday Brunch• July 20: Sunset Special with Live MusicONGOINGMondavi Center for the Performing ArtsU.C. Davis, www.mondaviarts.org , 866-754-ArTS• June 22; JD McPhersonSOLANO COUNTYSUISUN VALLEYTHURSDAY NIGHTSDate Night at MankasTapas Bar & Steakhousefairfield, $49/couple for a 3 course dinnerwww.mankassteakhouse.com, 707-425-3207SUNDAY NIGHTSGrand Master Tastingat Mankas Tapas Bar & Steakhousefairfield, $29/ dinner & tastingwww.mankassteakhouse.com, 707-425-3207ONGOING2013 Vezér Concert SeriesMankas Corner Gardens, Suisun Valley, 4:30-7:30pmwww.vezerfamilyvineyard.com, 888-823-8463, $19.99• June 15: ritmojito• July 6: Mark Sexton Band• July 20: Lonesome LocomotiveJUNE 21Food & Wine Patio NightsWooden Valley Vineyards, Suisun Valleywww.woodenvalley.com, 707-864-0730, 4-8pmJUNE 22Uncorked!Suisun Valley Vintners & Grape Growers AssociationIl fiorello Olive Oil Company, fairfield, www.suisunvalley.com, 6-9pm, $50JULY 13Vezer Stockat Vezer Family Vineyard5 awesome bands playing back to back.Suisun Valley, $79, 11am-11pm888-823-8463, www.vezerfamilyvineyard.com21
---
WINERY FEATURE| WINE COUNTRY THIS WEEKPhilippe LangnerMary Steinbacher Photography22Open daily fro 10 a.m. to 5 p.m.1001 Silverado Trail SouthSt. Helena, CA 94574(707) 963-7000www.hillwinecompany.comBrian BrakesmanHILL WINE COMPANYTwo Winemakers, One Goal:Great Grapes into Great, Affordable WinesBY JOSH STEINSt. Helena's Hill Wine Company has a very simple operating philosophy:bring the best to bear to produce great wines. Jeff Hill's obsession withgrowing great grapes for others via the Jeff Hill Vineyard Group led to hisown winery, created with wife Rebecca, and their goal of providing highquality "green" Napa wines at a great price. Everything produced is fromsustainably farmed or organic grapes and comes in certified organic andrecycled packaging. Hill Wine Company donates 2% of its proceeds to theASPCA and is also a proud member of 1% for the Planet in which 1% oftheir total revenue is donated to environmental causes.To help bring his vision of affordable and sustainable Napa wines to life,Jeff brought in two industry veterans, Philippe Langner and BrianBrakesman, and the combination of their different yet very similarperspectives on non-intervention have led to much success. Director ofWinemaking Langner was trained at his family's French estate and at UCDavis before spending time at Chateaux Lafite Rothschild under famedinternational winemakers Jacques Boissenot and Michel Rolland. Theseexperiences led to his seven years at Napa's Sullivan Vineyards, where JeffHill stole him away in 2008. Philippe's philsophy is perfectly in accordwith the winery's: "Get the best fruit and intervene as little as possibleduring winemaking to let the fruit speak for itself." Doing so requires thekinds of experiences he has had with the finest of Bordeaux grapes,especially knowing what not to do so the flavors shine through.Where Langner brings European influences to the table, EstateWinemaker Brakesman is a Napa native, having been born and raised at hiswww.WineCountryThisWeek.com
---
WINE COUNTRY THIS WEEK | WINERY FEATUREfamily's Summit Lake Vineyardson Howell Mountain, and theprocess of making greatsustainable wines are hisbirthright: "I learned every stepof the winemaking process. Ideveloped, almost by osmosis, adeep knowledge of sustainable,responsible winemaking." Afterattending Cal Poly San LuisObispo, he worked with famedwinemaker John Gibson,producing wines for SnowdenVineyards, Andrew Geoffery,and Salexis, among others.After a position as AssistantWinemaker for Duckhorn'sParaduxx, Brian went on tobecome Ledson's Winemaker,which is where Jeff found him,bringing him into the fold forhis extensive knowledge of theten different Napa subappellationsused in the HillCompany releases.Unsurprisingly, these twogreat winemakers' Hill WineCompany Estate Cabernet,Chardonnay, Merlot, andSauvignon Blanc releases havegathered high praise asaffordable luxuries, and theCraftsman-inspired tastingroom along the Silverado Trail isa warm and welcoming place totry them. For those seekingexceptional experiences, thewinery will be conducting teambuilding projects with Bordeauxblending seminars and "Be aWinemaker for a Day" programsvery soon. They recommendcontacting them directly so thata custom, memorable visit canbe set up for you in St. Helena.What's not to like? Two greatwinemakers, the best organicand biodynamically farmedgrapes, and awesome wines.Enjoy!www.WineCountryThisWeek.com23
---
Wine CoUntrY neWs | Wine CoUntrY tHis WeeK24MATRIX WINERY3291 Westside road, Healdsburg CA 95448(707) 433-1911 | 1-888-884-1288mAtrix WinerY"Sip-Sip" Fine Pinot NoirBY MIKE HYLANDFounded in 2007 by Diane and Ken Wilson of the Wilson wine dynasty, Matrix is a smallwinery located on Westside Road in the Russian River Valley. Their tasting menu featuresmultiple Pinot Noirs as you might expect, but they also produce several Bordeaux varietalsand blends. Planting new Pinot Noir and Chardonnay grapes not only adds to the growth ofthe various Wilson vineyards, but it also makes Matrix shine as a Russian River Pinot House.In 2009, just two years after opening, the Sonoma Harvest Fair awarded Matrix "Best ofClass" for its 2004 Matrix, a Bordeaux blend. "This wine is exactly what distinguishes ourMatrix wines," says Ken Wilson. "It carries a signature robust energy, tempered by elegance."Winemakers Diane Wilson and Antoine Favero have combined their talents, givingMatrix wines a little something special in their small-lot productions, anywhere from 99cases up to 250 cases. Many of their award-winning 2010 vintages including a Pinot Noir,Reserve Pinot Noir, two Zinfandels, a Petite Sirah and a Chardonnay, received gold medalsfrom various wine competitions throughout the country.The tasting room and adjoining patio are the perfect destination not only for winetasting, but to join in and help celebrate events.Saturday, June 22, is the date for the annual Matrix Vineyards Wine Club Picnic.Celebrate summer and join the tasting room staff for a day of sun, gourmet food, and ofcourse, delicious Pinot Noir. Picnic in the vineyard or on the patio with fellow clubmembers and the Matrix winemakers Diane Wilson and Antoine Favero. Not a wine clubmember, it is never too late to sign up!An ongoing event this summer is the annual Summer Music Series Saturdays from 1to 4 p.m. The monthly music series features Mark McDonald performing acoustic blueson June 15. The remaining three shows in the series include guitarists Brandon Hassur onJuly 20, Jimmy Ashley on August 24 and Cameron Peterson closes out the series onSeptember 21.Admission to the Summer Music Series is $10 per person ($5 for wine club members)and includes a commemorative logo glass. Gourmet food carts are available at every concert.Whether you stop by Matrix for the music or the wine, a world-class wine tastingexperience is always available.Follow us on twitter @WineCountrytW
---
ON THE COVER | WINE COUNTRY THIS WEEKA Perfect Day – Sonoma Valley's GatewaySonoma Valley, home to scores ofwineries, groves of olive trees, natural hotsprings and some of the most fertile soil inthe country, is truly a garden of earthlydelights. Three unique properties, occupyingboth sides of Highway 121 at the gateway ofSonoma Valley, combine the beauty, bountyand passion of the Sonoma experience. ClineCellars, Jacuzzi Family Vineyards and TheOlive Press are three unique venues unitedby their authentic spirit, warm hospitalityand exceptional tasting opportunities.Just five miles from the junction ofHighway 37 and 121, the Italian-style stonevilla that houses Jacuzzi Family Vineyardsand The Olive Press can be seen on one sideof the road, and on the other are Cline'svibrant vineyards and rose gardens. All threeproperties are owned and operated by longtimeSonoma residents, Fred and NancyCline. Fred Cline's agricultural roots reachback to his grandfather's ranch in Oakley,California. Fred's grandfather, ValerianoJacuzzi, instilled in his grandson the love offarm life and the particular mysteries ofturning grapes into wine. Fred and Nancyestablished Cline Cellars in 1982 along thesandy shores of the San Joaquin andSacramento Rivers in Oakley, and relocatedthe winery to Sonoma in 1991. In 2007,Jacuzzi Family Vineyards opened its doorsacross the street, under the same roof as TheOlive Press.Jacuzzi Family VineyardsBegin your perfect Sonoma day with a wine andolive oil tasting at Jacuzzi Family Vineyards and TheOlive Press. The main door to the villa opens to thewinery tasting room on the left, and to the right is the artisan boutique and tasting bars of The OlivePress. Enjoy complimentary tastes of Italian-style wines and varietals like Barbera, Montepulciano,Pinot Grigio and Aleatico. For a deeper experience, arrange a private or VIP tasting in the stone piazzaor private tasting room and enjoy wines paired with locally made artisan cheeses and charcuterie.
---
WINE COUNTRY THIS WEEK | ON THE COVERThe Olive PressAfter your wine tasting, cleanse your palate with samples offresh, aromatic olive oils and balsamic vinegars at The Olive Press.Founded in 1995, The Olive Press is California's most-awardedproducer of California extra virgin olive oil. Enjoy complimentarytastes of oils ranging from delicate to grassy to robust, or flavoredoils like clementine and jalapeño. Pair these oils with uniquebalsamic vinegars like peach and black cherry for someextraordinary flavor combinations. The boutique also offers uniquegifts, table linens, bath and spa products, and even a cart of olive oilice cream. Before you depart the villa, be sure to wander throughthe barrel room and admire the marble statues and frescoes, readthrough exhibits about the history of the Jacuzzi family, and visit theglorious Neptune fountain along the edge of the vineyards.IN PURSUIT OF PINOT PERFECTIONTASTING ROOM OPEN DAILY 10AM–4:30PMETUDE WINERY 1250 CUTTINGS WHARF ROAD, NAPA Cline CellarsEnd your perfect day at Cline Cellars, producers of awardwinningRhône-style wines and Zinfandels. Enjoy complimentarytastings of varietals like Viognier, Mourvedre, Syrah, Pinot Noir andZinfandel in the 1850s farmhouse next to spring-fed ponds and lushflowering gardens. Bring your picnic and lounge on the Great Lawn,visit the on-site California Missions Museum, and see the adorablewinery pets, miniature Sicilian donkeys (Pudding and Fancy). For anoutstanding tasting experience, book the Syrah Hill adventure. You'llwind along the vineyard roads to a hilltop tasting room withpanoramic views of the valley.At each of these properties you'll find a warm welcome, anabsence of pretension and heavenly flavors. History, family, passion,olive oil, vineyards, sunshine and fine wine – it's all here at Sonoma'sgateway. Let the valley work its magic on you.Jacuzzi Family Vineyards and The Olive Press are located at24724 Arnold Drive in Sonoma. For more information, call (707)931-7575. Cline Cellars is at 24737 Arnold Dr, Sonoma; call (707)940-4000.www.WineCountryThisWeek.com27
---
Wine CoUntrY neWs | Wine CoUntrY tHis WeeKExperience the Heritage Room as part of theHistoric Tour & Barrel Tasting28Open daily from 10 a.m. to 5 p.m.1960 St Helena Hwy rutherford, CA 94573(707) 967-5233 | www.bvwines.comtAsting room oF tHe WeeKBeAULieU vineYArdBY MONICA L. DASHWOODWelcome to Beaulieu Vineyard, the home of the renowned visionary George De Latour,crafting world-class Cabernet Sauvignon from the exceptional terroir of Rutherford. Since the1900s, George De Latour's Private Reserve Cabernet Sauvignon has become the benchmarkNapa Valley Cabernet as well as one of the most collected American wines. Wine lovers fromall over the world can come and taste these fine wines at Beaulieu's four distinct tastingrooms.For those just stopping by without a reservation, the visitor center showcases old vintagephotos of the De Latour family, original artwork by local artists and a diverse wine library ontheir walls. With mahogany flooring, the sun filters through the center over two tasting bars,warming the top and lower levels of the BV tasting rooms with light.On the upper level, visitors may sample four select tastings off a set menu, ranging in pricefrom $15 to $35. You will sample a variety of wines, such as their flagship 2008 Clone 6 totheir winery exclusives 2009 Maestro Pinot Noir and 2010 Rutherford Cabernet, to name justa few.For club members with a reservation, you can enjoy the Wine Club room downstairs withcomfort and elegance as a wine educator takes you through their incredible Reserve tier winesthat Beaulieu is known for. The Club Room is the perfect sit down atmosphere to sample the2010 Carneros Reserve Pinot Noir, 2009 Tapestry Reserve – 91 points Robert Parker and theirflagship 2009 George De Latour Cabernet Sauvignon – 93 points Wine Spectator.For the true wine connoisseur wanting a more personalized retrospective experience, theBeaulieu Vineyard Reserve tasting room can't be missed, housing one of the mostcomprehensive wine libraries in California. The Beaulieu Vineyard Reserve Room offers gueststhe opportunity to taste vintage Georges de Latour Private Reserve Cabernet Sauvignon andLook for us on Facebook and become a Fan!
---
Wine CoUntrY tHis WeeK | Wine CoUntrY neWsContinuedincludes a flight of their current vintage and three older vintages ofGeorges de Latour, guided by one of their knowledgeable WineEducators. The cost is $50 and the selection of vintages varies by dayand availability. BV Wine Club Members can receive this experienceat half price ($25/tasting).Lastly, don't miss their Historic Tour & Barrel Tasting experience,a tour of the most historic part of the winery built back in 1885 andguided by one of their knowledgeable Wine Educators. Amongst thebeauty of their 100+ year old Redwood Tanks, you will enjoy a barreltasting of two of our famous Cabernet Sauvignon's. You will then beguided back to their Heritage Room where the most interesting partsof their history are out on display. Tours are offered at 11 a.m. and2:30 p.m. daily.At Beaulieu Vineyard, you will experience a fully day of richhistory, vision and excellence in every delicious bottle of wine!ESTD 1876NAPA VALLEY'S MOST AWARDED WINERYTOUR THE CAVES | TASTE THE WINEEXPERIENCE 137 YEARS OF EXCELLENCEOpen Daily: June–October 10AM–6PM November–May 10AM–5PM www.WineCountrythisWeek.com29
---
Wine CoUntrY neWs | Wine CoUntrY tHis WeeK301 Kirkland ranch, Napa CA 94558 | (707) 254-8673 | www.reatawines.comOpen daily from 10 a.m. to 5 p.m.Wine tasting – flight of up to 5 wines, including our Estate and Barrel Select WinesBarrel tour & tasting – Tour the barrel room and sample wines from the barrel while learning about howthey're made. $20 per person, available by appointment. Call (707) 254-8673 ext. 119Wine and Chocolate Pairing – Unique and locally-sourced chocolate pairing.mini Cheese Plate – A bite-size version of the reata round-Up Plate, $10.JAmiesonrAnCH & vineYArdsHome of ReataBY CHArLES NEAVEAs you sample the wines at Jamieson Ranch & Vineyards –Home of Reata, it should not be a surprise to discover that thisproperty has been used to farm and raise cattle for almost twohundred years.Formerly part of General Mariano Vallejo's historic RanchoSuscol, it is, to this day, a 300-acre working ranch, where cattle stillroam the hills and sheep graze on the cover crops between terracedvines. The organic honey that the 60,000 resident bees produce inthe hives on-site is available in the tasting room, along with theiraward-winning wines.Like the wines themselves, the building that houses the tastingroom, state-of-the-art winery and special event space is handcraftedof stone and different varieties of woods, from the tasting bar to theexterior walls and interior beams. There is seating around a cozyfireplace, an observation gallery overlooking the barrel room andproduction area, and a spectacular wrap-around veranda that affordssweeping views of the Napa Valley and San Pablo Bay, where daysare warm, nights cool and an ocean breeze whisks away themorning fog. Conditions that are optimal for growing theChardonnay and Pinot Noir Reata is famous for.The wines here artfully combine the different elements of thewinemaker's craft to capture the true California expression of each ofthe award-winning varietals. "We also believe that if it's worth doing,it's worth doing right, with pride and craftsmanship that stands thetest of time." Those wines include small lots of Pinot Noir,Chardonnay, Viognier, Petite Sirah and Syrah.To try the wines, step up to the bar. At the tasting bar there are anumber of tasting options, served by an enthusiastic staff. BeginningJune 1, Reata introduces a new food and wine experienceshowcasing sophisticated comfort food. The winery chef usesproduce from their own organic, edible gardens along with seasonallocal ingredients in unique, rustic, yet refined, menus.For the true wine lover, there are Barrel Tour and Tastings, amemorable experience for up to a dozen guests. You and yourfriends will have the opportunity to sample, among other wines,two that are currently being crafted, all while learning about howthe wines are made.The winemaking philosophy at Reata is simple: make greattasting wines that remain true to their varietal character. To achievethat goal, Reata provides its winemakers with the freedom andresources they need to make each bottle of wine the best it canpossibly be.www.WineCountrythisWeek.com
---
Wine CoUntrY tHis WeeK | Wine CoUntrY neWsWhitehall Lane Celebrates 20 Years of Family WinemakingA lot has changed at Napa Valley wineryWhitehall Lane over the last 20 years, butone thing has been constant – the Leonardinifamily owners who are the backbone of thisworld-class wine-making operation.This spring, the Leonardini familycelebrates 20 years of family wine-making atWhitehall Lane, and a commitment to winequality that has produced exceptional results.Whitehall Lane has been honored three timesfor producing wines rated in the top five inthe world, as judged by Wine SpectatorMagazine's year-end rankings. And thewinery has been selected as Winery of theYear by the Quarterly Review of Wines andWine and Spirits Magazine.Of course, the early days of WhitehallLane were not quite as glamorous. The firstyears after Tom Leonardini Sr. boughtWhitehall Lane in 1993, a lot of hard workwent into building the foundation for thesuccess that the winery now enjoys.Whitehall Lane General Manager MichaelMcLoughlin remembers his first daysworking at the winery 20 years ago. His deskwas positioned below a leaky section of thewinery's roof, and he worked next to abucket that caught the dripping rain.The Leonardinis spent long hoursupgrading the facilities, replanting thevineyard and buying new wine-makingequipment. They even cut back on wineproduction as they focused on the quality ofthe wine-making process, said McLoughlinBut the family has done so much morethan just put money into the winery. Led byTom Leonardini Sr., the family's indeliblemark of hospitality, attention to detail andcommitment to quality is imprinted throughtheir hands-on approach to running theNapa Valley business. That investment haspaid off in superb wines."Tom Leonardini is thinking aboutWhitehall Lane 24 hours a day, seven days aweek," said McLoughlin.Today, three Leonardini family memberscontinue to shape the present and future ofWhitehall Lane. Tom Leonardini Sr. is stillthe hands-on owner. Tom Leonardini Jr.oversees national and internationaldistribution. And Katie Leonardini handlesdirect sales, hospitality and marketing.And the family ethic of quality overquantity still guides Whitehall Lane. Despitea permit to double their 50,000 case annualwine output, Whitehall Lane has decided tokeep production stable.At 20 years, the Leonardinis arecelebrating the past, while planning for thefuture."The winery will be here 20, 30 yearsfrom now," said Katie Leonardini. "This is agood spot to be in now."In 1979, two brothers started theWhitehall Lane winery and directed theirwinemaking efforts successfully to Merlotand Cabernet Sauvignon. They named thewinery after the road that runs along thesouth border of the property.In 1993, the Leonardini Family of SanFrancisco took control of the Whitehall Laneestate. They updated the winemaking,instituted a new barrel-aging program andcontinued sourcing the finest vineyards. Thefamily now owns seven prime vineyardsincluding the Whitehall Lane EstateVineyard, Millenium Vineyard, BommaritoVineyard in the Rutherford Appellation, theLeonardini Vineyard, Fawn Park Vineyard inSt. Helena and the Oak Glen Vineyard in theOak Knoll District. The winery continues toreceive accolades and awards for producingsome of the greatest wines in the world. InWine Spectator Magazine's year-end rankingof wines, Whitehall Lane has been honoredan unprecedented three times in five yearsfor producing wines rated among the top fivein the world. The winery has also been votedWinery of the Year from the QuarterlyReview of Wines and Wine and SpiritsMagazine.sign up for our email newsletter at www.WineCountrythisWeek.com31
---
ConCierge FAvorites | Wine CoUntrY tHis WeeKConCierge Q & A: What are your personal favorites?Kathy Cady, ConciergeSAN FRANCISCO MARRIOTT uNION SquAREMember, Les Clefs d'Or, USAWCtW: Describe the perfect day in wine country.KC: Visiting some of my favorites: Stating innorthern Napa, I'd visit Castello di Amorosa,Sequoia Grove, Salvestrin before stopping atOxbow Market for a quick bite and crossing thestreet to visit Gustavo Thrace. In Sonoma, I'dstop at Buena Vista (love the Count) and finishthe day at Ram's Gate.WCtW: Which winery has your favorite cave tour?KC: Schramsburg is my favorite – of course youcan drink sparkling wine anywhere, but it's specialwhen you're in a cave!WCtW: What winery do you think has the best"over-the-top" experience to offer visitors?KC: Raymond – with its Crystal Room, ability tomake your own blendWCtW: Which wineries have the best winerelatedgift items?KC: Francis Ford Coppola – no one else has theGodfather Gift CollectionWCtW: What's the best wine country picnic spot?KC: Get away from the crowds by going toRegusci – a ghost winery.WCtW: Where would you take friends to learnabout/taste organic wines?KC: Grgich Hill's American Canyon location for atour with Dave Bos, the Vineyard Manager. Hisability to explain his clearcut vision makes it allmake sense.WCtW: What's your favorite overall varietal andwhere do you like to go to taste it?KC: I really enjoy Zinfandel and Canard, in theCalistoga area of Napa, is my current favoriteplace to enjoy it.32Jim AndersonCHIEF CONCIERGETHE FAIRMONT SONOMA MISSION INN & SPAWCtW: Describe the perfect day in wine country.tW: A perfect day in Sonoma starts with adelicious breakfast at the Sonoma Golf Club,affiliated with The Fairmont Sonoma Mission Inn& Spa. Sit back and enjoy their signature lemoncottage cheese pancakes, while overlooking thescenic golf course and sipping your mimosa.Afterward, head over to Robert HunterWinery for their unique garden tour at theirprivate estate. I am fond of their sparkling andPinot Noir.Then it's off to the VJB Vineyards & Cellarsto taste their wonderful Italian varietals and for alittle lunch from their Mercado. They are servingdelicious grilled paninis and pizzas from theirbrick oven, and have great picnic tables in thepatio of their brand new Villagio.After a short drive across the valley, you willarrive at Repris, Sonoma's newest and mostexciting winery (open by appointment only).Their friendly crew tours you through theirfacility and into their enormous 18,000-squarefootcaves for barrel tasting. Then they load youinto an ATV and whisk you through the vineyardsto the top of the mountain. You're now lookingdown at the entire valley with views spanning allthe way to San Francisco. What a jaw droppingview!Now for a little pampering, Fairmont's WillowStream Spa, offers a wide array treatments tosooth your stress away. Start with a soak in the hotspring pools which are filled from a naturalspring. Your Provider will come for you for yourhot stone massage.Now if you are not completely mush, it's timefor the Chef's tasting menu with wine pairing inSanté, the resorts signature fine dining restaurant.Remember: Please sip responsibly! Plan to taste at no more than three wineries based on these recommendations.Bonnie CrAigCONCIERGE, HENNESSEy HOuSE, NAPAWCtW: If you were to visit just one winery,which would you choose and why?BC: Sterling Vineyards – unique mountain-toptram, platinum label wines, self-guided workingwinery tour…vineyard to bottle, seated tasting inthe atrium or wrap-around veranda –extraordinary views!WCtW: Where do you send guests that want tolearn about wine?BC: Conn Creek AVA Barrel Tasting & Blending –Appellations become real with dramaticphotographs, earth samples and barrel tastingfrom each appellation! Blend your own bottle ofCabernet Sauvignon.WCtW: Where would you take friends to learnabout and taste organic wines?BC: Joseph Phelps – Biodynamic farming!WCtW: What areas/wineries would yourecommend that are off the beaten path ofwine country?BC: Kuleto Estate and Chappellet.WCtW: Which winery has your favorite cave tour?BC: Del Dotto on Hwy 29 – Venetian glass,educational tour and amazing Reserve CabernetSauvignon.WCtW: What's the best wine country picnic spot?BC: Rutherford Hill Winery – Silverado TrailWCtW: What's your favorite overall varietal andwhere do you like to go to taste it?BC: Longfellow, Pinot Noir – taste it at Vintner'sCollective, Main Street, NapaWCtW: Who is your favorite new winery or hotspot wine bar/tasting room?BC: Reddwood, Yountville; Carpe Diem, Napa;1313 Main, Napawww.WineCountrythisWeek.com
---
Wine CoUntrY tHis WeeK |Wine CoUntrY neWs2012 Winery of the YearWinemaker Challenge Monterey Wine CompetitionSan Francisco Bay GuardianThe Bay View Restaurant & BarTraditional Italian Cuisine & Local SeafoodCocktails on the Patio or at the Hearthside Lounge"Dinner with the Winemaker" Monthly SeriesSaturday Night Piano BarFamily Gatherings, Banquets & Receptions WelcomeDINNER SERVED Wednesday - SundaysTHE INN AT THE TIDES800 Hwy. One, Bodega Baywww.InnattheTides.com (707) 875-2751Everything You Want When YouVisit Legendary Napa Valley V. Sattui Winerywinessold exclusively atthe wineryFollow us on twitter @WineCountrytW 33
---
Wine CoUntrY neWs| Wine CoUntrY tHis WeeKVezer-Stock Festival To Rock Suisun ValleyThe Vezer-Stock Festival, an all day (and into the night) rock concert willtake over the Estate grounds of Vezer Family Vineyards in Suisun Valley onSaturday, July 13 running from 11 a.m. to 11 p.m. Performers includePurple Haze Live (a Jimi Hendrix tribute band), The Used Blues, Rick Harris& Silverado, Relic 45 and Freebird (a Lynyrd Skynyrd tribute band).Tickets to the event are $79 per person and available online atwww.vezerfamilyvineyard.com/events or at the tasting rooms.Attendees are encouraged to dress like it is 1969."All of us at Vezer Family Vineyards are ready to let our hair down for ourVezer-Stock Festival this July," said Frank Vezer, who with his wife Liz, ownsVezer Family Vineyards and Winery. "This will be a laid-back festival styleconcert with a relaxed feel, or if you like, you can do what old hippies do andsit under an umbrella and have Chef Peter serve you from the grill!"In addition to Chef Peter, various restaurants and food trucks will also beproviding food. The concert has limited seating capacity (blankets and lawnchairs are welcome) and is expected to sell out quickly. Additional informationis available on the website or by calling the tasting room at (707) 429-3958.Vezer Family Vineyard was established in 2001 when Liz and Frank Vezerdecided to produce their own wines and created their first Zinfandel vintage in2003. Since then, they have produced 10 additional award winning vintages.Their approach to winemaking was created by Frank's father, Frank Vezer II,using a method that consists of balancing opposing elements to create winesthat are dynamic, complex and embody the classical ideals that define theworld's finest wines.VEZÉR FAMILY PRIVATE ESTATE34Follow us on twitter @WineCountrytW
---
Suisun Valley BulletinEventsSummer ConcertsWine Tasting/Tours5 Awesome Classic RockCover Bandsplaying back to backfrom 11 am to 11 pmJuly 13, 2013Dress like you did back in 1969!at Vezér RanchTickets available at vezer.com orat the Vezér Tasng RoomsDiningSaturday, June 15, 4:30pm, $19.99Ritmojito is an all star Lan danceband led by vocalist Sandra Aran. "Ritmojito"present superbly craedsongs with deep lan jazz grooves.Whether it's salsa, ska or samba you'llbe up on your feet from the start.Vezér Family Vineyards2522 Mankas Corner Road888-823-VINE (8463)Vezér Family VineyardsTasng RoomSun-Thu 10am-5pmFri-Sat 10am-6pm2522 Mankas Corner Road888-823-VINE (8463)Blue Victorian WineryDaily 10am-5pm5071 Suisun Valley Road, Fairfield707-422-8025www.BlueVictorian.comMankas Steakhouse"Solano's Premier Fine Dining"Ladies Night Every Tuesday2522 Mankas Corner Rd, (707) 425-3207www.mankassteakhouse.netSaturday, July 6, 4:30pm, $19.99Every note from Mark Sexton's jazzguitar screams passion, every lyric isfrom the heart … the new West-Coastbreakout arst of 2013. Joined bybassist Alex Korosnsky and drummerDan Weiss, this power-trio is strikingwhile the iron is hot.Vezér Family Vineyards2522 Mankas Corner Road888-823-VINE (8463)Vezer Family Private RanchTours by appointment onlyAvailable for Weddings & EventsCall 707-422-8025888823VINE 8463 • VEZER.COM
---
Wine CoUntrY neWs | Wine CoUntrY tHis WeeKTempranillo TAPAS Grand Wine Tasting, June 23For the sixth year, the Tempranillo Advocates, Producers andAmigos Society is hosting the most extensive annual tasting ofdomestically-produced Tempranillos, Albariños, Garnachas,Verdelhos and many more, from the wine regions of the westernUnited States.Grapes native to the Iberian Peninsula produce some of thehottest-selling wines on the market right now, but not manypeople know that there are excellent and unique domesticversions being grown, too. Trade and consumers will have theunique opportunity to taste wines produced by TAPAS membersin a casual walk-around setting where they can chat with thegrowers and producers. Many TAPAS members are limitedproduction,family-owned wineries and will be pouring small lotwines that are not widely available. Wine will be available for saleat this event.This year the event will be held at the Golden Gate Club at thePresidio in San Francisco on Sunday, June 23.Two special Kickoff Seminars will take place prior to the event:"¿Arizona? Growing Spanish Varieties in the American Southwest"with panelists including Maynard James Keenan of CaduceusCellars, Tim White of Arizona Stronghold, Todd Bostock of DosCabezas WineWorks and Kent Callaghan of Callaghan Vineyardsand "Defining American Tempranillo." Kickoff Seminar attendeesreceive early admission (1 p.m.) to the Grand Wine Tasting.Tickets for the Kickoff Seminars and Consumer Tasting areavailable at tapas13.eventbrite.com. Advance ticket prices are $60for the Consumer Tasting only, or $95 for the Kickoff Seminarswith early admission to the Consumer Tasting. Tickets for theConsumer Tasting only will be available at the door for $65.The event will include a silent auction featuring special winesand other great items.For directions to the Golden Gate Club, visitwww.presidio.gov/visit/transportation.Tempranillo Advocates, Producers and Amigos Society (TAPAS)is a trade association comprised of over one hundred members,whose mission is: "To promote Tempranillo and other varietalwine grapes native to the Iberian Peninsula and wines producedfrom them in North America." See www.tapasociety.org.LODGINGNAPA VALLEYCANDLELIGHT INNPrivate baths; TV/phone and AC;two-person marble jacuzzisand fireplaces; balconies or decks;three-course gourmet breakfast,hors d'oeuvres, wine and sherryin the evening;luxurious 30'x60'; swimming pool1045 easum drive, napa1-800-624-0395candlelightinn.comPINK MANSIONThe perfect Napa wine tasting experience. Valley or forest views from each room, lavish breakfast and afternoonwine tasting, large indoor heated pool and Jacuzzi, in-room massage and facials available.1415 Foothill Blvd, Calistoga 1-800-238-7465www.pinkmansion.comBRANNAN COTTAGE INNSix spacious, comfortable rooms with garden views, private entrances, private baths, queen-size beds and a refrigerator.Two mini-suites have sitting rooms with televisions as well. Air conditioning and ceiling fans ensure comfortduring summertime visits. Down comforters and fireplaces for cozy and romantic evenings.109 Wapoo St, Calistoga brannancottageinn@sbcglobal.netwww.brannancottageinn.com (707) 942-4200SONOMA COUNTY– SOUTHERNLEDSON HOTELSLuxury hotel situated on historic Sonoma Plaza. Six individually decorated roomswith king-size bed, whirlpool baths, fireplace and balconies.Appointed with antique grandeur paired with modern amenities. (707) 996-9779480 First Street East, Sonoma www.ledsonhotel.com36SONOMA COUNTY– COASTLook for more lodging options onwww.WineCountryThisWeek.comINN AT THE TIDESBay views, walking distance to shopping, restaurants; swimming pool, hot tub, fitness center, sauna; roomswith views and fireplaces; massage available; continental breakfast 1-800-541-7788800 Highway One, Bodega Bay www.InnattheTides.comSONOMA COUNTY– NORTHERNVINTNERS INNforty-four spacious rooms and suites with balconies or patios;surrounded by vineyards. 1-800-421-25844350 Barnes Road, Santa Rosa www.vintnersinn.comCALDERWOOD INNAn historic Victorian Inn in the heart of Healdsburg25 W. Grant Street, Healdsburg 1-800-600-5444innkeeper@calderwoodinn.com 707-431-1110FAIRFIELD/SUISUN VALLEYHILTON GARDEN INN2200 Gateway Court (707) 426-6900Fairfieldwww.hiltongardeninn.comHOLIDAY INN EXPRESS HOTEL & SUITES316 Pittman Road (707) 864-3797Fairfieldwww.hiexpress.comMONTEREY BAY/CENTRAL COASTLONE OAK LODGEWithin minutes to aquarium, wineries, Monterey Harbor, shopping, taverns, restaurants, etc.1-800-283-5663 www.loneoaklodge.comwww.WineCountrythisWeek.com
---
Wine CoUntrY tHis WeeK |nAPA vALLeYFollow us on twitter @WineCountrytW37
---
Wine CoUntrY neWs | Wine CoUntrY tHis WeeK38254 Saint Helena Highway, St. Helena CA 94574(707) 963-2736 | louismartini.comWinery Tour: $30 per person for a 45-minute tour and wine tasting.Get a behind-the-scenes look when you visit Louis M. Martini Winery,and taste hand-selected wines along the way. Learn more about theMartini family's pioneering history in Napa Valley, see where we craft our wines,stop by the barrel room and raise a glass in our underground cellar.Advanced reservations are preferred. Contact our tasting room at (707) 968-3362.WinemAKer ProFiLemiCHAeL mArtiniLouis M. Martini WineryBY ALExANDrA CHArSLEYLuxurious Cabernet Sauvignons are what people envision whenthey think of Napa Valley. Michael Martini, third generationwinemaker for Louis M. Martini Winery, has been producingexceptional Cabernet Sauvignon for over thirty years. Using familytraditions, international style and cutting-edge technology, he iscontinuing the long success of the Louis M. Martini wines.Located just off Highway 29 in St. Helena, Louis M. Martinicreated his winery in 1933. This year marks 80 years of the Martinifamily crafting Cabernet Sauvignon, the flagship wine of NapaValley. With the simple, honest premise that the best grapes makethe best wines, Louis M. Martini set out to acquire the finestvineyards in what is now one of the world's most renowned wineproducingregions. Their legacy continues with Winemaker MikeMartini at the helm. Since the beginning of his tenure in 1977, hebrought a new winemaking philosophy, while honoring thewinery's roots and commitment to delivering big, unforgettablewines.Reflecting on his international experiences, Mike stated, "Havingtraveled to France in 1981, I began instituting new techniquesstarting with extended maceration in all reds, and stem return inMerlots and Pinot Noirs. Later, we incorporated trellising practicesI saw in South Africa. Some of our present barrel aging techniquesstarted after observing what some of the top wineries in Europewere doing. All of this resulted in wines that create more mid palateand have more elegance and grace."The purchase by E&J Gallo Winery in 2002, has given Mikeadditional man power and necessary lab capabilities. "We arefocused on the acquisition of top vineyard sourcing from Napa andSonoma. We have access to more vineyards but winemaking wasleft relatively untouched except for the ability to expand our highend capabilities with our small micro winery, Cellar 254, a gravityflow winery." Mike says.When asked about his favorite wines, his response was "Myfavorite wines are of course the Monte Rosso wines, as well as Lot1. Both of these have grown in quality in an impressive way due tothe building of Cellar 254. The Monte Rosso labeled wines werestarted in 1979 but we have been making Cabernet Sauvignonwines out of the vineyard since 1938. After the building of Cellar254 in 2003 we have achieved a new level of finesse and style."Louis M. Martini wines have more of an international style thanmost California wineries and through collaborative endeavors andstate-of-the-art facilities; the Martini family continues to build on atimeless tradition.sign up for our email newsletter at www.WineCountrythisWeek.com
---
JEFFERSON STWelcome toY O U N T V I L L ENew Woven Glass Sculpture fromWilliam Zweifel at RASgalleriesMADISON STGirard 1 JESSUP CELLARSPEDRONIMa(i)sonrySTARKEY ST29WEBBER STYOUNT STYOUNTVILLE CROSS RDTo Silverado TrailWASHINGTON STOn the heals of last fall's successful Artist Reception and Showwith William Zweifel, three new and original woven glass sculpturesby the artist have been unveiled and are now available atRASgalleries Art Glass Gallery, 6540 Washington Street, Yountville,Napa Valley. Each is uniquely "Zweifel" combining a colored weavethat appears to have fallen into place and fitted perfectly on aseparate cast glass base.Fascinated by the fluid movements possible in kiln-fired glass,William Zweifel was drawn to the idea of actually finding a way toweave glass, giving his sculptures a new dimension and tactile quality.Years of experimentation, and a lot of broken glass later, he hasperfected a true glass wave that has become the hallmark of his work."Tranquility as produced by the gentle movements of a line calls tomind memories of spring breezes and summer shadows," he says."It is the same feeling, the calmness, that I seek to recreate in glass."William Zweifel"in studio" as he firesand forms his weave.A native of Chicago, Zweifel now works from his studio in rural southern Wisconsin. Hehas been working in glass full time for many years and continues to explore his vision."Glass provides permanence, the ability to freeze a moment in time so that it can beexamined and explored, Zweifel says of his work. "At the sametime I find in its very fragility, a metaphor for the fragility of ourexistence. Being able to freeze these moments in time, in such adelicate medium offers me an opportunity to create the tranquilitythat I find so comforting."Largely self-taught, Zweifel feels fortunate to have worked withmany successful artists in their studios and has attended PilchuckGlass School to further develop his skills."No one else does work like this and I am honored to be one ofthe few galleries in the country to carry the work," states galleryowner, Ronda Schaer. Established in 1990, the gallery featuresAmerican art glass as well as fine art and sculpture. Located at6540 Washington Street, RASgalleries is open from 10 a.m. to 5p.m. daily, Tuesday by appointment. For information, phone (707)944-9211, visit www.rasgalleries.com or email rasart60@aol.com. CATCH 20" x 11"w x 9"dBlankiet EstateDomaine ChandonCALIFORNIA DRKeeverVINEYARD VIEW - PRIVATEElyseHOFFMANHill FamilyEstateHope and GraceRASGALLERIESSOMERSTONCornerstone CellarsPage Wine CellarsYoUntviLLeWASHINGTON STBell WineCOMFORT 15"h x 22"w x 8"d HARVEST 15"h x 12"w x 12"dLook for us on Facebook and become a Fan!39
---
WASHINGTONGRANTMYRTLEDALEWelcome toC A L I S T O G ACastello di AmorosaTour the authentically-styled, 13th century, Tuscan castle and winery.BY CHArLES NEAVEAfter years of planning and tens of thousands of hours of labor,Castello di Amorosa in the northern part of the Napa Valley opened.And it's like no American winery you have ever visited, and offerswinery tours like none you've ever taken. It's a castle where banquetsare held, wine is produced, aged and tasted, made from premiumgrapes grown at Black Mountain District vineyards, and the views ofthe Valley spread out before you. All from this magnificent 121,000-square-foot, 13th century era, Tuscan-style fortress perched on ahillside above the valley floor.The construction of Castello di Amorosa employed talentedGOLDEN HAVEN HOT SPRINGS40COUPLES MUD BATH$59 PER PERSON(SAVE $30 PER PERSONOFF OUR REGULAR PRICES)1713 Lake Street, Calistoga(707) 942-8000 • www.goldenhaven.comValid Mon-Fri, excluding holiday periods.On Sat., Sun. and holiday periods, price is $64 per person.SAVE $ 60on a Mud Bath for Two! *craftspeople from America and around the globe, and more than alittle patience from owner Dario Sattui, also the founder of V. Sattuidown the road a few miles. The below-ground portion of the tourstarts in the wine storage caves, then wends its way through fourlevels and includes the Armory, Torture Chamber and the GrandBarrel Room. You'll taste the highly rated and medaled Castello diAmorosa wine, most sold only at the winery or via the internet.Guided tours are given every day and take about an hour; tastingis an additional 45 minutes. There are also additional tasting options,blending seminars and private tasting that include food and winePETRIFIEDFORESTPETRIFIEDFOREST RD.TOSANTAROSATOGEYSERVILLEFOOTHILL BLVD.BENNETT LANEWINERYSUMMERSWINERYEnvy128LINCOLN29 W.H. SmithMaldonado AVENUEAugust Briggs SPAOnThEdgeUp Valley Vintners/Rios Wine Co. Kenefick RanchDiamondTofanelli SolovinoTerraceReverie Von StasserJoseph CellarsTwomeyTeachworthConstant CASTELLO DI AMOROSAMadrigalAlloraDIAMOND MTNBERRY STPINETOST. HELENATRINCHERO NAPA VALLEYA Dozen VintnersFIRST STREETLINCOLN AVEOLD FAITHFULGEYSERC A L I S T O G ACEDARELLERSBIG TREEFreemark AbbeyTHIRD STREETSECOND STREET29CALISTOGAWINE STOP(Calistoga Depot)DUNAWEAL LANEFAIRWAYLarkmeadFRANKFAMILYTudal BenessereEhlers EstateLARKMEADTUBBS LANETedeschiFamilyOAK STREETLAKE STREETSTERLINGLODISTEVENSONChateau Montelana29Clos PagaseBALE LANEVincentArroyoGREENWOOD AVEGOLDEN HAVENSPA & RESORTLINCOLN AVETOCLEARLAKEROMBAUERLook for us on Facebook and become a Fan!WAPOO29JerichoT Vine CanyonAmici CellarsMeander WinesPalisades WineryOLD29 ZahtilaVineyardLava VineCali 351B CELLARSVengeAubertPhiferPavittCuvaison Estate WinesPaolettiBarlowDutchBlairHenrySaviez128Casa NuestraDuckhornTONAPALAWLEYRDTOLL
---
Midsummer Medieval Festival – June 22Hear ye! Hear ye! Come revel from 6:45 to 11 p.m., in thenewly formatted Midsummer Joust and Festival. Don your bestmedieval garb as you cheer on your favorite knight in shiningarmor and enjoy sumptuous Castello wines at Lake Mario.Following the Joust make your way into the authentic 13thcentury courtyard and take in the sights and sounds of a bustlingmedieval marketplace.• Interactive exhibitions of archery and sword• Artisans showcasing traditional period skills and techniques• Meander through the Castello and on a variety of food• Authentic medieval music, dance, minstrels, jugglers andvarious period entertainment• Test your skills at period games• Don't miss the spectacular Grand Finale!• Shuttles from Calistoga hotelsMedieval costume encouraged!Tickets $155 for members, $185 for guests, reservations requiredpairing. As you visit you'll learn about the many varietals theysource, and about highly rated wines like their Bien NacidoChardonnay, La Castellana and Il Barone. All part of a unique,rarified and memorable wine country experience.Outside you are free you walk through the grounds where sheepoften roam above the sweeping drive coming up from the roadbelow, which suddenly seems many miles and many worlds away.The Castello di Amorosa is open daily from 9:30 a.m. to 6 p.m.March-October and from 9:30 a.m. to 5 p.m. November-February.Reservations for tours are suggested. They are located at 4045 NorthSt. Helena Highway, Calistoga 94515 (north of St. Helena). For moreinformation go to www.castellodiamorosa.com or call (707) 967-6272. They are also on Twitterand Facebook.tour Castello via Wine trainTwo of Napa Valley's mostsought after travel destinations,the Napa Valley Wine Train andCastello di Amorosa, have joinedtogether to make one allencompassingNapa Valley Tour.Now, guests can sit down to anelegant multiple course meal onboard the Wine Train as theytravel up valley, then, after oneand a half hours on board, they'lldisembark for a two-hour tour ofCastello di Amorosa.www.WineCountrythisWeek.com 41
---
Wine CoUntrY neWs | Wine CoUntrY tHis WeeKRobert Mondavi Winery Kicks Off 44th Annual SummerConcert Series with 100th Birthday Celebration, June 29Martina McBride to perform atJune 29 Cen'tanni concertpresented by Pandora JewelryHuey LewisBruce Hornsby and the Noisemakers42This June, Robert Mondavi Winery kicks off its 44th annualSummer Concert Series with a festival featuring five top musicalacts. With June 18 marking what would have been the 100thbirthday of Robert Mondavi, country singer and songwriter MartinaMcBride will begin the series with a performance that celebratesRobert Mondavi's contributions to the wine industry throughout theNapa Valley and beyond. Now a much-anticipated wine countrytradition, the annual concert series began in 1969 by MargritMondavi."Given Bob's love of uniting friends and family over a celebrationof food, wine and the arts, I couldn't think of a better way to honorhis 100th birthday than by continuing the Summer Concert Serieshere in the winery's backyard," said Margrit Mondavi, vice presidentof cultural affairs at Robert Mondavi Winery. "The combination ofdiverse musical styles, world-class wine and the backdrop of thebeautiful To Kalon Vineyard is a truly unique tradition that I knowI'm not alone in looking forward to celebrating."Throughout the festival's 44-year history, more than $2 million inproceeds has been raised to assist a number of Napa Valley-basedorganizations. Proceeds from ticket sales of this year's series willdirectly benefit the Napa Valley Unified School District High SchoolMusic Programs.In celebration of the 100th birthday of Robert Mondavi andpresented by Pandora Jewelry, the festival begins June 29 with the"Cen'tanni" performance and fireworks show, headlined by MartinaMcBride. McBride, recipient of a Grammy and four CMA FemaleVocalist of the Year trophies, brings more than two decades of countrymusic tradition to the Napa Valley.The concert series continues on July 6 with the "Cool Climatesof Carneros" concert, headlined by alternative rock groupLifehouse. With a number of hit Billboard singles, including"Hanging by a Moment," Lifehouse's performance will showcase oldfavorites and a collection of songs from its new album, "Almeria."On July 12, the"A Night Like No Other: Celebrating FumeBlanc" concert will welcome pop-rock star Huey Lewis. Raisedlocally in Marin County, Lewis (of the platinum-record-selling groupHuey Lewis and The News) brings his American rock style to thewinery as part of the "Sports" 30th Anniversary Tour.On July 13, Robert Mondavi Winery welcomes Bruce Hornsbyand the Noisemakers for the "Spotlight on Oakville" celebration.Grammy-winning songwriter and former Grateful Dead memberBruce Hornsby brings his Noisemakers group to Napa for anexpressive, soulful performance, displaying the group's eclectic andmulti-genre encompassing sounds.The final performance of this year's Summer Concert Series takesplace on July 20 with ZZ Ward and Delta Rae for the "Ode to ToKalon" celebration. Blues-influenced singer-songwriter ZZ Ward andalternative-pop Americana folk group Delta Rae co-headline tocombine their multifaceted sounds and energetic personalities.www.WineCountrythisWeek.com
---
Wine CoUntrY tHis WeeK | Wine CoUntrY neWsDelta RaeWhat began as a small venture in the arts with ticket prices justunder $5, the Robert Mondavi Winery Summer Concert Series hasevolved into a highlight of the summer season in the Napa Valley.The concert series combines wine, food, music and the arts to creatememorable evenings in the vineyards. Since 1969, Robert MondaviWinery has played host to more than 100 performers and drawsmore extensive crowds each summer, showcasing world-renownedand award-winning R&B, jazz and pop artists alike.All performances begin at 7 p.m. and are held at the RobertMondavi Winery on Highway 29 in Oakville. Tickets prices vary byFRANK FAMILYVINEYARDSperformance. For additional information and to purchase tickets,including General Admission, Reserved and Dinner seats, visitwww.robertmondaviwinery.com, eventbrite.com or call 1-888-769-5299. Additional inquiries can be sent toconcerts@robertmondaviwinery.com.About the robert mondavi WineryFounded in 1966, Robert Mondavi Winery is the shining symbolof California's Napa Valley. The first major winery built in Napa Valleyin the three decades since the repeal of Prohibition, Robert MondaviWinery went on to establish the foundation for the modern-dayCalifornia wine industry. Nearly fifty years later, June 18, 2013 marksthe 100th birthday of Robert Mondavi. With the philosophy thatgreat wines reflect their origins, Robert Mondavi Winery continues topursue the fullest expression of the terroir of Napa Valley. Foradditional information about Robert Mondavi Winery visitwww.robertmondaviwinery.com.IN WORLD-FAMOUS STAGS LEAP DISTRICTCabernet SauvignonsRATING90+ POINTSconsistently for the past six yearsFROMWine EnthusiastTours & Tasting Available Daily by Appointment6236 Silverado Trail, Napa CA 94558707-944-9261 | www.BaldacciVineyards.comEmail: info@baldaccivineyards.com$20 TASTING FEE WAIVED WITH $40 PURCHASECCome visit our historical winery and taste our world-classChardonnay that has been touted as one of California's best.The big Reserve Cabernet Sauvignon from Frank Family has beentouted by everyone from Wall Street Journal to the New YorkTimes. Experience old Napa Valley style in a relaxed, fun-filledatmosphere. A definite can't-miss part of your Napa Valley experience.Legendary hospitality with hard-to-find, world-class wines.1091 Larkmead Lane, 4 miles north of St. HelenaOpen Daily 10 to 5 • (707) 942-0859Our cellar is the perfect placefor an exclusive tasting and tour.Cellar Reserve TastingTaste ALL of our wines with cheese/chololate.Private tour of production facilities and caves.WITH 24 HOUR ADVANCED RESERVATIONsign up for our email newsletter at www.WineCountrythisWeek.com43
---
TOLLTO GEYSERVILLEALEXANDER VALLEYHandwrittenCovenantSt. HelenaWine CenterCharter OakLong Meadow RanchBello FamilyCLIF FAMILYChase FamilyOakville Ranch44Guenoc /Langtry EstateTO CLEAR LAKERDLakeBerryessaTOCLEAR LAKEgetting to napa valleyGuenocValleyAmici CellarsMeander WinesPalisades WineryLAWLEYJerichoCanyonOLDChateauMontelenaOld FaithfulGeyserTom EddyTrAVEL TIMEfrOM MILES (Average) (Peak)T-VineBENNETT LANEBUTTS CANYON RDVincentArroyoHelena ViewJohnstonZahtila Vineyard29GREENWOODMYRTLEDALETUBBS LANEBENNETT LANEStorybookGolden Gate Bridge 50 60 100Bay Bridge 50 60 90Sacramento 60 70 90Santa rosa 40 60 70Tedeschi FamilyCalistogaEnvy WinesJaxSUMMERSLava VineUp Valley Vintners/B Cellars Kelly Fleming WinesJames CreekKenefick RanchVengeW.H. Smith,29 Cali 351Aubert Cuvaison Estate WinesMaldonado &PhiferBlackCALISTOGAAetna SpringsAugust BriggsPavittSearsWINE STOPOnThEdge Rios/SolovinoClos Pegase PaolettiDutch HenryOutpost Summit Heibel RanchLakeBarlowPOPE VALLEY WINERYPINETofanelliSTERLINGRancho de Las FloresSaviez(Wermuth)White CottageTwomeyO'ShaughnessyLaderaVon Strasser JosephLarkmeadPOPE VALLEYReverie Cellars TeachworthVineyardsNeal FamilyTristantBravanteDiamond TerraceFRANK FAMILYG CookArkenstone Cade WineryCASTELLOViaderConstantDI AMOROSAMadrigalMadoroMChateauMerusROMBAUERBurgessWinesBoswellWinesBennessereTudalFaillaAngwinSchramsbergAllora Macauley HunnicuttJ DaviesV MadroneCasa BoeschenEhlers Estate NuestraDuckhornTRINCHEROFreemark AbbeyHowellA Dozen VintnersRevanaMountainBallentineSherwin Family Brehrens & Hitchcock Stony HillVineyard 29 MarkhamSt. Helena WineryRitchie Creek Barnett VineyardsST. CLEMENTArns WinerySchweiger VineyardsSmith-William ColeAmizettaVineyard7 & 8 Madrone29Anderson's Conn ValleyPalomaKeenan Peacock Family 128VarozzaCharlesEagle TraceGuiliam'sCharbayTerra ValentineKrugEedenCalafiaFormanChilesCain School HouseJuslynCellarsBERINGER DAVIDValleySpring MountainFULTONBuehlerSeaveySpring Mtn.MATERRATrespassOrin Swift St. HelenaSpottswoode Tamber BeyNewtonMERRYVALEST. HELENAHILL WINE CO.Ruston FamilyJoseph PhelpsMarston Family AnomalyCHATEAU POTELLEMurphySalvestrinThe TerracesVolker Eisele FamilyPRAGER LOUIS M MARTINIHall RutherfordSUTTER HOME Hall HeitzKelhamWilliam HarrisonRustridgeFlora Springs V. SATTUIRUTHERFORD HILLRutherford RanchSomerstonQuintessa128ARGER MARTUCCI Corison MilatKuletoRAYMONDLake12RutherfordMidsummer HennesseyNICHELINIRevival DEL DOTTOBy AppointmentSullivanConnFleuryCellarsNeyersCreekGirardWHITEHALL LANE FranciscanMUMM NAPAWittFrogs LeapDavid Gandona EstateTAYSONRutherfordArthurContinuum EstateTres Sabores &GroveAlphaHonigCaymusPiñaChappelletPedemonte CellarsOmega PIERCE Brand MontagnaPROVENANCENapa NapaValleyGRGICH HILLS ESTATERound Pond ZD WINES128ValleyBEAULIEU Elizabeth SpencerMiner Family VineyardsRUTHERFORDRubicon Estate PEJUPlumpjack RuddSt. SupéryGrothFoley JohnsonSaddlebackCellarsSwansonGargiuloSEQUOIA GROVECakebreadVine Cliff WineryStaglin Del BondioSILVER OAKTurnbullOAKVILLENickel & NickelParaduxx128GRANTPetrifiedForestLINCOLN AVE.Hans-FahdenFRIESEN DRTOSANTA ROSAgetting around napa valleyWHITE COTTAGESUMMIT LAKE DRDUNAWEAL LNBUCKEYELARKMEADHOWELL MTNDIAMOND MTNDiamond Mtn.Downtown Napa to Yountville 10 15 20Yountville to St. Helena 10 15 30St. Helena to Calistoga 10 10 15Calistoga to Alexander Valley 25 35 45Downtown Napa to Sonoma Plaza 15 20 25BALE LANEPOPECANYONN. FORK CRYSTAL SPGSPETERSONROADSANITARIUMCRYSTAL SPRINGSEHLERSPARKCALISTOGADEERLODIPride MountainST. HELENA RDDEER PARKTOSANTA ROSAROSSIHOWELL MTNCONN VALLEY RDHOWELL MTNMEADOWOOD LANEPRATTSPRING MTNLANGTRY RDPOPE STFULTONMADRONACHARTER OAKSPRINGSULPHUR SPRINGSLEWELLINGCHILES POPE VALLEY RDZINFANDEL LN.TOSANTA ROSARUTHERFORD HILLTAPLIN ROAD128INGLEWOODBrown Estate128SAGE CANYONwww.WineCountryThisWeek.comGALLERONWHITEHALL LANETOLAKE BERRYESSAANDSACRAMENTOSKELLENGERCONN CREEK RDRUTHERFORD CROSSROADMONEY ROADMANLEYBELLA OAKSSILVERADO TRAOAKVILLE CROSSROAD
---
AVES OLANOREDWOOD ROADVALLEJOX WineryPage Wine CellarsBUCHLISTATIONTO VALLEJOAILMayacamasMount VeederBROWNS VALLEY RDMadonna EstateSaintsburyETUDEYOUNT ST.SomerstonV Wine CellarsHopper CreekBell Wine CellarsCORLEY FAMILY'SMONTICELLOTrefethen VINEYARDSRobert SinskeyShafer QuixoteSTATE LN.LindstromODETTE ESTATERobinson FamilyStag's Leap Wine CellarsRegusciChimney RockClos du ValMADISONHARDMAN LANEATLASPEAK RDMONTICELLO ROADSOSCOLSONOMAPINE RIDGEDARMSTRANCAS AVENUEPUEBLOCENTRALMcKinstry1st ST.SOSCOL3rd STWEST IMOLA AVEARNOLD DR.DOMAINECARNEROSCardinale + LokoyaTRINITYYOUNTVILLE CROSSROADWASHINGTONHENRY RD.CUTTINGS WHARF RDTOPETALUMAANDHWY. 101ARTESALuna VineyardsANDRETTIWILLIAM HILLBy AppointmentTOHWY. 128E. 3RD AVE.3RD AVE.BROWNS VALLEY RDRam's GateTOSAN FRANCISCOAND HWY. 101Silenus VintnersLairdAncienOLD SONOMA RD.HomewoodWineryMa(i)sonryCornerstone CellarsPage Wine CellarsDomaine ChandonBlankiet EstateKeeverElyseJames ColeSignorello VineyardsDarioushHAGAFEN CELLARSHOFFMANBORRETTEReid FamilyFontanellaMAINNicholsonRanchFar NienteParadigmOpus OneNapa Wine CompanyO A K V ILLE GRADEHendryYates FamilyTruchardHartwell VineyardsORCHARD AVERobert CraigDEL DOTTOBy AppointmentHAGEN RDVinoce and Twenty RowsTallulahVintners Taste at OxbowStonehedge Collective Mason UncorkedJohn Anthony 1313 Main Mark HeroldOlabisi/Trahan Ceja Bounty HunterElementsVerismoFrazierBURNDALEMcKenzieMuellerJUDD'SHILLPalmazVineyardsKAISERdi RosaPreserveNAPA VALLEYCORPORATE DRCuvaisonEstateWinesGoosecrossCellarsKapcsandyJESSUPCliff LedeBALDACCITaylor FamilyM T. VEEDERWing CanyonSkyGodspeedHope and GraceHill Family EstateCALIFORNIAOAK KNOLL AVEREDWOOD ROADBoydRobertBialeFalcorTrinitasTulocayDelectus WineryY Rousseau WinesMoss Creek Winery,Altamura Vineyards & Winery& Suisun Valley WineriesBIG RANCH RDARNOLD DRFarella-ParkJEFFERSONLINDA VISTAGustavoThraceTHOMPSON AVEPINECARNEROS RDLOS CARNEROS RDSCHUG AnabaCARNEROSESTATE BonneauGLORIA FERRERCAVES & VINEYARDSCLINEVan Der HeydenSilverado Trail Wine Studio/Crushpad/Big Horn Cellars4TH AVE.JACUZZIO'Brien EstateSilveradoVineyardsDRY CREEK RDVINEYARD VIEW privateRAZIPARTRICK RDLINCOLNCOOMBSVILLE RD.SpelletichKrupp BrothersStagecoach VineyardAnticaSODA CANYON ROADBlack CordonSixteen by Twenty WinesGuffyFamilyHdV WinesCaldwellLEVERONI RDModus Operandi/JuiceboxDEALY RDBROADWAYBORDEAUXDUHIG RDBourassaVineyardsVinRocLAS AMIGASAdastra12TOSACRAMENTO/SUISUN VALLEYKenzoEstateBROWNS VALLEYLarsonFamilyYates FamilyROBERT MONDAVIMENAGE A TROIS/NAPA CELLARSHESSCOLLECTIONPhoenixVineyardsGirardStags' Leap WineryArdente WineryVolta WineSodaroTournesolGREEN VALLEYYoungRidgeEstateCelani FamilyBeaucanonEstateBialla VineyardsWhetstonePorterFamilyKREUZER CANYON RDSciandriBASALTMichael MondaviFamily WineryCosentinoKAISERMEADOWCROFT WINESat CornerStone GardensKeating WineryACACIAby appt.Elkhorn Peak CellarsREATAAIRPORT BLVDVIANSABouchaine29CHIMNEY ROCK RDCAPPS DRBlack Stallion WineryVICHY AVEDominari121KIRKLANDCA' MOMIENOTECAAckermanFamilyFIRST AVE1091 Larkmead Lane Not To Scale4 miles north of St. Helena116Open Daily 10-5 • (707) 942-08591212112SonomaYOUNTVILLECrane FamilyLosCarnerosRegionYountvilleMt.VeederBolen FamilyVineyardsOakvilleNAPAStagsLeapOak KnollPatlandEstateREYNOLDS FAMILYKitchak Cellars121RosalyndPatz & HallNapaSmithJARVISBy AppointmentFaustiniSOSCOL FERRYKELLYDEVLIN RDRoccaOPENING SOONAmerican CanyonAtlas PeakCoombsvilleBROWNS VALLEY RDThe Magazine of California Wine Countrywww .winec ountr ythisw eek.c omFRANK FAMILYV I N E Y A R D SLegendary hospitality withhard-to-find, world-class wines.29121Black CatVineyards
---
nAPA vALLeY | Wine CoUntrY tHis WeeKLet Stagecoach Express Ship Your Memories HomeBY CHArLES NEAVELong gone are the days when you could stash a couple of bottlesof Cabernet or Chardonnay in your carry-on bag for the flight home.Besides, in all likelihood the bottle or two you had set out to buy hadsuddenly crept closer to half a case or a case, and even if it was aviable option, do you want to tote 40 pounds of wine through theterminal and onto the plane? I think not. That is when you call orstop by Stagecoach Express in Napa.The business, started more than two decades ago, was acquired bySue Bailey and Larry Rupp in 1998. "Let us ship your Napa Memorieshome" is their mantra. And that is exactly what they do. Theypackage up those bottled memories and make sure they get safely toyour home or office. One thing that sets them apart is that, when youcall Stagecoach Express, you always get an owner on the phone."We specialize in shippingwine all over the country, or atS T . H E L E N Aleast to most of it," Sue says.CHARLES"Customer service and attentionKRUGto detail is what we are knownDAVID FULTONBERINGERMADRONATamber BeyOrin SwiftCovenantSt. Helena Wine CenterADAMSVELO VINOCLIF FAMILYPRAGER46MATERRABello FamilySalvestrinSPRINGLEWELLING AVEARGER-MARTUCCIRevivalPRATTSUTTER HOMENot to ScaleWittFULTONPOPEHallMERRYVALECHATEAU POTELLEFlora SpringsINGLEWOODHandwrittenCharter OakLong Meadow RanchCorisonWHITEHALL LANEWHITEHALL LANEVarozzaCalafia CellarsCHARTER OAKMilatLOUIS M MARTINIHeitzWHITEDEL DOTTOOPEN BY APPOINTMENTRutherfordGroveTres Sabores &Pedemonte CellarsV. SATTUIWINERY& DELITO OAKVILLEZINFANDELRAYMONDFransicanGALLERONWine Country This Week PreferredOpen to the publicOpen by appointmentFleuryfor. We take care of it right away and pay special attention to everyshipment. We also send emails to customers when their shipment issent, and call them to make sure someone will be home to receive it."One further service they provide is that they will pick up yourwine from Napa Valley wineries, hotels, private residences and bedand breakfasts, and ship it off for you. In addition to packaging andshipping wine, they also offer fax and photocopy services and, if youneed one, they'll get a notary for you. They'll even recommendwineries to visit if you are curious about searching out new places. Ifyou're planning ahead and know that you will have some bottles tosend home, you can go to their website and download their shippingform. Just another part of a business where service, and the customer,means everything.The Stagecoach Express office is just off of Highway 29 (take theRedwood Road exit) at 3379 Solano Avenue in Redwood Plaza, Napa94558. They are open every day except Sunday from 9 a.m. to 5:30p.m. (on Saturdays 10 a.m. until 4 p.m.) For more information call(707) 257-1888 or (877) 232-5054, or go towww.stagecoachexpress.com.Celebrate Summer in the Napa Valley withClif Family Winery's Summer Solstice ConcertClif Family Winery is going all out as they welcome summer back to the Napa Valley on June 22 from6 to 10 p.m. Enjoy great music and dancing with Clif Bar's own band "Grove Valve Orchestra." Theyrecently took home first place in the 2012 Fortune Battle of the Corporate Bands. This coveted awardearned them a place in history at the Rock and Roll Hall of Fame. The competition, described as "acelebration of musicians who also happen to have day jobs" proved what we have known all along – thisband is amazing!Tickets are $25 for wine club members (up to two tickets), $35 for the general public or $40 at thedoor. The Clif Family Winery tasting room is located at Velo Vino Napa Valley, just south of downtown St.Helena. Velo Vino at 709 Main Street, St. HelenaTo keep you replenished from all that dancing, they're providing an "all-you-can-eat" taco bar fromAzteca Market and sweet treatsfrom Kara's Cupcakes.And, to celebrate the summersolstice, there will be a speciallimited release wine that will onlybe available for purchase the nightof the event.Space is limited and it tends tosell out! Purchase your ticketsonline or at the Clif Family's VeloVino tasting room – a uniqueplace where the passions ofcycling, wine and food arecelebrated and blended.Follow us on twitter @WineCountrytW
---
Randolph StFranklin StRandolph StJeffersonArroyo Dr.Brown St.Brown StCoombs StMain St.West St.Tulocay St.Yajome St.Third St.Taylor St.Post St.Pearl St.Marvin St.Seond St.Berna AveFirst St.Willow AveSpring StAviaAugust 24th event Hosted by trinchero Family estates in st. HelenaTrinchero Family Estates announced that it will host the NapaValley Grapegrowers 6th annual Harvest STOMP taking place August24 from 5 to 10 p.m at its Sutter Home Winery Main Street Facilityin St. Helena across from its iconic Sutter Home Inn. STOMP is NapaValley's authentic outdoor festival highlighting the bounty of theharvest season, offering guests an exclusive opportunity to minglewith Napa Valley's famous grapegrowers and vintners.Limited tickets and sponsorships are still available. The alwayssold out event will include some of Napa Valley's finest wines, woodfiredbarbecue, gourmet rotisserie, Mexican carnitas and oysters onthe half shell. The evening will also include live music performances,an "Instant Cellar" raffle with a chance to win 100 bottles of wine,and a live auction featuring exclusive Napa Valley food and wineadventures. Proceeds from the Harvest STOMP support the NVG'songoing mission of preserving andpromoting Napa Valley's world-classvineyards and provides the fundingfor the Farmworker Foundation.Trinchero Family Estates's, SutterHome Winery Main Street Facility islocated at 100 South St. HelenaHighway, St. Helena.JohnAnthonyClay StCalistoga AveWineries ofNapa ValleyTown CenterOlabisi/TrahanX WineryCejaStonehedgeWinery 1313 MainUva TrattoriaItalianaVintner'sCollectiveFirst St.Second St.Third St.Main St. Main St.Yountville St.Vinoce andTwenty RowsClinton St.Pearl St.Vallejo St.Napa St.PuebloCaymus St.COLE'S CHOP HOUSENapa Valley Opera HouseSoscol AveTrancasFirst St.MC KINSTRYRiver Terrace Dr.Imperial WayRobert CraigOxbowPublic MarketUncorkedat OxbowBig Ranch RdWine CoUntrY tHis WeeK | nAPA vALLeYNapa Valley Grapegrowers 6th Annual Harvest StompUptownTheatreTallulahWinesBack Room WinesBounty HunterRare Wine Co.NAPA VALLEYWINE TRAINGustavo Thrace/ToolboxMasonMarkTaste of Oxbow HeroldWaterstoneCA' MOMIENOTECAD O W N T O W NN A P AGeneral Admission tickets are $240 per person. For tickets,sponsorships, and more STOMP information, visit the website atwww.harveststomp.com.The Napa Valley Grapegrowers is a trade organization that hasplayed a vital role in strengthening Napa Valley's reputation as aworld-class viticultural region for over 38 years. Its mission is topreserve and promote NapaValley's world-class vineyards.NVG represents over 630 NapaCounty grapegrowers andDominariClay StPlay Winemaker for a Day!Blend, bottle, cork & labelyour own personal cuvee totake with you the same day.BOTTLE BLENDING DAY CAMPJuarez St.ProducingGold-MedalWinesSince 1979Tours, Tastings & Sales11am-4pmTWO FOR ONE TASTING WITH THIS AD(LOGO GLASS NOT INCLUDED)4160 Silverado Trail, Napa1-888-HAGAFEN(1-888-424-2336)www.hagafen.com • info@hagafen.comVisit www.juddshill.com or call for details.Silverado Trailassociated businesses. For moreinformation, visitwww.napagrowers.org.Trinchero Family Estates,Napa Valley vintners since 1948,portfolio includes more than 30brands such as Sutter Home,Trinchero Napa Valley, MainStreet, Napa Cellars, Terra d'Oro,Montevina, Trinity Oaks, Folie àDeux, Ménage à Trois, and thenumber one alcohol-removedwine, Fre.Silverado TrailFourth StFifth StCELADONNapa General Store2332 Silverado Trail, Napa CA 94558 www.juddshill.com 707-255-2332Tasting room is open daily by appointment from 10am-4pm for friendly, seated tastingsLook for us on Facebook and become a Fan! 47
---
1BURNSIDERockpilePastoriRUSSIAN RIVERDUTCHER CREEKLakeSonomaFERRARI-CARANODUTCHER CROSSING101DRY CREEK RD.MAZZOCCOTO THEMENDOCINOCOASTDRY CREEK RD.NorthernSonoma116RussianRiverZichichi TaltyChateau DianaTruett HurstRaymond Burr VineyardsGöpfrichPech MerleMartoranaMichel-SchlumbergerKachinaQuivira UntiMountsA RafanelliVinwood CellarsRODNEY STRONGPETRIFIED FOREST .Gary FarrellMill Creek VineyardsARMIDAMATRIXRochioliVine TastingsGraciannaPedroncelliCHALK HILL1 KENDALL-JACKSONTwomeyHOPKILNRoute 128 WineryLocalsMeekerMercuryTerroirsTrioneWINE CENTERVérité/ArchipelChalkHillKnightsValleyRIVER RD.MARK WEST SPRINGS RD.OLIVETGreenValleyAlexanderValleyLAGUNA RD.BOHEMIAN HIGHWAYGRATON RD.Marimar Torres29FULTON RD.OCCIDENTAL RD.128CALISTOGA RD.MONTECITOTaft Street WineryFreemanFRITZ WINERYMARTINRAYHannaFrickCANYON RD.WILSONMauritsonRidgeClosDu BoisGarden Creek Ranch Robert YoungMunselle DraxtonStryker SonomaHawkesJordanStuhlmuller MedlockSausalAmesWhite OakStonestreetVMLBradford MtnAristaWilliams SelyemEverett RidgeAlderbrookDe LaMontanyaJ WineNotables128HannaFERRARI-CARANO'SSEASONS OF THE VINEYARDKENDALL-JACKSONChateau FeliceDowntown WineEdmeadesFront Street Wineries:• Camellia Cellars• Davis Family• Sapphire Hill• Holdredge• Skewis WinesHauck CellarsHawley Tasting Room & GalleryHudson Street Wineries• Bluenose Wines• Grove Street• Owl Ridge• Sadler-Wells• Rocking Z Vineyard• TeiraJ KeversonJCB Tasting Room & Wine BarLa CremaLongboard VineyardsManzanita CreekMueller WineryMurphy-GoodeOptimaPezzi KingPortalupiRamey Wine CellarsRoadhouse WineryRussian River Wine Co.SeghesioSelbyStark at Garagiste HealdsburgStephen & WalkerThirty Four North Wine MerchantThumbprintToad HollowTopelWaterfront Tasting Room• J. Keverson• Christie• Hart's DesireWilliamsonOCCIDENTAL RD.Joseph PhelpsBella VineyardsPreston VineyardsPorterCreekSbragia FamilyDavid CaffaroThomasGeorgeYoakimBridgeLambert BridgePasterick VineyardsSimonciniAmistaDeux AmisSilverOakTO THEMENDOCINOCOAST J RickardsSTEWART'S POINT RDDel CarloRuedTeldeschiFrancisFordCoppolaDRY CREEK VNYDTRENTADUED'ArgenziodeLORIMIER WINERYLYTTON SPGSALEXANDERNalleVALLEYJohnson'sField StoneWESTSIDE RD.Russian River VnydsIron HorseHartford FamilyRiver RoadCahill WinerySebastopol VnydGraton Ridge DehlingerDutton-GoldfieldRed CarLynmarMerry EdwardsMacPhailCopainPalmeriAmphoraFamily WineriesKokomoPapapietro PerryPetersonTrattore EstateDuchampMuellerMietzMutt LynchRussian Hill EstateWoodenheadJoseph Swan Tara Bella Old World WineryPellegriniMartinelliHarvest MoonSunceBenovia Robert RueHook & Ladder Carol Shelton Eric KentInman VinotecaInspirationBattaglini ColagrossiNovy SiduriChristieChalk HillLancaster EstateEASTSIDEGourmet au BayDryCreekMOSHINForchiniValdez FamilyIcaria CreekWattle CreekW. DRY CREEKFlowersVineyard& WineryGustafson FamilyVineyardsMontemaggioreMerriamLimerickLaneCazaderoJohn Tyler Winesby Bacigalupi VineyardStarliteVineyardsPLEASANTOLD REDWOOD HWYLa CzarSLUSSEREmtu EstatePendeleton EstateThe Magazine of California Wine Countrywww .winec ountr ythisw eek.c omPorter Bass WineryMichael BernardDaVeroUPTickSonoma-CutrerSODA ROCKOLD REDWOOD HWYSt. Helena RoadWineryDutton EstateDeLOACHGUERNEVILLESheldon/KrutzSmall VinesKORBELGOLDClaypoolBALLETTOFoppianoAcornChristopherCreekAlbini FamilyWINDSOR RIVER RDPetersFamily &OccidentalRoad Cellars12LOST CANYONSTATION 1870SIMIRAILROADSQUAREAncient OakCellarsCELLARS OFSONOMAParadise RidgeTreciniALEXANDER VALLEYVINEYARDSWINDSOR RDKings Hill CellarsFisher VineyardsINDUSTRIALPINERFOUNTAIN GROVED&LCarinalliMORRISLa FolletteMarimar EstateGEYSER PEAKPassalacquaUnited States' most popular méthode champenoise champagneTour historic champagne cellars with complimentary tastingStop for lunch at the Korbel Delicatessen and Marketwith outdoor patio seating among the redwoodsDaily 10-4:30 | 13250 River Road, Guerneville, CA 95446 | (707) 824-7316 | www.korbel.comEnjoy responsibly.SINCE1970Celebrate responsibly.A diverse portfolio of high-quality wines fromthe very best vineyards in Sonoma County.Stop by our warm and inviting tasting roomlocated in the heart of Sonoma Valley.MENTION THIS AD TO RECEIVE COMPLIMENTARY TASTING9592 Sonoma Hwy 12, Kenwood • Daily10-4:30 • (707) 833-5891 • www.kenwoodvineyards.comLIMERICK4th3rd STMONTGOMERYWATER TROUGHRIDGEBODEGA HIGHWAY
---
EN GARDEValley of the Moon Winery128HPYTHIAN RD.TomalesBay1LittoraiWines116101101 LEDSONVALLEY FORD CUTOFFSonomaCoastSableRidgeROBLAR RD.PETALUMA VALLEY FORD RD.116116SonomaValleySt. Anne's CrossingNaked WinesParadise RidgeTy Caton CellarsEnkidu12112TO NAPA37Larson Family12121TOLAKE BERRYESSAANDSACRAMENTOMUSCARDINIBENNETT VALLEY RD.RobledoFamilyLOXTONERIC ROSSMOONDANCE CELLARSORANGE RD.AdobeRoadWineryClarbecBONNESS RDLAKEVILLE RD.HomewoodWineryNicholsonRanchTOSAN FRANCISCOTO VALLEJOSan Pablo BayLittleVineyardsFRATESBartholomew ParkSTAGE GULCHNAPA RDKastaniaVineyardsCoturri WineryWellingtonLasseter FamilyBenziger FamilyTalisman WinesST. FRANCISPetroni VineyardsRobert HunterAkoma Zoume/Mountain TerracesPaint Horse HanzellHWYBODEGAWASHINGTONCordaCellarsClary RanchSonoma ValleyPort WorksKELLERESTATEGLORIA FERRERCLINESCHUG12Laurel GlenBucklin Old Hill RanchBonneauJACUZZIVIANSACHATEAU ST. JEANB WISEVJB CELLARSDeerfield RanchLandmarkKazGRANGEMatanzasCreekPavo WinesMAYO RESERVE ROOMKUNDEParmelee HillAnabaImageryArrowoodB.R. CohnSEBASTIANIKamenTin BarnGofesselFaveroGundlach BundschuTOSAN FRANCISCOLos CarnerosRegionRam's GateCORNERSTONE SONOMAMEADOWCROFT WINESFoyt Family WinesKeating WinesMAYO FAMILYSONOMA PLAZACHARLES CREEKSONOMA ENOTECABRYTER ESTATESENVOLVEERIC K JAMES VINEYARDSLEDSON CENTRE DU VINAdobe RoadGlenLyonHawkesHaywoodHighway 12 WineryRocheSigh Champagne & SparklingSojournSpannTwo AmigosWaltWestwoodR2 Wine CoKENWOOD VINEYARDSPETALUMA HILL ROADtravelling to santa rosaTrAVEL TIMEfrOM MILES (Average) (Peak)Golden Gate Bridge 49 50 90Make us your first stop in Wine Country…Nine boutique wineries in one fun locationTake the Downtown Santa Rosa exit #489 to 4th StreetSacramento 104 110 150Downtown Napa 42 60 77travelling around sonoma CountyRavenswoodLive MusicWed-Sat7:30-10:30pmBUENA VISTA7TH E.LOVALL VALLEYCELLARDOORE NAPA STDowntown Santa rosa to Sonoma Plaza 22 35 40Downtown Santa Sunday-Tuesday rosa to Healdsburg 10am-8:30pm 16 20 30Wednesday-Saturday 10am-10:30pmHealdsburg to Geyserville 8 15 15Downtown Santa rosa to Guerneville 19 35 408TH E.MacRostie133 4th Street, Downtown Santa Rosa, exit #489(707) 578-1826 • www.cellarsofsonoma.comBring in this ad for 2-for-1 Tasting!BURNDALEMake us your first stop in Wine Country…Nine boutique wineries in one fun locationScribeTake the Downtown Santa Rosa exit #489 to 4th StreetLive MusicRAMALWed-Sat7:30-10:30pmSunday-Tuesday 10am-8:30pmWednesday-Saturday 10am-10:30pm133 4th Street, Downtown Santa Rosa, exit #489(707) 578-1826 • www.cellarsofsonoma.comBRING IN THIS AD FOR 2-FOR-1 TASTING!Sonoma County Wineries
---
LAGUNA RD.SLUSSERWelcome toNORTHERN SONOMA COUNTYTOTOMENDOCINOEUREKAR U S S I A N R I V E R , A L E X A N D E R V A L L E Y A N D D R Y C R E E K V A L L E YCOASTPendleton EstateBROAD CROCKERRIVER RD.Wattle Creek50LakeSonomaGustafson FamilyVineyardsSTEWART'S POINTTOMENDOCINOCOASTTOBODEGABAYTOHWY. 1SbragiaFamilyVineyardsFERRARI-CARANOArmstrongWoodsRIVER RD.MAIN ST.ARMSTRONG WOODS RD.BOHEMIAN HWYFRITZ WINERYDUTCHER CROSSINGDUTCHER CREEK RDWALLINGYOAKIM BRIDGEWINE CREEK RD.Monte RioMONTGOMERYASTI RD.101Silver OakCellarsDavid CaffaroYoakim Bridge TaltyBellaPrestonZichichiMichel-SchlumbergerRaymond BurrJoseph PhelpsMountsFrickJ RickardsCHIANTI RD.GEYSER PEAKChateauDianaPedroncelliCANYONTruettHurstGöpfrichMartoranaQuiviraA. RafanelliKORBEL116OCCIDENTAL RD.RUSSIAN RIVERFORCHINIPassalacquaGRATON RD.GOLDRIDGERoute 128WineryAmphoraFamily WineriesKokomoPapapietro PerryPetersonTrattore EstateUntiDRY CREEK RD.LAMBERT BRIDGELambert BridgeVineyard of PasterickMontemaggioreMarimar TorresFreemanPechMerleLittoraiWinesPalmeriW. DRY CREEK RD.MARTINELLIKachinaRuedAmistaDRY CREEKVINEYARDEverett RidgeHartfordFamilyWineryLocalsMeekerMercuryTerroirsTeldeschiWILSONMIRABEL RD.BURNSIDESOUVERAINMAZZOCCOMill CreekARMIDAPorter CreekMOSHINWATER TROUGH128Trione Vineyards& WineryClos Du BoisMauritsonGary FarrellFrancis FordCoppolaManzanitaCreekGEYSERVILLE RD.WESTSIDE RD.VINE HILL RD.MILL STA.deLORIMIERTRENTADUERidge/LyttonSpringsMichael BernardDaVeroMacPhail FamilyJohn Tyler Winesby BacigalupiVineyardTwomeyKINLEYAlderbrookMATRIXThomas George EstatesEmtuEstateVMLMARTINRAYStryker SonomaHEALDSBURGFREI RD.RED WINERYGEYSER'SALEXANDER VAL. RD.SIMIMAGNOLIARochioliHOP KILNRussian RiverMartini & PrattiIron HorseRiver RoadDehlingerSebastopol VineyardsGraton RidgeDutton-GoldfieldRed CarLynmarEmeritus MerryD&L Carinalli EdwardsTaft Street WineryLa FollettePeters Family &MarimarOccidental Road CellarsEstateLYTTONSTATION RD. HawkesStonestreetMedlock Ames SausalJordan StuhlmullerWhite OakDe La MontanyaAristaWilliams SelyemDraxtonGrove StreetSainiRussian HillEstateFoppianoJ WineWoodenheadJoseph SwanW. OLIVETInman FamilySuncéClaypool CellarsTOHWY. 101RODNEYSTRONGNotablesDeLOACHRobert YoungAcornPellegriniOLD REDWOOD HWY.STARR RDDomWhitneyGraciannaSonoma-CutrerOLIVETBALLETTOPINE FLATSODA ROCKCopainHannaChristopherCreekLIMERICKMietzSTARR RDJohnson'sAlexanderValley WinesLOS AMIGOSMerriamSonoma CountyAirportKENDALL-JACKSONWINE CENTERRIVER RD.ARATA LN.BROOKS RD.LAKEWOODWINDSOR RIVER RDHEMBRE LN.AIRPORT BLVDPINER RD.GUERNEVILLE RD. STEELE LN.OCCIDENTAL RD.12Limerick LaneChristieUPTickMuellerTara BellaHarvest MoonHook & LadderALEXANDER VALLEY VINEYARDSMartinelliFERRARI-CARANO'S SEASONS OF THE VINEYARDKENDALL-JACKSONCamellia CellarsChateau FeliceDavis FamilyEdmeadesFront Street Wineries:• Camellia Cellars• Davis Family• Sapphire Hill• Holdredge• Skewis WinesHauck CellarsHawley Tasting Room & GalleryHoldredgeHudson Street Wineries:• Bluenose Wines• Grove Street• Owl Ridge• Sadler-Wells• Rocking Z Vineyard• TeiraHannaBattagliniField Stone101FULTON RDSEBASTOPOL AVENUESHILO RD.3rd STLancaster EstateCHALK HILL RD.PLEASANT AVE.FULTON RDJ KeversonJCB Tasting RoomLa CremaLongboard VineyardsManzanita CreekMueller WineryMurphy-GoodeOptimaPartake by K-JPezzi KingPortalupiRamey Wine CellarsRoadhouse WineryRussian River Wine Co.Sanglier CellarsSapphire HillsVérité/ArchipelOLD REDWOOD HWY.COFFEYChalk HillFRAUGHTOld World WineryNovy Eric KentRobert RueColagrossiCarol Shelton SiduriVinotecaRAILROADSQUAREMARK WEST SPRINGSCLEVELAND AVELOST CANYONSTATION 1870SeghesioSelbySkewisStark at Garagiste HealdsburgStephen & WalkerThirty Four North Wine MerchantThumbprintToad HollowTopelWaterfront Tasting Room:• J. Keverson• Christie• Hart's DesireWilliamson128FOUNTAIN GROVE PKWY.D'ArgenzioSheldon/Krutz4th STStarliteVineyardsCELLARS OFSONOMATOSANTA ROSA/SAN FRANCISCOAncient Oaks Cellarsinside Corrick's1014th STTOSONOMAVALLEY
---
Founded in 1880, Geyser Peak Wineryis a pioneer in Alexander Valley, andone of California's oldest wineries.Come by to meet the team, relax witha picnic on the patio, and enjoy ouraward-winning wines!Mention this ad to receiveTwo For One RESERVE Tasting15% discount on wine purchasesOpen Daily 10am–5pm22281 Chianti Road, Geyserville, CA 95441Only 7 minutes from Healdsburg800-255-WINE | www.geyserpeakwinery.comA Total of26MEDAL5GOLDWINNERS MEDALSConcierge Picks Picksat the2012 SONOMA COUNTY HARVEST FAIRGOLD MEDALS2012 SF Chronicle Tasting2006 Sonoma County Meeks Merlot Best of Class2005 Sonoma County Mercantile Cabernet Sauvignon Gold2007 Alexander Valley "The General" Cabernet Sauvignon GoldOpen 10:30-5(707) 385-6047 | 8015 Hwy 128, Healdsburg 95448 | sodarockwinery.comomTop 5 Picnic AreasGEYSER PEAK WINERY [Geyserville]Expansive views of Alexander Valley. Wines-by-theglass& picnic foods. Tasting & Picnic packages available.Only 7 minutes from HealdsburgOpen Daily 10am–5pm | 800-255-WINESONOMA COUNTY'S ONLYUNDERGROUND WINERYCABERNET SAUVIGNONESTATE ZINFANDEL • CHARDONNAYLATE HARVEST ZINFANDELSAUVIGNON BLANC • PINOT NOIR"Keep a close eye on this winery…"– Robert Parker,THE WINE ADVOCATEOpen Daily 10:30-4:30Tours by Appointment24691 Dutcher Creek Roadjust off Dry Creek Road(707) 894-3389 • Picnic Areawww.fritzwinery.comMENTION THIS AD FOR$5 OFF WINE TASTING!sign up for our email newsletter at www.WineCountrythisWeek.com51
---
sonomA CoUntY | Wine CoUntrY tHis WeeKRaise a Glass to the 30th Anniversary ofSonoma County's Russian River Valley Appellationrussian river valley Winegrowers host 18th annualgrape to glass celebration showcasing regional wines and chefsfor a summertime pre-harvest party on August 17In celebration of the 30th anniversary of Sonoma County's RussianRiver Valley appellation, the 18th annual Grape to Glass: Back to OurRoots celebration will honor the founding members of the RussianRiver Valley Winegrowers association on August 17 from from 4 to 9p.m. Bringing together wine enthusiasts, winemakers, grape growers,chefs, hoteliers and artists for a summertime celebration of all thingswine, guests will taste boutique wines grown in the Russian RiverValley appellation as well as someVOTED A WINE & SPIRITS 2012WINERY OF THE YEARAward-winning Pinot NoirPicnic GroveFood & Wine PairingsBiodynamic ® Garden Tours1791 Olivet Road,Santa Rosa CA 95401707.526.9111deloachvineyards.comof the latest releases before theyare made available to the public.Consisting of a walk-aroundwine tasting, a silent and liveauction benefiting Russian RiverValley Winegrowers, a BBQ feastfeaturing Willie Bird Turkey anddinner by Casual Catering, livemusic by Urban Oasis and aFarmer's Market, Grape to Glassfeatures more than 75 wineries,restaurants, artists and vendors.New this year, the VineyardAcademy Culinary ArtsDepartment at Windsor HighSchool will be baking oneGravenstein Apple Pie largeD O W N T O W NHEALDSBURGenough to feed everyone in attendance with assistance from CosteauxFrench Bakery in Healdsburg and delivered to Grape to Glass by localfire departments. Participants this year include Balletto Vineyards &Winery, Benovia Winery, Davis Family, Dutton Estate Winery, Dutton-Goldfield Winery, Hook & Ladder Winery, Interiors By Lynn, JohnAsh & Co., Kozlowski Farms, La Crema Winery, La Tortilla Factory,Martinelli Farms, Napkins by Sue, Russian Hill Winery, Sonoma-Cutrer Vineyards, Wine Barrel Creations and many more to beannounced.The 18th annual Grape to Glass celebration will take placeRichard's Grove & Saralee's Vineyard, 3575 Slusser Road in Windsor,CA 94592.Tickets are on sale now and range from $85 for an individualticket to $1,000 for a party of 10, the latter including two bottles ofRussian River Valley wine and two VIP parking passes.To reserve a table, seat, or for more information, visitrrvw.org/event-grape-to-glass/ or call (707) 521-2534.Russian River Valley Winegrowers works to support wineries andwinegrowers in the Russian River Valley appellation. Consisting ofapproximately 275 members, the organization was founded in 1994.Join us for a taste ofour Reserve andSingle Vineyard Cabernetsfrom the Alexander Valleyalley.52Grove Street WineryManzanita CreekDRY CREEK RDGROVE STHEALDSBURG AVE.CENTER STPLAZAJOHNSONMATHESONCENTERLINCOLNMILLPRINCEFITCH STMARCH AVE.SeghesioGRANT ST101Stark at GaragisteHealdsburgToad HollowVineyards PortalupiNORTH STMueller Ferrari-Carano'sRoadhouse.Hawley Chateau Felice SEASONS OF THE VINEYARDDowntown WineKENDALLRussian River Wine Co.JACKSON Plaza JCBThe Wine ShopTopelMurphy-Goode ThumbprintWilliamson WinesEdmeadesStephen & WalkerLa Crema WineryHauckPezzi KingSelbyCOLLEGE STPIPER STFITCH STPLACE MATTERSRECEIVE 1 COMPLIMENTARYESTATE TE WINE TASTINGPLUS 20% ON PURCHASES OF6 BOTTLES OR MORE11455 Old Redwood HighwayHealdsburg, CA Look for us on Facebook and become a Fan!HUDSON
---
Wine CoUntrY tHis WeeK | sonomA CoUntYNew Online Tool to Plan Wine Vacations in Northern Sonoma Countyitineraries Customized to visitors' interestsNorthern Sonoma County's Wine Road ismaking it easier than ever to plan a trip to winecountry with the launch of its newest online tool,Wine Road Concierge Service.The online service takes the leg work out ofarranging a trip to the area by creating a detaileditinerary with recommendations for visitors tomake the most out of their trip. Whether it's afirst-time visit to wine country or a stay for aspecial event, by providing lodging preferences,wine knowledge and priority information throughan online form, the Wine Road Concierge Servicecreates an itinerary specific to every visitor."Planning a trip can be daunting and timeconsuming, especially to those visitors who arejust beginning to learn about and enjoy wine,"said Beth Costa, Executive Director of the WineRoad. "The online concierge program allows us tocustomize each person's Wine Road experiencebased on what they're looking for by providingrecommendations on wineries to visit, hotels tostay in and restaurants to dine at so they can makethe most out their trip."The concierge program is available on WineRoad's website, Monday through Friday from 10a.m. to 4 p.m. (PST). To plan your next trip, visitwww.wineroad.com.G E Y S E R V I L L ECANYONCHIANTIWEST DRY CREEK RD.GEYSERVILLE AVE.Silver OakFrickJ Rickards128 Route 128 WineryPedroncelliPalmeri MeekerDavidLocalCaffaro GEYSERTerroirsPEAK128101deLORIMIERMercuryLYTTON SPRINGS RD.MAZZOCCOTrioneClos du BoisTRENTADUEINDEPENDENCEFrancisFordCoppola101DRY CREEK RDGEYSERVILLE RD.HEALDSBURG AVE.GardenCreek RobertRanch YoungRED WINERY RDStrykerSonomaHawkesSimiJordanMedlockAmesStonestreetALEXANDER VAL RDWINERYFAMILY OWNED AND OPERATED SINCE 1969Best kept secret is out!Enjoy award-winning bubbly, wines and port, plusour beautiful picnic grounds with incredible views.Available for weddings & catered parties19170 Geyserville Avenue, Geyservile, (707) 433-3104Highway 101 Independence Lane ExitA L E X A N D E R V A L L E YAward Winning WinesBeautiful Tasting RoomGorgeous Picnic AreasOpen 10:30-52001 Hwy 128 – Geyserville CA 95441800-546-7718 | delorimierwinery.comwww.WineCountrythisWeek.com53
---
sonomA CoUntY| Wine CoUntrY tHis WeeKSummer Concert Series at Rodney Strong VineyardsB.B. King and dwight Yoakam to make their debut PerformancesThe 23rd annual concert series at Rodney Strong Vineyards buildsupon its stellar reputation of legendary musicians, a beautiful concertsetting and award-winning wines. For 2013, the concert seriesincludes Rodney Strong first-timers Dwight Yoakam and B.B. Kingalong with season opener Michael McDonald and other top names incontemporary jazz. For details, visit www.rodneystrong.com/concerts.saturday, June 22: michael mcdonaldTwo notes. That's all it takes to recognize the voice of Michael McDonald.Distinctive and soulful, it is one of the most emotive instruments of ourtimes. Add to this McDonald's formidable songwriting and keyboard skills,and you have an artist who has been a singular musical presence for fourdecades. From '70s-era Doobie Brothers classics such as "What A FoolBelieves" and solo hits like "I Keep Forgettin" through two highly-acclaimedMotown covers albums, the five-time Grammy-winning McDonald is thatrare thing in contemporary pop – an artist whose work is both timeless andever-evolving. Tickets: VIP $115 / GA $75saturday, August 3: BWB – rick Braun, Kirk Whalum & norman BrownIndividually, they are three titans of contemporary music: Rick Braun, thegifted trumpeter/flugelhornist with the golden voice; GRAMMY ® Awardwinningtenor saxophonist Kirk Whalum, the Memphis-born artist whomixes Beale Street, gospel, the blues and bop; and Norman Brown, theGRAMMY-winning guitarist who brings a Louisiana lilt to his WesMontgomery/George Benson influenced six-string soulful strut. They cametogether eleven years ago as the supergroup known as BWB and their historicalbum Groovin', made them one of the most sought-after groups at that time.54This terrific triad reassembles with the June 18 release of HumanNature on Heads Up International. This long-awaited sequel spotlightsBWB's reimaging of eleven selections made famous by the King of Pop,Michael Jackson. Tickets: VIP $90 / GA $60sunday, August 4: dwight YoakamFew entertainers have attained the iconic status of Dwight Yoakam. Hisname immediately conjures up compelling, provocative images: A palecowboy hat with the brim pulled low; painted-on blue jeans; intricate,catchy melodies paired with poignant, brilliant lyrics that mesmerize withtheir indelible imprint. Then there's Yoakam the actor, who seeminglymelts into his roles, impressively standing toe-to-toe with some of theworld's top thespians: Jodie Foster, Tommy Lee Jones, Forest Whitaker,Nicholas Cage.Yoakam's latest album, 3 Pears, balances his country core with a fiercelyindependent embrace of rock, Americana, pop and soul. It blends Yoakam'srespect for his musical predecessors with the collaborative assistance ofmodern singer/songwriter Beck, who co-produced two tracks, and currentrocker Kid Rock, who co-wrote the hooky opener, "Take Hold Of My Hand."Tickets: VIP $115 / GA $75saturday, August 17: dave Koz and Friends summer Horns tour– with mindi Abair, gerald Albright & richard elliotEight-time GRAMMY nominee and saxophonist extraordinaire DaveKoz typically spends every summer on the road, bringing a stellar group ofmusician friends along with him. This summer he's assembled an all-starlineup of saxophonists: Mindi Abair, Gerald Albright and Richard Elliot.Tickets: VIP $90 / GA $60www.WineCountrythisWeek.com
---
Wine CoUntrY tHis WeeK | sonomA CoUntYContinuedsunday, september 1: B.B. KingHis reign as King of the Blues has been as long as that of any monarchon earth. Yet B.B. King continues to wear his crown well. At age 87, he isstill light on his feet, singing and playing the blues with relentless passion.Time has no apparent effect on B.B., other than to make him more popular,more cherished, more relevant than ever. Don't look for him in some kind ofsemi-retirement; look for him out on the road, playing for people, poppingup in a myriad of T.V. commercials, or laying down tracks for his nextalbum. B.B. King is as alive as the music he plays, and a grateful worldcan't get enough of him. B.B. continues to tour extensively, averaging over250 concerts per year around the world. Classics such as "The Thrill IsGone," "How Blue Can You Get," and "Everyday I Have The Blues" areconcert (and fan) staples. Tickets: VIP $115 / GA $75Season passes and individual concert tickets are on sale by calling(707) 869-1595 ext. 4 or through www.rodneystrong.com/concerts.Tickets can also be purchased in person at the Rodney StrongVineyards Tasting Room. Doors open at 4 p.m., shows begin at 5 p.m.Rodney Strong Vineyards Wine club members enjoy an exclusivereception before the shows and at intermission, as well as $5discount on each ticket price. Wine club tickets must be purchasedthrough Rodney Strong Vineyards by calling 1-866-779-4637.NOTE: General Admission Season Pass tickets are $345 perperson, per pass. VIP Season Pass tickets are $525 per person, perpass. All shipping and handling fees are waived for Season Passes, asavings of $35.Surrounded by acres of beautiful vineyards, guests will be treatedto some of the top performers in contemporary music whilepicnicking at the winery's intimate concert venue, The Green.Bring a picnic meal to enjoy with friends on The Green orpurchase an assortment of prepared foods from local purveyors whowill be onsite. You may also purchaseRodney Strong Vineyards' wines as wellas choose from an array of nonalcoholicbeverages.No outside alcoholic beverages willbe allowed into the venue. Low-backchairs or blankets are recommendedfor all lawn seating. No high backchairs or umbrellas. Parking iscomplimentary. The famous RussianRiver fog usually arrives in the earlyevening, so attendees areadvised to bring jackets andsweaters or guests can purchasespecially logo sweatshirts at theshow.Rodney Strong Vineyards islocated at 11455 Old RedwoodHighway, off Highway 101 justsouth of Healdsburg.A TASTING ROOM BY DAY…A VIBRANT WINE BAR BY NIGHT• Wines by the glass and by the bottle• All labels either owned or importedby Fritz Cellars.• Unique food and wine pairings onthe weekends.Consistently rated 91 plus point Single VineyardChardonnay, Pinot Noirs, and Syrah.Bring in this ad for a complimentary tasting for 2.707.623.9619707.623.9621 | www.lostcanyonwinery.comwww.station1870.comin Historic Railroad Square ~ 123 4th Street, Santa Rosa, CA 95401OPEN FRIDAY THROUGH SUNDAY 10AM TO 4PMOPEN TUESDAYTHROUGH SATURDAY4PM TO 10PMLook for us on Facebook and become a Fan! 55
---
sonomA CoUntY| Wine CoUntrY tHis WeeK56The tasting room is open daily from 11 a.m. to 4:30 p.m.10295 Westside rd, Healdsburg, CA 95448(707) 433-5499 | www.moshinvineyards.comTours are available by appointment.Tasting fee $10, waived with purchase.visit moshin vineyards for a tour of the uniquegravity-Flow system for making Pinot noir!There are four-tiers built into the slope of the land – utilizing the powerof gravity for moving the wine through each stage of production.for more information, call Julia Lander at (707) 433-5499, ext. 104or email julia@moshinvineyards.com .WinemAKer ProFiLeriCK mosHinMoshin VineyardsBY MIKE HYLANDRick Moshin's winemaking style reflects much of hisinherent personality traits – attention to detail, dedicationand integrity. His goal is to gently guide sustainably farmedfruit though the winemaking process to produce a wine thatexpresses an unadulterated view into the heart of the vine.In 1977, Rick Moshin began making wine as a hobby.He had already become an avid brewer, acquiring numerousaccolades and awards for his various beer recipes. Employedas a math instructor by day, Rick began making wine athome during his off hours. A friend once inquired about themany wine barrels stored in Rick's garage to which hereplied, "Well I can't afford to buy the wines that I like todrink, so I guess I'll just have to make them."To enhance his accessibility to quality grape sources,Rick worked part time as a grape broker from 1979 to 1994,matching up winemakers with grape growers throughoutCalifornia. To this day, Rick still purchases grapes from someof the sources he discovered outside of Sonoma County.With a goal to attain perfect fruit, Pinot Noir in particular,Rick decided that he should be farming the grapes himself,and in 1989, with the help of his family, Rick purchased aten-acre lot of Pinot Noir in the heart of the Russian RiverValley and set to work farming his new vineyard onweekends to perfect his Pinot Noir grapes.And so began the story of Moshin Vineyards. For the firstfew years, some of the fruit from Moshin Vineyards was soldto local Pinot Noir producing pioneers along Westside Road.With the remaining grapes, Rick made about 300 cases of hisown Pinot Noir each year, which he sold in between teachingmath classes in San Jose. During summer breaks, he wouldgo to France to learn more about the Burgundy region andthe secrets behind the elegance and finesse of the Pinot Noirgrapes coming from there. The plans for his own winerybegan forming, and in order to make the type of timelesswine he dreamed of, he would have to build a winerycapable of creating Pinot Noir using a gentle touch byutilizing "gravity-flow."The gravity-flow method was commonly used in Europefor moving wine through the winemaking process, but not atechnique readily found in America. So, the mathematicianbegan searching for a property close to his vineyard alongthe Russian River. The land needed to feature a slopesuitable for gravity-flow wine production as well as terroirthat would be optimal for an additional planting of PinotFollow us on twitter @WineCountrytW
---
Wine CoUntrY tHis WeeK | sonomA CoUntYContinuedNoir. In 2001, Rick found the ideal site for the winery, a location ona gentle slope located half a mile from the vineyards on WestsideRoad.From 2001 to 2004 – still commuting to and from San Jose StateUniversity – Rick worked weekends and summers on his property toprepare for the new winery all the while continuing to farm hisoriginal ten acre vineyard and make his wine at various custom crushfacilities.In 2005, the first grapes crossed the threshold of the new state-ofthe-artMoshin Vineyards Winery, with Rick retiring from teachingthe following year to run his new winery full time. With the futurein mind, the following sustainability practices were soonimplemented at the winery: solar power, in-house nitrogenproduction, high efficiency steam cleaning and lees collection.Moshin Vineyards specializes in small lot, hand crafted winesfocusing mainly on Pinot Noir. They also produce Pinot Gris,Sauvignon Blanc, Chardonnay, Merlot, Petite Syrah, Zinfandel andunique dessert wines.Follow us on twitter @WineCountrytW 57
---
sonomA CoUntY | Wine CoUntrY tHis WeeK58Open daily from 10 a.m. to 4:30 p.m.6097 Bennett Valley rd Santa rosa, CA 95404(707) 528-6464 | www.matanzascreek.comtAsting & Food PAiring exPerienCesWine Tasting at the Tasting Bar: $10 & $15 per personArtisan Cheese & Wine Pairing:$25 per person, daily at 11 a.m. to 3:30 p.m.Classic Tour and Bar Tasting:By appointment, $10 per person, daily at 10:30 a.m.To make your appointment for a memorable tour and/or wine tastings,call (707) 521-7033 or email info@matanzascreek.commAtAnzAs CreeK WinerY's'dAYs oF Wine And LAvender'Summer's Most Colorful Wine Event Celebrates Wine and Food PairingsMatanzas Creek Winery today announced tickets are now on sale for its 17th annual "Daysof Wine and Lavender" festival. This popular event takes place from 12 to 4 p.m. Saturday,June 29. The afternoon festivities will offer an immersion of the senses as guests stroll throughvibrant lavender gardens while sipping Matanzas Creek's bright and refreshing wines. TheBennett Valley winery's two-acre lavender garden will be in peak bloom, with its more than4,500 individual lavender plantings creating a sea of purple and perfuming the air with theirheady scent.A highlight of the event will be special epicurean pairings designed by Michelin-starredChef, Douglas Keane, specifically for the winery's Journey wine collection. The festival will alsofeature a menu created by the estate culinary team, including dishes with estate-grownlavender as a culinary ingredient.Winemaker Marcia Monahan will lead guests through a sensoryexploration of the winery's Sauvignon Blanc wines. Additionally,renowned oyster Guru, Rowan Jacobsen, will demonstrate to guestshow to best pair oysters with the different flavors of Matanzas Creek'shandcrafted wines. Other activities include a showcase of the winery'slavender barn and lavender product-making techniques, a sneakpeak of new wine releases, culinary demonstrations, beekeepingdemonstrations and lavender-infused honey tastings by Marshall's Farm,sustainability tours of the estate, chair massages and live music,.Tickets are $95 per person, or $75 for wine club members. Orderearly as the festival sells out in advance each year. For moreinformation or to purchase tickets, call 1-800-590-6464 or visitwww.daysofwineandlavender.eventbrite.com.Follow us on twitter @WineCountrytW
---
Mark your calendar for the third annual West of West WineFestival, August 2-4 at various venues in Sebastopol. The West ofWest Wine "WOW" Festival is an unparalleled opportunity toexperience the extraordinary wine, food and culture of the WestSonoma Coast. The Grand Tasting offers a stellar line up of more than40 producers and growers pouring some of their most coveted andhard-to-find gems, all pure expressions of the West Sonoma Coast.The festival begins with Welcome Dinners hosted by memberwineries on Friday night, August 2. These dinners offer a rareopportunity to dine with winemakers in their home or winery.Saturday offers morning seminars, vintner interviews, vineyard toursand flight tastings, following by the first of two Grand Tastings onSaturday afternoon. Continue the fun Saturday night with an oysterand white wine reception followed by the Grand Dinner with JamesBeard finalist chef Steven Satterfield from Miller Union. Finally,return to the Grand Tasting tent on Sunday afternoon for a secondopportunity to taste through the wines. Prices vary for each event.Visit the website for details, www.westsonomacoast.com.The West Sonoma Coast, part of Sonoma County, hasdistinguished itself as one of the world's leading regions for topquality Pinot Noir and Chardonnay. It contains many distinctgrowing areas including Annapolis, Fort Ross/Seaview, Occidental,Wine CoUntrY tHis WeeK | sonomA CoUntYWest of the West Wine Festival, August 2-4Freestone, Green Valley and the Sebastopol Hills. Participatingvintners include 32 Winds Wine, Anthill Farms Winery, Baker LaneVineyards, Banshee Wines, Benovia, Ceritas, Charles Heintz RanchVineyards & Winery, Cobb Wines, FAILLA Wines, Flowers Vineyard& Winery, Fort Ross Vineyard &Winery, Freeman Vineyard &Winery, Gros Ventre Cellars,Halleck Vineyard, The HartfordFamily Winery, Hirsch VineyardA Legend Re-Born& Winery, Joseph PhelpsVineyards, LaRue Wines, LIOCO,Littorai Wines & Estate Winery,MacPhail Family Wines, MarimarEstate Vinyards & Winery,Martinelli Winery, Pahlmeyer,Patz & Hall Wine Company, PaulHobbs Winery, Peay Vineyards,Ramey Wine Cellars, Red CarVineyards, Siduri, Small Vines,Sojourn Cellars, Sonoma CoastVineyards, Tin Barn Vineyardsand Zepaltas Wines.California's First Premium WineryBarrel Tasting & HistoricalCave Tours Taste with TheCount Beautiful Picnic Area2013 winery of the yearcalifornia travel association18000 Old Winery Rd, Sonoma800.926.1266www.buenavistawinery.comwww.WineCountryThisWeek.com59
---
Welcome toSONOMA VALLEYTOSANTA ROSAOAKMONT DRCORRICKLOS AMOS RDAdler FelsLNLEDSONST. FRANCISPYTHIAN RDFor updates onWhat's Happeningin Wine Country,sign up for our emailnewsletter atwww.WineCountryThisWeek.comTOSANTA ROSAMatanzasCreekSable RidgeBENNETT VALLEY RD.MacLeodSt. Anne's CrossingNaked WinesParadise RidgeTy Caton & EnkiduEN GARDEB WISEVJB CELLARSMAYO RESERVE ROOMMUSCARDINILOXTONWellington WineryWARM SPRINGS RDLAWNDALEDeerfield RanchDUNBAR ROADLandmarkVineyard12KazCHATEAU ST. JEAN RDKENWOOD WINERY RDKUNDECHATEAUST. JEANTRINITYADOBE CANYON RD.RDKENWOODVINEYARDSSugarloafState ParkTONAPA VALLEYJack LondonState ParkBenziger FamilyLONDON RANCH RD.ERIC ROSSMOONDANCECELLARSRobert HunterPaint Horse WineryORANGEGROVEARNOLD DRIVEWARM SPRINGS RDTalisman WinesB.R. CohnBucklin OldHill Ranch Little VineyardsValley of the MoonMADRONEAGUA CALIENTE ROADBOYES BLVDVERANO AVE12MAYOFAMILYW. SPAIN ST.ImageryTHEPLAZAArrowoodCAVEDALEMOON MTNHanzellPetroni VineyardsAkoma Zoume4th ERavenswoodGEHRICKERDSEBASTIANILOVELL VALLEY RD7th STSONOMA PLAZACHARLES CREEKSONOMA ENOTECABRYTER ESTATESERIC K JAMES VINEYARDSENVOLVELEDSON CENTRE DU VINAdobe RoadGlenLyonHawkesHaywoodHighway 12 WineryRocheLN.CASTLE RD. VINEYAR DSigh (Sparkling)SojournSpannTwo AmigosWaltWestwoodBartholomew ParkOLD WINERYRDBUENAVISTAFaveroTOPETALUMATOPETALUMA101Clarbec Winery116Parmelee HillBONNESSTOSAN FRANCISCOPETALUMARobledoFamilyBONNEAULEVERONI ROADAnabaR2WineCo.CELLAR DOOR12FREMONTSCHUGBonneauCORNERSTONE SONOMACARNEROS ESTATE MEADOWCROFT WINESGLORIA FERRER Foyt Family WinesKeating Wines121CLINE JACUZZIVIANSA5th ST WESTRam's GateBROADW AY37LarsonFamily5th ST EASTEAST NAPA STDENMARK STNAPA ROADMacrostie121218th ST EASTGundlach-BundschuScribeBURNDALEKamenTin BarnCARNEROS RDHomewoodWineryGofesselTONAPANot to ScaleTOVALLEJO60 www.WineCountrythisWeek.com
---
Look for us on Facebook and become a Fan!61
---
Wine Tasting on historicSONOMA PLAZATaste award-winning local wines at22 Unique Tasting Rooms all within walking distance!HAWKESROCHE WINERYWEST SPAIN STREETADOBE ROADWINERYCHARLES CREEKVINEYARDS˝WEST NAPA STREET1ST STREET WESTWALTHISTORICSONOMA PLAZAEAST NAPA STREETKAMEN WINES Della SantinaHAYWOODENOTECAWESTWOOD˝PROOF'DSONOMATWO AMIGOSENOTECA VINEYARDSSPANN SOJOURNCELLARSBRYTER ESTATES˝SIGHCHAMPAGNE & SPARKLINGENVOLVEMAPLE STREETBROADWAYVISITORCENTERR2 WINECOMPANY1ST STREET EAST˝PATTEN STREETEAST SPAIN STREET˝ERIC K JAMESVINEYARDSLEDSONHIGHWAY 12 WINERYSonoma Plaza, a National Historic Landmark, isoriginally home to the last of the chain of 21California missions. Throughout its colorfulhistory – including the Bear Flag Revolt where theCalifornia state flag was first raised in 1842 – thesmall-town epicenter is now home to some 25gourmet dining establishments, 40 boutique shopsand art galleries as well as 18 unique tastingrooms. A well-known tourist destination, visitorscome to Sonoma to experience the idyllic WineCountry lifestyle. Sure, doublewide tractors maygrace the two-lane Highway 12, wide-openranchlands blanket the valley between towns, andwooly sheep keep weeds and grasses minimal in thevineyards. But, no doubt, you will also findcountless award-winning wineries and world-classrestaurants in Sonoma. Sonoma is all about life,about taste and enjoying each day.SonomaEnotecaWINE TASTING, SALES& HOME ACCESSORIES– 12 Wineries –One Great Place35 East Napa Street, Sonoma(707) 935-1200www.sonoma-enoteca.comBRYTER ESTATESSpecialties: Sparkling wine, Chardonnay, Cabernet, Pinot NoirAward-winning wines from a small boutique family winery25 East Napa Street, Suite E • Open daily 11 a.m. to 6 p.m.(707) 501-8272 • bryter.comMake sure to taste our sparkling and award-winning wines!62Our latest awards include:• 2010 "LAS PATOLITAS" CHARDONNAY94 Point Gold – CA State Fair• 2009 SARALEE'S VINEYARD CHARDONNAYDouble Gold – SF Chronicle• 2005 "STAGECOACH VINEYARDDCABERNET SAUVIGNON94 Points – Wine Enthusiast magazineTasting Room and Gallery Open Daily 11-6483 1st Street West on the Plaza, Downtown Sonoma935-3848 | www.charlescreek.comERIC K JAMES VINEYARDSLocal Syrah & Pinot Noir (Estate grown, small production)Seated tastings that are personal, educational and interactive fun452 first Street, Suite G • Open daily 11 a.m. to 8 p.m.(707) 996-1364 • erickjames.comAlso try our large tasting selection of local, Sonoma Olive Oils and Vinegars.LEDSON WINERY & VINEYARDSTaste Ledson and Zina Hyde Cunningham Wines – Enjoy atasting and stay to dine in our French Bistro, Centre du Vin480 first Street East, Sonoma • Open daily 11:30 a.m. to 7 p.m.(707) 996-9779 • www.ledsonhotel.comReceive an upgraded tasting when you mention this ad.Follow us on twitter @WineCountrytW
---
WINE COUNTRY THIS WEEK | SONOMA VALLEY'Grower's Pouring' at Muscardini Cellars, June 29Grower's Pouring is a monthly event at Muscardini Cellars inKenwood featuring a selected wine and a representative from thevineyard designate. On Saturday, June 29, Bill Sanderson, vintner andproprietor of Madrone Ridge Winery will be onhand pouring from 2to 4 p.m. This will be an opportunity to receive in-depth knowledgeof your favorite varietal and the vineyard from which it is made.Tasting from the barrel will also be available.In planting Madrone Ridge vineyards, Bill returned to his roots asa Texas farmboy. Although Bill oversees all operations of the wineryand vineyards, he can most often be found tending his vines.Muscardini recently opened it's new tasting room in Kenwood inthe Red School House at 9380 Sonoma Highway. The charming andmuch-loved schoolhouse was around in the 1860s when Abe Lincolnwas president. Visitors will be thrilled to see what is inside now!With a large deck facing east toward the Mayacama Mountains, youcan taste the award-winning Italian varietals, and more, whilewatching the sun rise and set. Picnic tables in the big backyard, willwelcome friends, family and their dogs. Inside the room you can enjoynot only Michael's great wine, but also local delicacies such as SondraBernstein's delicious jams, Bonnie Tempesta's biscotti, the finest Italiansalami and of course, local cheeses with fresh bread. Guests will alsobe able to enjoy a rotating selection of artwork. If you are lucky,Michael Muscardini and Beni, his loveable 94-pound golden retriever,will greet you at the door!Muscardini Cellars Tasting Room is located at 9380 SonomaHighway in Kenwood, CA 95452 and is open daily from 11 a.m. to 6p.m. For more information, call (707) 933-9305 or visit the website atMuscardiniCellars.com.First Sonoma Winery toWin Wine Spectator's Wine of the YearFeatured AmentitiesLimited Production & Single Vineyard Wines Daily | ToursExquisite Gardens | Bocce Ball Picnic Court Area |ChateauStJean.comsign up for our email newsletter at www.WineCountrythisWeek.com63
---
sonomA vALLeY – KenWood | Wine CoUntrY tHis WeeK64VJB Vineyards & CellarsWine Tasting | Wood Fired PizzaImported Italian SpecialtiesArtisan Cheese & Salumi | Art GalleryGelato | Panini SandwichesOpen Daily 10am - 5pm60 Shaw Ave, Kewood, Ca 95452707.833.2300 | www.vjbcellars.com*Mention this ad and receive 2 complimentarytastings & 15% off any wine purchaseB.R. Cohn Winery Presents5th Annual Charity Car ClassicFree exhibition of 75 classic cars on sunday, July 7thWinery owner, music manager,philanthropist and car collector Bruce Cohnis pleased to present the 5th Annual CharityCar Classic. B.R. Cohn Winery will be hostto up to 75 handpicked classic cars onSunday, July 7th from 11 a.m. until 4 p.m.Visitors will be wowed by the vintage carsfrom the various eras and makes on displayat the exhibit. Along with vintage cars therewill be an assortment of B.R. Cohn winesand picnic foods available for purchase inthe Gourmet Shop as well as food from Edand Jonnie's Trolley and Kiki-Bob's Hawaiian Shaved Ice.There will be two live music sets in the 140-year-old Olive Grove.Falcon Christopher Duo will perform from 11 a.m. to 1:30 p.m. andthe Sean Carscadden Quartet will perform from 2 p.m. to 4:30 p.m.Admission is free, but charity donations to benefit the RedwoodEmpire Food Bank are welcome. The exhibition is part fundraiser,part art show. B.R. Cohn winery owner Bruce Cohn is an avid carcollector, restorer and connoisseurof great streetcars and rods. Thewinery hosts monthly "Cruise-ins"for car collectors of each month allsummer.Save the date for the 27thAnnual B.R. Cohn CharityEvents Fall Music Festival andCharity Auction Dinner. Thepopular 4-day event is scheduledfor September 20-23, 2013. VisitTHIS IS SONOMACAB COUNTRY.TASTING LOUNGEopen dailyappointments recommended9 07 7 H i g h w ay 12in Kenwood707.282.9169bw isev in ey a r ds .co mMention this ad to receive anenhanced tasting experience.www.brcohn.com for tickets andperformers.B.R. Cohn Winery is located at15000 Sonoma Highway 12 inGlen Ellen. The tasting room isopen daily from 10 a.m. to 5 p.m.Founded in 1984 by BruceCohn, the estate winery is knownfor its critically acclaimed, worldclass,ultra-premium CabernetSauvignon, Chardonnay, Merlot,Pinot Noir and award-winninggourmet estate olive oils, vinegarsand gourmet specialty foodproducts. For more information,call 1-800-330-4064 or for otherinformation, www.brcohn.com.Follow us on twitter @WineCountrytW
---
Wine CoUntrY tHis WeeK | sonomA vALLeY – KenWoodTOSANTA ROSAOAKMONT DRCORRICKLOS AMOS RDAdler FelsLNLEDSONST. FRANCISPYTHIAN RDKENWOOD WINERIESTOSANTA ROSAMatanzasCreekSable RidgeBENNETT VALLEY RD.MacLeodLAWNDALESt. Anne's CrossingNaked WinesParadise RidgeTy Caton & EnkiduEN GARDEB WISEVJB CELLARSMAYO RESERVE ROOMMUSCARDINILandmarkVineyardKazC HATEAU STCHATEAUST. JEAN. JEAN RDKENWOOD WINERY RDADOBE CANYON RD.KENWOODVINEYARDSSugarloafState ParkCome and enjoy our award-winningwines. Our tasting room has a warmhospitality and fun personality.Deerfield RanchKUNDE12TONAPA VALLEYLOXTONWellington WineryWARM SPRINGS RDDUNBAR ROADTRINITYRDJack LondonState ParkBenziger FamilyLONDON RANCH RD.ERIC ROSSMOONDANCECELLARSRobert HunterPaint Horse WineryORANGEGROVEARNOLD DRIVEWARM SPRINGS RDTalisman WinesB.R. CohnBucklin OldHill Ranch Little VineyardsValley of the MoonMADRONEAGUA CALIENTE ROADBOYES BLVDVERANO AVE12MAYOFAMILYW. SPAIN ST.ImageryTHEPLAZAArrowoodCAVEDALEMOON MTNHanzellPetroni VineyardsAkoma Zoume4th ERavenswoodGEHRICKERDSEBASTIANILOVELL VALLEY RD7th STSONOMA PLAZACHARLES CREEKSONOMA ENOTECABRYTER ESTATESERIC K JAMES VINEYARDSENVOLVELEDSON CENTRE DU VINAdobe RoadGlenLyonHawkesHaywoodHighway 12 WineryRocheLN.CASTLE RD. VINEYARDSigh (Sparkling)SojournSpannTwo AmigosWaltWestwoodBartholomew ParkOLD WINERYRDBUENAVISTAFaveroARTISAN WINE TASTINGCall ahead to schedule your private tasting with Michael MuscardiniOpen Daily from 11am-6pm – 9380 Sonoma Hwy – Kenwood, CA 95452707 .933.9305 – MuscardiniCellars.comTWO FOR ONE WINE TASTING with this ad.TOPETALUMATOPETALUMA101Clarbec Winery116Parmelee HillBONNESSTOSAN FRANCISCOPETALUMARobledoFamilyBONNEAULEVERONI ROADAnabaR2WineCo.CELLAR DOOR12FREMONTSCHUGBonneauCORNERSTONE SONOMACARNEROS ESTATE MEADOWCROFT WINESGLORIA FERRER Foyt Family WinesKeating Wines121CLINE JACUZZIVIANSA5th ST WESTRam's GateBROADW AY37LarsonFamily5th ST EASTEAST NAPA STDENMARK STNAPA ROADMacrostie121218th ST EASTGundlach-BundschuScribeBURNDALEKamenTin BarnCARNEROS RDHomewoodWineryGofesselTONAPANot to ScaleTOVALLEJOwww.WineCountrythisWeek.com65
---
M E N D O C I N O / L A K EWelcome toCounties1Mariah VineyardsMendocinoRidge128Claudia Springs WineryHarmonique WineHusch VineyardsBrutocao CellarsPhiloDrew FamilyGoldeneye VineyardsEsterlina VineyardsHandley CellarsRoederer EstateAndersonValleyZINA HYDE CUNNINGHAMStandish Wine CompanyGreenwood RidgeNavarro VineyardsToulouse VineyardsScharffenberger CellarsPhillips Hill EstatesJim Ball VineyardsBreggo CellarsElke VineyardsBoonville128Meyer FamilyCellarsLonderDermuth WineryPhilo Ridge VineyardsFoursight WinesYorkvilleHighlandsYorkvilleMaple Creek Winery253Nelson Family WineryMendocinoHoplandJeriko EstatesCesar Toxqui CellarsYorkville Cellars SIP! MendocinoBrutocao CellarsDogwood CellarsTerra SaviaMcDowell Valley VineyardsDuncan PeakAlbertina Topel128Milano FamilyLe Vin WineryPendleton EstateJAXON KEYSSaracinaParducci, Paul Dolan, SketchbookGermain-Robin DistilleryTesta VineyardsPhilo Ridge Vineyards101Rosati Family WinesMasut WineryRedwoodValleyUkiahRivinoWhaler VineyardsBenmoreValleyMcDowell ValleyGraziano Family of WinesMcFadden/Weibel FamilyMcNab RidgeCloverdale175Frey VineyardsOsterGiuseppe WineBarra of MendocinoSilversmith VineyardsLakeMendocinoDunnewoodVineyardsChiarito VineyardscampovidaPotterValley20LakeportRobledo FamilyWineryFinleyLake County Wine Studio29ClearLakeSteele WineryEdenCrestM. Konocti GrowersWildhurst Vineyards Kelseyville Wine Co.Rosa D'Oro VineyardsSol RougeMoore Family29UpperLakeNice20KelseyvilleBarclay & BrowningTulip Hill WineryCeago VinegardenBrassfield Estate WineryHigh ValleyShannon Ridge WineryClear LakeVilla La BrentaNoggle201101175Shed HornCellarsCougar's LeapRedHillsGregoryGrahamVigilancePloyez Winery Terrill CellarsSix SigmaHawk and HorseVineyardsLower LakeMiddletownBeaver CreekShed HornCellars29Guenoc /Langtry EstateBUTTS CANYON RDGuenocValley66
---
Parducci Wine Cellars will begin their highly popular outdoorconcert series on Saturday, June 15th with Ed Reinhart & The BurningSensations, famous for making the audience "Boogie Till You Drop."Gates will open at 6 p.m., with the festivities beginning at 7.Ed Reinhart is well-known to Mendocino County audiences for hissolid left hand boogie-woogie rhythms. Joining Ed will be PaulaSamonte, well-known here for her amazing vocal and musical talents.The highly successful "Acoustic Café" outdoor concert series takesWine CoUntrY tHis WeeK | mendoCino/LAKe CoUntiesParducci Wine Cellars Kicks Off Acoustic Café Series22nd Annual Father's DayTasting Weekend, June 15-16On June 15th and 16th,visitors can meander along theback roads of Redwood Valley toeach winery and distillery to tastelibrary wines, unusual varietals,small production lots andexperience the fun of tasting rightout of the barrel. Guests willenjoy and array of food offerings,some live music and local handcrafted items. Each winery isfamily owned and is unique in itssetting, its wine and foodpresentations, and its welcomingambiance. Visit with thewinemaker, vintner, grower ordistilleryand listen to their stories,ask technical questions andexperience the wines of a trulyunique appellation.Tickets are $30 online; $35 at door for the two-day tasting eventon Saturday and Sunday, June 15 and 16, from 11 a.m. to 5 p.m.both days. Tickets include wine tasting, gourmet foods, logo glass,gift drawings at each winery, musical entertainment and more.Tickets are availablel via email wine@atasteofredwoodvalley.com orby calling (707) 485-0322.place on the winery's patio, surrounded by vineyards, on Saturdayevenings through September. Acoustic Café combines the flavor of aEuropean-style outdoor café with the ambience of dining, listeningand dancing to music in a beautiful setting under colorful parachutes.Last year Parducci added a cushioned dance floor.General Admission is $14 and tickets are available at ParducciWine Cellars tasting room, on 501 Parducci Rd. in Ukiah, by calling(707) 463-5357, or online at parducci.com/Wine-Store/Event-Tickets.Food will be available throughout the summer from the PotterValley Café and North State Street Café, with part of the drinkproceeds benefiting the Alex Rorabaugh Center (The ARC).Mendocino's oldest winery, Parducci Wine Cellars has beenmaking and selling wine since 1932. True to Parducci's "deep rootsand legendary wines" slogan, the Thornhill family continues the brandtradition of making quality wines using sustainable wine growing andland use practices. The winery operates with high standards and broadeco-practices: carbon neutrality, use of 100 percent green power,certified sustainable growing practices, support of local family growersand the Mendocino community, water reduction, reuse and recyclingprograms and earth-friendly packaging.For more information, contactParducci at (707) 463-5357.Truly Historic,Truly Delightful,Truly HoplandOPEN DAILY 10-510400 South Hwy. 101 Hopland CA 95449(707) 462-6666 | (877) 462-0666sign up for our email newsletter at www.WineCountrythisWeek.com67
---
MONTEREY BAY AREATOLa Nebbia TO S.F.Domenico TOLIVERMORES.F. 84VALLEYLa HondaTOHALF MOONBAY1Welcome toWoodsideKings84 MountainChaine d'OrMichaelMartellaScThomasFogartySKYLINEBLVD.35BONNY DOONPAGE MILL RD.HallcrestOrganic Wine WorksBeauregardMountain WineryStorrs280RidgeNaumannPicchettiCooper-Garrod917San FranciscoBay101880680OscalisBargettoAptos CreekVinocruzJOSESOQUEL SANSOQUEL DR.MontereyBayA Taste of Monterey Carmel RidgeBargetto Pierce RanchBaywood Cellars Figge CellarsWine from the HeartMcIntyreChateau SinnetVentanaHeller EstateG16 Talbott VineyardJouillian VineyardsGeorisTwisted RootsChateau JulienOtter CoveChock RockChateau SinnetBoekenoogenChesebro1Cima ColinaDawn's DreamHolman RanchJoyceParsonageSilvestriTO SAN LUIS OBISPO ANDSANTA BARBARA COUNTYLos Laureles GradeHearst Castle85Ahlgren David BlackBruce RidgeMuccigrossoTestarossaBig BasinP&M Staiger Byington ZayanteRegaleHeart o' the MountainRoudon-SmithBruzzoneClos TitaSurf City Vintners: Vino PrimaMJA VineyardsArmidaCopious WineryEquinox Champagne CellarTrout Gulch VineyardsHillcrest Terrace WinerySilver Mountain VineyardsVino TabiSones CellarsSanta Cruz Mountain Vineyard &Quinta CruzOdonata WinesStorrs Winery and VineyardsBonny Doon VineyardDowntown Carmel:Blair EstateCaraciolliFigge CellarsGalante VineyardsMundakaScheid VineyardsSouthern LatitudesTasting Carmel ValleyTudor WinesWrath WinesMT. HERMONSavannah-ChanelleMORGANPOETICCELLARSBoëtè(Valley Hills)CinnabarBig Basin9Villa delMontePelicanRanchCreekview J. Lohr/ShermanPinderTravieso WinerySoquelCava Wine BarCARMEL17MJABURRELL SCHOOLHunter HillNicholsonPleasant ValleyBernardusVALLEYRD.Alfaro FamilyVineyards1MAINWindyOaksMcKEANLOMA PRIETASilver MountainRD.Elkhorn SloughSAN JUANRD.MONTEREYSycamore CreekJason-StephensMartin RanchHecker PassE LAKE AVEMesa Del SolTeam Zin1566885FernwoodCellars152101RIVER RD.G8G11NationalSteinbeckCenterA Tasteof MontereyFortinoHECKER PASS RDRiverRunARROYO SECORDHAHN SLH ESTATESClos LaChanceKiriginSarah's VineyardSolis129Marilyn Remark WinesHammond VineyardsTalbott VineyardsPessagnoUVAS RD.Ray FranscioniBoekenoogenSycamore CellarsI N C L U D I N G M O N T E R E y • C A R M E L • C A R M E L V A L L E y • H O L L I S T E RS A N T A C R u Z M O u N T A I N S • S A L I N A S • S A N T A C L A R A • L O S G A T O SWATSONVILLEDe Tierra101FOOTHILL RD.Paraiso VineyardsRD.101TO SAN LUIS OBISPO ANDSANTA BARBARA COUNTYCastillo's Hillside ShireMorgan Hills CellarsManzoniGONZLES RIVER RDGUGLIELMOSANTA TERESATwilight Cellars156WrathHobson25SAN JUAN CANYON146VentanaCreekview VineyardsSatori CellarsThomas KruseCasa de FrutaScheidRapazziniBOLSA RD.UNION RDSAN FELIPE RD.SHORE RD.156CIENEGA RDFAIRVIEW RDLeal EstateDeRosePietra SantaCalera Wine Co.Enz FlintSummerayne LIMEKILNGuerra CellarsPinnaclesNationalMonument25getting From montereYTRAVEL TIMETO MILES (Average)Sonoma County 170 3hrsSanta Cruz 42 45minsSan Francisco 113 2hrsPaso Robles 116 2hrsSanta Barbara 238 4hrs 30minsgetting From sAntA CrUzTRAVEL TIMETO MILES (Average)Monterey 42 45minsSan Francisco 73 1hr 45minsPaso Robles 136 2hrs 45minsLos Angeles 350 5hrs 30mins25TOSACRAMENTO55Pacific Ocean684646TOHWY. 5TOLOS ANGELES
---
Santa Cruz Mountains Passport Day, July 20The Santa Cruz Mountains Winegrowers Association invites youto enjoy the wineries of this extraordinary appellation duringPassport Day on Saturday, July 20! Passport Days to the Santa CruzMountains was introduced in 1993, by the Winegrowers of the SantaCruz Mountains. Four times a year the winegrowing community ofthe Santa Cruz Mountains comes together to celebrate thegenerations of farmers, vintners and families that are the roots of theSanta Cruz Mountains wine region. Over the last 20 years the eventhas become a beloved tradition among wine lovers who enjoy winesproduced by our legendary, artisan winemakers all within the idyllicSanta Cruz Mountains.The third Saturday of January, April, July and November, passportguests are welcomed into 30+ wineries throughout the Santa CruzMountains, each offering a unique pairing of artisan handcraftedwines, gourmet food and entertainment. Take a vineyard tour for agrape-to-glass look at Santa Cruz Mountains wine. Meet the winemakers,grapegrowers and sample exclusive vintages from wineriesWine Club of the SantaCruz Mountains RegionBringing hard-to-find, quality wines from the santa Cruz mountians to youA few years back Santa Cruz Mountains wines were hard to findlocally and impossible to find in other locations. Now Wine Club ofthe Santa Cruz Mountains is bringing it to your door step and withstyle! Visit www.wineclubsantacruzmountains.com and join the mosttasteful club Santa Cruz has to offer. Giving you first hand theopportunity of personally enjoying and giving as a gift, the art of theMountains!Shipments are hand selected with the choice of two or four bottlesquarterly or annually. Included on the website and in each clubshipment are recipes paired perfectly with the wines along with greatwine gift ideas. Members receive 10% discount on all featured winesand club shipments.Wine Club benefits include:• a newsletter to learn about this unique region• the summer bottling party where members and friends are invitedto get their hands dirtly in the wine industry and bottle their ownwine while enjoying a potluck BBQ• 10% off on wines included in shipment• annual events• tasting notes emailed with your shipmentArrangements can be made for shipments for birthdays,anniversaries, etc. Let them remember … they'll do it for you.Join now! Call Wine Club of Santa Cruz at (831) 477-0500 or goonline at www.wineclubsantacruzmountains.com.Wine CoUntrY tHis WeeK | sAntA CLArA/sAntA CrUz/montereY CoUntiesgenerally not open to the public. Delight in discovering each winery'sunique Passport "theme," a tradition of the event. The possibilities areas varied as the wineries themselves and promise a fun, unforgettableweekend. Enjoy!Use the map in the Passport as a rough guide only. Please make sureto read the directions for each individual winery.Some wineries will accept your Passport for free tastingsthroughout the year, however, some will not. It is up to the discretionof the winery as to whether or not they will waive the tasting fee onnon-Passport Days. It is not a mandatory part of the Passport programfor a winery to offer free tastings throughout the year.6-6-12 Passports are $45 online at www.scmwa.com or can be purchasedat WCTW any participating S2S Ad-July winery.vert. 3.75"w x 6.25" hLook for us on Facebook and become a Fan! 69
---
sAntA CLArA/sAntA CrUz/montereY CoUnties | Wine CoUntrY tHis WeeKVineyard Tours, ATV Adventures at Hahn EstateThe Hahn Estate Visitor Center is nestled in the heart of the SantaLucia Highlands where you can sip award-winning wines and take inthe sights and sounds of true wine country as you look out over theSalinas Valley. Hahn Estate offers wine tasting experiences for novicesand connoisseurs alike. The tasting options here include your favoriteHahn brands like Hahn Winery, Hahn SLH Estate, Lucienne andSmith & Hook. Also, sample exclusive and limited-production wineclub only wines that are only available for tasting and purchasing inthe Visitor Center.All of the tasting flights are available daily and withoutreservations. Picnic areas are available on our patio deck and lawn.Tasting options are available without an appointment. CombinationTour and Tasting packages are available by appointment only.Experience Hahn SLH Estate Winery in a whole new way. Wouldyou like to take a private tour around the winery and vineyards orsomething in between? Call or e-mail David Tonus to learn about1special group tour options, (831) 678-4555dtonus@hahnestates.com.vineyard tour and tastingGo behind the scene of the Hahn Estate with a member of theHospitality Team. Take a leisurely stroll to the demonstrationvineyard while learning the history of the Estate and the significanceof the Santa Lucia Highlands. Receive a seated educational tasting offour wines in a private room at the Visitor's Center. Cost for thisexperience is $25 per person.estate Atv AdventureEnjoy a private ATV safari through the vineyards and aneducational winery tour with a member of the Hospitality team.Experience the spectacular view at the upper reaches of the Estatebefore visiting the wine cellar, where the wines quietly age. Finishyour tour enjoying a Reserve Tasting in our VIP room for $45.The Hahn Estate Visitor Center is located at 37700 Foothill Road,Soledad, California 93960 and is open Monday through Thursdayfrom 11 a.m. to 5 p.m. and open 11 a.m. to 6 p.m. Friday, Saturdayand Sunday. For more information, call 1-866-925-7994 or visit thewebsite at www.hahnwinery.com.TO SAN JOSETO MONTEREYPessagnoBoekeoogenRIVER ROADWrathRIVER ROAD68GONZALES RIVER RDMAIN STREETTaste of MontereyDe TierraMarilyn Remark101GonzalesALTA STManzoniBlackstoneRay FranscioniFORT ROMIESalinasSALINASVALLEYW I N E R I E SFOOTHILLParaiso SpringsVineyards(PAVED ROAD)HAHN SLHESTATESMISSIONParaisoVineyardsCOLONYFORT ROMIE ROADPARAISOSPRINGS RDG17VentanaLOS COCHESARROYO SECO RDFRONT STSoledadEAST STMETZ ROAD14670G16SycamoreCellarsARROYO SECOWALNUT101GreenfieldScheidVineyardsHOBSON AVETOSAN LUISOBISPOKing CityFollow us on twitter @WineCountrytW
---
VineyardsChouinardWinery &WestoverKITTY HAWK RDMAIN ST SANTA RITA ROADSAN JOSE,TO& SALINASRDAVE.ARROYOMuriettaÕsWellMINESVASCO ROADGREENVILLE ROADWine Tasting inLIVERMORE VALLEYSip, Savor and Sing at The Concerts at Wente VineyardsThe Concerts at Wente Vineyards, nowin the 27th season, is proud to continuetheir tradition of summer concerts with astellar line-up of acts for the 2013 season.As Northern California's most uniqueconcert experience, Wente Vineyards willhost a summer of top name headliners in itsspectacular vineyard setting. Everyperformance presents a memorable eveningof entertainment and superb dining with aselection of different ticketing options.With a variety of ticket options, guestsJUNE 26 – Pandora Jewelry Presents: Martina McBrideJULY 10 – Under the Sun Tour – Featuring Smash Mouth,Sugar Ray and the Gin BlossomsJULY 16 – Huey Lewis & The News "Sports"30th Anniversary TourJULY 17 – Counting Crows & The WallflowersAUGUST 5 – An Evening with ChicagoAUGUST 19 – Chris BottiSEPTEMBER 12 – REO Speedwagoncan choose from a number of differentdining and seating choices. The RestaurantFront Row ticket includes stage-frontWine Countryseating, a four-course dinner at the awardwinningThe Restaurant at Wente Vineyardsprior to the show, reserved parking, tax andgratuity starting at $269. Tickets forPremium Outdoor Dining and MezzanineOutdoor Dining start from $249. Ticketswithout dinner options are sold at pricesstarting at $79. Wine and non-alcoholicbeverages are not included in the price. Formore information, visitwww.wentevineyards.com.TOFRANCISCOSANTOSACRAMENTO580DublinPALOMARES ROADLIVERMORE VALLEYTRI-VALLEYCONVENTION& VISITORSBUREAULittleValleyPleasantonVALLEY AVEMitchell Katz84VINEYARDPORTOLA AVE.L St.Livermore(Blacksmith Square)John Christopher CellarsHOLMES ST.Las PositasFIRST STREETWinemakerÕsPourhouseS. LIVERMOREPACIFICRetzlaffRodrigueMolyneauxEAST AVE.Page Mill&ConcannonKent DarcieLavishLainesSinging TheWinemaker580Ridge CudaRyhan &Stony Ridge &Crooked VineROADTESLATOFOOTHILLSSIERRAEckertEstateWineryNottinghamKent StevenLaRochelleOccasioLongevityHiddenCreekTam‡s & WentePATTERSON PASSCedar MountainGARRÉRios-Lovellel SolLUPIN ROADPurpleOrchidInnBodegasAguirreCROSS ROADEagle RidgeVICTORIALesnes ChBoaventuraMarr CellarsBERNAL AVE.Ruby HillWETMORE RDPalomares Vineyards680VineyardsWenteRestaurantFamily Vineyards*WoodMTN. RDCEDAR84SunolKILKARE RD.MAINEllistonVineyardsVALLECI TOSKALTHOFenestraWineryISABEL AVEFF COMMCoyneThomasWineryONVineyardsTenutaEN GARDECenterVisitorsGolf CourseandCreek WineryBentCrane WineryWhiteMcGrailVineyardsRed FeatherWineryWhite House WineryBigEvans JohnR. CharlesVineyardsNILES CANYON ROADMONTEREY/CARMELThe Garré ExperienceCafé Garré – Open Daily for LunchIt's a me to relax, learn about great wine and enjoy friendship.It's a deep love of wines and family that keeps people coming back.$5.00 Tasng Fee (refunded with wine purchase)Open Friday - Sunday 11:30am to 5:00pmEvery Wednesday EveningOne hour of bocce, two glasses of wine anda three course dinner for $40 per person.Friday NightsDinner & Music on the Paofrom 6pm-9pm.EVENT FACILITIESPares, Weddings & MoreBring in this ad and enjoy Free Tasng for Two Friday-Sunday7986 Tesla Road, Livermore CA 94550 (925) 371-8200 | www.garrewinery.comLook for us on Facebook and become a Fan!71
---
WinerY Listings | Wine CoUntrY tHis WeeKnAPA vALLeY750 Wines – St. Helena; 707 963-0750 By appt only1313 main – 1313 Main Street, Napa; 707 258-1313 fri-Sat 11-12, Sun-Thu 11-10A dozen vintners – Tasting room, 3000 Highway 29 North, St. Helena; 707 967-0666 Open daily 10-5ACACiA vnYd – 2750 Las Amigas road, Napa; 707 226-9991 x2 Open by appointment only: Mon-Sat 10-4, Sun 12-4Ackerman Family vineyards – 2101 Kirkland Ave, Napa; 707 238-9463Open by appointment onlyAcme Fine Wines– 1080 fulton Ln, St. Helena; 888 963-0440 Daily 9:30-5Adastra – 2545 Las Amigas rd, Napa; 707 255-4818Open by appointment onlyAetna springs Cellars – 7227 Pope Valley road, St. Helena; 707 965-2675Open by appointment onlyAhnfeldt Wines – Uncorked at Oxbow Tasting room, 605 first St. Napa; 707 927-5864 Wed-Mon 12-6,Tue 12-8Allora vineyards – 3244 Ehlers Lane, St. Helena; 707 963-6071Open by appointment onlyAlpha omega – 1155 Mee Lane @ Highway 29, rutherford; 707 963-9999 Daily 10-6Altamura vineyards & Winery – 1700 Wooden Valley rd, Napa; 707 253-2000Open by appointment onlyAmici Wines – 3130 Old Lawley Toll rd, Calistoga; 707 287-4072By appt onlyAmizetta – 1099 Greenfield road, St. Helena; 707 963-1460Open by appointment onlyAncien – Napa; 707 255-3908Open by appointment onlyAnderson's Conn valley vineyards – 680 rossi road, St. Helena; 707 963-8600 Open by appointment onlyAndretti WinerY – 4162 Big ranch road, Napa; 1-877-386-5070 Open daily 10-5Anomaly vineyards – 455 Bella Vista Ct, St Helena; 707 948-6877By appt onlyAntica napa valley –3700 Soda Canyon, Napa; 707 257-8700Open by appointment onlyArdente Winery –2929 Atlas Peak rd, Napa; 707 226-7669Open by appointment onlyArger-mArtUCCi – 1455 Inglewood Ave, St. Helena; 707 963-4334 Open daily 10-5Ariel vineyards – 1312 Town Center, Napa; 707 257-9731 Mon-Sat 9-5, Sun 10-3Arkenstone vineyards –335 West Lane, Angwin; 707 965-1020Open by appointment onlyArns – 601 Muno road, St. Helena; 707 963-3429Open by appointment onlyArtesA – 1345 Henry road, Napa; 707 224-1668 Open daily 10-4:30Aubert Wines – 333 Silverado Trail, Calistoga; 707 942-4333Open by appointment onlyAugust Briggs – 1307B Lincoln Avenue, Calistoga; 707 942-4912fri-Sat 11-7, Sun-Thu 11-5, Tue by appt.B Cellars – 400 Silverado Trail, Calistoga; 707 709-8787 Open daily 10-5Back room Wines – 1000 Main Street, Napa; 707-226-1378 Mon-Wed, Sat 10-7, Thu-fri 10-8, Sun 12-7BALdACCi FAmiLY – 6236 Silverado Trail, Napa; 707 944-9261Open daily by appointmentBallentine vineyards – 2820 St. Helena Hwy N, St. Helena; 707 963-7919Open daily 10-5 by apptBarlow vineyards – 4411Silverado Trail, Calistoga; 707 942-8742Open by appointment onlyBarnett vineyards – 4070 Spring Mountain rd, St. Helena; 707 963-7075Open by appointment onlyBeAULieU vineYArds (Bv) – 1960 St. Helena Hwy, St. Helena; 707 967-5233 Open daily 10-5Beau vigne – 6795 Washington St, Yountville; 707 947-7058 Mon-fri 11-8, Sat-Sun 10-8Behrens & Hitchcock – 4078 Spring Mountain road, St. Helena; 707 963-1774Open by appointment onlyBell Wine Cellars – 6200 Washington St, Yountville; 707 944-1673 Open daily 10-4Bello Family vineyards – 929 Main St, St. Helena; 707 967-8833 Open daily 10-6Benessere Winery – 1010 Big Tree rd, St. Helena; 707 963-5853 Open daily 10-5Bennett LAne – 3340 Hwy 128, Calistoga; 877 MAx-NAPA Open daily 10-5:30BERINGER VINEYARDSCOME SEE THE RESTORED RHINE HOUSE!Tours & Tasting Daily 10:00-6:00Call ahead to schedule tours & private tastings, 866-708-94632 for 1 Reserve Wine Tasting in the Rhine House with this adSave up to $252000 Main Street, St. Helena | www.Beringer.comBialla vineyards – 4088 Atlas Peak rd, Napa; 707 227-2293Open by appointment onlyBighorn Cellars – 3105 Silverado Trail, Napa; 707 226-8569fri-Sat 11-4, Tue-Thu by apptBlack Cat vineyard – 1075 Shadybrook Ln, Napa; 707 321-0866Open by appointment onlyBlack Cordon vnyds – 4155 Dry Creek rd, Napa; 707 226-6860Open by appointment onlyBlack sears estate – 2615 Summit Lake Dr, Angwin; 707 889-1243By appt onlyBlack stallion Winery – 4089 Silverado Trail, Napa; 707 253-1400 Open daily 10-5Blankiet estate – 2360 California Sr, Yountville; 707 963-2001 Open by appt Mon-Sat 10-472Boeschen – 3242 Silverado Trail, St. Helena; 707 963-3674Open by appointment onlyBolen Family estates – Napa Valley; eric@bolenlegacy.comBy appt onlyBouchaine vnyds – 1075 Buchli Station road, Napa; 707 252-9065, 800-654-wine Open daily 10:30-4:30Bounty Hunter rare Wine Co. – 975 first St, Napa; 707 226-3976Sun-Thu 11-10, fr-Sa 11-MidnightBourassa – 190 Camino Oruga, Napa 707 254-4922; 800-499-2366Open by appointment onlyBoyd Family – 4042 Big ranch road, Napa; 707 254-7353Open by appointment onlyBrand napa valley – 90 Long ranch road, St Helena; 707 963-1199By appt onlyBravante vineyards – 300 Stone ridge rd, Angwin; 707-965-2552 Open by appointment Wed-Sun 11-4Brookdale vineyards – Napa; 707 258-1454Open by appointment onlyBrown estate – 3233 Sage Canyon road, St. Helena; 707 963-2435Limited, by appointment only, closed SundaysBuehler – 820 Greenfield road, St. Helena; 707 963-2155Open by appointment onlyBuoncristiani Wine – P. O. Box 6946, Napa; 707 259-1681Open by appointment onlyBure Family Wines – Napa Valley; 707 363-7881By appt onlyBurgess Cellars – 1108 Deer Park road, St. Helena; 800 752-9463Open by appointment onlyCA' momi WinerY & enoteCA – 610 first St, Napa; 707 257-4992 Open daily 7:30-9Cabaud Wines napa valley – Napa Valley; info@cabaudwines.comBy appt onlyCade Winery – 360 Howell Mountain rd So, Angwin; 707 965-2746Open by appointment onlyCafaro Cellars – 2591 Pinot Way, St. Helena; 707 963-7181Open by appointment onlyCain – 3800 Langtry road, St. Helena; 707 963-1616Open by appointment onlyCakebread Cellars – 8300 St. Helena Hwy, rutherford; 707 963-5222Open by appointment onlyCalafia Cellars – 629 fulton Lane, St. Helena; 707 963-0114Open by appointment onlyCaldwell – 169 Kreuzer Lane, Napa; 707 255-1294Tours/tasting by appointmentCali 351 – 965 Silverado Trail, Calistoga; 707 942-6200Open by appointment onlyCAListogA Wine stoP – 1458 Lincoln Ave, #2 Calistoga; 707 942-5556 Daily 10-6Canard vineyard – 1001-1075 Dunaweal Ln, Calistoga; 707 942-1149By appt onlyCardinale estate – Tasting room, 7600 St. Helena Hwy, Oakville; 707 948-2643 Open daily 10:30-5Casa nuestra Winery – 3451 Silverado Trail No, St. Helena; 707 963-5783 Open daily 10-5CAsteLLo di AmorosA – 4045 North St. Helena Hwy (Hwy 39), Calistoga; 707 942-8200 Open daily 9:30-6Caymus vineyards – 8700 Conn Creek rd, rutherford; 707 967-3010Open daily by appointmentCeja vineyards tasting room – 1248 1st St, Napa; 707 226-6445 Sun-Wed 11-6, Thu-Sat till 11-8Celani Family vineyards – 2230 Big ranch rd, Napa; 877 ArDOrE1Open by appointment onlyChappellet vineyard – 1581 Sage Canyon rd, St. Helena; 707 963-7136Open by appointment onlyCharbay Winery & distillery – 4001 Spring Mtn rd; St. Helena; 707 963-9327 Open daily 10-4Charles Krug Winery – 2800 Main St. Hwy 29, St. Helena; 707 967-2229 Open daily 10:30-5Charnu – St. Helena; 707 963-6045Open by appointment onlyCharter oak Winery – 831 Charter Oak Ave, St. Helena; 707 963-2298Open by appointment onlyChase Family Cellars – 2252 Sulphur Springs road, St. Helena; 707 963-1284Open by appointment onlyChateau Boswell – 3468 Silverado Trail, St. Helena; 707 963-5472Open by appointment onlyChateau montelena – 1429 Tubbs Ln, Calistoga; 707 942-5105 Open daily 9:30-4CHAteAU PoteLLe – 1200 Dowdell Ln, St Helena, 707 255-9440 Open daily 10-5Chimney rock Winery – 5350 Silverado Trail, Napa; 707 257-2641 Open daily 10-5Clark-Claudon – Poured at Vintners Collective (Winery tastings by appointment, 707 965-9393)CLiF FAmiLY WinerY – at Velo Vino, 709 Main Street, St. Helena; 707 968-0625 Open daily 10-6Cliff Lede vineyards – 1473 Younvtille Cross rd, Yountville; 707 944-8642 Open daily 10-4Clos du val – 5330 Silverado Trail, Napa; 800 993-9463 Open daily 10-5Clos Pegase – 1060 Dunaweal Ln, Calistoga; 707 942-4981 Open daily 10:30-5Coho Wines – Poured off site by appointment, 707 258-2566, info@cohowines.comBy appt onlyConn Creek Winery – 8711 Silverado Trail, St. Helena; 1-800-793-7960 Open Sat 11-5, Sun-fri 11-4Constant-diamond – 2121 Diamond Mountain rd, Calistoga; 707 942-0707Open by appointment onlyContinuum estate – 1677 Sage Canyon rd, St. Helena; 707 944-8100Open by appointment onlyCorison Winery – 987 St. Helena Hwy, St. Helena; 707 963-0826Open daily 10-5 by appointmentCorLeY FAmiLY estAte – 4242 Big ranch rd, Napa; 707 253-2802 Open daily 10-4:30Cornerstone Cellars – 6505 Washington St., Suite 7, Yountville; 707 945-0388 Open daily 10-7Cosentino – 7415 St. Helena Hwy, Yountville; 707-921-2896 Open daily 10-6Covenant Wines – 1241 Adams St, St. Helena; 707 963-3887Open by appointment onlywww.WineCountrythisWeek.com
---
Editor's PicksCrane Family vineyards – 1051 Borrette Ln, Napa; 707 815-3036By appt onlyCrocker & starr – St. Helena; 707-967-9111Open by appointment onlyCuvaison estate – 4500 Silverado Trail, Calistoga; 707 942-2468 Mon-Thu 11-4, fri-Sun 10-5Cuvaison estate – 1221 Duhig road, Carneros (between Napa & Sonoma); 707 942-2455 Mon-Thu 11-4, fri-Sun 10-5 by apptdancing Hares vineyard – St. Helena; 707 967-8296By appt onlydarioush Winery – 4240 Silverado Trail, Napa; 707 257-2345 Open daily 10:30- 5david Arthur – 1521 Sage Canyon road, St. Helena; 707 963-5190Open by appointment onlyDAVID FULTON WINERY & VINEYARDEST. 1860 - JUST 400 CASES/YEAr PrODUCEDOld Vine Petite Sirah now available for tasting.Savor the estate Petite Sirah on the deck or in the cool historic winery.Picnickers and friendly pooches welcome.Open Weekends, friday through Monday 11 -4825 fulton Lane, St. Helena • 707-967-0719 • www.DavidfultonWinery.comdel Bondio Wine Co. – 1333 Bella Oaks Lane, Napa; 707 963-2805Open by appointment onlydeL dotto CAves – 1055 Atlas Peak rd, Napa; 707 963-2134Open by appointment onlydeL dotto vineYArds – 1445 St. Helena Highway, St. Helena; 707 963-2134 Open by appointment onlydelectus Winery – 908 C Enterprise Way, Napa; 707 255-1252Open daily by appointmentdiamond terrace – 1391 Diamond Mountain road, Calistoga; 707 942-1189Open by appointment onlydomAine CArneros – 1240 Duhig rd, Napa; 707 257-0101 Open daily 10-6domaine Chandon – 1 California Dr, Yountville; 707 944-2280 Open daily 10-5dominari – 620 Trancas Street, Napa; 707-226-1600Open by appointment only, 10am-4:30pmduckhorn vineyards – 1000 Lodi Lane, St. Helena; 707 963-7108 Open by appointment, 10-4dutch Henry Winery – 4300 Silverado Trail, Calistoga; 707 942-5771Wed-Sun 10-4:30 (Closed Mon-Tue)eagle eye Wine – 6595 Gordon Valley rd, Napa; 707 427-1600Open by appointment onlyeagle trace– 680 rossi rd, St. Helena; 707 963-4665Open by appointment onlyeeden Wines– 3505 Spring Mountain rd., St. Helena; 707 337-5526Open by appointment onlyehlers estate – 3222 Ehlers Lane, St. Helena; 707 963-5972 Open daily 10:30-4el molino Winery – St. Helena; 707 963-6021Weekdays by appointment onlyelizabeth spencer – 1165 rutherford road, rutherford; 707 963-6067 Open daily 10-5elkhorn Peak Cellars – 200 Polson rd, Napa; 707 255-0504Open by appointment onlyelyse – 2100 Hoffman Ln, Napa; 707 944-2900Open by appointment onlyenvy Wines – 1170 Tubbs Ln, Calistoga; 707 942-4670 Sun-Thu 10:30-4:30, fri-Sat 11-5:30ETUDESTOP IN AND SEE THE NEW TASTING ROOMWe invite you to experience for yourself our family charm.Open Daily 10am-4:30pm1250 Cuttings Wharf road, Napa707-257-5300 | www.etudewines.comFailla – 3530 Silverado Trail, St. Helena; 707 963-0530Open by appointment onlyFalcor – 2511 Napa Corporate Dr, Ste 115, Napa; 888-402-WINE Open daily 10-5Far niente – 1350 Acacia Dr, Oakville; 707 944-2861 Open by appointment only 10-3Farella – 2222 N. 3rd Ave, Napa; 707 254-9489Open by appointment onlyFaustini – 270 Kreuzer Lane, Napa; 707 736-6050, info@faustiniwines.comBy appt onlyFleury estate Winery – 950 Galleron rd, rutherford; 707 967-8333Open by appointment onlyFlora springs – the room – 677 St. Helena Hwy So., St. Helena; 707 967-8032 Open daily 10:30-5Flora springs Winery – 1978 Zinfandel Ln, St. Helena; 707 967-6723Open by appointment onlyFoley Johnson – 8350 St. Helena Hwy, rutherford; 707 963-1980Open by appointment onlyFontanella Family – 1721 Partrick road, Napa; 707 252-1017 Open daily by appointment 10-4Forman vineyards – 1501 Big rock road, St. Helena; 707 963-3900Open by appointment onlyFranciscan vineyards – 1178 Galleron rd, rutherford; 707 963-7111 Open daily 10-5FrAnK FAmiLY vineYArds – 1091 Larkmead Lane, Calistoga; 707 942-0859 Open daily 10-5Frazier Winery – 70 rapp Lane, Napa; 707 255-3444 x107Open by appointmentFreemark Abbey – 3022 St. Helena Hwy 29 N., St. Helena; 707 963-9694 Open Daily 10-5Frog's Leap – 8815 Conn Creek road, rutherford; 707 963-4704Open by appointment onlyLook for us on Facebook and become a Fan!Top 5 Cave ToursJArvis [Napa]45,000 square feet, underground waterfall,massive oak cuves. Sit-down tasting salon.$60 per person, 90 minutes tour & tasting.By appointment: 1-800-255-5280 ext. 150deL dotto HistoriC WinerY & CAves [Napa]Barrel tasting of highly rated premium winesin the historic cave.11am-5pm daily, 1055 Atlas Peak rd., Napa$50pp, reservations required (707) 963-2134rUtHerFord HiLL WinerY [rutherford]Taste Wine, See the Caves, Learn about Napa ValleyWinemaking. 10% discount on wine purchase.Cave tours three times daily, $30, 75± minutesLimited to 14 people, 21+ to go on the tour.Ask about family outings. (707) 963-1871, 10am-5pmNapa Valley'sdeL dotto venetiAn estAteWinerY & CAves [St. Helena]Barrel tasting of highly rated premium winesin the Venetian-inspired cave11am-5pm daily, 1445 St. Helena Hwy South$60pp, reservations required (707) 963-2134Pine ridge [Napa]90-minute tour ends with barrel samples and a wineand cheese pairing in our subterranean cavesextending nearly a mile into the hillside.Daily 10am, 12 & 2pm, $50, 90 minutes, limit 10rSVP 800-575-9777, concierge@pineridgewine.comOTHER NOT-TO-BE-MISSED CAVE TOURSsCHrAmsBerg [Calistoga] $45, 75 minutes, rSVP online or (707) 942-4558Porter FAmiLY vineYArds [Napa] $25, 90 minutes, (707) 927-0765CAde WinerY [Angwin] Daily, (707) 965-2746CLos PegAs [Calistoga] 10:30am-5pm, (707) 942-4981CUvAison [Calistoga] fridays-Sundays, $25, (707) 942-2468FAr niente [Oakville] Daily, $50, (707) 944-286173
---
WinerY Listings | Wine CoUntrY tHis WeeKg Cook – 264 N. fork Crystal Springs rd, St. Helena; 707 963-7760Open by appointment onlyg Wine Cellars – Napa; 707 631-7702, info@gwinecellars.comBy appt onlygandona estate – 1535 Sage Canyon rd, St. Helena; info@gandona.comBy appt onlygargiulo – 575 Oakville Crossroad, Napa; 707 944-2770Open by appointment onlygemella Wines – Napa; 707 261-9855Open by appointment onlygemstone vineyard – Yountville; 707 944-0944By appt onlyghost Horse vineyards – Napa Valley; 707 738-4332, amy@ghosthorseworld.comBy appt onlygirard Winery – 6795 Washington, Yountville; 707 968-9297 Open daily 11-7godspeed vineyards – 3655 Mount Veeder rd; 707 254-7766Open by appointment onlygoosecross Cellars – 1119 State Lane, Yountville; 707 944-1986 Open daily 10-4:30gracianna Winery – 6914 Westside rd, Healdsburg; 707 486-3771Open by appointment onlygrgiCH HiLLs – 1829 St. Helena Hwy, rutherford; 707 963-2784 Open daily 9:30-4:30groth – 750 Oakville Crossroad, Oakville; 707 944-0290Open by appointment onlyguffy – 1390 Thompson Ave, Napa; 707 258-2532Open by appointment onlyguilliams – 3851 Spring Mountain road, St. Helena; 707 963-9059Open by appointment onlygustavo thrace – 1021 McKinstry St, Napa; 707 257-6796 Open daily 11-7HAgAFen CeLLArs – 4160 Silverado Trail, Napa; 707 252-0781 Open daily 10-5Hall rutherford – 56 Auberge road, rutherford; 707 967-0700Open by appointment onlyHall st. Helena – 401 St. Helena Hwy So, St. Helena; 707 967-2620 Open daily 10-5:30Handwritten Wines – 1010 Main St, St Helena; 707 944-8524Open daily, by appointment, 10am-5pmHans Fahden vineyards – 4855 Petrified forest rd, St. Helena; 707 942-6760Open by appointmentHarris estate – 1118 Hunt Ave, St. Helena; 707 963-3193By appt onlyHartwell vineyards – 5795 Silverado Trail, Napa; 707 255-4269Open by appointment onlyHavens Winery – 1004 Clinton St, Napa; 707-257-1068 x305 Tue-Sat 12-6, Sun 12-5Hdv Wines – 588 Trancas St, Napa; 707 251-9121Open by appointment onlyHeibel ranch vineyards – Pope Valley; 707 968-9289Open by appointment onlyHeitz Cellars tasting room – 436 St. Helena Hwy 29, St. Helena; 707 963-3542 Open daily 11-4:30Helena view Johnston – 3500 Highway 128, Calistoga; 707 942-4956Open by appointment onlyHendry – 3104 redwood Dr, Napa; 707 226-8320Open by appointment onlyHess CoLLeCtion – 4411 redwood rd, Napa; 707 255-1144 Open daily 10-5:30Hill Family estate – 6512 Washington, Yountville; 707 944-9580 Open daily 10-6HiLL Wine Co. – 1001 Silverado Trail So, St. Helena; 707 963-7000 Open daily 10-5Honig vineyards – 850 rutherford rd, rutherford; 707 963-5618Open daily by appointmentHope & grace – 6540 Washington St, Yountville; 707 944-2500 Mon-Sat 10:30-5:30, Sun 11:30-4:30Hopper Creek – 6204 Washington St, Yountville; 707 944-0675Open by appointment onlyHunnicutt Wines –3524 Silverado Trail North, St. Helena; 707 963-2911Open by appointment onlyilona Howell mountain –tasted at Burgess, 1108 Deer Park road, St. Helena; 800 752-9463 Open by appointment onlyinglenook – 1991 St. Helena Hwy, rutherford; 707 968-1161Open daily 10-5, appt recommendedJ. gregory by mark Jessup – Napa Valley; 707 474-2149, info@JGrEGOrYWINES.com By appt onlyJames Cole – 5014 Silverado Trail, Napa; 707 251-9905Open by appointment onlyJames Creek – 2249 James Creek rd, Pope Valley; 707 965-2646Open by appointment onlyJArvis WinerY – 2970 Monticello rd, Napa; 1-800-255-5280Open by appointment onlyJax –3468 Hwy 128, Calistoga; 415 446-9505 x102Open by appointmentJericho Canyon vnyd – 3322 Old Lawley Toll rd, Calistoga; 707 942-9665Open by appointment onlyJessUP CeLLArs – 6740 Washington St, Yountville; 707 944-8523 Open daily 10-6Jocelyn Lonen Winery – Napa; 1-800-255-5280Open by appointment onlyJohn Anthony vineyards – 1440 first Street, Napa; 707 265-7711Open daily 10-2amJones Family – 1118 Hunt Ave, St. Helena; 707 963-3193By appt onlyJoseph Cellars Winery – 4455 St. Helena Hwy, Calistoga; 707 942-9999Open by appointment onlyJoseph Phelps vineyards – 200 Taplin rd, St. Helena; 707 963-2745 Mon-fri 9-5, Sat-Sun 10-4 by appointmentJUdd's HiLL – 2332 Silverado Trail, Napa; 707 255-2332 Open daily by appointment only 10-5Juicebox – 45 Enterprise Ct, Napa; 707 254-1212 Open daily by appointment only 9-5Juslyn – 2900 Spring Mountain rd, St. Helena; 707 265-1804 (Poured at Silenus Vintners) Winery open by appointment onlyKapcsandy Family Winery – 1001 State Lane, Yountville; 707 265-1804Open by appointment onlyKeenan – 3660 Spring Mountain rd, St. Helena; 707 963-9177Open by appointment onlyKeever – 26 Vineyard View Dr, Yountville; 707 944-0910Open by appointment onlyKelham – 360 Zinfandel Ln; St. Helena; 707 963-2000Open by appointment onlyKelly Fleming Wines – 2339 Pickett rd, Calistoga; 707 942-6849Open by appointment onlyKenefick ranch – 1371 Lincoln Ave, Calistoga; 707 942-1004Thu-Mon 11- 5 & by apptKenzo estate – 3200 Monticello road, Napa; 707 254-7572Open by appointment onlyKitchak Cellars – 1094 Hardman Ave, Napa; 707 225-2276, tours@kitchakcellars.comBy appt onlyKrupp Brothers – 3267 Soda Canyon rd., Napa; 707 259-1198Open by appointmentKuleto estate – 2470 Sage Canyon rd, St. Helena; 707 302-2209Open by appointment onlyLadera – 150 White Cottage rd So, Angwin; 707 965-2445Open by appointment onlyLaird Family Winery – 5055 Solano Ave., Napa; 707 257-0360 Open daily 10-5Langtry estate – 21000 Butts Canyon rd, Middletown; 707 987-2385 Open daily 11-5Larkmead vineyards – 1100 Larkmead Ln, Calistoga; 707 942-0167 Open daily by appointment only 10-4Lava vine – 965 Silverado Trail, Calistoga; 707 942-9500 Open daily 10-5Lindstrom – 5994 Silverado Trail, Napa; 707 226-6289Exclusive tastings by appoinment onlyLokoya – 7600 St. Helena Hwy, Oakville; 707 948-1968Open by appointment onlyLong meadow ranch & Farmstead – 738 Main St, St. Helena; 707 963-4555 Open daily 11-6LoUis m. mArtini – 254 St. Helena Hwy So. (Hwy 29 ), St. Helena; 707 968-3361 Open daily 10-6Luis ochoa Family – 1307 Lincoln Ave, Calistoga; 707 341-6780Open by appointment onlyLuna vineyards – 2921 Silverado Trail, Napa; 707 255-2474 Mon-Thu 11-4, fri-Sun 10-5macauley vineyard – 3520 Silverado Trail, St Helena, 707 963-1863By appt onlymadonna estate Winery – 5400 Old Sonoma rd, Napa; 707 255-8864 Open daily 10-5madorom Wines – 2059 Pope Canyon rd, St. Helena, 707 265-8332, info@MadoroM.comBy appt onlymadrigal vineyards – 3718 N. St. Helena Hwy, Calistoga; 707 942-6577 Open daily by appointment 10-4ma(i)sonry napa valley – 6711 Washington St, YountvilleOpen daily 10am-7pmmaldonado – 1307A Lincoln Ave, Calistoga; 707 942-1376Open daily 11am-6pmmarita's vineyard – Napa; 707 259-5313Open by appointment onlymarkham vnyds – 2812 St. Helena Hwy 29, St. Helena; 707 963-5292 Open daily 11-5mark Herold Wines – 710 first St, Napa; 707 256-3111 Mon-Thu 11-7, fri-Sun 12-8maroon Wines – Napa; 707 257-3040Open by appointment onlymarston Family vineyard – 3600 White Sulphur Springs rd, St. Helena; 707 963-8490 Open by appointmentmason Cellars oxbow tasting room – 7l4 first St, Napa 707 255-0658 Open Thu-Mon 11-5:30mAterrA – 1426 Main Street, St. Helena; 707 244-4600 Open Wed-Sun 11:30-5mayacamas vineyards – 1155 Lokoya rd, Napa; 707 224-4030Open by appointment onlymcKenzie-mueller – 2530 Las Amigas rd, Napa; 707 252-0186Open by appointment onlymeander – 3130 Old Lawley Toll rd, Calistoga; 707 963-3773By appt onlymelka Wines – Oakville; 707 963 600By appt onlymenAge A trois – 7481 St. Helena Hwy, Oakville; 800 535-6400 Open daily 10-6merrYvALe vineYArds – 1000 Main St, St. Helena; 707 963-7777 Open daily 11-6:30merus Wines – 424 Crystal Springs rd, St Helena; 707 251-5551By appt onlymichael mondavi Family – 1285 Dealy Lane, Napa; 707 256-2757 Mon-Thu 12-5, fri-Sun 11-5midsummer Cellars– 771 Sage Canyon rd, rutherford; 707 225-4367Open by appointment onlymilat vineyards – 1091 St. Helena Hwy S, St. Helena; 707 963-0758 Open daily 10-5:30miner Family – 7850 Silverado Trail, Oakville; 707 944-9500 Open daily 11-5mJA – 647 Greenfield rd, St. Helena; 707 963-3394Open by appointment onlymodus operandi Cellars – 45 Enterprise Ct, Napa; 530 219-6199Open by appointment onlymontagna napa valley – 707 963-8651, host@montagnanapavalley.comBy appt onlymontiCeLLo vineYArds – 4242 Big ranch rd, Napa; 707 253-2802 Open daily 10-4:30moone-tsai – Poured at Caldwell – 169 Kreuzer Ln, Napa; 707 255-1294By appt onlymoss Creek Winery – 6015 Steele rd, Napa; 707 252-1295Open by appointmentmount veeder Winery – Mt. Veeder; 707-967-3993Open by appointment onlymUmm nAPA – 8445 Silverado Trail, rutherford; 800 MUM-NAPA Open daily 10-5, last seating 4:45murphy vineyards – 395 Crane Ave, St. Helena; 707 963-2516Open by appointment onlymyriad – St. Helena; 707 287-1630Open by appointment onlynAPA CeLLArs – 7481 St. Helena Hwy, Oakville; 707 944-2565 Open daily 10-6napa valley Farms – 929 Main St, St. Helena; 707 963-8011Open by appointment74 Look for us on Facebook and become a Fan!
---
Editor's Picksneal Family vineyards – 716 Liparita rd, Angwin; 707 965-2800Open by appointmentnapa smith Winery – 1 Executive Wy, Napa; 707 254-7167Open daily 11am-7:30pmnewton vineyards – 2555 Madrona Ave, St. Helena; 707 963-9000Open by appointmentneyers vineyards– 2153 Sage Canyon rd, St. Helena; 707 963-8840Open by appointmentnichelini Family – 2950 Sage Canyon rd, St. Helena; 707 963-0717Weekends 10-5, weekdays by appointmentnickel & nickel – 8164 St. Helena Hwy, Oakville; 707 967-9600Open daily by appointmentnord estate – Yountville; 707 945-1094Open by appointment onlyo'Brien estate – 1200 Orchard Ave, Napa; 707 252-8463 Open by appointment Mon-Sat 10-5, Sun 12-5o'shaughnessy estate – Angwin, 707 965-2898Open by appointment onlyoakville ranch vineyards– 7781 Silverado Trail, Napa; 707 944-9665Open by appointmentodette estAte – 5998 Silverado Trail, Napa; 707 224-7533 Open daily 10:30-4olabisi – 974 franklin St, Napa; 707 257-7477 Open daily 12-5:30onthedge – 1255 Lincoln Ave, Calistoga; 877-668-4334 Sun-Thu 10-5:30, fri-Sat 10-8opus one – 7900 St. Helena Hwy, Oakville; 707 944-9442Open daily by appointmentorin swift Cellars – 1352 Main St, St. Helena; 707 967-9179Open by appointment onlyoutpost estate Wines – Angwin; 707 965-1718Open by appointment onlyPage Wine Cellars – 6505 Washington St., Suite 7, Yountville; 707 944-2339 Daily 10-6– 520 California Blvd, #20, Napa; 707 944-2339 Open by appointment onlyPalmaz vineyards – 4029 Hagen road, Napa; 707 226-5587Open by appointment onlyPalisades Winery – 3130 Old Lawley Toll rd, Calistoga; 707 963-3773By appt onlyPaloma vineyard – 4013 Spring Mountain rd, St. Helena; 707 963-7504Open by appointment onlyPaoletti vineyards – 4501 Silverado Trail, Calistoga; 707 942-0689Open by appointment onlyParadigm – 1277 Dwyer rd, Oakville; 707 944-1683Open by appointmentParaduxx – 7257 Silverado Trail, Yountville; 707 945-0890Open by appointmentPatland estate – 2431 Soda Canyon rd, Napa; 888-539-4717By appt onlyPatz & Hall – 851 Napa Valley Corporate Way, Ste A, Napa; 707 265-7700 Open Wed-Sun 10-4Peacock Family – 3100 Spring Mountain rd, St. Helena; 707 967-0770Open by appointmentPedemonte Cellars – 1620 S. Whitehall Lane, St. Helena; 707 933-8352Open by appointment onlyPeJU – 8466 St. Helena Hwy, rutherford; 707 963-3600 Open daily 10-6Peter Franus Wine Company – Napa; 707 945-0542Open by appointment onlyPheonix – 3175 Dry Creek road, Napa; 877 374-6364By advance appointment onlyPhifer Pavitt Winery – 4660 Silverado Trail, Calistoga; 707 942-4787 Tastings by appointment Mon-Sat 11 & 1Piña napa valley – 8060 Silverado Trail, rutherford; 707 738-9328 Open daily by appointment 10-4Pine ridge – 5901 Silverado Trail, Napa; 707 252-9777 Open daily 10:30-4:30PlumpJack Winery – 620 Oakville Crossroad, Oakville; 707 945-1220 Open daily 10-4PoPe vALLeY WinerY – 6613 Pope Valley road, Pope Valley; 707 965-1246 Open daily 11-5Porter Family vineyards – Napa; 707 265-7980Open by appointment onlyPrAger WinerY & Port WorKs – 1281 Lewelling, St. Helena; 707 963-Port (7678)Open daily 10:30-4:30Pride mountain Wines – 4026 Spring Mountain rd, St. Helena; 707 963-4949Open by appointmentProvenAnCe – 1695 St. Helena Hwy, St. Helena; 707 968-3633 Open daily 10-5Quintessa – 1601 Silverdo Trail, St. Helena; 707 967-1601Open by appointmentQuixote – 6126 Silverado Trail, Napa; 707 944-2659Open by appointmentrAYmond vineYArd – 849 Zinfandel Ln, St. Helena; 707 963-3141 Open daily 10-4reAtA At JAmieson rAnCH – 1 Kirkland ranch road, Napa; 707 254-8673 Open daily 10-5regusci Winery – 5584 Silverado Trail, Napa; 707 254-0403 Open daily 10-5reid Family vineyards – 1020 Borrette Ln, Napa; 707 252-3195By appt onlyrelic – St. Helena; 707 967-9380Open by appointment onlyrevana Family – 2930 St. Helena Hwy, St. Helena; 707 967-8814Open by appointmentreverie Winery – 1250 Diamond Mtn rd, Calistoga; 707 942-6800Open by appointmentwww.WineCountrythisWeek.comRAZI WINERYWith a boutique-winery touch, on the Silverado Trail…"Everything we know is in the bottle."Schedule a tasting daily 10:30 am to 5:30 pm3108 Silverado Trail, Napa Valley • (707) 224-4299Pet Friendly Wineries[nAPA vALLeY]FrenCHie WinerY At rAYmond vineYArds [St. Helena]Outdoor, shady dog suite, complete with their very own wine barrel bed.Watch your best friend, via the "Frenchie Cam," enjoying the outdoorswhile you enjoy your wine tasting experience indoors.849 Zinfandel Lane, St. Helena CA 94574, Mon-Sun 10am-4pm, (707) 963-3141mUmm nAPA [rutherford]Staff will bring water bowl and treats along with your bubbles.8445 Silverado Trail, rutherford, CA 94573, 1-800-686-6272terrA vALentine [St. Helena]Pets can accompany you on the vineyard tour. Watch for wildlife, hold on to your pup!3787 Spring Mountain road, St. Helena, CA 94574, (707) 967-8340tHe Hess CoLLeCtion – 4411 redwood rd, Napa, (707) 255-1144grgiCH HiLLs CeLLAr – 1829 St. Helena Hwy, rutherford, 1-800-532-3057rUtHerFord HiLL – 200 rutherford Hill rd, rutherford, (707) 963-1871CHArLes KrUg – 2800 Main St, St. Helena, (707) 967-2229merrYvALe vineYArds – 1000 Main St, St. Helena, (707) 963-7777PoPe vALLeY vineYArds – 6613 Pope Valley rd, Pope Valley, (707) 965-1246[sonomA CoUntY]d'Argenzio WinerY [Santa rosa]1301 Cleveland Avenue, Santa rosa CA 95401, (707) 546-2466de Lorimier [Geyserville]2001 Hwy. 128, Geyserville; 800-546-7718KUnde WinerY [Kenwood]Bring your dog with you on a vineyard hike.9825 Sonoma Highway, Kenwood CA 95452, (707) 833-5501LArson FAmiLY WinerY [Sonoma]Dog, kid and family friendly; open field/picnic area, pet-related events23355 Millerick road, Sonoma CA 95476, (707) 938-3031mUtt LYnCH WinerY [Healdsburg]602 Limerick Lane, Healdsburg CA 95448, (707) 942-6180st. FrAnCis WinerY & vineYArds [Santa rosa]Pet-friendly veranda, annual 'Blessing of the Animals' event500 Pythian rd, Santa rosa CA 95409, (707) 538-9463ALderBrooK WinerY – 2306 Magnolia Dr, Healdsburg, (707) 433-5987AmistA WinerY – 3320 Dry Creek rd, Healdsburg, (707) 431-9200FoPPiAno vineYArds – 12707 Old redwood Hwy, Healdsburg, (707) 433-7272meAdoWCroFt Wines – 23574 Arnold Dr/Hwy. 121, Sonoma, (707) 934-4090sUnCe WinerY – 1839 Olivet road, Santa rosa, (707) 526-9463WiLson WinerY – 1960 Dry Creek rd, Healdsburg, (707) 433-435575
---
WinerY Listings | Wine CoUntrY tHis WeeKrevival vineyards – 1889 West Zinfandel Ln, St. Helena; 707 280-7813By appt onlyreYnoLds FAmiLY – 3266 Silverado Trail, Napa; 707 258-2558 Open daily, by appointment, 10-4:30rios Wine – 1334-B Lincoln Ave, Calistoga; 707 942-1376 Open daily 10:30-6:30ripe Peak Winery – Napa Valley; 707 227-2293By appt onlyritchie Creek – 4024 Spring Mountain rd, St. Helena; 707 963-4661Open by appointmentroad 31 Wine Co – Napa; 707 649-1200Open by appointment onlyrobert Biale – 4038 Big ranch rd, Napa; 707 257-7555Open by appointmentrobert Craig Winery – 625 Imperial Way, Napa; 707 252-2250 x1 Open by appointment Mon-Sat 10-4robert Keenan – 3660 Spring Mtn. rd, St. Helena; 707 963-9177Open by appointmentroBert mondAvi – 7801 St. Helena Hwy 29, Oakville; 707 968-2001 Open daily 10-5robert sinskey vnyds – 6320 Silverado Trail, Yountville; 707 944-9090 Open daily 10-4:30robinson Family vnyds – 5880 Silverado Trail, Napa; 707 944-8004Open by appointmentrocca – 129 Devlin rd, Napa; 707 257-8467, info@roccawines.comOpening soonromBAUer vineYArd – 3522 Silverado Trail, No, St. Helena; 707 963-5170 Open daily 10-5round Pond Winery – 886 rutherford rd, rutherford; 1-888-302-2575By appointmentrosalynd Winery – 901 Enterprise Way, Napa, 707 337-3348By appt onlyrudd Winery – 500 Oakville Cross rd, Oakville; 707 944-8577Open Tues-Sat by appointmentruston Family – 2798 Spring St, St. Helena; 707 967-8025Open by appointmentrustridge ranch – 2910 Lower Chiles Valley rd, St. Helena; 707 965-9353Open by appointmentrutherford grove – 1673 St. Helena Hwy, rutherford; 707 963-0544 Open daily 10-4:30rUtHerFord HiLL – 200 rutherford Hill rd, rutherford; 707 963-1871 Open daily 10-5rutherford ranch – 1680 Silverado Trail, rutherford; 707 968-3200 Open daily 10-4:30saddleback Cellars – 7802 Money road, Oakville; 707 944-1305 Open daily by appointment 10-4saintsbury – 1500 Los Carneros Ave, Napa; 707 252-0592Open Mon-Sat by appointmentsalvestrin vineyard – 397 Main Street, St. Helena; 707 963-5105Open by appointmentsaviez vineyards – 4060 Silverado Trail, Calistoga; 707 942-5889Open by appointmentschool House vineyards – 3549 Langtry rd, St. Helena; 707 963-4240Open by appointmentschramsberg – 1400 Schramsberg rd, Calistoga; 707 942-2414 Open daily by appointment 10-4schweiger vineyards – 4015 Spring Mt rd, St. Helena; 707 963-4882Open by appointmentsciandri Family – 50 Kreuse Canyon rd, Coombsville/Napa; 707 277-4999 x3Open by appointment onlyseavey vineyard – 1310 Conn Valley rd, St. Helena; 707 963-8339Open by appointmentseQUoiA grove – 8338 St. Helena Hwy 29, rutherford; 707 944-2945 Open daily 10:30-5shafer vineyards – 6154 Silverado Trail, Napa; 707 944-2877Open by appointmentsherwin Family – 4060 Spring Mountain rd, St. Helena; 707 963-1154Open by appointmentsignorello vineyards – 4500 Silverado Trail, Napa; 707 255-5990fri-Sun 10-5, Mon-Thu by appointmentsilenus vintners – 5225 Solano Ave, Napa; 707 299-3930Open by appointment onlysilver oak Cellars – 915 Oakville Crossroad, Oakville; 1-800-273-8809 Open Mon-Sat 9-5, Sun 11-5silverado trail Wine studio – 3105 Silverado Trail, Napa; 707 226-8569fri & Sat 11-4, Thu-Tue by apptsilverado vineyards – 6121 Silverado Trail, Napa; 707 257-1770 Open daily 10-5sky vineyards – 1500 Lokoya rd, Napa; 707 935-1391Open by appointmentsmith madrone – 4022 Spring Mountain rd, St. Helena; 707 963-2283Open by appointmentsodaro estate – 24 Blue Oak Lane, Napa; 707 251-8216Open by appointmentsolovino – 1334-B Lincoln Ave, Calistoga; 707 942-1376 Open daily 10:30-6:30somerston tasting room – 6490 Washington, Yountville; 707 944-8200Daily 10am-10pmsomerston vineyards – 3450 Sage Canyon rd, St. Helena; 707 944-8414 Daily 10-4spelletich Cellars – 425 Gateway rd W, Napa; 707 363-5757Open by appointmentspottswoode – 1902 Madrona Ave, St. Helena; 707 963-0134Open by appointmentspring mountain – 2805 Spring Mtn. rd, St. Helena; 707 967-4188Open by appointmentST. CLEMENT"BEST BOUTIQUE WINERY" & "LOCAL WINEMAKER"Two Years in a Row2 for 1 on any tasting including Single Vineyard TastingSave up to $252867 St. Helena North, St. Helena | Open Daily 10am-5pm707-265-5000 | www.stclement.comst. Helena Wine Center – 1321 Main St, St. Helena; 707 963-1313 Mon-Sat 10-6, Sun 10-5st. Helena Winery – 100 Pratt Ave, St. Helena; 707 967-9463Open by appointmentst. supéry estate vnyds & Winery – 8440 St. Helena Hwy, rutherford; 800 942-0809 Daily 10-5stag's Leap Wine Cellars – 5766 Silverado Trail, Napa; 707 944-2020 Open daily 10-4:30stagecoach vineyard – 3267 Soda Canyon rd., Napa; 707 259-1198Open by appointmentstaglin Family – 1570 Bella Oaks Ln, rutherford; 707 944-0477Open by appointmentstags' Leap Winery – 6150 Silverado Trail, Napa; 1-800-395-2441By advance appointment onlysterLing vineYArds – 1111 Dunaweal Lane, Calistoga; 707 942-3344 Mon-fri 10:30-5, Sat-Sun 10-5stoneheath Winery – Napa; 707 257-0701Open by appointmentstonehedge Winery – 1004 Clinton St, Napa; 707 257-1068 x305 Tue-Sat 12-6, Sun 12-5stony Hill vineyard – Call for directions,St. Helena; 707 963-2636Open Mon-fri 9-5 by appt onlystorybook mountain – 3835 Hwy 128, Calistoga; 707 942-5310Open by appointmentsullivan vineyard – 1090 Galleron rd, rutherford; 707 963-9646Open daily 10-5 by appointmentsUmmers estAte – 1171 Tubbs Lane, Calistoga; 707 942-5508 Open daily 10:30-4:30summit Lake – 2000 Summit Lake Dr, Angwin; 707 965-2488Open by appointmentsUtter Home WinerY – 277 St. Helena Hwy S, St. Helena; 707 963-3104 Open daily 10-5swanson vineyards – 1271 Manley Ln, rutherford; 707 967-3500Open by appointmentt-vine Cellars – (at regusci) 3120 Old Lawley Toll rd, Calistoga; by prior appointment 707 942-1543tallulah Wines – 1043 Vallejo St, Napa; 707 843-1823Open by appointmenttamber Bey vnyds – 1234 Adams St, St. Helena; 707 968-5345 Open daily 10-6taste at oxbow – 708 first Street, Napa; 707 265-9600 Closed Tues, fri 12-7, Sat-Mon 12-6, Wed-Thu 12-6tasting room, the – at the Napa Wine Co, 40 St. Helena Hwy, Oakville; 707 848-9630 Open daily 10-4:30taylor Family vineyards –5991 Silverado Trail, Napa; 707 255-3593Open by appointmenttayson Pierce estate Wines – rutherford rd, rutherford; 707 968-9780By appointment onlyteachworth – 4451 St. Helena Hwy, Calistoga; 707 942-8432Open by appointmenttedeschi Family Winery – 2779 Grant St. Calistoga; 707 337-5526Tue-Sun 12-4:30 by appointment onlyterra valentine – 3787 Spring Mountain rd, St. Helena; 707 967-8340Open by appointmentthe terraces – 1450 Silverado Trail, St. Helena; 707 963-1707Open by appointmenttobias vineyards – By prior appointment, dawn@tobiasvineyards.comtofanelli Family – 1212 Pine St, Calistoga; 707 942-6504Open by appointment onlytom eddy – 3870 Hwy 128, Calistoga; 707 942-4267Open by appointmenttoolbox Wine Co. – 1021 McKinstry St, Napa; 707 257-6796 Open daily 11-7tournesol Wine – Napa; 707 287-7557Open by appointment onlytrahan Winery – 974 franklin St, Napa; 707 257-7477 Open daily 11-6trefethen vineyards – 1160 Oak Knoll Ave, Napa; 707 255-7700 Open daily 10-4:30tres sabores – 1620 S. Whitehall Lane, St. Helena; 707 967-8027Open by appointmenttrespass vineyard – 1859 Hillview Place, St. Helena; 707 963-0804Open by appointmenttrinCHero nAPA vALLeY – 3070 N. St. Helena Hwy, St. Helena; 1-800-473-4454 Open daily 10-5trinitas Cellars – at The Meritage resort, 875 Bordeaux Way, Napa; 707 251-3012 Open daily 11-7tristant – 1012 Bale Ln, Calistoga; 707 942-0600Open by appointmenttruchard – 3234 Old Sonoma rd, Napa; 707 253-7153Open by appointmenttudal Winery – 1015 Big Tree rd, St. Helena; 707 963-3947Open by appointmenttulocay – 1426 Coombsville rd, Napa; 707 255-4064Open by appointmentturnbull Wine Cellars – 8210 Highway 29, Oakville; 707 963-5839 Open daily 10-5twomey Cellars – 1183 Dunaweal Lane, Calistoga; 800-505-4850 Open Mon-Sat 10-5, Sun 11-5Ubuntu Annex – Tasting room, 1130 Main St, Napa; 707 251-5656 Mon-Wed 12-6, Thu-fri 12-8, Sat-Sun 11-8 by apptUncorked at oxbow – 605 first St, Napa; 707 927-5864 Open daily 12-8Up valley vintners – 1371 Lincoln Ave, Calistoga; 707 942-1004 Thu-Sat 11-8, Sun, Mon 11-6, Tue & Wed 12-5v madrone – 3169 St. Helena Hwy N, St. Helena; 707 963-3573Open by appointmentv Wine Cellars – 6525 Washington St, Yountville; 707 531-7053 Open daily 10-7v. sAttUi WinerY – Corner Hwy 29 & White Ln, St. Helena; 707 963-7774 Open daily 9-6 (Winter hours till 5)van der Heyden – 4057 Silverado Trail, Napa; 707 257-0130Open daily 10-6 by appointmentvarozza vineyards – 514 Pratt Ave, St. Helena; 707 963-0331Open by appointment onlyveLo vino – pouring Clif family Wines, 709 Main St, St. Helena; 707 968-0625 Open daily 10-6vellum – Napa; 707 879-8355, jeff@vellumwines.comBy appt only76 sign up for our email newsletter at www.WineCountrythisWeek.com
---
Editor's Picksvenge – 4708 Silverado Trail, Napa; 707 942-9100Wed-Sun by appointment onlyverismo Wines – 100 rapp Ln, Napa; 707 944 WINE (9463)Open by appointment onlyvermeil – 1255 Lincoln Ave, Calistoga; 877-668-4334 Sun-Thu 10-5:30, fri-Sat 10-8viader Winery – 1120 Deer Park rd, Deer Park; 707 963-3816 ext. 110Open by advance appointmentvinoce & twenty rows – 880 Vallejo Street, Napa; 707 265-7750Tue-Sat 11-5, Sun & Mon by apptvincent Arroyo Winery – 2361 Greenwood Ave, Calistoga; 707 942-6995Open daily 10-4:30 by appointmentvine Cliff Winery – 7400 Silverado Trail, Yountville; 707 944-1364Open daily 10-5 by appointmentvineyard 29 – 2929 St Helena Hwy, St. Helena; 707 963-9292Open by appointmentvineyard 7 & 8 – 4028 Spring Mountain road, St. Helena; 707 963.9425Mon-fri 10-2 by appointmentvin roc – Napa; 707 265-0943, Cheers@VinrocNapa.comBy appt onlyvine Hill ranch – Oakville; 707 944-8130By appt onlyvintner's Collective – 1245 Main St, Napa; 707 255-7150 Open daily 11-6volker eisele Family – 3080 Lower Chiles Valley rd, St. Helena; 707 965-9485Open by appointment onlyvolta Wine– 3108 Silverado Trail, Yountville; 707 501-4060Open by appointment onlyvon strasser – 1510 Diamond Mtn. rd, Calistoga; 707 942-0930 Open by appointment 10:30-4:30W. H. smith– 1307 Lincoln Avenue, Suite B, Calistoga; 707 942-1194 Sun, Mon, Tue, Thu 10-5, fri-Sat 10-6:30Waterstone – Taste at Oxbow, 708 first St, Napa; 707 265-9600 Closed Tues, fri 12-7, Sat-Mon 12-6, Wed-Thu 12-6Waugh Cellars – Napa; 888-883-WINE (9463)Open by appointment onlyWermuth Winery – 3942 Silverado Trail, Calistoga; 707 942-5924Open ralph is thereWhetstone Wine Cellars – Tasted at Ubuntu Annex 1130 Main Street, Napa; 707 254-0600 Open by appointmentWhite Cottage ranch – 555 College Ave, Angwin; 707 965-0516 Open by appointment 10-5WHiteHALL LAne – 1563 St. Helena Hwy S. (Hwy 29), St. Helena; 800-963-9454 x 19 Open daily 10-5:45White rock vineyard – NapaOpen by appointment onlyWilliam Cole vnyds – 2849 Saint Helena Hwy North, St. Helena; 707 963-6100Open by appointment onlyWilliam Harrison vnyrds – 1443 Silverado Trail, St. Helena; 707 963-8310 Open daily 11-5WiLLiAm HiLL estAte WinerY – 1761 Atlas Peak road, Napa; 707 265-3024 Open daily 10-5 by apptWine garage – 1020 foothill Blvd (Hwy 29), Calistoga; 707 942-5332 Open Wed-Sat 11-6Wineries of napa valley – 1285 Napa Town Center, Napa; 707 253-9450 Mon-Tue 11-7, Wed-Thu 11-6, fri-Sat 10-9, Sun 11-7Wing Canyon vineyard – 3100 Mt. Veeder rd, Napa; 707 265-8798Open by appointment onlyWitt estate – 1500 Whitehall Ln, St. Helena; 707 967-8046Open by appointmentx Winery – 1405 2nd Street, Napa; 707 204-9522Open by appointment onlyY rousseau Wines – 902 Enterprise Way, Ste. O, Napa; 415-713-4203Open by appointment onlyYates Family vineyard – 3104 redwood rd, Napa; 707-226-1800Open daily by appointment onlyYoung ridge estate – 1200 Thompson Ave, Napa; 707 265-8400Open by appointment onlyZ-52 – Poured at Taste at Oxbow, 708 first St, Napa; 707 265-9600 Sun-Thu 11-6, fri-Sat 11-9zahtila vineyards – 2250 Lake County Hwy; Calistoga; 707 942-9251 Daily 10-4:30zd Wines – 8383 Silverado Trail, rutherford; 707 963-5188 Open daily 10-4:30sonomA CoUntYA. rafanelli Winery – 4685 W. Dry Creek rd, Healdsburg; 707 433-1385 Open by appointment onlyAcorn Winery – 12040 Old redwood Hwy, Healdsburg; 707 433-6440Open by appointment onlyAdobe road Winery – 1995 S. McDowell Blvd, Petaluma; 707 939-7967 Open by appointment only– 481 1st Street West, Sonoma; 707 939-9099 Daily 11-6:30Adrian Fog – Healdsburg; 707 431-1174Open by appointment onlyAkoma zoume – 3030 Cavedale rd, Glen Ellen; 707 996-1787Open by appointment onlyAlbini Family vineyards – 886 Jensen Ln, Windsor; 707 838-9249Open by appointment onlyAlderbrook Winery – 2306 Magnolia, Healdsburg; 800 405-5987 Open daily 10-5ALexAnder vALLeY vineYArds – 8644 Hwy 128, Healdsburg; 707 433-7209 Open daily 10-5Amista vineyards – 3320 Dry Creek rd, Healdsburg; 707 431-9200 Open daily 11-4:30AmorosA BeLLA – at Cellars of Sonoma: 133 4th St, Santa rosa; 707 578-1826 Sun-Wed 10-8:30, Thu-Sat 10-10Amphora Wines – 4791 Dry Creek rd, Healdsburg; 707 431-7767 Open daily 11-4:30Anaba Wines – 60 Bonneau rd, Sonoma; 707 996-4188 Open daily 10:30-5:30Ancient oak Cellars – 637 fourth St, Santa rosa; 707 536-1546 Mon-Sat 11-5Arbios/Praxis – Poured at Locals: Geyserville Ave & Hwy 128, Geyserville; 707 857-4900 Open daily 11-6Archipel – 4611 Thomas rd, Healdsburg; 800-273-0177 Open by appointment Mon-Sat 10-5Follow us on twitter @WineCountrytWSonoma County'sTop 5 Cave ToursBUenA vistA CAve toUr And tAsting [Sonoma]In the historic cellars, taste wines straight from the barrelthen enjoy a few bottled wines to witness the wines'evolution. Tour lasts 1 hour.Daily, 11:30 by appointment, $30 Guest/$24 Wine Club18000 Old Winery road, 1-800-926-1266Fritz UndergroUnd WinerY [Healdsburg]Three story winery tour: Crushpad, tank room & undergroundbarrel room/cave – a great chance to go underground andhear about how they use gravity flow to make their wine.$20pp, includes a reserve Tasting, lasts about an hour.Cave tours weekends, by appointment, (707) 894-3389ALexAnder vALLeY vineYArds [Healdsburg]Voted "Sonoma's Best Winery." Taste the history,tradition and excellence at this family owned estate.Complimentary barrel tasting/cave tours, 11am & 2pmPrivate Tours available by appointment for $10pp(707) 433-7209simi WinerY visitor Center [Healdsburg]Tour the historic stone cellars, stroll through the redwoodgrove and gardens followed by a sit-down tasting.Daily at 11 a.m. and again at 2 p.m., $10ppTwo miles north of the Healdsburg Plaza16275 Healdsburg Ave, 1-800-746-4880KeLLer estAte [Petaluma]Cave & vineyard tour with sit-down tasting in ReserveRoom, architecturally renown state-of-the-art facilityCave Tour & Barrel Tasting $40 ($20 mention WCTW )fridays & Saturdays only 11:30am and 2pm (1 hour)5875 Lakeville Highway, reservations: (707) 765-2117OTHER NOT-TO-BE-MISSED CAVE TOURSsCHUg CArneros estAte [Sonoma]Tour vineyard, crushpad, winery and wine caves $20, (707) 939-9363KUnde FAmiLY estAte WinerY [Sonoma]32,000 square feet of wine caves $10, cave tours complimentary, (707) 833-5501deerFieLd rAnCH [Kenwood]Tasting room is inside the 23,000 square feet wine cave $10-$25, (707) 833-5215gUndLACH BUndsCHU [Sonoma]Elegant sit-down tasting in the cave $20, daily 2:30pm, rSVP: (707) 938-527777
---
WinerY Listings | Wine CoUntrY tHis WeeKArista Winery – 7015 Westside rd, Healdsburg; 707 473-0606 Open daily 11-5ArmidA WinerY – 2201 Westside road, Healdsburg; 707 433-2222 Open daily 11-5Arnot-roberts – Healdsburg; 707 433-2400Open by appointment onlyArrowood vnyds & Winery – 14347 Sonoma Hwy 12, Glen Ellen; 707 935-2600 Open daily 10-4:30Atascadero Creek – 4114 ross road, Sebastopol; 707 824-8204Open by appointment only– 1305-A Cleveland Ave, Santa rosa; 707-595-1488 Thu-Mon 11-6, Tue-Wed by aptBaker Lane – Poured at Vinoteca –3358 Coffey Lane, Ste C, Santa rosa; 707-542-3292 Open fri-Sun 11-5BALLetto – 5700 Occidental rd, Santa rosa; 707 568-2455 Open daily 10-5B.r. Cohn Winery – 15000 Sonoma Hwy 12, Glen Ellen; 800-330-4064 Open daily 10-5B Wise vnYds – 9077 Sonoma Highway, Kenwood; 707 282-9169Open daily, appointments recommendedBartholomew Park – 1000 Vineyard Ln., Sonoma; 707 935-9511 Open daily 11-4:30Battaglini Wines – 2948 Piner rd, Santa rosa; 707 578-4091Open by appointment onlyBedarra vineyards –Poured at Locals: Geyserville Ave & Hwy 128, Geyserville; 707 857-4900 Open daily 11-6Bella vnyds & Wine Caves – 9711 West Dry Creek rd, Healdsburg; 707 473-9171 Open daily 11-4:30Benovia Winery – 3339 Hartman rd, Santa rosa; 707 526-4441Open by appointment onlyBenziger Family Winery – 1883 London ranch rd, Glen Ellen; 888 490-2739 Open daily 10-5Bluenose Wines – Poured at Hudson Street Wineries, 428 Hudson Street, Healdsburg; 707 433-2364 Open daily 11-5Blue rock vineyards – Cloverdale; 707 481-0867Open by appointment onlyBonneau Family – Carneros Deli, 23001 Arnold Dr, Sonoma; 800-996-0420Open daily 11-6:30 (5 in winter)Branham estate – Poured at Downtown Wine: 132 Plaza St, Healdsburg; 707 473-0337 Thu 11-6, fri-Sat 11-7, Sun 11-5BrUtoCAo CeLLArs – Poured at Sonoma Enoteca: 35 E Napa St; 707 935-1200 Wed-Mon 11-6, Tue seasonalBrYter estAtes – 25 East Napa St, Suite E, Sonoma; 707 501-8272 Tues-Sun 11-6Bucklin old Hill ranch – 8 Old Hill ranch rd; Glen Ellen 707 933-1726Open by appointment onlyBUenA vistA WinerY – 18000 Old Winery rd, Sonoma; 707 265-1472 Open daily 10-5C. donatiello – Poured at Vin Couture: 322 Healdsburg Ave C, Healdsburg; 707 431-1011 Open by appointment onlyCahill Winery – 4950 ross rd, Sebastopol; 707 823-1335 Mon-fri 9-4, Sat-Sun 10-5Caluna vineyards – Poured at Vinoteca –3358 Coffey Lane, Ste C, Santa rosa; 707-542-3292 Open fri-Sun 11-5Camellia Cellars – 57 front St., Healdsburg; 707 433-1290 Open daily 11-6Captûre – Healdsburg; 707 395-0457Open by appointment onlyCarol shelton – 3354-B Coffey Ln, Santa rosa; 707 575-3441 Open by appointment, 11-4Cass Winery – Poured at family Wineries – Kenwood: 9380 Sonoma Hwy 12; 888-433-6555 Open daily 10:30-5CeLLArs oF sonomA – 133 fourth Street, Santa rosa; 707 578-1826 Sun-Wed 10-8:30, Thu-Sat 10-10Chalk Hill – 10300 Chalk Hill rd, Healdsburg; 707 657-4837 Open daily 10-4CHAndeLLe WinerY – Call for tasting, 707 938-5862CHArLes CreeK vineYArd – 483 first St. W., Sonoma; 707 935-3848 Open daily 11-6Charles Heintz – Sebastopol; 877 874-3852Open by appointment onlyChasseur – Sebastopol; 707 829-1941 Open by appointment fri 10 & 2Chateau diana – 6195 Dry Creek road, Healdsburg; 707 431-8161 Open daily 11-5Chateau Felice – 322 Healdsburg Avenue, Healdsburg; 707 431-8161 Thu-Sun 11-10CHATEAU ST. JEAN WINERYVOTED 'BEST TASTING ROOM'Enjoy Acclaimed Gardens • Gourmet Picnic Fare • Wines by the Glass2 for 1 Tasting in the Visitor Center with this ad8555 Sonoma Highway, Kenwoodwww.ChateauStJean.com | 800-543-7572Christie vineyards – 851 Limerick Lane, Healdsburg; 707 431-0662Open by appointment onlyChristopher Creek – 641 Limerick Ln, Healdsburg; 707 433-2001 Open daily 11-5Clarbec – 19368 Orange Ave, Sonoma; 707 996-4012Open by appointment onlyClary ranch – 3461 Middle Two rock rd, Petaluma; 707 766-7466Open by appointment onlyClaypool Cellars – 6761 Sebastopol Ave, Ste 500 , Sebastopol; 707 861-9358Sat-Sun 1-5 or by apptCLine CeLLArs – 24737 Arnold Drive, Sonoma; 707 940-4000 Open daily 10-6Clos du Bois – 19410 Geyserville Ave, Geyserville; 707 857-3100 Open daily 10-4:30Clouds rest vineyards – Sonoma; 707 765-0841Open by appointment onlyColagrossi Wines –3360 Coffey Ln Suite E, Santa rosa; 707 237-4980Call ahead for appointmentCollier Falls – Poured at family Wineries – Kenwood: 9380 Sonoma Hwy 12,Kenwood; 888-433-6555 Open daily 10:30-5Poured at family Wineries – Dry Creek Valley: 4791 Dry Creek rd, Healdsburg; 707 433-0100 10:30-4:30ComPAss Wines – Poured at Sonoma Enoteca: 35 E Napa St; 707 935-1200Wed-Mon 11-6, Tue seasonalCopain Wines – 7800 Eastside rd, Healdsburg; 707 836-8822Open Thu-Sun 11-5 or by apptCorda – 845 Chileno Valley rd, Petaluma; 707 781-9310Open by appointment onlyCoturri Winery – 6725 Enterprise rd, Glen Ellen; 707 525-9125Open by appointment onlyd & L Carinalli vineyards – 2900 Llano rd, Santa rosa; 707 795-7052Open by appointment onlyd'Argenzio – 1301 Clevelend Ave, Ste A, Santa rosa; 707 280-4658 Open daily 11-5dashe Cellars – Poured at family Wineries – Dry Creek Valley: 4791 Dry Creek rd, Healdsburg; 707 433-0100 10:30-4:30da vero – 766 Westside rd, Healdsburg; 707 431-8000 Wed-Mon 10-5david Coffaro – 7485 Dry Creek rd, Geyserville; 707 433-9715 Open daily 11-4david noyes – Poured at family Wineries – Kenwood: 9380 Sonoma Hwy 12; 888-433-6555 Open daily 10:30-5davis Family vnyds – 52 front St, Healdsburg; 707 433-3858 Thu-Sun 11-4:30deerfield ranch – 10200 Sonoma Highway, Kenwood; 707 833-5215 Open daily 10:30-4:30dehlinger – 4101 Vine Hill rd, Sebastopol; 707 823-2378Jan-Aug by appointment, fridays onlyde La montanya – 999 foreman Ln., Healdsburg; 707 433-3711 Open daily 11-4:30del Carlo – 4939 Dry Creek rd, Healdsburg; 707 484-2430Open by appointment onlyde LoACH vnYds – 1791 Olivet road, Santa rosa; 707 526-9111 Open daily 10-5de Lorimier WinerY (formerly Mosaic)– 2001 Hwy 128, Geyserville; 800 546-7718 Open daily 10:30-5deux Amis – 602 Limerick Ln, Healdsburg; 707 431-7945Open by appointment onlydom Whitney Wines – 9000 Windsor rd, Suite B, Windsor; 707 657-7804 Thu-fri 2-8, Sat 12-8, Sun 12-6draxton Wines – 4001 Hwy 128, Geyserville; 707 857-3300 Open daily 10:30-5dreYer Wine – Poured at Sonoma Enoteca: 35 E Napa St, Sonoma; 707 935-1200 Wed-Mon 11-6, Tue seasonaldrY CreeK vineYArd – 3770 Lambert Bridge rd, Healdsburg; 707 433-1000 Open daily 10:30-4:30duchamp estate – 280 Chiquita rd, Healdsburg; 707 433-6665Open by appointment onlydUnAH vnYds – at Cellars of Sonoma: 133 4th St, Santa rosa; 707 578-1876 Sun-Wed 10-8:30, Thu-Sat 10-10dutch Bill Creek – Sebastopol; 877 874-3852Open by appointment onlydUtCHer Crossing – 8533 Dry Creek rd, Healdsburg; 707 431-2700 Open daily 11-5dutton estate – 8757 Green Valley rd; Sebastopol; 707 829-9463 Open daily 10-5dutton-goldfield– 3100 Grevenstein Highway North, Sebastopol; 707-827-3600 Open daily 10-4:30edmeades tasting room– 20 Matheson St, Healdsburg; 800 994-2454 Open daily 10:30-5:30ehret Winery – Poured at Locals: Geyserville Ave & Hwy 128, Geyserville; 707 857-4900 Open daily 11-6en gArde tAsting room – 9077 Sonoma Hwy, Kenwood; 707 282-9216 Open daily 11-6enkidu Wine – 8910 Sonoma Hwy. 12, Kenwood; 707 833-6100 Open daily 12-6envolve tasting room – 27 East Napa St, Suite A, Sonoma; 707 939-5385 Open daily 11-6eriC K. JAmes vineYArds – 452 first Street E, Sonoma Plaza; 707 996-1364 Open daily 11-8, Tu 11-7eric Kent Wine Cellars – Santa rosa ; 707 527-9700Nov 15 -Aug 15 by appteriC ross – 14300 Arnold Dr, Glen Ellen; 707 939-8525 Open daily 11-5Poured at Locals: Geyserville Ave & Hwy 128, Geyserville; 707 857-4900 Open daily 11-6everett ridge – 435 W. Dry Creek rd, Healdsburg; 707 433-1637 Open daily 10-5Family Wineries of dry Creek valley – 4791 Dry Creek rd, Healdsburg; 707 433-0100 Open daily 10:30-4:30FAvero vnYds – 3939 Lovall Valley rd, Sonoma; 707 935-3939Open by appointment only– Poured at Sonoma Enoteca: 35 E Napa St; 707 935-1200 Wed-Mon 11-6, Tue seasonalFERRARI-CARANOVINEYARDS AND WINERYTaste World-Class Wines • Stroll Acres of Lush GardensTours and Private Tastings by Appointment2 for 1 Classic Wines Tasting with this adOpen Daily 10am - 5pm8761 Dry Creek road, Healdsburg • ferrari-carano.com • 707-433-6700FerrAri-CArAno seAsons oF tHe vineYArd113 Plaza St, Healdsburg; 707 431-2222 Tue-Sun 11-6Field stone Winery – 10075 Hwy 128, Healdsburg; 707 433-7266 Open daily 10-5Fisher vineyards – 6200 St.Helena rd, Santa rosa; 707 539-7511Open by appointment onlyFlocchini – 1305-A Cleveland Ave, Santa rosa; 707-595-1488Thu-Mon 11-6, Tue-Wed by appointment78 www.WineCountrythisWeek.com
---
Editor's PicksFlowers vineyard & Winery – 28500 Seaview rd, Cazadero; 707 847-3661x32Open by appointmentFoggy valley – Poured at Locals: Geyserville Ave & Hwy 128, Geyserville; 707 857-4900 Open daily 11-6Folk machine – Poured at Downtown Wine: 132 Plaza St, Healdsburg; 707 473-0337 Thu 11-6, fri-Sat 11-7, Sun 11-5Foppiano vineyards – 12707 Old redwood Hwy, Healdsburg; 707 433-7272 Open daily 11-5Forchini vineyards – 5141 Dry Creek rd, Healdsburg; 707 431-8886fri-Sun 11-4:30, Mon-Thur by apptForth vnyds – Poured at family Wineries – Dry Creek Valley: 4791 Dry Creek rd, Healdsburg; 707 433-0100 10:30-4:30Fort ross vnyds tasting room – 15725 Meyers Grade rd, Jenner; 707 847-3460Open by appointmentFoYt FAmiLY Wines – at Meadowcroft Wine: 23574 Arnold Dr/Hwy 121, Sonoma; 707 934-4090 Open daily 11-6Francis Ford Coppola – 300 Via Archimedes, Geyserville; 707 857-1400 Open daily 11-6Freeman Winery – 1300 Montgomery rd, Sebastopol; 707 823-6937Open by appointment onlyFrick – 23072 Walling road, Geyserville; 707 857-1980Sat-Sun 12-4:30 (Summers fri)Fritz WinerY – 24691 Dutcher Creek rd, Cloverdale; 707 894-3389 Open daily 10:30-4:30Frost Watch – Poured at Vinoteca –3358 Coffey Lane, Ste C, Santa rosa; 707-542-3292 Open fri-Sun 11-5gann Family – Poured at Cellars of Sonoma: 133 4th St, Santa rosa; 707 578-1876 Sun-Wed 10-8:30, Thu-Sat 10-10garden Creek ranch– 2335 Geysers rd, Geyserville; 707 433-8345Open by appointment onlygary Farrell Wines – 10701 Westside rd, Healdsburg;707 473-2909 Open daily 10:30-4:30geYser PeAK WinerY – At Canyon rd, 22281 Chianti rd, Geyserville; 707 857-2500 Open daily 10-5glen Lyon vineyards – Sonoma; 707 833-0032 Open daily 11-6gLoriA Ferrer CAves & vnYds – 23555 Hwy 121, Sonoma; 707 996-7256 Open daily 10-5gofessel vineyards – 20838 Burndale road, Sonoma; 415 225-6801Open by appointment onlygöpfrich – 7564 W. Dry Creek rd, Healdsburg; 707 433-1645Open by appointment onlygourmet Au Bay – 913 Hwy 1, Bodega Bay; 707 875-9875 fri-Sat 11-8, Sun-Thu 11-7graton ridge – 3561 Gravenstein Hwy N, Sebastopol; 707 823-3040 fri-Mon 10-4:30gunfighter – Poured at Locals: Geyserville Ave & Hwy 128, Geyserville; 707 857-4900 Open daily 11-6gundlach Bundschu – 2000 Denmark St, Sonoma; 707 938-5277 Open daily 11-4:30gUerrero FernAndez – at Cellar Door: 1395 Broadway, Sonoma; 707 938-4466 Thu-Mon 11-6, Tue & Wed 4-6gustafson Family – 9100 Stewarts Point Skaggs Springs road, Geyserville; 707 433-2371Sat 10-4 or by apptHanna Winery – 9280 Hwy 128, Healdsburg; 707 431-4310 Open daily 10-45353 Occidental rd, Santa rosa; 707 575-3371 Open daily 10-4Hanzell vineyards – 18596 Lomita Avenue, Sonoma; 707 996-3860Open by appointment onlyHartford Family Winery – 8075 Martinelli road, forestville; 707 887-8011 Open daily 10-4:30Hart's desire – Poured at Waterfront Tasting rm: 53 front St, Healdsburg; 707 433-3097 Thu-Mon 11-5Harvest moon estate – 2192 Olivet rd, Santa rosa; 707 573-8711 Open daily 10-5Hauck Cellars – 223 Center St, Healdsbug; 707 473-9065Mon-Thu 11:30-4:30, fi-Sun 11:30-5, Closed WedHawkes Wine – 6734 Hwy. 128, Healdsburg; 707 433-4295 Open daily 10-5Hawkes Wine tasting rm – 383 1st Street West, Sonoma; 707 938-7620 Open daily 12-6Hawley Wines – 6387 W Dry Creek rd, Healdsburg; 707 431-2705Open by appointment onlyHaywood Winery – 25 East Napa St, Ste C; 707 933-3001 Open daily 11-6Highway 12 Winery – 498 first St. E, Sonoma; 707 938-8091 Open daily 10:30-5:30Hobo – Poured at Downtown Wine: 132 Plaza St, Healdsburg; 707 473-0337 Thu 11-6, fri-Sat 11-7, Sun 11-5Holdredge – 51 front St, Healdsburg; 707 431-1424Sat-Sun 11-4:30 or by apptHomewood Winery – 23120 Burndale rd, Sonoma; 707 996-6353 Open daily 10-4Hook and Ladder – 2134 Olivet rd, Santa rosa; 707 526-2255 Open daily 10-4:30HOP KILN WINERYHKG ESTATE WINESHonoring the Past, Handcrafting the future2 for 1 wine tasting offer with this ad6050 Westside road, Healdsburg(707) 433-6491, HopKilnWinery.comHouse Band Wines – 1301 Cleveland Ave, Santa rosa; 707-509-3786fri-Sun 12-6 or by apptHudson street Wineries – 428 Hudson Street, Healdsburg; 707 433-2364 Open daily 11-5icaria Creek Winery – 27750 Asti rd, Cloverdale; 707 486-9623Open by appointment onlyiL CUore – Poured at Sonoma Enoteca: 35 E Napa St; 707 935-1200Wed-Mon 11-6, Tue seasonalimagery estate – 14355 Hwy 12, Glen Ellen; 707 935-4515 Weekdays 10-4:30, Weekends 10-5:30sign up for our email newsletter at www.WineCountrythisWeek.comSonoma County'sTop 5 Picnic SitesviAnsA WinerY & mArKetPLACe [Sonoma]Enjoy sandwiches, salads, antipasti plates,wood-fired pizza, cheeses, caviar and gelatowhile enjoying breathtaking views.Open daily 10am-5pmViansa food/wine only, 1-800-995-4740deLoACH vineYArds [Santa rosa]Select your favorite DeLoach wines and they'll providea picnic basket for you, $30 - wine sold separately.Available year round, weather permitting.Reserve your basket 24 hours in advance.1791 Olivet road, (707) 526-9111geYser PeAK WinerY [Geyserville]Expansive views of Alexander Valley.Wines-by-the-glass & picnic foods.Tasting & picnic packages available.Only 7 minutes from HealdsburgOpen daily 10am–5pm | 1-800-255-WINEKUnde FAmiLY estAte [Kenwood]Stunning Estate – Great for mountain-top tastings, picnics,cave tours, summer concerts - call or check the websiteMountain Top Tastings, 1,400ft, $40pp • Weddings/EventsHike & taste in vineyards, $30pp9825 Sonoma Hwy, (707) 833-5501, kunde.comdrY CreeK vineYArd [Healdsburg]Charming tasting room; beautiful picnic grounds;41 years of winemaking; experienced tasting room stafftakes great pride in offering a first-class wine educationTour and tasting $15pp Mon-fri, (707) 433-10003770 Lambert Bridge rd, www.drycreekvineyard.comOTHER NOT-TO-BE-MISSED PICNIC SITESseBAstiAni WinerY [Sonoma] (707) 933-3230CHAteAU st. JeAn [Sonoma] (707) 833-4134CLine CeLLArs [Sonoma] (707) 940-4000JACUzzi FAmiLY vineYArds [Sonoma] (707) 931-7575sonomA-CUtrer [Windsor] (707) 528-1181deLorimier [Geyserville] (707) 857-200079
---
WinerY Listings | Wine CoUntrY tHis WeeKinman Family – 3900 Piner road, Santa rosa; 707 293-9576fri -Sun 11-4 or by appt.inspiration vnyds & Winery –3360 Coffey Ln Suite E, Santa rosa; 707 237-4980 Open daily 11-4:30iron Horse – 9786 ross Station rd, Sebastopol; 707 887-1507 Open daily 10-4:30J Keverson – Poured at Waterfront Tasting rm: 53 front St, Healdsburg; 707 433-3097 Thu-Mon 11-5J Lynne Wines – Poured at Vine Tastings: 9058 Windsor rd, Windsor; 707 620-0833 Mon-fri 12-8pm, late weekendsJ rickards Winery – 24505 Chianti rd, Cloverdale; 707 758-3441 Tue-Sat 11-4J vineyard & Winery – 11447 Old redwood Hwy, Healdsburg; 707 431-3646 Open daily 11-5JACUzzi vineYArds – 24724 Arnold Drive, Sonoma; 707 931-7575 Open daily 10-5:30JAmes FAmiLY – Poured at Cellars of Sonoma: 133 4th St, Santa rosa; 707 578-1876 Sun-Wed 10-8:30, Thu-Sat 10-10JAQK CeLLArs – Poured at Sonoma Enoteca: 35 E Napa St; 707 935-1200Wed-Mon 11-6, Tue seasonalJazz Cellars – 1305-A Cleveland Ave, Santa rosa; 707-595-1488Thu-Mon 11-6, Tue-Wed by appointmentJCB tasting room & Wine Bar – 320 Center St, Healdsburg; 707 473-9707 Sun-Wed 10:30-5:30, Thu-Sat 10:30-9Johnson's Alexander valley Wines – 8333 Hwy 128, Healdsburg; 707 433-2319 Open daily 11-4John tyler Wines – 4353 Westside rd, Healdsburg; 707 473-0123 Open daily 10:30-5Jordan – 1474 Alexander Valley rd, Healdsburg; 707 431-5250Open by appointment onlyJosePH JeWeLL – at Cellars of Sonoma: 133 4th St, Santa rosa; 707 578-1876 Sun-Wed 10-8:30, Thu-Sat 10-10Joseph Phelps vineyards – 12747 El Camino Bodega, freestone; 707 874-1010 Daily 11-5Joseph swan Winery – 2916 Laguna rd, forestville; 707 573-3747 Sat, Sun & some holidays, 11-4:30Kachina – 4551 Dry Creek road, Healdsburg; 707 332-7917Open by appointment onlyKamen estate – 111B East Napa St, Sonoma; 707 938-7292 Mon-Thu 12-6, fri-Sun 11-6Kastania vineyards – 4415 Kastania rd, Petaluma; 707 763-6348Sat Sun 11-4 or by apptKaz Winery – 233 Adobe Canyon rd, Kenwood; 707 833-2536 fri-Mon 11-5Keating –23564 Arnold Dr, Sonoma; 707 939-6510 Open daily 10-5KeLLer estAte – 5875 Lakeville Hwy, Petaluma; 707 765-2117 Thu-Sun 11- 4:30Kelley & Young – Poured at Hudson Street Wineries, 428 Hudson Street, Healdsburg; 707 433-2364 Open daily 11-5KendALL-JACKson Wine Center – 5007 fulton rd, fulton; 707 571-8100 Open daily 10-5KendALL-JACKson tAsting room – 337 Healdsburg Ave, Healdsburg; 707 433-7102 Open daily 10-5Kenwood vineyards – 9592 Sonoma Hwy 12, Kenwood; 707 833-5891 Open daily 10-4:30Kings Hill Cellars – 3404 Kings Hill rd, Santa rosa; 707 538-0704Open by appointment onlyKokomo – 4791 Dry Creek rd, Healdsburg; 707 433-0200 Open daily 11-4:30Korbel Champagne Cellars – 13250 river rd, Guerneville; 707 824-7000 Open daily 10-4:30Krutz Family Cellars – 1301 Cleveland Ave, Santa rosa; 707 536-1532Open by appointment onlyKUnde FAmiLY estAte – 9825 Sonoma Hwy 12, Kenwood; 707 833-5501 Open daily 10:30-5La Crema – 235 Healdsburg Ave, Healdsburg; 800 314-1762 Open daily 10:30-5:30La Czar vineyards – 7870 Giusti rd, forestville; 707 887-3400Open by appointment onlyLa Follette – 200 Morris St, Sebastopol, 707 824-5600 Open daily 11-6Lago di merlo – at family Wineries – Dry Creek Valley: 4791 Dry Creek rd, Healdsburg; 707 433-0100 10:30-4:30Lake sonoma Winery – Poured at Valley of the Moon: 777 Madrone rd, Glen Ellen; 707 939-4500 Open daily 10-4:30Lambert Bridge – 4085 W. Dry Creek rd, Healdsburg; 707 431-9600 Open daily 10:30-4:30Lancaster estate – 15001 Chalk Hill rd, Healdsburg; 707 433-8178x209Open by appointment onlyLandmark – 101 Adobe Canyon rd, Kenwood; 707 833-0053 Open daily 10-4:30Larson Family – 23355 Millerick rd, Sonoma; 707 938-3031 Open daily 10-5LA sirenA – Poured at Cellars of Sonoma: 133 4th St, Santa rosa; 707 578-1876 Sun-Wed 10-8:30, Thu-Sat 10-10Lasseter Family – 1 Vintage Way, Glen Ellen; 707 933-2814fri-Mon 11 & 2 by appt onlyLaurel glen – 14301 Arnold Dr Suite 5, Glen Ellen; 707 933-9877Open by appointment onlyLedson WinerY – 7335 Sonoma Hwy, Kenwood; 707 537-3810 Open daily 10-5Leonhardt vnyds – 8500 Dry Creek rd, Healdsburg; 954 401-0096Apr 15- Sep 1, Daily 1-5 by apptLimerick Lane vineyards – 1023 Limerick Ln, Healdsburg; 707 433-9211 Open daily 10-5Little vineyards Family Winery – 15188 Sonoma Hwy, Glen Ellen; 707 996-2750 Thu-Mon 11-4:30Littorai Wines – 788 Gold ridge rd. Sebastopol; 707 823-9586Open by appointment onlyLocals tasting room – Corner of Geyserville Ave & Hwy 128, Geyserville; 707-857-4900 Open daily 11-6Longboard vineyards – 5 fitch St, Healdsburg; 707 433-3473 Open daily 11-6Lost CAnYon – 123 4th St, Santa rosa; 707-623-9621 fri-Sun 10-4Loxton CeLLArs – 11466 Dunbar rd, Glen Ellen; 707 935-7221Open daily 11-5 by apptLynmar estate – 3909 frei rd, Sebastopol; 707 829-3374 Open daily 11-4macLeod Family vnyd – Kenwood; 707 833-4312Open by appointment onlymacPhail Family – 851 Magnolia Dr, Healdsburg; 707 433-4780Open by appointment onlymacrae Family – Poured at family Wineries – Kenwood: 9380 Sonoma Hwy 12; 888-433-6555 Open daily 10:30-5macrostie Winery – 21481 Eighth St E, Suite 25, Sonoma; 707 996-4480Sat 11-4:30 or by appointmentmAdrone ridge WinerY – Poured at Sonoma Enoteca: 35 E Napa St; 707 935-1200 Wed-Mon 11-6madrone vineyards – at Valley of the Moon: 777 Madrone rd, Glen Ellen; 707 939-4500 Open daily 10-4:30manzanita Creek – 1441 A&B Grove St, Healdsburg; 707 433-4052fri-Sat 11-4:30, Sun-Thur by appt– Poured at Sonoma Enoteca: 35 E Napa St; 707 935-1200 Wed-Mon 11-6marimar estate – 200 Morris St, Sebastopol, 707 824-5600 Open daily 11-6martinelli vineyards – 3360 river rd, Windsor; 707 525-0570 Open daily 10-5mArtin rAY – 2191 Laguna road, Santa rosa; 707 823-2404 Open daily 11-5martorana Family Winery– 5956 West Dry Creek rd, Healdsburg; 707 433-1909Open by appointment onlymatanzas Creek Winery – 6097 Bennett Valley rd, Santa rosa; 707 528-6464 Open daily 10-4:30mAtrix – 3291 Westside rd, Healdsburg; 707 433-1911 Open daily 11-5mauritson Family Winery – 2859 Dry Creek rd, Healdsburg; 707 431-0804 Open daily 10-5mAYo FAmiLY – 13101 Arnold Drive at Highway 12, Glen Ellen; 707 938-9401 Open daily 10:30-6:30mAYo FAmiLY reserve room – 9200 Sonoma Hwy, Kenwood; 707 833-5504 Open daily 10:30-6:30mAzzoCCo sonomA – 1400 Lytton Springs rd, Healdsburg; 707 431-8159 Open daily 11-5MEADOWCROFT WINESCatch the BuzzLocated in CornerStone Gardens, an extraordinary destination spot thatfeatures a "festival" of gardens, as well as unique shops and galleries.Open Daily 11-5 • 23574 Arnold Dr/Hwy 121, Sonoma. • 707-934-4090medlock Ames – 3487 Alexander Valley rd, Healdsburg; 707 431-8845 Open daily 10-5meeker vineyards – 21035 Geyserville Ave, Geyserville; 707 431-2148 Open daily 10:30-6mercury Winery – 21015 Geyserville Avenue, Geyserville; 707 857-9870 Thu-Mon 11-6merriam vnyds – 11650 Los Amigos rd, Healdsburg; 707 433-4032 Open daily 10-5merry edwards – 2959 Gravenstein Hwy N, Sebastopol; 888-388-9050Open daily 9:30-4:30, appt recommendedmichel-schlumberger – 4155 Wine Creek rd, Healdsburg; 707 433-7427Open by appointment onlymietz Cellars – Poured at family Wineries – Dry Creek Valley: 4791 Dry Creek rd, Healdsburg; 707 433-0100 Daily 10:30-4:30mill Creek vineyards – 1401 Westside rd; Healdsburg; 707 431-2121 Open daily 10-5moniClaire vineyards – 1750 Lytton Springs rd; Healdsburg; 707 433-4320Open by appointment onlymontemaggiore – 2355 West Dry Creek rd; Healdsburg; 707 433-9499Open by appointment onlyMOONDANCE CELLARSFormerly a founding member of The Wine Room in Sonoma Valley, Moondance Cellars producessmall lots of award-winning Napa and Sonoma County varietals and blends, often poured bythe winemaker. Also pouring Orchard Station Winery and The Friendly Dog Winery.Voted Best Tasting Room of the North Bay (Bohemian)Jack London Village | 14301 Arnold Drive, Glen Ellen | 11-5 Thursday-Monday707-938-7550 | www.moondancecellars.com The Pup is always welcomemosHin vineYArds – 10295 Westside rd, Healdsburg; 707 433-5499 Open daily 11-4:30mountain terraces – Glen Ellen; 707 481-7377Open by appointment onlymounts Family – 3901 Wine Creek rd, Healdsburg; 707 292-8148Sat 11-5, Sun 12-4:30 or by apptmueller – 118 North St, Healdsburg; 707 239-0336 Open daily 11-6munselle vineyards – 3763 Hwy 128, Geyserville; 707 857-9988Open by appointment onlymurphy-goode – 20 Matheson St, Healdsburg; 800 499-7644 Open daily 10:30-5:30mUsCArdini CeLLArs – 9380 Sonoma Hwy, Kenwood; 707 933-9305 Open daily 11-6mutt Lynch Winery – 602 Limerick Ln, Healdsburg; 707 942-6180Open by appointment onlynaked Wines – 8450 Sonoma Hwy 12, Sonoma; 707-598-5200 Daily 11-5nalle – 2383 Dry Creek rd, Healdsburg; 707 433-1040Sat 12-5 & by apptnicholson ranch – 4200 Napa rd, Sonoma; 707 938-8822 Open daily 10-6novy Family – 981 Airway Ct, Ste E & f, Santa rosa; 707 578-3882 Open by appointment daily 10-3notables – 11020 Eastside road, Healdsburg; 707 431-8460Open by appointment only80 Follow us on twitter @WineCountrytW
---
Wine CoUntrY tHis WeeK | WinerY Listingsoccidental road Cellars – 2064 Gravenstein Hwy, North, Bldg 7; 707 874-9400Open Sat 1-4 or by apptold World Winery – 850 river rd, fulton; 707 490-6696Open by appointment onlyolson ogden – Poured at Vinoteca –3358 Coffey Lane, Ste C, Santa rosa; 707-542-3292 Open fri-Sun 11-5optima Winery – 498 Moore Ln, Unit C, Healdsburg; 707 431-8222Open by appointment onlyorCHArd stAtion – at Moondance Cellars: 14301 Arnold Dr, Glen Ellen; 707-938-7550 Thu-Mon 11-5Paint Horse – 16510 Arnold Drive, Sonoma; 707 935-0148Open by appointment onlyPalmeri – Poured at Terroirs Artisan Wines: 21002 Geyserville Ave, Geyserville; 707 857-4101 Thu-Mon 11:30-6:30Papapietro Perry – 4791 Dry Creek rd, Healdsburg; 707 433-0422 Open daily 11-4:30Paradise ridge Winery – 4545 Thomas Lake Harris Dr, Santa rosa; 707 528-WINE Open daily 11-5Paradise ridge tasting room – 8860 Sonoma Hwy, Kenwood; 707 282-9020 Open daily 11-6Parmelee Hill – 1695 Sperring rd, Sonoma; 707 933-8905Open by appointment onlyPassalacqua vnyds – 3805 Lambert Bridge rd, Healdsburg; 877-825-5547 Open daily 11-5Pasterick vnyd – 3491 West Dry Creek road, Healdsburg; 707 433-4655Open by appointment onlyPaul Hobbs – Sebastopol; 707 824-9879 fri-Sun 11-4:30Pech merle Wine – 4543 Dry Creek rd, Healdsburg; 707 891-3015x5Open by appointment onlyPedroncelli vineyards – 1220 Canyon rd, Geyserville; 707 857-3531 Open daily 10-4:30Pellegrini Family – 4055 West Olivet rd, Santa rosa; 800-891-0244Open by appointment onlyPendleton estate – 35100 Hwy 128, Cloverdale; 707 894-3732Open by appointment onlyPoured at Locals: Geyserville Ave & Hwy 128, Geyserville; 707 857-4900 Open daily 11-6Peters Family – 2064 Hwy. 116 N, Suite 102, Sebastopol; 707 829-3111Open by appointment onlyPeterson – 4791 Dry Creek rd Bldg 7, Healdsburg; 707-431-7568 By appointment Sat-Sun 11-4:30Poured at Locals: Geyserville Ave & Hwy 128, Geyserville; 707 857-4900 Open daily 11-6Petroni vineyards – 990 Cavedale road, Sonoma; 707 935-8311Open by appointmentPezzi King vnyds – 3225 W Dry Creek rd, Healdsburg; 707 431-9388Open by appointment onlyPhilip staley – at family Wineries – Dry Creek Valley: 4791 Dry Creek rd, Healdsburg; 707 433-0100 10:30-4:30Portalupi – 107 North Street, Healdsburg; 707 395-0960 Open daily 10:30-7Porter Bass Winery – 11750 Mays Canyon rd, Guerneville; 707 869-1475Open by appointment onlyPorter Creek – 8735 Westside rd, Healdsburg; 707 433-6321 Open daily 10:30-4:30Preston of dry Creek – 9282 W. Dry Creek rd, Healdsburg; 707 433-3372 Open daily 11-4:30Quivira vineyards – 4900 W. Dry Creek rd, Healdsburg; 707 431-8333 Open daily 11-5r2 Wine Co – 654 Broadway, Sonoma; 707 933-1330 Open daily 11-6ramazzotti Wines – Poured at Locals: Geyserville Ave & Hwy 128, Geyserville; 707 857-4900 Open daily 11-6ram's gate – 28700 Arnold Dr, Sonoma; 707 721-8700 Open daily 10-6ramey Wine Cellars – 25 Healdsburg Ave, Healdsburg; 707 433-0870Open by appointment onlyravenswood – 18701 Gehricke rd, Sonoma; 707 938-1960 Open daily 10-4:30raymond Burr – 8339 W. Dry Creek rd, Healdsburg; 707 433-8559 Open daily 11-5red Car Wine Co – 8400 Graton rd, Sebastopol; 707 829-8500 Open daily 10-4:30rH – Poured at Locals: Geyserville Ave & Hwy 128, Geyserville; 707 857-4900 Open daily 11-6riCHArdson WinerY – Poured at Cellar Door in Sonoma: 1395 Broadway; 707 938-4466 Open daily 11-6ridge vnyds/Lytton springs – 650 Lytton Springs rd, Healdsburg; 707 433-7721 Open daily 11-4; Summer fri-Sun till 5river road vnyds – 5220 ross rd, Sebastopol; 707 887-8130Open by appointment onlyroadhouse Winery – 240 Center St, Healdsburg; 707 922-6362 Tue-Thu 12-6, fri-Sun 12-7robert Hunter – 15655 Arnold Dr, Sonoma; 707 328-0173Open by appointment onlyrobert rue vnyd – 1406 Wood rd, fulton; 707 578-1601fri-Sun 10-5, Thu-Mon by apptrobert Young estate – 4960 red Winery rd, Geyserville; 707 431-4811 Open daily 10-4:30robledo Family Winery – 21901 Bonness rd, Sonoma; 707 939-6903 By appt Mon-Sat 10-5, Sun 11-4roche – 122 West Spain St, Sonoma; 707 935-7115 Open daily 11-6rochioli – 6192 Westside rd, Healdsburg; 707 433-2305Thu-Mon 11-4, Tue-Wed by apptrocking z – Poured at Hudson Street Wineries: 428 Hudson Street, Healdsburg; 707 433-2364 Open daily 11-5rodneY strong vineYArds – 11455 Old redwood Hwy, Healdsburg; 707 431-1533 Open daily 10-5route 128 Winery – 21079 Geyserville Ave, Geyserville; 707 696-0004 Thur-Sun 11-6rued – 3850 Dry Creek rd, Healdsburg; 707 433-3261 Open daily 11-4:30rumpus Cellars – 5 E. Napa St, Sonoma; 707 935-6883 Open daily 12-6russian Hill estate – 4525 Slusser rd, Windsor; 707 575-9428 Open daily 10-4russian river vineyards – 5700 Gravenstein Hwy N, forestville; 707 887-3344 Open daily 11-5sable ridge Winery – 6320 Jamison rd; Santa rosa; 707 542-3138Open by appointment onlywww.WineCountrythisWeek.comsadler-Wells Winery – Poured at Hudson Street Wineries: 428 Hudson Street, Healdsburg; 707 433-2364 Open daily 11-5saini vineyards – 918 ridge View Dr; Healdsburg; 707 799-0272Open by appointment onlysanglier Cellars – 132 Plaza St, Healdsburg; 707 433-6104 Open daily 11-6sAntA rosA vintners sQUAre – 1301-1305 Cleveland Ave, Santa rosa; 707-280-4658 Open daily 9-6sapphire Hill – 55 front Street, Healdsburg; 707 431-1888 Thurs-Mon 11-4:30saracina/Atrea – Poured at Locals: Geyserville Ave & Hwy 128, Geyserville; 707 857-4900 Open daily 11-6sbragia Family – 9990 Dry Creek road, Geyserville; 707 473-2992 Open daily 11-5sCHUg CArneros estAte – 602 Bonneau road, Sonoma; 800-966-9365 Open daily 10-5scribe Winery –2300 Napa rd, Sonoma; 707 939-1858Open by appointment onlyseABisCUit rAnCH – Poured at Sonoma Enoteca: 35 E Napa St; 707 935-1200 Wed-Mon 11-6, Tue seasonalseBAstiAni vineYArds – 389 fourth St. East, Sonoma; 707 933-3230 Open daily 11-5seghesio Winery – 700 Grove St, Healdsburg; 707 433-3579 Open daily 10–5selby Winery – 215 Center St, Healdsburg; 707 431-1288 Open daily 11-5shane Wine Cellars –Novato; 415 342-7926Open by appointment onlysheldon – 1301 Cleveland Ave, Santa rosa; 707 865-6755Thu 4-8 or by apptshone Farm – 1305-A Cleveland Ave, Santa rosa; 707-595-1488Thu-Mon 11-6, Tue-Wed by appointmentsiduri Wines – 981 Airway Court, Santa rosa; 707 578-3882 By appointment daily 10-3silver oak Cellars – 24625 Chianti road, Geyserville; 707 942-7082Mon-Sat 9-5, Sun 11-5, tours by apptsimi WinerY – 16275 Healdsburg Ave, Healdsburg; 707 473-3232 Open daily 10-5simoncini vineyards – 2303 West Dry Creek rd, Healdsburg; 707 433-8811Open by appointment onlyskewis Wines – 57 front St, Healdsburg; 707 431-2160 fri-Mon 11-4sL Cellars – Poured at family Wineries – Kenwood: 9380 Sonoma Hwy 12; 888-433-6555 Open daily 10:30-5small vines Wines – 2160 Green Hill rd, Sebastopol; 707 823-0886Open by appointment onlysodA roCK WinerY – 8015 Highway 128, Healdsburg; 707 433-3303 Open daily 11-5sojourn Cellars –141 E. Napa Street, Sonoma; 707 933-7212Daily 10-5 by appointmentsonoma-Cutrer – 4401 Slusser rd, Windsor, 877 797-3489 Appointments recommended, Thu-Mon 10-4sonomA enoteCA – 35 E Napa St, Sonoma; 707 935-1200Wed-Mon 11-6, Tue hours seasonalsonoma valley Portworks – 613 2nd St, Petaluma; 707 769-5203 Daily 12-5spann vineyards – 111A East Napa Street , Sonoma; 707 933-8343 Daily 12-6st. Anne's Crossing – 8450 Sonoma Hwy 12, Sonoma; 707-598-5200 Daily 11-5st. FrAnCis vineYArds – 100 Pythian rd, Santa rosa; 888-675-WINE Open daily 10-5st. Helena road Winery – 6995 St. Helena road; Santa rosa; 707 538-8674 Open daily 9-5 by appointmentstark at garagiste Healdsburg – 439 Healdsburg Ave, Healdsburg; 707 431-8023 Wed-Mon 12-7, Tue by aptstarlite vineyards – 5511 Highway 128, Geyserville; 707 431-1102Sat & Sun 11-5 or by apptstAtion 1870 – 123 4th St, Santa rosa; 707-623-9619 Tue-Thu 4-10, fri-Sat 4-11stephen & Walker – 243 Healdsburg Ave, Healdsburg; 707 431-8749 Open daily 11-7stone edge Farm –Sonoma; 707 935-6520Open by appointment onlystonestreet Alexander mtn – 7111 Highway 128, Healdsburg; 800 355-8008fri-Mon 11-4:30 or by apptstryker sonoma – 5110 Highway 128; Geyserville; 707 433-1944 Open daily 10:30-5stuhlmuller – 4951 West Soda rock Ln, Healdsburg; 707 431-7745fri-Mon 10-4:30, appts recommendedsunce Winery – 1839 Olivet rd, Santa rosa; 707 526-9463 Open daily 10:30-5super sonoman – Poured at Vinoteca –3358 Coffey Lane, Ste C, Santa rosa; 707-542-3292 Open fri-Sun 11-5taft street Winery – 2030 Barlow Lane, Sebastopol; 707 823-2049 Sat-Sun 11-4:30, Mon-fri 11-4talisman Wine – 13651 Arnold Drive, Glen Ellen; 707 721-1628 Thu-Mon 12-5talty – 7127 Dry Creek rd, Healdsburg; 707 433-8438fri-Mon 12-4 or by appttara Bella – 3701 Viking rd, Santa rosa; 707 544-9049Open by appointment onlyteira Wines – Poured at Hudson Street Wineries: 428 Hudson Street, Healdsburg; 707 433-2364 Open daily 11-5teldeschi Winery – 3555 Dry Creek road, Healdsburg; 707 433-6626 Open daily 12-5terroirs Artisan Wines – 21001 Geyserville Ave, Ste 101, Geyserville; 707 857-4101 Thu-Mon 11:30-6:30thomas george estates – 8075 Westside road, Healdsburg; 707 431-8031 Open daily 11-5three Alarm – Poured at Vine Tastings: 9058 Windsor rd, Windsor; 707 620-0833 Mon-fri 12-8, later on weekendsthumbprint Cellars –102 Matheson, Healdsburg; 707 433-2393 Open daily 11-6. fri & Sat 11-7tin Barn – 21692 Eighth St E. #340, Sonoma; 707 938-5430 fri-Mon 12-5toad Hollow – 409A Healdsburg Ave, Healdsburg; 707 431-8667 Open daily 10:30-5:3081
---
WinerY Listings | Wine CoUntrY tHis WeeKtopel – 125 Matheson St, Healdsburg; 707 433-4116 Open daily 11-7tr eLLiot – Poured at Cellars of Sonoma: 133 4th St, Santa rosa; 707 578-1876 Sun-Wed 10-8:30, Thu-Sat 10-10trecini Cellars – 441 Beaver St, Santa rosa; 707 525-9400Open by appointment onlytrentAdUe – 19170 Geyserville Ave, Geyserville; 707 433-3104 Open daily 10-5tres Hermanas – Poured at family Wineries – Kenwood: 9380 Sonoma Hwy 12; 888-433-6555 Open daily 10:30-5trione Winery – 19550 Geyserville Ave, Geyserville; 707 814-8100 Thur-Sun 10-5truett Hurst – 5610 Dry Creek rd, Healdsburg; 707 433-9545 Open daily 11-5two Amigos – 25 East Napa St, Sonoma Open daily 11-6twomey Cellars – 3000 Westside rd, Healdsburg; 800-505-4850 Mon-Sat 10-5, Sun 11-5ty Caton vineyards – 8910 Sonoma Hwy, Kenwood; 707 833-0526 Open daily 11-6Unti vineyards – 4202 Dry Creek rd, Healdsburg; 707 433-5590Open by appointment onlyUPtick vineyards – 9050 Windsor rd, Windsor; 707 566-9153Tue-Sat 11-6, Sun-Mon by apptvaldez Family Wines – 595 Santana Dr, Cloverdale; 707 894-3710Sat 11-4, fri & Sun by apptvalley of the moon – 777 Madrone rd, Glen Ellen; 707 939-4500 Open daily 10-4:30vérité – 4611 Thomas rd, Healdsburg; 800 273-0177Open by appointment onlyviAnsA WinerY – 25200 Arnold Dr, Sonoma; 707 935-4726 Open daily 10-5vin Couture Lounge – 322 Healdsburg Ave, Healdsburg; 707 431-8161 Thu-Sun 11-10vinoteca – A Collective – 3358 Coffey Ln, Santa rosa; 707-542-3292 fri-Sun 11-5vJB vineYArds & CeLLAr –60 Shaw Ave, Kenwood; 707 833-2300Open dailyvmL russian river Winery – 4035 Westside rd, Healdsburg; 707 431-4404 Open daily 11-5Walt – 380 first St W, Sonoma; 707 933-4440 Open daily 11-6Wattle Creek Winery – 25510 river rd, Cloverdale; 707 894-5166Open by appointment onlyWellington vineyards – 11600 Dunbar rd, Glen Ellen; 707 939-0708 Open daily 11-5Westwood Winery – 11 E. Napa St, Suite 3, Sonoma; 707 935-3246 Mon-fri 11-3, Sat-Sun 11-5White oak vineyards – 7505 Hwy 128, Healdsburg; 707 433-8429 Open daily 10-5Williamson – 134 Matheson St, Healdsburg; 707 433-1500 Open daily 11-7Williams selyem – 7227 Westside rd, Healdsburg; 707 433-6425Open by appointment onlyWillowbrook – Poured at Hudson Street Wineries: 428 Hudson Street, Healdsburg; 707 433-2364 Open daily 11-5WiLson – 1960 Dry Creek road, Healdsburg; 707 433-4355 Open daily 11-5Wind gap Wines – forestville; 707 887-9100Open by appointment onlyWindsor oaks vineyards – 10810 Hillview rd, Windsor; 707 433-4050Open by appointment onlyWindsor vineyards – Poured at Vintage Wine Estates: 308B Center St, Healdsburg; 707 921-2893 Open daily 11-7Wine tree Farm – Poured at family Wineries – Kenwood: 9380 Sonoma Hwy 12; 888-433-6555 Open daily 10:30-5Woodenhead – 5700 river rd, Santa rosa; 707 887-2703 Open Thu-Mon 10:30-4:30xYzin – Poured at Geyser Peak: 22281 Chianti rd, Healdsburg; 707 857-9400 Open daily 10-5Yoakim Bridge – 7209 Dry Creek rd, Healdsburg; 707 433-8511fri-Sun 11-4 or by appointmentzichichi Family – 8626 W. Dry Creek rd, Healdsburg; 707 433-4410 Open daily 11-4:30montereY, sAntA CrUz, sAntA CLArA CoUntiesAhlgren vineyard – 20320 Hwy 9, Boulder Creek; 800 338-6071Sat 12-4 or by appointmentAlfaro Family vnyd & Winery – 420 Hames road, Corralitos; 831 728-5172Sat 12-5 or by appointmentAptos Creek – 520 Nisene Meadws Ct, Aptos; 831 684-1680Open by appointment onlyArmidA WinerY – 103 Stockton Avenue, Capitola; 831 462-1065 Sat-Sun 11-6, M-f 12-6Bargetto Winery – 3535 N. Main St, Soquel; 831 475-2258 ext 14 Open daily 12-5Beauregard – 10 Pine flat road, Bonny Doon; 831 458-WINENov-April: open daily 11-5, May-Oct: Closed TueBig Basin– 830 Memory Lane, Boulder Creek; 831 621-8028Open by appointment onlyBig Basin tasting room – 14598 Big Basin Way, Suite B, Saratoga; 408 564-7346 Mon-Thu 11-5, fri-Sat 11-7Black ridge – 18550 Black rd, Los Gatos; 408 399-6396Open 3rd weekend 11-5 & by appointmentBonny doon vineyard – 328 Ingalls Street, Santa Cruz; 888 819-6789 Open daily 12-5, summer till 6Bruzzone – 433 Sunridge Drive, Scotts Valley; 831 438-3120Open by appointment onlyBUrreLL sCHooL – 24060 Summit rd, Los Gatos; 408 353-6290 Open Thu-Sun 11-5Byington Winery – 21850 Bear Creek road, Los Gatos; 408 354-1111 Tue-Sun 11-5, Winter: Wed-Sun 11-5Calera – 11300 Cienega road, Hollister; 831 637-9170 Open daily 11-4:30Casa de Fruta – 6680 Pacheco Pass Hwy, Hollister; 800 543-1702 Mon-fri 9-5, Sat-Sun 8-7:3082Castillo's Hillside shire – 2215 Liberta Drive, Morgan Hill; 408 776-8200 Sat 1-7, Sun 12-5Cava Wine Bar – 115 San Jose Ave, Capitola; 831 476-2282 Tue-Thu 4-11, fri-Sat 12-12, Sun 3-9Chaine d'or – 140 Sunrise Drive, Woodside; 650 851 8977Open by appointment onlyCinnabar – 14612 Big Basin Way, Saratoga; 408 867-1012 Open daily 11-5, fri 11-8Clos LaChance – 1 Hummingbird Ln, San Martin; 800 ITS-WINE Open daily 11-5Clos tita – 4 Kendall Lane, Santa Cruz; 831 439-9235Open by appointment onlyCooper-garrod – 22645 Garrod rd, Saratoga; 408 867-7116 Mon-fri 12-5 Sat-Sun 11-5Copious Winery – 427 Swift Street, A, Santa Cruz; 831 425-WINE fri 12-5, Sat & Sun 12-6Creekview vineyards – 12467 Creekview Ct, San Martin; 408 686-0534 3rd weekend 11-5Creekview vnyds & sherman Cellars tasting rm – 40 Post St, San Jose; 408 288-WINE Wed-Sun 11-5david Bruce Winery – 21439 Bear Creek rd, Los Gatos; 408 354-4214 Mon-fri 12-5, Sat-Sun 11-5derose vineyards – 9970 Cienega Valley road, Hollister; 831 636-9143Sat-Sun 11-4 or or by appointmentdomenico Wines – 1697 Industrial rd, San Carlos; 650 593-2335 Open daily 12-5enz – 1781 Limekiln road, Hollister; 831 637-6443By appointment onlyequinox Champagne Cellar – 427-C Swift St, Santa Cruz; 831 338-2646; 831 423-3000 fri-Sun 12-5Fernwood Cellars – 7137 redwood retreat, Gilroy; 408 848-0611 3rd weekend of the month, 12-5Flint Wine Cellars – 13160 Cienega road, Hollister; 831 636-8986Open by appointment onlyFortino Winery – 4525 Hecker Pass Hwy, Gilroy; 408 842-3305 Tue-Sat 10-5, Sun 11-5guerra Cellars – 500 John Smith rd, Hollister; 831 902-9106Weekends July thru SeptGUGLIELMO WINERYWith three generations of grape growing and wine making,we continue to produce a family of award-winning wines.Daily 10-5, closed major holidays1480 East Main Avenue, Morgan Hill408-779-2145 • guglielmowinery.comHallcrest vineyards – 379 felton Empire rd, felton; 831 335-4441 Open daily 12-5Heart o' the mountain – 5610 Scotts Valley Dr, Scotts Valley; 831 345-6133Open by appointment onlyHecker Pass Winery – 4605 Hecker Pass Hwy, Gilroy; 408 842-8755 Open daily 10-5Hillcrest terrace – 429B Ingalls Street, Santa Cruz; 831 426-1500Sat 12-5, Sun 2-5 & by appointmentHunter Hill – 7099 Glen Haven rd, Soquel; 831 465-9294Sat-Sun 11-4 or by apptJ. LoHr vineYArds & Wine – 1000 Lenzen Ave, San Jose; 408 918-2160 Open daily 10-5Jason-stephens – 11775 Watsonville rd, Gilroy; 408 846-8463 Thur-Mon 12-5Kirigin Cellars – 11550 Watsonville rd, Gilroy; 408 847-8827 (3855 Day rd for events) Open daily 10-5Kings mountain – 187 Kings Mountain road, Woodside; 650 851-7551Open by appointment onlyLa Honda – 2645 fair Oaks Ave, redwood City; 650 366-4104Sat 11-5 or by apptLa nebbia – 12341 San Mateo road, Half Moon Bay; 650 726-9463 Open daily 10-5Léal vineyards – 300 Maranatha Drive, Hollister; 831 636-1023 Open daily 11-5LomA PrietA WinerY – 26985 Loma Prieta Way, Los Gatos; 408 353-2950Sat-Sun 12-5 or by apptmartin ranch – 6675 redwood retreat road, Gilroy; 408 842-9197 Open third weekend of each month 12-4mesa del sol esate – 45803 Arroyo Seco rd, Greenfield; 831 624-8527Open by appointment onlymichael martella – 17287 Box 103 Skyline Blvd, Woodside; 650 851-6777Open by appointment onlymichaud/martella tasting room – 14598 Big Basin Way, Saratoga; 408-647-2579 Thu & Sun 12-6, fri-Sat 12-8mJA vineyards – 328A Ingalls St, Santa Cruz; 831 421-9380 Open daily 12-8mJA vineyards – 24900 Highland Way, Los Gatos (Sta Cruz Mtns); 408 353-6000 Open daily, Mon-Thu 12-5, fri-Sun 12-6morgan Hill Cellars – 1645 San Pedro Ave, Morgan Hill; 408 779-7389 Tue-Sun 10-5mountain Winery – 14831 Pierce road, Saratoga; 408 741-2822 Sat-Sun 12-5muccigrosso – 21450 Bear Creek rd, Los Gatos; 408 354-0821Open by appointment onlymuns vineyard – Los Gatos; 408 515-2663Open by appointment onlynaumann vnyds – 16505 Montebello rd, Cupertino; 408 867-7871Special events & by appointmentnicholson vnyds – 2800 Pleasant Valley rd, Aptos; 831 724-7071 Sat 12-4odonata – 334A Ingalls Street, Santa Cruz; 831 566-5147 1st Sat of the month 12-5organic Wine Works – 379 felton Empire rd, felton; 800-OWW-WINE Open daily 12-5osocalis distillery – 5579 Old San Jose rd, Soquel; 831 477-1718Open by appointment onlyP&m staiger vineyard –1300 Hopkins Gulch rd, Boulder Creek; 831 338-0172Open by appointment onlyPietra santa – 10034 Cienega road, Hollister; 831 636-1991Wed-Sun 11-5 or by appointmentsign up for our email newsletter at www.WineCountrythisWeek.com
---
Wine CoUntrY tHis WeeK | WinerY ListingsPelican ranch – 100 Kennedy Drive, #102, Capitola; 831 426-6911 fri-Sun 12-5Picchetti Winery – 13100 Montebello rd, Cupertino; 408 741-1310 Open daily 11-5Pinder – 165 Cristich Lane, Campbell; 877-684-2601Sat 11-4 or by appointmentPleasant valley – 600 Pleasant Valley rd, Aptos; 831 728-2826Summer Apr-Oct, Sat 12-4 or by appointmentPoetiC CeLLArs – 5000 rodeo Gulch road, Soquel; 831 462-3478fri-Sun 12-5 or by apptrapazzini Winery – 4350 S. Monterey Hwy, Gilroy; 800 842-6262 Mon-fri 9-5, Sat 9-6, Sun 10-6regale Winery – 24040 Summit road, Los Gatos; 408 353-2500 fri 2-6, Sat-Sun 12-5ridge vineyards – 17100 Montebello road, Cupertino; 408 867-3233Sat-Sun 11-4 & by apptriver run – 65 rogge Lane, Watsonville; 831 726-3112Open by appointment onlyroudon -smith – 18 Hanger Way Ste B-C, Watsonville; 831 438-1244Sat 12-5 or by appointmentsanta Cruz mtn vnyd – 334A Ingalls Street, Santa Cruz; 831 426-6209 Wed-Sun 12-5sarah's vineyard – 4005 Hecker Pass Hwy, Gilroy; 408 847-1947 Open daily 12-5satori Cellars – 2100 Buena Vista Avenue, Gilroy; 408 848-5823 Sat-Sun 12-5savannah-Chanelle vnyds – 23600 Congress Springs rd, Saratoga; 408 741-2934 Open daily 11-5silver mountain – Silver Mountain rd, Miller Cutoff; 408 353-2278 Sat 12-5silver mountain – 402 Ingalls St, Ste 29, Santa Cruz; 831 466-0559 Thu-Sun 12-5solis – 3920 Hecker Pass Hwy, Gilroy; 408 847-6306 Open daily 12-5sones Cellars – 334 B Ingalls St, Santa Cruz; 831 420-1552fri-Sun 12-5 or by apptsoquel vineyards – 8063 Glen Haven, Soquel; 831 462-9045 Sat-Sun 11-4storrs Winery – 303 Potrero St. #35, Santa Cruz; 831 458-5030 Open daily 12-5summerayne – 770 Limekiln road, Hollister; 831 902-5638Open by appointment onlysycamore Creek – 12775 Uvas road, Morgan Hill; 408 779-4738 Thu, fri, Mon 12-5, Sat & Sun 11-5team zin – 830-3 Jury Court, San Jose; 408 445-25081st Sun of the monthtestarossa Winery – 300-A College Ave, Los Gatos; 408 354-6150 Open daily 11-5thomas Fogarty Winery – 19501 Skyline Blvd, Woodside; 650 851-6777 Wed-Sun 11-5thomas Kruse Winery – 3200 Dryden Ave, Gilroy; 408 842-7016 Tue-Sun 12 -5travieso Winery – 165 Cristich Lane, #f, Campbell; 650 248-5641 Saturdays 11-4 & by appt, 3rd Sat 11-5trout gulch – 427 Swift St, Ste C, Santa Cruz; 831 471-2705Open by appointment onlytwilight Cellars – 110 Orchard Hill rd, San Juan Bautista; 805-226-9907Call for hoursvilla del monte Winery – 23076 Summit rd, Los Gatos; 888 788-4583Open one weekend/month or by apptvinocruz – 725 front St, #101, Santa Cruz; 831 426-8466 Mon-Thu 11-7, fri-Sat 11-8, Sun 12-6vino Prima – 55 Municipal Wharf, Ste B, Santa Cruz; 831 426-0750 Mon-Tue 2-8, Wed-fri 2-10, Sat 12-10, Sun 12-8vino tabi – 334C Ingalls Street, Santa Cruz; 831 426 1809 Wed-Thu 12-6, fri-Sat 12-9, Sun 12-6Windy oaks estate – 550 Hazel Dell rd, Corralitos; 831 786-9463Sat 12-5 & by apptWoodside vineyards – 205 Constitution Dr, Menlo Park; 650 851-3144Open by appointment onlyzayante vineyards – 420 Old Mount rd; felton; 831 335-7992Special events & by appointmentCARMEL / CARMEL VALLEYBernardus – 5 W. Carmel Valley road, Carmel Valley; 800 223-2533 Open daily 11-5Blair estate – Paseo San Carlos Courtyard, between Ocean & 7th; Carmel Valley; 831 625-WINEOpen dailyBoekenoogen – 24 West Carmel Valley road, Carmel Valley; 831 659-4215 Open daily 11-5Boëté vineyards – 7156 Carmel Valley rd, Carmel Valley; 831 625-5040 Open daily 12-5Caraccioli Cellars – Dolores, between Ocean & 7th; Carmel Valley; 831 622-7722 Mon-Thu 2-7, fri-Sat 11-10, Sun 11-7Chateau Julien Wine estate – 8940 Carmel Valley road, Carmel Valley; 831 624-2600 Mon-fri 8-5 Sat-Sun 11-5Chateau sinnet – 13746 Center Street, Carmel Valley; 831 659-2244 Open daily 12-6Chesebro Wines – 19 East Carmel Valley rd, Carmel Valley; 831-659-2125 fri-Mon 12-5Chock rock vnyd – 1 Del fino Place, Carmel Valley; 831 659-7625 Thu-Mon 11:30-5:30Cima Collina – 19-A East Carmel Valley rd, Carmel Valley; 831 620-0645 Open daily 12- 6dawn's dream – 19-A East Carmel Valley rd, Carmel Valley; 831 659-2649 Open daily 1-6, Sat & Sun 12- 6Figge Cellars – at Winefield Gallery: Dolores St between 7th & Ocean, Carmel Valley; 831 384-4149 Wed-Sun 2-8galante vineyards – Dolores, between Ocean & 7th; Carmel Valley; 831 624-3800 Open daily 12-6 (closed until spring)georis Winery – 4 Pilot road, Carmel Valley; 831 659-1050 Mon-Thu 11-4:30, fri-Sun 11-6Heller estate organic vineyards – 69 W. Carmel Valley road, Carmel Valley; 800-625-8466 Open daily 11-5Holman ranch – 19 East Carmel Valley rd, Carmel Valley; 831-659-2640 fri-Sun 11-6Joullian vineyards – 2 Village Drive Suite A, Carmel Valley; 866 659-8101 Open daily 11-5Joyce vineyards – 19 East Carmel Valley rd, Carmel Valley; 831-659-2885 fri-Sun 11-5Look for us on Facebook and become a Fan!otter Cove Wines – at Terra Nove Wine Bar: 315 Calle Principal, Carmel Valley; 831 320-3050 Open daily 12-5Parsonage village vineyard – 19 East Carmel Valley road, Carmel Valley; 831 659-7322 Open daily 11-5robert talbott vineyards – 53 West Carmel Valley rd, Carmel Valley; 831 659-3500 Mon-fri 11-4:30, Sat-Sun 11-5scheid vineyards Wine Lounge – 7th & San Carlos, Carmel; 831-656-9463 Open daily 11-7silvestri vnyds – (Opening March 1) 19 East Carmel Valley road, Carmel Valley; 831 659-1700 Thu-Sun 11-5southern Latitudes Wines - Lincoln St. between Ocean & 6th, Carmel Valley; 831-622-7652 Wed-Sun 11-6tudor Wines - in Andre Bouchee, Between Ocean & 7th, Carmel by the Sea; 831-224-2116 fri-Sun 12-5twisted roots – 12 Del fino Place, Carmel Valley fri-Sun 12-5Wrath Wines – Carmel Plaza, corner of Ocean Ave. and Mission St, Carmel; 831 678-2212 Mon-Sat 10-6, Sun 11-5MONTEREYA taste of monterey – 700 Cannery row, Ste KK, Monterey; 831 646-5446 Open daily 10-6Bargetto Winery – 700 Cannery row Suite G, Monterey; 831 373-4053 Mon-fri 11-6, Sat & Sun 11-7Baywood Cellars – 381 Cannery row Suite C, Monterey; 831 645-9035 Open daily 12-6Chateau sinnet – 1184 Broadway, Seaside; 831 394-6090Open by appointment onlyFigge Cellars – 3348 Paul Davis Drive Suite 101, Marina; 831 384-4149Mon-fri by appointment onlymcintyre vineyards – in Hyatt regency: 1 Old Golf Course rd Ste 1, Monterey; 831 649-9463 Mon-Wed 9-7, Thu-Sun 8-8Pierce ranch – 499 Wave Street, Monterey; 831 372-8900 Thu-Mon 12-6:30, fri-Sat 12-8ventana vineyards – 2999 Monterey-Salinas Hwy, Monterey; 831 372-7415 Open daily 11-5Wine from the Heart tasting rm – 241 Alvarado St, Monterey; 831 641-9463 Open daily 12-8SALINAS VALLEYA taste of monterey – 127 Main Street, Salinas; 831 751-1980Mon-Wed 11-5, Thur-Sat 11-6, Closed SunBoekenoogen – Santa Lucia Highlands, Salinas; 831 675-3549 Sat-Sun 12-4de tierra –740 Airport Blvd, Salinas; 831 754-3176Open by appointment onlyHAHn sLH estAtes – 37700 foothill road, Soledad; 831 678-4555 Mon-fri 11-4, Sat-Sun 11-5Hammond vnyds– 655 river road, Salinas; 831 455-8173 Sat-Sun 11-5manzoni estate – 30981 river road, Soledad; 831 675-3398 fri-Sun 11-5marilyn remark – 645 river road, Salinas; 831 455-9310 Sat-Sun, Holidays 11-5mesa del sol vineyards & retreat – 45803 Arroyo Seco rd,Greenfield; 831 624-8527 Open by appt onlyParaiso vineyards – 38060 Paraiso Springs road, Soledad; 831 678-0300 Sat-Sun 11-5, Mon-fri 12-4Pessagno Winery – 1645 river road, Salinas; 831 675-9463 Mon-Thu 11-4, fri-Sun 11-5ray Franscioni – 132720 river road; Gonzales; 831 455-1096Open by appointment onlyrobert talbott vineyards – 1380 river road, Salinas; 831 675-0942 Thu-Mon 11-5scheid vineyards – 1972 Hobson Avenue, Greenfield; 831 386-0316 Open daily 11-5sycamore Cellars – 45185 Arroyo Seco road, Greenfield; 831 674-5768 Sat- Sun 11-5ventana vineyards – 38740 Los Coches road, Soledad; 831 678-2900 Weekends & Most Holidays 11-5Wrath Wines – 35801 foothill road, Soledad; 831 678-2212 Thu-Mon 11-5LAKe/mendoCino CoUntiesTASTE MORGANFeaturing the Wines of Morgan Winery and Lee Family FarmIn the Crossroads Carmel, rio road at Highway 1 / CarmelOpen 11:00 a.m. to 6:00 p.m.(831) 626-3700 / morganwinery.comAlbertina Wine Cellars – 4601 road 110, Hopland; 707 744-1475Open by appointmentBarra of mendocino – 7051 N. State Street, redwood Valley; 707 485-0322 Open daily 10-5Beaver Creek vnyds – 22000 Hwy 29, Middletown; 707 987-1069Open daily11-8Bell Hill vineyards – 6725 Jacobsen, Kelseyville; 707 490-4400 Thurs-Sun, Winter 12-6, Summer 1-7Brassfield estate – 10915 High Valley rd, Clearlake Oaks; 707 998-1895Daily 10-5, Weekends by appt. in WinterBreggo Cellars – 11001 Highway 128, Boonville; 707 895-9589 Open daily 11-5Brutocao Cellars – 7000 Hwy 128, Philo; 707 895-2152 Open daily 10-5Brutocao Cellars – 13500 Hwy 101, Hopland; 707 744-1664 Open daily Summer 10-6, Winter 10-5Campovida – 13601 Old river road, Hopland; 707 744-8797Open by appointment83
---
WinerY Listings | Wine CoUntrY tHis WeeKCeago vinegarden – 5115 E. Hwy 20, Nice; 707 274-1462 Open daily 10-5Cesar toxqui Cellars – 13440 S. Hwy 101, Hopland; 707 744-1071 Wed-Sun 11-5Chiarito vineyards – 2651 Mill Creek rd, Ukiah; 707 462-7146Open by appointment onlyClaudia springs – 1810 Hwy 128, Philo; 707 895-3993 fri-Mon 11-5Cougar's Leap – 9300 Seigler Springs rd. N., Kelseyville; 707 279-0651May-Oct, fri-Sun 11-5pm or by apptdemuth Winery – 16125 Deer Meadows rd, Booneville; 707 895-3729Open by appointmentdogwood Cellars – 13500 Hwy 101, Ste H, Hopland; 707 743-0301Sat-Sun 11-5, Mon-fri by apptdrew Family – 9000 Hwy 128, Philo; 707 877-1771 Thu-Mon 11-5duncan Peak vineyards – 14500 Mtn. House road, Hopland; 707 744-1493Open by appointmentdunwood vineyards – 2399 N. State St, Ukiah; 707 462-2985Open by appointmenteden Crest vineyards & Winery – 2550 Big Valley road, Kelseyville; 707 279-2987 Open by appointmentelke vineyards – 12351 Hwy 128, Booneville; 707 246-7045 fri-Mon 11-5esterlina – 1200 Holmes ranch road, Philo; 707 895-2920Open by appointment onlyFoursight Wines – 14475 Highway 128, Boonville; 707 898-2889 fri-Mon 10-4:30Frey – 14000 Tomki rd, redwood Valley; 707 485-5177Mon-fri 10-5, by appointmentgermain-robin – P. O. Box 1059, Ukiah; 707 462-0314Open by appointment only Mon-fridgiuseppe Wines, neese vnyds – 401 School Way, redwood Valley; 707 485-8458 Open by appointment onlygoldeneye Winery – 9200 Hwy 128, Philo; 707 895-3202 Open daily 11-4graziano Family of Wines – 13251 S.Hwy 101; Suite 3, Hopland; 707 744-8466 Open daily 10-5greenwood ridge vineyards – 5501 Hwy 128; Philo, 707 895-2002 Open daily 10-5gregory graham Wines– 13633 Point Lakeview road, Lower Lake; 707 995-3500 Sat & Sun 11-5Handley Cellars – 3151 Hwy 128, Philo; 707 895-3876 Summer 10-6, Winter 10-5Harmonique Wines – 1810 Hwy 128, near mile marker 16, Philo; 707 895-3993 fri-Mon 11-5Hawk and Horse – 13048 Highway 29, Lower Lake; 707 994-0910Open by appointment onlyHusch vineyards – 4400 Hwy 128, Philo; 1-800-544-8724 Open daily 10-5JAxon KeYs – 10400 S. Hwy 101, Hopland; 877-462-0666 Open daily 10-5Jeriko estate – 12141 Hewlitt & Sturtevant rd, Hopland; 707 744-1140 Sum 10-5, Win 11-4Jim Ball vineyards – 4741 Hwy 128, Philo; 707 895-3623 Open daily 11-5Kelseyville Wine Co. –5627 Gaddy Lane, Kelseyville; 707 279-2995By appointmentLake Country Wine studio – 9505 Main St, #1, Upper Lake; 707 275-8030 Thu-Sun, Sum 1-7, Win 12-6Langtry estate – 21000 Butts Canyon rd, Middletown; 707 987-2385 Open daily 11-5Le vin Winery – 33151 Hwy. 128, Yorkville; 707 894-2304Open by appointment onlyLonder vineyards – 14051 Highway 128, Boonville; 707 895-9001 Thu-Mon 11-5manoir girard Cellars – 12601 Ell river rd; Potter Valley; 707 391 WINE (9463)Open by appointment onlymaple Creek Winery – 20799 Hwy 128; Yorkville; 707 895-3001 Open daily 10:30-5mariah vineyards – 33525 Mountain View rd, Point Arena; 707 882-2243Open by appointmentmasút vnyd & Winery – 1301 reeves Canyon rd, redwood Valley; 707 485-5466Open by appointmentmcdowell valley – 13380 S. Hwy 101, Hopland 707 744-8911 Mon-fri 11-5, Sat-Sun 10-5mcFadden vineyard – 13275 S. Hwy 101 Suite #5, Hopland; 707 744-8463 Open daily 10-5mcnab ridge Winery – 13441 S. Hwy 101; Hopland; 707 744-1986 Open daily 10-5meyer Family Cellars – 19750 Hwy 128, Yorkville; 707 895-2341 Open daily 10-5milano Family Winery – 14594 S. Hwy 101, Hopland; 707 744-1396Open daily10-5moore Family Winery – 11990 Bottle rock road, Kelseyville; 707 279-9279 fri - Sun 11-5mt. Konocti growers Winery – 2550 Big Valley road, Kelseyville; 707 279-4213Open by appointmentnavarro vineyards – 5601 Hwy 128, Philo; 707 895-3686 Open daily 10-5nelson Family – 550 Nelson ranch road; Ukiah Open daily 10-5noggle vnyds & Winery – 700 Old Long Valley road, Clearlake Oaks; 707 998-0319Sat-Sun 11-5 or by apptoster – 13501 Tomki road, redwood Valley; 707 485-5257Open by appointmentPacific star – 33000 North Highway 1, fort Bragg; 707 964-1155 Open daily 11-5Parducci Wine Cellars – 501 Parducci rd, Ukiah; 1-888-362-9463 Open daily 10-5Paul dolan vnyds – 501 Parducci rd, Ukiah; 1-888-362-9463 Open daily 10-5Phillips Hill estates – 8627 Hwy 128, Philo; 707 895-2209 Open daily 11-5Philo ridge – 14125 Hwy 128, Philo; 707 489-2303Sat-Sun by appointmentPloyez Winery – 11171 Highway 29, Lower Lake; 707 994-2106 Open daily 11-5rivino – 4101 Cox Schrader rd, Ukiah; 707 293-4262 Tue-Sun 1-5robledo – 2040 Soda Bay rd, Lakeport; 707 263-0100 fri-Sun 10-5roederer estate – 4501 Hwy 128, Philo; 707 895-2288 Open daily 11-5rosa d'oro – 3915 Main Street, Kelseyville; 707 279-0483 Wed-Sun 11-5rosati Family Wines – 21500 South Highway 101, Hopland; 707 894-3683 Open daily 10-5saracina vineyards – 11684 South Hwy 101, Hopland; 707 744-1671 Open daily 11-5scharffenberger Cellars – 8501 Hwy 128, Philo; 707 895-2957 Open daily 11-5shannon ridge – 13151 E. State Highway 20, Clearlake Oaks; 707 998-9400 Daily 10:30-5shed Horn Cellars – 21108 Calistoga St, Middletown; 707 291-3629Thu-Sat 11-5 or by apptsilversmith vnyds – 3700 A rd J, redwood Valley; 707 485-1196 Sum: fri-Sun, Win: Sat-Sun, 11-5 or by appointmentsiP! mendocino Wine Bar – 13420 South Hwy 101, Hopland; 707 744-8375 Open daily 11-5six sigma ranch and Winery – 13372 Spruce Grove road, Lower Lake; 707 994-4068 Daily 11-4:30sketchbook Wines – 501 Parducci rd, Ukiah; 1-888-362-9463 Open daily 10-5snows Lake vnyd –Lower Lake; 707 994-9444Open by appointmentsol rouge – P.O. Box 859, Kelseyville; 707 279-9000Open by appointmentstandish Wine Co. – 5101 Hwy 128, Philo707 895-9213 Daily 10-5steele Wines – 4350 Thomas Drive, at Hwy 29, Kelseyille; 707 279-9475 Mon-Sat 11-5terra sávia – 14160 Mountain House rd, Hopland; 707 744-1114 Tue-Sun 10-5terrill Cellars – 16175 Main Street, Lower Lake; 707 252-8444 Wed, fri-Sun 11-5testa vineyards – 6400 North State Street, Calpella; 707 485-7051Open by appointmenttoulouse vineyards – 8001 Hwy 128, 707 895-2828; Philo Open daily 11-5tulip Hill Winery – 4900 Bartlett Springs rd, Nice; 707 274-9373 Open daily 10-5vigilance Winery – 13888 Point Lakeview rd, Lower Lake; 707 994-9656 Daily 11-5villa La Brenta – 1780 Highway 53, Clearlake; 707 994-4000 Tue-Sun 10-5vin de tevis – 51161 Covelo rd, Dos rios; 707 983-8433Open by appointment onlyWeibel Winery – 13275 So Hwy 101, Ste 1, Hopland; 707 744-2200 Open Daily 10-5Whaler vineyards – 6200 E Side Capella rd, Ukiah; 707 462-6355Open by appointment onlyWildhurst vineyards – 3855 Main St, Kelseyville; 800 279-4302 Open daily 10-5Yorkville Cellars – 25701 Hwy 128, Yorkville; 707 894-9177 Open daily, Winter 11-5, Summmer 11-6zinA HYde CUnningHAm – 14077 Hwy 128, Boonville; 707 895-9462 Open Daily 10-5sUisUn vALLeYBlacksmith Cellars – poured at Suisun Valley Wine Coop Thu-Sun 12-5BLUe viCtoriAn vineYArds – 5071 Suisun Valley Blvd., fairfield; 707 422-8025 Mon-fri 10-5, Sat & Sun 10-6green valley Cellars – 1635 Mason rd, Green Valley; 707 864-2089Thu-Sun 11-5 or by appointmentKing Andrews vnyd – poured at Suisun Valley Wine Coop Thu-Sun 12-5Ledgewood Creek Winery – 4589 Abernathy road, Suisun City; 707 426-4424 Daily 10-5mangels vineyards – poured at Suisun Valley Wine Coop Thu-Sun 12-5mankas Hills vineyards – 4185 Chadbourne road, Suisun Valley; 707 480-7334Open by appointment onlytenbrink vineyards – 1793 rockville rd, Suisun Valley; 800-692-0723Open by appointment onlyrock Creek vineyard – 4610 Green Valley rd, Green Valley; 707 864-2471Open by appointment onlysuisun valley Wine Coop – 4495 Suisun Valley road, Suisun Valley; 707 864-3135 Thu-Sun 12-5sunset Cellars – poured at Suisun Valley Wine Coop Thu-Sun 12-5vezer tAsting room – 2522 Suite V Mankas Corner rd, fairfield; 707 429-3958 Mon-fri 10-5, Sat-Sun 10-6vezer FAmiLY PrivAte rAnCH– 707 422-8025Tours & tasting by appointment onlyWinterhawk Winery – poured at Suisun Valley Wine Coop Thu-Sun 12-5Wooden valley Winery – 4756 Suisun Valley road, Suisun Valley; 707 864-0730 Daily 11-5YoLo CoUntYBerryessa gap – 27260 Hwy 128, Winters; 530 795-3201Tue-fri 12-4 or by appointmentBerryessa gap – 15 Main Street, Winters; 530 795-3201 Thurs 4:30-8:30, fri 12-8:30, Sat 11-8:30, Sun 11-4Bogle vineyards – 37783 County rd, Clarksburg; 916 744-1139 Sat-Sun 11-5, Mon-fri 10-California Cellars – 15511 Isleton road, Isleton; 916 777-5747Open by appointment onlyCapay valley vineyards – 13757 Hwy 16, Brooks; 530 796-4110 Open Sat-Sun 12-5, Weekdays by appointment84 www.WineCountrythisWeek.com
---
Wine CoUntrY tHis WeeK | WinerY ListingsCarvalho Family – poured at the Old Sugar Mill, 35265 Willow Ave, Clarksburg; 916 744-1625 Wed-Sun 11-5Heringer estates – poured at the Old Sugar Mill, 35265 Willow Ave, Clarksburg; 916 744-1227 Thu-Sun 11-5Purple Pearl vineyards – 9177 Currey rd, Dixon; 707 693-1607 Thu-Sun 12-5river grove Winery – 52183 Clarksburg rd, Clarksburg; 916 744-9000Open by appointment onlyrominger West – 4602 Second Street, Davis; 530 747-2044 Mon-Sat 10-6scribner Bend vnyds – 9051 river rd, Sacramento; 916 744–1803 fri-Sun 11-4:30six Hands Winery – 13783 Isleton rd, Walnut Grove; 916 776-2053Open by appointment onlysolomon Wine Co. – poured at the Old Sugar Mill, 35265 Willow Ave, Clarksburg; 916 744 1131 fri 1-5, Sat-Sun 11-5three Wine Company– poured at the Old Sugar Mill, 35265 Willow Ave, Clarksburg; 707 933-9752 fri-Sun 11-5todd taylor Wines – poured at the Old Sugar Mill, 35265 Willow Ave, Clarksburg; 916 744-1120 Sat & Sun 11-5turkovich Family Wines– 304 railroad Ave, Winters; 530 795-3842 Thu 12-6, fri & Sat 12-9,Sun 12-5Wilson vineyards – Clarksburg; 916 744-1456Open by appointment onlyBAY AreA/LivermoreBent Creek Winery – 5455 Greenville rd, Livermore; 925 455-6320 fri-Sun 12-4:30Big White House – 6800 Greenville rd, Livermore; 925 449-1976 Sat-Sun 12-4:30Bodegas Aguirre – 8580 Tesla rd, Livermore; 925 606-0554 Sat-Sun 12-4Cedar mountain – 7000 Tesla rd, Livermore; 925 373-6636 Sat-Sun 12-4Charles r vnyds – 8195 Crane ridge rd, Livermore; 925 454-3040 fri-Sun 12-4:30Chouinard vnyds – 33853 Palomares rd, Castro Vly; 510 582-9900Sat-Sun 12-5 (and most holidays)Concannon – 4590 Tesla rd, Livermore; 925 456-2505 Open daily 11-4:30Crooked vine – 4948 Tesla rd, Livermore; 925 449-0458 Mon-Sat 11-4:30, Sun 12-4:30Cuda ridge Wines – 5385 East Ave, Livermore; 510 304-0914fri-Sun 12-4:30 & by appointmentdarcie Kent – poured at Concannon, 4590 Tesla rd, Livermore; 925 456-2505 Open daily 11-4:30dashe Cellars – 55 4th St, Oakland; 510 452-1800Thu-Sun 12-6, Mon by appteagle ridge vineyard – 10017 Tesla rd, Livermore; 925 443-3375 Sat-Sun 12-4:30eckert estate – 5963 Graham Court, Ste D, Livermore; 925-371-8606fri-Sun 12 -5 & by appointmentel sol – 8626 Lupine Way, Livermore; 925 606-1827 fri-Sun 12-5elliston vineyards – 463 Kilkare, Sunol; 925 862-2377Sat-Sun 11-5 or by appten gArde – poured at Tenuta, 633 Kalthoff Commons, Livermore; 707-836-3395Sat-Sun 12-5pmFenestra Winery – 83 Vallecitos rd (Hwy 84), Livermore; 925 447-5246 fri-Sun 12-5gArrÉ vineYArd & WinerY – 7986 Tesla rd, Livermore; 925 371-8200 fri-Sun 11:30-5Hidden Creek – 5937 Graham Ct, Suite B, Livermore; 925 371-2424 Sat-Sun 12-4:30John Christopher – 25 So. Livermore Ave, Ste 103, Livermore; 925-456-WINE Thu-Sun 12-6La rochelle – 5443 Tesla rd, Livermore; 925 243-6442 Open daily 12-4:30Las Positas vineyards – 1828 Wetmore rd, Livermore; 925 449-9463 fri-Sun 12-5Lavish Laines Winery – 2481 Buena Vista Ave, Livermore; 925 321-0373 fri-Sun 11-7Les Chenes – 5562 Victoria Lane, Livermore; 925 373-1662 Weekends 12-4:30Little valley Winery – 739 Main St, Pleasanton Thu-Sat 12-6, Sun 12-5Longevity Wines – 2271 South Vasco rd, Ste B, Livermore, 925-443-WINE fri-Sat-Sun 12-5marr Cellars – Poured at The Singing Winemaker, 5143 Tesla rd, Livermore; 925 606-WINE fri-Sun 12-5mcgrail vineyards – 5600 Greenville rd, Livermore; 925 215-0717fri-Mon 12-4:30 & by appointmentmiramont estate – Poured at Tesla Vintners, 5143 Tesla rd, Livermore; 925 606-WINE fri-Sun 12-524837 E. Milton rd, Linden; 209 887-3178 By appointment onlymitchell Katz Winery – 1188 Vineyard Ave; Pleasanton; 925 931-0744 Thu-Sun 12-5murietta's Well – 3005 Mines rd; Livermore; 925 456-2390 May-Oct Open daily 11-4:30, Nov-Apr Wed-Sun 11-4:30nottingham Cellars – 2245 South Vasco rd, Livermore; 925 294-8647 fri 2-6, Sat-Sun 12-4:30occasio Winery – 2245B South Vasco road, Livermore; 925 371-1987 fri-Sun 12 to 5Page mill– 1960 S. Livermore Ave, Livermore; 925 456-7676 12-4:30fri-Sunday & by appointmentred Feather – 5700 Greenville rd, Livermore; 925 449-1871 Sat-Sun 11-5, Mon-fri 12-4retzlaff vineyards – 1356 S. Livermore Ave, Livermore; 925 447-8941 Tue-fri 12-2, Sat-Sun 12-4:30rios Lovell estate Winery – 6500 Tesla rd, Livermore; 925 443-0434 Wed-fri 11-3, Sat-Sun 11-5rodrigue molyneaux – 3053 Marina Ave, Livermore; 925 447-4280 Sat-Sun 12:30-5ruby Hill Winery – 400 Vineyard Ave, Pleasanton; 925 931-WINE Open daily 11-5:30ryhan estate vineyards – 5385 East Ave, Livermore; 408-209-9498 fri-Sun 12-5steven Kent – 5443 Tesla rd, Livermore; 925 243-6440 Open daily 12-4:30stony ridge Winery – 4948 Tesla rd, Livermore; 925 449-0458 Mon-Sat 11-4:30, Sun 12-4:30tamas estate – 5565 Tesla rd, Livermore; 925 456-2380 Open daily 12-4:30tenuta vineyards – 633 Kalthoff Common, Livermore; 925 960-1006fri-Sun 12-6 or by appt.the singing Winemaker – 5143 Tesla rd, Livermore; 925 606-WINE fri-Sun 12-5thomas Coyne Winery – 51 E. Vallecitos rd (Hwy 84), Livermore; 925 373-6541 Sat-Sun 12-5Wente vineyards estate tasting room – 5565 Tesla rd, Livermore; 925 456-2305 Open daily 11-4:30Wente vineyards tasting room – 5050 Arroyo rd, Livermore; 925 456-2405 Open daily 11-6:30Westover vineyards – 34329 Palomares rd, Castro Valley; 925 537-3932 Sat-Sun 12-5White Crane Winery – 5405 Greenville rd, Livermore; 925 455-8085 Thu-Mon 12-4:30Wood Family Winery – 7702 Cedar Mountain rd, Livermore; 925 606-7411Open by appointmentALAmedAr&B Cellars – 1835 San Jose Ave, Alameda; (510) 749-8477 Wed-Sun 12-9rock Wall Wine Co – 2301 Monarch St, Alameda; (510) 522-5700 Wed-Sun 12-6rosenblum Cellars – 2900 Main St #1100, Alameda; 800-559-8069 Daily 11-6st. george spirits – 2601 Monarch St, Alameda; (510) 769-1601 Wed-Sat 12-7, Sun 12-5treAsUre isLAndBodega Wine estates – 751 13th St at Ave M, Treasure Island, San francisco fri, Sat & Sun from 1-6Fat grape Winery – 1080 Avenue M, Treasure Island, San francisco; 415-388-8318 Tue-Sun 12-5:30Just Joshin – 751 13th Street at Avenue M, Treasure Island, San francisco fri, Sat, Sun from 1-6Knightswood – 751 13th Street at Avenue M, Treasure Island, San francisco fri, Sat, Sun 1-6stein Family Wines – 751 13th Street at Avenue M, Treasure Island, San francisco fri, Sat, Sun 1-6treasure island Wines – 95 9th Street and Ave I, Treasure Island, Sf; 415-394-9463 Mon-fri 9-5, Sat 12-4the Winery sF – 200 California Ave. Bldg 180 N, Treasure Island; 415-Sf -JUICE Daily 12-5vie – 400 California Ave., Bldg 448, Treasure Island, Sf; 415-756-1791 Sat-Sun 12-5sol rouge – 400 California Ave., Bldg 141, Treasure Island, Sf; 415-756-2254 Sat-Sun 12-5ContrA CostA CoUntYBloomfield vnyd– 633 first Street, Brentwood; 925 634-9463Wed-Thu 4-8pm, fri 4-11pm, Sat 11am-11pmCaptain vineyards – 1969 Joseph Drive, Moraga; 925 631-0714Open by appointmentenos Wines – 9000 Brentwood Blvd., Brentwood; 925 634-3900Open by appointmentHannah nicole vnyds – 6740 Balfour road, Brentwood; 925 513-0769 fri 11-3, Sat-Sun 1-5Happy valley Cellars – 1223 Upper Happy Valley road, Lafayette; 925 283-1245Open by appointmentLolonis vnyds tasting room – 1930 Tice Valley Blvd, Walnut Creek; 925-456-WINE Mon-fri 1-4new departures Wine Co. – 6140 Alhambra Valley road, Martinez; 925 366-8463Open by appointmentodisea Wine Co. – 963 redwood Drive, Danville; 925 915-1662Open by appointmentolin Wines – 975 Detroit Ave., Unit B, Concord; 925 771-7107Sat 12-4 or by appt.Palomares vineyards – 34329 Palomares road, Castro Valley Sat-Sun 12-5Parkmon vineyards – 55 Laird Drive, Moraga; 925 631-7980Open by appointmentshadowbrook Winery – 3739 Shadowbrook Court, Walnut Creek; 925-988-9463Open by appointmentsterling Albert Winery– 150 Mason Circle, Suite J, Concord; 925 219-2279Sat 12-5pm, Sun by appt.tamayo Family vnyds – 2155 Elkins Way, Brentwood; 925 513-8463Open by appointmentviano vineyards – 150 Morello Avenue, Martinez; 925 228-6465Wed-Mon 9-5pmWedl Wine Cellars – 400 Tate Lane, Oakley; 925 360-9677Open by appointment onlyScan the QR code withyour smartphone app forwinery listings, stories,websites, and more!For corrections, deletions oradditions, send an email toinfo@winecountrythisweek.com85
---
sonoma county diningBRUNCHLUNCHDINNERBREAKFASTFULL BAROUTDOOR SEATINGENTERTAINMENTWINE/BEERORGANIC/LOCAL GOODSPET FRIENDLYCASUALUPSCALERESERVATIONSgeYserviLLeCatelli's – 21047 Geyserville Avenue, Geyserville; 707 857-3471 Contemporary American and Italian © © © © © © © © ©diavola Pizzeria & salumeria – 21021 Geyserville Ave, Geyserville; 707 814-0111 Italian © © © © © ©Francis Ford Coppola's rustic – 300 Via Archimedes, Geyserville; 707 857-1462 Italian © © © © © © © ©della santina'sLocated off the historic square inSonoma, Della Santina's is afamily-owned and operatedrestaurant that has stood the testof time to become a Sonomainstitution. The Della Santinafamily name shares a longlineage and history in the Tuscantown of Lucca, Italy.della santina'sThe restaurant is open seven days a weekfor lunch and dinner;reservations are recommended.133 East Napa Street, Sonoma(707) 935-0576www.dellasantinas.comHeALdsBUrgCafe Lucia – 235 Healdsburg Avenue, Healdsburg; 707 431-1113 Portuguese © © © © © © ©Bear republic Brewing Co. – 345 Healdsburg Ave, Healdsburg; 707 433-2337Traditional American © © © © © © © ©Bistro ralph – 109 Plaza Street, Healdsburg; 707 433-1380 Contemporary American and french © © © © © © © © ©Campo Fina – 330 Healdsburg Avenue, Healdsburg; 707 395-4640 Italian © © © © © ©Charlie Palmer's dry Creek Kitchen – 317 Healdsburg Ave, Healdsburg; 707 431-0330 Contemporary American © © © © © © © © © ©Charcuturie – 335 Healdsburg Avenue, Healdsburg; 707 431-7213 french © © © © © ©Healdsburg Bar & grill – 245 Healdsburg Avenue, Healdsburg; 707 433-3333 Grill © © © © © © © © ©madrona manor – 1001 Westside road, Healdsburg; 707 433-1542 Contemporary American © © © © © © ©ravenous – 117 North St, Healdsburg; 707 431-1302 Californina © © © © © © © © ©spoonbar – 219 Healdsburg Avenue, Healdsburg; 707 433-7222 Mediterranean © © © © © © © © ©Willi's seafood & raw Bar – 403 Healdsburg Ave, Healdsburg; 707 433-9191 Seafood © © © © © © © ©zin restaurant & Wine Bar – 344 Center St, Healdsburg; 707 473-0946 Contemporary American © © © © © ©gUerneviLLe/ForestviLLeApplewood inn – 13555 Hwy 116, Guerneville; 707 869-9093 © © © © © © ©Farmhouse – 7871 river road, forestville; 707 887-3300 Contemporary American © © © © © © © ©sAntA rosACaffe Portofino – 535 fourth Street, Santa rosa; 707 578-3096 Italian © © © © © ©equus restaurant – 101 fountrain Grove Parkway, Santa rosa; 707 578-0149 © © © © © © © ©Jack and tony's – 115 fourth Street, Santa rosa; 707 526-4347 Contemporary American © © © © © © ©John Ash & Co. restaurant – 4330 Barnes road, Santa rosa; 707 527-7687 Californian © © © © © © ©La gare – 208 Wilson Street, Santa rosa; 707 528-4355 french © © © © ©zazu restaurant & Farm – 3535 Guerneville rd, Santa rosa; 707 523-4814 Traditional American © © © © ©WindsorUme – 8710 Old redwood Highway, Windsor; 707 838-6700 Japanese © © © © © ©seBAstoPoLgto's seafood House – 234 South Main Street, Sebastopol; 707 824-9922 Seafood © © © © © ©Hopmonk tavern – 230 Petaluma Avenue, Sebastopol; 707 829-7300 Traditional American © © © © © © © © © ©enoteCA deLLA sAntinA next door– sonomA's Best Wine BAr• More than 300 selections of domestic andinternational wines at competitive prices• 30 wines by the glass, customized flights andspecialty beers• Assorted cheeses and panini served daily• Winemaker dinners and educational seminars• Bimonthly wine club featuring wines of the world86enoteca della santinaThe Enoteca is closed Mondays127 East Napa Street, Sonoma(707) 938-4200www.enotecadellasantina.comBoth locations are available for private events.sonomA vALLeYCafé Citti – 9049 Highway 12, Kenwood; 704 833-2690 Italian © © © © © © © ©Cafe La Haye – 140 E Napa Street, Sonoma; 707-935-5994 Contemporary American © © © © © © ©Centre du vin – 480 first Street East, Sonoma; 707 996-9779 french © © © © © © © © ©della santina's trattoria – 133 East Napa Street, Sonoma; 707 935-0576 Italian © © © © © © ©el dorado Kitchen 405 1st Street West, Sonoma; 707 996-3220 Contemporary American © © © © © © © ©girl & the Fig – 110 West Spain Street, Sonoma; 707 938-3634 french © © © © © © © © © ©glen ellen inn – 13670 Arnold Drive, Glen Ellen; 707 996-6409 Contemporary American © © © © © © © ©glen ellen star – 13648 Arnold Drive, Glen Ellen; 707 343-1384 Traditional American © © © © ©Hopmonk tavern – 691 Broadway, Sonoma; 707 935-9100 Traditional American © © © © © © © © © ©Kenwood restaurant – 9900 Hwy 12, Kenwood; 707 833-6326 Contemporary American/french © © © © © © © ©Lasalette restaurant – 452 first St East, Ste H, Sonoma; 707 938-1927 Portuguese © © © © © © © © ©maya restaurant – 101 East Napa Street, Sonoma; 707 935-3500 Mexican © © © © © © © ©saddles steakhouse – 29 East MacArthur St, Sonoma; 707 938-3191 Steakhouse and Seafood © © © © © © © © ©sante – 100 Boyes Boulevard, Boyes Hot Springs; 707 938-9000 french © © © © © © ©swiss Hotel Bar & restaurant – 18 West Spain St, Sonoma; 707 938-2884 Italian © © © © © © © © © ©Yeti restaurant 14301 Arnold Drive, Glen Ellen; 707 996-9930 Indian and Nepali © © © © © © ©PetALUmACentral market – 42 Petaluma Blvd North, Petaluma; 707 778-9900 Contemporary American © © © © © ©Cucina Paradiso – 114 Petaluma Blvd. N, Petaluma; 707 782-1130 Italian © © © © © © ©graziano's ristorante – 170 Petaluma Blvd, Petaluma; 707 762-5997 Italian © © © © © © © © ©risibisi restaurant & Wine Bar – 154 Petaluma Blvd N, Petaluma; 707 766-7600 Italian © © © © © © ©www.WineCountryThisWeek.com
---
napa valley diningBRUNCHLUNCHDINNERBREAKFASTFULL BAROUTDOOR SEATINGENTERTAINMENTWINE/BEERORGANIC/LOCAL GOODSPET FRIENDLYCASUALUPSCALEnAPAAngéle restaurant & Bar – 540 Main Street, 707 252-8115 french Cuisine © © © © © © © © ©Azzuro Pizzeria & enoteca – 1260 Main Street, 707 255-5552 Pizzeria © © © © © ©Bistro don giovanni – 4110 Howard Lane, 707 224-3300 Italian Cuisine © © © © © © © © ©Boon Fly Cafe – 4048 Sonoma Highway, 707 299-4870 Traditional American Cuisine © © © © © © © ©Bounty Hunter – 975 first Street, 707 226-3976 Contemporary American Cuisine © © © © © © © ©Ca'momi – 610 first Street, #10, 707-257-4992 Italian © © © © © © © © ©Celadon – 500 Main Street, 707 254-9690 Seafood and Contemporary American Cuisine © © © © © © © © ©Cole's Chop House – 1122 Main Street, 707 224-6328 Steakhouse and french Cuisine © © © © © © © ©Cuvee – 1650 Soscol Avenue, 707 224-2330 Contemporary American Cuisine © © © © © © ©eiko's – 1882 Town Center, 707-501-4444 Japanese Cuisine © © © © © © © ©Farm at Carneros inn – 4048 Sonoma Hwy, 707 299-4880 Contemporary American Cuisine © © © © © © ©Fish story – 790 Main Street, 707 251-5600 Seafood © © © © © © © © ©Fumé Bistro – 4050 Byway East, 707 257-1999 Contemporary American Cuisine © © © © © © © © ©grace's table – 1400 Second Street, 707 226-6200 Contemporary American Cuisine © © © © © © © ©gott's roadside Cafe – 644 1st Street, 707 224-6900 Contemporary American Cuisine © © © © © © ©La toque – 1314 McKinstry Street, 707 257-5157 french Cuisine © © © © © © ©morimoto napa – 610 Main Street, 707 252-1600 Japanese Cuisine © © © © © © © © ©oenotri – 1425 fisrst Street, 707 252-1022 Italian Cuisine © © © © © © © ©siena restaurant – 875 Bordeaux Way, 707 251-1900 Italian, Seafood, Meditarranean © © © © © © © © © ©Ubuntu – 1140 Main Street, 707-258-1000 Vegetarian Cuisine © © © © © © © ©Uva trattoria – 1040 Clinton Street, 707-255-6646 Italian Cuisine © © © © © © © ©zuzu – 829 Main Street, 707 224-0695 California Tapas, Spanish & Mediterranean © © © © © ©YoUntviLLeAd Hoc – 6476 Washington Street, 707 944-2487 Contemporary American Cuisine © © © © © © ©Bardessono – 6526 Yount Street,707 204-6000 Contemporary American Cuisine © © © © © © © © ©Bistro Jeanty – 6510 Washington Street, 707 944-0103 french Cuisine © © © © © © © ©Brix restaurant – 7377 Highway 29, 707 944-2749 french inspired California Cuisine © © © © © © © ©Bottega – 6525 Washington Street,707 945-1050 Italian Cuisine © © © © © © © © ©Bouchon Bistro – 6534 Washington Street, 707 944-8037 french Cuisine © © © © © © © © ©étoile restaurant – at Domaine Chandon, 1 California Drive, 707 204-7529 french Cuisine © © © © © © ©Hurley's – 6518 Washington St, 707 944-2345 Contemporary American Cuisine © © © © © © © ©mustards grill – 7399 St. Helena Highway, 707 944-2424 Contemporary American Cuisine © © © © © © ©redd – 6480 Washington Street, 707 944-2222 Contemporary American Cuisine © © © © © © © ©RESERVATIONSENOTECA PIZZERIAPASTICCERIAOBSESSIVELYAUTHENTIC ITALIANOXBOW PUBLIC MARKET610 First St., Napa, CA 94559www.camomi.comrUtHerFordAlex – 1140 rutherfrod road, 707 967-5500 Italian Cuisine © © © © © © © © ©Auberge du soleil – 180 rutherford Hill road, 707 963-1211 Contemporary American Cuisine © © © © © © © © © ©rutherford grill – 1180 rutherford road, 707 963-1792 Contemporary/Traditional American © © © © © © © © ©st. HeLenACindy's Backstreet Kitchen – 1327 railroad Avenue, 707 963-1200 Contemporary American Cuisine © © © © © © © © © ©Culinary institute – 2555 Main Street, 1-888-995-1699 Contemporary American and Worldwide foods © © © © © © © © ©gott's roadside Cafe – 933 Main Street, 707 963-3486 Traditional American Cuisine © © © © © © ©market – 1347 Main Street, 707-963-3799 Traditional American Cuisine © © © © © © ©Press – 587 St. Helena Highway, 707 967-0550 Steakhouse © © © © © © ©terra – 1345 railroad Avenue, 707 963-8931 Contemporary Asian insipired American Cuisine © © © © © © ©tra vigne restaurant – 1050 Charter Oak Avenue, 707 963-4444 Italian Cuisine © © © © © © © © ©CAListogABarolo – 1457 Lincoln Avenue, 707 942-9900 Contemporary American & Italian Cuisine © © © © [ © ©Brannan's grill – 1374 Lincoln Avenue, 707 942-2233 Traditional American Cuisine © © © © © © ©Calistoga inn & Brewery – 1250 Lincoln Avenue, 707 942-4101 Traditional American Cuisine © © © © © © © © © ©Flat iron grill – 1440 Lincoln Avenue, 707 942-1220 Traditional American/ Steakhouse © © © © © © ©Hydro Bar & grill – 1403 Lincoln Avenue, 707 942-9777 Traditional American Cuisine © © © © © © © ©JoLe restaurant – 1457 Lincoln Avenue, 707 942-5938 Contemporary American Cuisine © © © © © © ©solbar – @ Solage, 755 Silverado Trail, 707 226-0850 Contemporary American Cuisine © © © © © © © © © ©Wappo Bar & Bistro – 1226 Washington Street, 707 942-4712 Blend of regional Cuisine © © © © © © © ©Follow us on twitter @WineCountrytW[ Call for Details87
---
Tastetourexceptional winesour wine cavesPicnic and enjoy the viewOpen daily from 10 am - 5 pm.Reserve picnic tables and tours byphone. Tours daily at 11:30 am,1:30 pm and 3:30 pm.200 Rutherford Hill RoadRutherford, Napa Valleywww.rutherfordhill.com(707) 963-1871Open Daily 10am-5pm, Last Seating 4:45 | Tours AvailablePresent this ad for 10% off your purchase