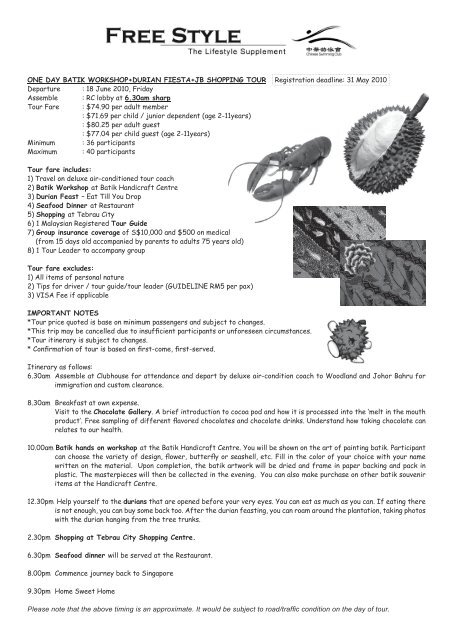 ONE DAY BATIK WORKSHOP+DURIAN FIESTA+JB SHOPPING ... ONE DAY BATIK WORKSHOP+DURIAN FIESTA+JB SHOPPING ...
ONE DAY BATIK WORKSHOP+DURIAN FIESTA+JB SHOPPING TOURDeparture : 18 June 2010, FridayAssemble : RC lobby at 6.30am sharpTour Fare : $74.90 per adult member: $71.69 per child / junior dependent (age 2-11years): $80.25 per adult guest: $77.04 per child guest (age 2-11years)Minimum : 36 participantsMaximum : 40 participantsRegistration deadline: 31 May 2010Tour fare includes:1) Travel on deluxe air-conditioned tour coach2) Batik Workshop at Batik Handicraft Centre3) Durian Feast – Eat Till You Drop4) Seafood Dinner at Restaurant5) Shopping at Tebrau City6) 1 Malaysian Registered Tour Guide7) Group insurance coverage of S$10,000 and $500 on medical(from 15 days old accompanied by parents to adults 75 years old)8) 1 Tour Leader to accompany groupTour fare excludes:1) All items of personal nature2) Tips for driver / tour guide/tour leader (GUIDELINE RM5 per pax)3) VISA Fee if applicableIMPORTANT NOTES*Tour price quoted is base on minimum passengers and subject to changes.*This trip may be cancelled due to insufficient participants or unforeseen circumstances.*Tour itinerary is subject to changes.* Confirmation of tour is based on first-come, first-served.Itinerary as follows:6.30am Assemble at Clubhouse for attendance and depart by deluxe air-condition coach to Woodland and Johor Bahru forimmigration and custom clearance.8.30am Breakfast at own expense.Visit to the Chocolate Gallery. A brief introduction to cocoa pod and how it is processed into the 'melt in the mouthproduct'. Free sampling of different flavored chocolates and chocolate drinks. Understand how taking chocolate canrelates to our health.10.00am Batik hands on workshop at the Batik Handicraft Centre. You will be shown on the art of painting batik. Participantcan choose the variety of design, flower, butterfly or seashell, etc. Fill in the color of your choice with your namewritten on the material. Upon completion, the batik artwork will be dried and frame in paper backing and pack inplastic. The masterpieces will then be collected in the evening. You can also make purchase on other batik souveniritems at the Handicraft Centre.12.30pm Help yourself to the durians that are opened before your very eyes. You can eat as much as you can. If eating thereis not enough, you can buy some back too. After the durian feasting, you can roam around the plantation, taking photoswith the durian hanging from the tree trunks.2.30pm Shopping at Tebrau City Shopping Centre.6.30pm Seafood dinner will be served at the Restaurant.8.00pm Commence journey back to Singapore9.30pm Home Sweet HomePlease note that the above timing is an approximate. It would be subject to road/traffi c condition on the day of tour.
---
REGISTRATION FORMIMPORTANT NOTES*Tour price quoted is based on minimum passengers and subject to changes.*This trip may be cancelled due to insufficient participants or unforeseen circumstances.*Tour itinerary is subject to changes.* Please note that the above timing is an approximate. It would be subject to road/traffic conditions on day of tour.* Confirmation of tour is based on first come first served.* All cancellations must be made in writing through the Lifestyle Withdrawal form. The form should reach the Club before31 May 2010. For cancellation after 31 May 2010, full fare will apply and strictly no refund under any circumstances.Particulars1. Name (as in passport):_____________________________________ Sex:_____ Age: _____ Date of Birth:_____________________IC No.:_________________Passport No.:_________________ Expiry Date:______________ Nationality:_______________________Address: ___________________________________________________________________ Email: ___________________________Tel: __________________ (Hp) _________________ (O) _________________ (H) A/C No._____________ Member/Guest (Pls circle)2. Name (as in passport):_____________________________________ Sex:_____ Age: _____ Date of Birth:_____________________IC No.:_________________Passport No.:_________________ Expiry Date:______________ Nationality:_______________________Address: ___________________________________________________________________ Email: ___________________________Tel: __________________ (Hp) _________________ (O) _________________ (H) A/C No._____________ Member/Guest (Pls circle)3. Name (as in passport):_____________________________________ Sex:_____ Age: _____ Date of Birth:_____________________IC No.:_________________Passport No.:_________________ Expiry Date:______________ Nationality:_______________________Address: ___________________________________________________________________ Email: ___________________________Tel: __________________ (Hp) _________________ (O) _________________ (H) A/C No._____________ Member/Guest (Pls circle)4. Name (as in passport):_____________________________________ Sex:_____ Age: _____ Date of Birth:_____________________IC No.:_________________Passport No.:_________________ Expiry Date:______________ Nationality:_______________________Address: ___________________________________________________________________ Email: ___________________________Tel: __________________ (Hp) _________________ (O) _________________ (H) A/C No._____________ Member/Guest (Pls circle)Kindly bill the total amount of $___________________ to my Account No. ____________________, being payment for thetour fare.IndemnityI/We hereby agree that I/We will not hold Chinese Swimming Club, their appointed staff or officials responsible in any way for any mishaps,injuries or loss of life or for loss or damage to any property howsoever arising out of or in the course of or in connection with the above activitieswhich I/We have opted to take part in; and I/We shall indemnify Chinese Swimming Club and their appointed staff and officials from and againstany actions, proceedings, liabilities, claims, damages, cost and expenses which may be brought by or asserted against Chinese Swimming Cluband their appointed staff and officials by any person in connection with the above activities and which has been caused whether directly orindirectly, by any act or omission on my/our part.I/We have read and understood the terms and conditions stipulated above and I/We hereby agree to abide by and be bound by such terms andconditions and the Constitution and Bye-Laws of the Chinese Swimming Club.Member's SignatureDate(Note: Absence from activities does not indicate withdrawal unless the official LIFESTYLE WITHDRAWAL FORM is received in good time*.)For enquiries, please call Daphne 6885 0653 (Please submit registration form by fax: 6346 5685 or drop it at the Front Office)
More magazines by this user