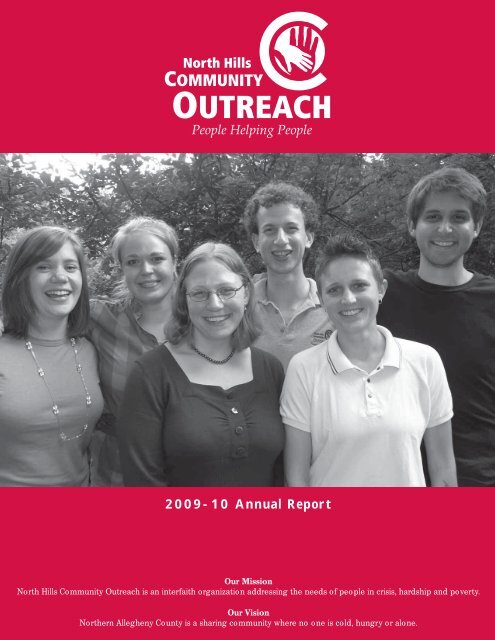 2009-10 Annual Report - North Hills Community Outreach
2009-10 Annual Report - North Hills Community Outreach
2009-10 Annual Report - North Hills Community Outreach
SHOW MORE
SHOW LESS
You also want an ePaper? Increase the reach of your titles
YUMPU automatically turns print PDFs into web optimized ePapers that Google loves.
2009-10 Annual ReportOur MissionNorth Hills Community Outreach is an interfaith organization addressing the needs of people in crisis, hardship and poverty.Our VisionNorthern Allegheny County is a sharing community where no one is cold, hungry or alone.
---
Families Served 4,915 families served, some at multiple locations 2,408 at Millvale Satellite; 1,588 at Allison Park; 1,502 atNorth Boroughs SatelliteFood Pantries (1,248 families) 731 families used the Allison Park pantry 515 families used the North Boroughs Food Pantry at AGHSuburban Campus 146 older adults received extra food through SeniorCommodities $416,179 in food and grocery certificates was distributedthrough our two pantries and emergency food in Millvale;an additional $111,140 worth was shared with otherpantries and agenciesUtility Assistance (1,472 families) 1,285 Duquesne Light and 29 Columbia Gas customerswere enrolled or maintained in Customer AssistancePrograms 251 $1 Energy applications were completed, resulting in$87,577 in grants for families in need $30,831 was paid to utility companies to prevent shut-offsor restore service for 98 families, funded in part by ARRAthrough the Allegheny County Department of EconomicDevelopment and the City of Pittsburgh's HomelessnessPrevention and Rapid Rehousing Program (HPRP)Seasonal Sharing Projects (1,313 families) 567 children received new backpacks and school supplies 351 families selected free winter coats 660 families received a complete Thanksgiving meal 517 families were given utility and grocery credits throughSharing Holiday Warmth 880 children received new toys, games and sportingequipment for the holidays 446 families received Spring Share candy baskets and foodcertificates $202,073 in financial and inkind assistance was providedEmergency Assistance (382 families) $245,557 in financial housing assistance was provided for215 families; $183,187 of this amount was funded by HPRP $13,872 was used to provide car repairs, insurancepayments, gas cards and bus passes 40 low-income families received new energy-efficientappliances worth $18,500 through a partnership with St.Vincent de Paul $3,363 in prescription, dental and vision assistance wasprovided for 24 un- and underinsured individualsMost years we experience a significant shortage of foodpantry donations in the summer and early fall. This yearwas no exception. We put out the call for help, and ourgenerous community came through—as always! As aresult of the tremendous Saturday response from donors,we are now typically open one Saturday morning permonth to accept donations.Help for Struggling FamiliesThis year, NHCO was one of eightorganizations to receive funding fromUnited Way of Allegheny County to assistfinancially struggling adults and families.The United Way funds agencies that arewell-managed, well-governed by a volunteerboard, financially sound, and demonstratemeasurable results for a population withgreat needs. NHCO's United Way contributorchoice code is 2357.-2-
---
Volunteer Caregiving for Older AdultsThis year, we joined forces with Family Services of Western PAto expand our Faith in Action volunteer caregiving program. Withfunding from United Way of Allegheny County, Open Your Heart toa Senior has allowed us to reach more seniors in need throughout allof Allegheny County. Through NHCO, 134 volunteers helped 627 olderadults and those with physical disabilities remain safe and independentin their homes. 93 volunteers helped 458 individuals by providing them with rides inpersonal vehicles to the doctor, grocery shopping with or for them,performing home safety checks, and making friendly home visits ortelephone reassurance calls. The Free Rides for Seniors shuttle, funded in part by the St.Margaret Foundation and UPMC Health Plan, was operated by 41volunteer drivers and dispatchers, providing 6,383 free rides to 208senior citizens in Blawnox, Sharpsburg, Aspinwall and O'Hara.Employment, Legal & Other Help 126 individuals received personalized employment assistance(résumés, referrals, computer training) 95 people received free legal help from 20 volunteer attorneys 65 low-income families enrolled in or maintained Family SavingsAccounts; 12 participants completed the multi-year program andreceived $20,975 in matching funds from the PA Department ofCommunity and Economic Development to make critical homerepairs (7), buy a car (4) or pursue higher education (1) 56 individuals in poverty participated in the long-term familydevelopment program, designed to move people to self-sufficiency 29 individuals attended financial literacy classes and another 22worked individually with budget coach volunteers 12 nontraditional students were awarded $11,350 in collegescholarships 10 individuals attended a support group"I am 91 years old andunable to get anywherewalking and I don't havea car. The service thatI get from the van ismuch appreciated. It hastaken me to get my haircut, to shop for clothesand groceries and othernecessities. I usually use itonce a week and I think thevolunteers are angels. Pleasecontinue this service."—Aspinwall woman whoutilizes our Free Rides forSeniors shuttleSally is one of 88 older adults who received acheerful mug of daisies delivered straight toher door by a caring, smiling volunteer. "MakeSomeone Smile Day" is an annual nationwideevent sponsored locally by McCandless Floral.It's just one more way we make sure our seniorneighbors in need do not feel isolated or alone.Community Auto Vehicle Ownership ProgramIn January 2010, NHCO and Community Auto legally merged tomaximize our resources and eliminate duplication of efforts. In 2009-10, 52 low-income workers purchased a car from the program, a 126%increase from the previous year. Purchase price, which is below fairmarket value, includes a valid PA inspection sticker, one-year AAAmembership, six-month warranty, full tank of gas, and car seats ifneeded (funded with a grant from Highmark Blue Cross Blue Shield).Donors can take the maximum possible deduction when they donatetheir vehicle to our program; this year 104 vehicles were donated.New this year: on Christmas Eve, we gave away a vehicle live on KDKA-TV to a single mom of three children who desperately needed reliabletransportation.-3-
---
Outreach Assistance: $1,219,023*Financial & InkindFood 47%SocialEnterprise 6%Coats & clothes 10%Revenue: $1,700,991Religious Groups 4%Businesses, Schools,Civic Groups 8%Other 4%Government21%Financial OnlyHousing & utilities26%Commitment to ServicesLegal/medical 1%Other 3%School supplies &scholarships 3%Toys & gifts 4%Transportation 6%*An additional $20,975 was distributed to 12 individuals in theFamily Savings Accounts ProgramIndividuals*27%Contracts7%Foundations/Grants23%*Includes gifts by individuals who designated NHCO to receive theirUnited Way, CFC, SECA or corporate giving pledge.Direct servicesto those in need85%Our Extraordinary VolunteersThanks to the 1,034 volunteers (including 257 youth)who logged 43,206 hours of their time and talent thisyear, a 16% increase from last year. Our volunteers—theequivalent of 21 full-time staff members— logged themost hours in the following capacities: Faith in Action/Free Rides for Seniors—134volunteers gave 5,459 hours Food Pantries—178 volunteers gave 5,114 hours Reception—61 volunteers gave 4,331 hours Other direct service, including employment andsavings coaches, attorneys—123 volunteers gave3,966 hours Data Entry—40 volunteers gave 3,361 hours Sharing Projects—259 volunteers gave 1,435 hours Community Auto—41 volunteers gave 635 hoursTop 25 Volunteers By Hours Logged Jim Loscar, 922 Nadine Nethen, 879 Althea Worthy*, 654 Leland "Bud" Baker, 604 Jill Herman, 599 Jean Barto, 593 Jimmy Marshall, 511 Ruth Graham, 493 Gary Brandenberger, 477 Joyce Rabinovitz, 453 Marleen Kasbee, 400 Maresa Saunders, 377 Shirley McIlvried, 333 Elaine Hatfield, 329 Mary Wetzel, 323 George Dudley, 319 Deborah Vita, 304 Rosalie Heslet, 299 Jean Muth, 287 Renee Full, 278 Virginia Cole, 275 Julia McCandlish, 271 Grace Connolly, 264 Barbara Barcousky, 263 Ella Mae Klotz, 240*A Jefferson Award winner this year for her volunteerismwith NHCOVISTAs Give a Year of ServiceThe smiling faces on the cover belong to our wonderfulAmeriCorps*VISTA workers—Katie Cowling, MartaSpangler, Laurie Clapper, Reuven Dashevsky, DevinBelzer and Jeff Bengel. All recent college graduates,they chose NHCO for their year of service because theywanted to make a real difference in the lives of familiesin poverty and hardship. The VISTAs lived on a federalstipend equal to the poverty level in order to bestunderstand the lives of people who struggle financially.Administration 8%(Audited)Fundraising 7%Among their many accomplishments that increased ourcapacity to serve those in need, the VISTAs recruited 154new volunteers; acquired $220,451 in food donations;increased sharing projects donations such as wintercoats and school supplies by $170,419; and developedresource materials and a web page for employment andfinancial literacy service recipients and volunteers.-4-
---
Bruster's of Ingomar donates proceeds from Summerfest to NHCO.Pine Richland Youth CenterRotary Club of Etna/ShalerRotary Club of Fox Chapel AreaRotary Club of Hampton TownshipRotary Club of McCandlessRotary Club of North BoroughsRotary Club of Sharpsburg/AspinwallSealarksThistle and TwigThrivent Financial for Lutherans,Allegheny CountyTreesdale Community AssociationVilla of North ParkWomen's Literary Club of BellevueZonta Three Rivers NorthRELIGIOUS GROUPS (155)Allison Park ChurchBakerstown United MethodistBellevue United PresbyterianBerkeley Hills LutheranBethel LutheranBethlehem Lutheran, Dorcas Circle,Pennies from HeavenBradfordwoods CommunityCarnegie PresbyterianCatholic Daughters of America, Court#655Christ EpiscopalChurch World ServiceCommunity Presbyterian of Ben AvonCornerstone Christian CommunityDutilh United Methodist Ruth CircleElfinwild Presbyterian, Naomi CircleEmanuel's Lutheran-Bellevue, WELCAEmmanuel Lutheran-Etna, WELCAEmsworth United PresbyterianForest Avenue Presbyterian DeaconsFox Chapel EpiscopalFox Chapel Presbyterian, VBSGlenshaw AllianceGlenshaw PresbyterianGood Shepherd LutheranGreenstone United MethodistHampton Shaler Etna MinisterialAssociationHampton United PresbyterianHiland PresbyterianHoboken PresbyterianIngomar United Methodist, MissionCommitteeIron City ChurchMemorial Park Presbyterian, MarthaCircle, Women's MinistriesMt. Pisgah PresbyterianMt. Pleasant United PresbyterianNorth Hills Community BaptistNorth Hills United Presbyterian,RetireesNorthmont United Presbyterian,Brotherhood Club, Triangles ClubParkwood United PresbyterianMission CommitteePerry Highway Lutheran YouthPittsburgh PresbyteryPresbyterian Church of SewickleyRehoboth Evangelical LutheranSacred Heart Ladies AuxiliarySalem United MethodistSalvation Army Western PA DivisionSisters of Divine ProvidenceSisters of St. FrancisSt. Alexander Nevsky, Women'sAssociationSt. Andrew's United PresbyterianSt. Bonaventure Women's Social ClubSt. Catherine of Sweden, St.Vincentde PaulSt. James LutheranSt. John NeumannSt. John's Evangelical Lutheran,WomenSt. John's Lutheran MillvaleSt. John's Lutheran of HighlandSt. Joseph's St. Vincent de PaulSt. Mary's St. Vincent de PaulSt. Paul's Evangelical LutheranSt. Paul's United MethodistSt. Sebastian St. Vincent de PaulSt. Thomas Church in-the-FieldsSt. Ursula Christian Mothers FundSt. Ursula Youth Ministry-6-Stoneridge CovenantTemple Ohav ShalomTrinity Evangelical Lutheran-Avalon,WomenTrinity Evangelical Lutheran-RichlandTrinity United Church of ChristUnitarian UniversalistYoung At HeartFOUNDATIONS/GRANTS (37)AK Steel FoundationAmerican Eagle OutfittersFoundationAvon Club FoundationBaronner-Chatfield FamilyFoundationBozzone Family FoundationBruce D. & Treasure SachnoffCharitable Family FoundationCarol J. McKain Charitable TrustClarence S. & Margaret F. FughFoundationThe Comcast FoundationDollar Bank FoundationDominion FoundationFamily Muhlenkamp Charitable Fundof The Pittsburgh FoundationFeinstein Family FundThe Forbes FundsMacy's FoundationNorman C. Ray TrustThe Pittsburgh Foundation NeighborAid FundPittsburgh Gives Charitable GiftCard Program of The PittsburghFoundationPNC Charitable TrustPNC FoundationPPG Industries FoundationRichard & Margaret Oswant FamilyFund of The Pittsburgh FoundationRichard King Mellon FoundationThe Robert Coleman Family FundSchlenke Family TrustShawn Gaertner FoundationThe Slack Family FundSt. Margaret FoundationThe Stuckeman FoundationSylvia and Martin Snow CharitableFoundationUnited Way of Allegheny CountyVerne C. and Mary Anne KochCharitable FundW.I. Patterson Charitable FundGOVERNMENT (19)Administrative P.C.E.P.Allegheny County Department ofEconomic DevelopmentAllegheny County Department ofHuman ServicesCity of PittsburghDistrict Judge Ron Costa, Sr.PA Department of Community &Economic DevelopmentState Representative Dom CostaLegislative District 21Township of PineNONPROFITS (11)ALS SocietyDollar Energy FundGateway Health HospiceGreater Pittsburgh Community FoodBankTobacco Free AlleghenyINDIVIDUALS (3,869)Henry & Maria AbateArlene & Chuck AbbottTodd & Leslie AberCharles AbernethyLillian AbernethyAmy AchesonPhilomena AciernoBrian & Kathryn AckermanM. Jean AckermanPaul & Leslie AdamJoseph & Ann AdamietzEdward & Marilyn AdamsPatty & Ken AdamsShirley AdamsStephanie & Richard AdamsSusan AdamsWilliam AdamsCharles & Roberta AgnewJune AhmutyGloria & Michael AielloMargaret & Steve AineyKathy AlbeckerRonald & Bonnie AleksivichMary AleoMichael & Susan AlexanderRachel & Brian AllenSpencer & Theresa AllenCharles & Renee AllertonArt & Eve AllisChristian Allison & Jane FranceDennis & Suzanne AlstonLaureen AltMyrna & Samuel AltVincent & Carol AlvinoGloria AmbroziakTeresa & Salvatore AmelioKaren AmoscatoJeffrey AnderchakWilliam & Sandy AndersonCraig & Dawn AnderssonErik & Pamela AnderssonDr. Carey & Lorna Andrew-JajaGerald & Frances AngeloJohn AngiulliKaren AnickMarilyn AnobileLeslie & John AnthonyDr. Amy ApelGino & Sharon ArlottiTed Arnn & Mary Helen BoyleJane ArnoldSandy & Rob ArnoldMoises & Rosemary ArriagaCatherine ArtmanJames & Sandra ArtzbergerDiane & Thomas AshbaughJohn & Madeline AshbaughDuwayne & Janet AstleBruce & Christine AtkinsonLeo & Melina AuEdward AugustineJay AuldRobert & Connie AuldBeverly AutoreChristine AutoreKaren AvonSusan AyresMatthew BabusciMike BachinskyL. Michelle BackauskasMelissa BaculikJane & Daniel BaczkowskiJoseph & Lynn BadamoMichael BadgisPatricia & Thomas BaginskiJames Bailey
---
Joseph & Kathleen BaileyBryan Bailey & Rebecca MaytonRonald & Nancy BaimeChristopher & Christine BairdFrances BairdLeland Baker, Jr.Patricia & Thomas BakerRyan & Catherine BakerThomas & Erin BakerPatricia BakichSteff & Gregg BakoLarry & Cindy BaldasareRobert & Kimberly BaldiniRay & Mary Ann BaldridgeStanley & Dorothy BaldwinCarla Baldwin & Thomas MayJoseph & Barbara BalestreireSharon & Ronald BalingRobert & Martha BalkeyRobert & Patricia BalkovecJohn & Carol BallanceFrancis Balog & Paula BoninoCindy Bandula-YatesEdward & Carol BanksJames & Kathryn BannDonna BaranKaren BarbadoraJanet BarberSandra Barbieri & Louis SzmitJames BarborDale BargerDiane BarkerPatrick BarkeyDeborah & Harry BarnesRobert Barnes & Michelle MaherBarbara BarrMyrtle & Stephen BarsottiT. Scott Barthelmes & Linda BrownMr. & Mrs. Brooks BartlettLou BartolomucciEdward & Frances BartolowitsJean BartschGeorge & Patricia BasaraJohn & Eileen BatesRobert & Jeanne BatesCharles & Dolores BauerMyrtle BauerGuy & Patricia BaumanWilliam & Melanie BaumanEdith BaumlerEugene & Margaret BaurLorie & Rick BaxendellHugh & Joanne BaxterJean BearleyPhyllis BeattyCarolyn & Geoff BebbThomas BechtoldFlorence BeckRoger BeckBarbara Beck & Stephen IsraelLynn BeckerMary Jean & David BeckerHelen BeckertDenis & Jean BedelOlga BednarKelly & Kaylee BednerTherese BeersRose Marie BehannaLarry & Kathy BelcastroLee & Janice BelitskyFrank & Lois BellFrank & Adrienne BelloDevin BelzerMary Jo BenedettiJeffrey BengelSam & Linda BennardoArline BennettNathan & Gloria BennettDarlene Benny & Marlene LotzmannHarry & Sandy BerdikDr. George & Susan BergRaymond & Patricia BergmanTodd BerkeyVirginia Berlando, Esq. & JohnCorcoran, Jr.Pat BernickThomas & Kristine BerretCharles & Judith BeswickWayne & Karlene BeveridgeAudrey & Chuck BezillaEllen BialekRonald & Emily BianchiniWilliam & Donna BickelStephen & Dawn BierkerSpring Share baskets were delivered to children on the pediatricward at AGH, Suburban Campus in Bellevue, where our NorthBoroughs Satellite is located.-7-Thomas & Donna BigatelWilliam & Elaine BigleyCharles & Patricia BindernagelSusan Graf BirchHelen BirkelRobert BiscegliaJudith & James Bishop, Jr.Ron BittingAlice BittnerJack & Judith BlackmonLisa Blaney-StewartRobert & Linda BlankemeyerScott & Katie BleakleyCarol BlissJames & Pamela BlockTasia BobishNancy BockStanton & Beth BockovenCarl BodenschatzPaul BoehSusan & Daniel BoehMichelle BoehmDawn & Jason BoggsJames & Mona BolanderFay Ann BollingerThomas & Jeanne BonidyCarole BookleinerMichael & Cynthia BorisKaren Lee BorracciniDavid & Sue BorzellecaTodd BoslauGeorge & Tamara BostedoDanielle BostonJohn & Carol BostonBarbara Bott & Robert JenningsChristine & Roger BottiDr. Arthur & Karen BoujoukosThomas & Nancy BourCarole & Roy BoushRonald & Kathleen BovillNancy BowersJean BowmanNeil & Margaret BowmanDiane & John BoyScott & Mary BoyerJohn & Nancy BoyleWalter & Cathy BoyleElizabeth BradleyMark & Joanne BradoJerome & Barbara BraidicGary & Connie BrandenbergerGeorgene Brander & Roy MionEdward & Lucille BraunRichard & Katherine BraunWilliam & Vivien BraunAnthony BraunsteinLynne Braun-Warth & Jeffrey WarthClaudia BrazetSusan & Joseph BrendelCharles & Paula BrethauerWalter & Martha BretlauerCarol BrickleyWilliam BricknerBradley & Kathryn BridghamScott & Deborah BriercheckJanet BrinkJoy & Mike BristolBarbara BrockMarge & Fred Brodbeck, Jr.Susan Brode & David SchwartzmanClementine & Allan BrodskyAnn BrooksDorothy BrooksJodi & Timothy BrooksJamilynn BroomSuzanne Broughton & RichardMargerumB. Jean BrownGregg & Elizabeth BrownSusan BrownGay Brown & Glenn CarrMichael Brown & Janet HaggertyTimothy & Mary BrowneRichard & Florence BruckmanDrs. Richard Bruehlman & PatriciaMcGuireNorm BruggerMary Jane & James BruhnGreg & Tina BrunsElizabeth BrunswickRichard BrushEd & Shirley BrutJoseph & Flo BuczkowskiBarbara BudziszewskiDavid & Deanna BudziszewskiHarry & Lois BuhayDennis & Patty BuirgeJerry & Jennifer BuirgeTim & Dianne BuirgeMichele BuktaMary & Allan BullenGerda BummerPhil & Georgette BummerPaulette & Joseph BundickDonald & Barbara BurgessDavid & Marilyn BurkeDenis & Sheila BurkeFrank & Karen BurkeMary Ann BurkeMarlene & Sylvia BurkhartRobert BurkleyMary BurnhamRobert & Joan BurnosJo Ann BurnsRobert & Linda BurrowsEstelle BursickBob & Vicki BurstynowiczRichard & Betty BurtnettJane BuschStanley & Carol BusicGerry & John ButlerRobert & Janell ButoracVirginia BuzzelliWhitney & Ann CadmanStephen & Elaine CafaroRobert CahalanXiaoyan Cai & Zhou WangKeith & Nicole CaldwellBelinda & Steve CallihanDouglas CampSandro & Beth CampagnaJames & Joan CampbellSally CampbellPatrick Campbell & Ursula LesicSharon CannellaFrank Cannetti & MaryannPetralovichJoann & Arthur Cantrell, IIIFrank & Pat CapanDavid & Carol CapezzutiCatherine CararieLinda Cardimen & Gary SchermerColeen Carignan & Michael FarrellDebra Ann CarlinoJohn CarmeliteRebecca & Sam Carmella, Jr.Gregory & Terry CarnsMarilyn CarpenterJennifer CarrDonald & Donna CarrettaMartha CarrierJohn Carroll, Jr.Andrew & Kelly CarrollJohn & Eileen Carroll
---
Ruth CarrollSarah CarrollElizabeth CarterRobert & Patricia CarterSally Carty & Barry SchaitkinDaniele & Antonio CarusoPhilip CarusoSamuel & Susan CaseyWilliam & Elizabeth CaseyMary Ann & Patrick CasperMary Alice CastelliLawrence & Priscilla CastnerDale Marie CattleyJonathan & Ellen CaulkinsCarl & Rhonda CavaliereDonna & William CavanaughPaul & Susan CavanaughAlan & Frances CechDolores CelenderScott & Carol CelinMaria CerconeDavid CespedesRichard & Dolores CessarRichard & Sandra CessarLydia & Robert CessnaKostadena ChaliotisMarion ChambersLeland & Helen ChandlerWendy Chapin & Lee GerbiArthur & Margaret ChapmanKathy & David ChavaraBrandi CheberenchickLynn ChiafulloRichard & Robin ChiocchiLinda & David ChittimHenry & Patricia ChiurazziLois & Edward Choby, Jr.Peter & Ellen ChomynDaniel & MichelleChristensonDavid & Norma ChristieMaria Christina & MarkMohneyJoan & Francis CianfloneHeather CianfroccoMary & John CicconeMichael & Erin CienkowskiDavid & Patricia CiliaLaurie & Jason ClapperDr. Harry & Barbara ClarkJames & Eloise ClarkJohn & Susan ClarkBonnie Clark & RichardStaufferWilliam & Andrea ClarksonAugust & Joyce ClausCharles & Marie ClausLois ClausCil ClementeJoni ClementeBruce & Nancy ClementsBrad ClineJames CmarLarry & Barbara CobleJulie CockrellMichael & Judith CocoMaurice Cohill, Jr.Janine ColaizziLeonard & Marilyn ColaizziColleen & Michael ColarussoAlice ColemanRobert & Marcia ColemanJames ColletWilliam & Sheila ColomboKevin ColosimoJames & Carol ConcelmanJim & Gina ConcelmanGarry & Linda CondonMaureen ConklinBarbara ConleyLorraine ConleyEunice & John ConlinJean ConnellJohn & Joan ConnorsSharon ConnorsAndrew & Te-HsuanConstantakisCarolyn ConteGary & Susan ConteRaymond & MaureenContestabileStephen & Carol Ann ContiRaymond & Linda ConwayDebbie CookPatricia & Daniel CookPaula CookRonald & Laura CoombsLois CoonRobert & Mary Ann CoonBarb CooperDarlene CooperFrancis & Nancy CooperFreda & John CopperWilliam & Kathleen CoppulaMelissa CorbelliJane & William Cordisco, Jr.Clare & Virginia CorneliusKim Cornelius-Gavel & JohnGavelDavid & Karen CorralMathilda CorryGregg & Donna CorselloJanet CossDonald & Donna CostaGisella CostaSamuel & Barbara CostanzoSandy & Dion CostelloHarry CotabishJoyce CottrellConnie CottrillCathleen CoudrietScott & Sharon CoulterDonald & Janice CoursonKaren CoursonJamie & John CovelliKatie CowlingDrs. Richard & Patricia CoyleKathy & Jerry CoyneCathy CraigElry & Kathleen CramerGale CraskeRobert & Antoinette CrayGlenn & Judith CrilleyJames & Amy CristHarry & Christine CrokerBob & Diane CroninHarry & Jerilea CrooksEdward CrowleyPatrick & Bonnie CummingsJohn & Diana CunninghamMegan & ThomasCunninghamJohn Cunningham &Dorothy PetrancostaEdward & Linda CupkaM. Eileen CurrieDave & Amy CurryBetty CushmanPaul & Margaret CusickMark CypherLeonard & Lisa CyterskiDr. Richard & Lorraine DaharE.J. & Jeffrey DaileySarah DaleyGary & Wilma DalrympleBertha DamesSandra & Patrick DanaheyGina DangeloWilliam & Judith DanielsNancy & William DanklefsenDr. Nilima DashReuven DashevskyDaniel DastranjSally & Michael DauerWalt & Eleanor DavicJane DavidsonLisa Davies Nydick & DanielNydickWilliam & Lois DaviessAnne & William DavisBob & Kathy DavisCharles & Annetta DavisCharlotte DavisJudith & John DavisKenneth & Marilyn DavisKristel & Brian DavisPam DavisSandra DavisDonald & Evelyn DayEric & Rachelle DayJane & Michael DearMary Beth & Glenn DeemerSam & Dianne DeepLinda & Domenic DeFrankJennifer DeilyMelva & Eileen DeittLeonard DeJulio, Esq.Stacye & Leon DejuliusJohn & Catherine DelacioDaniel & Dee DelaneyBonnie DelcontePhil & Vickie DellaquilaBarb & George DellingerRoy & Sandra DelorenzeChristopher & MargyDelposenRina DelsignoreLinda DelucaMyrtle DemarcoSheila & Joe DeMareHenry Demarest, Jr.Barbara DeMayeWilliam & Debbie DemchakDaniel Demoise, Jr.Carol DeMoss & Linda EvansLeslie DempseyEdward & Mary Lou DerbishJean DermottJohn & Patricia DerryMarie DeSanoRay & Karen DeSantoBecky & Thomas DeutschIstvan & Mari DevenyisAndrew & DeborahDevonshireKathleen DeWaldLaurie DhonauSteven & Amy DiakPamela DianaStephen & Paula DiAntonioSusan DiBattistaVictor & Delia DiCarloDiana DickertJoseph & Joanna DickertRobert Dickey & Betty PooleRobert & Judy DickinsonGeorge & Stacy DickosDorothy & James DicksonWilliam & Susan DietzAnthony & Evelyn DifioreMary DigginSanto & RosemarieDiGirolamoTimothy & Mary DillJ. Ardie & Cynthia DillenKevin & Holly DillonJohn & Bonnie DiMarsicoFrederick & Margaret DimasiJudith DimeoCatherine DinardoLorraine DiNataleIrene DinningJames & Karen DioniseCarmela DirenzoElizabeth & Henry DixonJacqueline DixonMary DixonJames & Kim DobsonHerb & Judy DoddNorma DodgeJeremiah & CharleneDohertyMargot DohertyLouanne & John DolphinJoan DomanskiYvonne & A. JosephDominick, Jr.Keith & Pamela DonahueMichael & Cynthia DonahueDenise DonaldsonKatherine DonaldsonRobert & Natalie DonaldsonDr. Susan DonaldsonGeorge & Patty DongesKaren DonnellyJames & Dolores DoonanJane DormanFrank & Cindy DormarConstance DorseyGeorge & Barbara DoscherCharles & KathrynDoughertyIan DoughertyJames & Shirley DoughertyKristen DoughertyRob & Laura DoughertyDonna DouglasJames & Ida DouglasChris DraftJennifer Drayton & ConradSchroederMichael DraytonDouglas DrazgaDavid & Theresa DreherCynthia DriscollSue Ann & Jim DriscollThomas & Barbara DrodzAileen DrosendahlMarcia DrozdDoug & Jean DrumhellerEdward & Jane DudekWilliam & Janet DuderstadtDavid & Linda DuesselDiane DuffTimothy & Sandy DuffyChristean DuganPatrick & Mary DuganGeorge & Judith DukovichJudith DulembaJacqueline DullyKathleen DulskiSherry DumraufAngela DunbarJoanne DunlapRichard & Nona DunlapJames & Sandy DunmireRichard & Janice DunmireEdward & Rosemarie DunneJeffery & Wendy DutkovicMary DutkovicMichael DutkovichDr. Colleen & Thomas EbbertMarcia EbbertNorma EbelingGary & Christine EbkenIn lieu of bachelor/ette parties, Justin Harrison andChristine Buono hosted a bridal party car wash tobenefit NHCO.-8-
---
Volunteers Jo Stone, Bobbi DiDomenico, Barb Schmidt, Jean Muth, KatieCowling and Jan Harrison sort Back to School donations.Charles & Maureen EbnerJames & Dorothy EdgeJennifer EdmondsJohn & Nancy EdmondsonAudrey & William EdsallChad & Melissa EdwardsDonald & Carolyn EdwardsHerman & Bonnie EdwardsPaul & Lara EdwardsRobert & Susan EdwardsRobert P. EdwardsVernon EdwardsEdward & Lisa EgnacheskiMary EhrenbergerJohn & Cecilia EichenlaubRobert & Janet EicherWilliam EichnerLaura EidenEdward & Virginia EighmyCaitlin EilenfeldtAda Eisengart & DavidTherrienMary Ann & Dave EisenreichSharon ElinichPeggy & Joel ElizeusLaura Ellsworth & BruceTeitelbaumRichard ElterLois EmlerNancy EnglishWilliam & Mary Lou EnglishMatthew & Jodie EngottKaren Engro & Jules LobelKathy & Ronald ErhartScott & Elaine EricksonMarcia Erling & JohnSpanglerGail EtterWilliam EtterJames & Mary EvanochkoKen EvanoskiAlice EvansArthur & Betty EvansJames & Kristina EvansJim & Rita EvansRobert & Kimberlee EvertGrace & Christopher FaberGeraldine FaderewskiWalter FafataJack & Carolyn FagenJames & Janet FahrionBradley FakoJoyce FakoRichard & Lisa FalgionePatricia & Robert FallJohn FalleroniRobert & Linda FalvoJohn & Joan FancherMark & Carolyn FarabaughWilliam & Patricia FarbacherJanet FarrenJames & Nancy FasnachtDavid & Janet FawcettJames & Lois FawcettKevin FayJoseph & Nancy FearonHelma FeatherRichard & MarthaFederowiczLinda FeichtRussell & Rena FeingoldMarlene & John FeithFrancis & Christine FeldWilliam & Nicole FeldhuesGerald FeldmanMartin & Jennifer FellowsSharon FengHerbert FergusonJohn & Adda FergusonMark & Susan FergusonLee & Linda FerketicRandy & Rebecca FerrarJoseph & Joni FerraraWilliam & Judy FerraroAnthony & Leslie FerriJoann FerrillCarol & John FerryMary FetchakRegan FetterolfMartin & Lynn FeuerPatricia & Daniel FickleyJanet FierstJohn & Constance FilipcicJames & Paula FinelloVincent & Elizabeth FinizioMary FinkRuth Ann & Patrick FinneganBetty FischerDennis & Linda FischerGeorge & Jackie FischerLinda FischerJohn & Constance FishellAnita FisherTom FisherLawrence & Deborah FitchPaul & Joanna FittingSarah FitzsimmonsMichael & Catherine FlahertyRon & Mary Ann FlandersWilliam & Juliette FlascheTeresa & Lawrence FlatleyRalph FlaugherJoel & Heather FlayerBeth & Todd FleckJoan & Herbert FleckMichael & Jane FleischauerMarcia & RobertFleishman, Jr.Dean & Alice FlemingJohn & Carol FlemingJoseph & Mimi FlemingDavid & Mildred FlorijanChristopher & Tina FlowersErin FlynnMike FodiCynthia FohtWilliam FormosaIngeborg ForrestRev. Robert & MarleneForsytheMargaret & William FosterPatrick & Amy FowlerMarshall & Sarah Jo FoxAndrew & Terri FraleyArlene FrancesAndrea Francioni & ToddRooneyPaul & Ann FrancisRon & Tina FrancisRonald & Shirley FranckAndre & Mischele FrancoisDeane & Patricia FrankJane FrankelGregg Franklin &Josephine FronzaglioFrank FrankovicGerald & Betty FrankovichCathi FrattiniGregory & Kate FreehlingBetty FreemanJames & Anna FreerNancy FrenchPaul Freund & RachelMooreMarlene & Howard FreyWilliam & Joanne FriedJohn & Charlene FrielJames & Karen FriendJohn FriesBeth & Kurt FriscoChristopher FronzaglioPamela & Fred Frost-9-Renee & Jeffrey FullKatherine & Robert Fulton, IIIJames & Sherree FunkMary FunkDeborah FurdaJohn & Cynthia FuscoWilliam & Lindsey FustosWilliam Gabella & GeraldineMcCulloughJames & Gertrude GabertGregg & Susan GaertnerWilliam & Elizabeth GaguzisDeb GaitaSanford & Janet GalantyChristine GaliotoBetty Jane GallagherMary GallagherFrances & Mary JaneGallapagaRichard & Susan GallegorJoseph & Patricia GaluskaDr. Rina Gandhi-KulkarniAleem & Shameem GangjeeGrace & William GarberMargaret GarbooshianPaul & Henrietta GarrettMichael & Judith GarrityHubert & Nancy GarverMelissa GaskillSusan GauglerJames GausLinda GavulichMonica & Bruce Gay, IIICarla GedmanBob & Laurie GeePaul GeerKara GeibelJohn & Connie GeierFrederick & Melinda GeigerGayle GeislerCheryl GeorgeHeather GeorgeMark & Karen GeorgiadisMark & Laurie GerberBetty GerginskePeter & Lisa GermainCharles & Betty GermerWilliam & Joan GerstelJohn & Karen GethenJohn & Janet GetzBetty Ann GeyerManju GhaiCarolyn & Robert GibbsHarriet GibbsKarl & Alice GibsonRobert & Holly GibsonWilliam & Pauline GibsonJohn & Barbara GiederTimothy & Susan GiegelJohn & Jodi GillDiantha GillenPaul & Sheryl GillilandDavid Gillingham, Jr.Dan GimiglianoRobert & Brenda GindeleCathy & Michael GinsbergDolores GirtsPaul & Lisa GiustiDavid & Donna GivensEdward & Shawnee GlaceTed GlasgowDennis & Jessica GlassDr. Louis GlassoGeorge & Janice GleesonRobert & Amy GlodowskiWilliam & Deborah GloverRobert & Virginia GlozMaureen GluntzLois GobrechtJudith & Ray Goehring, Jr.Robert Goitz & StephanieRichardsRobert & Sue GolierGray & Wende GonczCharles & Carolyn GoodmanMarianne & John GorcsanPatricia & Robert GorczycaArlene & William GordonHerbert & Annemarie GordonWendy Gordon & TimParchukeChristopher GormleyJacqueline GossBetsy GourleyMichael Grable & Lisa KriegJohn & Marilou GraceDoreen & Leonard GradaStella GradaJohn & Tracy GradyDolores GrafChristiane GraffRobert & Anna Marie GrahamRuth GrahamRichard Graham & BethHallidayDaniel & Patricia GramcJames & Kimberly GranerJanice GranerTim Grant & Judith HooverLynn & William GraperRichard & Patricia GraswickSalvatore & Teresa GrecoHarry & Judith GreenMichael & Elise GreenPatricia GreenDonald & Sarah GreenawayJohn & Linda GreeneJoan & Vincent GrejdaLouis & Ann GreulichRichard Grguras & Polly YoungMary Susan GriffinStephanie GriffithSteven GriffithRobert & Carolyn GrimmDon Grimm & Lynne SpataforeDale & Christina GroceDavid & Julianne GroetschDaniel & Lisa Groff"Thank you for your help duringthis difficult time. I have beendeeply humbled and blessedand am sincerely thankful."—McCandless family who receivedDollar Energy assistance, SpringShare baskets and other help
---
Gary & Barbara GroschJames & MaureenGrosheiderJames & Bonnie GrosjeanGeorge GrossAlfred & Arlene GrubbsPeter & Brenda GrygielRobert & Amy GrzybGary & DeborahGuadagninoDeana GuarneroSam & Carol GuerreraCatherine Guidi-SchermEvelyn & Raymond GuidishRichard & Susan GuidoLinda GuilerStephen & Kathleen GuinnFaybenne GunnVictor & Janet GustaitisMarlene HaasPeggy HaasLaura HabermanHugh Hachmeister & SandraMcClelland-HachmeisterChris & Raymond HackJane HackettDaryl HagenMartha HaggertyDennis HalasEdward & Nancy HalasAndrew & Linda HalcoussisGail & John HaleyDevin & Megan HalkoEdward & Ruthann HallRobert & Carol HallerRev. John & Anne HaluszczakMarie HamiltonEileen Hamilton-LeitermanClyde & Donna HammackKathleen HammondDenise & Bradley HampsonHarry & Sheila HanleyJohn HannaMilton & Frieda HannaSusan HannaMelody HanneganRoger & Carol HanniganDouglas & Janet HansonRozanne & James HansotteClifford & Paulina HardtBrian & Lorraine HardwickNancy HarnishDr. Malcolm HarrisBarry & Betty HarrisMary Ann & William HarrisJustin HarrisonNeil & Janice HarrisonTerence HartTracy & Perry HartgePatricia HartiganLois HartmanPatricia HartmanRichard & Patricia HartmanScott & Karen HartmanRichard & Eleanore HartrickIvan & Mary HartzbergAnna HartzellJesse & Danielle HarveyDan & Sandra HaschakPaul & Andrea HassettDavid & Elaine HatfieldDoris HauerVirginia & Paul HauserTodd & Noreen HavekotteRichard & Agnes HaverlackRose Mary HaverlackDavid HawbakerJanet & James HawkinsLinda HawksworthPamela HawleyKaren HaywardNorman & Nancy HaywoodGeorge & Diana HazlettDr. Dean & Cindy HealyJames & Janice HeatonHolly Lee HeberleRichard & Alexis HeckertBarry & Jacqueline HeffnerRonald HefnerGertrude HegedicJohn & Cathy HeggestadJames & Ruth HeimDavid & Lynn HeinFrederick & Leona HeintzMatthew & Holly HeirendtGenevieve HeiselMichelle & Neal HeissRobert & Linda HeithoffKathy & Keith HennStephen & Margaret HensleyJohn & Annette HenzlerMichael & Elizabeth Hepler-SmithJill & Stanley Herman, Jr.Rosalie HesletRussell HesletKaren HespeleinDean & Valerie HessJoy HessMary HeyRegis & Bertha HeylCarl & Donna HeyneJudy & Rae HicksMary Lou HicksCheryl HikaDiane HildenbrandMichael HildenbrandNorma HildenbrandAmy & Mark HillGeorge & Joan HillChristopher Hill & SusanLuebbertRobert & Maris HilliardDarlene & Steven HillsJeffrey & Susan HimrodJudi HindesAbby HinsonHarry & Jean HipwellTodd & Alisha HipwellLori HirschLaurie & Alan HirschmanDavid & Patricia HirshAnna HirtzyRonald & Judith HirtzyHelen HiteIn April, we dedicated the Community Auto program to our mission. Adultspictured left to right: board member Briana Mihok, special advisor to the boardCongressman Jason Altmire, board member Sara Kennedy, volunteer LynneBraun-Warth, vehicle consultant Ed Holdcroft, board member Rick McClure,program manager Jennifer Carr, and board vice-president Bill Snyder.Marilyn HiteIrene HodgeFred & Eileen HodgsonBarbara & Bill HoffmanJohn & Carolyn HoffmanSharon HoffmanStanley HofstetterRosemary Hogan & JoanneMcCloskeyWilliam & Carole HohmannKaren HollertzJeffrey & Christine HollingerDenise HollisRalph & Elizabeth HollisDianna HolloRichard & Georgia HolmGerald & Susan HolmanRichard & Jackie HolmesSheila HoltAlbert & MargaretHoltgraverEdgar & Donna HoltzJeffrey HolzapfelDonald & Kay HookPaul & Susan HoolahanRuth HorniJeffrey Hornung & CynthiaMcCulleyBethany HorstmanMichael & Mary HoslerDale & Joanne HothThomas & Dona HotoppWallace & Sally HoughMeredith HouserMerry Ann & Kermit HouserRobert & Lorraine HoustonN.L. & Joan HowensteinAlexander & ElizabethHowsonRichard HribarChristopher HruskaDonald & Karolyn HuberDaniel & Susan HubertLinda & James HubertMark & Tina HudakKen & Margie HudsonMel HuerbinVictoria HuffmanNancy Huggins & KathrynSheetsDonna HughesRichard & Wanda HughesStella HughesSuzanne HughesWilliam & Mary Lou HughesRoy & Judy HummelTim HummelKathryn HunkeleRobert & Dolores HunkeleKathi HurshJoel & Stephanie HurtDr. Syed & Ranna HusainiHelen HutchingsPhilip & Patricia HutchisonGeorge & Rachel HysongVirginia ImhofCharles & Lisa ImpavidoJanet InghramKaren IttelJohn Iurlano, Esq.Kathleen IvoryPriscilla JackmanLisa & John Jackson, Jr.Mary JakabsinDonald & Danelle JamesonDavid & Marian JamisonLamar JanesJoan & James JanovskyErik JansenLinda JansenJack & Patsy JanssenChester & NancyJarmolowskiRosemarie JarmulowskiJoseph & Rebecca JelinekWayne & Gerry JelinekAlisa Jenkins & Scott ReedPhyllis JennyBarbara JeremiahDeborah JermalowskiJames & Margaret JeswaldJean & Robert JewellJoyce JobeDebbie JohnsonDonald & Gerry JohnsonJackie JohnsonMarilyn JohnsonMary Ellen Johnson &Edward RockmanMatthew JohnsonWilliam & Joanne JohnsonBill & Donna JohnstonConnie & Eugene JohnstonDavid JohnstonGraham & MarilynJohnstoneDonald & Joyce JonasDonna JonesNancy JonesNancy & Tom JonesDr. Stephen & Erica JonesThomas JoosMark & Peggy JoplingJames & Mary Ann JordanEric & Linda JoyJane & Ralph JoyRobert & Gail JuddKenneth & Terry JudsonDorothy JuhaElaine JunioAleksandra & WitoldJurewiczJames & Mary LouiseJurkovecBob & Marian KaiserErich KaiserLori & Peter KallamsKenneth & Mary Ann KallisDean & Calliope KamarasRobert & Marcia KaminskiStacey & Jeffry KaminskiLisa KamphausLinda KamzelskiKevin & Valerie KandtJohn KaneJohn & Amy KaneJoseph & Janice KaniaVida KanieDaniel & Carol KapetanovichLaurie & Hemanth KapoorWilbert & Constance KappAllison KappelerStanley & Carol KarasturyDonald KardosDorothy KarlovichEileen & James KarnavasEdmund & Jackie KarrerScott & Marleen KasbeeDavid Kasperek & Mary AnnVan DeveldeAfif & Sonja KassoufEdwin & Paula KauffmanDean & Nancy KayHelen Kay
---
Joyce KayJoseph & Barbara KaydaLiz KaydaNikolaus & Helen KecksKevin & Gretchen KeillorBarbara KellerDenny & Ruth KellerCheryl & Joseph KelloBryan & Loraine KellyF. Paul & Virginia KellyFranklin & Diane KellyGretchen KellyJill KellyLinda KellyVeronica KellyRev. Alick & Jean KennedySara & Brian KennedyAlbert & Joyce KepnerJanice KeppleEvelyn KerestesLeslie & Rhoda KernRhoda KernRobert & Miriam KerrRev. Sandra KessingerAlthea KesslerJoseph & Kathleen KiewraSusan KigerTerence & Joan KilianyCheryl & David KillianAlbert & Joan KillingerCindy KimmonsRonald & Lillian KimsJudith KingMarion KingRobert & Betsy KingDavid Kinol & Karen ShookKinolJudith KirbyLawrence & Donna KirbyDonald & Jean KirkJames & Audrey KirschJohn & Debbie KirschDolores KirschbaumRita KirschlerLee & Maria KitayEdward & Donna KitzmanKirk & Carol KjellmanEugene & Tanya KlaberJanet KlagesTimothy KlatteKevin & Natalie KlaumRichard & Arlene KleinBruce & Margaret KleinertMark & Terri KleinfelderJanet KlemencicF. Chester & Dorothy KletkeAlex & Ellen KlineFrederick & Nancy KlineRichard & Louise KlineElla Mae KlotzBetty & Robert KmetikJoseph & Mary KnappMary Jo KnausKelly KocherLynn & Peter Kochis, Jr.Dr. Lucille KoehlerRobert & Cathy KoehlerCharlotte & Eugene KoenigRaymond Kohl, Jr.Daniel & Sheree KohleyHerbert & Jean KolbeSamuel & Barbara KolmenJohn & Celestina KomarBernard & Karen KomoroskiMichael & Margaret KopkeSandra & Robert KoplerJoyce KorthSusan & Bernie KortzGeorge & Dorothy KosakRobert & Elizabeth KosslerDavid & Rise KostilnikEdith KotcheyChristine KovacVicki KovacsChristine KozaDavid Krackhardt & SharonMcCarthyRichard & Judy KralCaroline KramerFrancis & Marianne KramerDennis & Donna KrausRobert & Shelly KrausDebra & William Krebs, Jr.Teresa KrebsArlene KremerMarianne & Rick KremerBill & Eileen KrenachRyan KrescankoMary Jane KressEdward & Carolyn KridlerDavid Krigger & AndreaRousseauMargaret KriggerGregory Krivacek & CarolScicutellaLeslie & Janet KrolDick & Pat KrotzerDiane & Robert KruegerElizabeth KrughRosemary KrughMarla KruthKsiazek FamilyCharles & Elsie KubaJanet KuderJames & ChristineKuemmerleJohn & Mary Ann KuhnDonna KulikJenna KunselmanKarla KurfessGerald & Corinne KurlandskiClarice KushmaTom & Kathy KutcherTim & Marianne KuzmaElizabeth LabellaRocco & Shirley LaCavaKevin & Margaret LacekMichael & Karen LaceyC. Stuart LaDowJohn & Margaret LagneseJoseph & Patricia LagneseMichael & Janice LakatosCecilia & James LammJames & Rita LammScott & Susan LammieMark & Stacey LanciaJoseph & Janice LandefeldLainie LandefeldLynn & Marilyn LandisJacqueline LangLinda LangTom Lang & DebbieMarzianoElizabeth LangePatricia & Alfred Langer, Jr.Michael & Janet LangneckerJoseph LantzNancy LappMartin & Karen LatonaRichard & Annette LatuskaHarrison & Karen LauerWilliam & Kelly LauerDavid & Susan LaurentLois & Bill LauxNHCO organized teams of FedEx employees and Urban Youth Action teens tovisit with senior citizens as part of an intergenerational project for the MartinLuther King, Jr. Day of Service.John & Rose Marie LawleyDiana & Edward Lawry, Jr.Harold & Cynthia LebensonThomas & Polly LechnerCarol Ann & John LeDonneDavid & Carol LeeSamuel & Anna Marie LeezerEileen & Jim LemezisStanley & Patricia LempiaChristine & Benjamin LentzLinda & Michael LentzKim & Mark LenzCharlene LepantSylvia LepczykJeffrey & Jean LeriHoward & Gertrude LessmanNancyann LetterioShirley LewellenRobert & Ann LewisBonnie & William LeyWayne & Martha LeyMatthew & Daneen LeyaJeffrey & Linda LibertoKenneth LiddleDelmar & Betty Lee LiebVincent LiebdzinskiJohn & Norma LiebenguthThomas & JacquelynLietmanAnne LinabergerMarian LindenmuthBob & Linda LindgrenJanet LindnerMary Catherine LindnerWilliam & Mildred LindnerEdward & Alice LinkElaine & WilliamLinkenheimer, Jr.Joyce LipchakMary LisottoMichael & Gayle LittleWilliam & ElizabethLivengoodVincent LiVolsiRichard Lloyd & MaryO'TooleDavid & Lynn LockeLisa & Lloyd LockermanRobert & Judith Lockhart-11-Charles & Helen LodgeMarie LoebigJim & Mary LoefflerRichard & Susan LoetherChris & Linda LoewerDeepika & Robert LofgrenPatricia LoganEdward & Marianne LoiblLisa & John LombardoJoseph & Maryanne LongSharon & Darryl LongGerard & Jackie LongoRobert LongoLynn LopezArlene LopintoChuck & Cynthia LopopoloChristopher & GeraldineLordMagdalenna & FrankLorenceJanet LorenzDr. Robert & Diana LoveDonald & Monica LovreRussell & Margaret LowellWilliam & Marie LowryEdward & Marjorie LubarskyJeff LucasJoseph & Eleanor LucasJames & Linda LudwigMarilyn LuftWilliam LuftNicholas & Maryann LuginJoseph & Susan LugoThomas & Nancy LuisiNancy LukacsJeff & Arlene LunderstadtEthel LunneyKenneth & Joyce LunzJennifer LuptakRobert & Fay LutherDaniel & Paula LutzHarry & Dorothy LydicDavid & Janet LydonPatrick & Sherron LynchRobert LynchWendy LyonsLouise LytleBarbara & Joan MabonRoyanne MacDavid & Vicki MacDonaldKenneth & CarleyMacDonaldRonald & Sharon MacecevicWilliam & Robin MachugaGrace MaciejewskiAndy MacIntyreMauro & Sandra MacioceFred & Jean MackanessWilliam MacKayDonna MacsugaLois & Tom MaddenGregory & Sallie MadiaRonald & Judith MadiaPeter Madsen, Jr. & KathrynWiltRichard & Josephine Magill"Thank you and God bless youfor helping us with our rent thismonth. We are so grateful foryour kindness. Your organizationhas been a Godsend to us. Yourfood pantry has been a blessingas well."—Bellevue couple
---
Robert & Beatrice MagillVarun & Sonia MahajanJohn MaitlandMichael & Debra Ann MajcherAllen MajeskiZelma & Arthur MalbardsJanice MallMark & Bonnie MallonKaren & Michael MaloneyBob & Patricia MaloneyJason MaloneyLawrence & Ruth MaloneyJeff MaltzCrystal & Chris ManningJanet & Jim ManningJennette ManningRamona ManningSusan ManziJohn & Susan MaranoElaine & Augustine MarascoChristopher & Karen MarchettiSharon MarianiMarie & Riccardo MarinelliJerome & Natalie MarinzelEllen MarkelThomas & Janice MarkewinskiRobert & Sylvia MarkoLouis & Linda MarkovicCraig & Diane MarkovitzCynthia & E. Maxwell MarksJose & Sheryl MarquezAlice MarshallFrank MarshallWilliam Marshall & Patricia WagnerCarol MarsiglioGary & Sheila MartinKathleen & Joseph MartinPeter & Marcia MartinElizabeth Martinez-Sotus & PeterSotusJames & Kathy MartucciWilliam Maruca & Susan MorrisPaula MarukMark MarusicDr. Shashi & Ashok MarwahScott & Suzanna MasartisRichard & Margaret MaserVirginia MasiJudith MaskreyFred MasonMary Ann MasonMark & Donna MastandrecHeidi & Anthony Mastellino, Jr.Joseph MatejkaRobert & Janet MatherHelen MathiesonRobert & Elva MatousJoseph & Rhonda MattDennis & Jennifer MatthewBill & Jane MatthewsJohn & Patty MatthewsRuth MatthewsFrank & Rose MattisonMarci & Paul MatveyRonald & Valerie MayBruce & Crystal MaynardAlbert & Lois MazuknaKristin MazurMichelle MazzottaMelissa McAllisterAdam McAnultyBetty McBaneJean & Gene McBrideMichael & Karen McCabeDavid & Joan McCaffertyDaniel & Lana McCaffreyClair & Patricia McCallSheila McCallMaureen McCameyJanice & Michael McCarthy, Jr.Daniel & Regina McCarthyGeorge & Annie McCarthyKaren McCarthyJanet McCartneyJohn & Jocelyn McCartyCoralyn McCauleyCharles & Ruth Ann McChesneyJanet McClintockRichard McClureMichael McConeglyNancy McCoySylvia McCoyReinald & Doris McCrumThomas & Melissa McCueGeorge & Coletta McCullyMichael & Christine McDermottShelia McDevittHelen McDonaldHelen McDonoughDennis & Karen McDunnPaul & Mary Ann McDunnJackie McElhaneyThomas & Patricia McElhoneJennifer & Ryan McEnroeMartha McEvoyKaren & John McGintySuzanne McGlothlinRay McGogneyMyron & Jacqueline McGounEileen & Art McGovernCheryl McGrady LiberatiJames & Mary McGuireRobin McGuireRichard & Nancy McHughTom & Kathryn McHughHoward & Paula McIlvriedHoward & Shirley McIlvriedEmma McIntosh"Thank you for awarding this generousscholarship to assist me with mytuition. Because of this, I can continuemy schooling and look forward to mygraduation in May!" —Tiffany, a WestDeer woman who received an NHCOscholarship sponsored by Zonta ThreeRivers North and is now an ultrasoundtechnician-12-We rely on caring groups such as North Allegheny's Varsity Track &Field team to conduct food drives.Carol McIntyreMolly McKayGeorge & Phyllis McKeeKraig & Jane McKeeRalph & Elsie McKeeRobert McKeeJ. Barbara McKelwayAudrey McKennaThomas & Maureen McKenneyWilliam & Patricia McKimGary & Sandy McKnightRichard McKnightRichard & Nancy McKnightKathy McLane & Jim QuinnAlma McLaughlinJoseph & Cheryl McLaughlinLinda McLaughlinLinda McLemoreJean McMahonKaren & Pat McMahonIris McManusRobert McMaster & Beverly McGrathMarjorie McMullanVirginia McNallyMichael & Rebecca McNamaraMichael & Lori McNeelyWilliam & Carolyn McQuaideJoanne & William McVayMerle & Helen Sue McWilliamsFrank & Rose MeacciKevin MeachamBill MechesneyPaul & Carol MeeseLisa MehalickMichael MeharraJoe MeierJohn & Connie MeinertDave & Peggy MeisterDonald & Alice MeisterRichard & Marilyn MeisterElizabeth & John MellorPeter & Cathy MendesAmy & Mark MendicinoRevs. George & Caroline MendisThomas & Judith MenkJack & Susan MennisScott & Elaine MenschJeff & Tammy MercadanteKaren MerrickMichael MesorasRobert Metcalfe & WendelynneNewton, Esq.Gary & Marian MetroVincent MetzStephen & Diane MetzerEdward & Linda MetzmaierGregg & Jacquelyn MeyerJoseph & Harriet MeyerMark & Mary Ellen MeyerEdward & Eileen MialkiHelen MichaelDennis & Barbara MichaelsJoseph & Sara MichalskiJoseph & Rischelle MicucciMary Jo MicucciRichard & Kathleen MihmRobert & Margaret MihmBriana MihokSusan MikullaDave & Liz MilavecCheryl MildrichMilholland FamilyEugene & Twila MilkovicCarol MillerDiana MillerDonald & Beth MillerDonald & Jo-Anne MillerGary & Judith MillerJanet MillerJohn MillerJoseph & Tena MillerKenneth & Barbara MillerLinda MillerMarie MillerPatricia MillerRichard & JoAnn MillerRobert & Margaret MillerRose MillerWilliam & Kathleen MillerWilliam & Mary Jane MillerLorraine Miller & Darren WolfRussell & Lois MillsNatalie & David MiltenbergerFrederick & Joan MinerCarolyn MinnisMichael & Karen MinsterThomas MiovasAnthony & Jean MiscoeGeorge & Molly MisseyMartha MissonGeorgeann & Robert MitchellBarry & Margery MitnickGeorge & Marilyn MitreckPaul & Connie MockenhauptEugene & Louise ModicThomas & Kathy MoleRoger & Jean MolineMildred Molkenthin
---
Terry & Janice MolnarTimothy & Jessica MolnarJohn & Josephine MondaJohn & Ruth MonstedLouis & Kristin MontantiJoy MontgomeryRobert & Ann MontgomeryJan MooreDaniel & Janice MooreJames MooreSandy MooreDavid & Janna MoranKathleen MoranMyron MordecaiBenoit & Penelope MorelGaetano & Mary MorelloRev. Blair & Fay MorganRobert & Carol MorganRobert Morgan & Renee Wilson-MorganRosemarie MorganJeff & Pam MorrisJeffrey MorrisRobert & Luola MorrowTanya MorrowTod MorrowDavid & Karen Ann MorseJames & Diann MorseRick MortonJames & Ida MosellenDoreen MoserDonna MosessoJean MositesStephen & Marcia MosolanskyLisa & Harry MosserMichael & Janis MottolaWilliam & Donna MoulJames & Christina MuellerLeo & Jacqueline MuellerAndrea Mueller & Loretta ProchRobert & Margaret MuhlNina & Philip MulcahyKerry Keegan MulhernPatrick & Erin MullenRichard & Martha MunschMike & Denise MunsonJames & Kathleen MurphyJames & Sina MurphyAlex & Elsie MurrayColleen MurrayPaul & Catherine MurrayTimothy & Diane MurrayTroy & Mary Jo MurrayJohn MurtaghJohn Murtagh, Jr.Jacqueline & Robert Musgrave, Jr.Ruth MusserEdward MyersMargie MyersJesse MytingerRobert & Alice NadinHarry & Kathleen NagelDavid & Barbara NagyJames & Sharon NagyCarol & Frank NamisnakMichael NapolitanoNancy & Don NaragonPearl NashMary Love & Bill NastDr. Lisa NathHelen NavratilAthena NawarPat & Mike NazakCheri & Richard NeelyMary Ann & James NeelyRobert & Lisa NeelyJohn & Mary Jo NeffCharles & Susan NelsonJames & Anne NelsonLinda NelsonTheodore & Daryl NelsonGregory & Larice NescottNadine NethenDonald & Joan NeubergerEliza & Hugh NevinRalph & Jenny NewcampAnn NewillDale NewmanVictor & Mary Ann NicholasWilliam & Gail NicholsSusan NickersonJohn & Mary Ann NicotraRhea & Salvador NicotraStephen & Kathryn NimmoPaul & Lynn NoelDavid NorrisKaren & John NorrisKathy & Robert NovakAlice NowickiMarie NudiLarry & Barbara NugentHarry & Monica NullRobert & Karen NussbaumRuth NuszShirley NymanBradley & Lynn ObergRichard OberlanderDavid & Mary Ellen O'BoyleWilliam & Dolores ObringerD. Scott ObroskyGlenn & Ruthann OchsEdward & Janet O'ConnorM. Brian & Patricia O'ConnorRobert & Maureen OddoTracey & Thomas O'DonnellKent & Molly OestreichGeorge & Suzanne O'HanlonMichael & Mary Lou O'KeefeElaine & Alan OleyEileen OlmstedJoseph OlshefskiIrma & Roy OlsonLee & Cynthia OnanDiana & Bob OpenbrierFred & Linda OrehowskyMark & Susan OresicDaniel & Christine O'RourkeDeena & Richard OrrJennifer Lynn OrtizRobert & Karen OsbornBob & Kathy OsterriederWarren & Sorena OstlundAllis & Evan OswellLawrence & Laura OttEdna & A.D. OvercashierJoyce OwensRoger & Diane OxendaleRichard & Dorothy PackerDiane Padol-WilliamsGabriel & Linda PagliaroMike & Cathy PaineLinda Paine-PfisterCatherine & Dwain PainterTom & Marlene PainterMark & Ellen PalajsaLynn PalenEd & Rose PallottaIndravadan PanditDavid & Allison PaneGlenda ParenteGary & Laura ParkerJames & Pauline ParkerCorri ParrinelloJames & Margaret PartridgeSteven & Karen PartridgeRobert & Janet PascoeKayla PasqualeMichael & Meredith PasternakPrakash & Uibhut PatelVerna PatskoLewis & Donna PattersonCharlotte PattonPatricia PattonChristopher Paul & Melissa TabbarahJane PaulJohn & Cynthia PaulesJennifer & Philip PavelyTony PavickStephen & Beth Ann PavlickIrene PayanAnthony & Anne PaylingJames PayneGeorge & Elaine PazinArnold & Nora PeaceJ.C. & Catharine PeasleeJim PecoraAlma PeetLinda PefferEdward & Dolores PeffermanBerndette PehaFrank & Saundra PeiritschRev. Victor & Janice PeischlRonald & Martha PelkoferKathleen & John Pelusi, Jr.Edward & Jacqueline PencoskeBrian & Lisa PendergastNancy PenneyMichael & Helen PepperneyGale PerezGarnetta PerkinsJulia PerkinsWilliam PerlingerMichael & Ilona PerryPatrick & Denise PerrySteven & Cynthia PerryJoseph & Debra PetakMary Alice PetcharBetty PetersDave & Mary Lou PetersVirginia PetersonCharlotte Peterson-GrahamAnna & John PetrakovichMary PetrichMark & Kathleen PetroskyRenee PettyJohn & Dorothy PfaffHarold & Leslie PfiffnerRichard PflughKimberly PhillipsMartin & Janet PhillipsLauren PhoenixDonald & Karen PiaseckiGilbert PielinPatrick & Kim PierceChristopher & Michelle PiersonDan & Kathleen PietroboniRay & Marian PietrzakDavid & Claudia PingreeMichael & Maryann PiniJana & Wendell PinkertonJames & Kyle PintaTom PirhallaMatt PirolloRobert & Linda PirolloDiane & Mark PisarcikJohn & Virginia PiscolishShirley PittmanKen & Florence PizzicaGregg & Sharon PlattMary PlattsJohn & Rosemary PleshaM. Irene PletcherDr. Greg & Rebecca PletzFrank & Mary Ellen PloweyErin PlunkettMary Ann PobickiMike PolacekPatty PolacekGregory & Karen PolicicchioBrad & Ettie PollackRichard PolleyJoyce PontzloffRamond PopielskiJames & Lisa PorterJohn & Monica PorterMark & Jane PoselFrederick & Ann PotthoffRaymond & Marsha PowellJanet & Robert PowersThomas & Gail PragerEli PremJeffrey & Marcy PremOwen PremDavid PrenticeShirley PrevostEllen & Michael PriceAlana Mazzei and Haley Travis collected 37 gently worn wintercoats at a birthday/Halloween party.
---
Nancy & Tom PriceCarl & Judy PritchardJames ProsenjakKristine ProvenzanoCathy & Jeffrey PschirerJames & Carolyn PschirerDavid & Ava PuccioBeverly PughPeter PuglieseMarianne & Keith PurnellPaul QuarantilloDaniel & Mary QuigleyRaymond & Lorraine QuinnSusan & John QuinnJoyce RabinovitzAnna RacicDean & Marjorie RadebaughRobert & LuanneRadermacherThomas & MichelleRadziminskiRoger & Theresa RahenkampBruce & Aline RainesJohn & Anne RakszawskiPeter & Mary Ellen RamageRuth RamageLekshomi RamalingamMakum RameshJames & Lois RamseyWilliam & Amy RamseyLuke & Ronna RapachWillemina RatnavaleKristin & Donald RavasioLowell & Donna RaynorMelissa RayworthScott & Lynn ReaghardWilliam & Irene ReaghardMargaret RebeccoJames & Cheryl RedmondOlivia RedshawMarguerite ReedPamela ReedRuth Ann & Frank ReedCharles & Laurie ReeseEleanor ReeseGary & Jane Ann ReganSanford & Shirley ReichScott & Tracy ReichJune & Al ReidAnn Reidy & AndrewWagnerJoseph Reif, Jr.Dr. Donald & Gay ReigelElizabeth ReillyBeverly ReinhartJohn & Patricia ReinhartFrances & Kurt ReinmillerStephen & Margaret ReiterThomas & Colleen RekowskiMarilyn RenkeyKazim & Naveed RezaShabana RezaPhillip & Beverly RezzetanoCharles & Rosemary RhineRichard RhodesCarl & Carole RhuleGeorge & Eileen RibnickyDrs. Marc & Eileen RiceAnna RicePatricia & Kenneth Rich, Jr.Suzanne RichardJames & Patricia RichardsHobart & Jeanne RicheyJanice RidenourStan & Vina RideoutGregory & EleanorRiedwoodJohn & Kathryn RiesRonald & Beverly RiggsWolfgang & MarionRihmlandThomas & Karen RihnSue RimerKenneth & Lois RippinDavid & Robin RishelRichard & Mary RishelJack & Barbara RitenbaughJulianne RitzJohn & Denise RoachRichard & KimberlyRoadarmelSandra RobbibaroJake Balbach of Boy Scout Troop 335 delivers Scoutingfor Food donations to our pantry in Hampton."Thank you for being a solution to the foodproblem in our community, among otherproblems. I am humbled by how you cheerfullygive and pray that God will continue to equipyou better so that you may reach and changemore lives."—A struggling college student whouses our food pantry and receives winter coatsand other helpKaren RobbinsGary & Cookie RobersonBetty Jane RobertsOlivia RobertsonElred & Patricia RobinsonKathy RobinsonAnthony & Diana RockKenneth & Mary RockPhilip & Karen RoczkoWilliam & Nancy RoderickMary & Mel RodgersCollin & Dawn RoerinkBarry & Victoria RogersTimothy RogersJames & Heather RogusStephen & Patricia RohmTed & Susan RohmSteven & Dareen RomanchikSuzanne & StephenRomanelliJames & Maureen RomanoClyde & Armella RombachArlene RoosKen & Lois RoosJason & Deborah RoperJudy & Jack RosemanRichard & Carol RosenbergerShawn & ElizabethRosensteelLeah RosswogJohn & Sandra RothRobert RothPhillip & Joan RouceLee RouseRobert & Noreen RoyDonna RozeckDonald & Jane RubolinoCynthia Rudolph-DuganMelvin & Jeanne RudovColleen Ruefle & JamesShieldsVirginia RuffingPatty & Gregory RuffnerJoseph & Mary RuggieroChristopher Rulis & Lisa RulisRossJohn RumisekNancy RumonBeverly & Richard RushRozella RushGertrude RussellLori & Randall RussellRoger & Joyce RussoAnna Marie & DavidRuzomberkaMark & Susan RyanVirginia RyanElizabeth Rykaczewski-14-Cynthia Jo RylandsCharles & Marilyn SabatosRosemary SaccoAndrea SadowskiDaniel & Debra SafferKathie & Joseph SalpietroRussell & Beate SalterWilliam & Ruth SalvadorTheresa & LawrenceSampietroChester SandersonH. Howard & Joy SandnerCarol & David SandstromRuth SankoConstance SankovicEdward & Marion SankovicMary SansonettiPatrick & Patricia SantelliRamon SantosDebra & Richard Sanzi, Jr.Christine SartoriEdward & Christen SauerWilliam & Joanne SauereisenPaul SauersPaula Sauers-RehnRichard SaulJoseph & Eleanor SaundersMary SaundersJames & Sandra SaveikisPaul SaversRobin SayreLinda ScaglionePatrick & Diane ScanlonRonald ScanlonSamuel & Judy ScarfoneDavid & Martha SchachterJohn & Carol SchaefferTed & Nancy SchafferEleanor ScharfJack & Kim SchattauerThomas & Patricia SchaubleMichael & Carol ScheerDavid & Ann SchelbeJamie SchellerMarilou SchellhaasRoy & Marian SchellmanBernadette SchiffhauerKathleen & Gregg SchillingBruce H. SchlenkeChris & Paul SchlieperDee SchlotterSteve & Sandy SchmerinBarbara & Joseph SchmidtDavid & Janice SchmidtFrank & Mary SchmidtScott & Jennifer SchmidtJ. & Janet SchmittWilliam & Ruth SchmitzJack & Sheila SchmutzJames & Shirley SchnebelRev. Anthony & Tricia SchneckCharles & Sarah SchneiderSally & Tom SchneiderErik & Contenta SchoenmanPaula SchoeppnerClementine SchofieldEileen & Robert ScholtzTeresa ScholzeNancy SchomanJosephine SchomburgerBeverly SchonbachlerThomas Schorr, Jr.Michael & Penny SchrammRonald & Lisa SchrammEdward & Rita SchreiberRobert & Kimberly SchreiberWilliam & Judith SchreiberJames SchrmackEric & Barb SchroederJoyce SchroederMatthew & Julie SchroederTracy & Donald SchubertJ. Phillip & Dorothy SchuetteJohn & Marilyn SchulerVeronica SchultzKathleen & Joseph SchurerLouis & Lois SchurerWilliam & Sally SchusterMeredith SchwalmAndrew & Lisa SchwartzDavid & Sheila SchwartzJane SchwartzBruno & Harryl SchwarzKent & Diane SchwarzJanet SchwemmerPaul & Shirley AnneSchwendemanFrank & Margaret SchwererGeorge & Wanda ScottRichard ScottVictoria ScottBarbara & John SeagristJohn & Mary Lou SebastianLaura SechlerVictoria Brittain SeckelHerbert & Joan SeelNickolas & Lynne SefscikSandra SeidlRich SeidleRobert & Denice SeifertSarah SekowskiPaul & Mary SeljakCharles Dean SeminatoreWesley & Susan SempleRonald & Patrick SeptakDenise & Louis Sertich
---
Volunteers Kaitlin Tunney and Jenna Klaum serve up delicious treats at NHCO'sannual Dessert Theatre fundraiser at St. Paul's United Methodist Church.Gerald & Nancy SeverBernard SewakMichaline ShallcrossJean ShannonJoan Ann ShannonWayne & Margaret SharpPatrick & DoloresShaughnessyRichard & Linda ShawMichael & Peggy ShayMary Lou ShepherdRobert & Sandra SherawSteve ShermanWilliam & Judy ShipleyMary ShireyJohn & Lois ShirkJames & Phyllis ShoemakerJeffrey ShookAlan & Ann ShuckrowJames & Norann ShueyVictor & Patricia SiclariJoan SiebartJohn & Carol SieberThomas & Dana SiegeleJohn & Eileen SiegerKim & Maureen SiegertElmer & Kathleen SigetyFred & Rose SilhanekDaniel & Christine SilveyPam Ebner SimardRalph SimeoneLinda & Ronald SimiloJo Marie SimkinsRichard & Jean SimmenRobert SimmsElliott & Barbara SimonScott & Susan SimonsJohn & Marion SimpsonDorothy & Ron SimsRichard & Noel SingerTerry & Wendy SingerValerie & David SinsJoanne SippelAaron & Cory SiriHarry & Victoria SirockmanAlan & Virginia SkeddlePaul & Jane SkerlElaine SkerlongJim & Laverne SkidmoreJames & Candace SkilesDennis & Susan SkrbinSandra SkribaEdward SlackJudith Ann SlackJoseph SlagelLisa SlagelBernard & Loreen SlezakPaul & Nicole SlomerRichard & Evelyn SmailJeffrey & Patricia SmallwoodWilliam & Marianne SmelasDonald & Dorothy SmithFred & Rosalie SmithGary SmithGlee SmithHelen SmithJames & Nancy SmithRaymond & Nancy SmithRodney SmithRonald & Carol SmithSusan SmithWayne & Rebecca SmithPhyllis & Robert SmouseThomas SnamanRichard SneboldRuth SnodgrassDiane SnyderJames & Donna SnyderJoe & Diane SnyderJohn & Betty SnyderWilliam & Linda SnyderTodd & Michele SoergelGerard & Josephine SokolChristopher & Laura SollerJanet & Lewis SoltisMarjorie SommersCarol & Kevin SontheimerRaymond & Mary SorokaDick & Gwen SpahrGeorge & Patricia SpahrJerry & Helen SpakauskasStephen & Sherry SpargoJudy & Michael SparlinDavid & Donna SpatigJerry & Pat SpeakmanWayne & Beth SpenceHolly & Susan SpharGeorge & Sarah SpilkaSheri & Robert SpoharskiRichard & Coletta SporrerWilliam Springer, Sr.Eric & Denise SpringerJohn & Arlene StackJohn & Olive StackJoseph StamerraRoger & Susan StanierJasun StantonJames & Patricia StarkJoseph & Linda StasThomas StaszakAnnamarie StaufferRuth & Garrett StaufferMary & James StayerBruce & Katie SteckelKaren SteffaninaChristopher Steffy & LindaZangMichael & Suzanne StegerEverette & Carlene SteinGregory & Noreen SteinRobert & Susan SteinCharlotte SteinkirchnerNorman & Patricia StephenJack & Lynne StephensonJerry & Janet StephensonThomas & Carol StephensonJanet SteppAlice StetorJames & Debra StetorThomas & Linda StetzTamra StevensLeonard & Susan StewartJames & Lori StillwagonGeorge & Judith StipanovichDavid & Mary StoddartJohn & Susan StoehrCalvin StokerMichele & Richard StokoskiRonald & Nancy StollerJohn & Donna StolzJo & Steve StoneLawrence & Lois StonerJinnie-Ann StoraKaren StormJane & Stephen StoryFred & Kay StoutJohn & Rebecca Stout-15-Richard & Dorothea StoverWilliam & Margie StraitHonorable GeneStrassburgerCarl & Jamie StraubJoseph & Elizabeth StrayhornJosephine StrazisarDenise & James StrejcekRichard & Linda StringertWilliam & Lucille StringertAlison & Bill StromeJamie StromoskiLindsay & John StromoskiSally StromoskiDavid & Roslyn StrunkMark & Beth StuijfzandRaymond & Patricia StultzRobert & Sandy StuparJim Sugarmann & JoanWilkoszMark SullivanPaul SumicRichard & Patricia SundraSr. Betty SundryNawarut SunyavivatKristen & Michael SuvickJennifer Swallow & JoelThomasMaria SwartzbaughFrank & Teresa SwickRose SwiderskiTimothy & Barbara SwisherGeorgia SyribeysAnthony & Irene SzafranskiTimothy & MicheleSzczypinskiPeter & Norma JeanSzymanskiChester & Carol SzymoniakKatherine TabbarahEloise TacikConnie TackettDean & Maggie TaegerCarl & Theresa TalaricoJanet TalikDonald & Geraldine TannerJudith & Richard TappeRichard & Laura TaschnerDorothy TatrnAlexander & Jean TaylorBrandy TaylorHeather TaylorKimberly TaylorCharles TeaAlan & Elaine TearePamela TeeterGary & Michelle TekolsteClement & VirginiaTempletonBruce & Barbara TenleyJoyce TerranoNicole TeutebergRobert & Sallie TeutebergRichard & Shirley TheobaldKristen & Norman ThielRichard & Lynda ThillCatherine & ThomasThimonsJerrold & Gloria ThimonsDebra ThomasMary ThomasRichard & Ann ThomasDenise ThompsonGerald & DorotheaThompsonLois ThompsonMarian ThompsonStephanie ThompsonBetty ThomsonKelli ThomsonPatricia & John ThorntonKent & RoseMarie ThorpeLuke & Lindsay ThorwartSusan TibbensCharles & Natalya TichyMichael & Sharon TiesiOlive TillerArlene TimmonsAmy & Alfred Todd, IIIColleen ToddEsther TolanDavid TolerJames & Catherine TolleyDonald & Margaret TomasicJim & Cindy TomazichElizabeth TomerJeanette TomkoRobert & BarbaraTommasoneEdward & Jodi TonarelliDiane TormaKayla TothEileen & Malcolm TownsendCarol TracyDaniel TraderJill TrautvetterEdward & Janet TrbovichJoseph & Barbara TrdinichWanda TrdinichWilliam & Helen TrefzGeorge & Ruth TrentRobert & Dana TreserSharon TrimberEdeltraut TropeaGary & Deborah TruittDale & Karen TrumanGail TrustBarbara TsouJulie & Andrew TsounosDiane TucekSteven & Wendy TuellTony & Doreen TumminelloDavid & Kathy TurcsanyiLarry & Marilyn TurnerMichael & Lidia TurzaiMark & Beth TwerdokFrances TyksinskiEric & Kelly UbingerBridget & Keith UhrigMark & Terry UlinskiAyhan & Colleen UlkeMark & Margaret UminskiJames & Hollis UrbanCarol UrbanekNatalie UrbanekThomasina VainaThomas ValenzaAnne Van CollMelissa Van HooseNeil & Hannah Van HornRobert & Mary Ann VanNewkirkGail VandergriftJodi Lynn VasalaniJulie VasalaniLawrence & Christine VaskoTom & Jodi VecchioPeggy VentoJim & Lora VenturellaNancy & Stephen VerbosRonald & Kathleen VergonaWilliam & Tracey VernonChristina & Robert VertulloBruce & Kelly Vetter
---
Krysia & Ricardo Vila-RogerAmber VillellaRobert & Deborah VitaAdele & Thomas VitunicRichard & Desa VoelkerRaymond & Marlene VogelLoretta VogrinElizabeth VollWilliam & LaVerne VorhabenWilliam & Marlene VrscakDavid & Barbara VtipilRandy VulakovichJoseph & Sharon WachRalph & Karen WaechterJanis WaelchliDr. Anna WagnerAnita WagnerRichard & Kathleen WagnerThelma WahlLauren & Daniel WaldorfAnnette WaldronGlenn & Maybelle WaldschmidtSamuel & Millicent WalliserDonald & Nancy WalshSharon & William Walston, Jr.Dolores & Harry WalterJames & Kathleen WalterLaura WaltonJoseph WannigerRobert & Maria WanovichMarcia WapplerJean WardLinda WardRobert & Elaine WardChris & Michelle WareHarry & Lynda WargoJames & Mary WarmbrodtJohn & Lynn WarmusWilliam & Suzanne WarnickJoann WarrenPeter WarrenAdele WashingtonRobert & Charlene WasileskiGary & Joann WaskoMargaret WatersMarjory WatkinsJames & Judy WatsonThomas & Janis WatsonJanice WatzmanDeveron WaybrightAngela WeaverDouglas & Virginia WeaverElizabeth & Patrick WeberLarry & Mary WeberThomas & Donna WeglewskiChuck WeidenweberDiane & Harry WeilWilliam WeilMark & Kathryn WeirTimothy & Christina WeirGary WeismannCharles & Martha WeissCarl & Janet WeissbartCarl & Meryle WeissbartArthur & Carol WeldyBruce & Cynthia WellsDeborah WellsJean & Warren Wenner, Jr.Faith WeppelmanMary WerbanethMargaret WernertSteve WertheimCarol WertzRobert & Deann WertzSusan WesolowskiDeborah WestThis couple purchased a 2000 Hyundai Sonata through NHCO'sCommunity Auto program so that both could get to work."What a blessing you have been to ourfamily when we were in need. Becauseof people like you and all the volunteersand outside families who donate theirtime and finances, we as a family wereable to celebrate our holiday in a morerelaxed atmosphere, and we cannotthank you enough."—Shaler momMary WetzelRichard & Jackie WetzelDavid & Christine WhalenJean WheelerRichard & Beth WheelerRichard & Sally WhelandKathy & Dennis WhiteMichael WhiteWendy WhiteWilliam & Donna WhitelockDonald & Cindy WhitingKen & Melusena WhitlockW.H. & Margaret WhittemoreDolores WhittingtonArlene & Walter WibleMargaret WiegandMartin & Rita WiegandLois WigtonThomas WileyDoris WilkinsMark & Mary Beth WilkinsGeorge & Susan WillDavid WilliamsDeborah WilliamsEarl & Joan WilliamsJames & Merlyn WilliamsNorman & Audrey WilliamsBarry & Mary Ann WilsonMary WilsonMary Hart WilsonRoberta WilsonThomas & Judith WilsonValerie WilsonDavid & Cecelia WindMandy WingardJ.N. WinkCarl & H. Eileen WintersEd WirkowskiAnne WirthJean WiseMary Alice WiseCarol WisotzkiCheryl & Dennis WistMurph & Marge WitherelRichard & Joann WittCarol & John Wixted, Jr.John WojcikDonald & Kathleen WokutchGus WolfPaul & Susan WolfRobert & Mary Ellen WolfBeth WolfeClyde & Donna WolfeRosemarie WolfeJames & Mary Louise WolffHoward & Kay WomsleyGregory & Carol WoodMaggie & John WoodMarilyn & Steven WoodRandolph & Maria Wood-16-Ernest & Joan WoodsMarlene WoodsMichael & Linda WoolleyCamilla WorkmanAlthea & Oscar WorthyLinda WoshnerJohn WozniakNancy WrightLeonard WukitsArthur WunderlyEdgar & Diane WyattJohn & Martha WysseierDominic & Judith WyzomirskiJames YahnerYvonne YaksicGeorge & Mary Jane YakulisLinda YandaStephen YanityCynthia & Ted YatesDana & Sarah YealyLee & Cheryl YeckelCharlene YendellKathryn YeskeBonnie YesterAllen & Georgeann YoungDewitt & Jane YoungErnestine YoungKaren YoungJay & Nancy YoungsMarlene YuiskaJudith & John YussJohn & Lisa ZamperiniMary ZangJoseph Zappia, Jr.Suzanne & Barry ZasloffSusan & Steven ZawackyDaniel & Loretta ZeboLorraine ZebrineGeorge & Norma ZechJohnathan & Cindy ZellDorothy ZellerAnn ZeltJessica ZeltMichael ZendarskyDennis & Patricia ZeregaMilas & Judy ZernichRosella ZettelmayerThomas & Rosemary ZidowJanis ZimmerAlbert & Edith ZimmermanPatricia ZinnoJanice ZinsserAnna ZivicJohn & Maxine ZokaitesRobert & Esther ZufallRobert Zwack
---
IN CELEBRATION OFChristmas by Ed Justus & Rob RudeCoworkers at Dr. Liden's by Carol & Peter WeigantRenee & Jeffrey Full's sacrament of marriage byNathan & Gloria Bennett, Tim & Dianne Buirge,Kevin & Valerie Kandt, Paul & Mary SeljakJim & Marlene Gentry, Shirley Lewellen by Gary &Teresa ShepardGod's goodness by William & Amy McIvorGod's many blessings by Daniel & LesaBenacquistoJoey Krieg by Ronald OrrMr. & Mrs. John Simpson's 60th anniversary by EllaMae KlotzIN HONOR OFBonnie & Ron Aleksivich by Robert & JaniceAleksivichAll of our troops overseas by Donald MazurekTheresa Amelio by Barbara RankinAndrew Amoh by Janet DaltnerAT&T Mobility employees by Robert & VirginiaGlozDave Bartolac by Kevin & Alexa FosterDavid & Julie Basi's anniversary by Lawrence &Nancy BasiLynn Belletti by Janese AbbottPaul Benec's birthday by Dennis & Donna KrausKaren Bobraccini by Dorothy SaladiakLarry, Cindy, Ashley & Emily Bock by Nancy Bock,Roberta Bock-PenninoNancy Bock by Lawrence & Cindy Bock, RobertaBock-PenninoGary Brandenberger by Rev. Blair & Fay MorganThe brats by Frank & Julie TreemarchiDebbie Busteed's birthday by Frederick & AnnPotthoffJenny Butler by Ellen EdgecombeMaria Christina by Paul & Mary Seljak, GeorgiaSyribeysBenefits Physician Associates, Christus MedicalGroup, Critical Care Atlanta, Eastern IdahoRegional Medical Center, Huntington Hospital,and Valley Health Center by PhysicianTechnologies, LLCCiccone family by Michelle & Neal HeissNancy & Felix Cohen by Madeline KramerMichael Colarusso's birthday by Karen & KarlBruch, Colleen & Michael Colarusso, Pamela &James Fischerkeller, Barbara Valcheff, Michael &Colleen VrbanicLance Cole by Virginia ColeAdair Creach's 16th birthday by Laura MartiJohn Cunningham & Dee Petrancosta by Brian &Jennifer ShipeSarah Cushey by Donald & Sharon StaffFrank Danko by Theresa KishDarrell, Maria & Michael by Alex & Elsie MurrayKulsum Davidson by Joan & Chuck RockwellPat Dougherty by Patricia DempsterSue Duderstadt by Betty PecherEichenlaub clients by EichenlaubPatty Firetto by Janese AbbottBrooke & Todd Foster by Diane MercerJeff and Renee Full by Christine & Larry AdamsGabriel & Peter by Jessica & Cory BonnetDon Gates by Patricia FinleyGod & his needy people by Robert & BrendaGindeleBob & Ruth Graham by Don & Susan DiGirolamoTom Gray by Margaret GrayCharlie & Jean Guca's 50th anniversary by Robert& Margaret MillerMr. & Mrs. Michael Haberman by Robert & EileenMoultonDan Haschak by Daniel & Loretta ZeboDon and Kay Hook by Frederick & Mildred Logan,Robert & Sharon LuthultzDon Hook's 81st birthday by Robert & SharonLuthultzMary Ellen, James Hoyt, and Mike Langley byThomas & Audrey CliftonHunsberger Family by Alice MarshallIngomar Child Development Center by Stephanie& Steven PohlJan, Lynn & Patty by Paul & Kimberly ZbilutBarbara Jeremiah & John Wilson by Ella Mae KlotzJane Joy by Robert & Christine HaunschildHelen Karpinski by Paul & Carol GroeschelCarol & Chuck Ketterer's wedding by John &Patricia ReinhartJoan Killinger by Hal & Sue EnglishElla Mae Klotz by Jean Connell, Abigail Gardner,Rachel Gardner, Barbara JeremiahMarion Klug by Margaret GrayEric & Kathryn Kofmehl by Scott KofmehlCharlotte and Evan Kreider by Longvue Women'sClubFirst National Bank employees joined the fun at the 9th annual Mini-Masters MiniatureGolf Tournament, which benefits families served at our North Boroughs Satellite.Teresa & George Kushner's 50th anniversary byHerbert & Joan SeelPeg & John Lagnese by Samuel & Kate HolbrooksPolly Lechner by Douglas & Kary MooreKathy Letters by Freestyle Hair employeesJo Ludwig by David & Susan GurwinDory McCrum by Greybrooke Garden ClubDory & Mac McCrum's 60th anniversary by VivianCastiglioni, Robert & Marcia Coleman, SylviaMorse, Rene Vetter, John & Jane Weinhold,Thomas & Joan YoungDavid McCune III's 50th birthday by Jan McCuneJoe & Amy McGuigan, Maggie McGuigan, MollyMcGuigan & Doug Scanlon, and Tim McGuigan &Kathryn Robinson by Joseph & Mary McGuiganFrank McLaughlin by Katie McLaughlinNeil Medic by Ronald & Marie LeckeyJohn & Alice Meinert by Pat & Janice MeinertBessie Mershimer by Kathy & Keith HennMel Moser by Margaret GrayJennifer Moulton & Thaddeus Bielecki, MaryMargaret Moulton & William Matthews, andDr. & Mrs. Robert Moulton by Robert & EileenMoultonMy family by Mary Jo JohnstonMy six grandchildren by Rene VetterMy wife Donna by Clyde WolfeNAIHS Teachers by Philip & Sharon RabinowitzDon Naragon's retirement by Thomas &Antoinette BrungerNASH Teachers by Philip & Sharon RabinowitzKarl Nejak by Earth, Inc.Wendy Newton by Carol & Douglas MacPhailNHCO North Boroughs volunteers & staff by S.A.& Charlene NassNHCO staff by Lorinda Hayes, Ella Mae KlotzNHCO staff & volunteers by Kerry & BrandonWrayMyrna Nickamp by Brian SteinmetzSandy Niederberger by AnonymousDan & Joan Noe by James & Lynn NoeCourtney Norris by Kevin & Alexa FosterOur daughter Jamie by Gerald & Donna MattysOur great PNC team by Michelle & Neal HeissOur Lord by Chuck & Cynthia LopopoloOur parents by Donald & Sue Ellen WaltersOur three grandsons by Chester & Karen KowalskiBud & Barbara Owens by David & Carol Aeberli,Timothy & Christine Brown, Mark & CarolineKoparMr. & Mrs. Bud Owens' 50th anniversary by David& Carol AeberliRoss & Carolyn Passarelli by Diane MercerPatients, supporters and referral network byAlliance Psychological ServicesPediatric Alliance Arcadia Division by ElizabethMusiMr. & Mrs. Charles Pennino by Nancy BockAnn Pfalzgraf by Jerry & Edith SchwedlerMr. & Mrs. Ed Polasky's 50th anniversary byGeorgeann & Robert MitchellRay & Lorraine Quinn by Sally CalabreseL. Elizabethy Reilly by Kerry ReillyColleen & Tom Rekowski by James & CarolMcDevittTom Rekowski by Curt & Cheryl FordDavid Ricchuito by Debora SundoJay & Peggy Roberts by Myles & Joan BradleyB. J. Robertson by Margaret GrayJohn & Vera Rudzik's 50th anniversary by Samuel& Anna Marie LeezerMr. & Mrs. Michael Ruffing by Eileen & RobertScholtzThomas and Mary Ruloff by Jonathan FreemanCheryl Scannelli by Kevin & Alexa FosterShaler Area Elementary by Kathy WoodJanell Shutter by Donald & Sharon Staff
---
Rosalinda Sirianni by Teresa & Salvatore AmelioAlec Skavronski by AnonymousSutter Smith by James & Elaine SmithSt. Francis Nurses Alumni by Alumni Association ofSt. Francis School of NursingCalvin Stoker by Dolores CelenderThose in need by Gwynedd WhitmanTom, Jeff, Amy & Rich's birthdays by Lynne HaysJoe & Mary Lou Tutchko's 50th anniversary byRonald & Patricia DanikGail Voigt by Ellen EdgecombeWest View Water employees, solicitor, consultingengineer & Board of Directors by AnonymousDee Wills & Joe Williams by Madeline KramerMarlene & Ken Yoest's 40th anniversary by MegRakowskiTom & Joan Young by Thomas YoungKim Zbilut by Janese AbbottRosemary Zidow by Elizabeth MunhallIN MEMORY OFMichele Abercrombie by Victoria ScottMartha Adams by Paul & Cheryl DeeMario Alioto by Jill MockenhauptMary & Carl Back by Ralph & Linda JuhascikJohn Backus by Marjorie Backus, Nathan & GloriaBennett, Johnson & Charlotte Moore, RiskyRookies Investment Club, Thomas & Joan YoungDolores Badarraco by Laura & Stanley MerzlakAnne Bagay by Kenneth & Aurora BadaraccoBill Baierl by Carole BaierlRose Balestrieri by Phyllis ThomsonWalter Barie, Jr. by Catherine BarieCarl Barnhart by Roy & Judy HummelAnn Batykefer by James & Ann BatykeferMary Louise Bauer by Scott & Cindy HeddaeusChuck Beck by Harry & Lucy GumtoMarlyn Beckert by Renee & Jeffrey FullGregory Bentz by Renee & Jeffrey FullBetty Berovik by Virginia Balderston & TheodoreVuchinichMarie Berry by Charles Berry, Luann BerryAnna Brei by Richard & Linda Duffy, Keith &Maureen Laskovich, Marilyn Luft, Mt. OliverIntermediate Unit, Diane Padol-Williams, LillianSchuster, James & Catherine Stein, Thomas &Janet Stein, William Stein, Edward and MarianneTaylorLloyd Briggs by William & Nancy RoderickEugene Buchhold by Georgeann & Robert MitchellMaurice Buirge by G. Edward WeaverFrances Bursic by Strassburger McKenna Gutnick& GefskyStephen & Frances Bursic by David & ValerieBursicAlberta Callen by William & Mildred LindnerNewell Campbell by Sally CampbellAlexis Carson by AnonymousDoris Catanese by John & Marion SimpsonWilliam Christner by Gail ChristnerC. William Coff & Great Choir by G. EdwardWeaverEdward Conley by Steve & Sandy SchmerinFrances Courtsal by Donald CourtsalJean Creo by Sonja DeGrayAlyce Cunningham by Bridget & Daniel MuzzioJennie Lee & Edgar Cushard by John & JoyceCushardGeorge & Peggy Dalae by Anne & BernardMarkovitzDeceased veterans killed in action and familymembers by AnonymousKaren Dehler by Paul & Cheryl DeeCarol DeMauro by Marie Bishop, Barbara Charles& Tim Klasnick, Anthony & Helen De Baldo,Richard & Roni Domhoff, EH Schwab Co.,Gateway Health Plan RCL Department, Shirl& Kevin Hasenfus, John & Dee Hoyt, Daniel& Stacey Klasnick, Debbie Klasnick, Robert &Charlotte Klasnick, Timmy Klasnick & AngelStauffer, Charles & Kimberly Kuhn, Linda &Greg Maheu, MATT Machine & Manufacturing,Medrad, Lois Mellott, Doreen Miller, Rita &Gregory Miller, David & Donna Platt, Ronald &Richelle Reiber, Joanne Socha, Edward & MyrtleUminski, Mark & Margaret Uminski, Janet &James YoungHenry Dennis by Joann FrederickGarrett Deutsch by Sandy DeutschAnna Mae Dickey by Robert Dickey & Betty PooleMary Kathryn Dillman by John & Sarah YanzekLee Donaldson by Roy & Ruth LandauThomas Douglas by Donna DouglasBeth Ann Dudley by AnonymousCharles Duerig by Al & Jean DuerigEarl Dunmire by William & Janet WagnerEdward Esswein, Jr. by Joan EssweinMari Jean Ferguson by Carol MarsiglioRichard Ferketic by ASHA, Card Club, Richard& Joan DiSalle, Lee & Linda Ferketic, HamiltonSunstrand, John & Tina Harper, Robert & GloriaIrwin, Mark & Marjorie Murphy, Patricia Pasqua,The Millvale Community Center, home to our Millvale Satellite, bustles with NHCO supportersat our annual pasta dinner.Marilyn Ramming, Jane Sawyer, Jean WhiteJames & Esther Fields by Thomas & MarshaRupertHarry Fisher by Anita FisherGladys Fitzpatrick by Helene KrawfHarvey Fletcher by Marjorie BackusGlenn Flick by John & Barbara YauntGlen Flinchbaugh by Della AlbinJane Ford by Joanne Sippel, William & JanetWagnerKaye Freedle Luther by Eric & Katheryn EngbergFred Freuden by Lillian FreudenCatherine Fritz by Eric & Carrie McCarthyAlfred Fronzaglio by James RickenbrodeJoseph Gartner by Phyllis ThomsonGertrude Gill by C. Donald Gates, Esq.Morris & Dorothy Golden by Laurie & AlanHirschmanEleanor & Teddy Golembiewski by David &Kathleen GolembiewskiWilpen Walter Gorr by Wilpen & Jeanne GorrRobert Graham by Sam & Linda Bennardo, Nathan& Gloria Bennett, Jack & Judith Blackmon, Jill &Ian Brindle, Clementine & Allan Brodsky, Bob &Vicki Burstynowicz, Freda & John Copper, John &Beverly Csenar, Sam & Dianne Deep, Ray & KarenDeSanto, Devi Dhillon, John & Susan Frantz,C. Donald Gates, Esq., Geneva College's MSOLCohort #63, Wendy Gordon & Tim Parchuke,Frank & Joan Grobner, Hampton Charity Bridge,Christine Hapanowicz, Charles & SuzanneHarris, Joseph & Elizabeth Havrilla, BarbaraHayworth, John & Cathy Heggestad, William &Lori Heilmeier, James & Ruth Heim, Robert &Linda Heithoff, Carol Howard, Paul & KathleenJacobs, Kevin & Valerie Kandt, Paul & WendyKimmer, Melissa & Jeffrey Korol, Sandra Krause,Clifford & Sandra Kress, Thomas & MargaretLove, John Maitland, David Malesky, Howard &Shirley McIlvried, Doug & Betty McLean, MedradCustomer Satisfaction Department, Jack & SusanMennis, Rev. Blair & Fay Morgan, Mustard SeedMarket & Café, Charlotte Peterson-Graham,Sr. Mary Agnes Phillips, Sr. Veronica MariePhillips, Michael & Dayna Pitcairn, PRI, Ken &Nancy Pugh, Lynda & Kevin Quinn, Ted & SusanRohm, Thomas & Linda Roundtree, CatherineScalamogna, Susan & Otto Schellin, Robert &Susan Shages, Alyson Shoss, Dick & Gwen Spahr,Spratt Family, Celine & Kent Stiegler, Ellen Tabor,James Thompson, Clay & Becki Tice, Kerry &Brandon Wray, Thomas & Rosemary ZidowLydia Grejda by Joan & Vincent GrejdaMary Gretz by Renee & Jeffrey FullShirley Grosick by Philip & Patricia HutchisonNicholas Gunther by Laura & Stanley MerzlakDavid Haberman by Helene Krawf, Wayne &Cynthia SkelleyRuth Haberman by Helene Krawf, Patty & GregoryRuffner, Wayne & Cynthia SkelleyCharles Haddow by Susan & Bernie KortzClyde (Red) Hare, Jr. by Anonymous, Joanne SippelJulia Hays by J. Richard HaysJanice Heddaeus by Karen & David BauerDot & Dave Heid by Joan & Vincent GrejdaJoseph Helminski by William & Arlene MilonGeorge Hill by Edward SlackRichard Hill by Samuel & Kara FalckLouis Hirtzy by Ronald & Judith HirtzyDorothy & Jane Hoover by Carol HooverMary Beth Hummel by Roy & Judy HummelLouise Ishler by John & Frances KennaMary James by Renee & Jeffrey FullMargaret Janiro by Renee & Jeffrey FullLucille Johnston by Ruth GrahamJoan Kandravy by Leslie & John AnthonyEmery Kane by Jeff Lucas
---
Interns from Pitt's School of Social Work gave 1,680 hours of their time and talent in 2009-10.Pictured l-r: Lindsay Wineland, Brianna Ludwick, Jen Tomko and Lyn Chavis.Stephen Karpinski by Helen KarpinskiEdward & Michael Kelly by Hettie KellyRuth Kimmel by AnonymousMarian Kirkpatrick by Andrew & Jill HardieD. Lee Kitay by AnonymousEdward Klouse III by Ella Mae KlotzSquire Knox by Elizabeth BraunRobert Kobert by Shirley KobertHarry Kopel by Dehaven Court Bld. 600John Kotchey by Edith KotcheyPaul Kraus by John & Eileen Bates, Clementine& Allan Brodsky, Thomas & Deanna Cignetti,D. Evans Development Company, Mary Dausch,Margaret & Donald Dunlap, Jeff & Mary Dutkovic,Sam & Martha Gozion, Eileen Hamilton-Leiterman, James & Mary Kane, Mark & RebeccaMershon, Robert & Janet Metzger, Edith MaeRiddile, Carole Rowell, Robert & Leslie Schneider,Louis & Eileen Schwab, Harold & Hettie Tanner,Richard & Carolyn WardRichard Krawf, Jr. by Helene KrawfLeah Krepps by Nancy BockLeDonne Family by AnonymousDennis & Mary Ann Lefler by Dennis & SusanLeflerAndy Lindner by Albert & Kay SchmidtMr. & Mrs. James Lugar by AnonymousGinny Mack by Vaughn & Elyse FichterBeth Marchese by Jean Muth, Carl & Lynn RueterAnthony & Agnes Marino by Chuck & DorisRosenbergHarriette Martin by AnonymousJack Martin by Pamela MartinNoah Mass by Jonathan & Alyson MassElaine Matthews by Glenn MatthewsChristopher McDermott by John & Patricia DerryEvelyn McDonald by Thrivent Financial forLutherans, Allegheny CountyRollin McDonald by Jackie McElhaneyJack Milby by Dorothy SmullinJohn Milby, Jr. by Nancy BockDonald Miller by Grace & William Garber, VirginiaMillerHelen Miller by Josephine StrazisarNicholas Mitchell by Lillian & Robert PanaguliasDebbie Mitts by Twila WeixelMom and Ed by Emily & Edward MatzDolores Morris by AnonymousRaymond Mravintz by Helen Birkel, MerlindaBiseseSharon Mullins by AnonymousMy parents by Linda CraggMary Nellis by Jeffrey & Kathryn Letters, Richard &Leslie SnowPaul Ward Nettrour, Jr. by Lillian & RobertPanaguliasNick Nickoloff by Thomas & Margaret LoveRichard Noble by Richard & Geraldine NobleWilliam Nowalk by John & Eileen CarrollKay Nurnberger by Walter & Diana LongRyan Odes by Kathleen & Robert Eastman, Lori& Jeff Elnyczky, David & Sharon Spirk, JoyceWestmanDr. Paul Opalka by Edward SlackGarrett Orr by Patricia OrrHoward Osby by Kevin & Karin O'SullivanWilliam Ostoich by William & Catherine OstoichOur daughter Val by Albert & Alma MeyersOur mothers by Gary & Patricia SchneiderOur parents by Patricia & Richard JeffersPatricia Pacifico by Carolyn Conte, Lois & Bill LauxDr. Joseph Panza by Jeannette BalderstonMarion Parsons by John & Patricia DerryRonald Partridge by Alexander & Jean TaylorBetty Patton by Ella Mae KlotzAlexis Paige Pegher by Clifford & Paulina HardtJames Penman by Ruth GrahamAngie Pennino by Nancy BockFred Perez by Gale PerezFrank Perman by Judith PermanJohn Petchar by Mary Alice PetcharWilliam Petredis by Charlie & Jan PetredisReif Phillips by Carol PhillipsFrank Pink by Donald & Dolores PinkStephen Polosky by Margaret PoloskyJanet Pschirer by George & Mary Ann Pavlic, JaneSawyerBob Reed by Vaughn & Elyse FichterFrank & Patricia Regan by David & KathleenGolembiewskiRobert Regis by Jeffrey & Kathryn LettersGregg Reinhart by Beverly ReinhartElizabeth Richard by William RichardJohn Roach by Joann FrederickMary Rock by Susan RuzomberkaCyril Rogers by Gloria RogersElsie Rost by Bruce & Susan McElhattanRalph Ruzomberka by Susan RuzomberkaDr. Robert Rylands by James & Susan DipernaJoseph Sakmar by Mark & Michele Sponholz-19-John Saladiak by Dorothy SaladiakRobert Sawyer by Jane SawyerMary Elizabeth Schmitt by Robert SchmittJoseph Schmitt, Jr. by C. Donald Gates, Esq.Ed Schonbachler by Janese Abbott, BeverlySchonbachlerRoy Scott by Marjorie BackusEddie Self by David & Sherri SchuetzDorothy Shellhammer by Sheryl Kalos, LindaOsterrieder, Florence SaundersRosalinda Sirianni by Teresa & Salvatore AmelioBill Slaughter by Joan SlaughterOlive Slevin by Joann WarrenLou Snodgrass by friends and neighbors, PatriciaHenry, Richard Paul, Brenda ShemaSpagnoletti Family by AnonymousAndy and Millie Stanko by AnonymousRichard Starr by Patricia StarrNancy Starz by AnonymousWilliam & Evelyn Steffan by Lynn SteffanAlva Stein by Della AlbinAlva J. Stein, Jr. by James & Amy CristGraham Straub by Grace & William GarberGrace Sucha by Bernard & Nancy StieglerDonald Tait by C. Donald Gates, Esq.Lawrence Thompson by Pat BernickShelly Tomasic by Sue & Paul PribikEleanor Triglia by Joan TrigliaFrank Trunzo by Grace & William GarberMary Vlassich by Steve & Sandy SchmerinBobbi Jo Wagner's mother by Thomas & RosemaryZidowAnne & Joseph Walcer by John & Joyce CushardJean Watkins by John & Frances KennaMeryle Weissbart by John & Darlene Emanuel,Walter Heron, Fred Meyer, Jerry & EdithSchwedler, Janet Snodgrass, WellspringWorldwide, Shawnee ZeollaLawrence & Rose Whitaker by Steven & JudithMagillRichard Whitehouse by Diane Christian, RichardMarshLeAnn Williams by John & Patricia DerryMike Wilson by Paul & Cheryl DeeDr. Robert Woods by Mary HendricksonDolores Zambrano by AnonymousMary Lou Zeppuhar by AnonymousBill Zivic by Paul & Cheryl DeeIN THANKSGIVING FORAll our blessings by Robert & Mary Ann Coon,William & Patricia Dougherty, William & KimberlyEnglish, Marilyn Luft, William & Darlene Reed,Kurt & Helen Schoone,Keith, Ken & Tom Conner by Madelin ClementsMartin & Lynne Feuer by Laurie & HemanthKapoorJohn and Sharon Foster by Jennifer IrvinGood fortune by AnonymousMcHenry family by Christine McHenryNHCO staff & friends by William & JoanneSauereisenPrayers answered by Janet BurkeZachary Joseph Riccelli by Irma KearneyRev. Tim Spring by Tom & Gail LitwilerDonna Wolfe by Eric WolfeWe truly appreciate everysingle gift! Please acceptour sincere apology for anyerrors or omissions in thisannual report.
---
NORTH HILLS COMMUNITY OUTREACH1975 Ferguson RoadAllison Park, PA 15101RETURN SERVICE REQUESTEDNon-Profit Org.U.S. PostagePAIDPittsburgh, PAPermit No. 952President Lorna L. Andrew-Jaja, MBA, HamptonPEI Consulting, Christ EpiscopalVice President William H. Snyder, MBA, McCandlessMedrad, St. AlexisSecretary Bruce W. Gay III, O'HaraGeneral Dynamics C4 Systems, Immaculate Mary-St. JosephTreasurer Mary Ciccone, ShalerUPMC Corporate TreasuryPast PresidentLynn M. Landis, CPA, RossBasic Business Concepts, Berkeley Hills LutheranTom Baker, RossBig Brothers Big Sisters of Greater PittsburghLisa Blaney-Stewart, BellevuesynergITCarol Boston, McCandlessCDB Communications, St. SebastianClementine K. Brodsky, HamptonTemple Ohav ShalomAndrew Constantakis, MBA, HamptonAriba, St. UrsulaSarah Daley, Franklin ParkS&T Bank, St. Bernard'sJackie Dixon, Fox ChapelGiant EagleJay Evans, Esq., RossObermayer Rebmann Maxwell & Hippel, Northway ChristianLinda Fischer, PittsburghMcKinley Group, Ltd., St. Cyril'sSara Bresnahan Kennedy, McCandlessState Representative Mike Turzai's Office, St. SebastianJim Loeffler, CPA, MBA, O'HaraInTune Business AdvisorsRichard McClure, CPM, Franklin ParkPA Commercial Management Services, Orchard Hill2009-10 Board of DirectorsBriana Mihok, McCandlessUniversity of Pittsburgh Institute of PoliticsBill Miller, McCandlessBravo Group, St. Catherine of SwedenNancy Naragon, Franklin ParkSt. Paul's United MethodistWendelynne J. Newton, Esq., Franklin ParkBuchanan Ingersoll & Rooney, Ingomar United MethodistRhea Nicotra, McCandlessBishops & The Splendid Thread, St. SebastianS. Kazim Reza, McCandlessNorthwood Realty Services, Islamic CenterDavid Rishel, PinePrivate Wealth Advisors, St. Paul's United MethodistDavid Spatig, MA, McCandlessSt. Paul's United MethodistSister Betty Sundry, BellevueSisters of Divine ProvidencePatricia Thornton, RN, BSN, McCandlessUPMC/WPIC, New Community ChurchRandy Vulakovich, MBA, MLLS, OhioBuchanan Ingersoll & Rooney, St. BonaventureBobbi Jo Wagner, Esq., HamptonButler County Court Administration, St. Mary'sAlthea Worthy, McCandlessFederal Reserve Bank, Retired, Ebenezer BaptistRosemary Zidow, RichlandSt. RichardBoard EmeritusRuth GrahamDonald E. HookShirley McIlvried, RNRichard SpahrSpecial AdvisorsJason Altmire, US Representative PA-4David Bursic, West View Savings BankAlan Shuckrow, Esq., Strassburger McKenna Gutnick & GefskyHampton1975 Ferguson RdAllison Park, PA 15101412-487-6316, option 1www.nhco.orgMillvale416 Lincoln Ave., 2nd Fl.Pittsburgh, PA 15209412-487-6316, option 2North BoroughsAGH Suburban Campus100 S. Jackson Ave., 2 SPittsburgh, PA 15202412-307-0069O'Harac/o Lighthouse Pointe500 Chapel Harbor Dr.Pittsburgh, PA 15238412-449-0151PineCommunity Auto11490 Perry Hwy., Suite 7Wexford, PA 15090724-443-8300