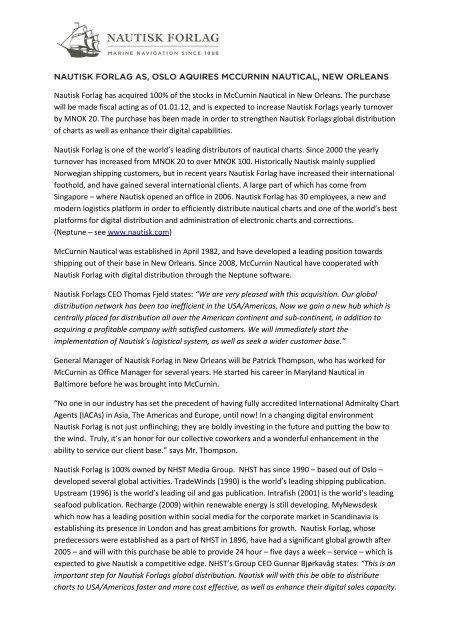 Nautisk Forlag has acquired 100% of the stocks in McCurnin ... Nautisk Forlag has acquired 100% of the stocks in McCurnin ...
Nautisk Forlag has acquired 100% of the stocks in McCurnin Nautical in New Orleans. The purchasewill be made fiscal acting as of 01.01.12, and is expected to increase Nautisk Forlags yearly turnoverby MNOK 20. The purchase has been made in order to strengthen Nautisk Forlags global distributionof charts as well as enhance their digital capabilities.Nautisk Forlag is one of the world's leading distributors of nautical charts. Since 2000 the yearlyturnover has increased from MNOK 20 to over MNOK 100. Historically Nautisk mainly suppliedNorwegian shipping customers, but in recent years Nautisk Forlag have increased their internationalfoothold, and have gained several international clients. A large part of which has come fromSingapore – where Nautisk opened an office in 2006. Nautisk Forlag has 30 employees, a new andmodern logistics platform in order to efficiently distribute nautical charts and one of the world's bestplatforms for digital distribution and administration of electronic charts and corrections.(Neptune – see www.nautisk.com)McCurnin Nautical was established in April 1982, and have developed a leading position towardsshipping out of their base in New Orleans. Since 2008, McCurnin Nautical have cooperated withNautisk Forlag with digital distribution through the Neptune software.Nautisk Forlags CEO Thomas Fjeld states: "We are very pleased with this acquisition. Our globaldistribution network has been too inefficient in the USA/Americas. Now we gain a new hub which iscentrally placed for distribution all over the American continent and sub-continent, in addition toacquiring a profitable company with satisfied customers. We will immediately start theimplementation of Nautisk's logistical system, as well as seek a wider customer base."General Manager of Nautisk Forlag in New Orleans will be Patrick Thompson, who has worked forMcCurnin as Office Manager for several years. He started his career in Maryland Nautical inBaltimore before he was brought into McCurnin."No one in our industry has set the precedent of having fully accredited International Admiralty ChartAgents (IACAs) in Asia, The Americas and Europe, until now! In a changing digital environmentNautisk Forlag is not just unflinching; they are boldly investing in the future and putting the bow tothe wind. Truly, it's an honor for our collective coworkers and a wonderful enhancement in theability to service our client base." says Mr. Thompson.Nautisk Forlag is 100% owned by NHST Media Group. NHST has since 1990 – based out of Oslo –developed several global activities. TradeWinds (1990) is the world's leading shipping publication.Upstream (1996) is the world's leading oil and gas publication. Intrafish (2001) is the world's leadingseafood publication. Recharge (2009) within renewable energy is still developing. MyNewsdeskwhich now has a leading position within social media for the corporate market in Scandinavia isestablishing its presence in London and has great ambitions for growth. Nautisk Forlag, whosepredecessors were established as a part of NHST in 1896, have had a significant global growth after2005 – and will with this purchase be able to provide 24 hour – five days a week – service – which isexpected to give Nautisk a competitive edge. NHST's Group CEO Gunnar Bjørkavåg states: "This is animportant step for Nautisk Forlags global distribution. Nautisk will with this be able to distributecharts to USA/Americas faster and more cost effective, as well as enhance their digital sales capacity.
---
For NHST this represents a further strengthening of our operations in the United States. We now haveoffices in Houston TX, Stamford CT, Seattle WA and now in New Orleans LA."For questions, please contact:Thomas Fjeld, Nautisk Forlag CEO: +47 911 11 911Gunnar Bjørkavåg, NHST Group CEO: +47 900 31 029
More magazines by this user