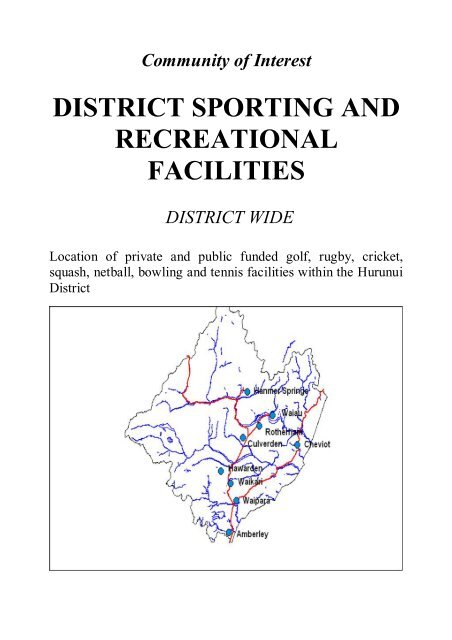 36 Sporting and Recreation - Hurunui District Council
36 Sporting and Recreation - Hurunui District Council
36 Sporting and Recreation - Hurunui District Council
SHOW MORE
SHOW LESS
Create successful ePaper yourself
Turn your PDF publications into a flip-book with our unique Google optimized e-Paper software.
BowlingAmberley Douglas Road Amberley Amberley AreaCheviot Ward Road, Cheviot Cheviot Main CheviotHanmer Springs Hanmer Golf Club Hanmer Springs Hanmer SpringsHawarden Allan Road Haw-Waikari HawardenScargill Scargill Valley Road <strong>Hurunui</strong> #1 PrivateWaiau Parnassus Street Waiau Town PrivateA&P Associations & Pony ClubsAmberley Amberley Domain Amberley Amberley AreaAmuri Heaton St, Rotherham Amuri Plains PrivateCheviot Ward Road Cheviot Main CheviotHawarden Allan Road Haw-Waikari HawardenAmuri Polo Club School Road Culverden* PrivateVarious Medbury Haw-Waikari PrivateSki FieldsAmuri Hanmer Range Private PrivateMt Lyford Teraki Range Private PrivateAssociated RisksThe risks that may impact on or damagemost of these facilities are covered undereach of the public supply sections. Theonly private water supply is for theAmuri Golf Club <strong>and</strong> the two ski fields.Rotherham A&P grounds from main road gateFor the golf club, water is drawn from ashallow bore, fed from the Waiau River.This bore is at little risk from flooding orphysical damage. The activity is not anessential service so outages can bemanaged by closing the facility down (ifrequired) until the service is reestablished.
---
The Amuri ski field draws water from springs on the mountain. Water is tinkered on a dailybasis to the Mt Lyford ski area The Mt Lyford field has minimal facilites (no overnight),whereas the Amuri field has two dormitory accommodation blocks <strong>and</strong> a kitchen ablution area.A large proportion of the sporting orrecreational facilities described in thisassessment have private sewage disposal.All of these comprise septic tanks (varyingages) <strong>and</strong> soak-pits. Because they are usedintermittently, they have performedwithout failure for several decades.Amuri Golf Club roomsThese devices are quite basic <strong>and</strong> are atminimal risk from flooding or physicaldamage but are at risk from solids build-up<strong>and</strong> congestion of the soak-pits. These arerisks that can be managed throughmaintenance.The responsibility for maintaining sewage facilities <strong>and</strong> the private water supply rests with theclub or association committees. <strong>Council</strong>s responsibility lies with the public supplies <strong>and</strong> sewagenetworks only. Most groups are aware of these responsibilities <strong>and</strong> maintain the facilities to anacceptable st<strong>and</strong>ard. Not all of these clubs <strong>and</strong> associations hold consents form sewage disposal.Risk to public HealthGlenmark rugby grounds <strong>and</strong> club-roomsRisks to public health fromcontact/consumption of public water suppliesis covered in the other sections dealing witheach intake. The risks to the private supply atthe Amuri Golf Club <strong>and</strong> not known, as thesource has not been analysed <strong>and</strong> no historyexists on which to make an assessment.The risks with all untreated supplies may beexacerbated where non-residents consume thewater during visits. There is no record ofcomplaints in this respect or any indication thatvisitors to any of these facilities have
---
succumbed to gastro-enteric disorders, but these statements are made from general commentaryonly.Scargill Domain facilitiesRisks must be considered higher fromnon-treated supplies with a known historyof positive faecal bacteria counts <strong>and</strong>from sources known to be contaminated.The facilities served by the <strong>Hurunui</strong> #1<strong>and</strong> to a lesser extent, the Cheviot Mainsupplies, must be considered as posing agreater risk to visitors.Risks associated with the two ski-fieldwater sources must be considered assmall, with no human related dischargesabove the abstraction sites <strong>and</strong> very fewferal animals present over winter months(periods of highest use). Neither supply has any form of water treatment.The risk to public health from private sewage collection <strong>and</strong> disposal facilities is considered asbeing very low. The risk would be heightened should the facility fail or overflow <strong>and</strong> peoplecome into contact with sewage. This has not been known to have occurred at any location todate. Environmental risks may also occur, but are managed through individual consents <strong>and</strong>approvals from buildings under the Building Act. Holding of current consents or otherwise, isnot part of this assessment.Planning for Future Dem<strong>and</strong>All the facilities outlined in this section are private associations. <strong>Council</strong> is not involved inplanning for growth or improvements. Where facilities exist or improvements/extensionsproposed to water <strong>and</strong> sewage networks, sporting facilities should be encouraged to connect tothese.