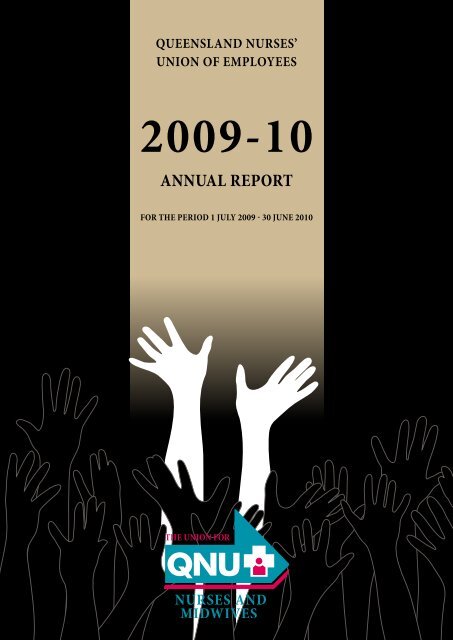 ANNUAL report - Queensland Nurses Union
ANNUAL report - Queensland Nurses Union
ANNUAL report - Queensland Nurses Union
SHOW MORE
SHOW LESS
Create successful ePaper yourself
Turn your PDF publications into a flip-book with our unique Google optimized e-Paper software.
QueenslanD NURSES'UNION OF EMPLOYEES2009-10ANNUAL reportFor the period 1 July 2009 - 30 June 2010
---
ContentsQNU Council as at 30 June 2010SecretaryGay HawksworthAssistant Secretary Beth MohlePresidentVice PresidentDesley Geraghty-RuddSally-Anne JonesExecutive Members Sue CadiganDavid LewisSue PitmanKym VolpCouncillorsCeline BennSteve BoneJulie Ann BurgessJudy ClancyChris CocksBarbara CookKaren CookeLesley DouglassSandra EalesJane EvansJulie Anne GardPhillip JacksonLynda MaidensLucynda MaskellJudy MatthewsLouise MiddletonSimon MitchellSheryn PetersenKaren ShepherdBronwyn SteerKaty TaggartQNU staff as at 30 June 2010Brisbane officeProfessional Officers Kym Barry; Chris JensenSenior Legal Officer Luke ForsythLegal Officer Claire GabrielIndustrial Officers Mark Dougherty; Des Elder;Gayle McCaul; Vonnie SempleIndustrial Research Officer Daniel CruteIndustrial Officer - Servicing Cheri Taylor; Juliana VirineSenior Organiser Bob ParkerOrganisers Emily Andrews; Wayne Graham; CharlieGreenhill; Sharyn Hopkins; Brigid Lord; Judith Mullane;Marie Nielsen; Bernadette O'Connor; Mark O'Connor; PaulRobertson-Mitchell; Bernadette Sinclair; Narelle Smith; JoSmith; Anne StevensMember Servicing Officers Terry Buckley; Linda Garside;Beris Slater; Dianne WilliamsGrowth Coordinator Paula RogersRecruitment Officer Mandy BeaumontMembership Retention Annie CowlingCommunications Officer - Strategy & CampaignsAmanda NewmanCommunications Officer - Print Publications Joan SkewesCommunications Officer - Electronic/DesignMelissa CampbellResearch & Policy Officer Liz TodhunterPolitical & Community Organising CoordinatorGenevieve SiddleOccupational Health & Safety Officer James GilbertEducation Officer Helena Dalton-BridgesEmployee Relations Manager Tully StewartLibrary Pat Vincent; Madeleine BrantInformation Technology Officer Zak KocovskiProject Officer Annabelle CarambaOffice Supervisor Jenny GettMembership Marjan Halliday (Membership Supervisor);Cindy Graham; Joy Kenway; Jannine Sione; Cheryl Thompson;Merilynn WalterAccounts Jocelyn Connor (Finance Officer); Vikki Cornwell;Cheryl CraigRecords Alex Main (Records Management Supervisor);Wendy Lawrence; Karen OttowayAdministrative Support Leonie Baldwin; Patricia Borg;Bernadette Brown; Michael Burge; Min Chen; KathleenDarolles; Merren Dickens; Cindy Graham; Dell Hahne; LesleyHill; Lauren Jeffs; Emma Maximiw; Vera Nolte; Ben Parkin;Maria Rumery; Sandy Ryan; Irene Sammut; Denielle Smith;Dianne Stevenson; Corinne Strong; Sara Sweet; Leah WilliamsCaretakers Hans Hahne; Kevan StevensRegional OfficesTownsvilleOrganisers Mary Louez; Louise MiddletonAdministrative Support Helen Davis; Rita RylandCairnsOrganiser Kathy StruberAdministrative Support Sue HowarthRockhamptonOrganiser David AbrahamAdministrative Support Sandra JoyceBundabergOrganiser Vicki SmythAdministrative Support Maree SassuToowoombaOrganiser Auriel RobinsonAdministrative Support Kate Angell, Debra Lindgren2 | Annual Report 2009-2010 | Queensland Nurses' Union of Employees
---
OrganisationalStrategic objective:»»Achieve union growth, influence and power through the provision of adequateinfrastructure and support.In the face of the very considerable challenges andopportunities presented to the QNU over the past year,we have utilised all available infrastructure and supportto ensure we have continued to grow in strength,influence and power.Membership growthQNU membership has continued to surge over thepast financial year. A concerted recruitment effort(through our Because We Care campaign for aged care inparticular), workplace enterprise bargaining campaigns,and a number of national reform agendas (in health andindustrial relations) have given nurses and midwiveseven more reason to join the QNU.We expect our membership to continue growing overthe next financial year as more nurses and midwivesbecome aware of a new national registration andaccreditation standard (from 1 July 2010) which requiresthem to hold professional indemnity (PI) insurance.Under this requirement a nurse or midwife cannotpractise without appropriate PI insurance in place. Aspart of membership of the QNU, financial members areprovided with professional indemnity insurance thatmeets the standard.At the QNU's 2009 Annual Conference we launched ournew and improved QNU website which featured an onlinejoining function. Somewhat surprisingly, we have seena substantial number of nurses and midwives use thisonline function to join the QNU. According to our websitestatistics, members join at all times of the day and night. Itappears the facility is extremely popular with nurses andmidwives working night shift, with many logging on tojoin at very early hours of the morning.Significant recruitment efforts around our Because WeCare campaign for aged care have also delivered highmembership growth in the aged care sector. Nursesin aged care have recognised the critical importanceof union membership and of the strength we have toachieve our objectives when acting as a collective.Member servicingDemand from members with individual matters continuesto grow, both in complexity and number of cases. We haveallocated additional resources and implemented bettersupport mechanisms to ensure we are best placed to meetour objectives in this key priority area.In particular, the QNU's Member Servicing Centre(QNU Connect), as the first point of contact at the4 | Annual Report 2009-2010 | Queensland Nurses' Union of Employees
---
ORGANISATIONALustrial,omoting and defending the industrial,professional, social,tical and democraticnd interestsyees,41017 273of membersEmployees, December 2009Queensland Nurses' Union of Employees,187 Melbourne Street, West End Q 4101(07) 3840 1444 or 1800 177 273www.qnu.org.auQNU, continues to provide members with importantadvice and information about a whole range ofindustrial, professional, legal and campaign mattersand provide referrals to expert staff where appropriate.In addition to their usual servicing workload, ourMember Servicing Centre officers have assistedthousands of public sector members since the Marchintroduction of Queensland Health's (QH) despisednew payroll system.Numerous other positions within the QNU play acritical role in representing members in the workplace.In addition to their critical organising functions,Organisers in our five regional areas handle a diverserange of individual member matters. This ensuresmember issues in these regional areas are moreefficiently and effectively managed.In Brisbane, two servicing industrial officers, alongwith two dedicated servicing organisers, are in placeto provide effective representation for members withworkplace issues.Member trainingLocal and international union research continues todemonstrate that a robust education program for activemembers to engage and develop within is critical tobuilding a strong union. That's why we continue to investin union education to support a growing and sustainableunion structure in workplaces.The QNU's training unit contributes significantly toour continuing activist development around the State,providing a centre for new and existing activists at allstages to further their knowledge, redirect their skillsand build confidence while establishing strong networkswith other active members. Activists are the backbonevalues and interestsAuthorised by G.Hawksworth, Secretary Queensland Nurses' Union of Employees, July 2009of membersJANUARY - JUNE 2010JULY - DECEMBER 2009of our Union's structure and play an integral role inrepresenting members, their issues and concerns in theworkplace.The first half of 2010 saw the largest number of membersenrol in programs since the QNU's training unit wasestablished. Many courses around the state filled and hadwaiting lists.An increasing confidence to participate in Unionactivities since the removal of the Howard governmenthas led to many members becoming more active in theirworkplace. Over 80 percent of members who attendedQNU training over the past financial year hold Activistpositions within our Union's formal structure.A number of core courses form the basis of oureducation program, and these are updated regularly toreflect the needs of each enrolled group. All activists areencouraged to complete our core education programsand revisit them over a period of time. In addition,sector specific courses and a number of new coursesare incorporated into our program each six months.Some of the recent additions to our training programhave included: EB7- after the ballot moving forward; TheQNU Aged Care Campaign; But Private Hospitals aredifferent!; Are Queensland Health Consulting? How tostop the rot when they're not!; Political and CommunityCampaigning - how to make a difference!; PrivateHospital Nurses - current issues and how to addressthem!; and Private Hospital Nurses - what you can doabout your workload!Union training and education underpins memberactivity and involvement in the workplace and makes usa stronger as a collective.Communicating with membersThe QNU's communication structures continue to bedeveloped and enhanced to ensure we are best placedto meet the needs of members and facilitate memberinvolvement in union activities.While we continue to ensure recurring publicationssuch as our journal, The Queensland Nurse, newsletters(print and electronic) and notices remain of a highquality, we have also maintained a concerted effort todevelop strategies and resources that educate, supportand activate members throughout campaigns andcrises.Of significance, considerable time and resourceshave been invested in planning, developing andimplementing a comprehensive communicationstrategy for the Because We Care campaign for agedcare. Materials, resources and educational materialshave been developed and adapted, and activitiesimplemented, to support key steps and milestones inthis campaign. While each strategy is implementedQueensland Nurses' Union of Employees | Annual Report 2009-2010 | 5
---
ORGANISATIONALand communicated on a variety of fronts, wecontinue to rely on the ground work of members infollowing up and promoting each strategy within theirworkplace. Similarly, throughout the QueenslandHealth payroll debacle, we have worked hard toinform members of important information and advice(particularly in the absence of consistent and accurateadvice from Queensland Health).We are also becoming increasingly reliant on utilisingweb-based activities to garner member and communitysupport. At our 2009 Annual Conference in July welaunched our new QNU website, which has beenextremely well received by members with nearly a50 percent increase in visits on average per month.Most people visit the website to join online, accessinformation sheets, and participate in our onlinecampaign activities.In March 2010 we launched our online 'Ask theTreasurer to fix aged care' email facility where membersand the community could send Treasurer Wayne Swana message to the government to start delivering foraged care on budget day in May. We know our messagesgot through—we received correspondence from theTreasurer shortly after he was inundated with more than2,000 emails. We also achieved some positive outcomeson budget day (see page 37 for more.)representing the views and interests of the majority ofmembers.But media is only one forum for asserting pressure. Wehave also been extremely active in directly lobbyingthe Premier and Deputy Premier and Minister forHealth, as well as the Director General and other keystakeholders within Queensland Health to address ourconcerns and issues as they arise (such as to ensureno nurse or midwife is disadvantaged as a result of thepayroll disaster, or to enable nurses and midwives toimmediately address their payroll issue in the workplacethrough an immediate cash or cheque payment). Eventhese outcomes, while by no means sufficient, were theresult of intense lobbying and campaigning on the partof the QNU.In addition to the Queensland Health payroll debacle,the Secretary, Gay Hawksworth, and the AssistantSecretary, Beth Mohle, make themselves available tothe media to cover a range of other professional andindustrial issues affecting members where appropriate.In all of the online activities we have launched we havenoted significant spikes in participation immediatelyafter our email newsletter (qnews) is sent to members.While there are still thousands of members who are yetto register an email address with the QNU (if they haveone) we recognise that our online strategies, includingour email newsletter, have become effective and costefficient vehicles for communicating with members andachieving positive action.MediaSince the full extent of the Queensland Health payrolldisaster was realised the QNU has responded to frequentdaily media requests and enquiries. We have takenadvantage of any opportunity to communicate ourmessages and our concerns to the broader public, and toassert pressure on the government, who are ultimatelyresponsible for fixing the payroll system.According to our media monitoring reports, onaverage, there have been more than 100 mentionsof the QNU each month (either direct references tothe Secretary or Assistant Secretary, or referencesof the QNU). This figure doesn't take into accountthe hundreds more calls we get each month fromjournalists seeking 'background' or 'the other sideof the story'. There is a substantial amount of workand time involved in regularly responding to mediarequests and ensuring we are most appropriatelyQNU Assistant Secretary, Beth Mohle, speaking with a journalistduring the 2010 Labour Day marchQNU staffIn light of significant membership growth andcompeting demands for human resources (thanks inpart to the Queensland Health payroll debacle) we haveput in place additional staff to enable us to continue toachieve our organisational objectives.In the past 12 months we employed to either newlycreated or vacated positions, Vonnie Semple as anIndustrial Officer, Annabelle Caramba as a temporaryProject Officer, Alex Main as Records ManagementSupervisor, Cheri Taylor as a Servicing Industrial Officer,Tully Stewart as Employee Relations Manager, ClaireGabriel as Legal Officer, Jo Smith, David Abraham andKate Snowball as Organisers, and Bernadette Browne,Debra Lindgren and Jannine Sione as AdministrativeStaff.6 | Annual Report 2009-2010 | Queensland Nurses' Union of Employees
---
Not a member? Join online today!ORGANISATIONALAs at the end of the 2009/10 financial year, the QNUemployed 95 permanent staff and 5 casual staff across sixoffices (57 Officials and 38 Administrative Staff).In addition, we also employed a number of memberorganisers to assist with specific campaigns or provideadditional support where gaps emerge on a temporarybasis. Thanks to Kimberley Kriedemann, Jo Smith,Veronica Istvandity, Jenny Ballantyne, Faith Guesmerand Louise Middleton who were employed under ourmember organiser program and who have greatlyassisted in supporting members.A number of these member organiser positions wereestablished within a broader Activist DevelopmentProject that is specifically designed to promote membereducation, enhance development opportunities for keyworkplace activists, and in the longer term to supportsuccession and growth planning.Thanks also to member Alba Vignolo who has beenseconded to work as a member campaign officersupporting our aged care team.QNU processes and proceduresAs our organisation continues to grow we identifysignificant opportunities to improve and enhanceprocesses and procedures.Of particular significance, during the past financialyear we implemented a records management projectaimed at analysing records use, management,processes, flows, obligations, over-provisions andgaps. It is anticipated that the end result of thisproject will be a set of recommendations that willcreate an effective and efficient best practice recordsmanagement program.This is a critically important project in ensuring thatthe records we create in the QNU are permanentlypreserved and contain all the vital information requiredto ensure they are accessible and meaningful in thefuture. It is also a wonderful opportunity to ensurewe document and contribute to the rich fabric andhistory of the union movement's continuing struggle forworkers' rights.SuperannuationexplainedThe Queensland Nurses' Union —the union for nurses and midwives —promotes and defends the industrial,professional, social, political anddemocratic values and interestsof members.SE P T E M B E R 2009Ways to join the QNUWho can join?From little thingsbig things grow...Online at www.qnu.org.auPhone 3840 1440 ortoll free 1800 177 273(for outside of Brisbane)Speak to your local OrganiserCONTACT C US US» Registered nurses» Midwives» Enrolled nurses» Assistants in nursing (however titled)» Students» Anyone who undertakes nursing work.Have questions aboutprofessional indemnityinsurance?Call the QNU's friendlyMember Servicing Officerson 3840 1444.Some of the print materials produced by the QNU during the past yearContact usVol. 29 | No. 2 | April 2010JOINONLINETODAY!www.qnu.org.auQNU offices:BrisbaneReception: 187 Melbourne StreetWest End Q 4101GPO Box 1289, Brisbane Q 4001Telephone: (07) 3840 1444Fax: (07) 3844 9387Bundaberg44 Maryborough StreetBundaberg Q 4670PO Box 2949, Bundaberg Q 4670Telephone: (07) 4132 8411Fax: (07) 4151 6066CairnsSuite 2, 320 Sheridan StreetCairns North Q 4870PO Box 846N Cairns North Q 4870Telephone: (07) 4031 4466Fax: (07) 4051 6222RockhamptonSuite 1, Trade Union Centre110 Campbe l StreetRockhampton Q 4700PO Box 49, Rockhampton Q 4700Telephone: (07) 4922 5390Fax: (07) 4922 3406ToowoombaSuite 4, 256 Margaret StreetToowoomba Q 4350PO Box 3598 Village Fair Q 4350Telephone: (07) 4659 7200Fax: (07) 4639 5052Townsville1 Oxford StreetHyde Park Q 4812PO Box 3389, Hermit Park Q 4812Telephone: (07) 4772 5411Fax: (07) 4721 1820Toll free: 1800 177 273Email: qnu@qnu.org.auwww.qnu.org.auAuthorised by G. Hawksworth, Secretary,Queensland Nurses' Union of Employees. July 2010.National registration mandatory requirement:professional indemnity insuranceONE MOREREASONwhy every nurse& midwife shouldjoin the QNUMembers inmanagementA guide for nurses and midwives working in management positionsHave you seen ournew website?The QNU's new website is a great resource for members.The new website makes it easier to access QNU information and materialsto support members in their roles as nurses, midwives and students as well asvaluable members our Union.Brought to you by the QNU and HESTA Super FundAn IndustrySuperFundThe Queensland nurseMembers can:» view the union journal online» participate in a range ofcampaign activities andactions» access a range of QNUresources in our newCurrent as at June 2010'resource hub'» access awards, agreementsand wage sheets» enrol online for trainingcourses» change and updatemembership detailsNurses andmidwives ...focusing on thebigger pictureIn just a few minutesyou can join over 38,000members throughoutQueensland who worktogether through theQNU to achieve betteroutcomes for nursesand midwives.You can find the 'join online' buttonon our homepage at www.qnu.org.auVisit www.qnu.org.au todayFirst time loggingon to the membersonly section?REMEMBER:LOGIN:[your member number]PASSWORD:[your member number]... then change yourpassword the first timeyou use the new site!Authorised by G.Hawksworth, Secretary, Queensland Nurses' Union of Employees, August 2009.Queensland Nurses' Union of Employees | Annual Report 2009-2010 | 7
---
IndustrialStrategic objectives:»»Facilitate empowerment of members to achieve their industrial objectives»»Provide effective industrial leadership»»Provide effective representation»»Maintain and improve wages and working conditions»»Work to achieve positive legislative reformsSignificant reform at the state and federal level, and ourincreasing membership strength across all sectors, hasenabled us to enhance industrial outcomes for members.In particular, the introduction of the federalgovernment's Fair Work Act in July 2009 has providedmany QNU members with significantly advanced rightsand opportunities in their workplaces.The big pictureA key aspect of the federal government's industrial reformagenda was to streamline and simplify hundreds ofcomplex awards through the creation of modern, nationalawards along either industry or occupational lines.These new awards began being phased in on 1 January2010. The QNU, as part of a national nursing unioncampaign, was successful in lobbying for nurses to becovered under an occupational award which recognisesnurses as the single biggest occupational group in healthand welfare services. Most nurses not covered by anagreement, will now be covered by the Nurses' Award2010 (the new modern award).Coverage under the occupational award is a significantwin for QNU members who have industrially andprofessionally maintained their nursing identity in theface of intense opposition from a number of employerand union parties who sought to have nurses included ina wider industry award along with other workers in thehealth setting.Thanks to the thousands of nurses and midwives whoparticipated in campaign activities, such as signing ourpetition calling on the Australian Industrial RelationsCommission to reject the other unions' and employerpush to scrap nursing awards.In May, after strenuous campaigning by the QNU,NSWNA and ANF, the federal government announcedchanges to the Fair Work Act that have strengthened thesystem of take home pay orders.The changes to the regulations were announced soonafter the QNU, NSWNA and ANF launched a classaction for take home pay orders to Fair Work Australiato cover more than 400 aged care employers inQueensland and New South Wales.Under the amended regulations, take home pay orderscan now be sought for classes or groups of employeesbefore their wages are reduced, and take into accountvariations to modern awards.8 | Annual Report 2009-2010 | Queensland Nurses' Union of Employees
---
INDUSTRIALAmid the modernisation of all awards at the federallevel, we have also taken an active role in ensuring acontinuing place for state registered unions in the newfederal workplace system.The QNU and Queensland Health are close to finalisinga new single state award for Queensland Health nursesand midwives arising out of the move from the federalto the state jurisdiction under the EB6 enterprisebargaining agreement.Public SectorThe Queensland Health payroll debacleThe implementation of Queensland Health's new payrollsystem has become a debacle of monumental proportions.It has become abundantly clear that there is,unfortunately, a way to go before there will be anappropriate conclusion to this disaster.Unfortunately, as it has been such a unique andextraordinary event, the remedies that usually applywith industrial disputes or wage and salary negotiationssimply don't apply here.This matter has been the subject of numerousQueensland Industrial Relations Commission (QIRC)hearings. Had Queensland Health or the governmentnot been taking the 'necessary' steps to fix the problemand pay its staff, the QIRC could have directed orordered them to do so.The Auditor General's report, which was releasedin June, highlights fundamental failings of risk andproject management that were underpinned by a lack ofaccountability for and governance process surroundingdelivery of the project. On the eve of the release ofthis report two key people with responsibility forimplementing the payroll system were served notices ofcontract termination.This is a systems issue which is the result of a sequenceof human errors—of poor consultation, planning anda lack of protocols. It is fundamentally a failure of riskmanagement and indicative of a cultural arrogancewithin Queensland Health.Members should be assured that we remain firmlyfocused on using every avenue available to us to ensureQueensland Health nurses and midwives receive the wagesand entitlements they are legally owed on their pay day.In June we coordinated a series of meetings betweenthe Deputy Premier and Nurse Unit Managers. Itremains very clear that it is only because of the hardwork and commitment of these NUMs and other linemanagers that the payroll system is working at all.Following continual submissions from the QNU onthe unacceptable impact this debacle is having on linemanagers including NUMs, Queensland Health hasThe Pay Protest Day rally outside the RBWHagreed to provide additional funding to relieve thepressure on these staff.The QNU has developed a range of materials to supportmembers.During this ongoing debacle, the QNU – which isrelatively small compared to Queensland Health andthe resources of the government – has continued thenormal, day-to-day business of our Union. This includesthe individual representation of members by our legaland servicing teams in courts and tribunals and beforethe QNC, enterprise bargaining negotiations for betterwages and conditions for members across all sectors,and other work which seeks to promote and defend theindustrial, professional, social, political and democraticvalues and interests of members.EB7The state's public sector nurses and midwives are now thehighest paid in the country in most classifications afterthe Queensland Health nurses' and midwives' enterprisebargaining agreement (EB7) was approved in July 2009.The agreement includes significant wage rises forQueensland Health nurses and midwives, whooverwhelmingly (94 percent) endorsed the newagreement. Wage rises under the EB7 agreement are:»»4.5% or $34 per week (whichever is greater) from1 April 2009 (members received back-pay at the newpay rates from this date);»»4% or $34 per week (whichever is greater) from1 April 2010;»»4% or $34 per week (whichever is greater) from1 April 2011.Queensland Nurses' Union of Employees | Annual Report 2009-2010 | 9
---
INDUSTRIALIn addition to a wage increase and enhancements toother conditions, there are also a number of otherimportant initiatives and entitlements contained in theEB7 agreement which will allow us to pursue and addresscritical nursing and midwifery issues now and in thecoming years. In particular, the EB7 agreement providesfor work to continue through a peak body to advancethe interests and issues of the public sector nursingand midwifery workforce. While the body has changednames from the Nurses' Interest Based BargainingImplementation Group (NIBBIG) to the Nurses' andMidwives' EB7 Implementation Group (NaMIG), bothparties have committed to its ongoing role under EB7.Work by the body has progressed around a numberof critical areas including the Business PlanningFramework and workloads, models of nursing andmidwifery, working arrangements, and classification andcareer structures (including those for Enrolled Nursesand Nurse Unit Managers).In addition, NaMIG has also recently taken on asignificant project to enable us to better plan for thefuture of nursing and midwifery in this state. A criticaloutcome of the QNU's jointly sponsored Nursing andMidwifery Workforce Summit, which was held in April,is the development of the Queensland Nursing andMidwifery Workforce Strategy 2020.All of the NaMIG projects have significant professionalimplications, and much work is done by expert staff ofthe QNU behind the scenes to enhance and improve theoutcomes of these projects.Other critical issues in the public sectorA number of disputes have occurred with QueenslandHealth over the past financial year, many of which relateto workload issues.There continues to be some difficulty in Health ServiceDistricts in regard to compliance with the BusinessPlanning Framework.Specialist Panels have been established in numerousfacilities across the state to address workload issues.In many of these cases, major understaffing hadcreated unsafe situations (for patients and nurses). AtCaboolture Hospital operating theatre and ToowoombaHospital medical unit member driven action resulted inpositive outcomes being achieved.Government relationsWe continue to participate in regular bi-monthlymeetings with Health Minister and Deputy Premier PaulLucas. Regular bi-monthly meetings are also ongoingwith the Director General of Queensland Health, MickReid, on alternate months.We are constantly, particularly in light of theQueensland Health payroll debacle, in contact withkey advisors in the Minister and Director General'soffice to convey concerns, issues and challenges and toseek appropriate resolutions to identified issues wherethey have not been able to be resolved through otherestablished channels.Matters under discussion over the past financial yearhave included:»»Future of a partnership approach with QH»»Governance and accountability within QH»»Implementation of the BPF»»Torres Strait Islands and single nurse posts»»Midwifery models and the need for data sets»»Future of state government nursing homes»»Status of PPPs in new hospital developments»»New QH Payroll systemPrivate hospital sectorThe past year has been a significant one for enterprisebargaining (EB) in the private hospital sector.Most private hospital agreements expired or were dueto expire by 30 June 2009, and as a result, a significantnumber of agreements were negotiated concurrently bythe QNU.At the time, there were some very significant factorsthat influenced our planning and implementation of EBcampaigns:»»We were waiting for the public sector EB7 wagesoutcome to be known to use it as a reference point fornegotiations.»»There would be changes to industrial relationslegislation governing bargaining, with the Fair WorkAct in operation from 1 July 2009.»»There was also a new modern nursing award beingdeveloped (that would not start operating until 1January 2010), which differed somewhat from theexisting award covering the sector.With all this in mind, we also sought to protect andimprove conditions previously gained in past EBagreements.We managed to secure significant wage increases, manyof 12.5 per cent or more.Small employer bargainingWith the introduction of the Nurses Award 2010numerous small operators in day hospitals and auxiliaryhealth have sought to implement either new contracts ofemployment or enterprise bargaining agreements. Theseemployers are generally unacquainted with generalindustrial relations practices, and consequently moreresources are needed to ensure members in these areasare appropriately represented.10 | Annual Report 2009-2010 | Queensland Nurses' Union of Employees
---
INDUSTRIALThe QNU, as part of the Queensland Council of Unions(QCU), argued strongly against a number of therecommendations.Perhaps one of the most contentious recommendationswas the proposal to introduce draconian permanentimpairment thresholds to restrict common lawaccess. Following intense lobbying from unions, thegovernment has decided that thresholds will not beintroduced.Member assistanceThe QNU continues to assist members in workers'compensation claims and processes.Facility designWith planning now under way for the developmentand redevelopment of a number of major publichealth facilities, some unique opportunities existfor the QNU to help ensure these future services areresponsive to the needs of the community and nursesand midwives, address current and future innovations,and optimise the utilisation of infrastructure andfunding resources.Late last year we employed an expert Project Officer toexamine the processes associated with developmentsand redevelopments in the public sector and identifyopportunities for the QNU to actively participate in andinfluence phases of health service planning to create asustainable health system into the future.As part of our response we developed and launchedour Strategic Participatory Planning and IndustrialRelations Framework for Health Service Development/Redevelopment in the Public Sector. This documentprovides QNU Branch and Workplace Representatives,members and staff with a framework that will help ourunderstanding of the methods and processes used inthe development and redevelopment of health facilitiesnot only in the public sector, but across all sectors. Italso shows how we can play an effective role in suchprojects.In April we also held a professional seminar "Introductionto nurse engagement in the planning and design of healthcare environments in the public sector". The free seminarwas well attended by members in the major health servicedevelopment and redevelopment areas.Recently we also finalised ourhealth and safety resource for2010, Facility Design. Thispublication has been developedwith the goal of providingnurses and midwives—inparticular those with healthand safety responsibilities—with information, examples,case studies and resourcesfrom across the globe thatwill empower them to play anactive role in the shaping ofour health care facilities. Thebooklet is now available formembers to download fromour website or can also berequested from our information hotline.Community care summitIn early 2010 the QNU participated in planning for theWorkplace Health and Safety Queensland CommunityCare Summit. Community Care has one of the worstinjury rates in the Health and Community IndustrySector.We will continue to seek every available avenue toreduce injury of nurses and midwives in all sectors.Education (of employers, staff and policy makers) playsa critical role in reducing injury.H E A L T HS A F E T YFacilitydesignwww.qnu.org.au Health and Safety 2010: Facility design | aANDFEATURE2010A QNU publication for members12 | Annual Report 2009-2010 | Queensland Nurses' Union of Employees
---
ProfessionalStrategic objectives:»»Facilitate empowerment of members to achieve their professional objectives»»Advocate for the maintenance and advancement of nursing standards»»Provide effective professional representation»»Provide leadership in the advancement of innovative nursing practice»»Contribute to advancements in nursing education, research, training anddevelopment»»Influence and contribute to health and aged care policy at all levelsSignificant and ongoing reform of the health system overthe past year has created many opportunities for theQNU to further the professional interests of members,with much more work to be done.It has also been necessary to defend the professionalinterests of members on a number of fronts.National registration andaccreditation scheme for healthprofessionsOn 1 July this year a single national registration andaccreditation scheme for health professions wasintroduced.The QNU has expended considerable resources toensure the interests of members are advanced under thenew scheme, which has seen some considerable changesto the way nurses and midwives are registered andaccredited.Nurses and midwives who hold current registrationor enrolment with the Queensland Nursing Council(QNC) on 30 June 2010 were automatically registeredunder the national scheme on 1 July.New registration standardsThe Nusring and Midwifery Board of Australia (NMBA)has developed a set of mandatory registration standardsfor nurses and midwives who renew or apply for aregistration under the new national scheme.The QNU has and will continue to educate members aboutthese requirements through our range of publications.Unfortunately, there have been considerable difficultiesassociated with the introduction of these standards.In particular, critical issues with the professionalindemnity insurance standard and the English languageregistration standard have meant the QNU has beenactive in lobbying for changes as well as defendingmembers' interests.A comprehensive communications and educationstrategy has been implemented to support membersaround the changes.Queensland Nurses' Union of Employees | Annual Report 2009-2010 | 13
---
PROFESSIONALMuch work is being done to support members as thechanges are rolled out. We have developed a suite ofinformation to support members in understanding andworking within the new scheme and these materials areavailable on our website.Access to MBS and PBS for NPs andeligible midwivesFrom 1 November 2010, nurse practitioners and eligiblemidwives will be able to access the MBS and PBS underlegislation passed in March.The outcome represents a major win for consumersand provides long deserved recognition of our highlyskilled nurses and midwives. The QNU, along withother nursing unions from across Australia, have beenlobbying for over ten years for this decision.Unfortunately however, there remains some red tapewhich will prevent nurse practitioners and eligiblemidwives from practising to their full scope.National Health and Hospital ReformSweeping health changes announced by the federalgovernment in March marked the commencement ofa new and invigorated debate about health reform inAustralia.As part of the federal government's overarching healthstrategy that was announced, a new National Healthand Hospitals Network, funded nationally and managedlocally, will be established to run Australia's hospitals.Under the proposed reforms, which are based on theNational Health and Hospitals Reform Commissionreform plan:»»the Commonwealth will fund 60 per cent of the"efficient price" of all public hospital services,recurrent expenditure on research and training inpublic hospitals, and capital works costs»»over time, the Commonwealth will assume 100 percent responsibility for funding and policy for allGP and primary health care services (including the"efficient price" of equivalent outpatient servicesprovided to public hospital patients)»»to pay for the reforms, the CommonwealthGovernment will retain one-third of GST revenue, andinvest it directly in health and hospital spending»»Local Hospital Networks will be established acrossAustralia to run clusters of hospitals, with localhospital boards set up under state legislation»»national standards will be set for public hospitals,including for emergency departments, elective surgerywaiting times, adverse events and hospital acquiredinfections»»national governance arrangements will be introducedfor performance monitoring in the health and hospitalsystem, national standards and public hospital pricing.The Queensland government has agreed to the reformsand is currently working with the federal government infinalising the details.Within a week of launching the government's plan, thePrime Minister at the time, Kevin Rudd, met with statebranch secretaries of the ANF, including the QNU. Atthis meeting we were able to raise with him many ofthe issues we see as critical to this debate and to healthreform more generally. Mr Rudd also met with QNUCouncil at our April meeting to talk further abouthis government's vision and hear our thoughts andconcerns. The ANF also provided him with a writtenissues paper that the QNU provided extensive detailfor.We will continue to attempt to shape the Gillardgovernment's health agenda through the provision ofstrategies and the highlighting of areas of concern.We have a vision for health and aged care reform inAustralia, one that sees nurses and midwives playing acentral role, and we will strenuously advance this visionin the coming months.QNU member reference groupsThe QNU has a number of member driven referencegroups which help establish the policies and direction ofour Union.These reference groups are made up of motivated anddedicated members who provide expert advice as wellas comprehensive and informed feedback to the QNUabout relevant issues in their field; such as mental health,midwifery and aged care.Representatives come from a range of settings andpractice contexts and from both the private and publicsector.Logan Group Practice midwives first birthday celebrations(April 2010)14 | Annual Report 2009-2010 | Queensland Nurses' Union of Employees
---
PROFESSIONALThe depth of knowledge and experience that underpinsthese diverse expert groups ensures the interests ofnurses and midwives are recognised. QNU members onthese reference groups make a considerable contributionto achieving our objective of promoting and defendingthe professional interests of members.Midwifery issuesReform of midwifery, or in areas which impact onmidwives, continues to be undertaken at a state andfederal level. Much work has occurred to activelyinfluence this reform and promote new models ofcare which enable midwives to practise to their fullestpotential.The QNU midwifery reference group, made up ofQNU members, has provided invaluable informationand feedback during the consultation of the exposuredrafts of various relevant legislation. This has enabledus to actively influence reform. This group continues toteleconference on a state-wide basis and we have recentlyseen increased representation by members in remoteand rural areas.Mental healthOver the past year the mental health nurses' referencegroup has worked to identify interests for considerationin enterprise bargaining negotiations, to establish theQNU position for inclusion in QNU submissions—both in the specialist field and in the broader nursingcontext—and also aids in the development of QNU andANF policies.The bi-monthly meeting of the reference group alsoprovides a valuable opportunity for members to identifyemerging issues from the coalface, as well as the impactof employer-driven initiatives arising from national,state and local agendas that may affect professionalpractice and standards of care. Currently the groupare developing models for case management andcommunity mental health nursing.A critical issue in mental health remains the significantshortage of appropriately qualified staff. These shortagesare having a substantial impact on members. The QNUis currently lobbying for enhancements to curriculumas well as additional transitional courses to increase thelevel of qualified staff entering the field. We are currentlyadvocating for mental health to be included as a criticalelement of undergraduate nursing courses.In November 2009 we completed a submission tothe national Mental Health Workforce AdvisoryCommittee on the development of a National MentalHealth Workforce Strategy and Plan. We addressedthe workforce issues associated with nursing in mentalhealth and adult mental health services. We arguedthat nurses are well placed to provide contemporarymental health care consistent with a recovery model. Acommitment to the implementation of this model offersthe potential for enhanced job satisfaction for nurseswhich may encourage nurses to enter and/or remain inthe workforce. We also advocated for increased fundingin the sector to enable mental health nurses to expandand extend their practice and to access contemporaryresearch in order to create a more sustainable andperson-centred service.As a result of the significant nursing shortages inmental health, workloads have become a wide rangingissue. Currently we're providing specific feedback tothe QNU/Queensland Health Nurses and MidwivesImplementation Group's BPF (workloads) project area.We are formulating innovative and creative ideas for theimplementation of the BPF in the community setting,particularly in mental health.Physicians' assistantsSince the pilot trial of physicians' assistants wasfirst proposed the QNU has actively opposed theintroduction of this position. We are concerned theposition will form another cohort of unregulated healthworkers in this state.A trial of physicians' assistants at three sites has nowbeen completed and an evaluation report forwarded toQueensland Health and the QNU. Queensland Healthhas indicated to the QNU that they will not be making acabinet submission for additional money to extend thetrial or to implement the physicians' assistants role in thepublic sector.Graduate nursesCurrently Queensland is in the position of havinghundreds of domestic nursing graduates unable tosecure employment. Given the continuing and predictedworsening nursing shortages, this issue remains asignificant concern for the QNU.While there remains substantial nursing and midwiferyworkload issues right across the state, it is astoundingthat many graduate nurses have not been able to gainemployment in Queensland Health. Queensland Healthmaintains there are limited vacant positions.The QNU is actively lobbying both the state and federalgovernments to address this issue.Professional seminarsThe QNU continues to run professional and legalseminars for members. Focusing on current professionaland legal issues affecting nurses and midwives theseminars are open to members and non-members as avaluable professional development opportunity.Queensland Nurses' Union of Employees | Annual Report 2009-2010 | 15
---
PROFESSIONALLegal mattersIn the past financial year the QNU's Legal Departmentundertook a range of activities on behalf of the QNUand members in relation to:1. QNC conduct, competency and health matters;2. QNC prosecutions for holding out, unlicensedpractice;3. Discrimination claims;4. Charges referred to the Queensland Civil andAdministrative Tribunal (QCAT) by the QNC inrelation to professional conduct;5. Providing advice to officials;6. Drafting submissions and liaising with governmentand peak representative bodies in relation to changesin Commonwealth and state legislation;7. Appeals to the District Court of Queensland;8. Appeals to the Court of Appeal;9. General Protection Disputes, freedom of associationmatters, and common law employment matters;10. Employment disciplinary matters;11. Public Service Commission appeals;12. Managing the QNU's professional indemnityinsurance, negotiating a new policy and managingclaims on the policy.Nurses and the LawAt the QNU's 2010 AnnualConference the secondedition of our Nursesand the Law book waslaunched. This book isdesigned to give QNUmembers an overviewof the Australian legalsystem as it relates to thework they do as nursesand midwives.NURSESLAWA QNU publication for membersJULY 2010 • SECOND EDITIONand theThe book providesdetailed information onlegal and professionalrequirements under the new nationalregistration and accreditation scheme and is animportant reference tool for explaining how the lawoperates under many different circumstances whichmay present to members.The book is also available for downloading from ourwebsite at www.qnu.org.au16 | Annual Report 2009-2010 | Queensland Nurses' Union of Employees
---
SocialStrategic objective:»»Facilitate positive and sustainable social change through directed activities,education and policy development.The QNU recognises that positive social change comesabout through education, policy development andinvolvement in social issues. During the past year theQNU continued to support the social causes identifiedby our Council and Annual Conference. We havealso sought to achieve the enhanced social objectivescontained in our strategic plan.Training for activistsA QNU political and community campaign coursefor activists was developed and run in the first half of2010. Nursing and midwifery views need to be heardin relation to a range of work and community issues.This training course aims to develop capacity througheducation to ensure members are better able to act asagents for positive social change.Inquiry into alcohol related violenceQNU members are committed to improving healthoutcomes for the broader community, and as suchthe QNU welcomes any opportunity to participate indiscussion and debate around social change which canassist the achievement of this objective.In the first quarter of 2010 the QNU appeared beforethe Queensland Parliament's Law, Justice and SafetyCommittee's inquiry into alcohol related violence.We provided numerous recommendations on thematter, based on research and member feedback. TheCommittee reported on 18 March 2010 – its final reportmentions submissions made by the QNU (verbal andwritten) and includes one of the recommendationsmade by the QNU, namely: That the Queenslandgovernment mandate a phasing out of regular glassin all venues trading after midnight other than lowrisk venues, as determined by the Office of Liquor andGaming Regulation (OLGR). (The QNU did however,recommend the phasing out of alcohol after 10pm ratherthan midnight).The QNU goes greenAs part of our Union's commitment to conduct ouroperations in an environmentally sustainable manner,the QNU late last year joined the CitySwitch GreenOffice program.CitySwitch is a national tenant energy efficiencyprogram which aims improve office energy efficiency,thereby reducing the CO 2 emissions attributed to globalwarming.Signatories to CitySwitch commit to achieve andmaintain an accredited 4 stars or higher energytenancy or whole building rating in regularassessments. In our first six month assessment weQueensland Nurses' Union of Employees | Annual Report 2009-2010 | 17
---
SOCIALInternational Nurses' Day andInternational Day of the MidwifeIn May this year nurses and midwives celebrated ourprofession as part of International Nurses' Day andInternational Day of the Midwife.Along with special events that occurred in workplacesacross the state, the QNU and Queensland NursingCouncil (QNC) hosted a breakfast in Brisbane tocelebrate the important days.The breakfast raised over $3800 which was donatedto the 139 Club, a homeless shelter in Brisbane thatprovides meals, clothing and health facilities includingnursing, to those less fortunate. The QNU also providesother ad hoc support to the 139 Club throughout theyear.QNU Finance Officer, Jocelyn Connor, picture with our newair conditioning cooling towerreceived a 3 ½ star building efficiency energy ratingand we're looking to achieve 4 stars in our nextreport (buildings of the QNU Brisbane office's age arenormally rated with 2 ½ stars).Measures undertaken to date have included staffeducation, installing water tanks and dual flush toilets,replacing lighting with energy efficient fluorescent lightsas well as sensor lights in common areas and installingcarbon dioxide sensors for basement fans. These measureswill also serve to reduce long-term energy costs.Once we achieve the desirable energy rating, we will thenlook to address water usage and waste minimisation.We hope this program will also have a flow on effectoutside the office and we are now working towardssharing our experiences and expertise with other unions.For more information visit the CitySwitch website onwww.cityswitch.net.auUnion Aid Abroad -APHEDAThe QNU continued its supportof Union Aid Abroad - APHEDAduring the 2009/10 financial yearthrough financial assistance forspecific health initiatives.Australian People for Health, Education and DevelopmentAbroad (APHEDA) was created in 1984 as the overseas aidagency of the Australian Council of Trade Unions (ACTU)in recognition of the union movement's responsibility tocontribute directly to countries and regions of the worldaffected by injustices and human rights issues.Left to right: Sharyn Hopkins, QNU Professional Officer,Rod Kelly, 139 Club Manager, and Ross MacDonald,QNC Executive OfficerReconciliation Action PlanThe QNU continues to support the ANF'sReconciliation Action Plan which was endorsed at theANF National Delegates Conference in October 2007.The Action Plan is part of the ANF's strategic planand a report on progress made to the ANF Councilannually.Key criteria which are reported against includeconsulting with others, demonstrating leadership,boosting capacity and developing awareness.18 | Annual Report 2009-2010 | Queensland Nurses' Union of Employees
---
PoliticalStrategic objective:»»Maximise the influence of the QNU in political processes.The QNU has been active in seeking to influencepolitical processes to achieve positive outcomes fornurses and midwives, our profession, and the broadercommunity.SubmissionsOver the past financial year, the QNU madesubmissions to various agencies and authoritiesto promote the interests of members and raisethe political profile of our Union. Submissionsincorporating industrial, professional and other issuesof concern or relevance to members have included thefollowing:»»The Senate Foreign Affairs, Defence and TradeCommittee Inquiry into Matters Relating to TheTorres Strait Region;»»The Department of Immigration and CitizenshipReview of the Skilled Migration Points Test;»»Appearance before and submission to the QueenslandParliament Law, Justice and Safety Committee Inquiryinto Alcohol Related Violence;»»Appearance before the Joint Standing Committee onMigration Inquiry into Migration Treatment of Peoplewith a Disability;»»Review of the Whistleblowers Protection Act1994 (Submission to Queensland Public ServiceCommission);»»Review of Public and Private Hospitals (Submission tothe Productivity Commission);»»Department of Health and Ageing – National Women'sHealth Policy;»»Department of Health and Ageing Review ofAccreditation Process Residential Aged CareFacilities;»»Economic Development Committee LegislativeAssembly of Queensland Inquiry into EmploymentCreation Opportunities in Queensland;»»Department of Education, Employment andWorkplace Relations and the Department ofImmigration and Citizenship - Migration On DemandList;»»2010-2011 State Budget; and»»2010-2011 Federal Budget.We also presented a paper titled Innovation andDemocracy in the QNU at the Q150 conference on theHistory of Labour Relations in Queensland 1859-2009.LobbyingOver the past year we have undertaken concertedlobbying campaigns to influence industrial, health andnursing polices at a state and national level.We have used our membership strength and power to seektop level meetings with key government representatives.Meetings have occurred with the then Prime MinisterKevin Rudd, Federal Health Minister Nicola Roxon,and Minister for Ageing Justine Elliot, to discuss issuesas diverse as the health reform agenda, our Because WeQueensland Nurses' Union of Employees | Annual Report 2009-2010 | 19
---
POLITICALCare aged care campaign and industrial issues such asimplications of the new modern award.We have also met these representatives at a number offorums hosted by the QNU and Australian NursingFederation. In February 2010, we hosted a specialmorning tea at Parliament House as part of our nationalBecause We Care campaign. Aged care nurses fromaround Australia, including Queensland, were on handat the event to call for a significant injection of funds andchanges to the aged care system.Community engagementQNU staff and members have undertaken a range ofcommunity engagement activities over the past year toconnect the broader public to our campaigns.We have briefed arms of the Country Women'sAssociation, the National Senior's Association, theAustralian pensioners' and superannuants' leagueQueensland and many other community groups aboutour Because We Care campaign for aged care.Training for ActivistsThe QNU held a number of one day Political andCommunity Campaign training sessions in the first halfof 2010. At the sessions in Townsville, Brisbane, HerveyBay and Toowoomba members discussed strategiesaround the upcoming federal election, to occursometime this year, as well as identified how they couldactively seek to influence government policy.Training participants agreed to letterbox theirneighbourhood with current campaign material, holdworkplace meetings to discuss current QNU campaignswith colleagues, hold stalls in their communities, andemail/write to their federal MP regarding health reformand our Because We Care campaign.CampaignsWe have invested considerable financial and humanresources over the past year in developing andimplementing campaigns aimed at promoting anddefending the interests of members though politicalmeans.Nurses. For you. For lifeFor over a year we have campaigned for substantialcoordinated action around the critical workforce issuesidentified in our Nurses. For you. For life. campaign.This campaign calls for the development of a clearand cohesive strategy, firmly focused on the future ofthe nursing and midwifery workforce. The eight keyobjectives of this campaign have formed an overarchingframework for everything we do at the QNU.We recognise there is no silver bullet to fix the workforceproblems plaguing our health system. Our Nurses. Foryou. For life. campaign objectives do however, providesome of the missing pieces to the puzzle.Our Nurses. For you. For life. campaign calls for thedevelopment of a clear and cohesive strategy forthe future of the nursing and midwifery workforcewhich involves all the key stakeholders—TAFEs anduniversities, state and federal governments, healthdepartments, employers, health planners and policymakers—to enable us to face the challenges of today andmeet the ones that lie ahead.In April, the QNU jointly sponsored the QueenslandNursing and Midwifery Workforce Summit withQueensland Health and the Office of the Chief NursingOfficer.Key stakeholders from public, private health,community, aged care, as well as consumers andrepresentatives from the tertiary and TAFE sectors,Former Prime Minister Kevin Rudd and Federal Health Minister Nicola Roxon spoke at the QNU Council meeting in April 201020 | Annual Report 2009-2010 | Queensland Nurses' Union of Employees
---
POLITICALparticipated in the full day summit to exploreand develop key areas which would inform thedevelopment of an overarching plan to be called theQueensland Nursing and Midwifery Workforce Strategy2020.We are working with the Office of the Chief NursingOfficer to progress the objectives from the Summitthrough the Nurses' and Midwives ImplementationGroup (NaMIG).Because We CareIn March 2009 we launched our national Because WeCare campaign which aims to address serious issuesfacing nurses and residents in aged care.Coordinated by all branches of the Australian NursingFederation including the QNU, the campaign calls onthe federal government to act and properly fund agedcare by introducing:1. The right balance of skills and nursing hours so thatnursing and care staff can provide quality care forevery resident2. Fair pay for aged care nurses and care staff who arepaid up to $300 per week less than nurses in othersectors3. Recognition of the professional skills of Assistants inNursing and care staff through a national licensingsystem4. A guarantee that taxpayer funding is used fornursing and personal care for each resident.We should be proud of our campaign achievementsto date with this campaign, in particular, the $132million aged care workforce package announced byTreasurer Wayne Swan during the May federal budget,which includes a decisive commitment to address a keycampaign objective of boosting skills in the sector.Key funding commitments include:»»$3.5 million to explore a national regulation systemfor personal care workers, ensuring high standards ofcare and recognising professionalism»»$19 million to trial new models that expand the roleof nurse practitioners in aged care, improving careerpathways and nursing care»»$21 million to establish 900 new nursing scholarships:600 for ENs and 300 for RNs»»$60 million to enable existing aged care nurses andpersonal care workers to upgrade their qualificationsthrough further training. This includes payments of$1,000 for personal care workers to attain a nursingcertificate III or IV, $2,500 for those with a nursingcertificate III to upgrade to EN, and $5,000 for ENsto upgrade to RN. These payments are conditional oncourses being completed and employees staying in theindustry.These commitments represent some significant gainsfor aged care, which are a direct result of the actions ofQNU members across all sectors.Over the past year we have planned and implementedmany campaign activities which members and thegeneral public have enthusiastically participated in.In October 2009 we held a state-wide day of action inworkplaces, marginal electorates and communities.QNU members ran stalls and organised activitiesto spread the word about our campaign and garnercommunity support. More than 10,000 signedpostcards were returned to the QNU from memberswho organised the nearly 40 events on or aroundthe Day of Action. The significant response gave ourcampaign a much needed boost and proved to usthat many people do care about improving aged care.QNU representatives also used the momentum createdon the day to meet with many federal governmentmembers of parliament to share their concerns aboutaged care.Secretary Gay Hawksworth and Assistant Secretary BethMohle presented the signed postcards to targeted MPsin 2009. We were proud to hand over heavy boxes full ofpostcards as proof of very broad support for governmentaction.We maintained pressure on our MPs right up untilChristmas with many members participating in ourSend a Christmas Message to my MP email activityfrom our website. The message asked the governmentfor an early Christmas present in funding for agedcare.This year we haven't stopped either. In February agedcare nurses headed to Canberra to lobby our federalrepresentatives for a significant injection of funds andchanges to the aged care system. Two aged care nursesfrom Queensland attended a special morning tea atParliament House as part of planned activities. Wealso took the opportunity to meet with a number ofQueensland federal MPs and Senators to discuss thecampaign.In March we launched our Ask the Treasurer to fixaged care email campaign facility where members andthe community could sign their name to an emailto Treasurer Wayne Swan and even leave their ownpersonal message. This activity was extremely wellreceived with thousands of people sending an emailmessage while the activity was live (in the lead up to theMay federal budget day). In correspondence to the QNUthe Treasurer responded to the substantial volume ofemails he had received.Our email activity was supported by our unique 'Doyour block' strategy which we implemented to educateand activate the wider community about our campaign.Queensland Nurses' Union of Employees | Annual Report 2009-2010 | 21
---
POLITICALMembers and non-members signed up to receivepacks of QNU campaign brochures which they thenletterboxed to their local neighbourhoods. Nearly20,000 brochures were letterboxed by supporters of thiscampaign.Throughout the period of our campaign we've continuedto hold local meetings to support our aged caremembers and to inform them of issues affecting agedcare and our campaign.To keep the pressure on the government to achieve allwe set out to, we have identified another opportunity topotentially influence aged care reform.Earlier this year, the federal government announcedthat the Productivity Commission would undertakean inquiry into aged care to examine staffing issuesincluding skills mix ratios as well as how to achievetransparent and accountable funding in the sector.We are looking to make the most of the opportunityto influence the contents of this report and therecommendations the Commission puts forward – be itthrough submissions, public hearings, and even publicstunts.Australian Labor PartyQNU Conference determined to affiliate to the ALP(voluntary affiliation) in 1993. Council determinesongoing affiliation with the ALP at its February meetingeach year.At the 2010 February meeting QNU Council determinedthat from 2011 the QNU would no longer affiliate to theALP. The Council's determination does not mean theQNU will cease to undertake political lobbying activitiesas it does now.At this point in time we continue to have ongoinginfluence over the state platform through the ALPQueensland Health Policy Committee, which a QNUofficial chairs, and in which we have been activelyinvolved for some time. The convenor and two otherQNU representatives on the Committee have kept anumber of important issues on the agenda.Currently this forum gives us a close link to theHealth Minister's office and enables us to maximiseour influence in the political processes by directlyinfluencing health policy.22 | Annual Report 2009-2010 | Queensland Nurses' Union of Employees
---
DemocraticStrategic objective:»»Promote the participation of members in internal and external democraticprocesses.BranchesQNU branches form the democratic building blocks ofour Union. This philosophy informs the ongoing effortsof our Union to establish and retain branch activism.In the past year the QNU has worked to develop branchand workplace activists and also establish new branches.When future branch elections occur, members will beencouraged to nominate for a position on their localbranch and to talk among their colleagues about theirinterest in specific positions. Strong branches facilitatethe development of union democracy at a local level aswell as enable member participation in union decisionsand debates more broadly.Branch handbookThe QNU's Branch and Workplace Representative'shandbook was published in February 2010.This is an important tool to support Activists to advanceour collective values and interests and further ourpursuit of equality, fairness, opportunity and security.The handbook was this time published in a number offormats. Activists could choose to receive it on a flashdrive (USB) to open on any computer. They could alsodownload it from the QNU's website (by using electronicformats we are helping to reduce our impact on theenvironment). The handbook was also made available ina new and easy-to-handle booklet.Roma branch membersThe QNU continues to develop resources and toolsto support active members in the very important rolethey play. A range of materials are available on the'resources hub' of the QNU website. For members whodo not have internet access, materials can be requesteddirectly from the QNU office. Materials which becomeavailable are actively promoted in our range ofpublications.Queensland Nurses' Union of Employees | Annual Report 2009-2010 | 23
---
DEMOCRATICMember organisersAs discussed earlier, the QNUemployed a number of memberorganisers to assist with specificcampaigns or provide additionalsupport where gaps emerge ona temporary basis.Thanks to KimberleyKriedemann, Jo Smith,Veronica Istvandity,Jenny Ballantyne,Faith Guesmer andLouise Middletonwho were employedunder our member organiserprogram and who have greatly assistedin supporting members.Many of these member organiserpositions were established withina broader Activist DevelopmentProject that is specifically designedto promote member education, enhancedevelopment opportunities for key workplace Activists,and in the longer term to support succession and growthplanning.Thanks also to member Alba Vignolo who has beenseconded to work as a member campaign officersupporting our aged care team.Bite sized QNUThe QNU is currently developing a range of strategiesto promote the participation of members in our Union.In particular, short learning experiences have become apopular forum for time-short but interested members.Trivia nights, as held in Brisbane and the SunshineCoast, and area meetings (in the aged care sector) heldby the QNU have been well attended forums.Anna Stewart ProgramCongratulations to QNU members Nancy Fishlock andJenny Macklin who participated in this year's AnnaStewart Memorial Project.The project aims to increase women's involvement in theunion movement by offering unique levels of access tounions through two week placements.Jenny and Nancy experienced the full range of unionwork including workplace meetings and enterprisebargaining negotiations and alsospent time on the road with QNUpublic sector, private hospitaland aged care officials. Bothparticipants also spent a week atanother union. Nancy was placed atthe Construction Forestry Mining andEnergy Union and Jenny was placedat the Queensland Teachers' Union. Inaddition, the QNU hosted women fromtwo other unions.The Anna Stewart Memorial project hasbeen in existence since 1984. Anna Stewart,a former journalist and active union officialdied tragically at the age of 35.Emma Miller honoursCongratulations also to QNU member JudyMatthews, who was honoured at the 2009 EmmaMiller Awards inNovember.Judy is an active BranchSecretary and Councillorwho has been instrumentalin affecting positive changeacross Emerald healthservices, as well as advocatingfor the interests and values ofnurses and midwives acrossthe state.After many years of nursingJudy still selflessly supports her colleagues and patientsas well as the broader community. Even under verytrying circumstances, such as the current QueenslandHealth payroll debacle, Judy gives so much with littlethought of return.Judy is always the first to put up her hand to assistwith QNU campaigns and her commitment, passion,enthusiasm and creative flair, which she utilises tofurther our union's objectives, make her a wonderfulactivist.The Queensland Council of Unions hosts the EmmaMiller Awards to pay tribute to the pioneering spirit ofEmma Miller, who was a strong advocate for workers'and womens' rights during the last century, and tocelebrate the achievements of contemporary unionwomen.24 | Annual Report 2009-2010 | Queensland Nurses' Union of Employees
---
FINANCIAL REPORTQUEENSLAND NURSES' UNION OF EMPLOYEESFINANCIAL REPORT 2009-10Page No.2628293031324849Queensland Nurses' Union of Employees | Financial Report 2009-10 | 25
---
FINANCIAL REPORT26 | Financial Report 2009-10 | Queensland Nurses' Union of Employees
---
FINANCIAL REPORTQueensland Nurses' Union of Employees | Financial Report 2009-10 | 27
---
FINANCIAL REPORT28 | Financial Report 2009-10 | Queensland Nurses' Union of Employees
---
FINANCIAL REPORTQueensland Nurses' Union of Employees | Financial Report 2009-10 | 29
---
FINANCIAL REPORT30 | Financial Report 2009-10 | Queensland Nurses' Union of Employees
---
FINANCIAL REPORTQueensland Nurses' Union of Employees | Financial Report 2009-10 | 31
---
FINANCIAL REPORT32 | Financial Report 2009-10 | Queensland Nurses' Union of Employees
---
FINANCIAL REPORTQueensland Nurses' Union of Employees | Financial Report 2009-10 | 33
---
FINANCIAL REPORT34 | Financial Report 2009-10 | Queensland Nurses' Union of Employees
---
FINANCIAL REPORTQueensland Nurses' Union of Employees | Financial Report 2009-10 | 35
---
FINANCIAL REPORT36 | Financial Report 2009-10 | Queensland Nurses' Union of Employees
---
FINANCIAL REPORTQueensland Nurses' Union of Employees | Financial Report 2009-10 | 37
---
FINANCIAL REPORT38 | Financial Report 2009-10 | Queensland Nurses' Union of Employees
---
FINANCIAL REPORTQueensland Nurses' Union of Employees | Financial Report 2009-10 | 39
---
FINANCIAL REPORT40 | Financial Report 2009-10 | Queensland Nurses' Union of Employees
---
FINANCIAL REPORTQueensland Nurses' Union of Employees | Financial Report 2009-10 | 41
---
FINANCIAL REPORT42 | Financial Report 2009-10 | Queensland Nurses' Union of Employees
---
FINANCIAL REPORTQueensland Nurses' Union of Employees | Financial Report 2009-10 | 43
---
FINANCIAL REPORT44 | Financial Report 2009-10 | Queensland Nurses' Union of Employees
---
FINANCIAL REPORTQueensland Nurses' Union of Employees | Financial Report 2009-10 | 45
---
FINANCIAL REPORT46 | Financial Report 2009-10 | Queensland Nurses' Union of Employees
---
FINANCIAL REPORTQueensland Nurses' Union of Employees | Financial Report 2009-10 | 47
---
FINANCIAL REPORT48 | Financial Report 2009-10 | Queensland Nurses' Union of Employees
---
FINANCIAL REPORTQueensland Nurses' Union of Employees | Financial Report 2009-10 | 49
---
Queensland Nurses' Union of Employees187 Melbourne Street, West End Q 4101GPO Box 1289, Brisbane Q 4001Tel: 07 3840 1444 Fax: 07 3844 9387Email qnu@qnu.org.auwww.qnu.org.auAuthorised by G. Hawksworth, Secretary, Queensland Nurses' Union of Employees. July 2010.