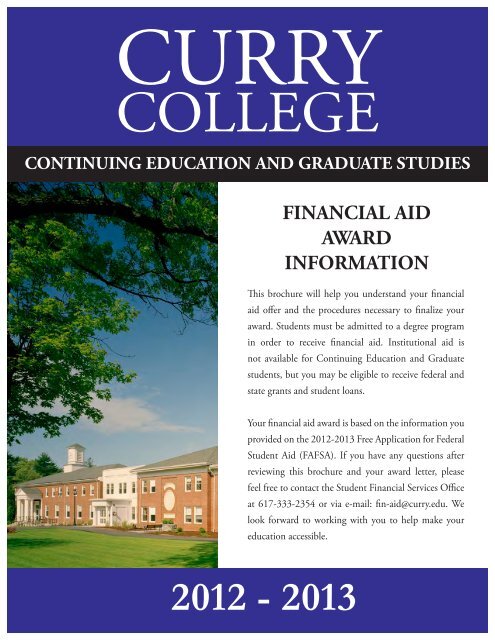 FINANCIAL AID AWARD INFORMATION - Curry College
FINANCIAL AID AWARD INFORMATION - Curry College
FINANCIAL AID AWARD INFORMATION - Curry College
SHOW MORE
SHOW LESS
You also want an ePaper? Increase the reach of your titles
YUMPU automatically turns print PDFs into web optimized ePapers that Google loves.
CURRYCOLLEGECONTINUING EDUCATION AND GRADUATE STUDIESFINANCIAL AIDAWARDINFORMATIONThis brochure will help you understand your financialaid offer and the procedures necessary to finalize youraward. Students must be admitted to a degree programin order to receive financial aid. Institutional aid isnot available for Continuing Education and Graduatestudents, but you may be eligible to receive federal andstate grants and student loans.Your financial aid award is based on the information youprovided on the 2012-2013 Free Application for FederalStudent Aid (FAFSA). If you have any questions afterreviewing this brochure and your award letter, pleasefeel free to contact the Student Financial Services Officeat 617-333-2354 or via e-mail: fin-aid@curry.edu. Welook forward to working with you to help make youreducation accessible.2012 - 2013
---
Awarding PolicyCurry College awards all federal and state assistance based on financialneed as demonstrated by the analysis of student, and if applicable, thefamily's financial resources indicated on the Free Application for FederalStudent Aid (FAFSA) and required supporting documentation. Thesefunds are known as need-based financial aid.A need-based aid philosophy assumes the student is primarily responsiblefor the cost of an education to the extent of your ability, and financial aidis used to supplement your efforts. The College uses Federal Methodology(FM), which is the formula used by the federal government to determineyour Expected Family Contribution (EFC). Federal Methodologyevaluates your income and assets, provides non-discretionary allowancesagainst both resources and determines how much you can contribute. TheEFC is then subtracted from your cost of attendance to calculate yourfinancial need. Your financial need is used to determine the amount andtype of aid - such as loans or grants - that you are eligible to receive, dependenton funding levels and the terms and specific eligibility requirementsof each fund.To receive need-based federal or state financial aid, you must meet certainrequirements:• Be a U.S. citizen or eligible non-citizen.• Have a valid Social Security Number (unless you are from theRepublic of the Marshall Islands, the Federated States ofMicronesia, or the Republic of Palau).• Be registered with Selective Service if you are male and 18 to25 years of age (go to www.sss.gov for more information).• Have a high school diploma or a General Education Development(GED) Certificate or pass an exam approved by the U.S.Department of Education.• Be enrolled or accepted for enrollment as a regular studentworking toward a degree or certificate in an eligible program ata school that participates in the federal student aid programs.• Not have a drug conviction for an offense that occurred whileyou were receiving federal student aid (such as grants, loans,or work-study).• Not owe a refund on a federal grant or be in default on afederal student loan.• Demonstrate financial need (except for Federal DirectUnsubsidized Stafford Loans).The Student Financial Services Office is committed to providing you withtools to assist in the education financing process. We invite you to contactus if you have any questions about the options available to you.Verification PolicyThe U.S. Department of Education and Curry College select particularapplications for verification. The verification process requires CurryCollege to confirm certain information that you listed on yourFAFSA. This process is conducted by confirming tax data withthe IRS via IRS data retrieval on the FAFSA or receipt of anIRS tax transcript. We also require you to complete a CurryCollege Verification Form. Additional documentation may also berequired.Students must complete the Free Application for Federal Student Aid(FAFSA) in order to determine eligibility for and receive an actualfinancial aid award that includes federal grants, loans and state grantsaccording to the terms and eligibility requirements of the student(and, if appropriate, the parents') legal state of residence. In order tobe considered for need-based financial aid, students must complete aFAFSA annually.Estimated Cost of AttendanceYour financial aid eligibility is determined by taking your cost ofattendance for the academic year minus your Expected Family Contribution(results of filing the FAFSA). Your cost of attendance is comprisedof your direct, billed costs for tuition and fees. Additionally, you incurrelated education expenses for which you are not billed such as books andsupplies, transportation costs, etc. The combination of your direct andindirect costs equals your cost of attendance.The direct costs are actual expenses for the 2012-2013 academic year.Tuition costs for 2012-2013 will be posted to the college's website onceavailable in late May. You should also expect to incur indirect costs suchas costs for books and supplies. Direct costs appear on a student's tuitionaccount, while indirect costs vary according to individual needs. Pleaseremember that you must purchase your books each semester and chargesfor books will not appear on your bill.Your Financial Aid Counselor will estimate your total cost of attendanceby adding your anticipated tuition and fee cost to the following indirectexpenses when determining your eligibility for financial aid:Books/Supplies* $900Room/Board** $8,033Transportation $2,000Personal $1,000Total Indirect Costs $11,933Note: Indirect expenses are based on average costs expected for the academic year.*Average allowance based on nine month enrollment in 12 or more credits persemester. The books/supplies allowance is adjusted based on your actualanticipated enrollment.** Allowances for living off-campus. If you reside with a family member it will be reducedto $2,600.Federal ProgramsFederal Pell GrantA federally funded program that uses a standard formula, establishedby Congress, to evaluate the information you report on your FAFSA, todetermine your Pell Grant eligibility. These funds are awarded to undergraduatestudents with exceptional financial need who are pursuing theirfirst bachelor's degree. Pell Grant funding is set by the federal governmenteach year. Current awards are estimated to range from a minimumof $602 to a maximum of $5,550 for the academic year 2012-2013 andare also based on enrollment status. Students are required to completea FAFSA annually for consideration. Funds are credited to the student'stuition account approximately one week after the end of the add/dropperiod for the semester. Award amounts are ESTIMATED until finalpayment schedules are approved by the federal government.2
---
Federal Supplemental EducationalOpportunity Grants (FSEOG)A federally funded program for students, enrolled at least half time, withcalculated exceptional need and subject to the availability of funds. Priorityis given to students who receive Federal Pell Grants. Award amountsdepend on a student's need and the level of funding received by theCollege. Grants range from a minimum of $100 to a maximum of$4,000. Students are required to complete a FAFSA annually for consideration.Funds are credited to the student's tuition account approximatelyone week after the end of the add/drop period for the semester.TEACH Grant ProgramThe Teacher Education Assistance for College and Higher Education(TEACH) Grant Program provides up to $4,000 per year in grantsfor graduate and undergraduate students who intend to teach full-timein high-need subject areas for at least four years at schools that servestudents from low-income families. Undergraduates may receive up to$16,000 and graduate students up to $ 8,000. Students enrolled less thanfull-time are eligible, but the maximum grant will be reduced. The grantis also available for post-baccalaureate teacher certification coursework.If you fail to complete the four-year teaching obligation, you willhave to repay the grant as a loan with interest calculated retroactivelyto the date when the grant was disbursed.Student Eligibity and Application RequirementsEach year, before a TEACH Grant can be disbursed, you must do thefollowing:• Complete the Free Application for Federal Student Aid(FAFSA), although you do not have to demonstrate financialneed.• Meet the eligibility requirements for federal student aid. Youmust be a U.S. citizen or eligible non-citizen. For a listing ofeligibility requirements, check the U.S. Department ofEducation's website at http://www.fafsa.ed.gov/faq003.htm.• Enroll in a program of study designated as TEACHGrant-eligible. Eligible programs are those that prepare astudent to teach in a high-need area.• Meet one of the following academic achievementrequirements:• Score above the 75th percentile on a college admissions test(e.g., SAT, ACT, GRE).• Graduate from high school with a cumulative GPA of at least3.25 (on a 4.0 scale) to receive a grant as a freshman.• Earn a cumulative GPA of at least 3.25 (on a 4.0 scale) foryour college coursework to receive a grant for each subsequentterm.• Complete TEACH Grant counseling by making an appointmentwith Student Financial Services.• Sign a TEACH Grant "Agreement to Serve" located online at:https://teach-ats.ed.gov/ats/index.action. Respond the U.S.Department of Education's requests to confirm your continuingintention to meet the teaching obligation.TEACH Grant Agreement to Serve and Promise to PayYou must sign a TEACH Grant "Agreement to Serve" and "Promise toPay" (service agreement) each year you receive a TEACH Grant. Bothforms are available online on the Department of Education's website.The TEACH Grant service agreement specifies the conditions underwhich the grant will be awarded, the teaching service requirements, andyour acknowledgment that if you do not meet the teaching service requirements,you must repay the grant as a Federal Direct UnsubsidizedLoan with interest accrued from the date the grant funds were firstdisbursed.Teaching ObligationTo avoid repaying the TEACH Grant with interest you must be a highlyqualified,full-time teacher in a high-need subject area for at least fouryears at a school serving low-income students. You must complete thefour years of teaching within eight years of finishing your TEACH grantfundedprogram. You incur a four-year teaching obligation for eacheducational program for which you received TEACH Grant funds,although you may work off multiple four-year obligations simultaneouslyunder certain circumstances. Specific definitions of these terms areincluded below.Highly-Qualified TeacherYou must perform the teaching service as a highly-qualified teacher,which is defined by federal law at http://www.ed.gov/policy/elsec/leg/esea02/pg107.html.Full-Time TeacherYou must meet the state's definition of a full-time teacher and spend themajority (at least 51 percent) of your time teaching one of the high-needsubject areas. Elementary teachers who teach many subjects would not beable to fulfill their service agreement.High-Need Subject Areas• Bilingual Education and English Language Acquisition• Foreign Language• Mathematics• Reading Specialist• Science• Special Education• Other teacher shortage areas listed in the Department ofEducation's Annual Teacher Shortage Area Nationwide Listingat http://www.ed.gov/about/offices/list/ope/pol/tsa.doc.Schools Serving Low-Income StudentsSchools serving low-income students include any elementary or secondaryschool that is listed in the Department of Education's Annual Directoryof Designated Low-Income Schools for Teacher Cancellation Benefits athttps://www.tcli.ed.gov/CBSWebApp/tcli/TCLIPubSchoolSearch.jsp.DocumentationYou must respond promptly to all requests for information or documentationfrom the U.S. Department of Education. You will be asked regularlyto confirm that you either intend to teach or that you are teaching asrequired. You must provide documentation to the U.S. Department ofEducation at the end of each year of teaching.If you temporarily cease enrollment in your program of study or if youencounter situations that affect your ability to begin or to continue teaching,you will need to stay in touch with the U.S. Department of Educationto avoid your grants being converted to loans before you are able tocomplete your teaching obligation.Failure to complete the teaching obligation, respond to requests forinformation, or properly document your teaching service will cause theTEACH Grant to be permanently converted to a loan with interest. Oncea grant is converted to a loan, it cannot be converted back to a grant.3
---
Federal Direct Loan ProgramThese loans are administered by the U.S. Department of Education andthey are federally funded. These loans, known typically as Stafford Loans(for students) and PLUS Loans (for parents of dependent undergraduatestudents or graduate students) require repayment of the full amount ofthe loan. You can decline a Federal Direct Stafford Loan offered on youraward letter without impacting any other forms of aid offered to you byeither completing and signing the reverse side of the award letter indicatingyour intention to decline the offered loan or by sending a signed,written request by mail, fax or email to the Student Financial ServicesOffice. Each Federal Direct Stafford borrower is entitled to a six-monthgrace period which begins the day you graduate, withdraw** or becomeenrolled less than half-time. While the borrower is in a grace period, nopayment is made. For loans made after July 1, 2012, interest will accrueduring the grace period.**Note: Official withdrawal is made with the Registrar's Office orContinuing Education Office at the College. Additionally, you should visitthe Student Financial Services Office to discuss your status change and how itimpacts your student loans.Federal Direct Subsidized Stafford LoansA federally funded and administered loan awarded by the institutionto students who demonstrate need, meet eligibility requirements andare enrolled at least half time in a degree program. A Free Applicationfor Student Aid (FAFSA) must be filed with the school. This loan is afederally subsidized loan which means there are no interest charges whilethe student is enrolled. First-time borrowers at the College must completeEntrance Counseling and sign a Master Promissory Note (MPN)before funds can be disbursed. Loan funds come directly from thefederal government and are paid by crediting the student's tuition account.For first-time enrolled students, the amount of the loan awarded will becredited to the student's Curry College tuition account approximately 30days after the start of the semester. For all other students, loan funds willbe credited to the tuition account no earlier than ten days prior to thestart of the semester. Please note: graduate students are no longer eligible forsubsidized loans after July 1, 2012.Terms:• Fixed interest rate of 6.8%• Interest is subsidized by the government untilthe student ceases to be enrolled at least half-time• Repayment begins 6 months after the student graduates,withdraws or stops attending school at least half-time• Up to a 10 year repayment period - $50 minimum monthlypayment• A 1% fee may be deducted from loan proceeds prior todisbursementFederal Direct Unsubsidized Stafford LoansA federally funded loan, not need-based, available to eligible studentborrowers, enrolled at least half time. A Free Application for FederalStudent Aid (FAFSA) must be filed with the school the student plansto attend. First-time borrowers at the College must complete EntranceCounseling and sign a Master Promissory Note (MPN) before funds canbe disbursed. For newly enrolled students, the amount of the loan awardedwill be credited to the student's Curry College tuition account approximately30 days after the start of the semester. For all other students, loanfunds will be credited to the tuition account no earlier than ten days priorto the start of the semester.Terms:• Interest and principal may be deferred until student ceases tobe enrolled• Interest accrues during in-school deferment and grace periods• Fixed interest rate of 6.8%• Interest is not paid by the government. Borrower is responsiblefor all interest payments• Repayment begins 6 months after the student graduates,withdraws or stops attending school at least half-time with a$50 minimum monthly payment• Up to a 10 year repayment period• A 1% fee may be deducted from loan proceeds prior todisbursementANNUAL AWARD AMOUNTS FOR DEPENDENT STUDENTSFreshman (0-29.5 credits) $5,500 $3,500of which may be subsidizedSophomore (30-59.5 credits) $6,500 $4,500of which may be subsidizedJunior & Senior (60-120 credits) $7,500 $5,500of which may be subsidizedANNUAL AWARD AMOUNTS FOR INDEPENDENT STUDENTSFreshman (0-29.5 credits) $9,500 $3,500of which may be subsidizedSophomore (30-59.5 credits) $10,500 $4,500of which may be subsidizedJunior & Senior (60-120 credits) $12,500 $5,500of which may be subsidizedANNUAL AWARD AMOUNT FOR GRADUATE STUDENTS- Maximum of $20,500, (unsubsidized) not to exceed the cost of attendanceAGGREGATE LOAN LIMITS – Federal Direct Stafford LoansDependent Students $31,000 $23,000of which may be subsidizedIndependent Students $57,500 $23,000of which may be subsidizedGraduate Students$138,500 ineligible for subsidizedloans*Please note: If a dependent student's parents are denied the Federal DirectPLUS loan, the student's annual and aggregate loan limits will increase.Entrance CounselingFederal Direct Loan Entrance Counseling is a federal requirement forall students borrowing a Federal Direct Subsidized and/or UnsubsidizedStafford Loan for the first time at Curry College. Students arerequired to complete Federal Direct Loan Entrance Counseling online atwww.StudentLoans.gov before the proceeds from the Federal Direct Loancan be disbursed to the student account.Master Promissory NoteThe Federal Direct Stafford Loan Master Promissory Note (MPN) is alegally binding agreement to repay the student loan. This agreement isbetween the student and the Department of Education. A parent cannotcomplete the Federal Direct Stafford Loan Master Promissory Note (orEntrance Counseling) on the student's behalf. Once the student borrowersigns the MPN for enrollment at Curry College, she/he will not need tosign again as long as she/he remains continuously enrolled at the Collegein a degree program.4
---
We suggest Macbook or Macbook Pro users utilize Mozilla FirefoxWeb Browser to avoid complications signing in to StudentLoans.gov.Please note that Federal Direct Loan funds will not be disbursed to yourstudent account until you have completed the Entrance Counseling requirement,the Federal Direct Loan Promissory note and received confirmation fromthe Department of Education that both requirements have been satisfactorilycompleted.Any student who ceases to be enrolled at least half-time in a degreeprogram and who borrowed a federal student loan (FFELP and/or Federal Direct) subsidized and/or unsubsidized at any time whileenrolled at the College is required to complete Loan Exit Counselingeither online at https://www.nslds.ed.gov or in person with a representativeof the Student Financial Services Office. Information that youborrowed from the Federal Direct Loan Program will be sent to the NationalStudent Loan Data System (NSLDS), and will be accessible by guaranteeagencies, lenders and institutions determined to be authorized users of thedata system.Federal Loan Repayment (FFELP and Direct Loans)All FFELP and Direct Loans (Stafford, PLUS and GradPLUS) requirerepayment. To view information on Repayment Terms and Plans visithttp://studentaid.ed.gov/PORTALSWebApp/students/english/repaying.jsp. Failure to repay your loan will result in a default status. Default is failureto repay a loan according to the terms agreed upon when you signedyour promissory note. The consequences of default can be severe. If youare having trouble making your monthly payments, take the initiative tocontact your lender as you might be eligible for an alternative repaymentplan, deferment or forbearance. You may also contact the Direct LoanServicing Center for assistance at 800-848-0979.Remember, you are responsible for notifying your lender when you graduate,leave school or move. If you are not sure who your lender is, you canview your loan history online at the National Student Loan Data Systemhttp://www.nslds.ed.gov/nslds_SA/. To access your information on thissite you will need your FAFSA PIN.Each Stafford borrower is entitled to a six month grace period whichbegins the day you graduate, withdraw or become enrolled less than halftime.While the borrower is in a grace period, no payment is expected,however interest does accrue.Loan ConsolidationIf you have borrowed multiple federal student loans from different lenders,you might be eligible to consolidate them into a single loan. Note:you cannot consolidate private education loans with your federal loans.Consolidation allows you to combine multiple loans into one newloan. This process may assist you in reducing your monthly loan payment.Your new consolidated loan bears a fixed interest rate basedon the weighted average of your loans interest rates at the time youconsolidate and rounded up to the nearest one-eighth of a percent. Theconsolidated loan interest rate will not exceed 8.25%. There are no feesto consolidate. For additional information about loan consolidation visithttp://studentaid.ed.gov/PORTALSWebApp/students/english/consolidation.jsp?tab=repayingying.State ProgramsState grants are based on financial need and may be offered to eligiblestudents from their state of legal residence. Students should complete theFAFSA and follow any additional application requirements from theirhome state. Students should also be aware of any deadlines that are imposedby their home state. Many states such as New Hampshire, Vermont,Rhode Island, Maine, and Pennsylvania have reciprocal agreements withMassachusetts and provide funding to students who attend Massachusettscolleges. If you are eligible for state aid funds, your tuition account willbe credited once the College receives the funds from your state agencyfor the semester but no earlier than the end of the add/drop period forthe semester. Please contact your state agency for additional informationregarding eligibility.State GrantsThe Commonwealth of Massachusetts awards grants to Massachusettsresidents who demonstrate financial need, meet application deadlinesand award criteria. Other states that currently allow students to use stategrant funds at Curry College include Rhode Island, Vermont, Maine, NewHampshire, and Pennsylvania. These grants range in amounts from $200-$1,900 per academic year. The Commonwealth of Massachusetts alsooffers additional assistance to qualified eligible students who are parttimeor demonstrate high academic performance in their post-secondaryacademic courses. All of the grants provided by the Commonwealth ofMassachusetts are subject to an application deadline of May 1.Massachusetts Grants* - A Commonwealth of MA (state) source offinancial aid. Eligibility requires state residency and demonstrated financialneed. Additional information about grants from the Commonwealthis available at http://www.osfa.mass.edu/default.asp?page=aidPrograms.Mass State Grants* - Awards are based on exceptional financial needas determined from filing the FAFSA and availability of funds toMassachusetts residents enrolled as full-time degree-seeking students intheir first bachelor's program. Awards range from $300 to $1,600 as set bythe Commonwealth. No separate application is necessary.Mass Part-Time Grants* - These grants are awarded by the Collegebased on a limited allocation of funds received from the Commonwealth.Awards are made to students based on exceptional financial need asdetermined from filing the FAFSA and availability of funds to undergraduateMassachusetts residents enrolled at least half-time but no morethan three-quarter time for the semester in a degree program seeking theirfirst bachelor's degree. Awards are set by the Commonwealth.* Award amounts are ESTIMATED until final payment schedules areapproved by the Commonwealth of MassachusettsStudents who file the FAFSA may qualify for need-basedaid in addition to one these scholarships:• GI Bill Yellow Ribbon ProgramThis institutional and federal match program is open to eligible U.S.veterans and does not require that you file a FAFSA for consideration.Recipients must be in a degree-seeking, undergraduate program. You mustcontact the Veterans' Certifying Official located in Curry's Registrar'sOffice to have your eligibility for this program certified. The YellowRibbon Program is comprised of a Curry College Yellow Ribbon Grantand a federal Yellow Ribbon Match Award. You will need to complete anEnrollment Information Form available in the Student Financial ServicesOffice indicating your intended enrollment plans for the academic yearfor which you are seeking funds. Funding levels are very limited and availableon a first-come basis. Funds will be credited to the student's tuitionaccount once the federal match component is received for the semester.Students must maintain eligibility and renewal criteria as outlined by theVeterans Administration.5
---
6Award Terms & ConditionsYou may request a reduction in the financial aid package that you wereawarded. You may choose not to accept, or may wish to reduce a particulartype of aid offered by the College. For example, you may decide to reduceor fully cancel a loan. To initiate this reduction or cancellation, you mustcomplete the reverse side of the award letter and return it to the StudentFinancial Services Office.Financial Aid AppealsIf you experience a significant change in your financial circumstances or ifyou have extenuating circumstances that are not reflected on your FAFSAyou may submit an appeal. You must complete the appeal form and submitall of the necessary documentation in order for your appeal to be processed.If you experience any of the following situations, please complete aChange in Circumstance Form, available online at www.curry.edu.1) Loss of income2) Loss of untaxed income or benefits3) Death of a parent/spouse4) Incarceration of a parent/spouse5) Unusually high medical/dental bills not covered by insurance,in excess of 7.5% of AGI, not including health insurance premiums.Adjustments to Financial AidAdjustments may be made at any time to your financial aid package.Examples of the reasons why a financial aid package may be revisedinclude, but are not limited to, the following:1) Additional outside or private sources of aid being added to your award.2) A change in your housing status. For example, your award is based onliving with a relative but now you are in an apartment.3) A change in your enrollment status. For example, you originally plannedto enroll full-time but subsequently decrease your enrollment to halftimestatus.4) For transfer students–the number of transfer credits you actually receiveis different from those upon which the original award was based. Forexample, you list yourself as a junior level student on your FAFSA, howeverwhen your transcript is reviewed, your grade level status is determinedto be sophomore.5) Verification is required and results in a change to information initiallyreported on the FAFSA. (For more information see "Verification.")Enrollment StatusYour financial aid award will be based on your enrollment status. Inorder to receive a Federal Direct Stafford Loan, you must be enrolled atleast half-time. You must notify the Student Financial Services Office ifyour enrollment plans change.Outside Sources of Financial AidIf you receive funds from a source outside of Curry College, you mustreport those funds to our office. You may do so by indicating these fundson the reverse side of your award letter and returning the award letter toour office.Additional Financial ResourcesTo assist students with meeting the full cost of attending Curry College,alternative sources of funding are available. The College will work withand process private loans for any lender of your choice. When selectingthe option that is best suited for your circumstance, you should compareinterest rates, borrowing limits, credit requirements, and repaymentoptions. Visit our website at www.curry.edu for details on the method andcriteria in choosing the private loan lenders listed in this brochure.Online Payment PartnersCurry College has partnered with Tuition Management Systems (TMS)to process checking and savings transactions and accept credit/debit cardpayments online. TMS accepts American Express, Discover, MasterCardand VISA cards. You can simply log onto the secure TMS website atwww.afford.com/curry anytime to make an online payment. There isno cost to you for using this service. Students can also access the TMSpayment gateway directly from their online bill through their myCurryPortal.Satisfactory Academic Progress:Undergraduate Degree StudentsWhether enrolled on a full- or part-time basis, all undergraduate andContinuing Education degree-seeking students must maintain SatisfactoryAcademic Progress (SAP) in order to receive financial aid. SatisfactoryAcademic Progress is defined as proceeding toward successful completionof degree requirements. Curry College has adopted the following SAPstandards in accordance with U.S. Department of Education requirements.These SAP standards are for financial aid purposes only and donot replace or override the academic policies of the College. Eligibility tocontinue enrollment at the College and to participate in varsity athleticscan be found in the Academic Policies and Procedures section of the CurryCollege Catalog and on the College website. All students are responsiblefor ensuring their adherence to SAP and all other academic standards.Satisfactory academic progress includes three standards of measurement:1. Cumulative Grade Point Average (qualitative)2. Credits Earned (quantitative)3. Maximum Time Frame (length of study)Cumulative Grade Point Average (Qualitative)In order to retain financial aid eligibility, all undergraduate and continuingeducation students must maintain a minimum cumulative grade pointaverage based on the attempted number of credits:Attempted Credits Minimum Cumulative Grade Point Average0 to 18.99 1.519 to 59.99 1.860 or more 2.0Attempted credits are those credits for which a student is registered atthe end of the College's official course add/drop period. Thus, attemptedcredits include all graded courses, accepted transfer courses, coursesfrom which a student has withdrawn after the add/drop period (W), andcourses in which a student receives an incomplete (IN). A student'scumulative GPA is based on graded credits only. Transfer courses, withdrawals,and incompletes are not included in a student's cumulative GPA.Credits Attempted versus Credits Earned (Quantitative)All students must complete at least 67% of the credits which theyattempted. The 67% is based on a ratio of the cumulative number ofcredits a student has attempted versus the cumulative number of credits astudent has earned and a maximum of 180 credits.For example:• A student who has attempted 30 credits should have successfullycompleted at least 20 of those credits.• Full-time students typically must earn at least 20 credits per year.In other words, the student should have earned 1/6 of the totalnumber of credits required to complete the degree by the end ofthe first year, 2/6 or 40 credits by the end of the second year, etc.
---
Maximum Time Frame (Length of Study)Students must complete all of their degree requirements within the maximumallowable time frame which cannot be longer than 150% of thepublished length of the program or the required number of credits of thestudent's degree program. Students enrolled full-time and earning a fouryeardegree are allowed up to six years or 180 attempted credits of financialaid eligibility to earn the 120 credits required for degree completion.Regardless of whether a student is receiving financial aid during the timeframe, semesters and credit hours are used toward the maximum timeframe allowance. Once a student has exceeded the maximum time frameor 180 credits, the student will no longer be eligible for financial aid. If atany point within the course of their program, it becomes apparent that astudent will be unable to meet SAP standards within the maximum timeframe, the student will become ineligible for financial aid.Satisfactory Academic Progress ReviewsAll degree-seeking undergraduate students, including those enrolledthrough the Division of Continuing Education will be evaluated forSatisfactory Academic Progress at the end of the spring semester as part ofthe College's regular annual review process for all three of the standardsof measurement outlined in the SAP policy. Regular annual reviews willoccur when all grades and credit hours have been officially recorded by theregistrar. Students who do not meet one or more of the SAP standards willbecome ineligible to receive financial aid and will be notified of their ineligibilityby the Student Financial Services Office. A student may appeal theloss of financial aid by following the procedures outlined in the RegainingFinancial Aid Eligibility section. Additionally, students who receive financialaid in a semester following the approval of an appeal will be reviewedfor adherence to the SAP standards at the end of the first semester of enrollmentfollowing the appeal, including the summer semester.Regaining Financial Aid EligibilityEnrolling without Financial AidA student who is academically eligible to continue in their program maydo so without financial assistance if they are able to settle their tuitionaccount by using other financing options. A student may regain aideligibility for future semesters by coming into compliance with the SAPrequirements.The Right to AppealEligibility for financial assistance may be regained in some cases by appeal.If the appeal is approved by the College, a student is eligible to enrolland receive financial assistance either on a Financial Aid Probation Statusor an Academic Education Plan for their next semester of enrollment. Astudent may appeal no more than twice while attempting to earn a degreeat the College.Appeal ProcessA student may file an appeal to the Appeals Committee in order to attemptto receive financial aid. The Appeals Committee consists of theDirector of Student Financial Services, Director of Financial Aid,Assistant Dean of Enrollment Management & Registrar, the AssociateRegistrar and a member of the Academic Dean's Office.Please note: These appeals are separate from academic appeals and appeals toparticipate in varsity athletics while on academic probation.Grounds for filing a financial aid appeal may include a documented seriousmedical condition, death of an immediate family member, or anunusual circumstance that interfered with a student's performance.A student, themselves, must submit the appeal and include the reasonfor being unsuccessful in achieving Satisfactory Academic Progress andexplain in detail why they were unable to maintain Satisfactory AcademicProgress, and to detail their plan to return to Satisfactory Academic Progressstatus. All supporting documentation should be included with the Appeal.appeals may be submitted by scanned e-mail, fax or U.S. mail to the committee.Please submit the appeal online via the MyCurry portal. Please note:Incomplete appeal forms cannot be reviewed by the Appeals Committee.If you have questions regarding the appeal process, please contact theStudent Success Coordinator at (617) 333-2095.Appeal OutcomesThe Student Success Coordinator will notify students in writing of theoutcome of their appeal within two weeks after the Appeals Committeehas reviewed the appeal. All decisions of the Appeals Committee are final.Financial Aid ProbationIf a student's appeal for financial aid eligibility is approved, the studentmay be placed on financial aid probation status. Probation status may begranted if the student's failure to maintain SAP was due to an extraordinarycircumstance beyond the student's control. A student who is placedon financial aid probation status will temporarily regain financial aid eligibilityfor one successive payment period only. A student will then bere-evaluated at the end of that one semester of enrollment. If a studentis unable to return to Satisfactory Academic Progress by the end of thatsemester, the student will become ineligible for future financial aid at theCollege until such a time as they return to SAP.For example:If a student is placed on probation at the end of the spring semester,and chooses to attend the upcoming summer semester their SAPstatus will be evaluated upon completion of the summer semester. Ifthe student meets the SAP standards at the end of the summer gradingperiod, they will remain eligible for financial aid for the fall. Ifthe student does not make Satisfactory Academic Progress at the endof the summer semester, they will become ineligible for financial aiduntil such a time as they return to Satisfactory Academic Progress.Students who are on financial aid probation, but who elect not to attendduring the summer semester will be eligible to receive financialaid for the fall semester and will be evaluated at the end of the fallsemester. If a student meets the SAP standards at the end of the fallgrading period, they will continue to remain eligible for financial aidfor the spring semester. If a student does not meet the SAP standardsat the end of the fall semester, they will become ineligible for financialaid until such time as they return to Satisfactory Academic Progress.Academic Education PlansAs a result of a SAP Appeal review process, an Academic Education Planmay be developed with the student. An Academic Education Plan may beoffered as an option to students who are not meeting the SAP standardsbut who have a strong likelihood of regaining SAP and successful programcompletion while continuing to receive financial assistance. The initialreview of a student's SAP under the Academic Education Plan will takeplace at the end of the first semester that a student is enrolled under thePlan and thereafter annually at the end of the spring semester as long asthe student continues to meet the terms of their Plan. Failure to meet thestandards of their Academic Education Plan will result in financial aidineligibility in subsequent semesters.7
---
Unapproved AppealsThe College will deny appeals from students who would be unable to meetthe SAP standards within the maximum time frame allotted for them toearn their degree.Satisfactory Academic Progress:Graduate Degree StudentsWhether enrolled on a full- or part-time basis, all graduate studentsmust maintain Satisfactory Academic Progress (SAP) to receive financialaid. Curry College has adopted the following SAP standards in accordancewith the U.S. Department of Education requirements. These SAPstandards are for financial aid purposes only and do not replace or overridethe academic policies of the College. Eligibility to continue enrollmentat the College can be found in the Academic Policies and Proceduressection of the annual Curry College Catalog and on the College website.All students are responsible for ensuring their adherence to SAP and allother academic standards.Satisfactory academic progress for graduate students includes threestandards of measurement:1. Cumulative Grade Point Average (Qualitative) and MinimumGrade Per Course2. Credits Earned (Quantitative)3. Maximum Time Frame (Length of Study)Cumulative Grade Point Average (Qualitative)In order to retain financial aid eligibility, all graduate students enrolled ina degree program must maintain a minimum cumulative grade point averageof 3.0. If a student's GPA falls below 3.0, their financial aid eligibilitywill be reviewed.Minimum Grade Per CourseThe minimum passing grade per graduate course is a B-. If a student receivesa grade of C+ or below in any course, this will result in a review oftheir financial aid eligibility.Credits Attempted versus Credits Earned (Quantitative)All students must complete at least 67% of the credits which they attempted.The 67% is based on a ratio of the cumulative number of creditsa student has attempted versus the cumulative number of credits a studenthas earned. Attempted credits are those credits for which a student isregistered at the end of the College's official add/drop period. Therefore,attempted credits include all graded courses and transfer courses, coursesfrom which a student has withdrawn after the drop/add period (W), andcourses for which a student receives an incomplete (IN).For example, a student who has attempted 18 credits must successfullycomplete at least 12 of those credits. For a part-time student, satisfactoryacademic progress will be evaluated at the end of each semester and thestudent will also be required to complete the same 67% of their creditsto be considered to be making satisfactory progress and to be eligible forfinancial aid.Maximum Time Frame (Length of Study)Students must complete all of their degree requirements within the maximumallowable time frame which cannot exceed 150% of the publishedlength or the required number of credits of the program.For example:If the published length of a full-time master's program is two yearsand the number of credits earned for the degree is 36, the maximumtime frame for completion is three years and the maximum creditsattempted would be 54. Regardless of whether a student is receivingfinancial aid during the time frame, all semesters and credit hours areused toward the maximum time frame. Once a student has exceededthe maximum time frame, the student will no longer be eligible forfinancial aid. If at any point within the course of their graduate programit becomes apparent that a student will be unable to meet SAPstandards within the maximum time frame, the student will becomeineligible for financial aid.Satisfactory Academic Progress ReviewsAll degree-seeking graduate students will be evaluated for SatisfactoryAcademic Progress (SAP) at the end of the spring semester as part of theCollege's regular annual review process for all three of the standards ofmeasurement outlined in the SAP policy. Regular annual reviews willoccur when all grades and credit hours have been officially recorded bythe Registrar. Students who do not meet one or more of the SAP standardswill become ineligible to receive financial aid and will be notified oftheir ineligibility by the Student Financial Services Office. A student mayappeal the loss of financial aid by following the procedures outlined in theRegaining Financial Aid Eligibility section. Additionally, students who receivefinancial assistance in a semester following approval of an appeal willbe reviewed for adherence to their SAP at the end of their first semester ofenrollment following the appeal, including the summer semester.Regaining Financial Aid EligibilityEnrolling without Financial AidA student who is academically eligible to continue in their graduate programmay do so without financial assistance if they are able to settle theirtuition account by using other financing options. A student may regainfinancial aid eligibility for future semesters by coming into compliancewith the SAP requirements.The Right to AppealA student may attempt to regain financial aid eligibility by filing anappeal if an extraordinary circumstance exists. If the appeal is approved bythe College, the student will be eligible to enroll and receive financial aideither on a Financial Aid Probation Status or on an Academic EducationPlan for their next semester of enrollment. A graduate student may filean appeal only once during their enrollment in a degree program at theCollege.Appeal ProcessA student may file an appeal to the Appeals Committee in order toattempt to receive financial aid. The Appeals Committee consists ofthe Director of Student Financial Services, Director of Financial Aid,Assistant Dean of Enrollment Management & Registrar, the AssociateRegistrar and the Dean of Graduate & Continuing Education.Please note: These appeals are separate from academic appeals.Grounds for filing a financial aid appeal must be due to an extraordinarycircumstance such as a documented serious medical condition or deathof an immediate family member that interfered with a student's performance.A student, themselves, must file the appeal and explain in detailwhy they were unable to maintain Satisfactory Academic Progress, and todetail their plan for returning to Satisfactory Academic Progress status.8
---
All appropriate supporting documentation should be included with theappeal. Completed appeals may be scanned and e-mailed, faxed or sent byU.S. mail to the committee.Please submit the appeal online via the MyCurry portal. Please note:Incomplete appeal forms cannot be reviewed by the Appeals Committee.If you have questions regarding the appeal process, please contact theStudent Success Coordinator at (617) 333-2095.Appeal OutcomesThe Student Success Coordinator will notify students in writing of theoutcome of their appeal within two weeks after the Appeals Committeehas reviewed their appeal. All decisions of the Appeals Committee arefinal.Financial Aid ProbationIf the student's appeal for financial aid eligibility is approved, the studentmay be placed on Financial Aid Probation status. Probation status may begranted if the student's failure to maintain SAP compliance was due to anextraordinary circumstance beyond the student's control. A student whois placed financial aid probation status will temporarily regain financialaid eligibility for one successive payment period only. A student will thenbe re-evaluated for SAP compliance at the end of that semester of enrollment.If a student is unable to return to Satisfactory Academic Progressby the end of that semester, the student will become ineligible for futurefinancial aid at the College until such a time as they return to SAP.For example:If a student is placed on probation at the end of the spring semesterand chooses to attend the upcoming summer semester, their SAPstatus will be evaluated upon completion of the summer semester. Ifthe student meets the SAP standards at the end of the summer gradingperiod, they will remain eligible for financial aid for the fall. Ifthe student does not make Satisfactory Academic Progress at the endof the summer semester, they will become ineligible for financial aiduntil such time as they return to Satisfactory Academic Progress. Studentswho are on financial aid probation, but who elect not to attendduring the summer semester, will be eligible to receive financial aidfor the fall semester and will be evaluated at the end of the fall semester.If a student meets the SAP standards at the end of the fall gradingperiod, they will continue to remain eligible for financial aid for thespring semester. If a student does not meet the SAP standards at theend of the fall semester, they will become ineligible for financial aiduntil such time as they return to Satisfactory Academic Progress.Academic Education PlansAs a result of a SAP Appeal review process, an Academic Education Plancan be developed with a student. An Academic Education Plan may beoffered as an option to students who are not meeting the SAP standardsbut who have a strong likelihood of regaining SAP and successful programcompletion while continuing to receive financial assistance. The initialreview of a student's SAP under the Academic Education Plan will takeplace at the end of the first semester that a student is enrolled under thePlan and thereafter annually at the end of the spring semester as long asa student continues to meet the terms of the Plan. Failure to meet thestandards of the Academic Education Plan will result in financial aid ineligibilityin subsequent semesters.Unapproved AppealsThe College will deny appeals from students who would be unable to meetthe SAP standards within the maximum time frame allotted for them toearn their degree.Financial Aid Course Repeat PolicyA student may repeat a course once when the initial grade is C- or lower.The second grade is recorded on the student's transcript, as well as thefirst. However, only the higher grade is included in calculating the overallgrade point average, and only the credits associated with the higher gradeare included in credits earned toward graduation. One repeated course ispermitted per semester.Effective July 1, 2011, U.S. Department of Education requirements statethat a repeated course may count toward a student's enrollment status(full-time or part-time status) for financial aid eligibility under the followingconditions:• The course is repeatable for credit. Please see specific coursedescriptions for applicability.• The student received a failing grade or withdrawal in the previousattempt and is re-taking the course to receive credit• The student received a passing grade and is re-taking the course forthe first time in order to achieve an academic standard set by thestudent's specific program (such as a minimum grade requirementin nursing, education, etc.) or to improve the GPA.Repeated courses cannot count toward enrollment status for financial aideligibility in the following case:• The student has already taken and passed the course more than onceand is repeating the course again. Please note: Students may notre-take a course more than one time without written permission ofthe faculty member and/or the student's advisor. If permission isgranted, the repeated course will not count toward enrollment forfinancial aid purposes.All repeated courses, regardless of whether they are eligible for financialaid, count toward the student's attempted credits for the purpose of determiningsatisfactory academic progress and progress toward degree completionwithin the maximum allotted timeline for financial aid eligibility.Refund PolicyA student who officially withdraws from the College prior to the first dayof classes receives a 100% refund on tuition. The refundable percentage oftuition declines as of the first day of classes as described in the Division ofContinuing and Graduate Studies Course Catalog.Return of Title IV FundsAny student who withdraws from all classes or takes an approved leaveof absence, but attended the institution for at least one day during thesemester and received or was eligible to receive financial aid, is subject toa Return of Title IV Funds calculation. This calculation is mandated bythe federal government. Any student who receives Title IV funds will besubject to this policy.The calculation is determined in the following manner. We must calculatethe percentage of financial aid that a student has "earned" during thesemester. This is calculated by dividing the number of days the studentattended by the number of days in the semester. Students who remainenrolled through the 60% point of the semester are considered to haveearned 100% of their financial aid and will not owe a repayment of the9
---
Title IV funds. Title IV funds include: Federal Pell Grants, Federal SEOG,Federal Direct Stafford Loans, Federal Perkins Loans and Federal DirectPLUS Loans and Grad PLUS Loans. Federal Work Study is excluded fromthis calculation.The calculation will be done within 45 days of a student's withdrawal fromthe College. You will be notified in writing of any adjustments to yourfinancial aid. If the College is required to return any of the Title IV fundsthat a student received, it may result in an amount owed to the College.Failure of the student to return funds to the federal financial aid programsin a timely manner may result in the student being ineligible to receivefuture financial aid.Drug Conviction PolicyFederal regulations require the College to notify all students of federalstudent financial aid penalties for drug law violations.Students who are convicted of any offense involving the possession orsale of a controlled substance under state or federal law while receivingFederal Title IV financial aid benefits (including grants, loans, and workassistance) are ineligible to receive these benefits for the following timeperiods after the conviction:For the first offense, the penalty for possession is one year and for sale istwo years. For the second offense, the penalty for possession is two yearsand for sale indefinite. For the third offense, the penalty is indefinite.A student who loses eligibility for federal financial aid may resume eligibilitybefore the end of the determined period if:1. The student satisfactorily completes a drug rehabilitation programthat: (a) meets Federal requirements; and (b) includes two unannounceddrug tests; or2. The conviction is reversed or set aside.Mandatory Health InsuranceEffective September 1, 1989, the Massachusetts law C.15A,s. 18 requiresthat every full-time and part-time student enrolled in an institution ofhigher learning in Massachusetts participate in a Student Health InsuranceProgram (SHIP) or in a health benefit plan with comparable coverage.A part-time student is defined as a student participating in at least75% of the full-time curriculum or at least nine-credits in a given semester.As a result, full-time and part-time students taking nine-credits or moreare automatically billed for individual membership in the health insuranceplan sponsored by their colleges or universities. Students must purchasethe school-sponsored health plan or show proof of comparable coveragein an alternate health plan in order to enroll in the college/university oftheir choice. Students must prove comparable coverage by completing aStudent Health Insurance Waiver Form online at www.universityhealthplans.com.A notice regarding student health insurance enrollment andwaiver deadlines will be mailed to your mailing or permanent address ifyou register for at least nine credits. You will have 14 days to completea waiver if you can prove comparable coverage. Late waivers will not beconsidered.Credit BalancesIf your cash payments and financial aid, including any disbursements ofFederal Title IV funds such as Federal Pell Grants or Federal Direct Loans,create a credit balance on your student account, we will retain these creditson your student account to be used against the charges of future termsof enrollment, only if you complete a Credit Balance Authorization Form(CBA Form). Otherwise, a student refund check, made payable to thestudent, will be mailed to your permanent address according to the timeframeestablished by the federal government.Student Refund ChecksYou may request a student refund check for the credit balance on yourstudent account. Refund checks will only be issued for actual creditbalances and will not be issued based on "PENDING" payments.Student refund checks normally require approximately 2 weeks to process.All student refund checks will be made payable to the student. We willmail your check to your mailing or permanent address or you may requestto pick it up at the Milton campus.Bookstore VouchersYou may request a bookstore voucher up to the amount of your expectedcredit balance, including pending financial aid payments. Pending TuitionManagement System (TMS) monthly payment plans will not be consideredfor this purpose. The vouchers may be used to purchase textbooks inthe Campus Bookstore. All vouchers expire 30 days from the date of issue.Unused voucher amounts will be returned to your student account within60 days of their expiration date.Check your CCWIS/MyCurry portal and your Curry email for updatesfrom Student Financial Services.FERPAThe Family Education Rights and Privacy Act (FERPA) (20 U.S.C. §1232g; 34 CFR Part 99) is a federal law that protects the privacy of astudent education, financial and academic records. For the student's protection,FERPA limits release of student record information without thestudent's explicit written consent.If you would like to allow Student Financial Services to share financialinformation (billing, financial aid application and award records) witha person other than you the student, please complete a Family EducationRights and Privacy Act (FERPA) Release Form available online atwww.curry.edu.Code of ConductAn institutional financial aid professional, or any other College administratorinvolved in Title IV fund management or processing, is expected toalways maintain exemplary standards of professional conduct in all aspectsof carrying out his or her responsibilities, specifically including all dealingswith any entities involved in any manner in student financial aid,regardless of whether such entities are involved in a government sponsored,subsidized, or regulated activity. In doing so, these employees should:• Refrain from taking any action for his or her personal benefit.• Refrain from taking any action he or she believes is contraryto law, regulation, or the best interests of the students andparents he or she serves.• Ensure that the information he or she provides is accurate,unbiased, and does not reflect any preference arising from actualor potential personal gain.• Be objective in making decisions and advising his or herinstitution regarding relationships with any entity involved inany aspect of student financial aid.• Refrain from soliciting or accepting anything of other thannominal value from any entity (other than an institution ofhigher education or a governmental entity such as the U.S.Department of Education) involved in the making, holding,10
---
consolidating or processing of any student loans, includinganything of value (including reimbursement of expenses) forserving on an advisory body or as part of a training activity ofor sponsored by any such entity.• Disclose to his or her institution, in such manner as his orher institution may prescribe, any involvement with or interestin any entity involved in any aspect of student financial aid.Rights and ResponsibilitiesFor general information about financial aid policies and a student's Rightsand Responsibilities, view the Curry College Course Catalog.Policy StatementCurry College is committed to a policy of equal opportunity in everyaspect of its operations. The College values diversity and seeks talentedstudents, faculty and staff from a variety of backgrounds. Curry Collegeadmits students of any race, color, national or ethnic origin, age, disability,gender, religion, sexual orientation or veteran status to all the rights, privileges,programs, and activities generally accorded or made available to allstudents at the school. It does not discriminate on the basis of any of thesecategories in the administration of its educational policies, scholarship orloan programs, athletic or other college administered programs.11
---
Important Contact Information:Curry College ContactsStudent Financial Services OfficePhone: (617) 333-2354Fax: (617) 333-2915Email: studentaccounts@curry.edufin-aid@curry.eduHelp ResourcesU.S. Department of Educationhttp://studentaid.ed.gov/PORTALSWebApp/students/english/index.jspU.S. Department of Education Direct Loan Programwww.StudentLoans.govCustomer Service Department: (800) 848-0979Direct Loan Servicing CenterBorrower Services DepartmentPO Box 5609, Greenville, TX 75403-5609National Student Loan Data Systemwww.nslds.ed.gov/nslds_SA/Massachusetts Office of Student Financial Assistance (OSFA)www.osfa.mass.edu/default.aspU.S. Department of Education Ombudsman OfficeU.S. Department of EducationFSA Ombudsman830 First Street, NEFourth FloorWashington, DC 20202-5144Phone: 1-(877) 557-2575Fax: (202) 275-0549Note: All information contained in this brochure is subject to change due to regulationby the U.S. Department of Education, state authorities, lending institutions and/or Curry College.CURRY COLLEGE1071 Blue Hill Avenue, Milton, Massachusetts 02186www.curry.edu