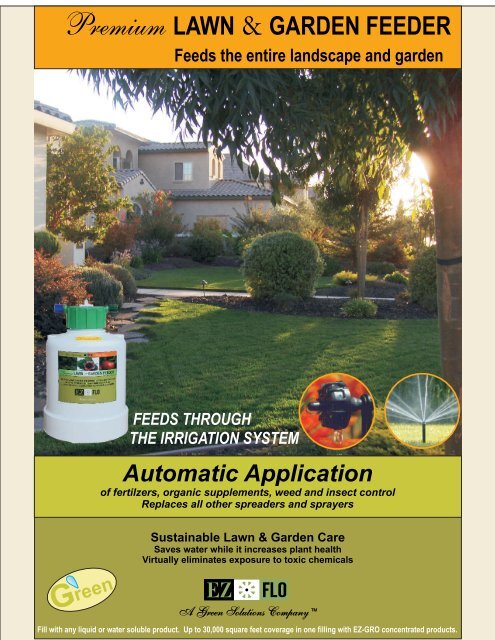 Retail Brochure 1 Gal Main line email format - SPRINKLER TALK Retail Brochure 1 Gal Main line email format - SPRINKLER TALK
Premium LAWN & GARDEN FEEDERFeeds the entire landscape and gardenFEEDS THROUGHTHE IRRIGATION SYSTEMAutomatic Applicationof fertilzers, organic supplements, weed and insect controlReplaces all other spreaders and sprayersSustainable Lawn & Garden CareSaves water while it increases plant healthVirtually eliminates exposure to toxic chemicalsGreenA Green Solutions CompanyTMFill with any liquid or water soluble product. Up to 30,000 square feet coverage in one filling with EZ-GRO concentrated products.
---
A Green Solutions Company TMThe Premium Lawn & Garden FeederThe better choice!Economical & Easy to UseSimply combine the fertilizer, insect control and weed control (only if feeding grass only - weedcontrol will harm broad leaf plants) in the tank and the system does the mixing and measuringautomatically while you water. It is adjustable so you can feed the entire landscape and gardenquickly or you can feed slowly every time you water. Since it can apply all products at one timeit can replace all of your other spreaders, sprayers and applicators.Superior ResultsFeeding liquid nutrients through both the leaves and the roots promotes superior nutrientuptake by the plant which stimulates better plant health. The amount of fertilizer required canbe reduced by up to 80% because it can be more effectively used by the plant.Sustainable Lawn & Garden CareReduces carbon footprint - uses up to 80% less fertilizerDispenses natural and organic productsReduces or eliminates the need for herbicides and pesticidesVirtually eliminates exposure to harmful chemicalsSaves water by building a stronger & healthier plant root structureVirtually eliminates toxic runoff and leachingFOR MORE INFORMATION ABOUT EZ-FLO PRODUCTS, call 866-393-5601 or www.ezflofertilizing.comAt PlantingAfter One Year
---
A Green Solutions Company TMThe Premium Lawn & Garden FeederIt's easy to use!Use any liquid or water soluble product.Any liquid or water soluble product can be used in the system. All compatible productscan be mixed in the tank for Automatic Application. All products should be put in thetank in their fully concentrated form. The system will do the mixing and measuringautomatically as you water.How to determine how much to use.Determine how much to put in the tank by the amount of area being treated and therecommended coverage rate of the products you are using. Contact the manufacturer ofthe products you are using if it is unclear from the product labeling if the products arecompatible.How to determine when to refill.The time to refill is determined by the coverage rate of the products being used. Forexample, if the product coverage recommendation says every two weeks, the systemshould be refilled with the recommended amount at that time.GROOranically Balanced Fertilizers and ControlsEZ-GRO products are highly concentrated organic and organically balanced productsthat are specially formulated for EZ-FLO systems. These products show superior resultsand offer a sustainable means of landscape maintenance.EZ-GRO Organically Balanced Fertilizers provide plant nutrients as well as organicbio-stimulants that condition soils, reverse the negative impact of chemical fertilizers andbuild organic activity in poor soils.EZ Organic Critter Control repels deer, rabbits, moles, voles and numerous other planteating critters but will not harm them. It has no odar and does not affect houshold pets.EZ Organic Insect Control effectively eliminates virtually all insects.FOR MORE INFORMATION ABOUT EZ-FLO PRODUCTS, call 866-393-5601 or www.ezflofertilizing.com
---
To feed through an irrigation system;Before purchasing an EZ-FLO system, make sure your irrigation systemhas the proper design to install the system. A backflow preventor thatmeets plumbing code is required for all installations.Typical EZ-FLO InstallationBack FlowPreventerRequiredEZ CouplingConnection(sold separately)To drip emittersValve BoxWater FlowTo sprinklersEZ-FLO Unit(all connection partsincluded exceptcoupling connector)Valve BoxShutoffValveTo back yardTo sprinklersStep 1. Install the EZ-FLO system in the irrigation main line.Attach clear tube to the greenconnection on the cap andcoupling connector and the blacktubing to the blue connetions.Glue couplingconnetor intothe irrigationmain line.Step 2. Pour 1 - 1 pound packet of EZ-GRO fertilizer in the tank for every 3,000 squarefeet of area being fertilized. Add other products as recommended. Fill the system withwater until over flowing. The system will mix the products automatically when the wateris turned on. Capacity - 10 pounds or 1 gallon. Screw cap on the tank and set the flowadjustment on cap to the slow setting for "micro-dose" fertigation.SlowFeedFast FeedffOCaution: Do not leave air in the tank.
More magazines by this user