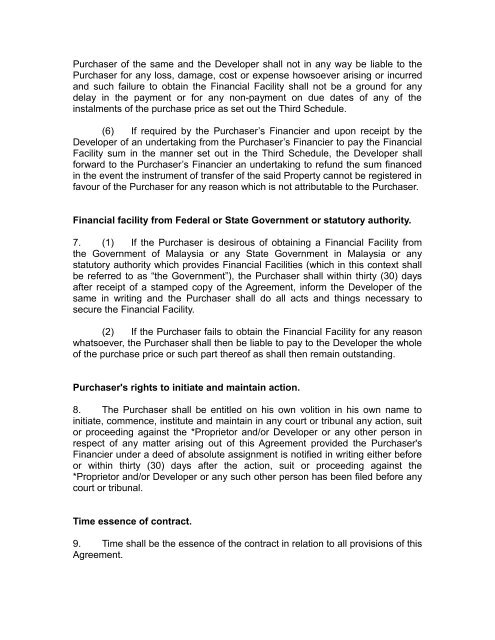 sale and purchase agreement (land and building) - Ministry of ... sale and purchase agreement (land and building) - Ministry of ...
Purchaser of the same and the Developer shall not in any way be liable to thePurchaser for any loss, damage, cost or expense howsoever arising or incurredand such failure to obtain the Financial Facility shall not be a ground for anydelay in the payment or for any non-payment on due dates of any of theinstalments of the purchase price as set out the Third Schedule.(6) If required by the Purchaser's Financier and upon receipt by theDeveloper of an undertaking from the Purchaser's Financier to pay the FinancialFacility sum in the manner set out in the Third Schedule, the Developer shallforward to the Purchaser's Financier an undertaking to refund the sum financedin the event the instrument of transfer of the said Property cannot be registered infavour of the Purchaser for any reason which is not attributable to the Purchaser.Financial facility from Federal or State Government or statutory authority.7. (1) If the Purchaser is desirous of obtaining a Financial Facility fromthe Government of Malaysia or any State Government in Malaysia or anystatutory authority which provides Financial Facilities (which in this context shallbe referred to as "the Government"), the Purchaser shall within thirty (30) daysafter receipt of a stamped copy of the Agreement, inform the Developer of thesame in writing and the Purchaser shall do all acts and things necessary tosecure the Financial Facility.(2) If the Purchaser fails to obtain the Financial Facility for any reasonwhatsoever, the Purchaser shall then be liable to pay to the Developer the wholeof the purchase price or such part thereof as shall then remain outstanding.Purchaser's rights to initiate and maintain action.8. The Purchaser shall be entitled on his own volition in his own name toinitiate, commence, institute and maintain in any court or tribunal any action, suitor proceeding against the *Proprietor and/or Developer or any other person inrespect of any matter arising out of this Agreement provided the Purchaser'sFinancier under a deed of absolute assignment is notified in writing either beforeor within thirty (30) days after the action, suit or proceeding against the*Proprietor and/or Developer or any such other person has been filed before anycourt or tribunal.Time essence of contract.9. Time shall be the essence of the contract in relation to all provisions of thisAgreement.
More magazines by this user