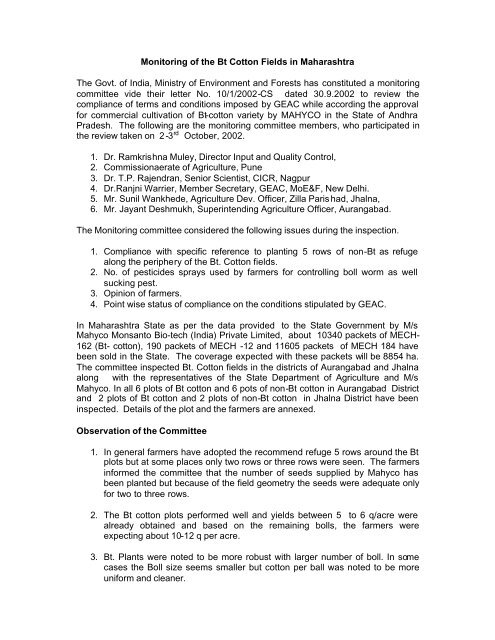 Monitoring of the Bt Cotton Fields in Maharashtra The Govt. of India ...
Monitoring of the Bt Cotton Fields in Maharashtra The Govt. of India ...
Monitoring of the Bt Cotton Fields in Maharashtra The Govt. of India ...
SHOW MORE
SHOW LESS
You also want an ePaper? Increase the reach of your titles
YUMPU automatically turns print PDFs into web optimized ePapers that Google loves.
Monitoring of the Bt Cotton Fields in MaharashtraThe Govt. of India, Ministry of Environment and Forests has constituted a monitoringcommittee vide their letter No. 10/1/2002-CS dated 30.9.2002 to review thecompliance of terms and conditions imposed by GEAC while according the approvalfor commercial cultivation of Bt-cotton variety by MAHYCO in the State of AndhraPradesh. The following are the monitoring committee members, who participated inthe review taken on 2-3 rd October, 2002.1. Dr. Ramkrishna Muley, Director Input and Quality Control,2. Commissionaerate of Agriculture, Pune3. Dr. T.P. Rajendran, Senior Scientist, CICR, Nagpur4. Dr.Ranjni Warrier, Member Secretary, GEAC, MoE&F, New Delhi.5. Mr. Sunil Wankhede, Agriculture Dev. Officer, Zilla Parishad, Jhalna,6. Mr. Jayant Deshmukh, Superintending Agriculture Officer, Aurangabad.The Monitoring committee considered the following issues during the inspection.1. Compliance with specific reference to planting 5 rows of non-Bt as refugealong the periphery of the Bt. Cotton fields.2. No. of pesticides sprays used by farmers for controlling boll worm as wellsucking pest.3. Opinion of farmers.4. Point wise status of compliance on the conditions stipulated by GEAC.In Maharashtra State as per the data provided to the State Government by M/sMahyco Monsanto Bio-tech (India) Private Limited, about 10340 packets of MECH-162 (Bt- cotton), 190 packets of MECH -12 and 11605 packets of MECH 184 havebeen sold in the State. The coverage expected with these packets will be 8854 ha.The committee inspected Bt. Cotton fields in the districts of Aurangabad and Jhalnaalong with the representatives of the State Department of Agriculture and M/sMahyco. In all 6 plots of Bt cotton and 6 pots of non-Bt cotton in Aurangabad Districtand 2 plots of Bt cotton and 2 plots of non-Bt cotton in Jhalna District have beeninspected. Details of the plot and the farmers are annexed.Observation of the Committee1. In general farmers have adopted the recommend refuge 5 rows around the Btplots but at some places only two rows or three rows were seen. The farmersinformed the committee that the number of seeds supplied by Mahyco hasbeen planted but because of the field geometry the seeds were adequate onlyfor two to three rows.2. The Bt cotton plots performed well and yields between 5 to 6 q/acre werealready obtained and based on the remaining bolls, the farmers wereexpecting about 10-12 q per acre.3. Bt. Plants were noted to be more robust with larger number of boll. In somecases the Boll size seems smaller but cotton per ball was noted to be moreuniform and cleaner.
---
4. The farmers have taken up 8-10 spraying during last year. During this yearthe farmers have taken upto 3-7 sprayers in non Bt cotton fields and 1-2sprayers on Bt. cotton fields for bollworm attack. It was also observed thatmost of the farmers cultivating Bt. cotton are not adopting the minimumobservations 20 random plants to assess the ETL of bollworms. Somefarmers were noted to give additional sprays as a prophylactic approach.5. Discussions with the representatives of the State Dept of agriculture indicatedthat the overall the performance of Bt cotton in Maharashtra with respect toreduction to bollworm attack and corresponding increase in yield is noted tobe satisfactory. However, in some cases with poor irrigation and agronomicpractices the performance was not satisfactory.Farmers ViewsDiscussions with the farmers indicated the following:-1. Farmers feel that they have to give additional sprays to the non-Bt borderrows which are expensive. They feel that 1-2 rows would be all right for thepurpose of refuge.2. Compared to last year when the farmers grew non-Bt cotton, and compared toconventional varieties in adjoining fields, the farmer now gives only about halfthe number of sprays. Tracer a very expensive (for bollworm) has been usedin most cases only once.3. The farmers were happy with the yield already obtained. Farmers alreadygrowing Bt have indicated they would continue to grow Bt. Cotton next year asthey expect 60% more yield than last year. However, they were of the viewthat the Bt. Cotton seed is very expensive and requested the Govt. to look intothe matter.***********
---
DETAILS OF GEAC VISIT TO BOLLGARD (BT) AND OTHER COTTON FIELDSS.No.Name of Farmer Village Taluka Districts Hybrid Areain(acres)1. Sh. Saduba Kachkure Shendr Aurangab Aurangab MECHaad ad 184 BT2. Sh. Traimbak Jija Shendr Aurangab Aurangab MECH-Ghodkea ad ad 162 BT3. Sh. Laxman Tataram Karmad Aurangab Aurangab MECH-Ghodakead ad 162 BT4. Sh. Raosaheb Jadhav Bilda Phulambr Aurangab MECHiad 184 BT5. Sh. Attmaram Gaike Bilda Phulambr Aurangab MECHiad 162 BT6. Sh. Namdeorao Phulam Phulambr Aurangab MECH-Gadekarbri i ad 184 BT7. Sh. Prabhakar Ramna Jalna Jalna MECH-Sudamrao Shejod8. Sh. Haribhau PatilAglawegarRamnagar162 BTJalna Jalna MECH-184 BTDate ofsowing2 15.06.20021 27.06.20021 16.06.20021 09.06.20021 10.06.20022 22.06.20021 25.06.20021 09.06.2002No. of spraysSucki Bollwong rmpestsCost / spraysSucki Bollwong rmpests3 1 325 3504 1 300 3502 1 250 3602 0 275 02 0 275 02 0 300 02 1 320 3501 2 300 360
---
S.No.Name of Farmer Village Taluka Districts Hybrid Date ofsowing1. Sh. Saduba Kachkure ShendraAurangabad2. Sh. Traimbak Jija Shendr AurangabGhodkea ad3. Sh. Laxman Tataram Karmad AurangabGhodakead4. Sh. Raosaheb Jadhav Bilda Phulambri5. Sh. Attmaram Gaike Bilda Phulambri6. Sh. Namdeorao Phulam PhulambrGadekarbri i7. Sh. Prabhakar RamnaSudamrao Shejod gar8. Sh. Haribhau PatilAglaweRamnagarAurangabadAurangabadAurangabadAurangabadAurangabadAurangabadJalna Jalna Mahabeej-112,203, NHH-44 &Ankur-651Bunny 15.06.2002Bunny 27.06.2002Bunny & 16.06.20Brahma02Bunny & 09.06.20Dhanno02Bunny 10.06.2002Bunny & 22.06.20Brahma0228.06.2002Jalna Jalna Bunny 09.06.2002No. of spraysSucki Bollwong rmpestsCost / spraysSucking pestsBollworm3 3 325 3504 4 300 3502 4 250 3602 6 275 02 3 275 02 5 300 02 7 320 3501 3 300 360
---
Insecticides Used:A: Sucking PestsSr. Contents of Insecticides Trade Name1 Imidacloprid Confidore2 Thiomethoxam Ektara3 Acitamiprid Peide4 Oxy-demeton methyl MetasystoxB: Bollworm1 Endosulfan Thiodon2 Ekalux Quinolphos3 Chlorpyriphos Dursban4 Triazophos Hostathion5 Profenofos Curacron6 Indoxacarb Avant7 Cypermethirn Cyper8 Deltamethrin Desis9 Alfamethrin Farsa