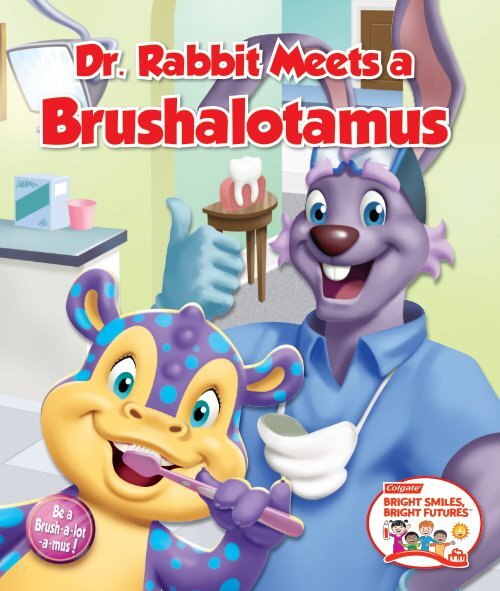 Dr. Rabbit Meets a Brushalotamus Storybook Storybook - Colgate
Dr. Rabbit Meets a Brushalotamus Storybook Storybook - Colgate
Dr. Rabbit Meets a Brushalotamus Storybook Storybook - Colgate
SHOW MORE
SHOW LESS
Create successful ePaper yourself
Turn your PDF publications into a flip-book with our unique Google optimized e-Paper software.
Dr. Rabbit Meets aBrushalotamus
---
Hello! I'm Dr. Rabbit.I'm a dentist you see.To take care of their teeth,all the kids visit me.I just met a new friendand he'll be your friend, too.Brushy Brush-a-lot-a-mus!He's glad to meet you.2
---
Brushy moved to Tooth Townand in a short whileit was time for me to checkhis clean and bright smile.So Brushy and his momset out one spring dayto come and see me, but…3
---
they soon lost their way!They made a wrong turnonto Sugar Snack Streetlined with snacks and with drinksthat were sugary sweet.4
---
When they got to the cornerhis mom said "Oh dear!I don't think Dr. Rabbitwould be around here."Brushy knew right awaythey were on the wrong street.That sugary stuff wasn'thealthy for his teeth.5
---
6"Are you lost?" called a voice.Brushy's mom said "Oh yes!We must find Dr. Rabbit.We have his address…"
---
"Dr. Rabbit!" said Kim."I was there yesterday.We all know where he is.We'll take you, right away.""I just had my check-up.Come on, follow us!"They were happy to meeta Brush-a-lot-a-mus!7
---
So…Brushy and his new friendsKim, Ana and Zachall munched on some healthyapples for a snack.They skipped down the streetand they all took a ridedown the Good for Your TeethSuper Glide Fluoride Slide.8
---
Fluoride protects teeth.It protects every one.Brushy slid down the slideand said "Wow! This is fun!"Later that day, I heardmy doorbell chime.Brushy and his new friendswere there right on time.9
---
I could see right awayBrushy knew how to brush.Front teeth and back teeththere's no need to rush.Brushy's smile was so brightI was happy to say:"Keep brushing withfluoride toothpaste twice a day."10
---
Take Careof YourBaby Teeth"Be sure that you brushafter breakfast," I said."And be sure that youbrush your teeth before bed."Bright SmilesThat Last aLifetimeBrushy knows if you take careof your baby teethit will help your new teeththat are waiting beneath!11
---
Brushy and his friendsknow just what to do.They take care of their teethand you can, too!CarrotNewYork, NY www.carrotnewyork.com© 2012 Colgate-Palmolive Company. All Rights Reserved. A Global Oral Health Initiative.