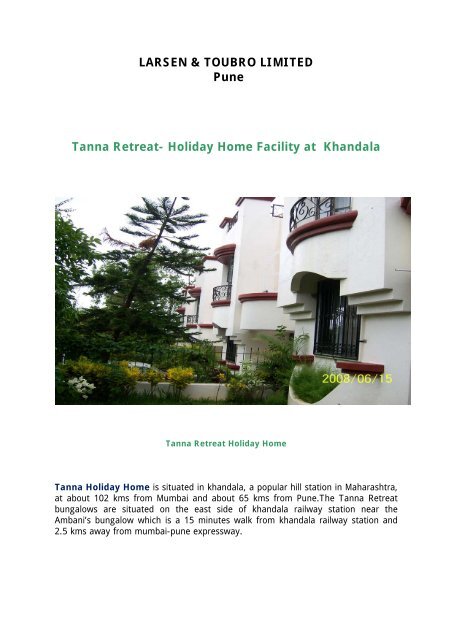 Tanna Retreat - eCampus - Larsen & Toubro
Tanna Retreat - eCampus - Larsen & Toubro
Tanna Retreat - eCampus - Larsen & Toubro
SHOW MORE
SHOW LESS
You also want an ePaper? Increase the reach of your titles
YUMPU automatically turns print PDFs into web optimized ePapers that Google loves.
LARSEN & TOUBRO LIMITEDPuneTanna Retreat- Holiday Home Facility at KhandalaTanna Retreat Holiday HomeTanna Holiday Home is situated in khandala, a popular hill station in Maharashtra,at about 102 kms from Mumbai and about 65 kms from Pune.The Tanna Retreatbungalows are situated on the east side of khandala railway station near theAmbani's bungalow which is a 15 minutes walk from khandala railway station and2.5 kms away from mumbai-pune expressway.
---
Tanna Holiday Home PicsTanna Holiday Home ViewLush Green Garden ViewIndividual Garden sit-outDouble Bedroom View
---
Single RoomCommon Sit out AreaFacilities at Romantica Holiday Home:• 8120 sq.ft plot area with four luxurious 3 bedroombungalows, with attached baths, family lounge living/dining room,Open Verandas, sit-outs & terraces.• Fully air-conditioned.• Children Play area.• PC with Internet access.• Music system, TV• large Garden with trees & swing.• Generator/UPS back up.Tourist places to visit around Lonavala/Khandala:There are plethora of Places for tourist attraction in Khandala & Lonavala beautifulHills, Deep Green Valleys, Huge Lakes, Historic Forts, Waterfalls etc.Rajmachi Park: On the way to Mumbai from Lonavala there is a beautiful gardenbefore the beginning of the Ghat. It gives a spectacular view of the surroundings.On the East Side two towers of the Rajmachi Fort can be seen and at the bottom isthe huge valley.Ryewood Park: This is a big beautiful garden situated near Lonavala. There is anold Mahadeo temple in this park. There is history behind the name Ryewood. AnEnglish officer Mr. Rye stayed in this place for quite some time, hence this woodsare named after him. This garden has plenty of place for children to play.Duke's Nose: This place is named after Duke Wellington whose pointed nose thiscliff resembles. It also looks like a hood of a snake called as "Nagfani". This pointcan be approach from INS Shivaji and Kurwande Village. Watching the nature'sbeauty here is an unforgettable experience.
---
Shivaji Park: Earlier this ground was as a playground which was converted into agarden in 1956, there is statue of Shri Shivaji Maharaj in this park.Lohagad Darshan: The small garden located in Bhangarwadi, there are plenty ofplay equipments for children to play there is also a big statue of Savarkar Maharaj.Kune Falls: This water falls where water comes down from a height of more than100 feet is majestic in appearance, one can have bath in the water that flowsthrough the valley. This place is between Lonavala and Khandala. This fall can beseen in Khandala Ghat while coming from Mumbai.Tiger's Leap: This is a special spot in this area. If one looks at the valley carefullyfrom this spot it appears as if a tiger is leaping into the valley. This spot is a furlongaway from INS Shivaji. It gives a fascinating view of the valley.Sakur Plateau: On the way to INS Shivaji there is a turn and a zigzag road. At adistance of approximately 4 miles and at a height of 1000 feet is a plateau. Thisplateau is on the way to village Ambavane. Thick forests occupy it and it's sparselypopulated. Tungi, Korigad, Lohagad etc. Forts are very close from here.Monkey Hill: All the trains coming down from Khandala halt here for brake testing.There is a huge flat land to south of the railway tracks. This place is exactly aboveKhopoli town and it can be approach from Khopoli as well as Borghat reversingstation. It is a favourite picnic spot.Kaivalya Dham Yoga Center :This institute imparting yoga education wasfounded by the Late Swami Kuvalayanand. This place is situated on a picturesque hillnear Valvan lake.Karla Caves: Karla is about 12 km from Lonavala, the site of the largest Chaityacaves in India, built in 80 B.C. Among the best-preserved Buddhist temples in India,they represent the acme, in terms of purity of design of this style of templearchitecture.Lonavala Lake: A visit to Lonavala Lake or Bushi lake, one and a half km from thetown is an enthralling experience. An excursion to Tungauli Lake and to Rajmachiforts is worth visiting.Weather in Khandala/Lonavala:Weather in Khandala is pleasant. Summers are mild i.e.; 20 oC-25 oC, while wintersare cool i.e.; 15 oC- 22 oC. We can experience heavy southwestern monsoon rainsbetween June and September.
---
How to reach Tanna Holiday Home? …By Air : Lonavala & Khandala do not have an Airport. Everyone has to fly to Bombayor to Pune. Nearest International Airport is Bombay and Domestic Airport is Pune.Bombay international Air port is approximately 110 kms. and Pune is 66 kmsTrain : The Nearest railway station is at Khandala/Lonavala. As Lonavala is on themain railway line between Mumbai and Pune.Road: Lonavala & Khandala is well connected with Mumbai and Pune by road andthe bus service for Pune (travel time 2½ hours). However, it takes about 3 hours toreach Mumbai from Khandala.Note: On special requests arrangement for pick-up & drops can also be madeSubject to one day advance intimation.HH Address:L&T "Tanna Retreat" BungalowDr Acharya Atre MargNear Reliance BungalowKhandala-410301 (Maharashtra).HH Telephone No. 02114-277718Duration of stay:No. of persons:Maximum 4 nights and 5 daysThe Bungalow & its facilities are equipped to comfortablyaccommodate 6 Persons, including children.Booking procedure: All bookings are through e-Campus website(http://ecampus.ltindia.com).Administrator Details: Contact person: Mr. Vikalp Tyagi - PAOEmail id: tyagivikalp@larsentoubro.comTel.No: (D) 020-66033302020-66033333 (Board) Fax No: 020 - 26124910Caretaker Details: Mr.S.D.Kulkarni #91-9823191802 , 02114-269261
---
General Instructions:• Booking will be done on first come first served basis through e-Campus.• Bookings are not transferable or mutually interchangeable with otheremployees.• Usage of the Holiday Home is for L&T employees & their families. Caretakerhas been instructed to request the guest to produce identification on arrival.• In case concerned L&T employee is not accompanying the other guests, thecaretaker has been instructed not to permit check-in.• For cancellations, kindly cancel your booking through e-Campus 30 days inadvance, so that Holiday Home can be allotted to the next person on thewaiting list.