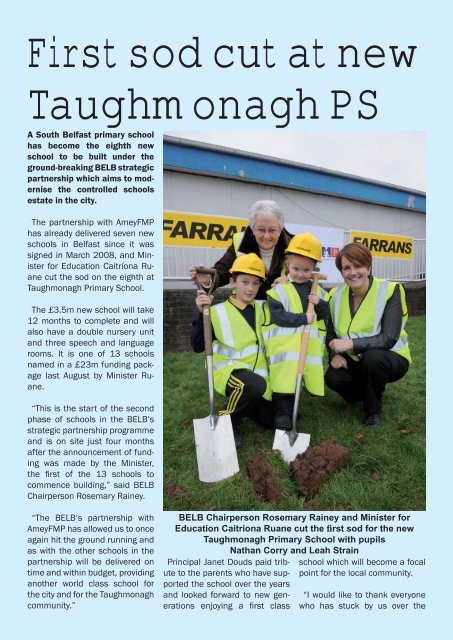 First sod cut at new Taughmonagh Primary School - Belfast ... First sod cut at new Taughmonagh Primary School - Belfast ...
First sod cut at newTaughmonagh PSA South Belfast primary schoolhas become the eighth newschool to be built under theground-breaking BELB strategicpartnership which aims to modernisethe controlled schoolsestate in the city.The partnership with AmeyFMPhas already delivered seven newschools in Belfast since it wassigned in March 2008, and Ministerfor Education Caitríona Ruanecut the sod on the eighth atTaughmonagh Primary School.The £3.5m new school will take12 months to complete and willalso have a double nursery unitand three speech and languagerooms. It is one of 13 schoolsnamed in a £23m funding packagelast August by Minister Ruane."This is the start of the secondphase of schools in the BELB'sstrategic partnership programmeand is on site just four monthsafter the announcement of fundingwas made by the Minister,the fi rst of the 13 schools tocommence building," said BELBChairperson Rosemary Rainey."The BELB's partnership withAmeyFMP has allowed us to onceagain hit the ground running andas with the other schools in thepartnership will be delivered ontime and within budget, providinganother world class school forthe city and for the Taughmonaghcommunity."BELB Chairperson Rosemary Rainey and Minister forEducation Caitríona Ruane cut the first sod for the newTaughmonagh Primary School with pupilsNathan Corry and Leah StrainPrincipal Janet Douds paid tributeto the parents who have supportedthe school over the yearsand looked forward to new generationsenjoying a fi rst classschool which will become a focalpoint for the local community."I would like to thank everyonewho has stuck by us over the
---
Taughmonagh PS Principal Janet Douds, BELB Chief Executive David Cargo, fourth left,BELB Chairperson Rosemary Rainey, Minister for Education Caitríona Ruane, Board ofGovernors Chairperson Arthur O'Brien, and Senior Education Officer Gerry McGuinness,far right, with BELB Property Services Team Rodgers Cairncross, Pauline High, MarkBatchelor, William McIntaggart, Geoff Connor and Paul Forsthyeyears, especially the parents andlocal community who have votedwith their feet and continued tosend their children to TaughmonaghPrimary School," said Janet."Often we thought this day wouldnever come but I am delighted forall our parents, staff, and pupilspresent and future who will enjoya new school with facilities wherefuture generations of childrencan fl ourish."The Minister addressed guestsat the ceremony and said theschools would provide a "fantasticlearning and developmentfacilities" for young people in thearea."I would like to pay tribute to thePrincipal, governors, staff, parentsand the local community, allof whose hard work and commitmentare crucial to the successof this project," said the Minister."The new school will providefantastic learning and developmentfacilities for children andyoung people in what is an areaof social disadvantage. TaughmonaghPrimary School alreadyacts as a focal point for the localcommunity and I have no doubtthat the new facilities will enablethe school to make an evengreater contribution to life in thearea."Good facilities are essential ifwe are to continue to raise educationalstandards for all localchildren and young people andgive them the best chances inlater life."I will therefore continue tohighlight the vital importance ofinvestment in the schools Ireland'smain building contractors,Farrans, H&J Martin and PattonGroup.
More magazines by this user