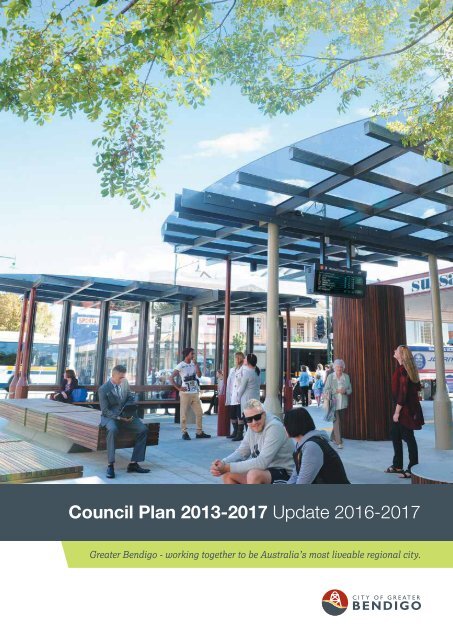 Council Plan 2013-2017 (2016-2017 Update)
Greater Bendigo City Council adopted the Council Plan 2013-2017 (2016-2017 Update) on June 29, 2016. The Plan contains Council's vision and values and direction for the 2013-2017 period and proposed actions for 2016-2017. These underpin the way the City of Greater Bendigo manages and conducts its operations.
Greater Bendigo City Council adopted the Council Plan 2013-2017 (2016-2017 Update) on June 29, 2016.

The Plan contains Council's vision and values and direction for the 2013-2017 period and proposed actions for 2016-2017. These underpin the way the City of Greater Bendigo manages and conducts its operations.
SHOW MORE
SHOW LESS
You also want an ePaper? Increase the reach of your titles
YUMPU automatically turns print PDFs into web optimized ePapers that Google loves.
Council Plan 2013-2017 Update 2016-2017

Greater Bendigo - working together to be Australia's most liveable regional city.
---
ACKNOWLEDGEMENT OF

COUNTRY

The ancestors and descendants

of the Dja Dja Wurrung and

Taungurung are the traditional

owners of this Country.

The City of Greater Bendigo

acknowledges that they have been

custodians for many centuries

and continue to perform age old

ceremonies of celebration, initiation

and renewal.

We all acknowledge their living

culture and their unique role in the

life of this region.

2
---
Executive Summary

This is the final year of the Council's four-year term. Council is anticipating

completion of the major priorities it set at the start of the term.

This 2016-2017 update of the Council Plan outlines

expected completion of a number of previously agreed

priorities and works, including essential maintenance of

our iconic buildings and key infrastructure. This year a

wide variety of strategic planning activities will also be

completed, which honours Council's undertaking to plan

effectively for the anticipated growth of Greater Bendigo.

They will set the guidelines and frameworks that will guide

future developments and will help to ensure Greater

Bendigo continues to be a successful, attractive and

welcoming place for the long term.

Completed strategies, including the Connecting Greater

Bendigo: Integrated Transport and Land Use Strategy

(ITLUS), Greater Bendigo Residential Strategy and

Economic Development Strategy provide the frameworks

to guide future planning directions and planning decisions

that foster successful growth, enable healthier living and at

the same time safeguard the unique assets and character

of Greater Bendigo. Preparation of the new Greater

Bendigo Public Space Plan is progressing as anticipated

and this Council Plan outlines a significant number of other

statutory processes that will be undertaken during 2016-

2017 to ensure the necessary infrastructure is in place.

Greater Bendigo City Council's adoption of the vision

'Greater Bendigo – working together to be Australia's most

liveable regional city', sets an important standard for the

long-term goals and activities that will guide our future

development.

Council Plan 2013-2017: 2016-2017 Update • 3
---
Executive Summary (continued)

Liveability is about the way that a place enables and

assists people to achieve the quality of life they desire

to be healthy and fulfilled. A liveable city is one where

people can be healthy, safe and live in harmony; one that

is attractive and provides affordable living, transport and

employment opportunities in a sustainable environment.

These are all the characteristics that people reasonably

expect from where they live, and Council has an important

role in providing the settings, services and advocacy to

achieve this vision.

In order to describe exactly what liveability means for

Greater Bendigo, and to keep track of progress towards

achieving the vision, a series of liveability indicators have

been chosen. These are the goals and standards that

have been set for the different aspects of liveability. Some

of the factors that determine wellbeing are high school

completion, employment, average income, health risks,

under-serviced locations access to services and transport.

Improving outcomes in these areas results in positive

outcomes for the whole population.

With a focus on improving liveability and providing fairer

access to opportunities for more vulnerable community

members, Council has agreed that priority will be given

to actions that will make it easier for people to be healthy,

including healthy transport and infrastructure, reducing our

impact on the environmental through increasing housing

diversity, reducing waste to landfill, and supporting local

employment, especially for young people. Making a

difference to the wellbeing of our population will require

collaborative actions across the entire population and with

other levels of government over a sustained period, not

just the efforts of Council. Council and staff members are

using a range of objective data to inform decision-making

about priorities. New strategies, to be completed in 2016-

2017, including the Cultural Diversity and Inclusion Plan

and Reconciliation Action Plan, will focus on increasing

social inclusion of more marginalised groups such as

people with a disability and residents from non-Englishspeaking

backgrounds.

Managing waste is the Council's biggest budget item,

so there is great financial and environmental incentive for

reducing the amount of waste generated and the amount

sent to landfill. The Waste and Resource Management

Strategy has the aim of reducing waste to landfill by 60 per

cent and a range of new strategies, including an organics

recycling system, are being introduced.

Advocacy to other levels of government and a range of

relevant organisations for support for asset upgrades

and programs for residents continues to be an important

priority for Councillors and senior staff members.

Greater Bendigo has a diverse and progressive economy

and this has ensured its resilience in recent times of

economic challenge. Significant ongoing activities

are being implemented, informed by the Economic

Development Strategy updated in 2014, that are designed

to support business and innovation, foster major events

and visitation, and facilitate learning and employment

opportunities for young people in particular. The new

Ulumbarra Theatre is offering a range of entertainment

options not previously available and it is receiving great

praise. Completion of the major upgrade of the Greater

Bendigo Airport will facilitate business opportunities and

continued emergency services access, and the new

Greater Bendigo Indoor Aquatic and Wellbeing Centre

in Kangaroo Flat and expansion of the Bendigo Stadium

will provide year-round health and wellbeing facilities and

services in our rapidly-growing city.

As with all other sectors and levels of government,

the Council is operating in an environment of financial

constraint. The full impact of the State Government

imposed decision to cap Council rate rises is not yet

known, but it is expected to be significant in the long term.

The long-term financial plan has been adjusted to account

for this legislation.

4
---
Greater Bendigo

Snapshot

• The Bendigo municipal boundaries are on the lands of

the Dja Dja Wurrung and Taungurung Aboriginal Clans

• Bendigo recognises and celebrates its heritage with

the Aboriginal people of the area; the Dja Dja Wurrung,

Taungurung and Gurai-illam Wurrung language

groups of the Central Kulin nation. Despite the

disruptive impact of colonisation on land and culture,

traditional owners continue their spiritual and custodial

connection to their country and Greater Bendigo is

now home to Aboriginal and Torres Strait Islander

residents from all over Australia

• 3,000 square kilometres in central Victorian landscape

• Greater Bendigo's population is forecast to reach

115,025 by 2017:

- An annual growth of more than 1,700 additional

residents, a rate of growth faster than the Victorian

average

- Third largest concentrated economic base in Victoria

with an annual Gross Regional Product rising at a

rate considerably faster than the State average

- Major regional centres like Bendigo are targeted

by State Government strategies to accelerate their

growth

- Around 85 per cent of residents live in the Bendigo

urban area and 15 per cent live in rural areas and

towns

- Compared to the regional Victorian average Greater

Bendigo has:

• A larger percentage of persons aged 20 to 24 (7.0

per cent compared to 5.5 per cent)

• A smaller percentage of persons aged 65 to 69

(4.5 per cent compared to 5.2 per cent)

• 7.1 per cent of the population were born overseas

compared to the Victorian average of 26.3 per cent

• Bendigo was established with the gold discoveries of

1851. Thousands of European settlers came and built

a city in just a few years. By the 1880s Bendigo was

the world's richest gold field

• A vibrant, creative and culturally enriched major

regional centre for northern Victoria, Bendigo has the

third largest urban area in Victoria

• Bendigo is home to Australia's leading regional

Art Gallery and site of the largest regional hospital

construction in Victoria's history

• By many measures it is one of the great small cities of

the world

• The rich and diverse architectural heritage is a major

feature of the City's liveability. Preservation of the

outstanding collection of historic buildings, places and

mining relics is a priority

• Greater Bendigo's environment and setting is within

Box Ironbark forests, which virtually encircle the urban

area and extend across much of the municipality. They

make a significant contribution to the city's natural

heritage and lifestyle

• Greater Bendigo includes productive agricultural areas

and many small towns and villages such as Heathcote,

Axedale, Huntly, Marong, Elmore, Goornong,

Kamarooka, Neilborough, Sebastian, Woodvale,

Raywood, Mia Mia and Redesdale

• Together they comprise a municipality renowned for

its lifestyle, strong sense of community and for the

opportunities it provides for residents, visitors and

businesses

• The City is consciously working towards Council's

vision for Greater Bendigo to be Australia's most

liveable regional city

Council Plan 2013-2017: 2016-2017 Update • 5
---
Vision

Greater Bendigo

- Working together

to be Australia's

most liveable

regional city.

Liveability has been defined as

'the degree to which a place

supports quality of life, health

and wellbeing. In broad terms,

liveable cities are healthy,

safe, harmonious, attractive

and affordable. They have

high amenity, provide

good accessibility and are

environmentally sustainable."

(The State of Australian

Cities Report, 2011, p.139).

6
---
Greater Bendigo liveability indicators

Pursuit of the aspiration to be Australia's most

liveable regional city is through a series of

adopted strategies and the implementation of

agreed actions designed to deliver integrated

outcomes that collectively describe what it is to

be a liveable city.

A series of liveability indicators have been chosen

that enable detailed analysis as a basis for

reporting progress and comparison with similar

locations.

The indicators act as a gauge to tell us how

well or poorly we are doing with respect to that

item or situation. Internationally, a diverse range

of indicators are being used to measure and

compare liveability across cities and regions.

The City of Greater Bendigo integrated liveability

outcomes and indicators are:

A much healthier city

A community that places an emphasis on children,

older people, active travel options and reducing

Bendigo's high levels of preventable diseases.

Indicators:

• Increase the proportion of people who walk or cycle

five times a week for at least 30 minutes

• Maintain the child immunisation completion rates to be

better than the State average

• Increase the percentage of eligible children completing

15 hrs/week of pre-school

• Reduce obesity

• Increase the proportion of people who meet

recommended fruit and vegetable dietary guidelines

A fairer and more inclusive City

A welcoming multi-cultural community where the

benefits and opportunities from growth are better

shared across all of urban Bendigo and its rural

communities. A City where there are convenient and

accessible public transport services, a more diverse

range of housing for all and a high level of community

wellbeing.

Indicators:

• Increase opportunities for people to use public

transport

• Increase the proportion of the urban area within 400m

of a bus stop

• Reduce the gap in the SEIFA index of disadvantage

score between areas with the highest score and those

with the lowest score

• Reduce the proportion of people who report they are

unable to access funds in an emergency

• Decrease the proportion of residents aged over 60

years who live alone on a low income

• Increased social connection

Council Plan 2013-2017: 2016-2017 Update • 7
---
A more resilient city

One which builds on its economic strengths and

comparative advantages, works to further increase

education and skills training levels, supports the

creation of new jobs, particularly for young people and

diversifies the economic base across urban Bendigo

and its rural communities.

Indicators:

• Increase the proportion of the workforce who have

completed a Bachelor's Degree or higher

• Decrease unemployment, especially for young people

• Increase the proportion 17-year-olds still attending

education (including school and vocational training)

• Decrease the percentage of people who are

unemployed, expressed as a percentage of the labour

force

• Maintain a growth rate of the Greater Bendigo

Economy that is equal to or better than Victoria, as

measured by Gross Regional Product (GRP)

A planned city

Where there is an ongoing provision of land and

supporting infrastructure to support sustainable

development and deliver quality design and net

community gain.

Indicators:

• Increase medium-density housing choice

• Fairer access to parks or open spaces close to where

people live

A proud and safe city

A place that recognises and celebrates Indigenous

culture and protects the outstanding built and cultural

heritage and a remarkable environmental setting

highlighted by 'the city in a forest'.

Indicators:

• Decrease crimes against people including rape, sex,

robbery, assault and abduction

• Increase positive public perception of risk of crime in

their local area

• Improve people's perception of wellbeing

• Increase the proportion of residents born overseas

A sustainable city

Where there is a more effective and productive use of

all finite resources, facilities and services for the benefit

of all and the coming generations.

Indicators:

• Decrease greenhouse pollution

• Increase diversion of domestic waste to resource

recovery

A more productive, innovative, adaptive city

Where governance is based on genuine community

engagement and effective partnerships.

Indicators:

• Increase the proportion of people taking part in a

public discussion

• Increase the proportion of the population who

volunteer for a community group or activity more than

once per month

• Improve community satisfaction with community

consultation and engagement

8
---
1. Improving the health and wellbeing of our community.

This includes healthy transport and the infrastructure

to support that, including shared walking and cycling

paths and footpaths to get around; accessible open

space with networks that provide connections to

community and neighbourhood facilities and services;

links to bushland and forests and access to healthy

food

2. Reducing the environmental footprint through

increased housing diversity and reduced waste to

landfill

3. Supporting local employment – supporting the

creation of jobs and careers for young people

Many priorities go beyond organisational boundaries and

require cooperative effort in order to affect performance

in a meaningful way. Community-wide action and

partnership approaches will be essential to achieve the

changes that are desired.

The City of Greater Bendigo's liveability indicators are

also used as the Strategic Indicators for reporting in the

Annual Report each year.

Taking action to improve

Greater Bendigo's liveability

The Greater Bendigo liveability indicators were

selected because:

• Collectively they give a picture of liveability

• The data is already available and used by the City and

can be compared with other regional cities and to

document changes over time

• They provide a picture across all elements of a liveable

city, not just those that Council is responsible for

• They provide an objective foundation for future policy

development, decision-making and practice

A first report on the indicators was provided to Council in

2014, and an updated report was presented to Council in

May 2016. The report is updated periodically according

to when updated data is available.

While the national and international benchmarks of

liveability indicators provide comparisons between

cities, they do not document the disparities within these

localities. The updated report on the City of Greater

Bendigo's liveability indicators provides comparisons

across different localities and population groups within

Greater Bendigo. Using this evidence will enable a

stronger emphasis on fairness in the activities Council

undertakes - documenting and addressing the growing

social divide evidenced in income, opportunity,

disadvantage, education and jobs, and access to

transport.

With fairness as an underlying value guiding decisionmaking

and using research evidence, community

feedback and the agreed actions from previously adopted

plans and strategies, Council has agreed that priority will

be given to the following broad areas:

Council values

Council wants the community to continue to have

reason to be proud of the city and will do this

through:

• Transparency

• Efficiency and effectiveness

• Inclusion and consultation

• Clear, decisive and consistent planning

• Respect for community priorities and needs

Council Plan 2013-2017: 2016-2017 Update • 9
---
Councillors

Lockwood Ward

Localities include: Big Hill, Golden Gully, Golden Square,

Harcourt North, Kangaroo Flat, Leichardt, Lockwood,

Lockwood South, Maiden Gully, Mandurang, Mandurang

South, Marong, Myers Flat, Quarry Hill, Ravenswood, Sailors

Gully, Sedgwick, Shelbourne, Spring Gully, West Bendigo,

Wilsons Hill.

● Raywood

● Neilborough

Whipstick Ward

Elmore ●

Cr Rod Fyffe – Mayor 2015-2016

Phone: 5443 7673

Mobile: 0419 874 015

r.fyffe@bendigocouncillors.org.au

Cr Barry Lyons

Phone: 5434 6215

Mobile: 0429 292 084

b.lyons@bendigocouncillors.org.au

Lockwood ●

● Sebastian

Myers Flat ●

Marong

● Maiden

Gully ●

Golden Square●

●Eaglehawk

Lockwood Ward

●

Kangaroo

Flat

● Huntly

● Epsom

● Flora Hill

● Strathfieldsaye

● Mandurang

Goornong ●

● Axedale

Bendigo

Eppalock Ward

Costerfield ●

Cr Elise Chapman

Phone: 5434 6193

Mobile: 0418 330 289

e.chapman@bendigocouncillors.org.au

Ravenswood ●

● Mia Mia

● Heathcote

● Redesdale

Whipstick Ward

Localities include: Ascot, Avonmore, Bagshot, Bagshot

North, Barnadown, Bendigo, California Gully, Drummartin,

Eaglehawk, Eaglehawk North, East Bendigo, Elmore, Epsom,

Fosterville, Goornong, Hunter, Huntly, North Ironbark,

Jackass Flat, Kamarooka, Long Gully, Neilborough, North

Bendigo, Raywood, Sebastian, Wellsford, Whipstick, White

Hills, Woodvale.

Cr Peter Cox

Phone: 5434 6189

Mobile: 0427 318 490

p.cox@bendigocouncillors.org.au

Eppalock Ward

Localities include: Argyle, Axe Creek, Axedale, Bendigo,

Costerfield, Derrinal, East Bendigo, Emu Creek, Eppalock,

Flora Hill, Heathcote, Junortoun, Kennington, Kimbolton,

Knowsley, Ladys Pass, Longlea, Lyal, Mia Mia, Mount

Camel, Myrtle Creek, Redcastle, Redesdale, Strathdale,

Strathfieldsaye, Tooleen.

Cr Rod Campbell

Phone: 5434 6203

Mobile: 0427 514 429

r.campbell@bendigocouncillors.org.au

Cr Lisa Ruffell

Phone: 5434 6206

Mobile: 0429 946 171

l.ruffell@bendigocouncillors.org.au

Cr Mark Weragoda

Phone: 5434 6192

Mobile: 0400 363 586

m.weragoda@bendigocouncillors.org.au

Cr James Williams

Phone: 5434 6208

Mobile: 0427 211 677

j.williams@bendigocouncillors.org.au

Cr Helen Leach

Phone: 5434 6190

Mobile: 0419 549 574

h.leach@bendigocouncillors.org.au

10
---
Senior Leadership Team

Craig Niemann

Chief Executive Officer

Bachelor of Business (Local Govt), Master of Business

Administration.

Craig joined the City of Greater Bendigo in October 2005

and was appointed Chief Executive Officer in December

2007.

Craig has more than 30 years of experience working in

Local Government including roles at the former Borough

of Eaglehawk and the Shire of Loddon. Prior to joining the

City of Greater Bendigo, Craig was the CEO at the Shire of

Loddon from 1997 to 2005.

Kerryn Ellis

Director Organisation Support

Bachelor of Arts, Master of Commerce, Graduate Diploma of

Public Policy and Management

Kerryn has 18 years' experience in local government. She

is a passionate local government leader who understands

the changing environment and external pressures currently

facing the sector.

Prue Mansfield

Director Planning and Development

Diploma of Occupational Therapy, Graduate Diploma of

Organisation Behaviour.

Prue has extensive executive experience in social planning,

economic development and land use planning at both the

local and regional level.

Director Community Wellbeing - currently vacant

Director City Futures - currently vacant

Director Presentation and Assets - currently vacant

Council Plan 2013-2017: 2016-2017 Update • 11
---
About the Council Plan

The Council Plan is one of the most important

documents the Council produces. It documents

the vision, values, major directions and priorities

Council has set for their four-year term and

beyond, and sets out the indicators by which

progress is measured.

Council must prepare a new Council Plan at

the commencement of its term and review it

annually.

The strategic objectives are set out under five

broad themes that make explicit to readers and

users of the Council Plan the priorities that will

enable the Council to achieve its vision over

time. Priority actions are presented for each

theme for the 2016-2017 year.

A range of information is used to assist with

planning and decision-making about what new

and continuing activities are important and what

can be accommodated in the available budget.

Each potential new action must be considered

with reference to the agreed liveability priorities

and directions and budget availability. The

budget limitations imposed by the State

Government rate-capping legislation have

significantly reduced the opportunities for

budget flexibility.

Advice to Council comes from four sources:

1. Federal and State Government data and related policy

priorities including regional growth strategies. This

year the State Government has introduced a policy of

'rate capping' where the maximum rate increase that

a Council can adopt is capped in line with the CPI

2. Current and previous Council priorities and decisions

including adopted plans and strategies

3. Local evidence and community engagement

feedback, including the benchmarks and detailed

analysis of local disparities reflected in the liveability

indicators

4. Professional advice from Council staff including the

use of agreed frameworks to guide objective decisionmaking

Community input into the Council Plan

Community engagement is playing an increasingly

important part in the development of a range of new

regional and City strategies and plans, including the

Council Plan.

Community information has informed decision-making

about the key directions and the liveability indicators and

the actions that have been prioritised for the year.

A broad range of engagement opportunities were

provided in order to gather diverse community input into

the draft plan and meet best practice guidelines.

Written submissions on the draft of the plan are invited to

provide an opportunity for formal feedback and to meet

legislated requirements.

The diagram (next page) illustrates the relationship

between the Council Plan and other major City

documents and the role of community engagement in

informing the development of these documents.

12
---
Integrated Corporate Planning Framework

City of Greater Bendigo Performance Framework

ENGAGEMENT ACTION PLANNING RESOURCE PLANNING REPORTING

Community Plans

- Greater Bendigo

2036

Community

Engagement

Framework

- Small Town and

Neighbourhood

Plans

1. Deliberate

consultation activities

2. Communications

and media

Council Plan

Long term financial

and workforce plan

(strategic resource

plan)

Annual Report to the

community

3. Customer service

requests

4. Small towns

5. Individual contacts

with staff/Councillors

City strategies

and plans

Report to Councillors

on achievements in

strategies

Council Plan

annual actions

Council Budget

including annual

capital expenditure

Report to Councillors

on progress against

annual actions and

Budget

Note: lighter shades

are for 'internal only'

documents.

Unit plans

Unit Budget

Progress report to

Director

Individual

performance and

development plan

Progress report to

supervisor

Council's Performance Framework is underpinned by Federal, State and regional strategic plans, policies and legislation.

Council Plan 2013-2017: 2016-2017 Update • 13
---
Theme 1:

Leadership and good governance

Strategic objectives

1. Council demonstrates leadership in its decisions

to meet future needs and challenges

2. Long-term planning and prudent financial

management ensure financial sustainability

3. Lobbying and advocacy about agreed priorities

place Greater Bendigo at the forefront of policy

and funding considerations

4. Community members are supported to take an

active part in democratic engagement

5. Continuous improvement methods are used to

ensure excellence in service delivery

6. Long-term planning and staff capacity building

help to develop a resilient organisation

Challenges and opportunities

• Council has a strategic leadership role in setting

priorities and making decisions that will enhance the

wellbeing of our communities and enable effective

planning for the future

• We use a range of valid evidence to inform decisionmaking

• Lobbying and advocacy remain important to ensure

we retain our regional competitiveness and take

advantage of opportunities for future development and

sustainability of the region

• People increasingly want to take an active part in

consultation about each phase of the development of

new Council initiatives, strategies and master plans

• Community engagement opportunities need to keep

pace with changing use of technology

• An engaged community is a strength that enables

significant partnerships and service delivery

opportunities to counter government funding shortfalls

• State Government and community have high

expectations with regards to reporting on performance

and audit outcomes, especially with regards to the

long term impact of strategies on people's lives and

wellbeing

• Financial responsibility is heightened within the current

Federal and State Government policy environment

where costs are passed on to Local Government

in the forms of reduced grants and fewer grants for

major projects in the context of reduced Council

opportunities to raise revenue through rates

• Implementation and administration of newly introduced

legislation, such as the Fire Services Property Levy,

impacts on the work and resources of the Council

• The immediate and long-term impacts of the ratecapping

legislation imposed by the State Government

are unclear

• Additional responsibilities such as levee banks and

Crown Land being passed on to Local Government,

and State Government imposing greater compliance

and the reporting requirements have a significant

financial impact

• The potential financial liability associated with the

Superannuation Defined Benefits shortfall remains

unresolved and unclear

• Detailed workforce planning and development is

undertaken to ensure Council has the right number

of people in place with the right profile of skills able to

deliver the right outcomes, all the time

• Organisations such as the City (and other Councils)

face challenges related to the age of the workforce,

skill and talent shortages in some areas, and different

generational motivators corresponding to attraction

and retention issues

14
---
1.3

Contribute to policy and strategy

development being led by

government and other agencies

1.3.1 Review the impact of rate capping on the

City's long term financial sustainability and

community aspirations for services and

facilities and use this to inform future advocacy

activities to the State Government for the best

outcome for our community

1.3.2 Respond to any discussion papers, draft

Bills and proposed changes to the Local

Government Act 1989 within required

deadlines

Strategies and

2016-2017 actions

1.1

Good governance principles are used

to guide strategic decision-making

1.1.1 Provide high-level strategic advice to

Council to enable it to meet its legislative

responsibilities

1.1.2 Meet Local Government legislative

requirements and support Councillors in their

role using Good Governance principles

1.1.3 Complete planning for the 2016 Council

elections and the induction and training of

Councillors following the election

1.2 Maintain strong and positive

relationships with the Federal and

State Government and relevant

departments and agencies and advocate

to ensure that the required infrastructure,

key projects, policies and services

are in place as our community grows

1.2.1 Take a lead role in the Regional Partnership

Forum and Regional Cities Victoria to benefit

the region and the City, including regional

action on water security

1.2.2 Meet regularly with relevant Members of

Parliament and advocate for funding for

required infrastructure, key projects and

services that bring improved outcomes for our

growing and liveable municipality

1.4

Continue to improve Council's

communications and engagement

practices to support open and

inclusive decision making and reach

diverse audiences

1.4.1 Implement the Community Engagement

Framework to guide engagement

opportunities, timetables and feedback

throughout strategy and policy development

and service reviews

1.4.2 Provide seamless and consistent information

to the community about Council's policies and

processes

1.4.3 Use more innovative approaches and new

technologies to inform and engage the

community

Council Plan 2013-2017: 2016-2017 Update • 15
---
1.7 The organisation has the right people

who succeed in delivering the best

outcomes

1.7.1 Implement a Performance Management

Framework, Change Management Plan and

an information technology software system

which is capable of facilitating performance

management for all levels of the organisation

1.7.2 Implement the recommendations arising from

the Safety Culture Review to continue to

strengthen the organisation's commitment to

staff safety

1.5

Greater Bendigo residents receive

responsive, accessible and inclusive

customer service

1.5.1 Implement actions set out in the Information

Technology Digital Strategy to meet increased

and changing service requirements

1.5.2 Continue to implement the Customer Service

Charter and improve satisfaction with

customer service and responsiveness

1.8 Sustain the long term financial

viability of the Council

1.8.1 Further develop the 10-year Long Term

Financial Plan incorporating the ongoing

changes to Victorian Legislation and Council

decisions with regards rate-capping

1.8.2 Thoroughly evaluate the potential longterm

impacts of any shift of responsibility

or reduction in funding from the State

Government, before agreeing to continue to

fund service delivery, fund new services or

take over responsibility for assets

1.8.3 Advocate to maintain the long-term local

government position that the management

of groundwater and levee banks are a State

Government responsibility

1.6

Programs, projects and services are

guided by best practice principles

and delivered to respond to

community needs

1.6.1 Develop a Project Management Office

Centre of Excellence (methods, processes,

tools, templates etc.) in line with Project

Management Office best practice principles

1.6.2 Undertake a program of service reviews to

ensure services provided by the organisation

are efficient and matched to community

priorities

1.6.3 Implement continuous improvement strategies

in the Works area in accordance with best

practice guidelines

1.6.4 Deliver the budgeted works program, both

capital and maintenance and enhance

planning for the future with relevant skills

development

1.9 Enhance the capability and capacity

of the City to meet its obligations in

the management of emergencies

1.9.1 Develop community engagement strategies

with a focus on emergency management

and the development of a stronger and more

resilient community

1.9.2 Ensure the emergency management

arrangements for the City are aligned with

Emergency Management Victoria policies

and procedures, and implement the Cluster

Municipal Emergency Management Plan in

partnership with surrounding municipalities

16
---
Theme 2

Planning for growth

Strategic objectives

Challenges and opportunities

• Greater Bendigo is the largest Council in the northern

half of Victoria and provides many services for this

region

• A significant and rapid increase in population will

provide both opportunities and challenges

• We are challenged to ensure sufficient growth

and diversity in housing availability, education and

employment opportunities while retaining our liveability

and attraction for people of all age groups

• A significant amount of public investment guided by

the Bendigo CBD Plan has ensured the vibrancy and

attraction of the city to businesses, residents and

visitors

1. Greater Bendigo plans for the needs of our

growing population through the preparation

of long-term strategies and the development

of 'major new assets' and supporting

infrastructure

2. Greater Bendigo residents, businesses and

communities are connected with accessible

transport options

3. Planning ensures residents have access to

diverse, affordable and sustainable housing

choices

4. Effective telecommunication options connect

businesses and community members

• Access to high-speed internet services is key to

business effectiveness and competitiveness

• Future planning and investment in major

transformative projects will serve the entire region as it

grows and is now expected by residents

• Major financial decisions may be warranted to

accommodate the future growth of the city and

maintain its appeal as a place to live, work and visit

Council Plan 2013-2017: 2016-2017 Update • 17
---
Strategies and

2016-2017 actions

2.1 To maintain the unique character of

Greater Bendigo, Council delivers

major projects that accommodate the

growing population and diversifies

the economy

2.1.1 Complete the Greater Bendigo Indoor Aquatic

and Wellbeing Centre in Kangaroo Flat

2.1.2 Continue development of the Bendigo Botanic

Gardens 'Garden for the Future' project,

including completion of the Visitor Hub design

2.1.3 Complete the expansion and upgrade of the

Bendigo Airport Stage Two, and continue

planning and attraction of funding to progress

Stage Three, the Business Park

2.1.4 Soldiers' Memorial Hall Revitalisation

project, Pall Mall: Advocate for State and

Federal funding support so construction can

commence

2.1.5 Complete the design for the Strathfieldsaye

Community Hub

2.1.6 Complete the expansion of the Bendigo

Stadium

2.1.7 Progress reconstruction works at the Bendigo

Tennis Centre in partnership with the Bendigo

Tennis Association and continue advocacy for

additional external funding

2.1.8 Promote opportunities for and the benefits of

CBD living in Bendigo

2.1.9 Work with Marist College Bendigo to deliver a

range of facilities to be shared by the school

and local community

2.1.10 Continue implementation of the Rosalind Park

Master Plan by undertaking works for the

redevelopment of the former Municipal Baths

2.1.11 Progress implementation of the Barrack

Reserve Master Plan by completing

construction of the stadium, including

undertaking landscape planning for the

swimming pool solar extension project

2.1.12 Continue planning and attraction of funding

to progress the Marong Business Park in

conjunction with the State Government

2.2 Council manages the planning and

development of the City through the

preparation of major Strategies and

effective amendments to the planning

scheme

2.2.1 Complete and implement the following

major strategies through planning scheme

amendments:

- Commercial Land and Activity Centre

Strategy

- Maiden Gully Precinct Structure Plan,

including a Development Contributions Plan

- Intensive Animal Industries

- Housing Strategy

- Connecting Greater Bendigo: Integrated

Transport and Land Use Strategy

2.2.2 Commence and significantly progress the La

Trobe University Precinct Plan and Structure

Plans for the Heathcote, Goornong, Redesdale

and Marong townships

2.2.3 Complete Urban Design Frameworks for

Maiden Gully and Strathfieldsaye main streets

2.2.4 Complete the St John of God Hospital

Precinct Master Plan and the Eaglehawk

Railway Station Precinct Master Plan in

collaboration with relevant partners

18
---
2.3 Sustainable transport options are

supported in the Connecting Greater

Bendigo: Integrated Transport and

Land Use Strategy (ITLUS)

2.3.1 Complete further works to consolidate regional

cycle and pedestrian linkages, including

design and construction of improved shared

networks to access commercial, recreational

and community services

2.3.2 Complete investigations into the relative

merits of completing the Bendigo Creek

Linear Cycle Path through the Bendigo city

centre via Hargreaves Street and/or Bendigo

Creek and commence implementation of the

recommendations

2.3.3 Implement the joint VicRoads and Council

SmartRoads framework and principles for

urban Bendigo

2.3.4 Increase footpath maintenance in accordance

with the Road Management Plan

2.3.5 Complete 'transport hub and urban

renewal implementation plans' for Bendigo,

Eaglehawk, Epsom and Kangaroo Flat railway

stations and surrounding precincts

2.3.6 Continue to implement Connecting

Greater Bendigo: Integrated Transport

and Land Use Strategy ( ITLUS ) through

a program of community engagement,

targeted infrastructure and recommended

developments, with a particular focus on

healthy active travel and travel behaviour

change

2.3.7 Work with VicRoads to ensure the outcome

for improvements to Napier Street, White

Hills is consistent with Connecting Greater

Bendigo- the Integrated Transport and Land

Use Strategy (ITLUS)

2.3.8 Complete the Greater Bendigo Freight Study

in collaboration with the State Government

2.4 Increase access to IT communications

options for residents and visitors

2.4.1 Prepare a Greater Bendigo Digital Strategy to

take advantage of NBN

2.5 Housing options provide broader

choice in order to meet current and

future community expectations and

needs

2.5.1 Complete a Housing Strategy that implements

the Greater Residential Development Strategy

and provides a framework to meet the needs

of 'housing for all' with respect to diversity and

accessibility

Council Plan 2013-2017: 2016-2017 Update • 19
---
Theme 3:

Presentation and vibrancy

Strategic objectives

1. High quality public space infrastructure,

programs and services are planned and

delivered that support Council's vision for

Greater Bendigo to be Australia's most

liveable regional city

2. Diverse sporting, recreational and artistic

experiences are offered for residents and

visitors

3. Activities, groups and networks enable

people to be connected and feel welcome

4. Greater Bendigo is a child friendly city

where people report improved health and

wellbeing and they can feel safe

5. Greater Bendigo is a drawcard for visitors

Challenges and opportunities

• Residents and visitors value the attractive and wellmaintained

open spaces and streetscapes

• A range of good quality, accessible sports and

recreational facilities will continue to attract visitors

and will support residents to be healthy and active

• Council is reviewing its role in direct service provision

in a number of areas including children's services and

aged care

• A higher than average proportion of young families

and an increasing number of older residents increases

the complexity of service planning

• Fair access to services is a guiding principle

• Supporting opportunities for community members to

connect with each other and celebrating diversity is

fundamental to community wellbeing

• Council has an important role in planning and

delivering strategies that will improve the health and

wellbeing of our population over time

• Being prepared to manage risk and emergencies is

important

20
---
Strategies and

2016-2017 actions

3.2 Residents and visitors are able to

access good quality sports and

recreational leisure facilities that

are fit for purpose and enable them

to celebrate their active, artistic,

cultural, sporting and social lives

3.2.1 In partnership with relevant organisations,

encourage and support artistic and creative

endeavours and increase community

participation in these

3.2.2 Significantly advance construction of the

Eaglehawk Regional Play Space at Canterbury

Park and continue the program of play space

upgrades across the municipality

3.2.3 Ensure high quality presentation and

cleanliness of streets and public spaces

3.2.4 Work with the Bendigo Chinese Association

to facilitate a sustainable future for the Golden

Dragon Museum by finalising the business

redevelopment plans and implementing priority

actions, including the design, funding and

construction timelines for the Chinese gateway

project

3.1 Greater Bendigo has attractive and

accessible parks, public places and

streetscapes that are widely used

and enable people to be healthy and

active

3.1.1 Complete the Greater Bendigo Public Space

Plan in partnership with the Community

Wellbeing and Presentations and Assets

Directorates and commence implementation

3.1.2 Implement community strategies, policies

and projects that support active healthy living,

including continuing to apply the results of the

Active Living Census

3.1.3 Deliver high quality services and upgrades

to parks, natural reserves and streetscapes

that ensure they meet liveability, accessibility

and legislative requirements as our City

grows, including implementing Council's

Tree Management Strategy and upgrading

sportsfields, play spaces and furniture

3.1.4 Continue improvements to irrigation systems

and water management processes in parks

and natural reserves

3.1.5 Support the activation and use of public

spaces in the Bendigo CBD for social

connections and events

3.1.6 Negotiate with La Trobe University to

finalise the long term future for ownership,

management and upgrade of the athletics

track

Council Plan 2013-2017: 2016-2017 Update • 21
---
3.3 Greater Bendigo is a community

that values its heritage, art facilities

and major events, supports arts and

cultural experiences

3.3.1 Foster local artistic talent and increase

participation in the arts in suburban and rural

locations, and explore options for an exhibition

space for local artists at the Bendigo Art

Gallery

3.3.2 Attract, retain and develop major events that

deliver substantial economic, promotional and

social benefits for Greater Bendigo

3.3.3 Continue to offer world class exhibitions at the

Bendigo Art Gallery

3.3.4 Ensure the ongoing profile and diversity of

performing arts and entertainment events

across the municipality

3.3.5 Work closely with Bendigo Heritage Attractions

(Bendigo Trust) to assist, advise and accelerate

both their short and longer term financial

sustainability and business prosperity through

implementation of the Bendigo Tramways

Strategic Plan

3.4 The reputation, profile and attraction

of Greater Bendigo and the region are

further enhanced through effective

promotion

3.4.1 Conserve, interpret and increase activity and

use of important Bendigo venues, including

the Bendigo Town Hall, Ulumbarra Theatre and

The Capital

3.4.2 Deliver on the major recommendations of the

Destination Management Plan as adopted by

the Council, including establishing a regional

tourism website and working with Bendigo

Heritage Attractions

3.4.3 Market the Bendigo region to Australian and

international visitors and local residents as a

vibrant destination for shopping, dining, the

arts, and a range of sporting and recreational

attractions

3.5 People are supported to learn about

and make decisions that enable

them to be connected, safe and the

healthiest they can be

3.5.1 Review the Local Laws that regulate and

control activities in public places, on private

property, streets and roads to protect the

good order and amenity of the municipality

3.5.2 Adopt the updated Domestic Animal

Management Plan (2016-2020) and implement

the first-year actions

3.5.3 Implement agreed priority actions from

the Youth Strategy with a focus on young

people's participation in decision making and

implementing programs that respond to the

priority needs of young people including good

health, drug and alcohol harm prevention and

personal safety

22
---
3.6 Greater Bendigo has inclusive and

equitable communities where people

feel welcome and connected to

others

3.6.1 Promote equitable and inclusive communities

through implementation of the Human

Rights Charter across the organisation and

implementation of the first Reconciliation

Action Plan and Cultural Diversity and

Inclusion Plan

3.6.2 Review policies and procedures for Home

and Community Care Services, in line with the

implementation of the Commonwealth Home

Support (CHSP) and the National Disability

Insurance Scheme (NDIS)

3.6.3 Continue to implement the Community Access

and Inclusion Plan, including establishing and

supporting a Disability Inclusion Reference

Group

3.6.4 Improve disability inclusion in the public arena

by implementing the Inclusive Towns Project,

preparing and promoting opportunities

related to the Information Capacity Building

component of the NDIS and strengthening

collaborations within the disability sector and

between sectors

3.6.5 Undertake further planning and development

of a regional food hub in partnership with key

stakeholders

3.6.6 Working with key partners across the

community, implement early years planning

initiatives identified in the Municipal Early Years

Plan that build on a child friendly city and

create the best future for our children

3.6.7 Work with key partners across the community

to implement initiatives that progress identified

Community Safety Strategy priorities to

promote community health and wellbeing

3.6.8 Develop and implement programs that

support active ageing and respond to our

ageing population, including strengthening

opportunities for seniors to contribute to the

community as a valuable asset

3.6.9 Support children and families from birth to

school age through immunisation programs,

maternal and child health, enhanced maternal

and child health, early learning centres, and

the Off to an Early Start program, which

supports children aged zero to eight years

3.7 Structured community engagement,

community planning and community

development programs to support

our residents and communities,

particularly those who may

experience isolation

3.7.1 Support rural and neighbourhood

communities, including Axedale, Kangaroo

Flat and Woodvale to review and develop their

community plans

3.7.2 Use structured approaches of engagement

and community development to support

communities and community groups to

achieve their desired aims, including priorities

from their community plans

3.7.3 Implement agreed actions from the adopted

Rural Communities Strategy

Council Plan 2013-2017: 2016-2017 Update • 23
---
Theme 4:

Productivity

Strategic objectives

1. Greater Bendigo has a vibrant and diverse

economy that grows jobs and enables good

living standards

2. Bendigo is a centre for innovation and creativity

that helps build economic sustainability

3. Educational diversity and support for lifelong

learning is fostered

Challenges and

opportunities

• The diversity of our economy and innovation in

many sectors are major factors in our economic

sustainability

• Supporting businesses that attract visitors,

residents and workers continues to be a high

priority

• The expected advantages brought about by NBN

access in Greater Bendigo will facilitate further

expansion of knowledge-based employment

opportunities

• The links between the education sectors and

employment opportunities are significant,

especially in relation to young people's

opportunities

• Emerging industries and new technologies provide

significant economic potential and employment

opportunities

• Tourism is a very important aspect of the local

economy; Greater Bendigo must continue to provide

attractions to a diverse range of visitors

24
---
Strategies and

2016-2017 actions

4.3 Invention and innovation is fostered

through a series of targeted activities

and partnerships

4.3.1 Promote Bendigo as a centre for invention

and innovation through the Bendigo Inventor

Awards, Bendigo Industry and Innovation

Initiative and associated innovation programs

4.3.2 Develop programs that facilitate young people

to develop skills that enable employment

readiness through the Community, Opportunity,

Growth Centre at 45 Mundy Street, Bendigo

4.1 Council fosters business and industry

growth

4.1.1 Implement the Economic Development

Strategy with a strong focus on growing jobs

in Small to Medium Business Enterprises

(SME) through "business health" mentoring

and support, high profile events such as

the Small Business Festival, and youth

employment through the Career Horizons

program in partnership with Mt Alexander and

Central Goldfields Shires

4.2 Effective partnerships build and

support increased workforce skills for

young people in particular

4.2.1 Support development of La Trobe University's

Bendigo Art Institute in association with

Bendigo Art Gallery

4.2.2 Foster new industry and business initiatives

through business, agricultural and industry

events and workshops

4.2.3 Support tourism business growth by facilitating

their access to industry research, training

opportunities, recent publicity and cooperative

marketing and networking opportunities

4.4 Stronger and wider links between

students, education and employers

are built through structured

programs, marketing, skills

development and the promotion of

work placements

4.4.1 Support secondary and tertiary education

providers to expand their offerings in identified

local priority employment areas

4.4.2 Use deliberate strategies to foster the active

participation of young people in creative

thinking and research about climate change

strategies for Greater Bendigo

4.4.3 Support the development of the Bendigo-

Kangan TAFE's proposed Centre of Excellence

in health-related vocational training

4.4.4 Use deliberate strategies to foster the active

participation of young people in creative

industries

Council Plan 2013-2017: 2016-2017 Update • 25
---
Theme 5:

Sustainability

Challenges and

opportunities

Strategic objectives

1. The built and natural qualities that make Greater

Bendigo an attractive and appealing place are

valued and conserved

2. Council demonstrates leadership in reducing our

environmental footprint

3. We help to build community resilience for managing

the impacts of climate change

4. Council manages its resources, assets and

infrastructure for the long term

• An increase in extreme weather events and

increasing temperature are already significantly

impacting on Council planning and emergency

preparedness

• Councils are expected to be leaders and role models

in policy aimed at climate adaptation and reducing

resource use

• Reducing waste to landfill has become a very

important priority because of the increasing costs

and environmental obligations associated with waste

disposal

• Keeping our assets and infrastructure in good repair

is an important principle

• Essential infrastructure, footpaths, drainage and

well built and maintained roads are essential for

economic and social purposes

• We will continue to value our unique natural and built

environmental assets

26
---
Strategies and

2016-2017 actions

5.1 Protect and conserve Greater

Bendigo's natural environment and

settings for the future

5.1.1 Implement the City's Invasive Plants and

Animals Strategy

5.1.2 Implement the agreed first year action plan

from the Greater Bendigo Environmental

Sustainability Strategy (2015-2020)

5.3 Essential infrastructure is

constructed, maintained and

renewed to meet the needs of current

and future residents

5.3.1 Deliver building projects approved by Council

5.3.2 Maintain and renew existing Council owned

and managed properties to agreed service

level requirements and statutory regulations

5.3.3 Complete the planning scheme amendment

for the Bendigo Flood Study

5.3.4 Finalise flood records/levels in collaboration

with the Catchment Management Authority as

part of the completion of the Marong Structure

Plan

5.3.5 Implement asset management strategies

including for paths, roads, bridges and

drainage systems

5.3.6 Continue to work with the community to better

utilise and access current community building

assets, more clearly identify user/owner

responsibilities and implement the Surplus

Property Disposal Plan

5.2 The history, unique heritage,

streetscapes and buildings of Greater

Bendigo are conserved, restored,

celebrated and managed wisely for

the long term

5.2.1 Use a range of approaches to support the

conservation and restoration of heritage

buildings

5.2.2 Conserve Greater Bendigo heritage by

commencing an annual streetscape

photographic record

5.2.3 Implement the recommendations of the

Bendigo City Centre Citations Study that

documents the heritage significance of key

buildings in central Bendigo

5.2.4 Provide visitor materials and experiences

that connect people with Bendigo's history,

heritage and buildings

5.2.5 Complete, adopt and commence

implementation of the Heritage Strategy

5.2.6 Develop a strategic direction for a long term

management plan for Bendigo's historical

artefacts and the conservation of the

Bendigo Historical Society collection, which

incorporates interim steps as required

Council Plan 2013-2017: 2016-2017 Update • 27
---
5.4 Enable community members to

reduce their environmental footprint

by using resources, materials and

assets more wisely

5.4.1 Build knowledge and capacity to respond to

the State Government developing policy about

localised solutions to water capture, use and

disposal

5.4.2 Develop a 'Greening Bendigo' strategy in

accordance with the State Government

initiative to capture and use storm water

from public spaces on-site to increase their

attractiveness

5.4.3 Promote water security through Council-led

action on local education and conservation

5.4.4 Conduct deliberate activities designed to

increase social commitment to reducing the

impacts of climate change and set a liveability

target to document progress

5.4.5 Renew the Ecologically Sustainable Design

Policy, Guidelines and Checklist

5.5 The level of waste to landfill is

reduced and residual waste is

managed responsibly to deliver the

adopted waste management targets

5.5.1 Implement the Waste and Resource

Management Strategy including implementing

the recommendations of the trial kerbside

organics collection program, community

education about waste avoidance and

reducing contamination in recycled materials

5.5.2 Progress the development of a resource

recovery and transfer facility to replace the

Eaglehawk Landfill, subject to external funding

support

5.6 Continued effort is made to minimise

Council's energy use and greenhouse

gas emissions

5.6.1 Implement the data integrity and collection

recommendations from the 2015 Sustainable

Procurement Gap Analysis

5.6.2 Reduce the City's corporate greenhouse gas

emissions through corporate initiatives

28
---
City of Greater Bendigo plans and strategies

Plans under development and/or

review

• Cultural Diversity and Inclusion Plan

• Domestic Animals Management Plan

• Greater Bendigo Public Space Plan

• Housing Strategy

• Municipal Emergency Management Plan

• Rural Communities Strategy

• Reconciliation Action Plan

Plans in current use, with specific

actions being implemented

• A Plan for Good Communications 2013-2017

• Audit Committee Charter (2012)

• Community Access and Inclusion Plan (2015)

• Community Engagement Strategy (updated 2015)

• Commercial Land and Activity Centre Strategy

(2015)

• Barrack Reserve Community Precinct Master Plan

- Heathcote (2009)

• Bendigo Airport Strategic Plan and Master Plan

(2009)

• Bendigo Botanic Gardens, White Hills Master Plan

(2010)

• Bendigo CBD Structure Plan (2005)

• Big Hill and Mandurang Valley Landscape Master

Plan (2013)

• Domestic Wastewater Management Strategy

(2014-2015)

• Dower Park Master Plan (2015)

• Eaglehawk Open Space Precinct Master Plan

- Canterbury Gardens (2010)

• Eaglehawk Structure Plan (2013)

• Economic Development Strategy (2014)

• Epsom / Huntly Recreation Reserve Master Plan

• Gateway Park Master Plan (2011)

• Greater Bendigo Aquatic Facilities Strategy (2010)

• Greater Bendigo Environmental Sustainability

Strategy (2016)

• Greater Bendigo Residential Strategy (2014)

• Greater Bendigo Walking and Cycling Strategy

(2006)

• Hospital Precinct Structure Plan (2014)

• Human Rights Charter (2015)

• Independent Review of the City of Greater Bendigo

(2013)

• Intensive Animal Industries Strategy (2014)

• Kennington Recreation Reserve Master Plan

(Bendigo South) (2009)

• Lake Weeroona Precinct Master Plan (2011)

• Maiden Gully Structure Plan (2013)

• Municipal Early Years Plan (2015-2018)

• Municipal Public Health and Wellbeing Plan

(2013-2017)

• Play Space Strategy (2009-2014)

• Road Management Plan (2014)

• Rosalind Park Master Plan (2014)

• Spring Gully Corridor Master Plan (2015)

• Waste and Resource Management Strategy (2014)

• Youth Development Strategy (2013-2016)

Plans that are referred to for policy

direction or strategic intent

• Axedale Township Structure Plan (2008)

• Bendigo CBD Parking Strategy (2008

• Bendigo Industrial Land Strategy (2002)

• Connecting Greater Bendigo: Integrated Transport

and Land Use Strategy (2015)

• Future Uses for Former Mine Land in Bendigo

Strategy (2007)

• Greater Bendigo 2036 Community Plan (2011)

• Greater Bendigo Gaming Policy Framework (2007)

• Huntly Township Plan (2009)

• Invasive Plants and Animals Strategy (2012-2015)

• Kangaroo Flat South Regional Centre Structure Plan

• Kennington Recreation Reserve Master Plan (2011)

• Marong Local Township Plan (2011)

• Northern Corridor and Huntly Local Structure Plan

(2005)

• Open Space Strategy (2005)

• Positive Ageing Strategy (2011-2014)

• Rural Areas Strategy (2009)

• Small Town and Neighbourhood Community Plans

(2007-2014 ongoing)

• Strathdale Commercial Precinct Structure Plan (2010)

• Strathfieldsaye Township Plan (2009)

• Violence Prevention Plan (2012)

Note: Many of our plans and strategies relate to more

than one Council Plan goal area.

Council Plan 2013-2017: 2016-2017 Update • 29
---
Local Government Performance

Reporting Framework indicators

Local Government Victoria has introduced the

Performance Reporting Framework (LGPRF)

which requires all councils to report on a number

of items relating to their operations and activities.

The framework enables more efficient auditing and

comparisons between all councils on a standard range

of activities. The Victorian Auditor General's Office

(VAGO) audits the following items each year as part of

the Annual Report obligations of Council:

Service performanceindicators

• Satisfaction with council decisions

• Council planning decisions upheld at VCAT

• Satisfaction with sealed local roads

• Active library members

• Kerbside collection waste diverted from landfill

• Utilisation of aquatic facilities

• Successful animal management prosecutions

• Critical and major non-compliance notifications

• Participation in Home and Community Care (HACC)

service

• Participation in HACC service – by CALD people

• Participation in Maternal and Child Health (MCH)

services

• Participation in MCH services by Aboriginal children

Financial performance indicators

• Average residential rate per residential property

assessment

• Expenses per property assessment

• Resignations and terminations compared to average

staff

• Current assets compared to current liabilities

• Unrestricted cash compared to current liabilities

• Asset renewal compared to depreciation

• Loans and borrowings compared to rates

• Loans and borrowings repayments compared to

rates

• Non-current liabilities compared to own source

revenue

• Adjusted underlying surplus (or deficit)

• Rates compared to adjusted underlying revenue

• Rates compared to property values

• Expenses per head of municipal population

• Infrastructure per head of municipal population

• Population density per length of road

• Own source revenue per head of municipal

population

• Recurrent grants per head of municipal population

• Relative Socio-Economic Disadvantage

Reporting against a range of other LGPRF indicators

is included in the Report of Operations in the Annual

Report.

The City's liveability indicators are also used as the

strategic indicators for reporting in the Annual Report

each year.

Victorian Local Government

Community Satisfaction Survey items

Each year the State Government commissions

research to gauge local community members'

satisfaction with their local Council. A number of the

items are compulsory and others are selected by the

individual Council. The report compares each Council

with the State-wide average and with other Councils of

comparable size, and emphasises particular areas for

improvement. The results for each year, benchmarked

against prior years, are included in the Annual Report.

Community Satisfaction Survey items relating to:

• Overall satisfaction with Council performance

• Community consultation and engagement

• Lobbying on behalf of the community

• Decisions made in the interests of the community

• Condition of sealed local roads

• Whether respondents have had contact with Council

• Rating of Council for customer service

• Overall view of Council direction

30
---
Financial statements

Comprehensive Income Statement

For the four years ending 30 June 2020

Forecast

Actual

Budget

Strategic Resource Plan

Projections

2015/16 2016/17 2017/18 2018/19 2019/20

$'000 $'000 $'000 $'000 $'000

Income

Rates and charges 99,760 106,616 109,668 112,815 116,062

Statutory fees and fines 3,972 4,103 4,266 4,437 4,614

User charges, fees and fines 23,216 24,223 25,192 26,198 27,246

Grants - operating 21,563 24,207 24,484 25,192 25,621

Grants - capital 21,639 26,367 6,968 5,812 5,911

Contributions - monetary 12,580 11,613 4,065 4,227 4,397

Contributions - non-monetary 11,391 11,846 11,620 11,736 11,500

Interest on investments 1,496 1,471 1,600 1,619 1,642

Total income 195,617 210,446 187,863 192,036 196,993

Expenses

Employee costs 57,727 60,805 64,088 67,037 70,120

Contracts payments, materials and services 69,039 59,689 61,668 63,413 65,206

Bad and doubtful debts 131 130 126 130 134

Depreciation and amortisation 29,408 30,919 32,465 34,088 35,793

Borrowing costs 1,715 1,891 2,374 2,318 2,257

Net loss on disposal of property, infrastructure,

3,000 3,000 3,000 3,000 3,000

plant and equipment

Total expenses 161,020 156,434 163,721 169,986 176,510

Surplus/(deficit) for the year 34,597 54,012 24,142 22,050 20,483

Other comprehensive income

Items that will not be reclassified to surplus

or deficit in future periods:

Net asset revaluation 51,908 27,992 52,439 29,204 56,612

Share of other comprehensive income of

6 (184) 12 73 47

associates

Total comprehensive result 86,511 81,820 76,593 51,327 77,142

Council Plan 2013-2017: 2016-2017 Update • 31
---
Financial statements

Balance Sheet

For the four years ending 30 June 2020

Forecast

Actual

Budget

Strategic Resource Plan

Projections

2015/16 2016/17 2017/18 2018/19 2019/20

$'000 $'000 $'000 $'000 $'000

Assets

Current assets

Cash and cash equivalents 55,854 41,389 44,194 46,136 47,189

Trade and other receivables 9,676 9,900 10,244 10,483 10,767

Inventories 179 185 188 190 195

Other assets 1,500 1,520 1,542 1,558 1,570

Total current assets 67,209 52,994 56,168 58,367 59,721

Non-current assets

Trade and other receivables 50 80 100 110 115

Investments in associates 4,036 3,852 3,864 3,937 3,984

Property, infrastructure, plant and equipment 1,394,910 1,507,712 1,581,518 1,630,580 1,706,312

Forestry Plantations 56 56 80 80 80

Intangible Assets 173 173 229 241 246

Total non-current assets 1,399,225 1,511,873 1,585,791 1,634,948 1,710,737

Total assets 1,466,434 1,564,867 1,641,959 1,693,315 1,770,458

Liabilities

Current liabilities

Trade and other payables 13,500 13,532 14,093 14,624 15,172

Trust funds and deposits 2,848 2,936 3,024 3,115 3,208

Provisions 14,857 15,466 15,492 15,520 15,548

Interest-bearing loans and borrowings 2,164 3,366 3,751 3,832 4,266

Total current liabilities 33,369 35,300 36,360 37,091 38,194

Non-current liabilities

Provisions 8,968 9,739 9,977 10,221 10,473

Interest-bearing loans and borrowings 33,284 47,011 46,224 45,351 44,044

Total non-current liabilities 42,252 56,750 56,201 55,572 54,517

Total liabilities 75,621 92,050 92,561 92,663 92,711

Net assets 1,390,813 1,472,817 1,549,398 1,600,652 1,677,747

Equity

Accumulated surplus 609,864 669,954 694,382 719,982 738,965

Asset revaluation reserve 753,987 781,979 834,418 863,622 920,234

Other reserves 26,962 20,884 20,598 17,048 18,548

Total equity 1,390,813 1,472,817 1,549,398 1,600,652 1,677,747

32
---
Statement of Changes in Equity

For the four years ending 30 June 2020

Total

Accumulated

Surplus

Revaluation

Reserve

Other

Reserves

$'000 $'000 $'000 $'000

2016/17

Balance at beginning of the financial year 1,390,813 609,864 753,987 26,962

Surplus/(deficit) for the year 54,012 54,012 - -

Net asset revaluation 27,992 - 27,992 -

Transfer to other reserves - (4,306) - 4,306

Transfer from other reserves - 10,384 - (10,384)

Balance at end of the financial year 1,472,817 669,954 781,979 20,884

2017/18

Balance at beginning of the financial year 1,472,817 669,954 781,979 20,884

Surplus/(deficit) for the year 24,142 24,142 - -

Net asset revaluation increment/(decrement) 52,439 - 52,439 -

Transfer to other reserves - (2,750) - 2,750

Transfer from other reserves - 3,036 - (3,036)

Balance at end of the financial year 1,549,398 694,382 834,418 20,598

2018/19

Balance at beginning of the financial year 1,549,398 694,382 834,418 20,598

Surplus/(deficit) for the year 22,050 22,050 - -

Net asset revaluation increment/(decrement) 29,204 - 29,204 -

Transfer to other reserves - (3,350) - 3,350

Transfer from other reserves - 6,900 - (6,900)

Balance at end of the financial year 1,600,652 719,982 863,622 17,048

2019/20

Balance at beginning of the financial year 1,600,652 719,982 863,622 17,048

Surplus/(deficit) for the year 20,483 20,483 - -

Net asset revaluation increment/(decrement) 56,612 - 56,612 -

Transfer to other reserves - - - -

Transfer from other reserves - (1,500) - 1,500

Balance at end of the financial year 1,677,747 738,965 920,234 18,548

Council Plan 2013-2017: 2016-2017 Update • 33
---
Financial statements

Statement of Cash Flows

For the four years ending 30 June 2020

Forecast

Actual

Budget Strategic Resource Plan

Projections

2015/16 2016/17 2017/18 2018/19 2019/20

$'000 $'000 $'000 $'000 $'000

Inflows Inflows Inflows Inflows Inflows

(Outflows) (Outflows) (Outflows) (Outflows) (Outflows)

Cash flows from operating activities

Rates and charges 99,710 106,489 109,358 112,572 115,789

Statutory fees and fines 3,972 4,103 4,254 4,427 4,603

User fees, charges and fines 23,166 24,096 25,120 26,142 27,183

Grants - operating 21,563 24,207 24,408 25,139 25,561

Grants - capital 21,639 26,367 6,946 5,800 5,897

Contributions - monetary 12,580 11,613 4,053 4,218 4,386

Interest received 1,496 1,471 1,481 1,497 1,516

Trust funds and deposits taken 41 88 88 91 93

Employee costs (57,014) (60,225) (63,817) (66,764) (69,836)

Materials and services (81,799) (58,829) (61,152) (62,877) (64,662)

Net cash inflow/(outflow) from operating

activities

45,354 79,380 50,739 50,245 50,530

Cash flows from investing activities

Payments for property, infrastructure, plant and (55,739) (108,552) (46,156) (46,191) (47,345)

equipment

Proceeds from sale of property, infrastructure,

1,449 1,669 1,000 1,000 1,000

plant and equipment

Net cash inflow/(outflow) investing activities (54,290) (106,883) (45,156) (45,191) (46,345)

Cash flows from financing activities

Finance costs (1,715) (1,891) (2,375) (2,321) (2,259)

Proceeds from borrowings 5,000 17,000 3,000 3,000 3,000

Repayment of borrowings (1,402) (2,071) (3,403) (3,791) (3,873)

Net cash inflow/(outflow) from financing

1,883 13,038 (2,778) (3,112) (3,132)

activities

Net increase/(decrease) in cash & cash

(7,053) (14,465) 2,805 1,942 1,053

equivalents

Cash and cash equivalents at the beginning of 62,907 55,854 41,389 44,194 46,136

the financial year

Cash and cash equivalents at the end of the

financial year

55,854 41,389 44,194 46,136 47,189

34
---
Statement of Capital Works

For the four years ending 30 June 2020

Forecast

Actual

Budget

Strategic Resource Plan

Projections

2015/16 2016/17 2017/18 2018/19 2019/20

$'000 $'000 $'000 $'000 $'000

Property

Land 600 500 - - -

Land improvements 3,586 195 100 100 100

Total land 4,186 695 100 100 100

Buildings 15,258 51,263 16,131 16,149 16,727

Heritage buildings 401 1,128 541 542 555

Total buildings 15,659 52,391 16,672 16,691 17,282

Total property 19,845 53,086 16,772 16,791 17,382

Plant and equipment

Plant, machinery and equipment 4,065 4,436 2,129 2,131 2,184

Fixtures, fittings and furniture 40 40 40 40 40

Computers and telecommunications 511 565 500 500 500

Total plant and equipment 4,616 5,041 2,669 2,671 2,724

Infrastructure

Roads 14,171 14,943 13,172 13,176 13,358

Bridges 668 4,172 2,002 2,004 2,054

Footpaths/shared paths 2,208 2,517 2,208 2,209 2,239

Drainage 4,022 3,941 3,892 3,893 3,940

Recreational, leisure and community facilities 1,408 1,670 1,766 1,766 1,785

Waste management 1,309 140 - - -

Parks, open space and streetscapes 3,614 4,539 3,674 3,680 3,864

Airport 3,878 9,206 - - -

Total infrastructure 31,278 41,128 26,715 26,728 27,240

Total capital works expenditure 55,739 99,255 46,156 46,191 47,345

Represented by:

New asset expenditure 20,509 50,961 4,158 2,563 1,773

Asset renewal expenditure 22,878 27,794 32,465 34,088 35,793

Asset expansion expenditure - 12,807 5,955 5,960 6,109

Asset upgrade expenditure 12,352 7,693 3,577 3,580 3,670

Total capital works expenditure 55,739 99,255 46,156 46,191 47,345

Council Plan 2013-2017: 2016-2017 Update • 35
---
Financial statements

Statement of Human Resources

For the four years ending 30 June 2020

Forecast

Actual

Budget

Projections

2015/16 2016/17 2017/18 2018/19 2019/20

$'000 $'000 $'000 $'000 $'000

Employee expenditure

Employee costs - operating 56,209 59,154 62,387 65,285 68,316

Employee costs - capital 1,518 1,651 1,701 1,752 1,804

Total employee expenditure 57,727 60,805 64,088 67,037 70,120

FTE FTE FTE FTE FTE

Employee numbers

Employees 682 699 706 713 721

Total employee numbers 682 699 706 713 721

Comprises

Directorate

Budget Permanent Permanent

2016/17 Full Time Part Time

$'000 $'000 $'000

Executive Services 1,772 1,772 0

Organisation Support 7,247 6,273 974

Presentation and Assets 16,780 16,419 361

Community Wellbeing 14,839 8,214 6,625

Planning and Development 10,000 7,865 2,135

City Futures 6,249 5,446 803

Total permanent staff expenditure

56,887 45,989 10,898

Casuals and other expenditure

2,267

Capitalised labour costs 1,651

Total employee expenditure 60,805

Strategic Resource Plan

A summary of human resources expenditure categorised according to the organisational structure of Council is included

below:

A summary of the number of full time equivalent (FTE) employees in relation to the above expenditure is included below:

Comprises

Directorate Budget Permanent Permanent

FTE Full Time Part Time

Executive Services 14 14 0

Organisation Support 71 60 11

Presentation and Assets 207 202 5

Community Wellbeing 188 92 96

Planning and Development 107 80 27

City Futures 62 52 10

Total 649 500 149

Casuals and other 29

Capitalised labour costs 21

Total employee numbers 699

36
---
Notes

Council Plan 2013-2017: 2016-2017 Update • 37
---
Notes

38
---
Address:

195–229 Lyttleton Terrace, Bendigo

Postal Address:

PO Box 733 Bendigo VIC 3552

T: (03) 5434 6000

National Relay Service: 133677

then quote 03 5434 6000

F: (03) 3434 6200

E: requests@bendigo.vic.gov.au

W: www.bendigo.vic.gov.au