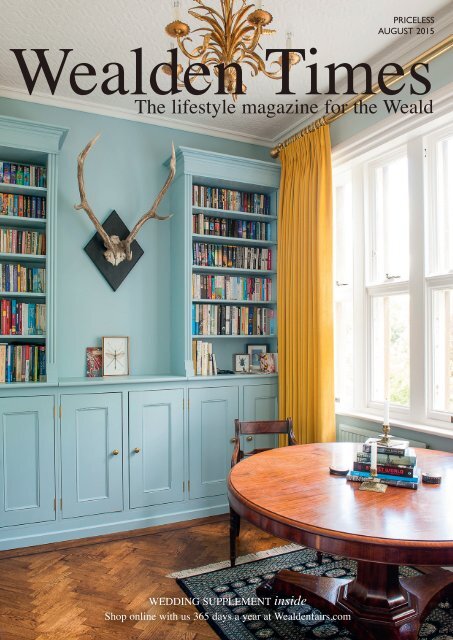 Wealden Times | WT162 | August 2015 | Wedding supplement inside
Wealden Times - The lifestyle magazine for the Weald
Wealden Times - The lifestyle magazine for the Weald
SHOW MORE
SHOW LESS
Do you know the secret to free website traffic?
Use this trick to increase the number of new potential customers.
PRICELESSAUGUST 2015Wealden TimesThe lifestyle magazine for the WealdWEDDING SUPPLEMENT insideShop online with us 365 days a year at Wealdenfairs.com
---
WHEREVEPowerful, portabspeaker designe[Storename xxxxxxxxxxxTel. [xx xx xx xx xx] EmaDesigners and makers of handmade kitchensThe difference is in the detail[Storename xxxxxxxxxxxTel. [xx xx xx xx xx] EmaVisit [insert store] to get
---
Please call for a brochure or visit our showroomsUnit 9, Chart Farm, Seal ChartSevenoaks, Kent TN15 0ESTel: 01732 76268281 Calverley RoadTunbridge Wells, Kent TN1 2UYTel: 01892 520730www.rencraft.co.uk
---
To celebrate the opening of our new offices, we are giving away vouchersto spend at Round Wood. Visit roundwood.com to enter our prize draw.1st Prize: £1000 2nd Prize: £500 3rd Prize: £250www.roundwood.com
---
Win £1000of vouchers atroundwood.comOAK FRAMED BUILDINGS | HARDWOOD DECKINGOAK & WALNUT FLOORING | HOME & GARDEN FEATURESTel: 01435 867 072Round Wood | Newick Lane | Mayfield | East Sussex | TN20 6RG
---
CHARLIE KINGHAMBeautifully simple, Simply Beautiful.KITCHEN . BEDROOM . BATHROOM . INTERIORSwww.charliekingham.co.ukwww.wealdentimes.co.uk4Wealden CharlieKinghamWT157.indd HP ports RUS 12 22/01/2015 18/02/2015 BellegroveWT162.indd 15:00 10:361 07/07/2015 14:17
---
All images shown are actualinstalled Burnhill KitchensS i m p l y B e a u t i f u lS S i i m p l l y y B e a u t t i i f f u llBurnhill Kitchens Limited, Woodgate Business Park, 13 Vale Rise, Tonbridge, Kent. TN9 1TBBurnhill Kitchens Limited, Woodgate Business Park, 13 13 Vale Vale Rise, Tonbridge, Kent. TN9 TN9 1TB1TBOpen 7 days a week01732 373 515www.burnhillkitchens.co.ukwww.burnhillkitchens.co.uk
---
The Property OmbudsmanWE61922WE60490Leeds Excess £1,250,000 Old Heathfield Guide Price £1,250,000An exquisite Grade II* country house of immense atmosphere affording A handsome Victorian family house with flexible accommodation enjoyingviews to the front • 3 Receptions • Kitchen/Breakfast Room • 5 Bedrooms views towards the South Downs • 4 Receptions • Kitchen/Breakfast Room• 3 Bathrooms • Detached Home Office • Generous Garaging • Outbuilding • 6 Bedrooms • 2 Dressing Rooms/Nurseries • 1st Floor Sitting Room & Kitchen• In all 1.8 acres• 3 Bathrooms • Over 6,000 sq ft • Double Parking Bay • Over 1/2 an acre • EPC: FWE61798WE61863Chainhurst Nr Marden Excess £875,000 Cranbrook Guide Price £575,000An appealing period farmhouse offering inviting accommodation in a A recently refurbished Grade II listed attached cottage in walking distancetranquil setting • 3 Receptions • Kitchen/Breakfast • Master Bedroom with of the high street • CSCA • 2 Reception Rooms • Kitchen • 4 BedroomsEn Suite • 3 further Bedrooms • Family Bathroom • Stables • Greenhouse (1 En Suite) • Family Bathroom & Shower Room • Pretty Cottage Gardens• About 1.5 acres in all • EPC F• Off Road ParkingWE61615WE60970Goudhurst Guide Price £475,000 Cranbrook Guide Price £225,000A sympathetically extended Victorian end of terrace cottage in an idyllic A delightful Grade II listed apartment providing bright and airyrural setting • CSCA • 2 Reception Rooms • Kitchen • 3 Bedrooms • 3 En Suite accommodation in the heart of the town • CSCA • Open Plan Sitting/Bathrooms • Summerhouse • Outbuilding • Off Road Parking • Terraced Dining Room and Kitchen • 2 Bedrooms • Bathroom • Shared Roof TerraceGardens • EPC C• Private Parkingcoming 26 January 2015
---
savills.co.uk1ENCHANTING PROPERTY WITH VIEWS TO BODIAMewhurst green, east sussexListed 5 bedroom farmhouse ø separate detached holiday cottage ø 3/4 reception roomsø farmhouse kitchen ø 3 bath/shower rooms ø substantial cellar ø attractive gardensø 350 sq m (3,759 sq ft) ø EPC exemptGuide £1.495 million FreeholdSavills CranbrookPatrick Bailypbaily@savills.com01580 7201612LISTED HOUSE BACKING ONTO FARMLANDhawkhurst, kentDelightful Grade II listed cottage ø 2 reception rooms ø 4 bedrooms (2 attic) ø kitchen/breakfast room ø 2 bath/shower rooms ø pretty cottage gardens ø home office/gamesroom ø Cranbrook School catchment (2015) ø 218 sq m (2,350 sq ft) ø EPC exemptGuide £695,000 FreeholdSavills CranbrookJames Lloydjlloyd@savills.com01580 720161
---
Guide price £1,350,000BrenchleyAn interesting converted barn on the edge of a popular village with wonderful views4 bedrooms, 3 reception rooms, 2 bathrooms. Detached cottage providing kitchen, sittingroom, shower room and bedroom. Detached outbuilding. Detached double garage with studioand games room above. Mature gardens and grounds. Paddock. EPC ratings D & E. In allabout 1.25 acres.TIME FOR ACHANGE?To find out how we can helpyou please contact usKnightFrank.co.uk/tunbridge-wellstunwells@knightfrank.com01892 310269Guide price £1,075,000@KF_TWellsKnightFrank.co.ukGoudhurstA substantial attached period oast in a rural position with outstanding viewsEntrance hall, cloakroom, kitchen / breakfast room, utility room, family room, family bathroom.Master bedroom with en suite bathroom, 5 further bedrooms, shower room. Attractive gardensand grounds. Detached double garage. Workshop. EPC rating E. In all about 0.82 of an acre.Guide price £1,700,000SalehurstAn attractive Grade II Listed house with fine viewsReception hall, kitchen / breakfast room, utility room, cloakroom, dining room, sitting room, drawing room, library, conservatory. Master bedroomwith en suite bathroom, 5 further bedrooms (3 with en suite bath / shower rooms), family bathroom. Gardens and grounds. Swimming pool. Croquetlawn. Walled vegetable garden with greenhouse. Double garage. Lean-to garden workroom and tool shed. Log store and wine cellar. Detached barn.Lake. Pond. In all about 3.2 acres.
---
Weald Property Search (WPS) represents clients with an entirelybespoke property finder service. WPS negotiates for you,ensuring that we secure your property at the best possible price.On average we saved our clients 15% of the asking price in 2014.WPS co-ordinates and manages the entire buying process from initialcontact to completion on your behalf, making sure that everything runssmoothly,professionally and efficiently.• WPS find and acquire residential property and investmentquickly,easily and without stress.• WPS have extensive knowledge of the Sussex,Surrey,Kent andHampshire property markets.We have the time you haven't got. With our contacts and network we areable to source suitable properties, even before they reach the open market.Our discretion and confidentiality are always guaranteed.An estate agent works for the vendor, we work solely for you.If you would like to call for a no obligationchat to see how we could help you...Telephone: 01797 230 371 • Mobile: 07768 366086 • www.wealdpropertysearch.comWealdPropertySearchWT160.indd 1 20/05/2015 15:58www.wealdentimes.co.uk14SelbyDesignWT147.indd 1 07/04/2014 13:20
---
Weald Property half - 1 property.qxp_half page 11/07/2014 15:42 Page 1Residential Sales • Management and Lettings01580 242700wealdproperty.netFairlight, East Sussex Guide Price £2,300,000A handsome and beautifully situated 7 bedroom, Grade II listed period farmhouse set amid delightful gardens and land of approximately 17 acrescommanding unparalleled coastal and countryside views and includes a 3 bedroom Oast conversion, further ancillary accommodation / outbuildings andhigh specification equestrian facilities with superb mènage.2 Windmill Oast, Windmill Farm,Rolvenden, Kent TN17 4PFWealdPropertyWT162.indd 1 21/07/2015 10:22COUNTRY HOUSEDEVELOPMENTSMAXIMISE THEVALUE OF YOUR LANDCountry House Developments is a Kent basedcompany dedicated to working in partnership withland owners to maximise the value of their land.• We're experts in local planning policy• We have a great track record in achieving success• Most importantly - we cover all the costs -you don't pay for anythingWhether you are the owner of a large garden,a commercial site or simply have some land you thinkmight be of interest, we'd really like to hear from you.Call US TODAY: 0843 557 4080Email: sales@maximiseMYland.co.ukWeb: www.maximiseMYland.co.uk15 www.wealdentimes.co.ukCountryHouseDevelopmentsWT145.indd 1 13/02/2014 11:55
---
HOUSE OF THE MONTH by John Graham-Hart1.Game, set & matchJohn Graham-Hart goes in search of properties with tennis courts...In my father's garden was many a wondrous thing. The roses were the envyof the village. The vegetable patch, a riot of show-winning produce. Thelawns were bowling greens and the box hedges, a Euclidean dream. All,however, was chaos and calamity compared with his tennis court, 6,120 squarefeet of hallowed ground as close to perfection as God, in this world, allows.He had lived for much of his life in Latin America so been forced to playlargely on clay courts. Now back in England, he could have his own grasscourt and here he reigned supreme, vanquishing friend, foe and family alikeuntil, in his late sixties, arthritis in his right hand meant that he could nolonger humiliate county players half his age and he decided to call it a day.It had been a good run and his only regret was that through the winterthe court was unplayable. Had today's all-weather courts been invented,the joy of being able to play year round might have won out againsthis love of grass and it's possible he would have been tempted.Today, of course, the all-weather court is the norm when it comes tohome tennis courts. Durable, low maintenance and offering year-roundplay, it's the obvious choice. The downside is, of course, the cost which canbe anywhere between £25,000 and £40,000 and although there's no doubtthat a court could be an attractive feature when you come to sell, there canbe no automatic assumption that you will recoup your building cost.And that is good news if you're looking to buy a property with acourt. You may find you could pay the same for somewhere with a courtas an equivalent home without. All you have to do is hope that youdon't find you're bidding against the shade of my father for then, as somany times in my youth, it would be advantage Graham-Hart Snr.1. Spring PlaceWhere? Spring Place is set in alovely rural location between thepopular villages of Plaxtol, Shipbourneand Hadlow just over four miles fromTonbridge (Google Maps TN11 0EY).What? The property is an historicand impressive Grade II-listed, late16 th century manor house with a latemedieval section and awash withexceptional period features. The drawingroom boasts an excellent inglenookand the dining room, a window fromHadlow Castle. Both drawing roomand sitting room have woodburnersand the kitchen/breakfast room, anAga. All have good ceiling heights.On the first floor are four bedroomsincluding a master with en suitebathroom and on the second floora fifth bedroom with en suitebathroom. Although the house itself isexceptionally attractive, much of thecharm of the place is its setting andfive acres of gardens that encompassa tennis court and its own pavilion, aswimming pool, a lake and a pond.How much? Spring Place hasa guide price of £2,500,000 and ison the market with Knight Frankin Sevenoaks. Call 01732 744477or visit www.knightfrank.co.uk.www.wealdentimes.co.uk16
---
2.3.4.2.3.4.2. BelmontWhere? Belmont is set in the village ofLangley, about two miles north of SuttonValence (Google Maps ME17 3NE).What? Belmont is an impressive – andsurprisingly unlisted – building datingfrom about 1590. Lofty ceilings and largewindows mean the well proportionedrooms are naturally light. Accommodationincludes drawing room with exceptionalcarved beams, panelled sitting room/study,double-aspect dining room, kitchen andadjacent breakfast room, wine cellar, anda family room with three sets of Frenchwindows one of which leads out to thetennis court. A leisure wing also boasts anelegant indoor swimming pool and sauna.Upstairs there is a large playroom/sittingroom, a beautiful master bedroom suitefeaturing plaster panelling incorporating17 th century oil paintings, a temporarilyblocked fireplace and windows, a guestsuite of bedroom and bathroom and afurther four bedrooms. The propertystands in about two acres of establishedand secluded gardens with expansive lawns,a kitchen garden, water garden, orchard,garaging for four cars and a workshop.How much? Belmont is on themarket at £1,350,000 and is withSavills in Cranbrook. Call 01580720161 or visit www.savills.co.uk.3. Belvidere HouseWhere? Belvidere House is set in abelt of attractive countryside betweenthe villages of East Malling andWateringbury (Google Maps ME19 6JE).What? An elegant Victoriancountry home, the property hasbeen comprehensively renovated andupdated to provide an impressive,contemporary family home whichoffers seven bedrooms, three receptionrooms, study, spacious kitchen-breakfastroom, cinema room, games room, anda large indoor swimming pool complex.There is a large master bedroom suitewith dressing room and bathroom, aguest bedroom suite also with dressingroom and bathroom and two furtherbedrooms with en suite showers.The property is set in almost 10 acresencompassing formal gardens, matureparkland, a paddock with summerhouse,a large triple-bay garage blockwith ornate clock tower, and, ofcourse, an all-weather tennis court –all with fine views of the surroundingcountryside and North Downs.How much? Belvidere Househas a guide price of £2,999,995 andis with Fine & Country in WestMalling. Call 01732 222272 orvisit www.fineandcountry.com.4. Three Chimneys HouseWhere? Three Chimneys Houseis set in a rural location off theSissinghurst Road just outside thepopular and historic village of Biddenden(Google Maps TN27 8HA).What? Three Chimneys is asympathetically refurbished and extendedGrade II-listed country house datingfrom 1730 and blending 21 st centuryconvenience and period atmosphere.Accommodation includes a handsomedrawing room with inglenook andwoodburner, sitting room also withinglenook, family room leading through toa conservatory, study and a superb vaultedkitchen/dining room. Upstairs over twofloors are a master bedroom with en suitebathroom, family bathroom and fivefurther bedrooms. Outside the grounds area particular feature, divided into gardenrooms designed to provide interest throughthe seasons. There are two paddocks, abeautiful pond and bridge, a parterregarden, substantial terrace, bluebellwood, a second large pond with a jetty, asummerhouse, hot tub and tennis court.How much? Three ChimneysHouse has a guide price of £1,225,000and is with Jackson-Stops inCranbrook. Call 01580 720000or visit www.jackson-stops.co.uk.17 www.wealdentimes.co.uk
---
SENIOR SCHOOLS' FAIRBroad horizonsCome and talk to thirty of the country's topIndependent Senior Schools and focus onthe right choice for your child's future.Saturday 12th September. 10.00am until 12 noon. All welcome.www.hazelwoodschool.co.uk. Hazelwood School, Wolfs Hill, Oxted, Surrey RH8 0QU
---
Win £300Jacksons Secret Garden Party Show Garden at RHS Hampton Court Flower ShowAny of you who are regularreaders of this page, can't helpbut have noticed that I'vementioned that we had a showgarden at RHS Hampton CourtFlower Show this year. It wouldbe remiss of me not to let youknow how it all went now it's allover. I must admit to saying thatwith more than a little relief -it's been an amazing experience,very busy and pretty exhausting,but all in all very positive.The build up started on 10ththrough to 28th June and whatwas just a green piece ofparkland was transformed into astunning (even if I say it myself!)Show Garden. It was fascinatingseeing our garden take shapeover the weeks, and of course allthe other stands, exhibits andshow gardens as well.I got a bit nervy the closer wegot to the show opening, themedia appeared, we had a fewinterviews and even Monty Donwas filmed in the garden andsaid some very complimentarythings about our Jacksons SecretGarden Party. And then in theafternoon of Monday 29th themedals were announced. I'mdelighted to say we got an RHSSilver Gilt medal, which I'm toldis just a shade below a Gold -not bad going for a first attemptand if I'm honest a huge reliefthat we didn't end up with eggon our faces, with no medalawarded or one that wasn'tquite as shiny!I've put lots of photos up onlinefor you to see, especially forthose who didn't get a chance tovisit the show, or see any of themany programmes on the TVthat week. If you go to yourlocal page:www.jacksons-fencing.co.uk/ashfordlocal there is a link.There're also instructions onhow to vote for your favouritegarden - if you remember ourgarden featured 6 smallergardens within our one biggarden - you will be able to viewgardens 1 – 6 and then emailwith which is the one you likebest. Someone will be picked atrandom from these emails as thewinner of £300 of Jacksonsvouchers.And talking of winners, we ran adraw over the last few monthsto win pairs of tickets toJBelow left: Monty Don filming for the BBC in the garden. Below right: a view inside the garden showing the colourful planting.JacksonsFencingnews, topicaltreatsand more...Our Hampton CourtShow Garden update...JacksonsFencingnews, topicaltreatsand more...Here's a simple shelterthat makes a delightful'retreat' in any garden...After showing you some ofour very lovely customerprojects over the last fewmonths, to help inspire you withyour own garden projects, Ithought it was high time Ishowed you something temptingfrom the Jacksons range.Something suitably summery,that may capture yourimagination and make you keento have something like it in yourown outdoor space.I think this may be it; we createdthe Retreat shelter a couple ofJacksons Woven Retreat garden shelteryears ago, it was inspired by astructure in one of our Jacksonsshow gardens (The SanctuaryGarden by Joanne Winn). It wasa simple garden shelter with aback, one side and a roof, thathad the option of having apolycarbonate covering to makeit a bit more shower-proof –pretty handy with our typicalBritish summers. One of thebonuses with this standard,single unit Retreat, is the size;it's not massive with a modestfootprint of roughly 3.3m wideby 1.9m, but as you can seethat's plenty big enough toaccommodate a four piecegarden seating set, including atable. So it's the sort of size thatcan nestle easily into a corner ofa small courtyard or garden.However if you wanted to bemore ambitious you can add tothis standard Retreat by addingpanels or doubling depth etc. soif you wanted something biggerhave a chat to Jackson's salesteam. The original Retreat wasdesigned with Venetian panelsHampton Court - we gave away(simple five horizontal pairs of tickets slats) in which all andlooked I'm great, pleased this to new say most version of youRetreat dropped has our by the new show Woven garden topanels say which hello and I think pick looks up your evenbetter goody and bags, creates great wonderful to meet youlight and sorry shade we effects were so when busy atthe sun times shines that it through made it the a bit trickypanels. to spend much time getting towww.jacksons-fencing.co.uk/know you better.ashfordlocal www.jacksons-fencing.co.uk/or ashfordlocal or callcall 0800 408 4733 4754 to talk toyouryour local Jacksons FencingCentre.Centre.louise@jacksons-fencing.co.uklouise@jacksons-fencing.co.uk
---
focus on...Facial CosmeticProceduresAmir Nakhdjevani, consultant plastic surgeon at the Bella Vou Pantiles Clinic in Tunbridge Wells, gives us thelowdown on his 'walk in, walk out' facelift - The Concept Facelift.How did the Concept Facelift comeabout?One of the most commondeterrents for many of my patientsconsidering a traditional faceliftis the lengthy recovery time. Ilistened to them carefully andmanaged to find an effectiveway to give clients the look theywanted without having to takeweeks off work to hide theirbruised and swollen recovery.What does the procedure involve?I believe a good surgeon treats notwo faces the same, which is whyI carefully assess the intricacies ofyour face and plan a procedurethat will flatter and rejuvenateyou, without too stark a differencepostoperatively.Typically, the procedure lastsbetween 2-3 hours and isperformed under local anaesthetic.The Concept Facelift involvestightening the layers of muscleunder the skin, as well as the skinitself in order to leave you withlong lasting results. Not only is itvirtually painless but you will behome the same day, too.Who is a good candidate for a ConceptFacelift?If your skin is loose, developingwrinkles, sagging around the midfaceor creating the appearance ofjowls due to dropped fat depositsthen a Concept Facelift can help.So, what is different between aTraditional facelift and a ConceptFacelift?Traditionally, facelifts are carriedout under general anaestheticwith bandages, drains and stapleson the scar that extends into thehair. Not only does this approachresult in heavier scarring, but alsoexcessive bruising and swelling andan extensive recovery time of 4-6weeks which typically results in atleast 2 weeks off work.The Concept Facelift is a fullfacelift and is performed as a 'walkin, walk out' procedure carriedout under local anaesthetic,leaving a smaller scar and usingno bandages, drains or staples.Bruising is minimal if any, and youcan be back to work within days.The Concept Facelift createsa natural, youthful and freshHow can you be sure that thisprocedure lasts as long as a traditionalfacelift, if it's only been developed inthe last 18 months?The effective tightening of thefoundation of the face, restoringthe muscle layer, while addressingboth volume and the skin arewhat makes for a long lastingfacelift. The Concept Faceliftis no different, but it effectivelyaddresses the negative aspectsof traditional facelifts such asbruising, scarring and downtime.appearance and lasts as long astraditional facelifts! As a result,Concept has been trademarkedand I am the only surgeon in thecountry offering the ConceptFacelift.To attend an opening evening, or book a consultation...Bella Vou, Pantiles Clinic45-47 The Pantiles, Royal Tunbridge Wells, Kent TN2 5TET: 01892 257 030 W: bellavou.co.uk E: hello@bellavou.co.ukbellavou @bellavou bellavouANMr. Amir NakhdjevaniConsultant Plastic SurgeonMBBS MRCS FRCS (Plast.)
---
Gisela Graham summergarden fabric bunting,£12, The ContemporaryHome, 0845 130 8229www.tch.netdecorative coat hooks on backboard, £75 Wealdenfairs.com/goosehomeandgardenCountryStylecast iron egg holder,£12.95, Live LaughLove 01342 842599www.livelaughlove.co.ukBring the outdoors in with our pick ofrural-inspired home accessories...farmhouse chalk board,£24.95, Live LaughLove 01342 842599www.livelaughlove.co.ukillustrated coasters, £3.50each,Wealdenfairs.com/doginahatThornback & Peel strawberrytea towel, £12.95, AnnabelJames, 0845 548 0210www.annabeljames.co.ukmarble coastersand platter, from£15,Wealdenfairs.com/katy-maydesignsstag's head cushion,£35, Wealdenfairs.com/misssewandsewJJ Textile pheasant, rabbit &fox wool throw, £64,Wealdenfairs.com/duckanddog21 www.wealdentimes.co.uk
---
PRICELESSavailable in Batick leather range cream, brown, burgundy or black, and Paloma leather range sand, chocolate, light grey or black. Available on Stressless®Offer excludes Stressless® recliners & accessories. Reduced promotional discount on sofa orders in these 8 promotional colours only. Orders placeds the Stressless® Winsdor sofa group.21/04/2015 15/04/2015 14/11/2014 17:1116:3412:1619/05/2015 15:01OutsideCover9mmWT158.indd WellsBeddingInteriorsWT158.indd 1 1 20/03/2015 11:06WellsBeddingInteriorsWT152.indd OutsideCover8mmWT152.indd 11 25/03/201516/09/201414:2410:51lden TimesMAY 2015imagine comfortThe lifestyle magazine for the WealdA SAVINGSLECTED LEATHERSge Sofa Colour Collection* • See instore for detailsSTORATION & NEW BUILD SUPPLEMENT insidehop online with us 365 days a year at Wealdenfairs.comHeritageColourCollection44 High St, Royal Tunbridge WellsKent TN1 1XFT: 01892 535555www.wellsinteriors.co.ukWealden TimesJUNE 2015The lifestyle magazine for the WealdN O W O N L I N E160PRICELESSWealden TimesJUNE 2015F U R N I T U R E H O M E F R A G R A N C E L U X U R Y T H R O W S T I M E P I E C E SL I G H T I N G S O F T F U R N I S H I N G T A B L E W A R ES C U L P T U R EThe lifestyle magazine for the WealdKITCHEN & BATHROOM SUPPLEMENT insideShop online with us 365 days a year at Wealdenfairs.comG I F T W A R E H O M E W A R E L E A T H E R G O O D S R U G S & S K I N S73 H I G H S T • B AT T L E • 014 24 7 72 3 6 6S AY E R S L A N E • T E N T E R D E N • 015 8 0 7610 0 8W W W.W O O D C O C K S I N T E R I O R S .C O.U KThe lifestyle magazine for the Weald JULY 2015Wealden Times161Wealden TimesThe best bed and furnitureSpring Sale is now on!Best quality. Best prices. Best service. Guaranteed.www.Free delivery and up to 3 years 0% APR free creditinteriors.co.ukWells Bedding and Interiors | 44 High Street, Tunbridge Wells TN1 1XF | 01892 535555PRICELESSJULY 2015The lifestyle magazine for the WealdLIVING SPACES SUPPLEMENT insideShop online with us 365 days a year at Wealdenfairs.comWealden TimesAPRIL 2015The lifestyle magazine for the Weald158PRICELESSWealden TimesAPRIL 2015The lifestyle magazine for the WealdOriginal 22 Deluxe Cloud 22 Deluxe Sensation 22 Deluxe(King Size) (King Size) (King Size)RRP £2,425Sale Price £1,699ExclusiveVoucher Price £1,649RRP £2,425Sale Price £1,699ExclusiveVoucher Price £1,64944 High St, Royal Tunbridge WellsKent TN1 1XFT: 01892 535555GARDEN SUPPLEMENT insidewww.wellsinteriors.co.uksales@wellsinteriors.co.ukShop online with us 365 days a year at Wealdenfairs.comRRP £2,425Sale Price £1,699ExclusiveVoucher Price £1,649Wealden TimesOCTOBER 2014The lifestyle magazine for the Weald152Wealden TimThe lifestyle magazine forWEDDING SUPPLEMENT insideShop online with us 365 days a year at Wealdenfairs.comsideCover6_5mmWT161.indd 1 24/06/2015 11:39odcocksWT161.indd 1 10/06/2015 15:11Would you like to join the Wealden Times team?Want a career in sales? Then start with us!We're looking for a Graduate Sales Executive who is just as passionate as we areabout local homes and gardens, fabulous fashion & beauty and delicious recipes.Are you outgoing and confident? An excellent communicator?Able to work to deadlines and under pressure?In return we will give you a fantastic start in your sales career!Some experience of sales and/or customer service would be an advantage,as the role will include account management and targeted growth.If you are interested please send your CV and cover letter torecruitment@wealdentimes.co.ukWealden TimesThe lifestyle brand for the Weald
---
24/09/2014 18:34PRICELESSOCTOBER es2014the WealdDESIGN & PLANNING | RESTORATION | NEW BUILD | BARN CONVERSIONS | EXTENSIONS | JOINERYOak Buildings...... made BetterFor a brochure or free home consultation contact:t. 01797 366895 e. info@anthony-hicks.comwww.anthony-hicks.co.ukSpruce Up your gardenthis Summer!AnthonyHicksWT142.indd 1 14/11/2013 10:44Bark (Bulk Bags)Homeleigh Offer£46.00 +VATNatural Pavingfrom£13.99 +VAT(per sq.m.)Railway SleepersHomeleigh Offer£13.99 EACH + VAT (+5 rate)£15.99 EACH +VAT (Single)Paving OfferForest Blendfrom£15.99 +VAT (per sq.m.)WE CAN DELIVERBULK BAGS OF:bark • compost• top soil & buildingaggregateswww.homeleighgroup.co.ukMaidstone01622 791111Hall Road | Maidstone |ME20 7QZWoodford Depot:01580 892733Maidstone Road | Staplehurst |TN12 0RHStaplehurst:01580 892037Station Road | Staplehurst |TN12 0PYYour local timber & Builders MerchantAshford:01233 850075Ashford Road | High Halden| TN26 3BP23 www.wealdentimes.co.ukHomeleighWT161-Half.indd 1 08/06/2015 12:23
---
Design & PlanningRestorationNew BuildBarn ConversionsExtensionsJoinerywww.coxrestorations.co.ukFor a free consultation please contact: 01233 714950www.coxrestorations.co.ukEstablished 1986
---
Spruce Upyour gardenthis Summer!WE CAN DELIVER BULK BAGS OF: bark • compost • top soil & building aggregatesHeavy Duty Top QualityFence Panel 6'x6'When you buy 5 or more£16.00 EACH +VATMaidstone 01622 791111Hall Road | MaidstoneME20 7QZBark (Bulk Bags)Homeleigh Offer£46.00 +VATwww.homeleighgroup.co.ukWoodford Depot: 01580 892733Maidstone Road | StaplehurstTN12 0RHNatural Pavingfrom£13.99 +VAT (per sq.m.)Staplehurst: 01580 892037Station Road | StaplehurstTN12 0PYRailway SleepersHomeleigh Offer£13.99+ VAT EACH (+5 rate)£15.99 EACH +VAT (Single)Your local timber & Builders MerchantAshford: 01233 850075Ashford Road | High HaldenTN26 3BP
---
Shutters from Blind DesignFor the ultimate in timeless elegance look no furtherthan Blind Designs's shutters rangeBlind Design's shutters are handcrafted to order from the fi nest materials and made-to-measure for a precise fi t.Equally suited to contemporary or traditional decor, shutters provide a light and airy environment alongside privacyand security – features which will add value and elegance to your room.Call Freephone0800 988 1071For Your Free Home Visitwww.blind-design.co.ukUnit 6, Harvington Business Park, Brampton Road • Eastbourne, East Sussex BN22 9AFMon - Fri 9am - 5pm, Sat 9am - 2pm • Telephone 01323 509 661. Freephone 0800 988 1071
---
handcraFted bespoke jewellerywww.handleysoflondon.comFor an appointment please call or e-mail0207 127 4308 info@handleysoflondon.comHandleys of London, Suites 46&47, 88-90 Hatton Garden, London, EC1N 8PN
---
Illustrated Living...The inimitable Sir Quentin Blake has returned to the Jerwood Gallery tocast his charming and phantasmagorical eye over Hastings for an exclusivenew exhibition, Quentin Blake: Life Under Water – A Hastings Celebrationwhich runs from now until 6 September. The celebrated illustrator and firstChildren's Laureate has created 24 new works that combine the vitality andvibrancy of the famous, historic town and the sea that defines it.www.jerwoodgallery.orgAugustnotebookExhibitions & eventsnear you this month...Drive In...On Thursday 27 and Friday 28 August,McArthurGlen's Ashford Designer Outlet will, forthe first time, host an outdoor drive-in cinema; apop-up experience to transport shoppers back intime to 1950s America. Entry costs £15 per car andfashion-lovers and cinema-buffs alike can enjoy cultmovie classics on a giant screen from the comfort oftheir own seats. To buy your ticket, and see what'son, visit www.ashforddesigneroutlet.co.uk.Vintage Values...Visit Chiddingstone Castle on Sunday 2 Augustfor a Summer Vintage Fair. Between 11am and4.30pm the beautiful grounds of the castle willprovide a picturesque backdrop to shop anddelight in a huge array of vintage stalls. Listen tomusic and enjoy lunch and traditional teas in thegrounds and tea room. Visit the photobooth andhair and beauty parlour. Entry costs £3 per adult,£1 per child (5-13) and under 5s are free. Findout more at www.chiddingstonecastle.org.ukShakespeare in Love...The Lamb Players will be performing theircreative take on Shakespeare's Twelfth Nightfrom 14 to 16 August at Lamb House in Rye.Tickets cost £16 each (concessions £14) and areavailable from Grammar School Records in Rye'sHigh Street. The Lamb House gardens open 30minutes before each performance, and picnics arepermitted. www.thelambplayers.comPicnic in the Park...The Vicar's Picnic, so named because of its originallocation on Vicarage Road, started as a party ina back garden: a tonic for the disappointment ofmissing out on tickets for Glastonbury. With helpfrom locals it soon grew with 700 revellers partyinghard on the lawn, down by Cheveney Farm, whileraising several thousand pounds for local charities.The heart and philosophy of the gathering is to bringa great time to the whole family with a unique edgeof cool and creative fun. Visit www.vicarspicnic.co.ukfor tickets and to see this year's line-up includingBritpop favourites, Cast.Cool Crafts...This month, add the Sussex Guild'sContemporary Craft Shows to your diary. From6-9 August visit Michelham Priory, and from29-31 August, Pashley Manor Gardens. Meet theprofessional designer makers who will exhibittheir spectacular crafts. See www.thesussexguild.co.uk or call 01323 731792 for more details.Folk Fest...The Bell in Ticehurst and The Bert Jansch Foundationare proud to announce the inaugural Bert JanschGuitar and Folk Festival – a unique event celebratingthe musicianship, songwriting and enduring legacy ofthis quiet genius of the guitar. On Saturday 22 AugustBert will visit The Bell for one day of performance,musicianship and memory with Canadian folk legendBonnie 'Morning Dew' Dobson, Scottish Psych-Folk'sTrembling Bells and an eclectic line-up during the dayspanning six centuries of music at its best. Tickets areavailable from www.eventbrite.co.uk/e/rosemary-laneday-tickets-17175445219and cost from £5 each.29 www.wealdentimes.co.uk
---
GREAT IDEAS FOROUTDOOR LIVINGFrom natural stone and concretepaving to walling, fencing,decking, garden buildings andspecially selected and gradednatural aggregates, ParkerPaving can help you createanything from a small patio tolarge domestic or public gardens.LANDSCAPING I PAVINGFENCING I DECKINGGARDEN FURNITUREbranches atin CROWBOROUGH, MAIDSTONE,EAST GRINSTEAD, TONBRIDGE,HAYWARDS HEATHand throughout the South Eastwww.parkerpaving.co.ukTel 0844 257 7000
---
Miss Anita Hazari MBBS, MD,FRCS(Plast), Consultant Plastic andReconstructive Surgeon at theSpire Tunbridge Wells Hospital,discusses the Breast Surgeryprocedures she specialises in.Can you tell us about the range of Breast Surgery proceduresyou specialise in?I specialise in breast reconstruction (following a mastectomy),breast reduction or uplift (mastopexy) breast implants (breastaugmentation) and breast implant removal.If a patient is interested in breast augmentation, how do youadvise them what size is right for their frame?As part of a thorough consultation, I measure the height andwidth of the breast. The implant size (volume and projection)is dependent on the existing dimensions. After I have matchedthe breast dimensions to different possible sizes in the implantcatalogue, the patient performs a volume estimation trialat home to decide on the size she wishes to be. I encouragewomen to be in proportion to the rest of their body.Why do you think breast reconstruction is such an importantprocedure to offer to patients?Every woman having a mastectomy should be offered areconstruction. Breasts are an important part of a woman'sbody image and sexuality. Breast reconstruction helps withemotional recovery and restoring self-esteem after breastcancer treatment. In addition to using implants for breastreconstruction, I also reconstruct breasts using the patient'sown skin and fat from the back, tummy, inner thigh or buttock,which obviates the need for an implant.How would you describe your approach with your patients?I am honest and straight-forward in my assessment andopinion of what is achievable with surgery. My patientsappreciate this honest, caring manner. They also know that myinterest in their welfare is paramount.What do you enjoy most about your job as a plastic surgeon?As a female plastic surgeon, specialising in breast and cosmeticsurgery, I encourage women to look more 'natural', instilling aconfidence in how they look – so that they can feel comfortablein their own skin. Seeing a patient return to see me, confidentand happy after surgery, gives me an immense sense of havingmade a difference to someone's life.What three pieces of advice, would you give to a patientconsidering plastic surgery?1. Always do your research before committing to cosmeticsurgery, as in the UK any doctor can call themselves aCosmetic surgeon. Ensure your surgeon is on the GMCSpecialist Register for Plastic Surgery and is a member ofBAPRAS (British Association of Plastic Reconstructive &Aesthetic Surgeons) or BAAPS.2. Make sure you are completely satisfied that you havebeen given all the information you need and that you fullyunderstand the risks and benefits of your surgery.3. Stop smoking. If you smoke it is advisable to stop smoking4-6 weeks prior to surgery and remain smoke free untilhealed. Smoking can have an adverse effect on the healingof surgical wounds.Miss Anita Hazari specialises in all areas of plastic surgery,she offers free mini-consultations for patients who arethinking about having cosmetic surgery and would likefurther information from a fully trained expert.To book a free mini-consultation, please contact ourcustomer enquiry line on:01892 741150www.spiretunbridgewells.comThe content of this article is provided for general information only, and should not be treated as a substitute for the professional medical advice ofyour doctor or other health care professional.Spire Tunbridge Wells HospitalFordcombe Road, Fordcombe, Tunbridge Wells, Kent, TN3 0RD
---
Shop For Your Summer Getaway...Blue Triangles Make Up Bag, £12.50Wealdenfairs.com/happyandgloriousWealdenfairs.comDiscovered by us... delivered to youMen's Folding PocketComb, £8.50Wealdenfairs.com/villedefleursLeather Passport Holder,£75 (left); Leather CardHolder, £45 (right)Wealdenfairs.com/ostrich2loveNavy Tropical Sweat, £30Wealdenfairs.com/blueblancmangeGirl's Sun Hat With LibertyPrint Hat Band, £20Wealdenfairs.com/tattytessReprise Sunglasses, £249 (top);Leather Glasses Case, £25 (middle);Stax Sunglasses, £249 (bottom)Wealdenfairs.com/rockoptikaSweet William Sleep Mask, £22Wealdenfairs.com/lauralovesUnwinding Bath & Shower Oil, £30Wealdenfairs.com/blendcollectiveStriped Beach Bag, £28Wealdenfairs.com/limetreelondonFollow us for new products,competitions and promotions.
---
Orlestone OakTailor-made Oak Joinery and Oak FlooringOAKORLESTONEOAKORLESTONEORLESTOOAKNEW FOR2015SOLID OAK fLOORINGPRE-fINISHED & DISTRESSED fLOORSNEW SHOWROOM DISPLAYSOAK STAIRCASES & WINDOWSOAK DOORS AND PORCHESOAK DECKING & BEAMSwww.orlestoneoak.co.uk 01233 732179SHOWROOm Open mOnday tO FRiday 9am-5pm, SatuRday 9am-12pmSPECIALIST BATHROOM SHOWROOMSOrlestoneOakWT162.indd 1 21/07/2015 15:4401622 791791Unit 2, 2M Trade Park, Beddow Way, Aylesford, ME20 7BTPlumbers MerchantOpening Hours:Mon-Fri 7.30am-5pm & Sat 8.30am-4pm33 www.wealdentimes.co.ukAskPlumbingWT156.indd 1 09/01/2015 12:18
---
Sell online with us...Become a member of our community of unique, vintage, handmade & bespoke sellersWealden TimesPRICELESSJULY 2015The lifestyle magazine for the WealdLIVING SPACES SUPPLEMENTinsideShop online with us 365 days a year at Wealdenfairs.comExclusive Editorial - Reach our 105,000 + monthly readers ofWealden Times as well as other local and national publications.Promote your business with the Wealden Times brand - gain access to our extensive audienceof website and event visitors, social media following as well as our monthly magazine and app readership. Benefit fromemail newsletter campaigns, product and interview features, blog posts, social media exposure, competitions and more.Get More From Google - Manage your own micro-site and URL address withinWealdenfairs.com and increase your own page ranking by linking from our site to yourown. Benefit from on-page product optimisation by our SEO specialists."I have been an exhibitor withWealdenfairs.com for the past two years andfeel that it has raised my profi le considerably.Not only are the staff extremely helpful, butit is also great to be featured in a magazinethat showcases local businessesMinnie Craske"Decorative Antiques UK"Wealdenfairs.com has been fantasticfor me over the last few years, for not onlyselling my goods but for raising my profi le"through Wealden Times magazinesHarry CunninghamKing John's Nursery"The article in today's WealdenTimes is wonderful! I'm delighted!Thank you ever so much!Sally Scott"Sally Scott PaintingsWealdenfairs.comDiscovered by us... delivered to youTo apply please call 01580 713915or visit wealdenfairs.com/exhibit-online.html
---
Local Showrooms at:Tunbridge Wells: Unit 5 Tunbridge Wells Trade Park, Longfield Rd, Tunbridge Wells, Kent TN2 3QFSevenoaks: Polhill Garden Centre, London Rd, Badgers Mount, Sevenoaks, Kent TN14 7ADSidcup: Ruxley Manor Garden Centre, Maidstone Road, Sidcup, Kent DA14 5BQVisit granitetransformations.co.uk for more information
---
WT Priceless PeopleWellbeing FestivalAs part of Wealden TimesMidsummer Fair in Junethis year, we hosted out veryfirst wellbeing festival, celebratingeverything from gardening and yoga towholesome food and hands-on crafting.We were delighted to welcome somefantastic famous faces to the stageincluding Davina McCall, JamesWong, Julie Montagu and SuzyGreaves, as well as many experts inthe fields of health and wellbeing.Throughout the three days we had thepleasure of meeting many WT readers whopopped along to the talks and workshopsthat were taking place in our wellbeingfestival tents. The Festival was sponsoredby the fantastic Benenden Hospital whowere offering free health checks andsharing their specialist medical advice.Highlights of the festival for us includedJoe Hoare's laughter workshop which leftthe whole team beaming, and Davina'sinspirational sugar free talk whichwas packed out from start to finish.We would like to say a big thank youto all of our lovely guests, readers andvisitors who made it along to HolePark. We are already looking forwardto the Midwinter Fair which willtake place from 19-21 November atBedgebury Pinetum. Hope to see youthere! www.wealdentimes.co.uk/eventsPicture, from top to bottom: Davina McCall gives her inspiring talk on having a sugar free lifestyle; The Benton Brothersgive hints and tips on kitchen gardens www.bentonlandscapes.co.uk; the Midsummer Fair in full swing; James Wong signscopies of his new book, Grow For Flavour; Old School Samba get the party going www.oldschoolsamba.blogspot.co.uk.
---
Advanced cataract treatmentfrom specialist consultantophthalmologistsRapid access to experttreatment and care forprivate patientsAskyour GPor Opticianto referyouThere's no need to sit at home waitingfor treatment a minute longerYou can enjoy clearer sight, free of cataracts as aprivate patient at Benenden Hospital. The procedureis quick and painless and available without delay– in fact, you can walk in and walk out the same day.An opportunity to improve your visionSeeing clearly again is wonderful - now you have thechance to correct your eyesight at the same time.We don't just treat cataracts, we can correctastigmatism and reduce dependence on glassesor contact lenses at the same time using our rangeof specialist lenses*. Our highly experienced eyesurgeons can discuss the range of options to suityour needs and lifestyle.We're specialists in cataract removalWhy Benenden Hospital? We're a Centre ofExcellence having performed thousands of successfulcataract procedures. Our consultants are allspecialists with many years of experience, not generalconsultants as used by some other providers. Oursafety record is second to none. Our facilities aremodern and comfortable. Our staff are friendly andwelcoming. And, however you choose to travel, we'reeasy to find.As we're not-for-profit, we can offer highlycompetitive rates too.You can be referred by your GP or Optician as aprivate insured or self-paying patient, NHS Choicepatient, or Benenden member†.VOTED THEMOST TRUSTEDHEALTHCAREPROVIDER2011-2014For more information or to book a consultationcall 01580 242 521 (quote WT) or visit usonline at www.benendenhospital.org.uk†Benenden members will need a GP referral and must contact member services for authorisation before seeking treatment on 0800 414 8100. *Benenden members who opt for a speciallens only pay the additional cost incurred for the lens and additional treatment as cataract treatment with the standard lens is covered by treatment authorised as part of their membership.NHS patients only receive the monofocal lens. The Benenden Hospital Trust is a company limited by guarantee. Registered in England, number 3454120. Registered charity number 1065995.Registered offi ce, The Benenden Hospital Trust, Goddard's Green Road, Benenden, Cranbrook, Kent TN17 4AX
---
LeiaLingerieWT162.indd 1 21/07/2015 09:5824 June - 30 August 2015the colour of wordstranslating words into a visual language of colour and texturebenjamin hannavy cousenopen Wed - Sat 11 - 5.30 Sun 11 - 4one one six116 High Street Tenterden Kent TN30 6HTtel 01580 761196 email oneonesix@tiscali.co.ukwww.jennymilleroneonesix.comwww.wealdentimes.co.uk38OneOneSixWT161.indd 1 09/06/2015 10:26
---
summerHere in the Wealden Times office, we thinkthat August is a real feel-good month. Thesun is out, the skies are blue and somehow,everything feels all the more relaxed – and we've taken fulladvantage of the lovely weather to get out and about inthe Weald to shoot our beautiful interiors, special weddingsupplement and mouth-watering seasonal recipes.We start it all off with a visit to a generously proportionedVictorian house in Surrey where Dan and Chris haveunleashed their enviable eye for design and created astunning apartment. Plus, if you're a regular visitor toGoudhurst, you've probably eagerly watched the restorationof the village's disused Methodist Chapel over the pasteighteen months or so. Now is your chance to take a lookinside as Nick and Sonja welcome us in to photograph.If you're after zesty new ideas to try out in the kitchenthis month, Lucinda Hamilton has shared the recipes forthree lunchtime favourites, fresh from the Cocoliciouskitchen, whilst Sue Whigham and Jo Arnell take to thegarden to dig up the latest news and practical advice.Enjoy yourWealden Times!Editor'sLetterWealden Times TeamEditor .............................................................................................Lucy FlemingPress, Social Media & Editorial Assistant........................................Helen BartonDesign ..........................................................................................Powerful PierreDesign Team ...............................................................................Anthony BoxallRob CursonsPhoebe GilbertManaging Director .........................................................................Julie SimpsonSales Manager .....................................................................Lisa Gordon-HughesSales Team ................................................................................Hayley BiddulphMark PutleyBecky SmithLisa SmithDistribution ................................................................................ Emma MurphyJude BrownWealden Times Events & Wealdenfairs.com TeamSales Director......................................................................................Joy AdamsMedia Executive..........................................................................Chloe WilliamsEvents Organiser .........................................................................Fiona SaundersE-Commerce & Marketing Executive............................................James GodfreyE-Commerce Assistant............................................................Megan LongworthsaleThursday 30T h julyup T o 50% off selecT ed iT emsdon'T miss ouT wiT h an exT ra 10% off*on producT ion of T his voucher*offer valid unT il 01/08/2015tenterden 01580 764111 whitstable 01227 275713 sandwich 01304 621620www.caroleridley.comLadies Wear & Shoes39 www.wealdentimes.co.ukCaroleRidleyWT162.indd 1 17/07/2015 11:51
---
Curtain, blind and soft furnishingsMAKERS FOR INTERIOR DESIGNERS, RETAIL AND FOR YOUYour fabric or ours, measuring and advice, full fitting,poles and tracks supplied, hanging and dressing service20% offAll ITC Rug OrdersPlease quote WT162 with your order. Offer available until 01/12/2015South East, London & Surrey137 Station Road East, Oxted, Surrey RH8 0QE, 01883 715838Kent1 Station Road, Edenbridge, Kent TN8 5HP, 01732 862659www.floor-designs.co.ukLilyMatthewsHalden Place, Halden Lane, Rolvenden TN17 4JGTel: 01580 241614 Email: info@lilymatthews.co.ukwww.lilymatthews.co.ukLilyMatthewsWT159.indd 1 17/04/2015 12:26ITC Natural LuxuryFlooring are delighted tointroduce bespoke rugs fromour fabulous ConnoisseurCollection of stunningwool and viscose carpets.Each bespoke rug is edgedwith a co-ordinatingcolour faux suede tapefinish and is available toorder in any width up toa maximum of 500cmCome and see theConnoisseur Collection atFloor Designs and order yourbeautiful bespoke rug today.itcnaturalluxuryflooring.comwww.wealdentimes.co.uk40FloorDesignsWT162.indd 1 22/07/2015 15:19
---
where to find your copy...call freephone 0800 294 9011to find your nearest distributor of Wealden Timesor to have your free copy of Wealden Times deliveredfor 12 months for just £18 £22 postageDistribution of Wealden Timespublished in Cranbrook for the WealdBromleyOrpingtonSevenoaksMaidstoneCanterburyEdenbridge TonbridgeRoyalTunbridgeWellsCrowboroughCranbrookTenterdenAshfordHytheHeathfieldHailshamBattleHastingsRyeYou can get your copy at most railway stations, newsagents and allWaitrose stores throughout the Weald. The following are our majordistribution points and you can also visit www.wealdentimes.co.ukfor a complete listingAshford• Waitrose• WaterstonesBattle• British DesignBritish Made• Jempson'sBenenden• Village ShopBiddenden• Bloomsburys• Cost CuttersBoughton Aluph• Perry CourtFarmshopBurwash• BurwashNewsagentsCanterbury• The GoodsShed• Waitrose• WaterstonesCharing• Charing PostOfficeCranbrook• Ashwal Garage• Gastronomia• Hartley DykeFarmshop• Jackson-Stops& Staff• PagesCrowborough• Costa CoffeeEastbourne• WaterstonesEdenbridge• WaitroseEtchingham• EtchinghamFood & DeliFaversham• Macknade FineFoodsGoudhurst• GoudhurstNewsagentsHailsham• WaitroseHastings• Judges BakeryHawkhurst• Jempson'sHeadcorn• Sainsbury'sHeathfield• Cuculo DeliHurst Green• MerrimentsGarden CentreMaidstone• Cornell• WaterstonesMarden• Marden PostOfficeMayfield• MaceNorthiam• Jempson's LocalPaddock Wood• WaitrosePeasmarsh• Jempson'sPluckley• Pluckley FarmShopRobertsbridge• Vinehall SchoolRolvenden• CostcutterRushlake Green• The StoresRye• Adams of Rye• Jempson's• The Rye RetreatSandhurst• Nigel CollisonFuelsSevenoaks• Cook• WaitroseSheffield Green• TradingBoundariesSissinghurst• TN17 Food &WineStaplehurst• MillbrookGarden CentreSt. Leonardson-Sea• Shop• Who's WearingWhatTenterden• TenterdenLeisure Centre• London BeachHotel• Waitrose• Waterstones• White LionTicehurst• LondisTonbridge• WaitroseTunbridge Wells• Fenwick• Gardener &Cook• Hoopers• Royal VictoriaPlaceUckfield• WaitroseWadhurst• Jempson's• WealdenWholefoodsWest Malling• The SwanSTATIONS:• Ashford• AshfordInternational• CanterburyWest• Crowborough• Eastbourne• Hildenborough• Maidstone East• Orpington• Paddock Wood• Sevenoaks• Staplehurst• Tonbridge• TunbridgeWells• Wadhurst• West Malling• Also available in:Edenbridge41 www.wealdentimes.co.ukRespireLivingWT161.indd 1 16/06/2015 09:51
---
Mynt ConditionWords: John Graham-Hart Photographs: David Merewether Styling: Lucy FlemingAfter deciding to sell a home in Camberwell and let another in Canterbury,Dan and Chris made the decision to settle in a graceful apartmentin an elegant Victorian house. A little over three years later, and afteran extensive remodelling of space they have succeeded in creating abeautiful home where style triumphs effortlessly over fashion...www.wealdentimes.co.uk42
---
43 www.wealdentimes.co.uk
---
How much will my divorce settlement be?This is a common question andwe know it's frustrating whenthe answer is "It depends". Inlaw, there's no formula for a financialsettlement. We have statutes and casesbut if you go to court, the judge has a widediscretion. That said, it's usually possibleto advise what the likely outcomes will be,particularly where there are children.Judicial discretion is what your judge onthe day deems fair and reasonable in thecircumstances of your case. Whilst it mayseem unfair that your future is decided bysomeone who may have got out of bed thewrong side that morning, the discretion ofjudges enables them to treat each case onits own merits.A recent case in the Court of Appealordered a hospital consultant to giveall the family assets (£550,000) to hisex-wife. This is unusual but the courtconcluded the husband was unlikely topay maintenance for his family - he hadn'tdone so to date and was living overseas.The husband had abdicated responsibilityfor his family and the court stepped in toprotect them.Another case this year demonstrateda tough approach to an ex-wife whopersistently refused to work and relied onher high earning ex-husband to supporther. Despite the fact that she was in her50s and hadn't worked for years, she wastold to get a job. Fairness rightly worksboth ways.If you would like advice then contact ourfamily team at ThomasHaywood.Sarah Haywood is head of our familydepartment. Contact her on 01892 765013or sarah@thomashaywoodsolicitors.comThe leading case of Miller;McFarlane talksabout sharing but emphasises the needfor fairness which does not necessarilymean equality: eg a wife on a low incomelooking after young children may get morethan half the capital.Sarah HaywoodSpecialist Family DepartmentCalverley House, 55 Calverley Road,Tunbridge Wells, Kent, TN1 2TU01892 765013www.thomashaywoodsolicitors.comThomasHaywoodSolicitorsWT162.indd 1 15/07/2015 12:48Media Room & Home Cinema SpecialistsAlsoMulti Room Audio Visual Systems | Lighting Design and ControlContact us to arrange a visit to our demonstration suite in Tonbridge or we can visit youTelephone 01732 852 500 | www.newwaveav.co.ukwww.wealdentimes.co.uk44NewWaveWT160.indd 1 19/05/2015 09:22
---
Previous pages & this page: The original master bedroom is now thekitchen/breakfast room. The simple pine table has been elegantly upgraded bygiving it a glass top and surrounding it with chic white Ikea chairs. Beside thefireplace lazes a warm wood and white armchair which Dan restored himselfand above it a collection of favourite gilt mirrors and antique coffee grinders"In this world nothing can be said to be certain,"observed Benjamin Franklin, "except death andtaxes." And in the 1950s, for some of Britain'shitherto wealthiest families, the two came together withdevastating effect. Already under pressure from fallingincome, rising general taxation and the horrendousrunning costs of their family homes, death duties wereoften the final straw. The country pile had to go.Some of these large and often beautiful countryhouses were sold but before the Big Bang and currenthuge sums to be made in the City, the market forhouses that might cost £100,000 a year in upkeep wassoft to say the least. Many simply fell into disrepairand were ultimately demolished, depriving the nationof some of its loveliest country architecture.However, in the country house's darkest hour camea saviour for some at least – the Country HousesAssociation which was set up in 1955 to provide sharedaccommodation, with communal meals, for well-to-doretirees in good health in a style to which many residentshad formerly been accustomed. The first house to bebought and converted, in 1956, was Danny House nearHurstpierpoint in Sussex. Next, in 1959, was the grade-I 45 www.wealdentimes.co.uk
---
What was the apartment's original study/library is now the couple's elegant butintimate dining room. "We had to do quite a bit of work here," says Dan. "Tobegin with the original fireplace had been removed so we put in a black marblefireplace and replaced the flooring with reclaimed herringbone parquet."www.wealdentimes.co.uk46
---
Stables from £1000Bespoke Timber BuildingsStables | Mobile Field Shelters | WorkshopsSheds | Log Cabins | SummerhousesHome Offices | Wendy HousesVisit our Display Centre atMerriments, Hurst Green, East Sussex TN19 7RAKibblewhite WT www.nffltd.co.uk half page ad Feb'14 | 01435 (185813 x 130) 535 V3_Kibblewhite | sales@nffltd.co.uk WT half page ad CMYK (185 x 130) 07/02/2014 10:58 Page 1Newton&FrostFencingWT161.indd 1 09/06/2015 10:20Established in 1963, Kibblewhite Gardens remain at the forefront oflandscape contractors in the Kent & East Sussex area. The companyhas flourished on recommendations from its clients who value theattention to detail that David Kibblewhite provides and the consistentlyhigh standard of workmanship from his experienced staff.Quality garden design & landscaping since 1963Call: 01580 850394 Or Visit: www.kibblewhitegardens.co.uk47 www.wealdentimes.co.ukKibblewhiteWT162.indd 1 07/07/2015 15:06
---
20%OFFMOST FABRICSSUMMER SALESat 15 August to Sat 26 September© Sanderson©Design, Extension, Renovation, Conversion, New Build,Maintenance from a blocked gutter to a new roof.All work carried out by our team of experienced craftsmen.We are the made-to-measure curtains and blinds specialists• Huge variety of fabrics• Extensive lending library• Wide range of tracks and poles• Enthusiastic and knowledgeable staff• Individual customer centred design advice• Free home visits to measure your windows• Full after sales support and fitting serviceT: 01797 225950 / 01892 891874www.jonraybuilding.co.uk M: 07778 808 9508 Camden Road, Tunbridge Wells, Kent TN1 2PT01892 616556 email: teasels@live.co.uk www.teasel-fabrics.comJonRayWT149.indd 1 23/06/2014 TeaselsFabricInteriorsWT162.indd 12:19 Fabrics_WT_Summer_Sale_Ad 1 90x130mm.indd 1 15/07/2015 16/07/2015 10:37 11:01CHALK & LIME PAINTPrepare, layer, pattern, wax and glaze yourway to fantastic furniture on our fun and socialhands-on day courses suitable for all levels.For more info or to bookAutenticoPaint01233 878303Courses run at our studio at Unit 3 St. John's Court,Foster Road, Ashford TN24 0SJPure and Natural paintswww.wealdentimes.co.uk48AutenticoWT159.indd 1 02/04/2015 12:21
---
listed Aynhoe Park in Northamptonshire. These set thepattern which was successfully repeated with other houses,some of which still exist as retirement communities today.Despite the ultimate collapse of the CHA scheme,it had proved that yes, for the country set, there waslife after death duties. The idea of multiple occupancywas taken up and adapted by the Period and CountryHouses, a company that focused on creating independentunits within the house and estate buildings. The ideacaught on and developers began converting countryhouses throughout England into apartments.Alas, many of these conversions were not hugelysuccessful, indeed some were complete pig's ears. Themajor problems were that either the developer simplytried to cram too many apartments into the buildingor thought laterally rather than vertically, convertingon a floor-by-floor basis so that only a few apartmentsbenefitted from the elegant ground floor reception rooms.The real turning point came in the late 1970s whenarchitect Kit Martin began converting vertically providingoccupants with a considerably more varied layout.All of which has been great news for Dan and partnerChris, both doctors – Dan of Sociology and Chris, Right: In the hallway is perhaps Dan's pièce de résistance, a superbGothic stained glass window through which one has a superb viewof the monumental window on the main staircase belowBelow: The TV room has a light mid-century touch. A comfortablepurple sofa and red rug, curtains and a wonderful side lamp Chris hasmade from an antique fire extinguisher complete the period picture49 www.wealdentimes.co.uk
---
This page: A lovely original staircase hung with a bespoke string of paper lanterns leads to the top floor, part of which was probably the original family'schildren's bedrooms and perhaps the nurseryMedicine. Three and a half years ago they decided to sell ahome in Camberwell, let out a second home in Canterburyand buy together. At first, Surrey wasn't even on theirradar but wandering through properties online, a propertycaught their eye – an elegant apartment on two levelscalled East House, in a Victorian country house known asMynthurst Mansion near Leigh, originally the great houseof one of the largest estates in Surrey. They decided tohave a look. "It was a lot further out than we'd originallyplanned but we saw it and just fell for it," says Dan. "Itwas a beautiful apartment and had so much potential."This potential lay not in the options for knockingdown walls and remodelling rooms but in the sheervariety and flexibility of both the rooms as they stoodand the layout of the flat as a whole. The couple wentback to scratch, approaching the apartment as merelya range of spaces, and decided what would suit themand their lifestyle best. Rooms would have to changetheir function – the master bedroom, for instance,would become their drawing room – and there wouldbe selective redecoration from top to bottom.The result is truly inspiring – a place of beauty,originality and fascination from the vast stained glasswindow which graces the old main staircase which leadsup to the apartment door to the guest room at the topof the house that the couple now offer on airbnb. It iswww.wealdentimes.co.uk50
---
David Salmondining with style!Wealden House | Cross In Hand01435 863921www.davidsalmon.co.uk116 South Street | Eastbourne01323 722921
---
15Kent Peg Tiling &Listed Building Specialistsconservation and renovationspecialists § high quality workby experienced craftsmanRobinsonWatersKitchenLintelARCHITECTS54new build?renovation?extension?Cloakroom.UP.Entrance HallEntranceLobby01797 270268 or visit www.kentpegs.com'Winner of N.F.R.C.Heritage Award 2011'ARCHITECTUREsteel beam.Innovative and practicalPersonal and professionalSustainable and affordableContemporary and traditionalstudios:Sitting RoomsevenoakshawkhurstStudyLintelLintel237358Internal area of the Ground Floor 121.4 sq. metres.118LintelFinished Level Ground Floor 100.2503263architects@robinsonwaters.co.ukTel: 01580 754806www.robinsonwaters.co.ukKITCHENShastingsKarlTerryWT118.indd 1 19/12/2011 RobinsonWatersWT161.indd 09:411 08/06/2015 14:36Carpets and fine floor coverings20%off all rugsThe brightestand mostcomprehensiverug show rooms inthe area are nowopen in Clark'sof Canterburyand Clark's ofWhitstable.FOR REAL COOKSIt's time for a new fitted kitchen,the one you've always wanted.Scan now to try our online pricecalculator on your tablet or phone.Canterbury: 12 Roper Road, CT2 7EH. 01227 788588Whitstable: 89 High Street, CT5 1AY. 01227 772774www.clarkscanterbury.comCraftsmanship modern & ancientwww.hammertons.co.uk01435 868611Sunset Farm • Heathfield RoadCross in Hand • TN21 0UJwww.wealdentimes.co.uk52ClarksRugNationWT162.indd 1 09/07/2015 HammertonsWT147.indd 15:114 04/04/2014 16:46
---
Dan declares the drawing room – once used as a dance studio – a "work-inprogress"but a mere mortal would see it as a highly stylish job done. Two hugegrey velvet Habitat sofas recline on black cow hides facing each other acrossa long glass table. In the widow hang matching grey velvet curtains and thewhole scheme is perfectly set off by the original deep red tiled fireplace...53 www.wealdentimes.co.uk
---
This page: The drawing rooma home where style triumphs effortlessly over fashion. "Ilike things I've never seen before – in other people's homesor wherever – things perhaps other people don't want sothey will be unique and, of course, cheap," says Dan.The original Victorian master bedroom suite now hasoak kitchen units and blue granite work surfaces and afloor of white-painted boards. The simple pine table –originally Irish but brought over by Dan from his nativeAustralia – has been elegantly upgraded by giving it aglass top and surrounding it with chic white Ikea chairs.Beside the fireplace lazes a warm wood and white armchairwhich Dan restored himself and above it a collectionof favourite gilt mirrors and antique coffee grinders.In the hallway is perhaps Dan's pièce de résistance,a superb Gothic stained glass window through whichone has a superb view of the monumental window onthe main staircase below. "It used just to be a modernsquare window and I thought it deserved somethingmore sympathetic," says Dan, noting that he copiedthe leaf motif from an original above the front door.Off the hallway is a seriously cool urban showerroom the couple created by knocking the old showerand WC into one. The floor and walls are blackslate, cleverly sourced by Dan for 5p a tile, andin the shower itself a panel of Venetian glass tileswhich Dan admits were, alas, far from cheap.Nearby is the TV room which has a light mid- www.wealdentimes.co.uk54
---
CONCEPTSVISIT OUR SHOWROOM AT8 MARKET STREET, RYE, EAST SUSSEX TN31 7LATELEPHONE 01797 225 222Listed & Period Property Specialist• Bespoke Kitchens• Windows & Doors• Staircases• Garage Doors• Timber Renovations & RepairsFor bespoke handmade joinery services in Kent, get in touchwith Artisan Kitchens & Joinery today. We offer a personal,professional service and a free no obligation quote.01303 230027 or 07706 095354www.artisankitchensandjoinery.comRestorations, Renovations & Repairs• Bespoke Kitchens• Windows & Doors• StaircasesEXCITING NEW SUMMER ARRIVALS • OPEN 7 DAYS A WEEKWWW.CONCEPTSRYE.COMEmployed Skilled Workforce | Renovations & ExtensionsConversions & Alterations | Design & Build• Garage DoorsArtisanKitchens&JoineryWT158.indd 1 13/03/2015 ConceptsWT161.indd 14:181 16/06/2015 13:09• Timber Renovations & RepairsArtisan Kitchens & Joinery supplies high-qualityhandmade joinery and fitted kitchens to customersthroughout Kent. Items are designed and crafted byMartyn Chapman, B.A. Hons. Advanced City & Guilds,employing traditional methods where specialistknowledge is required.In addition to fitted kitchens, Martyn can provideelegant handmade furniture, custom made double glazedwindows & doors, staircases, garage doors and timberrenovations and repairs.If you live in a listed or period property exact replicascan be made to ensure continued authenticity.For bespoke handmade joinery services in Kent, get in touch with Artisan Kitchens & Joinerytoday. We offer a personal, professional service and a free no obligation quote.01233 223176www.artisankitchensandjoinery.comMartyn ChapmanRestorations, RA.T. Palmer Ltd T: 01233 770077RestoRation specialists est.1949 Smarden Business Estate, TN27 8QL atpalmer.co.uk55 www.wealdentimes.co.ukATPalmerWT159.indd ATPalmerWT148.indd 1 14/04/2015 13/05/2014 10:45 16:42
---
'tashaSTUNNING HANDLES FOR DOORS & DRAWERSwww.theseplease.co.ukSpecialise in bespoke Swedish & French beds& interiors with extensive stock of originalantique beds & furniture.Forstal Farm Goudhurst Road Lamberhurst KentTel: 01892890769 www.tashainteriors.co.uk• A simply stunning range of over 550 gorgeousceramic, natural and glass door knobs and hooks •• Mix and match styles. Transform kitchens.Upscale furniture •• Online store www.theseplease.co.uk 01435 817153 •TashaInteriorsWT152.indd 1 20/02/2015 ThesePleaseWT161.indd 12:371 02/06/2015 10:09Triple Gold Award Winners SPATA 2015SPATA Pool Contractor of the Year 2015XL Pools Ltd, The Parlour, SaracensDairy, Pluckley Road, Pluckley, TN27 0SATelephone: 0845 20 60 420Email: enquiries@xlpools.comWWW.XLPOOLS.COMwww.wealdentimes.co.uk56XLPoolsWT162.indd 1 14/07/2015 10:32
---
This page: A guest room which is occasionally offered to B&B guests has been decorated in French Empire style. Above the bed is a panel of pretty pale bluewallpaper and a patinated antique French mirror and, standing by, is a pair of mother-of-pearl inlaid chairs reupholstered in blue. Dan has painted the floor inblack glosscentury touch in terms both of colour palette and theconsiderable presence of a superb white Barcelona chairand foot rest. A comfortable purple sofa and red rug,curtains and a wonderful side lamp Chris has made froman antique fire extinguisher complete the period picture.What was the apartment's original study/library isnow the couple's elegant but intimate dining room."We had to do quite a bit of work here," says Dan."To begin with the original fireplace had been removedso we put in a black marble fireplace and replacedthe flooring with reclaimed herringbone parquet."The latter were originally too thick and would haveraised the floor level above that of the hallway so eachblock had to be trimmed exactly to the right height.The 1840s Victorian circular table is attended byRegency chairs Dan had reupholstered in black damask.On the wall is a set of reindeer antlers and above thechimneypiece a case of butterflies and a stuffed owl."Chris calls this my dead and dusty room," observes Dan.And so on up a lovely original staircase hung witha bespoke string of paper lanterns to the top floor,part of which was probably the original family's57 www.wealdentimes.co.uk
---
This page: The couple's own bedroom is all greys, pale blues andturquoise warmed by glowing polished oak floorboards. A Paul Jamescow painting (called Camilla) hangs above the chimneypiecechildren's bedrooms and perhaps the nursery. These threerooms now form the couple's B&B suite – bedroom,bathroom and a large drawing room. "B&B has been agreat success for us and we enjoy meeting new peoplebut we've decided to limit visits to a couple of timesa month. As an intensive care consultant Chris has ademanding job and works long hours so it's importantthat his time at home is as relaxing as possible."The beamed bedroom had been at some pointremodelled in Arts and Crafts style and Dan has runwith this adding a further dimension with touches thatagain underline his creativity and talent as a designer.The hand basin is a particular triumph, the basin itselfa beautiful Victorian jam pan, its base an old sciencelab table and the finished article, utterly stunning. "Itseemed sacrilege to cut a hole in that wonderful pan,"he said, "but it gave it a whole new purpose and leaseof life and I think it works." Works? I should coco.Next door is a predictably lovely bathroom in Victorianstyle complete with roll-top bath, twin basins and highcistern loo. Dan declares the drawing room – once used asa dance studio – a "work-in-progress" but a mere mortalwould see it as a highly stylish job done. Two huge www.wealdentimes.co.uk58
---
Beautifully designedand craftedkitchens.Marion John Design Award Finalists 2014THESUMMER SALENOW ONwww.collinsbespoke.comFor a free design consultation contact us01233 822595info@collinsbespoke.comShowroom opening soon but visitors to the workshop are always welcome, of course!RomanaSolid oak with clear matt lacquer. Soft curved tops andshaped legs give this collection a stylish modern feel. Mediumextending dining table. RRP £1595 NOW £1199CollinsBespokeWT158.indd 1 16/03/2015 09:54Conzena Retro designed large sofa available in a choice ofcolours. Also available in different sizes and matching chair.In range T3 RRP £1535 NOW £1155For an extensive choice of beautiful traditionalsolid and engineered oak flooring as well asnatural limestone, travertine, marble andslate. We offer value for money, nothing istoo much trouble – so come and be inspiredat our new showroom and warehouse.Natural Image Kent Ltd. Unit 3, White House Farm,Green Lane, Chart Sutton, Kent ME17 3ESTelephone: 01622 840420www.stoneandwoodfloors.co.ukINTEREST FREE CREDIT*www.clarkesfurnishers.co.ukSandling Road, Maidstone, ME14 2RF 01622 753073*Cash price £2000, deposit £500. 12 monthly payments of £125. Total payable £2000. Subject to status, quotationavailable on request. Credit provided by an external finance company determined by Clarkes. Subject to acceptance.59 www.wealdentimes.co.ukNaturalImageWT159.indd 1 10/04/2015 LenleysWT162.indd 11:051 10/07/2015 14:31
---
CATCHPOLE & RYEKENT ENGLANDEXCLUSIVE LUXURY BATHROOMSShowrooms LondonChelsea Walk 282-284 Fulham RoadSW10 9EW T. +44 (0)207 351 0940sales@catchpoleandrye.comShowrooms & Workshops KentSaracens Dairy Pluckley Road PluckleyTN27 0SA T. +44 (0)1233 840 840www.catchpoleandrye.com
---
This page: In the beamed bedroom that the couple now use forB&B guests Dan has converted a beautiful Victorian jam pan intoa basin, its base an old science lab table. "It seemed sacrilege tocut a hole in that wonderful pan," he said, "but it gave it a wholenew purpose and lease of life and I think it works," says Dangrey velvet Habitat sofas recline on black cow hides facingeach other across a long glass table. In the window hangmatching grey velvet curtains and the whole scheme isperfectly set off by the original deep red tiled fireplace.Also on this floor is a guest room which is occasionallyoffered to B&B guests requiring space for friends orchildren and decorated in French Empire style à Dan.Above the bed is a panel of pretty pale blue wallpaperand a patinated antique French mirror and, standing by,is a pair of mother-of-pearl inlaid chairs reupholsteredin blue. Dan has painted the floor in black gloss.The final room is the couple's own bedroom – all greys,pale blues and turquoise warmed by glowing polished oakfloorboards, a proud Paul James cow surveying all fromabove the chimneypiece. The positioning of the bed bythe beautiful Gothic mullion window gives it a stunningheadboard of sky or stars depending on what hours youkeep. And an interesting historical footnote is hidingunder the rug – a trap door that houses the windingmechanism that allows the vast chandelier over the house'smain staircase to be raised and lowered for cleaning.This is a house in which no two rooms are remotelythe same. Styles range from contemporary cool61 www.wealdentimes.co.uk
---
MINTERIORSJFine hand crafted kitchens and bespoke furniture01580 291221 jminteriorsuk.uk Biddenden Showroom
---
Above right & left: Next to the B&B guest room is a lovely bathroom inVictorian style complete with roll-top bath, twin basins and high cistern looRight: The downstairs wet roomthrough Victorian, Arts and Crafts and Empire andyet Dan has handled each with deft confidence, nevermerely producing period pastiches but interpreting each,surprising and delighting with his talent and originality.It is perhaps sad that over the years so many periodcountry houses have had to be converted to save themfrom the wrecker's ball but when one sees what Danand Chris have done here it is utterly impossible not tocelebrate the reincarnation of East House and the uniquenew home it has given them the opportunity to create.Address Book:For further information about enjoyinga B&B stay at East House, visitwww.airbnb.co.uk/rooms/3755417?guests=2&s=8MjA.Never miss an issue of Wealden Times byvisiting the iTunes App Store to downloadour free interactive iPad edition63 www.wealdentimes.co.uk
---
Just add...Wealden TimesMade in the Weald for the Worldwealdentimes.co.uk/appWT App Logo.indd 2 09/01/2015 16:25
---
Rustic country style with a contemporary twist...Wealdenfairs.comDiscovered ed by us...delivered ed to youDecorative Tin Plates, £9Wealdenfairs.com/loveincltd19th Century French Mirror, £325Wealdenfairs.com/thevintagehomeshopDog's Lead Hook, £36.95Wealdenfairs.com/bettyanddodgeVintage Grain Sack Tote Bag, £40Wealdenfairs.com/misssewandsewLambswool Cushion Cover, £29Wealdenfairs.com/lizardorchidAlice In Wonderland Papercut Clock, £40Wealdenfairs.com/imakeOval Copper Planter, £95Wealdenfairs.com/myvintagegardenVintage French Leather Chair, £600Wealdenfairs.com/thevintagehomeshopVintage Stone Lions, £250Wealdenfairs.com/thevintagehomeshopFive Piece Nesting Basket Set, £125Wealdenfairs.com/greigeVintage Wall Cupboard, £345Wealdenfairs.com/goosehomeandgardenFollow us for new products,competitions and promotions.
---
DetlingInternational Antiques&& Collectors' Fair Fair2 for 2 for 1 1ENTRY ENTRY * *Maurice Chevalier 's own piano, Gaveau, Paris, 1936Park Farm Oast, Frittenden Rd, Biddenden, KENT TN27 8LGtel: 01580 291393 email: info@periodpiano.comwww.periodpiano.comUp to Up 500 to 500 exhibitors in two in two buildings, buildings,shopping shopping arcades, arcades, marquees marquees & outside & outside offering offering a awide wide range range of items of items from from ceramics, ceramics, glass, glass, vintage vintageclothing, clothing, furniture, furniture, books, books, metalware, kitchenalia,postcards, pictures pictures & much & much more. more.Sat Sat 5th 5th - Sun - Sun 6th 6thSeptemberSat: Sat: Early Early Entry Entry 8.30am 8.30am - £6 - £6Sat: Sat: Public Public 10am 10am - 4.30pm - 4.30pm - £5 - £5Sun: Sun: 10am 10am - 3.30pm - 3.30pm - £4 - £4* Valid * Valid only with only this with original this original advert. advert. REF wt162Kent Kent County County Showground, Detling, Detling, ME14 ME14 3JF 3JFTel: Tel: 01636 676531www.b2bevents.infoPark Farm Oast, Hareplain Rd, Biddenden, KENT TN27 8LQtel: 01580 291393 email: periodpiano@btopenworld.comwww.periodpiano.comPeriodPianoWT162.indd Chevalier.indd 1 1 08/05/2014 20/07/2015 12:46:51 B2BEventsLtdWT162.indd 11:431 22/07/2015 13:10kent's leadingauctioneers & Valuersof fine art, antiques& collectors' itemsSpecialiSt Valuation Day for Militaria, MeDalS & GunSat the Spitfire & hurricane MeMorial MuSeuM, ManStonmonday 31st august 11AM - 2pMNo need to book – Just come alongfree chineSe ceraMicS & WorkS of art Valuation MorninGAt 40 station road West, canterbury, ct2 8ansaturday 5th september 9.30AM - 1pMWith alastair gibson (formerly Sotheby's)to make an appointment please call chris Wacker on 01227 763337www.thecanterburyauctiongalleries.comforthcoming auctions13th & 14th October8th & 9th DecemberOpposite: A Victoria Military General Service Medal (1793-1814), with six bars,to "Subn. Hugh A. Fraser 42nd Regiment Foot". Sold for £5,700www.wealdentimes.co.uk66CanterburyAuctionGalleryWT162.indd 1 13/07/2015 11:08
---
Q. When it comes to antiques and collectables, what should we be investing in now?WT asks the experts...Leslie Gillham from Gorringes Tunbridge Wells LLP"For many years my answer to that question has remained thesame: 'buy only what you like and the best you can afford'.Of course, if you have deep enough pockets then the£1,513,500 paid for a 1998 Mercedes-Benz CLK GTRRoadster at Goodwood in June, or the £3,106,500 achievedfor a 1940 Vickers Supermarine Spitfire Mk1A-P9374 inLondon in July probably look quite reasonable purchases.Unfortunately, most of us have to set our sights lowerthan the multi-million pound world of big boys' toys.So where to begin? Well, if you like antique furniture youneed look no further. Twenty years ago you would have had topay £1,500 for a George III mahogany bureau and £1,800 fora set of six Victorian rosewood balloon-back chairs on cabriolelegs. The same things now would set you back £200 and £150Original oils by artists as varied as DavidShepherd, Frank Wootton and Beryl Cookstill go for under £20,000 although youmight need to dig deeper for a major work...respectively. If, however, youreally cannot bear that oldstuff, why not try a 1970sArchie Shine rosewood chestof drawers at £500-700.Alternatively, perhapsthe highly popular worldof modern British art might appeal. Original oils by artists as varied as David Shepherd,Frank Wootton and Beryl Cook still go for under £20,000 although you might need todig deeper for a major work. In the end, just remember, this market is like any other:if you buy at the top you may well lose out financially but, if you are prepared to goagainst the dictates of current fashion, you could see a profit in the longer term."Pictured, from top: David Shepherd CBE (b. 1931), 'Tiger in the bush', oil on board, signed and dated '95, soldfor £10,000 in September last year (size 21.5cm x 35cm); Beryl Cook OBE (1926-2008), 'The Landlady', oil onpanel, signed, inscribed verso and dated February 2003, sold for £12,000 in June this year (size 46cm x 30.5cm).To browse forthcoming auctions at Gorringes, visit www.gorringes.co.uk or call 01892 619670.Lin Chambers from Elham Antiques"There has never been a better time to buy antiquefurniture. Good Georgian and Victorian furniture is at anall time low pricewise and has never been better value.Country pieces have a less formal look that fitinto even modern settings. A more relaxed approachto interior design is clear in all the magazines withpainted furniture still very much in vogue.The design of a chest of drawers has barely changedin hundreds of years and every home will have one inmost bedrooms. My advice would be to buy a soundchest of drawers (auctions are fun and can bring realbargains if you have the time) but check that the drawersrun smoothly and need no repair. My first choice wouldbe a lovely oak eighteenth century chest, but if you arelooking for a painted chest of drawers then why not bebrave enough to paint your own piece! The modern chalkpaints really need little preparation, so simply follow theinstructions and you will have something for a fractionof the price. Magazines are a great source of inspiration(you have one before you now!) and help you to decideon colours, handles, finish etc. If your first attemptisn't quite what you had intended just add another coatof paint – it will only make it more hard wearing!Another 'must-have' piece of furniture and surely themost universally useful thing ever is a trunk. It is possibleto find wonderful oak examples and even 17th and 18thcentury coffers are very affordable. Original painted trunksare lovely and come in every colour and finish imaginable.At the moment we have an American Shaker trunk thatis painted red and has a combed pattern in the scumblefinish that I particularly like, but we also have oak ones,a pine painted one, an 18th century trunk that is paintedto look like oak, etc... we have a trunk in almost everyroom! Again, why not paint a plain but sound one?67 www.wealdentimes.co.uk
---
Saltwood AntiquesThe beautiful, the strangeand the quirkyAs seen at theWealden Times Summer FairBrowse and buy from our online shopRestored and bespoke shepherd's huts, garden antiques and countryfurniture, everything for beautiful relaxed homes and gardens.Telephone 01303 238851saltwoodantiques.wix.com/saltwood-antiquesELHAM ANTIQUESTelephone 01303 840085 www.elhamantiques.comSaltwoodAntiquesWT162.indd 1 16/07/2015 ElhamAntiquesWT162.indd 12:401 15/07/2015 14:32GorringesTHE LEADING AUCTIONEERS IN THE SOUTH EAST• Six selected Fine Art, Antique andCollectable sales per year• Weekly sales of antiques, collectablesand general items from £40 to £1,000(Payment made in two working days)• Free internet listing for all sales• Free auction estimates• Valuations for Insurance and Probate• House ClearanceAn impressive Japanese Satsumapottery dish, for Taizan Company,Meiji period, dia 30.5cm.Sold for £10,500For a FREE valuation on items you would liketo auction, simply email your images to:tunbridge.wells@gorringes.co.ukTo arrange an appointment call:01892 556 860www.gorringesfineartauctions.comGorringes Tunbridge Wells LLP, 85 Mount Pleasant Road, Tunbridge Wells, Kent TN1 1PXwww.wealdentimes.co.uk68SummitStudiosGorringesWT162.indd 1 08/07/2015 10:00
---
So my advice on buying antiques is to buy somethinguseful or something that you love and it will serve you well.Also there is no better way of being 'green' as allantique furniture is the best example of recyclingthat you could find. Saving money and helping theenvironment should make you feel very virtuous!As for collectables, buy what you love andyou will always love it. Only buy for investmentwith real knowledge or expert advice."Lin will be re-starting her courses in Paint Techniques andFurniture painting this autumn. For more informationabout the courses and Elham Antiques call 01303 840085/ 07802 618681 or see www.elhamantiques.com.Tony Pratt from The CanterburyAuction Galleries"First, pick an area that doesn't interest you in the slightest.Then, remove from your savings as much as you possiblycan without actually missing it. Blow the lot on as manyof your chosen objects as you can afford and then wait ...for a minimum of 10 years before cashing in. You mightmake money but losses are likely if you were unusuallyfaddy or outrageous in your original investment.Or there's the other way. Instead, choose somethingthat interests you passionately. Learn as much as youpossibly can about it. Visit museums and auctions,the latter to handle pieces and learn values. Knowingcurrentsaleroomtrends will also help you buy at theright price. Learn to spot fakes and masterpieces. Makecarefully planned and systematic purchases followinga set pattern. A complete collection is always morehighly valued than one with gaps and inconsistencies.Not only are you now investing in cash terms but also inthe quality of life. The hardest part comes when it's time tosell. Who knows, perhaps you never will. What better nestegg to pass on to your children? Buy for love, not money."The Canterbury Auction Galleries's most recent sale included thesecharming portraits by Maurice Greiffenhagen (above), one of whichsold for a world auction record price of £24,000: the shoulder lengthportrait of a wide-eyed young girl wearing a brimmed hat set in agarden landscape, 14 x 11.5ins, which was signed and dated 1886,was purchased by an anonymous buyer in the saleroom. To findout more about the Canterbury Auction Galleries, seewww.thecanterburyauctiongalleries.com or call 01227 763337.David Winston fromPeriod Piano Company"Collecting antiques can bea fascinating and rewardingpursuit, offering the opportunity for bothsound investment and the pleasure of owning specialobjects with a sense of history about them.The Period Piano Company, based in Biddenden,offers its clients the chance to own not only abeautiful object to look at, but also one that has theadditional bonus of being a fine musical instrument.Our range of art case antique pianos includesinstruments from the 18th century right through tomodern instruments of bespoke design. Not onlyare different decorative styles on offer, but also anextraordinary array of types of instruments to suitall budgets: small and beautiful 18th and 19thcentury square pianos, or tiny 'ship's' pianos withfolding keyboards, right up to full concert grands.Many of the instruments in our collection have anexceptional provenance, such as the 1930s Art Decogrand piano which belonged to Maurice Chevalier.We are proud that Period Piano Company are the onlyholders of the Royal Warrant as piano restorers to HMthe Queen, and clients can be assured of restoration to thehighest standards."Pictured above is the Gaveau piano which belonged to Maurice Chevalier(also pictured) that Period Piano Company restored to playing condition.You can click on a link in their website to hear it being played bypianist Richard Fairhurst. For further details and to see a stocklist see www.periodpiano.com or call 01580 291393.69 www.wealdentimes.co.uk
---
www.wealdentimes.co.uk70
---
Space & FormWords: John Graham-Hart Photographs: David Merewether Styling: Lucy Fleming & Helen BartonWhen Nick and Sonja walked intoGoudhurst's old disused MethodistChapel they knew they could makesomething truly special from the 2,000square feet of space bounded by solidVictorian brick and soaring Gothicwindows. A year and a half later theyhave succeeded in creating a stunningfamily home whilst preserving theintegrity of this historic building...71 www.wealdentimes.co.uk
---
We pride ourselves on the fi nest craftsmanship.Offering Free expert advice, Free site surveys,Free quotations. Let our experience and expertiseguide you through your next project.NEWLANDS JOINERYThe finest handcrafted joineryTel | 01959 522981Mobile | 07501 725227Web | www.newlandsjoinery.co.ukShoreham Nr. SevenoaksNewlandsJoineryWT161.indd 1 22/06/2015 LukeMillerWT158.indd 12:411 24/03/2015 09:41THE LARGEST STOCKIST OF INDIAN FURNITURE& TEXTILES IN THE SOUTH EASTMake a dayof it andenjoy lunchin ourElephantCaféPLUS CONTEMPORARY FURNITURE RANGES, JEWELLERY AND ACCESSORIESBUY ONLINE www.tradingboundaries.comTrading Boundaries, Sheffield Green, Nr Fletching, East Sussex, TN22 3RB 01825 790200On the A275, just a 15 minute drive from Haywards Heath or East Grinsteadwww.wealdentimes.co.uk72TradingBoundariesWT162.indd 1 20/07/2015 16:35
---
Previous pages: The kitchen is a triumph, a combination of coolgrey porcelain tiles, white walls and warm oak Above In the sittingroom an L-shape of grey Spanish leather Cadira sofas gather round amauve Habitat rug Right: At one end of the room is a contemporaryContura woodburner, the tallest that Nick and Sonja could findLike it or not, as a nation, we have forsaken ourgods. Earlier this year, a YouGov survey showedthat almost 70 per cent of us now consider noreligion of any kind to be of importance to our lives. Ofa population approaching 65 million just 800,000 areregular Christian churchgoers. The god of Abraham maynot be dead but he is, perhaps, looking a little peaky.However, although most of us appear unconcerned about thedecline in religious belief, what we should all be concerned aboutis the decline of our religious buildings. In virtually every Wealdenvillage, the finest building is the church. In some villages they havestood for almost a thousand years, surviving war, pestilence andfamine only to fall victim today to apathy. The cost of their upkeepis simply beyond the means of a cash-strapped Church or State.So what does the future hold for these often beautifulbuildings? Some will inevitably fall by the wayside but otherswill find new roles in the increasingly secular world in whichthey must survive. The survivors will be those whose fabric canbe economically restored and who are lucky enough to finddevelopers with the courage and vision to take them on.Some, the larger buildings, may become community centres orentertainment venues while the smaller churches and chapels arealready finding a new lease of life as offices or private homes. 73 www.wealdentimes.co.uk
---
Above: Nick and Sonja were determined to keep the chapel windows as single entities. In order to do this, they divided the living room into three spaces,two soaring to the height of the windows at either end of the room and a centre section with a lower ceiling which provides for second floor accommodationIt does, however, require considerable imagination andcommitment to walk into an echoing, musty cavern of abuilding with leaking roof, rising damp and born-againdeathwatch beetle and say "Hey – this could be cosy."This perhaps wasn't quite the reaction Nick and Sonjahad when they walked into Goudhurst's old disusedMethodist Chapel but it was perhaps something close.Nick is a consultant surveyor and former partner of aworldwide construction and development consultancycompany and Sonja has had in-depth experience of thedelivery side of the construction business and is also anaccountant, so between them they had no trouble seeingpast the chaos and cobwebs and recognising that theglorious 2,000 square feet of surprisingly unlisted spacebounded by solid Victorian brick and soaring Gothicwindows represented an extraordinary opportunity."The church was selling the property with planningpermission to convert it to a single residential dwellinghaving failed to get consent to knock it down and buildflats," says Nick. "But for us it was the chance to createwww.wealdentimes.co.uk74
---
Deacon & Sandys WT 1/4 page updated ads May'15_D&S 1/4 page 13/05/2015 10Craftsmanship & Perfection01892 525732www.johnbullockdesign.comDeacon& SandysDeacon & Sandys of Benenden, Kenthave been creating 16th and 17thcentury architectural joinery andfurniture using traditional methodssince 1976.+44 (0)1580 243331www.deaconandsandys.co.ukjohnBullockWT126.indd 1 02/07/2012 DeaconSandyS08.indd 16:533 29/05/2015 11:0701892 572 309nikki@sofasandstuff.comwww.sofasandstuff.comThe Estate Yard, Eridge,Nr Tunbridge Wells,Kent TN3 9JRwww.wealdentimes.co.uk76SofasAndStuffWT161.indd 1 09/06/2015 10:16
---
This page: The office. Star of the show is a truly superb white leatherVarier 'Orange Peel' chair where the couple can take it in turns to relax andenjoy the stunning westerly view down from the top of Goudhurst hillthe home we wanted in one of the most attractive villages in theWeald – and to save a glorious old building in the process." Therewas a slight problem in that the couple were busy renovatinga property in Rochester but when they found that the chapelwas going up for auction, they couldn't let the chance slip by.For some time the local residents had been fearful about thefate of the building and what might replace it so when theyheard Nick and Sonja's plans the couple found they had solidlocal support for their project. "When we presented our plansto the Parish Council, neighbours even came along to voicetheir approval – and that surely must be some kind of first."The couple both like minimalist living so, with just empty spacebefore them, they could plan exactly the home they wanted – wellalmost. "The broad concept is minimalist but we didn't want togo too far out of respect for the building, says Nick, "and in anycase there were some glorious features we wanted to conserve."Needless to say, at the top of this list were five spectacularwindows that have poured light into this space since 1878and which the couple were determined to keep. "We actuallyhad to reinstate one of the five arched windows to be as theoriginal design." Says Nick. "This was necessary becausethe church had replanned the internal space in the 1960swhich had in turn required the main entrance door to bemoved from the southern elevation to the western side."However, windows like these have always created problemsfor developers of churches and chapels looking to create 77 www.wealdentimes.co.uk
---
This page: In the kitchen bi-folding doors lead out onto an elegant sandstone terrace and its Lloyd Loom table and chairs. The unitsand surfaces and island are courtesy of Cambridge Kitchens, the dining table and Eames-style chairs are from John Lewistwo storeys within a building originally designed as one. Themost common but unsatisfactory solution has simply been tochop them in half with the lower part of the window lightingground floor rooms and the upper the first floor spaces.The couple, however, were determined to keep the windowsas single entities and worked with their architect and friendColin Sharp at CO3 Architects in Staplehurst to develop atwo-storey solution that would do just that. What they havewww.wealdentimes.co.uk78
---
domestic roofing,specialising in re-roofingof historic buildingsFamily Run Established 1989HH A M L E T01233 770 409 07803 594 907www.bridglandroofing.co.ukHamletBuildingsWT128.indd 1 17/09/2012 BridglandRoofingWT161.indd 13:011 11/06/2015 16:35hamlet weald advert 90x130 outlined.indd 1 17/9/12 10:22:48CUSTOM MADEKiTCh E n S B EDr OOMS STUDi ES FUrniTUr E01580 712 666www.roundeldesign.co.ukFliS hinghU r ST OrC h A r D ChA l K lAn E CrA n B r OOK T n 17 2QB79 www.wealdentimes.co.ukRoundelDesignWT162.indd 1 20/07/2015 14:37
---
Delivering Exceptional CustomerService For 3 GenerationsDiscover our stunning range ofcontemporary and traditional designs Quality Design ImaginationBetter and at the right price www.hamiltonkitchens.co.uk01622 844897 Quality Design ImaginationBetter and the right price ✔Free no obligation home visit and designAll building works undertakenWarmlake Business Est,Maidstone Rd, Sutton Valence ME173LQwww.hamiltonkitchens.co.uk 01622 844897K Jones Electrical is a family run business which has been trading for 13years, there are three generations David, Kevin and Louis. David, Kevin'sfather trained him and now Kevin is in the process of training his son Louiswho is on an apprenticeship. We have several fully qualified electriciansworking with us and a high standard is expected and given. We take on alltypes of electrical, domestic, commercial, industrial work and we are alsoPV specialists.K Jones Electrical used to be known as Watts Up Solar but the customersfound this extremely confusing so they took the decision to go back to theirroots and re-name the business back to K Jones Electrical incorporatingWatts Up Solar Ltd.Telephone 01580 848118 www.kjoneselectrical.co.ukBack From BlackBeam Renovation LtdRenovating Beams Since 1997HamiltonKitchenWT159.indd 1 02/04/2015 KJonesElectricalWT159.indd 14:561 16/04/2015 17:25All beams renovated without messA unique system - No blastingNo damage to the woodTel: 01797 458508 www.beam-renovation.co.ukwww.wealdentimes.co.uk80BackfromBlackWT162.indd 1 15/07/2015 12:20
---
Top: Daughter Jessie's room Above: The beds in the guest rooms came from M&S and accent lighting is provided by small light cubes which are also cleverlyused in the living room and kitchendone is to divide the living room into three spaces, two soaringto the height of the windows at either end of the room anda centre section with a lower ceiling which not only providesfor second floor accommodation above but adds intimacy to aroom that would prove dramatic but perhaps a little clinical.An L-shape of grey Spanish leather Cadira sofas gather rounda mauve Habitat rug and an audio-visual system of truly epicproportions – a 65-inch Panasonic TV with a supporting castof KEF speakers. Strangely, though, it doesn't seem to dominatethe room such is the overall feel of light and space. In a niche inthe wall behind the sofa is the chapel's huge old leather-boundbible. The remainder of the hymnals and prayer books went81 www.wealdentimes.co.uk
---
This page: The second guest room, painted a deep grey, is a pleasing combination of contemporary minimalism with a dash of country charm – the latterprovided by a pretty shuttered windowto Africa, the couple gave the old pews that were still usableto Whitstable Cricket Club, keeping one back for themselves,whilst the church's electric organ was donated to the GoudhurstCatholic church and the pulpit and dias ended up in a pub.At one end of the room is a contemporary Conturawoodburner, the tallest they could find and, at the other, threesteps up to the fifth window that graces the office but here thecouple have had no choice but to compromise and lose the topof the window to the bedroom above. Star of the show in theoffice is a truly superb white leather Varier 'Orange Peel' chairwhere the couple can take it in turns to relax and enjoy thestunning westerly view down from the top of Goudhurst hill.The kitchen is a triumph, a combination of cool greyporcelain tiles, white walls, warm oak and a breathtaking sweepof bi-folding doors out onto an elegant sandstone terrace andits Lloyd Loom table and chairs. The units and surfaceswww.wealdentimes.co.uk82
---
EHANDCRAFTED INTBFENGLAND●TRADITIONALEST 2003●RB ES P O K E F U RN IT UOur sought after Knole Sofa isback in our showroom, availablein any colour your heart desireswith £400 off during Augustdif colour logos 21/06/2012 11:38 Page 1nole Housefurnishersnole Housefurnishersnole HousefurnishersKITCHENSBEDROOMS& BATHROOMS01892 723083www.traditionalbespokefurniture.co.ukUNIT 2, THE COPPICE, PETTERIDGE LANE, MATFIELD, KENT TN12 7LP14-18 London Road,Sevenoaks, Kent TN13 1AJTelephone 01732 458150Full range of furniture onlinewww.knolehousefurnishings.co.ukGreat British Furniturenole HousefurnishersTraditionalBespokeFurnitureWT158.indd 1 20/03/2015 KnoleHouseWT162.indd 12:151 21/07/2015 14:30nole Housefurnishersnole Housefurnishers83 www.wealdentimes.co.ukAPLProjectsWT162.indd 1 10/07/2015 12:56
---
This page: The wall of bi-folding doors is echoed upstairs in the master bedroom directly above the kitchen where they open out onto a decked balcony and moreLloyd Loom surrounded by a plate glass balustrade. The polished nickel bed is from Feather & Black in Tunbridge Wells while above it hangs a wonderful glassFlos Glow Ball light which can be dimmed to look like the moonand island are courtesy of Cambridge Kitchens, the diningtable and Eames-style chairs are from John Lewis and theItalian white bar stools are by Harry&Camila by Kristalia.The wall of bi-folding doors is echoed upstairs in the masterbedroom directly above where they open out onto a deckedbalcony and more Lloyd Loom surrounded by a plate glassbalustrade. The polished nickel bed is from Feather & Black inTunbridge Wells while above it hangs a wonderful glass Flos GlowBall light which can be dimmed to look like the moon. Underfoot– as in most of the chapel – glows warm engineered oak.There are also three further bedrooms which gives some ideaof the potential of the single empty space the couple first walkedinto. One allegedly belongs to nineteen-year-old Jessie, the onlyone of the couple's children still in the nest, but based on personalexperience, I simply do not believe any teenager's room can be thistidy. Yes, there are a few clothes on display but they are hung neatlyon the side of a wardrobe not scattered around the floor like youraverage teenager. Part vaulted and a touch less minimalist thanthe rest of the house, it's painted in a gentle Old English whiteand has inherited one of the chapel's original circular windows.The guest room is a pleasing combination of contemporaryminimalism with a dash of country charm – the latterprovided by a pretty shuttered window. Here, as in allbedrooms other than the couple's own, the bed came fromM&S and accent lighting is provided by small light cubeswhich are also cleverly used in the living room and kitchen.The final room is a bright and stylish cocoon fashioned fromthe space above the centre of the living room and drawing itslight not only from another circular window but from the topquarters of its walls which are glass and overlook the sitting room.The build took 15 months to complete but rather than reston their laurels and merely enjoy what is a truly outstandinghome, they are busy developing the property next door, builton an empty overgrown plot that was part of the auction lot."With the chapel we had to be true to a special, historic buildingbut with this new house we can be more radical," says Nick.The Rochester project followed by the chapel and now'Chapel View' have all given Nick and Sonja the taste for www.wealdentimes.co.uk84
---
VinehallSchoolWT162.indd 1 16/07/2015 11:14traditional handmade furnitureKitchensBedroomsStudiesShowroom: 78 London Road, SouthboroughTunbridge Wells, Kent. TN4 0PPTel: 01892 533273Web: Woodworkkitchens.co.ukWoodwork 1-2 i.indd 1 16/06/2015 16:3385 www.wealdentimes.co.ukWoodworkWT162.indd 1 14/07/2015 11:54
---
29 August - 13 SeptemberFREE ARTS FESTIVALSTONE FLOORING SPECIALISTSSTONE FLOORING SPECIALISTSTOD HANSONISAAC CORDALAMY SHARROCKSRED LADIESHUNT & DARTON...5Plus an eclectic mix ofexhibitions, events andopen studios.www.coastalcurrents.org.ukRed Ladies, Photographer: Jessica Jordon WrenchíÜÉëíçåÉíáäÉï~êÉÜçìëÉíÜÉëíçåÉíáäÉï~êÉÜçìëÉëíçåÉíáäÉï~êÉëíçåÉíáäÉï~êÉTHE THE STONE STONE TILE TILE WAREHOUSEWAREHOUSENEW PORCELAIN TILES NOW ON DISPLAYNEW PORCELAIN TILES NOW ON DISPLAYeÉêÉ=~í=qÜÉ=píçåÉ=qáäÉ=t~êÉÜçìëÉ=çìê=ÅçãéêÉÜÉåëáîÉ=ê~åÖÉ=çÑwall eÉêÉ=~í=qÜÉ=píçåÉ=qáäÉ=t~êÉÜçìëÉ=çìê=ÅçãéêÉÜÉåëáîÉ=ê~åÖÉ=çÑand floor tiles ~êÉ=ÉëéÉÅá~ääó=ëçìêÅÉÇ=íç=çÑÑÉê=ÉñÅÉääÉåí=î~äìÉKwall and floor tiles ~êÉ=ÉëéÉÅá~ääó=ëçìêÅÉÇ=íç=çÑÑÉê=ÉñÅÉääÉåí=î~äìÉKbñéÉêí=~ÇîáÅÉ=~åÇ=áåëí~ää~íáçå=ëÉêîáÅÉ=~î~áä~ÄäÉsáëáí=çìê=t~êÉÜçìëÉJpÜçïêççã=råáí=NMI=fåíÉÖê~=jbI=_áêÅÜçäí=oç~ÇIbñéÉêí=~ÇîáÅÉ=~åÇ=áåëí~ää~íáçå=ëÉêîáÅÉ=~î~áä~ÄäÉsáëáí=çìê=t~êÉÜçìëÉJpÜçïêççã=råáí=NMI=fåíÉÖê~=jbI=_áêÅÜçäí=oç~ÇIm~êâïççÇI=j~áÇëíçåÉI=hÉåíI=jbNR=Vdnm~êâïççÇI=j~áÇëíçåÉI=hÉåíI=jbNR=VdnMNSOO=STVNRT=ïïïKíÜÉëíçåÉíáäÉï~êÉÜçìëÉKÅçKìâMNSOO=STVNRT=ïïïKíÜÉëíçåÉíáäÉï~êÉÜçìëÉKÅçKìâHomeLiveArtWT162.indd 1 22/07/2015 SouthernAdhesivesWT161.indd 15:491 17/06/2015 11:43W O O D B U R N I N G S T O V E S P E C I A L I S T SD BURNING WOOD W O OBURNING D STOVE B U R NSUPPLY STOVE I N G S TSUPPLY & O VINSTALLATIONE S P& E INSTALLATIONC I A L I S T S• Wood Burning • Wood Stoves Burning • Gas Stoves Boilers • & Gas Central Boilers Heating & Central Heating• Boiler Stoves • Boiler Stoves • Worcester • Accredited Worcester Installers Accredited Installers• Landlord Certificates • Landlord Certificates • Chimney Flue • Chimney re-liningFlue re-lining• Chimney Sweeping • Chimney Sweeping • No Chimney • No no Chimney problem no problem• Gas Fires • Gas Fires• Supply & Installation• Supply • Chimney & Installation Sweeping• Chimney • Stove Servicing Sweeping& Repairs• Stove • Chimney Servicing Flue & Re-lining Repairs• Chimney • No Chimney Flue Re-lining No Problem• No • Twin Chimney Wall No Flue Problem Systems• Twin Wall Flue Systems• Boiler Servicing • Boiler & Servicing Breakdowns & BreakdownsShowroom at: 115 High Street, Edenbridge, Kent TN8 5AXShowroom Tel: 01732 Showroom at: 115 669950 High at: 115 Street, High Email: Edenbridge, Street, info@kentheatingsolutions.co.ukEdenbridge, Kent TN8 Kent 5AX TN8 5AXl: 01732 Tel: 01732 669950 Opening 669950Email: Times: Tuesday-Friday Email: info@kentheatingsolutions.co.uk9am-4pm; Sunday 10am-4pm.ning Times: Opening Monday-Thursday Times: Opening Monday-Thursday Times: 9am-5pm; Tuesday-Friday 9am-5pm; 9am-4pm; Friday 9am-4pm; Saturday Sunday 10am-4pm.Saturday 10am-4pm.www.wealdentimes.co.uk86KentHeatingSolutionsWTS09.indd 1 30/06/2015 16:27
---
This page: The Chapel enjoys truly enviable views across the Kentishcountryside from Goudhurst to Horsmonden whilst also enjoying a secludedcourtyard space Above left: The downstairs loomore and while they feel they have one last build of their ownto make one day, they are now looking to become involvedin other home owners' and developers' builds and haveformed a consultancy, NDL Consulting, to do just this.Some of their future projects may be new builds or theremodelling of existing homes but, hopefully, there will also bethe opportunity for the couple to bring their vision and provenexpertise to saving more of the Weald's threatened treasures.Address Book:For more information about the services NdL Consultingcan offer your project call Nick Leggett and Sonja Johnsonon 01580 212962 or visit www.ndlconsulting.co.uk.Cadira Surbiton 01932 808269 www.cadira.co.ukCambridge Kitchens 01223 213266www.cambridgekitchens.co.ukCO3 Architects Staplehurst 01580892515 www.co3architects.co.ukFeather & Black Tunbridge Wells 01892547233 www.featherandblack.comFlos www.flos.comKristalia +39 0434 623678 www.kristalia.itNever miss an issue of Wealden Times byvisiting the iTunes App Store to downloadour free interactive iPad edition87 www.wealdentimes.co.uk
---
Find us on Facebook BadgeCMYK / .aiTraditionally built oakframe buildingsmonarchoakOak Frame BuildingsOver 50 years' experience making oak frame buildingsKent Oak Frameswww.kentoakframes.co.uk • kentoakframes@gmail.comSteve: 07748 835554 Kingsley: 07970 005778Workshop: 01233 822186Coles Yard, Ashford Rd, Bethersden, Kent• Garages• Garden Rooms• Complexes• Gazebos• Bespoke Buildings01323 765410 Quality in its finest formwww.monarchoak.co.ukDesign & Planning · Restoration · ExtensionsKentOakFramesWT136.indd 1 09/05/2013 MonarchOakWT147.indd 17:411 15/04/2014 15:06Barn Conversions · New Build · Joinery01580 850307 07799 766248hazelwoodbuilding.co.uk info@hazelwoodbuilding.co.ukwww.wealdentimes.co.uk88HazelwoodWT156.indd 1 09/01/2015 14:17
---
WT chats unusual projects with two Wealden oak framing companies...«When our client was applying for planningpermission for an extension on their home, a surveyrevealed they had a lodger in the roof space...»The team at Oak Designs describe aparticularly memorable projectWhat was the brief? This was possibly one of the mostunusual briefs we'd had in a while! Our client required an outbuildingto house… A BAT! Not a cricket bat, one solitary bat. The twobaygarage for the cars was an added benefit. When our client wasapplying for planning permission for an extension on their home,a survey revealed they had a lodger in the roof space. To be ableto continue with their plans the bat was required to relocate toits own luxury quarters in the form of an oak-framed garage!How did you come up with the design? Thedesign for the garage was adapted from one of our standard Acorndesigns but we needed an enclosed roof space with an increasedpitch to meet habitation requirements. Access was also requiredso the design was adjusted to add a first floor and hatch.What construction methods did you use? We used atraditional oak frame structure with softwood rafters, softwood studworkand weatherboarding. The brick plinth had already been preparedutilising our 150mm wide special facing bricks to give a flush finish.How long did the work take to complete?Our assembly team erected the frame on site whichwas completed over the course of three days.For more information on Oak Designs Co. call01273 400411 or see www.oakdesigns.org.89 www.wealdentimes.co.uk
---
UKwww.STONEWRIGHTUK.comDurable, Desirable, AffordableNatural Stone For Your Home• Natural Stone Floor Tiles • Fire Hearths •• Kitchen Worktops • Bathroom Tops •• Product Consultation Service •• Granite • Quartz • Marble •• Slate • Limestone •Instant estimate available at www.stonewrightuk.comOpening Hours 8.00am - 5.00pm Monday - FridaySaturday by appointment onlyUnit 1, Ninn Farm, Ninn Lane, Great Chart, Ashford, Kent TN23 3DATel: 01233 650944 E: info@stonewrightuk.comcamillafoneWT161.indd 1 24/06/2015 StonewrightUKWT149.indd 14:461 10/09/2014 17:12We provide a full in-housedesign service and centuries oldcarpentry techniques with modernconstruction methods using onlyquality green oak, that will standthe test of time.Complete project management,we pride ourselves on excellentcustomer service, attention to detailand local knowledge of traditionalKent buildings.• Oak Framed houses, extensions,garages & sun rooms.• Porches, entrance canopies,swimming pool enclosures.• Barn frames, general oak joinery& other bespoke projects.www.kentoakbuildings.comfor friendly advice & free no obligationquotation call 07889 365093 or 07952 197055We support the UK Wood for Good campaign which encourages the use of Wood as anatural building method. Visit our website for more information.www.wealdentimes.co.uk90BrabourneOakFramesWT162.indd 1 16/07/2015 14:19
---
«The new office replaced an old L-shaped buildingthat had been used over the years as a workshop andfor storage, so we opted to stick with a similar shapeand footprint, but add an additional storey...»Round Wood's MD, Zac Soudain, talks usthrough the company's oak-framed officeWhat was the brief?Our rapid expansion over recent years has seenus struggle for desk space at our site in NewickLane, near Mayfield. Constructing an oak-framedoffice complex was the obvious solution, as it alsoallows us to showcase the buildings we supply.How did you come up with the design?The new office replaced an old L-shaped building thathad been used over the years as a workshop and forstorage, so we opted to stick with a similar shape andfootprint, but add an additional storey. The design wasdeveloped with the intention of demonstrating possiblefeatures of an oak-framed building to visiting customers.For instance, it includes all four available roof-profiles:barn-hip, full-hip, gable and gablet. It also has both oakand softwood weatherboarding, as well as traditionaloak, contemporary aluminium and softwood joinery.OakDesignsCoWT162.indd 1 03/07/2015 12:38What construction methods did you use?As for all our buildings, we used traditional oak framingtechniques. Frames are constructed using mortise and tenonjoints, curved braces and oak pegs. It also features dovetailjoints between the tie beam and eaves beam. The frame wasdry assembled in the workshop to ensure ease of fit on site.How long did the work take to complete?From production of the frame in our workshop to finalsnagging took a total of 12 weeks. Whilst this is about averagefor a job of that scale, it could have been completed sooner.However, it was erected in the spring, our busiest time of theyear, so it was important to put our clients› requirements first.To see more of the type of work that RoundWood of Mayfield undertake, visitwww.roundwood.com or call 01435 867072.dePLANNING APPLICATIONSextensions NEW BUILD HOUSESnew housesEXTENSIONS & ANNEXESdrives and patiosoak OAK framed FRAMED buildings BUILDINGSGARAGES & GARDENSwww.ilexbuildings.co.uk01892 53974501892 614614www.ilexdesignandbuild.co.uksignILEXextensions91 new houses www.wealdentimes.co.ukdrives and patiosoak framed buildings&designILEX&b u ildb u il d01892 614614IlexWT156.indd 1 08/01/2015 15:16www.ilexbuildings.co.uk
---
Inspiring Wedding Exhibitions whereyou can find all you need to makeyour Wedding Day truly specialRegional Shows 10.30am – 3.30pmKent Showground 10.30am – 4.00pmFREEENTRYA series of Wedding Shows in Kentin partnership withMercure Great Danes Hotel, MaidstoneBank Holiday Monday 31st AugustSt. George's Centre, Chatham MaritimeSunday 6th SeptemberThe Coniston Hotel, SittingbourneSunday 13th SeptemberRoyal Wells Hotel, Tunbridge WellsSunday 27th SeptemberAshford International Hotel, AshfordSunday 4th OctoberInn on the Lake, Shorne, GravesendSunday 11th OctoberThe Kent ShowgroundDetlingSunday 25th OctoberThe largest wedding showin the South East#kentwedshowPre-register at www.wedding-experience.co.uk 01795 844449
---
Wealden TimesWeddingsupplementMinna 'Lavender' dress, £1,300,The Bridal Boutique of Jules,Walmer 01304 389710www.boutiqueofjules.co.uk;'Ring' necklace in yellow goldfill (also available in sterlingsilver and rose gold fill), £35,Wealdenfairs.com/crystalandstoneView the Wedding Directory online at www.wealdentimes.co.uk
---
____________________ ALL INCLUSIVE____________________wedding reception£2999The package includes the following for up to 50 guests:• Glass of Bucks Fizz on arrival• Three Course Wedding Breakfast• Coffee and Petit Fours• Suite for the Bride & Groom(including a botttle of Champagne)• Prosecco Toast• Half bottle of House Wine per person• DJ & Dance Floor• Room Hire• Cake Stand and KnifeDale Hill Hotel and Golf ClubTicehurst, Wadhurst, East Sussex, TN5 7DQt. 01580 200 112 f. 01580 201 249 e. weddings@dalehill.co.uk w. dalehill.co.ukHush Heath Estateand WineryCelebrate with us in theGarden of EnglandDaleHillWT162.indd 1 15/07/2015 12:06Tailor-made weddingsSet in our beautiful400 acre estateSuperb English sparkling winesand ciders to enjoy, all grownand produced at the EstateFor Further InformationCall 01622 832794www.hushheath.comFIVE OAK LANESTAPLEHURSTKENT TN12 OHTwww.wealdentimes.co.uk94HushHeathWineryWT162.indd 1 15/07/2015 13:02
---
WT Wedding SupplementContentsBreath-taking, heart-singing:flowers, foliage, berries and budsflowersanddaughters.co.ukTel: 01892 852189FlowersDaughtersWT152.indd 1 12/09/2014 10:38Above: WT ❤s Tatty Tess's beautiful handmade clothes for littlegirls – just perfect for bridesmaids and flower girls. To find out moreabout the range visit Wealdenfairs.com/tattytess and www.tattytess.com5 Top TableStriking floral centrepieces and table accessories6 To Have & To HoldWe visited Bodiam Boating Station to photographbeautiful wedding dresses and accessories fromacross the South East17 Good FoodWe talk dining trends with a Wealden venue18 DirectoryThe weddings A-Z95 www.wealdentimes.co.ukBellinTicehurstWT162.indd 1 13/07/2015 11:12
---
Breathtakingly different...Hythe Imperial HotelH H H HMEETINGSweddingsSTAY | DINE | SPA | GOLF | WEDDING PACKAGESLIVE MUSIC & COMEDY | MEETINGS & EVENTS01303 267441Princes Parade, Hythe, Kent CT21 6AEEmail: csales@hytheimperialhotel.comwww.mercurehytheimperial.co.ukMercureHytheImperialHotelWT162.indd 1 14/07/2015 16:05Made With Love...Exclusively yoursA venue with charm and elegance, exquisite cuisine,true quality of service and attention to detail.01732 897 436East Malling, Kent ME19 6DZenquiries@bradbournehousekent.co.ukwww.bradbournehouseweddings.co.ukAutumn Elegance Wedding Open AfternoonSunday 18 th October 2015 12pm to 4pmBespoke Floral Designsfor all occasionsMobile 07977 142447contact@sissinghurstflowers.co.ukwww.sissinghurstflowers.co.ukwww.wealdentimes.co.uk96BradbourneHouseWT162.indd 1 22/07/2015 MadeWithLoveWT162.indd 12:081 14/07/2015 12:59
---
The Old Wooden TableCompany in Woodchurch hiresrustic tables and chairs forweddings and events. 01233861238 / 07920 097376www.theoldwoodentablecompany.co.ukmouth-blown 'Mocca'flower vase, £45Wealdenfairs.com/lizardorchidWT Wedding Supplementfloral and fruit tablearrangement byFlowers & Daughtersbespoke florist,01892 852189 www.flowersanddaughters.co.ukhandprinted silk screenwedding guest book,£29 Wealdenfairs.com/happyandgloriouspersonalisedwedding lanyardand laminate, froma selection, made toorder, id&c, 0845450 7085www.idcband.co.uklight-up letters, part of Jennifer SueWeddings's bespoke wedding decoration,styling & design service, 07748 843413www.jennifersueweddings.co.ukset of 3 paper honeycombpompoms, £7.50, The Weddingof My Dreams 0844 693 1449www.theweddingofmydreams.co.ukTop TableOur favourite floral table arrangements and accessories...vintage crockery and tableware,to hire, from Alice & theTeacup, with prices starting fromas little at 20p, 07525 183151www.aliceandtheteacup.co.ukphoto by Rebecca Douglasretro milk bottle withhandmade paper flowers(available in a selection ofcolours and texts), £20Wealdenfairs.com/imakecrisp white floral tablecentrepiece by floristEmily & Me, Lympne01303 267466 /07581 294387www.emilyandme.co.ukjam jar floral tablearrangement by JoanneTruby Floral Design,07957 414208www.joannetruby.co.uk97 www.wealdentimes.co.uk
---
WT Wedding SupplementTo Have&To HoldWhatever your style. we've tracked down truly memorablewedding dresses for a magical wedding day...Photographs: David Merewether Styling: Lucy Fleming & Helen BartonModel: Camilla Location: Bodiam Boating Station, Newenden'Genevieve' sequinned dress, made to order, Aya Couture,Kingston-Upon-Thames and Esher 01372 878089 www.ayacouture.co.uk
---
MAGPIE ACCESSORIESThe Finest Tiaras, Jewellery & Bridal AccessoriesWinner of the Kent Wedding Awards 2012 - 2013Shop Online or Call to visit our private showroomSTRICTLY APPOINTMENT ONLYEnquiries: 01622 721252 Appointments: 07833 102541Showroom: 2 Banky Meadow, Barming, Maidstone, Kent. ME16 9JXinfo@magpieaccessories.co.uk www.magpieaccessories.co.ukMake everyday extraordinaryEmily&MeWT162.indd 1 09/07/2015 MagpieAccessoriesWT162.indd 16:411 17/07/2015 14:38Designer Weekends & Trunk ShowsDiane Legrand - September 25 th –27 thRiki Dalal - October 2 nd –4 thNaama & Anat - October 9 th –11 thDiscounts & incentivesat each weekendWith a rare and precious piece by JewellerJulie Tucker-WilliamsIndividually hand created jewels in silver, embellished withgold, freshwater pearls and gems, make a memorablepresent for all generationsTelephone 01732 66737712 Tubs Hill Parade,London Road,Sevenoaks TN13 1DHFree parkingwww.dressdreams.co.ukinfo@dressdreams.co.ukBespoke service available on request07989 998158www.julietuckerwilliams.co.ukwww.wealdentimes.co.uk100DressDreamsWT162.indd 1 21/07/2015 JulieTuckerWilliamsWT162.indd 16:341 20/07/2015 10:30
---
white freshwater pearl necklace withsilver clasp, £345, pink freshwaterpearl necklace with silver clasp,£225, silver & pearl earrings, £150,silver & pearl ring, £165, bangles,from £25 each, all Wealdenfairs.com/julietuckerwilliams; 'Amy' glass andsilver plated bead necklace, £24.95Wealdenfairs.com/ladieswholunchjewellery
---
Stephanie Allin 'Mimi' dress,£2,325, The Bridal Boutique ofJules, Walmer 01304 389710www.boutiqueofjules.co.uk;'Ring' necklace in yellow goldfill (also available in sterlingsilver and rose gold fill), £35,Wealdenfairs.com/crystalandstone
---
LOVELL & VIElingerie swimwearQUINTESSENTIALLY BRITISHBRIDAL BOUTIQUEFILLED WITH BRIDAL LACE, TWEED & JEWELS..PrimaDonna MarjolaineMarie Jo MoontideWacoal Hanrob'tempt'd Huit8Chantelle DKNYFantasie Lidea46 Holly Bush Lane, Sevenoaks TN13 3TL01732 454445 www.lovellandvie.co.ukBY APPOINTMENT ONLY.26 DOVER ROAD, WALMER, DEAL, KENT. CT14 7JW01304 389710INFO@BOUTIQUEOFJULES.CO.UKWWW.BOUTIQUEOFJULES.CO.UKLovellAndVieWT162.indd 1 14/07/2015 BridalBoutiqueWT162.indd 13:041 17/07/2015 10:41Flower BoutiqueFriendly, approachable staff always here to helpwith your needs and requests, we can cater for all budgets.We offer wedding, funeral and gift services.Feel free to pop in and say hello!Retailer ofthe year 2015dressing undeniable beauty7 High Street, Cranbrook TN17 3EBTelephone 01580 714370fl owerboutiquecranbrook@gmail.comwww.odyl.co.uk01580 714907103 www.wealdentimes.co.ukFlowerBoutiqueWT148.indd 1 13/05/2014 OdylWT162.indd 15:29 1 21/07/2015 12:40
---
WT Wedding SupplementMinna 'Annabel' dress, £580, lace birdcage headpiece, £105, The Bridal Boutique of Jules, Walmer 01304 389710 www.boutiqueofjules.co.uk;'Ring' necklace in yellow gold fill (also available in sterling silver and rose gold fill), £35, Wealdenfairs.com/crystalandstonewww.wealdentimes.co.uk104
---
ConceptHairsaloncashmere and silk knitwearThe MultiwayWrap £5550 High Street, Tenterden 01580 762 564Book online at www.williamcharleshair.co.ukor through our facebook pageAvailable in a wide range of coloursfor every occasion.5 High Street, Tenterden TN30 6BNTelephone 07966 033000 Email sales@cashara.co.ukShop online at www.cashara.co.ukWeddings made in Heavenat Heaven Farm.WilliamCharlesWT160.indd 1 07/05/2015 CasharaWT162.indd 10:041 14/07/2015 11:18Contact Kate 01825 791 115weddingsmadeinheaven@btconnect.comThe Barn, Heaven Farm, Furners Green,Near Danehill. TN22 3RGwww.weddingsmadeinheaven.comLicensed for MarriageOur 100 acres of beautiful woodlandand rolling hills are in the heart ofSussex offering a perfect venue for arelaxed celebration, providing whatyou want and when you want.a day to remember.We offer a complete wedding packagetailored to suit your every need.Our coordinator will provide guidanceand advice to make your celebrationperfect.Lingerie andswimwear from:EmpreintePrima DonnaMarie JoWacoalChantelleLingerie and Swimwear Boutique - Qualified Fitting Specialists96 High Street, Rye, East Sussex TN31 7JNinfo@sirenandpearl.co.uk 01797 224116www.sirenandpearl.co.uk Open 7 days a week SirenandPearl105 www.wealdentimes.co.ukGranaryFlowersWT162.indd 1 17/07/2015 SirenAndPearlWT162.indd 14:141 17/07/2015 16:37
---
Linda PopeF.B.D.Ofacebook.com/LindaPopeOpticiansRye Road • HawkhurstTelephone. 01580 753744Mid-SummerSALEIn Store & OnlineSale Ends 28th AugustTel: 01797 22427116 Lion Street, Rye, E.Sussex TN31 7LBe: shop@thegoldenfleece.co.ukw: www.thegoldenfleece.co.uk@goldenfleeceryeLindapopeQRTWT160.indd 1 11/05/2015 GoldenFleeceWT162.indd 14:231 08/07/2015 10:51QUALITY CLOTHING AND A PERSONAL SERVICECounty Clothes is a long-establishedmenswear specialist with shops for thediscerning customer in Canterbury,Tenterden and Reigate. We offerfine quality clothing in a wide rangeof sizes including long fittings forthe taller man and many garmentsmeasuring up to a 52" chest.From classic and modern suits, sportsjackets and wax jackets, to stylishknitwear, shirts and accessories,and traditional English shoes, ourrange of menswear is handpicked tooffer a superb choice of classic andcontemporary brands and styles.All of our sales staff have an expertknowledge of the clothes andaccessories in the County Clothescollection, we pride ourselves onoffering our customers the higheststandards of personal service.We are proud to have been servingour customers in Kent since 1976,and look forward to offeringthe same high standards in ourrecently opened Surrey store.Please visit our new website atwww.countyclothesmenswear.co.ukfor an update on our brands and stores.We are proud to be sponsoring Tom Ward in the Pirelli Superstock 600 Championship19 St. Margarets St,Canterbury,Kent CT1 2THTel: 01227 7652942 East Cross,Tenterden,Kent TN30 6ADTel: 01580 7651596 High St,Reigate,Surrey RH2 9AYTel: 01737 249224Follow usCountyClotheswww.wealdentimes.co.uk106CountyClothesS09.indd 1 23/06/2015 17:56
---
Rachel Simpson 'Mimosa' shoes,£170, maribou feather ribbonwrap, £95, The Bridal Boutiqueof Jules, Walmer 01304 389710www.boutiqueofjules.co.uk;Eberjey 'Colette' nightdress,£75, Gossard 'Femme Fatale'VIP Bridal Bra, £42, bothWealdenfairs.com/linoslingerie;'Forget-Me-Not' sterling silverdrop pendant with blue topaz &peridot, £38, matching ring, £58,Wealdenfairs.com/christinrangerjewelleryWe'd like to say a big thank youto Bodiam Boating Station forallowing us to photograph in theirgrounds alongside the River Rotherin Newenden. For more informationon their cruises, kayak and boathire, café and camping visitwww.bodiamboatingstation.co.ukor call 01797 253838Never miss an issue of WealdenTimes by visiting the iTunesApp Store to download our freeinteractive iPad edition
---
The perfect wedding...The Secret Garden can be found hidden away in a romantic cobbled courtyard surrounded bymature trees and beautiful walled Victorian gardens - the perfect venue for your perfect day.We can take care of every aspect of your wedding, from the ceremony to your dream menu.The Coach House can accommodate up to 70 guests for a Wedding Breakfast and a further 50guests in the evening. The Coach House has large double doors that open on to the south-facingcovered terrace that has views over the walled gardens. From April to October our marquee can seatup to 30 and is easily extended to cater for 100 guests for a wedding breakfast and a further 50guests in the evening. For more intimate gatherings, our new Victorian Glass House with its ownprivate gardens is perfect for 26-30 guests.For more information, please visit www.secretgardenkent.co.ukThe Secret GardenHythe Road (A20), Mersham le HatchNr Ashford, Kent TN25 6NH01233 501586events@secretgardenkent.co.ukwww.secretgardenkent.co.ukSecretGardenWT156.indd 1 20/01/2015 10:08www.wealdentimes.co.uk108FrasersWT162.indd 1 16/07/2015 15:04
---
WT Wedding SupplementGood FoodThe team from The Secret Garden in Mersham-Le-Hatchtalk us through pre-wedding menu preparations...How far in advance should clientsstart to plan their menus?We would recommend as early as possibleto take any stress away from their big day.It is becoming very popular to have either aKentish Picnic or Afternoon Tea which are verysocial wedding breakfasts with plenty of foodand lots of options to cater for everyone.What range of foodchoices do you offer?We have lots of options which include:Afternoon Tea, Kentish Posh Picnic, 3-Coursesit down meal, Hog Roast and BBQ. Wehave lots of different options on each menuand can accommodate for different dietaryrequirements along with menu requests.Where do you sourceyour ingredients?We are very proud to source all our producelocally to Kent and have great relationshipswith all of our suppliers, and some evencomes from our own kitchen garden.Is a tasting service available?As our wedding menus are created speciallywe do not offer a tasting of the menu on theday. However we do invite the guests to comein and try our lunch menus at a discountedrate when booking their special day with us.How do you ensurepresentation is perfect?We have a great team in the kitchen andfront of house who check all plates and foodcoming out of the kitchen and we all helpeach other to ensure presentation is perfect.Have you noticed any trendsin the type of food requeststhat you have recentlyreceived from clients?Lots of brides and grooms love to have anice relaxed day and often choose a laid backapproach to the menu choices. Afternoon Teaand The Kentish Posh Picnic are favourites.vintagestyletablestyled by Jennifer SueWeddings who offer abespoke wedding decoration& design service, 07748843413www.jennifersueweddings.co.ukWhat has been your favouritewedding menu so far?My favourite has to be our Kentish Posh Picnic,there are lots of different types of food andit's great fun. The bride and groom dedicateone person from each table to be the headchef and they are in charge of unloading allthe scrummy picnic delights inside. (They areoften given a very funny apron to wear whilstdoing this.) There is lots of giggling and jokesthroughout the whole wedding breakfast and it isa pleasure to see everyone having so much fun.For more information about holding yourwedding at The Secret Garden call 01233501586 or see www.secretgardenkent.co.uk.109 www.wealdentimes.co.uk
---
WT WeddingDirectoryFLORISTSEmily & Me 07581 294387www.emilyandme.co.ukFlower Boutique Cranbrook01580 714370Flowers & Daughters01892 852189www.flowersanddaughters.co.ukMagpie AccessoriesMaidstone 01622 721252www.magpieaccessories.co.ukLADIESWEARCashara Tenterden 07966033000 www.cashara.co.ukOdyl Cranbrook 01580714907 www.odyl.co.ukLINGERIELovell & Vie Sevenoaks 01732454445 www.lovellandvie.co.ukSiren & Pearl Rye 01797 224116www.sirenandpearl.co.ukVENUESThe Bell Ticehurst 01580 200234www.thebellinticehurst.comBradbourne House EastMalling 01732 897436www.bradbournehousekent.co.ukBrick House Farm HighHalden 01233 850221www.brickhousefarm.comDale Hill Hotel & Golf ClubTicehurst 01580 200112www.dalehill.co.ukFrasers Egerton 01233 756122www.frasers-events.co.ukThe Secret Garden Mershamle Hatch 01233 501586www.secretgardenkent.co.ukVINTAGE BUSESOld London Bus 07721335500 / 01580 754253www.oldlondonbus.co.ukWEDDING DRESSES& ACCESSORIESThe Bridal Boutique of JulesWalmer 01304 389710www.boutiqueofjules.co.ukDress Dreams Sevenoaks 01732667377 www.dressdreams.co.ukMade with Love by Ali 07977142447 www.sissinghurstflowers.co.ukHAIR & BEAUTYWilliam Charles Tenterden 01580762564 www.williamcharleshair.co.ukJEWELLERY & ACCESSORIESJulie Tucker Williams07989 998158www.julietuckerwilliams.co.uk /Wealdenfairs.com/julietuckerwilliamsMENSWEARCounty Clothes Canterbury01227 765294 / Tenterden 01580765159 / Reigate 01737 249224www.countyclothesmenswear.co.ukThe Golden Fleece Rye 01797224271 www.thegoldenfleece.co.ukOPTICIANSLinda Pope Hawkhurst01580 753744Heaven Farm FurnersGreen 01825 791115www.weddingsmadeinheaven.co.ukHush Heath Estate & WineryStaplehurst 01622 832794www.hushheath.comHythe Imperial Hotel01303 267441www.mercurehytheimperial.co.ukPowder Mills Hotel Battle 01424775511 www.powdermillshotel.comWEDDING SHOWSThe Wedding Experience TheKent Showground Detling Sunday25 October 01795 844449www.wedding-experience.co.ukWINESHush Heath Estate & WineryStaplehurst 01622 832794www.hushheath.comA MEMORYMEMORYA MEMORYA F O R MEMORYYO U ANDF F YOUR O RYO YO GUESTS U ANDANDTOYOUR YOUR TREASURE GUESTS FOREVER TOTOTREASURE FOREVEROur vintage buses from the 1940's and 1950's will entranceyou and your specially chosen guests. We will provideOur uniformed drivers and conductors, experienced and will trained toOur vintage buses from the 1940's and 1950's will entranceyou Our the highest and vintage your standards. buses from These the 1940's double and deck 1950's buses We will entrance take provide 56you and your specially chosen guests. We will provideuniformed you passengers and your drivers each specially and and reflect chosen a lost era guests. of travel. We Weuniformed and will operate trained provide in todrivers and conductors, experienced and trained tothethe uniformed London highest and drivers standards. South East conductors, These England, double so experienced consider deck buses and to will trained make take that to 56highest deck buses will take 56passengers the special highest day each even standards. more reflect These special…double lost era deck of travel. buses We will operate take 56 ineach and of We operate inLondon passengers and each South and East reflect England, a lost so era consider of travel. us We to operate make that inA 72special London andseatday and Routemaster (red)even South more East special… England, so consider & a singleus us to todeckmake make26TO DISCUSS YOURthat thatspecial day day seat even GS more (brown) special… are now availableREQUIREMENTS PLEASE CALLTO 07721 DISCUSS 335500 YOUR07721 335500TO DISCUSS YOURREQUIREMENTS PLEASE CALLREQUIREMENTS OR 01580 PLEASE 754253 CALLOR 01580 754253OR OR 01580 754253LINNETLINNETHOUSEHOUSEHAWKHURSTHAWKHURSTKENTKENTTN18TN184AX4AXMAIL@OLDLONDONBUS.CO.UKMAIL@OLDLONDONBUS.CO.UKwww.wealdentimes.co.uk.CO.UK.CO.UK.CO.UK10% DISCOUNTFORFOR KENT BRIDE READERSQUOTEQUOTE KB14/1510% DISCOUNT FOR KENT BRIDE READERS QUOTE KB14/1510% DISCOUNT FOR KENT BRIDE READERS QUOTE KB14/1510% LINNET DISCOUNT HOUSE HAWKHURST FOR KENT TN18 BRIDE 4AX READERS MAIL@OLDLONDONBUS.CO.UKQUOTE KB14/15LINNET HOUSE HAWKHURST KENT TN18 4AX MAIL@OLDLONDONBUS.CO.UKLINNET HOUSE HAWKHURST KENT TN18 4AX MAIL@OLDLONDONBUS.CO.UK110- WEDDINGS - CELEBRATIONS - HOG ROASTS - BBQ's - BAKES & CAKES -Contact caroline: caroline@plumtreecatering.comor call 07739 708599Contact SARAH: sarah@plumtreecatering.comor call 07771 332576PLUM TREECatering- WEDDINGS - CELEBRATIONS - HOG ROASTS - BBQ's - BAKES & CAKES -OldLondonBusWT162.indd 1 21/07/2015 BrickHouseFarmWT162.indd 14:431 22/07/2015 10:25Untitled-3 1 21/07/2015 10:43
---
POWDERMILLS SPECIAL OFFERFrom small intimate gatherings to large lavish weddings PowderMills is a perfect and uniquewedding venue for a quintessential English country wedding.Surrounded by rolling parkland, lakes and woods, our romantic 18th Century Hotel has 49 luxury roomsand a beautiful Bridal Suite. With exclusive use it can be your own country house for your specialcelebration.And with our Wedding Offer of Complimentary Room Hire on selected dates,PowderMills is now more appealing than ever. Please call for details.We'd be delighted to show you around our beautiful Hotel and discuss how we can makeyour Wedding Day perfect in every way.BPowderMills Hotel, Powdermill Lane, Battle, East Sussex TN33 OSPTelephone 01424 775511 email: events@thepowdermills.com www.powdermillshotel.com
---
Private Care Serviceat MealtimesRecognised Dr. Hauschka specialist and stockistSkin CareThe Art of Touch; Dr.HauschkaSkin Care and TreatmentsOur Private Care Service carers can cometo your house and help to prepare fresh,ready made or light meals. This help canform part of a tailored package of carethat could help you stay in your ownhome for longer, rather than going intoa care home before its really needed.We can assist those who need help dueto frailty, disability or illness to live asindependently as possible, with comfortand dignity, in their own home.www.townandcountryhomecare.co.ukDomesticCare£9.77per hourFor a free assessmentof your care needs or toreceive your brochureCall us on 01580 762244Town & Country Homecare Limited102a High Street, Tenterden, Kent TN30 6HTForest Lodge, Malthouse Lane,Warehorne, Nr Ashford,Kent TN26 2EL01233 733090www.julieabigail.comMassage | Reflexology | FacialsJulie BurgessBABTAC, CIDESCOTownCountryHomecareWT133.indd 4 04/02/2013 JulieBurgessHolisticTherapistWT160.indd 16:201 14/05/2015 09:50Save £100 on all threadlifts & treatment packagesduring July & AugustCombining the latest in non-surgical aesthetictreatments including thread lifts, mesotherapy,laser treatments and more.Contact us to book a no obligationFREE aesthetic consultation on 01580 762323.Woodbury Clinic149 High StreetTenterdenKent TN30 6JSwww.woodburyclinic.co.ukDr Jaimini VadgamaBDS Hons (Lond) PG Cert MFDS RCSEdwww.wealdentimes.co.uk112WoodburyDentalAndLaserClinicWT162.indd 1 15/07/2015 12:07
---
FondMemoriesFollow Josephine Fairley's fragrance tips for adeliciously scented wedding...Illustrations: Susanne HayesThe choice of scent you wear, meanwhile, will foreverbeam your beau back to the moment he leaned forward forthat post-'I-now-pronounce-you-man-and-wife' kiss fasterthan you can say 'Tardis'. But there's a huge dilemma: shouldyou wear a longstanding favourite – or go for somethingnew, which symbolises your new start? "It depends whetheryou've already found your 'signature' fragrance," observesRoja Dove. (In which case, his advice is: stick to it.) "If not,the start of a marriage is the perfect time to start a life longrelationship with a scent that's really 'you'…" But to be safe,he advises, wear it a few times before the wedding itself sothat your groom doesn't recoil in horror, if he doesn't likewhat you're wearing. "Just as you would have a run-throughfor your hair and make-up, you must do the same with anew fragrance. Don't wear it every day in the run-up toyour wedding, but on a few selective evenings out with yourpartner," is his advice. "And don't solicit an opinion: wait forhis response – or even a lack of response, because that meansthat the beauty of the perfume isn't overpowering yours…"Whatever fragrance you choose, one thing is for sure: ifyou want it to last from the minute you leave the house untilthe moment you slide beneath the sheets that unforgettablenight, you'll want to 'layer' your fragrance on: the bath oil,the body lotion, perhaps a dusting of the matching bodypowder, the whole works – and of course, your chosenfragrance itself, a technique which will 'time-release' thenotes, as you warm up and cool down over the day.As Helen Keller also wrote: "smell is a potent wizard thattransports us across thousands of miles and all the yearswe have lived." Make fragrance an important part of yourwedding – and what you're wearing – and you're just a breathaway from remembering the magic of the day, for years andyears to come. Then each time you light that scented candle,are given a bunch of scented roses, perhaps – or simply dabyour wedding day fragrance onto your pulse points, in ananosecond, it's as if you're saying 'I do', all over again…You're spending hours planning how your weddinglooks: the table-settings, the bridesmaids' dresses,the orders of service. You've probably agonised aboutthe hymns for the wedding – and the choice of band/DJ for the party, too. All of these, of course, will remainin your guests' minds. The photos will be there, forever,in your albums. But have you thought about the role thatfragrance will play? Helen Keller – who was blind anddeaf – called smell 'the fallen angel of our senses', and it'san element of your wedding that can be more memorablethan sight or sound, or any of the other senses.I only have to breathe a whisper of Czech & Speake'sFrankincense & Myrrh candles, to remember my friend LizEarle, floating down the aisle to marry handsome film-makerPatrick Drummond. What all her friends talked about, formonths afterwards, wasn't the beauty of the dress (it wasgorgeous), or even Liz's radiance (as glowing as a beautyguru ought to be), but the fabulous, incense-y smell fromthe candles that flickered in every arched window of thechurch. (The tip: they were lit a couple of hours beforehand,to fill the church to its rafters with their exotic fragrance…)Scent Shopping...Most department store beauty halls have a wide selectionof the most popular fragrances on the market, butif you're looking for something more individual andunusual, you want to head for a specialist boutique…• Miller Harris, 21 Bruton Street, London W1 /020 7629 7750, and 14 Needham Road, London W11/ 020 7221 1545 (or visit www.millerharris.com).• Roja Dove Haute Parfumerie – a treasure troveof hard-to-find and ultra-exclusive scents, including somethat have been created just for this kasbah of a boutique,within the ultra-exclusive 6th Floor Salon de Parfums atHarrods. Other fragrance stars include Caron, and someDior fragrances which have for the past 30 years only beenavailable at their HQ on the Avenue Montaigne, includingDiorling and Diorama. There is a full range of Roja Dovecandles, too, for fragrancing your reception. Roja's awardwinningteam offers a one-on-one fragrance consultation113 www.wealdentimes.co.uk
---
Hair at Fifteen• Traditional wet shaving• Princess parties for your little princesses• Hen party packagesPEMBURY BEAUTY SALONHair, Beauty & Holistic Therapies1/2 Price Colour For NewClients With This Advert*All aspects of Hair & Beauty Therapies• Waxing • Acrylic Nails• Massage • Reflexology• Hair Extensions• Men, Women &Child Hair Cuttingwww.pemburybeautysalon.co.uk*Terms & conditions apply01580 762118 • 15 Ashford Road, Tenterden TN30 6AB25-29 High Street, Pembury, Kent, TN2 4PH01892 822879Do you have crooked teeth,stained or missing teethor just want a younger,brighter smile?We can help you withStoneRocksSmile SolutionsContact usfor your free personal consultationDr Russell Blanchard BDSSTONEROCK FACIAL CLINICHairatFifteenWT162.indd 1 20/07/2015 PemburyBeautySalonWT160.indd 16:511 14/05/2015 17:09WrinklereducinginjectablesDermalfillersFreeconsultcallnowNOWOPENPlasmarejuvenationfacelift20%Discounton firsttreatmentLook Younger ...Feel Fantastic ...Mesoguntherapy01580 752202 info@stonerock.co.uk www.stonerockdentalcare.comwww.wealdentimes.co.uk114StonerockDentalPracticeWT162.indd 1 21/07/2015 09:51
---
to help you find your perfect fragrance 'match' (fee isnon-redeemable). Contact them via 020-7893 8797.TOUCHABLY SMOOTH,HAIR FREE SKIN10% OFF YOURFIRST TREATMENT *Virtually pain free andcustomised to all hair and skin types– you no longer need to endureuncomfortable waxing, pluckingor shaving of unwanted hair.We are the only clinic in Kentoffering the fast, safe andclinically proven Soprano® ICEhair removal solution• The Fragrance & Beauty Space at Fortnum& Mason. Your great-aunt's favourite beauty hall justgot a stunning makeover, with some of the friendliest,most helpful staff you could imagine – and an incredibleselection of scents including Clive Christian, M. Micallef,Pierre Bourdon and Avery Perfumery. A wonderful spaceto browse, at 181 Piccadilly, London W1A 1ER.• Jo Malone London. Already a go-to destinationfor brides, Jo Malone London is now offering 10 oftheir best-loved, most wedding-appropriate scents -from Nectarine Blossom & Honey to Red Roses - incollector's piece lace-etched bottles, to be treasuredforever... Jo Malone London Lace Bottle Collection /£88 for 100ml. For stockists visit www.jomalone.co.uk• Les Senteurs stocks fabulous ranges which are oftenhard to track down on this side of the Channel, includingCreed, Serge Lutens and Frederic Malle's Editions deParfums: this Parisian perfume lover (grandson of thecreator of Parfums Christian Dior) has given some of theworld's greatest 'noses' free rein to create the fragranceof their dreams – and the results are breathtaking. At 71Elizabeth Street, London SW1/020-7730 2322. (They alsooffer a mail order catalogue – but you'll be missing out ona magical experience, if you shop Les Senteurs by mail…)• Ormonde Jayne, The Royal Arcade, 28 Old BondStreet, London W1/020-7499 1100. Gorgeous candlesand romantic fragrances created for the boutique byOrmonde Jayne's talented creator Linda Pilkington– who will also take private commissions…• Alternatively, you could also book in for aGuerlain Fragrance Consultation, to identifyyour 'signature scent' from within Guerlain's rangeof legendary fragrances; the consultation lasts upto an hour and a half during which your 'olfactorypersonality is pieced together', as Guerlain put it.Jo Fairley is Co-Founder of The Perfume Society, the world'sfirst 'appreciation society for fragrance, offering nationwideevents, Discovery Boxes and more. www.perfumesociety.org.174 Tonbridge Road, Hildenborough, Tonbridge, Kent TN11 9HPPhone: 01732 832 004 Email: info@cindyknightclinic.comWeb: www.cindyknightclinic.com *Offer ends 31 August 2015CindyKnightClinicWT162.indd 1 07/07/2015 16:07purely beautyBeauty Salon HawkhurstHighly Skilled Therapists using theBest Quality Products in everything we do.Offering a Huge Variety of TreatmentsTo Both Men and Women.Purenique ClinicSpecialist Removal by Experienced Therapists.Skin TagsThread Veins/Spider NaeviBlood SpotsMiliaBook now for a Free ConsultationCall 01580 753383www.purenique.co.ukHawkhurst, TN18 4JU115 www.wealdentimes.co.ukPureniqueWT161.indd 1 02/06/2015 09:50J396 App-Bus Card_AW_OL.indd 1-2 04/08/2014 14:13
---
Fed Up With Always HavingWeight Problems?How many times have you been determined tolose weight, promising yourself that you aregoing to stick to a diet, only to find that beforeyou know it, you have blown it, yet again!Are you struggling with any of the following?• Can't stop eating foods that cause you to put onweight.• Overeating, secret If the eating, question too is much 'How alcohol, do I stop orconstantly thinking being about overweight food. once and for all?'then the answer is Rachel Ricketts.If you are having Her difficulty tried and in understanding tested weight why loss youcannot by Nicole Tata get in control programme of your is unwanted entirely eating free of habits, spinread on. and gadgetry and gets the job donequickly, safely and for good.Can't get out of the trap of bad eating habits?High As carbohydrate any dieter foods, knows sugar-rich only foods or certaintoo well, losing weight is adrinks (alcohol, fruit juices, fizzy drinks etc.) can causeserious business. "I don'ta high increase run an in open-ended blood sugar diet levels club which is thenfollowed where you by a pay crash per in week blood and sugar lose a levels. This can leavepound here or there," says Rachel. "Iyou want feeling at least irritable, 3 months' hungry, commitment having cravings for sugar,carbohydrates, from you, in return fizzy drinks for which and I will alcohol.Rachel Ricketts, Weight Loss Consultantteach you exactly how to reach andNo maintain willpower your target weight, using theMetabolic Weight Loss programme. Iwith unwanted eating habits. With an expected averagepromise I will be there for you every This is much more weight than just loss a diet. of 7-14 lbs a "All month, the an tools easy you'll followWhen blood sugar levels go too low, it's all too easy forstep of the way.""It's as much about understandingprogramme and one-to-oneSounds too good to be true? Not WHY you're overweight as it is ever need support, to hundreds reach and ofwillpower to go flying out of the window, which so oftenreally, when you consider that Rachel's about actually shifting handwritten the pounds." testimonials maintain show just how a healthy effective theleads to eating sugar and carbohydrates all over again!highly personalised weight lossRachel helps her clients programme identify the is.This consultancy pattern can has repeat helped itself over for 1,500 days, weeks, underlying months causes or that stop themweight – for life!"even women years, and leading men to to achieve weight their gain, longtermdream of a happy, healthy weight. to name a few obvious ones – so thatbad health, losing despair weight – alcohol,Betterstress,health!coffee,and low self-esteem.From housewives to senior execs, they can be addressed and eliminated. diet clubs. Rachel explains: "Oneteenagers to grandparents, Rachel's The programme also quickly Time after deals time, clients lady report came how to see delighted me; she was they 4 stone areGet clients in control are focused of your on one unwanted clear goal: eating with habits feelings of hunger with and their cravings, health improvements overweight. 'I having can't afford lost weight it,' she said withpermanent weight loss to improve making failure much less likely. but she was so impressed with what athe Metabolic Weight Loss Programme.One their of the looks key and factors general of wellbeing. Rachel Ricketts' highly It's all too easy to be lulled into friend had achieved on the programmesuccessful Metabolic Weight Loss Programmethinkingis helpingthat we're eating healthily. that she asked her husband to payBowl of cereal for breakfast, "My Doctor sandwich is thrilled for to it bits! as a He combined is very Christmas happy with and myfor lunch and pasta for blood tea? Wrong! pressure coming birthday down present and I am to her. no longer In just 10 Diabetic"There are so many different diets weeks she had actually recouped theType 2. He told me, 'You are my slimmer of the year!'"out there, no wonder people are cost of the programme by not havingconfused. Some of my M.A. clients Sussex need to her nightly bottle of wine and bybe completely re-educated about the changing her eating habits. It took hereffects of nutrition on Free their consultationbodies, less than four months to slim downwhile others just need finetuning." from a size 18-20 to a size 10, losing anRachel's eating plan uses If you normal have foods reached amazing the point 4 stone!" where you want to resolvethat are easily available – no funnyRachel is committed to providingshakes, pills or medication. your weight problem the once very and best for weight all, call loss now consultancy for a freeJudging by Rachel's consultation long list of – absolutely service, no giving obligation. her clients a cleardelighted clients, the programme is structure to follow and lots andhugely successful. She01342has also earned327396lots of one-to-one support. And thethe respect of local GPs who are very programme works! In essence, sheimpressed by the weight rachel@rachelrickettsweightloss.co.ukloss and provides all the tools you'll everhealth improvements www.rachelrickettsweightloss.co.ukthey've seen in need to reach and maintain a healthysome of their patients as a result of weight – for life! working with Rachel.As an investment into your health, Rachel Ricketts Weight Loss Consultantthe Metabolic Weight Loss programme Tel. 01342 327396 / 01825 705020
---
Wealden Health & BeautyWealden Times talks to Cassandra Fullerfrom cashmere knitwear brand, Cashara...do you follow a beautyroutine? I don't follow astrict beauty routine. Witha toddler and a shop tolook after I don't seem tohave much time to devoteto my beauty regime andhave to admit that I use facecleansing wipes to cleanseand remove make up,followed by a good qualitymoisturiser, normallyClarins Multi-Active DayCream. I also use a Clarinstinted moisturiser, theSuper Restorative TintedColour Burst...Even opening the box ofPrismologie's Bergamot& Citrine body lotionmakes you feel brighter!Designed to enhance yourday from beginning to end,Prismologie have created theperfect balance of botanicaloils to hydrate and awakenskin from its slumber,Cream is light and feelslovely on your skin.do you have a particularproduct you couldn't livewithout? I don't think Icould live without perfume,its important to smellgood! At the momentmy favourites are Dolce& Gabbana The One, orGucci Guilty Intense.What's your ultimatepampering treat? Myultimate pampering treat isan amazing ESPA treatmentthat is available at Theallowing your most radiantself to blossom from within.Apply the lotion generouslyto clean, dry skin. Sit back,relax and wait for YellowDay magic to take place,leaving skin soft, supple andready to take on the day.Nile Lily helps with elasticityand firmness, the additionof a mineral complex aidsLondon Beach Hotel andSpa. It's called the ESPATotal Holistic Body Carewith hot stones and lastsnearly two hours; mypartner Romain treated mefor my birthday this year.It's so relaxing, definitelythe ultimate treat!Who's your style icon? Ithink my style icon wouldhave to be Grace Kelly.She was just beautifuland very ladylike, alwaysimmaculately dressed.I love the fashion fromthat era when ladies woregloves, pearls and beautifulevening dresses. I had theopportunity a few yearsago to go to GoodwoodRevival, it's such a fantasticday out and all the womengo to so much effort todress up from the 40s50s or 60s. It's great topeople-watch and admireall the different outfits.Cassie's company, Cashara,specialises in gorgeouslytactile cashmere and silkclothing and accessories.You can browse hercollection onlineat Wealdenfairs.com/casharaand www.cashara.co.uk orvisit the shop at 5 HighStreet, Tenterden.with cell renewal, and theoat extract has great antiagingproperties. If yellowisn't your colour, then youcould also try passionateRed, calming Green, gentlePink, detoxifying White,or unifying Indigo. £35for 200ml from www.prismologie.com andSpaceNK Tunbridge Wells.Time For Tea...Over 300 years ago, localinhabitants of the CederbergMountains discovered thatthe needle-like leaves of theRooibos plant could be usedto make a refreshing brew.Ever since Cape Town's firstDutch settlers tried it as analternative to European blacktea, production methods haveevolved from the leaves beingharvested, fermented anddried by hand for local use, tobeing distributed worldwidefor the tea's innumerablehealth benefits. It's completelycaffeine free, making it theperfect bedtime beverage forthose who struggle with sleep,is surprisingly high in calcium,making it beneficial for bonehealth, and it improves bloodcirculation, too. A greatnatural aid for treating acneand other skin problems,the tea's anti-inflammatoryproperties also help to easestomach cramps, abdominalpain and indigestion. Youcan use it in cooking, as afragrant marinade for meatdishes. Splash it on your faceinstead of water as a soothingfacial wash, or make a simple,refreshing ice tea with honey.117 www.wealdentimes.co.uk
---
Pretty PastelsWe adore nail experts Mavala's newGarden Party Colours collection,formed of six delicate pastel shadeswith suitably named powderpetalshades: clockwise from top leftFreesia, Begonia, Petunia, Jasmin,Hortensia and Iris. Free from theusual nail polish nasties – parabens,formaldehyde, toluene, camphor,cellophane, animal ingredientsand heavy metal – each 5ml bottlecosts £4.50. See www.mavala.co.ukto find your nearest stockist.www.wealdentimes.co.uk118
---
'Keepingkindnessat the heartof our care'Meadow ViewResidentialCare HomeSHOW SUITE NOW OPEN!Opening Summer 2015 in Hersden, CanterburyOur stunning new Meadow View ResidentialCare Home will feature light, airy lounges,dining rooms and 60 beautifully furnished ensuitebedrooms which can be personalised toprovide a real home-from-home for residents.Providing residential dementia care, residentscan spend their time enjoying the things theylove; catching up with friends and family, beingpampered in the hair and beauty salon, takingpart in activities or relaxing in the landscapedgardens.To arrange your exclusive preview of the care home, please call:0800 916 1499or email: care@sanctuary-housing.co.ukwww.sanctuary-care.co.ukSanctuary Care Limited is a subsidiary of Sanctuary Housing Association, an exempt charity
---
www.wealdentimes.co.uk120
---
Press ad_Layout 1 19/08/2011 4:06pm Page 1The taste of Kentfrom your own local farm shopCrisp &GreenLucinda Hamilton and her team at Cocoliciousin Cranbrook create a fresh, seasonallunch menu to enjoy with friends...Photographs: David MerewetherYou'll taste the difference when you purchaseyour produce from us.We've sourced fruit and veg from localsuppliers so we can guarantee its'freshness – and that means great tasting food.Why not makea day of it?Visit Polhill Garden Centrefor the best ideas foryour gardenAnd why not treat yourself to some of ourspecialist items: jams, pickles, chutney, cheese,milk, biscuits, honey, confectionary, ice cream,frozen foods and much more. Great for gifts –or treat yourself!We've got easy on-site parking so come andvisit us soon.London Road,Badgers Mount,Sevenoaks,Kent TN14 7BDTel: 01959 533089The Taste of KentWinner of the Garden Centre AssociationFarm Shop of the Year Award 2010Hot smoked oak roasted salmon saladServes 4. Prep time: 15 minPolhillWT116.indd 1 16/09/2011 16:54• 1 or 2 pieces of hotsmoked oak roastedsalmon (we buy oursfrom fantastic supplierCranbrook Fishmongersat Hartley Dyke)• 150g lamb's lettuce• 200g fresh peas (orfrozen if out of season)• 150g red radishes• 1 avocado• 1 medium sized red chilli• 1 pack of dill,finely chopped• 1 lemon, unwaxed• 1 tsp Dijon mustard• 2 tbsp white wine vinegar• 6-8 tbsp extravirgin olive oilMEETINGSHythe Imperial HotelH H H H1. Wash and dry the lettuce.2. Put some boiling water in a pan and bring back to theboil. Put in the peas and blanch quickly for 1 minute, thenrefresh under cold water and set aside until ready to use.3. Wash and slice or chop the radishes.4. To make dressing mix the Dijon mustard, ½lemon rind finely grated, ½ lemon juice, vinegarand oil in an old jam jar with a lid and shake ituntil well mixed. Add finely chopped dill.5. When ready to eat assemble the salad, place the lettucein your serving bowl, flake over the salmon, scatter thepeas on top, slice the avocado and add to salad, thenadd the radishes and dress with your vinaigrette.6. Season to taste.weddingsSTAY | DINE | SPA | GOLF | WEDDING PACKAGESLIVE MUSIC & COMEDY | MEETINGS & EVENTS01303 267441Princes Parade, Hythe, Kent CT21 6AEEmail: csales@hytheimperialhotel.comwww.mercurehytheimperial.co.uk121www.wealdentimes.co.ukMercureHytheImperialHotelWT162.indd 1 14/07/2015 16:05
---
Courgette 'noodle' saladServes 4. Prep time: 15 min. Cooking time: Up to 25 minsYou will need a 'spiralizer' to make this salad• 2 large, or 3 mediumcourgettes• 1 jar of marinatedgreen olives• 3 beetroots, peeled andcut into segments• a handful of baby spinach• a bunch of fresh thyme• 100g almonds,with skin on• 1 pack of 200g Greekfeta, chopped• 8tbsp extra virgin olive oil• 2-3 tbsp red wine vinegar• some edible flowers(we used nasturtiums)if you have themgrowing in the garden1. Pre heat oven to 200°C.2. Peel and cut the beetroots into segments and place onbaking tray. Scatter with thyme and drizzle with olive oil.Bake for about 15 minutes until slightly caramelised. Putaside until ready to use.3. Place the almonds on baking tray and toast lightly in theoven for about 5-10 minutes, watching to make sure theydo not burn. Set aside until ready to use, and then choproughly.4. Cut the olives in half.5. When ready to serve, assemble your salad. Spiralize thecourgettes, place in serving dish, sprinkle with pepper andsalt, add the washed and dried baby spinach, beetroot withall the roasting juices, olives, almonds and feta cheese.Drizzle with the vinegar and olive oil, season to taste.6. Decorate with the edible flowers and serve. 123 www.wealdentimes.co.uk
---
Rolvenden.indd 1 23/07/2014 17:31www.wealdentimes.co.uk124GreenTonesWT162.indd 1 22/07/2015 15:43
---
Truly scrumptious cherry peach parfaitServes 1. Prep time: 15 minYou will need 1 mason jar or old jam jar• 50g granola• 5 fresh cherries pittedand cut in half• ½ a peach• 150g Greek yoghurt1. Layer the jar starting with ½ the granola.2. Top with ½ the yogurt.3. Top with the cherries and sliced peaches.4. Finally, top with the remainder of theyoghurt and finish with the granola.When you next pop into Cocolicious youwill notice some changes to their menu.Loulou and her team will now be able to offeran expanded lunch menu, with a hot dishevery day, 3 or 4 different salads, Cocolicioussignature tartines and some exciting dailyspecials, adapting the new menu regularly inorder to reflect the seasonal changes. Ginnyand Sarah, Cocolicious's two lovely chefs,will be keeping their cosy kitchen buzzingusing quality ingredients, sourced as locallyas possible. Bon appétit! For more info. seewww.cocolicious.co.uk or call 01580 714954.Never miss an issue of Wealden Times by visiting the iTunesApp Store to 125 download our free interactive iPad edition www.wealdentimes.co.uk
---
Tree Surgery, Fencing& LandscapingAll types of tree work undertakenStump grinding & wood chippingAll types of fencing supplied & erectedSite ClearanceLandscapingExcavator & Dumper HireJames KempTelephone 01580 755844 Mobile 07801 285488www.james-kemp.co.ukCreating Beautiful GardensCheekyMonkeyS08.indd 1 26/05/2015 JamesKempTreeSurgeryWT161.indd 11:371 05/06/2015 12:30For Brilliant Year Round ResultsWealden Country LandcraftWealden Country LandcraftFor all your design, construction and maintenance requirements, contact:Adam Sutton BSc (Hons) Environmental Science | Tim Playfoot BA (Hons) Garden DesignTel:01892 722699| Adam:07979 362241 | Tim:07990 751353 | www.playfootgardendesign.co.ukwww.wealdentimes.co.uk126WCLandcraftWT162.indd 1 13/07/2015 16:28
---
Image: FreeImages.com/JamesLinSummer BountyJo Arnell has her trug at the ready to cash in positively on a gluttonous season in the garden...Remember back in the spring when nothing wasgrowing and every pea was precious, when fivecourgette seeds didn't seem enough to plant outand the bean seedlings were thin and straggling? Well,I'm eating those words now, and trying to do the samewith all the surplus veg I'm endlessly picking. If you'reout in your veg patch 'not waving but drowning' as youstruggle to keep up with a daunting flow of produce,I shall try to throw you a rubber ring (my life raft hasjust capsized) in the form of a few tips for managingthe glut and avoiding the worst of it next time.Grimly reapingLuckily (or is it desperation over the years?) there arelots of good recipes for summer harvests of the mostprolific crops. Some things you can make, like chutney,will keep for months on end and most vegetables canbe frozen, either as they are (rinsed and blanched), orwithin the recipes themselves. The important thing isto pick the crops at their best, and not leave them to goover (that tiny courgette you walked past the other dayis bound to be a hulking marrow by now). So harvestthings regularly and dust off your (or invest in some moreexciting) recipe books. These are the main glut culprits:CourgettesIf you really still want to grow five plants (!), make them fivedifferent ones and try to sow them a few weeks apart. Thereare spherical courgettes that are good for stuffing, ridgedor yellow ones that look pretty on the plate and there's agreat climbing variety called 'Tromboncino', which holdsits (rather interesting) shape well in a pan and will sprawlup a wigwam and therefore allow another crop to grow atits feet. Courgettes are versatile to cook with too – try themribboned (use a grater or special julienne knife) and cookedwith butter and cheese like pasta. They can be grated, mixedwith egg and frittered, baked into quiches and even madeinto luscious cakes, They also go well with a glut of tomatoes– just add aubergines and voila! you have ratatouille...TomatoesDepending on how late you started them, and how earlythe frosts arrive, you will almost definitely end up witha glut of tomatoes – ripe or still green. Fortunately127 www.wealdentimes.co.uk
---
The finest of BritishCountry OutbuildingsFrom Passmores - Est 1909Whatever you have inmind, we can help createyour beautiful space.We make award-winninggardens, large and smallto suit all budgets. So,please contact us to shareyour thoughts and we'llgive you an idea of thecost... for free!The ideal home for yourdaily run around or classic carOAK FRONTEDCARRIAGE HOUSESAND STAND ALONETIMBER GARAGESView our picture gallery on linefor ideas and inspiration.Excellent range and service.HIGH STREET, STROODROCHESTER, KENT ME2 4DREst 1909Tel: 01634 290033For further information visit : www.passmores.co.ukFrogheathLandscapesWT160.indd 1 01/05/2015 PassmoresWT141.indd 14:171 10/10/2013 11:00For quality and value buy direct from the growerOver 100 varietiesof Hydrangeas,as well as a greatrange of JapaneseMaples, trees,shrubs, specimenplants & potgrown hedging.Grown here on 5acres of nursery.Golden Hill Nurserieswww.goldenhillplants.com www.signatureplants.co.ukLordsfield, Goudhurst Road, Marden, Kent TN12 9LTTelephone 01622 833218Email: enquiries@goldenhillplants.comOpening Times: Mon–Sat 9am–5pmSun 11am–4pmwww.wealdentimes.co.uk128GoldenHillWT162.indd 1 16/07/2015 14:22
---
tomatoes store really well – as sauce, in chutneys andsoups. They can be sun (or oven) dried and will keepfor a while like this, either in an airtight jar, or in oil.BeansThe more you pick, the more the plant will produce,and in catch-22 style, if you don't pick beans regularly,those still growing will become tough and stringy. Sokeep picking. If you grow French or 'pole' beans, andbecome overwhelmed, you could always leave some ofthem to dry in the pods. Even if you don't go on toeat them, you can grow them next year as a crop.Holiday harvestsIf you go away in the summer, it's almost guaranteed thatyour crops will be ready to harvest just as you go, and thatthey'll be over by the time you come back. Of course it'sgood news for anyone volunteering to water your plants whileyou're absent, but teeth-gnashingly frustrating if you've justspent months nurturing them. You can try to plan ahead andwork out – from the sowing to harvest times on the back ofthe seed packet – just how long each crop will take to grow,but the guides can only be approximate. The weather, soiland the prevailing conditions will speed up or slow downthe growth rate and thus the best laid plans of men (nevermind the mice – I don't want to hear about their horrid littleplans) often go awry. If you can look past August – and In the Heart of our Designs are Beautiful GardensAs a leading firm of passionate and talented garden designers,we design and build beautiful bespoke garden spaces for our clients.Our dedicated team of qualified professionals providethe very best standards of craftsmanship throughout every aspect of your project.www.openviewlandscapes.co.uk • Tel: 01580 764 090129 www.wealdentimes.co.ukOpenviewLandscapeDesignWT158.indd 1 12/03/2015 14:20
---
Ajeer Reclamation quarter - sponsor a dog.qxp_advert 03/04/2014 09:30 Page 1Keep well hydrated this summerSeeds, deals on compost,tools, accessoriesSugar Loaf Yard, Brightling Road, Woods Corner, Nr Heathfield, East Sussex TN21 9LLTel: 01424 838555 Fax: 01424 838556 Email: sales@ajeer.co.uk www.ajeer.co.ukSPONSORGive A Dog A HomeMoustakasSwattenden Lane | Cranbrook | TN17 3PS01580 713189www.charityfarmcountrystore.co.ukIF YOU WISH TO ADOPT A DOGWE WOULD LOVE TO HEAR FROM YOU!lynne@giveadogahome.org.uk • mob: 07896 041561www.giveadogahome.org.ukAlso on Facebook - Give a Dog a Home UKCharityFarmWT162.indd 1 20/07/2015 Ajeer 13:01 WT150 FOC quarter.indd 1 23/07/2014 14:07Creating gardens & landscapes of distinctionBased in the South East of England, we areprofessional landscape gardeners. Frompatios, parkland and planting, to terracesand driveways, we have experience in allareas of garden design and construction.In 2006 we were commissioned to undertakea large scale landscaping project at theprestigious Hylands Park in Essex, andalso worked on the transformation ofDunorlan Park in Royal Tunbridge Wells.Design • Construction • Landscaping • PavingDriveways • Planting • Decking • FencingWe're proud of our work and want to showyou why, visit our website to see more.Telephone 01892 890 080Mobile 07775 567397www.wwlad.co.ukwww.wealdentimes.co.uk130WWLandscapesWT162.indd 1 17/07/2015 12:58
---
it can feel like there's nothing doing after this month, latesowing is an option. It does mean sowing fresh crops in July,when there might not be much room for anything, but Isometimes sow quick crops like beans, beetroot and saladleaves around the middle of July, for a harvest in September.Sowing in successionIf you get this right (I refer you to the plans of mice above)you may avoid a glut altogether. There's nothing muchyou can do about courgettes, squash and tomatoes exceptto grow less, as they ripen at roughly the same time, butwith crops like lettuce and salad leaves, beetroot, peas andbeans, it is possible to sow just a few every few weeks for acontinual supply. The trick is to remember to keep sowingand harvesting through the growing season. Writing downsowing times on a calendar will help, and obviously if you'rean organised list-making wonder person, you're probablydoing this already, but I find it's like spinning plates andalways end up with the wrong quantities whatever I do.If you haven't been put off reading this and are still keen, it ispossible to grow some crops for the autumn and winter now, forthose long off days when we'll have forgotten about the glut andbe sad that there are no more courgettes (!). Some good thingsto sow now are: kale, swiss chard, pak choi, spinach, rocket andoriental greens like mizuna and tatsoi. These will be ready asyoung leaves in just a few weeks and are great for adding to stirfries and soups. You can also over-winter them under a clocheor fleece and keep them ticking along until the spring – whenthey will instantly bolt at the first sign of warm weather.If you're reading this from under a snow-capped mountainof produce and there's no room on your plot (or your plate)for more, stand tall, be proud of all that produce, and thendig out those recipes, and some grateful friends and familyready to accept the surplus. Here's to happy harvests.Contact Jo for border designs, planting and gardening ideas.01233 861149 www.hornbrookmanor.co.uk.GARDEN BUILDINGSFREE PACKAGE UPGRADESon all of our fully installed log cabins● Ultimate Summerhouse ● Perfect Home Office● Kid's Playroom ● Stunning Chill-out Room ● Games RoomSAVE UP TO£2,150 ** Based on Platinum to Diamond upgrade on Homestead Cabin. T&C's applyFREE Silver to Gold upgradefree structural timber base, free shingle roof& free preservative paintFREE Gold to Platinum upgradeplus free roof insulation & free laminate flooringFREE Platinum to Diamond upgradeplus free floor insulation & free electrical packageFREE PACKAGE UPGRADEFor full details visit our websiteneedextraspace.co.uk 0845 4599444Find a Johnsons display village near you● Bybrook Barn Garden Centre, Ashford ● Hawley Garden Centre, Dartford● Elm Court Garden Centre, Gillingham ● Newnham Court Shopping Village, Maidstone● Polhill Garden Centre, Sevenoaks ● Johnsons Nursery, Whitstable131 www.wealdentimes.co.ukJohnsonGardenBuildingsWT162.indd 1 17/07/2015 16:42
---
Create A Garden Paradise...Wealdenfairs.comDiscovered by us... delivered to youShine Lanterns, £9Wealdenfairs.com/lushandgreenTerracotta Wall Planter, £20Wealdenfairs.com/restored2blovedUrban Bee Seedboms, £6.50Wealdenfairs.com/libertybeeFolding Secateurs, £21.99Wealdenfairs.com/libertybeeFloral Garden Seat Cushion, £35Wealdenfairs.com/raggedroseChildren's Garden Set, £14.95Wealdenfairs.com/bettyanddodgeFlower Tealight Holder, £15Wealdenfairs.com/abcddesignsSupersize Outdoor Cushion, £210Wealdenfairs.com/botanicalcushionsFollow us for new products,competitions and promotions.
---
Strong FrontSue Whigham laments the demise of the frontgarden and explores the factors behind its declineand what is being done to ensure its survival...I've been driving up to London on the South CircularRoad for about thirty years and, despite being notmuch fun, it gives you a chance to look at frontgardens when you are sitting at endless sets of trafficlights – and the news isn't good. I'm actually struggling tothink of one garden I've passed there when I've thought,'That looks good'. The Royal Horticultural Society havedone a recent survey and have confirmed that in the pastten years a quarter of all front gardens have been pavedor gravelled over. And in London another survey doneby the London Assembly using aerial photography hasconfirmed that twelve square miles of the city are nowpaved. This is the equivalent to twenty-two Hyde Parks.But why have things changed so much? To start with,the millions of cars we now own have to be parkedsomewhere and people would rather park off road given achance, particularly in areas with prohibitively expensiveparking charges. And many households will have morethan one car which need to be accommodated.There was a time back in the 1960s on the Becontree Estatein Dagenham, then the largest council housing project inthe world, when the council had the power to evict you ifyour front garden wasn't up to scratch. According to a longterm resident there, a Mr. Watson who has lived on the estatefor 72 years, each and every front garden is now a concreteparking bay. Privet hedges and lawns were all immaculateand working hard in the front of the house gave residents achance to know their neighbours and encourage a communityspirit. Perhaps we can put the blame on the car but manyof us tend to keep ourselves to ourselves far more now andjust consider our front gardens a working area for vehiclesand the enormous bins we have to line up somewhere.The disadvantages of all this urbanisation and reductionof green space, albeit smallish plots in the main, are obvious.Environmental problems like flooding have been proven withrainwater unable to run off into the earth naturally causingdrainage systems to overflow and sewage systems to be so fullthat their contents have had to be released into the rivers.Hard surfaces absorb heat in the day and release it at nightWinchelsea is awash with completelygorgeous plantings of overflowing roses,clouds of lavender and much else...making for uncomfortable sleep and less greenery meanspoorer air quality and nowhere for dust to be absorbed. Thereare also fewer nesting places for birds or food for insects.But it doesn't have to be like this at all and there are somefabulous front gardens around which can accommodatecars as well as plants and wildlife to provide a lovely greenoasis. Plus, leafy front gardens offer what is called 'kerbappeal' by estate agents and, of course, tree-lined and leafierroads are more appealing to potential house buyers.With limited space, the first thing to do is to clothethe walls and fences of your front garden with climbingplants and then plan what sort of front garden you want.Use scented climbers like summer jasmine, or one of thescented clematis like C. montana 'Wilsonii' which has themost delicious fragrance and flowers for weeks in June. Fillthose lost corners in the front garden with fragrant winterbox (Sarcoccoca confusa) or perhaps a daphne. If you havelimited space, you could go for Daphne bholua 'JacquelinePostill' which has an upright habit and doesn't take up toomuch room but the scent... wow! Neither the daphne nor thewinter box need regular maintenance and are so easy to 133 www.wealdentimes.co.uk
---
Image: Jason Ingram for RHSgrow as longas you get them off to a good start. There is nothingbetter than being welcomed home by wafts of perfume.I think that cottagey front gardens are perfect but canunderstand that they may not suit the architecture of everyhouse. The cool green and white formal gardens in front ofwhite stuccoed houses in some parts of London are very smartwith their use of box hedging, box or yew topiary, whitehydrangeas – that sort of thing with plenty of gravel, Yorkstone and brick edging – not much good for wildlife but easyto look after and pleasing to the eye. However, if you likeoverflowing borders of long flowering plants like Geranium'Rozanne', catmints and Alchemilla mollis you could containthem within box hedging. So simple but very effective anda good source of a few cutting flowers for the house too.I think that having a porous surface in your frontgarden is the first step and perhaps just a couple ofpaved tracks for a car combined with gravel over apermeable membrane. You can have plants growingunder the area where the car is parked as long as thecar isn't too sedentary! Try some of the little creepingthymes, or bugle or anything that creeps along theground. Otherwise interlocking brick pavers let therain through as does gravel, Matrix pavers whichare hexagonal are another alternative as is grassstrengthened with plastic Netpave (made by Netlon).This would only do for occasional parking though.Get ideas by looking at other front gardens – notup the South Circular to Catford though – Winchelsea isawash with completely gorgeous plantings of overflowingroses, clouds of lavender and much else. That slow, coolstart to the summer has allowed flowers that usuallyhave a short season to somehow hold on for weeks.During a pit stop at RHS Wisley earlier this week Inoticed that the RHS have a prominent campaign oncalled Let's Get Greening Grey Britain with a samplefront garden complete with car parked over prostrateplanting. Let's hope that it gets us all thinking.Sue Whigham can be contacted on 07810457948 for gardening advice and the sourcingand supplying of interesting garden plants.We've got designs "on your garden"Tradi&onal or contemporary, large or small, the designers at Gardenproud can help you create a garden you'll be proud of. Our project managers will take you through design, approvals, hard landscaping and plan&ng. Gardenproud was established in 2007 and is based in Tunbridge Wells. We look aDer over 100 proper&es throughout Kent and East Sussex. !If you are planning a new!garden for 2015 then contact!Tim Sykes on 07725 173820, or!just Google Gardenproud"www.wealdentimes.co.uk134GardenproudWT162.indd 1 20/07/2015 BarrowHillVetsWT162.indd 11:491 21/07/2015 11:31
---
TheGreenGoddessPenny Kempshares her tips fortaking care of thenatural world....FreeImages.com/VictorLausasBuy British & Support LocalBusiness - Reducing Food MilesGive the gift of lifelong nutrition to your lifelong friendCall01892 570192to requesta FREESAMPLE!Rewilding is the eco buzz-word of the momentin the conservation movement. Rewilding hasbeen defined as returning ecosystems to a state ofecological health, making them self-sustaining, withoutthe need for human management. It was first coinedby the conservationist Michael Soule in the mid-1990sto describe "the scientific argument for restoring bigwilderness based on the regulatory roles of large predators".The rewilding movement is keen to see thereintroduction of species which once roamed theBritish countryside. It is being used to call for thereintroduction of the lynx to these islands and someconservationists are wishing to see the return of wolvesand bears to these shores. They believe that by introducingprevious native species, nature would be more inharmony and balance would return to the eco-system.The lynx has not lived in these islands since Saxon timesbut the Lynx UK Trust www.lynxuk.org is keen to see theEurasian lynx return. It has applied for licenses to bring thewild cat to Scotland, the Lake District and Thetford forestin Norfolk. Lynx prey on deer, rabbits and other smallcreatures and there is some evidence that the fox populationdeclines where lynx are present. Lynx UK believe that thereintroduction of the species would boost tourism andStuart Brooks, chief executive of the John Muir Trust (www.jmt.org) believes that there should be a trial reintroductionand in time other species should make an appearance.Others are less certain that the reintroduction ofthe lynx is a good thing. The National Farmers' Unionare worried about lynx taking sheep and the CountryLandowners Association are concerned about the impacton rare ground nesting birds. Some are concerned aboutpublic safety but the Lynx UK Trust say there is notone documented case of a lynx attacking humans. Lynxby nature are shy creatures and wary of humans.Reintroducing creatures that have not lived on theseshores for 1300 years is risky but there is no doubt thatwe need to do something positive to restore the balanceof our countryside. If you want to know more aboutrewilding, environmentalist George Monbiot has writtena very good book, Feral: Searching for Enchantment onthe Frontiers of Rewilding, published in 2013. Readingand absorbing all the arguments, rewilding seems to mea solution but I'm not so sure about bears returning tothese shores. We are very different islands in terms ofhabitat and population now compared to Saxon times .www.trophypetfoods.co.ukFREE Nutritional AdviceCall us now on 01892 570192Find us on Facebookoffi cialtrophypetfoodsTrophyPetFoodsWT161.indd 1 11/06/2015 15:03Sail Shades • Solar Films • Blinds •Mesh Insect Screens • AwningsKEEP COOL - REDUCE GLAREKEEP INSECTS OUT – CALL SBI0800 0742 721 SBIPRODUCTS.CO.UK 135 www.wealdentimes.co.ukSBIWT162.indd 1 20/07/2015 17:04
---
EAST St.WEST KENTSHOOTING SCHOOLNew Hay Farm, Old Hay(off Pearsons Green Road)Paddock Wood,BrenchleyKent TN12 7DGOpen Monday to Friday50% off all Lessons24 - 28 August 2015florumSaturday 12 - Saturday 19September 201510am-5pm dailywww.florum.co.uk60 invited artistsAll works for saleMany different mediaPrints and cardsFree admission and parkingCredit cards acceptedKENT WILDLIFE TRUSTSEVENOAKS RESERVEBradbourne Vale Road,Sevenoaks, Kent TN13 3DHFlorumWT162.indd 1 15/07/2015 17:11Hornbrook Manor FarmBorder planting serviceCascading Cherries by Janie PirieTel: 01892 834306E: info@westkentshooting.co.ukwww.westkentshooting.co.ukTransform your garden bordersContact Jo Arnell for ideas, border designs and planting01233 861149 www.hornbrookmanor.co.ukWestKentShootingWT162.indd 1 15/07/2015 HornbrookManorWT158.indd 16:411 05/03/2015 15:58experiencecinema in a different wayfrom only£4.75 per ticket ** based on 2-for-1 ticket promotion on a Tuesday before 3pm.open every day from 9:00amfilms daily from 10:00am01797 226293ryeHIGH STREETwww.kinodigital.co.uk follow us on Kino Rye kino_digital kino_digitalLION St.www.wealdentimes.co.uk136
---
What's On In AugustCHARITY EVENTSSat 8 Aug 10am-4pmCranbrook Vestry HallCHARITY SALECome along to purchase a pieceof art from the late MichaelWoodford, artist of the GolfordChapel Windows, and exhibitorat The Tate and Louvre. Pick apainting and make a donation.Info: sheilabrown43@hotmail.co.uk / 01580 712462Sat 19 & Sun 20 AugGreater LondonTEAM BAGPUSSJoin Team Bagpuss at the world'sleading obstacle race series 'TheSpartan Race'. We ask you to raisea minimum of £150 sponsorshipper person, in return you gain raceday entry, team Bagpuss t-shirt,finishing medal and receive raceday hospitality. Races include:Spartan Sprint 5k + 13 obstacles,Super Spartan 13k + 21 obstacles& Spartan Junior Races between750m and 3k + obstacles (4yrs to13yrs)Info: anna@hospicesofhope.co.uk / 01959 525110CHILDREN & FAMILYSat 1 & Sun 2 Aug10.30am-4.30pmHever Castle & Gardens, Hever,Edenbridge, Kent TN8 7NGPAWS AT THE CASTLEThe popular annual eventhas a packed programme ofentertainment and boasts animpressive line-up of dogs frompedigree to cross breed andworking dog to pampered pooch.Admission to Castle & Gardens:Adults £16.00, Seniors £14.00,Children (5-15) £9.00,Family ticket £42.50.Info: www.hevercastle.co.uk / 01732 865224Fri 7 Aug – Fri 14 AugBroadstairs, Kent CT10 1JXBROADSTAIRS FOLK WEEK2015 sees the 50th anniversaryof this town based event - comeand celebrate with us! We have aterrific campsite for festival goers,featuring Panic Circus, children'sworkshops, a theatre and othervenues for informal events. Withover 500 events celebrating folkmusic, dance and song - concerts,ceilidhs and workshops, thisfestival has something for everyoneInfo: 01843 604080 / www.broadstairsfolkweek.org.ukCOURSES & WORKSHOPSWed 19 – Sun 23 Aug 11am-3pmRiverhill, Sevenoaks,Kent TN15 0RRPOETIC SCAVENGER HUNTCollect ideas from around thegardens and then craft theseinto a poem in our workshop.Entry: Adult £7.75, Child £5.75Info: www.riverhillgardens.co.uk / 01732 459777EXHIBITIONS, FESTIVALS,FAIRS & SHOWSSun 2 AugChiddingstone Castle, HillHoath Road, Edenbridge,Kent TN8 7ADVINTAGE SUMMER FAIRThe inaugural Summer Vintagefair takes place on the SouthLawn of the Castle grounds,with stalls selling Vintageclothing, furniture, accessoriesand homeware, and so muchmore! There will also be music,entertainment and refreshmentsto help the day go with a swing!The castle will be open as usual.Entry: Adults £3, Child £1Info: www.chiddingstonecastle.org.uk / 01892 872746Every Tuesday 9-11amSt John's Church Centre,Hildenborough nearTonbridge, KentHILDENBOROUGHFARMERS' MARKETWhile our young visitors showtheir prowess in the kitchen,making a tasty treat to takehome, there is a lively Marketto explore with around 20stalls and, when your shoppingis done, enjoy a good cuppawith friends in our coffee hall.Why not make it a date?Info: www.hildenboroughfarmersmarket.co.uk / 01732 838903Thurs 6 – Sun 9 Aug10.30am-5pmMichelham Priory, UpperDicker, Hailsham, EastSussex BN27 3QSCONTEMPORARYCRAFT SHOWWhy not combine a visit to thepast with our ContemporaryCraft Show where you can meetand see our designer makers inaction? It will be a great day outand you may find somethingspecial to take home, too!Entry: Adult £8.40, Child £4.30Info: www.thesussexguild.co.uk / 01273 479565Sun 9 Aug 9.30am-1.30pmLong Stay Car Park, SovereignWay, Tonbridge, Kent TN9 1RGTONBRIDGE FARMERS'MARKETFind more than 70 stalls here! Themarket has won The Farm Shop& Deli Awards, Best Food Marketin the Country 2015 and wasThe Kent Life Farmers' Market ofthe Year! Find us on Facebook –Tonbridge Farmers' Market andTwitter – TonbridgefmMrkt.Entry: FreeInfo: www.tonbridgefarmersmarket.co.uk / 07557 739903Sat 22 Aug 10am-2pmVictory Hall, Stockcroft Road,Balcombe, Haywards Heath,West Sussex RH17 6HPCRAFT, GIFT AND LOCALPRODUCE MARKETCome and enjoy the lovely mixedstalls and local produce with thismonth's charity being in aid ofthe Victory Hall and its renownedFirst World War Murals.Entry: FreeInfo: 01444 811462Sat 29 – Mon 31 Aug 10am-5pmPashley Manor Gardens,Ticehurst, Near Wadhurst,East Sussex TN5 7HECONTEMPORARYCRAFT SHOWThis will be The Sussex Guild'sfourteenth year at Pashley andthe craft show will be situatedin a large marquee in front ofthe Manor House. The showwill feature about fifty exhibitorswho will be displaying workof the highest standard.Entry: Adult £8, Child £5Info: www.thesussexguild.co.uk /01273 479565Mon 31 Aug – Sat 5Sept 10am-5pmTenterden Town Hall TN30 6ANWEALD OF KENTART GROUPThe Summer Exhibition and Saleof Paintings will be open daily.New members very welcome.Entry: FreeInfo: www.wealdofkentartgroup.co.ukFRIENDS & SOCIALSat 1 Aug 10.30am-3.30pmThe Temple, URC, St Mary CrayHigh Street, Kent BR5 4AXPAMPER EVENTCome and enjoy a relaxing coupleof hours and try Reflexology,Paraffin waxing, Indian HeadMassage, Manicures, NaturalLift Face Massage, Hot StonesMassage, Ear Candling, EnergyHealing, Massage and much more.There will be light refreshmentsand other stalls available.Treatments cost between £10 and£15 for 20 or 30 minute sessions.Info: 07796 582797 / www.treatsandtreasuresforyou.co.ukSat 1 & Sun 2 Aug 10amLittle Engeham Farm,Bethersden Rd, Woodchurch,Kent TN26 3QYWEALD OF KENTSTEAM RALLYThis spectacular show bringstogether Steam Engines,Classic Cars, CommercialMotorcycles, Tractors & allmanner of other vehicles fromacross the South East. Fun Fair,beer tent with lots of real ale,Pimm's, live music, excellentcatering, and flying displays.Entry: Adult £8, Child £1Info: www.wealdofkentsteamrally.co.ukGARDENS & FLOWERSThurs 13 Aug 7.30pmHeathfield Community Centre,Sheepsetting Lane, HeathfieldA WONDERFUL WORLD 137 www.wealdentimes.co.uk
---
PASHLEY MANORGARDENS'One of the finest gardens in England'SUSSEX LILY TIME GUILDCRAFT SHOW29, 30 & 31 AugustMid-July to mid-Aug., Tues-Sat4th – 6th September 2015Over 20 Artist includingThe Spikedrivers, Stark,Le Trio Perdu, Sean De Burca,Lekiddo, Funke &t he Twotone babyJimmy Robinson+ many more.LILY TIMEMid-July to mid-Aug., Tues-SatTicehurst, East Sussex, TN5 7HE 01580 200888pashleymanorgardens.comCamping , local beers + food.Weekend, day tickets availablewww.biggreencardigan.comPashleyManorWT162.indd 1 13/07/2015 BigGreenCardiganWT162.indd 11:351 17/07/2015 10:28JugglersCirCusAcrobatsClownsMillbrookstaplehurst12th – 16thAugustPaulos Circus at Millbrook...MillbrookGravesend19th – 31stAugustBBQavailableTickets£7discountsavailable forbookings of 10or moreBook online orin store now:shop.millbrookgc.co.ukMillbrook staplehursta229 staplehurst rd, Marden,tonbridge, kent tn12 9bt01622 832299Millbrook Gravesendstation road, southfleet,Gravesend, kent da13 9pa01474 331135www.wealdentimes.co.uk138
---
What's On In AugustJoin Horam and HeathfieldFlower Club and Susan Shawfor a floral demonstration,raffle and refreshments.Entry: £5Info: 01435 866026Sat 15 Aug 2-4.45pmThe Community Centre,Sheepsetting Lane, HeathfieldSUMMER FLOWER SHOWJoin Heathfield and DistrictHorticultural Society fortheir 125th AnniversaryYear with refreshments, araffle and plant sale.Entry: £1 (children under 16 free)Enquiries: 01435 830725THEATREFri 7 Aug 7.30pmKennington Hall, CanterburyRoad, Ashford, Kent TN25 4ENTHE TWO GENTLEMENOF VERONAThe Changeling Companypresents The Two Gentlemen ofVerona in tranquil surroundingsat Kennington Hall. Pleasebring friends and picnics!Tickets: www.changelingtheatre.com/ticketsInfo: www.kennington-hall.co.ukListings are correct at time ofgoing to press but may be subjectto change. Readers are advisedto check with venues beforemaking arrangements. We canlist your event in the next issueof Wealden Times for only £15!Please supply up to 50 words thatshould include date, time, venue,and any entry price to whatson@wealdentimes.co.uk or send withpayment (cheques payable to JPSMedia) to What's On, WealdenTimes, Kettle Chambers, 21 StoneStreet, Cranbrook, Kent TN173HF. Wealden Times reservesthe right to edit text to fit spaceallocated. If you would like yourevent listing to be accompaniedby a full colour reproduction(42.5 x 62.5mm) of a poster orother pictorial image, the totalcharge will be £95. Deadline forSeptember issue is 7 August 2015.All Summer LongFUN GuaranteedWith ourfamousPIG RACING4 100 acres to explore4 Friendly farm animals4 Beautiful butterflies4 Paddling pool & sandpits4 Assault courses & zip wires4 Inclusive play equipmentFind out more... 01233 861493 RareBreeds.org.ukSo much todo you'll needmore than a day!LPLamb PlayersT h e L a m b P l a y e r s P r e s e n tT WELFTH NIGHTBy William ShakespeareatLPLamb HouseWest Street, Rye TN31 Lamb 7ES Players14th - 16th August 2015ContemporaryCanterburyOastTrustRareBreedsCentreWT162.indd 1at13/07/2015 12:41T h e L a m b P l a y e r s P r e s e n tCRAFTSHOWSPashley ManorGardensT WELFTH NIGHTBy William ShakespeareLamb HouseWest Street, Rye TN31 7ES29 - 31 August10.00 am - 5.00 pmPashley Manor Gardens,Ticehurst, Near Wadhurst,East Sussex TN5 7HEMichelham Priory6 - 9 August10.30 am - 5.00 pmMichelham Priory,Upper Dicker, Hailsham,East Sussex BN27 3QSTickets £16 (£14 concs.) fromwww.thesussexguild.co.ukGrammar School RecordsHigh Street, Rye, 01797 222752T: 01273 479565P Performance e r f o r m a n c e Times: T i m e F r i i & S a t ( 7 p m )S Sun u n ( (1:30pm 1 : 3 0 p m & 5 5pm) p m )Tickets £16 (£14 (£14 concs.) fromPerformance Times:Grammar G r a m m a r School S c h o o l Records R e c o r d sF r i & S a t ( 7 p m )High High Street, Rye, 01797 222752Sun (1:30pm & 5pm)Garden opens 30 min. min. before before each each show show - picnics picnics until until 10pm 10pm (4pm)(4pm)Garden opens 30 min. before each show - picnics until 10pm (4pm)w w w w . w tw h. t eh le al a m b pl a l y a e yr es . rc o s m. c o mw w w . t h e l a m b p l a y e r s . c o m139 www.wealdentimes.co.uklambplayersWT162.indd 1 20/07/2015 SussexGuildWT162.indd 16:411 03/07/2015 15:40
---
Wealden Wealden Times Times - Bazaar - ClassifiedHeadcorn TilesFloor & Wall TilesNatural Stone, Marble,Terracotta, Slate, Mosaics,Ceramic, Porcelain, Victorianand Marlborough Handmade Tiles.Showroom: Moat Road, Headcorn TN27 9NTTel: 01622 891103 Open: 10 - 4, Closed SundayHeadcornTilesWT156.indd 1 15/01/2015 TenterdenTilingWT149.indd 11:331 16/06/2014 15:29The cabinet painterRefresh your kitchenwith a stylish paintedmakeoverMinimal fuss,Maximum effectThe affordable solution01797 270163chameleon-kitchens.co.ukemail: alisonstevensarts@gmail.comThe complete kitchen service......from a hinge to a complete makeoverThe supply & replacement ofdrawers, doors, worktops,hinges, all fitted kitchencomponents/appliances, doorrenovation & polishing, bedroomdoors & bespoke cabinets.Please call01689 850000www.thekitchendoctor.comServing London & the South-East since 1984www.dhallcabinetmaker.co.ukbespoke ironwork for home & garden01580 715476 / 07765 344298David HallCabinet Maker&Antique Restorer* High Quality Bespoke Furniture* Antique Restoration of all types* Carving and Copy Carving* PolishingNO VATPhone 01797 270761Email: hallcrocket@aol.comwww.cranbrookiron.comWho lived in your house?When was it built?AlisonStevensWT161.indd 1 17/06/2015 CranbrookIronWT138.indd 13:301 09/07/2013 11:00The story of your life,bound in a beautiful book– the perfect heirloomTiles & Tile CareHome & InteriorsContact us for more details:Tel./Fax:01580 761191www.tenterdentiling.co.ukPeter FournelAntique & ModernFurnitureRestorationLet the experts atHouse Historians use theirlong experience to researchthose questions and presentyou with an attractive hardbacked report with appropriateillustrations and maps.Ideal as a special presenthouse-historians.co.uk01580 212673KitchenDoctorWT145.indd 1 28/01/2014 DavidHallWT108.indd 10:121 14/01/2011 HouseHistoriansWT139.indd 15:271 13/08/2013 15:44Collection and delivery, Advice given01622 843284 07712 801308www.peterfournel.comLearn a trade or improve your skillswith the CITB CSkills Award for walland floor tiling training courses withour qualified professional tutors.Whether you want an introduction to the basics,to develop your existing skills or a full intensivecourse giving you the skills and confidence totackle any tiling project, we offer one, two and fourweek courses, PLUS the opportunity to becomea registered Devi under tile heating installer.Showroom at:Leigh Green Industrial EstateAppledore Road,Tenterden TN30 7DEA pet portrait makes a wonderful giftProfessional Oil Paintings & DrawingsBook for Christmas NowVisit www.dianewilks.weebly.com orEmail for examples: wdiane93@aol.comDiane 01580 212327dot codot uk07955 507893Full colourPeterFournelWT145.indd 1 10/02/2014 13:47advertising from as little as£40 a month. Call Beckyon 01580 714705becky.smith@wealdentimes.co.ukTHE BIG CLOCK COMPANYA small family run Kentishbusiness specialising inpersonalised handmade clocks.wealdenfairs.com/thebigclockcompanywww.wealdentimes.co.uk140DianeWilksWT162.indd 1 06/07/2015 MemoriesOfMyLifeWT162.indd 11:071 07/07/2015 12:14TheBigClockCompanyWT161.indd 1 19/06/2015 11:49
---
GardensFree Monthly.agnet Media Limited, PO Box 287, Uckfield, East Sussex, TN22 9ED2 2885 or 01825 873254 - Fax: 01825 508309 - Email: kim@magnetpublications.comGarden Perfection!■ Regular Maintenance■ Design & Construction■ Small one off works■ Turf care management■ Approved pesticide/herbicides operators■ Problem area solutions■ Seasonal Bedding plant displays■ Habitat ManagementADVERTISING PROOF■ Qualified gardenersMowersDomestic & CommercialHawkeFROM:Tel: 01435 868211 | M: 07831 302107E: damian@cityescapes.co.uk | www.cityescapes.co.uk2015VAT No. 929 7920 74DATE: 6 March 2015KimCityEscapesWT160.inddGARDEN1DESIGN | LANDSCAPING06/05/2015 10:37vise any corrections to this copy by 16 March. If we do not hear fromcopy is correct and will publish the advertisement as shown.competitionwin An originAlwAtercolour pAintingof your own chickensby clAire weeksClaire Weeks draws inspiration for her cheerful range oftableware, greetings cards and paintings from her lively flockof chickens. Her energetic and free-flowing work gives theimpression of movement and character in the chickens whichfeature in the majority of her paintings.GARDENEYE.CO.UK 01797 260451 | 07831 868848Battle Mowers LtdGardenEyeWT156.indd 1 07/01/2015 11:22THE ESSENCE OF FINEBRITISH LAWNSFor further information please phone 01424 773096or e-mail: battlemowers@btconnect.com www.battlemowers.co.ukvisit our showroom at The Granary, Station Rd, Battle. TN33 0DE"I love painting chickens," says Claire. "They are such characters!I love their colours and, when I paint, I often mix colours onthe paper; one hue flows into another and wonderful thingshappen."As well as being an artist, Claire also runs a B&B business whereshe makes use of the skills she acquired during her training fora Cordon Bleu Cookery Diploma, and enjoys cooking for herguests. She even recently combined her love of cookery andpainting with a commission for a chicken-themed splashbackfor a client's kitchen!Claire will be exhibiting at this year's Wealden Times MidwinterFair at Bedgebury Pinetum, from 19-21 November, and is anexhibitor on Wealden Times e-commerce site Wealdenfairs.comat Wealdenfairs.com/claireweeksart where you can shop a selectionof her hard-wearing illustrated platters, placemats, worktop saversand coasters. To contact Claire about a special commission, call01284 827514 or email claire@claireweeksart.co.uk.For your chance to win anBattleMowersWT160.indd 1 11/05/2015 12:05original watercolour paintingFull colour of your chickens, up to 22inches x 15 inches, by Claireadvertising fromWeeks just answer thisquestion: 'What is the name ofas little as £40 athe e-commerce site on whichClaire exhibits her illustratedmonth.homewares?' Enter your answerwith your contact details*Call Becky onin the online form at www.wealdentimes.co.uk/competitiondate of invoice. 01580 All artwork, 714705colour matches and scans are done as a free of charge service, so no or post credits to: The can Claire be given Weeks for Art Competition, Wealden Times, 21 Stone Street,r reproduction where we have typeset advertisements. Clients should supply their own digital file Cranbrook, and proofs Kent if TN17 this is 3HF not by 17 August 2015. There is no cash alternativellect a debt, 10% becky.smith@+ costs + VAT will added. No advertisement designed by Magnet Media Limited and for the publication prize must in be Magnet taken before the end of 2015. *All entrants' details willnal literature or other publications without prior permission. A minimum of £50 will be levied if this be occurs. passed on to Claire Weeks and Wealden Times Events. Please let us know ifwealdentimes.co.ukyou do not wish your details to be passed on.141GranddadRobDesignsWT161.indd 1 18/06/2015 14:31Congratulations to Freddy Clements who wins our July competition fora weekend big cat family encounter at the Wildlife Heritage Foundation inSmarden.
---
New This Month...Game Bird Throw, £140 (left);Game Bird Cushion, £32.50 (right)Wealdenfairs.com/roseandbowsWealdenfairs.comDiscovered ed by us... delivered to youCowboy Moustache Comb, £9.99 (above);Savon De Marseille Olive Soap, £6 (below)Wealdenfairs.com/villedefleursRob Ryan Mug, £10.75Wealdenfairs.com/isla-graceltdFrench Soda Syphon Bottle, £58Wealdenfairs.com/restored2blovedHand Turned Maple Bowl, £137.50Wealdenfairs.com/barleywoodSterling Silver Dragonfly Necklace, £41 (left);Sterling Silver Birdie Necklace, £43 (right)Wealdenfairs.com/bellajanejewelleryPersonalised Toy Storage Bag, £34Wealdenfairs.com/limetreelondonJubilee Ring, £120Wealdenfairs.com/gillbridgestockpewterFollow us for new products,competitions and promotions.
---
Introducing...Holsa BeeThe Bee is the perfect animal for Holli Coate'sbusiness to emulate as it works hard to makesomething beautiful! Fed up with the same oldhigh street products, Holli Coates, embarked upona venture sourcing items that are a little differentand bring a smile to your face!What's the significance of your company name,'Holsa Bee'? My brother always calls me Holsa Bee, so ithas sentimental value but I also liked the idea of having a beeincorporated into my logo. The bee is theperfect animal as it works hardto make something beautiful!What inspired you to startyour business? I was fed up withshopping on the high street seeing the same,or very similar things in every shop that I went into. I like to findproducts that are a little different and that you just have to have!Have you always been a creative person? Everyonehas a creative side of sorts. I love arts and crafts but I don'texcel in any of them! In my head I am very creative, I justhave to rely on other people just have to help me get there!What influences your designs? I searchtirelessly for pieces that are designed and preferablymade in the UK. I'm fascinated by the changing of theseasons so that often influences new trend ideas.What's your favouriteproduct from yourcollection? I adorethe Copper Heart Jugs. Ithink they are beautiful,classy and understated.Do you enjoy workingfor yourself? I enjoyworking for myself whenthings are going well! Somedays it would be nice tohave a little extra help orsome time off but at theend of the day it's verysatisfying when you lookback and see what you haveaccomplished on your own.What makes all the hard work worth it? Whensomeone sends you a thank you card to say how much they lovedthe product or how it made the perfect gift for their loved one.What is the essenceof your business?At Holsa Bee we liketo source products thatare a little different, bringa smile to your face, amemory to mind or makeyou feel loved. Even if youhave bought it for yourself!What motivatesyou to succeed?Family. I have a wonderfulfamily, husband, sonand our dog Buster.We have another babydue in autumn which is incredibly exciting. I amconstantly inspired by wanting to make them proud!Clockwise from above, 'Happy Days! Mug', £12.95;Glass Vase With Copper Heart, £15; Pewter TableClock , £45.95; Floral Notebook, £9.95www.wealdenfairs.com/holsabee
---
FablesFromThe FarmJane reflects onthe Howard familychickens...Subscribe and NEVERmiss out...If you would like to contribute to future issues ofTotal Grooming Magazine please contact :Sue Corfieldeditor@totalgroomingmagazine.co.ukIf you would like to subscribe to the magazine orhave an interest in advertising then please contact :Mike Smithmike@cimltd.co.uk01795 509110www.totalgroomingmagazine.co.ukwww.totalgroomingmagazine.co.ukLove is...WILDWASHWildWash Natural Skinand Coat Care For PetsTo see Pepper's fi rst bath visit:www.youtube.com/WildWashCowww.totalgroomingmagazine.co.ukJUNE 2015APRIL 2015CELEBRATING20 YEARSwww.totalgroomingmagazine.co.ukwww.totalgroomingmagazine.co.ukMAY 2015March 2015The chicken department has been running especiallysmoothly recently. For the past two years we have hadthe same six chickens – four Buff Sussex, one SpeckledSussex and Phil the cockerel. This in itself is a record as in thepast we have always lost a few every year to the fox, to friendsvisiting with terriers and once to a nasty condition called Gape.But all's well at the moment, with plenty of fresh eggsand only one of them deciding to go broody. The wholechicken and egg thing is still one of those miracles whicheven after ten years of hen keeping never ceases to amaze.An old fashioned hen will lay an egg most days fromabout February to October (commercial hens do it everyday, 365 days) and if she is running with a cockerel theeggs will be fertile and for about three weeks are capableof developing into a chick. This development will onlycommence once the egg has been kept consistently warmfor 24 hours in an incubator or under a broody hen.Becoming broody is a hormonal thing and once it kicks inthe hen's temperature rises and she plucks the feathers fromher breast, skin-to-shell contact being more efficient with allthe feathers out the way. And there she sits for 21 days. Sheforegoes food and drink – unless you pick her up and makeher leave the nest – and also ceases to give off any smell sothat in the wild any passing fox won't find her. Clever.And then on day 20 the chicks begin to cheep insidetheir shells. This is the signal that turns off broody modeand turns on maternal mode. As all the chicks hatch shebecomes a protective mother and will carefully raise themfor about eight weeks before she loses interest and the littleones have to take their chances as part of the flock.We don't really need any more hens, five hens eachlaying most days is plenty for a family of four – althoughin our case you first have to find the eggs because thehens resolutely refuse to use the dedicated laying box intheir hen house, but when one of them did go broodyrecently I couldn't help but put some eggs under herand chalked up in the diary the happy hatching date.However, with the very hot weather we've had recentlyI felt, after two weeks of sitting tight, she really did needto get out of the ark, stretch her legs and have a drinkof water. So I turfed her out and she ran screeching tothe nearest flower bed for a good dust bath (it is VERYannoying that with all the farmyard to use they always pickmy already far from impressive perennial border as theirpreferred spot for ablutions). Ten minutes later I checkedon progress only to see two large crows flying out of theark with eggs in their beaks. Of the original nine only twowere left. As they say, never count your chickens…Follow Jane on Twitter @coopers_farmwww.wealdentimes.co.uk144TotalGroomingWT162.indd 1 22/07/2015 10:32
---
£299WHEREVER SUMMER TAKES YOU!Powerful, portable and Blue-tooth-enabled, BeoPlay A2 is the socialspeaker designed to travel with you all Summer long.Bang & Olufsen of BexleyheathTel: 0208 303 2760www.bang-olufsen.com/bexleyheathSUMMER Bang & Olufsen of TAKES Bromley YOU!Tel: 0208 466 8080www.bang-olufsen.com/bromleyand Bluetooth-enabled, BeoPlay A2 is the socialBang & Olufsen of Maidstoneto travel Tel: 01622 with 756756 you all summer long.www.bang-olufsen.com/maidstonexxxxxxxxxxxxxxxx] [Storename xxxxxxxxxxxxxxxxxxxxxxxxxxxxx]Bang & Olufsen of Tunbridge Wellsxxxxxxxxxxxxxxxxxx]Tel: 01892 527 525 Tel. [xx xx xx xx xx] Email [xxxxxxxxxxxxxxxxxxx]Please www.bang-olufsen.com/tunbridgewellscall for a brochure or visit our showroomsxxxxxxxxxxxxxxxx] [Storename xxxxxxxxxxxxxxxxxxxxxxxxxxxxx]www.beoshop.co.ukxxxxxxxxxxxxxxxxxx]Unit 9, Chart Farm, Seal Chart Tel. [xx 81 Calverley xx xx Roadxx] Email [xxxxxxxxxxxxxxxxxxx]Sevenoaks, Kent TN15 0ESTel: 01732 762682Tunbridge Wells, Kent TN1 2UYTel: 01892 520730od summer vibes | B&O Visit PLAY one by BANG of our stores & OLUFSEN to get good Summer vibes!www.rencraft.co.ukB&O PLAY BY BANG & OLUFSEN
---
SUMMER UPHOLSTERYPROMOTION15% OFF ALL ORDERS PLACED DURING JULY/AUGUSTBATTLE• TENTERDEN• ONLINEWWW.WOODCOCKSINTERIORS.CO.UK