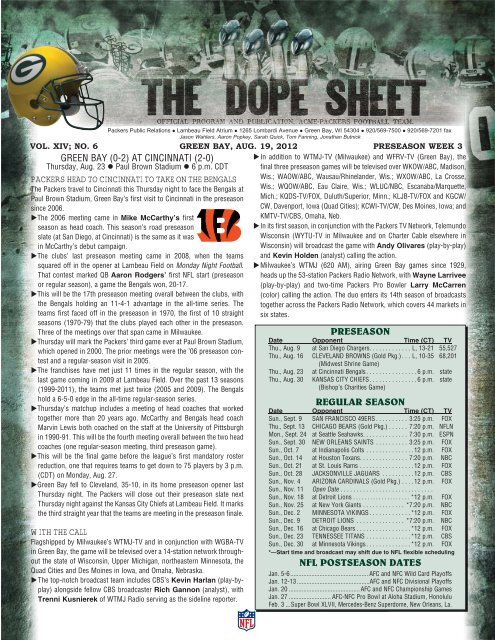 contest throughout (play-byplay)
Preseason Week 3 at Cincinnati Dope Sheet.indd - Jbabcock.net
Preseason Week 3 at Cincinnati Dope Sheet.indd - Jbabcock.net
SHOW MORE
SHOW LESS
You also want an ePaper? Increase the reach of your titles
YUMPU automatically turns print PDFs into web optimized ePapers that Google loves.
Packers Public Relations • Lambeau Field Atrium • 1265 Lombardi Avenue • Green Bay, WI 54304 • 920/569-7500 • 920/569-7201 faxJason Wahlers, Aaron Popkey, Sarah Quick, Tom Fanning, Jonathan ButnickVOL. XIV; NO. 6 GREEN BAY, AUG. 19, 2012 PRESEASON WEEK 3GREEN BAY (0-2) AT CINCINNATI (2-0)Thursday, Aug. 23 • Paul Brown Stadium • 6 p.m. CDTPACKERS HEAD TO CINCINNATI TO TAKE ON THE BENGALSThe Packers travel to Cincinnati this Thursday night to face the Bengals atPaul Brown Stadium, Green Bay's first visit to Cincinnati in the preseasonsince 2006.The 2006 meeting came in Mike McCarthy's firstseason as head coach. This season's road preseasonslate (at San Diego, at Cincinnati) is the same as it wasin McCarthy's debut campaign.The clubs' last preseason meeting came in 2008, when the teamssquared off in the opener at Lambeau Field on Monday Night Football.That contest marked QB Aaron Rodgers' first NFL start (preseasonor regular season), a game the Bengals won, 20-17.This will be the 17th preseason meeting overall between the clubs, withthe Bengals holding an 11-4-1 advantage in the all-time series. Theteams first faced off in the preseason in 1970, the first of 10 straightseasons (1970-79) that the clubs played each other in the preseason.Three of the meetings over that span came in Milwaukee.Thursday will mark the Packers' third game ever at Paul Brown Stadium, DatePRESEASONOpponent Time (CT) TVThu., Aug. 9 at San Diego Chargers. . . . . . . . . . . . . L, 13-21 55,527which opened in 2000. The prior meetings were the '06 preseason contestand a regular-season visit in 2005.(Midwest Shrine Game)Thu., Aug. 16 CLEVELAND BROWNS (Gold Pkg.) . . . L, 10-35 68,201The franchises have met just 11 times in the regular season, with the Thu., Aug. 23 at Cincinnati Bengals. . . . . . . . . . . . . . . . 6 p.m. statelast game coming in 2009 at Lambeau Field. Over the past 13 seasons(1999-2011), the teams met just twice (2005 and 2009). The BengalsThu., Aug. 30 KANSAS CITY CHIEFS. . . . . . . . . . . . . . . 6 p.m. state(Bishop's Charities Game)hold a 6-5-0 edge in the all-time regular-season series.REGULAR SEASONThursday's matchup includes a meeting of head coaches that worked Date Opponent Time (CT) TVtogether more than 20 years ago. McCarthy and Bengals head coach Sun., Sept. 9 SAN FRANCISCO 49ERS . . . . . . . . . . 3:25 p.m. FOXMarvin Lewis both coached on the staff at the University of Pittsburghin 1990-91. This will be the fourth meeting overall between the two headcoaches (one regular-season meeting, third preseason game).This will be the final game before the league's first mandatory rosterreduction, one that requires teams to get down to 75 players by 3 p.m.(CDT) on Monday, Aug. 27.Green Bay fell to Cleveland, 35-10, in its home preseason opener lastThursday night. The Packers will close out their preseason slate nextThursday night against the Kansas City Chiefs at Lambeau Field. It marksthe third straight year that the teams are meeting in the preseason finale.Thu., Sept. 13 CHICAGO BEARS (Gold Pkg.) . . . . . . 7:20 p.m. NFLNWITH THE CALLFlagshipped by Milwaukee's WTMJ-TV and in conjunction with WGBA-TVin Green Bay, the game will be televised over a 14-station network throughoutthe state of Wisconsin, Upper Michigan, northeastern Minnesota, theQuad Cities and Des Moines in Iowa, and Omaha, Nebraska.The top-notch broadcast team includes CBS's Kevin Harlan (play-byplay)alongside fellow CBS broadcaster Rich Gannon (analyst), withTrenni Kusnierek of WTMJ Radio serving as the sideline reporter.In addition to WTMJ-TV (Milwaukee) and WFRV-TV (Green Bay), thefinal three preseason games will be televised over WKOW/ABC, Madison,Wis.; WAOW/ABC, Wausau/Rhinelander, Wis.; WXOW/ABC, La Crosse,Wis.; WQOW/ABC, Eau Claire, Wis.; WLUC/NBC, Escanaba/Marquette,Mich.; KQDS-TV/FOX, Duluth/Superior, Minn.; KLJB-TV/FOX and KGCW/CW, Davenport, Iowa (Quad Cities); KCWI-TV/CW, Des Moines, Iowa; andKMTV-TV/CBS, Omaha, Neb.In its first season, in conjunction with the Packers TV Network, TelemundoWisconsin (WYTU-TV in Milwaukee and on Charter Cable elsewhere inWisconsin) will broadcast the game with Andy Olivares (play-by-play)and Kevin Holden (analyst) calling the action.Milwaukee's WTMJ (620 AM), airing Green Bay games since 1929,heads up the 53-station Packers Radio Network, with Wayne Larrivee(play-by-play) and two-time Packers Pro Bowler Larry McCarren(color) calling the action. The duo enters its 14th season of broadcaststogether across the Packers Radio Network, which covers 44 markets insix states.Mon., Sept. 24 at Seattle Seahawks. . . . . . . . . . . . . . 7:30 p.m. ESPNSun., Sept. 30 NEW ORLEANS SAINTS . . . . . . . . . . 3:25 p.m. FOXSun., Oct. 7 at Indianapolis Colts . . . . . . . . . . . . . . . 12 p.m. FOXSun., Oct. 14 at Houston Texans. . . . . . . . . . . . . . . 7:20 p.m. NBCSun., Oct. 21 at St. Louis Rams . . . . . . . . . . . . . . . . . 12 p.m. FOXSun., Oct. 28 JACKSONVILLE JAGUARS . . . . . . . . . . 12 p.m. CBSSun., Nov. 4 ARIZONA CARDINALS (Gold Pkg.) . . . . 12 p.m. FOXSun., Nov. 11 Open Date . . . . . . . . . . . . . . . . . . . . . . . . . . . . .Sun., Nov. 18 at Detroit Lions . . . . . . . . . . . . . . . . . . . . *12 p.m. FOXSun., Nov. 25 at New York Giants . . . . . . . . . . . . . *7:20 p.m. NBCSun., Dec. 2 MINNESOTA VIKINGS . . . . . . . . . . . . . *12 p.m. FOXSun., Dec. 9 DETROIT LIONS . . . . . . . . . . . . . . . *7:20 p.m. NBCSun., Dec. 16 at Chicago Bears . . . . . . . . . . . . . . . . . *12 p.m. FOXSun., Dec. 23 TENNESSEE TITANS . . . . . . . . . . . . . . *12 p.m. CBSSun., Dec. 30 at Minnesota Vikings. . . . . . . . . . . . . . *12 p.m. FOX*—Start time and broadcast may shift due to NFL flexible schedulingNFL POSTSEASON DATESJan. 5-6 ................................................ AFC and NFC Wild Card PlayoffsJan. 12-13 .............................................AFC and NFC Divisional PlayoffsJan. 20 ............................................AFC and NFC Championship GamesJan. 27 .......................... AFC-NFC Pro Bowl at Aloha Stadium, HonoluluFeb. 3 ...Super Bowl XLVII, Mercedes-Benz Superdome, New Orleans, La.
---
PACKERS AT BENGALS - PRESEASON WEEK 3PACKERS FALL TO BROWNS IN HOME PRESEASON OPENERGreen Bay lost to Cleveland, 35-10, in the 63rd installment of the UpperMidwest Shrine Game in front of 68,201 at Lambeau Field last Thursdaynight.Green Bay's No. 1 defense didn't waste any time making an impact, withDB Charles Woodson stripping RB Montario Hardesty at the end of a4-yard run on the Browns' first play from scrimmage. Rookie CB CaseyHayward recovered the ball at the Cleveland 23 to set the offense upwith prime field position.Three plays later, QB Aaron Rodgers found WR Jordy Nelson inthe corner of the end zone on a 20-yard scoring strike to give Green Bayan early 7-0 lead.Rodgers and the rest of the offensive starters played the entire first quarter,but the other two series ended with a WR Randall Cobb fumble aftera catch and a failed fourth-down conversion at the Green Bay 45. Rodgerscompleted 6-of-11 passes for 59 yards and the TD (100.2 rating).No. 2 QB Graham Harrell took over for the rest of the game untilthe final series, and completed 12-of-24 passes for 100 yards with twoINTs. One of the interceptions came on a Hail Mary pass as time expiredin the first half.Rookie WR Jarrett Boykin led the team with five catches for 63 yards(12.6 avg.) on the evening. Rookie CB Otis Merrill posted a 60-yardkickoff return with just a little more than a minute to go in the first half.P Tim Masthay had another strong outing, averaging 52.5 yards onfour punts with a net average of 45.3 yards.The Packers had 18 players that did not dress on Thursday night. Sittingout against Cleveland were RB Du'ane Bennett (knee), RB CedricBenson (recently signed), LB Desmond Bishop (hamstring), WRDiondre Borel (groin), G Ray Dominguez (ankle), TE JermichaelFinley (quad), FB Jon Hoese (hamstring), CB Davon House(shoulder), WR Greg Jennings (concussion), DE Johnny Jones(knee), FB John Kuhn (ankle), TE Andrew Quarless (knee), RBBrandon Saine (hamstring), T Derek Sherrod (leg), CB SamShields (elbow), WR Shaky Smithson (ankle), James Starks(toe) and LB Frank Zombo (hamstring).HEAD COACH MIKE McCARTHY POST-GAME EXCERPTS(on Graham Harrell's performance)"I felt the things that Graham did very well, I was very pleased with hisscramble ability and quarterback runs for first down. That's somethingthat I would not say was part of his game last year or so. I think he'sreally improved in that part of the pocket awareness. I thought he wasput in some tough spots. On the negative side, he missed some throws.We'll take a close look at it and I can promise you that no one will corrector detail the play of the quarterback better than our coaches."(on the No. 1 offense's turnovers in the first two games)"Well, you could throw the whole team in there. We're turning the damnball over too much. I don't care if it's preseason, scrimmage, practice, it'ssomething that needs to stop. There's no excuse for that. For as much aswe train taking care of the football and emphasizing it, it's important thatthe things that you do every single day in your practice structure showup on gameday. So, the offense and special teams, we have to take careof the football."(if there is concern over the first two preseason games)"We don't brush anything off. I thought what was concerning was thefinal score. And that's about as far as it goes. Because the reality of itwas that it's a preseason game. You play to win, but you have otherobjectives, you have other goals. The one main goal is to make sure youhit your target as far as how many reps and particular plays you're ableto get in this game. And I felt good about that because we needed a lotof information about our younger players and I felt we were able to dothat tonight. So we'll go through a normal Monday, in-season scheduletomorrow. The players will have strength and conditioning responsibility,we'll look at all the tape together, special teams, quarterbacks, andoffense and defense. I'll give a final review of the game to finish up inteam meetings. The quality might not be quite what we want, but we'll letthe film tell us that. But I was pleased with the way the team was reppedtoday."WHERE THEY'LL BE THURSDAY NIGHTCoaches often use the preseason as a test to see where players are bestutilized. Head Coach Mike McCarthy is on the sidelines, but here's a lookat where the rest of the staff will be Thursday:Coaches' Box: Dom Capers (defensive coordinator), Jerry Fontenot(tight ends), Joel Hilgenberg (assistant offensive line), Ben McAdoo (quarterbacks),Scott McCurley (defensive quality control), John Rushing (offensiveassistant/special teams) and Joe Whitt (secondary - cornerbacks).Sideline: Edgar Bennett (wide receivers), James Campen (offensiveline), Tom Clements (offensive coordinator), Mike Eayrs (research anddevelopment), Kevin Greene (outside linebackers), Chad Morton (specialteams assistant), Winston Moss (inside linebackers/asst. head coach),Darren Perry (secondary - safeties), Shawn Slocum (special teamscoordinator), Mike Trgovac (defensive line) and Alex Van Pelt (runningbacks).WHAT IS AHEADAfter enjoying two days off from Ray Nitschke Field following the game onThursday night vs. Cleveland, the Packers will hit the practice field threetimes this week, with two of the three sessions (Sunday-Monday) scheduledfor 11:15 a.m. and one scheduled for 11 a.m. (Tuesday).The practices on Sunday and Monday are scheduled to be in full pads,though the health of the team heading into Thursday night's contestagainst the Bengals could determine if those numbers stay the same.Including the Family Night practice, the team will have 18 practicesunder its belt when it takes the field vs. Cincinnati.Following the Cincinnati contest, the team will take two days off (Aug.24-25) from the practice field before returning on Sunday, Aug. 26. ThePackers will practice Sunday, Monday and Tuesday leading into the preseasonfinale at Lambeau Field on Thursday night vs. Kansas City. TheAug. 28 practice will be the final session open to the public.SAVE THE DATEImportant dates to remember (all times CDT):Thursday, Aug. 23 – Preseason game at Cincinnati Bengals,6 p.m., Paul Brown StadiumMonday, Aug. 27 – Roster reduction to a maximum of 75 players by3 p.m.Tuesday, Aug. 28 – Final practice open to public, 11 a.m.,Nitschke FieldThursday, Aug. 30 – Preseason game vs. Kansas City Chiefs,6 p.m., Lambeau Field (Bishop's Charities Game)Friday, Aug. 31 – Roster reduction to a maximum of 53 players by8 p.m.Saturday, Sept. 1 – After 11 a.m., clubs may establish apractice squad of eight playersSunday, Sept. 9 – Regular-season opener vs. San Francisco 49ers,3:25 p.m.2
---
THE DOPE ONTHIS WEEK'SOPPONENT:Packers vs. Cincinnati Bengals:All-time regular season:5-6-0All-time, in Cincinnati:1-3-0All-time, preseason:4-11-1Streaks: The Bengals have won the last two regular-seasonmeetings. Prior to that, Green Bay had won three straight.Last meeting, regular season:Sept. 20, 2009, at Lambeau Field; Bengals won, 31-24Last meeting, regular season, in Cincinnati:Oct. 30, 2005, at Paul Brown Stadium; Bengals won, 21-14Last meeting, preseason:Aug. 11, 2008, at Lambeau Field; Bengals won, 20-17COACHES CAPSULESMike McCarthy: 68-36-0, .654, (incl. 5-3 postseason); 7th NFL seasonMarvin Lewis: 69-77-1, .473, (incl. 0-3 postseason); 10th NFL seasonHead to Head: Lewis 1-0vs. Opponent: McCarthy 0-1 vs. Bengals; Lewis 2-0 vs. PackersMIKE McCARTHY…Is in seventh year as the Packers' 14th head coach.Joined Vince Lombardi and Mike Holmgren as the only coaches toguide the Packers to a Super Bowl title with a win over Pittsburgh inSuper Bowl XLV.Has led the Packers to playoff appearances in four of his six seasonsas the helm, and the team's four postseason berths over the past fiveseasons are the most by an NFC team.His .654 winning percentage (including playoffs) ranks No. 3 amongactive NFL coaches (min. 50 games) entering the 2012 season.One of only two coaches, along with New Orleans' Sean Payton, tohave his offense ranked in the top 10 in total yardage each season from2006-11. Was named Packers head coach on Jan. 12, 2006, his first headcoachingjob after 13 years as an NFL assistant.Became the first Packers coach since Lombardi to lead the team to achampionship game in his second season (2007).MARVIN LEWIS…Is in 10th year as the Bengals' ninth head coach.Has posted the longest tenure and the most wins (69) of any headcoach in franchise history.His Bengals are among only 10 NFL teams to make the playoffs in twoor more of the past three seasons.Led the Bengals to AFC North titles in 2005 and 2009, as he was theconsensus NFL Coach of the Year in 2009 when Cincinnati swept allsix division contests. Prior to coming to Cincinnati, served as the Washington Redskins'defensive coordinator and assistant head coach in 2002. Also spentsix seasons (1996-2001) as defensive coordinator for the BaltimoreRavens, a tenure that included a Super Bowl victory in the 2000 season.THE PACKERS-BENGALS SERIESThe two teams have met 11 times in the regular season, with the Bengalsholding a 6-5-0 edge.The Bengals have won the last two regular-season meetings (2005 and2009). Prior to 2005, Green Bay owned a three-game winning streak inthe series (24-23 in 1992 and 24-10 in 1995, both in Green Bay, and13-6 in 1998 at Cincinnati).33Perhaps the most memorable game in the series came in 1992when Brett Favre, summoned to replace an injured Don Majkowskiat quarterback in the first quarter, proceeded to direct the Packers toan electrifying, 24-23 come-from-behind victory, forged when he hitwide receiver Kitrick Taylor with a 35-yard scoring pass as only 13seconds remained in the game. Chris Jacke's subsequent PAT settledthe issue.The series launched at Lambeau Field in 1971, when the legendaryPaul Brown was head coach of the Bengals, a team he had foundedthree years earlier as a member of the then American Football League.The Packers posted a 20-17 victory in their first meeting, with a LouMichaels field goal providing the victory margin.NOTABLE CONNECTIONSPackers head coach Mike McCarthy and Bengals head coach MarvinLewis were both assistant coaches at the University of Pittsburgh in1990 and 1991; Packers special teams coordinator Shawn Slocum wasalso on that 1990 staff...Lewis and Packers defensive coordinator DomCapers coached on the Steelers' defensive staff together from 1992-94...Lewis was Packers outside linebackers Kevin Greene's position coachin Pittsburgh from 1993-95...Packers RB Cedric Benson played for theBengals for the past four seasons (2008-11) and registered 1,000 ormore rushing yards each of the last three seasons...Ohio natives onGreen Bay's roster include TE Tom Crabtree (Carroll), LB A.J. Hawk(Centerville), DB Otis Merrill (Cleveland), RB Brandon Saine (Piqua),CB Charles Woodson (Fremont) and DE Jerel Worthy (Huber Heights)...Hawk, Saine and DT Ryan Pickett all played at Ohio State...Capers grewup in Buffalo, Ohio, where he attended Meadowbrook High School...Capers also attended Mount Union College in Alliance, Ohio, andcoached defensive backs at Ohio State from 1982-83...Packers defensiveline coach Mike Trgovac was born in Youngstown, Ohio, and attendedFitch High School in Austintown, Ohio...Packers tight ends coach JerryFontenot played center for the Bengals in 2004...Fontenot was a teammateof Bengals defensive backs coach Mark Carrier with the Bears...Packers secondary-safeties coach Darren Perry's first NFL coaching jobcame in 2002 when he coached safeties for the Bengals on Dick LeBeau'sstaff...Bengals TE Donald Lee played in 92 games for Green Bay over sixseasons (2005-10)...Bengals LS Clark Harris was selected by Green Bayin the seventh round of the 2007 NFL Draft...Bengals G Kevin Zeitler isa Waukesha, Wisc. native and played at the University of Wisconsin...Bengals quarterbacks coach Ken Zampese was an offensive quality controlassistant for the Packers in 1999, the same year McCarthy coachedthe team's quarterbacks...Bengals defensive line coach Jay Hayescoached on the University of Wisconsin staff from 1995-98...Bengalsassistant strength and conditioning coach Jeff Friday is a Milwaukeenative and attended the University of Wisconsin-Milwaukee...Packersassistant director of public relations Sarah Quick is a Cincinnati native.LAST MEETING, PRESEASONAug. 11, 2008, at Lambeau Field; Bengals won, 20-17.In his first pro start, fourth-year QB Aaron Rodgers connected on 9-of-15 passes for 117 yards and a TD with an INT.Rodgers' touchdown pass came near the end of the quarter whenhe found WR James Jones over the middle for a 30-yard TD. Jones'helmet flew off after absorbing a hit, but he went the rest of the wayfor the score.Green Bay had 14 different players catch passes on the evening, with WRDonald Driver leading the way with four grabs for 39 yards (9.8 avg.).Bengals QB Carson Palmer connected with TE Ben Utecht on a 14-yardTD pass and RB Chris Perry scored from 6 yards out to help giveCincinnati a 17-10 lead at the half, one it would not relinquish.
---
PACKERS AT BENGALS - PRESEASON WEEK 3LOTS OF FAMILIAR FACESGeneral Manager Ted Thompson continued his philosophy of buildingthrough the draft in the 2012 offseason, but also added some veteranplayers in free agency.Green Bay welcomes the return of 19 of 22 players that started againstthe N.Y. Giants in the NFC Divisional playoff.Seven Packers earned Pro Bowl recognition in 2011, the largest contingentGreen Bay had voted into the all-star game since 1967. Six of thoseplayers return in 2012, with C Scott Wells departing to St. Louis in freeagency.The Packers filled the void left by Wells through unrestricted free agencywhen they signed veteran C Jeff Saturday, a five-time Pro Bowler withthe Indianapolis Colts.Green Bay also added to its defensive line with the signings of DEAnthony Hargrove (Seattle) and free agents Phillip Merling andDaniel Muir.The continuity extends to the coaching staff, where almost the entiregroup returns for 2012 with a few changes in duties.Tom Clements, who tutored the quarterbacks for the past six seasons,moves into the role of offensive coordinator in 2012 after JoePhilbin left to become the head coach of the Miami Dolphins.Ben McAdoo, who coached the team's tight ends from 2006-11, willnow direct the quarterbacks, while Jerry Fontenot, who tutored therunning backs in 2011, will take over as tight ends coach. Alex VanPelt, a six-year NFL assistant, enters his first season with the club asrunning backs coach.Two other coaches will have different duties, with Joel Hilgenbergserving as assistant offensive line coach and John Rushing as offensiveassistant/special teams.MEET THE DRAFT PICKSTraining-camp storylines always hover around new players and just howthey figure into the depth chart. This past April, the Packers added to analready deep and talented roster with an eight-man draft class.LB Nick Perry, the first Southern California defensive player to beselected in the first round of the NFL Draft since the Packers picked ClayMatthews in 2009, earned first-team All-Pacific-12 recognition as a juniorin 2011. His career-high 9½ sacks led the conference and he was one ofsix finalists for the Hendricks Award, which is given to the nation's topdefensive end.The Packers moved up in the second round to select DE Jerel Worthyout of Michigan State, the first of three times that GM Ted Thompsontraded up in the 2012 NFL Draft. Worthy was a consensus first-teamAll-American as a junior in 2011, the first Spartan defensive tackle toearn first-team honors since Ronald Curl in 1971. Worthy was also theschool's first All-Big Ten first-team selection since 1989.Green Bay traded up into the second round to draft a second player, CBCasey Hayward from Vanderbilt. Hayward twice earned second-teamAll-Southeastern Conference honors for the Commodores and tied forNo. 3 in the country with a career-high seven INTs as a senior in 2011.He posted 15 INTs at Vanderbilt, tying him for the most in school historywith Leonard Coleman (1980-83).In the fourth round, the Packers drafted DT Mike Daniels from Iowa.He earned second-team All-Big Ten honors from the coaches followinghis senior campaign in 2011 when he posted a career-high 67 tacklesand nine sacks. Daniels posted a team-high 24½ tackles for loss and 13sacks over his final two seasons.Green Bay selected S Jerron McMillian out of Maine with its secondselection in the fourth round. He was a first-team All-Colonial AthleticConference selection in 2011 and earned second-team All-Americanhonors from Phil Steele. McMillian finished second on the team in bothtackles (92) and tackles for loss (11½) as a senior.Thompson traded up for the third and final time on draft weekend toselect LB Terrell Manning from North Carolina State in the fifthround, the last of six consecutive defenders chosen by the Packersto open the draft. Manning earned second-team All-Atlantic CoastConference honors as a junior in 2011, recording a career-high 83 tacklesdespite missing two games with a knee injury.With the first of two choices in the seventh round, Green Bay selectedT Andrew Datko from Florida State. He was a four-year starter at LTfor the Seminoles but saw his senior campaign cut short after just fourgames due to a shoulder injury. Datko was named to the preseasonwatch list in 2011 for the Outland Trophy and Lombardi Award. Heallowed just one sack and was penalized only three times in 11 starts asa junior in 2010.The Packers drafted QB B.J. Coleman out of Tennesee-Chattanoogain the seventh round with their eighth and final selection. He finishedhis career at UTC ranked either first or second in every major statisticalpassing category despite playing only three seasons there after transferringfrom Tennessee. Coleman started 29 games in his three seasons atChattanooga and threw for 6,871 yards and 52 TDs.BREAKING DOWN THE ROSTERThe Packers' current 90-man roster is composed of 47 offensive players,40 defensive players and three specialists.Of the 90 players on Green Bay's roster, 38 of them (42.2 percent) weredrafted by the Packers.With 31 non-drafted free agents on the roster having started their NFLcareer with Green Bay, 69 of the 90 players (76.7 percent) began theirpro careers with the Packers.Nearly two-thirds of the players (59 of 90, 65.6 percent) on Green Bay'sroster entered the league as a sixth-round or seventh-round pick or asan undrafted player. Close to half the players (44, 48.9 percent) on theroster were not drafted.Of the 90 players on the roster, 81 of them (90.0 percent) are 28 yearsold or younger.GREEN BAY'S ROSTER...BY AGE (as of Aug. 23)21-24 50 players25-28 31 players29-32 6 players33-plus3 playersBY EXPERIENCER-1 34 players2-3 28 players4-5 12 players6-9 11 players10-plus5 playersBY DRAFT ROUND1st2nd/3rd4th/5th6th/7thUndrafted10 players12 players9 players15 players44 players4
---
PACKERS AT BENGALS - PRESEASON WEEK 3PUT IT ON THE BOARDWith 560 points in 2011, the Packers easily eclipsed the franchise recordfor the most points scored in a season, besting the previous mark bynearly 100 points:SeasonTotal Points1. 2011 5602. 2009 4613. 1996 456Green Bay's scoring total was good for No. 2 in NFL history behind onlythe 2007 New England Patriots:TeamTotal Points1. New England, 2007 5892. Green Bay, 2011 5603. Minnesota, 1998 556Green Bay's average of 35.0 points per game ranked No. 1 in franchiseannals and was good for No. 5 in NFL history:SeasonPoints Per Game1. 2011 35.02. 1962 29.63. 2009 28.8TeamPoints Per Game1. L.A. Rams, 1950 38.82. New England, 2007 36.83. Houston, 1961 36.64. Chicago, 1941 36.05. Green Bay, 2011 35.0With the average of 35.0 points per game, the Packers led the league inscoring for the first time since 1996 (28.5 points per game):TeamPoints Per Game1. Green Bay 35.02. New Orleans 34.23. New England 32.1Green Bay set a single-season franchise record with 70 TDs in 2011, withtwo of the top three totals coming over the past three seasons:SeasonTouchdowns1. 2011 702. 1996 563. 2009 54The Packers' TD total in 2011 was tied for No. 2 in NFL history:TeamTouchdowns1. New England, 2007 752t. Green Bay, 2011 702t. Miami, 1984 70The Packers ranked No. 2 in the NFL in 2011 with an average of 40.1points per game at home, an average that also ranked No. 2 since the1970 AFL-NFL merger:TeamPoints Per Game/Home1. New Orleans, 2011 41.12. Green Bay, 2011 40.13. San Diego, 1982 39.5Last season's home scoring average ranked No. 1 in franchise history:SeasonPoints Per Game/Home1. 2011 40.12. 1942 38.03. 1945 34.6The Packers outscored their opponents 560-359 last season, a 201-point differential that ranked No. 2 in the NFL behind only NewOrleans (plus-208, 547-339).It marked the third straight season that the Packers outscored theiropponents by at least 145 points on the season. The last NFL team toaccomplish that feat was the San Francisco 49ers from 1991-95.The Packers scored at least 24 points in each of the first 13 games in2011, a streak that topped an eight-game one (Sept. 22-Nov. 10, 1963)for the longest single-season streak in franchise annals.Green Bay scored at least 24 points in every game but one last season(14 points at Kansas City in Week 15). That is tied for the second mostin a season in NFL history:Team24-Point Games1. Minnesota, 1998 162t. Green Bay, 2011 152t. Washington, 1983 152t. Miami, 1984 152t. New England, 2007 15With 45 points in the 2011 season finale vs. Detroit, Green Bay moved tothe top of the NFL record book for the most 42-point games in a seasonsince the merger:Team42-Point Games1. Green Bay, 2011 62. Dallas, 1971 53. Several teams 4The Packers scored 28-plus points in the first half in Week 14 vs.Oakland for a franchise-record fourth time in 2011. The other 31teams in the NFL combined for 12 first halves with 28-plus points.A look at Green Bay's regular-season record since 2006 by point total:Points Scored GB Record Since 200630-plus 39-2 (.951)21-29 16-13 (.552)11-20 5-11 (.313)10 or less 3-7 (.300)55
---
PACKERS AT BENGALS - PRESEASON WEEK 3ON ALL CYLINDERSFor the sixth consecutive season, Green Bay was one of the most productiveoffenses in the league.The Packers ranked No. 3 in the NFL in total offense in 2011, theirhighest finish since a No. 2 ranking in 2007:TeamYards Per Game1. New Orleans 467.12. New England 428.03. Green Bay 405.1Green Bay has finished in the top 10 in total offense in every seasonunder Head Coach Mike McCarthy. The only other team in the leagueto accomplish that feat over the past six seasons is New Orleans.The Packers registered at least 390 yards of total offense in the firstseven games in 2011, the first time in franchise history theyaccomplished that feat in seven straight games at any point in a season.Green Bay was the only team in the league to post at least 315yards of offense in every game last season. By doing so, the Packerstied the NFL record for the most 315-yard games since the league wentto a 16-game schedule in 1978:Team315-Yard Games1t. Green Bay, 2011 161t. San Diego, 1981 161t. Miami, 1984 161t. St. Louis, 2001 16The Packers set a single-season franchise record with 6,482 yards in2011. Three of the top five totals in team history have come underMcCarthy's direction:SeasonTotal Yards1. 2011 6,4822. 2004 6,3573. 1983 6,1724. 2009 6,0655. 2007 5,931The Packers ranked No. 3 in the NFL last season with an average of307.8 passing yards per game:TeamPassing Yards Per Game1. New Orleans 334.22. New England 317.83. Green Bay 307.8Green Bay set a franchise record with 4,924 net passing yards on theseason:SeasonNet Passing Yards1. 2011 4,9242. 2004 4,4493. 1983 4,365The Packers tied an NFL record for the most TD passes as a team:TeamPassing TDs1t. Green Bay, 2011 511t. Indianapolis, 2004 513. New England, 2007 50Last season marked the third straight campaign that the Packers averagedat least 250.0 net passing yards. Prior to 2009-11, Green Bay hadnever accomplished that feat in back-to-back seasons.The Packers had the No. 5 passing offense in 2010 at 257.8 yards percontest, following up an average of 261.3 net passing yards per game in2009.Green Bay ranked No. 2 in the NFL in yards per play at 6.56 lastseason, well above its 5.73-yard average in 2010 that ranked No. 6 inthe NFL:TeamYards Per Play1. New Orleans 6.692. Green Bay 6.563. New England 6.33RACKING UP WINSWith 15 victories in the 2011 regular season, the Packers became just thesixth team in NFL history to post a record of 15-1 or better:TeamRecord1. New England, 2007 16-02t. Green Bay, 2011 15-12t. San Francisco, 1984 15-12t. Chicago, 1985 15-12t. Minnesota, 1998 15-12t. Pittsburgh, 2004 15-1The Packers won their first 13 games last season, the best start in franchiseannals. A look at the best starts in team history:Season Start Final Record1. 2011 13-0 15-12t. 1929 10-0 12-0-12t. 1962 10-0 13-1Green Bay set the franchise record for the most wins in the regularseason:SeasonWins/Regular Season1. 2011 152t. 1962, 1996, 1997, 2007 13With the 13 consecutive victories in 2011, the Packers posted the longestsingle-season winning streak in the regular season in team history:SeasonConsecutive Wins/Season1. 2011 132t. 1929, 1962 106
---
PACKERS AT BENGALS - PRESEASON WEEK 3AT THE HELMHaving led Green Bay to the playoffs in four of his six seasons as headcoach, Mike McCarthy is joined by Vince Lombardi and Mike Holmgrenas the only coaches to guide the Packers to a Super Bowl win with a victoryover Pittsburgh in Super Bowl XLV.McCarthy led the Packers to a Super Bowl win in his fifth season inGreen Bay, the same point that Holmgren led the Packers for the firsttime to the NFL title game in 1996.McCarthy joined Pittsburgh's Bill Cowher (2005) as the only Super Bowlwinningcoaches to lead their respective teams to three road wins as theNo. 6 seed in the postseason en route to a world title.The Packers' 21-14 win at Chicago in the 2010 season was their secondNFC Championship Game appearance in four seasons, the only team inthe conference to do so over that span.Including playoffs, McCarthy has a 68-36 record since taking overas head coach in 2006, a .654 winning percentage that ranks No. 3among current NFL head coaches (minimum 50 games):CoachWinning Pct.1. Mike Tomlin, PIT .682 (60-28)2. John Harbaugh, BAL .671 (49-24)3. Mike McCarthy, GB .654 (68-36)4. Bill Belichick, NE/CLE .649 (192-104)5. Mike Smith, ATL .642 (43-24)Since taking over as head coach in 2006, McCarthy has a 63-33 regularseasonrecord (.656) and a 5-3 mark (.625) in the postseason.McCarthy's .625 winning percentage in the playoffs ranks No. 3 infranchise history behind only the legendary Lombardi (9-1, .900) andHolmgren (9-5, .643). With the five postseason wins, McCarthy trailsonly Lombardi and Holmgren (nine each) for the most in Packers annals.With 68 overall wins, McCarthy ranks No. 4 in team history:CoachOverall Wins1. Curly Lambeau, 1921-49 2122. Vince Lombardi, 1959-67 983. Mike Holmgren, 1992-98 844. Mike McCarthy, 2006- 685. Mike Sherman, 2000-05 59A look at where the Packers rank in the NFL in winning percentage andwins since 2009 (including postseason):TeamWinning Pct.1. New Orleans .759 (41-13)2. Green Bay .741 (40-14)3. New England .736 (39-14)TeamOverall Wins1. New Orleans 412. Green Bay 403. New England 394. Baltimore 365. Pittsburgh 35SPREAD THE WEALTHThe Packers made history in 2010 with three wide receivers (GregJennings, Donald Driver and James Jones) each hitting the50-catch plateau for the first time in franchise history, and Green Baydisplayed another balanced aerial attack in 2011.All five of Green Bay's wide receivers (Jordy Nelson, 68; Jennings,67; Jones, 38; Driver, 37; Randall Cobb, 25) had at least 25 catches.It marked the first time in franchise history that the Packers hadfive different WRs catch at least 25 passes, topping the previous recordof five WRs with 16-plus catches in 2007. The last NFL team to have fiveWRs with 25-plus catches each was the 1996 Atlanta Falcons.In the Week 4 victory over Denver in 2011, Jennings, Nelson, Driver andJones all had TD catches, the first time in franchise history thatfour different wide receivers caught TD passes in the same game.The last time an NFL team had four different listed wide receivers catchtouchdown passes in the same game was on Oct. 27, 1991, when theHouston Oilers' foursome of Drew Hill, Haywood Jeffires, Ernest Givinsand Tony Jones all caught TD passes against the Cincinnati Bengals.Among the wide receivers, Nelson led the way with 1,263 receivingyards, with Jennings (949) and Jones (635) checking in behind him.With Driver (445) and Cobb (375) coming in behind them, the Packershave five wide receivers with 300-plus yards for the first time in franchisehistory.The Packers' wide receivers accounted for 3,667 receiving yardslast season, an average of 229.2 per game that led the NFL, and aleague-best 38 TD catches:TeamRec. Yards from WRs1. Green Bay 3,667 (229.2)2. N.Y. Giants 3,439 (214.9)3. Pittsburgh 3,207 (200.4)TeamRec. TDs from WRs1. Green Bay 382. Dallas 273. Detroit 25A look at where the yardage and TD totals from the Green Bay widereceivers last season ranked in franchise history:SeasonRec. Yards from WRs1. 2011 3,667 (229.2)2. 2004 3,215 (200.9)3. 2007 3,140 (196.3)SeasonRec. TDs from WRs1. 2011 382. 1994 263t. 1995, 2004, 2010 23Green Bay's 38 TDs from its wide receivers ranked No. 2 in NFL historybehind only the 39 TDs posted by New England's WRs in 2007.With Jones catching his seventh TD pass of the season in Week 16, hebecame the third Green Bay wide receiver (Nelson, Jennings) in 2011 todo so. It was the first time in franchise history that Green Bay hashad three wide receivers with seven-plus TD catches in a season.77
---
PACKERS AT BENGALS - PRESEASON WEEK 3BIG-PLAY WAYSIn 2011, WR Jordy Nelson posted career bests in every receiving statisticalcategory.Nelson led the team with 15 TD receptions, a total that also ranked No.3 in the NFL in 2011. His TD total ranked No. 3 in franchise history:Player/NFL in 2011Receiving TDs1. Rob Gronkowski, NE 172. Calvin Johnson, DET 163. Jordy Nelson, GB 15Player/PackersReceiving TDs1. Sterling Sharpe, 1994 182. Don Hutson, 1942 173. Jordy Nelson, 2011 15Nelson caught at least one TD pass in every home game in 2011,becoming the first NFL player to catch at least one TD pass in alleight home games in a season.Nelson posted a career-high three TD catches in the 2011 season finalevs. Detroit, along with a career-best 162 receiving yards on nine receptions.The nine catches matched his career high set in the team's SuperBowl XLV win over Pittsburgh.Nelson joined WR Javon Walker (at Indianapolis, Sept. 26, 2004) as theonly players in franchise history to have eight-plus receptions,150-plus receiving yards and three TD catches in a game.Nelson led the Packers and ranked No. 9 in the league with 1,263 receivingyards last season. He checked in at No. 7 in the NFL in receivingyardage among wide receivers:PlayerReceiving Yards1. Calvin Johnson, DET 1,6812. Wes Welker, NE 1,5693. Victor Cruz, NYG 1,5364. Larry Fitzgerald, ARI 1,4115. Steve Smith, CAR 1,3946. Roddy White, ATL 1,2967. Jordy Nelson, GB 1,263In Week 6 vs. St. Louis, Nelson moved into a tie for the No. 2 spotin team history for the most 80-yard TD catches with the third of hiscareer. WR Greg Jennings holds the career franchise mark with four.All three of those touchdown catches came over an eight-game spanin the regular season (Week 16, 2010-Week 6, 2011). According to theElias Sports Bureau, Nelson is the only NFL player since the 1970AFL-NFL merger to have three 80-yard TD catches over an eightgamespan in the regular season.Nelson's career-long 93-yard TD catch in Week 6 last season vs. St.Louis was the fourth-longest catch in franchise history.With two TD grabs of 80-plus yards in 2011, Nelson tied the singleseasonfranchise record:Player80-Yard TDs1t. Jordy Nelson, 2011 21t. Billy Howton, 1952 21t. Antonio Freeman, 1998 21t. Donald Driver, 2002 21t. Greg Jennings, 2007 2Nelson's 18.6-yard receiving average ranked No. 2 in the NFL in 2011among players with 50-plus receptions.PlayerReceiving Avg.1. Victor Cruz, NYG 18.72. Jordy Nelson, GB 18.63. Vincent Jackson, SD 18.4Among Packers with 50-plus receptions in a season, Nelson's receivingaverage ranks No. 5 in franchise history:PlayerReceiving Avg.1. Billy Howton, 1952 23.22. James Lofton, 1983 22.43. James Lofton, 1984 22.04. Billy Howton, 1956 21.65. Jordy Nelson, 2011 18.6Over the past 19 games (including playoffs), Nelson has caught 89passes for 1,549 yards (17.4 avg.) and 17 TDs.Nelson averaged 33.8 yards per TD catch last season, which ranked No.5 in the league among players with at least seven TD receptions.PlayerReceiving Avg./TD1. Victor Cruz, NYG 52.02. Julio Jones, ATL 42.13. Mike Wallace, PIT 37.84. Torrey Smith, BAL 34.45. Jordy Nelson, GB 33.8Nelson's career TD average ranks No. 3 among active players with20-plus TDs:PlayerReceiving Avg./TD1. DeSean Jackson, PHI 42.82. Mike Wallace, PIT 40.03. Jordy Nelson, GB 32.1PLENTY OF 70-YARDERSOn the Packers' opening drive of the second half at Minnesota in Week 7last season, QB Aaron Rodgers connected with wide-open WR GregJennings for a 79-yard TD. For Rodgers, it was his third straight gamewith a TD pass of at least 70 yards.According to the Elias Sports Bureau, Rodgers became just the thirdquarterback since the 1970 AFL-NFL merger to throw a 70-yardTD pass in three consecutive games, joining Cowboys QB Craig Morton(Oct. 25-Nov. 8, 1970) and Saints QB Drew Brees (Dec. 12-26, 2004).Rodgers tied for the NFL lead (Giants QB Eli Manning) with fourpasses of 70-plus yards last season, and his 10 completions of 70-plusyards since taking over as the starter in 2008 also lead the NFL:Player 70-yard passes (since '08)1. Aaron Rodgers, GB 102. Drew Brees, NO 83t. Tony Romo, DAL; Eli Manning, NYG 78
---
PACKERS AT BENGALS - PRESEASON WEEK 3JENNINGS FLASHES HOT HANDSIn 2011, WR Greg Jennings was on the way to his fourth consecutive1,000-yard campaign before his season was cut short by a knee injurysustained in Week 14.Through 13 games last season, Jennings led the team in receptions (67)and ranked No. 2 in receiving yards (949) and TD catches (nine). Despitemissing the final three regular-season games, Jennings was selected tothe Pro Bowl for the second straight season.In Week 12 at Detroit last season, Jennings went over the 6,000-yardreceiving mark for his career in his 86th game in a Green Bay uniform,which tied him for the second fewest games needed to reach 6,000receiving yards in franchise history:Player Games To Reach 6,0001. Sterling Sharpe, 1988-94 842t. Greg Jennings, 2006-present 862t. James Lofton, 1978-86 86Jennings enters the 2012 season ranked in the top 10 in franchisehistory in receptions (7th, 389), receiving yards (8th, 6,171) and touchdowncatches (t-6th, 49).Jennings is one of just five receivers in team history to post three consecutive1,000-yard seasons (2008-10) and one of four to catch 12-plusTD passes in two different seasons (2007, 2010).A look at where some of Jennings' numbers over the past five seasonsstack up against active NFL players:THE DRIVE CONTINUESWR Donald Driver returns for his 14th season with the Packers, a careerthat has seen him set multiple franchise receiving records.A look at where Driver ranks in several career receiving categories:PlayerReceptions1. Donald Driver, 1999-2011 7352. Sterling Sharpe, 1988-94 5953. James Lofton, 1978-86 530PlayerReceiving Yards1. Donald Driver, 1999-2011 10,0602. James Lofton, 1978-86 9,6563. Sterling Sharpe, 1988-94 8,134Player1,000-Yard Seasons1. Donald Driver, 1999-2011 72t. James Lofton, 1978-86 52t. Sterling Sharpe, 1988-94 5PlayerTD Catches1. Don Hutson, 1935-45 992. Sterling Sharpe, 1988-94 653. Donald Driver, 1999-2011 59Player 40-yard catches (since '07)1. Greg Jennings, GB 302t. DeSean Jackson, PHI 252t. Calvin Johnson, DET 254t. Andre Johnson, HOU 234t. Mike Wallace, PIT 23Player 25-Yard Catches (since '07)1t. Greg Jennings, GB 581t. Larry Fitzgerald, ARI 581t. Steve Smith, CAR 584. Calvin Johnson, DET 55Player TD catches (since '07)1. Randy Moss, SF 522t. Larry Fitzgerald, ARI 492t. Calvin Johnson, DET 494. Greg Jennings, GB 46Player Receiving Yards (since '07)1. Larry Fitzgerald, ARI 6,4802. Roddy White, ATL 6,4223. Reggie Wayne, IND 6,2344. Wes Welker, NE 6,1055. Brandon Marshall, CHI 5,9386. Calvin Johnson, DET 5,8727. Andre Johnson, HOU 5,7038. Greg Jennings, GB 5,539Player100-Yard Games1. James Lofton, 1978-86 322. Sterling Sharpe, 1988-94 293. Don Hutson, 1935-45 244t. Donald Driver, 1999-2011 224t. Greg Jennings, 2006-11 22Driver has caught 50-plus passes in a season a franchise-record ninetimes in his career (2002-10), topping Lofton and Sharpe (seven each)for the team mark.Driver holds Lambeau Field records for receptions (358) and receivingyards (4,951).He ranks No. 2 in team history in yards from scrimmage with 10,277,trailing only RB Ahman Green (11,048).Entering the 2012 season, Driver is one of only 35 players in NFL historywith 700-plus career catches and one of only 36 with 10,000 or morereceiving yards.Driver has a chance this season to move into the No. 2 spot for the mostregular-season games played in franchise annals:PlayerGames Played1. Brett Favre, 1992-2007 2552. Bart Starr, 1956-71 1963. Donald Driver, 1999-2011 1924. Ray Nitschke, 1958-72 1905. William Henderson, 1995-2006 18899
---
PACKERS AT BENGALS - PRESEASON WEEK 3RODGERS ROLLINGQB Aaron Rodgers connected on 343-of-502 passes (68.3 percent) for4,643 yards and a career-high 45 TDs with six INTs last season on his wayto earning NFL Most Valuable Player honors from The Associated Press:Rodgers' 122.5 passer rating set an NFL single-season record:QuarterbackPasser Rating1. Aaron Rodgers, GB, 2011 122.52. Peyton Manning, IND, 2004 121.13. Tom Brady, NE, 2007 117.2With the 45 TD passes, Rodgers set the single-season franchiserecord (Brett Favre, 39, 1996). The total ranked No. 5 in NFL annals:QuarterbackTD Passes1. Tom Brady, NE, 2007 502. Peyton Manning, IND, 2004 493. Dan Marino, MIA, 1984 484. Drew Brees, NO, 2011 465. Aaron Rodgers, GB, 2011 45Rodgers set a team record last season with 10 games with at least threeTD passes (Favre, eight games, 1996). He is one of only three QBsin NFL history to have 10 or more games with three-plus TDs (DanMarino, 1984; Tom Brady, 2007).Rodgers threw at least two TD passes in each of the first 13 games lastseason, a streak that tied Colts QB Peyton Manning (2004) and Brady(2010-11) for the longest in NFL history.Rodgers' 4,643 passing yards were a franchise record (Lynn Dickey,4,458 in 1983). Rodgers now has two of the top three single-season passingyardage marks in franchise history (4,434 in 2009).With eight 300-yard passing games last season, Rodgers set the singleseasonfranchise record, topping Favre's mark of seven in both 1995and 2007.Rodgers set a franchise record in Week 14 by reaching the 4,000-yardpassing mark in just the 13th game of the season (previous record was15 games). It was also tied for the second fastest to 4,000 yards in NFLhistory behind only Saints QB Drew Brees (12 games in 2011).Rodgers joined Favre (five) as the only Green Bay quarterbacks to postthree or more 4,000-yard passing seasons.Rodgers became the first 4,000-yard passer in NFL history andthe first with 45-plus TDs to throw six or fewer INTs in that season.It was also his second season with at least 500 attempts and seven orfewer INTs. He is the only QB in league history to accomplish thatfeat in two seasons (Jason Campbell, 2008; Brett Favre, 2009).Rodgers has connected on 606-of-886 passes (68.4 percent) for 7,912yards, 72 TDs and just 11 INTs for a 118.2 passer rating over hispast 27 starts (including playoffs).The Packers have averaged 28.3 points per game in Rodgers' 62 careerregular-season starts, No. 1 among NFL QBs since 1950 (min. 50starts):QuarterbackPoints Per Game1. Aaron Rodgers, GB 28.32. Philip Rivers, SD 27.53. Tom Brady, NE 27.34. Norm Van Brocklin, LA/PHI 27.1A look at where Rodgers ranked in several categories in 2011:QuarterbackPasser Rating1. Aaron Rodgers, GB 122.52. Drew Brees, NO 110.63. Tom Brady, NE 105.6QuarterbackTouchdowns1. Drew Brees, NO 462. Aaron Rodgers, GB 453. Matthew Stafford, DET 41QuarterbackYards/Attempt1. Aaron Rodgers, GB 9.252. Tom Brady, NE 8.503. Matt Schaub, HOU 8.49QuarterbackCompletion Pct.1. Drew Brees, NO 70.72. Aaron Rodgers, GB 68.33. Tom Brady, NE 65.6QuarterbackYards Per Game1. Drew Brees, NO 342.32. Tom Brady, NE 327.23. Matthew Stafford, DET 314.94. Aaron Rodgers, GB 309.5QuarterbackTD/INT Ratio1. Aaron Rodgers, GB 7.502. Tom Brady, NE 3.273. Tony Romo, DAL 3.22Rodgers' yards per attempt average in 2011 ranked No. 4 in the leaguesince the 1970 AFL-NFL merger (min. 200 attempts):QuarterbackYards/Attempt1. Kurt Warner, STL, 2000 9.882. Chris Chandler, ATL, 1998 9.653. Ken Stabler, OAK, 1976 9.414. Aaron Rodgers, GB, 2011 9.25Rodgers posted a regular-season career-high 408 passing yards inGreen Bay's 49-23 win over Denver in Week 4. He became the first QBin team history to record two 400-yard passing games, and now has twoof the top four single-game marks in franchise annals.Against Denver, Rodgers matched his career high with four TD passesand added a career-best two rushing TDs. He became the first QB inteam history to post four passing TDs/two rushing TDs in a game.Even more noteworthy, Rodgers became the first quarterback inNFL history to register 400 passing yards/four passing TDs/two rushingTDs in a game, according to the Elias Sports Bureau.With two TD passes at Atlanta in Week 5, Rodgers hit the 100-TD markas a starter. He accomplished that feat in his 52nd career start, bestingthe previous franchise mark of 59 starts by Favre. Among active QBs,Rodgers tied Cowboys QB Tony Romo for the fewest starts neededto hit the 100-TD mark as a starter.10
---
PACKERS AT BENGALS - PRESEASON WEEK 3A RATINGS SUCCESSIn 2011, QB Aaron Rodgers became the first NFL quarterback tostart a season with 11 straight 110-rating games since the AFL-NFL mergerin 1970. No other QB has done it in more than five games to begin a season.Rodgers' 11 consecutive 110-rating games was also a single-season NFLrecord, topping 49ers QB Steve Young's mark of seven straight in 1994.No quarterback in team history has posted more than five straight110-rating games in a season, and Rodgers' 12 total games with a 110-plus rating is a single-season team record, topping the previous mark ofeight by Brett Favre in 2007.Rodgers posted a 100-plus passer rating in each of the first 12 gamesin 2011, a streak that topped the NFL single-season mark of nineset by Colts QB Peyton Manning in 2004.Rodgers was the first NFL quarterback to record a stretch of four(or more) straight 110-rating games in three straight seasons since theAFL-NFL merger in 1970. No other NFL signal-caller over the past 42seasons has ever posted four straight 110-rating games in back-to-backseasons, let alone three straight like Rodgers has registered.By posting at least six games with a 110-plus passer rating in each ofthe last three seasons, Rodgers joined Young (1992-94) as the onlyquarterbacks since the 1970 merger with at least six 110-ratinggames in three consecutive seasons.Including the postseason, Rodgers has recorded a 110-plus passerrating in 20 of his last 27 starts.With a 140.3 rating in Week 10 vs. Minnesota, Rodgers became just thesecond QB in NFL history to post three consecutive 140-plus ratinggames (min. 15 attempts) in a season. Rams QB Kurt Warner (1999)is the only other signal-caller to accomplish the feat.A look at where Rodgers' 2011 season ranked in league annals for 100-plus passer rating games, 110-plus games and 140-plus games:Quarterback100-rating games1. Aaron Rodgers, GB, 2011 132t. Steve Young, SF, 1994 122t. Tom Brady, NE, 2010 12Quarterback110-rating games1. Aaron Rodgers, GB, 2011 122. Steve Young, SF, 1994 113. Tom Brady, NE, 2007 10Quarterback140-rating games1t. Aaron Rodgers, GB, 2011 41t. Tom Brady, NE, 2007, 2010 41t. Roger Staubach, DAL, 1973 4TAKING HIS PLACE AMONG THE GAME'S BESTRodgers surpassed the 1,500-attempt plateau for his career in 2010, thebenchmark to qualify for passer rating in the NFL record book.Rodgers has completed 1,381-of-2,113 passes (65.4 percent) in hiscareer for 17,366 yards and 132 touchdowns with 38 interceptions fora 104.1 passer rating in the regular season, No. 1 in NFL history:QuarterbackCareer Passer Rating1. Aaron Rodgers, GB 104.12. Tony Romo, DAL 96.93. Steve Young, TB/SF 96.8Rodgers became only the fourth quarterback in NFL history to registerthree straight 100-plus passer rating seasons. He joined PeytonManning (2004-06), Young (1991-94) and Philip Rivers (2008-10).Rodgers has thrown just 37 interceptions in his four seasons as astarter, a 1.8 interception percentage that leads the league over thatspan among quarterbacks with 50 or more starts.A look at where Rodgers ranks in NFL history in career interceptionpercentage:QuarterbackCareer Int. Pct.1. Aaron Rodgers, GB 1.82. Neil O'Donnell, PIT/NYJ/CIN/TEN 2.13. Donovan McNabb, PHI/WAS/MIN 2.2With six INTs on 502 passing attempts in 2011, Rodgers tied the topmark in franchise history for the lowest interception percentage (min.200 attempts) in a season:QuarterbackSeason Int. Pct.1t. Aaron Rodgers, 2011 1.20 (6 INTs, 502 att.)1t. Bart Starr, 1966 1.20 (3 INTs, 251 att.)3. Aaron Rodgers, 2009 1.29 (7 INTs, 541 att.)When he hit the 100-TD mark for his career, Rodgers had thrown just 34INTs to that point, the fewest in NFL history (Philip Rivers, 43 INTsin first 100 games), according to the Elias Sports Bureau.With 4,643 passing yards last season, Rodgers brought his total in fourseasons as a starter to 17,037. That ranks No. 1 in NFL history forthe most passing yards by a QB in his first four seasons as a starter,topping the previous mark held by Peyton Manning (16,418, 1998-2001).In 62 career regular-season starts, Rodgers has eclipsed the centurymark in passer rating 38 times and recorded 22 games of 300-plusyards. His 28 games with a 100-plus passer rating in his first 50 startsset an NFL record among quarterbacks whose careers began since1970, topping the previous mark of 27 held by Dallas QB Tony Romo.Where Rodgers ranks among active NFL quarterbacks since he took overas the starter in 2008:QuarterbackPassing Yards1. Drew Brees, NO 19,5532. Philip Rivers, SD 17,5973. Aaron Rodgers, GB 17,037QuarterbackPassing TDs1. Drew Brees, NO 1472. Aaron Rodgers, GB 1313. Philip Rivers, SD 119QuarterbackPasser Rating1. Aaron Rodgers, GB 105.02. Tom Brady, NE 103.93. Drew Brees, NO 101.4QuarterbackYards/Attempt1. Philip Rivers, SD 8.432. Aaron Rodgers, GB 8.293. Tom Brady, NE 8.11Quarterback25-yard passes1. Aaron Rodgers, GB 1502. Drew Brees, NO 1463. Philip Rivers, SD 14211
---
PACKERS AT BENGALS - PRESEASON WEEK 3THIRD DOWN IS THE CHARMQB Aaron Rodgers connected on 80-of-122 passes (65.6 percent) for1,136 yards and nine TDs with two INTs on third down in 2011. His passerrating of 113.3 on third down ranked No. 2 in the NFL:QuarterbackThird-Down Passer Rating1. Drew Brees, NO 127.42. Aaron Rodgers, GB 113.33. Eli Manning, NYG 109.4Over the final seven games in 2010 (missed Week 15 at New England),Rodgers was No. 2 in the NFL with a 133.7 passer rating on third down,trailing only New England's Tom Brady (136.3) over that span.In '09, Rodgers ranked No. 1 in the NFL in passer rating on third downat 133.5. No other quarterback in the league threw for as many yards(1,710) or touchdowns (14) on third down as Rodgers, and his passerrating was the best in the NFL since Kurt Warner's 137.3 rating in 1999with St. Louis.In 62 career regular-season starts, Rodgers has posted a 100-pluspasser rating on third down in 35 of those contests.A look at some of Rodgers' numbers on third down since 2009:QuarterbackPasser Rating1. Aaron Rodgers, GB 115.22. Drew Brees, NO 109.33. Tom Brady, NE 106.2QuarterbackPassing TDs1. Drew Brees, NO 412t. Aaron Rodgers, GB 342t. Eli Manning, NYG 34QuarterbackYards/Attempt1. Aaron Rodgers, GB 9.312. Eli Manning, NYG 8.623. Philip Rivers, SD 8.60* min. 100 attemptsCOOL UNDER FIRERodgers was one of the most effective passers in the league the past twoseasons against the blitz, and that strong play continued in 2011.According to STATS LLC, Rodgers posted a career-high (min. 10attempts) passer rating of 151.6 against the blitz (when a defender notlined up on the line of scrimmage rushes the QB, or more than fourplayers rush the QB) in Week 1 vs. New Orleans.Rodgers connected on 14-of-18 passes (77.8 percent) for 207 yardsand two TDs against the Saints. The 151.6 rating topped his previouspersonal best of 130.4 at Minnesota on Nov. 21, 2010.The 151.6 rating was the third best by a Green Bay QB since 1993 (min.10 attempts), according to STATS, trailing only Brett Favre's 158.3 ratingat Oakland (Dec. 22, 2003) and his 155.9 rating at Carolina (Sept.27, 1998).Rodgers posted a 155.8 rating in Week 5 at Atlanta (8-of-9, 168 yards,TD), but fell one attempt short of the required 10 attempts to qualify.In 2011, Rodgers ranked No. 1 in the NFL against the blitz with a131.4 passer rating (85-of-125, 1,500 yards, 11 TDs, two INTs).A glance at where some of Rodgers' numbers against the blitz ranked in2011 (according to STATS LLC, min. 100 attempts):QuarterbackPasser Rating1. Aaron Rodgers, GB 131.42. Tom Brady, NE 110.93. Alex Smith, SF 96.3QuarterbackCompletion Pct.1. Aaron Rodgers, GB 68.02. Drew Brees, NO 62.13. Tom Brady, NE 61.6QuarterbackYards/Attempt1. Aaron Rodgers, GB 12.002. Tom Brady, NE 9.253. Eli Manning, NYG 8.82A look at the top blitz seasons in the NFL since 1993 (according to STATS):QuarterbackPasser Rating1. Peyton Manning, IND, 2004 136.82. Aaron Rodgers, GB, 2011 131.43. Steve Young, SF, 1994 129.2QuarterbackYards/Attempt1. Aaron Rodgers, GB, 2011 12.002. Kurt Warner, STL, 1999 9.833. Drew Brees, NO, 2009 9.74Rodgers ranks No. 1 in the league with a 114.7 passer rating against theblitz since 2009. He ranks No. 1 in yards per attempt (9.96) and No. 3in TDs (33) over that span.IN THE ZONEIn 2011, Rodgers ranked No. 1 in the NFL (min. 60 attempts) with a107.0 passer rating in the red zone. He was tied for No. 2 in the leaguewith 29 TD passes and threw just one interception all season (Week 14vs. Oakland).A look at where Rodgers ranks among active quarterbacks (min. 150attempts) in three red-zone categories since 2008:QuarterbackRed-Zone Rating1. Aaron Rodgers, GB 107.32. Peyton Manning, IND 105.63. Tom Brady, NE 100.5QuarterbackRed-Zone TDs1. Drew Brees, NO 962. Aaron Rodgers, GB 843. Philip Rivers, SD 74QuarterbackRed-Zone Comp. Pct.1. Aaron Rodgers, GB 62.32. Drew Brees, NO 61.53. Peyton Manning, IND 61.212
---
PACKERS AT BENGALS - PRESEASON WEEK 3KEEPING THE CHAINS MOVING2011 was the fifth straight season that the Packers finished in the top 10on third down, one of only three teams in the league to do so over thatspan (New Orleans, New England).The Packers converted at a 48.1-percent clip on third down last season,good for No. 3 in the NFL:TeamThird-Down Conversion Rate1. New Orleans 56.7 (118-208)2. San Diego 48.8 (103-211)3. Green Bay 48.1 (91-189)4. Pittsburgh 45.9 (90-196)5. New England 45.9 (89-194)Last season's third-down percentage was the second-best mark postedby the Packers since the merger. Two of the top four seasons since 1970have come under Head Coach Mike McCarthy:SeasonThird-Down Conversion Rate1. 1995 49.1 (108-220)2. 2011 48.1 (91-189)3. 2004 47.3 (98-207)4. 2009 47.0 (103-219)FINDING FINLEYThrough the first four games of 2010, TE Jermichael Finley appearedpoised to set franchise records for receptions and receiving yards by atight end before he sustained a season-ending knee injury.In 2011, a healthy Finley played in every game for the first time in hiscareer and picked up where he left off the previous season, ranking No.3 on the team with 55 receptions and setting career highs with 767receiving yards and eight TDs.The reception total matched Finley's career high set in 2009, as hebecame the first TE in franchise history to post two seasons with55-plus catches:Tight EndReceptions1. Paul Coffman, 1979 562t. Jermichael Finley, 2011 552t. Jermichael Finley, 2009 55Finley's yardage total was good for No. 2 in franchise history amongtight ends:Tight EndReceiving Yards1. Paul Coffman, 1983 8142. Jermichael Finley, 2011 7673. Paul Coffman, 1979 711The Packers' 51.6 conversion rate at Lambeau Field was the No. 2 rateat home in the NFL in 2011, and was the team's best mark at home thestatistic began to be recorded in 1991, according to STATS LLC:SeasonThird-Down Conversion Rate1. 2011 51.6 (49-95)2. 1996 49.1 (56-114)3. 2010 47.4 (46-97)4. 2009 47.0 (54-115)With the eight TDs, Finley easily topped his career high (five in 2009) andranked No. 3 among NFL tight ends last season:Tight EndTD Catches1. Rob Gronkowski, NE 172. Jimmy Graham, NO 113. Jermichael Finley, GB 8His TD total ranked No. 5 in single-season franchise history among TEs:On third-and-medium (4-6 yards), the Packers checked in at No. 4 inthe league at 57.5 percent (23-of-40).Green Bay ranked No. 2 in the NFL on third-and-long (more than 6yards) at 40.0 percent (36-of-90).Over the past 23 regular-season games, the Packers have converted ata 50-percent-or-better clip on third down in 13 of those contests (12-1in those games).A look at where Green Bay's offense ranks in the NFL on third downsince 2009:TeamThird-Down Conversion Rate1. New Orleans 50.2 (312-622)2. San Diego 46.1 (278-603)3. New England 45.9 (274-597)4. Green Bay 45.5 (279-613)5. Atlanta 44.4 (302-680)Tight EndTD Catches1. Paul Coffman, 1983 112. Keith Jackson, 1996 103t. Paul Coffman, 1984 93t. Bubba Franks, 2001 95. Jermichael Finley, GB, 2011 8Three of those scores came at Chicago in Week 3 as Finley becamejust the second tight end in franchise history to catch threeTD passes in a game. He joined Keith Jackson, who accomplished thefeat on Sept. 1, 1996, at Tampa Bay. Finley was the only tight end in theleague with a three-TD game this season.Finley ranked No. 3 in receiving average among NFL tight ends in 2011(min. 40 receptions):Tight EndRec. Avg.1. Jared Cook, TEN 15.52. Rob Gronkowski, NE 14.73. Jermichael Finley, GB 13.913
---
PACKERS AT BENGALS - PRESEASON WEEK 3DOWN THE MIDDLEIn 2011, his fifth year in the NFL, K Mason Crosby registered the finestseason of his career.Crosby ranked No. 4 among kickers last season with 140 points and No.3 in the league with 49 touchbacks. His 85.7 field goal percentage (24-of-28), a career-high, ranked No. 10 in the league.Crosby became only the second player in franchise history (PaulHornung) and the sixth player in NFL history to register two ormore seasons with 140-plus points:Player140-Point Seasons1. David Akers 32t. Mason Crosby 22t. Gino Cappelletti 22t. Priest Holmes 22t. Paul Hornung 22t. Mike Vanderjagt 2Crosby joined Ryan Longwell (eight seasons) as the only players infranchise history to post five 100-point seasons. Crosby holds the toptwo scoring marks (no TDs) in team history:PlayerMost Points (No TDs)1. Mason Crosby, 2007 1412t. Mason Crosby, 2011 1402t. Ryan Longwell, 2000 131In 2011, Crosby broke Chris Jacke's franchise record for the most consecutivefield goals made in the regular season. Dating back to Week 13of 2010, Crosby made 23 consecutive FGs before his 29-yard attempt inWeek 12 vs. Tampa Bay last season hit the right upright:KickerConsecutive FGs Made1. Mason Crosby, 2010-11 232. Chris Jacke, 1993 173. Chris Jacke, 1989-90 15Crosby set a franchise record for extra points made and posted thesecond-highest total by a kicker since the 1970 AFL-NFL merger:KickerExtra Points Made1. Stephen Gostkowski, NE, 2007 742. Mason Crosby, GB, 2011 683. Uwe von Schamann, MIA, 1984 66Crosby's 58-yard FG at Minnesota in Week 7 topped the previous franchisemark of 56 yards he set at Philadelphia in 2010 and earlier thisseason in Atlanta in Week 5.Crosby is the only kicker in the NFL with three field goals of 56-plusyards since 2010.With 649 career points (No. 5 in team history), Crosby set an NFL recordfor the most points scored by a player in his first five seasons in theleague.PlayerMost Points (First 5 Seasons)1. Mason Crosby, GB, 2007-11 6492. Chip Lohmiller, WAS, 1988-92 6253. Nate Kaeding, SD, 2004-08 607MASTERFUL EFFORTP Tim Masthay may have not had many opportunities to punt the ball in2011, but he made the most of the chances he did get last season.Masthay set a single-season franchise record (min. 35 punts)with a gross punting average of 45.6 yards on the season:PlayerPunting Avg.1. Tim Masthay, 2011 45.62. Craig Hentrich, 1997 45.03. Jerry Norton, 1963 44.7Masthay also set a franchise record for net punting average (since1976). He now holds the top two marks in franchise history:PlayerNet Punting Avg.1. Tim Masthay, 2011 38.562. Tim Masthay, 2010 37.653. Jon Ryan, 2007 37.60Over the final 10 games in 2011, Masthay posted a gross average of48.1 yards and a net average of 43.6. He placed 19 of his 34 punts (55.9percent) inside the 20-yard line over that span.At Kansas City in Week 15, Masthay posted career highs (min. fourattempts) in gross average (53.4) and net average (46.2). He boomeda career-long 71-yard punt, the longest by a Packer since Jon Ryan's72-yarder vs. Detroit on Dec. 30, 2007. The gross average ranks No.4 in team annals and the net average checks in at No. 3 (since 1976).In Week 13 at the N.Y. Giants, Masthay placed four punts inside the20-yard line, the second straight week he had done so. He earned NFCSpecial Teams Player of the Week honors for the performance againstNew York, the second straight season he won the award after an outingat MetLife Stadium (Week 8 at N.Y. Jets in 2010).Masthay became the first Green Bay punter to post four puntsinside the 20-yard line in consecutive games since the statisticbegan to be recorded in 1976.In Week 7 at Minnesota, Masthay only punted three times, but he registereda gross average of 59.3 and a net average of 55.3.His 59.3-yard gross average was the best by a Green Bay punter withthree or more attempts since Don Chandler registered a 59.7-yard averageon three punts vs. San Francisco on Oct. 10, 1965.Masthay's 55.3-yard net average at Minnesota in Week 7 was the bestby a Packers punter with three or more attempts since the NFLbegan tracking net punting average in 1976. It was also the third best byan NFL punter in a game (min. three attempts) since 1976.Masthay recorded a punt of 65 yards or more in Weeks 6 and 7. He wasthe first Green Bay punter to accomplish that feat in back-to-back gamessince Chandler did so in 1965.The Packers punted just 55 times last season. That was the franchiserecord for the fewest punts by Green Bay since the NFL went to a16-game schedule in 1978, besting the previous mark of 62 punts in2007.Green Bay ranked No. 3 in the league in fewest punts last season behindonly New Orleans and San Diego (47 punts each).14
---
PACKERS AT BENGALS - PRESEASON WEEK 3DYNAMIC DEBUTRookie WR Randall Cobb made a splash in his pro debut vs. NewOrleans with a 108-yard kickoff return for a TD that matched the NFLrecord, and he continued that production throughout his rookie season.In 2011, Cobb checked in among the league leaders in both kickoffreturns and punt returns. He ranked No. 1 in kickoff return average andNo. 2 in punt return average among NFL rookies:PlayerKickoff Return Avg.1. Joe McKnight, NYJ 31.62. Randall Cobb, GB 27.73. Ted Ginn Jr., SF 27.6PlayerPunt Return Avg.1. Devin Hester, CHI 16.22. Patrick Peterson, ARI 15.93. Javier Arenas, KC 12.84. Ted Ginn Jr., SF 12.35. Davone Bess, MIA 11.96. Joshua Cribbs, CLE 11.47. Randall Cobb, GB 11.3Cobb's kickoff return average ranked No. 3 in franchise history for playerswith 25 or more returns in a season:PlayerKickoff Return Avg.1. Dave Hampton, 1971 28.62. Al Carmichael, 1956 28.13. Randall Cobb, 2011 27.7Cobb set a rookie franchise record with 941 kickoff return yards lastseason. That bested the previous mark held by Charles Wilson (798yards in 1990).Cobb posted an 80-yard punt return for a TD vs. Minnesota in Week10, becoming the first rookie in team history to post a punt return fora TD and a kickoff return for a TD in the same season. He also becamethe first player in team history and the first NFL rookie since themerger to register a 100-yard kickoff return and an 80-yard punt returnin the same season.Cobb added a 55-yard kickoff return in the third quarter against theVikings to become the first Packer since Travis Williams (at Pittsburgh,Nov. 2, 1969) to post an 80-yard PR and a 55-yard KR in the same game.Cobb tied for No. 3 in the league last season in total kick return TDs:PlayerTotal Kick Return TDs1. Patrick Peterson, ARI 4 (4 PR, O KR)2. Devin Hester, CHI 3 (2 PR, 1 KR)3t. Randall Cobb, GB 2 (1 PR, 1 KR)3t. Ted Ginn Jr., SF 2 (1 PR, 1 KR)According to the Elias Sports Bureau, Cobb became just the secondNFL player to register a touchdown reception and a kickoff return fora score in his pro debut, joining Detroit's Bill Bowman (9-yard reception,100-yard kickoff return, vs. Chicago on Sept. 26, 1954).Cobb also joined Williams and Robert Brooks as the only players infranchise history to register a receiving touchdown, a punt return for aTD and a kickoff return for a score in the same season.GOOD STARTCobb's return skills, combined with efficient blocking on kickoff returns,helped Green Bay finish among the league leaders in starting field positionafter kickoffs in 2011.The Packers finished No. 4 in the NFL in the category last season,the team's highest ranking since 1998 when they finished No. 2 in theleague (according to STATS LLC):TeamAvg. Starting Position After KO1. N.Y. Jets 26.12. Cleveland 24.53. Minnesota 24.54. Green Bay 24.35. San Francisco 23.9That included three returns across the 50-yard line, which was tied forNo. 3 in the league:TeamReturns Across Midfield1t. Chicago 41t. Minnesota 43t. Green Bay 33t. N.Y. Jets 33t. San Francisco 3PROTECT AND SERVEGreen Bay's offensive line finished in the top 10 last season in the NewYork Life Protection Index, a formula created by STATS LLC to measurea team's efficiency in pass protection. It marked the Packers' first top-10finish since 2007 (No. 6).While the New York Life Protection Index is calculated using a proprietaryformula, the fundamentals are comprised of the length of a team'spass attempts combined with penalties by offensive linemen, sacksallowed, and quarterback hurries and knockdowns:TeamN.Y. Life Protection Index1. New Orleans 88.02. Tennessee 77.93. Detroit 77.24. Buffalo 77.25. San Diego 76.96. Atlanta 76.27. New England 75.38. N.Y. Giants 73.69. Green Bay 70.810. Cincinnati 67.6The Packers' line was flagged for just seven holding penalties in 2011,which was tied for the second fewest in the league and the fewest by aGreen Bay line since 2001 (three holding penalties):TeamHolding Penalties1. San Francisco 62t. Green Bay 72t. Arizona 74. St. Louis 815
---
PACKERS AT BENGALS - PRESEASON WEEK 3PRODUCTION APLENTY INSIDE THE 20Green Bay had one of the best red-zone offenses in the league in 2010, andthe Packers were even more efficient in that area last season.In 2011, the Packers ranked No. 1 in the NFC and No. 3 in the NFLin red-zone efficiency:TeamRed-Zone TD Efficiency1. N.Y. Jets 65.52. New England 65.33. Green Bay 65.2In their final nine regular-season games last season, the Packers scoredTDs on 27-of-38 trips inside the 20-yard line (71.1 percent).Green Bay scored points on 62 of its 66 red-zone trips in 2011:TeamRed-Zone Scoring Efficiency1. Green Bay 93.92. Detroit 93.13. San Francisco 92.6Last season marked the fourth straight top-10 finish in the category forthe Packers. In 2010, Green Bay checked in at No. 6 in the NFL at 60.4.The team finished No. 9 in 2009 (54.8) and No. 6 in 2008 (60.4).Green Bay was one of only two teams in the NFL (Tennessee) to finish inthe top 10 in red-zone efficiency each year from 2009-11.Of the Packers' five best TD-efficiency marks in the red zone since 1995,three have come under Head Coach Mike McCarthy:SeasonRed-Zone TD Efficiency1. 1995 66.67 (40-60)2. 2004 65.38 (34-52)3. 2011 65.15 (43-66)4. 2008 60.42 (29-48)5. 2010 60.38 (32-53)OUTSIDE THE ZONEIn addition to their red-zone success in 2011, the Packers also displayed ahigh level of production outside that area.Last season, the Packers ranked No. 1 in the league in scoring outsidethe red zone:TeamPoints Outside Red Zone1. Green Bay 1542. New Orleans 1493. San Diego 137In 2010, the Packers were tied for No. 14 in the league with 100 pointsoutside the red zone on the season. Green Bay's best mark since 1995prior to this season came in 2007, when the team scored 150 pointsoutside the red zone.Green Bay led the league in touchdowns outside the red zone in 2011:TeamTDs Outside Red Zone1. Green Bay 202. New Orleans 183t. Four teams 14FEW FLAGS ON THE FIELDOne area of emphasis for the Packers last season was reducing penalties,and that focus continued to pay dividends in 2011.The Packers tied for the league lead last season for fewest penaltiesand ranked No. 2 in the NFL in fewest penalty yards:TeamPenalties1t. Green Bay 761t. Indianapolis 763. Jacksonville 77TeamPenalty Yards1. Indianapolis 5492. Green Bay 5913. Jacksonville 680Both totals set 16-game franchise records:SeasonPenalties1. 2011 762. 2010 783t. 1983, 2001 80SeasonPenalty Yards1. 2011 5912. 1995 6043. 2001 633Green Bay's defense ranked No. 1 in the league in fewest penaltyyards (185) and the offense ranked No. 4 in the NFL in fewest penaltyyards (308) in 2011, according to STATS LLC.The Packers were not whistled for a penalty vs. Chicago in Week 16 lastseason, the first time they had accomplished that feat since Nov. 25,1990, vs. Tampa Bay in Milwaukee.While Green Bay was penalized just 76 times on the season, its opponentswere flagged for 122 penalties in 2011, the most by the Packers'opponents in a season since 1984 (145 penalties).The penalty differential of 46 last season led the league and was thehighest in franchise history (since 1941):SeasonPenalty Differential1. 2011 46 (76-122)2. 1984 35 (110-145)3. 1974 33 (55-88)A look at where the Packers rank in the NFL since 2010:TeamPenalties1. Atlanta 1512. Green Bay 1543. Indianapolis 155TeamPenalty Yards1. Green Bay 1,2082. Indianapolis 1,2583. Jacksonville 1,35516
---
PACKERS AT BENGALS - PRESEASON WEEK 3THE PRODUCTION CONTINUESDB Charles Woodson enjoyed the finest season of his career in 2009,his first year in the 3-4 scheme, and has continued to make his presencefelt ever since.In 2011, Woodson tied for the NFL lead with seven interceptions.It marked the second time in three seasons (2009) that he has sharedthe league lead:PlayerInterceptions1t. Charles Woodson, GB 71t. Kyle Arrington, NE 71t. Eric Weddle, SD 74t. Four players 6It was Woodson's fourth season with seven-plus INTs as a Packer. Hejoined Bobby Dillon as the only players in franchise history to accomplishthat feat and is the only NFL player to have four seven-plusINT seasons since 2006.In the Week 7 win at Minnesota, he intercepted QB Christian Ponder twotimes on the afternoon, Woodson's sixth multi-INT game in a Green Bayuniform.PlayerMulti-INT Games1. Bobby Dillon, 1952-59 122. Don Hutson, 1935-45 83. Herb Adderley, 1961-69 74t. Charles Woodson, 2006-11 64t. LeRoy Butler, 1990-2001 6In the Week 4 win over Denver, Woodson picked off QB Kyle Orton andreturned the interception 30 yards for a TD, his 11th career INT returnfor a TD to move into a tie for the No. 2 spot in NFL history:PlayerInterception TDs1. Rod Woodson, 1987-2003 122t. Charles Woodson, 1998-2011 112t. Darren Sharper, 1997-2010 11The INT for a score against Denver gave Woodson 12 defensive scoresfor his career, which ties him for No. 3 in NFL annals:PlayerDefensive TDs1t. Rod Woodson, 1987-2003 13 (12 INT, 1 FR)1t. Darren Sharper, 1997-2010 13 (11 INT, 2 FR)3t. Charles Woodson, 1998-2011 12 (11 INT, 1 FR)3t. Aeneas Williams, 1991-2004 12 (9 INT, 3 FR)Woodson has now returned an INT for a touchdown in six straightseasons (2006-11), becoming the first player in NFL history to doso. No other NFL player has accomplished the feat in more than fourconsecutive seasons.Woodson's nine interceptions for TDs from 2006-11 ranked No. 1 in theleague over that span, more than double the total of the nine players thattied for the No. 2 spot with four each.Woodson's nine interception TDs over the past six seasons (2006-11)are tied for the most by a player over a six-year period in NFL history,matching the mark of Houston Oilers safety Ken Houston (1967-72).With his first INT for a TD coming in his rookie season of 1998, thetime from Woodson's first INT-TD to his most recent spans 14 seasons(1998-2011). That ranks tied for No. 3 in NFL history behind only RodWoodson (1987-2002) and Deion Sanders (1990-2004), according tothe Elias Sports Bureau.His INT return for a score against the Broncos was his ninth career withthe Packers, further extending his franchise record. Adderley ranks No.2 in team annals (seven, 1961-69).It was also Woodson's 10th defensive TD (nine INTs, one fumble return)in a Green Bay uniform, which further extended his franchise mark.He led the Packers with a career-high five forced fumbles in 2010. Hewas the only defensive back in the NFL to register four forcedfumbles each season in 2009 and 2010.Woodson is the only Packers defensive back since 1994 to record fourforced fumbles in a season, and he has done it twice.Woodson achieved the highest individual honor bestowed upon a defensiveplayer, taking home The Associated Press Defensive Player of theYear award in 2009.Woodson's INT return for a TD in Week 4 of 2010 against the Lionswas the third straight year that he had returned an INT for a TD againstDetroit. He became the first player in NFL history to return an interceptionfor a TD in three consecutive seasons against the same team.Woodson registered two sacks in 2011, his fourth straight season withtwo-plus sacks. He is the first defensive back in franchise history(since 1982) to accomplish that feat.In 2009, Woodson became the fourth player in NFL history since sacksbecame an official statistic to record at least nine interceptions and twosacks in a single season.There's no doubt Woodson's career has undergone a revitalization sincecoming to Green Bay. He now has 54 career interceptions, which issecond among active NFL players. Of his interceptions, 37 have comein 93 games with Green Bay. In 106 games with the Raiders, he had 17.A look at where Woodson ranks in several categories since 2008:PlayerInterceptions1. Charles Woodson, GB 252t. Ed Reed, BAL 232t. Asante Samuel, ATL 23PlayerInterception TDs1. Charles Woodson, GB 72t. Four players 4PlayerINT Return Yards1. Ed Reed, BAL 5832. Charles Woodson, GB 4593. Tramon Williams, GB 351Defensive BackSacks1. Roman Harper, NO 12.02. Charles Woodson, GB 9.03. Two players 7.0Defensive BackForced Fumbles1. Charles Tillman, CHI 172t. Charles Woodson, GB 112t. Oshiomogho Atogwe, PHI 112t. Bernard Pollard, BAL 112t. Roman Harper, NO 1117
---
PACKERS AT BENGALS - PRESEASON WEEK 3PICKING PACKIn 2011, the Packers led the league in interceptions for the second time in thepast three seasons (2009), registering eight more picks than the No. 2 teams:TeamInterceptions1. Green Bay 312t. New England, San Francisco 234. Seattle 22TeamInterception TDs1. Detroit 52t. Green Bay, three other teams 4TeamINT Return Yards1. Green Bay 4682. Seattle 4623. Detroit 458Green Bay's interception total in 2011 was the best by the team since the1970 AFL-NFL merger and the most since the Packers also recorded 31INTs in 1962. A look at the best team totals since 1970:SeasonInterceptions1. 2011 312t. 1981 302t. 2009 30The Packers' 85 INTs from 2009-11 were the most by the team over athree-year span since they posted 95 INTs from 1943-45. The last NFLteam to record more over a three-year span was Minnesota and SanFrancisco in 1986, who each posted 86 INTs from 1986-88.The Packers have finished in the top six in the league in INTs everyseason under Head Coach Mike McCarthy (2006-11).Green Bay was the only team in the league to have six players withthree or more interceptions in 2011. The last time the Packers had sixor more players each post three-plus INTs was 1981 (seven players).The Packers' two INTs for touchdowns in Week 9 at San Diego gavethem three for the season, their franchise-record fourth straight seasonrecording at least three interception returns for TDs. The last NFL teamto register four straight seasons with at least three INT returns for TDswas the Los Angeles Rams from 1983-86.The Packers' 1,948 INT return yards since 2008 are the most by anNFL team over a four-year period since the merger. A look atwhere Green Bay ranks in several categories since 2008:TeamInterceptions1. Green Bay 1072. Baltimore 823. New England 80TeamInterception TDs1. Green Bay 162t. Baltimore, Buffalo, Tampa Bay 11TeamINT Return Yardage1. Green Bay 1,9482. Baltimore 1,2873. Tampa Bay 1,205KEEPING THEM OUTSince 2010, the Packers have been one of the best defenses in the leaguewhen it comes to keeping their opponents out of the end zone.The Packers rank No. 2 in the league in scoring defense in 2010,allowing the opposition an average of just 15.0 points per game, as theytrailed only Pittsburgh (14.5) in the category. In 2011, Green Bay rankedNo. 19 in the NFL in scoring defense (22.4).Since 2010, Green Bay ranks No. 4 in the league in scoring defenseat 18.7 points per game:TeamPoints Allowed Per Game1. Pittsburgh 14.32. Baltimore 16.83. San Francisco 18.04. Green Bay 18.75. Chicago 19.6STIFLING SIGNAL-CALLERSOver the past two seasons, Green Bay's defense has been one of the bestin the league in opponent passer rating.Since 2010, opposing quarterbacks have completed 686-of-1,164 passesfor 7,903 yards and 45 touchdowns with 55 interceptions against thePackers. The 74.6 passer rating registered by opposing signal-callersranks No. 4 in the NFL since 2010:TeamOppponent Passer Rating1. Pittsburgh 72.42. Baltimore 72.83. N.Y. Jets 73.44. Green Bay 74.65. Chicago 76.9In 2011, oppposing quarterbacks recorded a passer rating of 80.6against the Packers, which ranked No. 10 in the league.With the opponent passer rating of 80.6 and Green Bay's offensivepasser rating of 122.6, the Packers ranked No. 1 in the league inpasser-rating differential last season:TeamPasser-Rating Differential1. Green Bay 42.0 (122.6-80.6)2. New Orleans 24.1 (110.5-86.4)3. Houston 23.7 (92.7-69.0)The Packers' passer-rating differential in 2011 was the best mark postedby the team since the 1970 AFL-NFL merger:SeasonPasser-Rating Differential1. 2011 42.0 (122.6-80.6)2. 1996 40.3 (95.7-55.4)3. 2009 33.0 (101.8-68.8)Green Bay had a higher passer rating than its opponent in 15 of 16regular-season games in 2011.18
---
PACKERS AT BENGALS - PRESEASON WEEK 3MAKING THEM PAY AFTER TAKING IT AWAYThe Packers were once again one of the most productive teams in theleague from when it came to converting turnovers into points.In 2011, Green Bay ranked No. 5 in the NFL in takeaway points.TeamTakeaway Points1. Detroit 1392. Buffalo 1273. New England 1264. Houston 1195. Green Bay 118It marked the fourth straight top-five finish for the Packers, theonly team in the league to do so from 2008-11.Since 2008, the Packers have scored 494 points off of takeaways, themost in the NFL over that span.The Packers have been productive at Lambeau Field, having scoredpoints off a turnover in 21 of their last 26 home games.The Packers either won the turnover battle or came out even in thecategory in every game last season. They were the only team inthe NFL to accomplish that feat in 2011.Green Bay ranked No. 2 in the league last season with a plus-24turnover differential.Team Turnover Margin (2011)1. San Francisco plus-282. Green Bay plus-243. New England plus-17Team Turnover Margin (Since 2006)1. New England plus-762. Green Bay plus-693. San Diego plus-36The Packers' plus-24 turnover differential in 2011 was tied for No. 2in franchise history. Two of the top five ratios have come under HeadCoach Mike McCarthy:Season Turnover Margin (2011)1. 1943 plus-262t. 2011 plus-242t. 1941 plus-242t. 1965 plus-242t. 2009 plus-24The Packers have posted at least three INTs for TDs in each of the lastfour seasons. That is the first time in franchise history that Green Bayhas accomplished that feat. The Packers have posted at least three INTsfor TDs in five of six seasons under McCarthy.During McCarthy's tenure, the Packers have a 48-6 (.889) regular-seasonrecord when they come out ahead in the game in turnover ratio, anda 6-20 (.231) mark when they lose the takeaway battle. Under McCarthy,Green Bay is 27-3 (.900) when its turnover margin is plus-2 or better.Turnover Margin GB Record Since 2006minus-3 or worse 0-2 (.000)minus-2 1-7 (.125)minus-1 5-11 (.313)even 9-7 (.563)plus-1 21-3 (.875)plus-2 12-1 (.923)plus-3 or more 15-2 (.882)Green Bay was tied for No. 1 in the league last season in total takeaways:TeamTotal Takeaways1t. Green Bay 381t. San Francisco 383t. Detroit, New England 34Team Total Takeaways Since 20081. Green Bay 1382. Chicago 1263. Philadelphia 125FINISHING DRIVESGreen Bay was one of the most efficient teams in the league in goal-to-gosituations in 2011, finishing tied for No. 1 in the league in the category:TeamGoal-to-Go TD Efficiency1t. Green Bay 80.0 (28-35)1t. N.Y. Jets 80.0 (24-30)3. New Orleans 78.4 (29-37)4. Carolina 77.8 (21-27)5. Oakland 77.3 (17-22)The Packers' goal-to-go percentage last season was the third-best markposted by the team since 1995, according to STATS LLC:SeasonGoal-to-Go TD Efficiency1. 1996 81.5 (22-27)2. 2003 80.8 (21-26)3. 2011 80.0 (24-30)Green Bay averaged 6.03 points in goal-to-go situations in 2011, goodfor No. 2 in the NFL:TeamGoal-to-Go Average Pts.1. Carolina 6.042. Green Bay 6.033. Detroit 6.004. New Orleans 5.975. Tennessee 5.90A look at Green Bay's best scoring marks since 1995:SeasonGoal-to-Go Average Pts.1. 1996 6.112. 2003 6.043. 2011 6.0319
---
PACKERS AT BENGALS - PRESEASON WEEK 3NOT IN A GIVING MOODThe Packers have always prided themselves on their ability to take care ofthe football, an emphasis that has helped place them among the leagueleaders once again last season.In 2011, the Packers ranked No. 2 in the league in the category:Team Total Giveaways (2011)1. San Francisco 102. Green Bay 143. New England 17The 14 giveaways marked a single-season franchise record:SeasonTotal Giveaways1. 2011 142. 2009 163. 1972 19The Packers tied a franchise record for the fewest fumbles lost:SeasonFumbles Lost1t. 2011 61t. 1943 61t. 1995 6Since '09, Green Bay has turned the ball over just 52 times, which ranksNo. 2 in the NFL over that span:Team Total Giveaways Since 20091. New England 492. Green Bay 523. San Francisco 57The Packers' 52 giveaways since 2009 are the fewest over a three-yearspan in franchise history, besting the previous mark of 59 from 2008-10.When the Packers have turned the ball over the past two seasons, thedefense helped limit opponent scoring following those giveaways.In 2011, Green Bay ranked No. 4 in the NFL in giveaway points allowed:Team Giveaway Points (2011)1. San Francisco 263. New England 473. Seattle 514. Green Bay 555t. New Orleans, Tennessee 63Since 2010, Green Bay ranks No. 3 in the league in fewest points allowedoff of giveaways:Team Giveaway Points (Since 2010)1. New England 712. San Francisco 853. Green Bay 94Since taking over as the starting quarterback in 2008, Aaron Rodgershasn't thrown an interception in 35 regular-season games. In thosecontests, the Packers have a 28-7 (.800) record.If the Packers don't commit a turnover, they're almost guaranteed towin. They are 48-5 (.906) regular-season games playing turnover-freefootball since a loss at Dallas, Nov. 18, 1996. Green Bay's only lossesin such games during that stretch came three times against Minnesota,twice in Minneapolis (2005, '08) and once at home (2009), in Week 15of 2009 at Pittsburgh, and in Week 15 last season at Kansas City.Giveaways in game GB Record Since 2006None 23-4 (.852)One 20-8 (.714)Two 14-11 (.560)Three-plus 5-10 (.333)SUCCESS IN THE DIVISIONGreen Bay's 45-41 victory over Detroit in the season finale gave thePackers a perfect 6-0 mark in divisional games last season.It marked the first time that the Packers had posted an undefeated recordin their division since the NFL went to a divisional format in 1967.Green Bay became the first team to sweep the NFC North/Central sincethe 1987 Chicago Bears (7-0).The Packers have a 27-9 (.750) regular-season record against NFC Northopponents under Head Coach Mike McCarthy, a divisional record thatranks No. 2 in the NFL over that span:Team W-L Record Pct.1. New England 28-8-0 .7782. Green Bay 27-9-0 .7503. San Diego 26-10-0 .7224. Pittsburgh 25-11-0 .6945. Indianapolis 24-12-0 .667Green Bay has won 15 of 18 NFC North games at Lambeau Field underMcCarthy, which is tied for the No. 1 divisional home mark in theleague since 2006:Team W-L Record Pct.1t. Green Bay 15-3-0 .8241t. Indianapolis 15-3-0 .8241t. New England 15-3-0 .8134t. Several teams 13-5-0 .722The Packers have posted a winning record in their division every seasonunder McCarthy. Green Bay and New England are the only teams inthe league to accomplish that feat each season from 2006-11.20
---
PACKERS AT BENGALS - PRESEASON WEEK 3MATTHEWS MAKES HIS WAY TO THE QUARTERBACKLB Clay Matthews has been one of the most productive players in theNFL since he entered the league in 2009 when it comes to getting after thequarterback.Matthews has registered 29.5 sacks since 2009, which is tied for No. 9in the league over that span.Matthews' six sacks in 2011 led the team. He has paced the defense insacks each of his first three seasons (2009-11) in Green Bay.While Matthews didn't rank among the league leaders in sacks lastseason, he continued to provide consistent pressure on opposingsignal-callers.According to STATS LLC, Matthews ranked No. 4 in the league in combinedquarterback knockdowns and hurries last season:PlayerQB Knockdowns/Hurries1. Cameron Wake, MIA 43.5 (26.5/17.0)2. DeMarcus Ware, DAL 40.5 (29.5/11.0)3. Tamba Hali, KC 39.5 (24.5/15.0)4. Clay Matthews, GB 38.5 (24.0/14.5)5t. Jared Allen, MIN 37.5 (34.5/3.0)5t. Jason Babin, PHI 37.5 (29.0/8.5)5t. Jason Pierre-Paul, NYG 37.5 (30.5/7.0)When Matthews intercepted Giants QB Eli Manning at New York in Week13 and returned the pick 38 yards for a score, it marked the third straightseason that he had scored a defensive TD.By doing so, Matthews became the first player in franchise historyto score a defensive TD (interception or fumble return) in each of hisfirst three seasons in the league.Matthews was one of only two NFL linebackers (Miami LB Kevin Burnett)to record an interception for a score each of the past two seasons.Matthews posted a career-high three interceptions in 2011. It was tiedfor the most in a season by a Green Bay linebacker since 1984.Matthews was named to his third straight Pro Bowl last season, becomingthe first Packer since RB John Brockington (1971-73) to earn ProBowl recognition in each of his first three seasons in the league.He received first-team All-Pro honors from The Associated Press in2010, the first Packer LB to earn that recognition since Tim Harris in1989. Matthews finished second to only Pittsburgh S Troy Polamalu inthe AP Defensive Player of the Year voting a season ago.With a sack of QB Jon Kitna in the second quarter in Week 9 of 2010,Matthews became the first Packer since the stat became official in 1982to register a double-digit sack total in each of his first two seasons inthe NFL.According to the Elias Sports Bureau, Matthews became the first NFLplayer since sacks became an official statistic in 1982 to registerdouble-digit sacks and a defensive TD in each of his first two seasonsin the NFL.With two sacks of Falcons QB Matt Ryan in the Divisional contest in2010, Matthews became the first player in team history (since1982) to post at least one sack in each of his first three career postseasongames. With 4.5 career sacks in the postseason, Matthews alreadyranks No. 2 in team playoff annals behind only DE Reggie White (eight).Matthews' 3.5 sacks in the 2010 playoffs were the most in franchisehistory (since 1982) in a single postseason.Matthews has posted two or more sacks in a game six times in hiscareer. Five of those two-sack games came in Matthews' first 18 gamesin a Packers uniform, breaking White's franchise mark of four in his first18 games with Green Bay (1993-94).In 2009, Matthews set a Packers rookie record with 10 sacks on his wayto earning Pro Bowl honors, the first Green Bay rookie to be named tothe all-star game since Hall of Fame WR James Lofton in 1978.Matthews tied the top mark in team history (since 1982) for the mostsacks by a Packer in his first three seasons in the NFL:PlayerSacks1t. Clay Matthews, 2009-11 29.51t. Tony Bennett, 1990-92 29.53. Tim Harris, 1986-88 28.54. Kabeer Gbaja-Biamila, 2000-02 27.0A look at where Matthews' sack total in his first 20 pro games ranked inNFL history (since 1982):PlayerSacks1. Clay Matthews, GB 17.02t. Leslie O'Neal, SD 16.52t. John Abraham, NYJ 16.5SHARING THE SCORINGWhen three different Packers scored their first touchdowns of the 2011season in Week 14 vs. Oakland, it brought Green Bay's total number ofplayers with a TD on the season to 19.With 19 players scoring TDs last season, the Packers set a singleseasonfranchise record:SeasonPlayers Scoring TD1. 2011 192. 2008 183t. 1931, 1990, 1996, 1998. 2002 15Green Bay's total was two shy of the single-season NFL record of 21,a number posted by several teams, most recently by New England in2007.Six Green Bay players scored at least six TDs last season, as the Packerswere one of only two teams (New Orleans) in the league to accomplishthat feat in 2011.It marked the first time in franchise history that the Packers had six playerswith six or more touchdowns each.The Packers checked in at No. 1 in the league in 2011 with the 19different players having scored TDs:TeamPlayers Scoring TD1. Green Bay 192. Chicago 173t. Buffalo, Tennessee 1621
---
PACKERS AT BENGALS - PRESEASON WEEK 3A LOOK AT THE SCHEDULEThe Green Bay Packers' 92nd NFL regular-season schedule – headlined byfive prime-time games (three against 2011 playoff teams) – was releasedin mid-April by the National Football League.The five prime-time games (subject to flexible scheduling) would be afranchise record, topping the previous mark of four contests on severaloccasions, most recently in 2010 and 2011. Since 2009, the Packers are8-3 (.727) in prime-time contests.For the sixth time in seven seasons under Head Coach Mike McCarthy,the Packers will open the season at home, this year against SanFrancisco on Sunday, Sept. 9, in a matchup of the top two teams in theNFC in 2011. It marks only the second time in franchise history thatGreen Bay has opened the season against the 49ers (1976).The Packers will then stay at home on a short week to host Chicago ina Thursday night contest, Green Bay's third-ever game on NFL Networkand its first since it traveled to Dallas in Week 13 of 2007. This will bethe seventh straight season that the Packers and the Bears will squareoff in prime time.Green Bay will travel to Seattle for its first road contest of the season,one that begins a stretch of four road games in five weeks. It is thePackers' lone game of the season on ESPN's Monday Night Football.2012 marks the 20th consecutive season (1993-2012) that Green Bayhas appeared on MNF, the NFL's second-longest streak (Denver, 21).The Packers will host New Orleans in Week 4 in a matchup of the twohighest-scoring teams in the league in 2011. Both teams have finishedin the top 10 in total offense every season since 2006, the only teams inthe NFL to accomplish the feat over that span.Starting with a trip to Indianapolis in Week 5, Green Bay will play on theroad for three straight games (also at Houston and St. Louis), the firsttime the Packers have had three consecutive road games since the 1998season (Weeks 10-12). All three contests could be indoors (Indianapolisand Houston have retractable-roof stadiums).Green Bay returns home for back-to-back games at Lambeau Field(Jacksonville and Arizona) before its Week 10 bye. The Packers comeout of their open week with back-to-back road contests against a pair of2011 playoff teams (Detroit and N.Y. Giants), the second straight seasonthey have played those teams on the road in consecutive weeks.Under McCarthy, the team has won five of six games immediately afterthe bye week and 12 of its last 16 after the week off dating back further.Overall, the Packers are 38-20 (.655) after the bye under McCarthy, andsince 2000, the team is 69-37 (.651) following the week off.The Packers wrap up the regular season with three of five games inDecember in front of the home crowd, including divisional matchupsagainst Minnesota and Detroit at Lambeau Field in Weeks 13-14.Four of Green Bay's final five games and five of its last seven will comeagainst NFC North foes, capped off with the season finale at Minnesota.It is the sixth time in seven seasons under McCarthy that the Packershave finished the regular season with a divisional matchup (5-0 in seasonfinales vs. the NFC North since 2006).The Packers could play up to five games indoors (Indianapolis, Houston,St. Louis, Detroit, Minnesota), which would be the most in a season infranchise history (four games in 1987, 1992, 1996, 2004, 2009).Since 2006, the Packers have a 13-5 mark indoors during the regularseason, a .722 winning percentage that ranks No. 1 in the NFL (min.eight games).Fourteen games are slated for Sunday this season, including each of thefinal 13 contests, with one Thursday night game and one Monday nightcontest. Nine games are scheduled for noon (CT) starts with two gamescurrently slated for 3:25 p.m. (CT).The Packers have six games on the schedule against 2011 playoffteams, beginning right away in Week 1 vs. San Francisco. The othermatchups come against New Orleans (Week 4), Houston (Week 6),Detroit (Weeks 11 and 14) and the N.Y. Giants (Week 12).STARTING AND CLOSINGGreen Bay was efficient starting games in 2011, scoring59 points on game-opening drives. That total ranked No. 1 in the NFLand more than doubled the Packers' 23-point output in 2010:TeamPoints On First Possession1. Green Bay 592. Houston 583. Atlanta 51Green Bay's 59-point total was the best posted by the Packerssince STATS LLC began recording the statistic in 1995. Itwas the best mark in the league since New England registered 71 pointson game-opening drives in 2007.The Packers posted 58 points in the final two minutes of the first half lastseason. That easily topped Green Bay's season total of 31 points in 2010and was the best by the team since 64 points in 2002:TeamPoints In Final Two Min./1st Half1. Philadelphia 612. Green Bay 582. Oakland 562011 RESULTSPRESEASONDate Opponent Time Att.Sat., Aug. 13 at Cleveland Browns . . . . . . . . . . . . . . L, 17-27 (57,077)Fri., Aug. 19 ARIZONA CARDINALS (Gold Pkg.) . . .W, 28-20 (67,688)(Midwest Shrine Game)Fri., Aug. 26 at Indianapolis Colts . . . . . . . . . . . . . .W, 24-21 (65,285)Thu., Sept. 1 KANSAS CITY CHIEFS. . . . . . . . . . . . .W, 20-19 (67,555)(Bishop's Charities Game)REGULAR SEASONDate Opponent Time Att.Thu., Sept. 8 NEW ORLEANS SAINTS . . . . . . . . . . .W, 42-34 (70,555)Sun., Sept. 18 at Carolina Panthers . . . . . . . . . . . . . .W, 30-23 (73,167)Sun., Sept. 25 at Chicago Bears . . . . . . . . . . . . . . . . .W, 27-17 (62,339)Sun., Oct. 2 DENVER BRONCOS (Gold Pkg.) . . . . . .W, 49-23 (70,529)Sun., Oct. 9 at Atlanta Falcons . . . . . . . . . . . . . . . .W, 25-14 (69,576)Sun., Oct. 16 ST. LOUIS RAMS . . . . . . . . . . . . . . . . .W, 24-3 (70,604)Sun., Oct. 23 at Minnesota Vikings. . . . . . . . . . . . . .W, 33-27 (63,946)Sun., Oct. 30 Open Date . . . . . . . . . . . . . . . . . . . . . . . . . . . . .Sun., Nov. 6 at San Diego Chargers. . . . . . . . . . . . .W, 45-38 (68,908)Mon., Nov. 14 MINNESOTA VIKINGS . . . . . . . . . . . . . .W, 45-7 (70,519)Sun., Nov. 20 TAMPA BAY BUCCANEERS (Gold Pkg.) . . W, 35-26 (70,498)Thu., Nov. 24 at Detroit Lions . . . . . . . . . . . . . . . . . .W, 27-15 (66,263)Sun., Dec. 4 at New York Giants . . . . . . . . . . . . . . .W, 38-35 (80,634)Sun., Dec. 11 OAKLAND RAIDERS . . . . . . . . . . . . . .W, 46-16 (70,524)Sun., Dec. 18 at Kansas City Chiefs. . . . . . . . . . . . . . L, 14-19 (74,093)Sun., Dec. 25 CHICAGO BEARS. . . . . . . . . . . . . . . . .W, 35-21 (70,574)Sun., Jan. 1 DETROIT LIONS . . . . . . . . . . . . . . . . .W, 45-41 (70,294)POSTSEASONSun., Jan. 15 N.Y. GIANTS . . . . . . . . . . . . . . . . . . . . L, 20-37 (72,080)22
---
PACKERS AT BENGALS - PRESEASON WEEK 3ON THE ROAD AGAINGreen Bay went 7-1 on the road in 2011, with the seven road wins settinga single-season franchise record.The Packers have been able to stay above the .500 mark on the roadduring Head Coach Mike McCarthy's tenure, a notable achievementin the National Football League.Since 2006, McCarthy's first season as the head coach in Green Bay,only 10 of 32 NFL teams have regular-season road records above .500.Team W-L record Pct.1. New England 35-13-0 .7292. N.Y. Giants 31-17-0 .6463. New Orleans 30-18-0 .6254. Philadelphia 29-18-1 .6155t. Green Bay 28-20-0 .5835t. Indianapolis 28-20-0 .5837t. Dallas 27-21-0 .5637t. Pittsburgh 27-21-0 .5639. San Diego 26-22-0 .54210. Tennessee 25-23-0 .521302 AND COUNTINGAnother packed house at Lambeau Field against the Giants in the playoffslast season brought the stadium's consecutive sellouts streak to 302games (285 regular season, 17 playoffs).The league's longest-tenured stadium, Lambeau Field will be hosting its56th season of football in 2012. A total of 636,177 fans made their waythrough the turnstiles for the nine home contests last season.Across American professional sports, only Boston's Fenway Park (1912)and Chicago's Wrigley Field (1914) have longer tenures.THE LAMBEAU ADVANTAGEThe crown jewel of the National Football League, Lambeau Field has longbeen known as one of the tougher venues to play in, particularly during theharsh Wisconsin winter.Re-establishing home-field advantage after a 4-4 mark in 2008 was oneof the goals of 2009, and with the Packers finishing 6-2 at home, theyaccomplished that goal. Green Bay followed that up with a 7-1 mark atLambeau Field in 2010 and a perfect 8-0 record in 2011, the first undefeatedhome mark since 2002.Head Coach Mike McCarthy stated consistently upon his arrival inGreen Bay that one of the team's goals would be to reclaim the mystiqueof playing at Lambeau Field. Mission accomplished. The team is 34-8(.810) at home over the past 42 regular-season games, good for No. 2in the NFL over that span behind only New England (38-4, .905).Since Ron Wolf and Mike Holmgren began the revitalization of thefranchise in 1992, Green Bay owns the best home record in the NFL. Alook at the top regular-season home W-L records since the '92 season:HOME COOKINGThe Packers' win over Dallas at Lambeau in November 2009 was the firststep to a 7-1 finish and a playoff berth for Green Bay.Since that Week 10 victory over the Cowboys in '09, the Packers havebeen one of the best two teams in the league at home. Green Bay's lonedefeat since then came to Miami in 2010 in Week 6 when the Packersfell to the Dolphins in overtime.Team W-L record Pct.1t. Green Bay 19-1-0 .9501t. New England 19-1-0 .9503. Baltimore 18-2-0 .900IN THE FREE-AGENCY ERATalk of unrestricted free agency in the early '90s led many to forecast toughtimes for the small-town Green Bay Packers.However, Green Bay has remained among the most successful teamssince the advent of free agency in 1993. The Packers have won 10 ormore games 10 times since '93 and captured seven division crowns.A look at the most successful teams in the free-agency era:Team W-L since '93 Pct. Playoff berths1. New England 198-106-0 .651 132. Green Bay 194-110-0 .638 143. Pittsburgh 193-110-1 .637 134. Indianapolis 176-128-0 .579 135. Denver 174-130-0 .572 9IN THE LEAGUE RANKINGS, 2011GREEN BAY (Team)CategoryNFC NFLTurnover Margin (+24) . . . . . . . 2 2Points Scored (35.0). . . . . . . . . 1 1Points Allowed (22.4) . . . . . . . . 9 19Total Offense (405.1) . . . . . . . . 2 3Rushing (97.4) . . . . . . . . . . 13 27Passing (307.8) . . . . . . . . . . 2 3Total Defense (411.6) . . . . . . . 16 32vs. Rush (111.8) . . . . . . . . . 7 14vs. Pass (299.8) . . . . . . . . . 16 32Third-Down Offense (48.1%) . . 2 3Third-Down Defense (42.6%). . .13 26Red-Zone Offense (66.2%). . . . 1 3Red-Zone Defense (55.4%) . . 11 20CINCINNATI (Team)CategoryAFC NFLTurnover Margin (0) . . . . . . . . . 8 17Points Scored (21.5). . . . . . . . . 8 18Points Allowed (20.2) . . . . . . . . 7 9Total Offense (319.9) . . . . . . . . 9 20Rushing (111.1) . . . . . . . . . 11 19Passing (208.8) . . . . . . . . . . 9 20Total Defense (316.3) . . . . . . . . 6 7vs. Rush (104.7) . . . . . . . . . 6 10vs. Pass (211.6) . . . . . . . . . . 8 9Third-Down Offense (36.5%) . . 8 18Third-Down Defense (35.5%). . 6 12Red-Zone Offense (45.1%). . . 13 26Red-Zone Defense (58.5%) . . .12 25Team W-L record Pct.1. Green Bay 122-38-0 .7632. Pittsburgh 116-43-1 .7283. New England 111-49-0 .6944. Baltimore (since '96) 88-39-1 .6915. Denver 109-51-0 .681GREEN BAY (Individual)CategoryNFC NFLRushing: Starks (578). . . . . . . 18 38Passing: Rodgers (122.5). . . . . 1 1Receptions: Nelson (68) . . . . . .18T 30TRec. Yds.: Nelson (1,263). . . . . 7 9Sacks: Matthews (6.0) . . . . . 17T 28TInterceptions: Woodson (7) . . . . . 1 1TCINCINNATI (Individual)CategoryAFC NFLRushing: Benson (1,067) . . . . . 7 12Passing: Dalton (80.4) . . . . . . . 9 20Receptions: Green (65). . . . . 13T 34TRec. Yds.: Green (1,057) . . . . . 8 17Sacks: Atkins (8.0) . . . . . . . . . 15T 29TInterceptions: Nelson (4). . . . . . . 5T 12T23
---
PACKERS PROJECTED STARTERS – OFFENSEWR Greg Jennings, 7th Year, Western Michigan, D2b-06Ranks in the top 10 in franchise history in receptions (7th, 389), receivingyards (8th, 6,171) and touchdown catches (t-6th, 49).Leads the NFL with 30 catches of 40-plus yards since 2007 and is tiedfor the league lead with 58 receptions of 25-plus yards over that span.One of just five receivers in team history to post three consecutive1,000-yard seasons and one of only four to catch 12 touchdown passesin two different years.Has been named to the Pro Bowl each of the past two seasons (2010-11).LT Marshall Newhouse, 3rd Year, Texas Christian, D5b-10Played in all 16 games with 13 starts in 2011, opening 10 contests at LTand three at RT.His 13 starts in 2011 were the most by a Green Bay offensive tackle.Gameday inactive (healthy scratch) for the first 14 contests of his rookiecampaign in 2010 before sustaining a back injury in practice that senthim to injured reserve for the final two games and the entire postseason.Was a three-year starter at LT at Texas Christian and earned first-teamAll-Mountain West honors as a senior.LG T.J. Lang, 4th Year, Eastern Michigan, D4-09One of only two Green Bay offensive linemen to start all 16 games in2011, opening 15 contests at LG and one at RT.Has started games at three different positions on the line as a pro (LT,LG, RT).Played three different positions up front during his rookie campaignof 2009, starting games at both tackle spots and becoming the firstPackers rookie to start consecutive games at left tackle since ChadClifton in 2000.Began his college career as a defensive lineman, but converted to theoffensive line as a sophomore and started 36 straight games (10 at RT,26 at LT) over his final three years.C Jeff Saturday, 14th Year, North Carolina, UFA-12 (Ind)Signed with the Packers as an unrestricted free agent in March 2012after playing 13 seasons with the Indianapolis Colts.Has been selected to the Pro Bowl five times during his career (2005-07,2009-10) and has twice earned first-team All-Pro honors.Was named to the NFL All-Decade Team by Sporting News for 2000-09.Played in 197 games during his 13 seasons with the Colts, which is tiedfor No. 4 in franchise history.From 2000-11, was part of an Indianapolis line that allowed just 242sacks, the fewest in the league over that span.RG Josh Sitton, 5th Year, Central Florida, D4b-08Started 46 games from 2009-11, tied for the most on the offensive lineover that span with C Scott Wells.Was named 2010 Offensive Lineman of the Year by the NFL AlumniAssociation and was selected as a Pro Bowl alternate each of the pasttwo seasons (2010-11).According to STATS LLC, has allowed only six sacks in his three seasonsas a starter.Was the only Packer on either side of the ball to not miss a snap from2009-10.RT Bryan Bulaga, 3rd Year, Iowa, D1-10Has started 12 games at RT in each of his first two seasons as a pro.Started the final 12 games of 2010 and the entire postseason at right tackleafter taking over for veteran Mark Tauscher (shoulder), the most regularseasonstarts by a Packers rookie tackle since Tauscher's 14 in 2000.Named to the Pro Football Weekly/PFWA All-Rookie team in 2010.Capped his rookie season by becoming the youngest player, accordingto STATS LLC, to ever start in the Super Bowl (21 years, 322 days).TE Jermichael Finley, 5th Year, Texas, D3-08Matched his career high with 55 receptions in 2011, tied for the secondmost in team history by a tight end behind Paul Coffman's 56 in 1979.Set a career high with 767 receiving yards last season, the No. 2 markin franchise annals behind only Coffman's 814 yards in 1983.In breakout 2009 campaign, posted second-most catches in a singleseason by a Green Bay tight end (55) and sixth-most yards (676),despite missing three games with a knee injury.Finished '09 with Green Bay playoff-record 159 receiving yards in NFCWild Card loss at Arizona, the third-most productive game by a tight endin NFL postseason history.WR Jordy Nelson, 5th Year, Kansas State, D2a-08Posted career highs in every receiving category in 2011, catching 68passes for 1,263 yards (18.6 avg.) and 15 TDs on his way to beingnamed a Pro Bowl alternate.Became only the third player in franchise history to catch 15 or moreTDs in a season, joining WRs Sterling Sharpe (18 in 1994) and DonHutson (17 in 1942).Ranks No. 3 among active players (min. 20 TD catches) with a 32.1-yardaverage on his 21 career TD receptions.Became the first player since the 1970 AFL-NFL merger to post three80-yard TD grabs over an eight-game span in the regular season (Week16, 2010-Week 6, 2011).QB Aaron Rodgers, 8th Year, California, D1-05His career passer rating of 104.1 ranks No. 1 in NFL history (min. 1,500attempts).Posted 17,037 passing yards from 2008-11, which ranked No. 1 inleague history for the most passing yards by a QB in his first four seasonsas a starter.In 62 regular-season starts (41-21 record), has posted 22 games with300-plus passing yards, 35 without an interception and 38 with a 100-plus passer rating.In 2011, set an NFL record with a 122.5 passer rating and set franchisemarks for TD passes (45), passing yards (4,643), completion percentage(68.3), yards per attempt (9.25) and 300-yard games (eight) on hisway to earning NFL Most Valuable Player honors from The AssociatedPress.RB James Starks, 3rd Year, Buffalo, D6-10Led the team with 578 rushing yards on 133 carries (4.3 avg.) in 2011,while also leading the running backs with 29 receptions for 216 yards(7.4 avg.).Posted a league-high 315 rushing yards in the 2010 postseason, thirdmost ever by a rookie RB in the postseason behind only Washington'sTimmy Smith (342 in 1987) and Baltimore's Jamal Lewis (338 in 2000).Rushed for 123 yards at Philadelphia in an NFC Wild Card contest in the2010 playoffs, the most by a Green Bay rookie in franchise postseasonhistory.In three years, became the University at Buffalo's all-time leader in rushingyards (3,140), rushing TDs (34) and points scored (222).FB John Kuhn, 7th Year, Shippensburg, W-07 (Pit)Has played in 78 of 80 games (86 of 88 including playoffs) during hisfive seasons in Green Bay, appearing in all 16 regular-season contestsin four of those seasons.Selected to the Pro Bowl in 2011, becoming the first Green Bay fullbackto be honored since William Henderson in 2004.Only player on the team to have a rushing and receiving touchdown eachof the past four seasons, and is the first Packer to achieve that feat sinceRB Ahman Green (2001-04).Led the team with four rushing TDs in 2011 and led the running backswith six total TDs.24
---
PACKERS PROJECTED STARTERS – DEFENSELDE Ryan Pickett, 12th Year, Ohio State, UFA-06 (StL)Has played in 162 of a possible 176 regular-season games during hiscareer, missing just nine contests due to injury.Had another productive season in 2011, starting all 14 games in whichhe played and leading the defensive line with 54 tackles (24 solo).Key component of Packers' No. 1-ranked rushing defense in 2009(franchise-record 83.3 yards allowed per game), the first time in teamhistory that Green Bay led the league in that category.Signed with Green Bay as an unrestricted free agent in 2006 after spendingfive seasons with St. Louis (2001-05). Led all NFL defensive linemenwith 115 tackles in 2005.NT B.J. Raji, 4th Year, Boston College, D1a-09Earned his first bid to the Pro Bowl in 2011, becoming the first GreenBay defensive tackle since Bob Brown in 1972 to be voted to the all-starteam.Has played in 37 games over the past two seasons (including playoffs),the most in the NFL by a defensive lineman.Led all NFL nose tackles with 6½ sacks in 2010, the third most recordedby a nose tackle since 1990 (according to STATS LLC).Named to the Pro Football Weekly/PFWA All-Rookie team in 2009,the first Green Bay defensive lineman to be selected since DE VonnieHolliday in 1998.RDE C.J. Wilson, 3rd Year, East Carolina, D7-10Has appeared in all but one game in his two NFL seasons, seeing significantaction in the rotation up front and totaling 56 tackles (33 solo) anda sack.Played in all 16 games in 2011 with two starts as he registered a careerhigh35 tackles (21 solo).Appeared in 15 regular-season games and all four playoff contests as arookie in 2010, starting Super Bowl XLV vs. Pittsburgh with the defenseemploying a fourth lineman as part of its "Hippo" package.LOLB Nick Perry, Rookie, Southern California, D1-12Earned first-team All-Pacific-12 recognition as a junior in 2011, registeringa team-high and career-best 9½ sacks. His sack total led the conferenceand was tied for No. 14 nationally.Was one of six finalists for the Hendricks Award, which is given to thenation's top defensive end, and was named second-team All-Americanby CBSSports.com.Led the Trojans with eight sacks as a redshirt freshman in 2009 on hisway to earning Pac-10 All-Freshman Team honors from multiple publications.BLB A.J. Hawk, 7th Year, Ohio State, D1-06Has either led the team or finished second in tackles in five of his sixseasons in Green Bay.Has appeared in 94 of a possible 96 regular-season games in his career,starting 91 of them.Tied for No. 1 among NFL linebackers in 2010 with a career-high threeinterceptions. Earned first career Pro Bowl selection in 2010.Has posted 730 tackles (517 solo), 10½ sacks, eight interceptions, 34passes defensed, two forced fumbles and four fumble recoveries duringhis career.MLB D.J. Smith, 2nd Year, Appalachian State, D6b-11Was the lone Green Bay rookie in 2011 to appear in all 16 games, alsoleading the team's rookies with three starts.During his extended time on defense, led the team with 30 tackles (21solo) over a three-game span from Weeks 13-15.Played primarily on special teams last season, tying for third on thesquad with 11 coverage tackles.Finished his career at Appalachian State as the NCAA Division I FCSactive leader in tackles and was one of only two players in school historyto record 500 tackles in his career, joining three-time NFL Pro BowlerDexter Coakley.ROLB Clay Matthews, 4th Year, Southern California, D1b-09Became the first Packer since RB John Brockington (1971-73) to earnPro Bowl recognition in each of his first three seasons in the NFL.Is the only player in franchise history to score a defensive TD (interceptionor fumble return) in each of his first three seasons in the league.With 29½ sacks from 2009-11, tied LB Tony Bennett's franchise markfor the most sacks by a Packer in his first three seasons in the NFL.Named first-team All-Pro by The Associated Press in 2010, the firstGreen Bay LB to earn that honor since Tim Harris in 1989. Finishedsecond to Pittsburgh safety Troy Polamalu in the AP's Defensive Playerof the Year voting.LCB Tramon Williams, 6th Year, Louisiana Tech, FA-06His 13 interceptions and 258 INT return yards since the start of the 2010season (including playoffs) rank No. 1 in the league.Despite suffering a shoulder injury in the 2011 season opener, went onto start 15 games and post career highs for tackles (65) and passesdefensed (24). Also added four interceptions.With three interceptions during the 2010 playoffs, tied Joe Laws (1944)and Craig Newsome (1996) for the franchise single-postseason record.Is the only non-drafted free agent in the NFL to post four or more interceptionseach of the past four seasons.RCB Jarrett Bush, 7th Year, Utah State, W-06 (Car)Played in all 16 games for the fourth straight season in 2011, and hasappeared in all 16 contests in five of his six seasons in the NFL.Posted a career-high two interceptions and his first career sack lastseason.Has tallied a double-digit total in special teams tackles each of the pastsix seasons, becoming the first Packer to accomplish that feat since thestatistic began being recorded in 1976.His current streak of 73 consecutive games played (including postseason)ranks No. 2 on the team behind K Mason Crosby (88 games).SS Charles Woodson, 15th Year, Michigan, UFA-06 (Oak)In 2011, was named first-team All-Pro for the third time and earned hisfourth consecutive and eighth career Pro Bowl bid, becoming the firstGreen Bay CB to earn in the honor in four or more straight seasons sinceHerb Adderley (1963-67).Is tied for No. 2 in NFL history (with Darren Sharper) with 11 INT returnsfor TDs, trailing only Rod Woodson (12).Named NFL Defensive Player of the Year by The Associated Press in2009, becoming only the second Packer to win the award (DE ReggieWhite, 1998) and the oldest defensive back to earn the honor.In '09, posted a career-high nine interceptions, and earned NFCDefensive Player of the Month honors three times. Became first defensiveplayer in the NFL to win a monthly award three times in the sameseason.FS Morgan Burnett, 3rd Year, Georgia Tech, D3-10Enjoyed his first full season as a pro in 2011, joining DT B.J. Raji asthe only two Green Bay defensive players to start all 16 regular-seasongames.Was one of only two players on the team (Woodson) to record a sack, aninterception, a fumble recovery and a forced fumble in 2011.In 2010, became only the second Packers rookie to open the season asa starter at safety since Cecil in 1988, joining then-teammate and threetimePro Bowl selection Nick Collins (2005).Started the first four games of the 2010 season at SS before sustaininga season-ending knee injury vs. Detroit in Week 4.25
---
OFFENSEWR: 85 Greg Jennings 89 James Jones 18 Randall Cobb19 Diondre Borel 11 Jarrett Boykin7 Curenski GilleylenLT: 74 Marshall Newhouse 78 Derek Sherrod 77 Andrew Datko69 Shea AllardLG: 70 T.J. Lang 62 Evan Dietrich-Smith 67 Don Barclay54 Greg Van RotenC: 63 Jeff Saturday 65 Sampson Genus 60 Tommie DraheimRG: 71 Josh Sitton 68 Reggie Wells 73 Ray DominguezRT: 75 Bryan Bulaga 72 Herb TaylorTE: 88 Jermichael Finley 83 Tom Crabtree 84 D.J. Williams82 Ryan Taylor 81 Andrew Quarless48 Brandon Bostick 46 DeMarco CosbyWR: 87 Jordy Nelson 80 Donald Driver 86 Tori Gurley16 Shaky Smithson 13 Dale Moss17 Andrew BrewerQB: 12 Aaron Rodgers 6 Graham Harrell 9 B.J. ColemanRB: 44 James Starks 33 Brandon Saine 20 Alex Green26 Marc Tyler 23 Du'ane Bennett32 Cedric BensonFB: 30 John Kuhn 35 Jon Hoese 40 Nic CooperUnofficial, Aug. 19, 2012DEFENSELDE: 79 Ryan Pickett 69 Phillip Merling 76 Mike Daniels91 Lawrence Guy 67 Johnny JonesNT: 90 B.J. Raji 77 Daniel Muir 95 Anthony HargroveRDE: 98 C.J. Wilson 99 Jerel Worthy 94 Jarius Wynn96 Mike NealLOLB: 53 Nick Perry 93 Erik Walden 59 Brad Jones58 Frank ZomboBLB: 50 A.J. Hawk 49 Robert Francois 56 Terrell ManningMLB: 51 D.J. Smith 57 Jamari Lattimore 59 Brad Jones55 Desmond BishopROLB: 52 Clay Matthews 97 Vic So'oto 57 Jamari Lattimore54 Dezman MosesLCB: 38 Tramon Williams 37 Sam Shields 31 Davon House41 Dion TurnerRCB: 24 Jarrett Bush 29 Casey Hayward 39 Brandian Ross47 Otis MerrillSS: 21 Charles Woodson 43 M.D. Jennings 28 Sean Richardson32 Micah PellerinFS: 42 Morgan Burnett 22 Jerron McMillian 34 Anthony LevineSPECIAL TEAMSK: 2 Mason Crosby 8 Tim MasthayP: 8 Tim Masthay 2 Mason CrosbyH: 8 Tim Masthay 18 Randall CobbPR: 18 Randall Cobb 38 Tramon Williams 87 Jordy Nelson19 Diondre Borel 16 Shaky SmithsonKR: 18 Randall Cobb 37 Sam Shields 87 Jordy Nelson19 Diondre Borel 16 Shaky SmithsonLS: 61 Brett Goode 62 Evan Dietrich-Smith26
---
HOW THE PACKERS WERE BUILTYear Record Draft (38) Waivers (4) Free Agents (48)1999 8-8 WR Donald Driver D7b2000 9-72001 12-42002 12-42003 10-62004 10-62005 4-12 QB Aaron Rodgers D12006 8-8 LB A.J. Hawk D1 CB Jarrett Bush (Car) DE Ryan Pickett (UFA)WR Greg Jennings D2bCB Tramon WilliamsDB Charles Woodson (UFA)2007 13-3 WR James Jones D3a FB John Kuhn (Pit)LB Desmond Bishop D6bK Mason Crosby D6c2008 6-10 WR Jordy Nelson D2a LS Brett GoodeTE Jermichael Finley D3G Josh Sitton D4b2009 11-5 DT B.J. Raji D1a LB Robert FrancoisLB Clay Matthews D1bG T.J. Lang D4DE Jarius Wynn D6a (FA-10)LB Brad Jones D72010 10-6 T Bryan Bulaga D1 TE Tom CrabtreeDE Mike Neal D2C/G Evan Dietrich-SmithS Morgan Burnett D3QB Graham HarrellTE Andrew Quarless D5aS Anthony LevineT Marshall Newhouse D5bP Tim MasthayRB James Starks D6CB Sam ShieldsDE C.J. Wilson D7LB Erik WaldenLB Frank Zombo2011 15-1 T Derek Sherrod D1 WR Diondre BorelWR Randall Cobb D2RB Alex Green D3CB Davon House D4TE D.J. Williams D5LB D.J. Smith D6bTE Ryan Taylor D7aDE Lawrence Guy D7bG Ray DominguezC/G Sampson GenusWR Tori GurleyFB Jon HoeseS M.D. JenningsDE Johnny JonesLB Jamari LattimoreCB Brandian RossRB Brandon SaineWR Shaky SmithsonLB Vic So'otoT Herb Taylor2012 LB Nick Perry D1 WR Andrew Brewer (Phi) T Shea AllardDE Jerel Worthy D2a S Micah Pellerin (Ind) G Don BarclayCB Casey Hayward D2bRB Du'ane BennettDT Mike Daniels D4aRB Cedric BensonS Jerron McMillian D4bTE Brandon BostickLB Terrell Manning D5WR Jarrett BoykinT Andrew Datko D7aFB Nic CooperQB B.J. Coleman D7bTE DeMarco CosbyC/G Tommie DraheimWR Curenski GilleylenDE Anthony Hargrove (UFA)DE Philip MerlingCB Otis MerrillLB Dezman MosesWR Dale MossDT Daniel MuirS Sean RichardsonC Jeff Saturday (UFA)CB Dion TurnerRB Marc TylerG Greg Van RotenG/T Reggie Wells27
---
TRAINING CAMP MEDIA INFORMATION & POLICIESTED THOMPSON AVAILABILITYDuring training camp, General Manager Ted Thompson will beavailable weekly for group interviews in the Media Auditorium approximatelyonce per week. One-on-one interviews with Thompson should bearranged through Jason Wahlers (wahlersj@packers.com).Thompson is scheduled to be available in the Media Auditorium on thefollowing dates: Monday, July 30 - 1 p.m.; Tuesday, Aug. 7 - 1 p.m.;Tuesday, Aug. 14 - 10 a.m.; Tuesday, Aug. 21 - 10 a.m.; Tuesday, Aug.28 - 10 a.m.MIKE McCARTHY PRESS CONFERENCESHead Coach Mike McCarthy previewed training camp in a press conferencein the Media Auditorium on Wednesday, July 25, at 10 a.m.For 8:15 a.m. and 7 p.m. practices, McCarthy is scheduled to be availableat the Don Hutson Center following practice. When the team shiftsto its regular-season schedule (11 or 11:15 a.m. practices), McCarthywill be available in the Media Auditorium.One-on-one interviews with McCarthy should be arranged throughJason Wahlers (wahlersj@packers.com).PLAYER INTERVIEWSThe team's locker room will open once per day for 30 minutes whenthere is practice. When the team practices at 8:15 a.m. or 7 p.m., thelocker room is scheduled to be open from 12:15-12:45 p.m. There willbe no player availability following practice at night.When the team practices at 11/11:15 a.m. or at 3:30 p.m during trainingcamp, the locker room will open for 30 minutes following practice. Theteam will send out weekly advisories throughout training camp with amore detailed availability schedule.At the conclusion of all games as well as the Family Night practice, thelocker room will be opened following the NFL's standard "cooling off"period.Any requests to interview players other than at the aforementioned timesshould be directed to a member of the Packers' P.R. department.ASSISTANT COACH INTERVIEWSAssistant coaches will be available – for both print and electronic media,upon request – in-person, on the following days: Aug. 1 (all coaches),Aug. 7 (all coaches), Aug. 14 (all coaches), Aug. 20 (offense and specialteams), Aug. 21 (defense), Aug. 27 (offense and special teams), Aug. 28(defense).Coordinators – Tom Clements (offense), Dom Capers (defense) andShawn Slocum (special teams) – will continue to serve as primaryspokesmen in their respective areas. Position coaches are availablefor questions on specific players and the position group only. Broaderinterview topics need to be directed to the respective coordinator.Assistant coaches also are available for interviews on more personalsubjects, such as Winston Moss on his NFL playing career.No assistant coach should be contacted directly by telephone (at hisdesk, home or on his cell phone), or by e-mail. All interviews must bearranged through the P.R. department.Sarah Quick (quicks@packers.com) serves as the primary contact forassistant coaches. In her absence, feel free to contact another memberof the Packers' P.R. department.TRAINING CAMP PRACTICE ACCESSPractices are open in their entirety to credentialed media. However,photography (video and still) may not be allowed for some periods atthe direction of the coaching staff.VIDEO/PHOTO POLICYAccredited organizations may distribute online non-game audio andvideo content, including interviews, press conferences and team practicesat NFL venues, acquired as a result of credentialed access ("GameInformation") to games or club/league facilities provided that suchdistribution:is 90 seconds maximum per day (180 seconds maximum in twoteammarkets -- 90 seconds per team);may not be "archived" (i.e., made available for on-demand publicaccess) for more than 24 hours;appears in an editorial context only (no sponsorship, merchandisingor advertising integrated with or around the content);is not posted live, and is accompanied by links back to NFL.comand to the club website, www.packers.com in this instance.The 90-second limit does not include video/audio material that is comprisedentirely of a credentialed media employee providing commentaryor analysis ("Talking Head" reporting), including pre- or post-gamestand-up material shot on the field or other facility location.While a game is in progress, any forms of accounts of the game must besufficiently time-delayed and limited in amount (e.g., score updates withdetail given only in quarterly game updates, fewer than 10 photographsduring the game) so that the Accredited Organization's game coveragecannot be used as a substitute for, or otherwise approximate, authorizedplay-by-play accounts.BLOGGING/TWITTER POLICYDuring training camp, "Twitter/blogging" is allowed during practices,but the Packers would ask that members of the media utilizing thetechnology adhere to a few simple guidelines moving forward. Pleasenote that this policy is for training camp practices only and does changeduring the regular season.NO entries about specific schemes, personnel groupings or anythingthat might be related in any way to game planning. If you have ANYquestions about this, please ask a member of the Packers' P.R. staffbefore posting.NO entries regarding "football communications," including specificexchanges between coaches and players that might be overheard.Acknowledgement that the conversation occurred is acceptable, but weask that the details of the conversation be withheld.NO detailed speculation as to the potential nature or severity of an injuryuntil Coach McCarthy has addressed it following practice. Once again,acknowledging that an injury occurred and providing general details (i.e.'Right leg...' or 'Left wrist…') is permitted, but anything beyond thatwould be purely speculative and possibly inaccurate.The team would like to continue to keep training camp practices opento those wishing to utilize blogging and/or Twitter, but such a policy iscontingent upon media adhering to the guidelines above. If there areabsolutely ANY questions regarding what is or is not acceptable, pleasecontact a member of the Packers' P.R. department.28
---
TRAINING CAMP MEDIA INFORMATION & POLICIESINJURY FOOTAGE POLICYAgain this season, the Packers respectfully ask all photographers (videoand still) to follow guidelines related to shooting injured players.Photographers are asked to avoid filming, photographing, printing and/or airing any shots of any injury situation, while the injury occurs, whiletrainers attend to/treat the injured player, and while the player is leavingthe field, either on his own or with aid. This includes minor injuries.The team will allow shots of players after they've been treated. Forinstance, cameras are allowed to shoot a player on the sideline with iceon his knee, after trainers have left.However, cameras are not allowed to film a player on crutches, either onthe field or in the locker room.If outlets choose not to respect this policy — or any other policy — theteam will have no choice but to consider limiting access to the field and/or locker room.ADDITIONAL PHOTO/VIDEO GUIDELINESFilming or relaying information on closed-circuit televisions throughoutthe building, including the locker room, is strictly prohibited.Shots that require members of the media to be in a kneeling positionwith cameras on the ground are not permitted for safety reasons.No tripods are allowed during practice.PRIVATE TEAM COMMUNICATIONThe Packers ask all media, print and electronic, to refrain from reportingor recording any team communication meant solely for the team.This includes the post-practice team huddle, in which McCarthyaddresses his players. It also includes mid-practice and/or post-practicecommunication between any coach and his players, especially conversationsof a reprimanding, negative nature.In general, reporting that the conversation took place is acceptable, justnot the details of those conversations. Details are not to be relayed to thepublic either directly (through first-hand hearing), or indirectly (throughinterviews, even if the subject answers the question).If media has any question as to whether communication should be keptprivate, please contact the P.R. department before writing or airing suchconversations.PRACTICE CREDENTIAL INFORMATIONAdmittance will not be granted without a credential. No guests will bepermitted to use media credentials, which are subject to revocation ifused in that manner.All preseason practice sessions will be open to members of the mediawho cover the team on a regular basis, unless otherwise stipulated. Allother media (news departments, etc.) must secure a practice-field passfrom the public relations department and sign the necessary waiverbefore attending practice. No exceptions can be made.All media members, including visiting media, are asked to contact thePackers' P.R. department to obtain training camp credentials. Practicefield(season-long photo ID and daily) credentials, required for allpractice sessions, are not transferable and will be closely monitored. Aliability waiver must be signed before gaining access to Packers' practices.Members of the media are asked to e-mail their requests for practicefieldcredentials to the public relations department's Sarah Quick(e-mail: quicks@packers.com) at least 24 hours in advance of the day(or days) on which they wish to cover practice.CELL PHONESThe team does not tolerate cell-phone distractions at practice. Please setall phones to off or vibrate. Phone conversations are strongly discouragedbut if necessary should be conducted well away from the field.MISCELLANEOUSAny member of the media who does not have a credential will be askedto obtain one and sign the necessary waiver at the public relations officeor practice field before gaining admittance.All items brought to practice (cameras, bags, tripods, equipment, etc.)should be stored against the wall, away from the field, for safety reasons.Food is not allowed during practice. Bottled drinks are allowed, as longas they are stored in a personal bag against the wall, and consumed nearthe wall.Any equipment not stored should be held at all times; when avoidingoncoming action, it is important that anything in your possession movesas you move.No players or coaches may be actively engaged in conversation or interviewedwhile practice is in progress.INJURY INFORMATIONAll injury information will be issued by Head Coach Mike McCarthy.Please do not address injury questions to another coach or staff member.NITSCHKE FIELD BOUNDARIESMedia will enter the practice facility along Armed Forces Drive, adjacentto the Hutson Center and toward the northwest corner of Nitschke Field.Media must remain behind the cones on the rubberized track in order tomaintain their own safety and the safety of the players.SEASON CREDENTIALSThe deadline to apply for 2012 season-long home game credentials wasFriday, June 22.Anyone who missed the deadline should submit a request ASAP forconsideration to receive credentials on a game-by-game basis. Requestsshould be made to Sarah Quick, via e-mail (quicks@packers.com).PUBLIC RELATIONS INTERNSSeason-long P.R. intern Brett Brecheisen received his master'sdegree from Ohio University and his undergraduate degree from FloridaState. The Weston, Fla., native interned for the Orange Bowl Committeein 2011 and for Florida State's sports information department from2007-10. He also worked as an intern for the Orleans Firebirds of theCape Cod Baseball League in the summers of 2007-08.Summer P.R. intern Caitlin Kass, a Pewaukee, Wis. native, is enteringher senior year at the University of Colorado at Boulder. She held internshipswith the Wisconsin Supreme Court and Pivot Communications in2012 and Clear Channel in 2010. She also worked as an operations andevent coordinator for Maven Productions from 2011-12.29
---
Packers OpponentTOTAL FIRST DOWNS . . . . . . . . . . . . . . . . . . . . . . . . . . . 24 34Rushing . . . . . . . . . . . . . . . . . . . . . . . . . . . . . . . . . . . . . . . . . . 7 11Passing . . . . . . . . . . . . . . . . . . . . . . . . . . . . . . . . . . . . . . . . . . 15 22Penalty. . . . . . . . . . . . . . . . . . . . . . . . . . . . . . . . . . . . . . . . . . . 2 13rd Down: Made/Att. . . . . . . . . . . . . . . . . . . . . . . . . . . . . . . . . 13/31 13/293rd Down Pct. . . . . . . . . . . . . . . . . . . . . . . . . . . . . . . . . . . . . . 41.9 44.84th Down: Made/Att. . . . . . . . . . . . . . . . . . . . . . . . . . . . . . . . . 1/3 1/14th Down Pct. . . . . . . . . . . . . . . . . . . . . . . . . . . . . . . . . . . . . . 33.3 100.0POSSESSION AVG. . . . . . . . . . . . . . . . . . . . . . . . . . . . . . 26:34 33:26TOTAL NET YARDS . . . . . . . . . . . . . . . . . . . . . . . . . . . . . 458 663Avg. Per Game. . . . . . . . . . . . . . . . . . . . . . . . . . . . . . . . . . . . . 229.0 331.5Total Plays . . . . . . . . . . . . . . . . . . . . . . . . . . . . . . . . . . . . . . . . 121 128Avg. Per Play . . . . . . . . . . . . . . . . . . . . . . . . . . . . . . . . . . . . . . 3.8 5.2NET YARDS RUSHING. . . . . . . . . . . . . . . . . . . . . . . . . . . 120 185Avg. Per Game. . . . . . . . . . . . . . . . . . . . . . . . . . . . . . . . . . . . . 60.0 92.5Total Rushes . . . . . . . . . . . . . . . . . . . . . . . . . . . . . . . . . . . . . . 40 69NET YARDS PASSING . . . . . . . . . . . . . . . . . . . . . . . . . . . 338 478Avg. Per Game. . . . . . . . . . . . . . . . . . . . . . . . . . . . . . . . . . . . . 169.0 239.0Sacked/Yards Lost. . . . . . . . . . . . . . . . . . . . . . . . . . . . . . . . . . 2/8 2/14Gross Yards. . . . . . . . . . . . . . . . . . . . . . . . . . . . . . . . . . . . . . . 346 492Att./Completions . . . . . . . . . . . . . . . . . . . . . . . . . . . . . . . . . . . 79/39 57/37Completion Pct. . . . . . . . . . . . . . . . . . . . . . . . . . . . . . . . . . . . . 49.4 64.9HAD INTERCEPTED . . . . . . . . . . . . . . . . . . . . . . . . . . . . . 4 2PUNTS/AVERAGE. . . . . . . . . . . . . . . . . . . . . . . . . . . . . . . 12/50.5 9/44.6Net Punting Avg. . . . . . . . . . . . . . . . . . . . . . . . . . . . . . . . . . . . 12/44.5 9/43.3PENALTIES/YARDS . . . . . . . . . . . . . . . . . . . . . . . . . . . . . 11/90 15/118FUMBLES/BALL LOST. . . . . . . . . . . . . . . . . . . . . . . . . . . 5/4 3/2TOUCHDOWNS. . . . . . . . . . . . . . . . . . . . . . . . . . . . . . . . . 3 6Rushing . . . . . . . . . . . . . . . . . . . . . . . . . . . . . . . . . . . . . . . . . . 1 3Passing . . . . . . . . . . . . . . . . . . . . . . . . . . . . . . . . . . . . . . . . . . 2 2Returns . . . . . . . . . . . . . . . . . . . . . . . . . . . . . . . . . . . . . . . . . . 0 1SCORE BY PERIODS Q1 Q2 Q3 Q4 OT PTSPACKERS 7 7 0 9 0 23OPPONENTS 13 17 14 12 0 562012 PRESEASON STATISTICSRECEIVING No Yds Avg Long TDJarrett Boykin . . . . . . . . . . . . . . . . . . . . . . . 8 84 10.5 25 0Randall Cobb . . . . . . . . . . . . . . . . . . . . . . . 6 70 11.7 28 1D.J. Williams. . . . . . . . . . . . . . . . . . . . . . . . 5 40 8.0 12 0Dale Moss. . . . . . . . . . . . . . . . . . . . . . . . . . 4 36 9.0 14 0Marc Tyler. . . . . . . . . . . . . . . . . . . . . . . . . . 4 13 3.3 6 0James Jones. . . . . . . . . . . . . . . . . . . . . . . . 3 22 7.3 11 0Diondre Borel . . . . . . . . . . . . . . . . . . . . . . . 3 13 4.3 9 0Jordy Nelson. . . . . . . . . . . . . . . . . . . . . . . . 1 20 20.0 20t 1Curenski Gilleylen . . . . . . . . . . . . . . . . . . . . 1 17 17.0 17 0Tom Crabtree . . . . . . . . . . . . . . . . . . . . . . . 1 9 9.0 9 0Ryan Taylor. . . . . . . . . . . . . . . . . . . . . . . . . 1 9 9.0 9 0Brandon Bostick . . . . . . . . . . . . . . . . . . . . . 1 7 7.0 7 0Andrew Brewer . . . . . . . . . . . . . . . . . . . . . . 1 6 6.0 6 0PACKERS . . . . . . . . . . . . . . . . . . . . . 39 346 8.9 28 2OPPONENTS. . . . . . . . . . . . . . . . . . . 37 492 13.3 45 2INTERCEPTIONS No Yds Avg Long TDTramon Williams. . . . . . . . . . . . . . . . . . 1 13 13.0 13 0Anthony Levine . . . . . . . . . . . . . . . . . . . 1 1 1.0 1 0PACKERS . . . . . . . . . . . . . . . . . . . 2 14 7.0 13 0OPPONENTS. . . . . . . . . . . . . . . . . 4 66 16.5 38t 1PUNTING No Yds Avg Net TB In 20 LG BlkTim Masthay . . . . . . . . . . . . . . . 12 606 50.5 44.5 1 1 63 0PACKERS . . . . . . . . . . . . . . 12 606 50.5 44.5 1 1 63 0OPPONENTS. . . . . . . . . . . . 9 401 44.6 43.3 0 6 55 0PUNT RETURNS Ret FC Yds Avg Long TDDiondre Borel . . . . . . . . . . . . . . . . . 1 0 1 1.0 1 0Andrew Brewer . . . . . . . . . . . . . . . . 1 1 10 10.0 10 0Shaky Smithson . . . . . . . . . . . . . . . 1 0 0 0.0 0 0Randall Cobb . . . . . . . . . . . . . . . . . 0 2 0 -- -- 0PACKERS . . . . . . . . . . . . . . . . 3 3 11 3.7 10 0OPPONENTS. . . . . . . . . . . . . . 8 2 52 6.5 20 0SCORING TD - Ru - Pa - Rt K-PAT FG S PTSRandall Cobb . . . . . . . . . . . . . 1 0 1 0 0 6Jordy Nelson. . . . . . . . . . . . . . 1 0 1 0 0 6Marc Tyler. . . . . . . . . . . . . . . . 1 1 0 0 0 6Mason Crosby. . . . . . . . . . . . . 0 0 0 0 2/2 1/2 0 5PACKERS . . . . . . . . . . . . 3 1 2 0 2/2 1/2 0 23OPPONENTS. . . . . . . . . . 6 3 2 1 6/6 4/6 0 562-Pt Conversions: Packers 0-1, Opponents 0-0SACKS: Nick Perry 1, Vic So'oto 1, PACKERS 2, OPPONENTS 2RUSHING No Yds Avg Long TDMarc Tyler . . . . . . . . . . . . . . . . . 21 38 1.8 6 1Aaron Rodgers . . . . . . . . . . . . . . . 3 24 8.0 21 0Graham Harrell . . . . . . . . . . . . . . . 3 23 7.7 11 0Alex Green . . . . . . . . . . . . . . . . . 7 19 2.7 5 0James Starks . . . . . . . . . . . . . . . . 5 16 3.2 5 0Nic Cooper . . . . . . . . . . . . . . . . . 1 0 0.0 0 0PACKERS . . . . . . . . . . . . . . 40 120 3.0 21 1OPPONENTS . . . . . . . . . . . . 69 185 2.7 12 3KICKOFF RETURNS No Yds Avg Long TDAndrew Brewer . . . . . . . . . . . . . . . . . . . . 3 54 18.0 21 0Otis Merrill . . . . . . . . . . . . . . . . . . . . . . . 3 103 34.3 60 0Diondre Borel . . . . . . . . . . . . . . . . . . . . . 2 58 29.0 34 0Curenski Gilleylen . . . . . . . . . . . . . . . . . . 1 22 22.0 22 0PACKERS . . . . . . . . . . . . . . . . . . . . 9 237 26.3 60 0OPPONENTS. . . . . . . . . . . . . . . . . . 5 130 26.0 34 0FIELD GOALS 1-19 20-29 30-39 40-49 50+Mason Crosby. . . . . . . . . . . . . . . . . . 0/0 0/0 0/0 1/1 0/1PACKERS . . . . . . . . . . . . . . . . . 0/0 0/0 0/0 1/1 0/1OPPONENTS. . . . . . . . . . . . . . . 0/0 0/0 1/2 1/1 2/3Crosby: () (54N, 42G)Opponents: (35N) (53G, 47G, 52G, 56N, 34G)PASSING Att Cmp Yds Cmp% Yds/Att TD TD% Int Int% Long Sack/Lost RatingGraham Harrell . . . . . . . . . . . . . . . . 51 27 235 52.9 4.61 1 2.0 2 3.9 28 2/8 55.6Aaron Rodgers . . . . . . . . . . . . . . . . 19 8 75 42.1 3.95 1 5.3 1 5.3 20t 0/0 49.2B.J. Coleman. . . . . . . . . . . . . . . . . . 9 4 36 44.4 4.00 0 0.0 1 11.1 12 0/0 16.2PACKERS . . . . . . . . . . . . . . . . 79 39 346 49.4 4.38 2 2.5 4 5.1 28 2/8 48.8OPPONENTS. . . . . . . . . . . . . . 57 37 492 64.9 8.63 2 3.5 2 3.5 45 2/14 89.230
---
Unofficial totals (based on press box statistics), through Aug. 16 vs. Cleveland2012 PRESEASON DEFENSIVE STATISTICSTotal Sacks/ Int/ Fum For PassPlayer Tackles Solo Asst Yards Yards Rec Fum DefD.J. Smith. . . . . . . . . . . . . . . . 10 7 3 0.0/0.0 0/0 0 0 0Jarrett Bush . . . . . . . . . . . . . . 8 7 1 0.0/0.0 0/0 0 0 0Anthony Levine . . . . . . . . . . . . 8 7 1 0.0/0.0 1/1 0 0 1Sean Richardson. . . . . . . . . . . 8 7 1 0.0/0.0 0/0 0 0 0Brandian Ross . . . . . . . . . . . . 7 6 1 0.0/0.0 0/0 0 0 0A.J. Hawk . . . . . . . . . . . . . . . . 6 3 3 0.0/0.0 0/0 1 0 1Casey Hayward . . . . . . . . . . . . 5 5 0 0.0/0.0 0/0 1 0 1Robert Francois . . . . . . . . . . . 5 4 1 0.0/0.0 0/0 0 0 0Nick Perry . . . . . . . . . . . . . . . . 4 4 0 1.0/6.0 0/0 0 0 0Davon House . . . . . . . . . . . . . 4 3 1 0.0/0.0 0/0 0 0 1Daniel Muir . . . . . . . . . . . . . . . 4 3 1 0.0/0.0 0/0 0 0 0B.J. Raji . . . . . . . . . . . . . . . . . 4 3 1 0.0/0.0 0/0 0 0 0M.D. Jennings. . . . . . . . . . . . . 4 2 2 0.0/0.0 0/0 0 0 1Jamari Lattimore. . . . . . . . . . . 3 3 0 0.0/0.0 0/0 0 0 0Jerron McMillian. . . . . . . . . . . 3 3 0 0.0/0.0 0/0 0 0 0Otis Merrill . . . . . . . . . . . . . . . 3 3 0 0.0/0.0 0/0 0 0 0C.J. Wilson . . . . . . . . . . . . . . . 3 3 0 1.0/7.0 1/0 0 0 1Brad Jones . . . . . . . . . . . . . . . 3 2 1 0.0/0.0 0/0 0 0 0Dezman Moses . . . . . . . . . . . . 3 0 3 0.0/0.0 0/0 0 0 0Desmond Bishop . . . . . . . . . . 2 2 0 0.0/0.0 0/0 0 0 0Lawrence Guy . . . . . . . . . . . . . 2 2 0 0.0/0.0 0/0 0 0 0Terrell Manning. . . . . . . . . . . . 2 2 0 0.0/0.0 0/0 0 0 0Philip Merling . . . . . . . . . . . . . 2 2 0 0.0/0.0 0/0 0 0 0Mike Neal . . . . . . . . . . . . . . . . 2 2 0 0.0/0.0 0/0 0 0 0Ryan Pickett . . . . . . . . . . . . . . 2 2 0 0.0/0.0 0/0 0 0 0Vic So'oto . . . . . . . . . . . . . . . . 2 2 0 1.0/8.0 0/0 0 0 0Erik Walden. . . . . . . . . . . . . . . 2 1 1 0.0/0.0 0/0 0 0 0Jerel Worthy . . . . . . . . . . . . . . 2 1 1 0.0/0.0 0/0 0 0 0Morgan Burnett. . . . . . . . . . . . 1 1 0 0.0/0.0 0/0 0 0 0Micah Pellerin . . . . . . . . . . . . . 1 1 0 0.0/0.0 0/0 0 0 0Dion Turner. . . . . . . . . . . . . . . 1 1 0 0.0/0.0 0/0 0 0 0Charles Woodson . . . . . . . . . . 1 1 0 0.0/0.0 0/0 0 1 0Jarius Wynn . . . . . . . . . . . . . . 1 1 0 0.0/0.0 0/0 0 0 0Mike Daniels . . . . . . . . . . . . . . 1 0 1 0.0/0.0 0/0 0 0 0Clay Matthews . . . . . . . . . . . . 1 0 1 0.0/0.0 0/0 0 0 0Tramon Williams. . . . . . . . . . . 1 0 1 0.0/0.0 1/13 0 0 0Anthony Hargrove. . . . . . . . . . 0 0 0 0.0/0.0 0/0 0 0 1Totals. . . . . . . . . . . . . . . . 121 96 25 2.0/14.0 2/14 2 1 7SPECIAL TEAMSPlayer TT FR FFRobert Francois . . . . . . . . 3 0 0Brett Goode. . . . . . . . . . . . 3 0 0Casey Hayward . . . . . . . . . 1 0 0M.D. Jennings. . . . . . . . . . 1 0 0Jamari Lattimore. . . . . . . . 1 0 0Anthony Levine . . . . . . . . . 1 0 0Otis Merrill . . . . . . . . . . . . 1 0 0Dezman Moses . . . . . . . . . 1 0 0Sean Richardson. . . . . . . . 1 0 0Dion Turner. . . . . . . . . . . 1 0 0Erik Walden. . . . . . . . . . . . 1 0 0Shaky Smithson . . . . . . . . 0 1 0Totals . . . . . . . . . . . . . . 15 1 0MISCELLANEOUS TACKLESPlayerTacklesRandall Cobb . . . . . . . . . . . . . . . . . . . . . . . . . 1B.J. Coleman. . . . . . . . . . . . . . . . . . . . . . . . . . 1Tom Crabtree . . . . . . . . . . . . . . . . . . . . . . . . . 1James Jones. . . . . . . . . . . . . . . . . . . . . . . . . . 1Herb Taylor . . . . . . . . . . . . . . . . . . . . . . . . . . . 1Marc Tyler. . . . . . . . . . . . . . . . . . . . . . . . . . . . 1Totals. . . . . . . . . . . . . . . . . . . . . . . . . . . 631
---
Packers OpponentTOTAL FIRST DOWNS . . . . . . . . . . . . . . . . . . . . . . . . . . . 353 358RUSHING. . . . . . . . . . . . . . . . . . . . . . . . . . . . . . . . . . . . . . . . . 89 96PASSING . . . . . . . . . . . . . . . . . . . . . . . . . . . . . . . . . . . . . . . . . 230 246PENALTY . . . . . . . . . . . . . . . . . . . . . . . . . . . . . . . . . . . . . . . . . 34 163RD DOWN: MADE/ATT. . . . . . . . . . . . . . . . . . . . . . . . . . . . . . 91/189 83/1953RD DOWN PCT. . . . . . . . . . . . . . . . . . . . . . . . . . . . . . . . . . . . 48.1 42.64TH DOWN: MADE/ATT. . . . . . . . . . . . . . . . . . . . . . . . . . . . . . 4/8 4/164TH DOWN PCT. . . . . . . . . . . . . . . . . . . . . . . . . . . . . . . . . . . . 50.0 25.0POSSESSION AVG. . . . . . . . . . . . . . . . . . . . . . . . . . . . . . 30:29 29:31TOTAL NET YARDS . . . . . . . . . . . . . . . . . . . . . . . . . . . . . 6482 6585AVG. PER GAME . . . . . . . . . . . . . . . . . . . . . . . . . . . . . . . . . . . 405.1 411.6TOTAL PLAYS . . . . . . . . . . . . . . . . . . . . . . . . . . . . . . . . . . . . . 988 1049AVG. PER PLAY. . . . . . . . . . . . . . . . . . . . . . . . . . . . . . . . . . . . 6.6 6.3NET YARDS RUSHING. . . . . . . . . . . . . . . . . . . . . . . . . . . 1558 1789AVG. PER GAME . . . . . . . . . . . . . . . . . . . . . . . . . . . . . . . . . . . 97.4 111.8TOTAL RUSHES. . . . . . . . . . . . . . . . . . . . . . . . . . . . . . . . . . . . 395 383NET YARDS PASSING . . . . . . . . . . . . . . . . . . . . . . . . . . . 4924 4796AVG. PER GAME . . . . . . . . . . . . . . . . . . . . . . . . . . . . . . . . . . . 307.8 299.8SACKED/YARDS LOST. . . . . . . . . . . . . . . . . . . . . . . . . . . . . . . 41/237 29/192GROSS YARDS . . . . . . . . . . . . . . . . . . . . . . . . . . . . . . . . . . . . 5161 4988ATT./COMPLETIONS . . . . . . . . . . . . . . . . . . . . . . . . . . . . . . . . 552/376 637/390COMPLETION PCT. . . . . . . . . . . . . . . . . . . . . . . . . . . . . . . . . . 68.1 61.2HAD INTERCEPTED . . . . . . . . . . . . . . . . . . . . . . . . . . . . . . . . . 8 31PUNTS/AVERAGE. . . . . . . . . . . . . . . . . . . . . . . . . . . . . . . 55/45.6 58/43.0NET PUNTING AVG.. . . . . . . . . . . . . . . . . . . . . . . . . . . . . . . . . 55/38.6 58/37.2PENALTIES/YARDS . . . . . . . . . . . . . . . . . . . . . . . . . . . . . 76/591 122/948FUMBLES/BALL LOST. . . . . . . . . . . . . . . . . . . . . . . . . . . 15/6 19/7TOUCHDOWNS. . . . . . . . . . . . . . . . . . . . . . . . . . . . . . . . . 70 41RUSHING. . . . . . . . . . . . . . . . . . . . . . . . . . . . . . . . . . . . . . . . . 12 10PASSING . . . . . . . . . . . . . . . . . . . . . . . . . . . . . . . . . . . . . . . . . 51 29RETURNS . . . . . . . . . . . . . . . . . . . . . . . . . . . . . . . . . . . . . . . . 7 2SCORE BY PERIODS Q1 Q2 Q3 Q4 OT PTSPACKERS 132 154 150 124 0 560OPPONENTS 66 97 66 130 0 359SCORING TD - Ru - Pa - Rt K-PAT FG S PTSMason Crosby. . . . . . . . . . . . . 0 0 0 0 68/69 24/28 0 140Jordy Nelson. . . . . . . . . . . . . . 15 0 15 0 0 90Greg Jennings. . . . . . . . . . . . . 9 0 9 0 0 54Jermichael Finley . . . . . . . . . . 8 0 8 0 0 48James Jones. . . . . . . . . . . . . . 7 0 7 0 0 42Donald Driver . . . . . . . . . . . . . 6 0 6 0 0 36John Kuhn . . . . . . . . . . . . . . . 6 4 2 0 0 36Randall Cobb . . . . . . . . . . . . . 3 0 1 2 0 18Ryan Grant . . . . . . . . . . . . . . . 3 2 1 0 0 18Aaron Rodgers . . . . . . . . . . . . 3 3 0 0 0 18Tom Crabtree . . . . . . . . . . . . . 1 0 1 0 0 6Matt Flynn. . . . . . . . . . . . . . . . 1 1 0 0 0 6Clay Matthews . . . . . . . . . . . . 1 0 0 1 0 6Charlie Peprah . . . . . . . . . . . . 1 0 0 1 0 6B.J. Raji . . . . . . . . . . . . . . . . . 1 1 0 0 0 6James Starks . . . . . . . . . . . . . 1 1 0 0 0 6Ryan Taylor. . . . . . . . . . . . . . . 1 0 1 0 0 6Erik Walden. . . . . . . . . . . . . . . 1 0 0 1 0 6Tramon Williams. . . . . . . . . . . 1 0 0 1 0 6Charles Woodson . . . . . . . . . . 1 0 0 1 0 6PACKERS . . . . . . . . . . . . 70 12 51 7 68/69 24/28 0 560OPPONENTS. . . . . . . . . . 41 10 29 2 35/35 22/27 0 3592-Pt Conversions: Packers 0-1, Opponents 4-6SACKS: Clay Matthews 6, Desmond Bishop 5, B.J. Raji 3, Erik Walden 3, Jarius Wynn 3,Charles Woodson 2, Jarrett Bush 1.5, A.J. Hawk 1.5, Morgan Burnett 1, Brad Jones 1, VicSo'oto 1, Frank Zombo 1, PACKERS 29, OPPONENTS 412011 REGULAR-SEASON STATISTICSRUSHING No Yds Avg Long TDJames Starks . . . . . . . . . . . . . . . . 133 578 4.3 40 1Ryan Grant . . . . . . . . . . . . . . . . . 134 559 4.2 47t 2Aaron Rodgers . . . . . . . . . . . . . . . 60 257 4.3 25 3John Kuhn . . . . . . . . . . . . . . . . . 30 78 2.6 12 4Brandon Saine . . . . . . . . . . . . . . . 18 69 3.8 8 0Alex Green . . . . . . . . . . . . . . . . . 3 11 3.7 8 0Tim Masthay . . . . . . . . . . . . . . . . 1 6 6.0 6 0Randall Cobb . . . . . . . . . . . . . . . . 2 5 2.5 4 0B.J. Raji . . . . . . . . . . . . . . . . . . 1 1 1.0 1t 1Matt Flynn . . . . . . . . . . . . . . . . . 13 -6 -0.5 3t 1PACKERS . . . . . . . . . . . . . . 395 1558 3.9 47t 12OPPONENTS . . . . . . . . . . . . 383 1789 4.7 54t 10RECEIVING No Yds Avg Long TDJordy Nelson. . . . . . . . . . . . . . . . . . . . . . . . 68 1263 18.6 93t 15Greg Jennings. . . . . . . . . . . . . . . . . . . . . . . 67 949 14.2 79t 9Jermichael Finley . . . . . . . . . . . . . . . . . . . . 55 767 13.9 41 8James Jones. . . . . . . . . . . . . . . . . . . . . . . . 38 635 16.7 70t 7Donald Driver . . . . . . . . . . . . . . . . . . . . . . . 37 445 12.0 35t 6James Starks . . . . . . . . . . . . . . . . . . . . . . . 29 216 7.4 17 0Randall Cobb . . . . . . . . . . . . . . . . . . . . . . . 25 375 15.0 61 1Ryan Grant . . . . . . . . . . . . . . . . . . . . . . . . . 19 268 14.1 80t 1John Kuhn . . . . . . . . . . . . . . . . . . . . . . . . . 15 77 5.1 11 2Brandon Saine . . . . . . . . . . . . . . . . . . . . . . 10 69 6.9 22 0Tom Crabtree . . . . . . . . . . . . . . . . . . . . . . . 6 38 6.3 15 1Andrew Quarless. . . . . . . . . . . . . . . . . . . . . 3 36 12.0 21 0D.J. Williams. . . . . . . . . . . . . . . . . . . . . . . . 2 13 6.5 7 0Alex Green . . . . . . . . . . . . . . . . . . . . . . . . . 1 6 6.0 6 0Ryan Taylor. . . . . . . . . . . . . . . . . . . . . . . . . 1 4 4.0 4t 1PACKERS . . . . . . . . . . . . . . . . . . . . . 376 5161 13.7 93t 51OPPONENTS. . . . . . . . . . . . . . . . . . . 390 4988 12.8 72 29INTERCEPTIONS No Yds Avg Long TDCharles Woodson . . . . . . . . . . . . . . . . . 7 63 9.0 30t 1Charlie Peprah . . . . . . . . . . . . . . . . . . . 5 147 29.4 76 1Tramon Williams. . . . . . . . . . . . . . . . . . 4 92 23.0 43t 1Sam Shields . . . . . . . . . . . . . . . . . . . . . 4 68 17.0 60 0Clay Matthews . . . . . . . . . . . . . . . . . . . 3 47 15.7 38t 1Morgan Burnett. . . . . . . . . . . . . . . . . . . 3 0 0.0 0 0Jarrett Bush . . . . . . . . . . . . . . . . . . . . . 2 39 19.5 35 0Robert Francois . . . . . . . . . . . . . . . . . . 2 1 0.5 1 0D.J. Smith. . . . . . . . . . . . . . . . . . . . . . . 1 11 11.0 11 0PACKERS . . . . . . . . . . . . . . . . . . . 31 468 15.1 76 4OPPONENTS. . . . . . . . . . . . . . . . . 8 63 7.9 30 0PUNTING No Yds Avg Net TB In 20 LG BlkTim Masthay . . . . . . . . . . . . . . . 55 2506 45.6 38.6 4 23 71 0PACKERS . . . . . . . . . . . . . . 55 2506 45.6 38.6 4 23 71 0OPPONENTS. . . . . . . . . . . . 58 2492 43.0 37.2 2 18 71 0PUNT RETURNS Ret FC Yds Avg Long TDRandall Cobb . . . . . . . . . . . . . . . . . 26 18 295 11.3 80t 1Jarrett Bush . . . . . . . . . . . . . . . . . . 1 0 0 0.0 0 0Jordy Nelson. . . . . . . . . . . . . . . . . . 0 1 0 0.0 0 0PACKERS . . . . . . . . . . . . . . . . 27 19 295 10.9 80t 1OPPONENTS. . . . . . . . . . . . . . 24 10 305 12.7 72t 1KICKOFF RETURNS No Yds Avg Long TDRandall Cobb . . . . . . . . . . . . . . . . . . . . . 34 941 27.7 108t 1Donald Driver . . . . . . . . . . . . . . . . . . . . . 2 5 2.5 5 0Brandon Saine . . . . . . . . . . . . . . . . . . . . 2 40 20.0 20 0Tom Crabtree . . . . . . . . . . . . . . . . . . . . . 1 11 11.0 11 0Pat Lee . . . . . . . . . . . . . . . . . . . . . . . . . . 1 -1 -1.0 -1 0Charles Woodson . . . . . . . . . . . . . . . . . . 1 9 9.0 9 0PACKERS . . . . . . . . . . . . . . . . . . . . 41 1005 24.5 108t 1OPPONENTS. . . . . . . . . . . . . . . . . . 59 1378 23.4 57 0FIELD GOALS 1-19 20-29 30-39 40-49 50+Mason Crosby. . . . . . . . . . . . . . . . . . 1/1 4/5 14/14 3/5 2/3PACKERS . . . . . . . . . . . . . . . . . 1/1 4/5 14/14 3/5 2/3OPPONENTS. . . . . . . . . . . . . . . 1/1 6/6 10/11 2/5 3/4Crosby: ( ) (37G, 19G, 34G) (37G, 28G) ( ) (32G, 35G, 56G, 30G) (32G) (39G, 45G, 24G, 58G)(47G) (25G) (29RU) (35G, 32G) (43N, 31G) (34G, 38G, 49G, 33G) (54N) ( ) (22G, 47N)Opponents: (30G, 38G) (20G, 33G, 21G) (25G) (27G) ( ) (47N, 36G) (52G, 46G) (52G) (52N)(23G, 32G) (47N) (38G, 50G) () (19G, 32G, 46G, 20G) (49N, 35G, 30G) (30G, 39N)PASSING Att Cmp Yds Cmp% Yds/Att TD TD% Int Int% Long Sack/Lost RatingAaron Rodgers . . . . . . . . . . . . . . . . 502 343 4643 68.3 9.25 45 9.0 6 1.2 93t 36/219 122.5Matt Flynn. . . . . . . . . . . . . . . . . . . . 49 33 518 67.3 10.57 6 12.2 2 4.1 80t 5/18 124.8Randall Cobb . . . . . . . . . . . . . . . . . 1 0 0 0.0 0.0 0 0.0 0 0.0 0 0/0 39.6PACKERS . . . . . . . . . . . . . . . . 552 376 5161 68.1 9.35 51 9.2 8 1.4 93t 41/237 122.6OPPONENTS. . . . . . . . . . . . . . 637 390 4988 61.2 7.83 29 4.6 31 4.9 72 29/192 80.632
---
Official totals - based on coaches' film review, through Jan. 1 vs. Detroit2011 REGULAR-SEASON DEFENSIVE STATISTICSTotal Sacks/ Int/ Fum For PassPlayer Tackles Solo Asst Yards Yards Rec Fum DefDesmond Bishop . . . . . . . . . . 142 109 33 5.0/49.0 0/0 0 2 2Morgan Burnett. . . . . . . . . . . . 107 83 24 1.0/3.0 3/0 2 2 14A.J. Hawk . . . . . . . . . . . . . . . . 104 73 31 1.5/14.0 0/0 0 0 5Charlie Peprah . . . . . . . . . . . . 96 80 16 0.0/0.0 5/147 0 1 14Erik Walden. . . . . . . . . . . . . . . 86 50 36 3.0/17.0 0/0 1 0 2Charles Woodson . . . . . . . . . . 83 68 15 2.0/11.0 7/63 1 1 20Clay Matthews . . . . . . . . . . . . 69 49 20 6.0/29.0 3/47 0 3 9Tramon Williams. . . . . . . . . . . 65 51 14 0.0/0.0 4/92 1 0 24Ryan Pickett . . . . . . . . . . . . . . 54 24 30 0.0/0.0 0/0 0 0 2B.J. Raji . . . . . . . . . . . . . . . . . 43 19 24 3.0/15.0 0/0 1 0 3D.J. Smith. . . . . . . . . . . . . . . . 38 26 12 0.0/0.0 1/11 0 0 2Sam Shields . . . . . . . . . . . . . . 36 32 4 0.0/0.0 4/68 0 1 14C.J. Wilson . . . . . . . . . . . . . . . 35 21 14 0.0/0.0 0/0 0 0 0Jarius Wynn . . . . . . . . . . . . . . 32 17 15 3.0/16.0 0/0 0 0 0Robert Francois . . . . . . . . . . . 21 15 6 0.0/0.0 2/1 0 1 3Jarrett Bush . . . . . . . . . . . . . . 21 14 7 1.5/13.0 2/39 0 0 8Howard Green. . . . . . . . . . . . . 21 6 15 0.0/0.0 0/0 0 0 0Frank Zombo. . . . . . . . . . . . . . 15 11 4 1.0/7.0 0/0 0 0 0Brad Jones . . . . . . . . . . . . . . . 12 6 6 1.0/7.0 0/0 0 0 0Nick Collins. . . . . . . . . . . . . . . 10 9 1 0.0/0.0 0/0 0 1 1Vic So'oto . . . . . . . . . . . . . . . . 7 5 2 1.0/11.0 0/0 0 0 0Mike Neal . . . . . . . . . . . . . . . . 5 3 2 0.0/0.0 0/0 0 0 0Totals. . . . . . . . . . . . . . . . 1102 771 331 29.0/192.0 31/468 6 12 123SPECIAL TEAMSPlayer TT FR FFJarrett Bush . . . . . . . . . . . 12 0 0Pat Lee . . . . . . . . . . . . . . . 12 0 0Brad Jones . . . . . . . . . . . . 11 0 0D.J. Smith. . . . . . . . . . . . . 11 0 0Ryan Taylor. . . . . . . . . . . . 10 0 0M.D. Jennings. . . . . . . . . . 9 0 0Tom Crabtree . . . . . . . . . . 6 0 1Sam Shields . . . . . . . . . . . 6 0 0Robert Francois . . . . . . . . 4 0 0Jamari Lattimore. . . . . . . . 4 0 0Charlie Peprah . . . . . . . . . 4 0 0Nick Collins. . . . . . . . . . . . 3 0 0Mason Crosby. . . . . . . . . . 3 1 0John Kuhn . . . . . . . . . . . . 3 0 0Jordy Nelson. . . . . . . . . . . 3 0 0Brandon Saine . . . . . . . . . 3 0 0Vic So'oto . . . . . . . . . . . . . 3 0 0Andrew Quarless. . . . . . . . 2 0 0D.J. Williams. . . . . . . . . . . 2 0 0Morgan Burnett. . . . . . . . . 1 0 0Brett Goode. . . . . . . . . . . . 1 0 0Davon House . . . . . . . . . . 1 0 0Tim Masthay . . . . . . . . . . . 1 0 0Erik Walden. . . . . . . . . . . . 1 0 1Totals . . . . . . . . . . . . . . 116 1 2DEFENSIVE SCORINGInt FumPlayer TD Ret Ret SafetiesClay Matthews . . . . . . . . 1 1 0 0Charlie Peprah . . . . . . . . 1 1 0 0Erik Walden. . . . . . . . . . . 1 0 1 0Tramon Williams. . . . . . . 1 1 0 0Charles Woodson . . . . . . 1 1 0 0Totals. . . . . . . . . . . . . 5 4 1 0MISCELLANEOUS TACKLESPlayerTacklesJermichael Finley . . . . . . . . . . . . . . . . . . . . . . 2T.J. Lang. . . . . . . . . . . . . . . . . . . . . . . . . . . . . 2Tom Crabtree . . . . . . . . . . . . . . . . . . . . . . . . . 1Greg Jennings. . . . . . . . . . . . . . . . . . . . . . . . . 1James Jones. . . . . . . . . . . . . . . . . . . . . . . . . . 1Jordy Nelson. . . . . . . . . . . . . . . . . . . . . . . . . . 1Derek Sherrod. . . . . . . . . . . . . . . . . . . . . . . . . 1Totals. . . . . . . . . . . . . . . . . . . . . . . . . . . 9Defensive touchdowns (5):Matthews — 38-yard INT return at N.Y. Giants (12/4)Peprah — 40-yard INT return at San Diego (11/6)Walden — 5-yard fumble return vs. Oakland (12/11)Williams — 43-yard INT return at San Diego (11/6)Woodson — 30-yard INT return vs. Denver (10/2)33
---
NFLNo ALPHABETICAL ROSTER. . . Pos Ht Wt Birthdate Exp College High School Hometown69o Allard, Shea. . . . . . . . . . . . . . . . . . . . . . . . . . . . . . . . . . . . . .T 6-5 305 8/27/89 R Delaware Wareham, Mass.67o Barclay, Don . . . . . . . . . . . . . . . . . . . . . . . . . . . . . . . . . . . . G 6-4 305 4/18/89 R West Virginia Harmony, Pa.23 Bennett, Du'ane. . . . . . . . . . . . . . . . . . . . . . . . . . . . . . . . . RB 5-9 213 6/11/89 R Minnesota O'Fallon, Ill.32o Benson, Cedric . . . . . . . . . . . . . . . . . . . . . . . . . . . . . . . . . RB 5-11 227 12/28/82 8 Texas Midland, Texas55 Bishop, Desmond . . . . . . . . . . . . . . . . . . . . . . . . . . . . . . . LB 6-2 238 7/24/84 6 California Fairfield, Calif.19 Borel, Diondre. . . . . . . . . . . . . . . . . . . . . . . . . . . . . . . . . .WR 6-0 199 12/12/88 1 Utah State Oakley, Calif.48 Bostick, Brandon. . . . . . . . . . . . . . . . . . . . . . . . . . . . . . . . .TE 6-3 245 5/3/89 R Newberry Florence, S.C.11 Boykin, Jarrett. . . . . . . . . . . . . . . . . . . . . . . . . . . . . . . . . .WR 6-2 218 11/4/89 R Virginia Tech Matthews, N.C.17 Brewer, Andrew . . . . . . . . . . . . . . . . . . . . . . . . . . . . . . . .WR 6-2 216 9/26/86 1 Northwestern Jenks, Okla.75 Bulaga, Bryan . . . . . . . . . . . . . . . . . . . . . . . . . . . . . . . . . . . .T 6-5 314 3/21/89 3 Iowa Woodstock, Ill.42 Burnett, Morgan . . . . . . . . . . . . . . . . . . . . . . . . . . . . . . . . . S 6-1 209 1/13/89 3 Georgia Tech College Park, Ga.24 Bush, Jarrett . . . . . . . . . . . . . . . . . . . . . . . . . . . . . . . . . . . CB 6-0 200 5/21/84 7 Utah State Vacaville, Calif.18 Cobb, Randall . . . . . . . . . . . . . . . . . . . . . . . . . . . . . . . . . .WR 5-10 192 8/22/90 2 Kentucky Alcoa, Tenn.9 Coleman, B.J. . . . . . . . . . . . . . . . . . . . . . . . . . . . . . . . . . . QB 6-3 231 9/16/88 R Tennessee-Chattanooga Chattanooga, Tenn.40 Cooper, Nic. . . . . . . . . . . . . . . . . . . . . . . . . . . . . . . . . . . . .FB 5-10 249 4/9/89 R Winston-Salem State Clinton, N.C.46 Cosby, DeMarco . . . . . . . . . . . . . . . . . . . . . . . . . . . . . . . . .TE 6-3 245 7/2/88 1 Central Missouri Kansas City, Mo.83 Crabtree, Tom. . . . . . . . . . . . . . . . . . . . . . . . . . . . . . . . . . .TE 6-4 245 11/4/85 3 Miami (Ohio) Carroll, Ohio2 Crosby, Mason . . . . . . . . . . . . . . . . . . . . . . . . . . . . . . . . . . K 6-1 207 9/3/84 6 Colorado Georgetown, Texas76 Daniels, Mike . . . . . . . . . . . . . . . . . . . . . . . . . . . . . . . . . . DT 6-0 294 5/5/89 R Iowa Blackwood, N.J.77o Datko, Andrew . . . . . . . . . . . . . . . . . . . . . . . . . . . . . . . . . . .T 6-6 315 8/15/90 R Florida State Fort Lauderdale, Fla.62 Dietrich-Smith, Evan. . . . . . . . . . . . . . . . . . . . . . . . . . . . .C/G 6-2 308 7/19/86 3 Idaho State Salinas, Calif.73 Dominguez, Ray . . . . . . . . . . . . . . . . . . . . . . . . . . . . . . . . . G 6-4 329 7/12/88 2 Arkansas Bainbridge, Ga.60 Draheim, Tommie . . . . . . . . . . . . . . . . . . . . . . . . . . . . . . .C/G 6-4 309 12/23/88 R San Diego State Lakeside, Calif.80 Driver, Donald. . . . . . . . . . . . . . . . . . . . . . . . . . . . . . . . . .WR 6-0 194 2/2/75 14 Alcorn State Houston, Texas88 Finley, Jermichael . . . . . . . . . . . . . . . . . . . . . . . . . . . . . . . .TE 6-5 247 3/26/87 5 Texas Diboll, Texas49 Francois, Robert . . . . . . . . . . . . . . . . . . . . . . . . . . . . . . . . LB 6-2 250 5/14/85 3 Boston College Byfield, Mass.65 Genus, Sampson. . . . . . . . . . . . . . . . . . . . . . . . . . . . . . . .C/G 6-1 315 5/2/88 1 South Florida Lake City, Fla.7 Gilleylen, Curenski . . . . . . . . . . . . . . . . . . . . . . . . . . . . . .WR 5-11 213 3/15/89 R Nebraska Leander, Texas61 Goode, Brett . . . . . . . . . . . . . . . . . . . . . . . . . . . . . . . . . . . LS 6-1 255 11/2/84 5 Arkansas Fort Smith, Ark.20 Green, Alex . . . . . . . . . . . . . . . . . . . . . . . . . . . . . . . . . . . . RB 6-0 225 6/23/88 2 Hawaii Portland, Ore.86 Gurley, Tori. . . . . . . . . . . . . . . . . . . . . . . . . . . . . . . . . . . .WR 6-4 232 11/22/87 1 South Carolina Rock Hill, S.C.91 Guy, Lawrence . . . . . . . . . . . . . . . . . . . . . . . . . . . . . . . . . DE 6-4 300 3/17/90 2 Arizona State Las Vegas, Nev.95 Hargrove, Anthony . . . . . . . . . . . . . . . . . . . . . . . . . . . . . . DE 6-3 287 7/20/83 8 Georgia Tech Port Charlotte, Fla.6 Harrell, Graham. . . . . . . . . . . . . . . . . . . . . . . . . . . . . . . . . QB 6-2 215 5/22/85 1 Texas Tech Ennis, Texas50 Hawk, A.J.. . . . . . . . . . . . . . . . . . . . . . . . . . . . . . . . . . . . . LB 6-1 242 1/6/84 7 Ohio State Centerville, Ohio29 Hayward, Casey . . . . . . . . . . . . . . . . . . . . . . . . . . . . . . . . CB 5-11 192 9/9/89 R Vanderbilt Perry, Ga.35 Hoese, Jon . . . . . . . . . . . . . . . . . . . . . . . . . . . . . . . . . . . . .FB 6-2 244 7/4/89 1 Minnesota Glencoe, Minn.31 House, Davon . . . . . . . . . . . . . . . . . . . . . . . . . . . . . . . . . . CB 6-1 195 7/10/89 2 New Mexico State Palmdale, Calif.85 Jennings, Greg . . . . . . . . . . . . . . . . . . . . . . . . . . . . . . . . .WR 5-11 198 9/21/83 7 Western Michigan Kalamazoo, Mich.43 Jennings, M.D. . . . . . . . . . . . . . . . . . . . . . . . . . . . . . . . . . . S 6-0 195 7/25/88 2 Arkansas State Calhoun City, Miss.59 Jones, Brad. . . . . . . . . . . . . . . . . . . . . . . . . . . . . . . . . . . . LB 6-3 242 4/1/86 4 Colorado East Lansing, Mich.89 Jones, James . . . . . . . . . . . . . . . . . . . . . . . . . . . . . . . . . .WR 6-1 208 3/31/84 6 San Jose State San Jose, Calif.67d Jones, Johnny. . . . . . . . . . . . . . . . . . . . . . . . . . . . . . . . . . DE 6-4 321 10/19/88 1 Marshall Clewiston, Fla.30 Kuhn, John . . . . . . . . . . . . . . . . . . . . . . . . . . . . . . . . . . . . .FB 6-0 250 9/9/82 7 Shippensburg York, Pa.70 Lang, T.J. . . . . . . . . . . . . . . . . . . . . . . . . . . . . . . . . . . . . . . G 6-4 318 9/20/87 4 Eastern Michigan Birmingham, Mich.57 Lattimore, Jamari . . . . . . . . . . . . . . . . . . . . . . . . . . . . . . . LB 6-2 237 10/6/88 2 Middle Tennessee State Hialeah, Fla.34 Levine, Anthony . . . . . . . . . . . . . . . . . . . . . . . . . . . . . . . . . S 5-11 203 3/27/87 1 Tennessee State Winston-Salem, N.C.56 Manning, Terrell . . . . . . . . . . . . . . . . . . . . . . . . . . . . . . . . LB 6-2 237 4/16/90 R North Carolina State Laurinburg, N.C.8 Masthay, Tim . . . . . . . . . . . . . . . . . . . . . . . . . . . . . . . . . . . P 6-1 200 3/16/87 3 Kentucky Murray, Ky.52 Matthews, Clay . . . . . . . . . . . . . . . . . . . . . . . . . . . . . . . . . LB 6-3 255 5/14/86 4 Southern California Agoura Hills, Calif.22 McMillian, Jerron . . . . . . . . . . . . . . . . . . . . . . . . . . . . . . . . S 5-11 203 4/2/89 R Maine Hillside, N.J.69d Merling, Phillip . . . . . . . . . . . . . . . . . . . . . . . . . . . . . . . . . DE 6-5 315 8/19/85 5 Clemson Memphis, Tenn.47 Merrill, Otis. . . . . . . . . . . . . . . . . . . . . . . . . . . . . . . . . . . . CB 5-11 188 6/6/88 R Illinois State Cleveland, Ohio54 Moses, Dezman . . . . . . . . . . . . . . . . . . . . . . . . . . . . . . . . LB 6-2 249 1/4/89 R Tulane Willingboro, N.J.13 Moss, Dale . . . . . . . . . . . . . . . . . . . . . . . . . . . . . . . . . . . .WR 6-3 213 9/24/88 R South Dakota State Brandon, S.D.77d Muir, Daniel . . . . . . . . . . . . . . . . . . . . . . . . . . . . . . . . . . . DT 6-2 322 9/12/83 5 Kent State Riverdale, Md.96 Neal, Mike. . . . . . . . . . . . . . . . . . . . . . . . . . . . . . . . . . . . . DE 6-3 294 6/26/87 3 Purdue Merrillville, Ind.87 Nelson, Jordy . . . . . . . . . . . . . . . . . . . . . . . . . . . . . . . . . .WR 6-3 217 5/31/85 5 Kansas State Riley, Kan.74 Newhouse, Marshall . . . . . . . . . . . . . . . . . . . . . . . . . . . . . . .T 6-4 319 9/29/88 3 Texas Christian Dallas, Texas32d Pellerin, Micah . . . . . . . . . . . . . . . . . . . . . . . . . . . . . . . . . . S 6-0 195 11/23/88 R Hampton Madison, Miss.53 Perry, Nick . . . . . . . . . . . . . . . . . . . . . . . . . . . . . . . . . . . . LB 6-3 265 4/12/90 R Southern California Detroit, Mich.79 Pickett, Ryan. . . . . . . . . . . . . . . . . . . . . . . . . . . . . . . . . . . DT 6-2 338 10/8/79 12 Ohio State Zephyrhills, Fla.81 Quarless, Andrew . . . . . . . . . . . . . . . . . . . . . . . . . . . . . . . .TE 6-4 252 10/6/88 3 Penn State Uniondale, N.Y.90 Raji, B.J. . . . . . . . . . . . . . . . . . . . . . . . . . . . . . . . . . . . . . . DT 6-2 337 7/11/86 4 Boston College Washington Township, N.J.28 Richardson, Sean . . . . . . . . . . . . . . . . . . . . . . . . . . . . . . . . S 6-2 216 1/21/90 R Vanderbilt Linden, Ala.12 Rodgers, Aaron. . . . . . . . . . . . . . . . . . . . . . . . . . . . . . . . . QB 6-2 225 12/2/83 8 California Chico, Calif.39 Ross, Brandian . . . . . . . . . . . . . . . . . . . . . . . . . . . . . . . . . CB 6-0 191 9/28/89 1 Youngstown State Richmond, Va.33 Saine, Brandon . . . . . . . . . . . . . . . . . . . . . . . . . . . . . . . . . RB 5-11 220 12/14/88 2 Ohio State Piqua, Ohio63 Saturday, Jeff . . . . . . . . . . . . . . . . . . . . . . . . . . . . . . . . . . . C 6-2 295 6/18/75 14 North Carolina Decatur, Ga.78 Sherrod, Derek . . . . . . . . . . . . . . . . . . . . . . . . . . . . . . . . . . .T 6-6 321 4/23/89 2 Mississippi State Columbus, Miss.37 Shields, Sam. . . . . . . . . . . . . . . . . . . . . . . . . . . . . . . . . . . CB 5-11 184 12/8/87 3 Miami Sarasota, Fla.71 Sitton, Josh. . . . . . . . . . . . . . . . . . . . . . . . . . . . . . . . . . . . . G 6-3 318 6/16/86 5 Central Florida Pensacola, Fla.51 Smith, D.J. . . . . . . . . . . . . . . . . . . . . . . . . . . . . . . . . . . . . LB 5-11 239 2/24/89 2 Appalachian State Charlotte, N.C.16 Smithson, Shaky. . . . . . . . . . . . . . . . . . . . . . . . . . . . . . . .WR 5-11 210 8/23/87 2 Utah Baltimore, Md.97 So'oto, Vic . . . . . . . . . . . . . . . . . . . . . . . . . . . . . . . . . . . . LB 6-3 256 8/19/87 2 Brigham Young Carlsbad, Calif.44 Starks, James . . . . . . . . . . . . . . . . . . . . . . . . . . . . . . . . . . RB 6-2 218 2/25/86 3 Buffalo Niagara Falls, N.Y.72 Taylor, Herb . . . . . . . . . . . . . . . . . . . . . . . . . . . . . . . . . . . . .T 6-4 305 9/22/84 3 Texas Christian Houston, Texas82 Taylor, Ryan . . . . . . . . . . . . . . . . . . . . . . . . . . . . . . . . . . . .TE 6-3 254 11/16/87 2 North Carolina Winston-Salem, N.C.41 Turner, Dion . . . . . . . . . . . . . . . . . . . . . . . . . . . . . . . . . . . CB 5-11 194 5/23/89 R Southern Utah Oakland, Calif.26 Tyler, Marc . . . . . . . . . . . . . . . . . . . . . . . . . . . . . . . . . . . . RB 5-11 230 9/27/88 R Southern California Westlake Village, Calif.54o Van Roten, Greg . . . . . . . . . . . . . . . . . . . . . . . . . . . . . . . . . G 6-3 303 2/26/90 R Pennsylvania Mineola, N.Y.93 Walden, Erik . . . . . . . . . . . . . . . . . . . . . . . . . . . . . . . . . . . LB 6-2 250 8/21/85 5 Middle Tennessee State Dublin, Ga.68 Wells, Reggie . . . . . . . . . . . . . . . . . . . . . . . . . . . . . . . . . .G/T 6-4 318 11/3/80 10 Clarion South Park, Pa.84 Williams, D.J. . . . . . . . . . . . . . . . . . . . . . . . . . . . . . . . . . . .TE 6-2 245 9/10/88 2 Arkansas Little Rock, Ark.38 Williams, Tramon . . . . . . . . . . . . . . . . . . . . . . . . . . . . . . . CB 5-11 191 3/16/83 6 Louisiana Tech Napoleonville, La.98 Wilson, C.J.. . . . . . . . . . . . . . . . . . . . . . . . . . . . . . . . . . . . DE 6-3 300 3/30/87 3 East Carolina Pinetown, N.C.21 Woodson, Charles. . . . . . . . . . . . . . . . . . . . . . . . . . . . . . . DB 6-1 202 10/7/76 15 Michigan Fremont, Ohio99 Worthy, Jerel . . . . . . . . . . . . . . . . . . . . . . . . . . . . . . . . . . DE 6-2 304 4/28/90 R Michigan State Huber Heights, Ohio94 Wynn, Jarius. . . . . . . . . . . . . . . . . . . . . . . . . . . . . . . . . . . DE 6-3 285 8/29/86 4 Georgia Lincolnton, Ga.58 Zombo, Frank . . . . . . . . . . . . . . . . . . . . . . . . . . . . . . . . . . LB 6-3 254 3/5/87 3 Central Michigan Sterling Heights, Mich.Injured Reserve45 Lair, Eric . . . . . . . . . . . . . . . . . . . . . . . . . . . . . . . . . . . . . . .TE 6-2 238 3/10/90 R Minnesota Aug. 12 (knee)64 McCabe, Mike . . . . . . . . . . . . . . . . . . . . . . . . . . . . . . . . . . . .T 6-5 313 1/19/89 R Holy Cross Aug. 8 (hip)Reserve/Physically Unable to Perform68 Brooks, Jaymes . . . . . . . . . . . . . . . . . . . . . . . . . . . . . . . . . G 6-2 300 7/31/89 R Virginia Tech Aug. 8 (hamstring)34
---
NFL How Reg. seasonNo NUMERICAL ROSTER Pos Ht Wt Age Exp College Acquired GP/GS/DNP/IA2 Mason Crosby. . . . . . . . . . . . . . . . . . . . . . . . . . . . . . . . . . . K 6-1 207 27 6 Colorado D6c-07 0/0/0/06 Graham Harrell . . . . . . . . . . . . . . . . . . . . . . . . . . . . . . . . . QB 6-2 215 27 1 Texas Tech FA-10 0/0/0/07 Curenski Gilleylen . . . . . . . . . . . . . . . . . . . . . . . . . . . . . . .WR 5-11 213 23 R Nebraska FA-12 0/0/0/08 Tim Masthay . . . . . . . . . . . . . . . . . . . . . . . . . . . . . . . . . . . . P 6-1 200 25 3 Kentucky FA-10 0/0/0/09 B.J. Coleman. . . . . . . . . . . . . . . . . . . . . . . . . . . . . . . . . . . QB 6-3 231 23 R Tennessee-Chattanooga D7b-12 0/0/0/011 Jarrett Boykin . . . . . . . . . . . . . . . . . . . . . . . . . . . . . . . . . .WR 6-2 218 22 R Virginia Tech FA-12 0/0/0/012 Aaron Rodgers . . . . . . . . . . . . . . . . . . . . . . . . . . . . . . . . . QB 6-2 225 28 8 California D1-05 0/0/0/013 Dale Moss. . . . . . . . . . . . . . . . . . . . . . . . . . . . . . . . . . . . .WR 6-3 213 23 R South Dakota State FA-12 0/0/0/016 Shaky Smithson . . . . . . . . . . . . . . . . . . . . . . . . . . . . . . . .WR 5-11 210 25 2 Utah FA-11 0/0/0/017 Andrew Brewer . . . . . . . . . . . . . . . . . . . . . . . . . . . . . . . . .WR 6-2 216 25 1 Northwestern W-12 (Phi) 0/0/0/018 Randall Cobb . . . . . . . . . . . . . . . . . . . . . . . . . . . . . . . . . .WR 5-10 192 22 2 Kentucky D2-11 0/0/0/019 Diondre Borel . . . . . . . . . . . . . . . . . . . . . . . . . . . . . . . . . .WR 6-0 199 23 1 Utah State FA-11 0/0/0/020 Alex Green . . . . . . . . . . . . . . . . . . . . . . . . . . . . . . . . . . . . RB 6-0 225 24 2 Hawaii D3-11 0/0/0/021 Charles Woodson . . . . . . . . . . . . . . . . . . . . . . . . . . . . . . . DB 6-1 202 35 15 Michigan UFA-06 (Oak) 0/0/0/022 Jerron McMillian. . . . . . . . . . . . . . . . . . . . . . . . . . . . . . . . . S 5-11 203 23 R Maine D4b-12 0/0/0/023 Du'ane Bennett . . . . . . . . . . . . . . . . . . . . . . . . . . . . . . . . . RB 5-9 213 23 R Minnesota FA-12 0/0/0/024 Jarrett Bush . . . . . . . . . . . . . . . . . . . . . . . . . . . . . . . . . . . CB 6-0 200 28 7 Utah State W-06 (Car) 0/0/0/026 Marc Tyler. . . . . . . . . . . . . . . . . . . . . . . . . . . . . . . . . . . . . RB 5-11 230 23 R Southern California FA-12 0/0/0/028 Sean Richardson. . . . . . . . . . . . . . . . . . . . . . . . . . . . . . . . . S 6-2 216 22 R Vanderbilt FA-12 0/0/0/029 Casey Hayward . . . . . . . . . . . . . . . . . . . . . . . . . . . . . . . . CB 5-11 192 22 R Vanderbilt D2b-12 0/0/0/030 John Kuhn . . . . . . . . . . . . . . . . . . . . . . . . . . . . . . . . . . . . .FB 6-0 250 29 7 Shippensburg W-07 (Pitt) 0/0/0/031 Davon House . . . . . . . . . . . . . . . . . . . . . . . . . . . . . . . . . . CB 6-1 195 23 2 New Mexico State D4-11 0/0/0/032o Cedric Benson. . . . . . . . . . . . . . . . . . . . . . . . . . . . . . . . . . RB 5-11 227 29 8 Texas FA-12 0/0/0/032d Micah Pellerin . . . . . . . . . . . . . . . . . . . . . . . . . . . . . . . . . . . S 6-0 195 23 R Hampton FA-12 0/0/0/033 Brandon Saine . . . . . . . . . . . . . . . . . . . . . . . . . . . . . . . . . RB 5-11 220 23 2 Ohio State FA-11 0/0/0/034 Anthony Levine . . . . . . . . . . . . . . . . . . . . . . . . . . . . . . . . . . S 5-11 203 25 1 Tennessee State FA-10 0/0/0/035 Jon Hoese. . . . . . . . . . . . . . . . . . . . . . . . . . . . . . . . . . . . . .FB 6-2 244 23 1 Minnesota FA-11 0/0/0/037 Sam Shields . . . . . . . . . . . . . . . . . . . . . . . . . . . . . . . . . . . CB 5-11 184 24 3 Miami FA-10 0/0/0/038 Tramon Williams. . . . . . . . . . . . . . . . . . . . . . . . . . . . . . . . CB 5-11 191 29 6 Louisiana Tech FA-06 0/0/0/039 Brandian Ross . . . . . . . . . . . . . . . . . . . . . . . . . . . . . . . . . CB 6-0 191 22 1 Youngstown State FA-11 0/0/0/040 Nic Cooper . . . . . . . . . . . . . . . . . . . . . . . . . . . . . . . . . . . . .FB 5-10 249 23 R Winston-Salem State FA-12 0/0/0/041 Dion Turner. . . . . . . . . . . . . . . . . . . . . . . . . . . . . . . . . . . . CB 5-11 194 22 R Southern Utah FA-12 0/0/0/042 Morgan Burnett. . . . . . . . . . . . . . . . . . . . . . . . . . . . . . . . . . S 6-1 209 23 3 Georgia Tech D3-10 0/0/0/043 M.D. Jennings. . . . . . . . . . . . . . . . . . . . . . . . . . . . . . . . . . . S 6-0 195 24 2 Arkansas State FA-11 0/0/0/044 James Starks . . . . . . . . . . . . . . . . . . . . . . . . . . . . . . . . . . RB 6-2 218 26 3 Buffalo D6-10 0/0/0/046 DeMarco Cosby . . . . . . . . . . . . . . . . . . . . . . . . . . . . . . . . .TE 6-3 245 24 1 Central Missouri FA-12 0/0/0/047 Otis Merrill . . . . . . . . . . . . . . . . . . . . . . . . . . . . . . . . . . . . CB 5-11 188 24 R Illinois State FA-12 0/0/0/048 Brandon Bostick . . . . . . . . . . . . . . . . . . . . . . . . . . . . . . . . .TE 6-3 245 23 R Newberry FA-12 0/0/0/049 Robert Francois . . . . . . . . . . . . . . . . . . . . . . . . . . . . . . . . LB 6-2 250 27 3 Boston College FA-09 0/0/0/050 A.J. Hawk . . . . . . . . . . . . . . . . . . . . . . . . . . . . . . . . . . . . . LB 6-1 242 28 7 Ohio State D1-06 0/0/0/051 D.J. Smith. . . . . . . . . . . . . . . . . . . . . . . . . . . . . . . . . . . . . LB 5-11 239 23 2 Appalachian State D6b-11 0/0/0/052 Clay Matthews . . . . . . . . . . . . . . . . . . . . . . . . . . . . . . . . . LB 6-3 255 26 4 Southern California D1b-09 0/0/0/053 Nick Perry . . . . . . . . . . . . . . . . . . . . . . . . . . . . . . . . . . . . . LB 6-3 265 22 R Southern California D1-12 0/0/0/054o Greg Van Roten . . . . . . . . . . . . . . . . . . . . . . . . . . . . . . . . . G 6-3 303 22 R Pennsylvania FA-12 0/0/0/054d Dezman Moses . . . . . . . . . . . . . . . . . . . . . . . . . . . . . . . . . LB 6-2 249 23 R Tulane FA-12 0/0/0/055 Desmond Bishop . . . . . . . . . . . . . . . . . . . . . . . . . . . . . . . LB 6-2 238 28 6 California D6b-07 0/0/0/056 Terrell Manning. . . . . . . . . . . . . . . . . . . . . . . . . . . . . . . . . LB 6-2 237 22 R North Carolina State D5-12 0/0/0/057 Jamari Lattimore. . . . . . . . . . . . . . . . . . . . . . . . . . . . . . . . LB 6-2 237 23 2 Middle Tennessee State FA-11 0/0/0/058 Frank Zombo. . . . . . . . . . . . . . . . . . . . . . . . . . . . . . . . . . . LB 6-3 254 25 3 Central Michigan FA-10 0/0/0/059 Brad Jones . . . . . . . . . . . . . . . . . . . . . . . . . . . . . . . . . . . . LB 6-3 242 26 4 Colorado D7-09 0/0/0/060 Tommie Draheim . . . . . . . . . . . . . . . . . . . . . . . . . . . . . . .C/G 6-4 309 23 R San Diego State FA-12 0/0/0/061 Brett Goode. . . . . . . . . . . . . . . . . . . . . . . . . . . . . . . . . . . . LS 6-1 255 27 5 Arkansas FA-08 0/0/0/062 Evan Dietrich-Smith . . . . . . . . . . . . . . . . . . . . . . . . . . . . .C/G 6-2 308 26 3 Idaho State FA-10 0/0/0/063 Jeff Saturday. . . . . . . . . . . . . . . . . . . . . . . . . . . . . . . . . . . . C 6-2 295 37 14 North Carolina UFA-12 (Ind) 0/0/0/065 Sampson Genus . . . . . . . . . . . . . . . . . . . . . . . . . . . . . . . .C/G 6-1 323 24 1 South Florida FA-11 0/0/0/067o Don Barclay . . . . . . . . . . . . . . . . . . . . . . . . . . . . . . . . . . . . G 6-4 305 23 R West Virginia FA-12 0/0/0/067d Johnny Jones . . . . . . . . . . . . . . . . . . . . . . . . . . . . . . . . . . DE 6-4 321 22 1 Marshall FA-11 0/0/0/068 Reggie Wells. . . . . . . . . . . . . . . . . . . . . . . . . . . . . . . . . . .G/T 6-4 318 31 10 Clarion FA-12 0/0/0/069o Shea Allard . . . . . . . . . . . . . . . . . . . . . . . . . . . . . . . . . . . . . .T 6-5 305 22 R Delaware FA-12 0/0/0/069d Phillip Merling. . . . . . . . . . . . . . . . . . . . . . . . . . . . . . . . . . DE 6-5 315 27 5 Clemson FA-12 0/0/0/070 T.J. Lang. . . . . . . . . . . . . . . . . . . . . . . . . . . . . . . . . . . . . . . G 6-4 318 24 4 Eastern Michigan D4-09 0/0/0/071 Josh Sitton . . . . . . . . . . . . . . . . . . . . . . . . . . . . . . . . . . . . . G 6-3 318 26 5 Central Florida D4b-08 0/0/0/072 Herb Taylor . . . . . . . . . . . . . . . . . . . . . . . . . . . . . . . . . . . . . .T 6-4 305 27 3 Texas Christian FA-11 0/0/0/073 Ray Dominguez. . . . . . . . . . . . . . . . . . . . . . . . . . . . . . . . . . G 6-4 329 24 2 Arkansas FA-11 0/0/0/074 Marshall Newhouse . . . . . . . . . . . . . . . . . . . . . . . . . . . . . . .T 6-4 319 23 3 Texas Christian D5b-10 0/0/0/075 Bryan Bulaga. . . . . . . . . . . . . . . . . . . . . . . . . . . . . . . . . . . . .T 6-5 314 23 3 Iowa D1-10 0/0/0/076 Mike Daniels . . . . . . . . . . . . . . . . . . . . . . . . . . . . . . . . . . . DT 6-0 294 23 R Iowa D4a-12 0/0/0/077o Andrew Datko . . . . . . . . . . . . . . . . . . . . . . . . . . . . . . . . . . . .T 6-6 315 22 R Florida State D7a-12 0/0/0/077d Daniel Muir . . . . . . . . . . . . . . . . . . . . . . . . . . . . . . . . . . . . DT 6-2 322 28 5 Kent State FA-12 0/0/0/078 Derek Sherrod. . . . . . . . . . . . . . . . . . . . . . . . . . . . . . . . . . . .T 6-6 321 23 2 Mississippi State D1-11 0/0/0/079 Ryan Pickett . . . . . . . . . . . . . . . . . . . . . . . . . . . . . . . . . . . DT 6-2 338 32 12 Ohio State UFA-06 (StL) 0/0/0/080 Donald Driver . . . . . . . . . . . . . . . . . . . . . . . . . . . . . . . . . .WR 6-0 194 37 14 Alcorn State D7b-99 0/0/0/081 Andrew Quarless. . . . . . . . . . . . . . . . . . . . . . . . . . . . . . . . .TE 6-4 252 23 3 Penn State D5a-10 0/0/0/082 Ryan Taylor. . . . . . . . . . . . . . . . . . . . . . . . . . . . . . . . . . . . .TE 6-3 254 24 2 North Carolina D7a-11 0/0/0/083 Tom Crabtree . . . . . . . . . . . . . . . . . . . . . . . . . . . . . . . . . . .TE 6-4 245 26 3 Miami (Ohio) FA-09 0/0/0/084 D.J. Williams. . . . . . . . . . . . . . . . . . . . . . . . . . . . . . . . . . . .TE 6-2 245 23 2 Arkansas D5-11 0/0/0/085 Greg Jennings. . . . . . . . . . . . . . . . . . . . . . . . . . . . . . . . . .WR 5-11 198 28 7 Western Michigan D2b-06 0/0/0/086 Tori Gurley . . . . . . . . . . . . . . . . . . . . . . . . . . . . . . . . . . . .WR 6-4 232 24 1 South Carolina FA-11 0/0/0/087 Jordy Nelson. . . . . . . . . . . . . . . . . . . . . . . . . . . . . . . . . . .WR 6-3 217 27 5 Kansas State D2a-08 0/0/0/088 Jermichael Finley . . . . . . . . . . . . . . . . . . . . . . . . . . . . . . . .TE 6-5 247 25 5 Texas D3-08 0/0/0/089 James Jones. . . . . . . . . . . . . . . . . . . . . . . . . . . . . . . . . . .WR 6-1 208 28 6 San Jose State D3a-07 0/0/0/090 B.J. Raji . . . . . . . . . . . . . . . . . . . . . . . . . . . . . . . . . . . . . . DT 6-2 337 26 4 Boston College D1a-09 0/0/0/091 Lawrence Guy . . . . . . . . . . . . . . . . . . . . . . . . . . . . . . . . . . DE 6-4 300 22 2 Arizona State D7b-11 0/0/0/093 Erik Walden. . . . . . . . . . . . . . . . . . . . . . . . . . . . . . . . . . . . LB 6-2 250 27 5 Middle Tennessee State FA-10 0/0/0/094 Jarius Wynn . . . . . . . . . . . . . . . . . . . . . . . . . . . . . . . . . . . DE 6-3 285 25 4 Georgia D6a-09 (FA-10) 0/0/0/095 Anthony Hargrove. . . . . . . . . . . . . . . . . . . . . . . . . . . . . . . DE 6-3 287 29 8 Georgia Tech UFA-12 (Sea) 0/0/0/096 Mike Neal . . . . . . . . . . . . . . . . . . . . . . . . . . . . . . . . . . . . . DE 6-3 294 25 3 Purdue D2-10 0/0/0/097 Vic So'oto . . . . . . . . . . . . . . . . . . . . . . . . . . . . . . . . . . . . . LB 6-3 256 25 2 Brigham Young FA-11 0/0/0/098 C.J. Wilson . . . . . . . . . . . . . . . . . . . . . . . . . . . . . . . . . . . . DE 6-3 300 25 3 East Carolina D7-10 0/0/0/099 Jerel Worthy . . . . . . . . . . . . . . . . . . . . . . . . . . . . . . . . . . . DE 6-2 304 22 R Michigan State D2a-12 0/0/0/0Injured Reserve45 Eric Lair . . . . . . . . . . . . . . . . . . . . . . . . . . . . . . . . . . . . . . .TE 6-2 238 22 R Minnesota FA-12 0/0/0/064 Mike McCabe . . . . . . . . . . . . . . . . . . . . . . . . . . . . . . . . . . . .T 6-5 313 23 R Holy Cross FA-12 0/0/0/0Reserve/Physically Unable to Perform68 Jaymes Brooks . . . . . . . . . . . . . . . . . . . . . . . . . . . . . . . . . . G 6-2 300 23 R Virginia Tech FA-12 0/0/0/035
---
QUARTERBACK (3/2)B.J. ColemanGraham HarrellAaron RodgersFULLBACK (3/1)Nic CooperJon HoeseJohn KuhnRUNNING BACK (6/3)Du'ane BennettCedric BensonAlex GreenBrandon SaineJames StarksMarc TylerWIDE RECEIVER (12/5)Diondre BorelJarrett BoykinAndrew BrewerRandall CobbDonald DriverCurenski GilleylenTori GurleyGreg JenningsJames JonesDale MossJordy NelsonShaky SmithsonTIGHT END (7/5)Brandon BostickDeMarco CosbyTom CrabtreeJermichael FinleyAndrew QuarlessRyan TaylorD.J. WilliamsPRONUNCIATION GUIDEROSTER BY POSITIONOFFENSIVE LINE (16/8)Shea AllardDon BarclayBryan BulagaAndrew DatkoEvan Dietrich-SmithRay DominguezTommie DraheimSampson GenusT.J. LangMarshall NewhouseJeff SaturdayDerek SherrodJosh SittonHerb TaylorGreg Van RotenReggie WellsDEFENSIVE LINE (12/6)Mike DanielsLawrence GuyAnthony HargroveJohnny JonesPhillip MerlingDaniel MuirMike NealRyan PickettB.J. RajiC.J. WilsonJerel WorthyJarius WynnLINEBACKER (13/10)Desmond BishopRobert FrancoisA.J. HawkBrad JonesJamari LattimoreTerrell ManningClay MatthewsDezman MosesNick PerryD.J. SmithVic So'otoErik WaldenFrank ZomboCORNERBACK (8/6)Jarrett BushCasey HaywardDavon HouseOtis MerrillBrandian RossSam ShieldsDion TurnerTramon WilliamsSAFETY (7/4)Morgan BurnettM.D. JenningsAnthony LevineJerron McMillianMicah PellerinSean RichardsonCharles Woodson (also CB)SPECIALIST (3/3)Mason CrosbyBrett GoodeTim MasthayRookies and first-year players are underlinedThe first number lists how many players are currentlyat that position, while the second indicateshow many players at that position were on thePackers' opening-day roster in 2011.Shea Allard . . . . . . . . . . . . . . . . . . . . . . . . . . . . . . . . . . . AL-erdDon Barclay. . . . . . . . . . . . . . . . . . . . . . . . . . . . . . . . . BAR-clayDu'ane Bennett . . . . . . . . . . . . . . . . . . . . . . . . . . . . . . . Doo-onDiondre Borel . . . . . . . . . . . . . . . . . . . . . .Dee-on-dray Buh-rellBryan Bulaga. . . . . . . . . . . . . . . . . . . . . . . . . . . . .Buh-LAH-gahTommie Draheim . . . . . . . . . . . . . . . . . . . . . . . . . . . Dray-himeRobert Francois. . . . . . . . . . . . . . . . . . . . . . . . . . . . . Fran-swahSampson Genus . . . . . . . . . . . . . . . . . . . . . . . . . . . . . . Jean-usCurenski Gilleylen . . . . . . . . . . . . . . . Cur-ren-skee Gill-luh-lenBrett Goode. . . . . . . . . . . . . . . . . . . . . . . . . . . . . . . . . . . GEWDGraham Harrell . . . . . . . . . . . . . . . . . . . . . . . . . . . . . . . Hair-uhlJon Hoese . . . . . . . . . . . . . . . . . . . . . . . . . . . . . . . . . . . Haze-eeJohn Kuhn. . . . . . . . . . . . . . . . . . . . . . . . . . . . . . . . . . . . KOONAnthony Levine . . . . . . . . . . . . . . . . . . . . . . . . . . . . . . Luh-veenTim Masthay . . . . . . . . . . . . . . . . . . . . . . . . . . . . . . . MASS-tayJerron McMillian . . . . . . . . . . . . . . . . . . . . Juh-ron Mick-mill-inDaniel Muir . . . . . . . . . . . . . . . . . . . . . . . . . . . . . . . . . .MYEWRRyan Pickett . . . . . . . . . . . . . . . . . . . . . . . . . . . . . . . . .PICK-ettAndrew Quarless. . . . . . . . . . . . . . . . . . . . . . . . . . . . QUAR-lissB.J. Raji. . . . . . . . . . . . . . . . . . . . . . . . . . . . . . . . . . . . . Rah-jeeBrandian Ross. . . . . . . . . . . . . . . . . . . . . . . . . . . . . . . .BrandonBrandon Saine. . . . . . . . . . . . . . . . . . . . . . . . . . . . . . . . . . SAINDerek Sherrod. . . . . . . . . . . . . . . . . . . . . . . . . . . . . . sher-RODJosh Sitton . . . . . . . . . . . . . . . . . . . . . . . . . . . . . . . . . . . Sitt-enVic So'oto . . . . . . . . . . . . . . . . . . . . . . . . . . . . . . . . . So-OH-toeTramon Williams. . . . . . . . . . . . . . . . . . . . . . . . . . . .Trah-mahnJerel Worthy . . . . . . . . . . . . . . . . . . . . . . . . . . . . . . . . . .Juh-rel36